Essentials For a Successful Bathroom Remodel
That feeling you have when you walk into a luxury bathroom is like no other. Whether it's the lighting or ultra-lux shower, we all want that feeling in our own homes.
When money isn't a concern, it's easy to create a bathroom dreams are made of. However, when you're on a budget, knowing how to remodel your space can be overwhelming.
Thankfully, there are a lot of ways to successfully remodel your bathroom without breaking the bank.
Stick to Your Budget
As with any kind of remodeling project, you'll need to set a budget for it. Budgets are for maintaining how much you can and are willing to spend. Without a budget, it's too easy to go overboard. And with how expensive a bathroom remodel can get, you can easily spend hundreds, possibly thousands of dollars.
Before you can make a budget for your bathroom remodel, figure out what you'd like to have done. It can be anything ranging from changing the floor to upgrading the bathtub and shower. One thing to remember is that you shouldn't settle for anything other than your standards. After all, remodeling is a large investment, so you should always make sure you get what you're paying for.
There are other factors to consider when making a budget as well. Are you going to put your home on the market sometime in the future? How much are you actually able to afford? These are questions you must ask yourself first. Don't start planning your budget until you've come up with a plan. As you can see, a bathroom remodel is not only about the changes. It's also about planning and getting to know your needs and opportunities.
Think About the Layout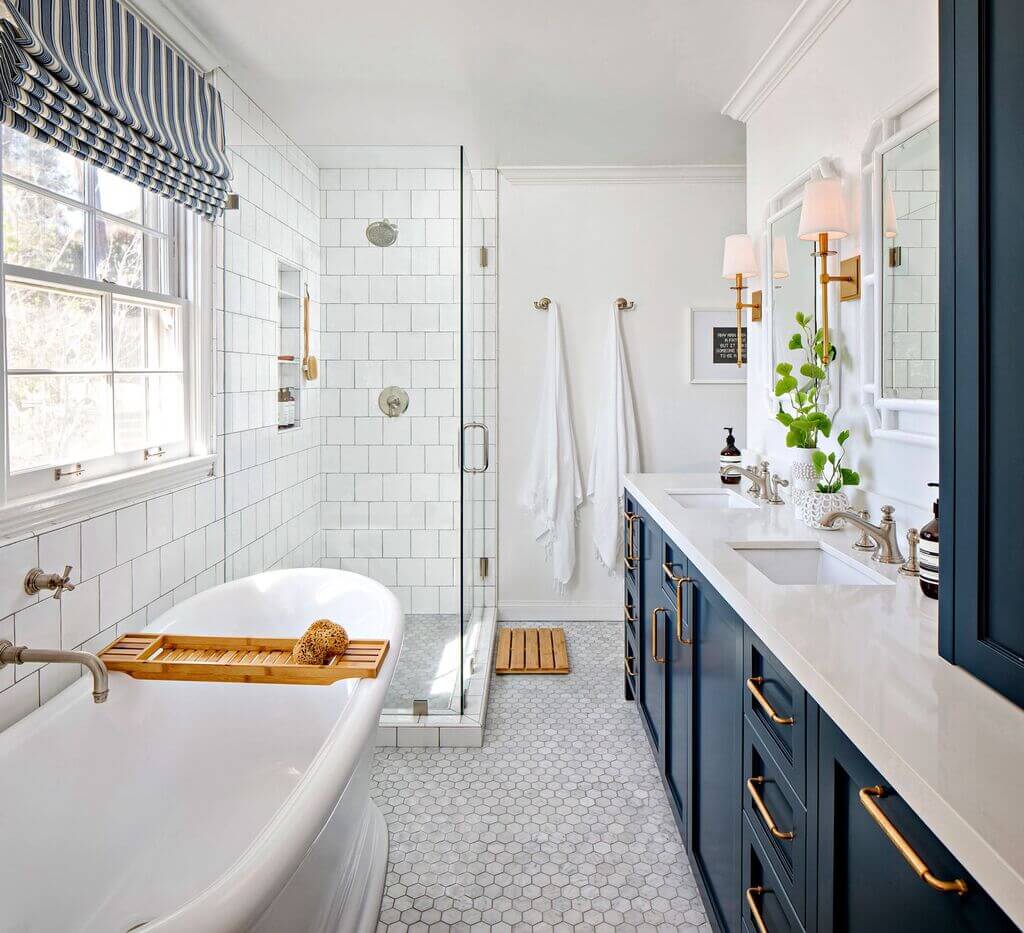 Source: vox-cdn.com
One of the main reasons why bathroom remodels are so expensive is because many people simply opt to redo the entire layout. Wanting a new layout for your bathroom is perfectly fine, especially if you've been living in the house for years. However, the layout is only half the process. Remodeling your bathroom means transforming it into something else.
For instance, you may want to turn your full bathroom into a half, or vice versa. Another option is a wet bathroom. Basically, a wet bathroom is when the walls, floor, and even the cabinets are waterproof. The shower itself isn't confined within a cubicle nor hidden by a shower curtain. And since the entire room is waterproof, you won't have to worry about water getting everywhere.
However, there's one benefit some people don't realize exists. Wet baths are an excellent way to preserve space. Many bathrooms are extremely limited in terms of space, which makes it a little difficult to decorate, or even move around in some cases. This is mainly due to the bathtub or shower cubicle being so large. Wet bathrooms take care of this issue by removing these things entirely.
But as beneficial as wet rooms are, they are certainly not the cheapest option. You're looking at a good $15,000 to $20,000 on average, but it really depends on how big the bathroom is.
Invest in Lighting
Once you've decided on the layout of the bathroom, you can focus on smaller things, like lighting. Lighting is an important part of any room. Some people underestimate the value of lighting when it comes to remodeling a bathroom. And while many prefer one over the other, natural and artificial lighting go and hand-in-hand.
Natural lighting plays an integral role in not only brightening up a room but our mental and emotional well-being as well. However, the sun is only out for so long and chances are you're going to need to use your bathroom in the evening. This is where artificial lighting comes in. LED lighting is highly recommended because they're economical and can be dimmed.
Touches of Luxury
Source: kitchenandbathshop.com
After all the necessities are taken care of, it's time to think about what you consider luxurious. For some, having a heated floor makes getting ready in the morning worth getting up for. For others, it's all about the shower. Kohler showers, for example, offer a variety of showerheads that compare to a spa experience. It's little touches like these that make your remodeled bathroom your own personal haven. If you have some extra money to play around with, consider adding a touch of luxury.
The Takeaway
Remodeling your bathroom should be something you look for, not dread. Think about all the things you want, need, and things you know you can do without. The key is staying within budget and adding personalized touches, like Kohler showers, that make your bathroom a peaceful oasis.