Why Homes Need Runner Rugs and How to Select the Best One for Hallways
Runner rugs are a superb addition to any space in the home. Runner rugs can inject depth, distinction, and coziness to a bedroom or the hallways of a house – regardless of its dimensions. For smaller rooms, it creates the necessary feel in extension looks by using one rug across two rooms on the same level. They can also be perfect for adding more dimension to larger spaces like entryways where people often enter with shoes on.
Why Homes Need Runner Rugs
Runner rugs are perfect for home because:
Runner Rugs Protect the Floors
No matter the type of flooring surface it meets its share of the surge of pedestrian traffic, paw prints, dirt, and sometimes oil residues. A runner rug keeps these dust particles away and protects wooden floors especially keeping them away from scratches.
Homeowners are often looking for means to create a more inviting and cozy home. A way to achieve this is to install runner rugs in areas where people frequently walk through, like staircases. Runner rugs not only protect these high-traffic locations in the house but also hide flaws like scratches or marks.
Runner Rugs Connect Home Spaces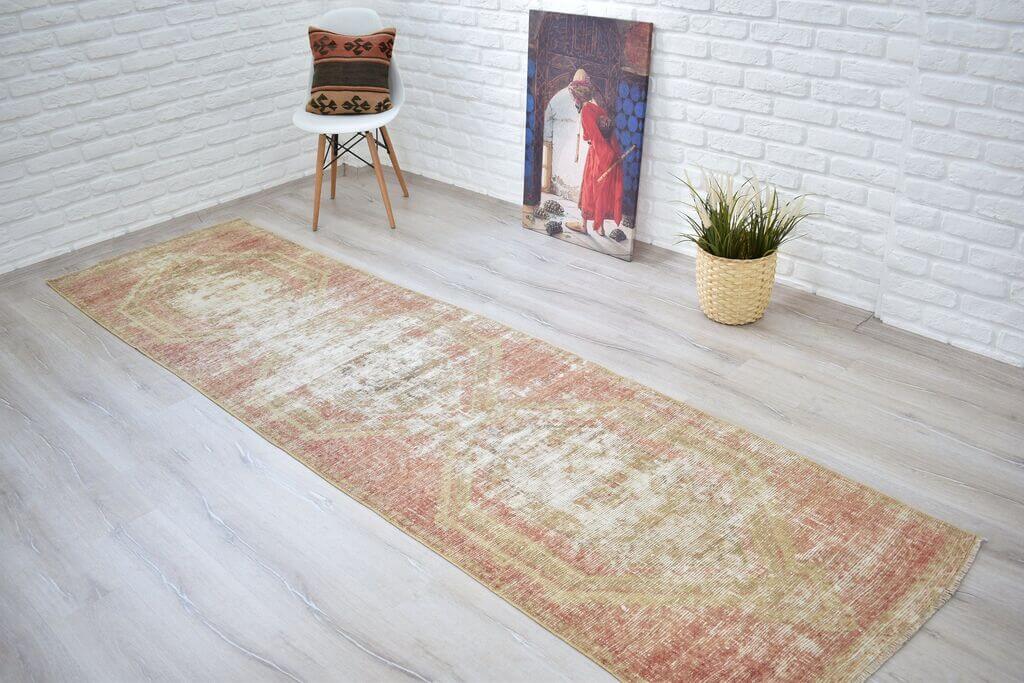 Source: pinimg.com
The runner rug size must be carefully considered to get the most out of home spaces. The wrong size of runner rugs can make rooms feel cramped and look wrong. A well-chosen runner rug on the other hand can easily harmonize various elements in the space and improve its design, leaving them more inviting to guests and creating a lasting impression.
A perfectly-sized runner rug will help design a house's doorway by weaving together different elements from the furniture arrangements to color schemes without exerting much effort.
Runner Rugs Reduce Noise
The volume of footstep sounds can be a bit loud when walking without shoes on. Having runner rugs in hallways and other spaces reduces the noise produced efficiently. It can thereby make the surroundings quieter overall.
Runner Rugs Add Comfort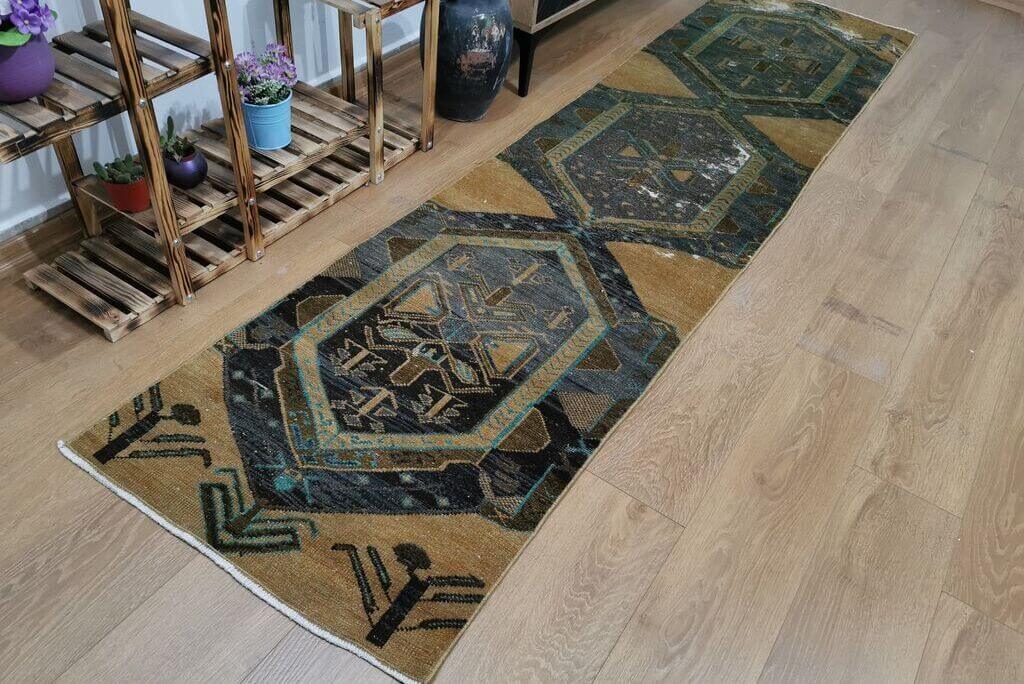 Source: pinimg.com
Runner rugs offer a pleasant experience for people in the home who are barefoot all day. They also make the floor safer for more stable walking. Runner rugs also protect the floors from spills, scratches, and other elements that can damage floorings. Runner rugs can be a great investment for homeowners with hardwood floors. They make walking more comfortable, give better balance, and a more pleasant underfoot.
Runner Rugs Are Well for Small Areas
Runner rugs are great for smaller, more cozy areas whereas a larger area rug can be a misfit and awkward. This is one of the key reasons why runner rugs rose to popularity with homeowners. These homeowners put runner rugs to good use and instantly change lobby or room floors from dull and boring to warm and pleasantly welcoming spaces.
A special characteristic of runner rugs is their width – just about enough fabric to cover 2 people standing side by side – and their purpose. Runner rugs are great for homeowners wanting a low-profile element on hardwood or linoleum floorings as these runner rugs require less material than bigger area rug pieces so they are less visible and look seamless across large spaces without color contrasting.
Runner Rugs Mollify Glittering Surfaces
Common functional space in the home to do hobbies or entertain visitors can be transformed into a fun and inviting space with runner rugs. A runner rugs with a more contemporary style can balance hard lines in the interior design of a house while still being the right size and shape for long stretches without hampering the areas they are in.
Runner rugs can transform simple surfaces into something subtler and equally striking with the first impression. 
Runner Rugs Make Spaces Visually Interesting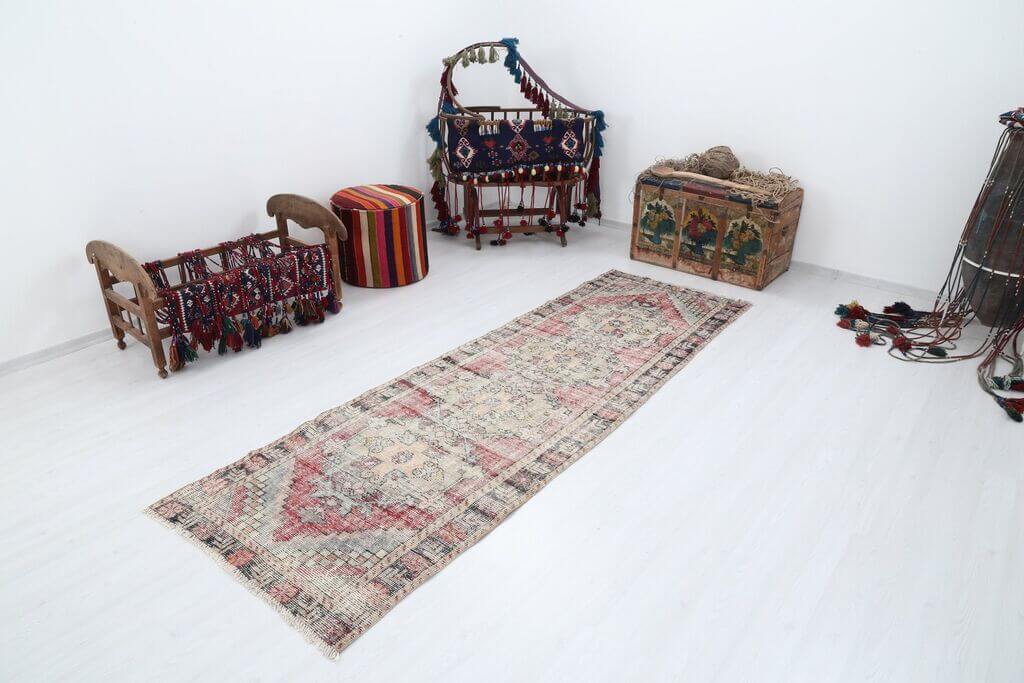 Source: pinimg.com
Runner rugs can perk up any space by the addition of colors, texture, and various patterns. Using carpet runners is also a quick way to design dull spaces in the home and turn them into more attractive locations. Entryways, staircases, and hallways can look too boring without aiding the help of runner rugs. It is surprising how a little piece of runner rug changes the atmosphere of a home space!
Runner Rugs Outline Rooms with Larger Areas
To delineate spaces in large rooms without having to put up partitions or change flooring composition; utilizing runner rugs or carpet runners is also a good option. Runners create boundaries that break up big rooms that feel empty and too open.
For example, runners can be added in between a home office space in-between desk areas so walls do not have to be taken out. They define spaces and make rooms evoke a cozier feel. Not to mention they are comfortable sitting on the floor at times.
Also Read: Ultimate Rug Guide 2021: History, Importance, Types & Styling Tips!
How to Get the Best Hallway Runner Rugs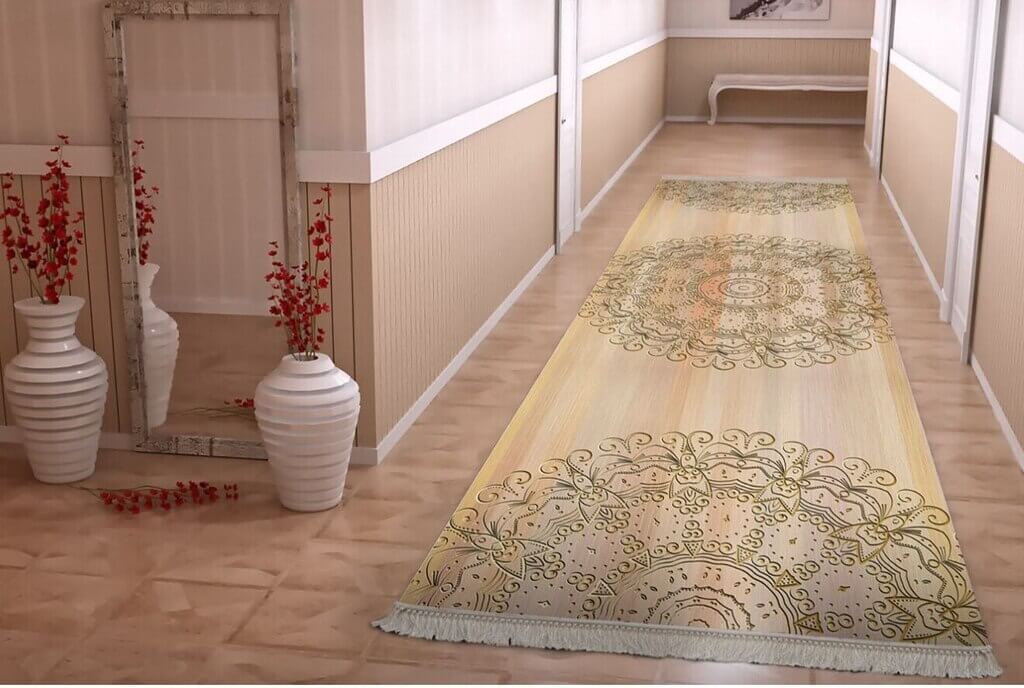 Source: alicdn.com
If in the dilemma of whether a hallway needs a runner rug or not. The answer may always be that it does! Hallways can be dark and boring spaces. They also get a considerable lot of foot traffic. Placing runner rugs in the hallways can liven up this area, making them a warmer and more inviting space. Hallway runners can also protect floors from express wear and tear. Thus, every hallway can benefit more from the right, durable runner rugs.
In choosing the best-suited hallway runner rugs for a home, two elements should be kept in mind to avoid overwhelm, and these are:
How long it should be

How much of the space (hallway) should it cover
With these basics answered, looking for the perfect runner rugs for the hallways can be less dreadful and even more fun.
With all the available patterns, colors, and designs of runner rugs, it can be crushing to choose the perfect one to complete a space in the home. Hallways are one example of trickier space in the home to find one. Learn how to dress hallways with runners that are the best match in creating an exquisite and inviting space.
Homeowners must first measure the dimensions of the space that needs runners. After this, it's time to choose runner rug style. As mentioned, hallway runner rugs come in a lot of patterns and textures. Depending on the taste of homeowners, a bold statement can be made from carpet runners. Some typical style options available are the fiber type, pattern aesthetic, and color scheme.
It is a fun adventure for homeowners to search out the best hallway runner rugs. Bear in mind the fiber types, color options, and design patterns that fit the hallways and any space in the home. Think of the purpose why a runner rug is needed in the first place and remember that runner rugs can greatly transform any home space.