Top Tips for Making the Most of a Small Living Room
A small living room can be a fantastic place to spend time with family and friends. Here are some creative and useful tips and ideas on how you could make your space feel more welcoming, spacious, and just plain comfortable.
A snug sitting area is perfect for reading an evening book in front of the fireplace while sipping hot cocoa. A comfy couch invites guests into the homely lounge where they can enjoy watching TV with their feet up after coming back from work all day long – if only there were enough space. 
Luckily many clever design tricks will let even the smallest of living rooms feel spacious.
1. Less Is More
If you have a small living room, it's best to avoid cramming in too much furniture. Instead of opting for bulky armchairs that take up plenty of space and can't be easily maneuvered around the tiny space, choose a sofa proportionate to your size as well as stools that are more manageable than huge chairs. 
And as a smaller sofa could lead to more usage, it's best to invest in one made from easy clean upholstery fabric.
2. Use Light Colors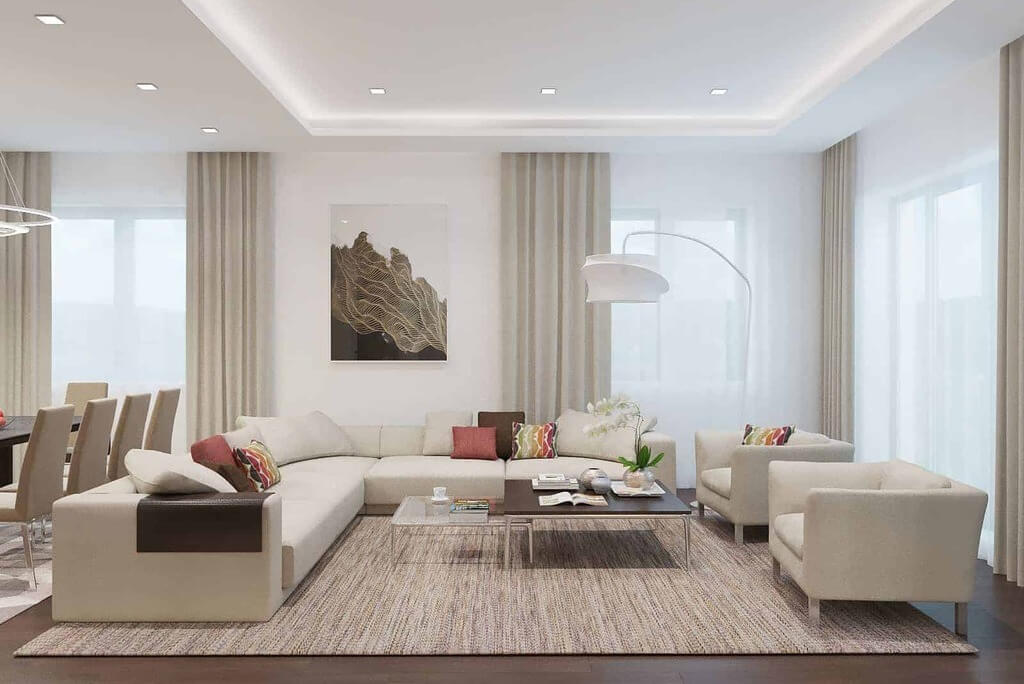 Source: wp.com
When it comes to decorating a small space, light colors are the way to go. These palettes brighten your room and help you feel more at ease in smaller spaces with limited natural lighting sources.
Dark colors can be tricky when working on less than optimal surfaces, such as in tiny apartments with one window. If you're feeling adventurous enough, though, try out some rich tones for contrast or opt for pale shades of white that will make any little place seem bigger and brighter.
3. Using Multifunctional Furniture
It can be difficult to entertain guests without a large living area, but with multifunctional furniture like one of the best sofa beds, you can make each room work hard so that entertaining doesn't have to be impossible for those short on space.
A sofa bed made from stain proof fabric is a great investment to make the most of the space you do have.
4. Embrace Natural Light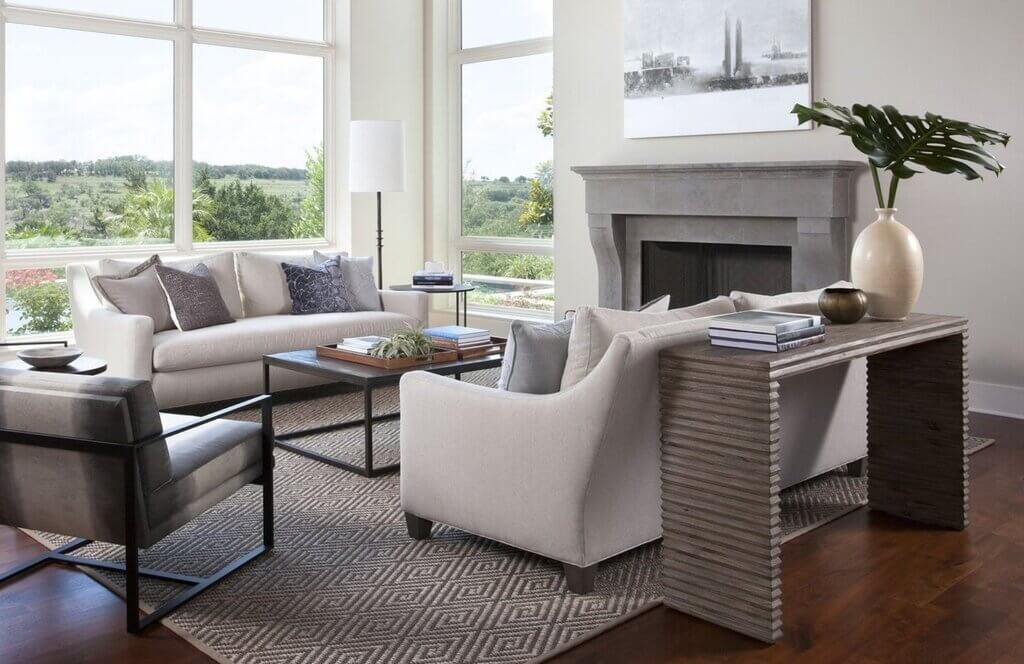 Source: shopify.com
Not only is natural light the best, but it's also easier to control and shut out with simple window treatments. Shutters are a brilliant alternative for curtains because they provide privacy without taking up space while still giving you access to sunlight when desired. 
If you don't want any fabric around your windows at all, go for Roman or roller blinds instead.
5. Use Mirrors for a Spacious Illusion
The oldest trick in the book has just been revived with a twist on this classic. Rather than using paint to create an illusion of space, mirrors will do it for you.
The most important thing is that they are strategically placed and sized properly to be overwhelming. Adding more light through windows can also enhance the effect – making your home seem bigger without having any real impact on how much room there is inside or even outside (since sunlight generally comes from overhead). 
6. Make the Most of Your Walls 
If you don't have enough floor space in your lounge room, it's time to get innovative with your walls! Wall-mounted shelving alternatives are fantastic since they provide the same utility without taking up any additional room on the floor. 
Consider turning a bookcase into a side table or opting for one with a built-in workstation. It decreases congestion, increases storage, and eliminates the need to purchase other furnishings.
7. Choices for Rugs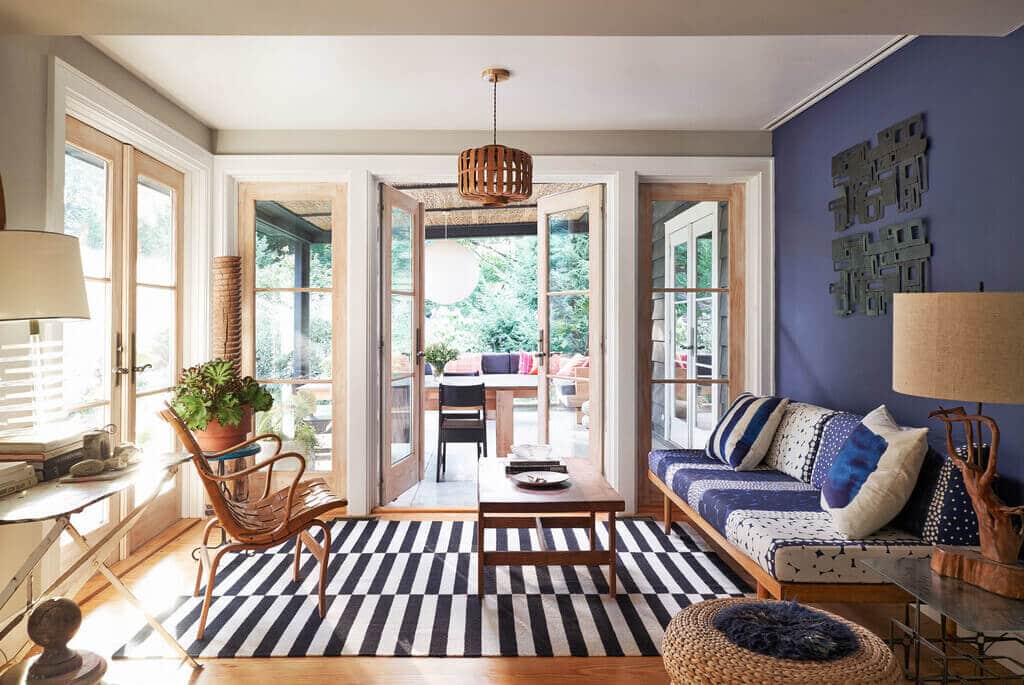 Source: meredithcorp.io
Once you get a rug just right, it can truly enrich your room, but if you get it incorrectly, it will make your room look even smaller. 
When looking for a rug, consider a design with modest repetitions to draw the eye in and make your lounge room appear larger. 
Use multiple rugs beneath different pieces to provide the illusion of larger living space, such as a rug beneath your coffee table and also another rug beneath an armchair.
8. Establish a Central Focus
Discover how to create a room appear larger by establishing a point of focus — a single place or element that draws the eye. That's most likely the table in the dining room. It's the bed in the bedroom. 
Let that centerpiece the spotlight in the room. Organize the furnishings to direct attention to that spot and keep the remainder of the room's décor to a minimum. 
Conclusion 
A clever layout can help a small living room look bigger, so you can relax in a location you like. To turn your sitting room a major success, all it requires is just a little bit of work.