Hot Trends in Bathroom Renovation
One-third of all renovations were carried out on bathrooms, reports Money.com, meaning that bathrooms officially take the number one spot when it comes to home remodeling projects. Costing around $9,000 on average, bathroom renovations comprise everything from the creation of walk-in showers to the enlargement of windows to let more natural light flood indoors. If you would like to turn your bathroom into an oasis of relaxation, take note of the following trends in bathroom renovation, which may inspire you to start your planning and design process.
Embracing Water Purity
Homeowners of new homes and those renovating current bathrooms often opt for inline water systems, placed beneath bathroom sinks to remove chlorine so the water feels much softer.
A water filter can achieve much more than optimal texture, of course, since although tap water is generally safe (thanks to the EPA), water heaters can be a breeding ground for bacteria, as can old plumbing systems. Just a few dangerous viruses and bacteria that can be found in plumbing include norovirus, giardia, and cryptosporidium.
Of course, water filters should be seen as part of a multifaceted approach to the subject of home water purity. Plumbing, HVAC systems, and heaters should well maintain and water should be testing to ensure safety.
Floating Vanities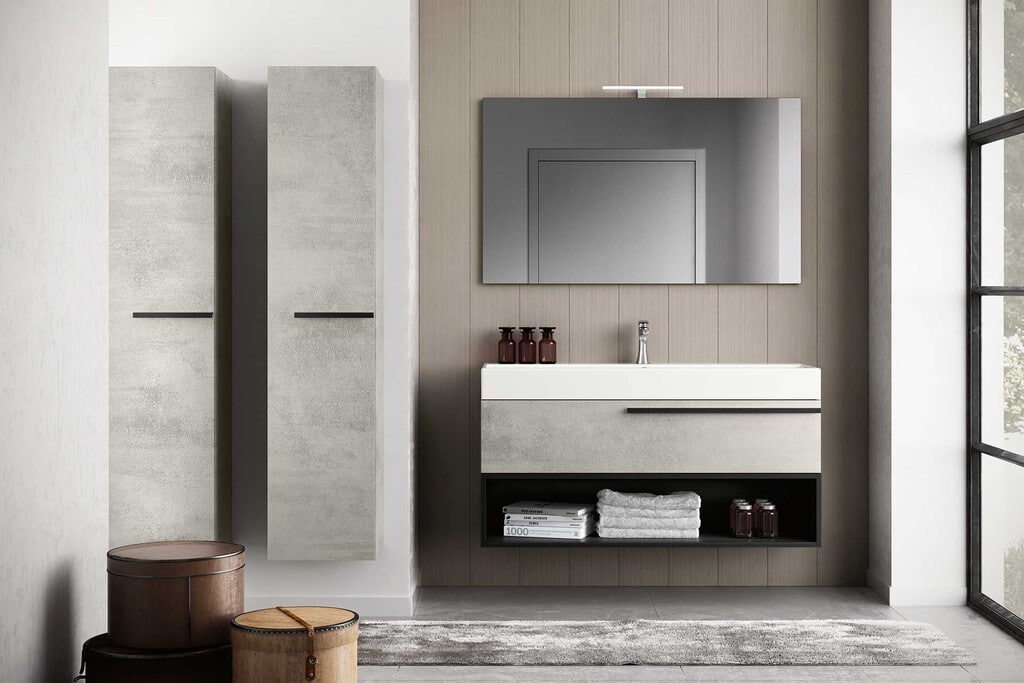 Source: europeancabinets.com
Wall-mounted vanities not only lend your bathroom a modern, chic feel but also ensure you can easily clean every inch of your flooring. They also permit you to create original storage solutions in your bathroom, since they can be placed vertically, horizontally, and alongside smaller wall-mounted storage solutions.
Floating vanities have a beautiful, airy style that is also useful for those who spend time in the bathroom on makeup or skincare tasks. The free space beneath the vanity can be used to rest one's feet, enabling one to get as close as one desires to the mirror.
Contrasting Tile Designs
Eclecticism in all its glory is celebrating in a variety of rooms in modern homes, ranging from kitchens to bathrooms. Tiles are ideal for bathrooms in many ways; they are easy to clean but also capable of lending the space a touch of artistry – whenever they use creatively. In decades past, colorful tile work was usually confined to showers (and made visible through glass doors).
Today, however, statement tiles in three different designs are using on walls, flooring, and shower walls, respectively. Complementary and contrasting colors can use to turn your bathroom into a veritable gallery – one you will enjoy contemplating while you enjoy a long soak in your favorite bubble bath product. Add to the magic by ensuring your flooring is comfortable thanks to underfloor heating.
Walk-In Showers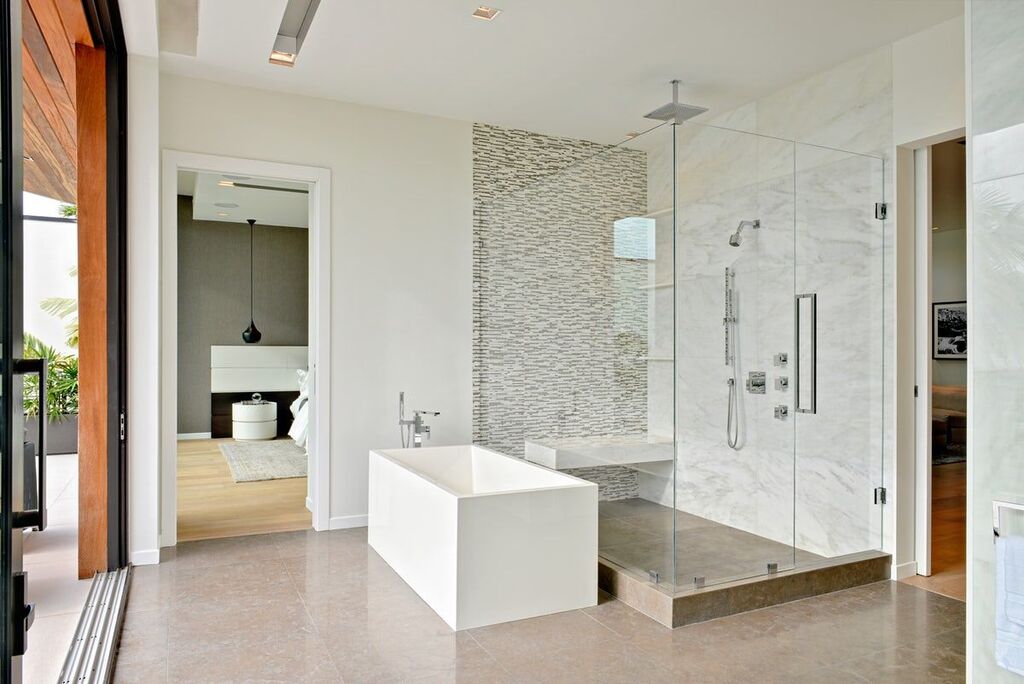 Source: hearstapps.com
Walk-in showers bearing glass doors provide a seamless union between the shower and dressing area – a fact which lends the illusion of larger space and makes for an array of interesting design features. This type of shower is ideal for families with older persons, since even flooring means a lower likelihood of the slips and falls that can occur in shower-and-tub-type designs.
Modern showers have stunning features such as benches and in-built storage nooks, perfect for keeping gel and shampoo. When tiling out your shower, don't place all the artistic tiles into your shower walls. The shower ceiling is a magnificent place for contrasting tiles or waterproof paint, while the bathroom floor can also provide complimentary or contrasting designs to the main shower wall.
Biophilic Design
This design trend – which involves the incorporation of plants into one's home interior design – is easy to bring into bathrooms, since plants love warm, humid climates, and water to irrigate them is always within arm's reach.
A few ideas for bathrooms include hanging planters, bamboo, and bromeliads. Although these plants thrive in moist environments, they need good air circulation so open your bathroom windows or run the exhaust fan (or a portable fan) for a few hours every day. 
Vertical Gardens
For something really special, consider installing a vertical wall in the space between your shower and the window if this is structurally possible. A vertical garden will also look beautiful as the backdrop to a standing tub. Top choices for a lush wall include devil's ivy, ferns, philodendron, orchids, aloe vera, and bamboo. Vertical walls generally require sunlight and irrigation.
Ideally, they should install by specialists in this type of installation so that the design fits your needs and comprises the right species for your climate and specific bathroom layout. Professional gardeners will also recommend quality fastening systems to ensure your garden is sturdy and safe.
Also Read: Make Your Bathroom Glamorous by These Creative Bathroom Tile Ideas!
Smart Technology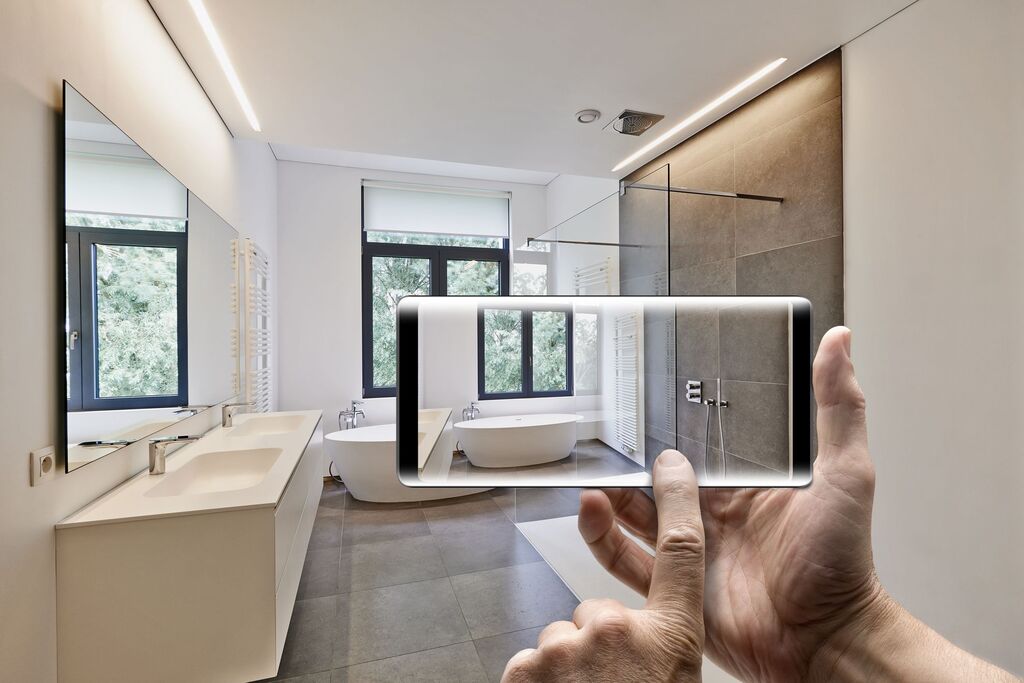 Source: hearstapps.com
Home automation is taking over the housing industry, owing to its ability to reduce energy expenditure and enhance the sense of pampering at home. Just a few technologies, making their presence felt in sartorial homes include demisting mirrors, LED temperature displays, and smart thermostats and room sensors, which ensure your bathroom is always heated to the right temperature.
Smart windows, meanwhile, have automated shades that allow you to soften the lighting in your bathroom. Top shade systems are built to respond to sky conditions in real-time, automatically letting in as much light as you need while keeping the heat of the sun out when the warm summer sun is beating down on your home. 
It's an exciting time for homeowners wishing to give their bathrooms a new look, with everything from luxury in-sink water filters to colorful tiling and walk-in showers making bathrooms more comfortable, safer, and more stylish. Hot trends to watch out for include underfloor heating and smart or automated systems.
The latter can help you save on energy bills while also creating a comfortable environment throughout the year. Vertical gardening, part of the biophilic design movement, is another trend that adds a sense of peace and calms to your bathroom. After a stressful day, few things could probably appeal more than enjoying a hot bath while contemplating a lush wall of plants and flowers.