Types of Electric Fireplaces: Which is the Most Realistic?
If you're in the market for an electric fireplace, you may want to buy a very realistic model.  If this is your goal, you should learn a little about the different types of electric fireplaces.  Hint: They're not all created equal.
Electric fireplaces don't produce real flames.  They have LED lighting flame technology that produces realistic flame effects; at least, that's the goal.  Some fireplaces are more realistic than others. A fire suppression system is required for residential homes.     
In this article, you'll get an idea of what types of electric fireplaces are available to you and which types are the most realistic.  Let's get started!
Wall Mount Electric Fireplaces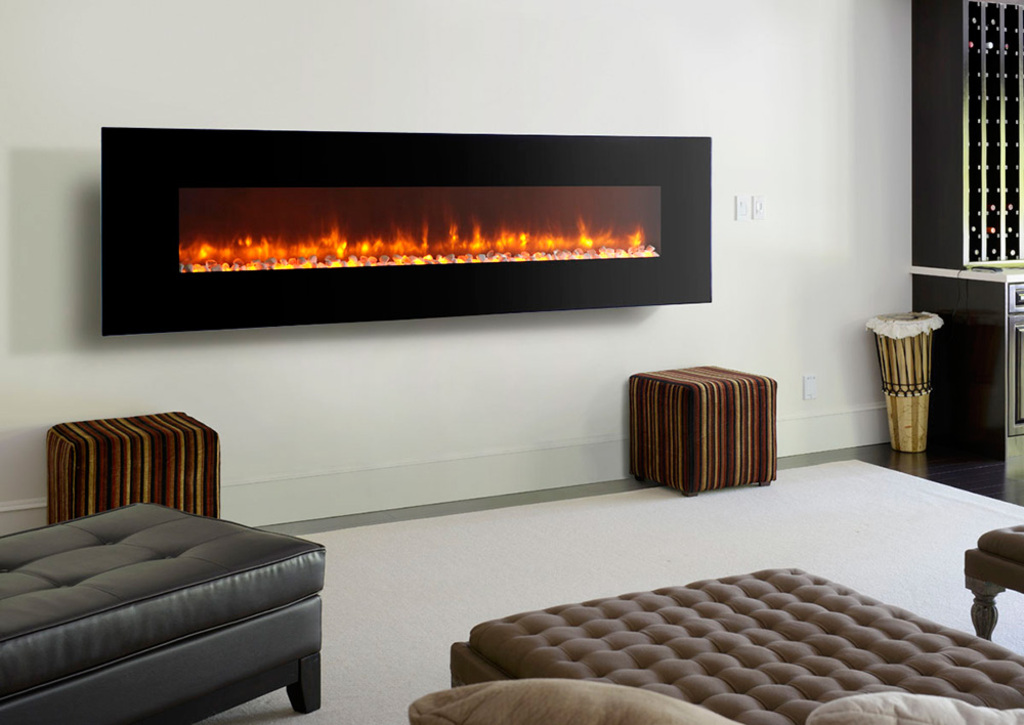 Source: electricfireplacescanada.ca
These fireplaces are made to be hung on or recessed into a wall.  They typically are long and short, creating a contrast from the traditional square fireplace.  A modern aesthetic is the goal of these fireplaces.
Purpose: provide a modern fireplace aesthetic
These fireplaces typically come with a lot of options.  You can choose between ceramic logs and fire glass when you purchase the unit.  Fire glass is beautiful, but it also makes the fire look less like a wood-burning fire, in other words, less realistic.
Once you've installed your fireplace, you can typically control the color of the flames.  Most units come with a "realistic flame" setting and other color choices (blue, purple, etc.) as well.  Again, these color settings add to the more modern fireplace feel, but they look nothing like real wood flames.
Electric Fireplace Stoves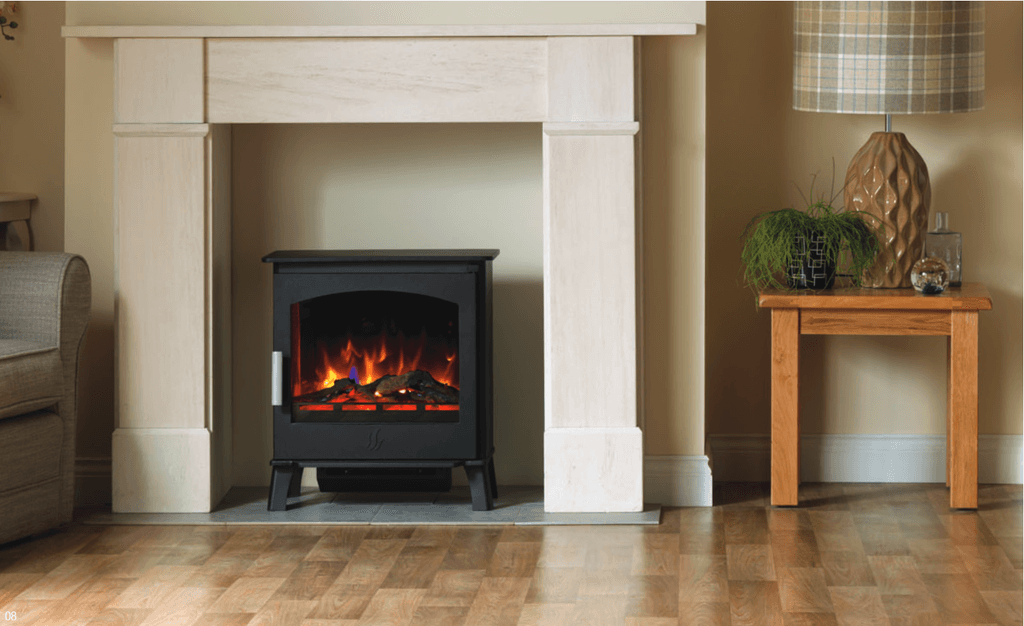 Source: hancockstovesandflues.com
Electric fireplace stoves are freestanding units. They can be placed anywhere you have an outlet. These units essentially function as space heaters; some consumers prefer the look of these fireplaces to a traditional space heater.
Purpose: provide heat first and aesthetic value second
As technology improves, these types of fireplaces have become more and more visually appealing.  However, since their main goal is to heat, they won't be as realistic as our next type of electric fireplace.
These fireplaces do usually have just one "realistic flame" setting.  You probably won't be able to change the colors so if one realistic setting is what's important to you, that's what you'll get.
These units are also quite small.  They are designed to be easily transportable.  This means the logs inside are often small and generally unimpressive.
Electric Fireplace Inserts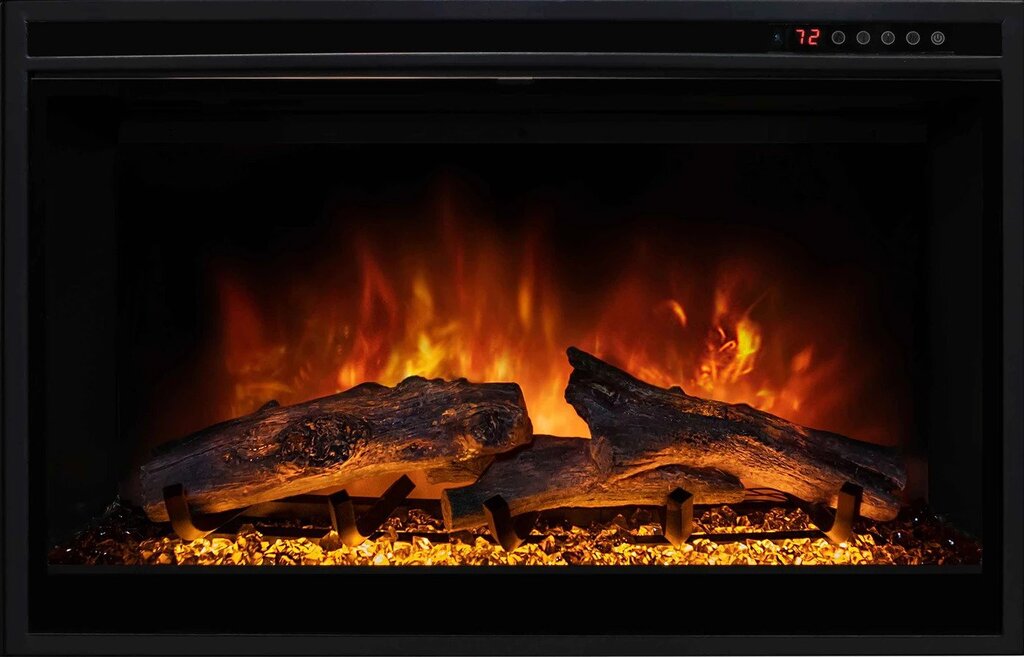 Source: shopify.com
Inserts are made to be inserted into a preexisting fireplace.  They are made to replicate a wood-burning fireplace without the hassle of starting and cleaning up a traditional fire.
Purpose: replicate a wood burning fire
These fireplaces are as realistic as it gets.  Their whole purpose is to recreate the look and feel of a wood-burning fire.  Some come with crackling noises and most have heaters.
With an insert, it's important to check the size carefully before ordering.  It needs to fit smoothly inside your fireplace.
Don't have a fireplace?  No sweat.  Fireplace inserts come pre-inserted into mantels.  You can even get mantels specifically designed to fit into a corner of your room.
Some electric fireplaces come within a TV stand or entertainment center.  These tend to be much smaller than the traditional electric fireplace inserts.  They look more like an afterthought than a real fire.
Also Read: 8 Tips for Constructing and Maintaining Fire Pits and Fireplaces
Log Sets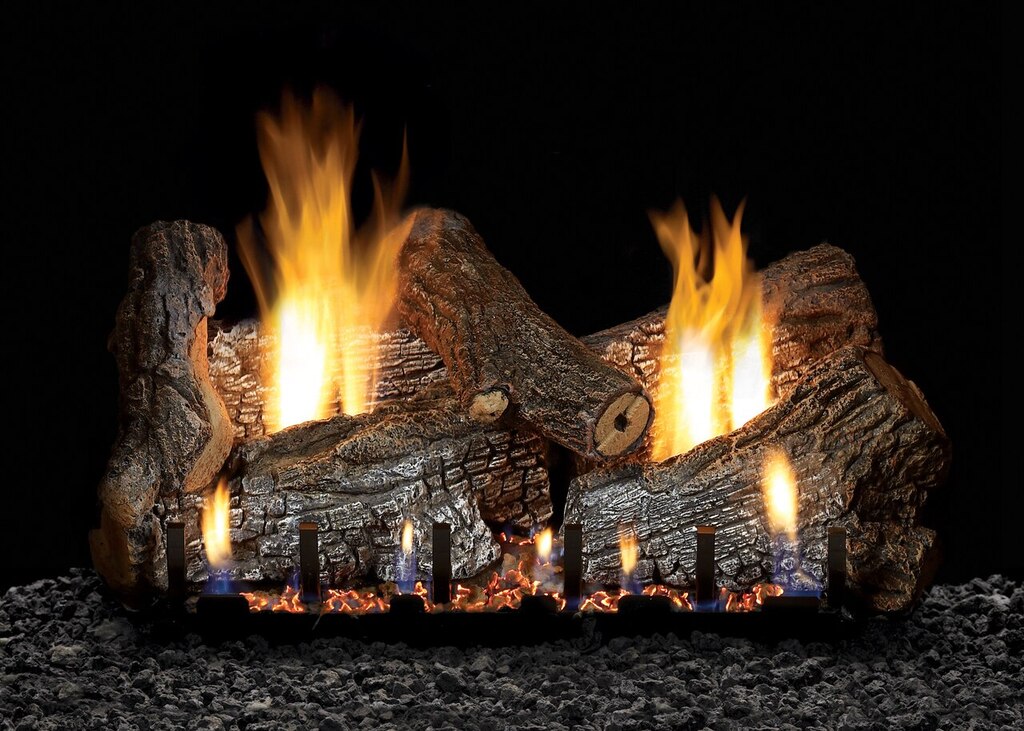 Source: bigcommerce.com
Log sets are similar to electric fireplace inserts.  However, electric fireplace inserts are contained units; they look like a big box.  These are just the logs, but their purpose is the same.
Purpose: replicate a wood burning fire
These also have to be installed in an existing fireplace.  Because they don't come contained in a premade firebox, how realistic they depend on your firebox.
They don't come with different flame colors.  Some come with heaters.  Overall, they do a good job of mimicking traditional fireplaces, but you won't know how truly realistic it is until you plug it in.
Final Thoughts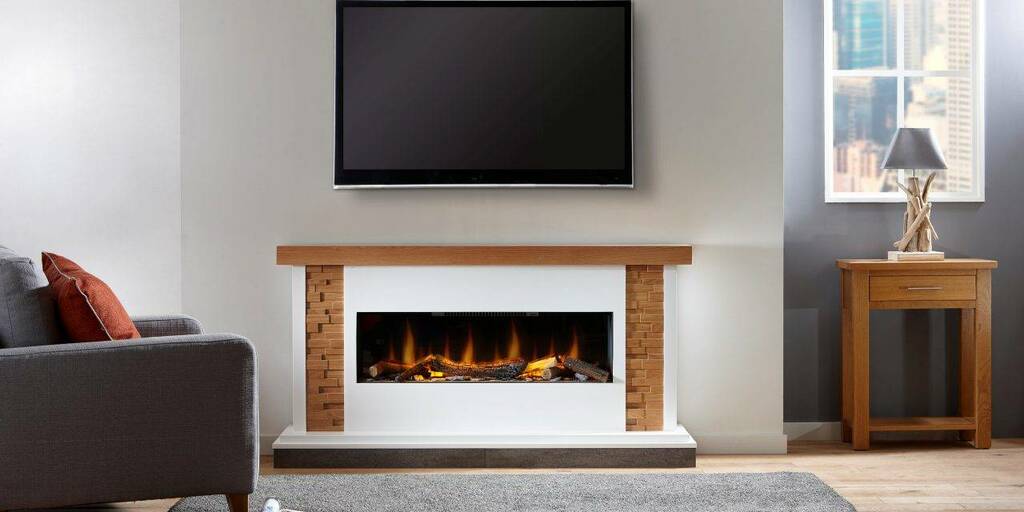 Source: savvysocial.org
If you want more information about electric fireplaces, check out this article. It gives you in-depth reviews of the technology behind the most realistic electric fireplaces. Plus it has some product recommendations!
For now, I hope you found this guide helpful.  Happy shopping!