7 Best Outdoor Portable Propane Fire Pit For Your Backyard
On a cool evening, imagine that you are roasting some tempting hot dogs or marshmallows for a small or large gathering. Doesn't it sound fun and interesting? Whether it is camping,  an on-the-beach holiday, or other fun summertime activities, there's something special about gathering around a crackling fire, right? Get the best portable propane fire pit.
However, not everyone can build a fire with logs in their backyards. Even, some areas, and communities don't allow it. That's when a portable propane fire pit comes in handy! You can simply add a firepit and transform your backyard into a welcoming escape. This spot will instantly become a destination point to gather with your loved ones or you can simply have a moment to yourself. 
Traditional fires with logs have many drawbacks, such as you have to clean up the ashes, and the entire area will smell like smoke. That's not the case with these gas fire pits. They offer the same warmth and ambiance as the wood burning fire pit but without the hassle. There are also many additional benefits of a fire pit that runs on propane gas, such as not emitting smoke or creating sparks, being easier to light, and best of all, getting a fire going in seconds.
Gas fire pits come in a variety of sizes and designs, so you can select the one that complements your backyard decor. Plus, gas burns cleaner and safer than wood. Today in this blog, we've compiled up some of the best propane fire pits for you.               
Top 7 Cool & Stylish Portable Propane Fire Pits in 2022
These top-rated and customer-loved firepits come with built-in features that boost safety and function. We have also included some affordable options that will make your dreamy backyard update a reality. We've included every type of gas fire pit table, from steel, tiled to rounded and square designs. Plus, some can even be used as tables.
Also, don't forget to read the buying guide at the end of the list. There we've explained how to select the best gas fire pits for your home. 
Let's start with the list.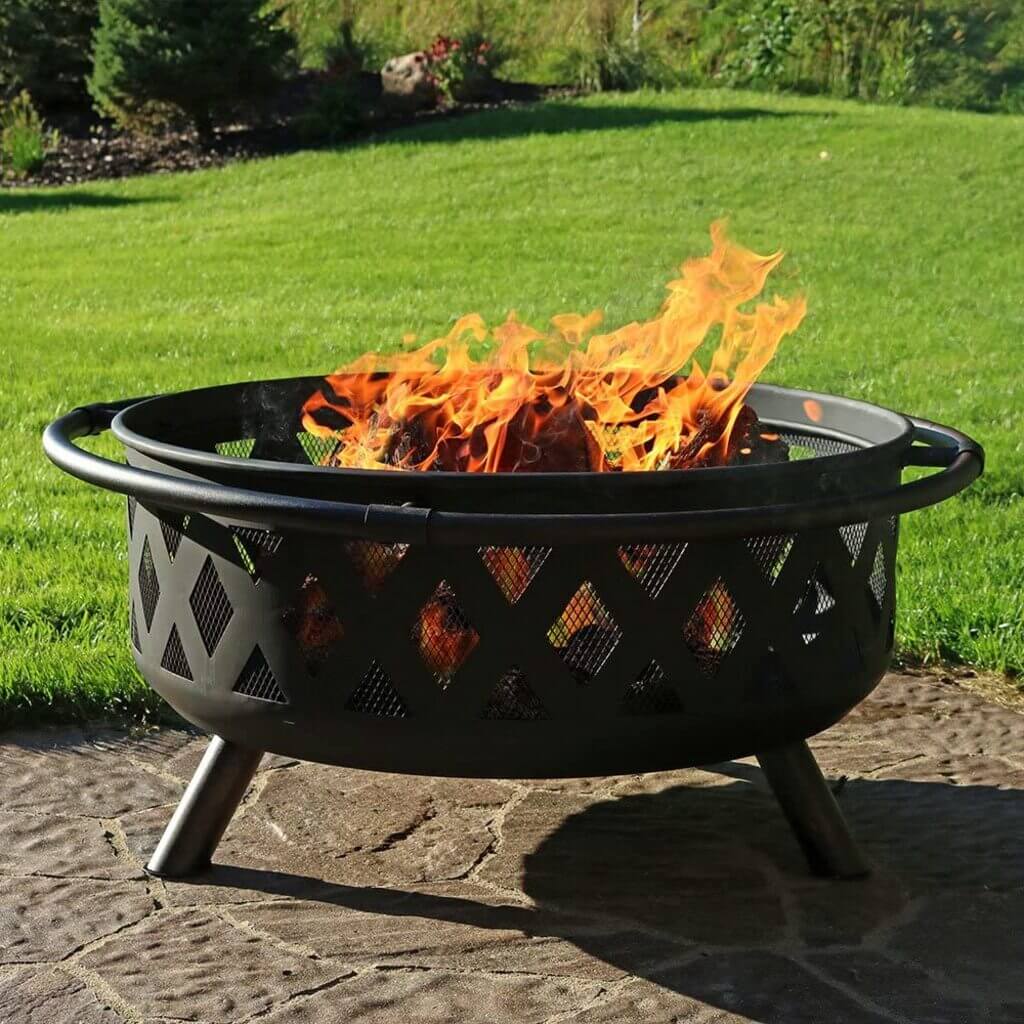 Source: amazon.com

Key Features: 
Made from Durable Steel

Heavy-duty Cross weave Design

Comes with Spark screen & Poker

Built-in Wood grate    

Rust resistant
Enjoy a great time indoors or outdoors with family and friends with the Sunnydaze Crossweave Outdoor Firepit. You can have large parties or get-togethers as this firepit is quite large. 
Made from strong steel, this three-foot-wide model is also rust-resistant. Not only this, but it is also portable and comes with safety features like a spark screen. The installation process is also quite easy and smooth. All you have to do is attach the three legs and outer rim, and your cozy DIY propane fire pit is ready!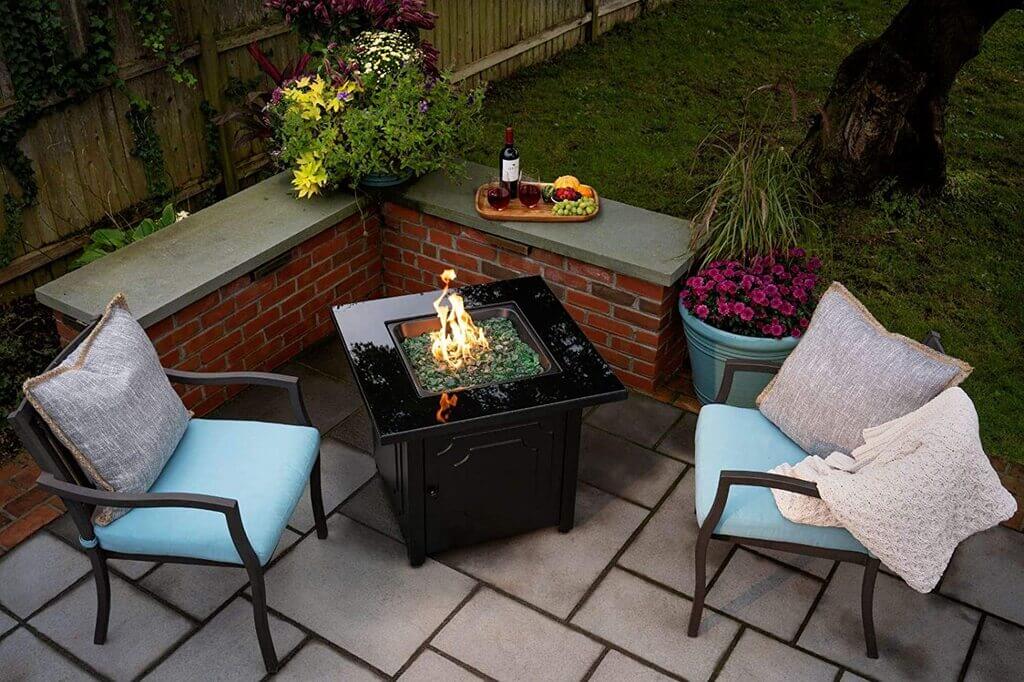 Source: amazon.com

Key Features: 
Square black steel fire bowl

Sleek steel side panels

Adjustable flame size

Comes with PVC Vinyl Cover

Has Safety valve and piezo ignition
Do you want a firepit that not only produces enough warmth but also looks attractive? Bring home the latest Endless Summer 30″ Outdoor Propane Gas Fire Pit. This table-style fire pit produces a hardy 50,000 BTUs of heat on a 20-pound propane tank. This is tucked neatly out of sight in the sleek steel cabinet beneath the fire bowl; that's why it looks stylish.
This device comes with a spark-ignition technique which helps make a quick fire-up. Once you light the fire, you'll see flames dancing among 12 pounds of green fire glass. This is also included in the kit. Due to this glass filled in the fire bowl, it produces a shimmering flame effect. 
When you're not using the pit, you can place the steel cover on it and convert it into a regular table for added utility. Brilliant concept, right? The entire unit measures 30 inches by 30 inches square, and stands 25.14 inches high, and weighs around 80 pounds.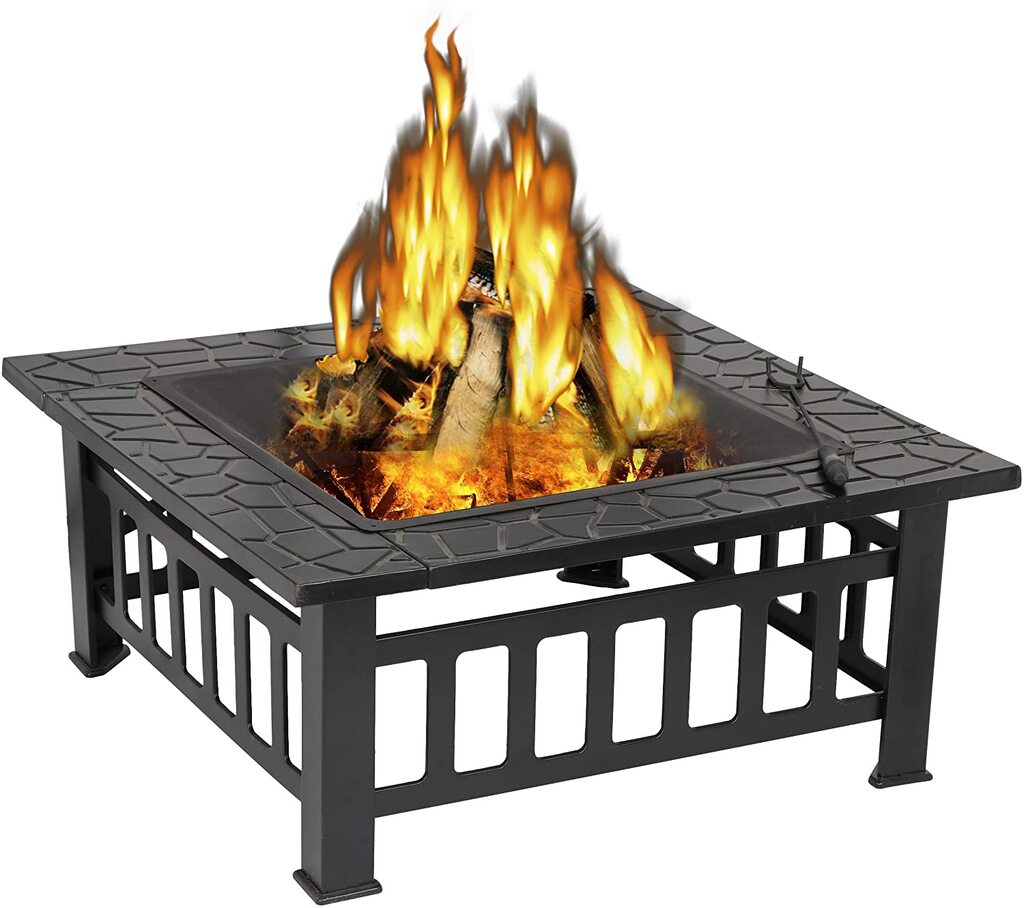 Source: amazon.com

Key Features:
Square table top

Durable Construction

3 in 1 portable fire pit

Comes with a safety mesh cover

Easy to assemble
Zeny Wood-Burning Fire Pit Table is a 3 in 1 portable fire pit that is one of the best outdoor fire pits. It is made of high-quality solid and long-lasting black coated metal mesh and frame. That's why the fire pit can work for long hours outside and still stay rust-resistant. 
It has a substantial grill surface and many other accessories also come with the package, such as a grill grate, fire poker, mesh screen with a top ring, and a protective rain cover. This table has an embossed stone pattern on top and is wide enough with four sturdy legs. 
You can place this table in your garden, patio, or backyard and enjoy large group gatherings. It can not only offer warmth but also can be used for BBQ and for cooling drinks and food.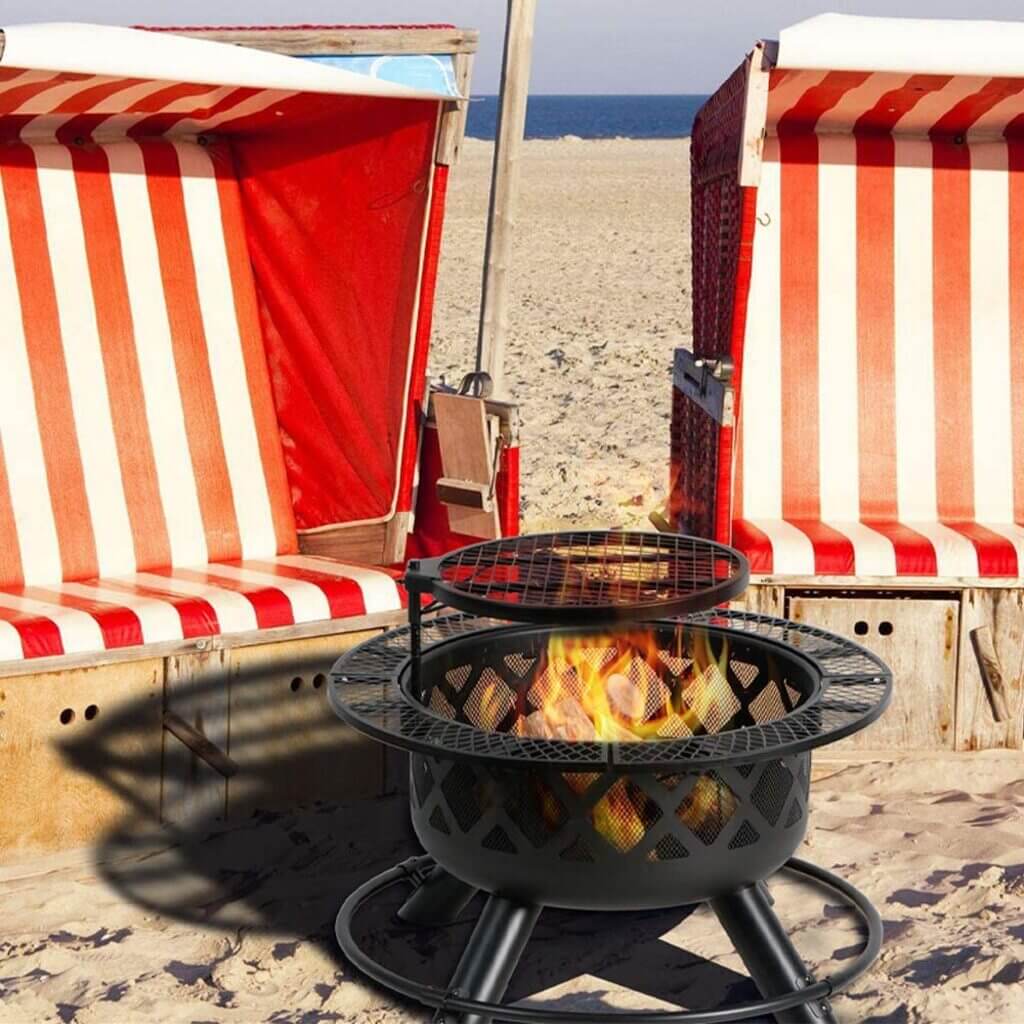 Source: amazon.com

Key Features:
Has 24-inch inner bowl 

Durable and sturdy construction

Dual-purpose use

Removable and adjustable grate

Unique log rack
Are you looking for a  2 in 1 large fire pit on which you can grill food for your entire family? If yes, Bali Outdoors Wood Burning Firepit will be ideal for you. This pit has a huge area for your family and friends to enjoy barbecue hours. Plus, this is a dual-purpose fire pit that will also act as a grill. Amazing, right?
This wood-burning pit comes with an adjustable cooking grate with humanized design. It means this pit can be swiveled 360 degrees and adjusted up and down by pulling and pushing the handle. This way, you can perfectly position whatever food that you're grilling or serving. 
It also comes with a collapsible triangle frame rack to hold logs for better ventilation. This provides enough space for a raging fire. So enjoy toasting your apple cider donuts or warming soft pretzels while spending some memorable outdoor moments with your loved ones.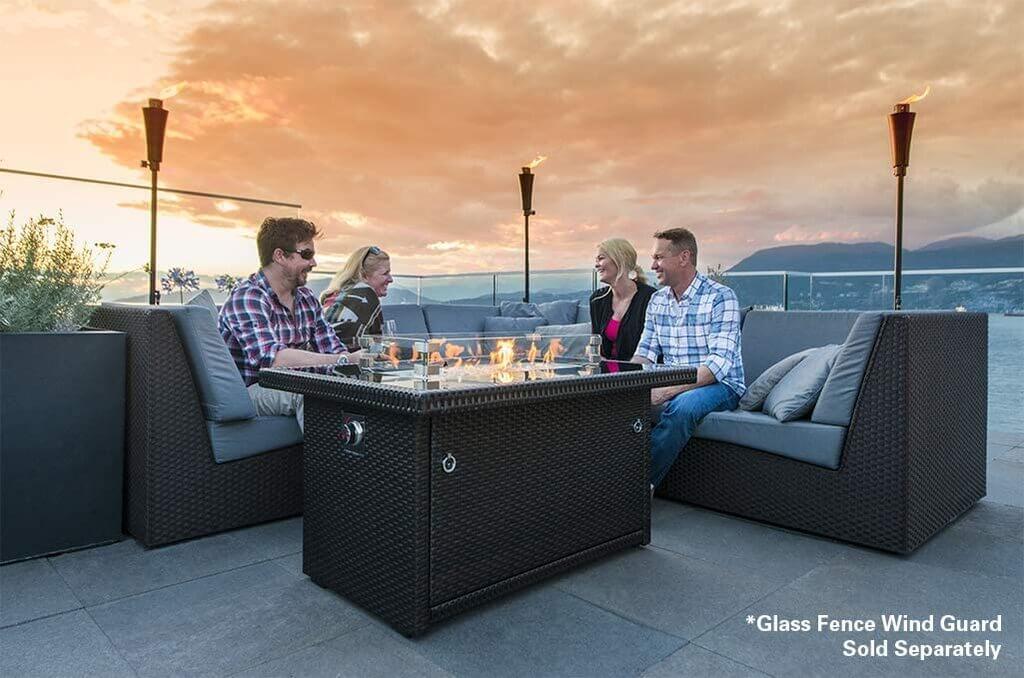 Source: amazon.com

Key Features:
Stunning Rectangular Design

Comes with auto-ignition

UV & Water Resistant 

Black Durable Cover

100% smoke-free variable flame
Enjoy cozy moments with Outland Living 44-Inch Outdoor Propane Gas Fire Table in your outdoor living space all year round. This table functions doubly: first, you can use it as a full-size coffee table to hold drinks and plates. Secondly, of course, as a firepit. 
It has an oblong center fire pit that sets a relaxing mood with dancing flames that flicker across 15.5 pounds of Arctic ice fire glass. The construction is also quite durable as it includes an aluminum frame and resin wicker, and both are weather and rust-resistant.
You can install this outland firebowl on or over any non-combustible floor and enjoy the warmth of the fire. Just make sure to use it only outdoors or in a well-ventilated space and shall not be used in a building, garage, or any other enclosed area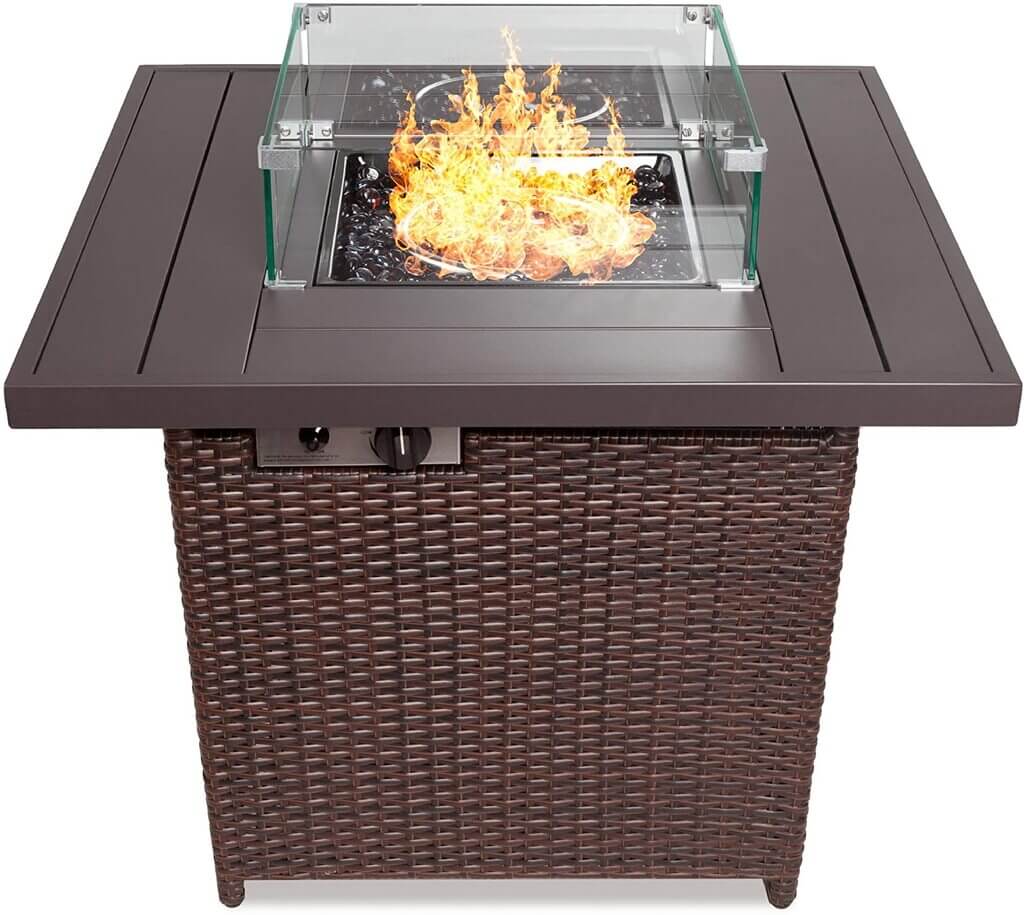 Source: amazon.com

Key Features:
Hideaway tank Storage

Glass Wind Guard

High-Quality Construction

Comes with Protective Cover

Easy to install
Complete your outdoor look with this unique Propane Fire Pit Table. Constructed from all-weather polyester wicker, this fire pit table offers a warm, contemporary look. 
The table gives off 50,000 BTUs of heat, with space underneath to store the propane tank. This makes it perfect for a small deck or patio. Made from powder-coated aluminum, it also comes with an insert to place over the lava rocks. So you can also use it as a small table.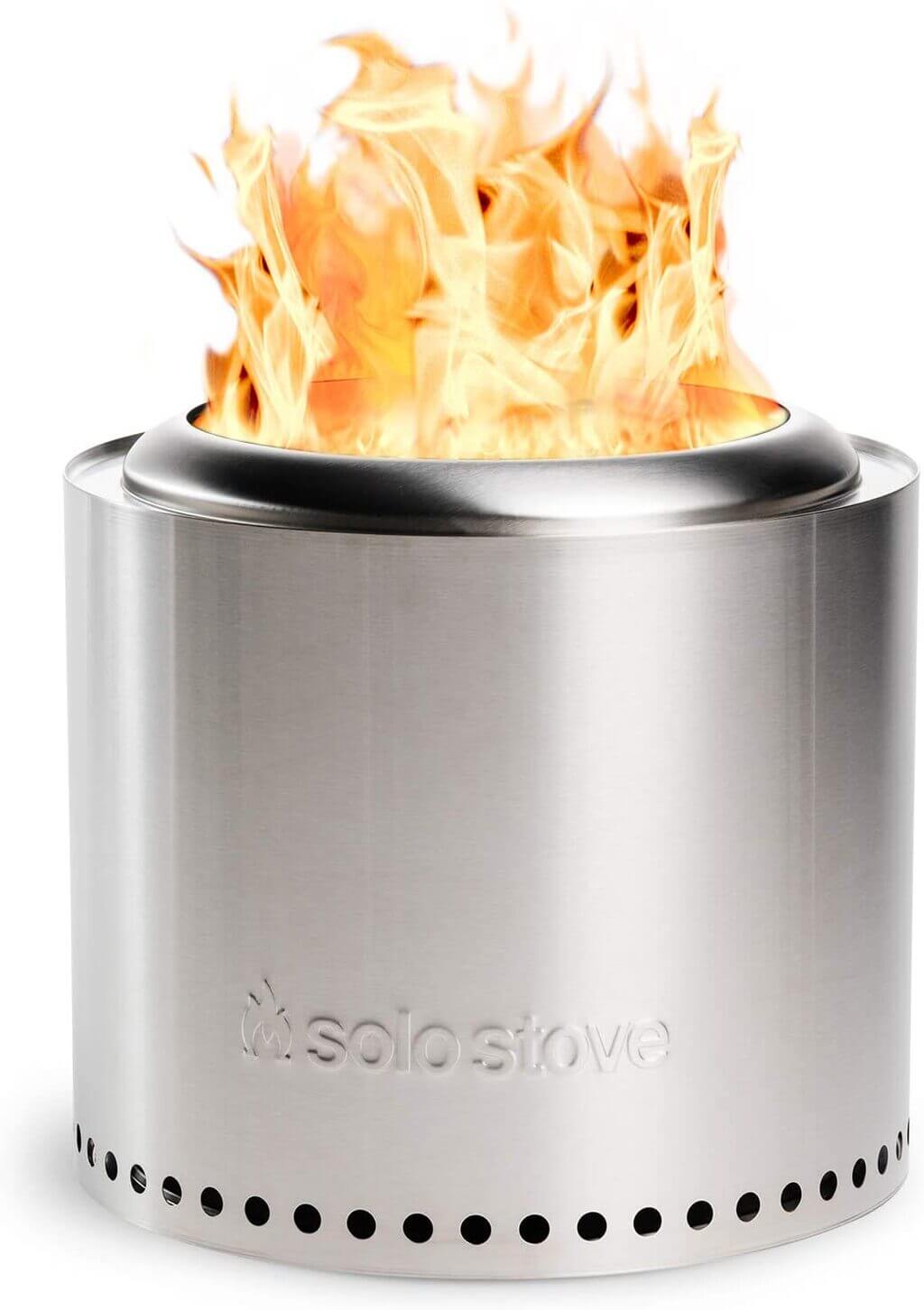 Source: amazon.com

Key Features:
Portable fire Power

Low Smoke

Portable 

Durable

Wood Burning
Do you love camping or hiking? However, due to the recent pandemic, we can't go outside to do such activities. Still, there is one way to enjoy these activities. Yes, with the help of the Solo Stove Ranger Outdoor Fire Pit, you can take a similar experience of camping and campfire and that too in your home only. 
Due to its portable size and smokeless delivery, this camping fire pit is immensely popular among people. Due to its unique construction, it gives very low smoke. You can host a summer party in which you can toast marshmallows and enjoy a fantastic evening with your family and friends with this incredible portable propane campfire.
Buying Guide: What to Consider When a Portable Propane Fire Pit? 
Now the biggest question is how to buy the right firepit for your home? What factors should you look at? As we already told you that gas fire pits come in various sizes and designs, it might be a little overwhelming for you to pick the right one for your outdoor space. Don't worry, look at the below factors. These are important to look for while buying any type of fire pit. 
Style
There are several different styles of gas fire pits available in the market, such as Masonry fire pits, Fire pit tables, Tabletop fire pits, portable fire pits, and Fire bowls. Each comes with different features and benefits. So, select the one that works better for your outdoor space. You can also find great luxury fireplaces available here. 
Size and Shape
Dimensions are quite important. Before buying any type of gas fire pit, always measure and consider the size of your outdoor space and the firepit. Some fire pits come with sleek exterior designs, while some have foldable and sleek designs. 
Heat Output
Always check any gas fire pit rating as they're rated for heat output in BTU (British thermal units). The higher the BTUs, the more heat the fire pit will produce. Generally, BTU outputs range from 30,000 to 60,000.
Tank Size
These propane fire pits come with tanks as small as 1 gallon. So, it is always better to check the tank size before buying one. 
Safety Features
Anything that has fire can be a little dangerous, so always check the safety features of the product. Many come with safety panels and grills. This is an important factor when you have small children in the family. 
The Bottom Line
So which amazon portable propane fire pit do you like the most?  Always select the one according to your budget, backyard size, and the features that we mentioned above. This way, you will be able to buy the best propane fire pit. 
So, this is all about the portable propane fire pits. I hope this blog has helped you buy the right gas fire pits for your outdoor space. Now, order your favorite amazon portable propane fire pit and enjoy a refreshing, relaxing outdoor experience in your home. 
If you find this reviewing guide helpful, please share it with your friends or family.
For more honest product reviews and buying guides, keep visiting Architecturesideas.
For daily updates, do follow us on our Instagram page @architectures_idea.