20 Stunning White Cabinet Kitchen Backsplash Ideas
A color that accentuates any color is white, one can say, don't you think so? Adding a textured, colored backsplash becomes a timeless combination that anyone would want for their kitchen decor. Selecting from the huge array of options might seem tedious but, the result gives the space the needed contrast and life. This would make the backsplash of a kitchen space an integral part of the kitchen design itself. Given that, there are certain white cabinet kitchen backsplash ideas that remain timeless, depicting the true essence of the theme.
Let's look at 20 Kitchen Backsplash Ideas for White Cabinets
1. Ethnic Victorian Tiles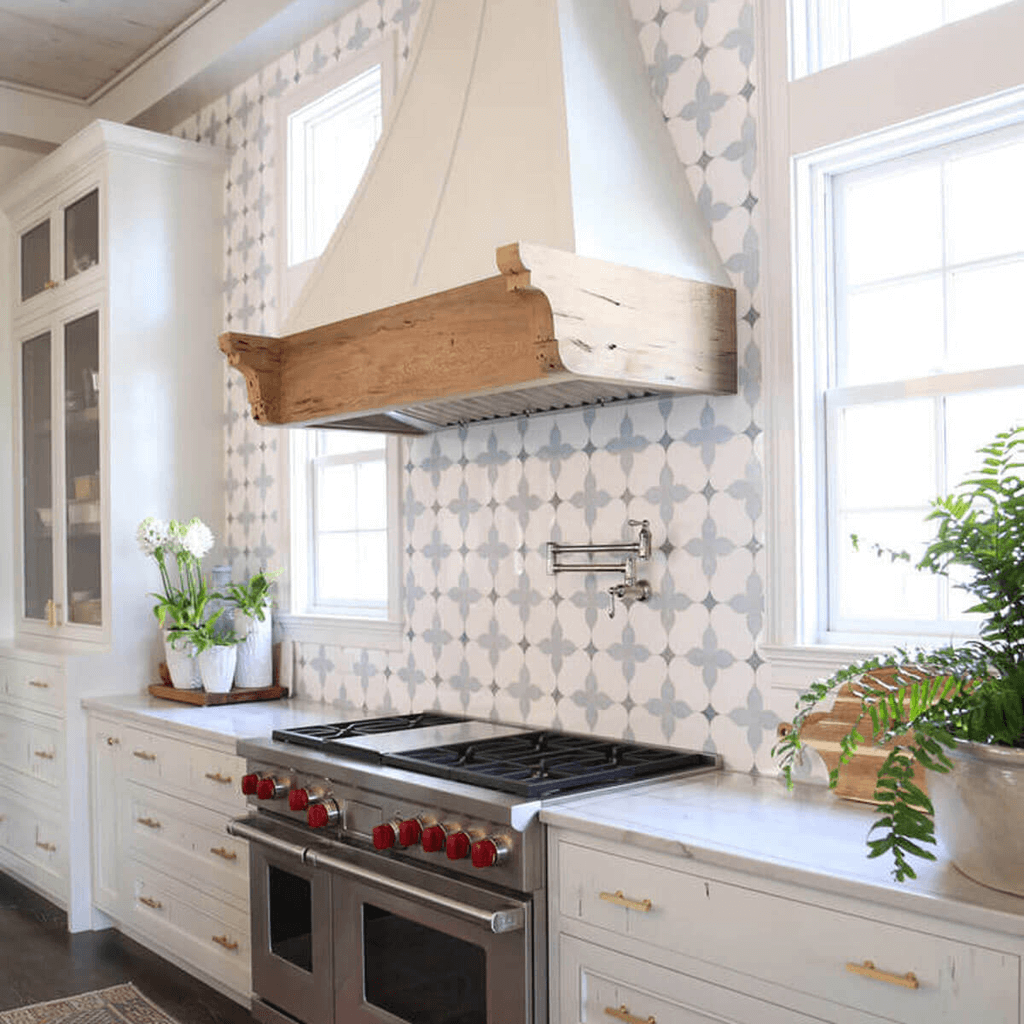 Source: pinimg.com
The subtle combination of subtly patterned tiles as a backsplash gives an even look to the white kitchen backsplash. The pattern brings in the color needed without being abrupt and catching the same flow as the countertop and white cabinetry. As it is inspired by the prints in the Victorian period, you can use the tiles as a part of creating a nostalgic mid-century theme for the kitchen.
2. Lustrous Tiles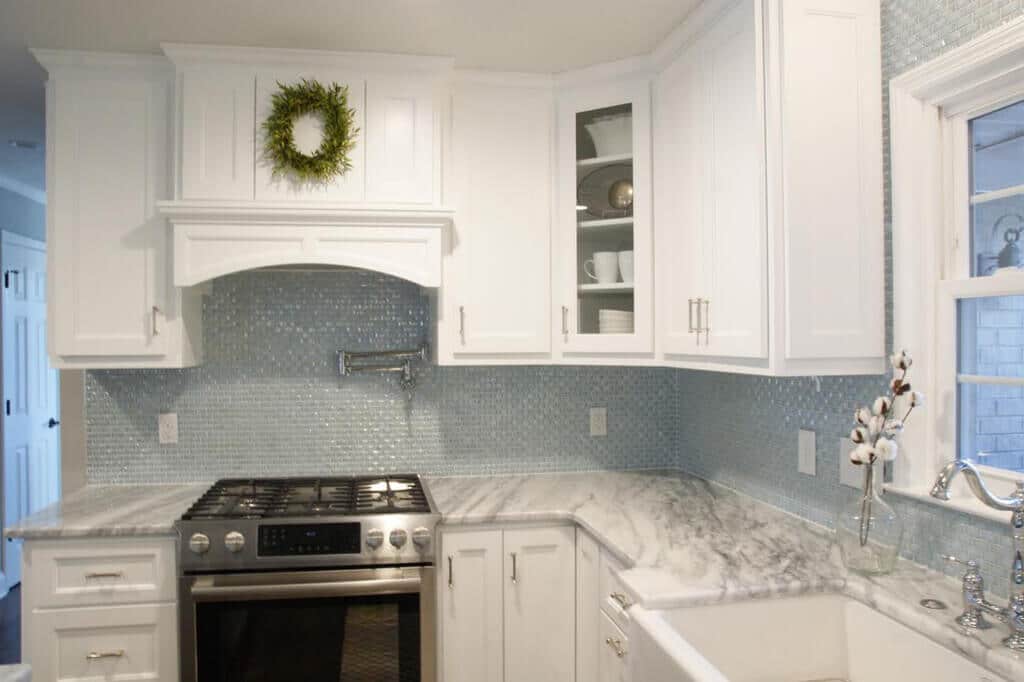 Source: hzcdn.com
Lustrous might be a nature you are familiar with metals right? Well, that can be changed today as these tiles, glimmer, and shimmer in the light, expanding their reach of it in the kitchen space. This glimmer also gives it the unique property of seeming slightly different in different positions around the kitchen space. This backsplash for white cabinets creates a rainbow effect bringing in colors of pink, blue and purple to play off the textured surface
3. Opulent Marble
Source: pinimg.com
A richness that is brought into the kitchen by the use of a slab of marble for a white backsplash is eternal. The versatility of the material and its subtle ways of introducing color through the beautiful veins brings an ultra-modern vibe to the whole space. This can be suggested to be used to express cleaner looks that talk more with fewer elements.
4. Nostalgic White Tiles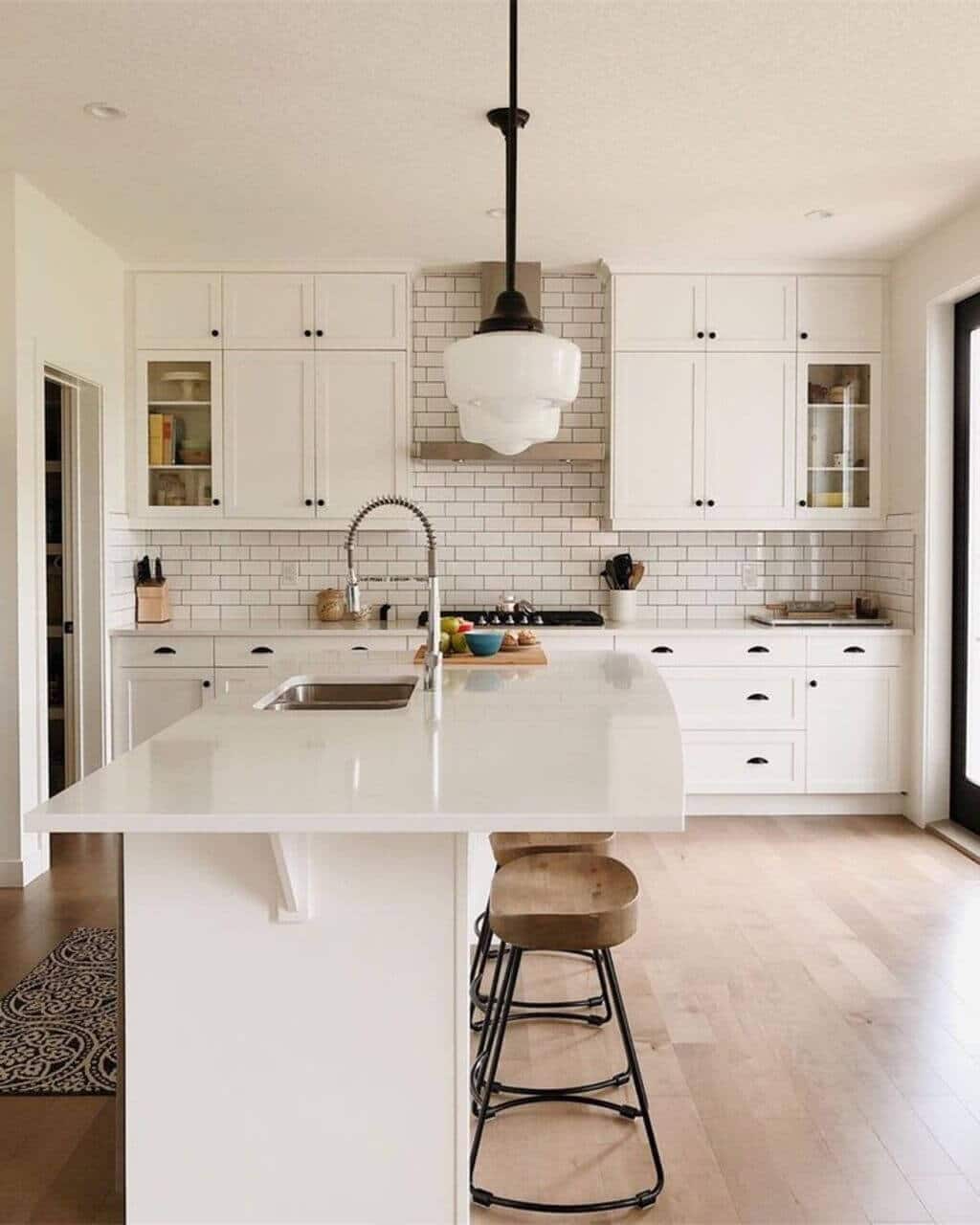 Source: pinimg.com
Merging seamlessly into the white cabinetry is the old-time and all-time favorite white backsplash of subway tiles. This hits back home with a staggered brick placement that is traditional thus, perfectly fitting a farmhouse and country home vibe.  
Also Read: Fab Fifteen Ideas for White House Black Trim
5. Vibrant Green Tile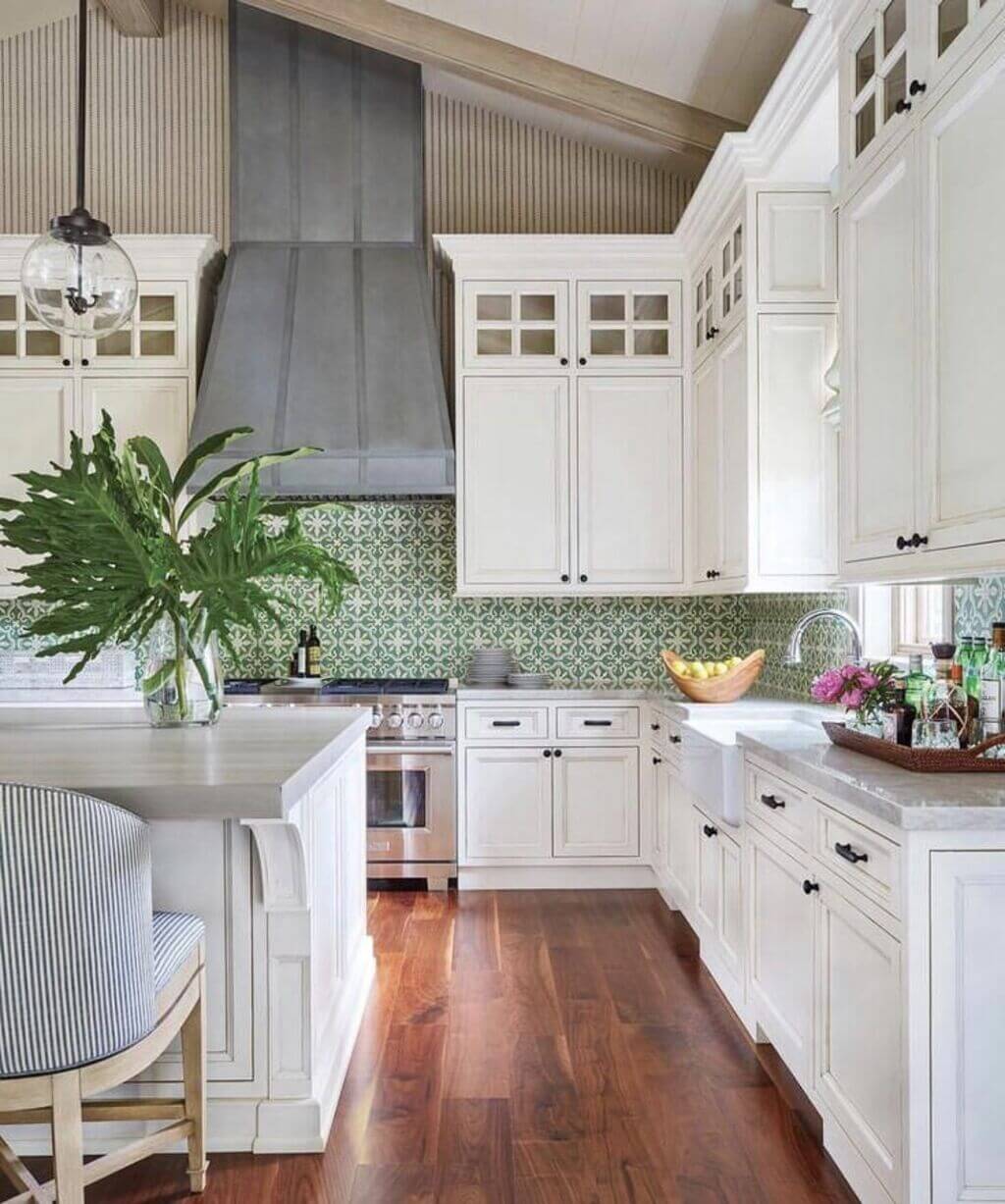 Source: pinimg.com
If you want to steer away from the traditional backsplash ideas for white cabinets, green is the way to go. Not only does it bring a  zest of the natural tone into your kitchen, but it will accentuate the muted white cabinets as well. You can go for green tiles that are decorated with motifs for a more rooted country look, or go bold with the solid green tiles.  
6. Herringbone Tiling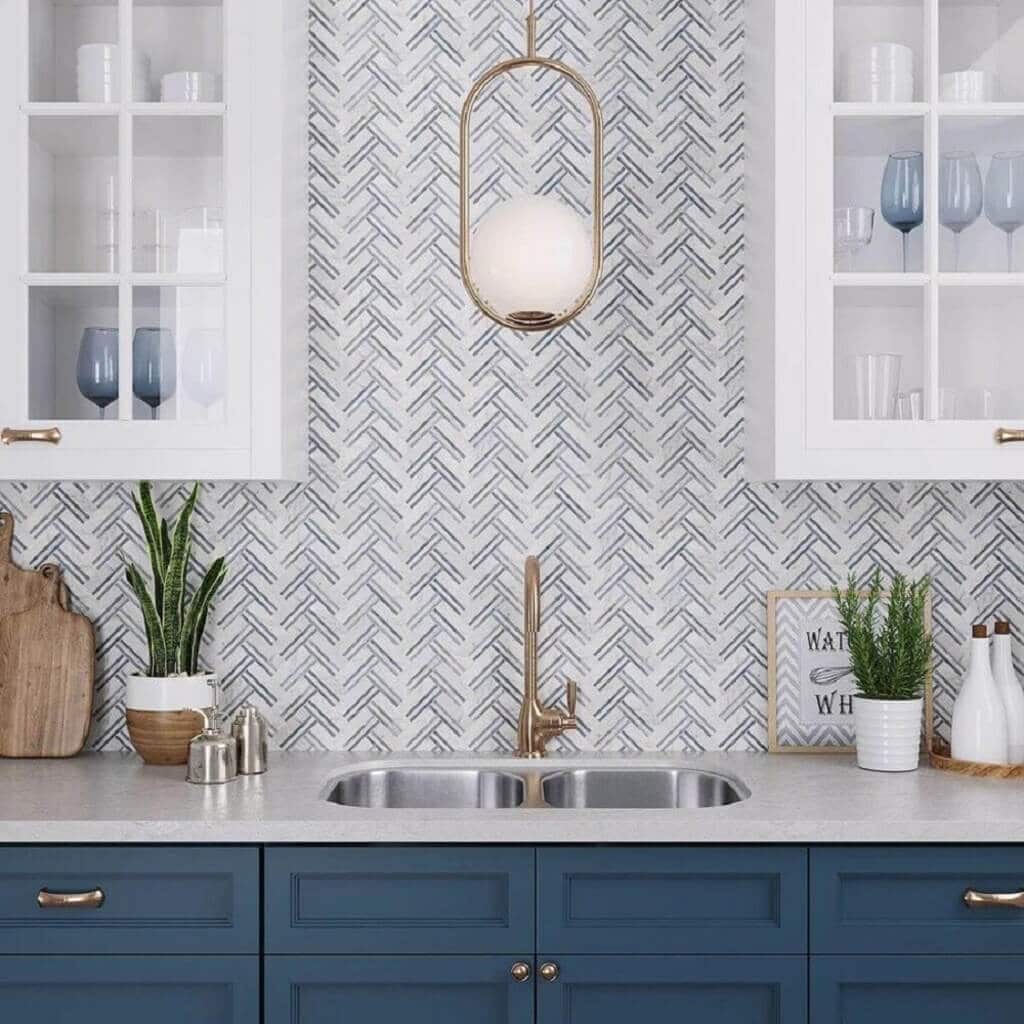 Source: lowes.com
Shaking things up in the layout of your kitchen backsplash is the tile work in the herringbone layout. Arranging them at a 450 angle to the normal 900 makes a shift in appearance and texture adding to the visual appeal of the space. This can be a contrast to the white backsplash ideas when muted colors of blue are used for the tiles.
7. Stacked Charcoal Stone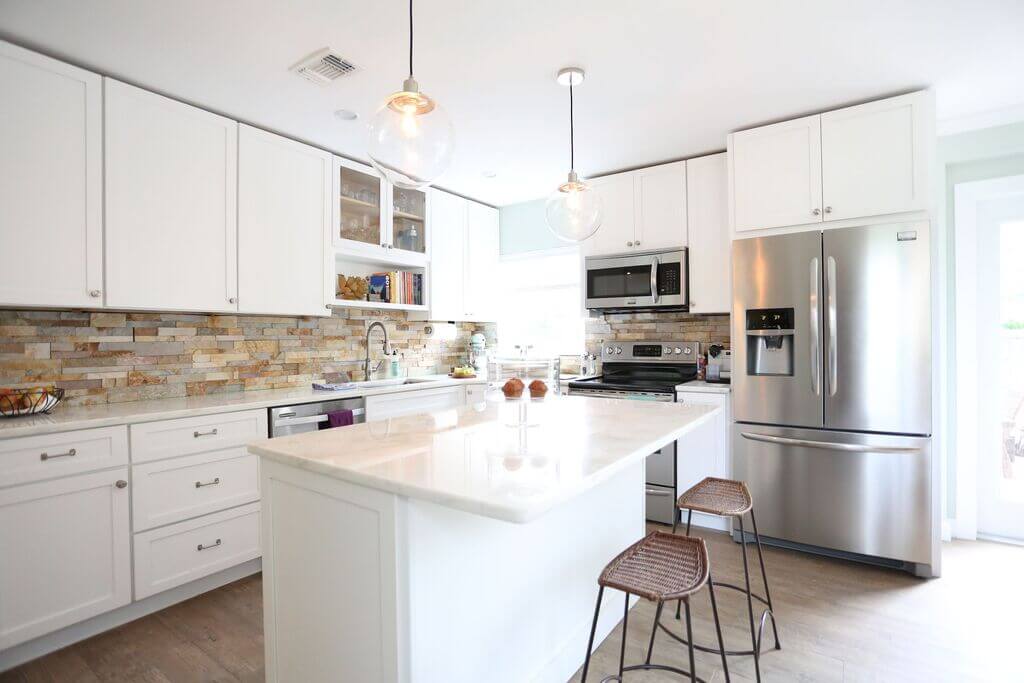 Source: pinimg.com
Textured wall in kitchen space? Why not. A backsplash using a textured stone contrasting the pure white can be used to bring in the same effect. This becomes a way of incorporating a unique texture to a clean setting where minimalism is at its peak. 
8. Earthy Brick Masonry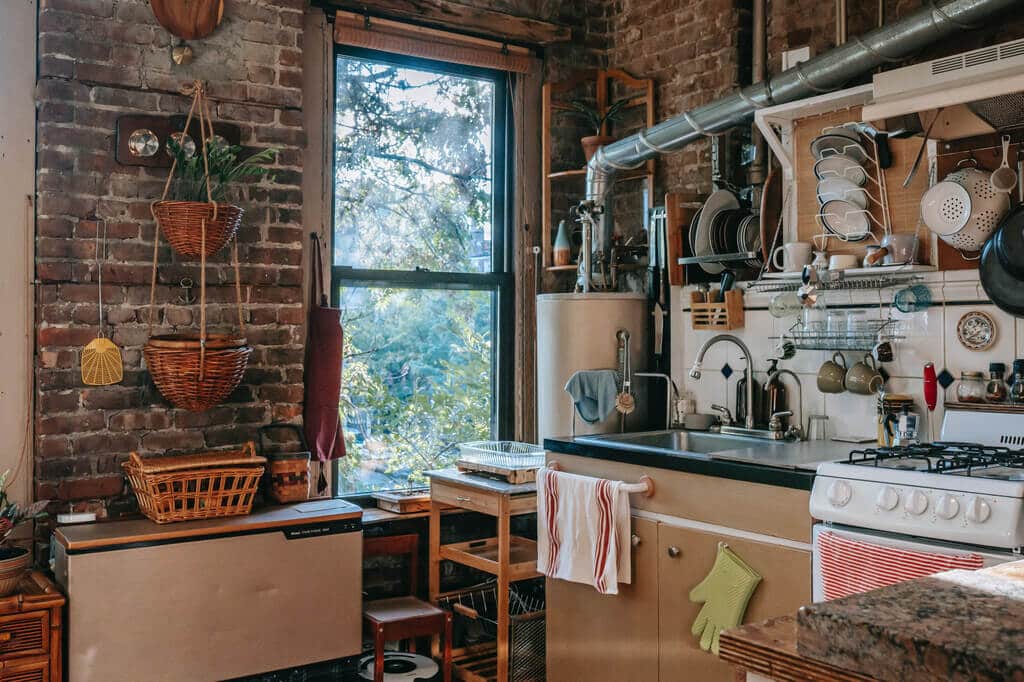 Source: twimg.com
Taking the skeletal frame of a building into the kitchen space would be including a backsplash that is made of brick masonry. Here there is a play of earthy tones that brings in a sense of traditionalism and homey ambiance to the kitchen. It can also be considered for bohemian aesthetics where earthy tones and vibrant colors are in abundance.
9. Scallop Tiles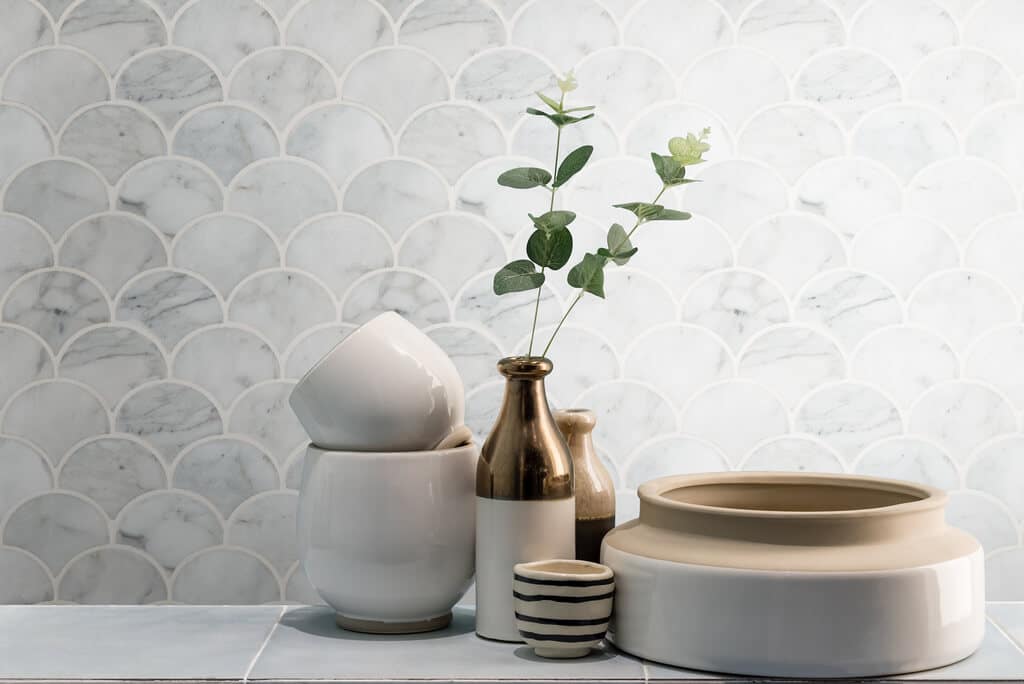 Source: walmartimages.com
Shifting away from the boxy arrangements is the fish scalelike placement of tiles with the scallop tiling. These curvy and hemispherical tiling was once the rave which can be now brought back into your kitchens for a unique touch of texture. 
Muted colors of greys and whites or combinations similar to that of marble compliments the white cabinets with ease. A pop of color for a true retro vibe can be brought in with rich colors and gold lining for the pattern.
10. Patterned Tiles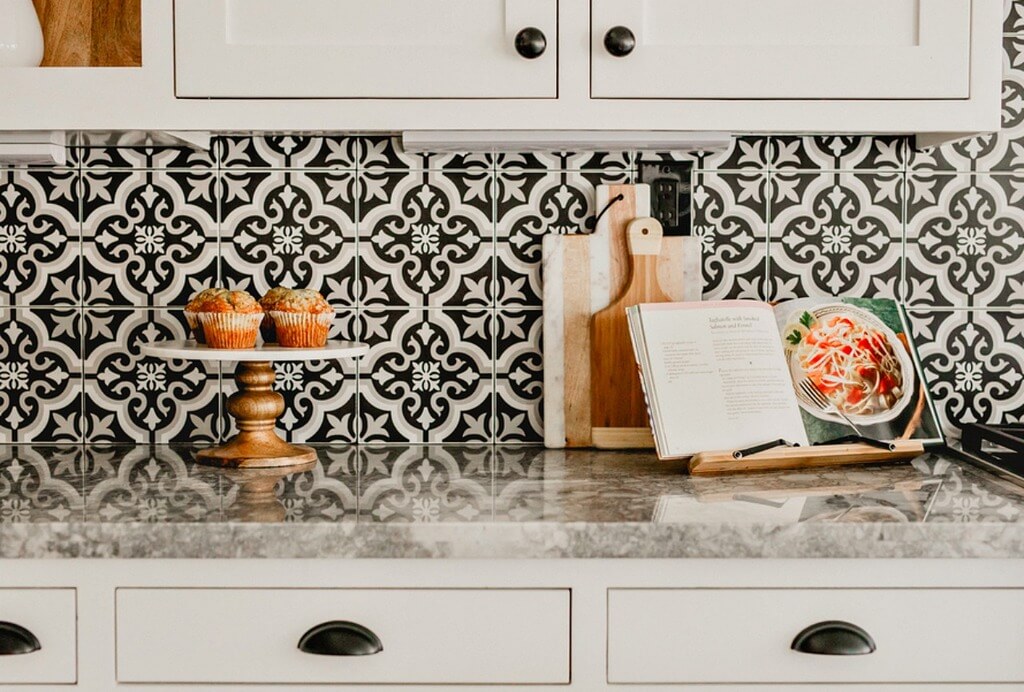 Source: housebecomeshomeinteriors.com
A lot of the retro era can be reintroduced using simple tiles that repeat a pattern. With a splash of color given, it will shine through the white cabinets accentuating itself along with the kitchen features and the pure white cabinetry placed in your kitchen space. 
11. Color Grouted Tiles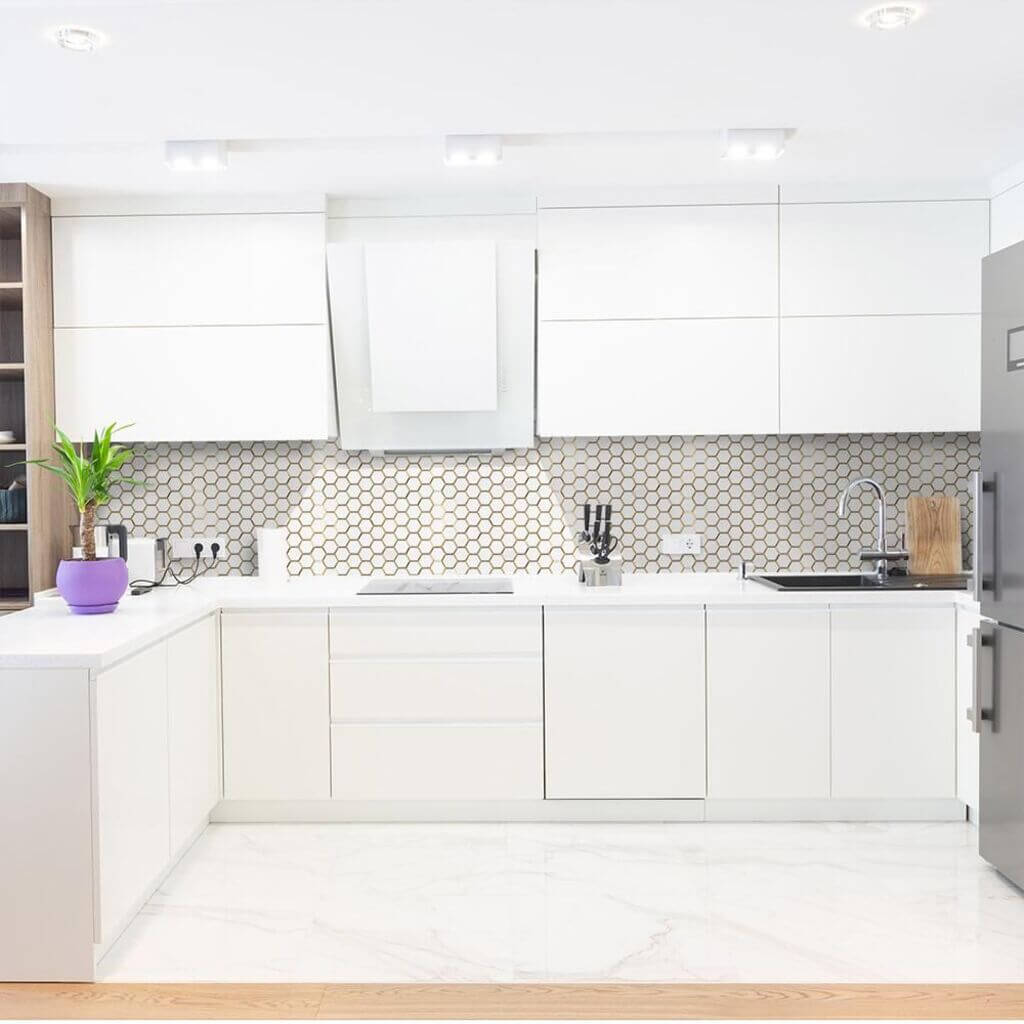 Source: pinimg.com
Accentuating a kitchen backsplash can also be done by enhancing the shape or arrangement of the tile itself. Why not go for a colored or better, gold grouting for the tiles instead of the standard one? This stands out in the white cabinet kitchen backsplash ideas as this can bring out any backsplash tile to compliment them in a modern and classy way.
12. Glass Backsplash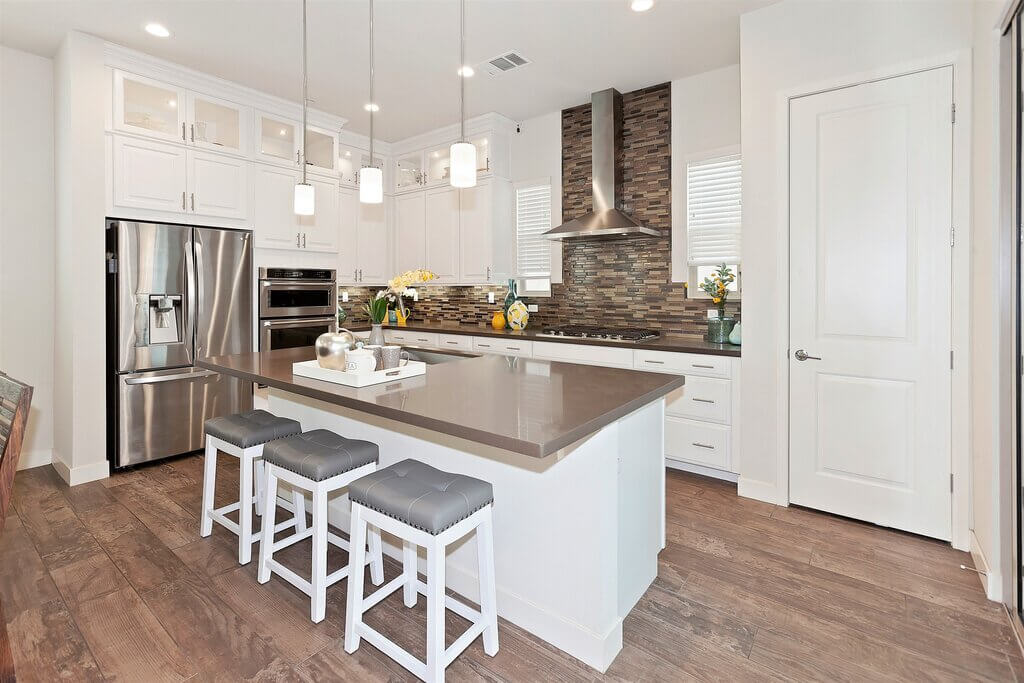 Source: twimg.com
Want to try a completely unexpected texture for a backsplash? Go ahead with glass to compliment the purity of the white cabinets. The colors that can be added with a glass tile can range from any end of the spectrum that can complement themes from earthy to loud. 
13. Mid-Century Inspired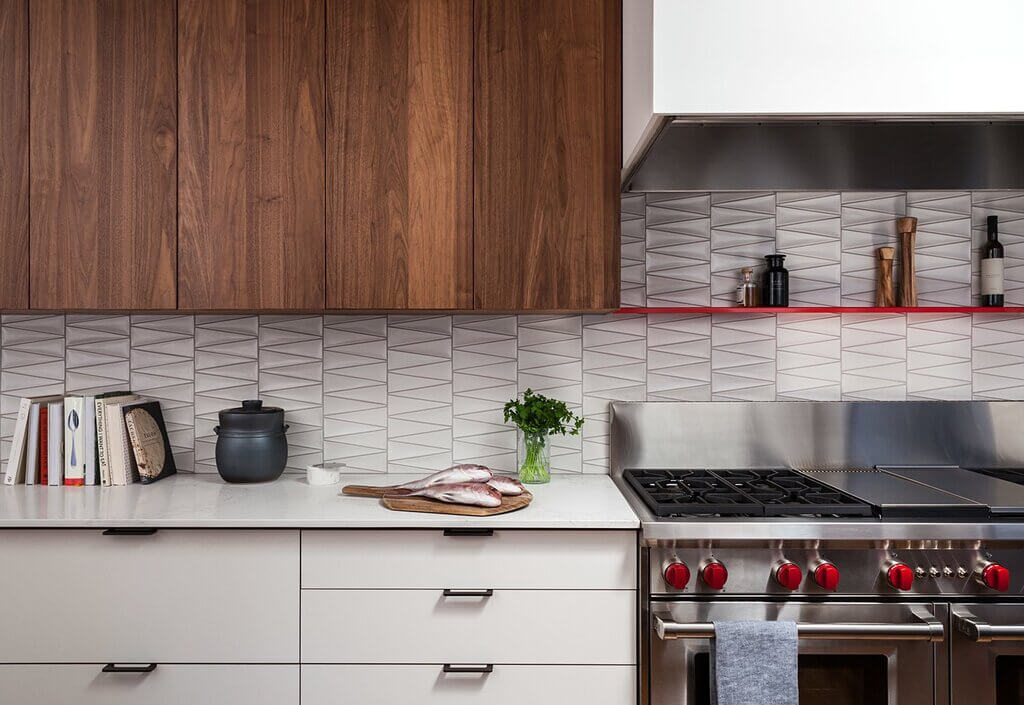 Source: dwell.com
With sharp and bold patterns one can move beyond white backsplash ideas and move to a mid-century modern appealing kitchen. As white cabinets are easy to work with a combination of colored patterns, they will complement each other and bring a pop to the space.
14. Easy-Peasy Wallpapers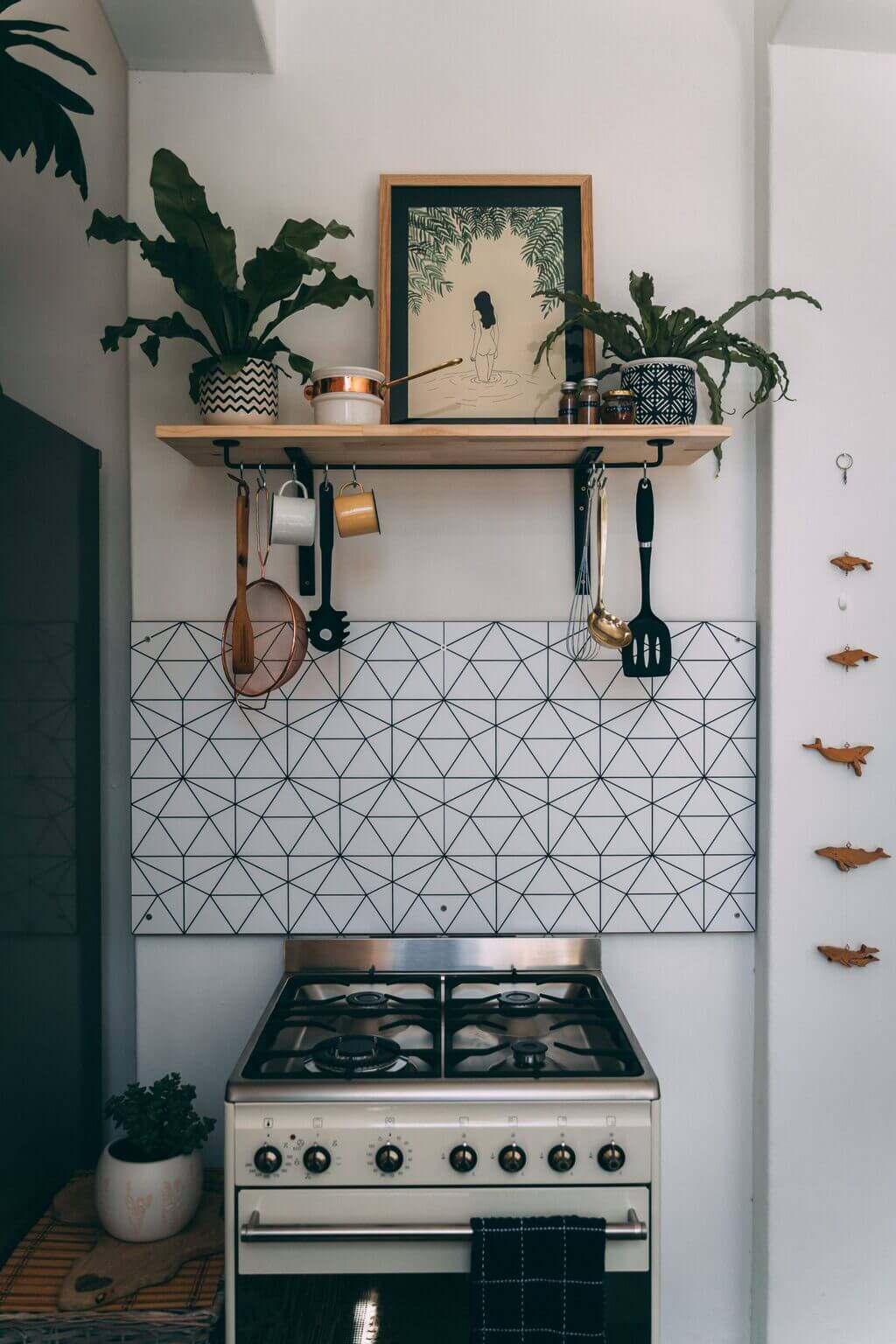 Source: bathibahati.com
If you are the essence of doing the least while enjoying the benefits of the best, wallpapers are the way to go. It doesn't matter what your heart desires. Wallpapers can provide you with a white kitchen backsplash to a complex textured one. Breaking bounds you can explore aesthatic ranging from fun, material textured, modern to even nature-themed prints.
15. Old-World Charming Taupe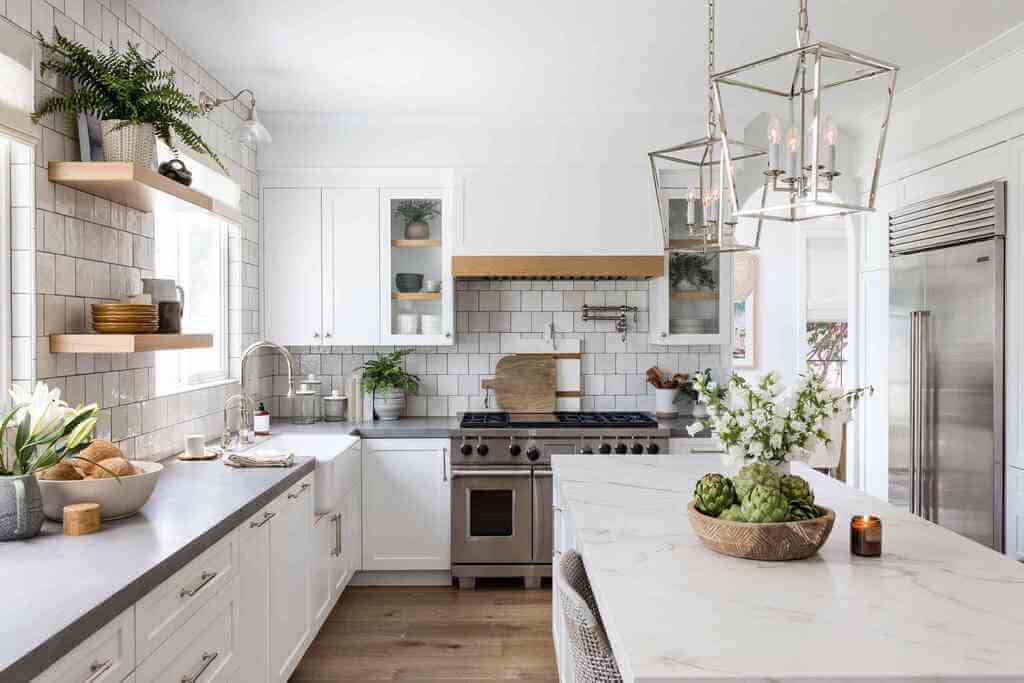 Source: mydomaine.com
Filling in the backsplash with a classic taupe against the white is a way of bringing in a pop of color in a subtle yet catchy way. It also becomes a way of incorporating earthy aesthetics into your kitchen making it more rustic and old-world-like. This backsplash for white cabinets ties the whole aesthetics of the same together as well.
16. Mosaic Pebbles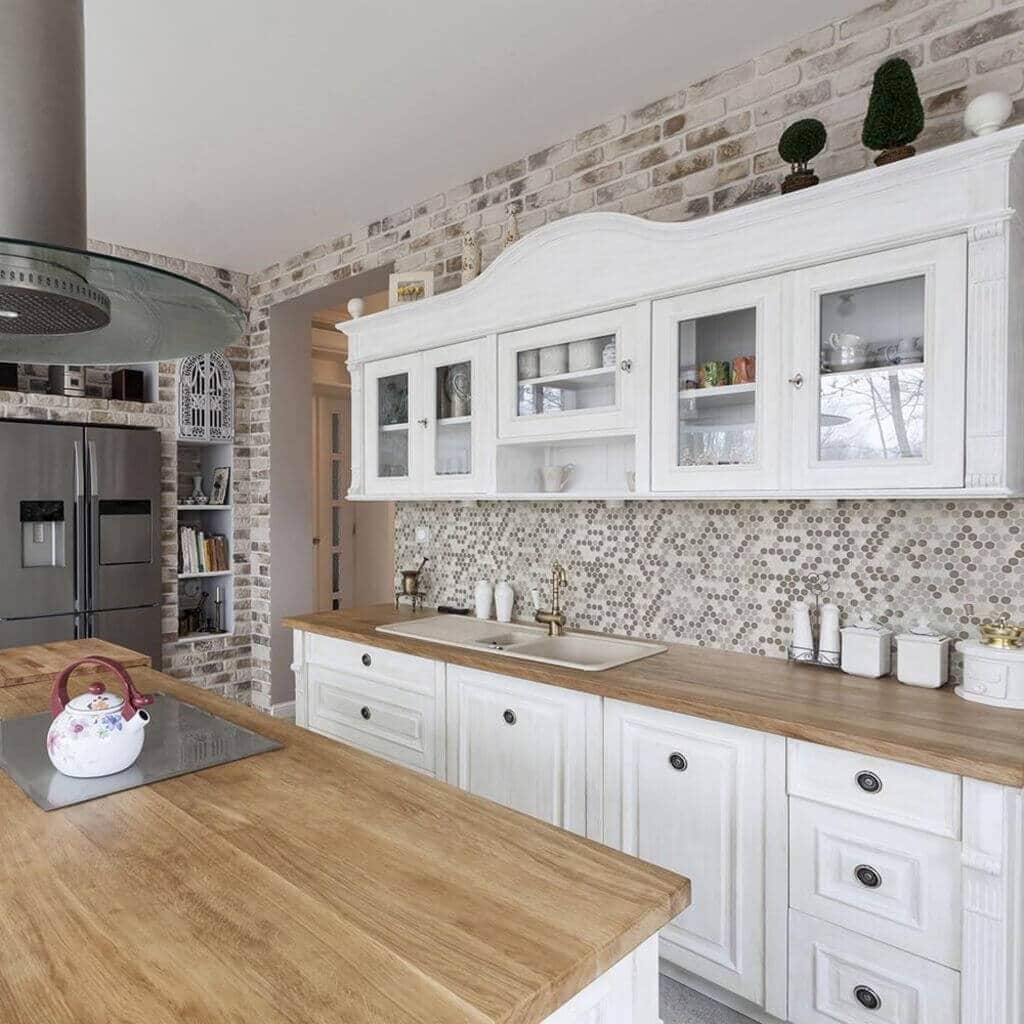 Source: pinimg.com
A very old yet very in concept of the tiling is the use of tiny pebble-shaped tiles of different shades to form a backsplash. Often used as a flooring material for pools, this mosaic arrangement brings in the 70s and 80s in its full glow. Thus, backsplash ideas for white cabinets prove to be a crowd-pleaser bringing in the nostalgic element of the past.
17. Striking Black & White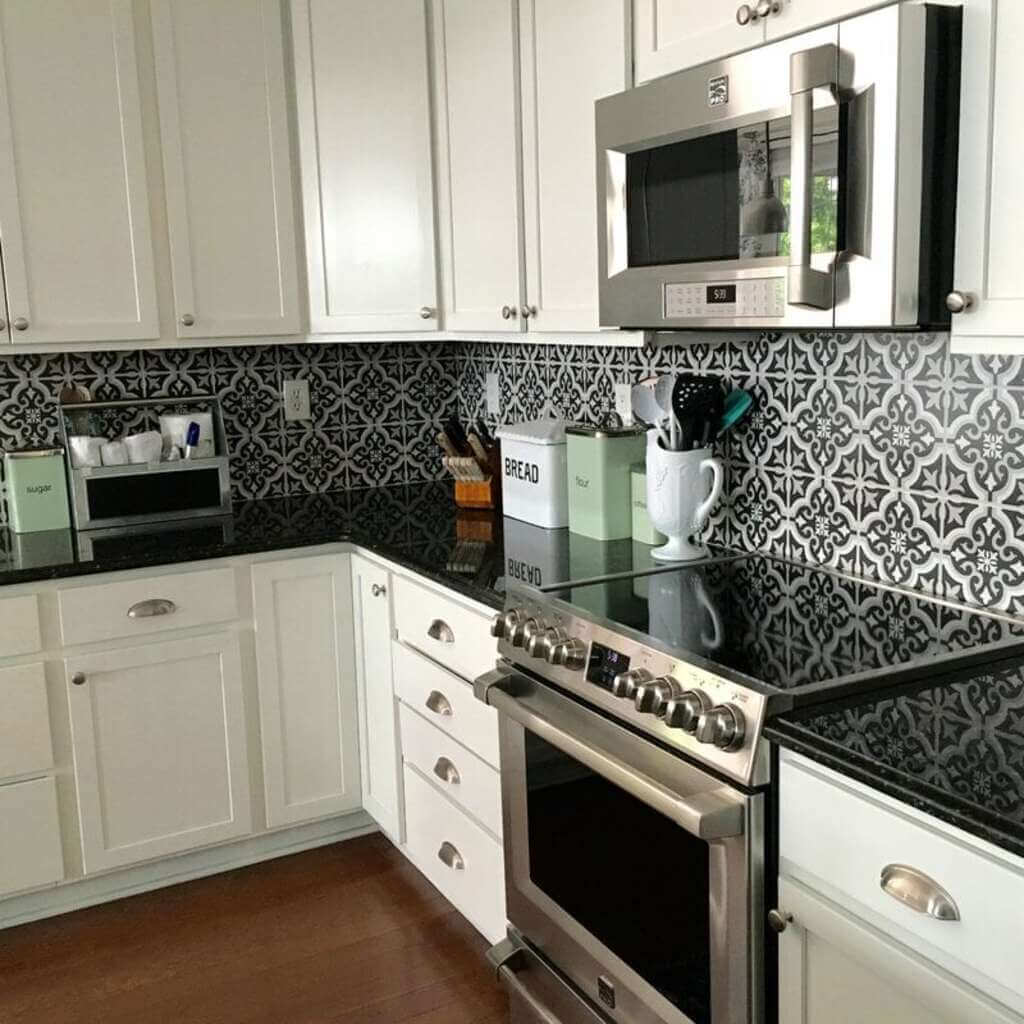 Source: decoratedlife.com
This combination can be elevated to the most intricate kitchen designs and brought down to simple arrangements of solid black and white tiles. Posing as backsplash ideas for white cabinets and granite countertops you can never go wrong with them. Each of these would give you drastically different themes from a traditional Moroccan vibe to a classic and sleek modern kitchen.
18. Leaf Cut Backsplash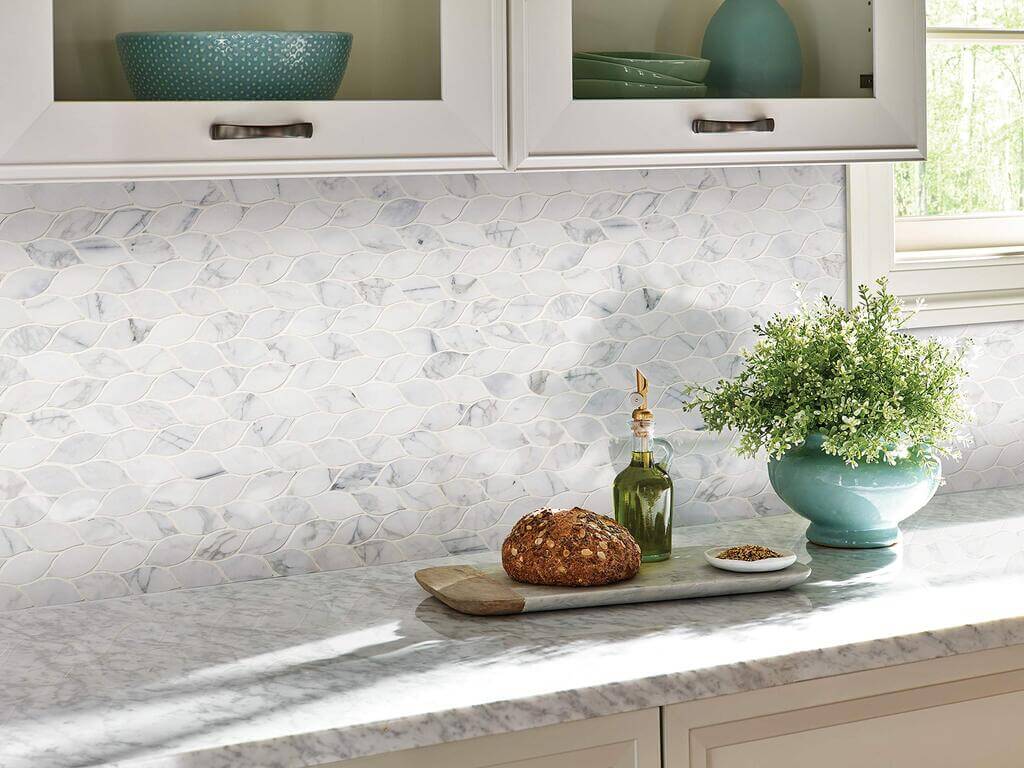 Source: amazon.com
The difference each pattern of tiles makes when arranged is immense. From several backsplash ideas for white cabinets, these leaf-cut ones would stand out to be an intricate display for a kitchen. Using stones such as marble brings in a contrasting play of different shades throughout that compliments a modern minimalistic take on kitchen space.
19. Coastal Seaglass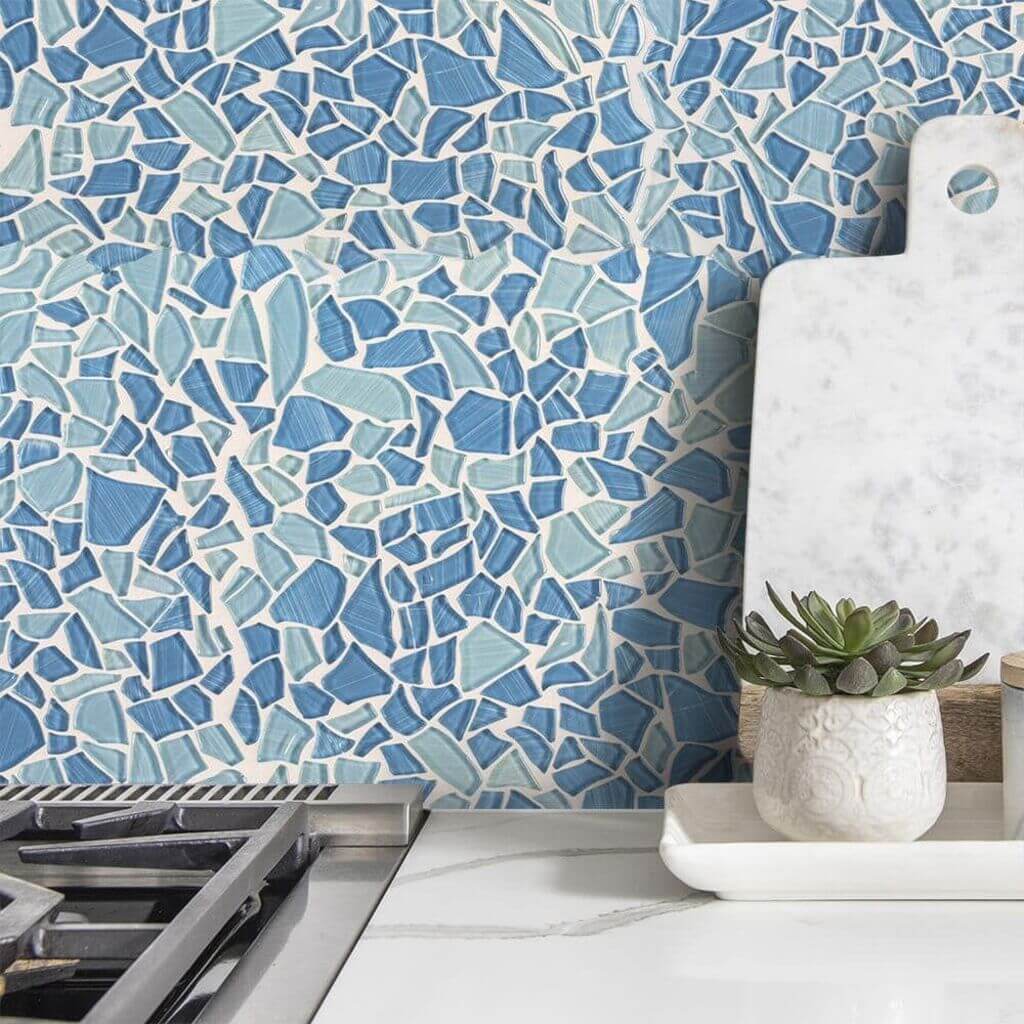 Source: pinimg.com
With the flexibility to choose the mixture of color combinations that will adorn a single canvas, sea glass gives one the freedom of design. You can also stick to the oceans theme of different hues of blue to bring in the water and sky to the kitchen space. A retro and vibrant kitchen space would become the perfect setting for the same. 
20. Monochrome Pop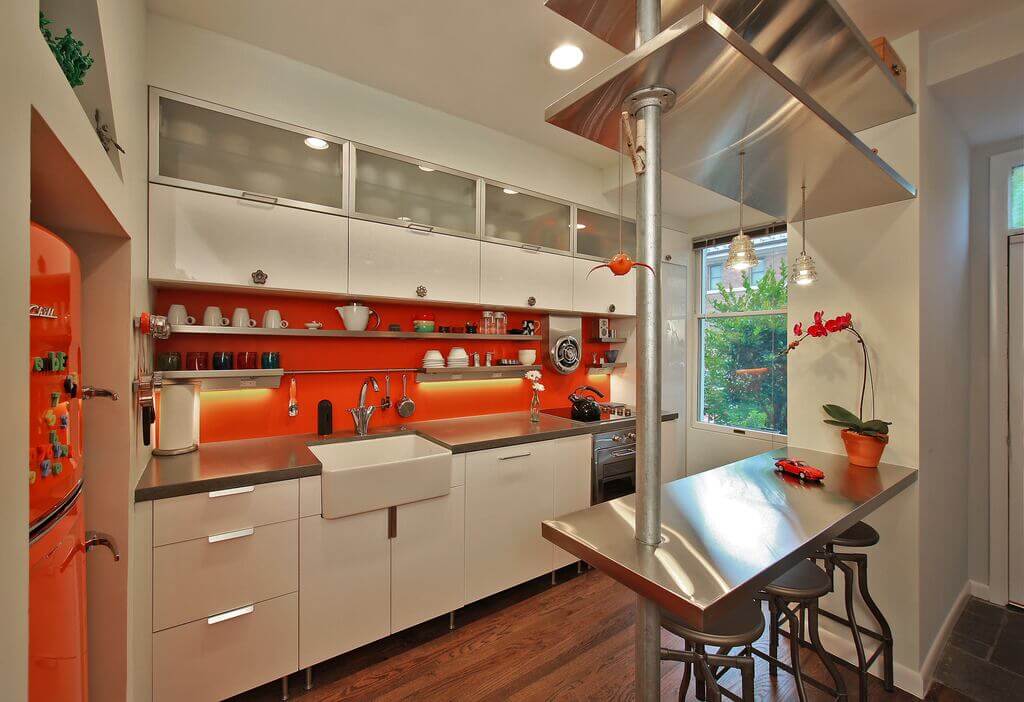 Source: hzcdn.com
When we want a pop of color in a space, we turn to the vibrant colors in the spectrum. A splash of bright red or yellow for white cabinet kitchen backsplash ideas can set the mood up first thing in the morning. It also takes us back to the rock and pop era where these were the star colors among many. One can truly take this theme forward in such a manner.
5 Tips for Selecting the Perfect Backsplash for Your Homey Kitchen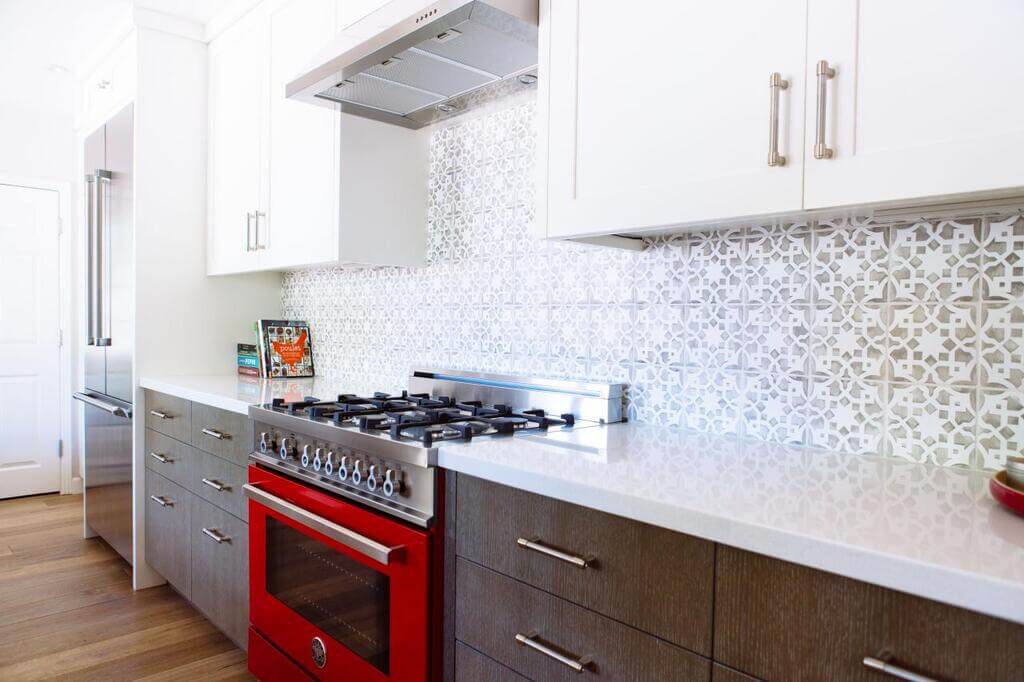 Source: sndimg.com
Using lighter shades of backsplashes would essentially make the room seem bigger as well as calmer for the tedious task of cooking. 

Always select the pattern for a tile with consideration to all the other patterns and textures in the space.

Affordability might have to take the reigns of the selection process from the beginning, which would bring down the vastness of your options to a more manageable one

You can get always get a quick fix-up version of aesthatic backsplashes in the market. Don't go for it. Chase quality and you will have a much better result.

Too many cooks might ruin a broth, but deciding on a backsplash might need those extra cooks in place to steer in the right direction. Ask for help deciding on the backsplash if necessary.
The ultimate say in the matter of a kitchen backsplash would go to the person using that space the most. It does have to tie up with the rest of the spaces in the house and with the budget of your limits. 
A round choice is the best way forward and no matter how many suggestions are thrown your way, your heart will want what it wants. So listen to your heartstrings, consider your checkboxes and make the choice of your dream kitchen backsplash.
Also Read: 12 Trending Kitchen Backsplash Ideas to Elevate Your Aesthetics
FAQs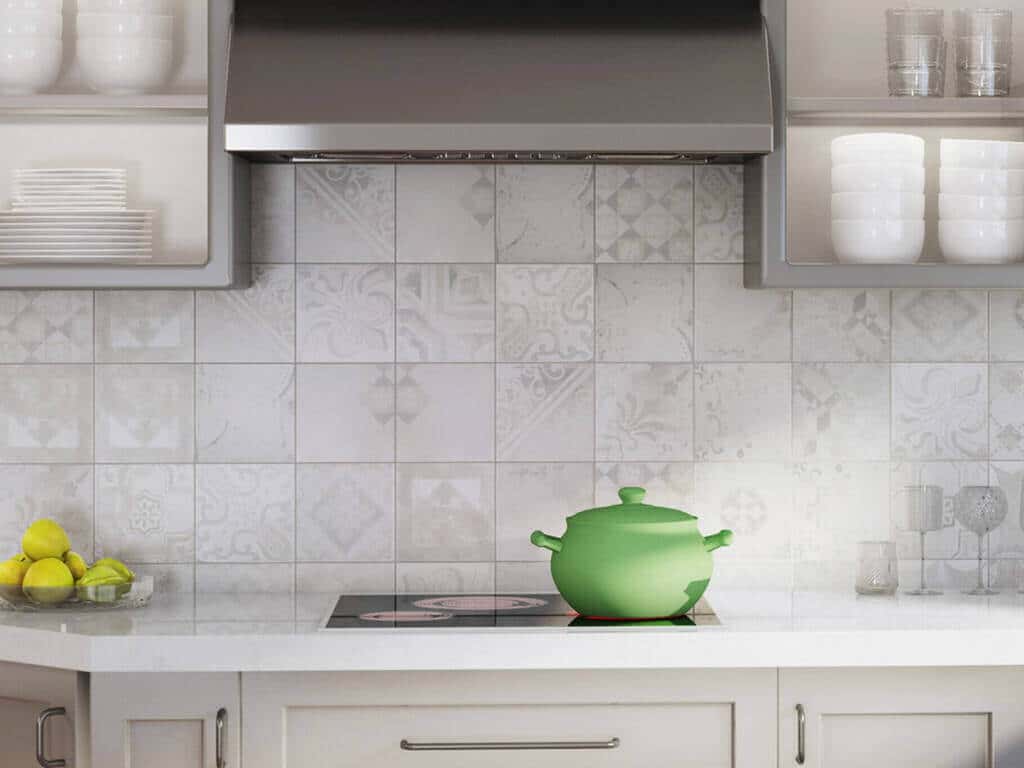 Source: netdna-ssl.com
1. What Would Be the Characteristics of a Good Backsplash?
A good backsplash should be easy to be installed and handled. It should have the versatility to it that doesn't come at a high price point. With a variety of textures and colors in the same, it would also give you a wide range to choose from. Ceramics is an example of a good backsplash material that offers these aspects, which can be installed in monochrome tiles as well as taken even further with intricate designs for more traditional aesthetics. 
2. Does a Small Kitchen Require a Backsplash?
Giving a backsplash to a small kitchen at first might seem like a waste of money but it can be useful in the long run. With the inclusion of white cabinet kitchen backsplash ideas, the space in it can be made to seem larger and lighter than it is. Some materials that can be used for the same would be stained glass, mosaic tiles, natural colored tiles, etc.
3. Can Backsplashes Be a DIY One?
DIY is an extremely cost-effective method that lets you in deep into the process as well. It is also possible in the case of kitchen backsplashes. While wallpapers might be the easiest of the lot, you can also opt to tile in the backsplash. 
To know more about Home improvement ideas, Cleaning and decoration tips visit ArchitecturesIdeas.
For daily updates, follow us on our Instagram page @architectures_idea.