Bold & Beautiful: 20 Kitchen Design Trends 2023
The kitchen is like a temple for all the foodies out there. It is that one space in the house that will never disappoint and will always serve you with happiness and comfort food. Kitchen design has come a long way from rear room to front and middle. Kitchen design trends 2023 have promising modeling ideas with class and convenience.
Kitchen design trends ideas can be overwhelming with so many choices, styles, and advice they come with. Whether you're going for a new kitchen planning or remodeling of the existing one, you should consider what is currently trending to make your kitchen stand out.
Kitchen interior design trends have shifted from the typical white or neutrally tones kitchens to a bolder choice and bright colors. A well-planned kitchen is fuelled with great ergonomics, aesthetics, and liveliness. 
Defining a Modern Kitchen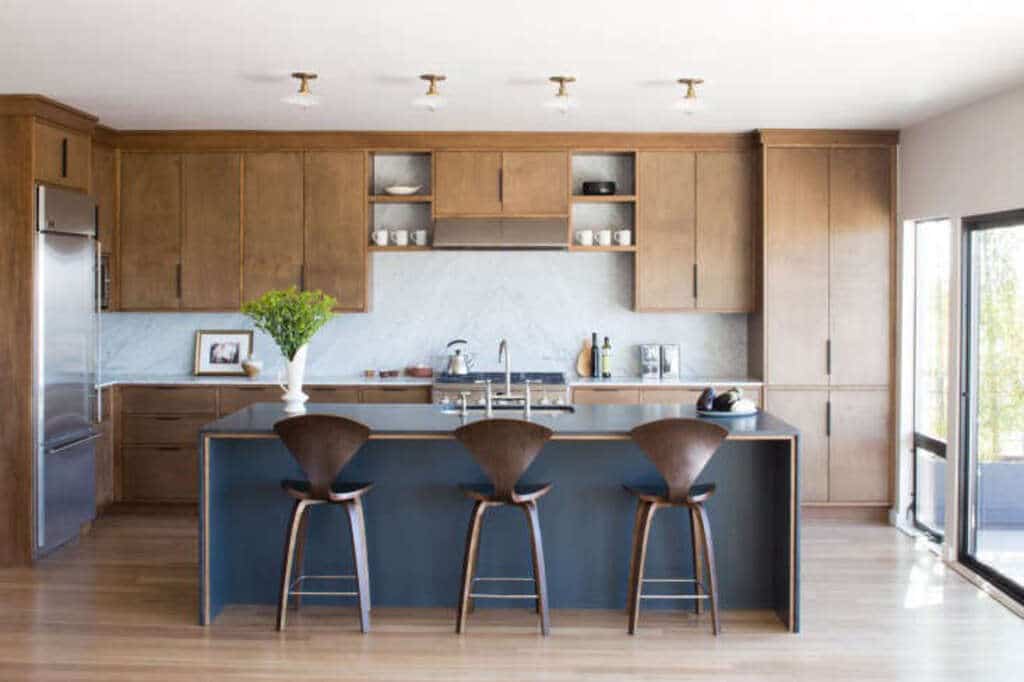 Source: remodelista.com
A modern kitchen is a mix of neat straight lines and geometry that imparts elegance and offers comfort for the users. The modern trend is a composition of contrasting colors, emphasized lines, and a sleek appearance. These spaces are often matched with the palette of the adjoining dining room and living room.
Kitchen design trends 2023 is more about uniting the spaces visually with an open plan and uniform materials, colors, furniture, shapes, and decor. Latest decor with leather upholstered seating and other eco-friendly materials impart a contemporary look to the design and form a seamless relation with living and dining areas.
The 2023 kitchen design trend has transformed dramatically over the years by bringing in contemporary ideas aligned with the latest technologies. The kitchen is no longer just a space to cook food, rather it has become a space that supports cooking, partying, and even working keeping in mind the work from home scenario.
Kitchen design trends 2023 now define a kitchen as multifunctional spaces with elegant interior decor.
The Idea of Room-like Kitchens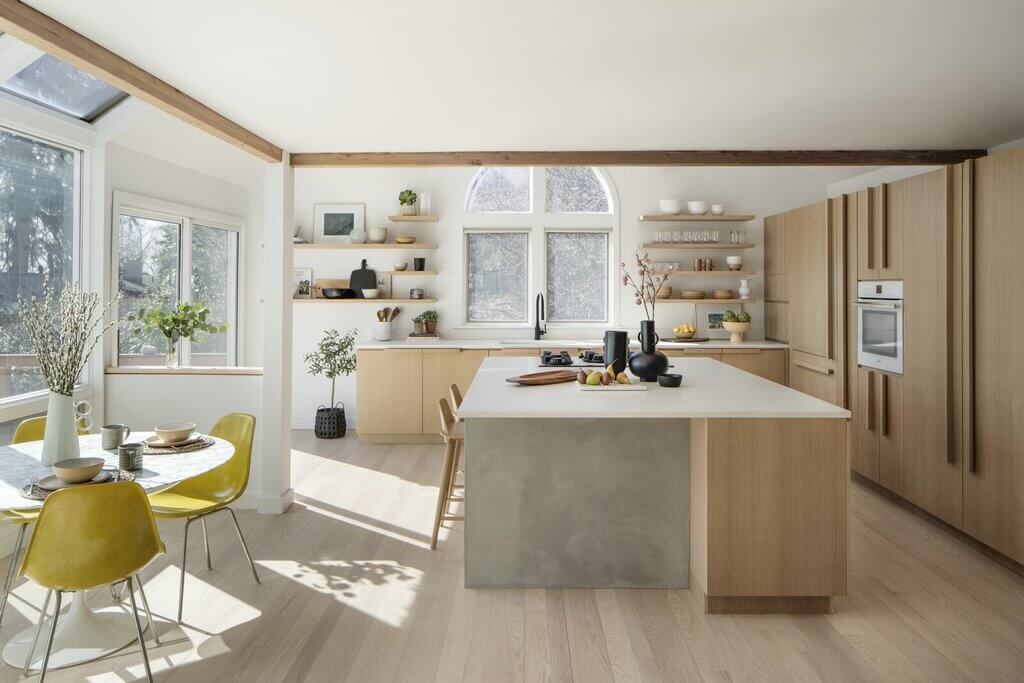 Source: dwell.com
The latest kitchen trend is about integrating the space into living areas. The idea of open kitchen interiors has a major influence on the current design trends. Though the kitchen is not the main space of the house, it can be considered as a functional, harmonious, and beautiful space that merges well with the rest of the house.
With hidden work areas and ultra-sleek and modern kitchen cabinets, the kitchen has a unique appearance that expresses the beauty of materials The latest trends explore minimalism and stylish spaces that blend well with the rest of the house decor and do not mark a separate territory for the kitchen.
Tips for 2023 Kitchen Design Trends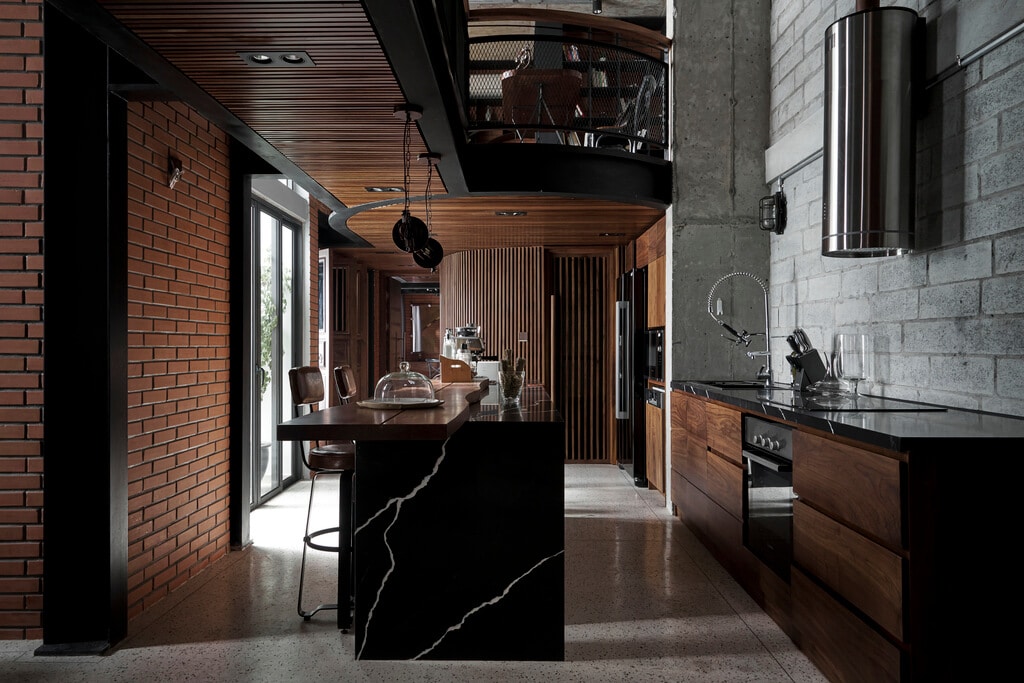 Source: adsttc.com
Many trendy designs and remodeling kitchen ideas can easily get you overwhelmed. Preparing before diving into the world of inspiring ideas is thus a good choice. Let's consider these tips for great kitchen interior design trends.
1. Choose Bold Materials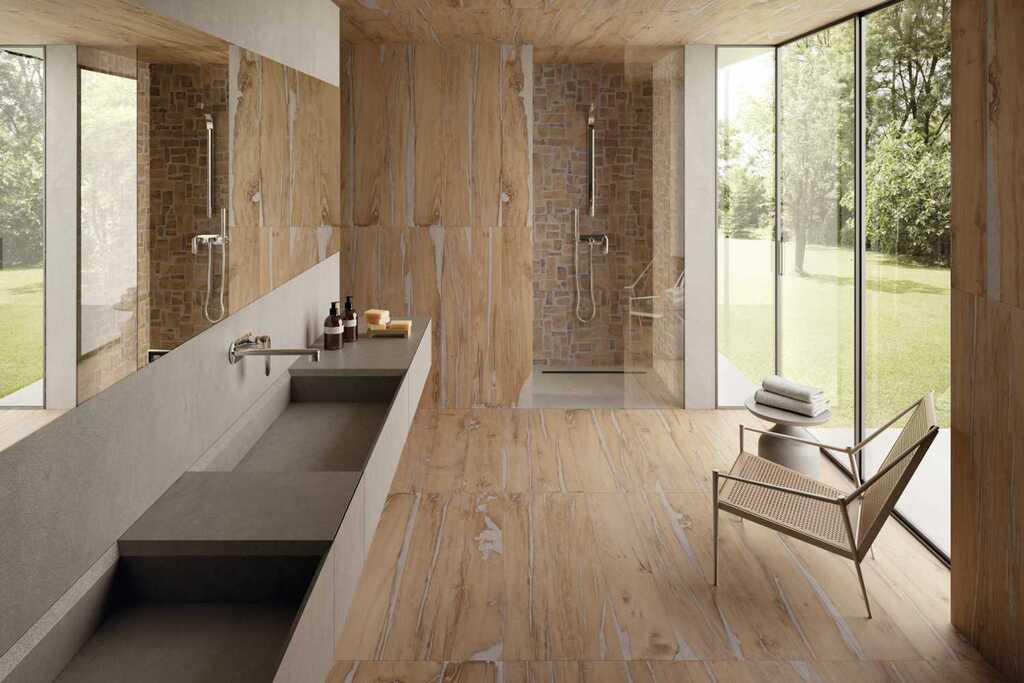 Source: mcc-home.fr
Kitchen design trends 2023 explore the richness a bold material offers. These decors focus on functionality with equal beauty. Materials can be explored that add charm and elegance to the design and offer great durability.
2. Stick with the Theme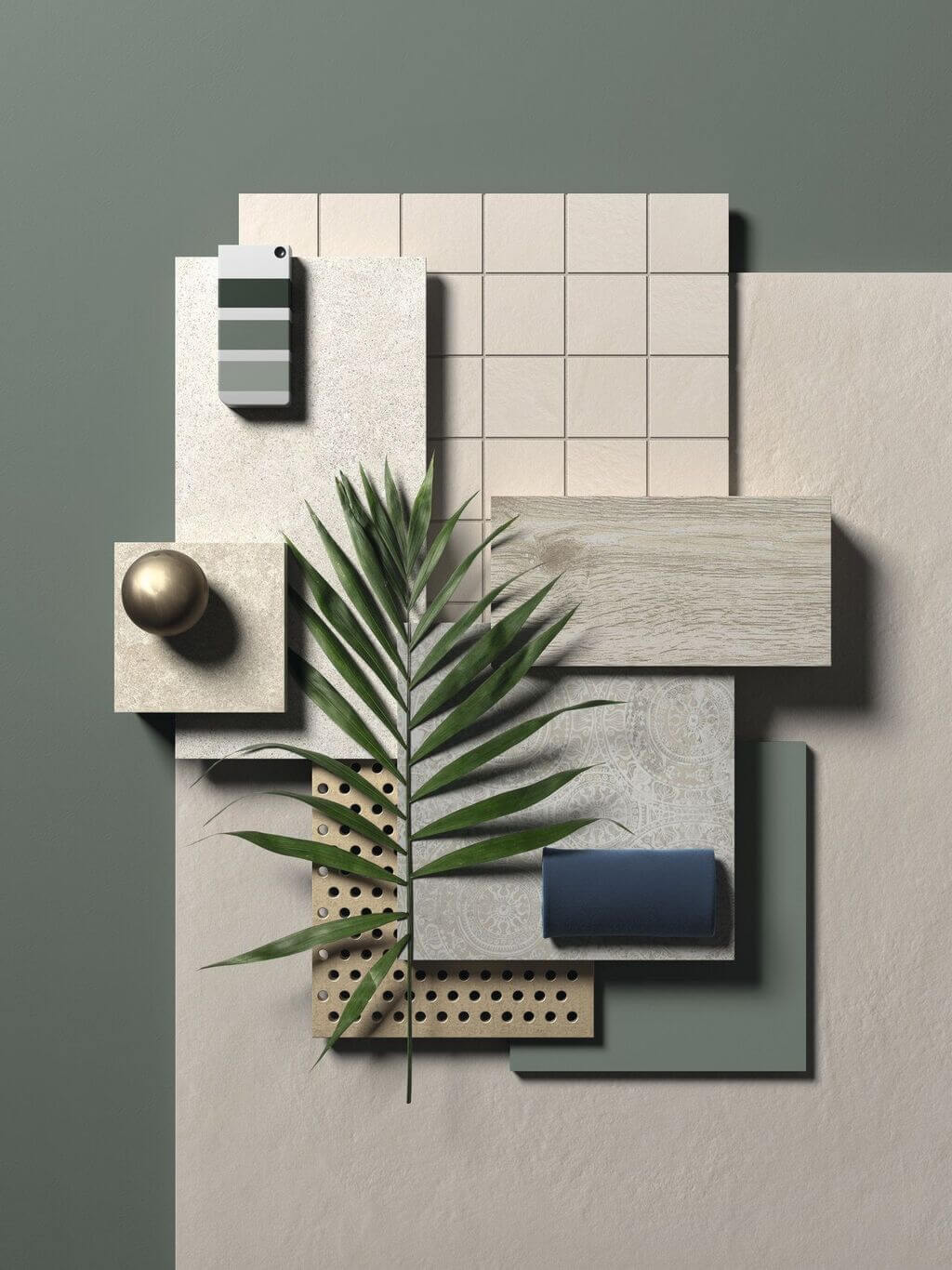 Source: pinimg.com
With a great variety of kitchen interior trends, it's important to stay focused on the theme. A single or combination of two trends can be incorporated into the style to achieve a perfect level of balance and harmony. The theme must form a cohesive design with the rest of the adjoining spaces to form a seamless relationship throughout.
3. Think Ahead
As the trends are going bolder and louder, there is a need to look for the smart appliances and latest technologies in the kitchen equipment. Go for tough to open styles that are likely to stay trendy for the coming years with smart technology.
While thinking ahead with technology, make sure your kitchen comes out to be sustainable for a greener future. 
Top 20 Kitchen Design Trends 2023
With numerous kitchen interior design trends, it can be a challenging task to select the best one. Though having a sea of options sounds good, it can be mind-boggling. 
Here are 20 kitchen design trends 2023 that may lead you in the right direction and offer you insights into the upcoming trends.
1. Going Bold: Leading Kitchen Design Trends Ideas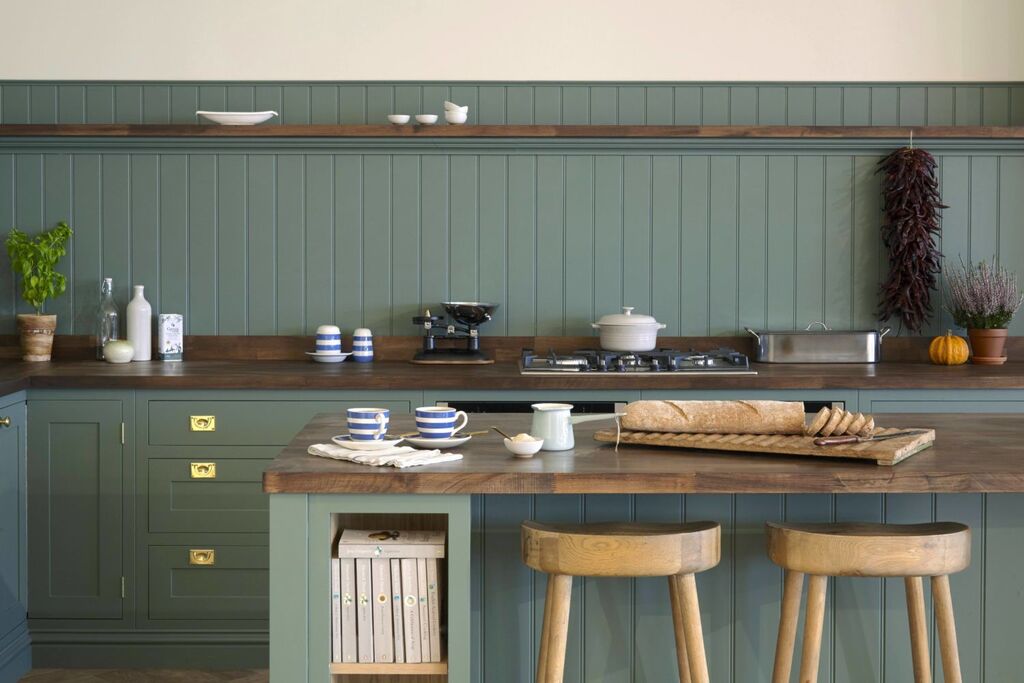 Source: sharvellproperty.com
The use of dark, bold colors defines the kitchen design trends 2023. From hues like forest green to burgundy tones- these are now being used in the kitchen interiors without hesitation.
The level of experimenting with bold tones is greatly hiking resulting in interesting spaces. These shades can be complemented with textured surfaces, metal accents, and cabinets in smoked glass to fill the design with glam.
2. Herringbone Flooring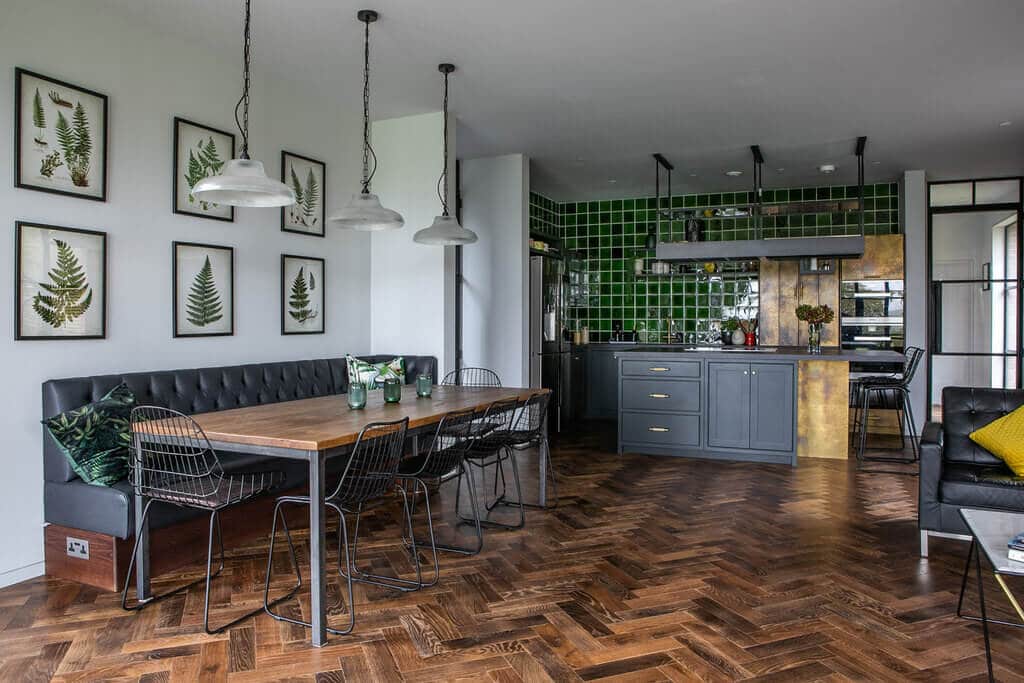 Source: maincompany.com
Herringbone flooring is currently being considered and will definitely enter the kitchens with the upcoming trends. It imparts texture and warmth to the contemporary design.
3. Green Kitchen Design Trends 2023:  Recycled Kitchen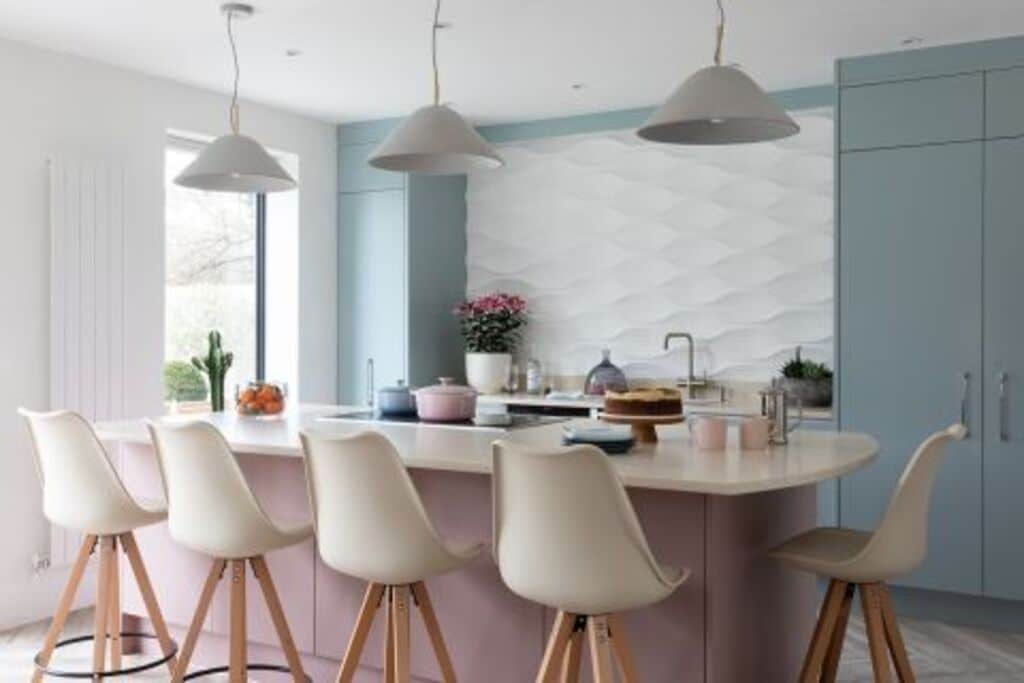 Source: futurecdn.net
With the growing awareness of sustainable designs, recycled kitchens have reached their peak. Second-hand kitchens are functional and eco-friendly options that recycle elements in working conditions.
These may aid in availing up to 70% off, thus can prove to be purse-friendly as well.
4. Marvelous Marble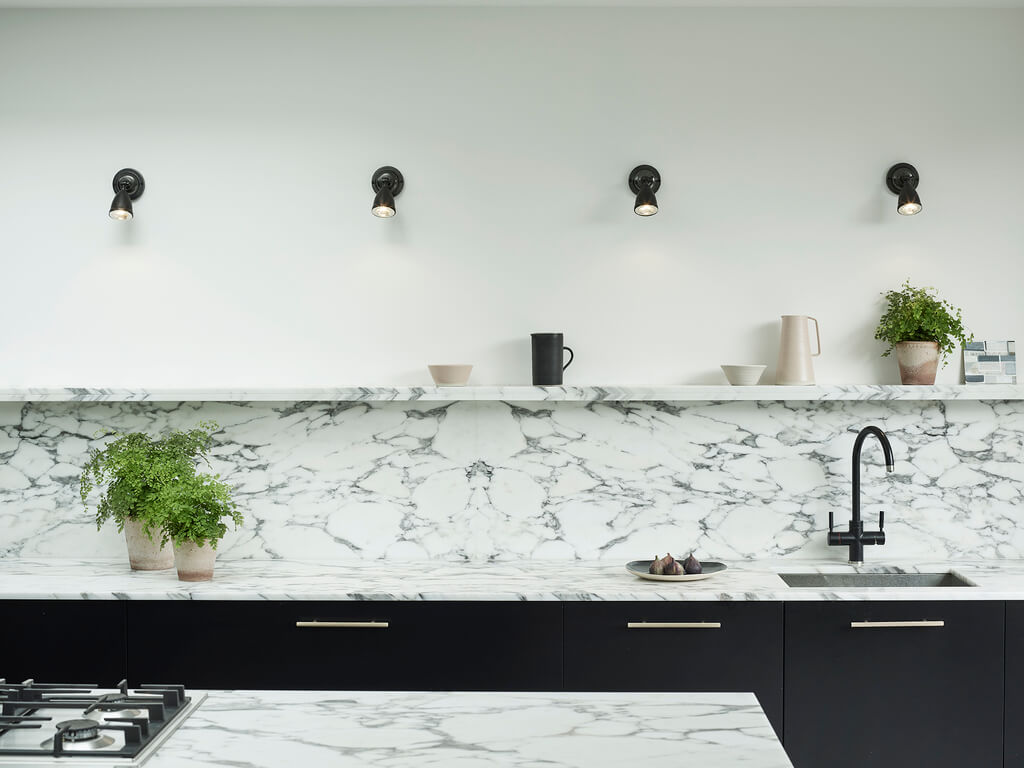 Source: learningfromhollywood.pl
The use of marble in kitchens imparts a sense of luxury to the space. It can be well-matched with complementing metal finishes like gold or brass. 
Choosing neutral-toned marble can be matched with bold greens or blues to make the design even more appealing. 
5. Wallpapered Kitchens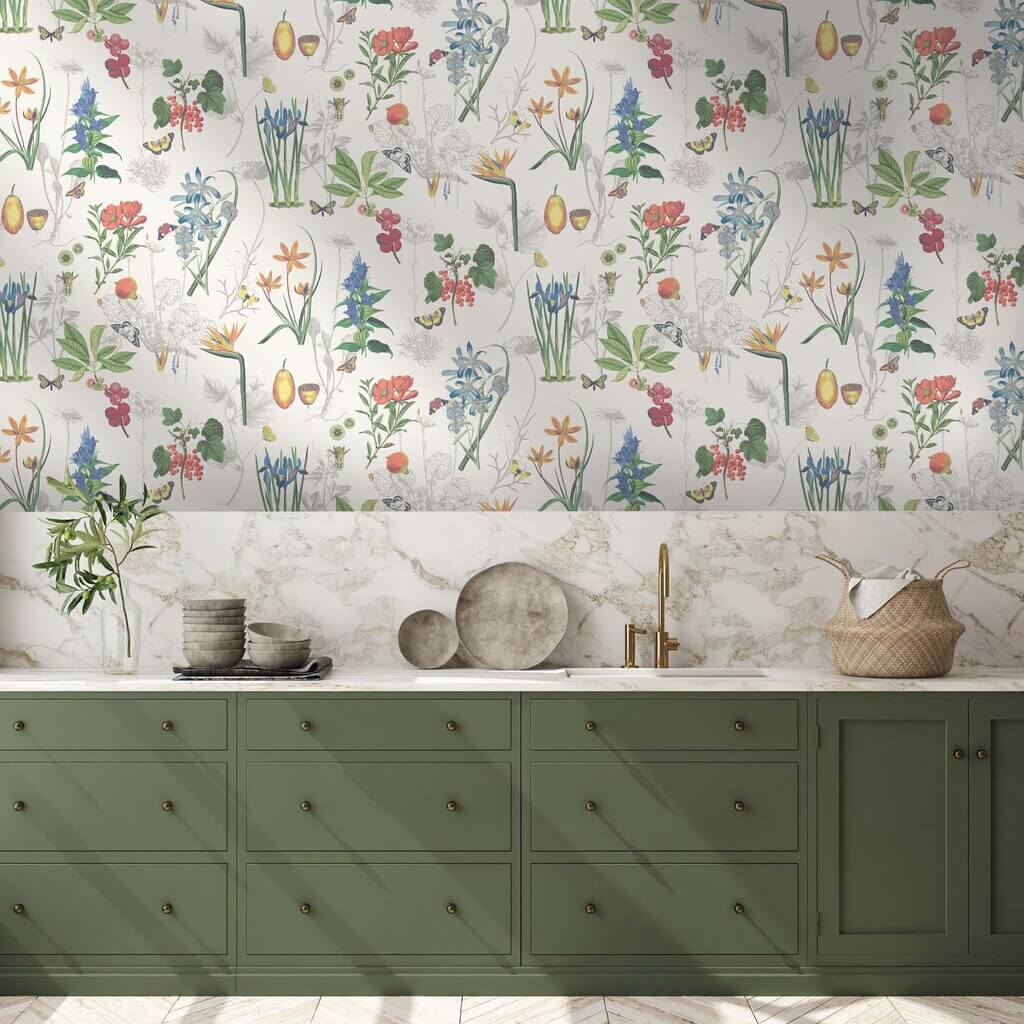 Source: manas.co.jp
Adding wallpaper in the kitchen is a great idea as the latest innovations have come up with designs that fit well in a kitchen atmosphere and conditions.
These wallpapers can be coated with matt varnish and can be sealed on all the edges to prevent them from wearing out soon.
6. Kitchen Office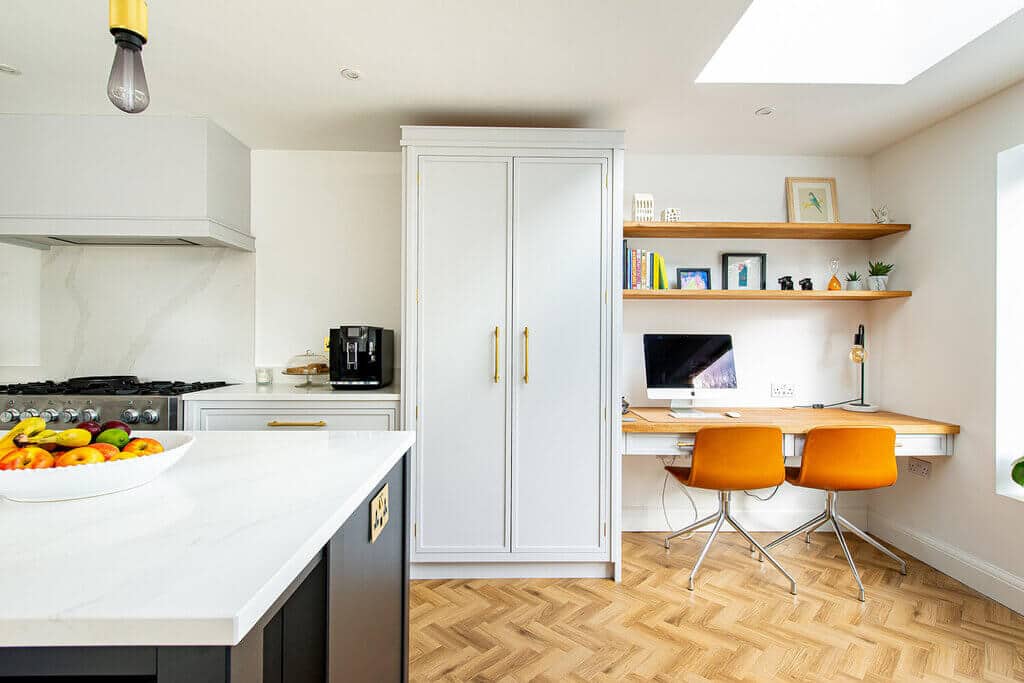 Source: squarespace-cdn.com
As the need for having home offices has observed a surge in the past year, designers have come up with a creative solution for that. 
A kitchen can be used as an ideal office spot with a neat space set in a quiet corner.
7. Wonderful Wood: Evergreen Kitchen Interior Design Trends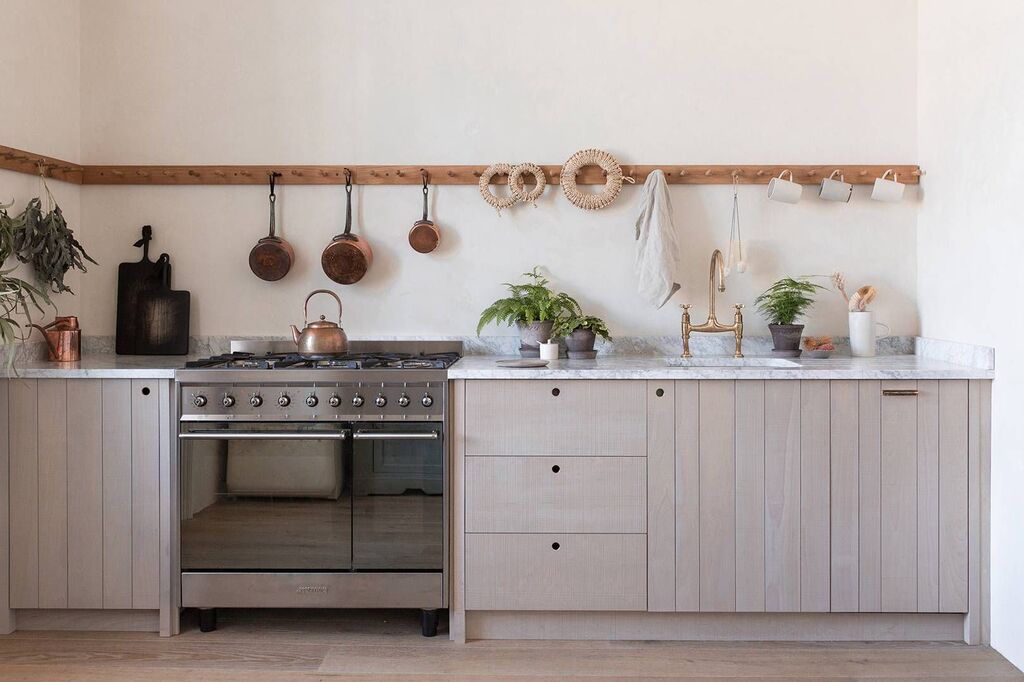 Source: pinimg.com
Wooden kitchens are not new in the market, however, with the latest design and creativity, it has made its way on the hot list for kitchen design trends 2023. 
From wooden finishes to newly introduced textures and treatments, these designs form a relationship with nature and offer a comfortable space.
8. Smart Kitchens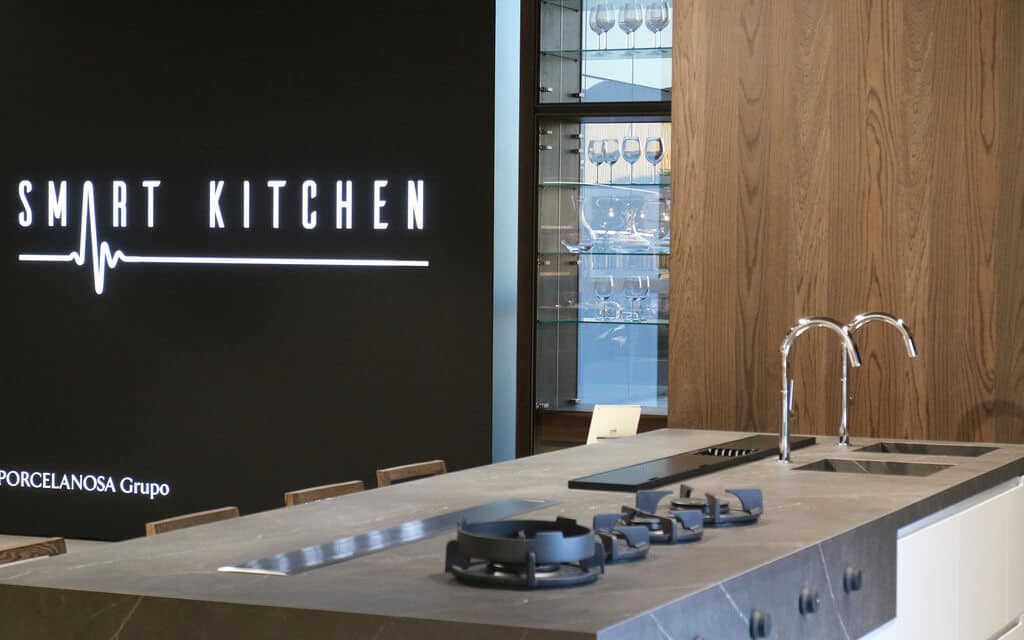 Source: gama-decor.com
Smart appliances are getting even smarter with the coming innovations in technology. These majorly influence the kitchen design trends that are making their way to the market.
There are endless possibilities to incorporate hi-tech appliances in the kitchens. From boiling water taps to smarter versions of them, you need to keep your kitchens up to date with these products. 
9. Meshy Cabinets
Source: pinimg.com
As metallic touches are highly trending, cabinet units can be added with meshed fronts. These offer a pleasing combination with solid units without making them look overbearing or heavy.
10. Simple and Minimal
Sleek, minimal designs offer a clutter-free area with neat lines. The straight lines with polished details in the kitchen can offer a serene space that may be used as a retreat zone from the daily hustle-bustle.
11. Headed towards Sustainability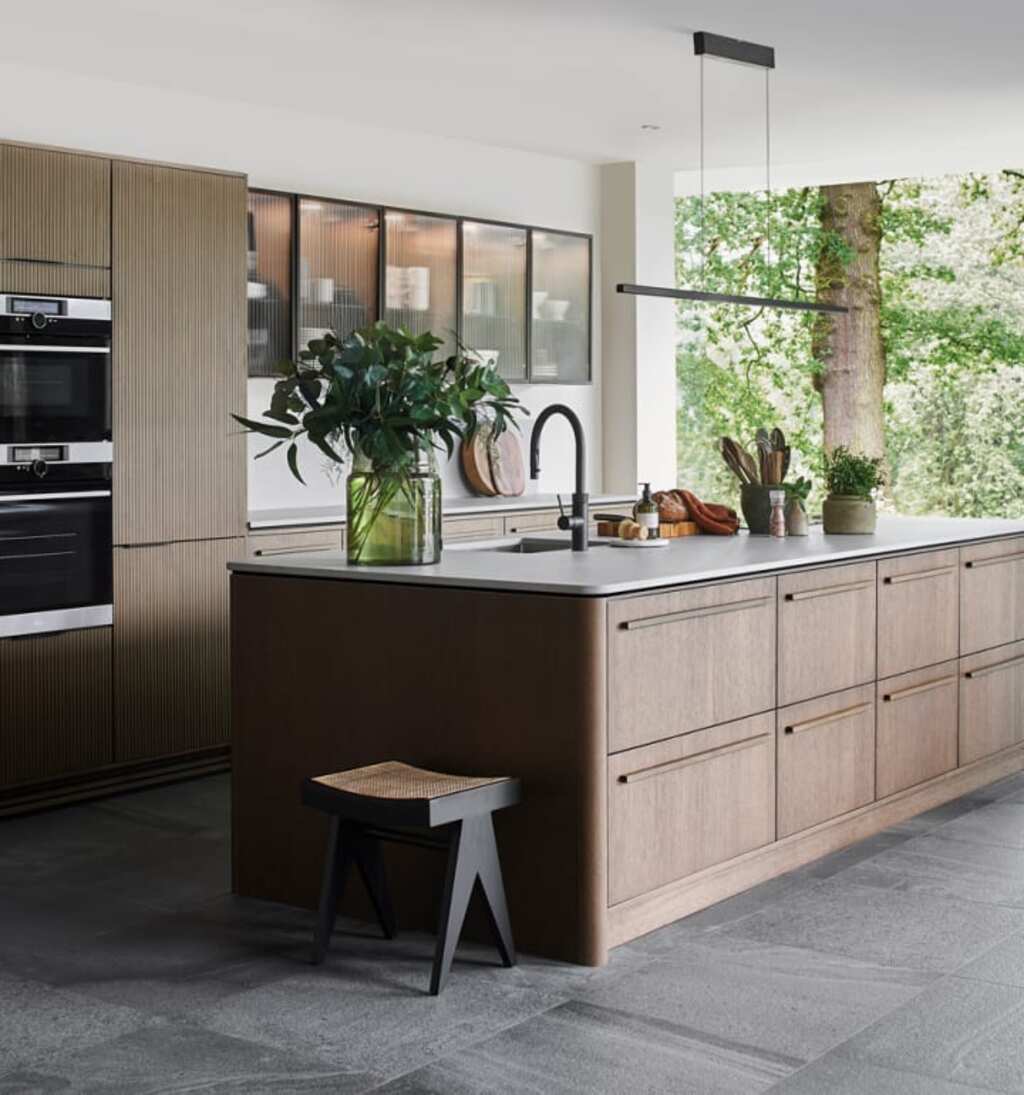 Source: cloudinary.com
Sustainability has seen a sharp acceleration in the green kitchen designs. This concept can be achieved with various eco-friendly steps while designing.
From sustainably sourced materials to A-rated equipment, sustainable kitchens are the best 2023 kitchen design trend to go for.
12. Mismatched Furniture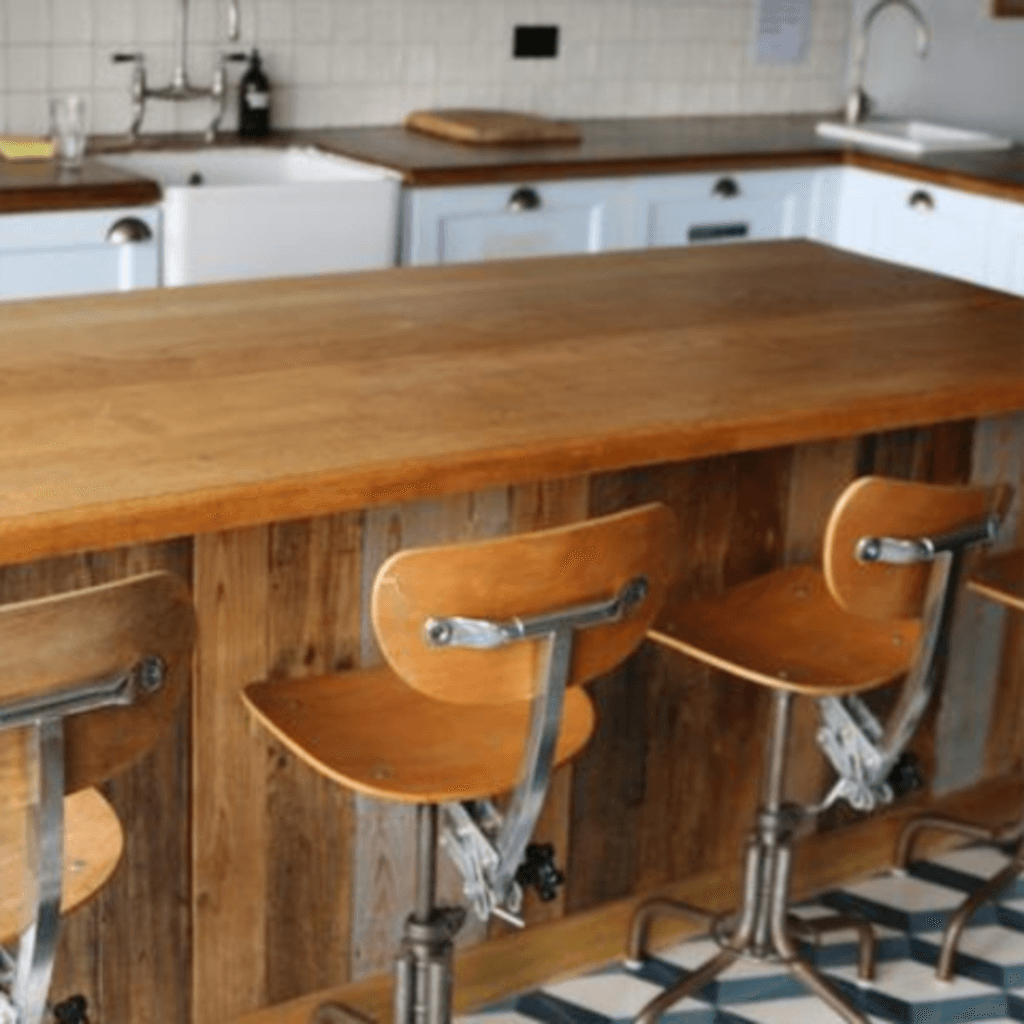 Source:futurecdn.net
Taking a different road in the designing, mix and match kitchens offer a combination of various furniture finishes. This offers a creative appearance to the kitchen with a new vision for the furniture selection.
Old cabinets can be mismatched with modern metallic looks to impart a unique look.
13. Lighting Making a Statement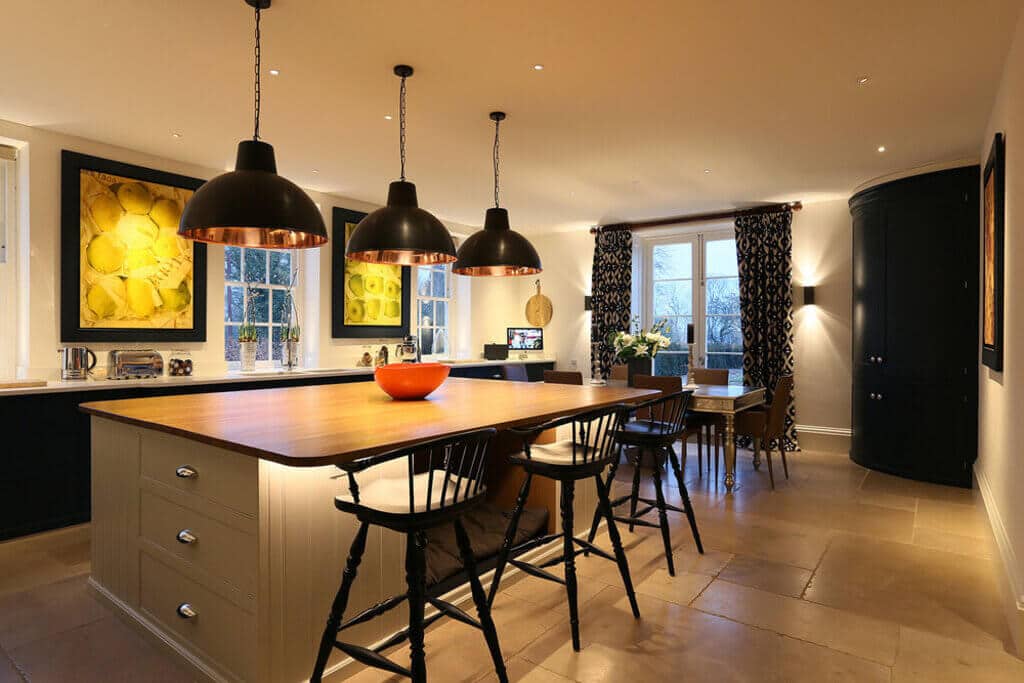 Source: squarespace-cdn.com
Lighting is recognized as a crucial design element in kitchens. Being neglected for years, good statement lighting is leading the kitchen design trends 2023. The lighting needs to be practical for efficient working and at the same time, it can impart extraordinary aesthetics.
Kitchens can be ornamented with pendant lighting or dangling pieces with a metallic coating.
14. Built-in Dining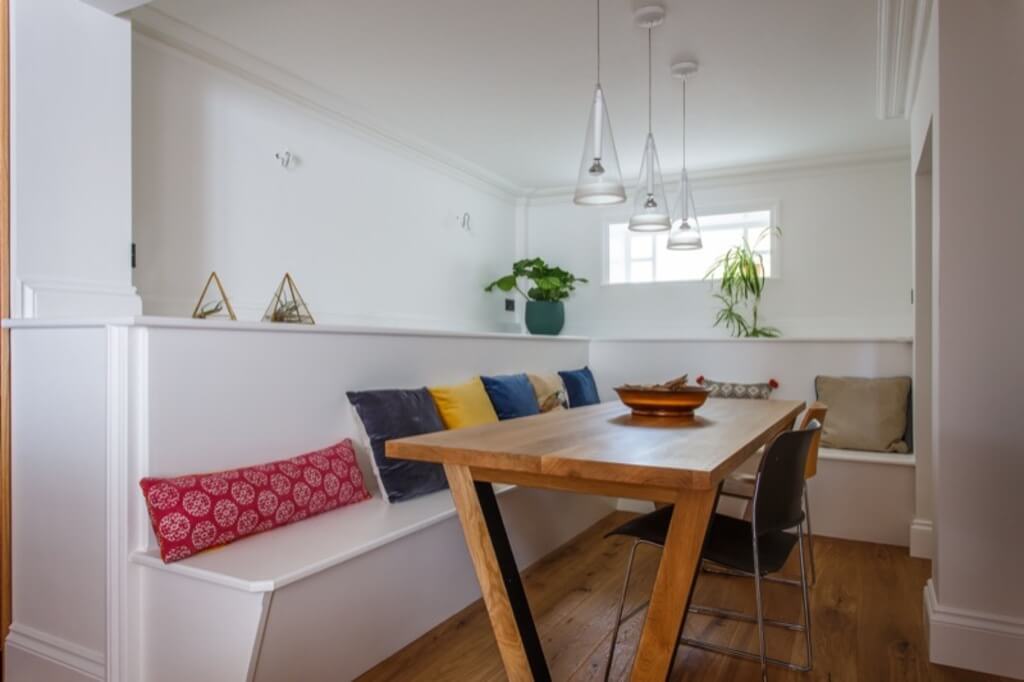 Source: woodworksbrighton.co.uk
The open design allows the incorporation of dining spaces in the kitchen which makes the area for the kitchen large. Creative dining booths can be added in the kitchens to make the best use out of the allotted space. 
15. Walnut Kitchen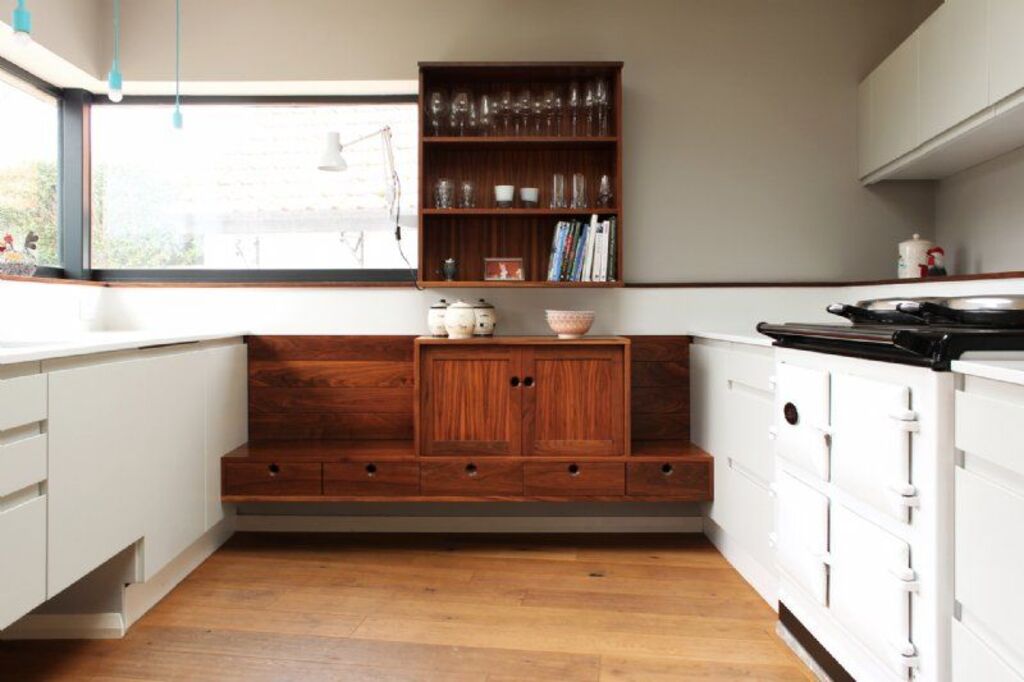 Source: freeindex.co.uk
Walnut kitchens are the best contemporary designs to add warmth and character to a kitchen. These designs ensure a modern space with natural finishes. These can be complemented with plain white or metallic and burnished surfaces for bespoke decor.
16. Glamorous Gold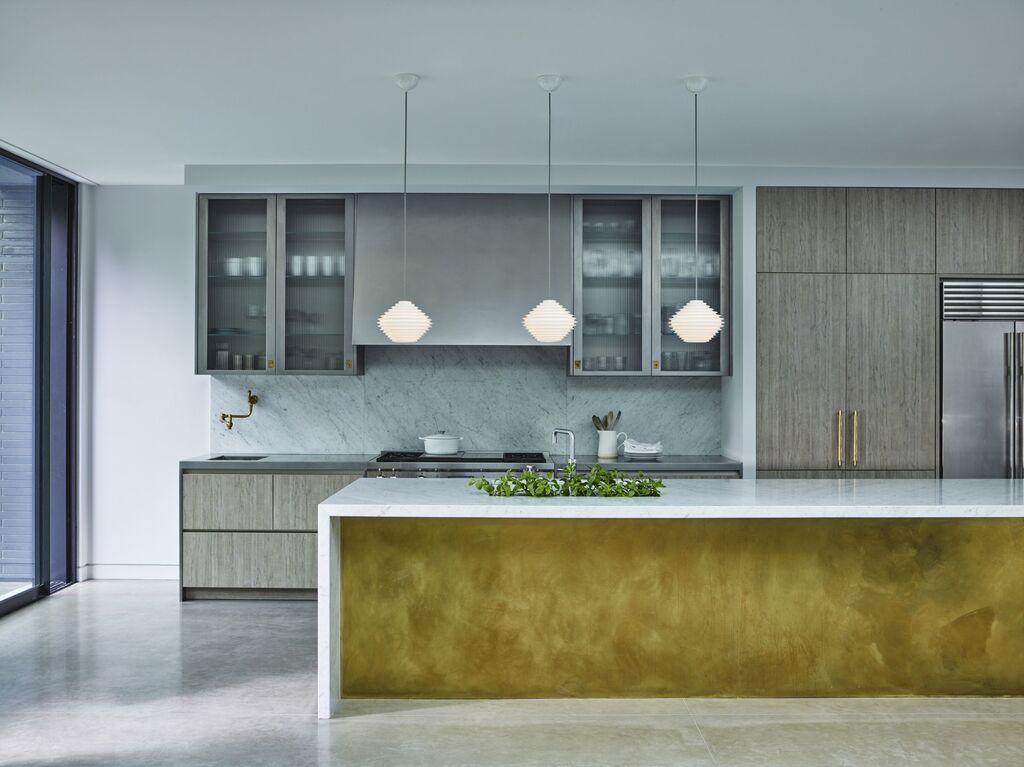 Source: pinimg.com
From copper, brass to now gold, metal touch in a kitchen has slowly paved their way. Gold, stainless steel, and brushed nickel surfaces in kitchens are quite stylish and evergreen trends.
These are added by omitting marble in a few places to add a lavish and glamorous look to the kitchen.
17. Metallic Units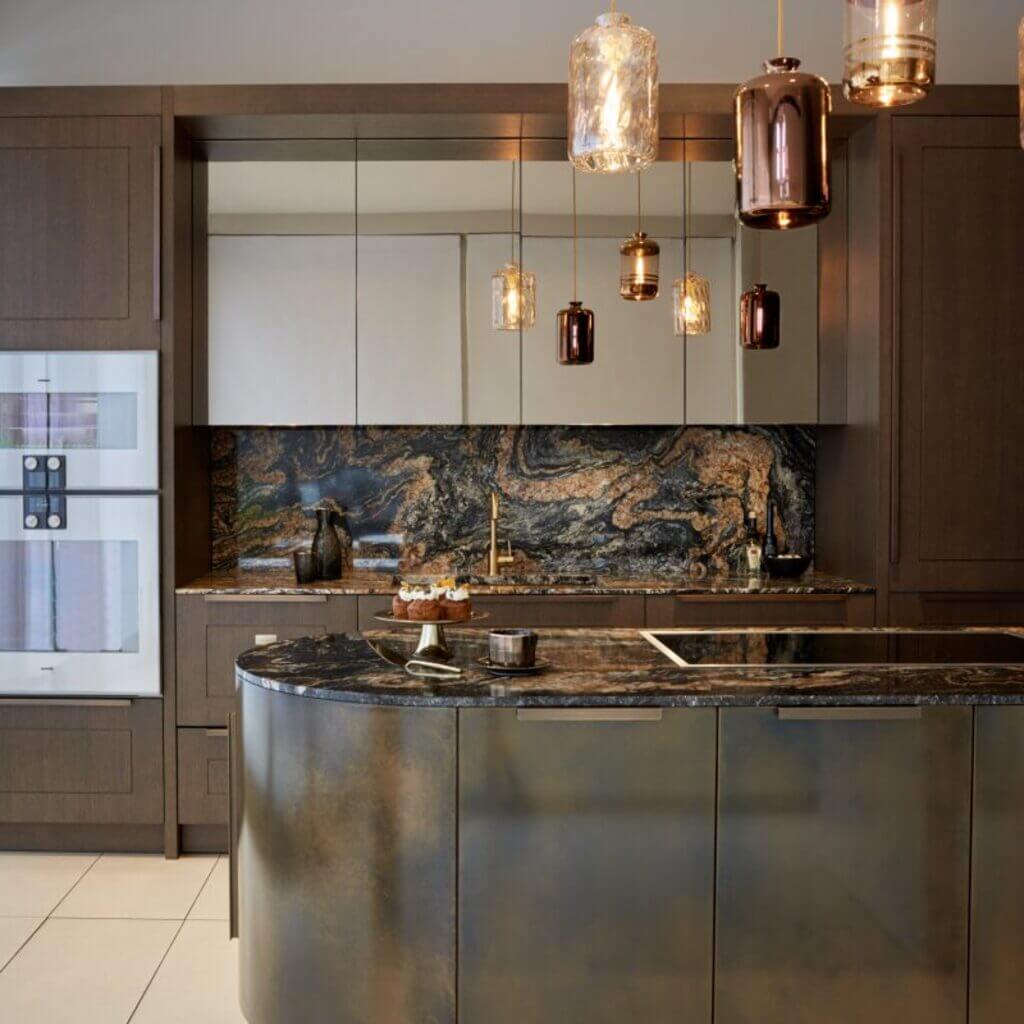 Source: mowlemandco.com
The limited use of metallics in kitchens like brass and other bold metals has now transformed into kitchens gleaming this metallic world. Kitchen design trends 2023 is about a shiny combination of metallic elements including metal unit fronts.
Gold taps and other reflecting surfaces have made their way into the latest kitchen designs.
18. Glass Doors to Pantry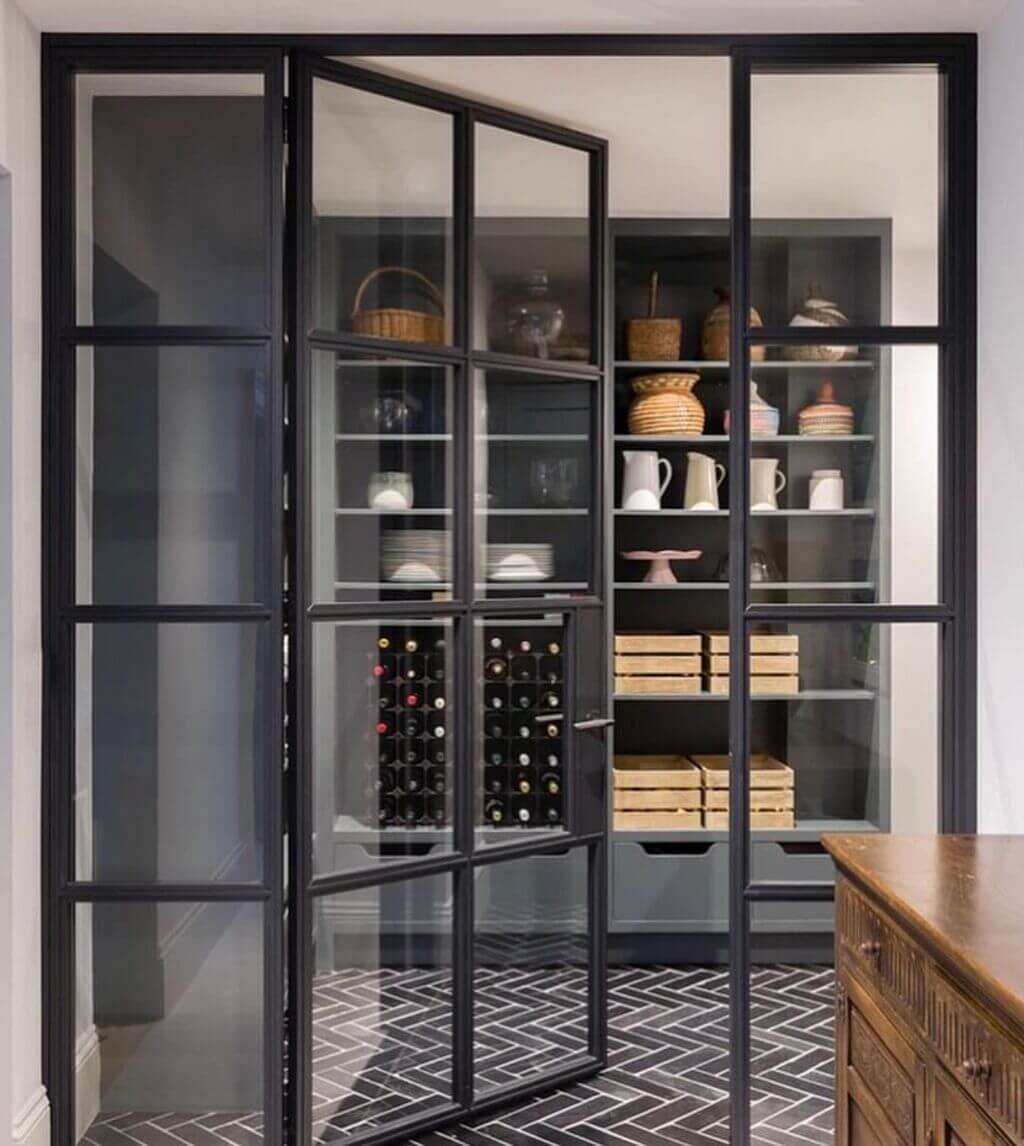 Source: houszed.gumlet.io
What's more exciting than an organized look with transparency? 
Kitchen interior design trends present the idea of separating the pantry with a glass door imparting an industrial look and at the same time making the space look neat.
Also Read: Kitchen Remodel Ideas & Tips That Will Help You Spruce It Up With The Least Effort
19. Lived-in Appearance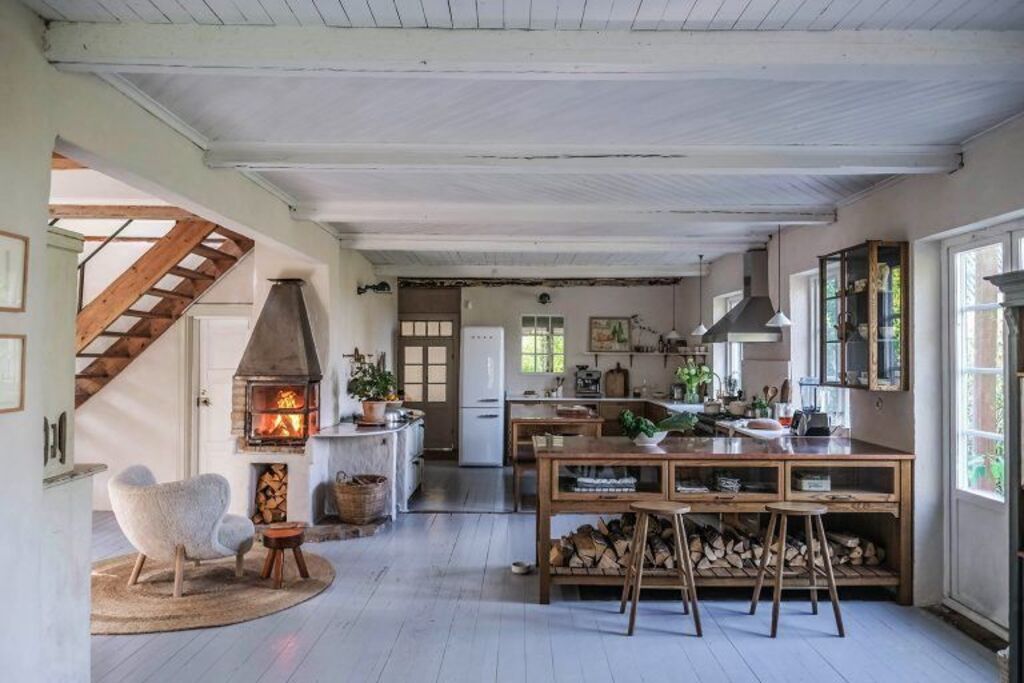 Source: pinimg.com
The 2023 kitchen design trend offers a space to cook and relax. The concept of multi-functional spaces has led to kitchens that offer a relaxing space as well.
The lived-in appearance is imparted by a wood-burning stove, cozy nooks, great shelving, and seating space. Using natural materials for enhanced aesthetics can make the space even more welcoming and comfortable.
20. Drawer Appliances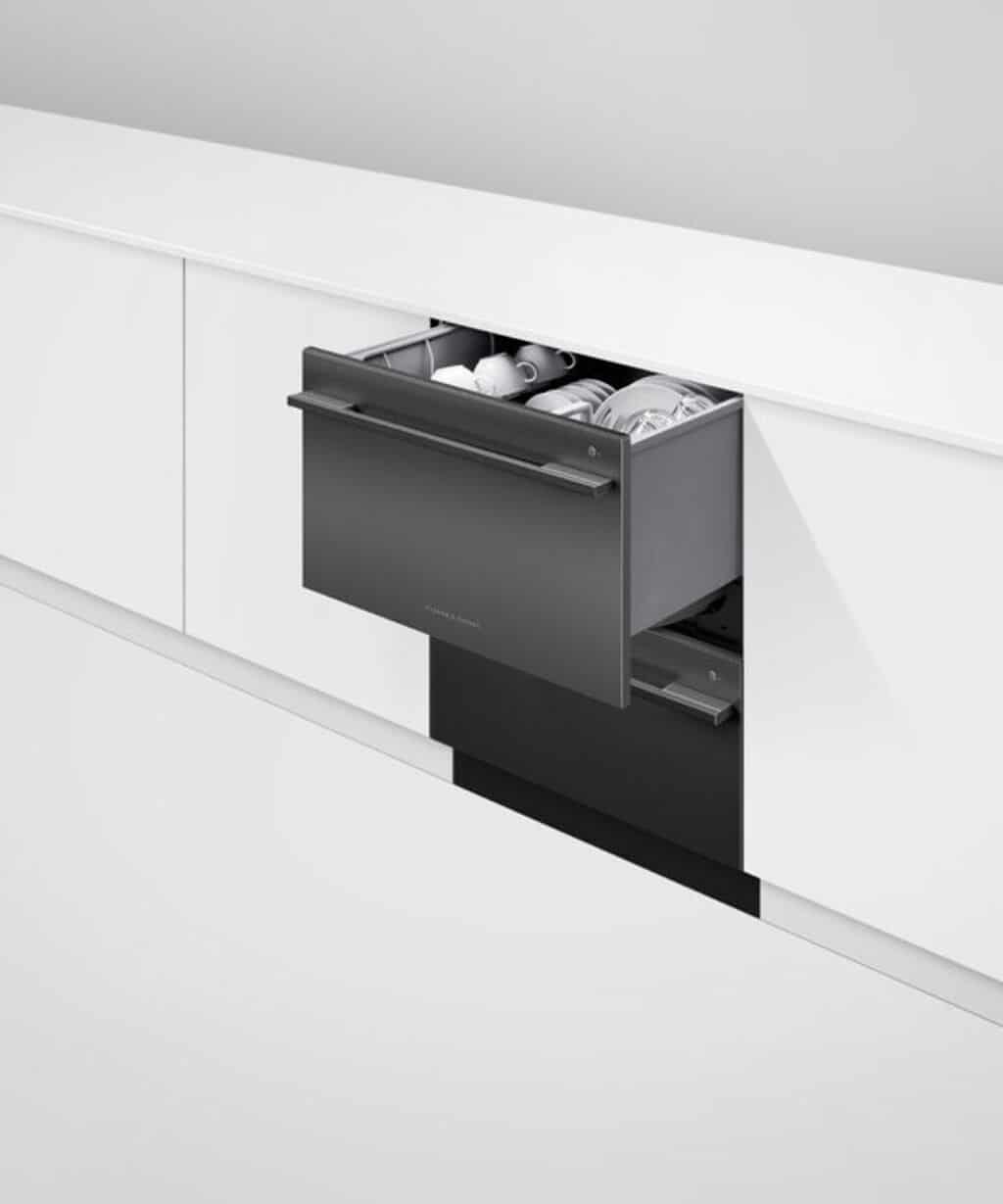 Source: fisherpaykel.com
A nicely planned kitchen with drawers has sidelines the conventional designs with tall cupboards. Drawers are gaining popularity rapidly in the kitchens with the convenience and comfort they offer.
Appliance drawers started with freezers but now have been upgraded to accommodate dishwashers and other equipment.
All Set to Design as Per the Kitchen Design Trends 2023?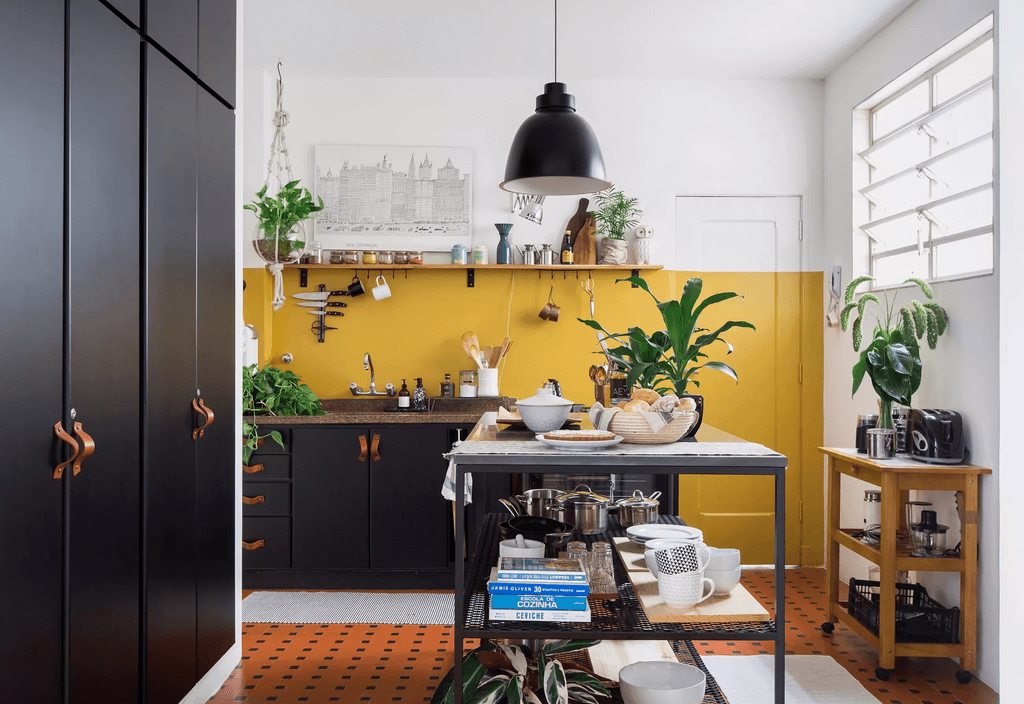 Source: pinimg.com
These kitchen design trends 2023 can highlight your kitchen as a space that brings together friends and family. The sleek and stylish hub can offer a comfortable space with trendy elements.
Practicality and multifunctionality lead the board in the priority aspects while designing a kitchen and a great design can offer flexible space with beautifully appealing aesthetics. These creative trends can offer a kitchen space that can be fun and relaxing.
Breaking the typical notions of a kitchen being a boring area, the modern trends offer a design that transforms the kitchen into a retreat. With the latest technology, green vision, and bold use of materials and colors, modern kitchen designs offer an uplifting space in the house. 
This curated list can surely help you choose the right design based on your taste and requirements. Go for the style that reflects your personality to give your kitchen a bespoke design or remodeling.
To know more about Home improvement ideas, Cleaning and decoration tips visit ArchitecturesIdeas
For daily updates, follow us on our Instagram page @architectures_idea.