Deciding What Color Temperature Is Best for Your Landscape Lights
From bright pathway lighting to soft architectural accents, the temperature and brightness of your landscape lighting can make all the difference in the look of your home. With smart outdoor lighting systems and new technology that allows for changing color and temperature with an app on your smartphone or device, you can adjust your lighting to fit your needs. You can choose to illuminate your walkways with brilliant white light or highlight your exterior features with a range of radiant color options according to an event, mood, or to represent your favorite sports team.
Types of Color Temperature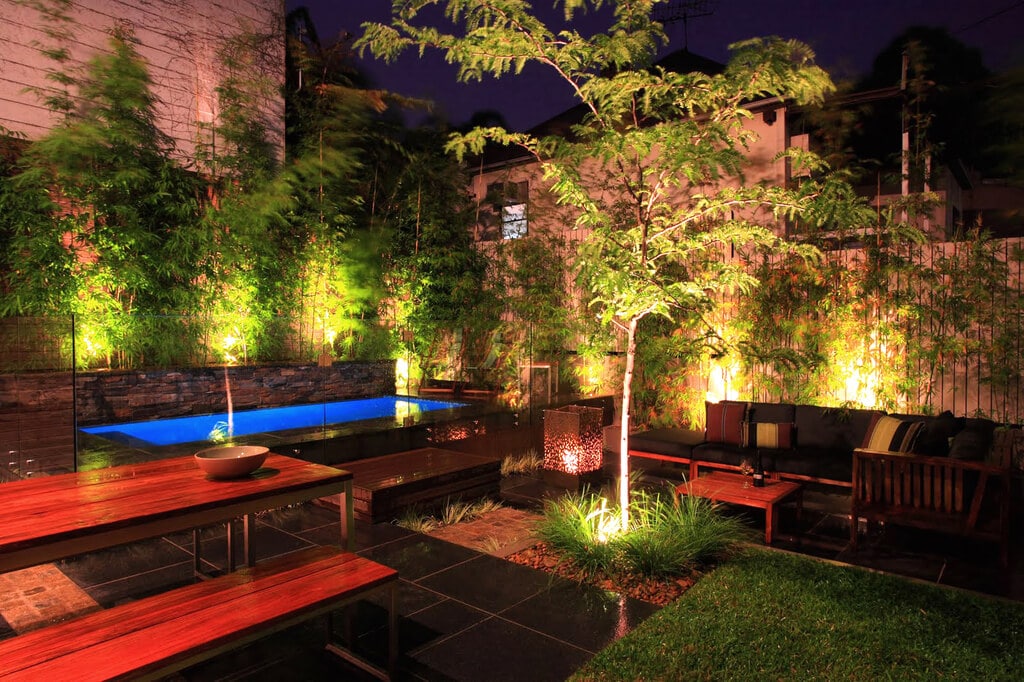 Source: cloudinary.com
An important factor when designing your landscape lighting is the quality of the color temperature. The warmth or coolness of a light's projection is considered it's color temperature. It is also important to note that more expensive LEDs that are made with higher quality, more controlled processes have a uniform coating across the surface, making the white color very consistent.
Less costly LEDs are not as consistent and can generally look colder (whiter) within the middle and yellow or even brown have a brown tint as you get closer to the edge of the light. This may create an unappealing beam projection which will be inconsistent in color and quality. 
Soft White/Warm White
A fixture below 3500k will project a warm white color with a yellow hue. These lights are best suited for areas meant for relaxing and produce a warm and cozy feel to your space.
Bright White
Lighting fixtures between 3500k and 4900k will illuminate a brighter white appearance and bring a lively feel to the area. These lights are best suited for use as security lighting or in walkways because they give off a brighter glow without being intrusive.
Cool White/Blue Light
Any fixture 5000k or above will give a cool white glow and have an even brighter appearance. These lights enable the use of high activity or workspaces that otherwise might be hazardous to use at night such as pools or garages.
Considerations Related to Landscape Lighting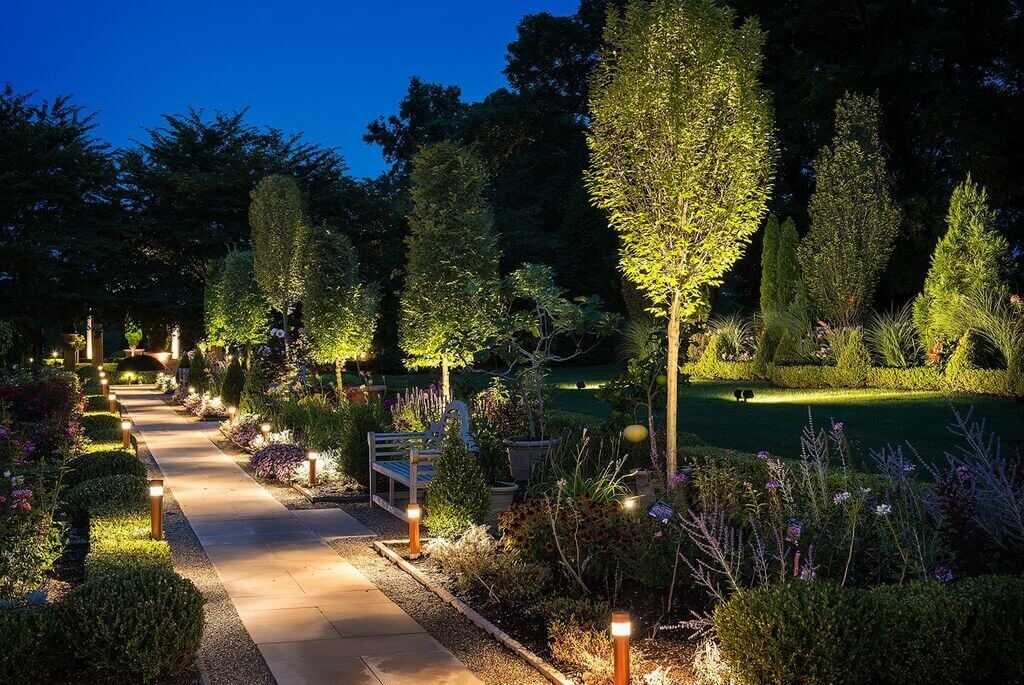 Source: completelandscapingservice.com
Also Read: 10 Landscape Design Projects that Made Badlands into Beautiful Parks
Architectural Elements
Uplights are perfect when used on a 1 to 2 story home and small to medium-sized trees up to 25 feet. Keep in mind that if you are lighting a building of 3 to 5 stories or tall trees and palms you should choose a fixture with a higher lumen output of at least 14 watts
A smaller feature light is ideal for accenting dormer windows, statues, small trees, and rock walls or bushes because it is discreet but able to cast a wider light. With this low-profile design, you can distribute the color or brightness you desire while capturing the beauty of your small lawn features and hardscapes. 
Wall sconce lights are ideal for pool enclosures, lanais, and pergolas. They are the perfect accompaniment to illuminate any outdoor living space.
Plants
Think about highlighting your beautiful flowers, shrubs, and trees and still being able to enjoy them after the sun goes down. Highlighting trees in an accent color is a very classy look. Matching flower colors highlights your landscaping and is an exquisite way to add nighttime curb appeal to your home.
Moonlighting Technique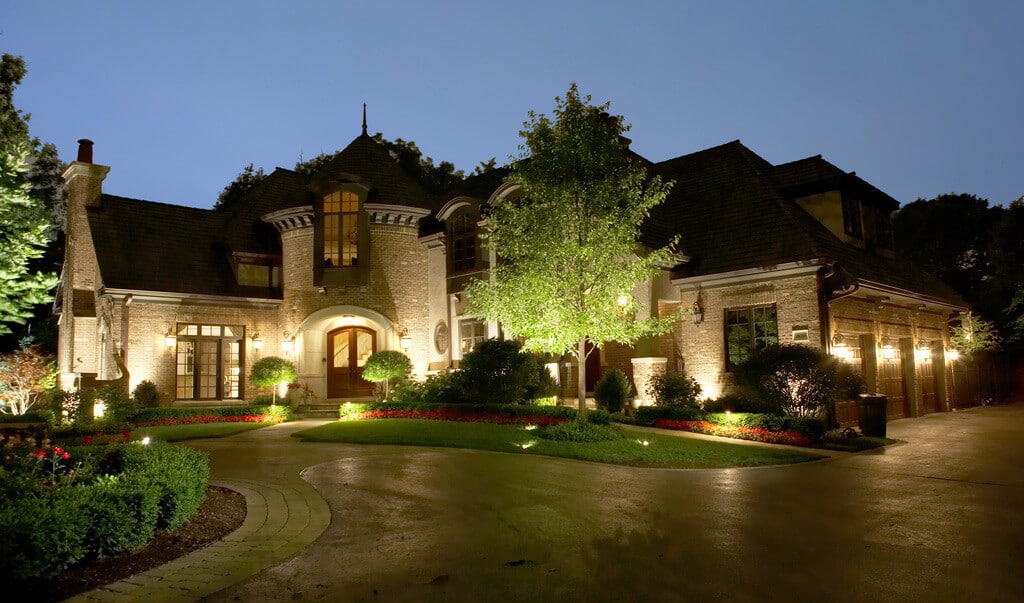 Source: centralirrigationsupply.com
If you are looking for more of a soft-lit appearance, you might consider the moonlighting technique. Moonlighting is the placement of soft lighting in trees or structures above areas of your property that mimic the appearance of a moonlit glow. There are many placement options when moonlighting. It can be utilized throughout the entire property or create the perfect romantic ambiance for a patio or garden.
Also Read: Outdoor Upgrades: Mistakes You Want to Avoid With Your Outdoor Living Space
Security Lighting 
The safety of your home is always paramount. Whether you are a homeowner that wants to brighten pathways or would like to illuminate the dark corners of your yard, smart-outdoor lighting systems can do the job. It is simple to schedule the lighting to turn on at dusk, allowing family and friends to safely access steps and sidewalks. Bright outdoor lighting can also deter trespassers and unwanted activity, no matter the time of day or night.
Motion lighting is available with some smart lighting systems as an added layer of security for your home. Welcome guests with a safe path of light to guide them to the door and throughout the property. Path lights are an inviting and effective way of elevating security and safety while maximizing charm and appeal.
While there are certain recommendations for what color temperature and brightness work best for certain outdoor living spaces, this can vary by the preference of the homeowner. The latest trend in LED technology is to include multiple colors of white temperatures within the fixture and let the customer select the color option they prefer once the light is installed.  Some fixtures even include classic white and full-color lighting varieties.
Considering that many homeowners are left guessing at which color they would prefer before their purchase, this is a much more user-friendly option and allows an unsure customer to decide after they purchase the product. Many factors affect LED clarity and color temperature, but knowing what options are available and how to best integrate them into your landscape design will assist you in choosing the landscape lighting that is perfect for your outdoor space.
Author Bio:
Chris McCoy is the founder of Haven Lighting. Haven Lighting is the leading manufacturer of smart Wi-Fi-enabled landscape lighting systems, featuring unique LED products with unparalleled brightness, vivid color, and white temperature adjustment.