8 Ways to Use Stained Glass in Your Home
Stained glass can bring dazzling light and vivid colors into any space. While it was originally used in churches, the modern industry has a stunning array of choices for indoor and outdoor decor. Discover six cool ideas to enhance your home or commercial property. Stained glass ranges from massive items to charming little pieces like suncatchers. Panels with flowers stained glass for doors and windows will enhance the decor of any room. The variety of creative options for indoor and outdoor design is astonishing. Consider the following ways to use stained glass.
1. Doors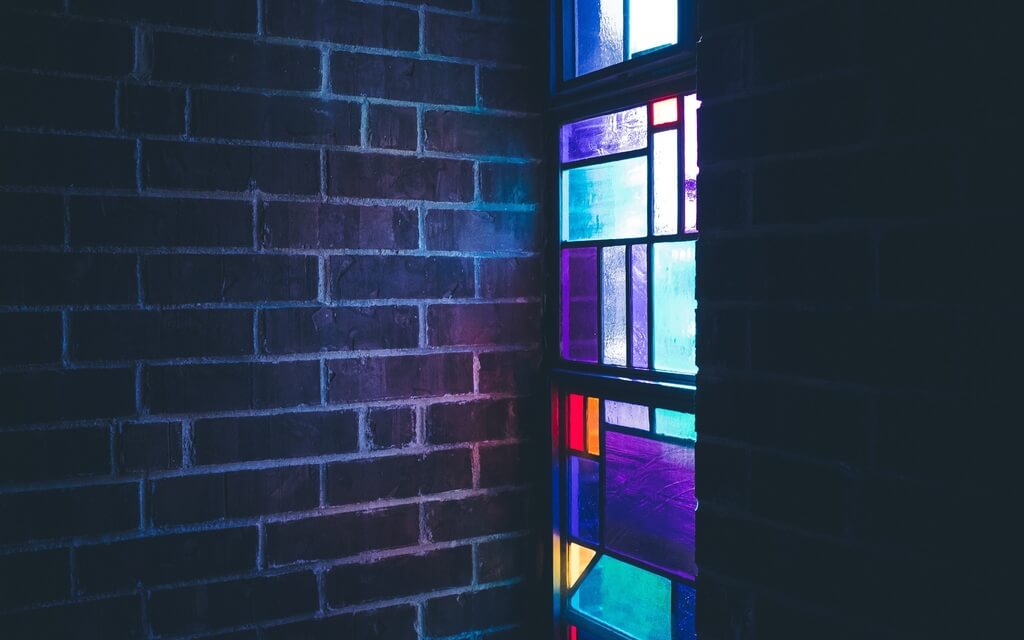 Source: best-wallpaper.net
Upgrade your doors to allow natural light to flow inside. Stained glass panels will let you have the necessary level of privacy without sacrificing the light, which will be amplified and beautified. A front door with stained glass will enhance the look of your property. 
Flower patterns like cherry blossoms or canaries on a lemon tree look particularly impressive. Owners of Victorian-style houses can preserve and emphasize the vintage look of their properties by opting for Art Nouveau or Mackintosh designs. 
2. Kitchen Backsplash
This is a great and affordable way to give your kitchen a fresh look. It will add color and visual interest. In comparison with other common materials, such as stone, metal, or ceramic, stained glass provides the same functionality at a lower price. 
Pick the patterns and colors matching your kitchen interior to achieve aesthetic elegance. Popular designs range from geometric shapes to landscapes to flower patterns. The backsplash will protect your wall from food stains and damage, and it will also be easy to clean.
3. Windows
Windows with stained glass elements give an impressive look and unique character to any indoor space. You can personalize them to tell a story or show a design aligned with your interior scheme. A perfect combination of colors will convey the right mood and enhance visual interest. Besides, you will still get the necessary privacy. 
Contemporary homeowners choose from a stunning variety of flower designs, landscapes, geometric shapes, and more. Clear glass options like leaded and beveled glass are particularly suitable for the windows of Mediterranean-style homes. While texture provides the desired level of privacy, bevels make the aesthetic more modern and elegant. 
4. Partitions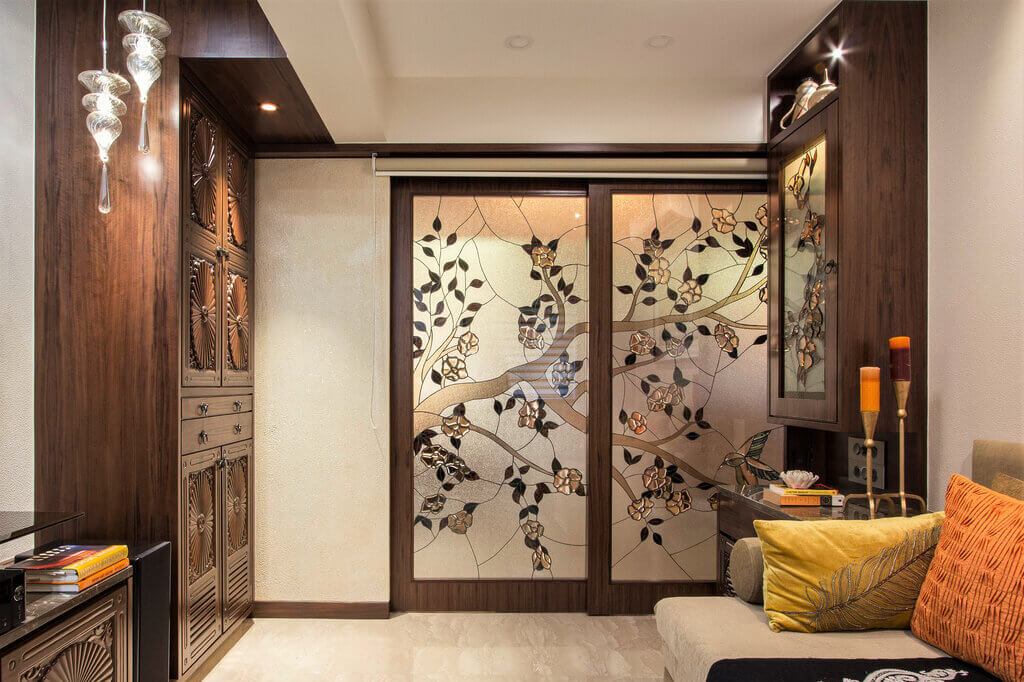 Source: behance.net
Divide up your space in style to create multi-purpose areas. Here, stained glass provides the ideal combination of privacy, functionality, and aesthetics. You may opt for something simple like monochrome opaque partitions, or add a personal touch with custom patterns. Some owners choose rectangular or square blocks of different colors, others opt for elaborate designs with flower elements, animals, fruits, etc. 
5. Basement Blocks
If you have a basement, consider adding stained glass windows to show a little personality. This will also reinforce insulation, which will result in lower heating and cooling costs. Colored glass blocks and patterns like diamonds are the most common choice. 
6. Shower Doors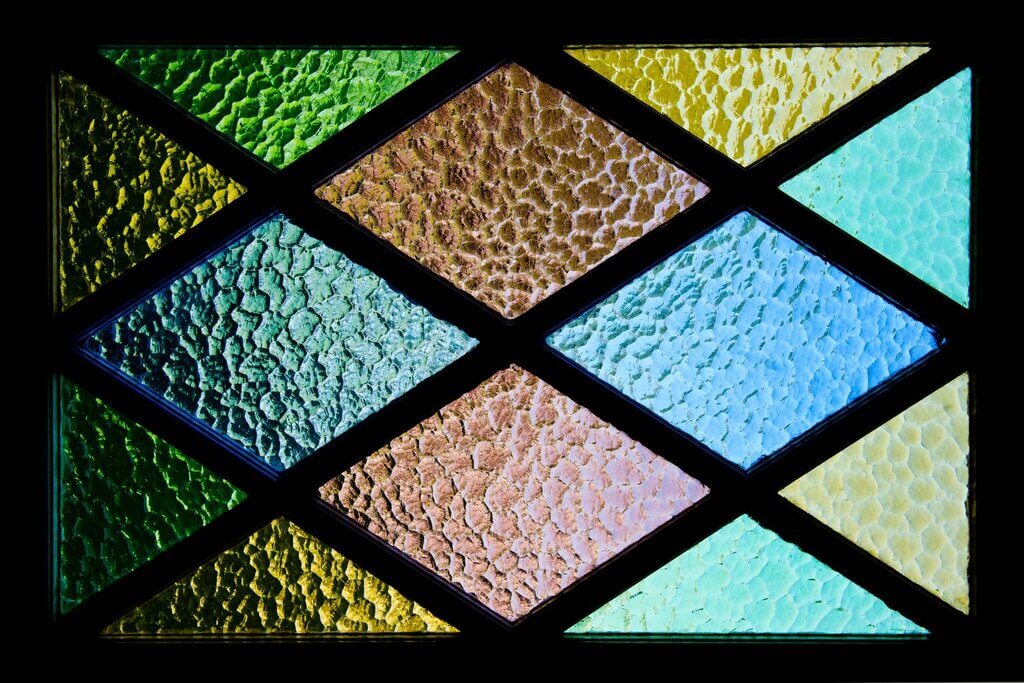 Source: squarespace-cdn.com
Taking a shower will be more enjoyable and relaxing if you upgrade the look of the bathroom with some stained glass. All those white countertops and tiles can be boring. Accentuate your space without overwhelming it. The bright colors and light will also boost your mood. You can make the shower super artsy by covering its doors with a flower design from top to bottom. 
7. Ceiling
A ceiling adorned with stained glass makes any room, even the smallest and darkest space, seem larger and taller. The optical illusion creates the impression of a boundless space above this glass roof. Such a unique and memorable interior is guaranteed to impress your guests.
If you have a suspended ceiling made of wood or drywall, you can integrate a stained glass window into it and add backlighting. Such inserts are often found in dining and living rooms. Stained glass ceilings are commonly found in restaurants, coffee shops, private houses, and even apartments.
8. Tables
Even a trivial coffee table can become an aesthetic focal point. Add a stained glass countertop to any table! Aside from becoming a stylish decoration, it will maintain functionality. Sand-blasted glass withstands pressure and temperature. Do not be afraid to put something hot on it, or even write on the surface!
Add Small Accents
If you prefer something subtle, consider adding slight decorative touches. For example, you could use stained glass for mirror framing or hang decorative pieces from the ceiling. Stained glass lampshades and small fixtures are great for the living room and kitchen, respectively. Delicate accents will give your home a more inviting and luxurious look.