You may have already heard the famous nursery rhyme that has two brother-sister characters: Jack and Jill. But have you ever heard about the jack and jill bathrooms? It is a modern bath design that is known as Jack and Jill bathroom. By the way, this bathroom design has nothing to do with the whole story; it's just the name!
Not only in America, but this unique design concept can be seen all over the world. This bath layout helps save money, time for decoration, and organizing space with maximum effect. Don't know about this bathroom idea? Read this blog, as today we're going to tell you everything about Jack and Jill bathrooms. We've also listed some of the best modern bathroom ideas.
Are you living in a large family or sharing rooms with siblings? If yes, then you probably know the morning rush for the bathrooms. Getting ready for either work or school becomes more hectic when you're sharing space with others. That's where Jack and Jill bathroom design comes in handy. This design works best for houses with a couple of bedrooms or if you want to share a bathroom between two bedrooms or siblings.
So whether you live in a modern house or in a countryside residence, these designs will help you to design a perfect bath space. Many people nowadays include Jack and Jill bathroom interior design in their house plan or in the floor plan for future living space.
What is Jack and Jill Bathroom?
"A Jack & Jill bathroom is a shared bathroom that has separate sinks, but there is only a single bath/shower and toilet area."
It is generally built between two bedrooms so that it can open to two or more bedrooms. Therefore it always has two or more entrances that open in a sharing area. You can say they are somewhat similar to the ensuite bath but in a more cost-effective way.
Some people also call these types of the bathroom as "his-and-hers ensuite" as it features both communal and individual elements. A proper Jack and Jill arrangement consists of a bathroom with two entrances for two bedrooms, whereas a his-and-hers ensuite serves two members of a couple sharing one bedroom. For more information on ensuite bathrooms, read our previous blog on various types of an ensuite bathroom.
These shared bathroom floor plans have a single toilet and bath/shower area, but there are always two separate sinks or a double-sized shared sink with two taps. You can also include two mirrors or a double-sized one and some sets of storage. You can decorate or select the specific decors according to your style and taste.
Benefits of Jack and Jill Bathroom
Why two sinks? This question might be coming to your mind after reading the above para. The answer is simple: with two sinks, people can easily and comfortably do their daily or frequent self-care tasks such as toothbrushing, shaving, and hairstyling in a shared bath. There are many more benefits; let's know about the Jack and Jill bathroom pros and cons:
It saves both space and money.

The universal and unusual design looks really aesthetically pleasing.

You'll get shared but a private bath.

You will spend less time and money on decoration and finishing.

This design will teach your kids how to share their personal spaces.

It has easy access to multiple bedrooms.

Everything will be organized and stored in one place.
In addition to that, it also has great privacy as there will be locks on each entrance. This is also a drawback because you always have to carefully lock all the doors when you're using the bath, and you have to unlock all of them again when not in use. But overall, a Jack and Jill bath adds great value to a house's floor plan.
11+ Stunning Jack and Jill Bathroom Ideas
Jack & jill bathroom layout will work for both contemporary and modern styled interiors. Below are thirteen examples of Jack and Jill bathrooms and his-and-hers ensuites to give you some inspirations. Here you can see how other people have set up a bathroom specifically designed to be shared. From traditional to beach style, the list has many types of baths. There's sure to be a style you like in here!
1. Modern Bath Design
With bright and white walls and a gorgeous patterned floor tile, doesn't this bathroom look pretty? Here, there are twin black concrete basins that inject modernity and complete the monochromatic look perfectly. You can also add some hanging plants and wooden stool to bring natural vibes and warmth to your space.
2. Small Jack and Jill Bathroom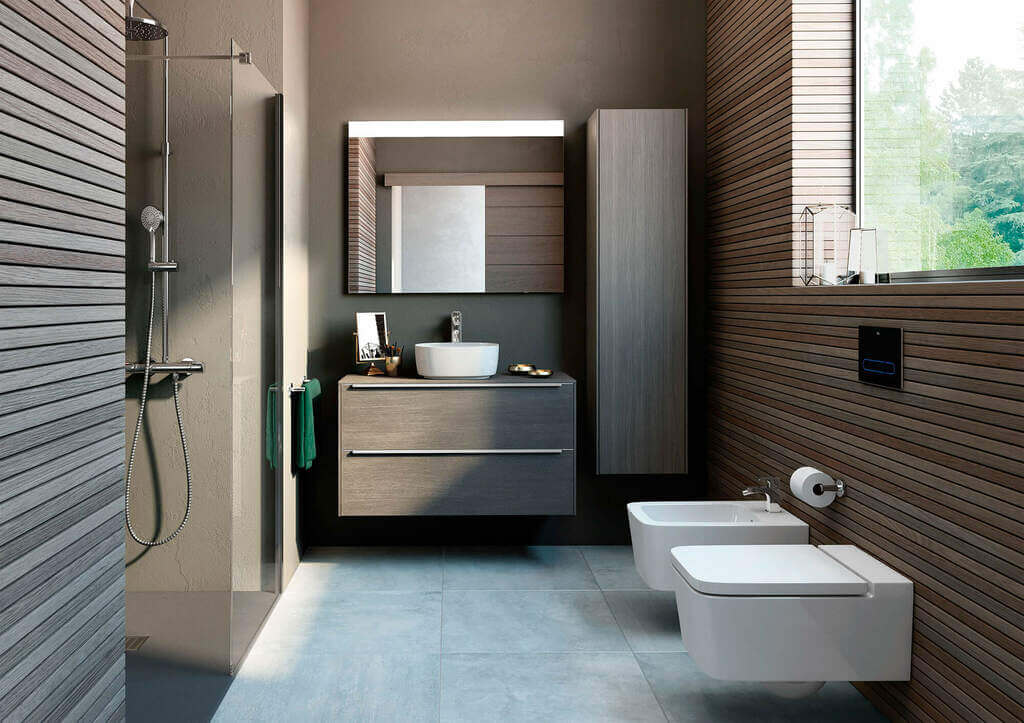 This small transitional kids bathroom in Milwaukee features an alcove tub, a shower/bathtub combo. Here white tiles with marble have been used on the floors and walls to open up the area. A trough sink with double vanity and a niche makes the space interesting, and the white colors are making an illusion of a large space.
3. Share The Sink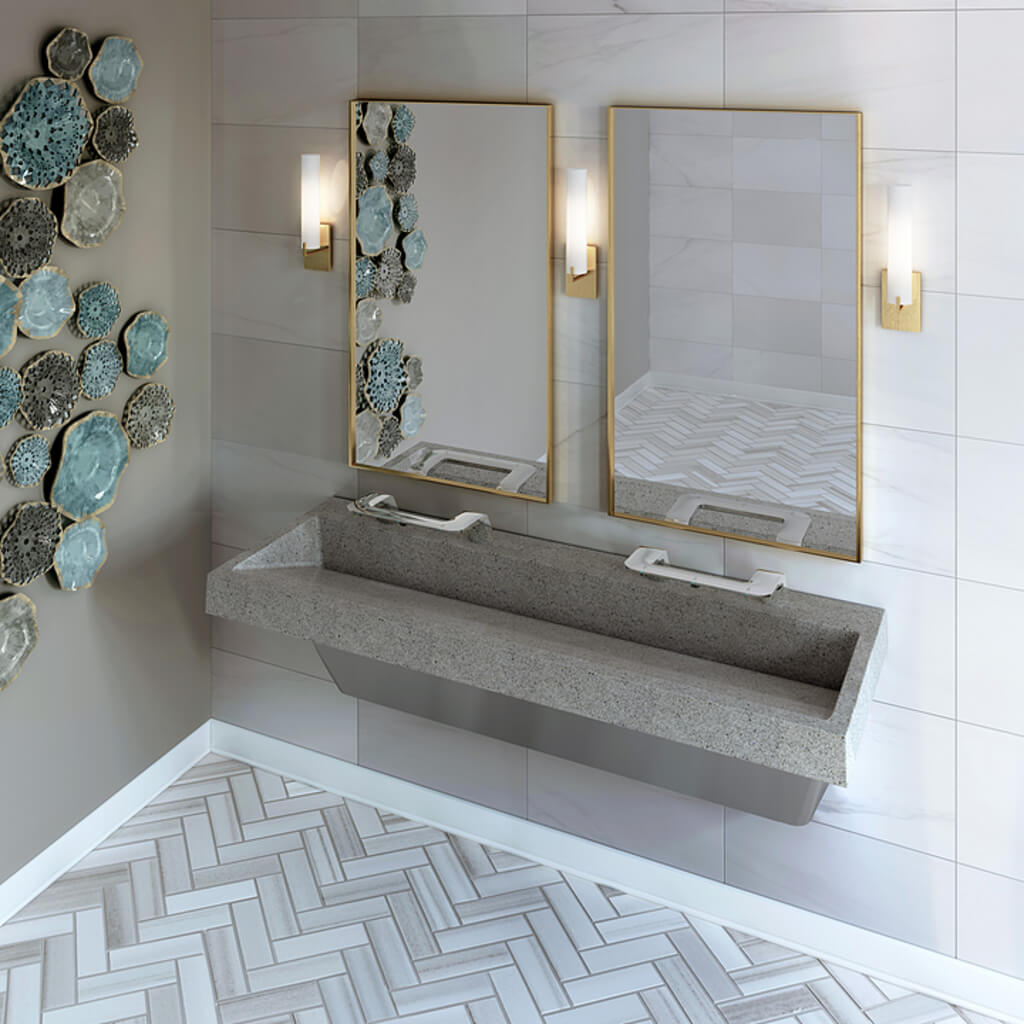 Another great idea for those people who live in tight spaces is this one. Instead of two sinks, how about having one large sink? Here is a concrete trough sink that features push-down taps and hidden faucets.
Two symmetrical mirrors are placed for two persons, while the triple wall sconces will give an even distribution of light for both mirrors. The overall pattern is also interesting. The herringbone-patterned tiles are used on the floor with the eclectic ceramic sculpture arrangement on the wall.
4. Navy Blue Bathroom Design
Take a good look at the layout of the above bathing area. Here the toilet and shower zone is separate from the sinks, and it has its own locking door. So multiple people can use the space without interfering in any privacy. Also, a person can close the shower door and the main bath entrance door separately.
5. Luxurious Bathroom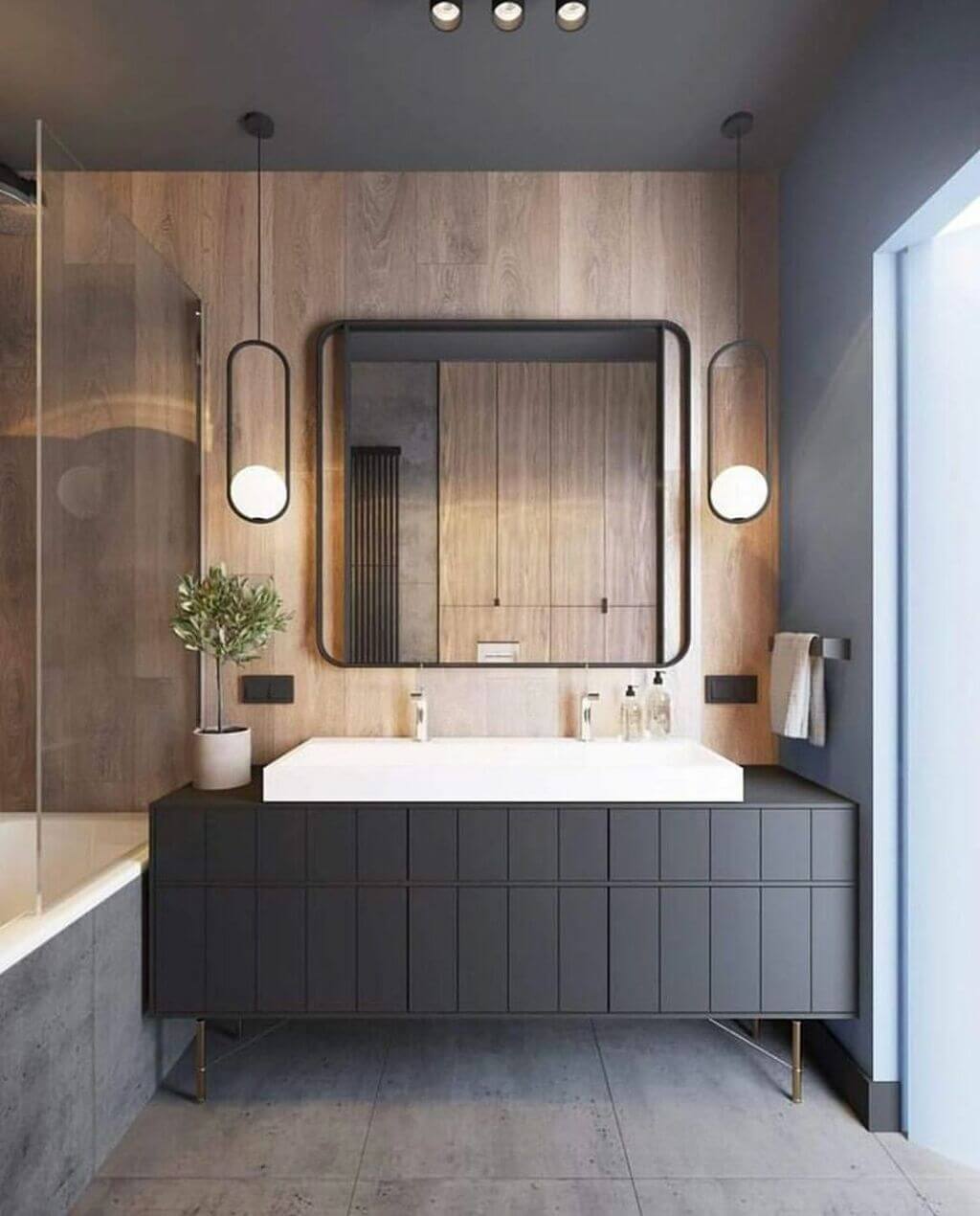 Want to create luxe vibes in your bath? Install a double farmhouse sink with two sets of mixer taps. For a more modern touch, add timber wall paneling. You can also include the dark-toned vanity that matches well with the ceiling and wall paint. For lighting, go for sophisticated glass ball pendant lamps.
6. Mid-Century Style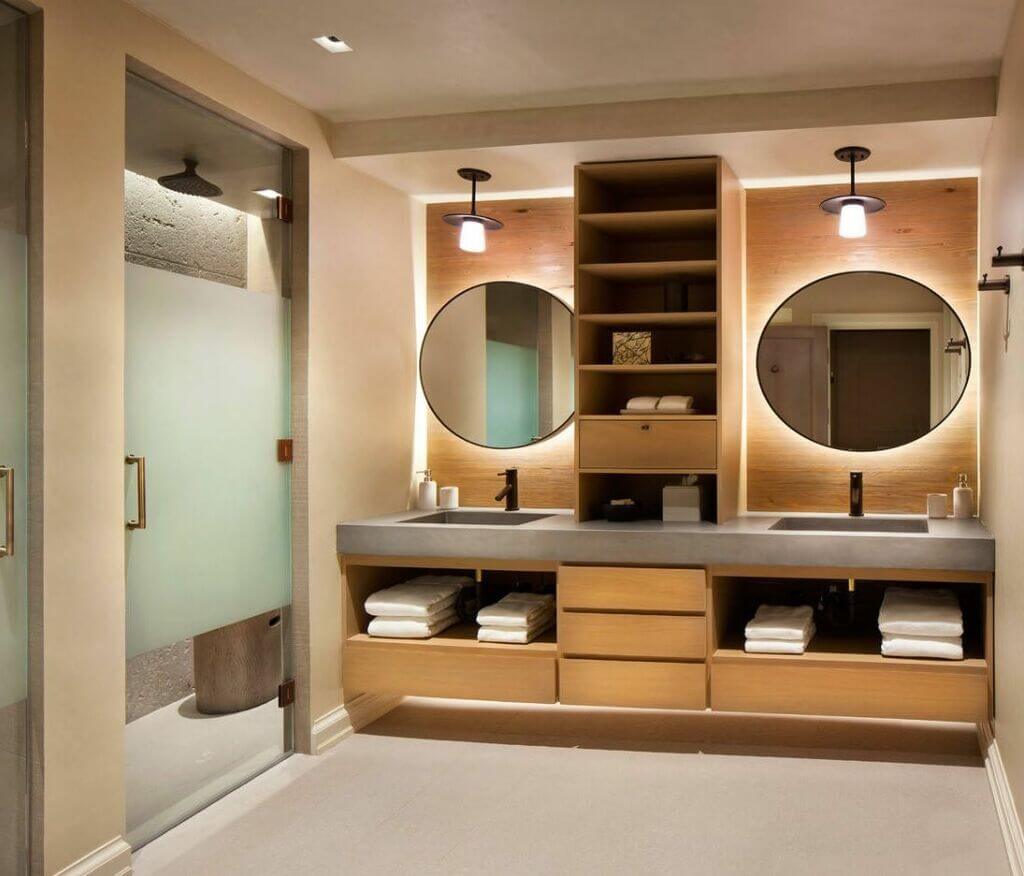 From sinks to mirrors, this bathroom has everything symmetrically. Here two doors are provided which are accessible from two bedrooms. Two rectangle sinks with two huge round mirrors are perfect for couples or kids. Under both the sinks, there is enough space for storing towels and napkins. Open shelving is common but is spacious enough to store all your bath essentials.
7. Contemporary Bathroom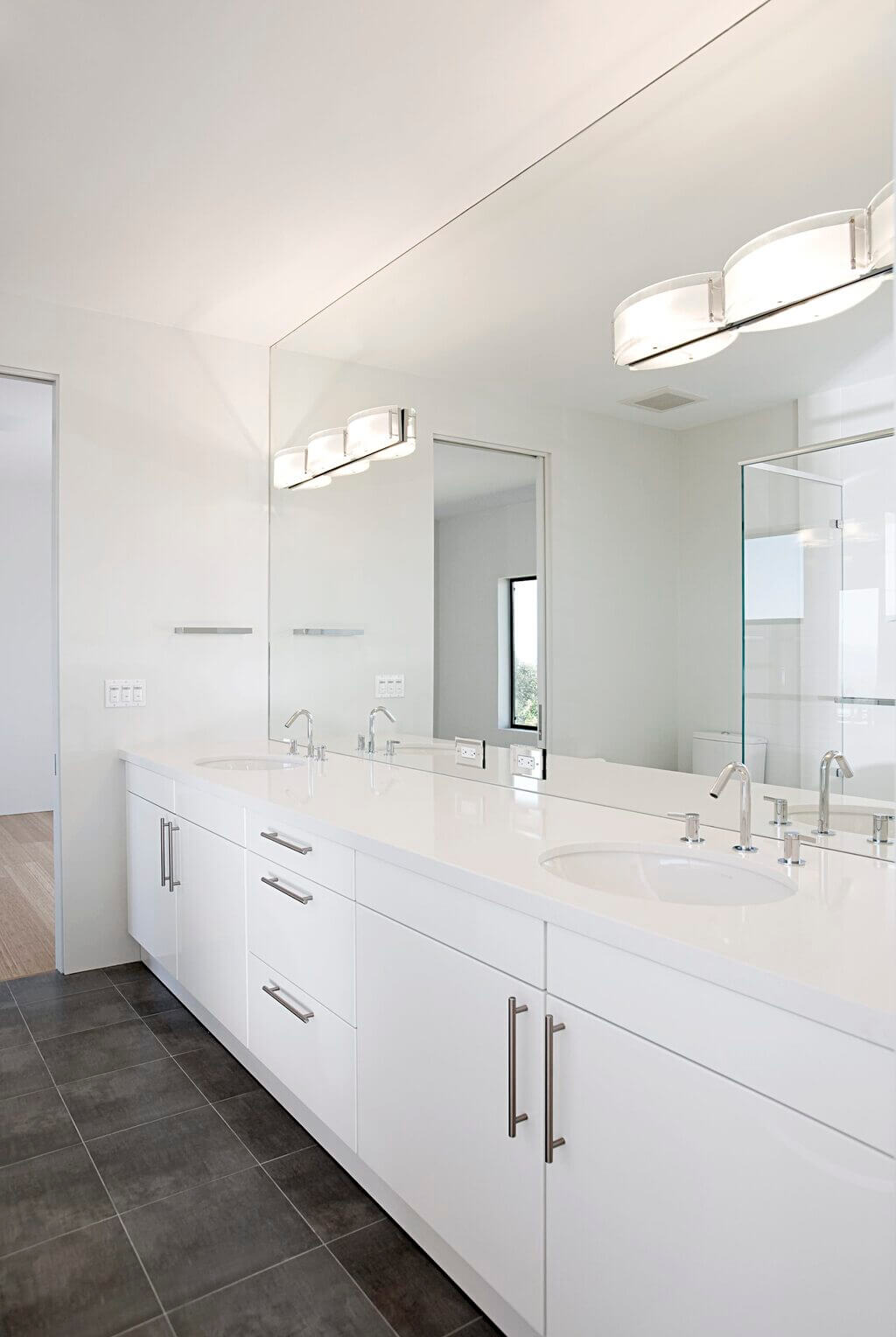 This contemporary bathroom design is a part of a house in San Francisco. There are two under-mount sinks, and everything is in white shade. The reason behind this is to make the bath area look spacious. That's why instead of two short mirrors, one huge mirror is placed, which reflects the light and makes the bath bright.
8. Industrial Style Jack and Jill Bathroom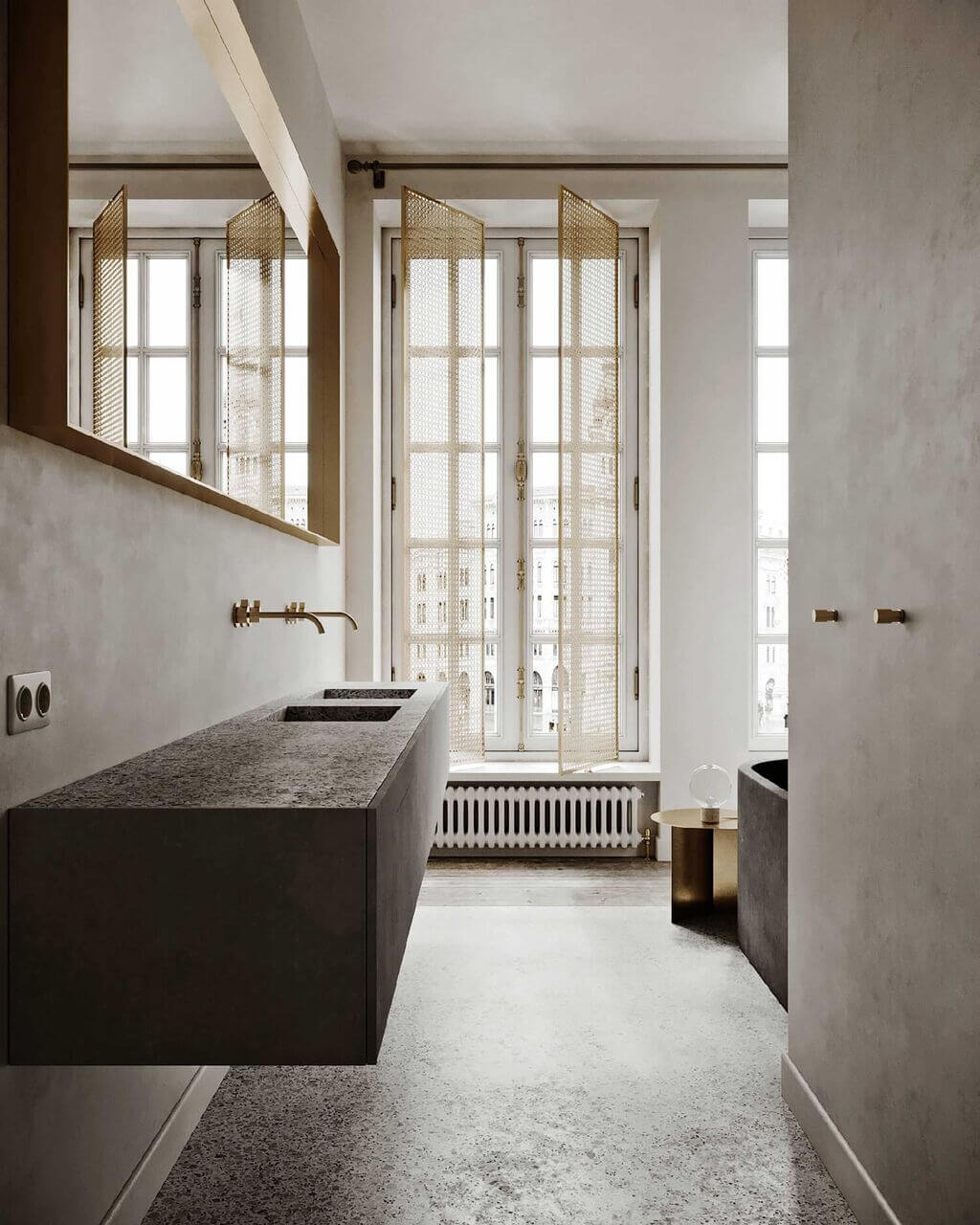 This bath design is quite different from the other designs. Here the Moroccan "tadelakt" technique for creating a seamless, watertight, mold-resistant wall treatment. If you love the industrial style, you can go with this bath concept. This bath is all about simplicity and minimalism, yet it embraces strong materiality due to the use of concrete and metals. 
9. Oceanfront Bathroom Design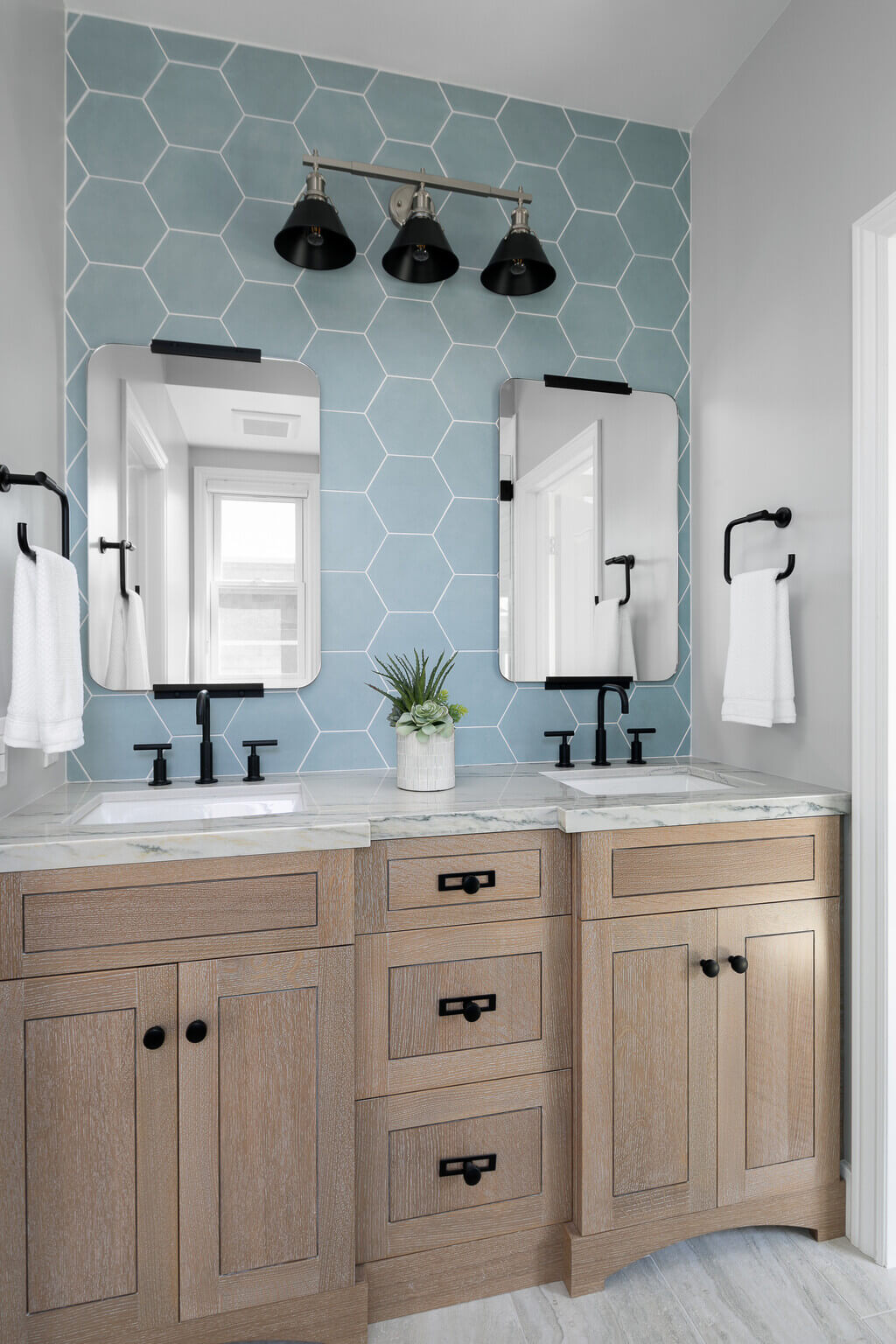 Design your master bathroom or your kid's bath in this beach style. The blue tiles on the wall with light wood cabinets are making a good pair. At the same time, the under-mount sinks, grey floor, and grey benchtops are perfectly complementing each other.
10. Bold Yet Classic Bath Area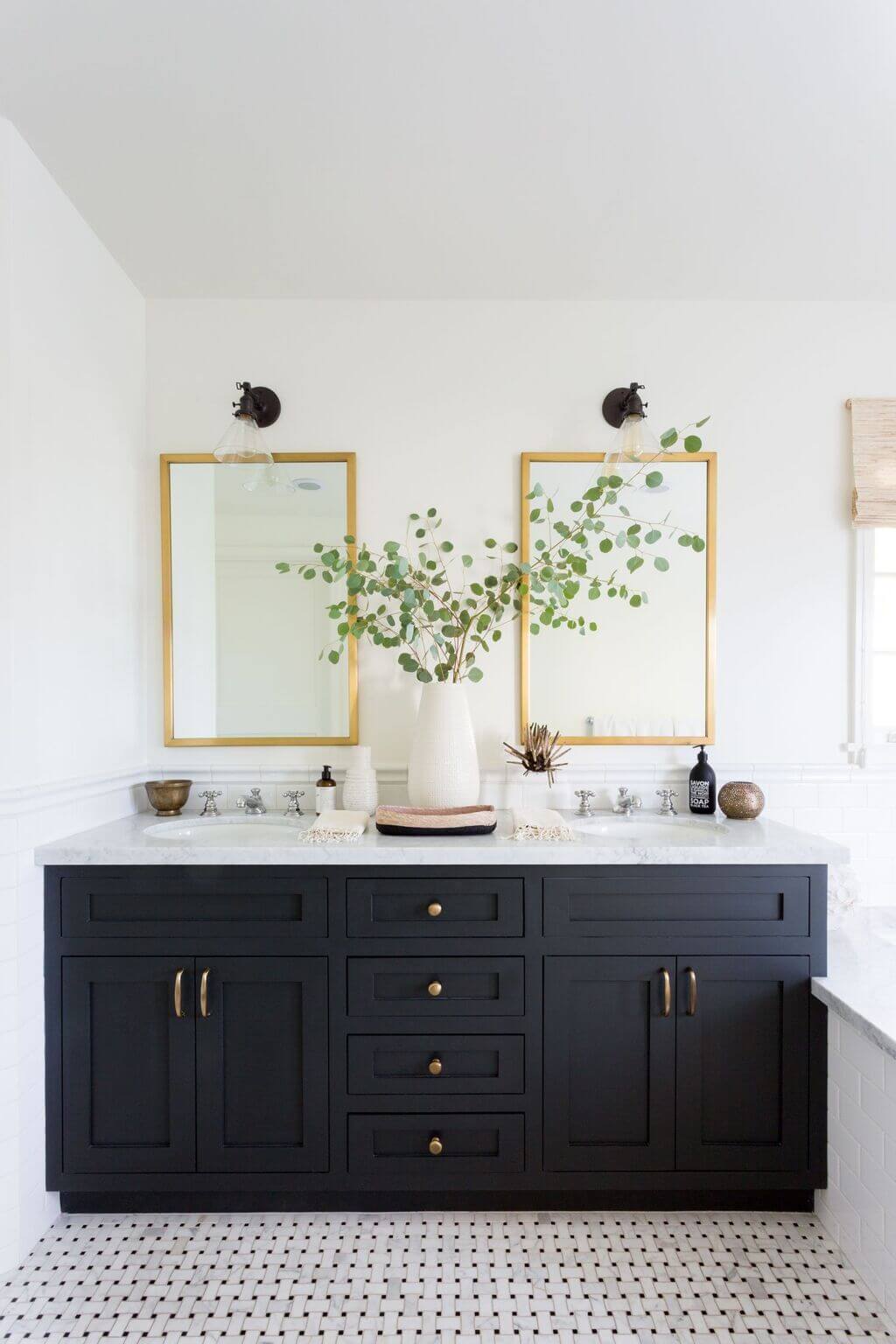 Navy blue and white is a timeless combo, and when you include marble, it becomes the classic combination! Not only this, here, many other types of metals have been used in different things such as brass hardware on the cabinet, chrome taps and faucets, gold-toned mirror frames, and black metal lights. The massive spray of foliage and the transparent lampshades are also looking great in this Jack and Jill designed bathroom.
11. Black & White Transitional Bathroom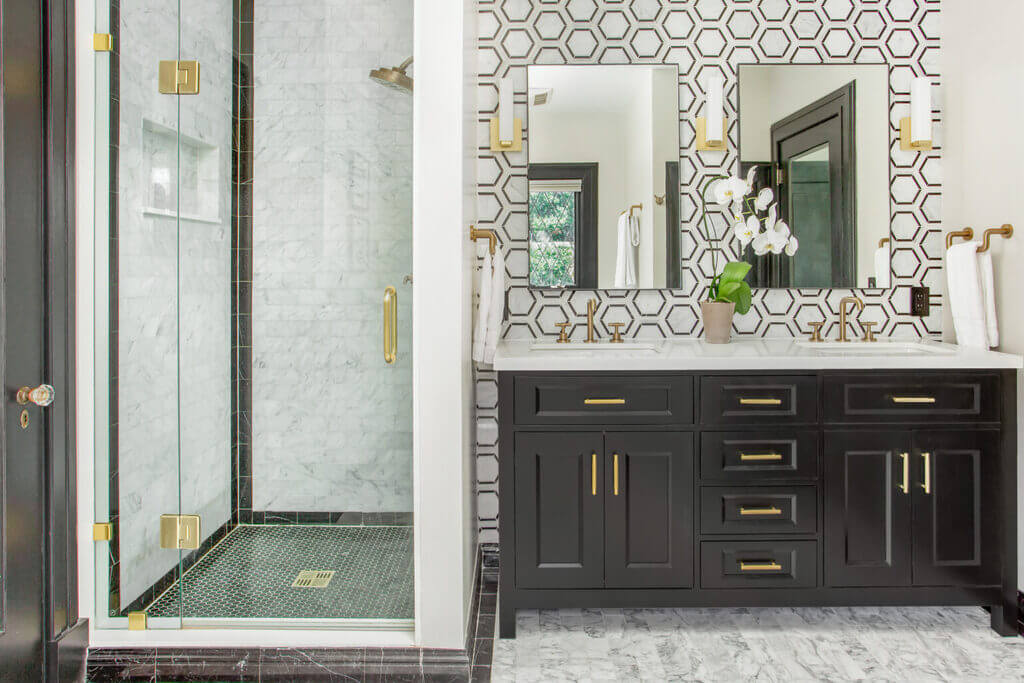 If you're out of color combo ideas, go for black and white. This is an evergreen combo that works in every type of bath space. Believe me; you'll have a lot of fun while creating this functional Jack and Jill bathroom. The vanity cabinets are painted in black color, which looks really amazing with the white walls.
12. Minimalistic Bathroom Decor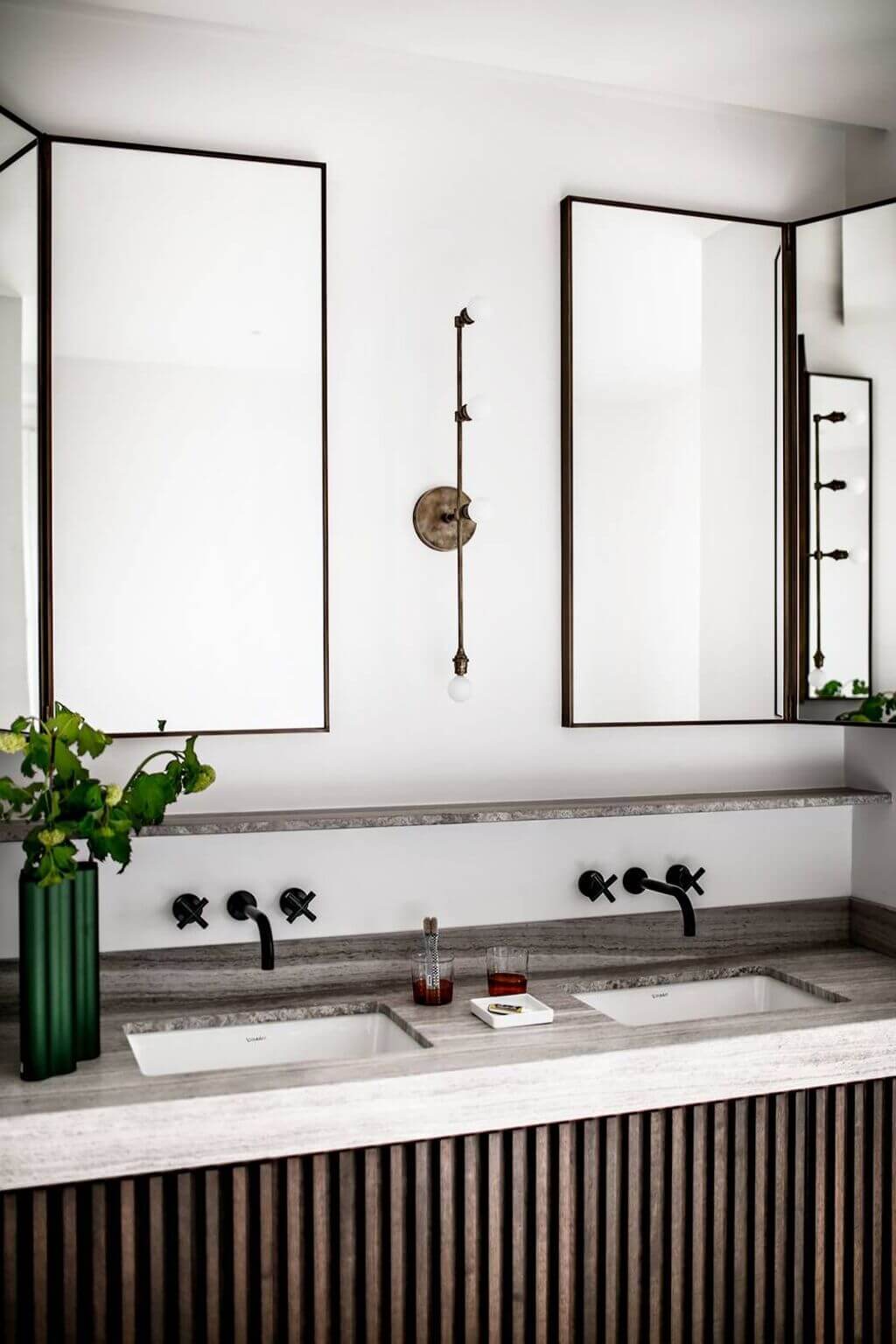 Another great Jack and Jill bath design includes minimalist decors. This ensuite has lightly industrial Parisian chic, and you can see it everywhere from the marble counter, striated wood vanity front, and remarkable slimline black light fixtures. This French Minimalism is so simple yet so stylish!
13. Beachfront Condo Jack-and-Jill Bathroom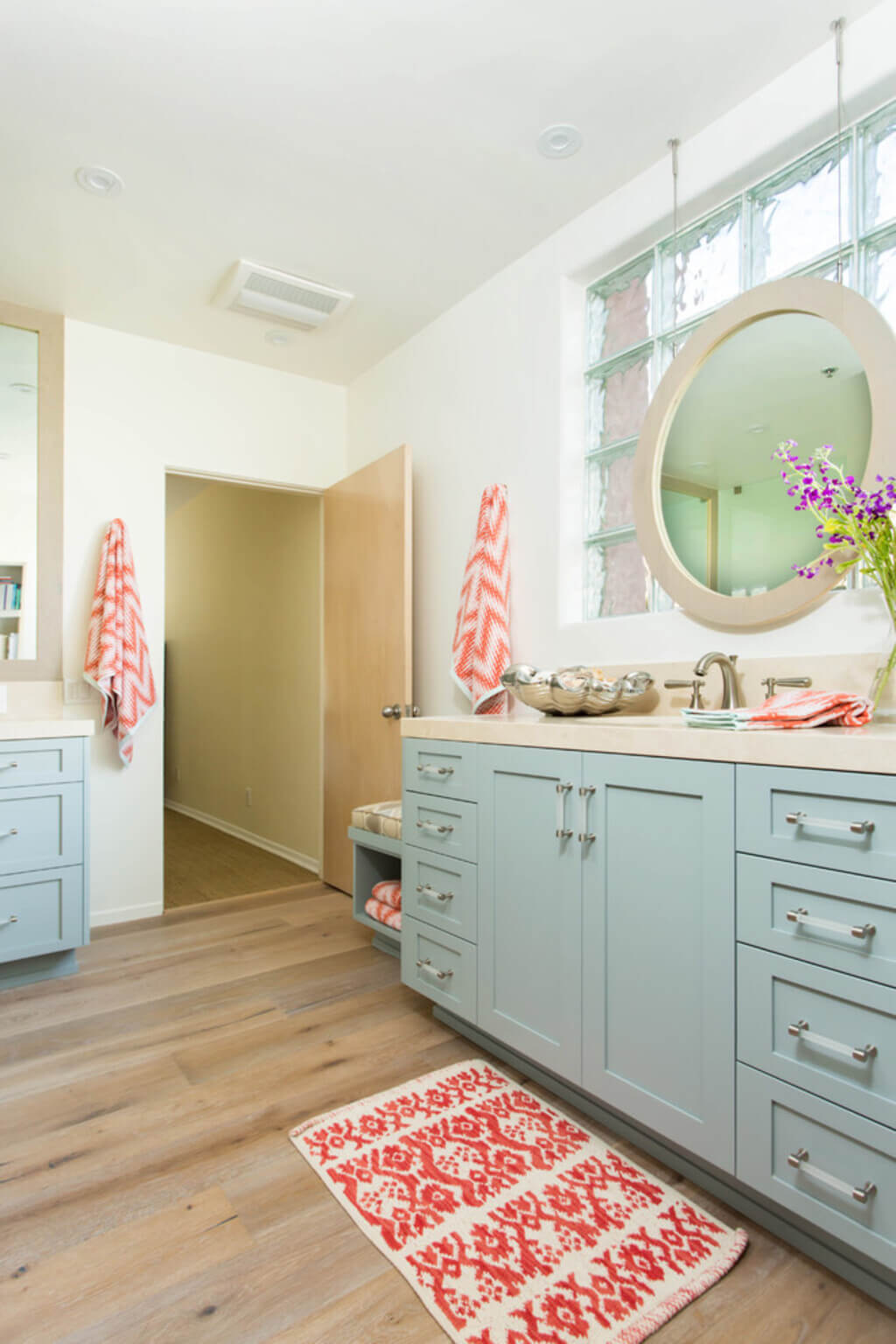 Owners of this bathroom have renovated it for their kids, and the results are in front of you. The Jack-and-Jill bathroom features a laid-back beach style, which is used by brother and sister. The blue cabinets, white walls, and light hardwood floors are making the space cozy and comfortable. Two under-mount sinks, marble benchtops, a grey floor, and a shower is perfect for this sharing bath.
Final Thoughts
A "his and hers" ensuite or a multi-user "Jack and Jill" bathroom will double your fun and will allow you to bring in twice the elements you love. While remaining on budget, you can create a super functional space. It is perfect for larger families or kids to teach them responsibility, patience, and respect for other people's privacy.
So, would you try this divisive new bathroom trend? There are many incredible Jack and Jill bathroom layout design plans available online. You can easily explore the possible configurations and figure out what works for your home. For more details, contact an expert in a bathroom renovation or a licensed designer. They will help you work the design into your space.
I hope you liked this blog on Jack and Jill bathroom ideas, and it gives you some inspiration. Feel free to share this article with your friends and family who might need help with renovating or designing their bathrooms.