Why Use Wet Tile Saw: Is It More Convenient?
Why is it a good idea to use a wet tile saw? Well, to start, it is a wonderful tool to cut ceramic, porcelain tiles, and even stone tiles. This helps create an output that is uniform, smooth. While a snap tile cutter could result in unsmooth or unpredictable edges. Through this article, we will tell you why use a wet tile saw instead of a regular one. What are some benefits from a wet tile saw you may get? Remember wet tile saw cutters are used mostly in big projects and require electricity. 
Also, tile cutting is not quite difficult, if you are careful with your ways. Even an amateur could do that quite easily. So let's understand why we should use wet tile saw to cut tiles. 
Wet Saws
First, let's have a look at what a wet saw looks like and what purposes it could serve. Well, to cut glass tiles, a wet saw is considered one of the best. The reasons are, firstly you get a clean and smooth edge. Secondly, the tiles do not get overheated.
The machine is portable and requires electricity. There is a portable mounted table and a circular blade attached with a water pump and hose. The water pump provides plenty of water during its action to keep the whole process from overheating. 
Now wet saws are not usually meant for small projects. However, if you think cutting tiles with a traditional saw could be exhausting you may use a wet saw. It runs on electricity. One of the most significant things that lead people to use wet saws is that the cutting of the tiles is extremely straight.
Also, if you have extra skills you will also be able to cut various intricate shapes. Wet saws can cut curved tiles for you while a tile cutter or traditional tile cutters cannot do the task for you. Small-scale plasma cutters have also been used widely in the construction industry today. 
The Advantages of Using a Wet Saw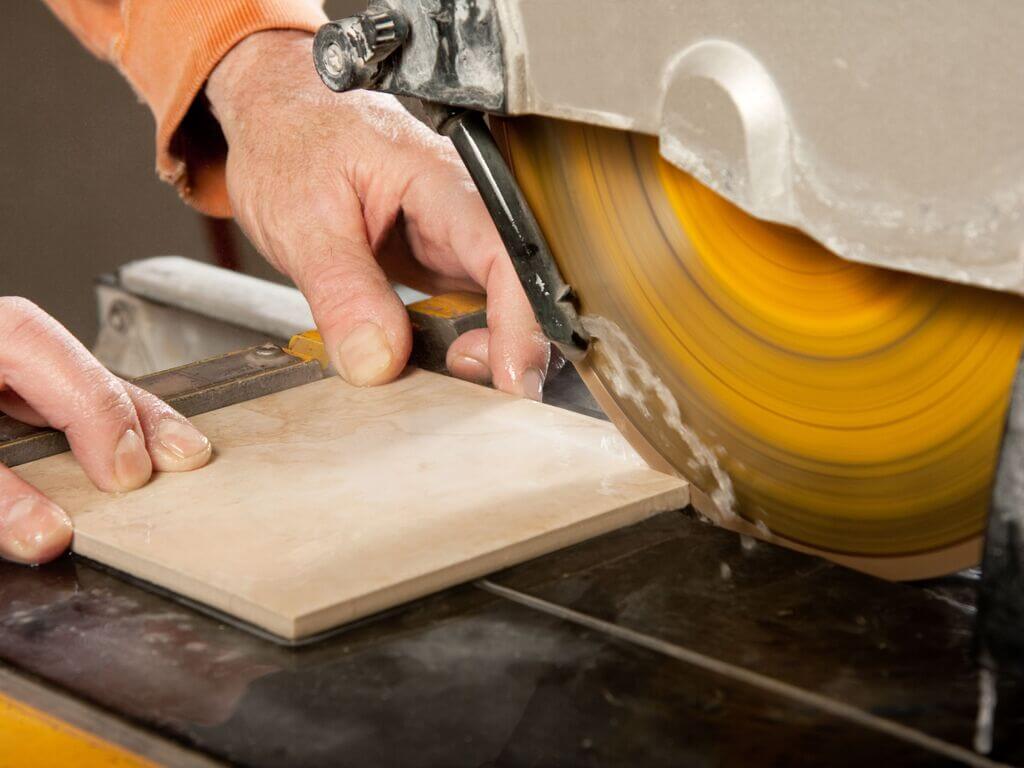 Source: thespruce.com
Precise Cuts
With a wet saw expect to get a tile size that is precise. The cutting process is also quite efficient. You do not need to stress a lot while cutting. Just with the correct technique, you could have yourself nicely cut, smooth-edged tiles.
Cut Through Various Materials
The wet saw device has a rotating wheel that has a fine-grained diamond. This can easily help cut through various types of material. The strong blades can help cut you through materials having higher PEI rates.
Versatile Cutting Option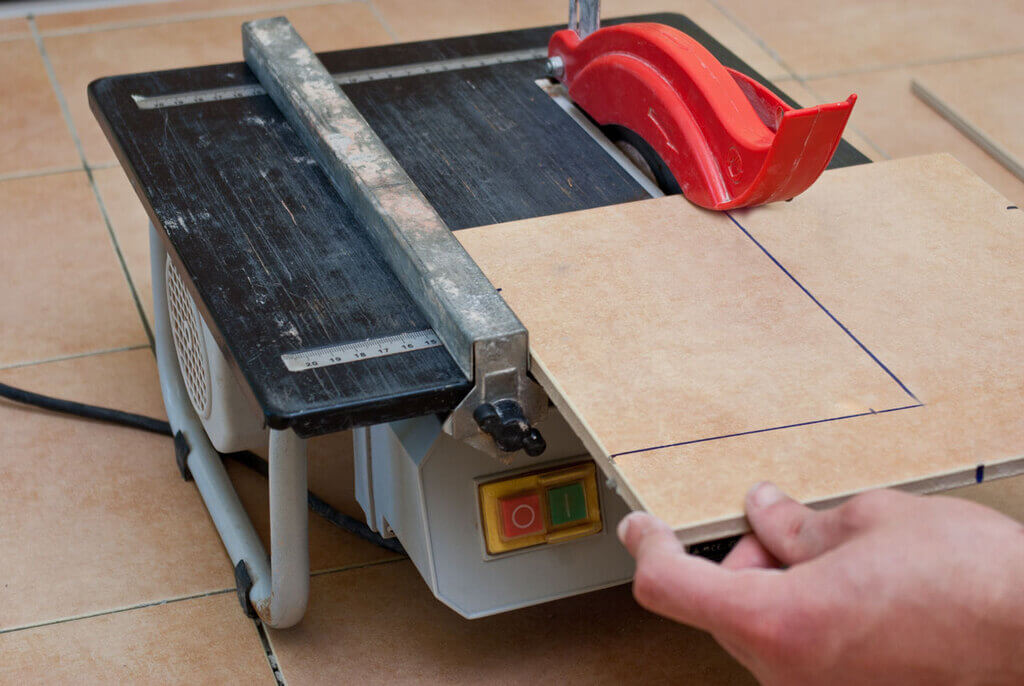 Source: howtospecialist.com
While with a traditional tile cutter you should be only expecting to have straight cuts, wet saw provides curved cuts along with straight cuts.
Avoid Overheating
There is a constant spray of water into the blades while cutting through tiles. This offers minimum friction and cooling down of the blades. Again, the cutting will be chip-free and defined.
Best for Large Projects
Yes, operating a wet tile saw may require some time, effort, and practice. However, if one learns the correct way of operating this tool it will be easy for them to cut tiles effortlessly in large projects.
Work Faster
With a wet saw, you should expect to work faster. Since they provide amazing cuts and an easy way of doing it with proper technique you are able to cut the tiles fast.
When the Wet Saw Is Not Required?
Well, for small projects at home it is not necessary that we arrange a wet saw tool as they are big and also difficult to transport. Again, they require electricity to be operated.
Things You Know Before Selecting a Wet Saw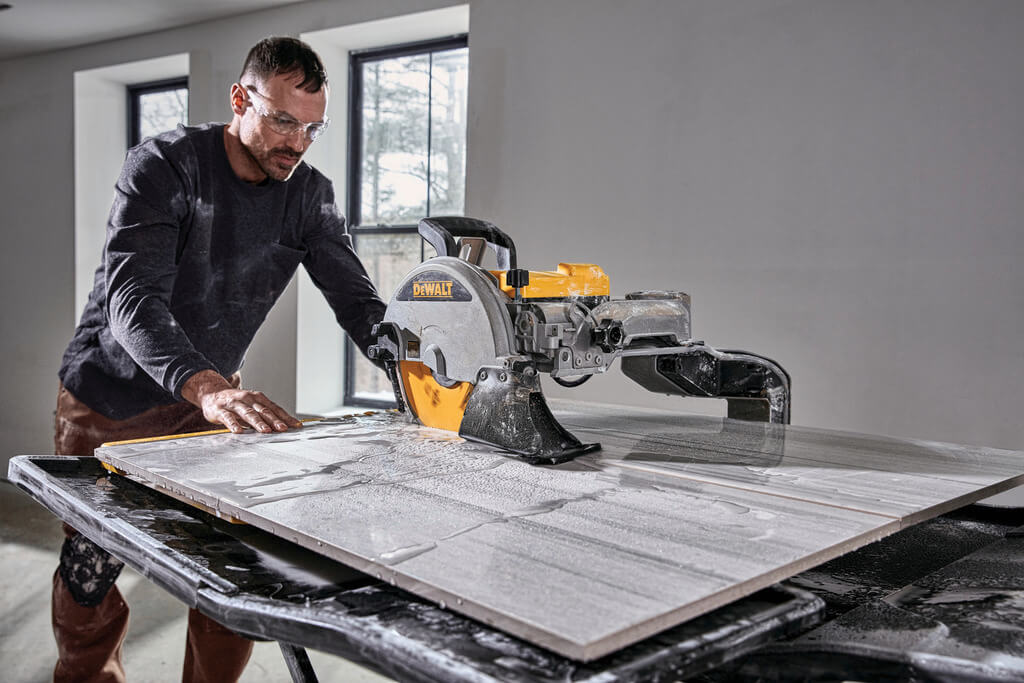 Source: popularposting.com
With a wet saw, you can make various cuts and versatile shapes. However, it is not always necessary. So buy or arrange a wet saw according to your needs.

Make sure that the wet saw has appropriate power.

There are various sizes of wet saws in the market. Remember to buy the best convenient size according to your work.

The blade should be sharp enough to cut smooth edges.

Select a wet saw that creates less splash or spraying.

Get the wet saw tool that offers many accessories.
Also Read: What Is a Jigsaw Used for | The Ultimate Choice for Carpentry, Diy & Construction Site
Safety Precautions 
Wet saw tool requires not only practice to operate but also has to be very careful. It can be very dangerous if you are not careful enough. So what are some safety measures we could take beforehand?
Get safety goggles and gloves for yourself. 

You may wear a mask so that debris from operating the machine does not make it uncomfortable to work. 

The blade should be sharp enough to make the cuts easily. Also, be cautious enough. 

Overloading the wet saw would be a bad idea. 

Do not try to exceed the capacity or limit of the machine. 
Final Thought
Now you know why use a wet tile saw instead of a normal tile cutter. They give you smooth results with a sharp edge for your tiles. If you know the correct technique with practice, tile cutting can be done effortlessly. Nevertheless, do remember they are usually meant for heavy-duty tile cutting. Also, this machine is big in size, not quite convenient to move and needs electricity.