If you are looking into adding that extra oomph to your lawn, you may be considering hiring a professional to provide landscape services in Perth. If you are not quite sure about what design principles to adhere to, this can be especially useful, as professional landscapers will work with you and use their in-depth knowledge and skills to design and construct the garden of your dreams.
Source: webdesign-finder.com
Landscaping Services
Commercial landscaping services include, but are not limited to:
Irrigation installation and subsequent maintenance

Tree or stump removal, such as by Local Tree Experts

Perennial cutback

Landscape lighting installations

Tree and shrub pruning

Weeding

Fertilizing

Mowing

Redesign and construction of the following:

Walls

Walks

Patios

Island beds

Water fountains or garden installations

Foundation plantings

Feature beds
Reputable landscaping companies should also offer landscaping services such as roll-on lawns with premium synthetic turf, reticulation services, paving, planter box constructions, garden edging, soil preparation, and even clearing your lawn for pre-landscaping work.
Also Read: Some Of The Best Front Yard Landscaping For Your Dream House
Regardless of what your existing lawn's appearance is, a professional landscaper will not only be able to construct a beautiful garden but will also be able to provide ideas that will really maximize your lawn space and tie the design together nicely.
Types of Landscaping Design
There are a number of popular landscape designs that homeowners have utilized to suit their homes. The most important thing to note is to work with what you already have and to create a garden space that will match with not only your existing architecture but also the general climate of where you live. This will not only create a cohesive aesthetic but ensure easy maintenance of your landscaping. 
Mediterranean
Source: architectureartdesigns.com
Inspired from southern Italy and Spain, this type of landscaping design incorporates the use of gravel pathways and colorful mosaic tiles as well as terracotta pots.
English Garden
Source: sndimg.com
With gently winding pathways, stone benches, columns and classical statues that exude vibes of the French Renaissance, the English Garden style is very classic and traditional.
Moorish Garden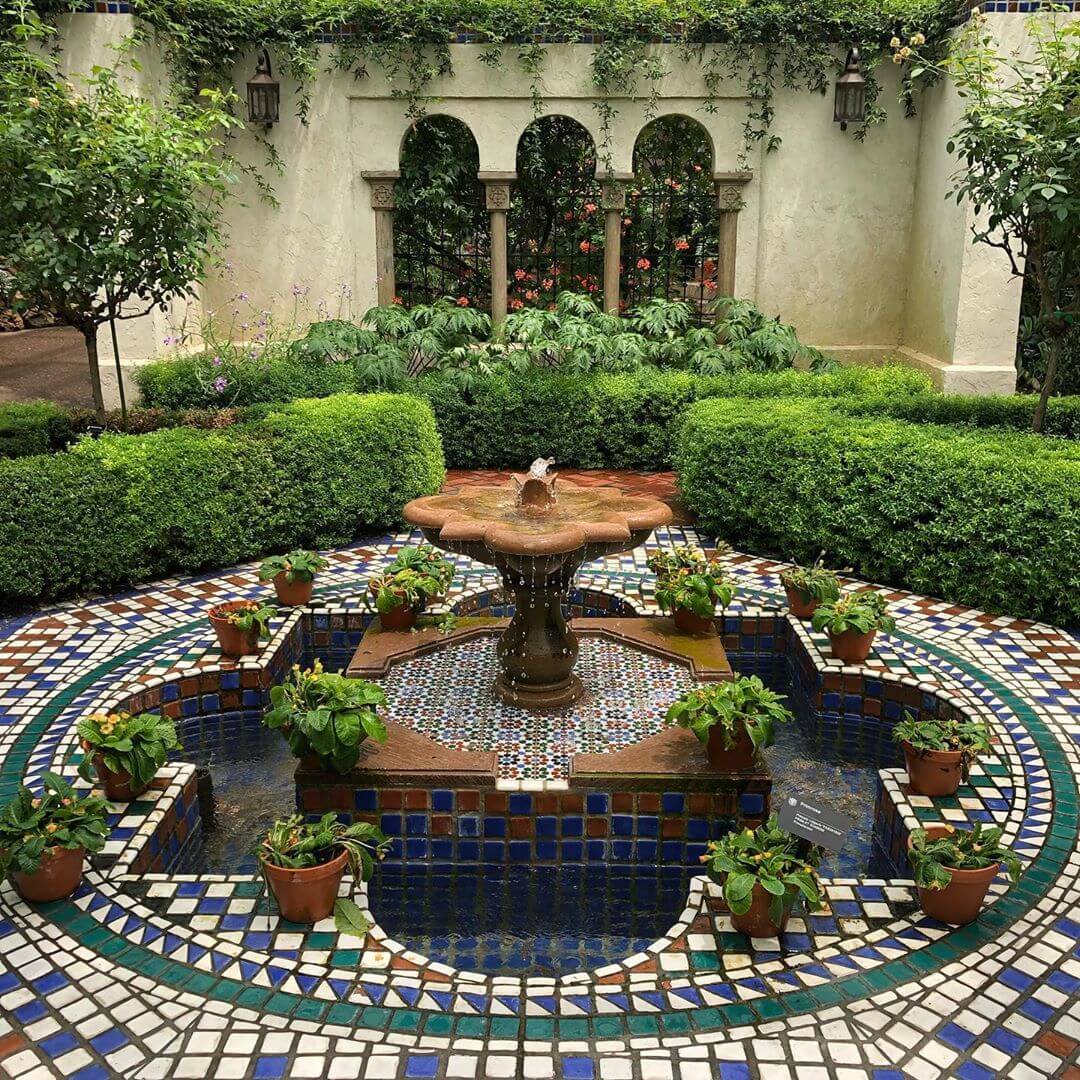 Source: pinimg.com

A mixture of the English style with Muslim garden elements, this design makes use of water as an essential styling element. Think ponds, fountains, and basins! These are usually done with homes that have a large lawn space that spans not just the front of the home, but also the sides, ensuring that the water installations reflect beautiful silhouettes of the home on its surface.
Japanese Garden
Source: shizenstyle.com
Based on the concept of spirituality, these types of garden designs exude tranquility and should emulate nature in a smaller scope. Think rocks, oriental lanterns, evergreen planting, and water fountains.
Modern Garden
Source: pinimg.com
Simple and sleek, this is an extremely popular choice for homeowners in recent times. Ensure a streamlined look by maintaining flowing lines that connect sections of the garden together seamlessly, and provides clarity to space. With concrete or pebbles for paving, and a white, grey, or black color palette, this provides a striking look that can be adjusted to match your existing architecture quite easily.