12 Inspiring Barn Style House Plans and Designs
Taking a step back into the past, today the families are slowly moving into a Barn Style House setting that is more appreciative of the nature around us. With spacious interiors and large openings, these become a light to a new future that is being explored.
What Makes a House Barn-Style?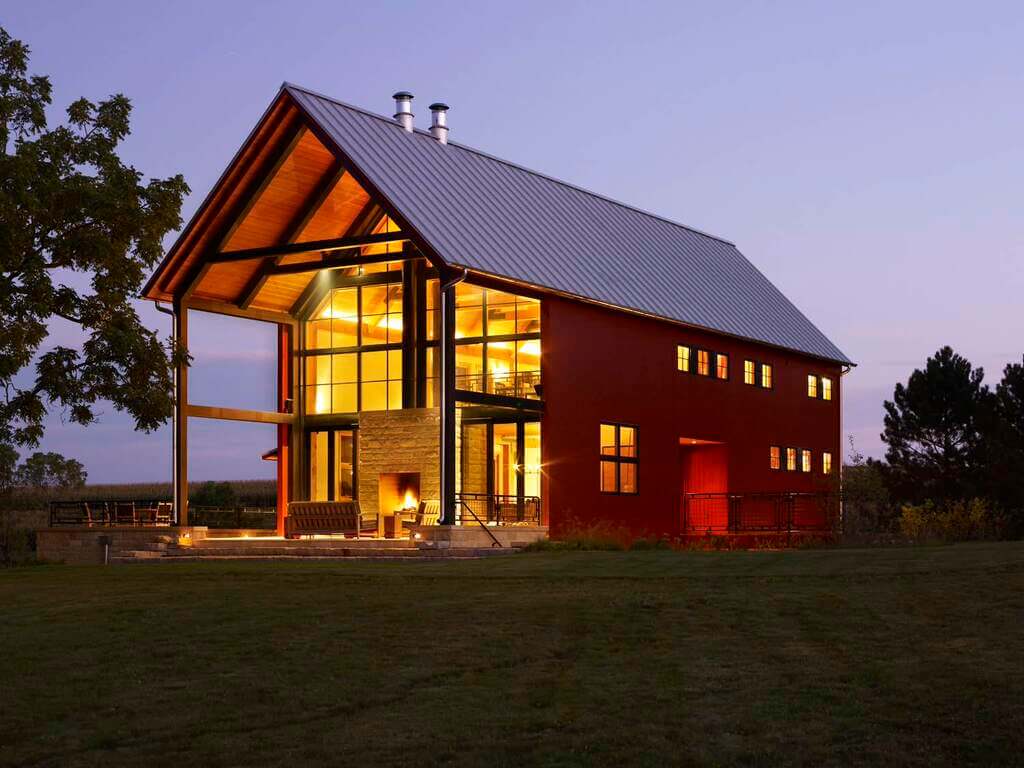 Source: hzcdn.com
The explanation of what a barn-style house is simple like the design itself.  These are houses inspired by the barns that once held cattle and their feed. Traditionally compiled with a gabled roof and other wooden features of doors and walls, this style of a home give the user a bucolic appeal. They also become the key elements that make a Barn Style House. 
Designing a Barn Style House is a way of experiencing the countryside without having to shift to such a location. The same can be said for features that a traditional Barn Style House has such as huge doors and a cupola on top. 
History of Barn-Style Houses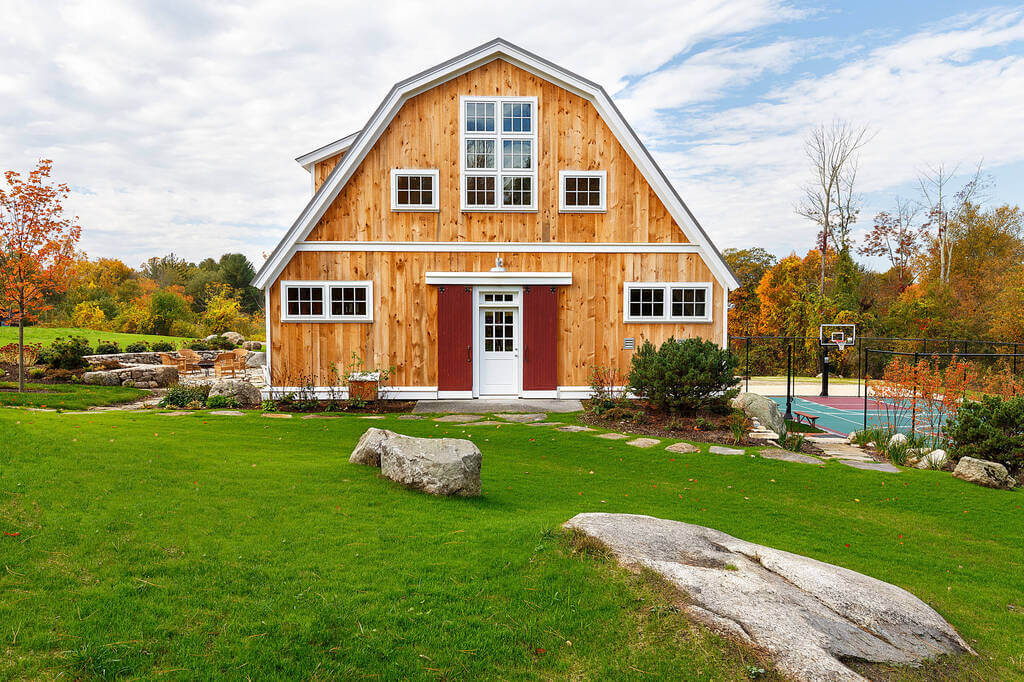 Source: hzcdn.com
The primary purpose of a Barn Style House dates back to families living with livestock. This provided them with warmth when the weather turned cold and also took care of thieves and predators. This style of living grew into the concept of a family where the living room was nearby. 
Different traditionality in barn designs was brought in by the French, Spanish, Dutch, English, and Germans, with the Germans having the most influence. During the 20th century, the core purpose of a Barn Style House began shifting to housing families. This opened up a new door to barn house plans that gave a countryside perspective to the cityside folks.
Features of Barndominium House Plans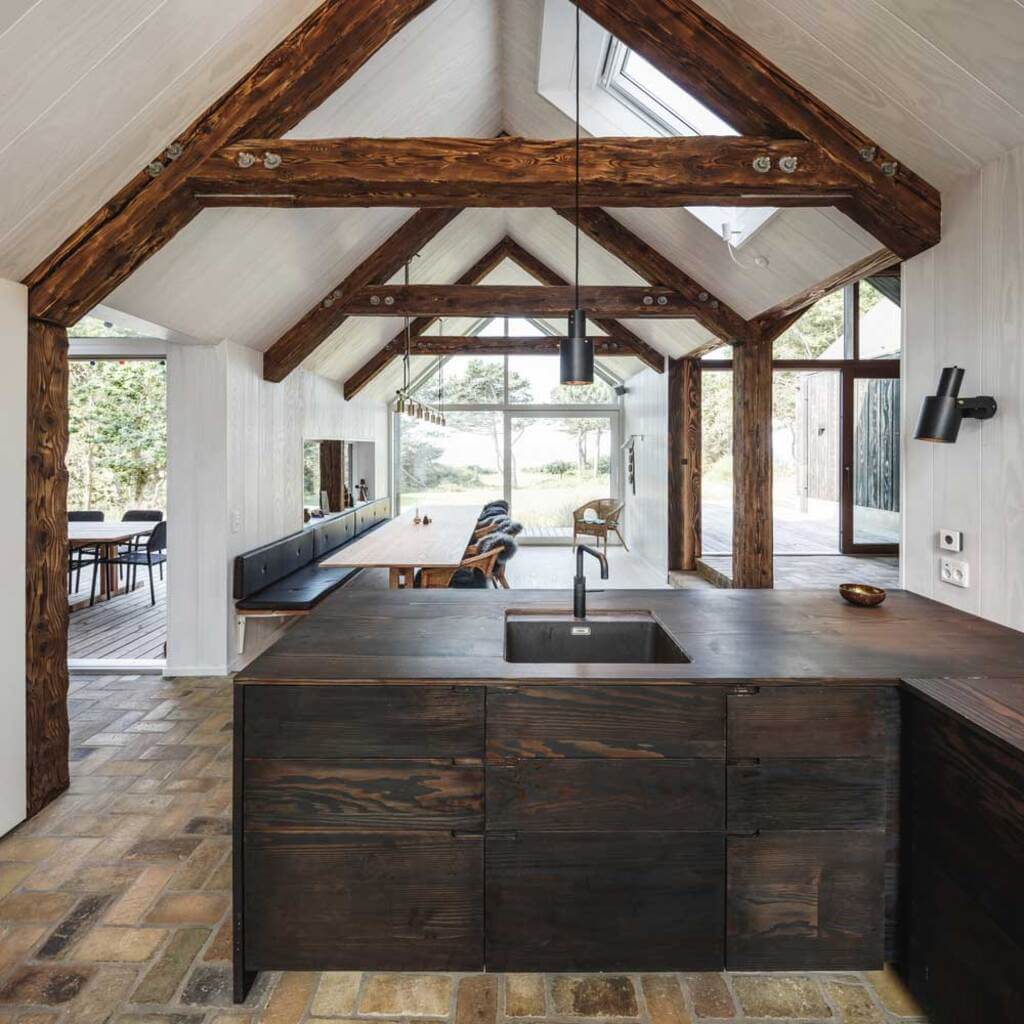 Source: artfasad.com
A Barn Style House being of a traditional origin uses features that answered problems that occurred during the time of its use. These features included:
The use of Timber as the frame for the main building as well as used for vertical paneling outside the frame. 

Timber was also majorly used to create a gambrel roof with the exposed framework.

The

interior space design

was expansive and open.

The window opening ranged from standard sizes to a roof to floor-length ones that open up the exterior wall completely.

The ceilings were higher giving the interiors a spacious appeal. 

They also feature a cupola on top of the roof as an element to leave out the hot air that rises. 

Large wooden doors are a part of the interiors that function mostly as a slidable partition wall. 
Types of Barn Style Houses
With features that change according to the regional influence, the Barn Style House brings in 3 main styles of barn houses.
Monitor Barn House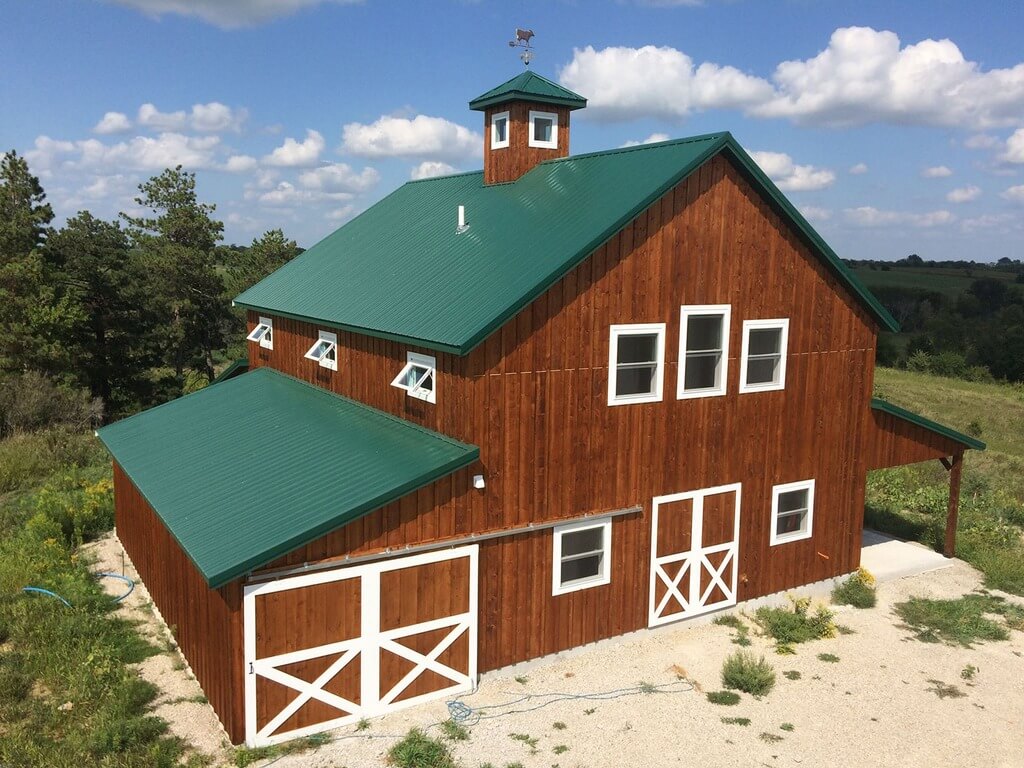 Source: bigtimberbarns.com
With a raised roof, this style of barn house circulates air to provide ventilation and light
English Barn House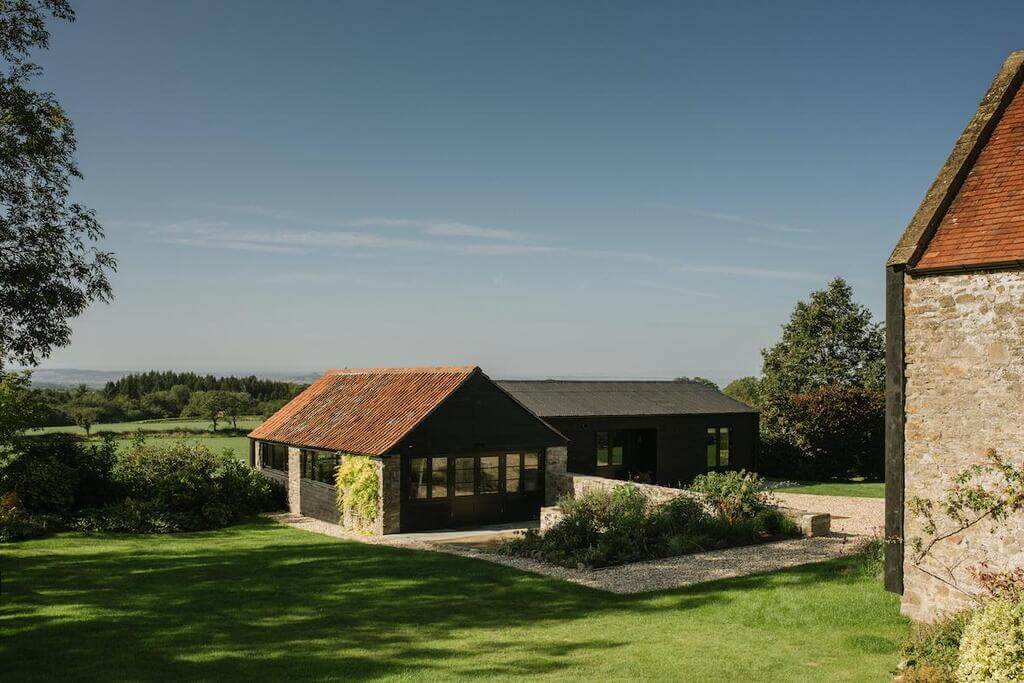 Source: homejournal.com
Minimalistic and functional, this barn-style is of small size with features such as a gabled A-frame roof, doors on the longer side, and an attic for extra space. They are also known as Connecticut or Yankee barns.
Dutch Barn House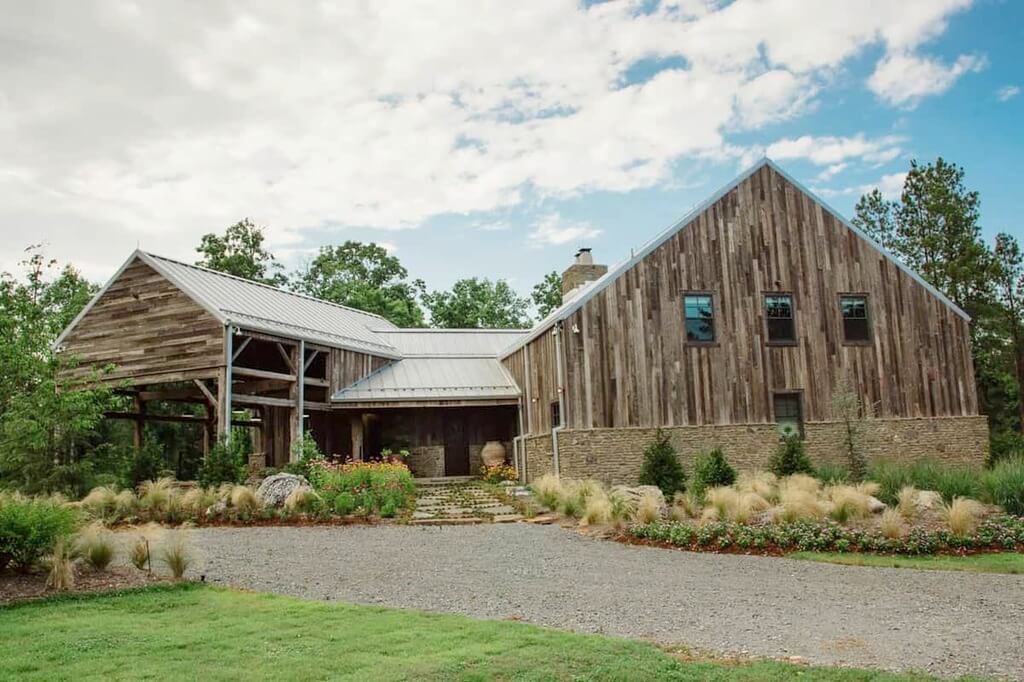 Source: onekindesign.com
Unlike the Monitor Barn House, the dutch style has a low gabled roof with a steep pitch. They also feature dutch doors which can be opened as upper and lower sections independently.
12 Inspiring Examples of Barn Style Houses
1. Light and Airy with White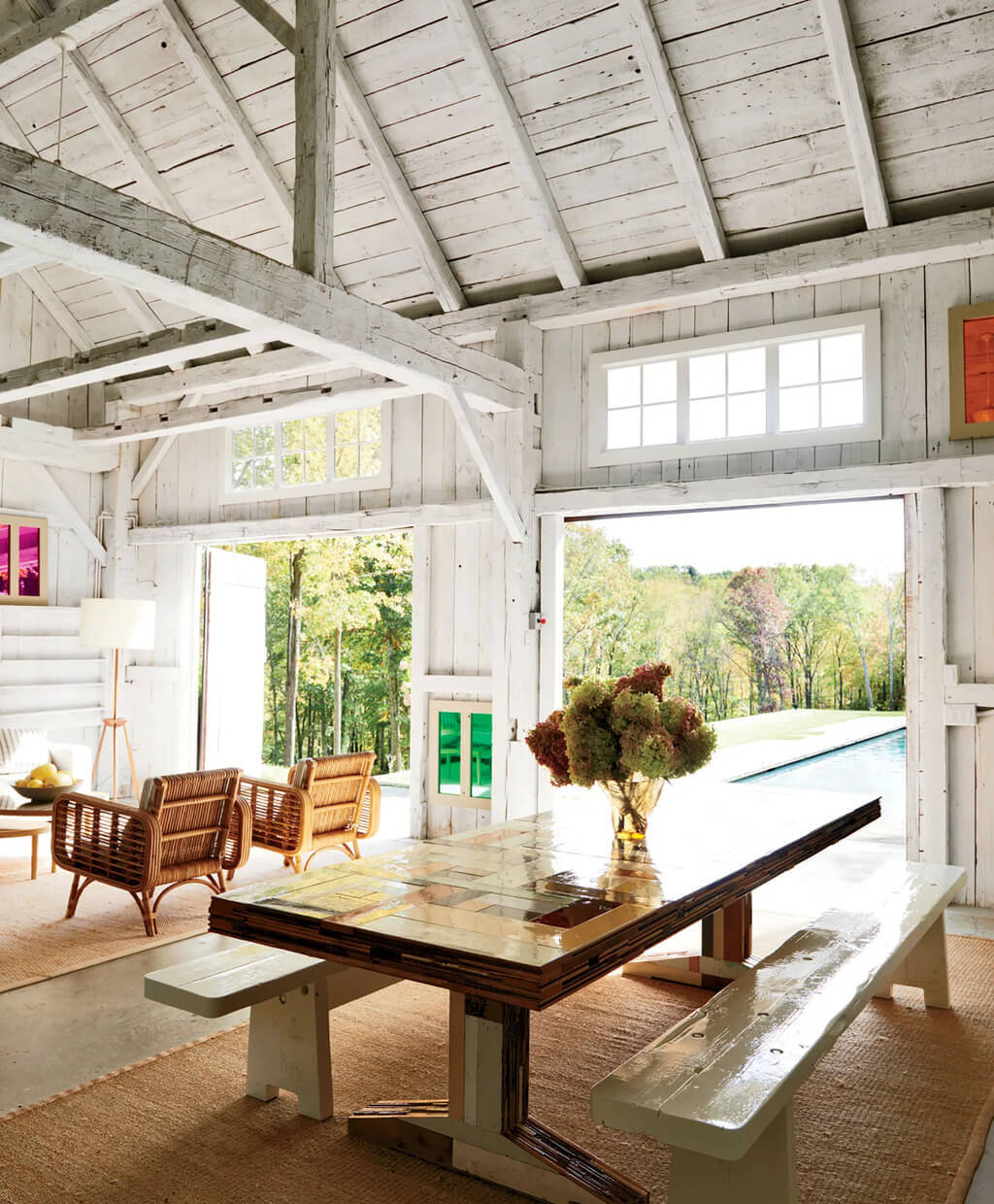 Source: architecturaldigest.com
Built using the primary material of wood, this design of a modern barn-style house features the walls as white. This brings in a beach vibe with the added connection to nature using wide-open doors. The interior decoration is kept minimal featuring furniture made with natural textures and muted neutrals.  
2. Sleek and Modern Gray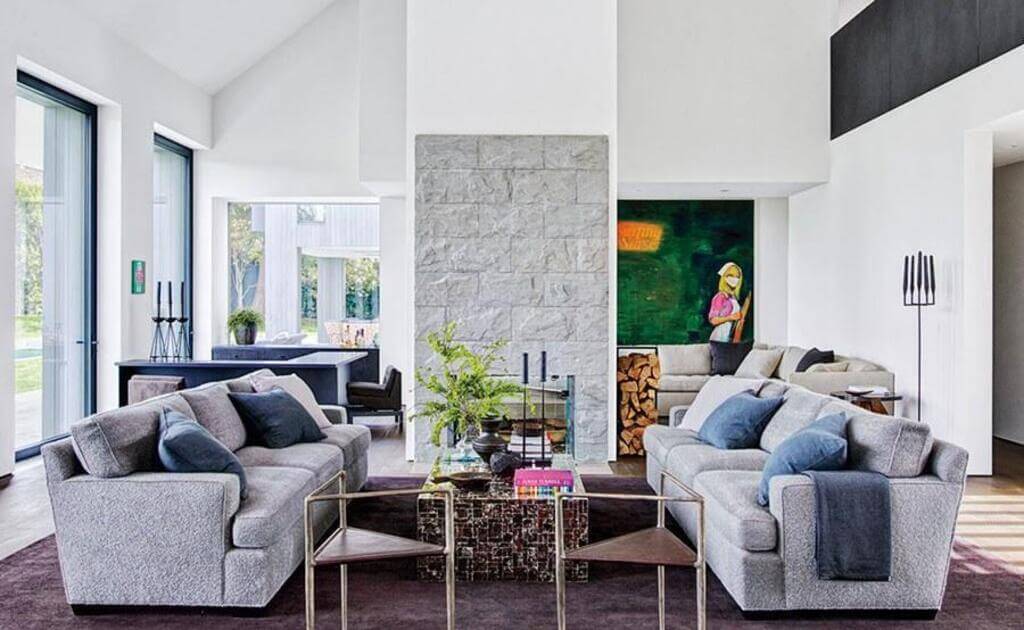 Source: architecturaldigest.com
Evolving from the traditionality of Barn Style House Designs, this home explores a more modern take on its features. The interior exhibits a light nature letting in the outdoors with large openings. The interior also features textures and colors that move around the gray theme with a feature wall, and complimentary cold base colors of blue and purple. The Furniture also features gold accents which stand out in the setting.
3. The Rustic Barn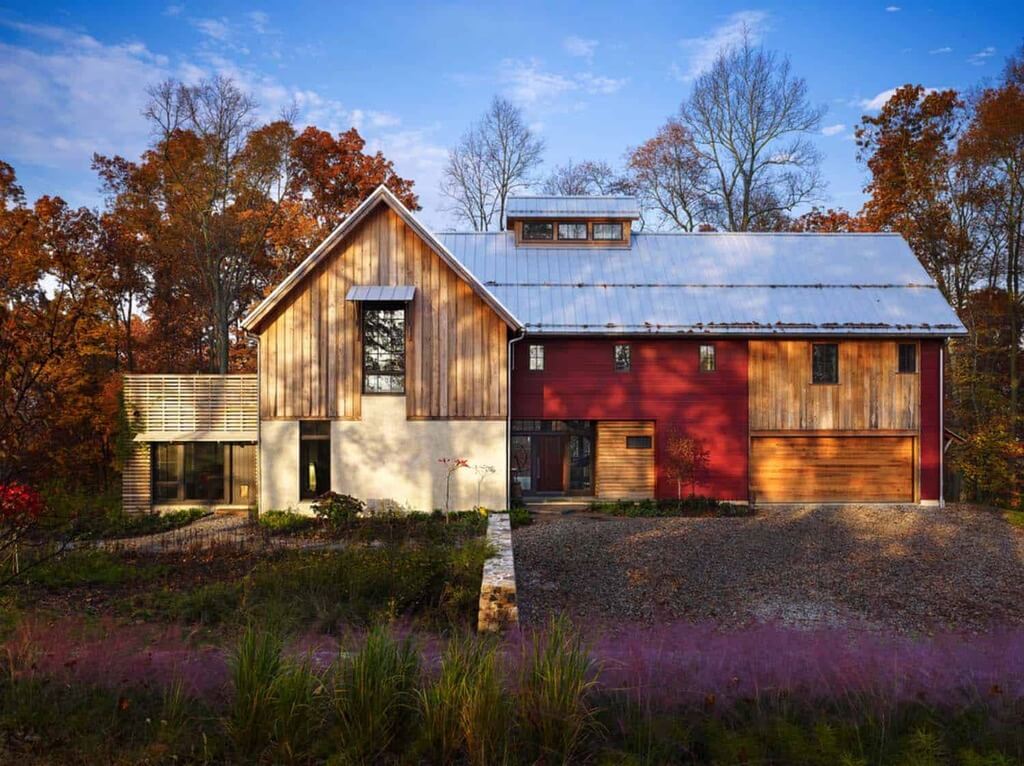 Source: onekindesign.com
Dusting up traditional  Barndominium Plans takes the charm of the past into the future. Features and details of the design such as the chimney stand out in the crowd of many. Restoring the traditional colors of red and brown with openings that are wide ties the picture together. 
4. Modern in Stone and Wood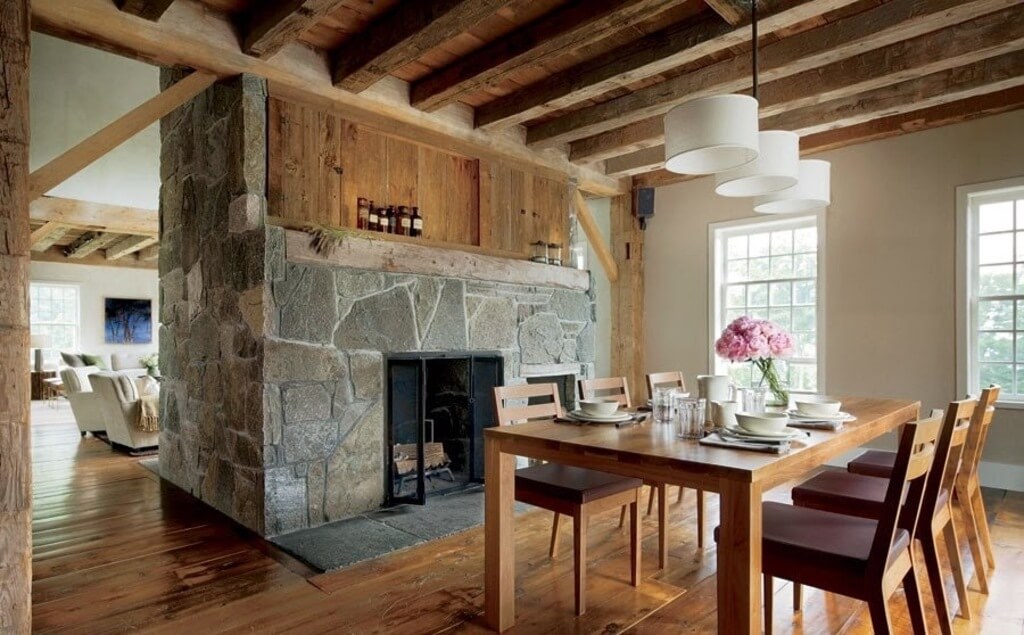 Source: blogspot.com
Given the heavy use of wood in barn-style house plans this design brings in the complimentary addition of stone. With a fireplace as a feature, the stone highlights it as well as breaks the monotony of the wooden texture. Reducing the heavy nature of the setting are the light furniture colors and textures, that complete this picture-perfect Barn Style House.
5. An Alliance with the Pool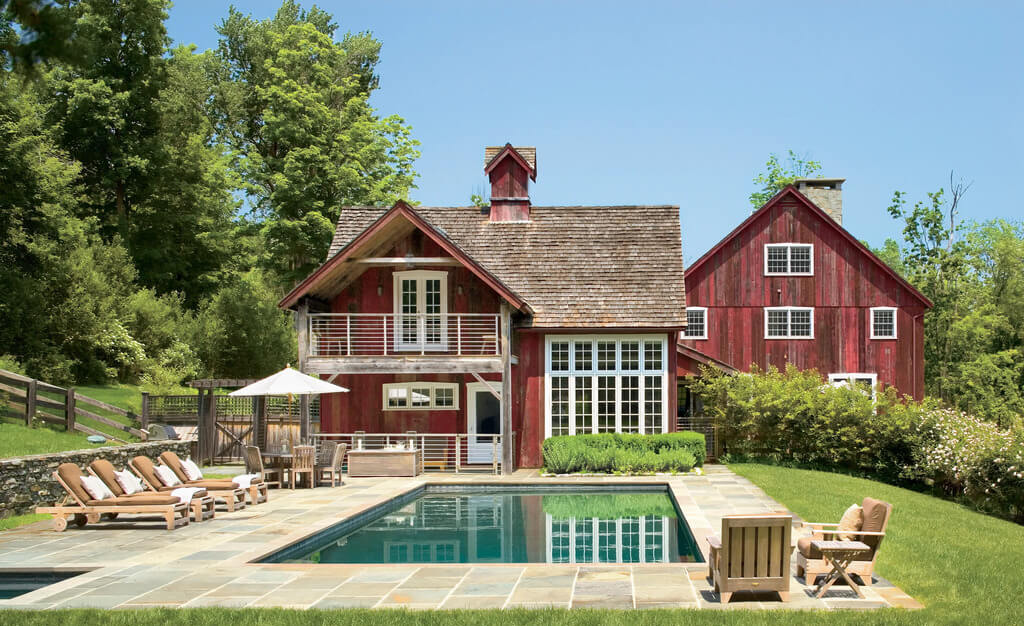 Source: architecturaldigest.com
While a traditional Barn Style House doesn't feature any exterior elements, this design for a modern take on the same adds to the fun of a pool. With the summers hitting hard, it becomes a refreshing addition to an exterior that follows the traditional barn style. With wooden planks painted red, it features balcony spaces and large openings that provide a connection to the outdoors.
6. Barn in Snow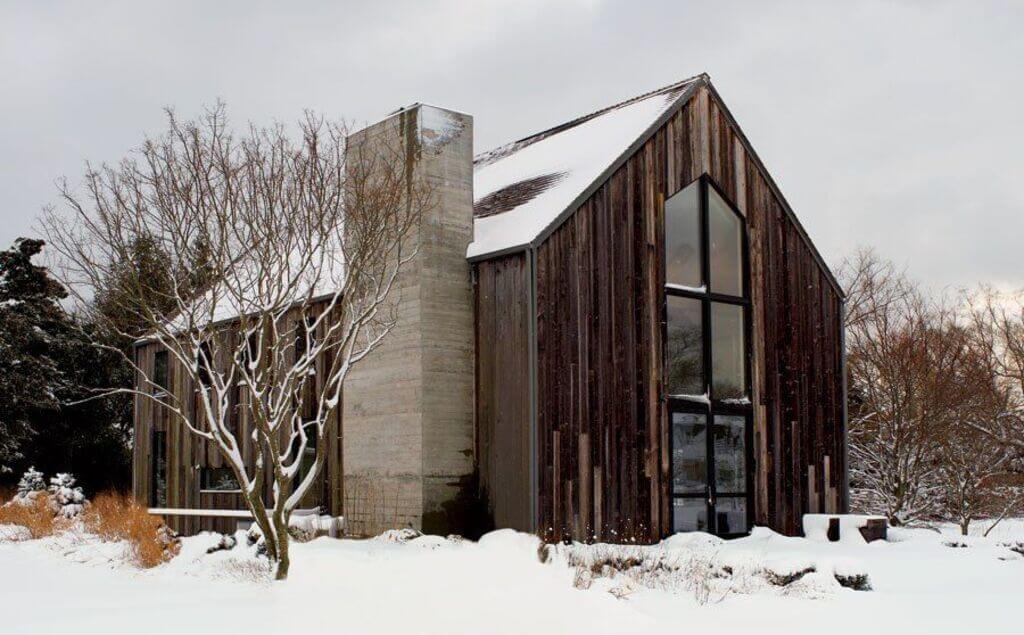 Source: pinimg.com
While looking for ideas for barns, one covered in pure white snow brings in a sense of surrealism. The wooden structure becomes the best material to provide the warmth needed with this design featuring the same in all directions. With a seamless finish for all edges, this becomes a sleek take on Barn Style House Designs that features a side chimney and large openings as well. 
7. Light and Bright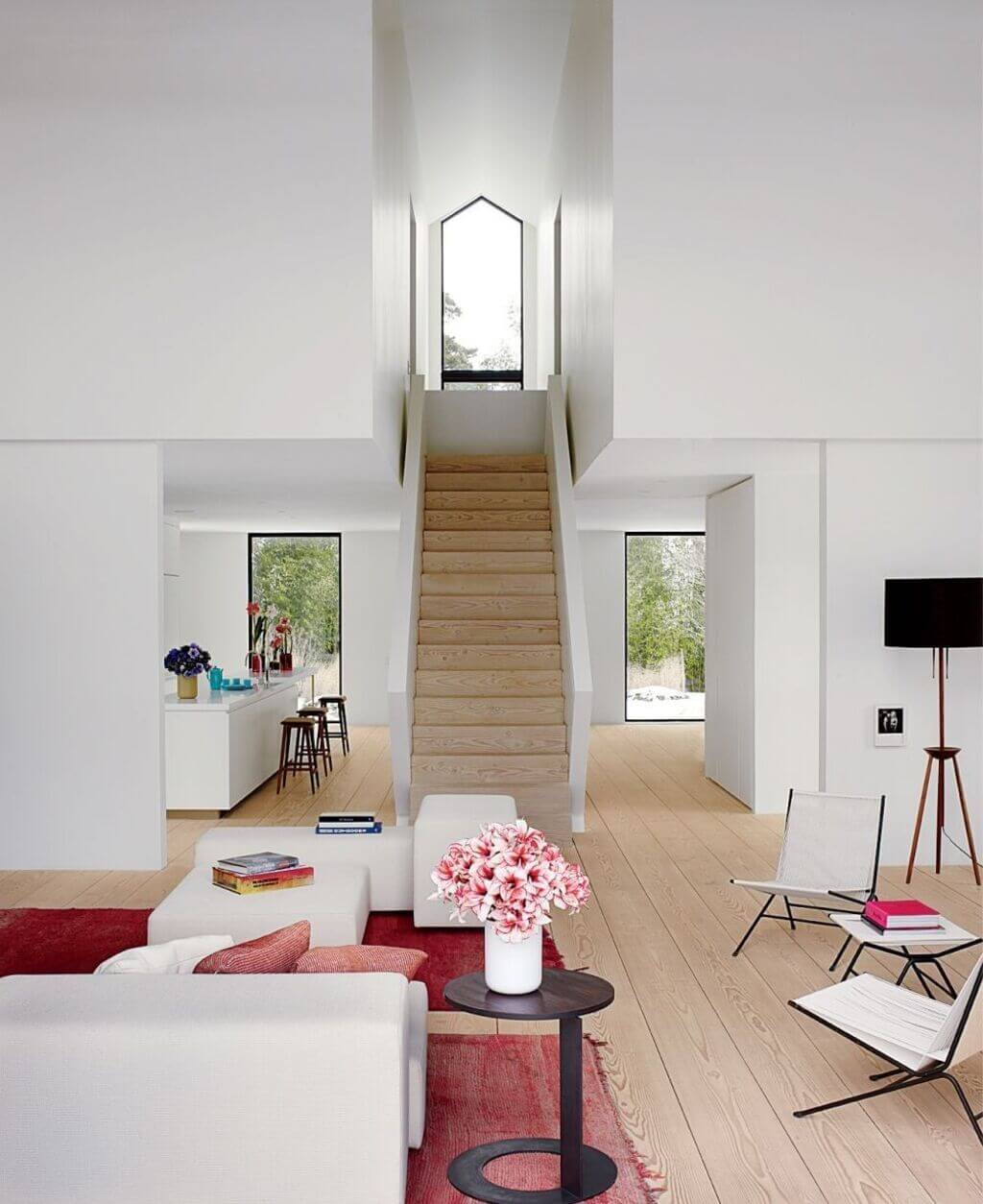 Source: pinimg.com
A barn house being a rustic structure, might not bring in a sense of brightness with the presence of wood. Given that you can also opt to do a seamless interior space that doesn't feature wood as an element. Rather translate barn style features of open spaces, large openings, and feature barn-style doors to be incorporated as a part of barn style house plans.
8. Repeating History with the Classic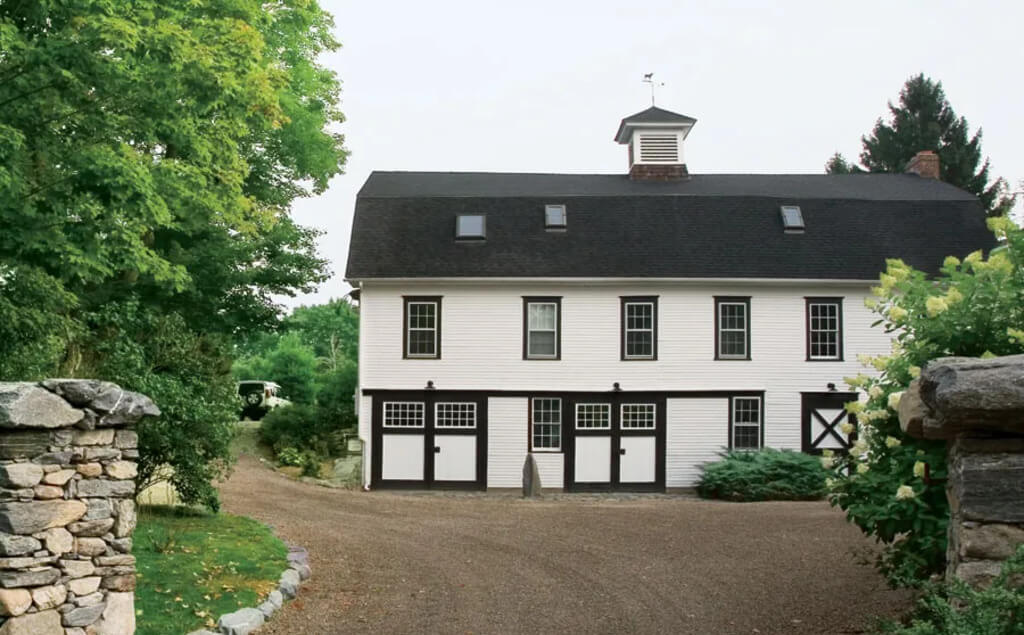 Source: architecturaldigest.com
Taking a new space and constructing a traditional barn house from the 1800s is another way to go about barn house plans. This can also be achieved easily by restoring a pre-existing one to its full glory. The white wooden walls, the featured black roof, and door frames stand out to bring in the rustic essence of the structure in the natural setting.
9. Elevating the Classic with a Pop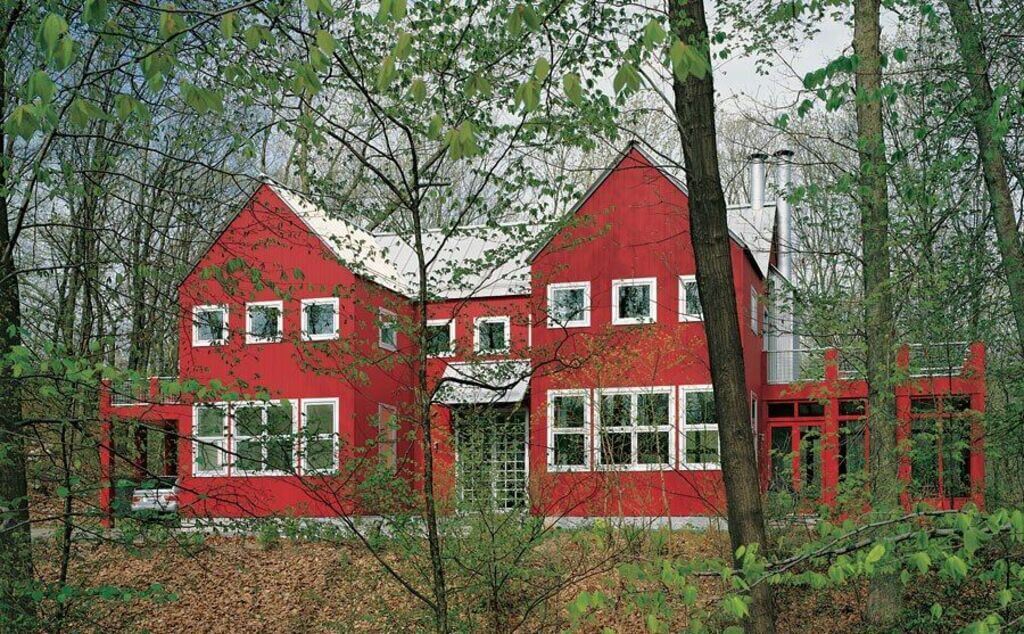 Source: pinimg.com
The classic Barndominium Plans feature the use of wood in red for the exterior. You can take this aspect to the next level by giving the exterior a brighter pop of red that applies seamlessly throughout. Giving white for the rims and frames pops up the red even further making it stand out in its background, still features a classic modern barn style house.
10. A Truly Open Barn Style House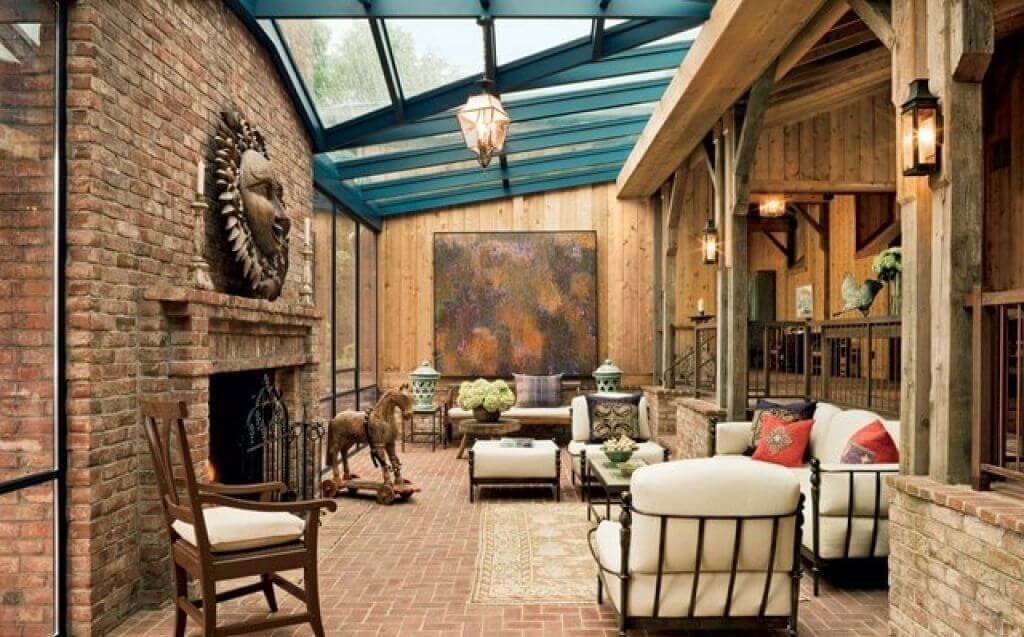 Source: homedit.com
Barn-style houses feature wide openings on their walls, but what if you gave them on the roof as well. With an opening on the fifth wall of a house, the space truly opens up to nature beyond to bring light to the space. The space can be further accentuated with furniture that is simple yet highlights a rustic vintage aesthetic with neutral earthy tones to complement.
11. Wood in Variety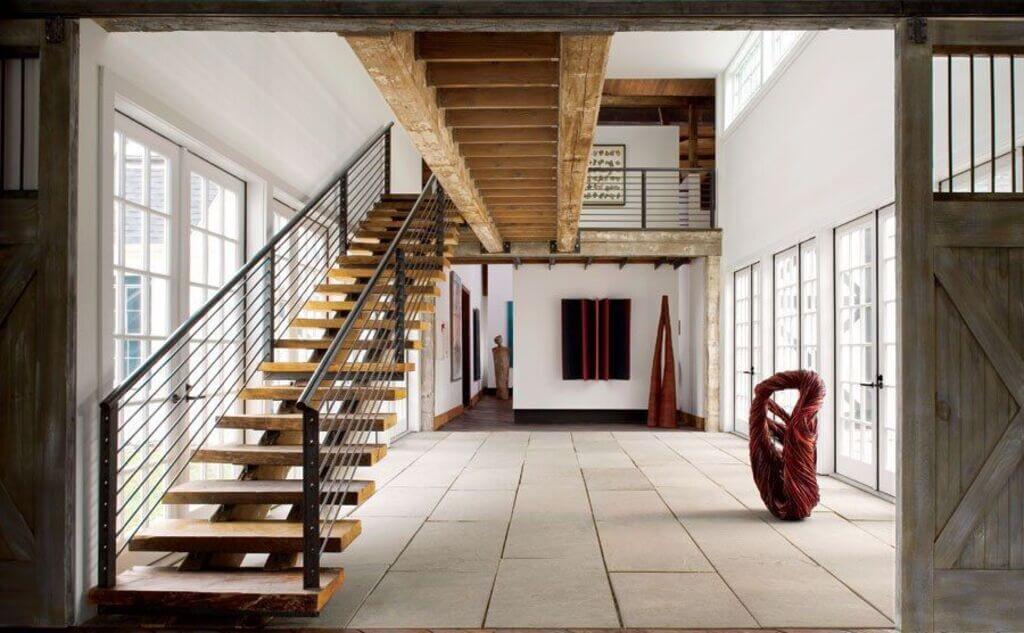 Source: pinimg.com
Keeping wood as the main element and material one can play with the different textures and colors it is available to amp up ideas for barns. It can feature separate shades of wood for the floor, furniture, and stairs, thus highlighting different aspects of the same house in an elevated way. 
12. Framed on Metal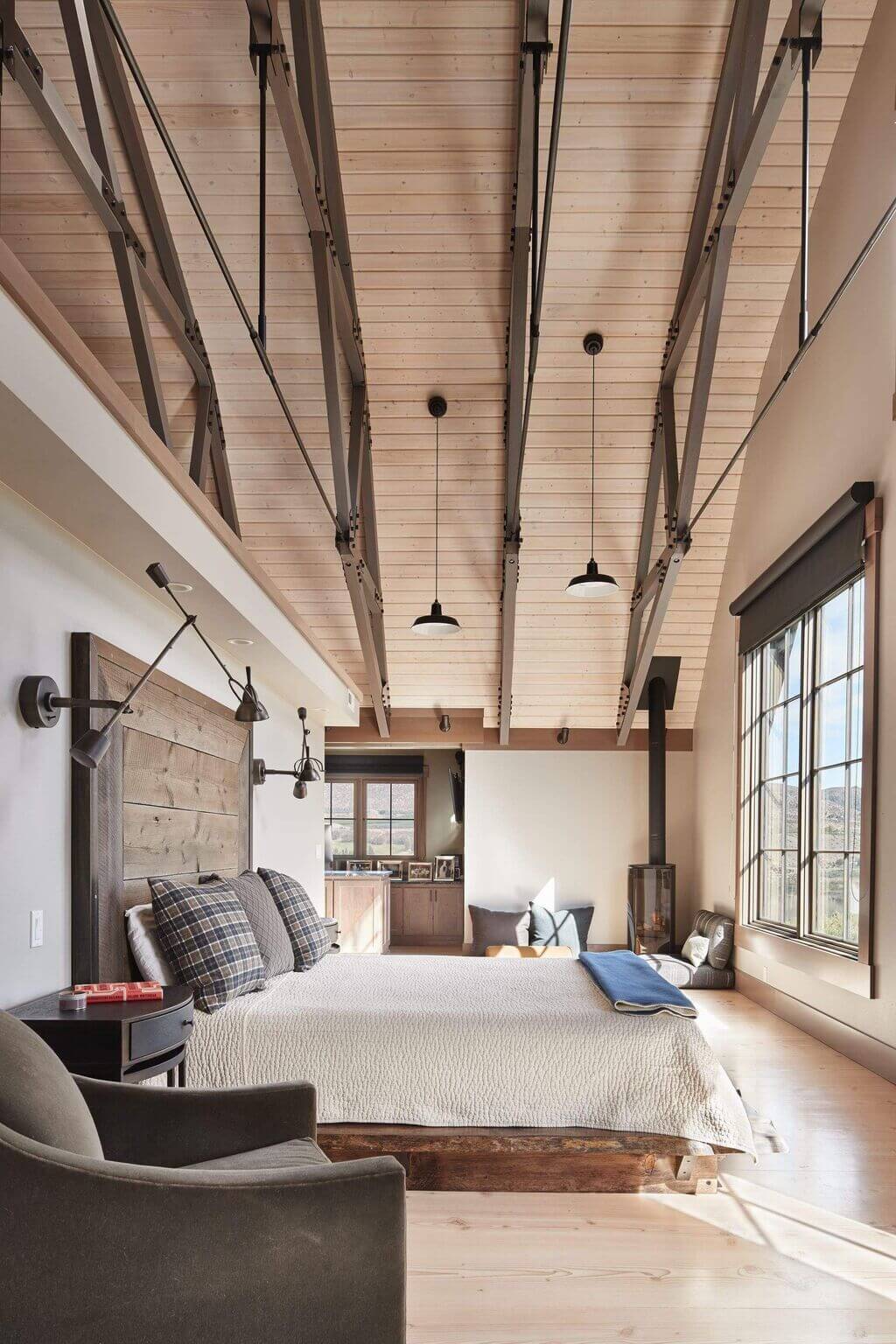 Source: pinimg.com
Wooden trusses and framework sure look rustic and give a traditional bar house vibe. But switching it up brings in an industrial aspect to the country's aesthetic. This incorporation of metallic texture can be further taken down to the framework of the openings and other elements of lighting to make the interiors sleeker. This brings in a Barn Style House that is unique.
Understanding 'what is a barn style house?' to draw inspiration to make your version of the same will take time for understanding. This comes from observing and analyzing designs and picking out aspects of them that appeal to you. Combining them to compliment each other, creates the Barn Style House of your dreams.  
Also Read: Most Popular House Interior Design Styles in 2022
FAQs
1. Wouldn't the Spacious Nature of a Barn Style House Feel Empty?
Instead of bringing in blankness to the space, the size of the design will allow you to pack up the interiors as you please. Including more elements will give a sense of purpose to the huge space, while leaving it minimal will give a sense of lightness to the space. 
2. Can I Incorporate Features of a Barn Style House in My Existing House?
That would depend on the kind of space you own. If you have a jam-packed space, you can start by organizing and clearing space to create a light and airy atmosphere. Add in openings that are wide and decorate the interiorwith light textures and colors that will expand the space visually. Add in textures of wood in furniture and partitions to tie up the look.
3. What Are Barn Houses Called Today?
The term used today for a Barn Style House is Bardonium. This is when you are turning your house into a Barn Style House. Some designs go for an authentic approach while others have looked into adding in features that are more energy-efficient and low maintenance. It changes from person to person.
To know more about Home improvement ideas, Cleaning and decoration tips visit ArchitecturesIdeas.
For daily updates, follow us on our Instagram page @architectures_idea.