Step By Step Guide On: How To Frame A House
You already heard about people building their home stairs and backyard deck area. People can easily make wood furniture by following a DIY guide and decorate their house interior. It may look intricate at first but with proper guidelines nothing is impossible. You would have felt like a pro after completing the project.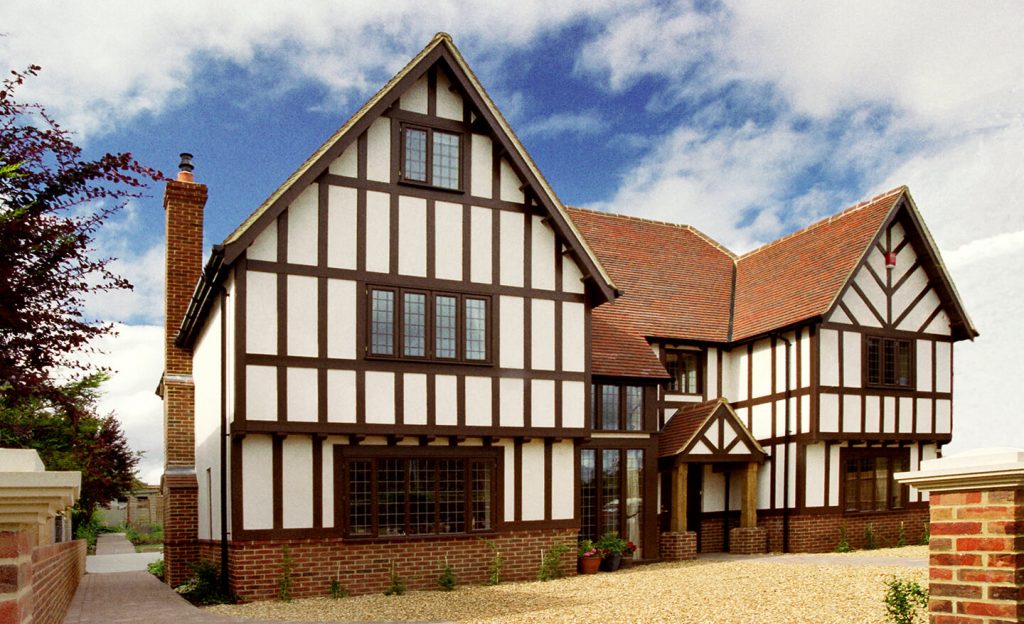 Source: mapletimberframe.uk
So, like that Have you ever thought of building a house? We know that it also sounds really complicated task to do. But as we said "with proper guidelines nothing is impossible" at the end of this blog, you'll get an overall idea on how to frame a house.  Framing of a house is a lengthy procedure, and you will have to do it in stages to get the finished look. 
With the right steps and process, you'll able to do house framing pretty easily. With these simple steps, you will be able to build a house without taking help from a local builder. 
Also Read: Best Of 2019 Interior Design Styles For Beautiful Looking Houses
So, let's start our complete guide on house framing: 
What Framing Is?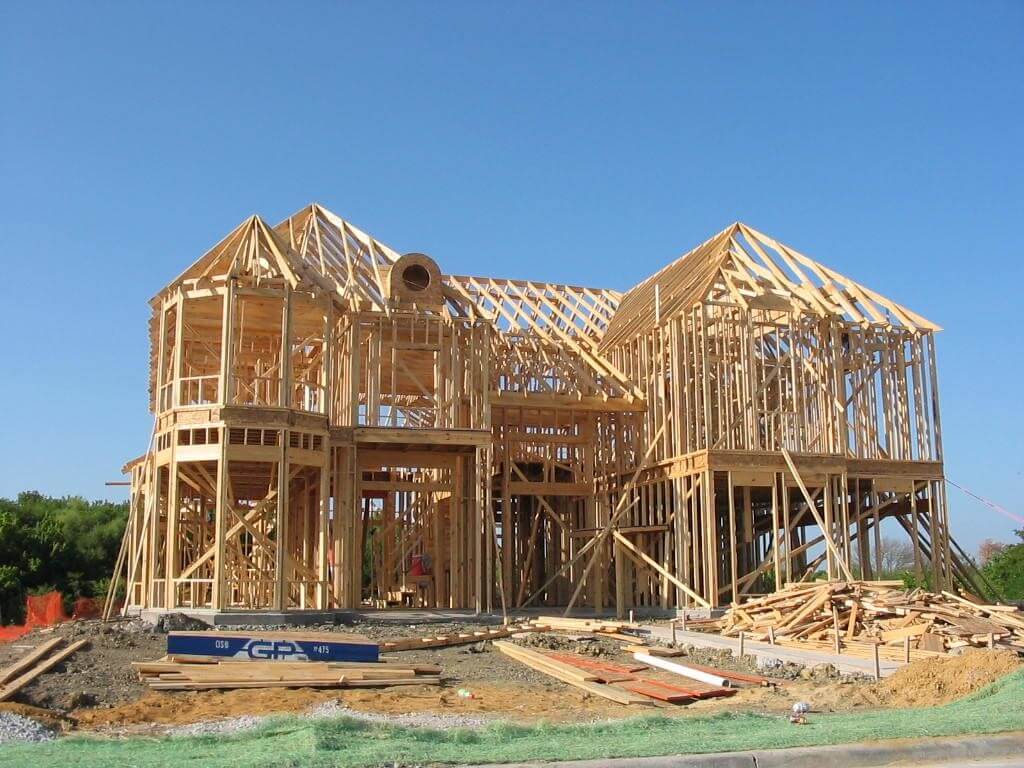 Source: decoratorist.com
First, time hearing the word framing? Framing is the backbone of the house, aka " walls," which is made from specific materials (mostly from wood). If the walls are not sturdy and durable, then, there is quite a chance that your house will not stand for a longer period. 
So, choose the proper and suitable tools and materials to frame your house. 
Materials
There are two types of framing- heavy-frame construction and light-frame construction. Pole, Timber, and steel are used in heavy construction framing. Choose the framing according to your house size and budget because heavy framing can be a little heavy on your pocket.
Whereas, light steel, balloons, and platform framing are used to lightly frame the house, which is more budget-friendly.
Methods Of Framing
Balloon and Platform framing are the most basic type of framing; that's why it is prevalent these days. 
Balloon Framing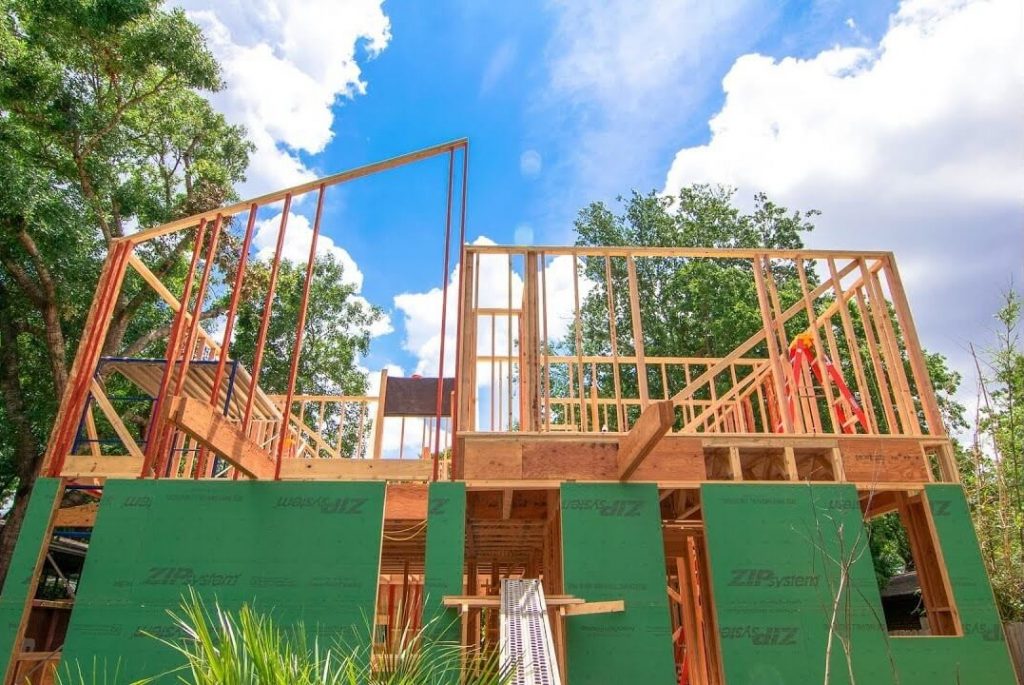 Source: ytimg.com
Whereas in the Balloon framing, studs are running from bottom to the top of the house. It goes up to a maximum height of 2 feet. This style of framing was popular back in the 1920s. The empty spaces between the studs were filled with stucco. These types of walls are expensive and sometimes dangerous (because of their height and weight).  
Platform Framing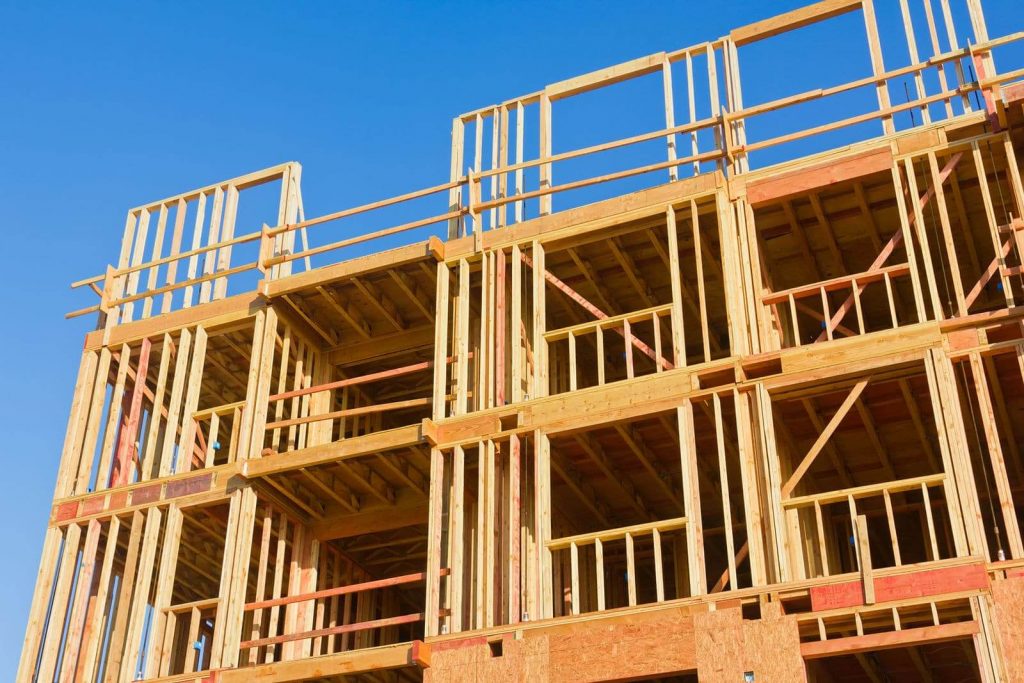 Source: thinkwood.com
To achieve platform framing, the first step is to make a subflooring on the ground and then onto this; you've to build all the walls. These floorings are present at each storey of the house. They give strength and support at every level of the house. 
Both the framing have some pros and cons. Balloon framing is good up to 2-3 storeys, whereas you can go as many levels in Platform one. They are more sturdy than the Balloon one. 
How To Build A House
Here are all the steps, read them carefully before you start building your dream house: 
Take Permission 
Always take permission from the local authorities before you start building. Take care of the building codes such as the size of the windows and doors, and the framing of the house.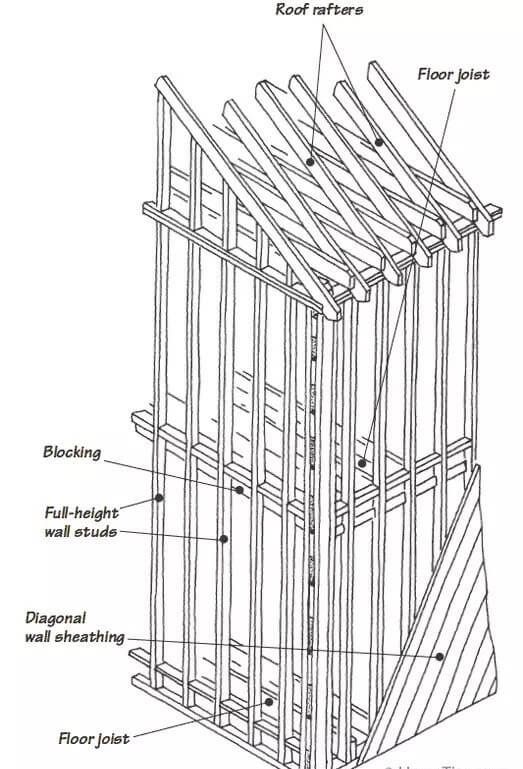 Source: hometips.com
Wall Stud
First, measure all the dimensions you want and choose the material accordingly. After that, cut the dry wood in the 8-foot sections. (Typically the size of a storey is around 8-9 foot). Once you are done with cutting wall studs, then toenailing them at about 16 inches with nails. Repeat the process and pre-build the outside frame with these woods.  
Tip: You can also draw the design roughly on a paper to get a clear idea of the house design. 
Jack Stud
Jack studs are also a type of wall studs which is used to cover windows and doors. They are special types of bracing used to brace the trimmers and headers.
Tip: nail down every part securely with the appropriate size of the nail.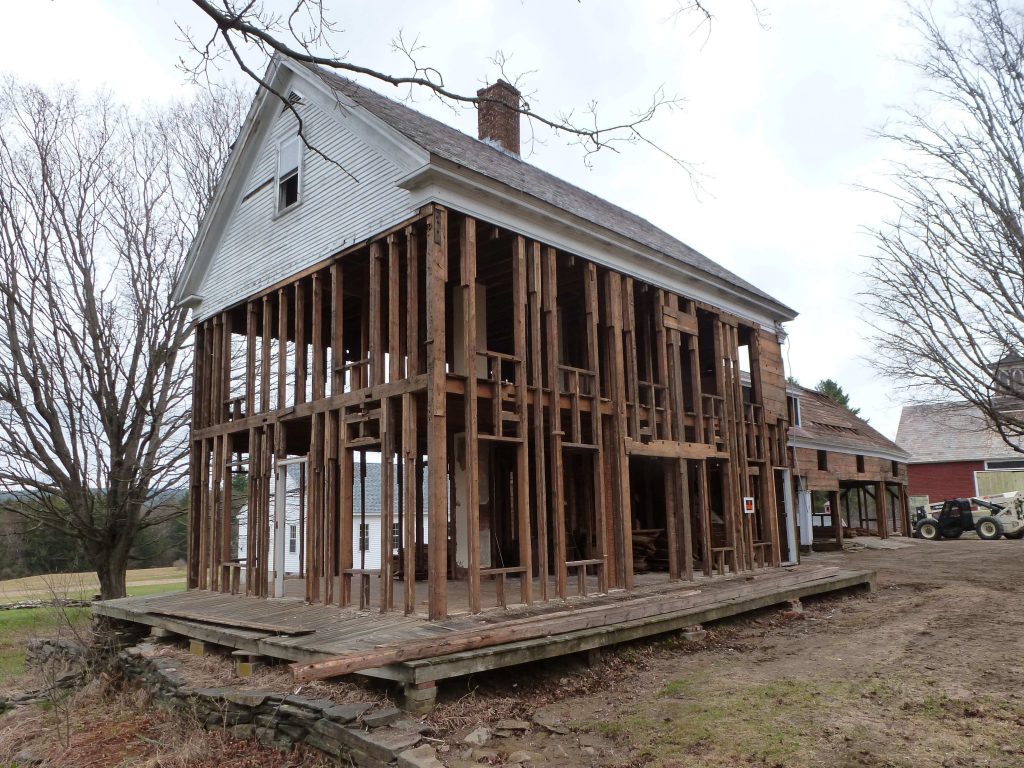 Source: teddbenson.com
Sill Plate 
The sill plate is a horizontal base where all the wall studs are vertically attached to it. Carefully, place wall studs one by one on this. And don't forget to insert braces at every corner, until you finish.
Tip: Adding the post in the corners will add more support and power to each section
Repeat 
Follow the same procedure for the entire circumference of the house. After completing the first storey of the house, do the same for the upcoming storeys. 
Tip: place the studs, joists, and rafters precisely at 16 inches apart to provide reliable support. 
Roof Trusses
After succeeding in the previous steps, its time to build the roof. So the first and foremost step is to make roof trusses. Build the truss according to the shelter you want. Nowadays, some houses have high pitched roofs and dormers. Think before you start building your roof, go through all the options and select the one which works best for you.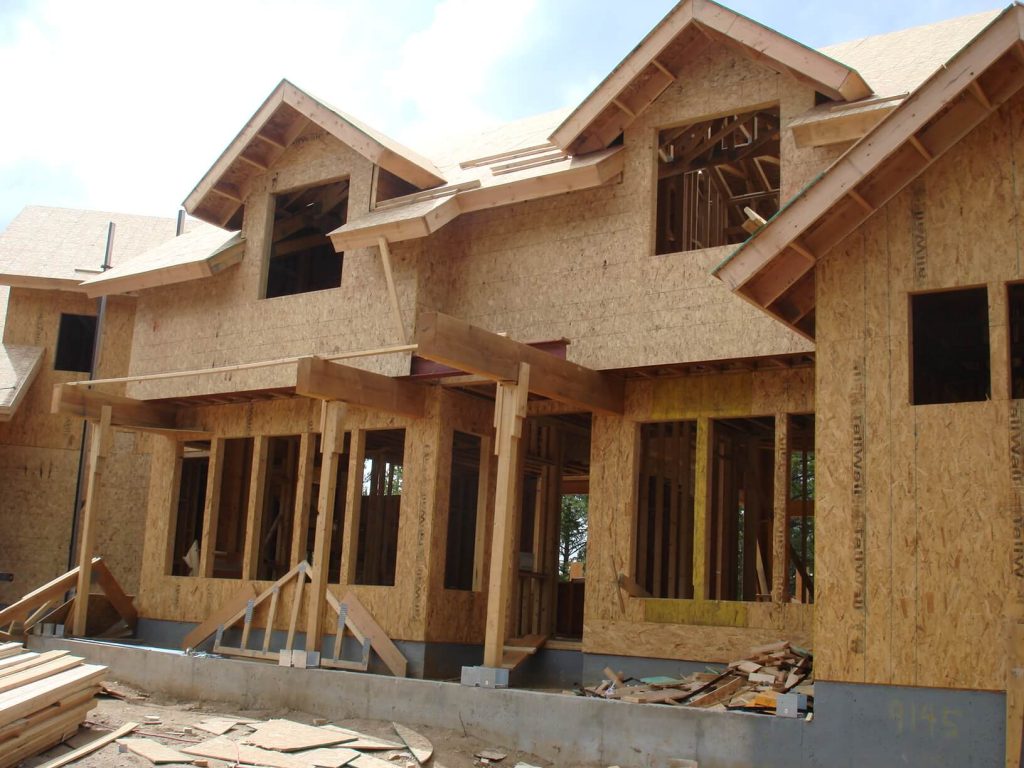 Source: wordpress.com
Wall And Roof Sheathing
Once you're done with the framing, the next step is wall sheathing. The sheathing is used to provide sufficient rigidity to the base – Brick, concrete and other materials to fill up space. In earlier times, people used ½ inch thick boards to cover up the wall studs. Same as wall sheathing, you can do roof sheathing. 
After completing all these steps, its time to install doors and windows. And paint the whole house with the color of your choice and decorate it.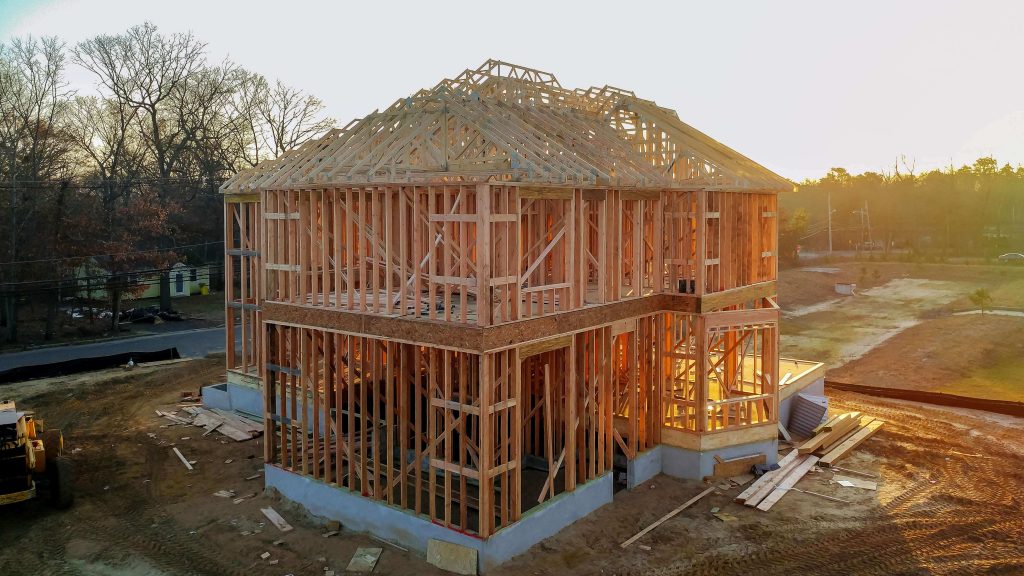 Source: wp.com
At The End
Framing acts as a "skeleton" to the house, no matter how expensive is your house exterior and finishings, but if the base is weak, then it's not gonna work out. So, always make sure that you use good material with sufficient support is provided in the framing. A house with a good foundation will bear all the harsh weather condition and remains as it is for years.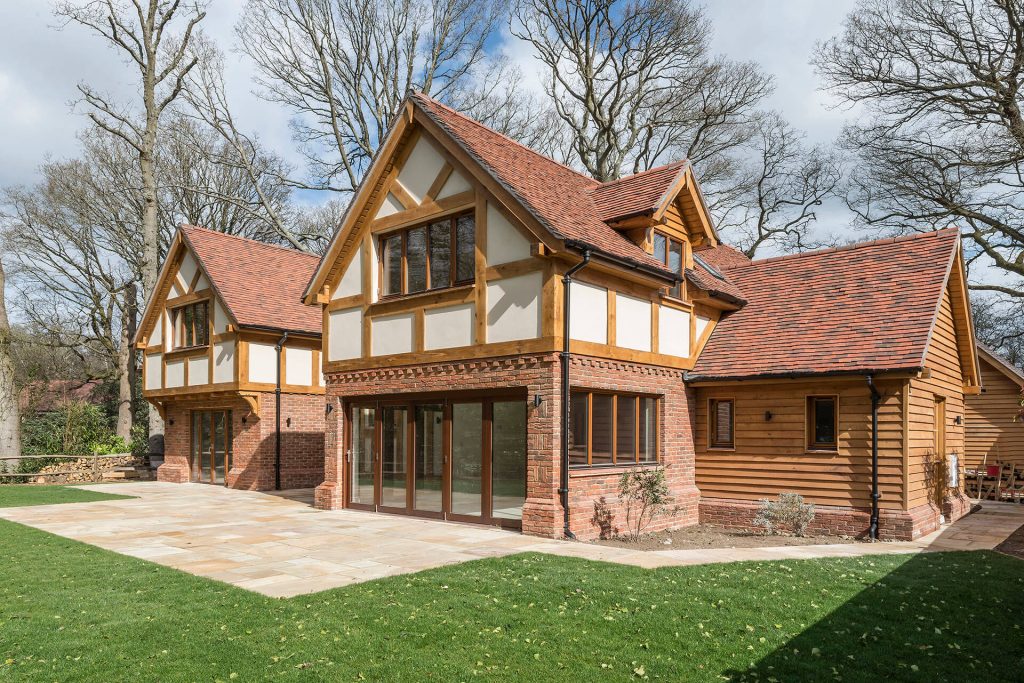 Source: scandia-hus.co.uk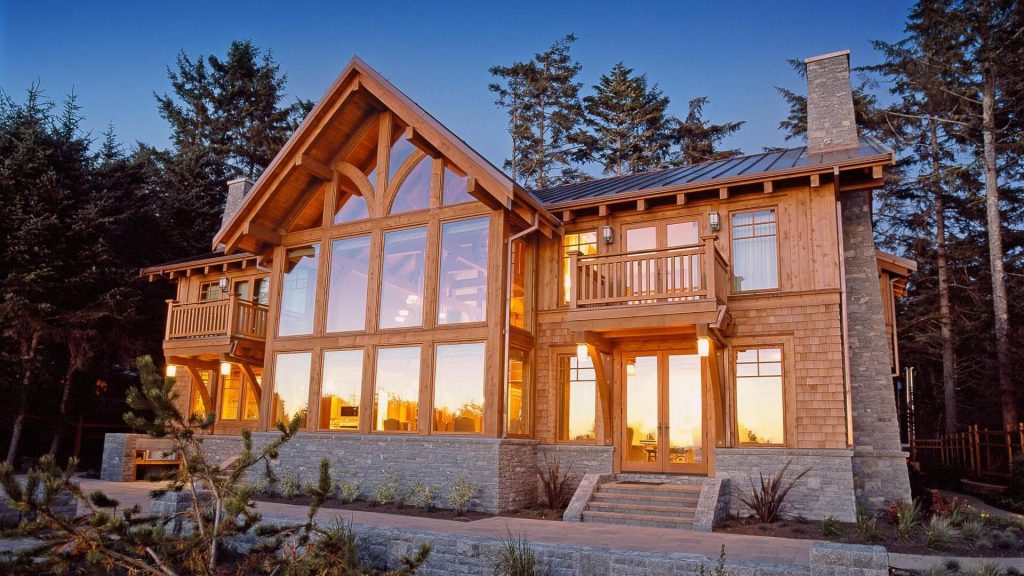 Source: fanpageanalytics.com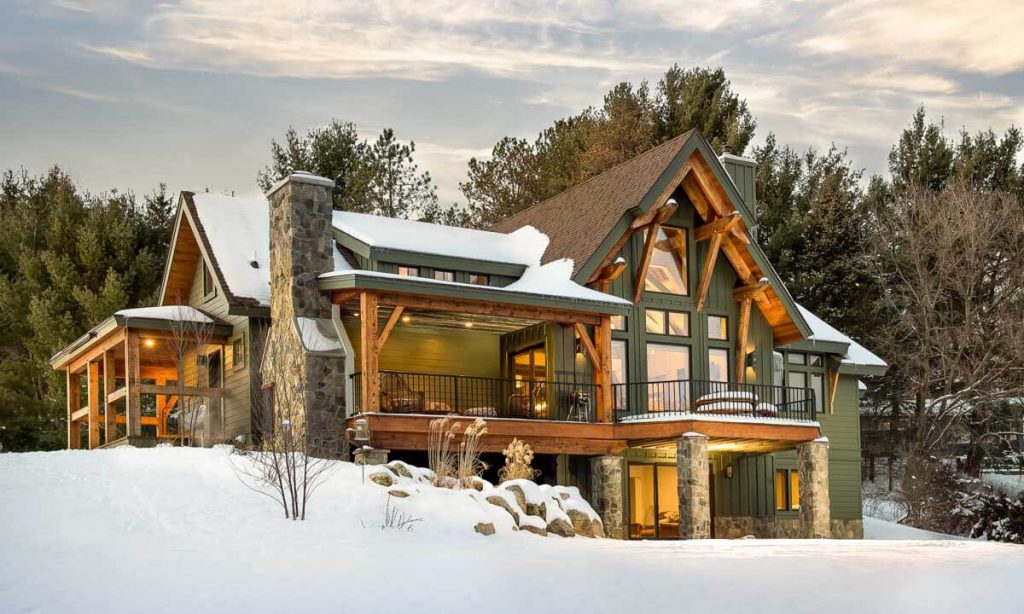 Source: timberbuilt.com
After these things, your house will become beautiful from inside as well as from outside with a strong foundation. For more house architecture and designs, visit Architecturesideas.