15 A-Frame Houses: Pros & Cons, Interior Ideas, Building Tips
One of the architectural and design trends returned this year and will surely be in trend next year is the A-frame house! These types of homes are highly inspired by the tiny house movement, and now these homes can be seen in many different parts of the world.
The A-frame house style features a roofline with steep angles. This roof looks like a triangle, or the letter 'A,' which is why these homes are also called A-shaped houses. The roofline starts at the foundation line, and its two sides meet at the center of the rooftop. 
These houses have relaxed and calm interiors with a serene atmosphere. Because of their unique design and architecture, these houses are still in trend. In the United States, A-frame houses are popular as vacation houses. 
Do you want to know more about A-frame houses? If yes, keep reading! 
Today in this blog, we'll tell you many things about A-frame houses. We've covered many important things, from advantages and disadvantages to interior ideas and tips for building A-frame houses. We've also gathered up the top 15 A-frame houses around the world for inspiration.
So, let's start with the benefits and drawbacks of A-frame houses: 
Advantages and Disadvantages of A-Frame Houses
Below are some of the key advantages and disadvantages of A-frame houses: 
| | |
| --- | --- |
| Pros | Cons |
| These houses are easy to design, engineer, and build. | These homes have an A-frame shape, so they all look the same from the outside.  |
| These homes are affordable.  | The top part of the A-frame house collects the heat, so it's a bit difficult to keep the ground floor warm in winter. |
| They have large windows to get plenty of natural light.  | There is limited space in A-frame houses.  |
| The A-frame houses have sloped roofs that keep snow from building up and prevent damage. | Not suitable for the windy climate.  |
| These homes are great places for hot climates.  | |
| Minimal maintenance is required.  | |
Now let's move onto the list of some of the best and most beautiful A-frame houses. 
15 Beautiful A-Frame Houses Around the World 
1. Maurice River, New Jersey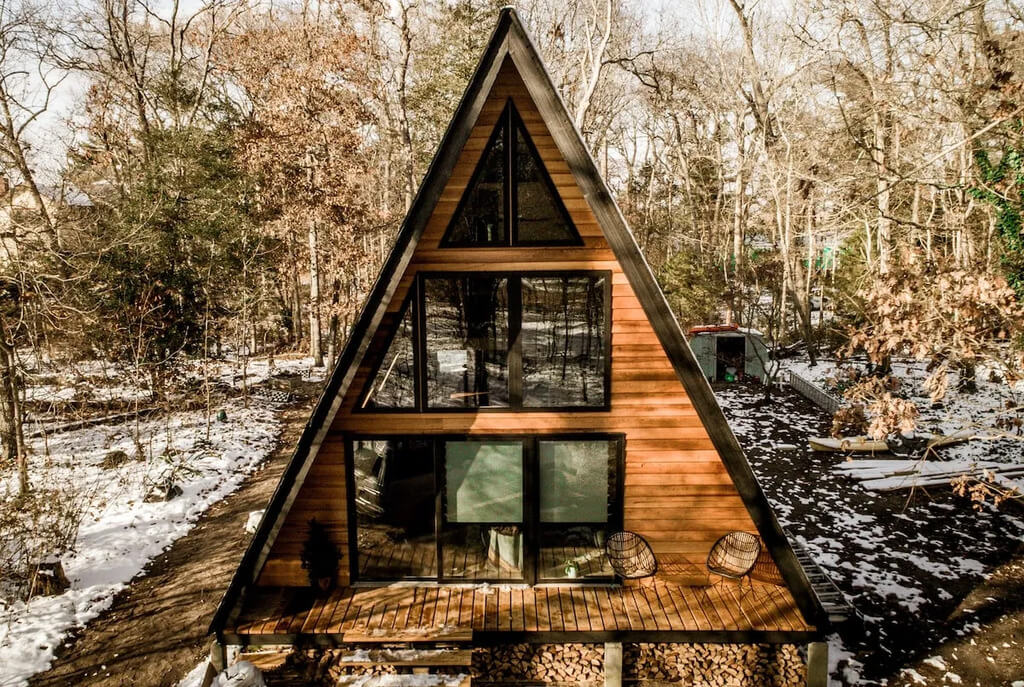 Source: cntraveler.com
This gorgeous A-frame house is located in South Jersey, only an hour from the south of Philadelphia and a two-hour drive from New York City. This three-bedroom home features a 2.5-acre private lot, a wood-fired hot tub, and Scandinavian-style plywood interiors. It also has a spacious modern kitchen, a Sonos sound system, and many more amazing things. 
2. High Point Hideaway, Colorado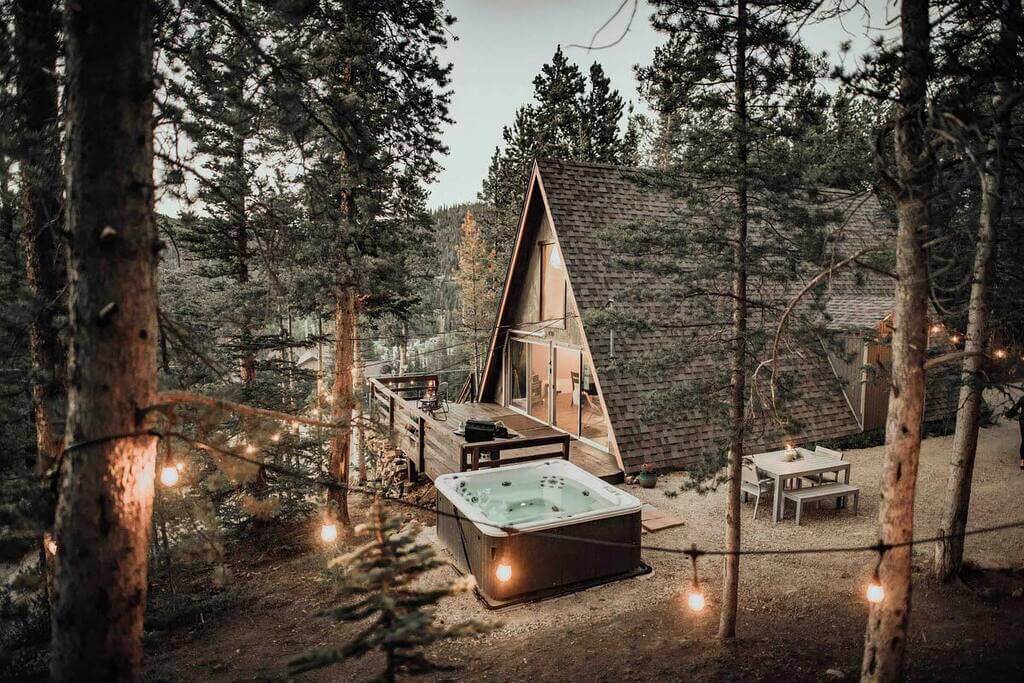 Source: territorysupply.com
If you're looking for a home away from the cities, you should definitely love this place! 
The High Point Hideaway is a wonderful restored A-frame house in Colorado. This lovely house has great exteriors and interiors, complementing its natural surroundings. It features a spiral staircase and a bubbling hot tub. There are twinkling lights that brighten the natural wooded exteriors of the house. 
3. The Pink Seahorse, Florida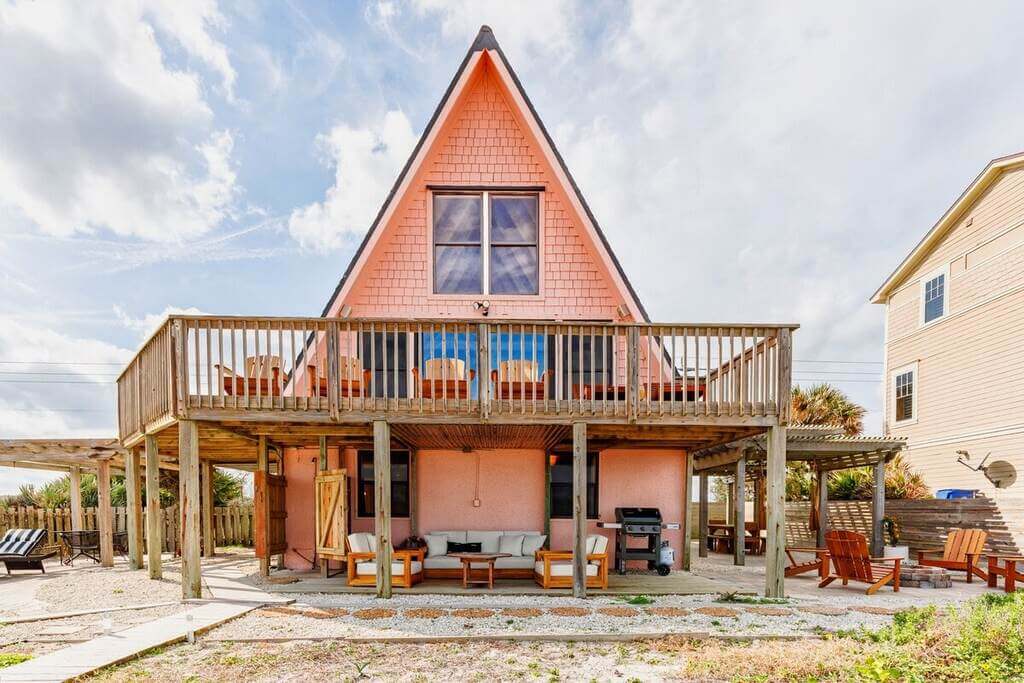 Source: territorysupply.com
As its name suggests, this is a pink beach house on Florida's eastern coast. This house has many interesting things, such as several outdoor areas where residents can enjoy neighborhood views and a huge backyard that also boards the Guana River Preserve.
4. Secluded Lakehouse, Illinois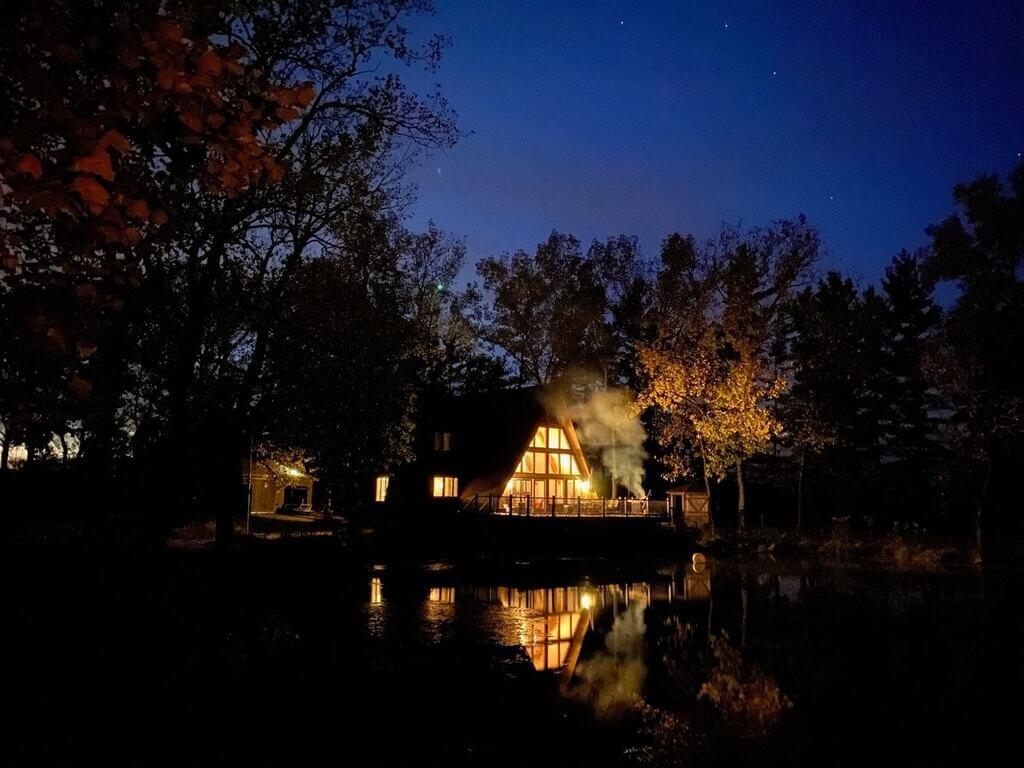 Source: territorysupply.com
This place is perfect for those travelers and visitors who are looking for a secluded home in the forest. Located on a private lake, this is a Secluded Lakehouse in a unique architectural style. The lake is filled with fish, and a floating trampoline is between Champaign and Kickapoo State Park.
5. Rockaway Beach, Oregon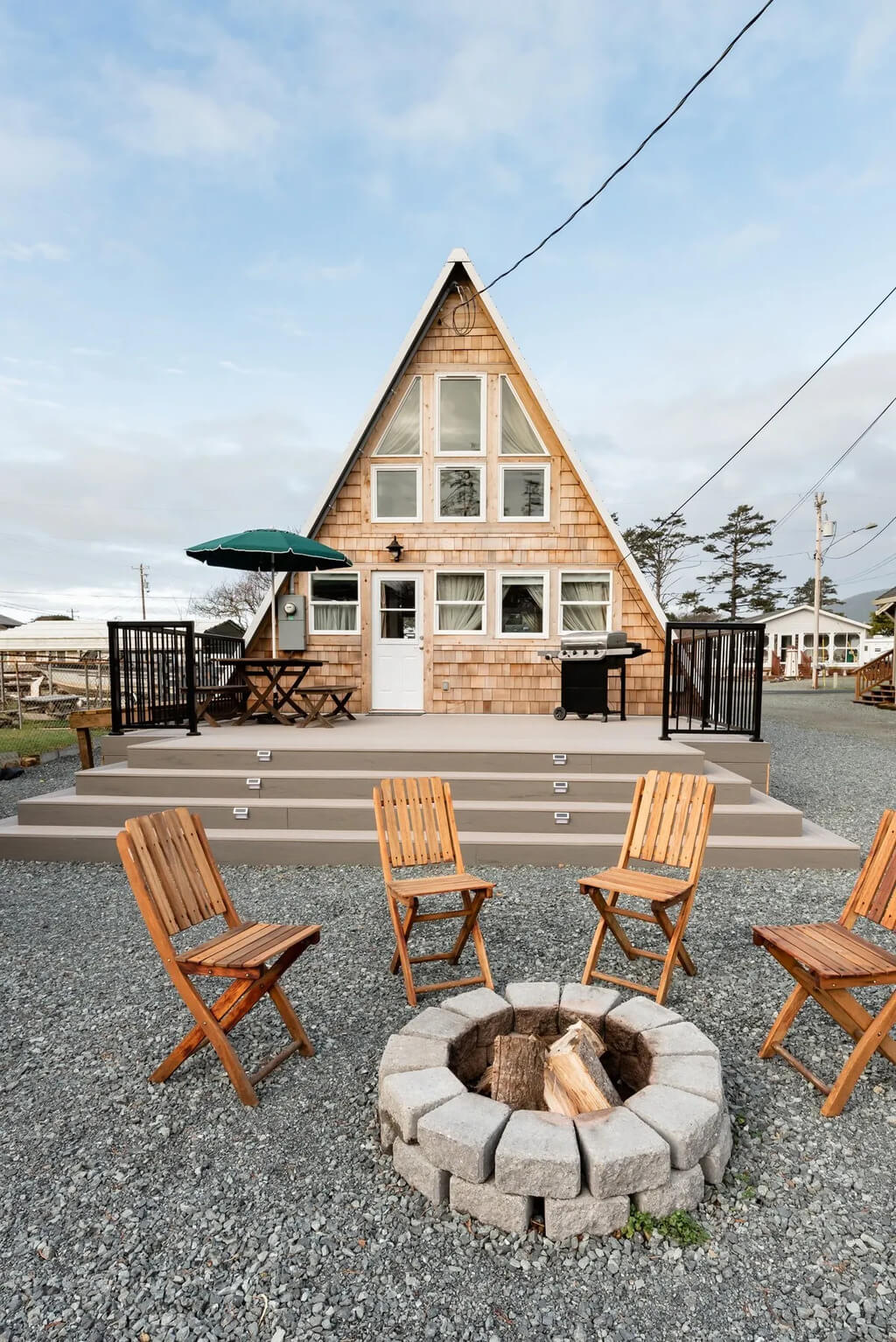 Source: cntraveler.com
If you want to experience something different, you should try this fall stay! This is a beachside getaway in Oregon. It is situated just six hundred feet from the sands of Rockaway Beach.
The house features spacious two bedrooms, blond wood, and floor-to-ceiling windows. These windows bring plenty of natural light and make the ambiance warm and cozy. There is also a large fenced-in outdoor space where habitats can hang out with family and friends at night. 
6. Shasta County, California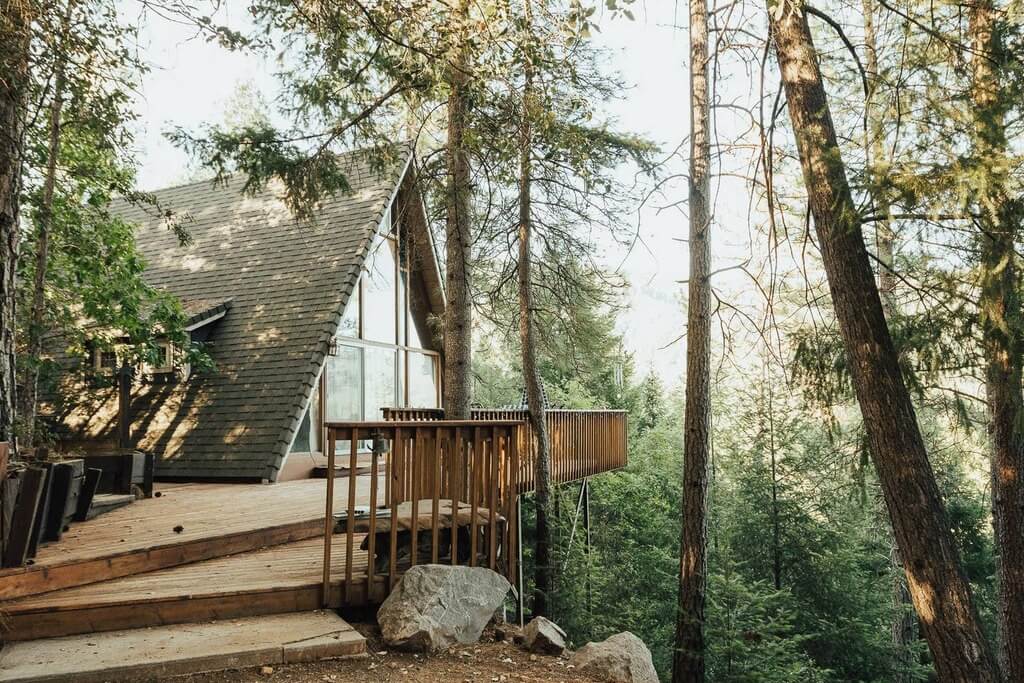 Source: cntraveler.com
This house may look small and tiny from the outside, but there are many things to explore. This is a Northern California A-frame known as Shasta County, situated within three hours of Lassen Volcanic, Redwood, and Crater Lake national parks.
This area has over 200 miles of hiking and biking trails. So if you want to stay in a secluded area, you can stay in this house and enjoy indoors or engage in outdoor activities. The home has modern and advanced features such as an essential-filled kitchen, a wood stove in the living room, a grill, and more.
7. The Golden A-Frame, Maryland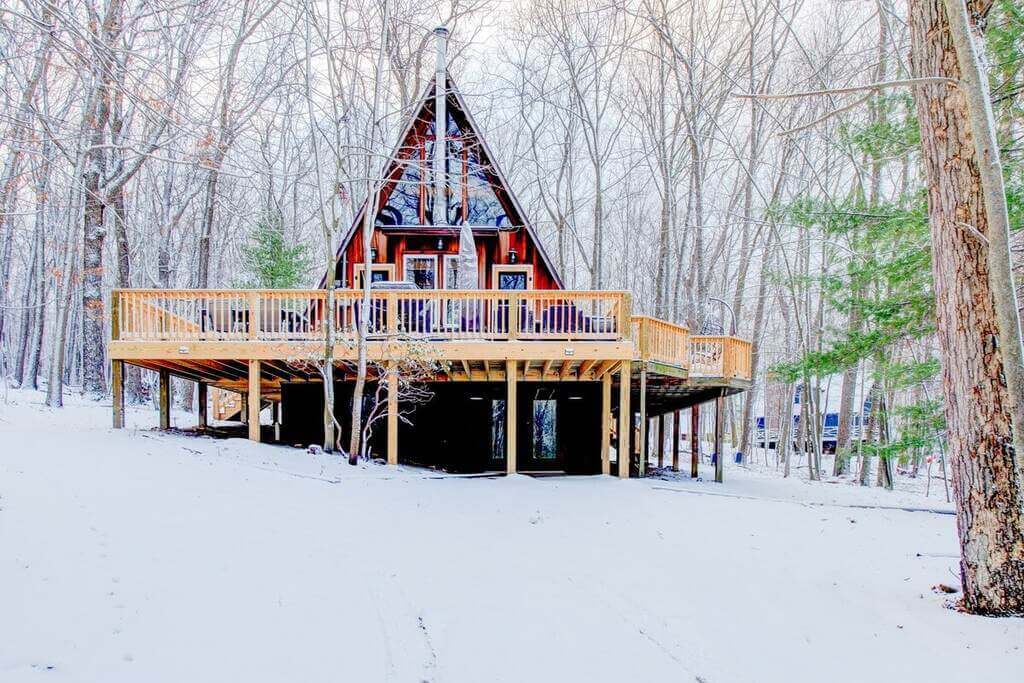 Source: territorysupply.com
Are you one of those people who like to travel with their pets? If yes, this destination will be perfect for you! 
Located in the beautiful land of Maryland, this Golden A-frame house is actually pet friendly. This home has many great features and amenities, such as stylish interiors, a shuffleboard table, hammock chairs, and a hot tub on the deck. There are also waters of North Glade Cove nearby, where guests can enjoy swimming, boating, and kayaking. 
8. The A-Frame on the Cane, Louisiana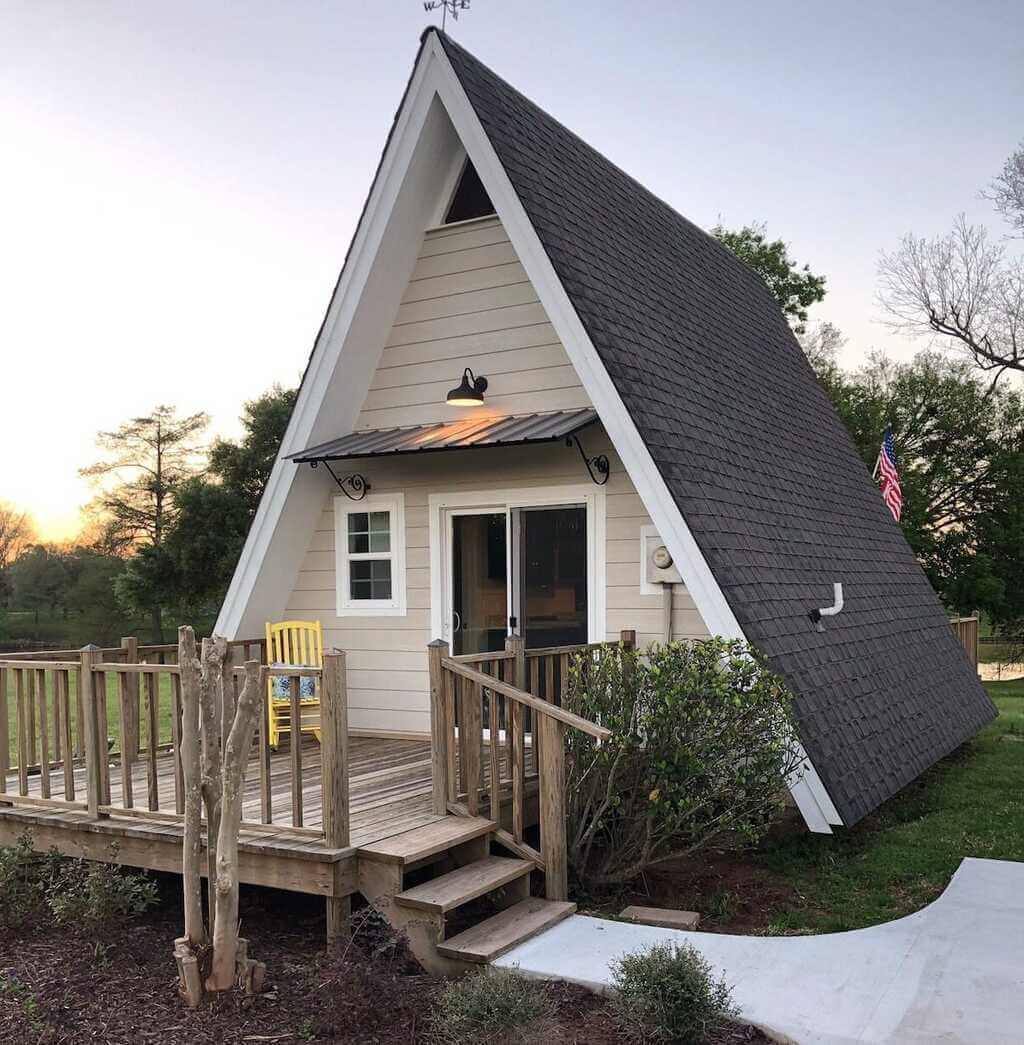 Source: territorysupply.com
This time when you're planning for a vacation or trip, consider this tiny home. This is a spectacular A-Frame home situated near the Cane River Creole National Historical Park and the roads of Natchitoches. This is a perfect place to spend the weekend with your friends and family. The home features a unique spiral staircase and cozy interiors. 
9. Lakefront Home, Moosehead Lake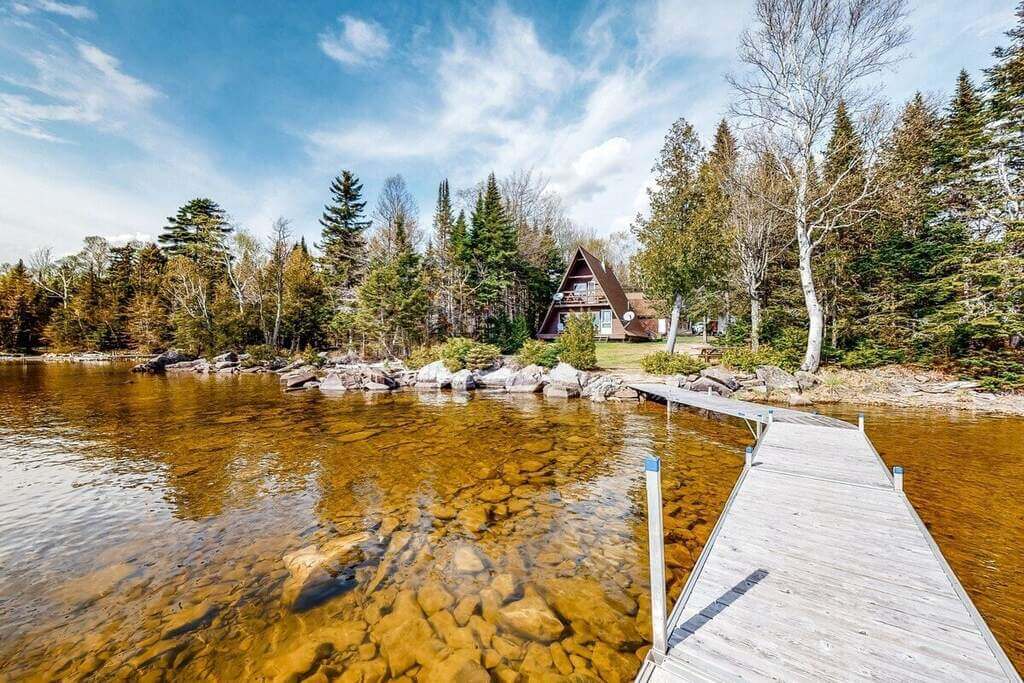 Source: territorysupply.com
Look at this breathtaking A-frame house with clear stargazing views of Lily Bay on Moosehead Lake. This lakefront cabin has all the essential facilities and amenities to make your stay comfortable and memorable. 
It has a private dock, clean amenities, and a yard fire pit so visitors can hang out at night.
10. Breckenridge, Colorado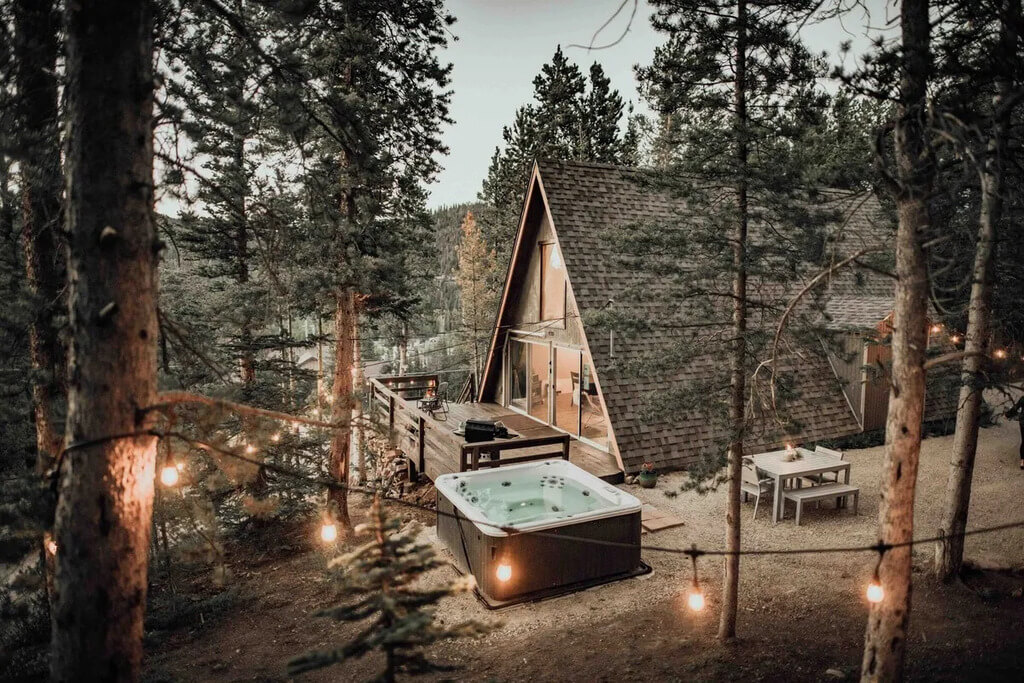 Source: cntraveler.com
Originally built in the 1970s, this traditional three-bedroom home was renovated a few years back. It has a unique A-frame structure with all the facilities. It has a hot tub from where you can get amazing views of the surrounding forest. There is also a spacious outdoor dining area with a modern washer and dryer unit. 
You can visit this cabin in winter with your family and friends and get the best experience of an A-frame house living experience. You can also explore Breckenridge's skiing which is just 10 minutes away from this place. This place is also a great spot for summer to enjoy hiking and camping. 
11. Fernside A-Frame Michigan, Sturgeon River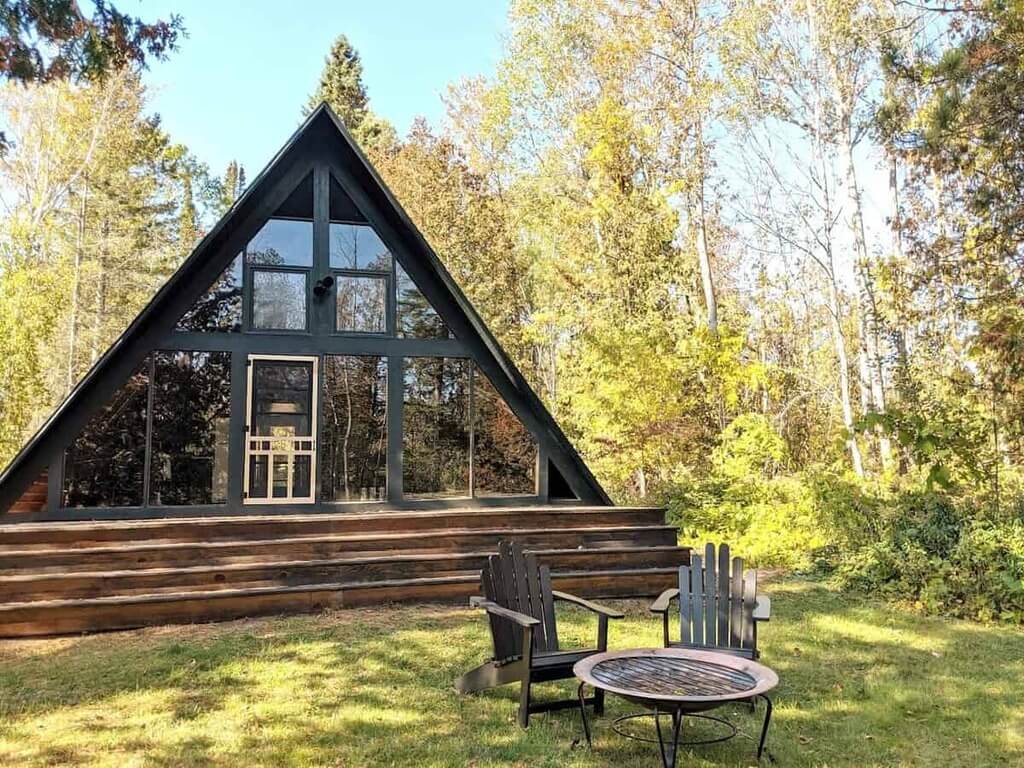 Source: territorysupply.com
Imagine living in a riverside cabin with amazing views and comfortable living. Sounds like a dream, right? 
Not anymore, because you can fulfill your dream by visiting and staying at this Fernside A-Frame near the Sturgeon River. This is a small two-bedroom cabin that will give you the best-staying experience. With a wide deck and firepit, you can spend your evening stargazing and having conversations while staying warm. 
12. Rockbridge. Ohio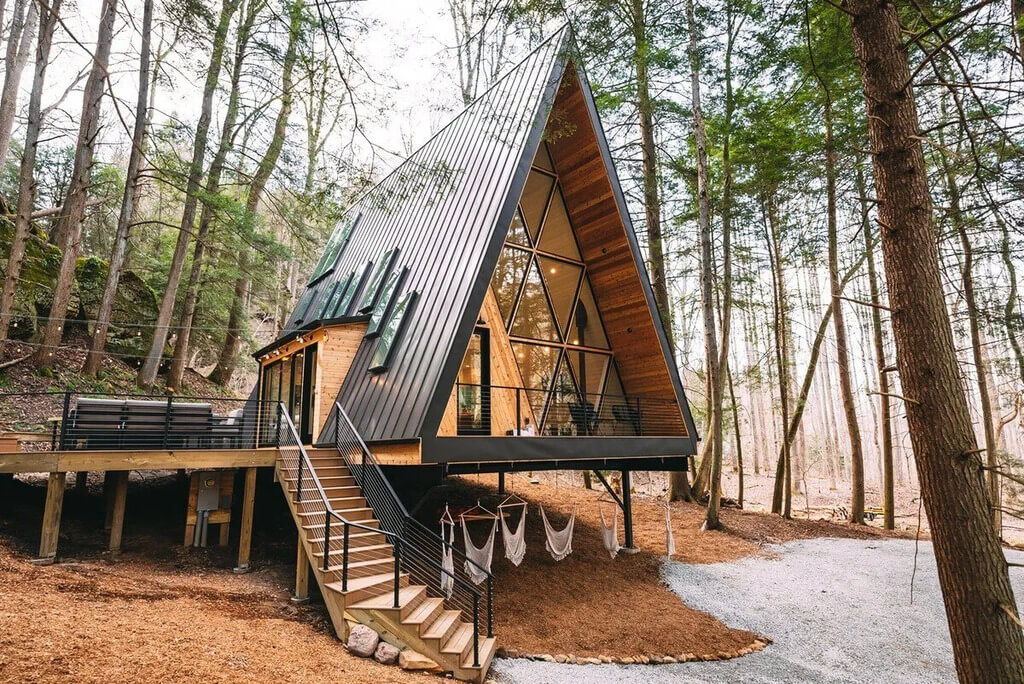 Source: cntraveler.com
This is another one of the best A-frame houses in the world where you can experience complete serenity in a secluded place. The house has many interesting things, like a full wall of geometric window panes and numerous skylights through which plenty of light comes inside. 
This three-level house is located in the south of Columbus, Ohio. Here you'll get a comfortable king-size bed on the third floor, which is surrounded by windows. There is also an additional loft that has two twins. This makes it perfect for even large families. 
13. Lilla Norr. Minnesota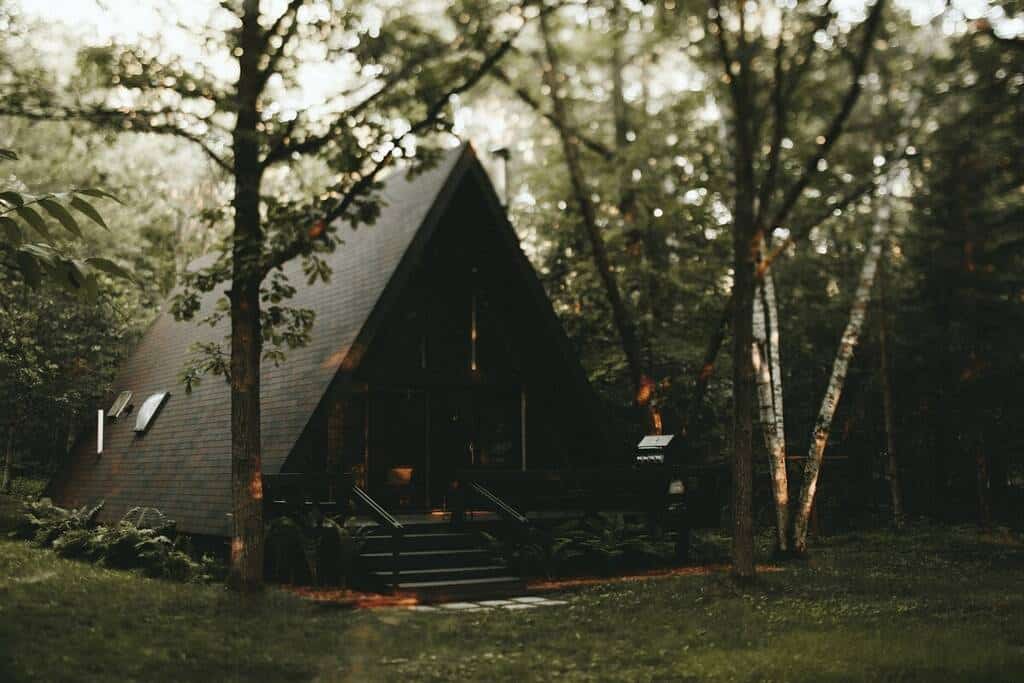 Source: territorysupply.com
Do you love architecture with vintage accents? If yes, you'll also love this A-frame house, which has a Swedish-inspired design! The entire house design is created while sustainability is kept in mind. 
The Lilla Noor is just an hour and 15 minutes drive from Minneapolis. It is near the Snake River in a small town with various shops. 
14. Montana A-Frame, Montana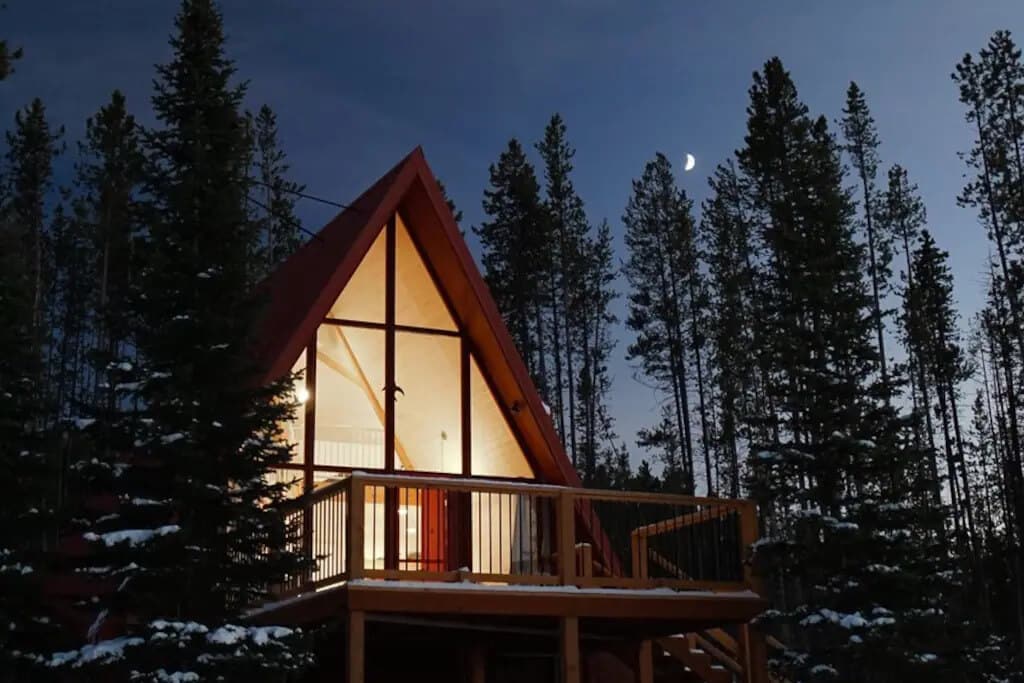 Source: muscache.com
The next A-frame house on the list is this Montana A-frame which is located near Georgetown Lake and Discovery Ski Hill. This quaint cabin is perfect for travelers who are looking for an escape from the chaos of the urban cities. 
This property has a spiral staircase leading to a loft, where you can enjoy spectacular views of the surroundings through huge floor-to-ceiling windows. There is also an RV pad with hookups. 
15. Saco river A-Frame, New Hampshire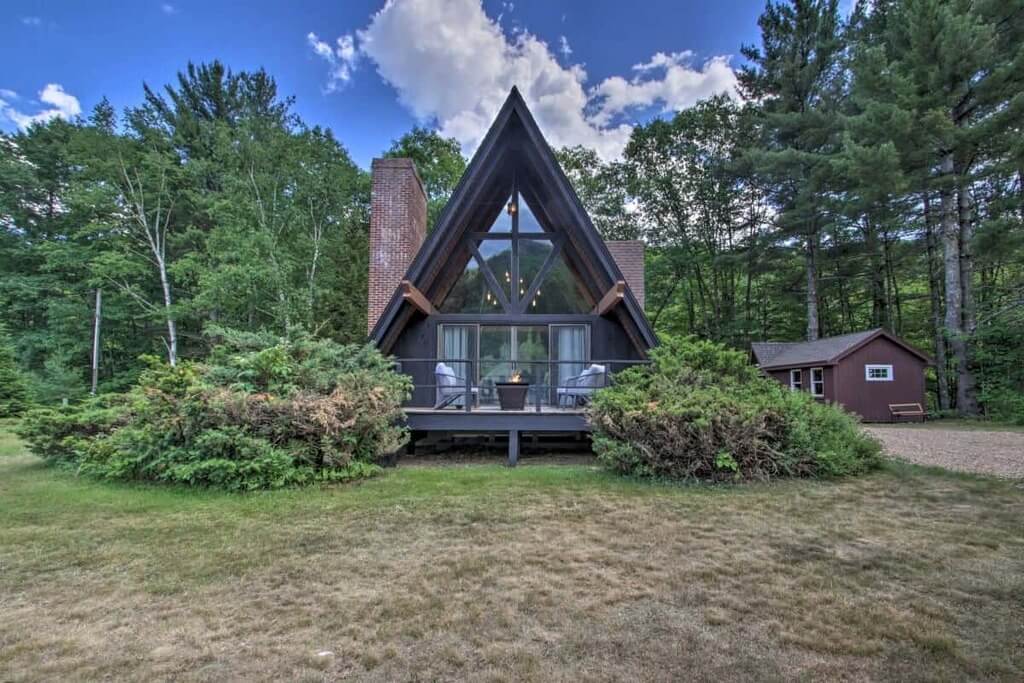 Source: territorysupply.com
In the National Forest of the White Mountains, an A-frame cabin called Saco River A-Frame is situated. Here you can also access a private beach on the River. The house interiors are also warm and cozy. Vaulted pine ceilings and outdoor amenities are used here, providing an amazing living experience in the mountains. 
Top 5 Interior Ideas For A-Frame Houses
Are you planning to buy an A-frame house? If yes, you might be wondering about the interiors and how you can decorate them. No worries, here are the five best ways to decorate A-frame homes. 
1. Open Interiors
A-frame houses are less spacious than traditional houses, which is why open-concept interiors are best. The open interiors will make the home look more spacious and accessible. You can also spend more time together with your family in space without feeling left out. 
2. Neutral Colors 
It is always best to go with neutral color schemes like beige, white, cream, and light grey. These colors and shades will enhance the architectural details and elements, including beams and hardwood floors. They will make these details stand out, which looks fantastic in the A-frame houses. 
3. Geometric Shapes
You can include geometric shapes in two ways, either in decor or in the interior design of the houses. This single thing will immediately elevate your simple A-frame house design and transform them from boring to spectacular. 
For example, add curved walls with different angles. These curbed can also be used as seating areas and art display corners. 
4. Plants
Plants are one of the simplest and quickest ways to change the whole ambiance of any place. A-frame houses are mostly located in forests, rivers, and mountains with beautiful nature and landscape views, but still, it's a good idea to bring nature in. You can add indoor plants to create a sense of natural flow from the inside out. 
5. Mix and Match Materials
Try mixing two opposite or complementary materials together to create a unique design. For example, you can add steel with natural wood to bring modern vibes into your space. This will still be the rustic and natural ambiance but with little touches of modern elements. 
Also Read: 15+ Mid Century Modern House Ideas in 2022
3 Tips For Building A-Frame Houses
Do you want to build your own A-frame house? That's a great DIY construction project, but you have to keep a few things in mind. Here are some tips that you can follow to get the best results: 
1. Elevate the House
A-frame houses are similar to tiny homes with less storage. So, consider elevating the house a bit off from its foundation. By doing this, you'll get some space between the ground and your lower floor joists. This extra space can be used as additional storage space. And if you want to make this storage area waterproof, build your entire foundation with concrete. 
2. Blend Outdoors & Indoors
Add tall, massive windows with wood frames. These windows will bring ample natural light and make you feel close to nature. You can also bracket your A-frame house with wide decks for more outdoor space. Here, you can also add a firepit or hot tub to completely use the outdoor space and have a better living experience. 
3. Focus on Functionality
You can either build your A-frame houses from scratch or buy a prefab unit. In both cases, you have to prioritize its functionality. You have to ask yourself questions like:
Will this house be your second home or a primary residence? 

Will you list this A-frame house as an investment real estate?
This is important because the interior elements, like the floor plan of an A-frame vacation house or rental property, completely differ from permanent residence. So always try to consider these points while building your A-frame house. 
Source: homedit.com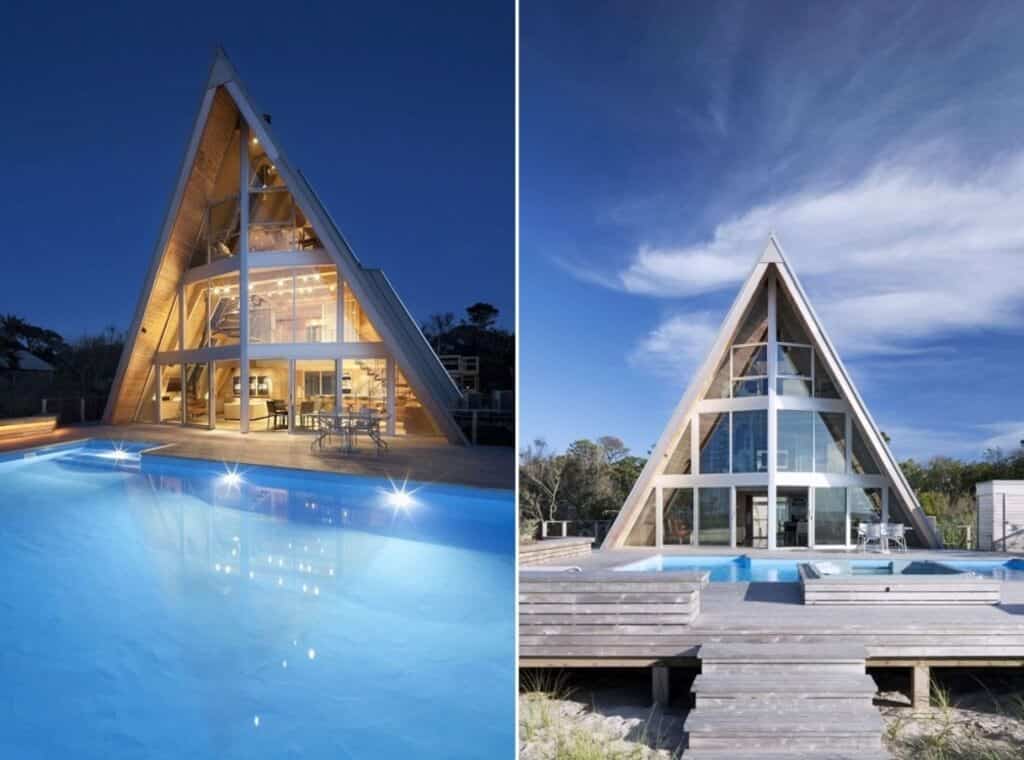 Source: homedit.com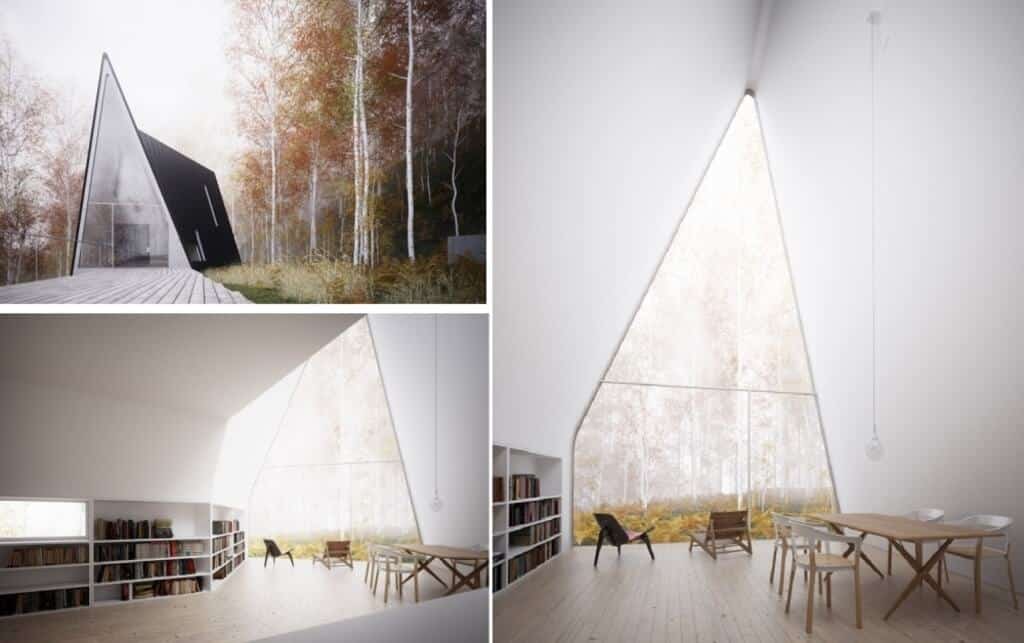 Source: homedit.com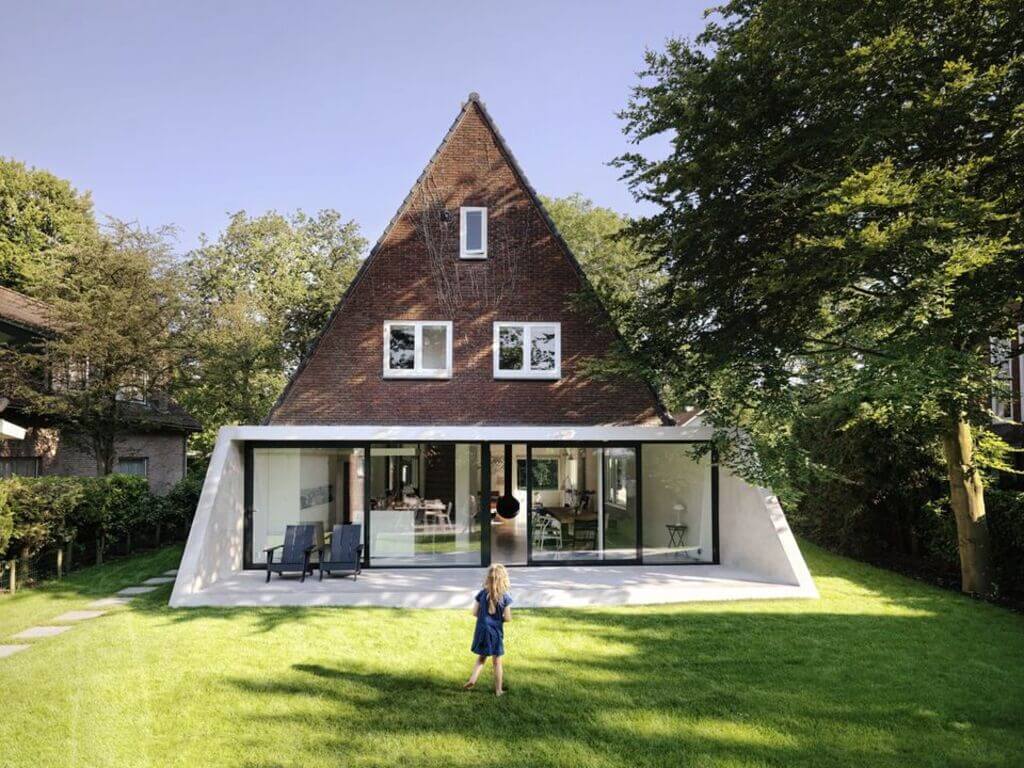 Source: homedit.com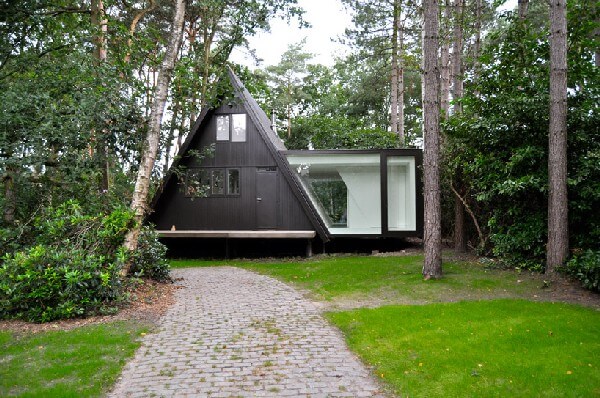 Source: homedit.com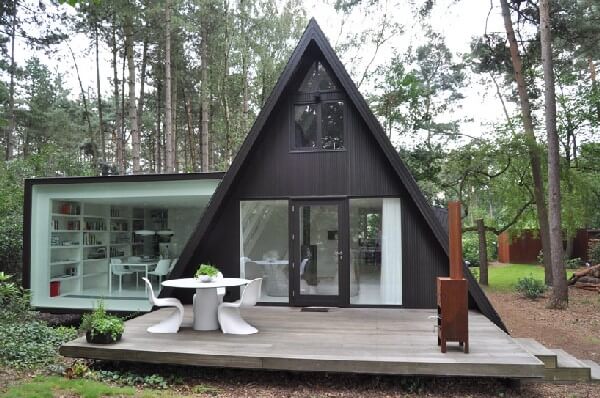 Source: homedit.com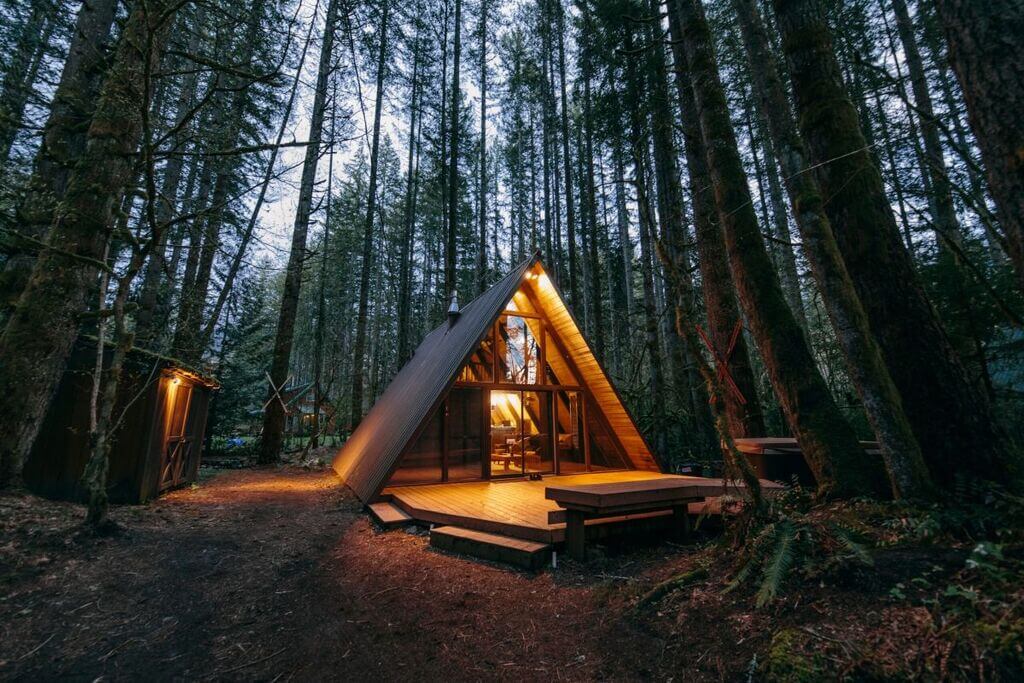 Source: homedit.com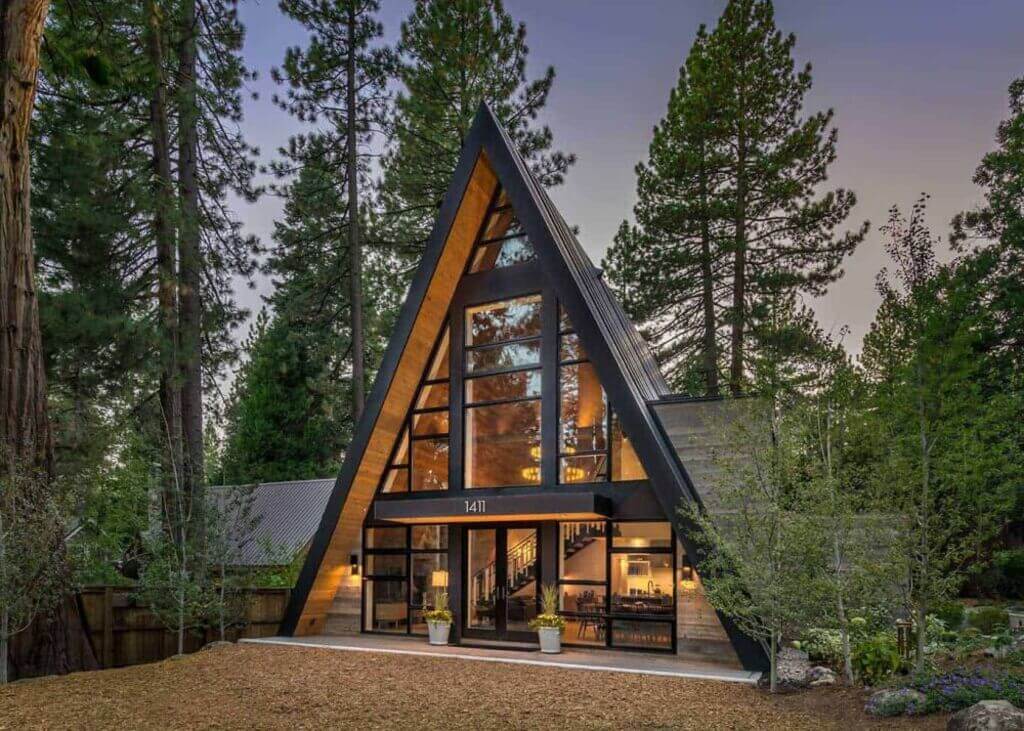 Source: homedit.com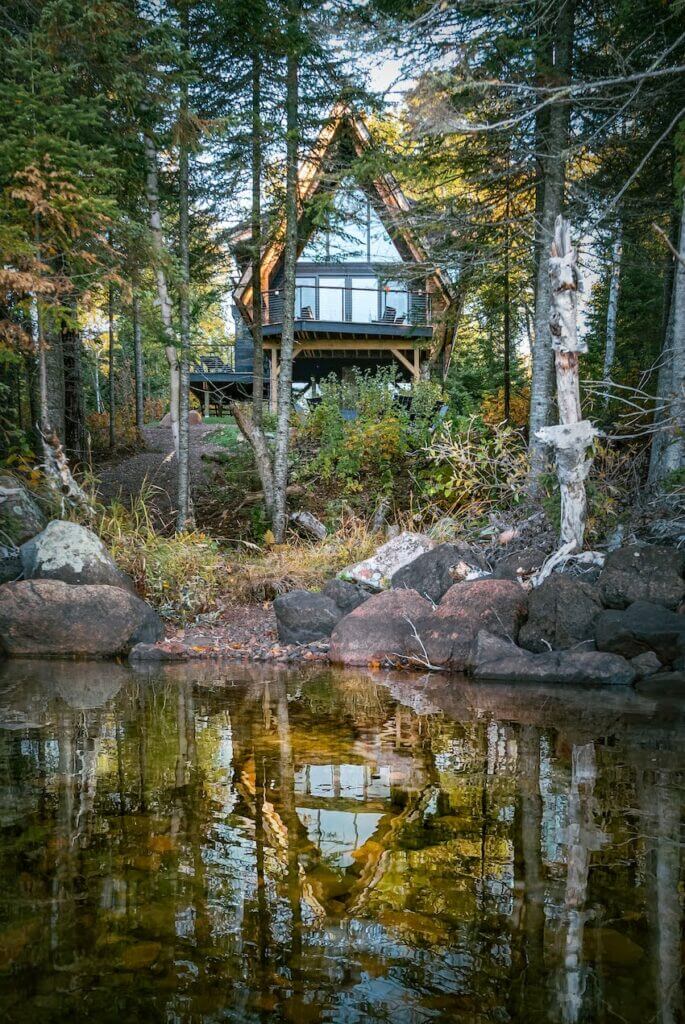 Source: homedit.com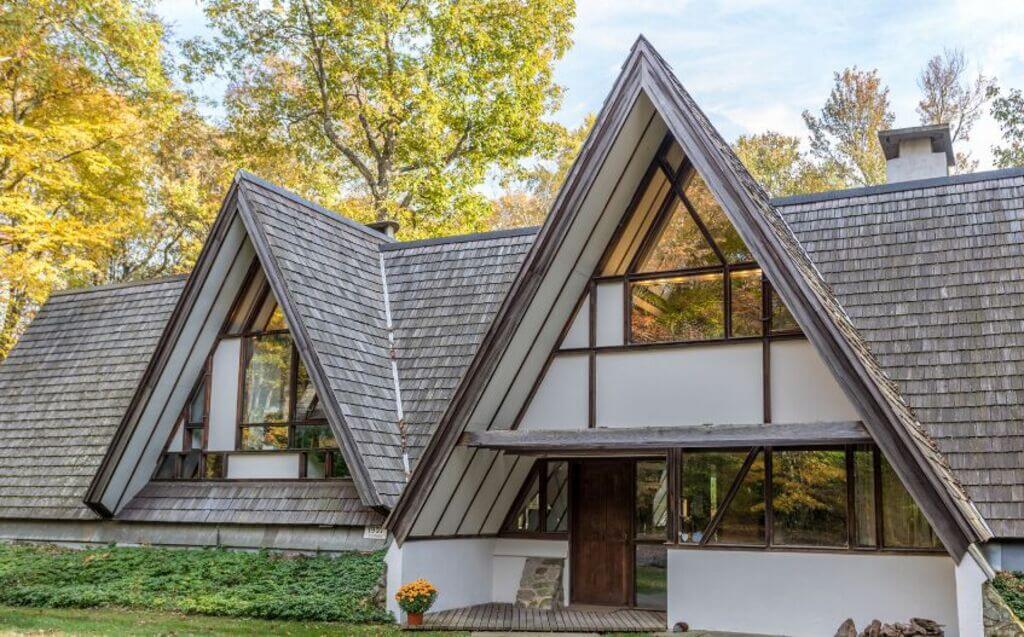 Source: homedit.com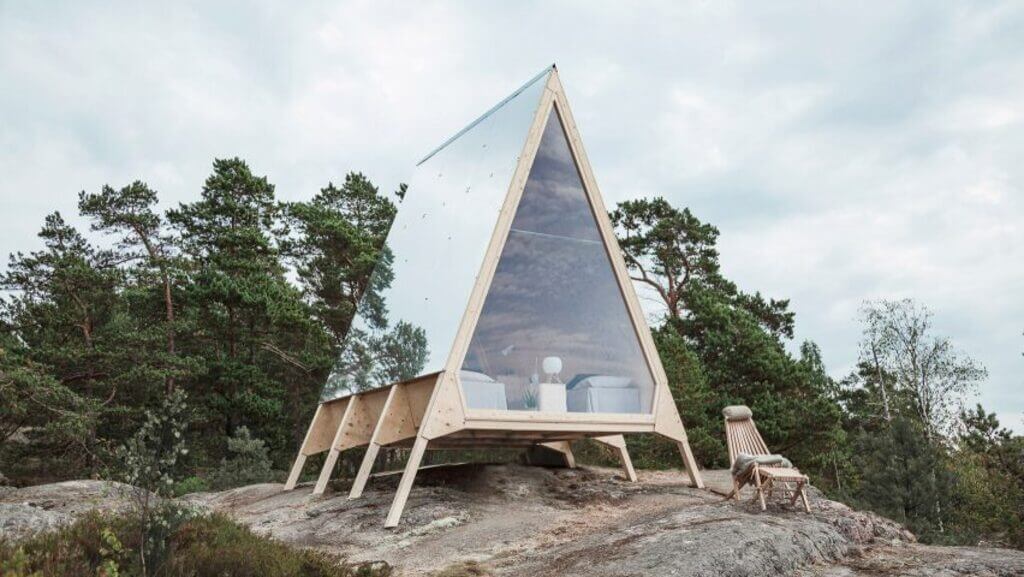 Source: homedit.com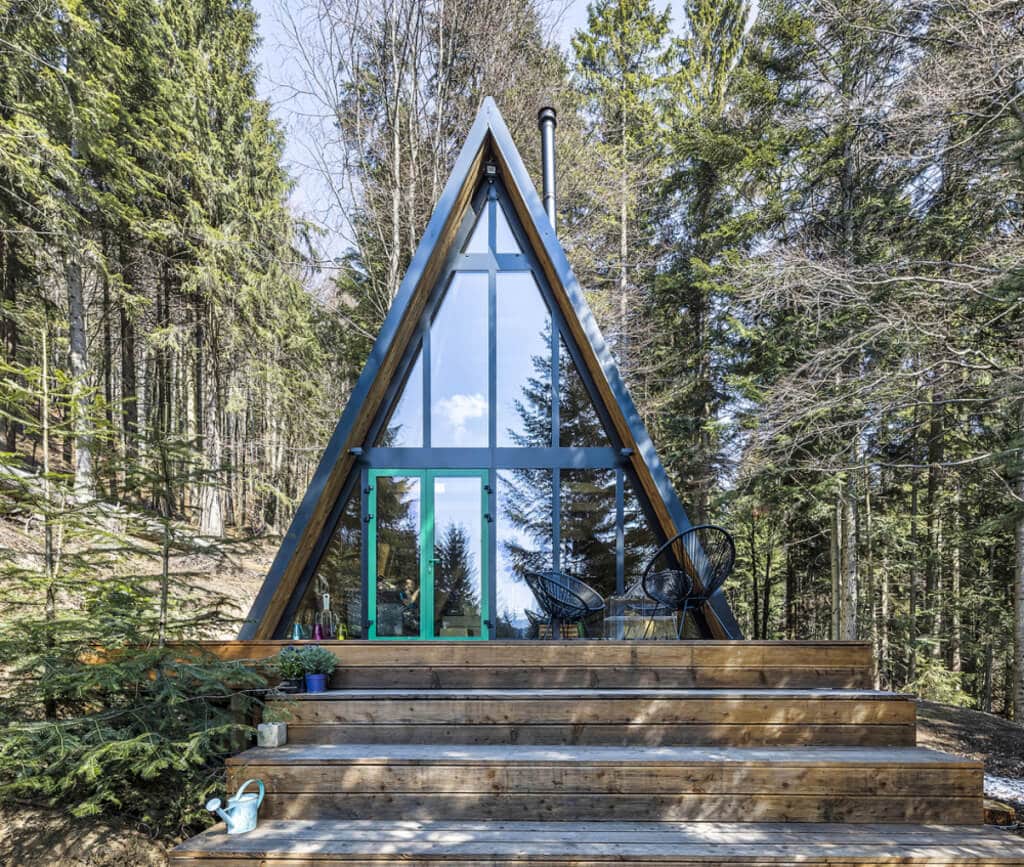 Source: homedit.com
I hope this guide on A-frame houses has helped you understand what A-frame houses are, their advantages and disadvantages, how to decorate the interiors, and what key things you should consider while building them. If you find this post helpful and informative, share it with your family and friends.
For more architecture information and guidance, explore Architecturesideas.
Follow us on our Instagram page, architectures_idea, for daily architectural trend alerts.