6 Most Used Access Equipment by Australian Companies and Their Pros and Cons
There's proper access equipment for different kinds of activities. Knowing what to use and when to use one will greatly help in ensuring a productive and efficient workflow operation. The best choice will seamlessly allow you to finish your project on time. It will also effectively prevent you from going over budget. Australian companies greatly rely on boom lifts, EWPs (elevate work platforms), and scissor lifts for their construction site needs. Such machinery makes material transport and working on high areas smoothly possible.
To help you in choosing the best one for your daily operational needs, you should know the most popular access equipment that Australian companies rely on. By knowing their unique mechanism and PROS and CONS, you'd be able to intelligently choose machinery that will allow you to work efficiently, speedily, and safely. 
6 Most Used Access Equipment by Australian Companies and Their Pros and Cons
1. Electric Scissor Lifts
Electric scissor lifts have a hydraulic or pneumatic system or a mechanical system. Such systems are user-friendly because they allow operators to easily go back to the ground by simply releasing pressure. They are called scissor lifts because their support system looks like connected scissors when elevated.
Electric scissor lifts are best for indoor projects because they come with a silencing muffler. They also offer zero emissions and also they can help your workers reach elevated spaces within 12+ meters but they can only carry lighter loads. They can't handle massive heavy loads.
Pros:
Safer to use because it is easier to operate

Best for indoor use
Cons:
Cannot accommodate extremely heavy loads 
2. Diesel Scissor Lifts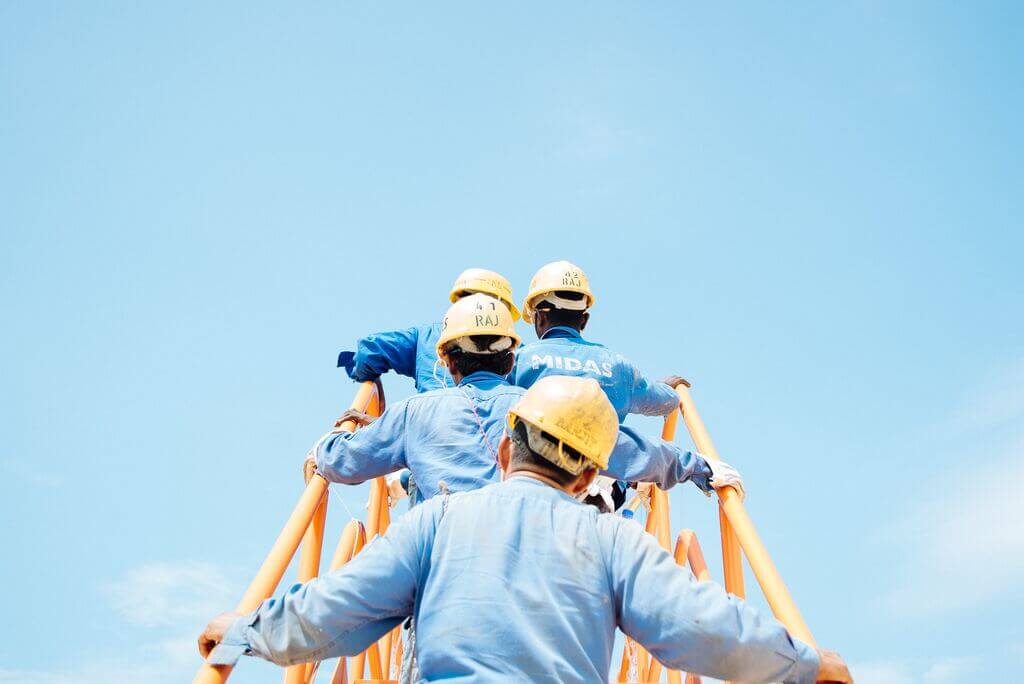 Source: wp.com
Diesel scissor lifts are for heavy-duty activities in elevated spaces. They provide a sturdy platform for operators to comfortably work on. They can carry extremely heavy loads. Though louder than electric scissor lifts, diesel scissor lifts are versatile enough. They can be used on both indoor and outdoor tasks. It's best to limit use outdoors to avoid noise issues. 
Diesel scissor lifts can lift more than two workers at a time. As it is sturdy, it can allow for smooth work even on tough to reach elevated spaces.
Pros:
Cons:
Loud, not suited for indoor use
3. Truck Mounted EWP's
If you need to work on many elevated heights at different locations, a truck-mounted boom lift will be perfect for you. Also called "cherry pickers", this solid machinery is perfect when you need to smoothly work on numerous sites within a day. As it is truck-mounted, it can easily go from one worksite to another.
Most truck-mounted EWP's are electrically insulated. This is why it's best for Australian companies that work on power line maintenance, telecom towers, and tree lopping. It can be used in spaces with high voltage electricity. All access platform engineers highly recommend truck-mounted EWP's to companies that work with electric currents.
Pros:
Can reach large heights

Best when you need to work on various worksites

It is best for when you need an access platform that can move fast 

Best when you need to work in power lines, communication towers, and trees.

Best when working on spaces with high voltage electricity
Cons:
Not ideal for indoor tasks 

Expensive
4. Straight Boom EWP's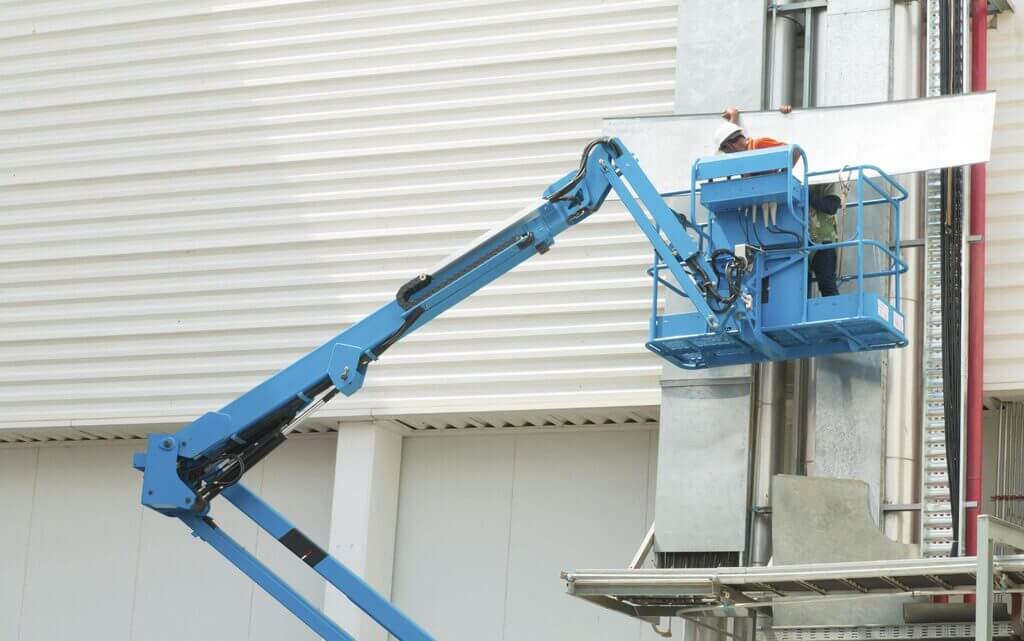 Source: moelvliftutleie.no
Reaching extremely elevated heights is easy with a straight boom EWP. It is mostly used on large-scale construction projects. It has an impressive horizontal reach that makes it easy for you to reach high areas. Straight boom EWP's are perfect for maintenance, construction, and industrial fields because operators can easily maneuver them straight from the ground. It is also easily controllable when at an elevated height.
Pros:
Highest horizontal reach

Can work on sites with access limits

Easy maneuvering 
Cons:
Limited weight capacity

Can be expensive
5. Knuckle Boom EWP's
A knuckle boom EWP is your best choice if you're working on tricky and hard-to-reach spaces. They are best for construction sites as they can support different building needs at elevated spaces. Knuckle boom EWP's have different sections that work through seamless joint connection.
Its platform is at the end of its boom. This placement is the very factor that makes it possible for knuckle boom EWP's to easily reach angled and tricky spaces. You need to take note though that it cannot carry heavy loads. It's best for lifting a solo worker who needs to work in a tricky elevated space. 
Pros:
Best for tricky elevated areas

Can easily work around obstacles
Cons:
Limited height reach

Limited load capacity
Also Read: The Safety Equipment You Need for Construction at Heights
6. Spider Lift Access Equipment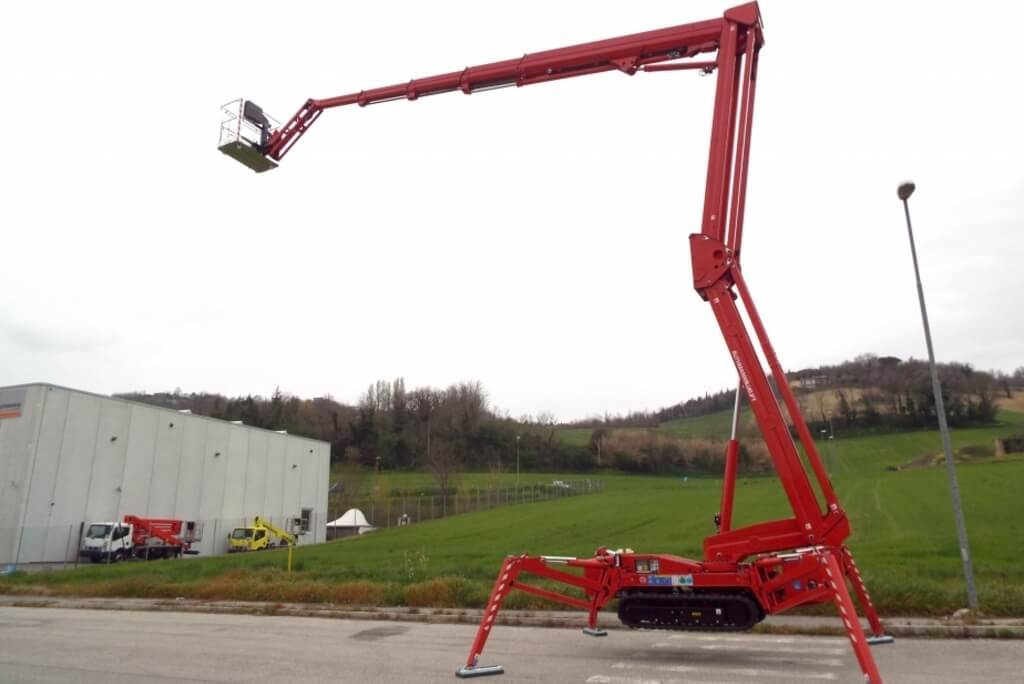 Source: ruthmann.de
Spider lifts are also commonly referred to as trailer lifts. They got such a name because their mechanism makes it look like a spider. Its unique mechanism gives it the special ability to provide solid stability even in uneven spaces. This is because you can lock its "legs" onto places.
With it, you can have people safely working on gradients, multi-level platforms, and stairs. A spider lift access equipment will be your best friend if you need to work on narrow spaces like doorways, tight aisles, and gates. 
Pros:
Compact

Can work around tight spaces

Easy 360° rotation

Comes with lockable legs

Easy multi-level platform work

Can work on uneven spaces
Cons: