7 Bathroom Trends for Late 2023 and Beyond
The bathroom is a place to relax and unwind after a long day, to take care of your hygiene needs, or get ready for work in the morning. That means that it should be comfortable and functional as well as stylish. This article will discuss some bathroom trends that will shape what bathrooms look like at the end of 2023 and beyond.
1. Fluted Surface
One of the most popular trends in bathroom design at the moment is fluted surfaces. Fluting can be found on tubs, sinks, and vanities, as well as tiles for floors or walls. As opposed to a flat surface, it creates an interesting pattern that's visually appealing but easy to clean too. It is perfect for bathrooms where space may be at a premium. 
It simultaneously provides an interesting surface pattern but also a functional one that's easy to clean in tight spaces where clutter sometimes accumulates quickly. You can check out this page for some great bathroom design ideas. 
2. Give an Outdoor View from Bathroom Windows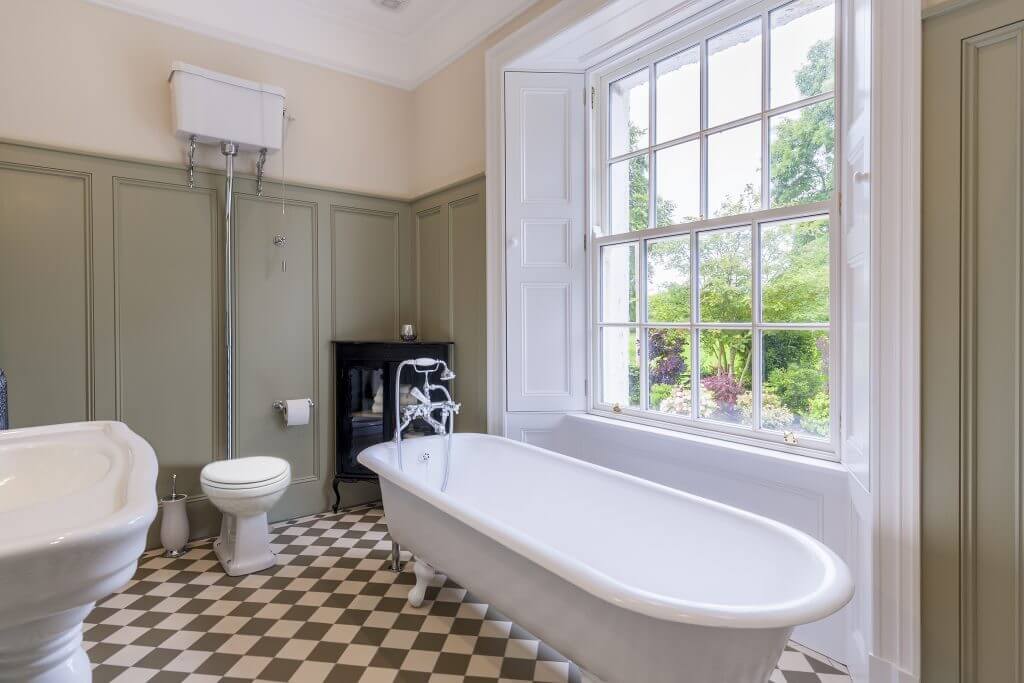 Source: kellswindows.com
Another trend that is fairly popular at the moment but will become more and more common in bathrooms from late 2023 onwards is giving an outdoor view from bathroom windows.
This means either having a window that faces outside or installing mirrors on two walls opposite each other to create the appearance of looking out a window even if there's no actual window present. This is a popular option for people who have space in their bathrooms and want to maximize it.
3. Blended Design
A trend that's already started to infiltrate the industry, blended design is a perfect way for you and your client to have everything they need in one area. For example, if you're designing a master bathroom with two sinks, both clients can use whichever sink suits their needs without compromising on space or functionality. This type of design also gives each person their own vanity, creating a more personalized space.
4. Luxurious Bathroom Tiles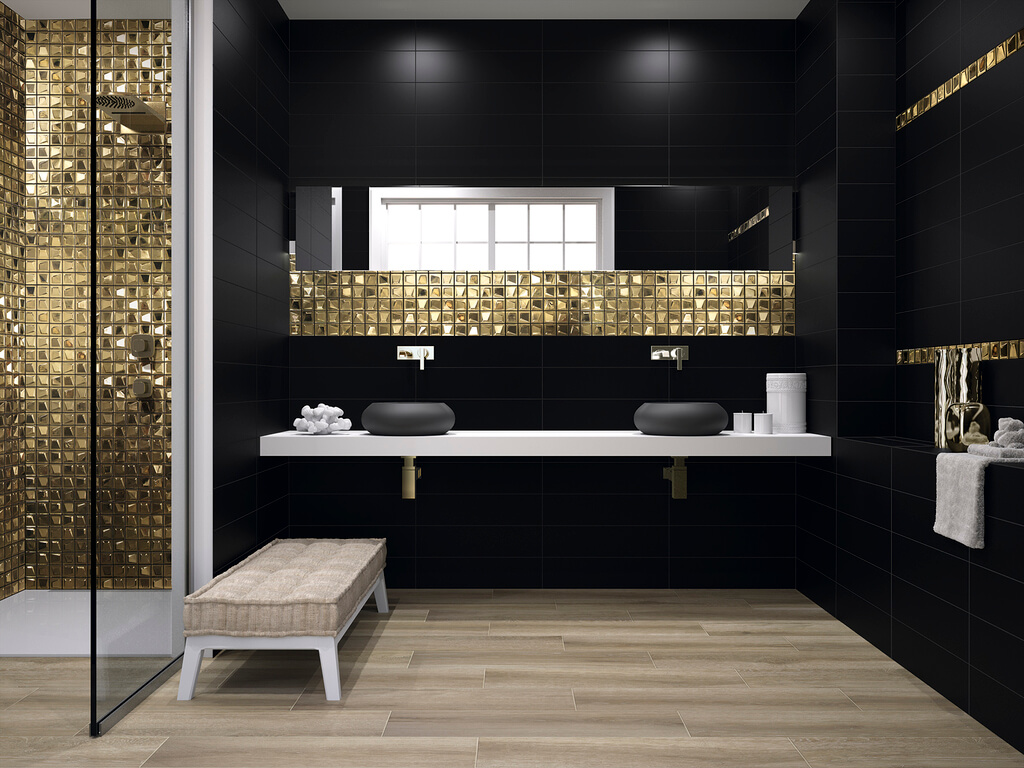 Source: conceptvirtualdesign.com
Luxurious bathroom tiles are becoming more common. These days, it is not unusual to see either marble or gold embellishments on the walls and floors of bath space. Many people are opting for these luxurious features because they provide an opulent touch. It also allows you to express your personality through color choices and different styles.
5. Heated Floors 
The tiles are not the only way you can make your bath more decadent. You may also choose to add a heated floor, which is especially luxurious if it includes chromotherapy lighting that changes colors as the temperature of the water heats up or cools down. Adding this feature makes it easier for individuals with sensitive skin to enjoy a relaxing bath.
6. All Matte Decor
The bathroom is a private room, and as such, it should be kept clean. White has always been the color of choice for this space because white reflects light better than any other hue and helps keep water spots at bay.
But in recent years, matte finishes have become popular too both on walls and surfaces like tiles or countertops. This trend is especially appealing for bathrooms where a high gloss finish could promote the growth of mold and mildew.
Also Read: Flooring Guide: 7 Best Flooring for Bathroom in 2023!!
7. Waterproof Wallpaper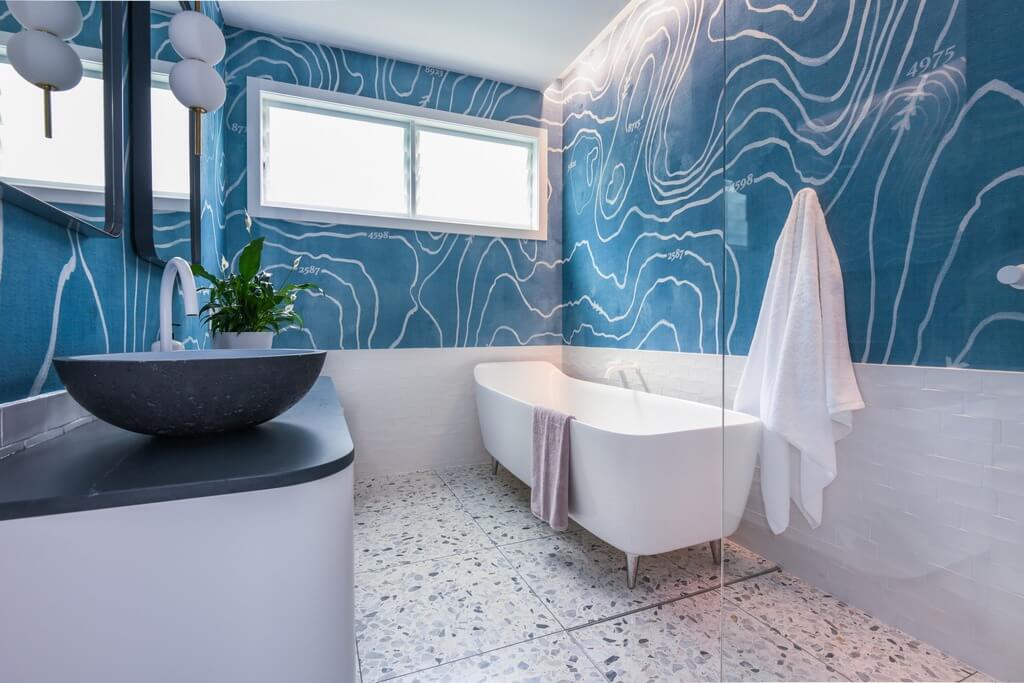 Source: theinteriorsaddict.com
No one wants to deal with waterlogged walls, but waterproof wallpaper is the perfect solution. It's not too expensive and can install just like regular wallpaper so that it looks seamless in your home.
Waterproof wallpapers are designed specifically for bathrooms because they have a textured surface that prevents mold from growing on the walls. It is made of vinyl and can be found in a variety of different colors, patterns, and textures to match your bathroom's unique style.
Above are some of the great bathroom trends that will rock in 2023 and many years to come.