How to Match Green Tiles in Your New Kitchen
Green tiles in your new kitchen offer a warm, earthy charm to a kitchen design, creating a wondrously timeless atmosphere. The beauty of this particular design selection is that green is a colour that can be combined exceptionally well with a range of different materials to create a perfectly balanced colour scheme.
From natural materials such as timber and marble to man-made finishes such as concrete, you will find the perfect shade of green to compliment your new kitchen's colour palette in creating earthy and welcoming energy in your project.
Is Green a Timeless Colour in the Kitchen?
You will find that just about any shade of green in the kitchen makes for a stylish and timeless look thanks to this particular colour's association with nature. Green is an excellent choice when creating a classic or timeless kitchen.
This wonderful earthy colour is available in an impressive variety of different tile types as well as in a range of different shades and materials to help you create the perfect combination of colours in your next kitchen design or renovation project.
Green can be introduced as a tile option in your kitchen using a variety of different materials ranging from traditional ceramic wall tiles or porcelain pattern tiles to softly toned jade marbles or even in the deeper colour tones that are most often seen in glass mosaic tile collections. 
Green Tiles and Natural Materials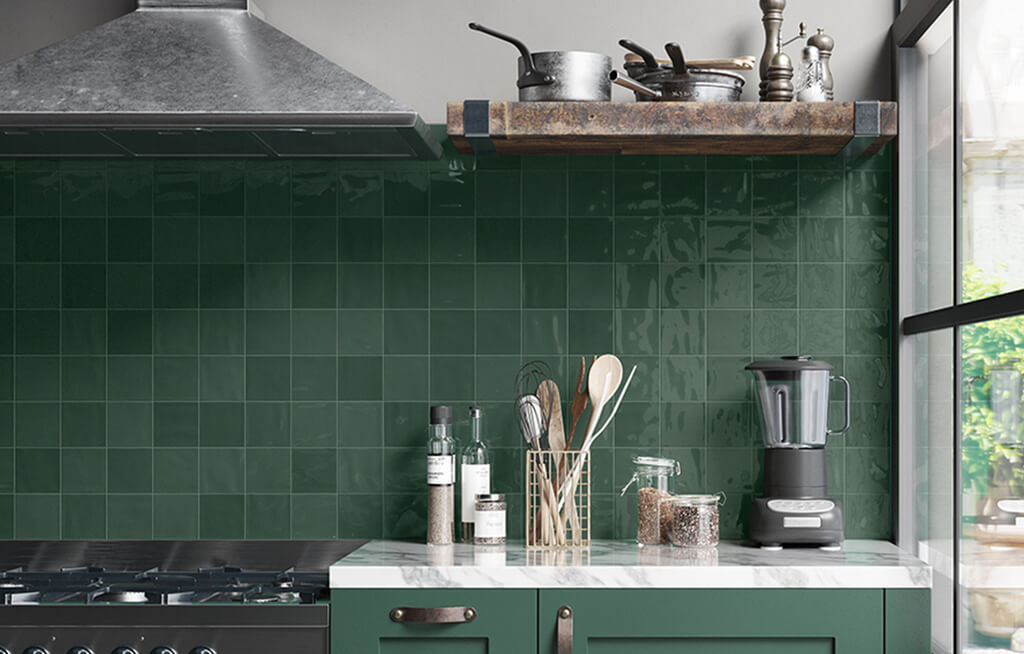 Source: perini.com
Being a colour that is most often associated with nature, green will pair extremely well with a variety of natural textures and materials. Rustic timbers and luxurious natural marble stones are the most popular options to pair with green tiles.
These luscious natural materials can be used as a benchtop option in your new kitchen design scheme, with green kitchen splashback tiles being used to introduce a burst of deep colour into the space. Combining green with natural materials and textures allows you to create an elegant, nature-inspired design scheme that is both warm and welcoming, thus creating a perfectly elegant and timeless look in your new kitchen. 
Caption: Elegant, classic and timeless, combining deep green toned splashback tiles with natural materials such as rustic timbers and rich marble will create a welcoming and earthy quality in your next kitchen design project. This country chic kitchen design scheme combines each of these materials to create a luxurious and charming space that is full of light and colour.
Green Tiles and Concrete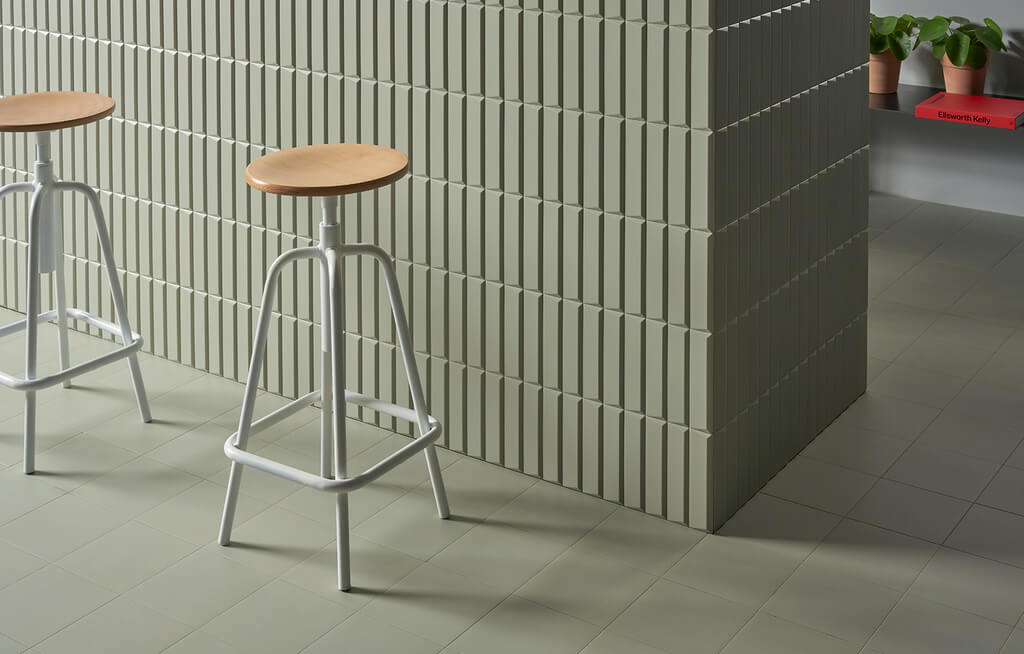 Source: perini.com
Whether you are using a traditional poured concrete benchtop or concrete tiles as your flooring in the kitchen, green tiles will provide the perfect complement to this rustic, industrial-themed material. Concrete textures can be customised to show a range of different colours and textures, making for the perfect rustic or industrial touch to any kitchen design scheme. 
Custom poured concrete kitchen benchtops are a popular choice for the busy kitchen, offering a hard-wearing and long-lasting surface finish. These custom benchtops however can be quite costly; if you are looking to use concrete as a benchtop in your new kitchen but are keeping an eye on costing, engineered stone alternatives are the next best solution.
These benchtops are made using a combination of crushed quartz and resin to create a durable benchtop solution. Modern designs of this style of benchtop include options that will perfectly mimic the look and texture of a traditional concrete benchtop, with options ranging from deeper charcoal tones to more subtle white concrete benchtops.
Whether you opt for a traditional concrete or a concrete-look kitchen benchtop, green tiles will create the perfect complement to your new space. 
Caption: Bevelled green subway tiles are used in this modern design to clad a kitchen's breakfast bar, creating a textured surface finish in soft mint tones. The pastel green perfectly complements the dove grey of the concrete floor tiles to create a breezy and light vibe in this kitchen design scheme.
Combining Colours with Green Tiles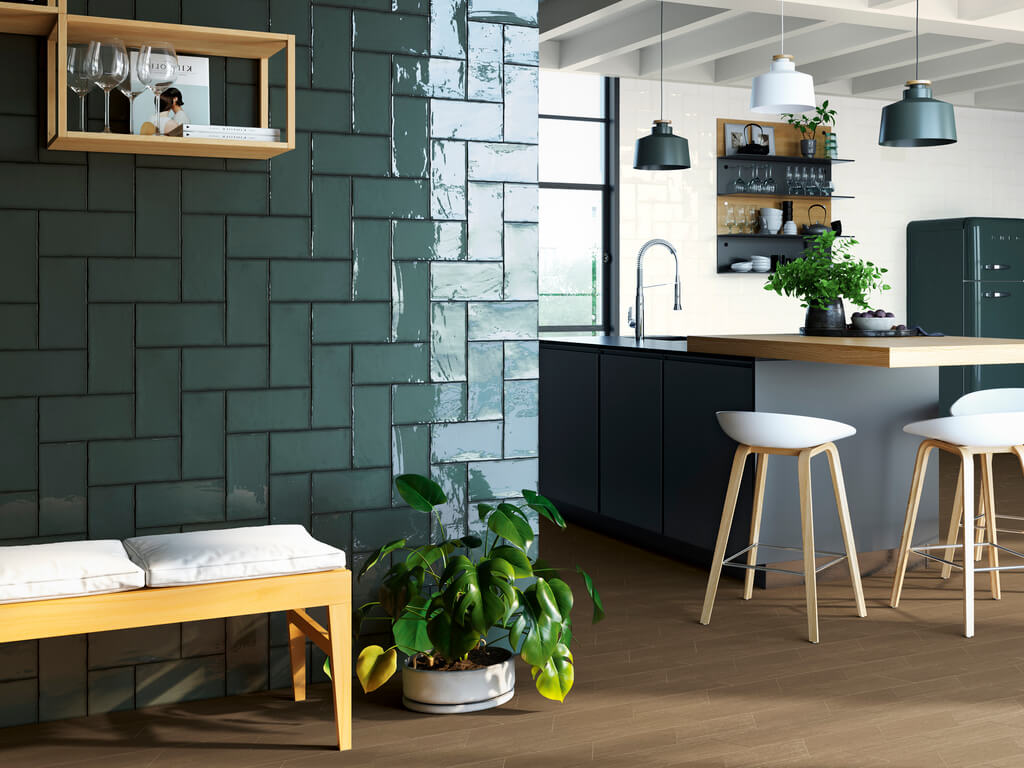 Source: ttsimports.com
When creating a colour scheme in the kitchen, it can be tempting to include a range of all your favourite materials, textures and colours. The key to creating that perfectly balanced look is to limit your material and colour selections and be strategic as to their placement in the space while ensuring each option will complement the next.
For those who are looking to include more than one colour in the kitchen, green can pair well with a range of options depending on the specific shade of green you have selected. Navy blue, gold, yellow, burnt orange and sapphire blue are some of the more popular options that can pair with various shades of green to create more of a colourful look in your design scheme.
These options can be used to create different interior design styles in your space, with orange and green being especially popular in retro-inspired looks for example while green and metallic gold will work perfectly in a classic, vintage-inspired look. 
Caption: Dusty, emerald green subway tiles are used to create a stylish feature wall in this modern kitchen design scheme. The deep green coloured tiles are paired with timber accessories and a soft, navy blue colour in the kitchen's cabinetry to create a well-balanced yet colourful and dramatic colour scheme.
Also Read: The 6 Gorgeous Wall Decor Ideas for Your Kitchen in 2021
Green Tiles & Grout Colours
Finally, you will want to pay close attention to the specific grout colour you pair with green tiles. This decision may vary depending on the shape and style of your new kitchen tiles; for example, Moroccan tiles will often feature a range of different decorative shapes such as the popular lantern style.
You can use a dark coloured grout in these sorts of applications that will contrast the colour of your tiles in order to emphasise their unique style and shape. Experiment with a range of different grout colour options to create the perfect designer touch in your next kitchen design project!
Green kitchen tiles are available in a large variety of shades, styles and shapes to help you create the perfect colourful finishing touch in your next project. These timeless tiles can be easily paired with a range of not only materials but also a selection of various colours for a unique touch in your home.