Italian Kitchen Design 2023: Get a Dreamy Kitchen With These Italian Interiors!
What comes to your mind when you hear the term Italian design? Maybe we'll all imagine glitz and glamorous things! After all, Italians are world-famous for their classy style not only in fashion but also in home designing. When it comes to architecture and interior designs, Italy has always been an eternal inspiration for the world. Italian interior is a flawless combination of classy & contemporary, and it is characterized by elegance and luxurious style.
This perfect blend of tradition and contemporary designs will give you a beautiful, comfortable space with a warm & cheerful ambiance. When it comes to Italian kitchen designs, they're the most popular worldwide interiors. With their visual appeal, cozy interiors, and brighten up spaces, they are the most talkative topic of 2023.
We all know that Italy is a country with rich food traditions, so it is quite natural that Italians are experts in kitchen styling and designing. Like any place in the world, here also, the kitchen is an essential part of the home. It acts as a hub where the food is at the heart of socializing, so it should be spacious and welcoming. The main focus of the Italian kitchen design is to create a simple and easy to maintain space. Also, it should be clutter-free without much effort.
 So if you're also looking for a modern kitchen transformation or just want to upgrade your existing kitchen, an Italian-style or Italian-inspired kitchen will be best for you. The design can be both traditional or modern, and they also offer highly personal choices in terms of materials and colors. What else do we need? Keep reading to learn about the Italian kitchen interior design and its main elements. We have also included a list of thirteen stunningly beautiful Italian kitchen design ideas so that you can create your incredibly stylish dream kitchen. 
Key Features Of Italian Kitchen Design
Every architectural style has its own features and elements. So similarly, Italian kitchen furniture designs are mainly focused on space-saving. It also includes creating an open minimalist looking place. Some of the main features are: 
Colorful Patterns
The overall color palette is mainly of neutral colors, but it can be combined with some vibrant shades such as lighter tones of purple, orange, red, and yellow. Traditional Italian kitchen surfaces are usually covered with glossy countertops with a mosaic or light-colored backspace. In comparison, modern kitchens have natural surfaces with stainless steel. 
Other than this, you can also use a pop of color in various ways, such as using dark cabinets with white countertops, kitchenware, or the use of artificial decorative items, or fresh flowers. 
Lighting Setup
Lighting is quite important in any kitchen design, right? Here in this style, natural lighting is mostly preferred. Pendant lights, chandeliers, and open windows are essential parts of the Italian kitchen design. Place flower pots on the countertops or tables and art pieces to decorate the space.  
Kitchen Cabinets  
As we already told you that this design is all about saving space. So you can observe that every Italian kitchen will surely have a lot of storage space. The wall-mounted cabinetry and overhead stainless racks are common in Italian kitchen design themes. Cabinets are usually in white or light-colored against the dark-tinged or wooden countertops to achieve a bright, fresh, and modern appearance. 
Organized Space
If you're planning to convert your kitchen into an Italian kitchen, you have to clean your cooking area deeply. This design is all about diminishing the clutter or unused extra stuff. With this mindset, you'll be able to create an organized cooking space with a modern touch of minimalism. These Italian kitchens have fewer but spacious shelving units for adequate storage. 
11+ Latest and Trendy Italian Kitchen Designs 2023!
One thing that is sure in Italian interiors is that their designs are constructed in a very classy way; that's why they all look charming and attractive. Below are thirteen traditional to modern Italian kitchen designs that will inspire you while redesigning your kitchen:
1. Linear Italian Kitchen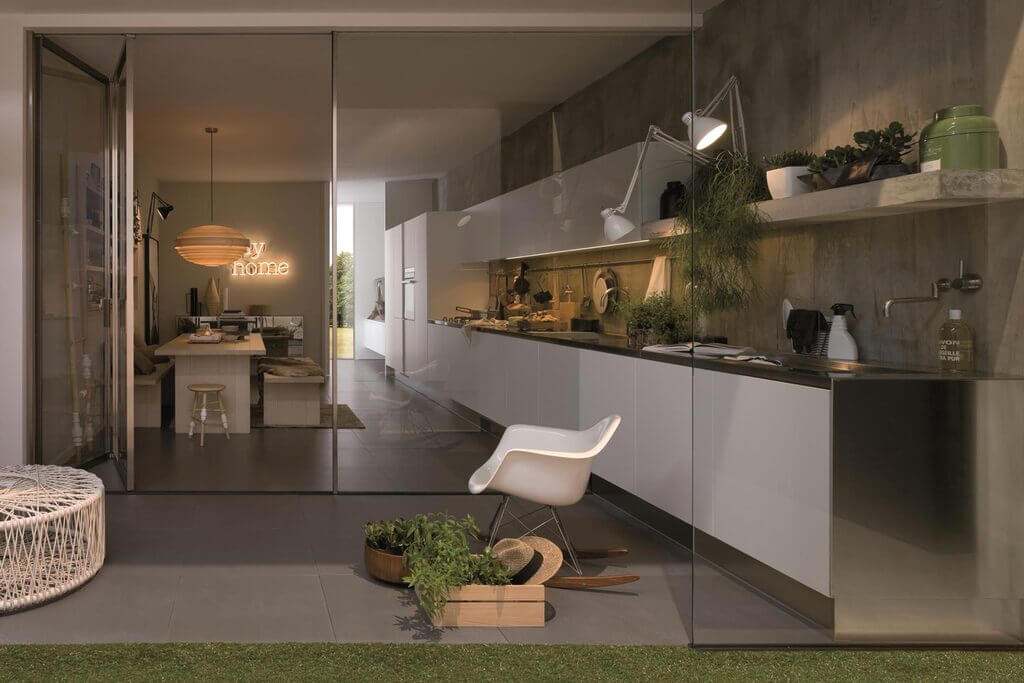 Source: studio971.ae
This kitchen has a modern build with a linear range wall display. This simply means that the entire kitchen will be on one side of the room. This is a pretty popular approach in kitchen designing. Because of this design, you'll get a good-sized dining area. The glass walls are perfect for these types of linear kitchens as they'll make the space feel large and open. 
2. Kitchen with Storage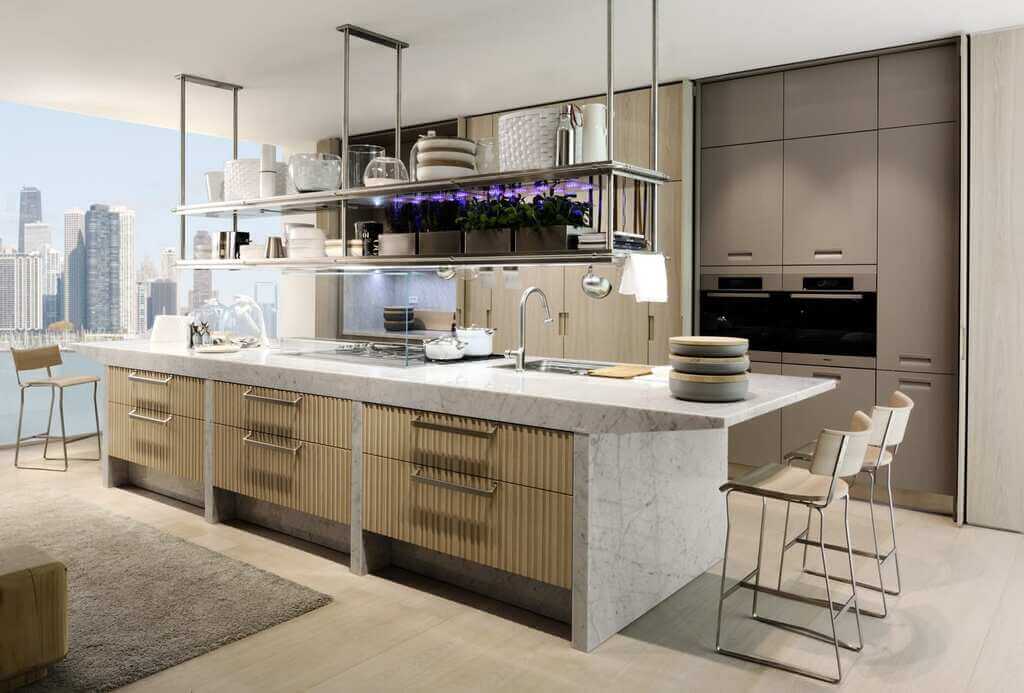 Source: storagequest.com.au
This kitchen features a lot of storage space. We all know, sometimes it is hard to store everything in small cupboards. Here the designers have extended the storage by placing the overhead racks. These Stainless steel racks are strong and will store all your cooking kitchen essentials and appliances. 
3. Lived-in luxury Kitchen Design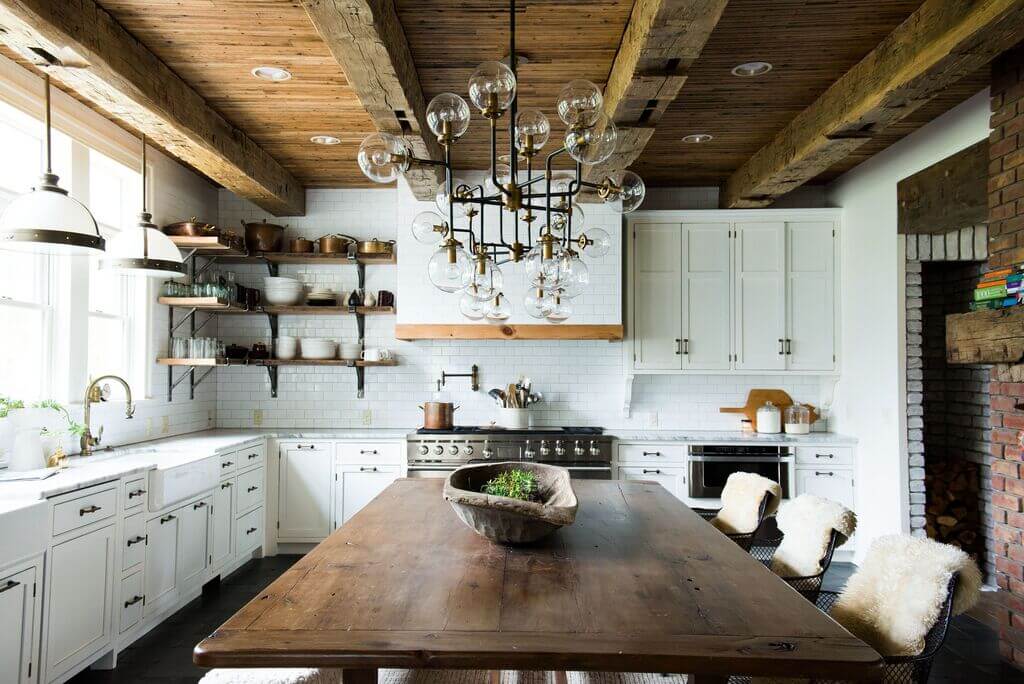 Source: pinimg.com
This Italian kitchen design has the feel of a villa, but it's like you're already living in it for many years. Here you can see the blend of elegance and modern interiors. It has modern storage and lighting, but the heirloom utensils or serving pieces have lived-in charm. 
4. Vibrant Small Italian Kitchen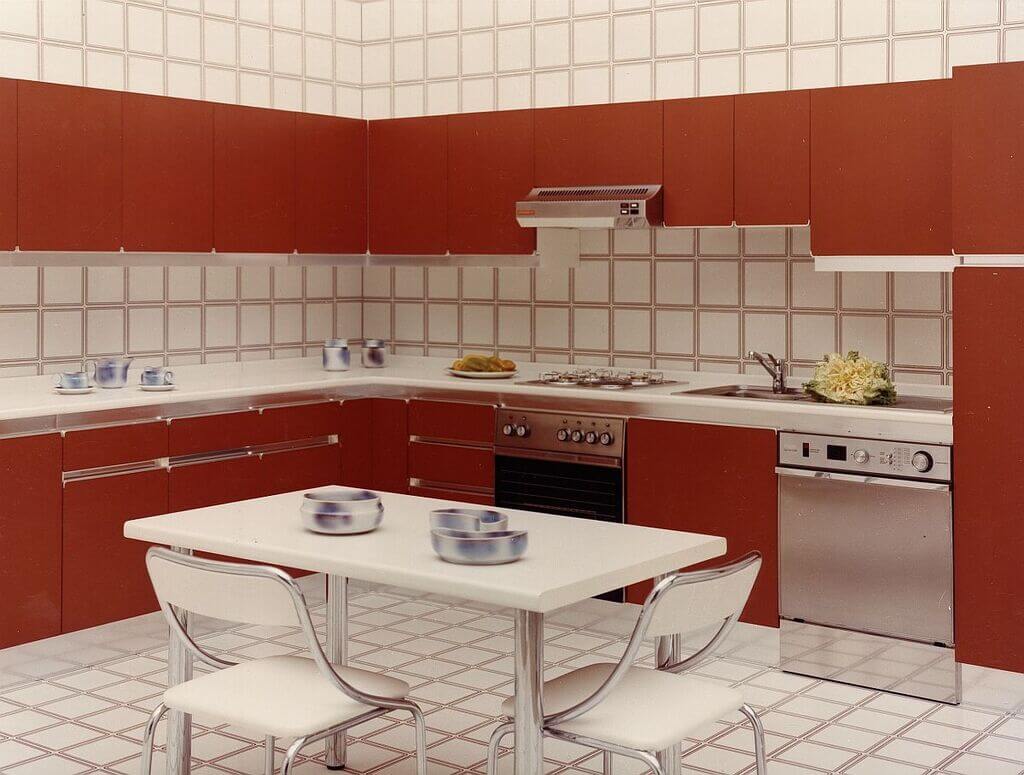 Source: decoist.com
Love the contemporary kitchen designs? Have this small yet spacious kitchen in a contemporary style. The transparent blue chairs are looking amazing with the white dining table on the oak wood floors. These little vibrant pops of color are adding a chic touch to the overall bright kitchen.
5. Pastel Shade Grandeur Kitchen Design
Source: thespruce.com
Look how beautiful this kitchen is! The green pastel shade on the wood is making a lively kitchen atmosphere. If you have ample space, you can go for this design that has a platform aligned to the wall. 
Here all the sections like washing, cutting, and cooking are in a linear style, which will make your cooking experience easy and effortless. The overhead cupboards are also painted in the same shade, which makes it feel like they're a part of the whole design. 
6. All White & Bright Kitchen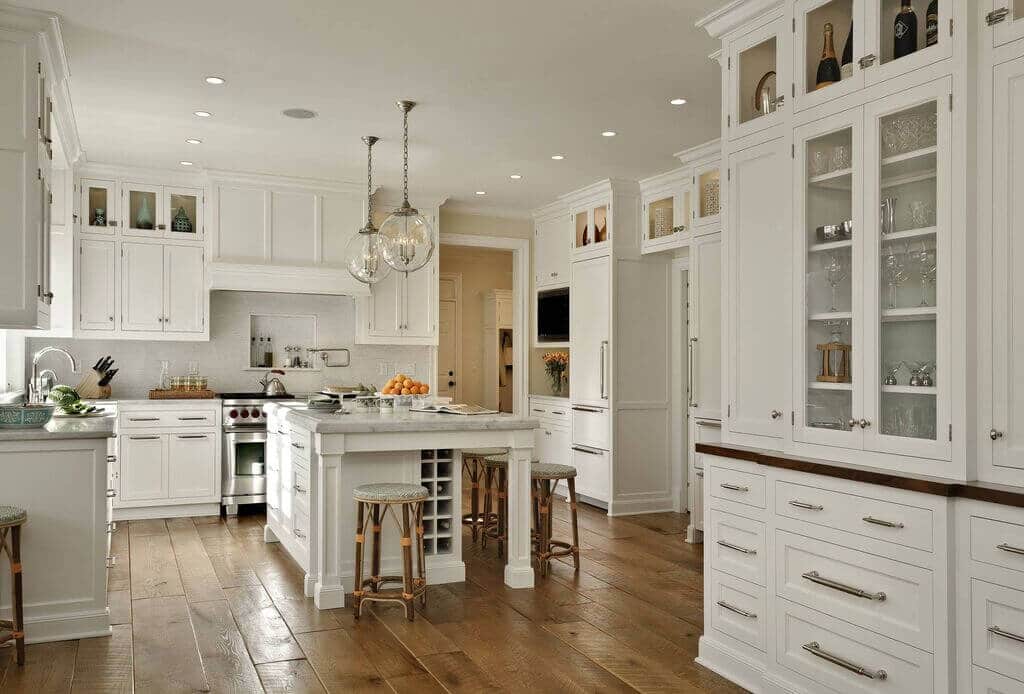 Source: pinimg.com
Italian kitchens usually have an all-white theme, and they look absolutely gorgeous. The above kitchen has everything in white but with the little hints of wooden elements. From globe pendant lights to the glass cutlery display, everything in here is so sophisticated and luxurious.  
7. Exposed Wooden Ceiling Kitchen Design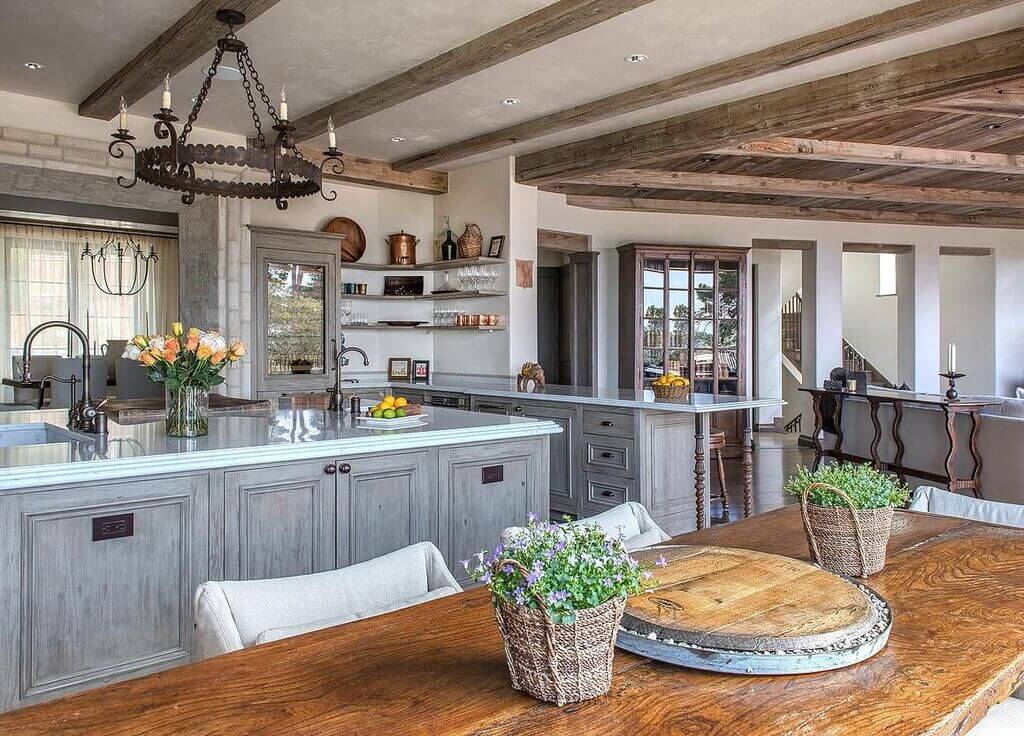 Source: pinimg.com
Are you designing an Italian kitchen? If yes, then don't forget about the exposed beams, because no Italian kitchen will be completed without exposed wood ceiling beams. You can pair dark wood beams on the neutral wall and ceiling color. But if your residence has conventional, flat ceilings, just install the faux beams. It will create the illusion that you're living in a rustic Italian farmhouse. 
8. Modern Italian Kitchen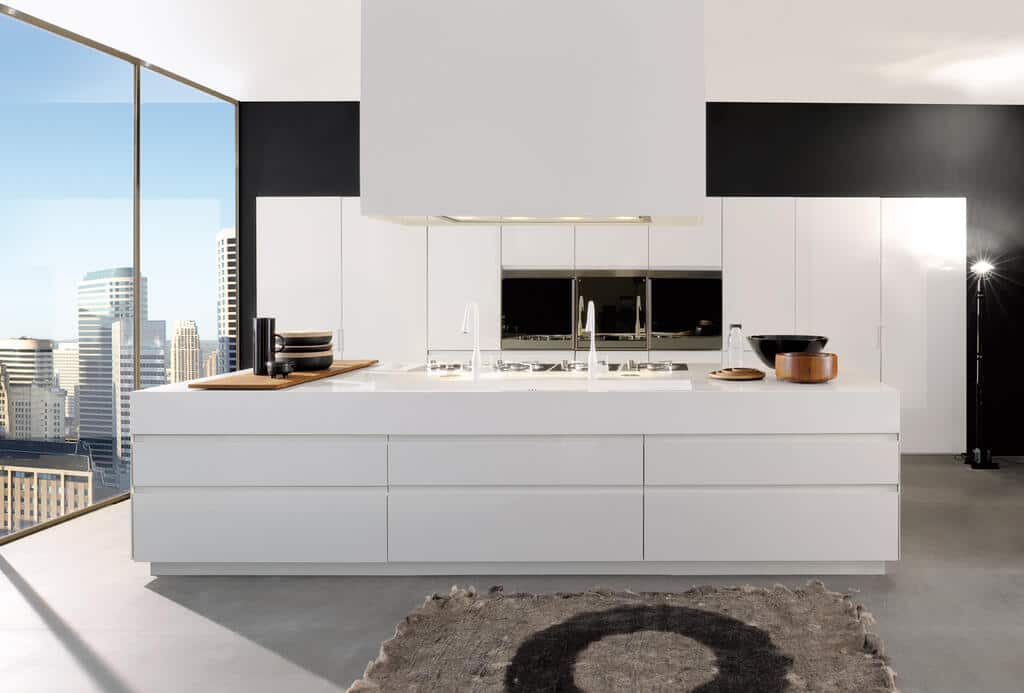 Source: home-designing.com
Isn't this stylish small Italian kitchen looking so appealing and awe-inspiring? Probably the high contrast color scheme is the reason behind this. Even though the space is small, the beautiful touches like black pendant lights and white backsplash and cabinets are making the whole kitchen a different look. The various pops of contemporary black shades in this clean white kitchen are creating a dynamic and modern appearance.
9. Contemporary Kitchen Design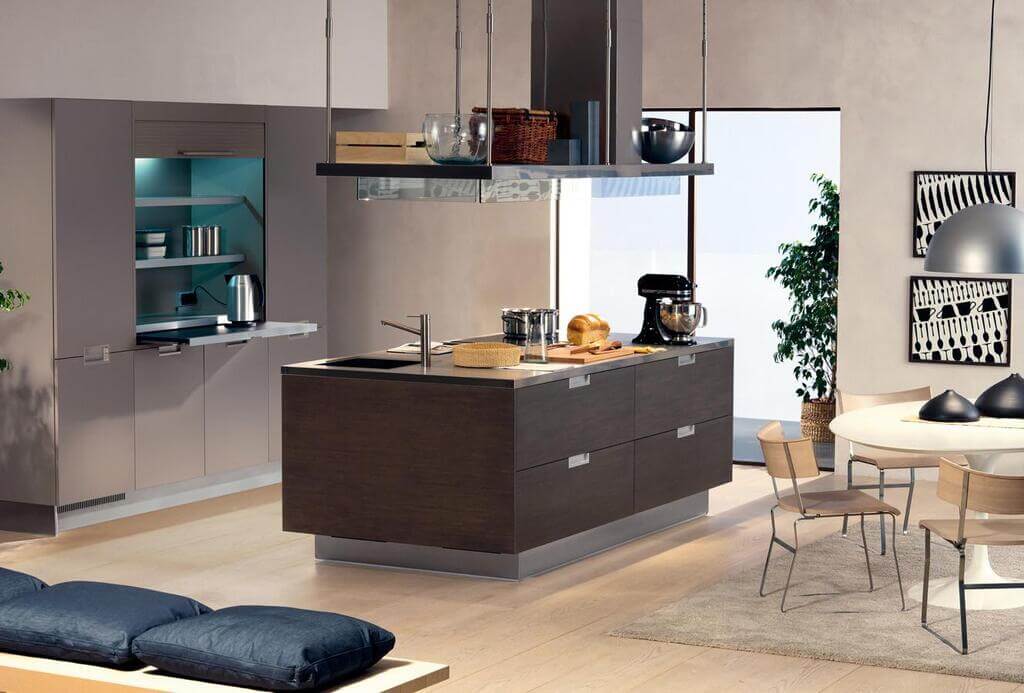 Source: decoratorist.com
This Italian kitchen design is ideal for compact spaces. It is a well-designed space with recessed walls. You can also include recessed walls in your existing kitchen to make your cooking area appearing larger and open.
10. Italian Kitchen For Small Space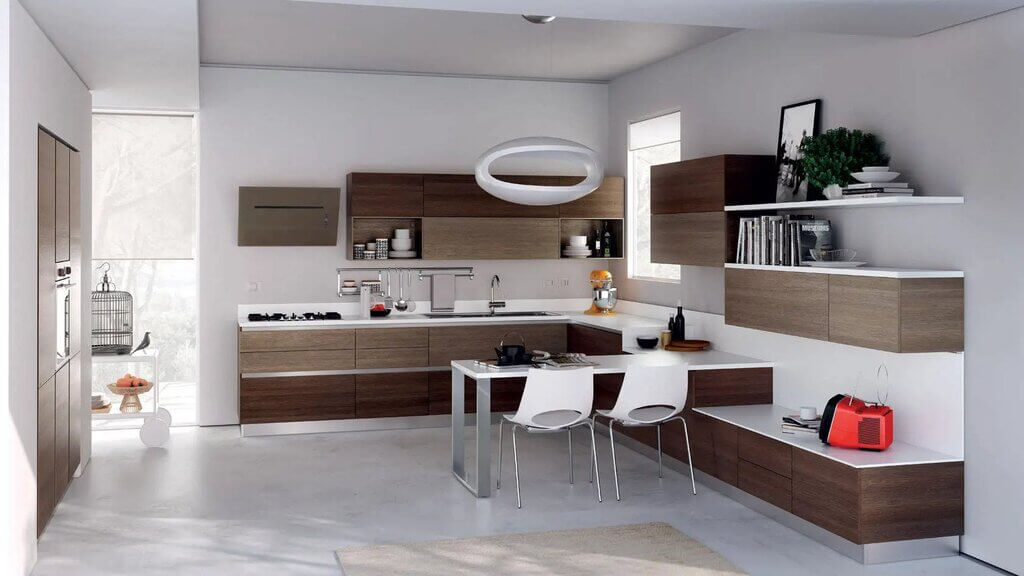 Source: archiexpo.it
Another brilliant tiny kitchen design idea is this one. It has an interior with a yellow backslash that creates a super cozy ambiance. Look how floating shelves are making a visual appearance. These little details are basic design elements to build a small yet captivating kitchen. No doubt that this design is modern and super cozy to work in. 
Also Read: 6 Tips For Your Kitchen Design
11. A Tiled Kitchen Design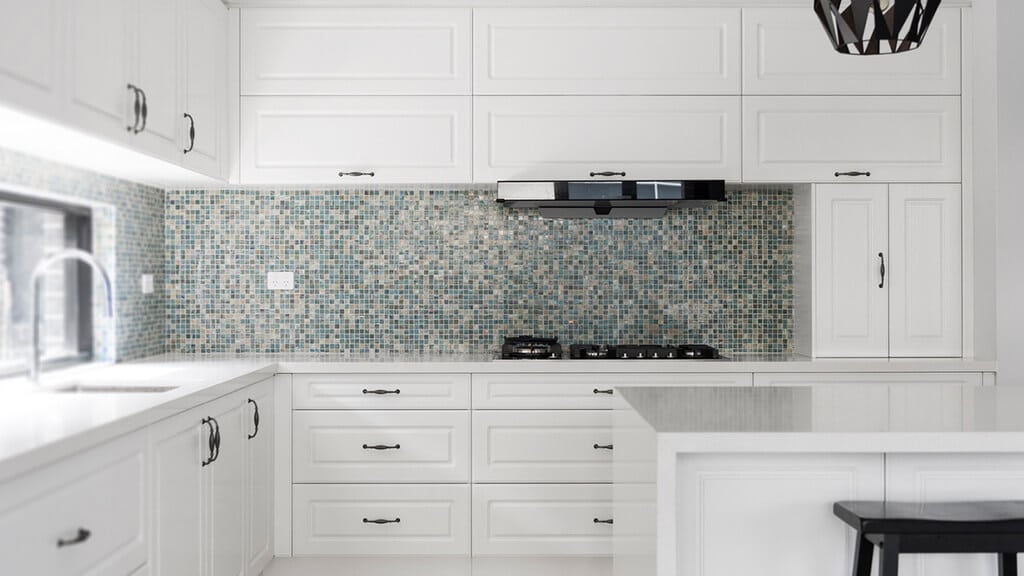 Source: ambertiles.com.au
If you're searching for traditional Italian kitchen designs, so let us tell you that a tiled countertop or backsplash is an important feature. They all have a ceramic application on the surfaces of the kitchens. This will help in easy cleaning and also bring some pattern design into space. You can also include some floral ceramic patterns or ornamentations on the walls to give a vibrant touch. 
12. Double Kitchen Island Design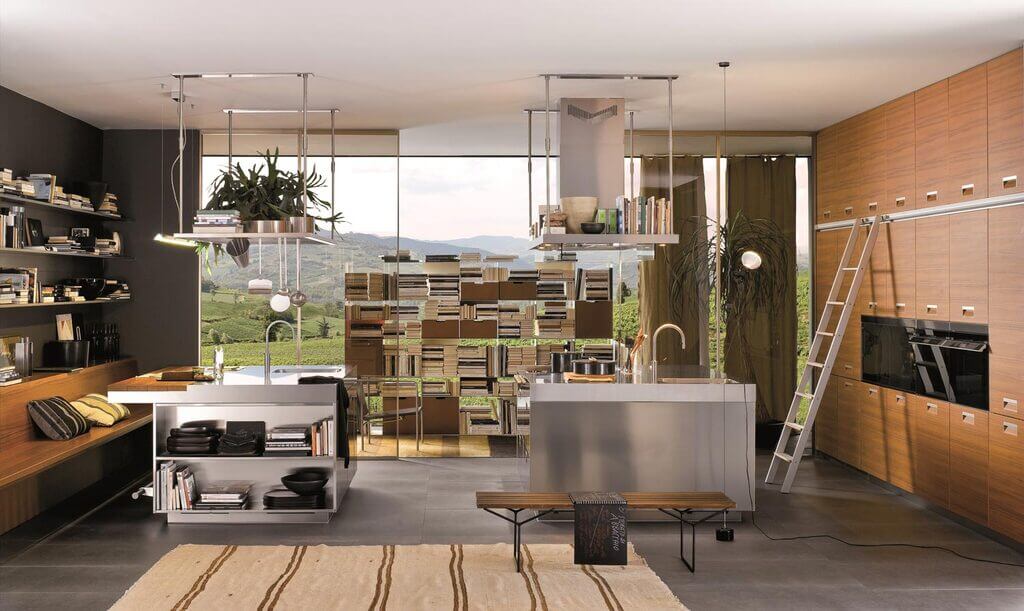 Source: studio971.ae
Is your existing kitchen space not enough for you? This happens with many people, so the best solution for this problem is to use double kitchen islands. Yes, look at the above cooking area, here two kitchen islands are gracefully placed at a little distance. The recessed cabinets in teak wood and the built-in cabinetry are well designed. We're pretty sure that this Italian kitchen layout will make your cooking preparations a little less hectic.
13. Vintage Italian Kitchen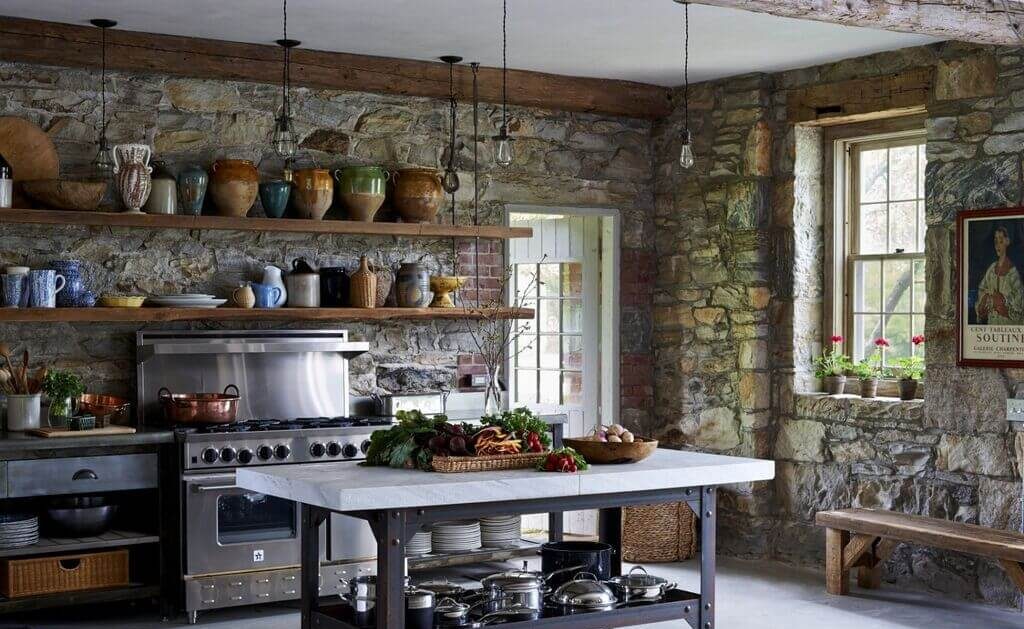 Source: pinimg.com
With the old vintage and cozy charm, this kitchen is super noticeable. Look how beautifully the pops of color like blue lights and black chairs are breaking the overall white appearance. This will also create a bold high contrast in the overall modern and charming kitchen.
Wrapping Up!
So what are your thoughts about Italian kitchen designs?  With its rich culture and tradition, Italy makes a considerable landmark globally. Italian kitchen design is all about creating a free-flowing kitchen space. If you want to achieve an authentic Italian kitchen interior, just make sure that your area is organized with specific things in specific places and there is a lot of room for moving around. 
I hope these modern kitchen design ideas have inspired you to build your dream Italian kitchen decor. Also, if you love these kinds of trendy blog posts, share them with your friends and family. Keep coming to Architecturesideas for more home improvement guidance and architectural styles.