Although the Italians do not pursue minimalistic to the same degree as the Japanese or Scandinavians do. However, in Italian style decor, less is frequently more. Italian houses nowadays tend to be modest, clean, and simplistic. We all know that Italians have a fondness for high-end fashion. As a result, it's no wonder that many people like incorporating artistic flair into their homes as well. Let's find out some key elements of Italian style décor that can make your home look simplistic yet majestic at the same time.
These are decorative elements that will make it unique, with an unmistakable style.
Infuse Warm Colours into Your Home
Even though neutral tones or alternating white/black are still the most popular colour combinations selected in contemporary Italian houses, the Italian decor style isn't hesitant to be daring, choosing to use a different palette of colours, especially warm terracotta tones. Start with a neutral and yet very intense and unique colour palette, such as bright red, gold, grass green, terracotta, purple, deep mahogany, and pale blue.
These are just a few of the colours that are available and usable. A simple Tuscany-style palette, for example, should include warmer hues with no more than five colours to avoid colour overcrowding within the decor. Then, to add a distinctive touch that will definitely beautify the decor composition, you can include Italian-made or designer centrepieces to décor a corner with warm colours or mix and match decoration pieces with the warm colour palette to infuse the theme and furniture.
Touch Up with a Designer Piece to Your Décor
It is not unusual for Italians to save and scrimp, choosing furnishings from chain stores, to purchase one or more pieces of stunning designer furniture for their homes to give a unique design touch. Italian interior designers are known worldwide for this key characteristic: the ability to create a combination of a modern aesthetic with the delicacy and grace of a more traditional form of furniture.
It illustrates the Italians' penchant and propensity for mixing the old and the new in the creation of their home design. For instance, the use of colourful pottery or embossed and handmade print crafts can add a delicate contemporary touch to the furniture and toning with the colour palette of the décor.
Another renowned hallmark of Italian interior design features is definitely the use of natural materials. In Italian interior design, the blend and mixture of wood, stone and metals are done seamlessly. So it's the lovely and beautiful mosaic tile floor, the opulent marble countertop, and the furniture's metal and wood details incorporating Italian designer pieces that will add glamour and sophistication to the theme.
Add Artistic Italian Painting or Wall Art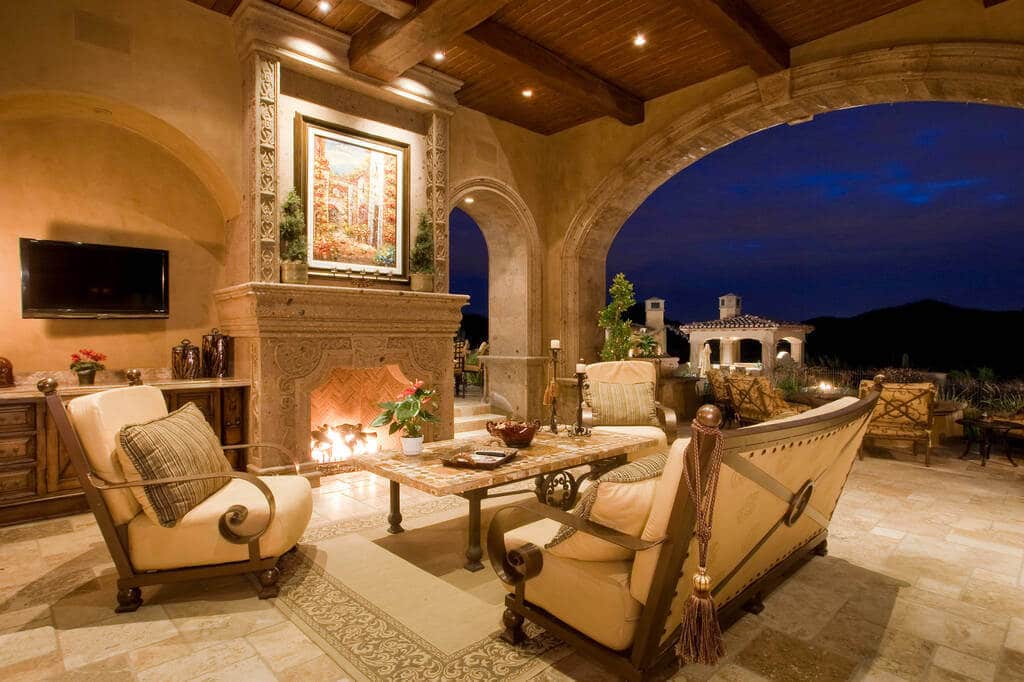 An additional idea, useful for embellishing your decor is the use of paintings.
Italian paintings are a fantastic and great way to quickly create an Italian feel and atmosphere.
A massive and solid painting of a stunning and beautiful Tuscan landscape hung above the sofa or a depiction of the immense canal grande in Venice above the fireplace is an excellent and great place to start. Then add other wall elements like a wall grille for texture.
However, mirrors are also a useful decorative element, especially if you want to give the room a sense of breadth and depth.
Note that a gorgeous, elegant hanging mirror serves numerous uses, from its apparent usage to acting as a piece of wall art. So, incorporate a reflective glass – perhaps placed as opposed to your painting – to make your space feel more sumptuous.
Finally, in Italian décor, pendant lights are a typical type of illumination that may be used to frame a doorway or emphasise a fireplace.
The lighting points, placed in the right position, are essential to give your home the right visibility.
A gorgeous crystal chandelier or something more rustic with the traditional appeal often hangs in most Italian ceilings. Ready to give your home an Italian makeover? Check out the items available at the Original Venice Shop to inspire your imagination.