Your Guide to a Spicy Colour Palette for Your Home
This summer, if you're looking to revitalise your décor, then why not opt for the latest design trend that sees a fiery warmth brought into your home! That's right — a spicy colour palette is a way to go this season, adding an atmosphere of sultry and seductive heat to your room, with colours that are almost good enough to eat. 
For the living space or dining room, it's all about adding pops of colour to the furnishings and accessories of the room. Elaborate rugs and throws used generously will create an inviting and warm environment, whilst a vibrant table cloth will match any spicy elements of your cooking. 
If you are decorating the bedroom, you could opt for Designers Guild luxurious bedding for example, which will offer you a range of sublime floral patterns in exquisite colourways to insert vibrancy into the room. Or you could add layers of warmth in the texture of your bed linen, using a rich velvet in a striped pattern, as well as venturing into tones of hot fuchsia. 
Whatever way you decide to inject some sizzle into your home this summer, from painting to the walls to accents of colour in accessories, here are the tones you should go for to introduce a spicy colour palette to your décor. 
Rich Earthy Tones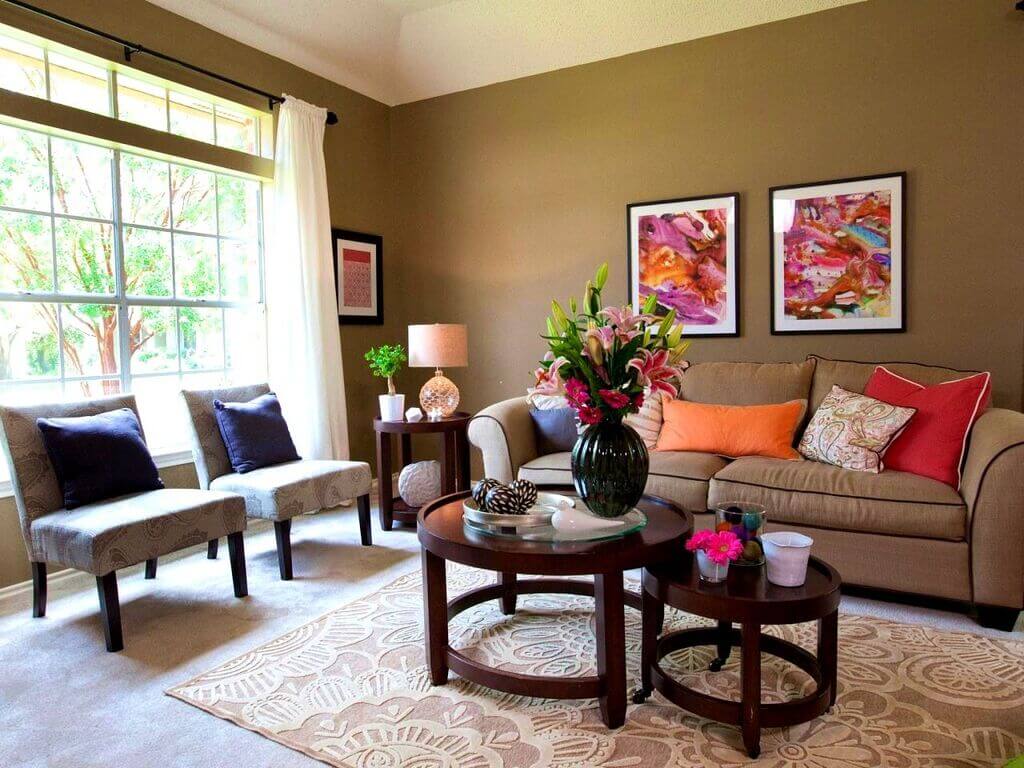 Source: pinimg.com
Embracing a warm, natural palette is a great introductory step into the world of spicy interior design. With more subdued hues, these earthy colours can act as a canvas for more vibrant aspects elsewhere, whilst still developing a sense of homely warmth. 
Shades of terracotta, burnt orange and saffron are spicy yet sophisticated, and scream of the Mediterranean and the glorious summer haze that comes with it. If you dare to be brave, you could use orange tones on your wall, but the best way to use this colour in your decorating palette is in small doses. Bits of orange here and there in your scatter cushions, throws or rugs, for example, is very appealing, especially when paired against a crisp white wall, and rich brown wooden flooring or furniture.  
It's also effective when you use multiple shades of the same colour, to add depth to the decoration of the room, and use pops of more punchy colours rather than overwhelming the senses. It can be stylish to use a palette of opposing colours to balance the strength of each shade. For example, indigo or deep blue can be a pleasing addition to your orange colour palette, and as opposites on the colour wheel, can work harmoniously to refresh your home décor this summer.  
Sizzling Hot Pinks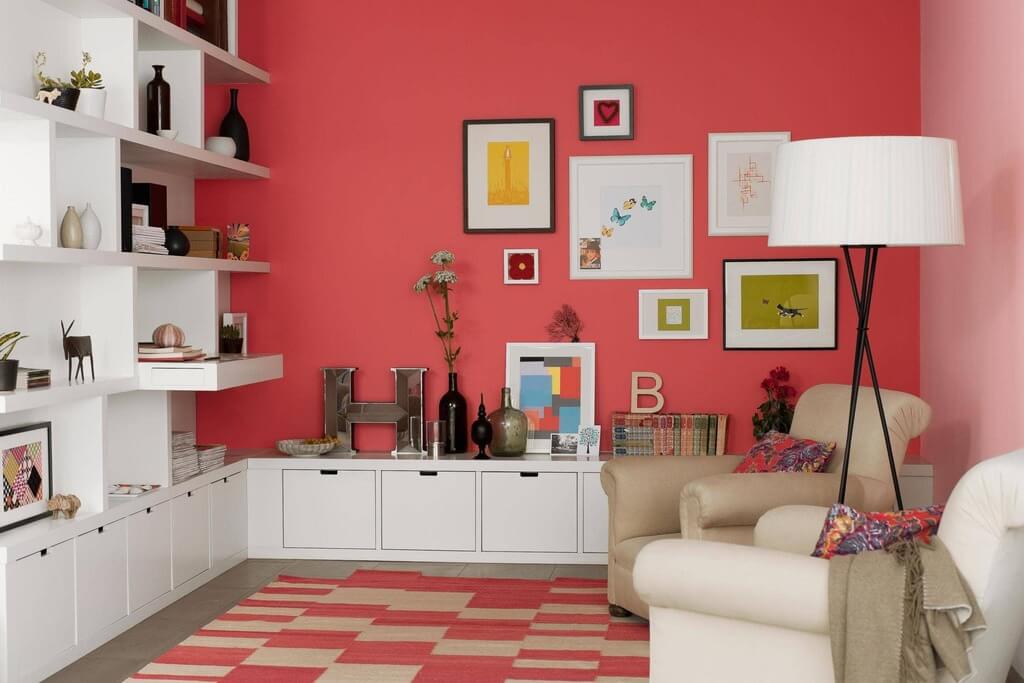 Source: homesandproperty.co.uk
If you'd like to take inspiration from an Indian summer mood board, where the hallmark of interior design is the use of bright and vibrant colours, then why not try introducing some hot pinks into your décor? Bold shades of fuchsia or magenta can make a statement when painted on the entirety of your walls but work best when incorporated in the rich textures of the room, such as in cushions, curtains, bed linen or throws.
The key to using these daring colours is to balance them out with light, neutral tones such as grey or beige, which can be brought into the room through furniture or the wall colours. The femininity of pink is paired beautifully with a grey backdrop, which can appear cold and uninviting. However, this colour combo will certainly heat things up in your décor this summer. 
Also Read: 14 Colour Combination for Living Room That will Reflect Your True Personality
Ochre and Sandy Yellows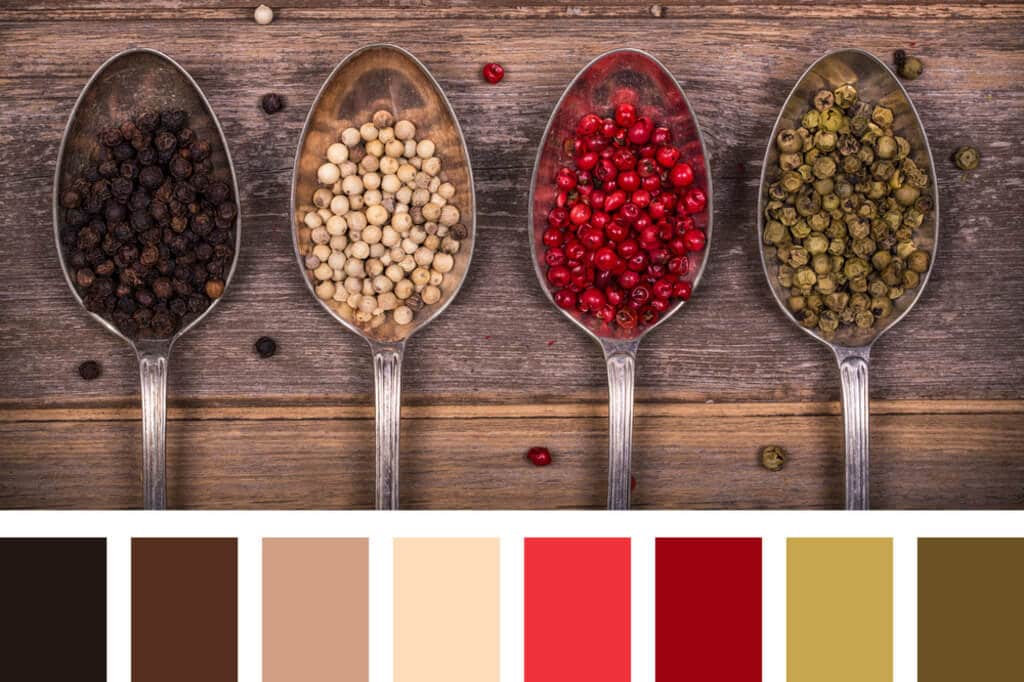 Source: googleusercontent.com
The epitome of summer heat and brilliant sunshine, shades of yellow are a given when it comes to a spicy, warm colour palette for your interior design ideas. But proceed with caution, as using too much of a primary shade of yellow can leave your room looking more garish than glowing, and leaning on the side of fast-food restaurant vibes. 
The best way to use a bright yellow colour to warm up your room is through pops and bursts, rather than bombarding the senses with it. One design technique is to use a neutral background palette of white, tan, taupe or grey in the walls, flooring and furniture, and add punches of colour here and there in joyfully yellow cushions, furnishings and accessories.
If you really want to spice things up and be exciting in your wall colour choices, decorate in warm ochre tones or golden sandy shades, which are a more subdued version of the colour yellow, without compromising on the warmth it can bring. These desert shades will transform your living space into a rich, cosy paradise.