Can Tiles Make Your House Look Better
The way you decorate and beautify your home is almost synonymous with the kind of personality you have. No matter how well successful you are in your career or personal life, a messy home is sure to destroy that positive image. In such a scenario, it becomes extremely important to be able to shape up your dream home in the best possible manner.
When we say that the home should be shaped beautifully, it has two basic aspects to it—the basic structure of the home and the accessories and decoration to carve out that final look. But this is easier said than done. Even the biggest of personalities hire professionals to translate their personal vibe to their spaces. 
Although the initial years of the 2010-2020 decade saw stones and marbles trending, the latter part of the decade has almost assumed and established tiling as the only best alternative for flooring and wall designing, and this trend is obviously continuing in 2022. Earlier, in flooring and wall designing, wallpapers, posters, and paints had a big role to play, but this has now been overtaken by tiles.
Tiles have become a mandatory addition to the home decor now, and are much more than a luxury item that they were considered earlier! After all, they have the potential to give you everything which their predecessors were giving, and more! Whether it is a complete glammed-up look or a very subtle and neutral one, tiles throw a world of opportunities at you in making your own style statement.
Following are a few designs that interior designers are swearing by. Trust us, they will completely resonate with the current trends and help you understand how to pep up the look of your house:
Feature Walls: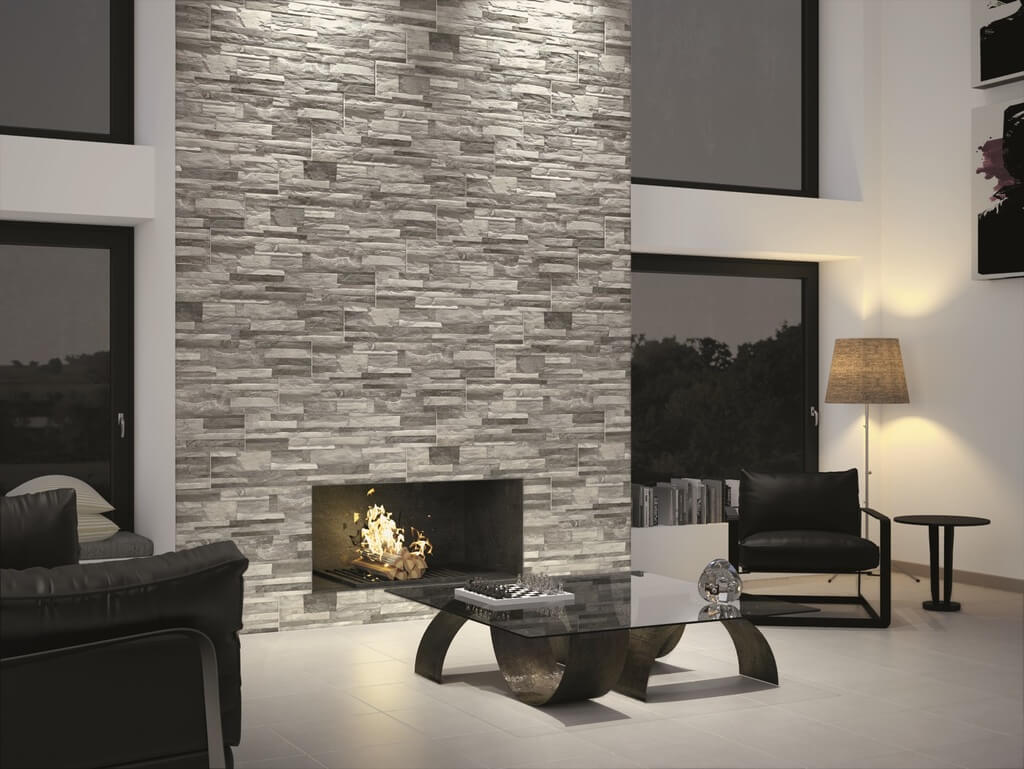 Source: directtilewarehouse.com
So your complete home has been reworked on, but that one wall that is like a centerpiece of the house still seems a little incomplete with the normal boring tiling pattern. Professionals suggest that this wall can be adorned with scintillating colors and be made the highlight of the house. It could be the center wall, the backsplash of the fire-place, or in simpler setups, even the main wall of the drawing-room. 
Try Carpeting it:
Another latest trend in the market is creating the carpet effect, but by using tiles. A carpet or rug adds that little extra to the room. However, with time, it can change or wear out. To create a much stronger and bolder look, professionals have started to experiment with tiles so that they can give the effect of a rug to any flooring. This can help segregate areas from the main part of the house. Say the open kitchen which has open dining attached to it can be demarcated with the help of a tiled carpet.
Extravagance

:
Is extravagance your way of life? Do you want that lavish richness to ooze out of your lifestyle? Is living life king-size, and showcasing it that way the mantra for you? Then this is the way your design should look! A mesmerizing tile range Eleganz from Orientbell has stunning options to choose from. These tiles are simply a luxurious experience.
Give it a New Dimension:
When from television to the cushion covers at home, every experience you are going through has added an extra dimension to its palette, why should tiles be left behind? Three-dimensional or 3D tiles give that extra edge to your walls. The walls can be adorned with glass three-dimensional wall tiles and the overall look can be glammed to replicate a hotel room in your very own bedroom!
Subtle Beauty:
If your taste is sophistication and you believe in keeping it low-key, tiles can still do the trick for you. Orientbell's porcelain floor tiles have such subtle shades that a contrast matching can give a very elegant look to your home! These tiles with very neutral and next to natural shades will fulfill your requirement of giving a minimalistic yet neat look. For those who are looking at making their homes an embodiment of serenity, we bet these tiles will suit their style.
Contrast with the Highlights:
Highlighting is one way, which helps you gain that delicate balance between the subtle and the glamorous. A panel of highlighter tiles is generally ideal for spaces like kitchen backsplashes and flooring too. Highlighting not only gives an elevated sense of recognition to the subtle tiling base but also makes sure to give that little extra touch to every individual space. You can choose to contrast colors or patterns or textures to come up with a unique solution.
Abiding by the Geometry: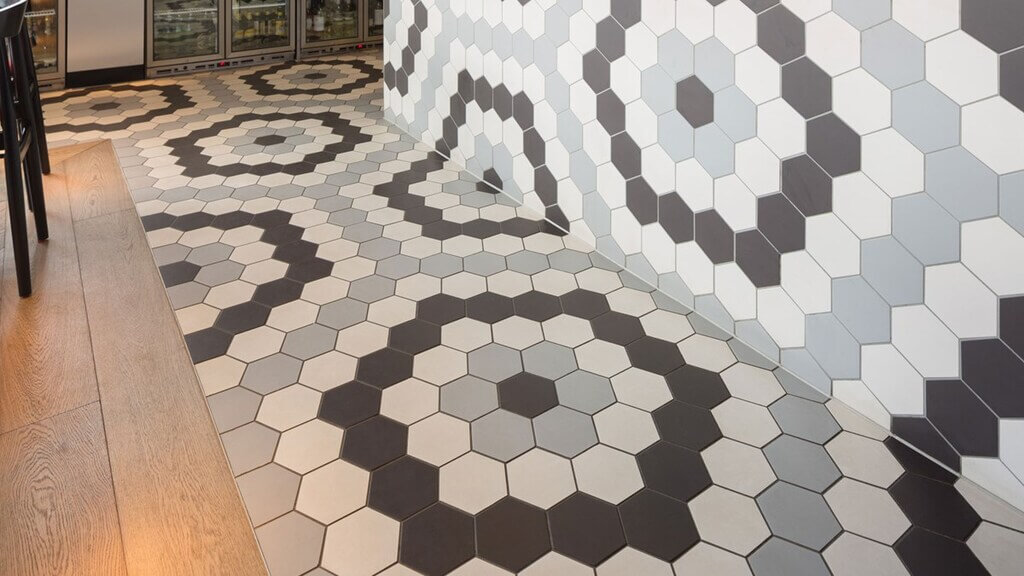 Source: designworkstiles.com
Every individual style statement can say a lot about the individual residing in it, and the utility of the space! You could go for the eye-catching Herringbone pattern for your space, which is merely rectangular tiles placed in a criss-cross manner. This looks amazing in backsplashes as the pattern can give the area an elevated and pronounced outlook. The other alternative could be making zig-zags, where you can put a single color, or decide to contrast two different colors placing them in a zig-zag manner.
This will give the needed highlighter effect, which will make space look bigger and wider too. Then there are tiles with geometrical designs too that you could check out to create a unique look. The range available with Orientbell will throw many options for you. You could experiment with geometrical patterns as per your choice, and the opportunities are really unlimited.
Also Read: Using Tiles Serves as the Best Option for Any Home Improvements
Patterns are the Patrons:
One could zero down on a number of patterns, essentially giving the room a decked-up look. So whether you decide to give your living space the honeycomb effect, or decorate your bathroom with tiles that look like patches on the skin of an animal, the choice rests in your hands, but patterns are something that the interior designers effectively swear by. 
So let your creative juices flow and come up with a combination and pattern that suits your style and taste.