How to Give Your Kitchen a Makeover on a Budget: 6 Best Tips
Most people would love to have the kitchen of their dreams, but kitchens are notoriously expensive to makeover. This doesn't mean that you can't elevate the look of your kitchen on a budget, however. Sometimes, all you need is to be a bit creative and be ready to make a few compromises. You could also be surprised by how seemingly minor changes can completely transform the look of a kitchen. Let's take a look at affordable ways to give your kitchen a makeover.
Have the Cabinets Repainted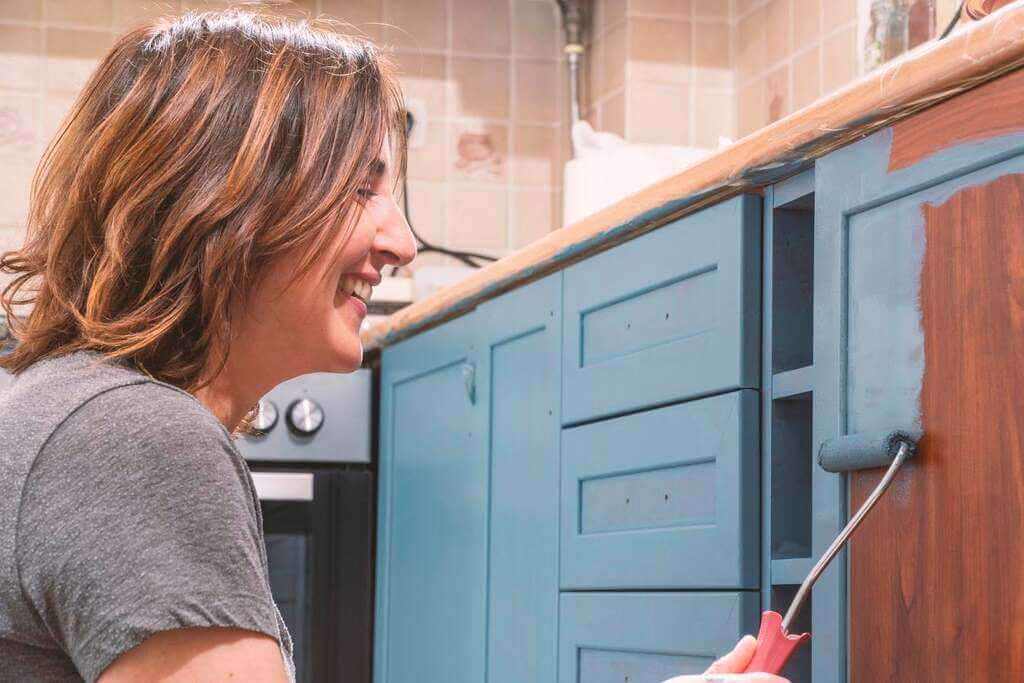 Source: bobvila.com
One of the first things you could do is have the cabinets repainted. While this is a job some people think they can handle on their own, we suggest that you hire a professional instead unless you're familiar with things like degreasers, primers, and paint guns. 
We should also add that you can test the techniques you are going to use on similar furniture you no longer use when it is available. Doing a practice learn whenever planning a kitchen makeover on your own is a very good idea. This will let you know if you can handle the project or not. 
You can't repaint cabinets with paint and rollers and expect to get professional results. If you don't want to get streaks and prefer your cabinets to look brand new, look for a contractor who specializes in painting cabinets and cabinet restoration.
Get New Kitchen Furniture
The second thing you could do is look at your current kitchen set and see if you could go for something more modern. The good thing about modern decor is that it's more minimalistic, and you can get something that will look luxurious while still being pretty affordable.
First, start looking at kitchen dining room tables. Be very careful to pick a table that will fit in your dining area and will allow for some moving space around it. Picking the right shape is also very important. If your room is narrow and you need to sit with a lot of people, then a long rectangular table would be a better pick. An oval table could also work there. If you have a small square dining space, go for a small square or round table.
As far as kitchen dining room chairs go, we would suggest that you go as simple as you can. It's easy to go overboard and pick chairs that clash with the table. Try to pick chairs from the same period with similar colour overtones and the same level of formality. Looking for similar style elements like legs and feet will also help.
Use Veneers Wherever You Can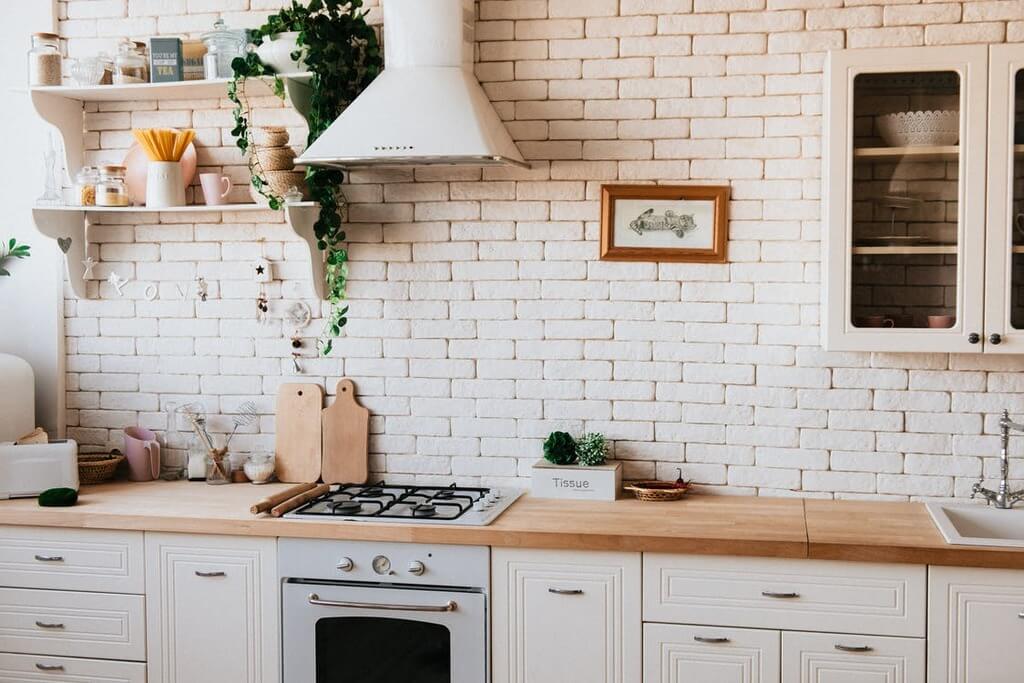 Source: pexels.com
One of the best tricks you can use to make your kitchen or any room look more luxurious on the cheap is to use veneer materials. You could use a marble veneer for worktops, for instance. You could also create a beautiful and affordable rustic backsplash by using a brick veneer. Or you could use it to create an accent wall. Doing this alone could dramatically change the entire look of the kitchen and you could do this yourself too, so consider the option.
Remove Doors From Your Cupboards
This is something that few people consider and that can instantly create a different feel for your kitchen. Just remove the doors from your over-bench cabinets. Alternatively, you can also replace them completely with some open shelving. Keep things simple and you end up with a modern, airy look. If you want to take the project even further, you can line shelves with some colorful paper or paint them. 
Also Read: 5 Simple Ways to Give Your Wall a Makeover
Get a New Benchtop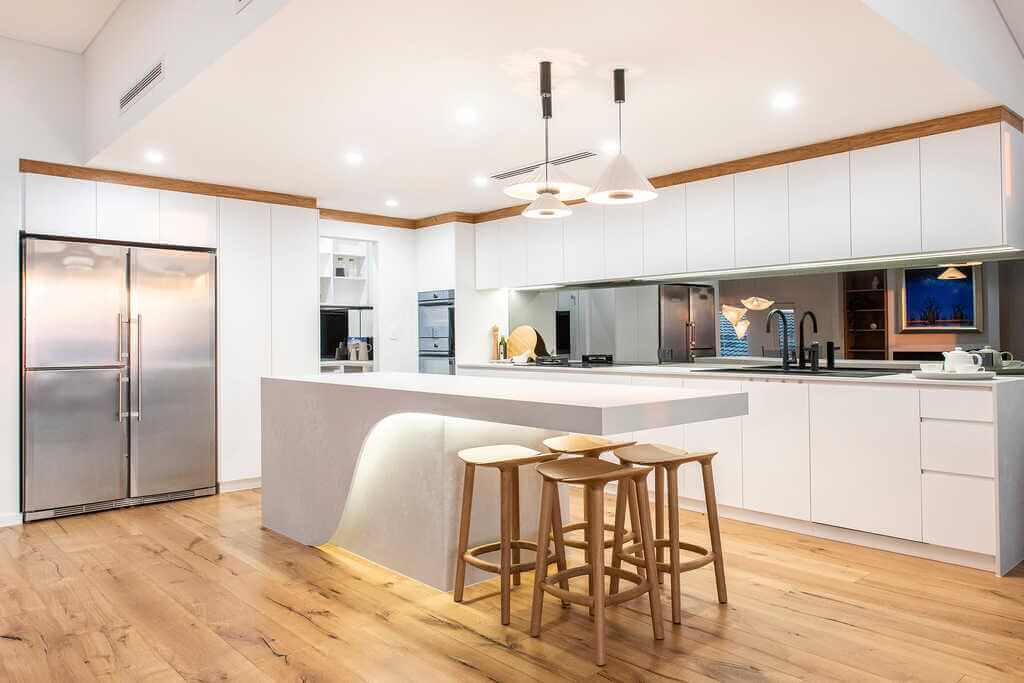 Source: caesarstone.com
When you have been using your splashback and benchtop for a long time, it surely does not look great. Making changes can easily create a better appearance. Fortunately, you have several options. Obviously, you can replace the benchtop. You can choose out of several really affordable options and if you are good at DIY projects, this is also something to take into account. It is not difficult to resurface them with some tools you get from the local warehouse. 
Also Read: 29 Blue Kitchen Cabinets Ideas that are Bold, Edgy & Beautiful
Renew Light Fittings and Power-Points
Spending just a little more on some brand new power-point covers can do a huge difference in how the overall design of the kitchen looks. You can also do this with window coverings, light fittings, and light switches. 
When your budget allows it, try to also renew some light features. Lighting is paramount for the atmosphere of the kitchen and you want to make sure every single work area is properly illuminated. 
As you can see, you don't necessarily have to spend thousands of pounds to take your kitchen's look to the next level. All it takes is a little bit of imagination and making the right decisions.