Thinking it may be time to renovate your flooring? An illuminating survey revealed that a whopping 30% of homeowners dislike their flooring more than any other feature in their homes. The cornerstone of any stylish space, floors can make or break a room, and getting them right is the key to harmonious interior design. If you're considering a home renovation, why not start from the ground up and get inspired by the top 10 flooring trends.
1. Engineered Wood Flooring
A low-maintenance and affordable alternative to traditional hardwoods, engineered wood flooring's stock is on the up. A hybrid wood floor of sorts, the flooring type comprises of a plywood core finished off with a solid wood plank. This makes it cheaper than its hardwood counterparts, while maintaining the strength, look and feel of the much sought-after material.
Engineered wood comes in a wide variety of species and finishes, from deep mahogany to airy ash. It's also highly sustainable due to its economical use of solid wood per plank. A distinct engineered wood flooring trend among designers has been a shift towards wider planks. This trend expands a room, creating a wider and more open space perfect for modern and traditional homes alike.
2. Environmentally Responsible Materials
The modern homeowner is becoming more conscious of the impact their choices have on the environment. Eco-friendly flooring has been a hot topic throughout the year, veering towards natural, sustainable flooring over synthetic products.
A rapidly developing option for those looking to lower their carbon footprint has been bamboo flooring. Easy on the eye as well as the environment, this organic renewable material is great for modern décor. Its noteworthy durability also makes it perfect for high traffic areas around bustling family homes.
Other non-toxic and responsibly sourced flooring materials, such as linoleum and cork, have also surged in popularity. Particularly on-trend, reclaimed wood flooring has made its mark. Filled with rustic charm, the natural wood is taken from old buildings and barns before being recycled and given a new lease of life as luxury flooring. A trend that's here to stay, eco-friendly flooring is indicative of an overall attitude shift in interior design.
3. Wood-Look Flooring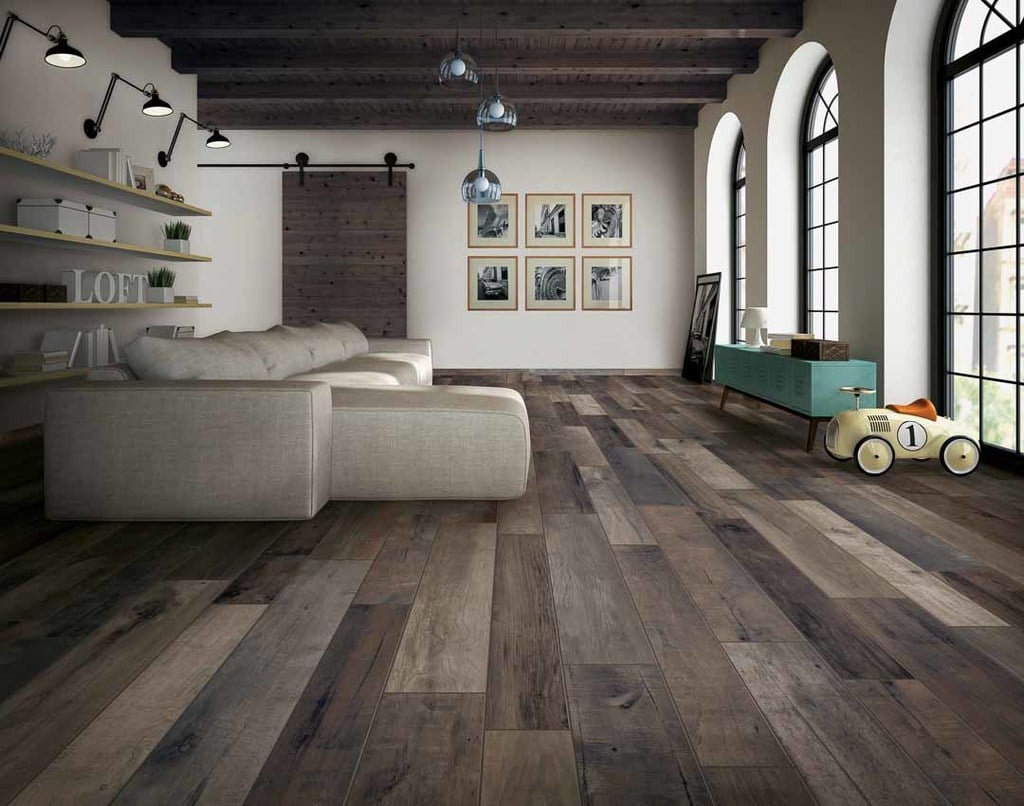 While some flooring trends ebb and flow, the hearty look and feel of wooden floors is timeless. The price of solid wood flooring makes it a distant dream for some homeowners, with more affordable options available to capture the essence of a wood floor. From porcelain tiles to luxury laminate, there are an array of convincing designs available which evoke the extravagance of the real thing. Expertly designed to mimic natural tones, faux wood flooring is easy to clean and maintain. Many are also built with scratch-resistant properties. The most popular types of wood-look flooring have been soft wood tiles, LVT and laminate. When done right, you won't be able to tell the difference.
4. Terrazzo Floors
Terrazzo has made a comeback throughout home décor over the past few years and has rooted itself as one of 2023's hottest flooring trends. An abstract Avant-Garde option for contemporary and mid-century homes alike, the decorative speckled styles have skyrocketed in popularity. Favoured by many as an alternative to granite or more costly marble flooring, terrazzo offers a wide-ranging palette of tones and fragmented textures.
5. Blonde Is Back
A throwback to its 80's heyday, blonde hues have made a resurgence into flooring design. Many are choosing to give last year's popular grey the elbow, opting for vivacious, lively tones instead.
Cheerful blonde flooring provides a much-needed breath of fresh air to many homes, offering natural light and creating additional space. If you're looking to make a pokey room look larger, blonde hardwood flooring is the way to go.
6. Waterproof Flooring
Hectic family homes need flooring they can rely on to last the long haul. Between spillages and muddy paws, your floors can go through a lot. Flooring for busy homes requires specific features to combat these threats, namely water-resistance. This year has been the year of waterproof flooring, favoured due to its minimal maintenance and liquid-repellent properties.
Particularly prominent in high areas of moisture and condensation, such as kitchens and bathrooms, waterproof flooring is built to endure the impact of water without suffering damage. The days of basic tiling being the only waterproof option for these areas are long gone. Advanced flooring technology has produced waterproof LVT, traditional vinyl, and laminate flooring to suit all tastes. Expect the rise of waterproof flooring technology to continue with the advent of bigger and better technologies.
7. Black And White Flooring
This year has ushered in the return of black and white flooring, with many homeowners choosing a unique twist on the classic design. As well as chequered black and white tiling and monochrome floors, contemporary styles include brash graphics and patterns. A clash between the old and the new is certainly on-trend, tweaking this vintage style for modern sensibilities. The influence of the traditional Art Deco movement is also plain to see, with geometric patterns and lines underpinning many of 2023's black and white floor designs.
8. Hexagon-Shaped Tiling
Large-format tiles, in general, are among the most popular flooring options, with hexagonal patterns growing in prominence. Hexagonal tiles exude style and freshness, creating a unique and artistic foundation which contrasts well with both abstract and straightforward décor. They represent a low-maintenance way to add a splash of character to any room in the home.
Whether subtle neutrality or daring bold designs are more your speed, hexagonal tiles are a jack of all trades. Designers have utilised this versatile flooring design in inventive ways, producing everything from glazed terra-cotta textures to brooding matte black colours.
9. Distressed Woods
Distressed wood brings nature into your home. Well-suited to traditional country homes, this tantalisingly luxurious material is often made from wood kept in its original state. Naturally distressed floors carry the grains and swirls caused by their environment. Not all distressed floors come from their natural state, however, with many made to imitate this texture.
Most go through artificial styling to capture the aged look, creating a wonderfully organic aesthetic. Nevertheless, this is a homely, rustic style which fits in well among with farmhouse decor and country homes. The natural look ranks among the top flooring trends and distressed wood certainly fit the bill.
10. Whitewashed Hardwood
There's nothing quite like the authenticity of a hardwood floor. Whitewashing has been among the biggest hardwood flooring trends, creating a relaxed, breezy feel alongside the strength and durability of the solid material. This trend is typically paired with dramatic, darker decorations, sharply contrasting the airy floor with flashes of moodier accents. Those looking for modern, texture-laden floors jam-packed with character are turning towards the whitewashed flooring trend and beyond.