Waterproofing: Types, Advantages & Disadvantages
Waterproofing applies an impermeable layer to the surface of a building's foundations, walls, roofs, and other components, such as concrete, leather, or fabric, to prevent water from penetrating the surface. Here, we'll learn about waterproofing, the many forms of waterproofing, and the pros and cons of using waterproofing.
Waterproofing protects your home from building structures like toilets, pools, tanks, walls, and ceilings. As a result, it helps to keep our homes dry and protects them from the damaging effects of water and moisture. Damp proofing is a word used to describe a foundation's ability to resist water penetration even under submerged situations, which is all waterproofing.
Here we will be discussing types of waterproofing with its advantages and Disadvantages
Waterproofing: the Science of Keeping Water Out
Making anything watertight or water-resistant is what we mean by "waterproofing." This procedure allows insulating materials and structures to withstand and resist water penetration under the appropriate conditions. It is possible to utilize these items in wet conditions or at specific depths. On balconies and warehouses that are supposed to be in direct touch with water, it is employed to enhance the comfort of buildings. What kind of waterproofing material should be used depends on where the product will be used.
A building's waterproofing creates an impenetrable barrier on the surfaces of the building's structures, such as its foundation, roof, walls, and other structural parts. Waterproof and water-resistant building surfaces are available.
Waterproofing protects a surface against water penetration or other external pressures, such as hydrostatic pressure and capillary, making it water-resistant. It's a method for attaching flexible and long-lasting membranes to a continuous system. In the building and design sectors, this method is utilized to limit the impact of liquid penetration on systems.
Concrete Waterproofing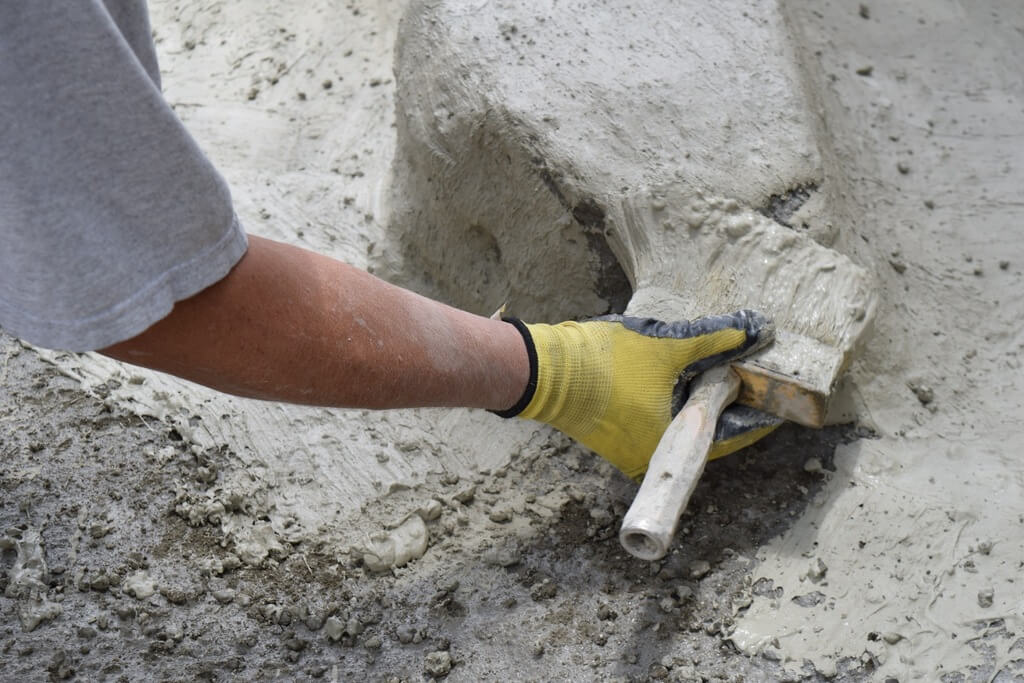 Source: concretedecor.net
Concrete surfaces in a structure become more resistant to wear and tear when insulating.
Using cement as a waterproofing material is the most straightforward approach accessible because the elements needed are readily available and specific to mix and apply together.
This waterproofing is typically seen in inside spaces like bathrooms and other locations that aren't exposed to direct sunlight or weather.
Also Read: 3 Key Threats To Your Roof's Health
Liquid Waterproofing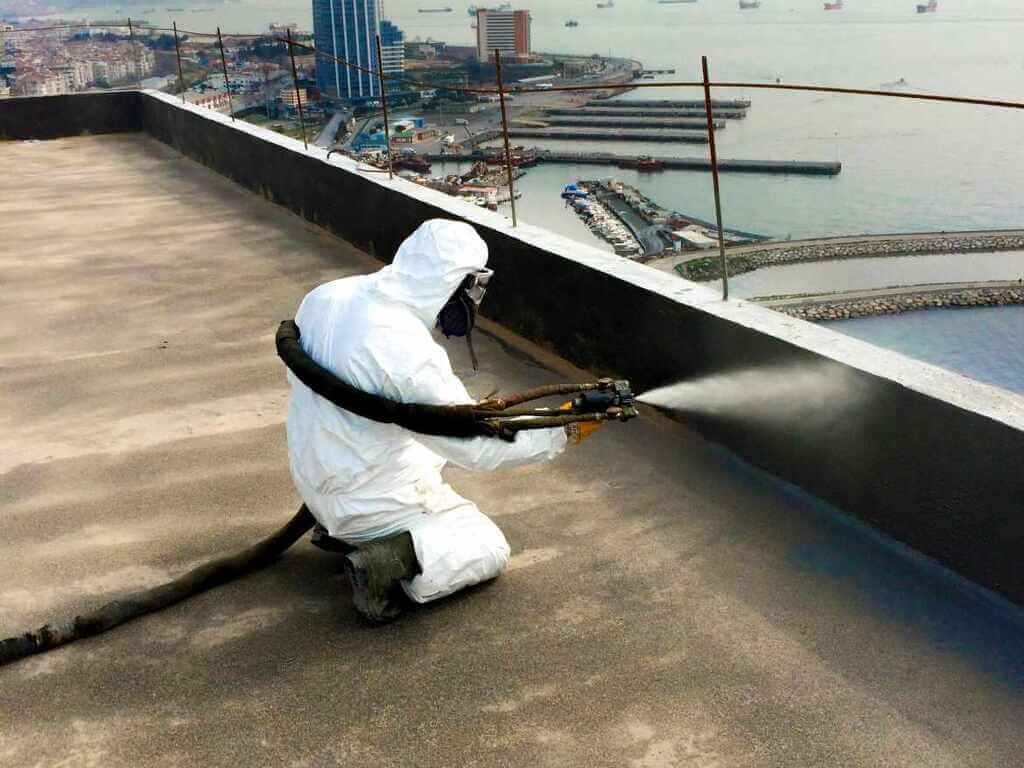 Source: buildingenclosureonline.com
Liquid membranes, which may be applied by spray, roller, or trowel, are more flexible than cementitious waterproofing because they incorporate a priming layer and a final finish.
Depending on the manufacturer, the waterproofing coating's endurance can exceed 280 percent surface elongation after curing a rubber coating on a wall. The polymer-modified asphalt liquid layer, available from several manufacturers in varying grades for trowels, rollers, or sprays, can be sprayed.
Bituminous Coating Waterproofing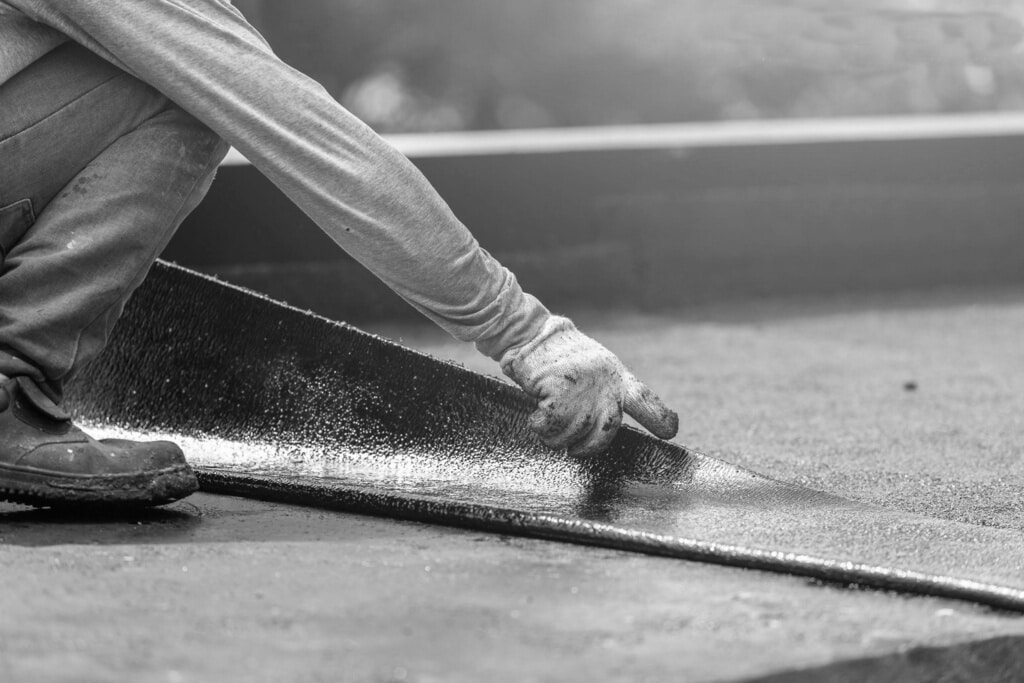 Source: rahabitumen.com
Coating made of asphalt Polymer grades and fiber reinforcing, commonly known as asphalt coating, can impact waterproofing's flexibility and water resistance. Bituminous coatings are most commonly used beneath wet bolts on concrete foundations. Using flexible materials like polyurethane or acrylic-based polymers, bitumen manufactured material is used in these waterproofings since it becomes exceedingly brittle when exposed to sunshine.
Bituminous Membrane Waterproofing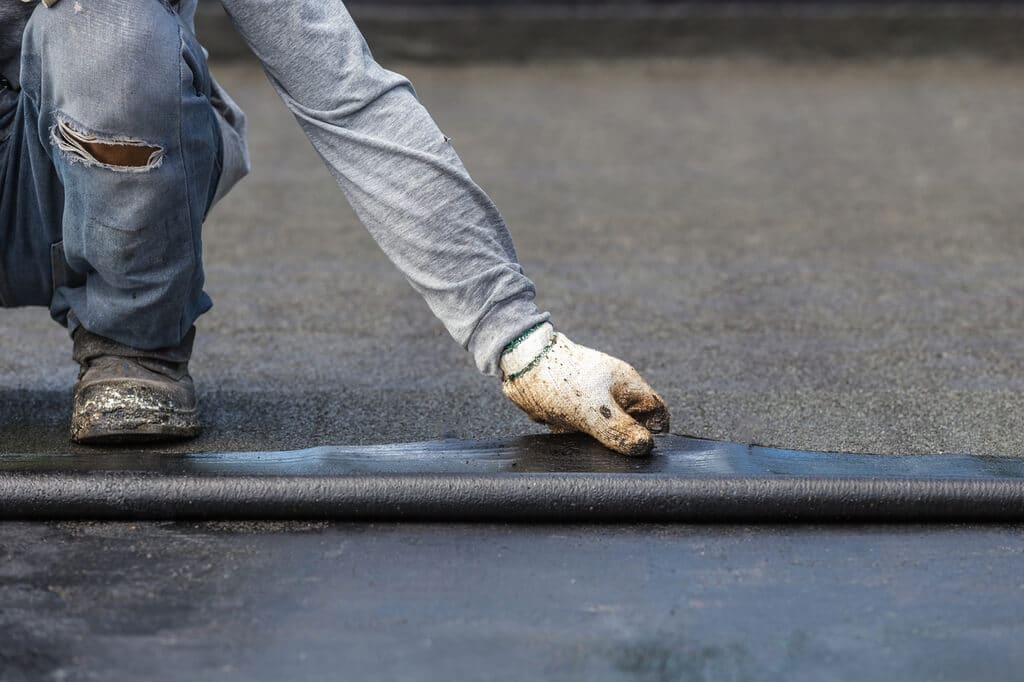 Source: flooringsolutions.ph
Since bituminous waterproofing is inefficient, it is commonly employed on low-slope roofs. It consists of a flashlight and an adhesive membrane applied to the layer. Asphalt, polymers, and filler are the building blocks of self-adhesive compounds, while resins and oils are added to enhance adherence. Membrane life has a stronger binding than adhesive. Thus, the adhesive has a longer shelf life since the flashlight is protected from moisture and air.
In this approach, the flexible asphalt layer is coated with a torch seal and a self-adhesive waterproofing membrane. Self-adhesive membrane waterproofing is a common approach used for on-site waterproofings. However, torch seals are a more permanent and cost-efficient alternative.
Membrane Made of Polyurethane 
This polyurethane liquid membrane is ideal for flat roofs because of its excellent flexibility and weather resistance. Polyurethane is extremely sensitive to moisture levels. Hence moisture content should be evaluated before application to avoid membrane peeling or debonding.
Why Is It Essential to Protect Your Home or Office from Water?
Many people believe that water damage in their homes is not a huge concern, but this could not be further from reality. According to statistics, water damage is seven times more common than fire damage and six times more often than burglary. It doesn't matter how big or small the water leak is; the consequences may be severe. To prevent water damage to your house, here is a list of things you can do.
A yearly inspection for cracks or leaks in the hoses leading to your washing machine, dishwasher, and refrigerator is recommended. You should also replace hoses every five to seven years.

Your showers and tubs should be waterproof, so check the caulking around them. Replace the caulk if you see any gaps in the surface. Cheap caulk can keep water from leaking through your floor.

Your water supply should be switched off if a pipe bursts in your home. Shutting off the water main in most cases will cease water flow.

Make sure your appliances are safe by placing floor pans under them. Even though they can't protect you from a catastrophic leak, they can prevent harm from minor, sluggish leaks that go unnoticed for a long time.

An alarm will sound if water is found in a particular region, alerting you to the danger. It may be installed in basements, bathrooms, kitchens, laundry rooms, and near sump pumps to monitor water levels.

When at work, it's important to safeguard your products from water, especially if you're selling industrial products like machinery, there are various ways to protect your products from water. A perfect example is coating your products, coating your products will help it protect from water, contact a Wisconsin industrial coatings expert and set an appointment to coat your products.
Also Read: Top 9 Best Waterproof Outdoor Storage Bench For Your Garden, Pool, or Patio!
The Steps in Waterproofing Brisbane Contracts & Processes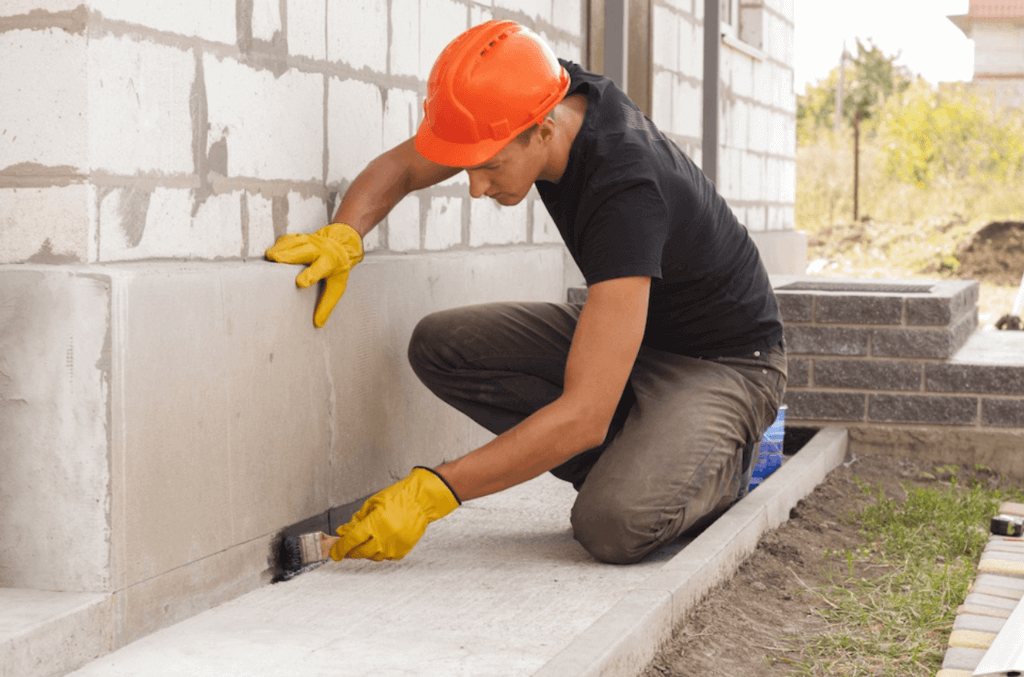 Source: ontariowetbasement.com
Here are some of the common and easy steps that you should know in waterproofing your house.
Step 1: First, sweep and mop the floor well to remove loose debris, dirt, or grease. All membrane-based waterproofing coating schemes require regular floor cleaning.
Step 2: Before applying a primary coat to the structure's floor, bitumen membranes should be primed using a solvent- or water-based primer.
Step 3: Unroll the sheets on the structure's floor after ensuring they are appropriately aligned.
Step4: The layer on the underside of the membrane can be burned off using a torch. The membrane is now ready to be bonded to the concrete surface beneath it.
Step 5: Resolutely press the membrane into the concrete to ensure perfect adhesion. More attention should be paid to the overlaps, edges, and angles to ensure appropriate bonding.
After we have a clear understanding of waterproofing, it is also essential to know some of its merits and demerits: 
5 Pros of Waterproofing: 
Prevents the occurrence of fractures in the concrete floor by utilizing this method.

A robust construction's lifespan will be lengthened as a result.

It protects the reinforcement against corrosion.

In addition, it helps to keep the structure dry.

You can keep the ceiling and walls free of leaks using this product.
4 Cons of Waterproofing: 
Due to solvent evaporation, the black hue of bitumen-based goods softens in the summer heat.

The application of polyurethane coating inhibits concrete's inherent capacity to breathe.

The polyurethane protective covering allows water to develop underneath the impermeable floor coating with a limited pot life.

Further leakage is caused by improper crack maintenance during cementation waterproofing.
Waterproofing: a Mandate Need of the Hour
Regular property upkeep is essential for homeowners who want to reduce their responsibility in an accident. When it comes to protecting our homes and our lives, waterproofing is a must-have. It's usually best to consult with waterproofing brisbane, which has a specialization in waterproofing, to ensure that you receive a guarantee-proof home.