34+ Stunning Shower Tile Ideas That Will Transform Your Bathroom
A shower is a place for rejuvenation, letting go of all your distress and de-stress after a long day at work. The space thus should be designed to do exactly that. The kind of shower tiles you use can either make or break your experience of the bathroom space. To help you with your shower designs, we've curated this list of 35 stunning shower tile ideas.
34+ Shower Tile Ideas
Below in the list of Stunning shower tiles ideas
1. Go for Classic Mosaics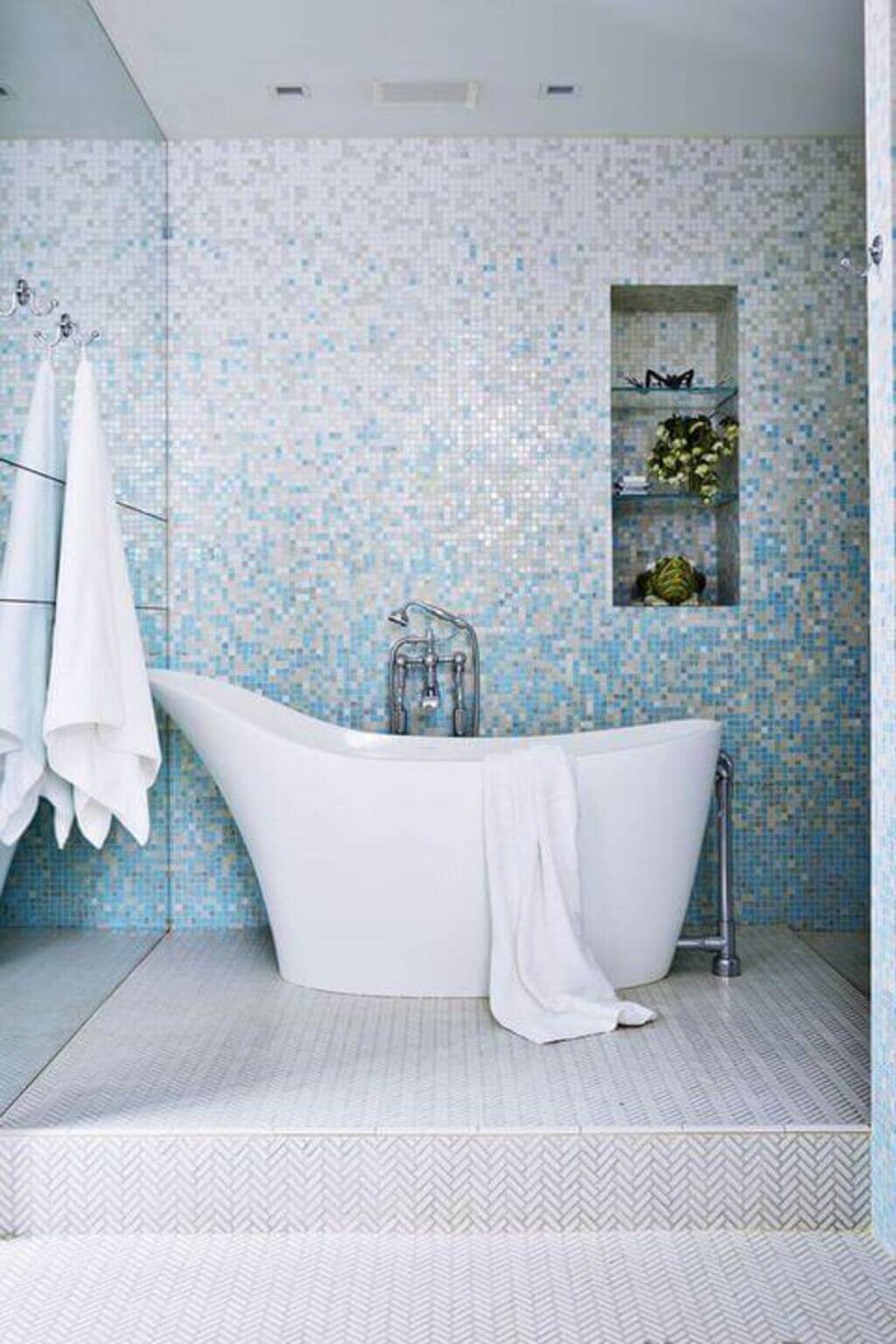 Source: bensbathrooms.co.uk
Mosaic tiles create depth and visual interest within the space. The ombre effect of the colors changing from cool to warm give an illusion of added height and elongation. Use it on one wall as a background highlight or on all the surfaces for the effect of a visually interesting volume. 
2. Generate a Rugged Industrial Vibe with Exposed Bricks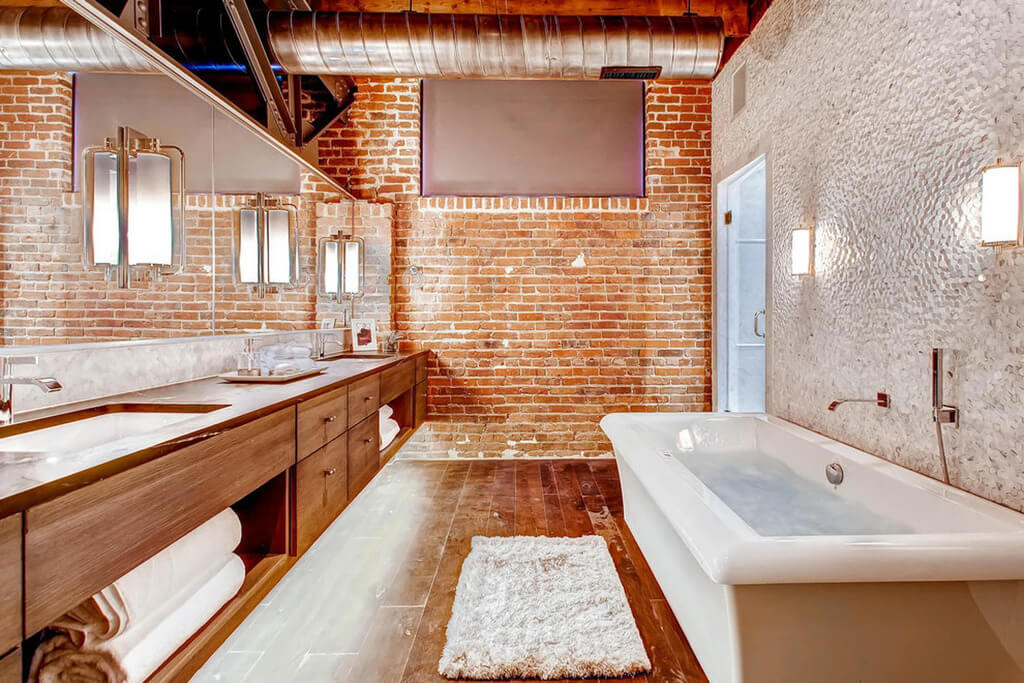 Source: habcdn.com
Exposed brick shower tiles define the rugged industrial theme of this bathroom. These tile shower ideas work well when complemented by other elements like rustic vanity, exposed services, and accents. 
3. A Play of Juxtaposed Patterns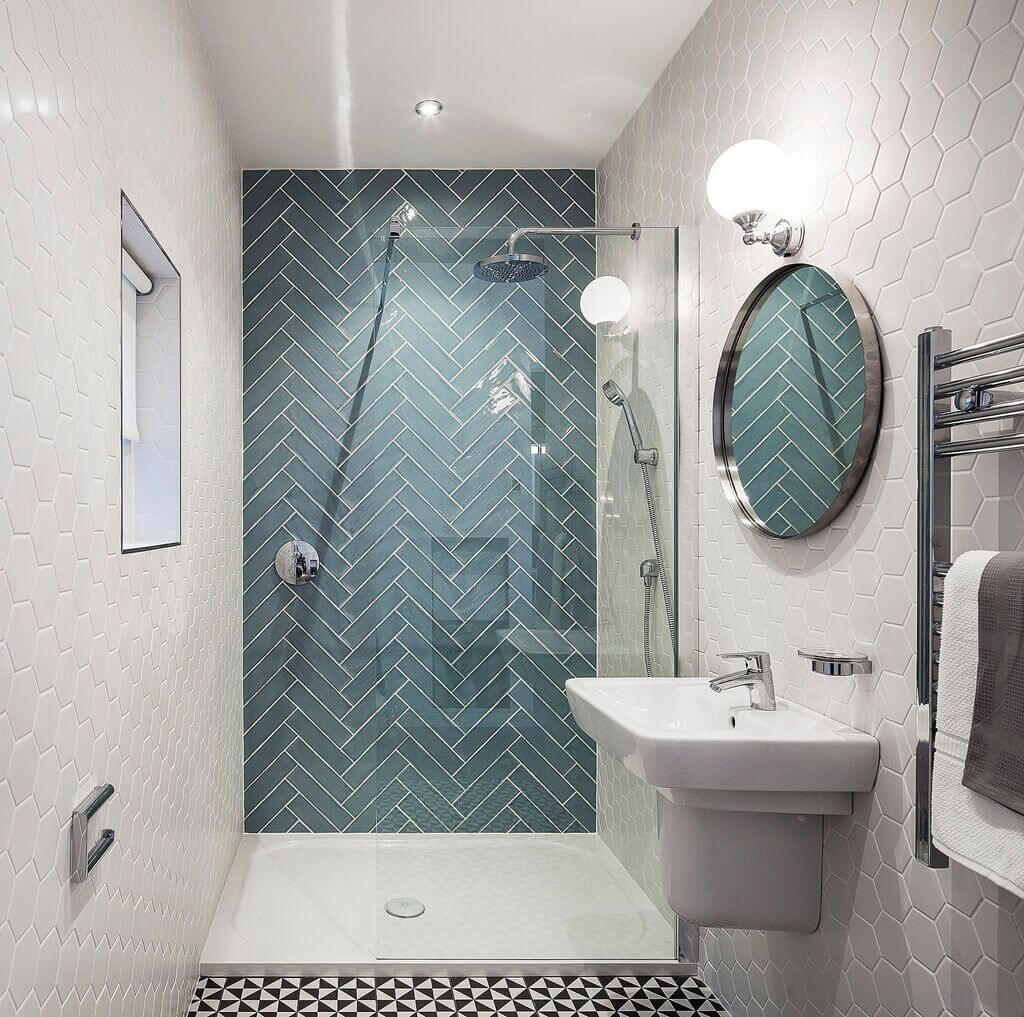 Source: pinimg.com
Cannot choose between the variety of shower tile patterns? Use them all in one! This tiled shower idea is the aptest example that shows how you can juxtapose different tiles to create a stylish and harmonious space.  
4. Bring in the Rich Moroccan Aesthetic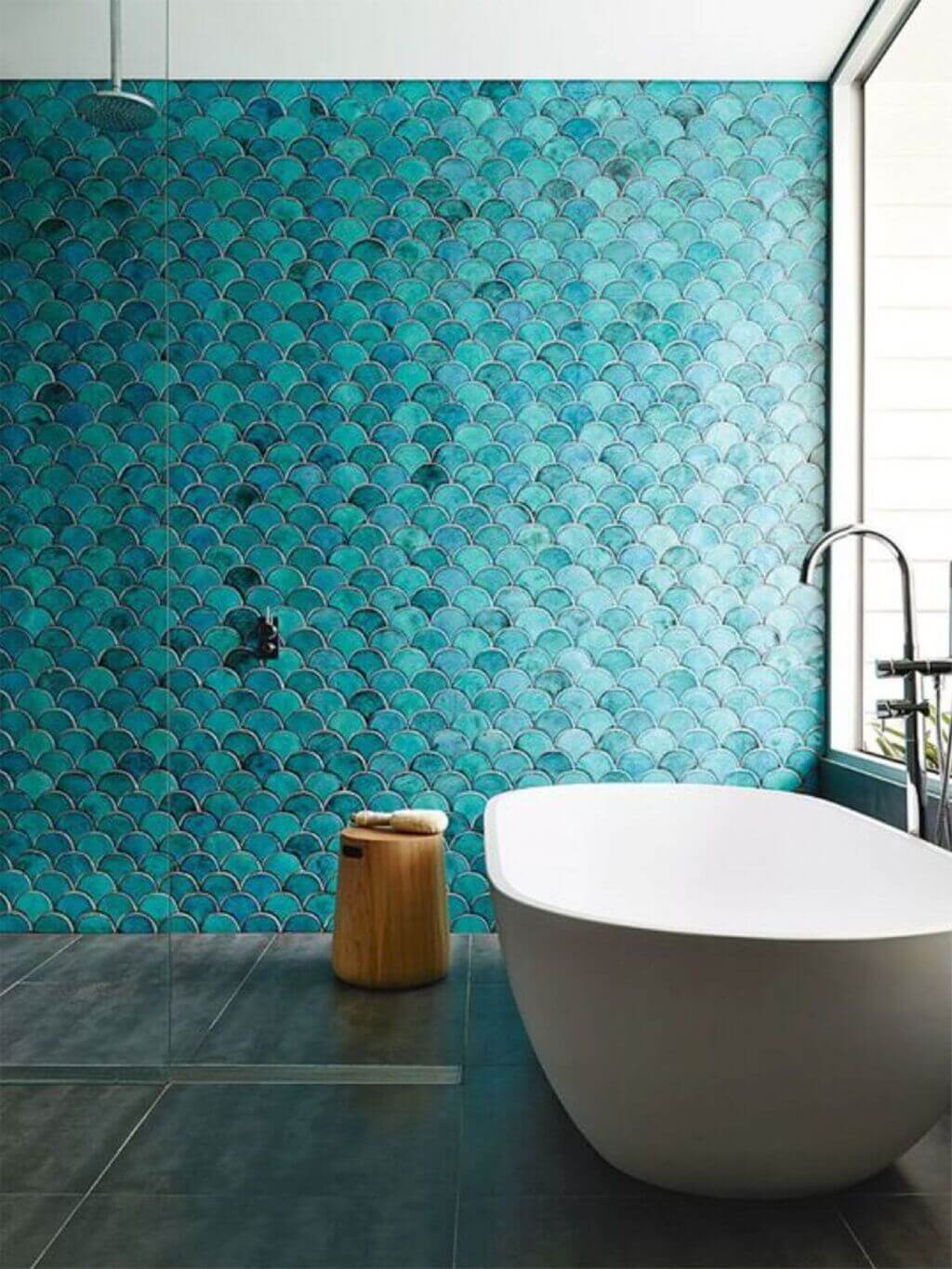 Source: trendesignbook.com
Moroccan fishtail shower tile designs feel like a luxurious respite. They bedazzle the bathroom space with grace and an alluring aesthetic. The bright blue hues, the elegant shape, and the scale of the design make for a highly sophisticated shower tile design idea.
5. Let it be Simple and Subtle with Lapping Wooden Planks
Source: pinimg.com
Want to move away from all-whites, but need a subtle sober bathroom aesthetic? Go for these light wooden plank shower tiles. They are perfect for getting a neutral muted look, yet add character and finesse to the space. 
6. Create Interest with Chic and Dramatic Chevron Tiles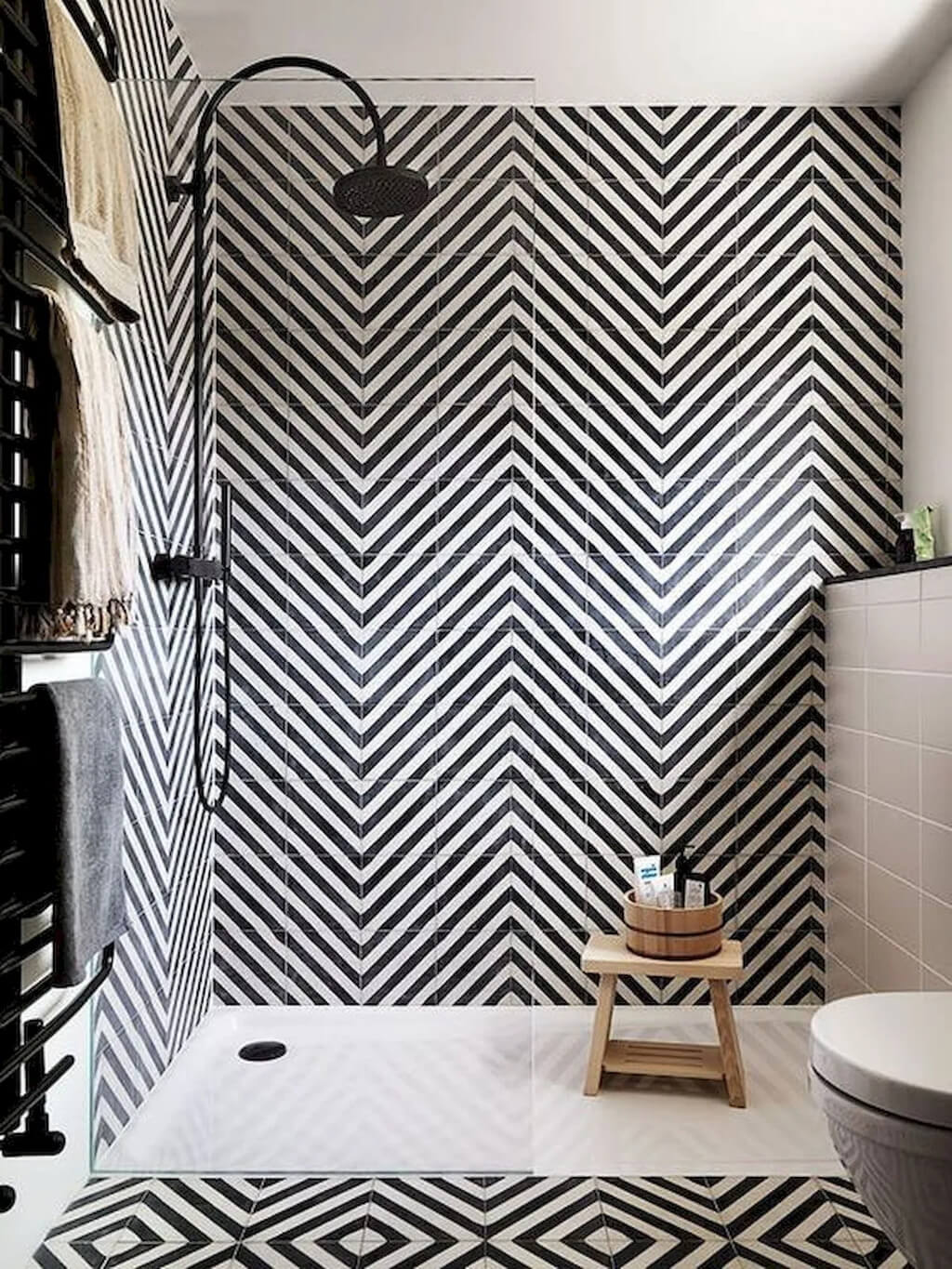 Source: wp.com
Both diagonal and chevron patterned tiles work well for elongating a space. This shower tile design is perfect for small bathrooms where the area if not done right, may feel claustrophobic. Use contrasting colors to create drama and interest within the space. 
7. A Shower That Gives Nautical Nostalgia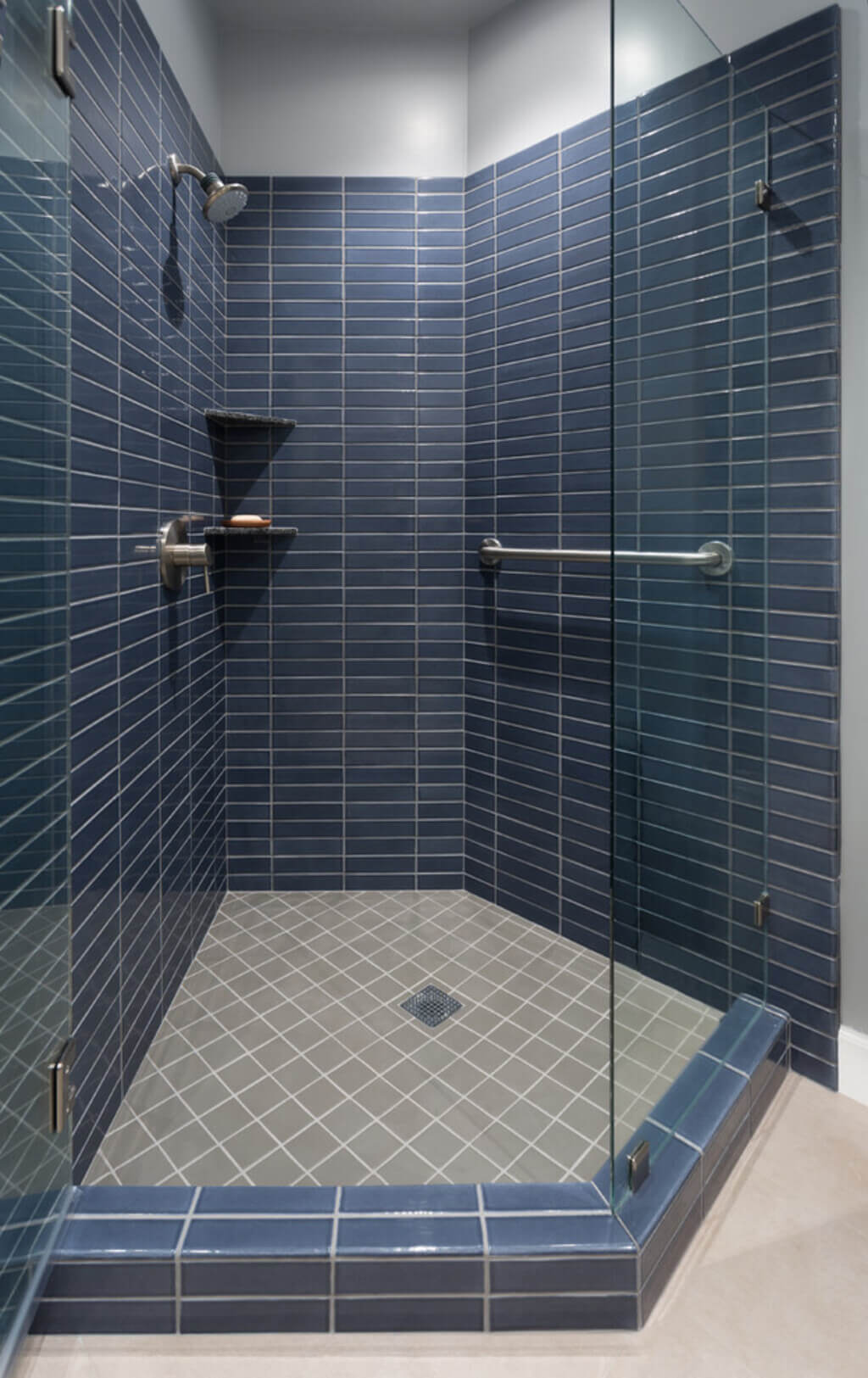 Source: hzcdn.com
Showers are for relaxation, that's exactly what this tiled shower ideas represent. A bathroom that feels like an oasis of soothing nautical experience. The deep blue tones calm the nerves while giving a sea-boarding vibe.
8. Bring Nature Inside with Pebble Tiles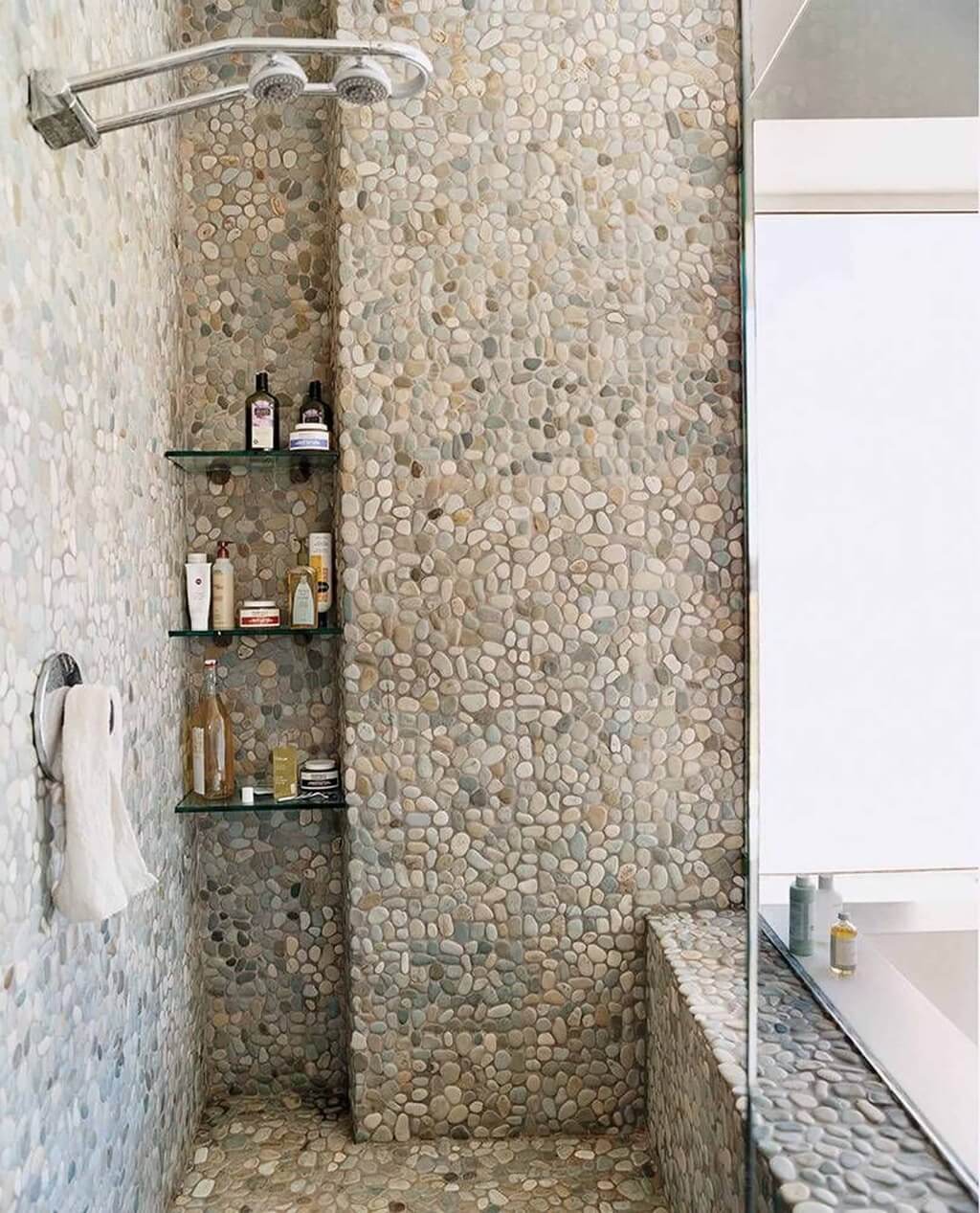 Source: stylebyemilyhenderson.com
Want to feel at one with nature in the comfort of your bathroom? Use subtly toned pebble tiles in your shower. These modern shower tile ideas are just perfect to bring you close to nature and be reminiscent of a beachy escape. The continuation of the same tile on the floor and walls creates a concentrated space.  
9. Keep it Natural with Stone Shower Tiles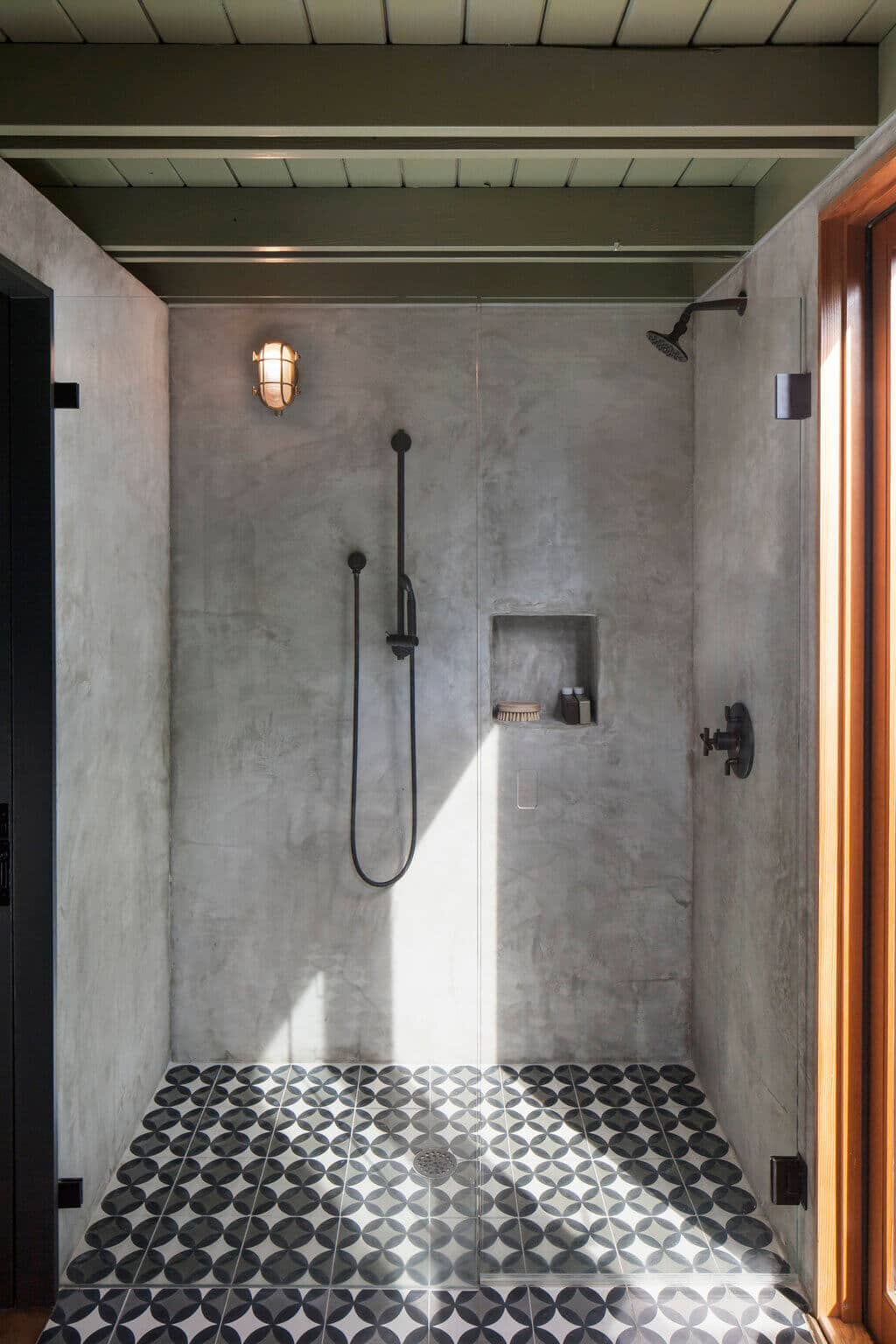 Source: squarespace-cdn.com
Natural stone tile showers are a perfect fit for small bathrooms. The natural minimalist aesthetic maximizes the space available and makes it look clutter free and soothing. The contrast created by the floor tiles adds character to the space. 
10. Go Modern with All-Whites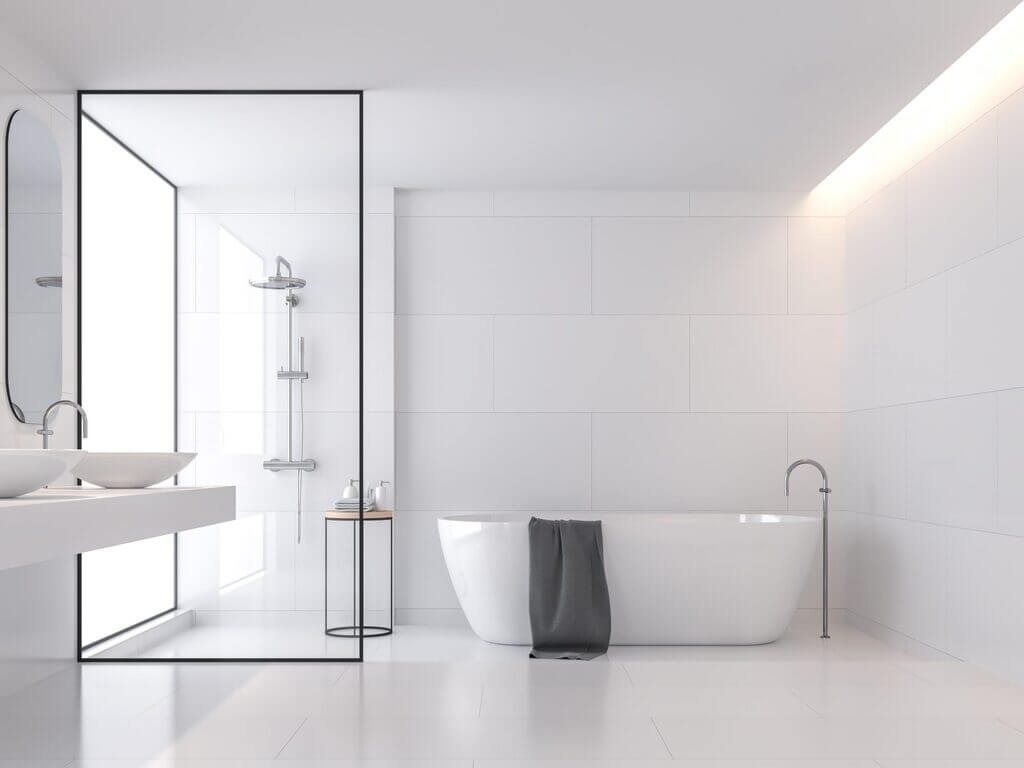 Source: glaserei-emigholz.de
Modern all-white shower designs define elegance. Large white tiles with white grout and sleek faucets and frame details create this alluring minimalist shower design. Be mindful of the lighting, it makes all the difference. 
11. Go for a Rustic Wooden Aesthetic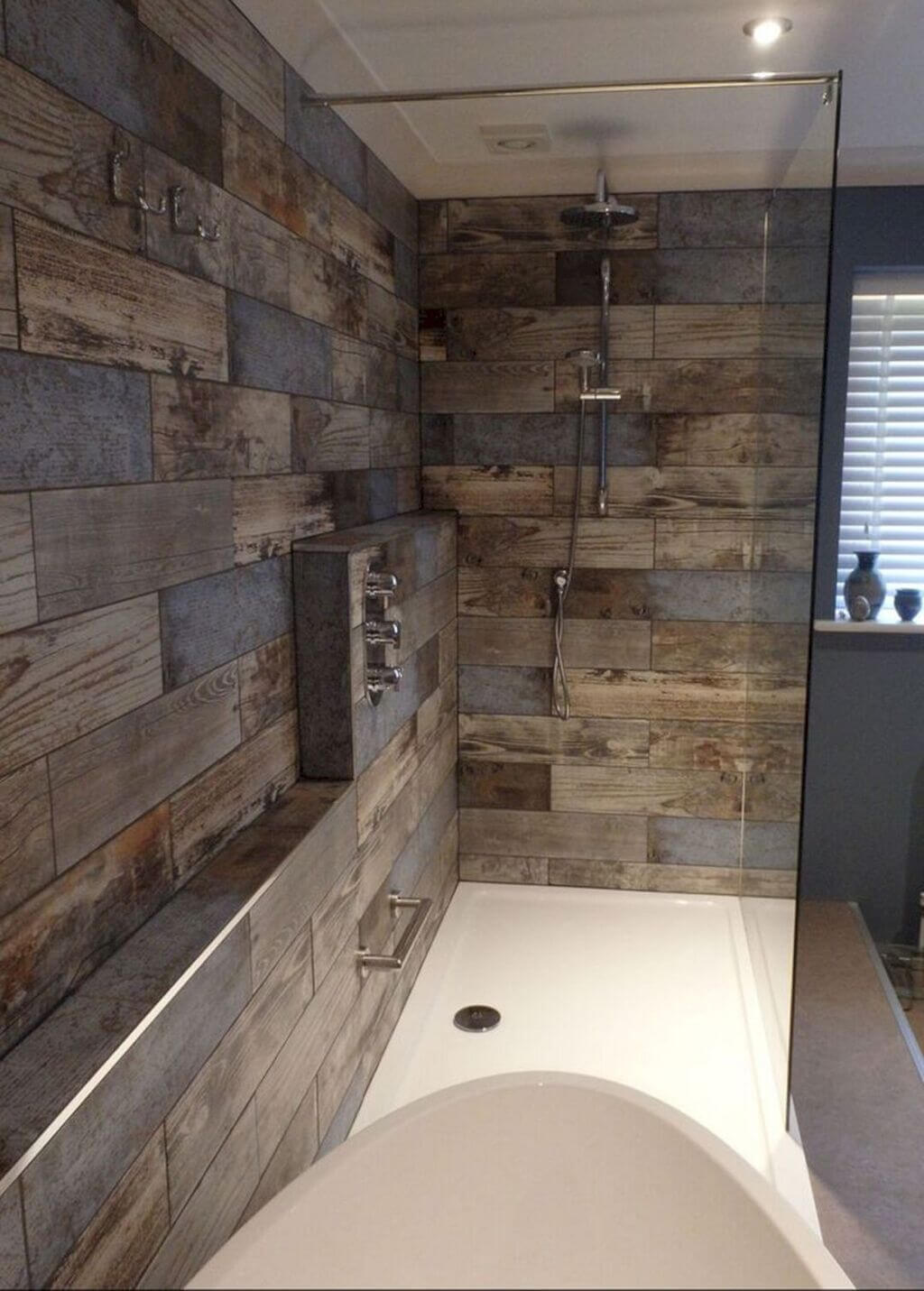 Source: pinimg.com
A bathroom shower tile idea that will invigorate a natural in the woods vibe uses dark rustic wooden tiles. The horizontal tiles elongate the space making it appear wider and bigger. The dark natural hues create a raw rustic ambiance for the space. 
12. Create a Personal Spa with Subtle Earthy Tiles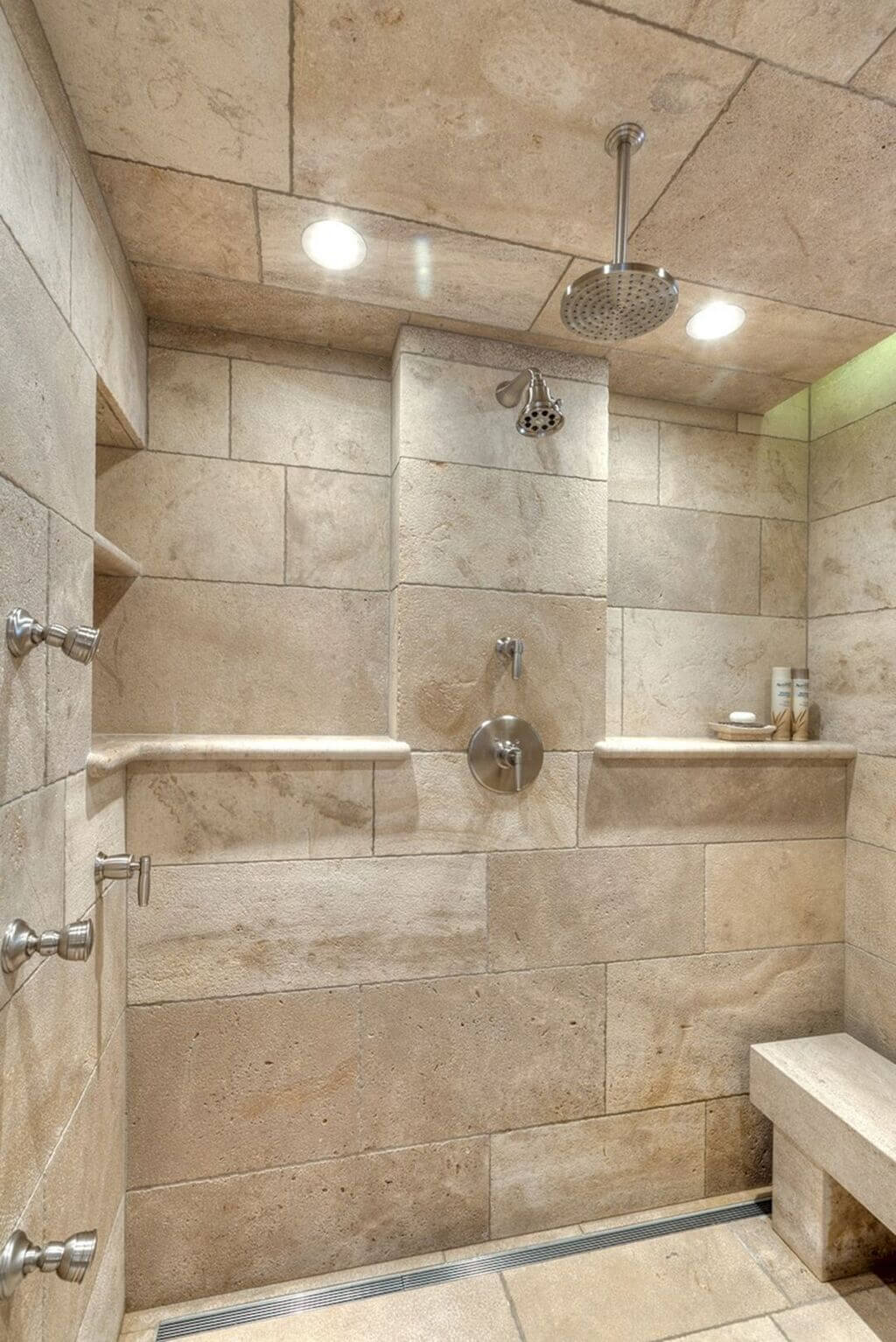 Source: pinimg.com
If you wish to create a personal spa-like oasis in your bathroom, adopt this bathroom shower tile idea. The subtle earthy tones, large tile size, and minimal grout used in unison on walls, floor, and ceiling create a spacious sauna-like bathroom space.  
13. Go Glam, But Subtly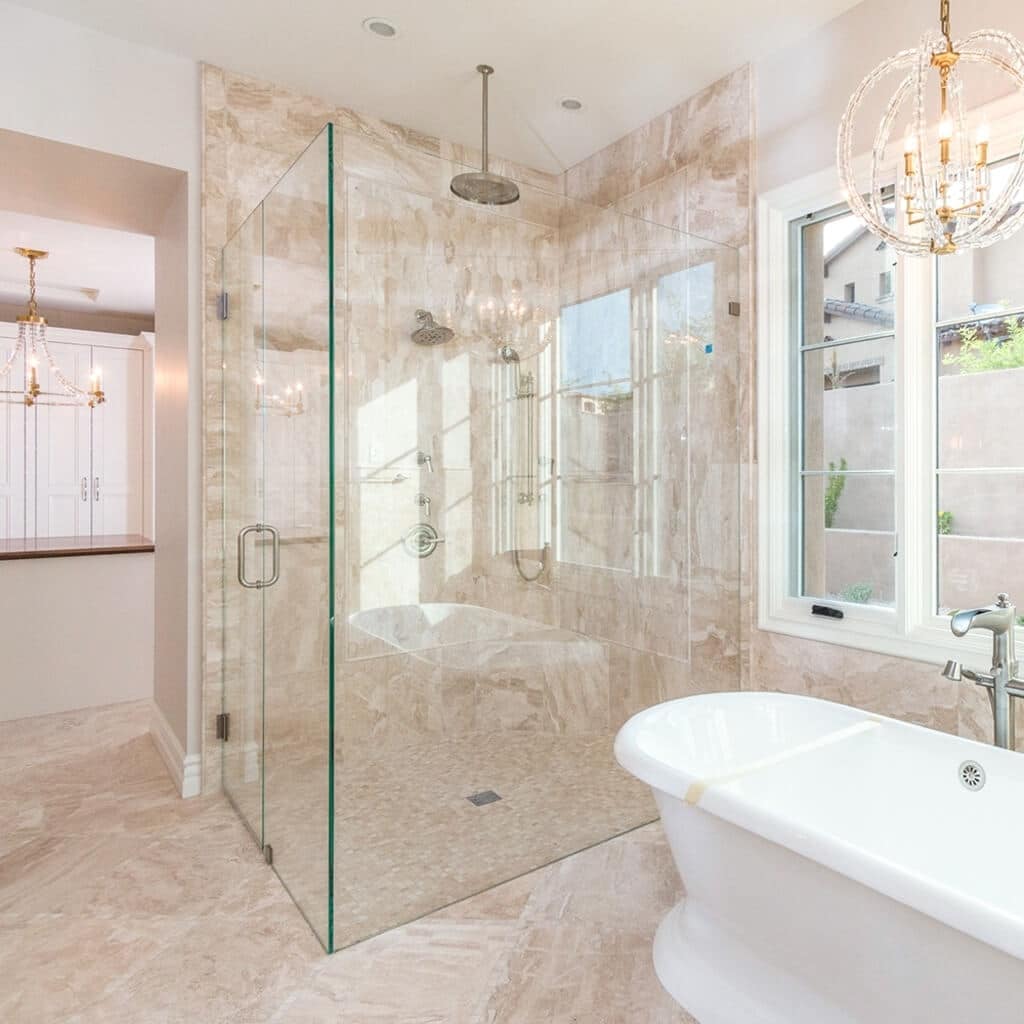 Source: countryfloors.com
Glamorous bathroom designs that are also subtle make a ravishing space. The marble tiles in conjunction with floor similar toned subdued mosaics are great luxurious walk in shower tile ideas. Complement with statement accessories like chandeliers or rose-gold faucets to match the tiles. 
14. Live the Royal Life, Go for Marvelous Marble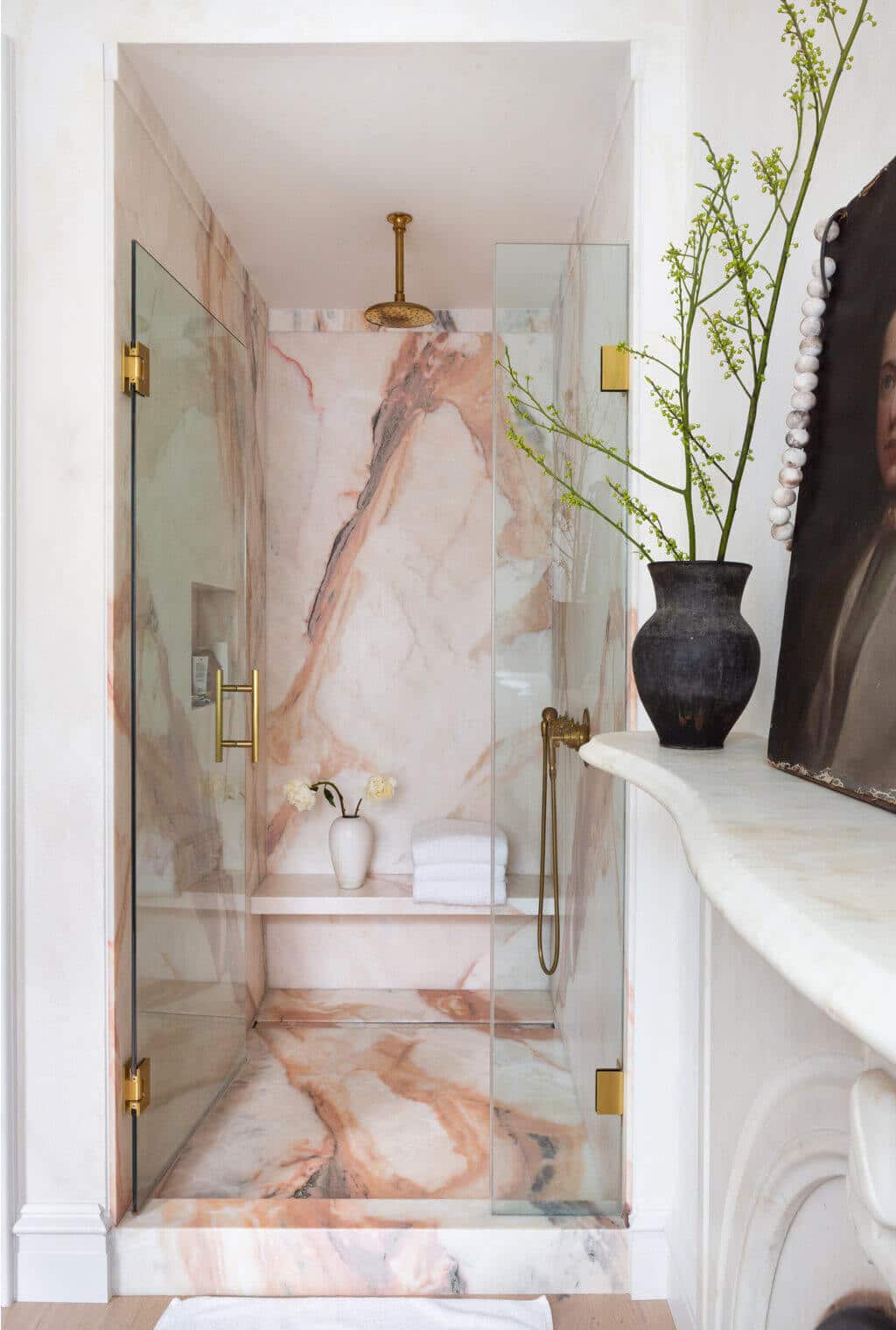 Source: netdna-ssl.com
The splendid look of marble is simply unmatchable. A large marble slab adorning the floor and the walls seamlessly creates a royal spectacular shower. The soft pink tone, the elegant pattern, and the brass faucets are the defining features of this royal bathroom design. 
15. Let the Space Flow, Use Wavy Tiles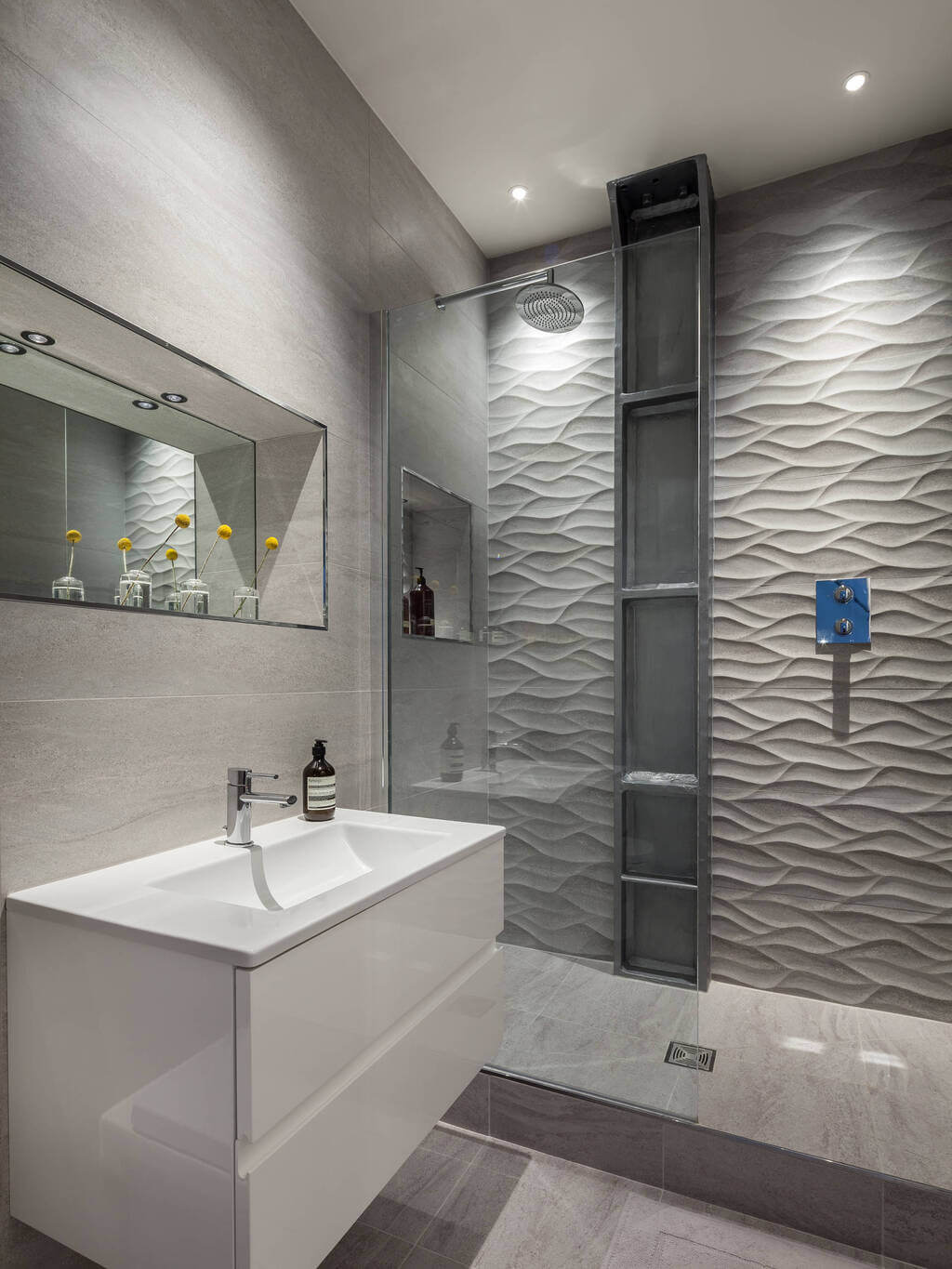 Source: hzcdn.com
Add dimension and texture to the bathroom space by using 3D wavy tiles. These small bathroom shower tile ideas make the space look bigger and add to the overall visual, textural, and spatial dimension.
16. Add a Hint of Bold with Byzantine Style Tiles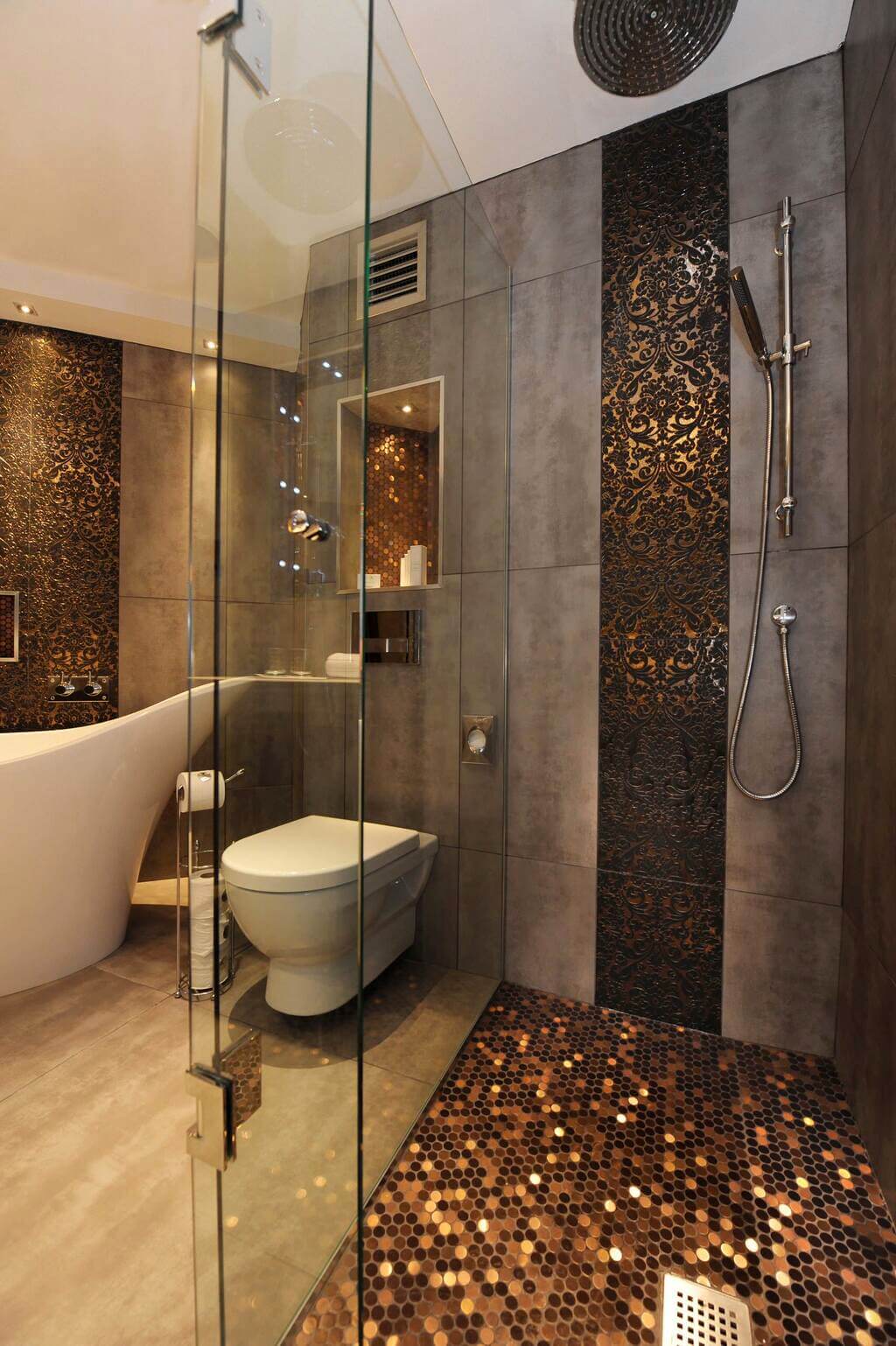 Source: hzcdn.com
Make a blingy statement with shimmery gold penny tiles. Or, add an ornate highlight to the shower wall to create a bold Byzantine-style-inspired space. This state of art bathroom shower tile idea is anything but basic. If you cannot decide between two bipolar styles, opt for unique blends such as this. It is the perfect synthesis of a subtle and bold design. 
17. Make a Stylish Statement with Art-Deco Aesthetic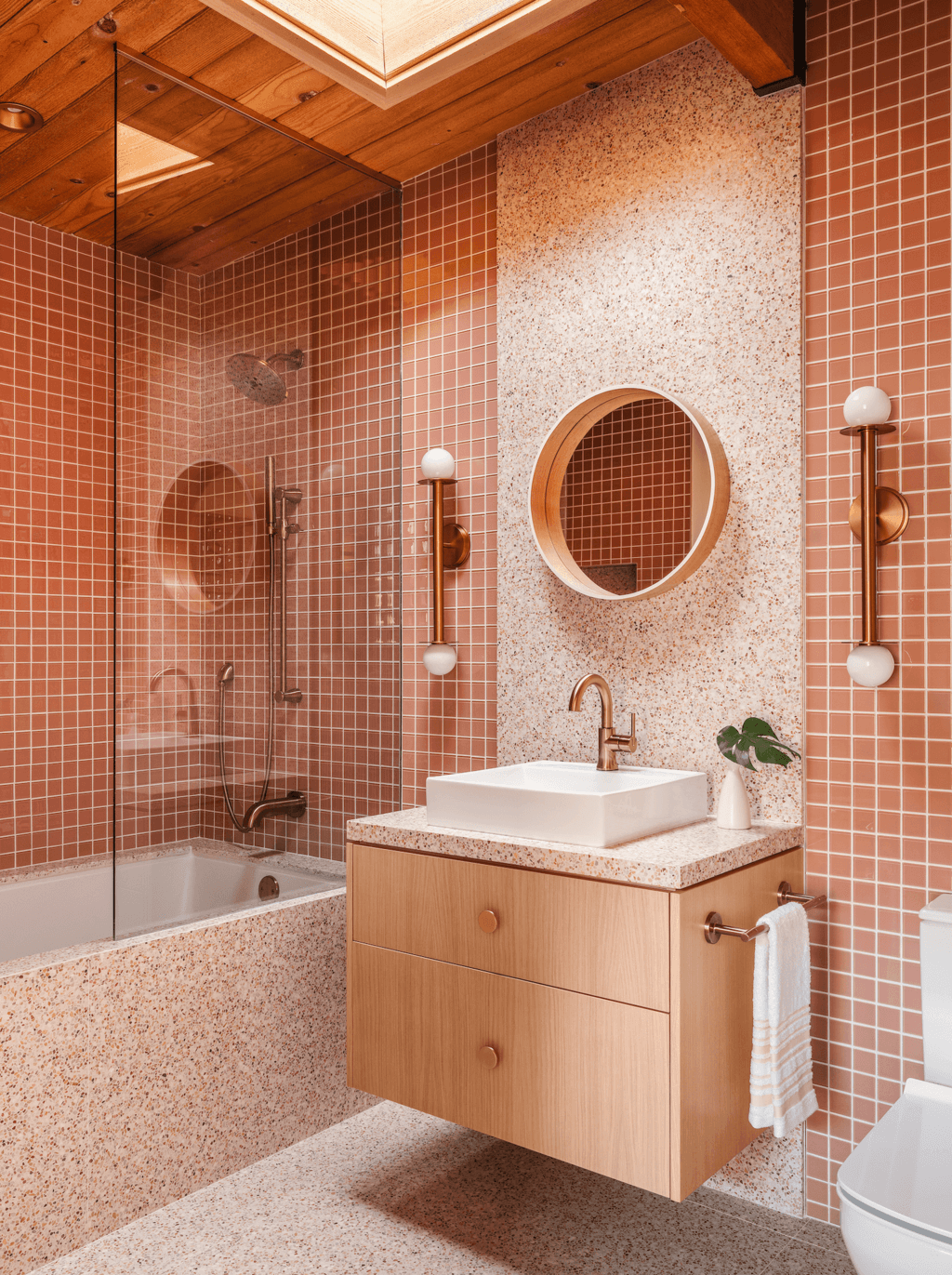 Source: mydomaine.com
A shower tile idea that combines structure and organicness in a remarkably stylish manner. This Art-deco-inspired bathroom design is made up of warm toned pink grid and terrazzo tiles. The structured tiles act as a highlight alongside the flowy terrazzo tiles. The combination creates a seemingly mobile space with a focus. 
18. Adore the Chic Pastels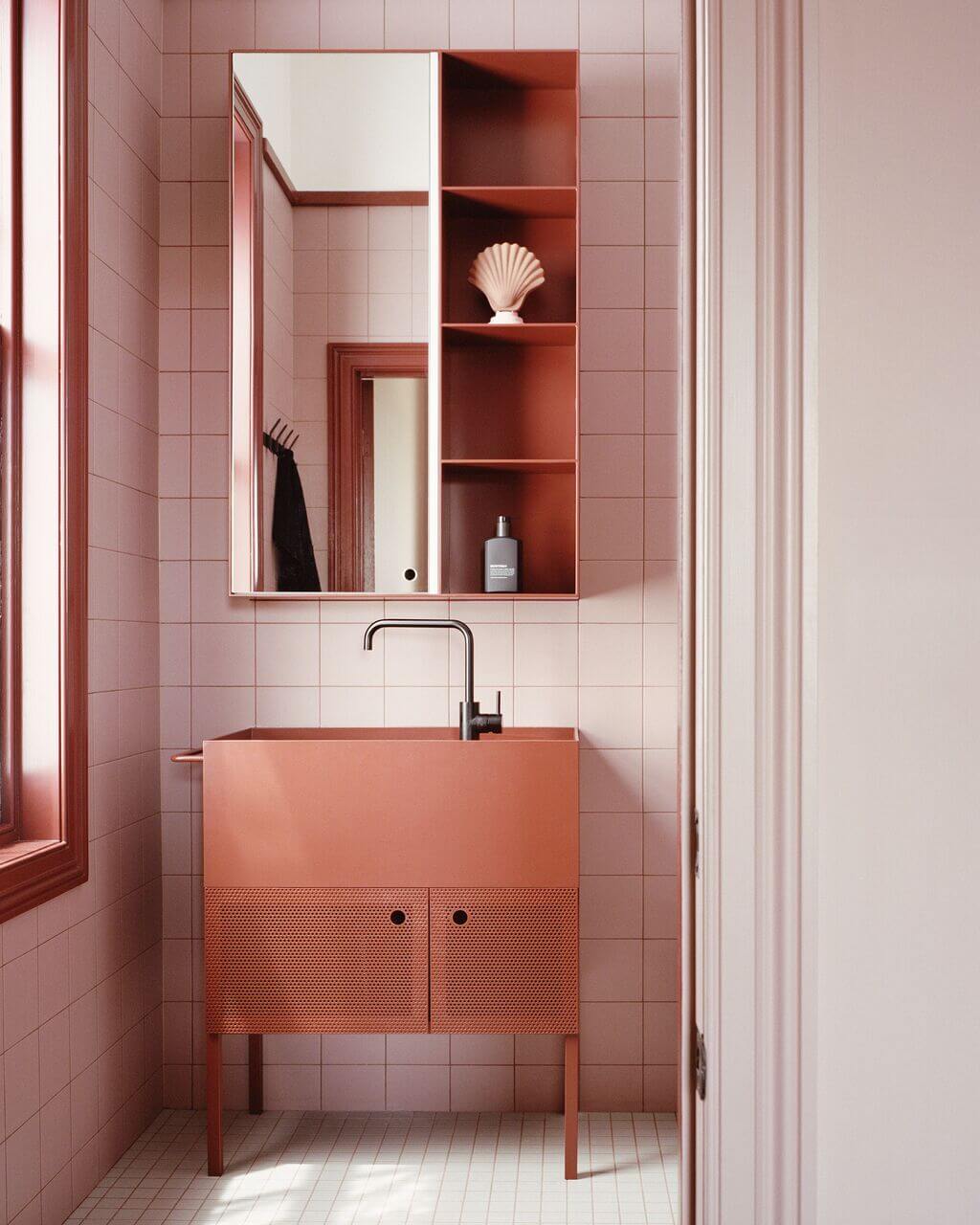 Source: pinimg.com
Create a stunning bathroom with soft-hued pastel tiles such as these. Taking cues from the bygone retro style, this shower tile idea makes a feminine, subtle and chic bathroom aesthetic. 
19. Embrace the Minimal Approach of an Industrial Design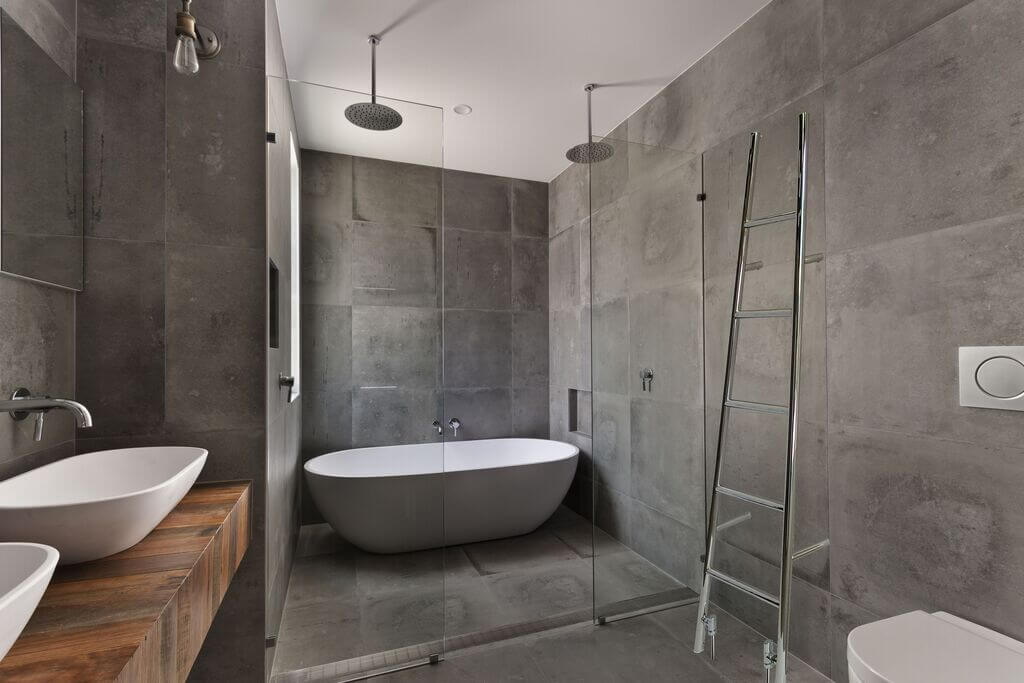 Source: pinimg.com
Natural rustic tones of wood and concrete work well for both small and large bathroom spaces. This shower tile idea comprising of exposed concrete textured tiles seamlessly flowing from the floors to the walls hints toward an industrial design approach. Use these tiles alongside natural wooden textures and exposed services for an added industrial character. 
20. Grace Your Space with Parquet Tiles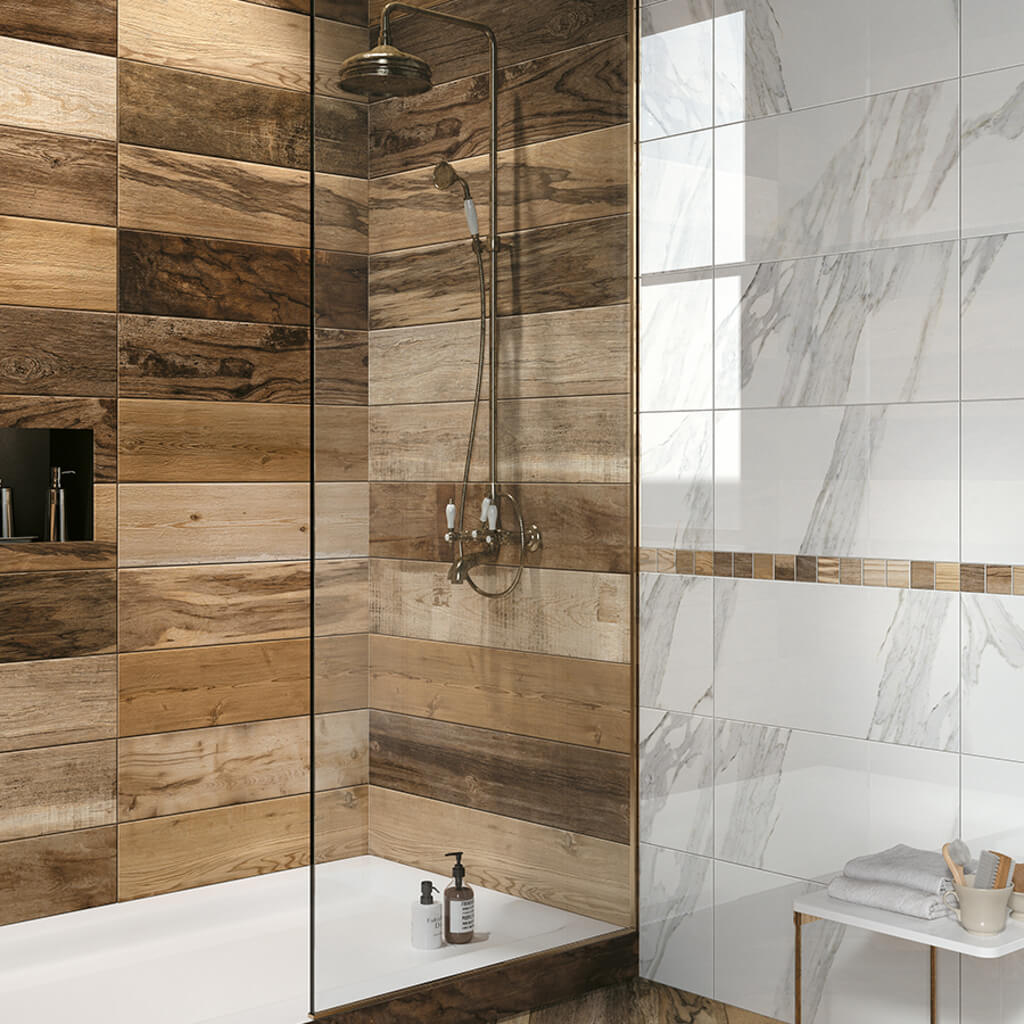 Source: mirageusa.net
Who says the wood is meant for the non-water zones? Wood-like ceramic tiles allow you to bring the rugged charm of wood to the bathroom. Use elegant wooden parquet tiles to create a graceful and warm bathroom design. Contrast the wooden pattern with marble tiles for a sophisticated look. 
21. Aim for a Timeless look with Marble Tiles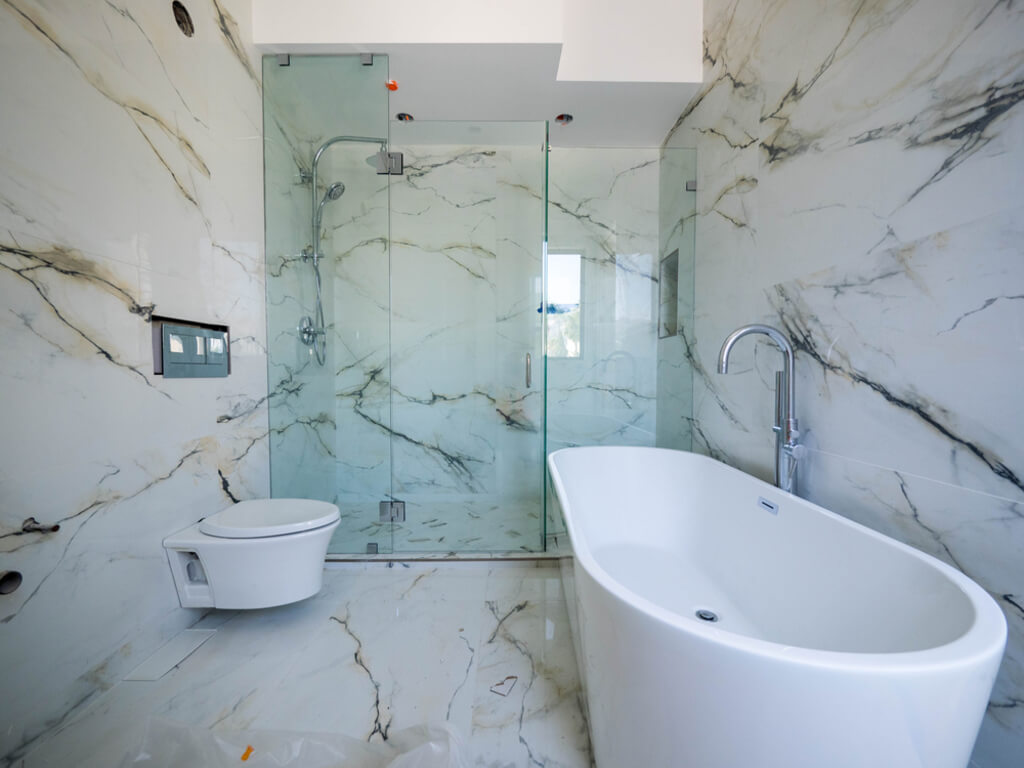 Source: rockdoctor.com
The classics never go out of style! Take this instance of overall marble tiles in the bathroom. The rich texture of marble with little to no grout creates a holistic volume. The timeless feel of the space is complemented by classic elegant fixtures and faucets. 
22. Achieve a Structured Look with Honeycomb Tiles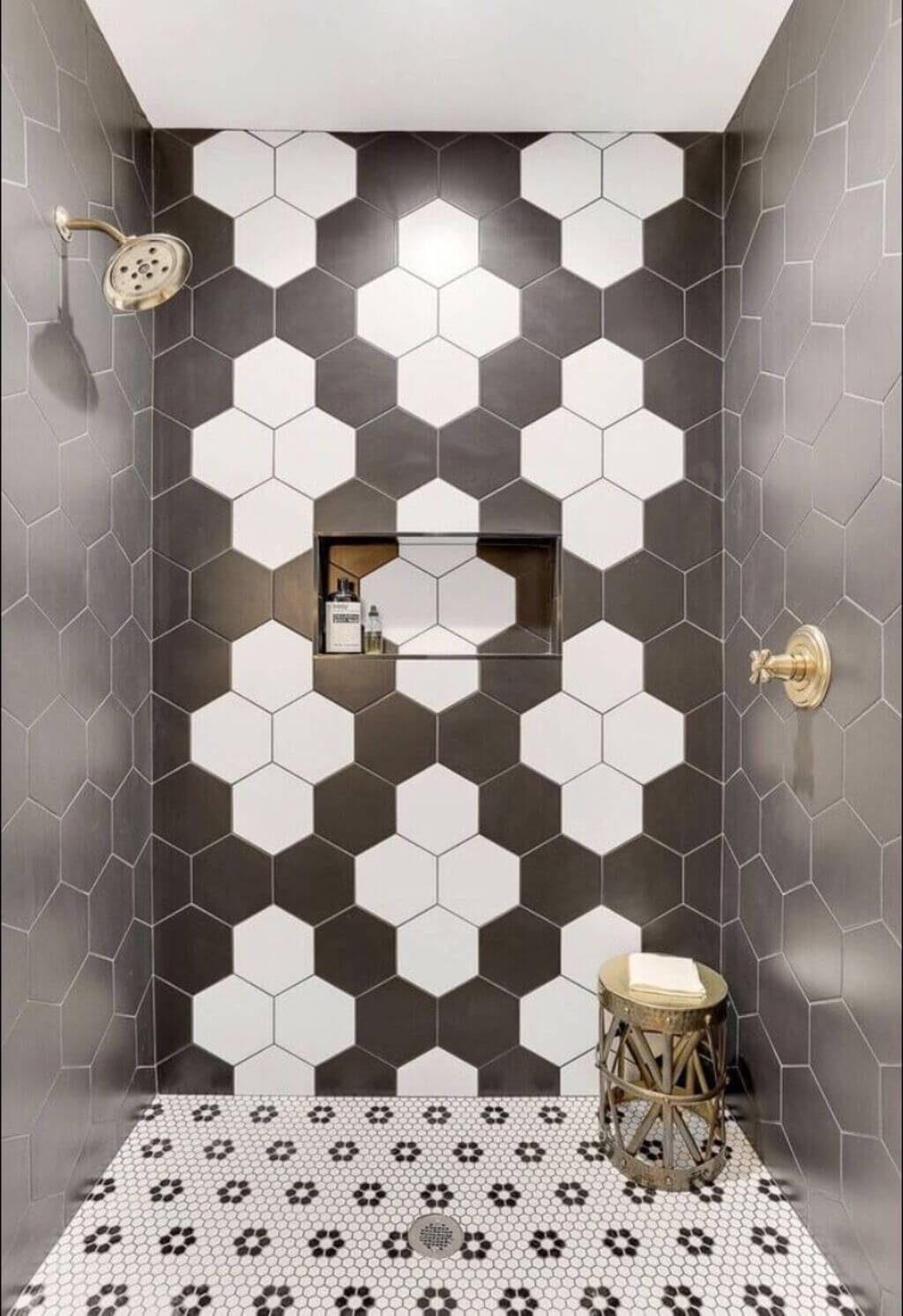 Source: pinimg.com
A modern shower tile idea that is equal parts sophisticated and playful defines this bathroom space. The honeycomb-like pattern of the tiles has a structured yet playful vine whereas the contrast of black and white creates a sophisticated feel. Furthermore, the scale and pattern change on the floor thus adding to the character of the space.  
23. Hop on the Terrific Terrazzo Trend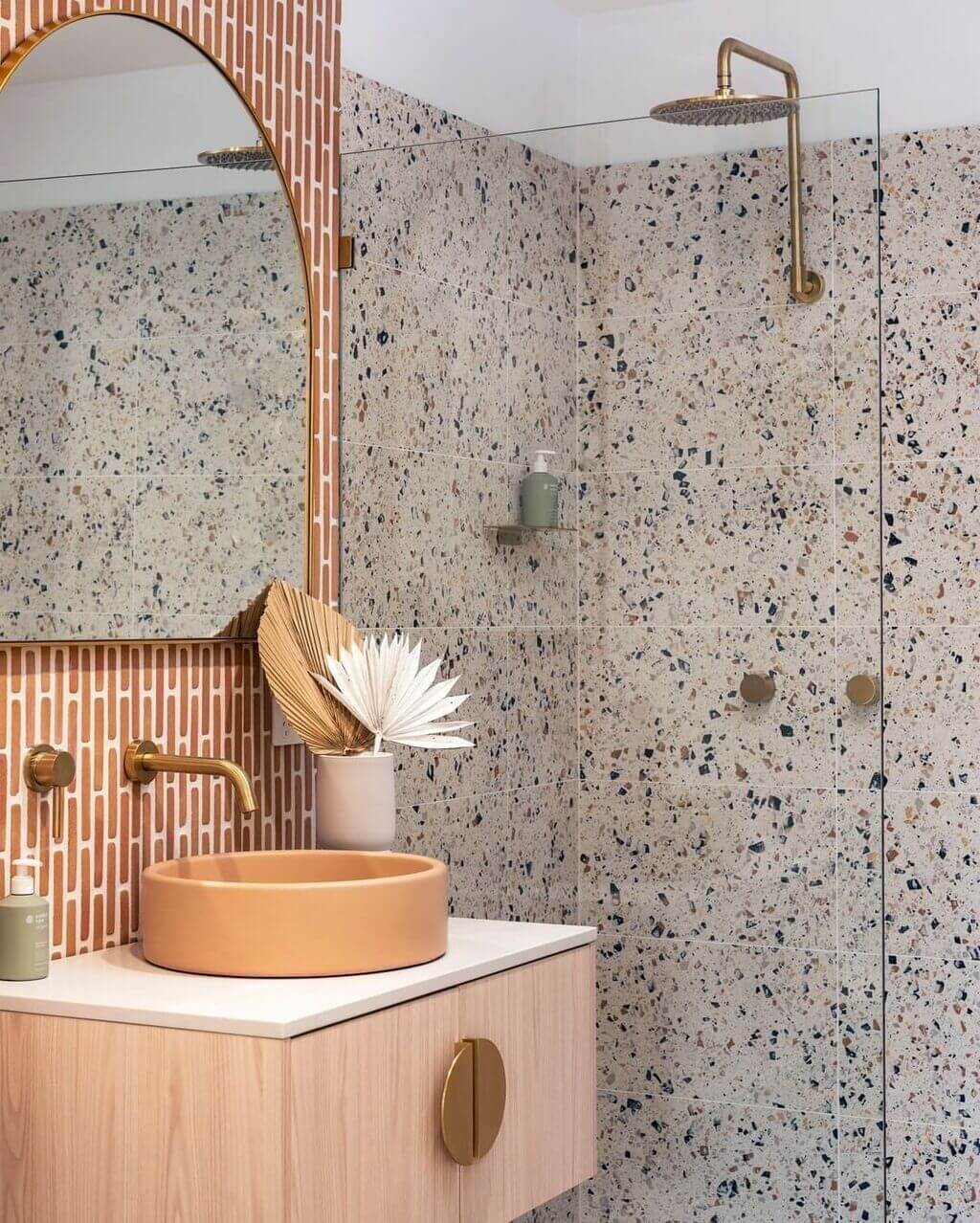 Source: pinimg.com
This elegant, chic and supple shower tile idea is made using terrazzo and graphical line tiles. The terrazzo trend has taken the industry by storm. The flowy pattern of the terrazzo balanced by the stark solid lines creates a visually interesting and alluring bathroom.   
24. Bring in the Vintage Vibe with Distressed Tiles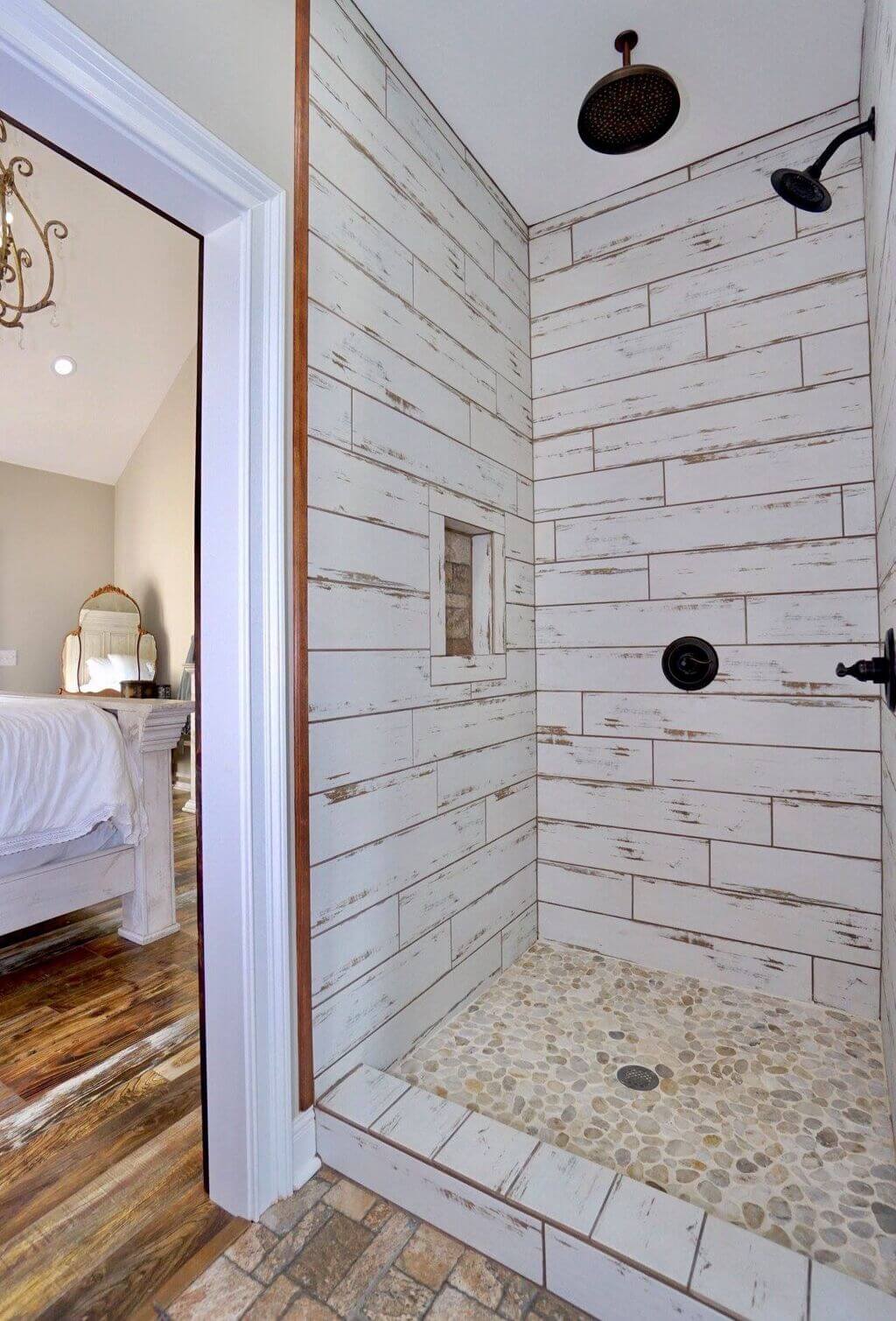 Source: pinimg.com
Bring in a vintage charm in your bathroom space with this unique shower tile idea. Use country-style-inspired distressed textured tiles in your space for an elegant charming shower space. Additionally, you can complement the vintage vibe with rustic and natural tiles.    
25. Play Around a Little with Feature Tiles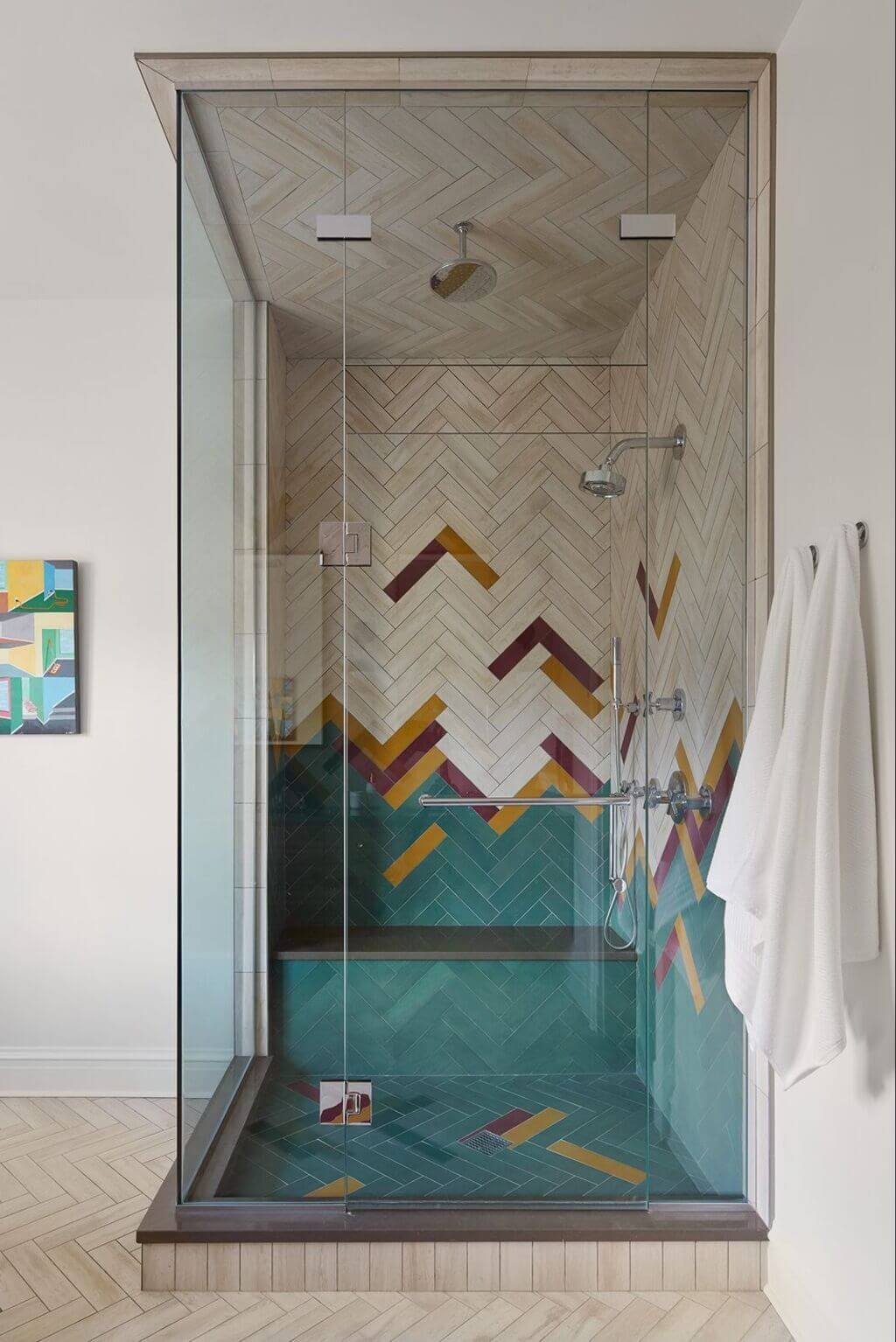 Source: pinimg.com
Another unique bathroom shower tile idea consists of this vibrant combination of tiles. The charming herringbone tiles are used creatively to make a playful composition. The cool tones of turquoise contrasting the warm browns add to the dramatic visual scene. 
26. Be Nature-Inspired, Use Natural Graphics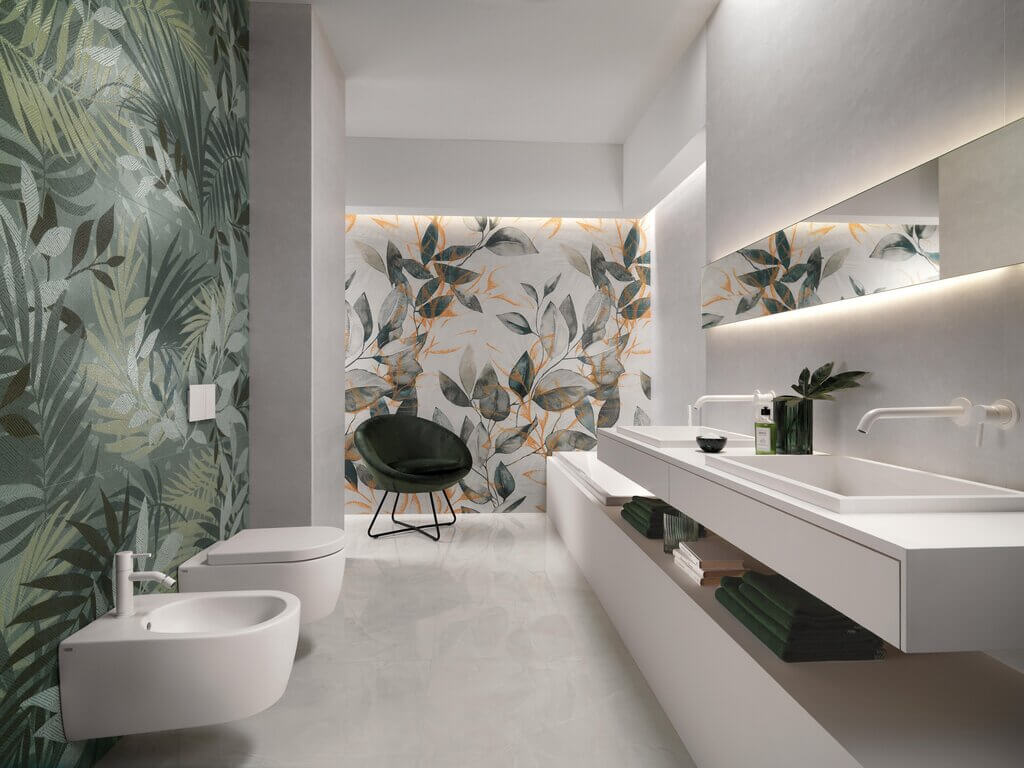 Source: twimg.com
A bathroom that's an extension of your bedroom should bring in the same elaborate designs. Nature-inspired motifs on shower tiles sculpt a bathroom that is in line with the rest of the house. This bathroom shower tile idea has limitless options and flexibility in terms of what you can achieve. 
27. Opt for a Seamless Look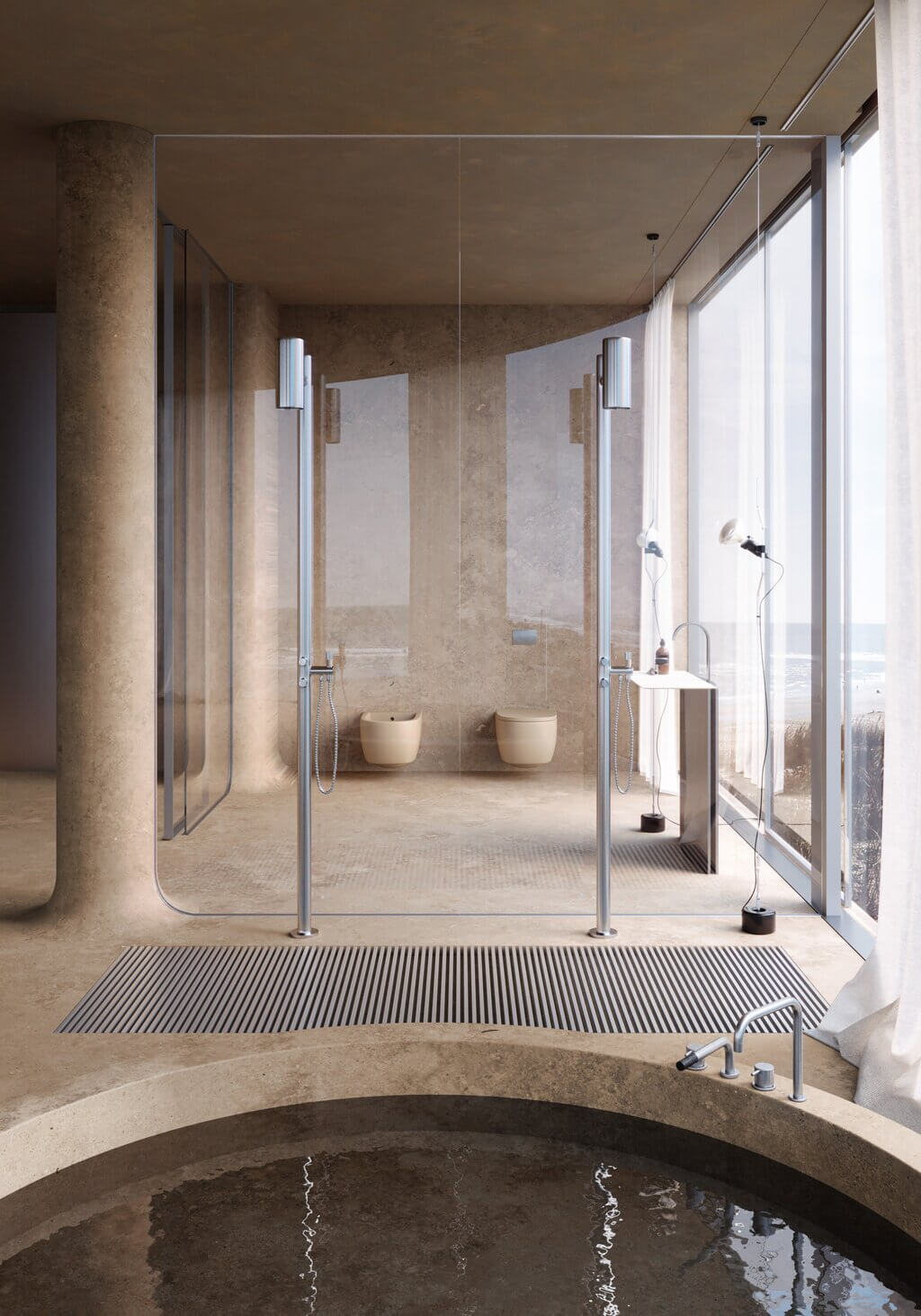 Source: archilovers.com
Seamless natural stone tiles that bind the whole space in a unified natural aesthetic are what make this shower tile idea special. The space flows as a monolith. Sleek details of the fixtures and faucets retain the sanctity of this spa-like bathroom space.
28. Use the Classics with a Twist, Go for Mini-Subway Tiles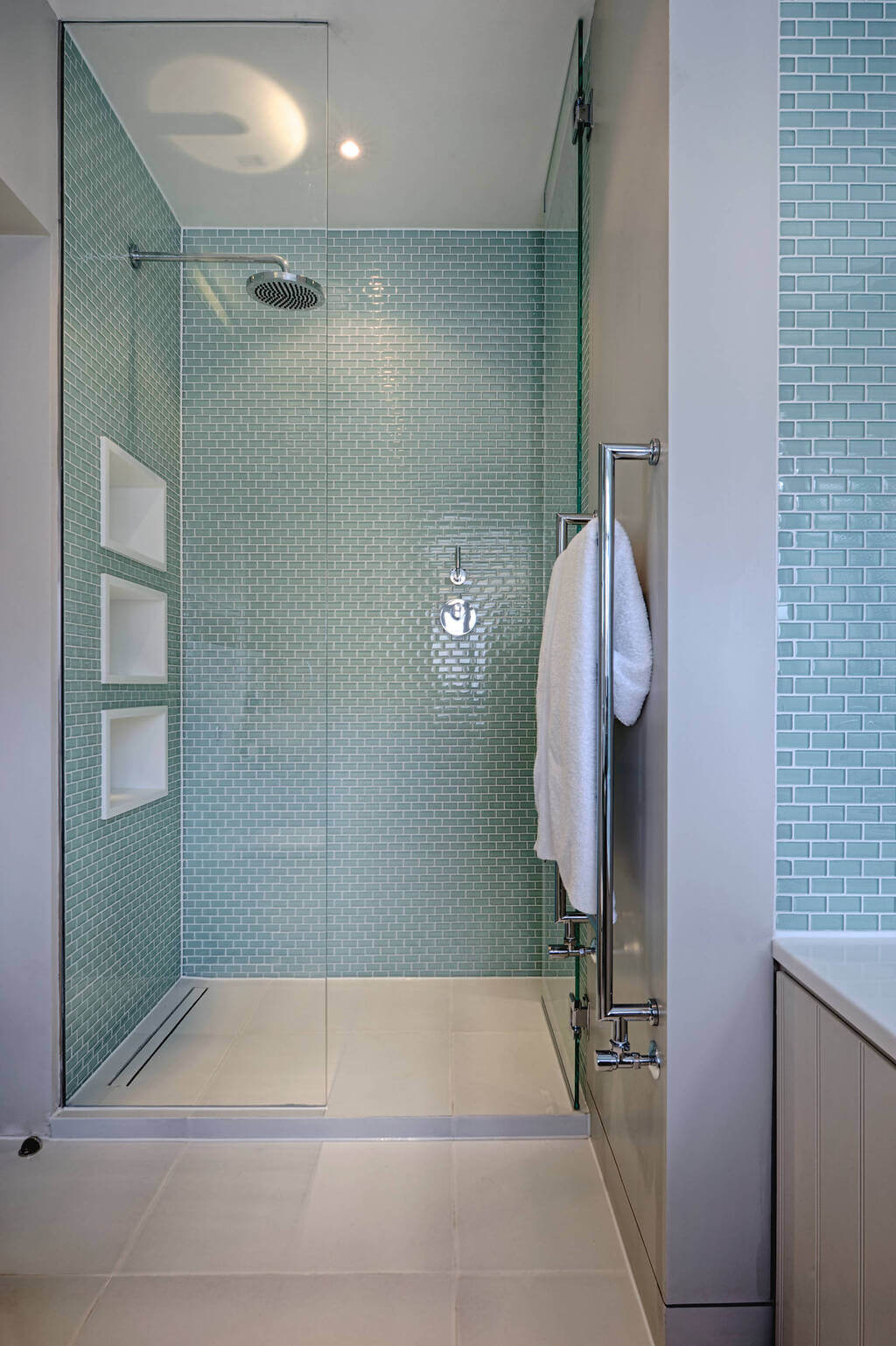 Source: hzcdn.com
Tired of the same subway tiles, but don't want to move away from its sleek appearance? Use them with the twist, go for mini subway shower tile ideas for a refreshing take on the classic form. Furthermore, you can go for cool and soothing hues to create a stunning bathroom design. 
29. Go Bold with All-Black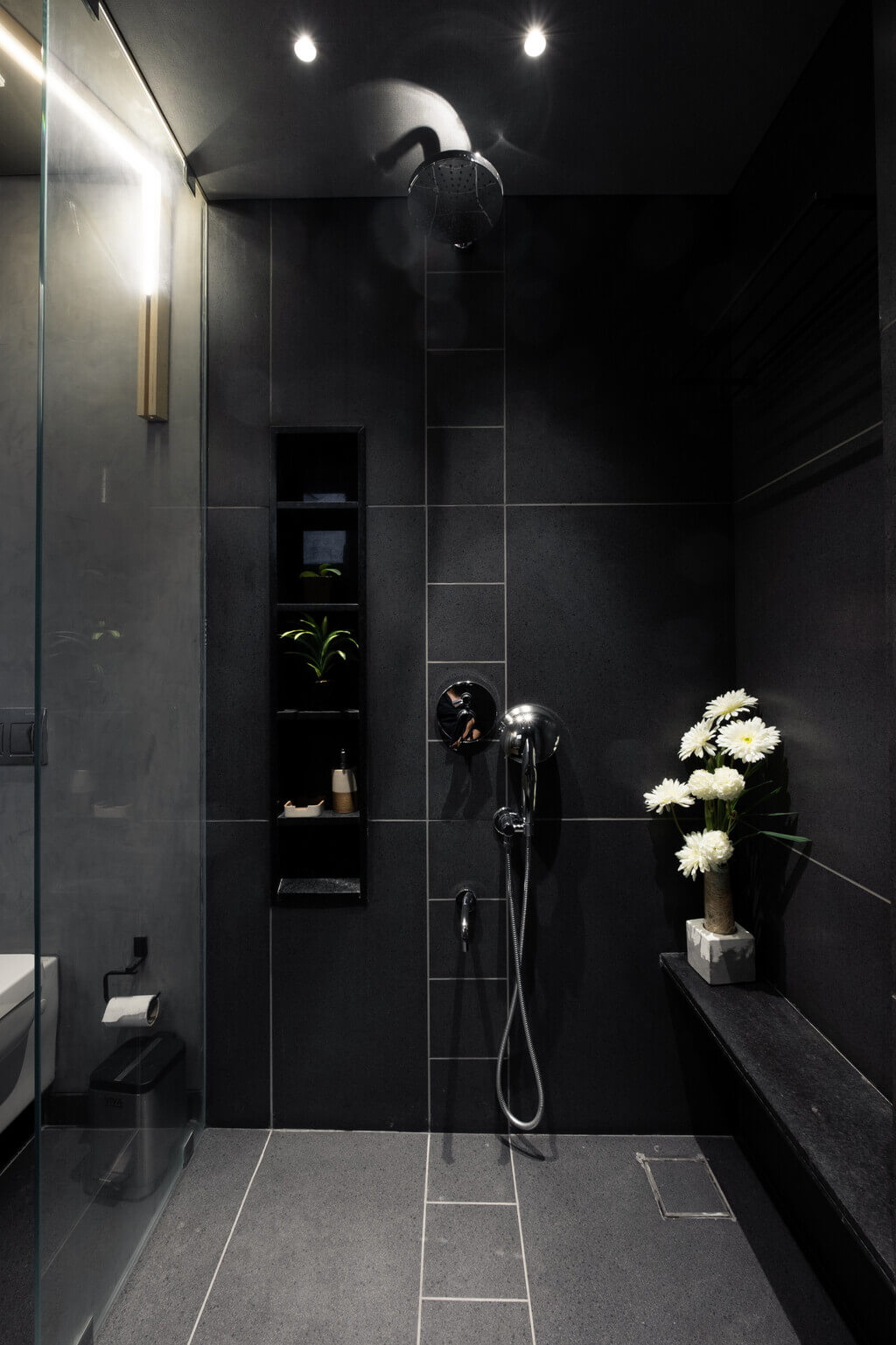 Source: hzcdn.com
If you love a clean minimalist aesthetic but want to move away from the typical white slate, go for an all-black design. This bold yet minimal shower tile idea exemplifies the sharpness and sleekness of a modern design with a twist. The matte tiles cut to make a directional focal point define the space.  
30. Go Big or Go Home with Dramatic Tiles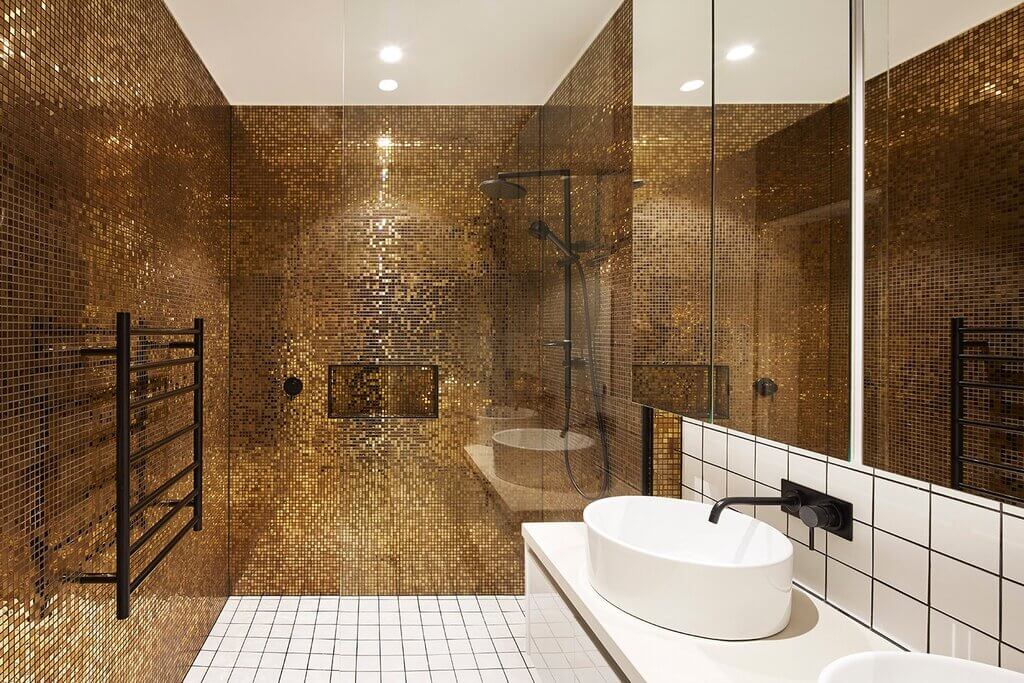 Source: archilovers.com
A bathroom tile design that oozes glamour and epitomizes over-the-top designs, has to be made using shiny golden mosaics. This style shower tile design idea is for the fearless, glamorous, bold souls out there. 
31. Create a Jovial Pattern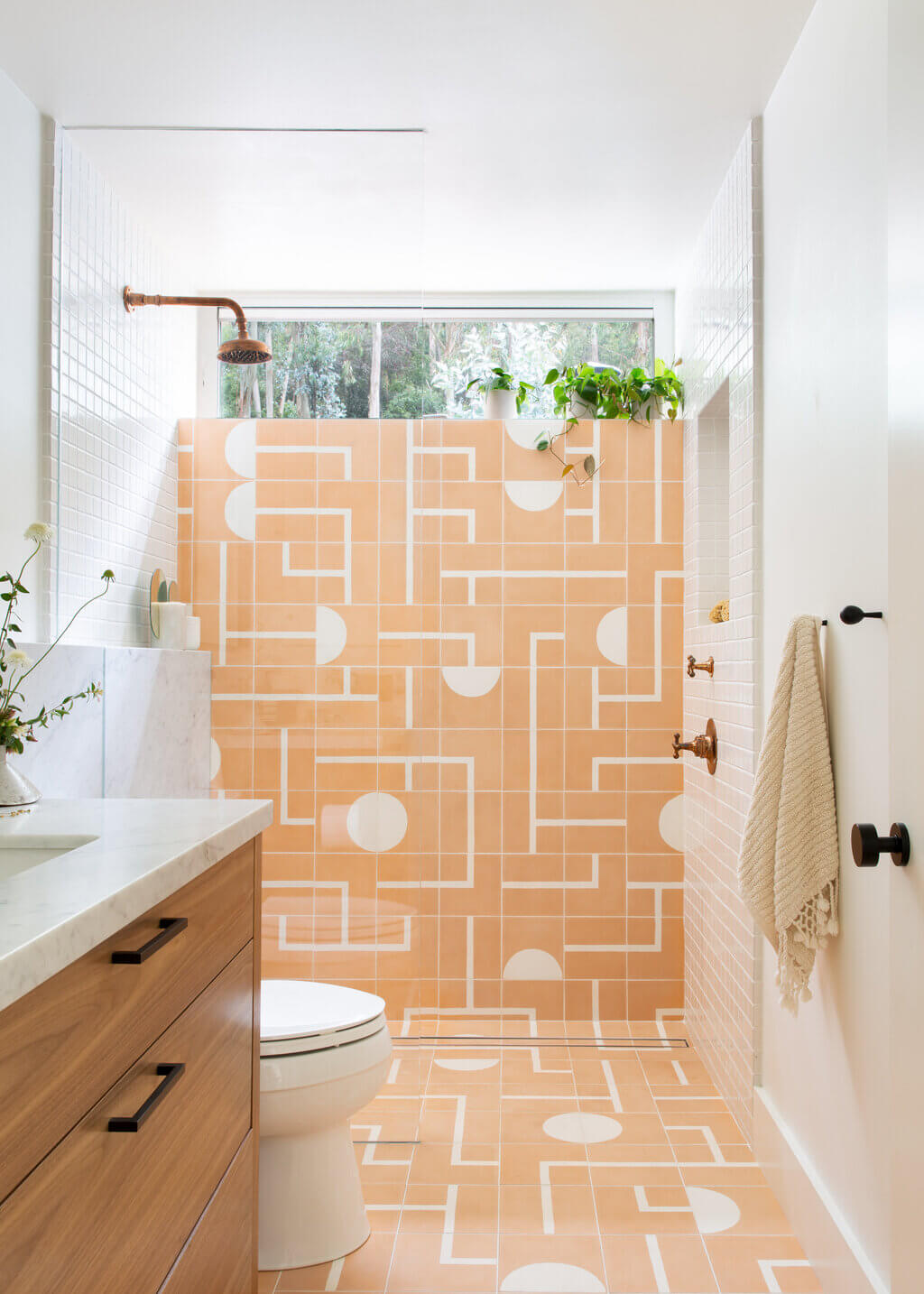 Source: squarespace-cdn.com
If you're looking for a shower tile design that will speak for your friendly and jolly personality, this shower tile idea is for you. Subtle graphical wall tiles that when pieced together like puzzles of a jigsaw create an interesting pattern and are just the perfect expression of a quirk in design. 
32. Up Your Design Quotient with Artsy Tiles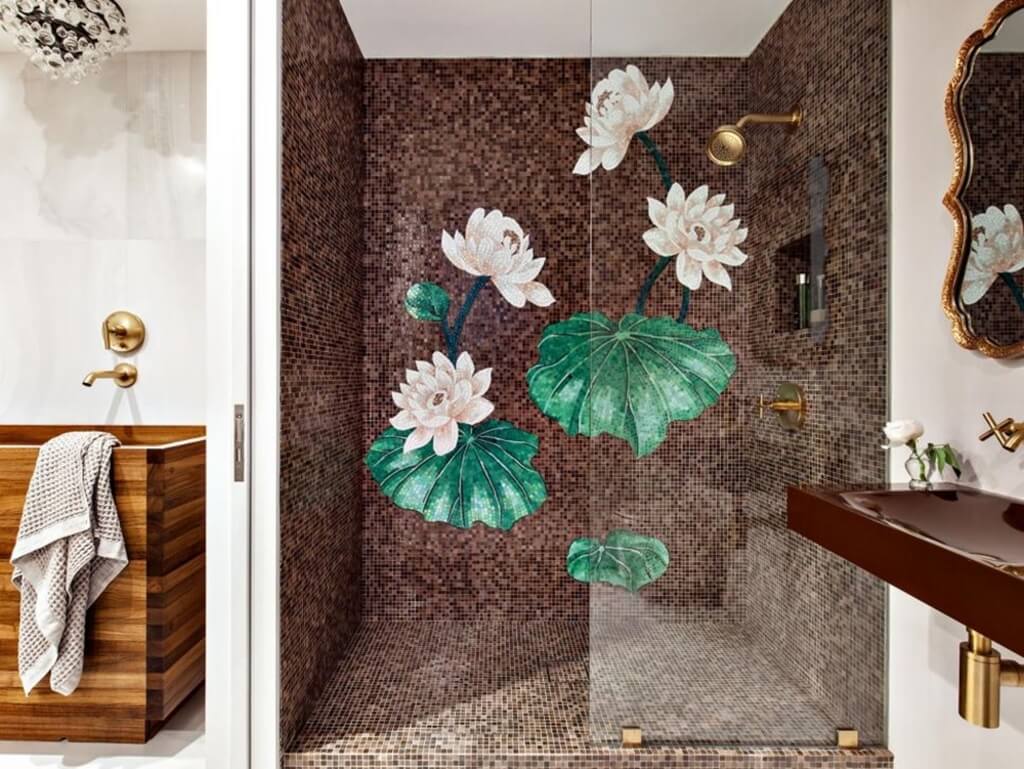 Source: slvvietnam.com
Need your bathroom space to be an expression of art? Opt for artsy decor tiles like these. This shower tile design idea works perfectly when paired with monochromatic mosaics. You can go wild with your designs, sizes, and types of murals in the shower.  
33. Please the Eye with Ornate Organics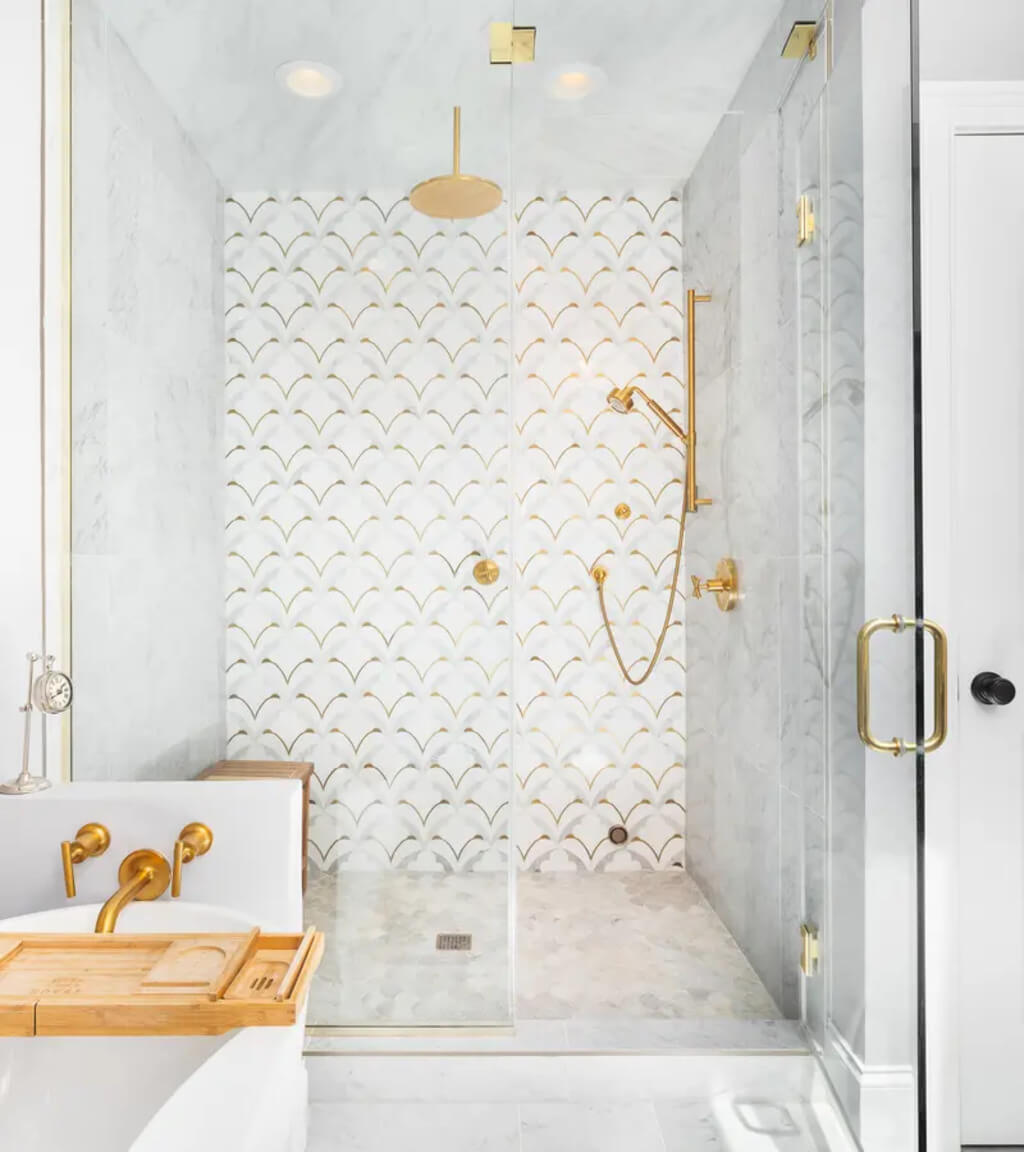 Source: rethority.com
If you are looking for royal shower tile designs without having to splurge on marble, consider shower tiles with ornate patterns. The organic and ornate pattern adorned in gold lining complemented by brass faucets defines this remarkable bathroom. 
34. Give a Touch of Vibrance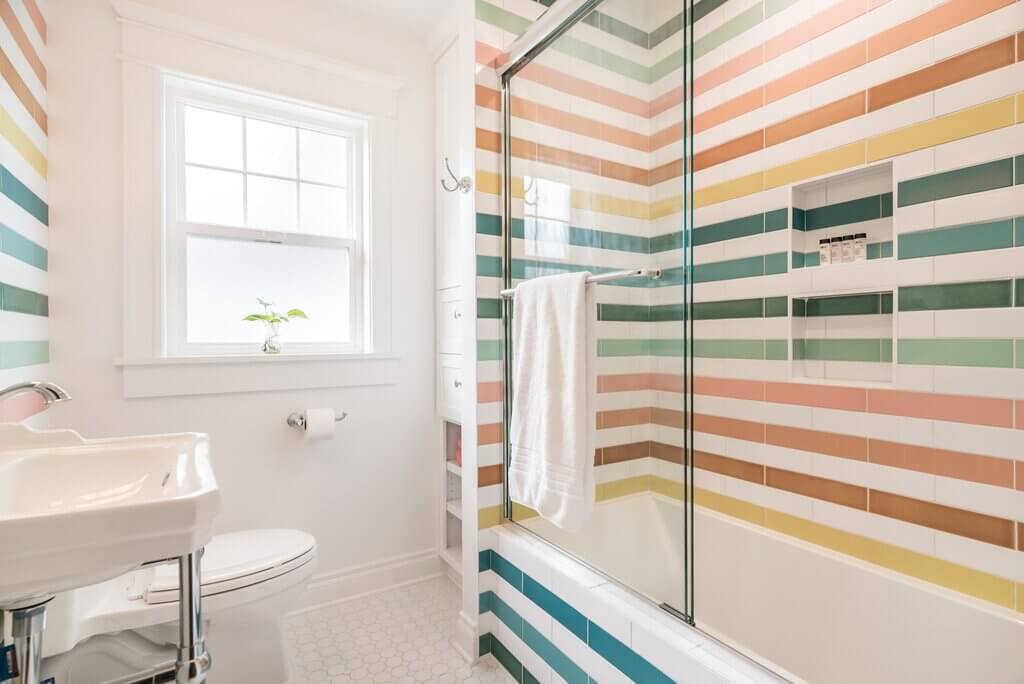 Source: fireclaytile.com
A colorful shower for a colorful personality! Make your bathroom space a place for energizing and cheering by using vibrant tiles like these. They add a very fun and playful touch to the otherwise boring space. 
35. Opt for Tiles as Good as a Wallpaper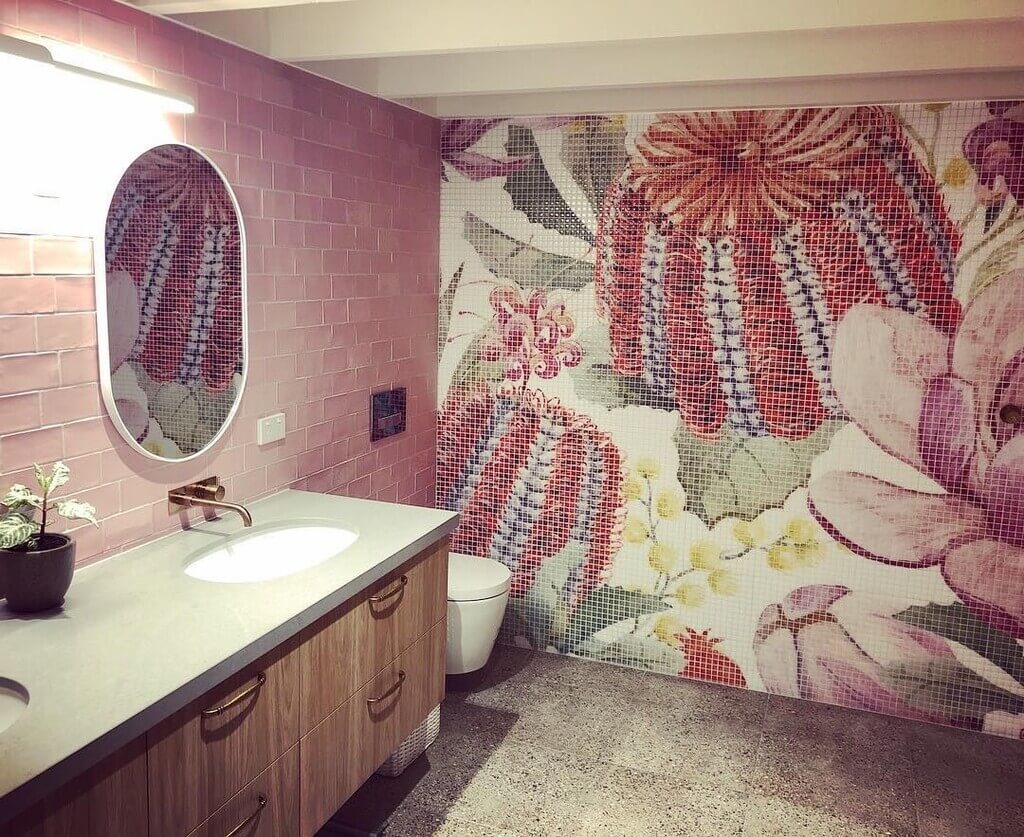 Source: grafico.com
An out-of-the-box shower tile design idea uses small tiles to create a full-length mural. To dramatize the look, go for vibrant abstract patterns with contrasting hues and ornate patterns. You can even go for striking glam or retro design aesthetics.  
Also Read: Bathroom Trends 2022: Top 7 Modern Design Ideas for Your Space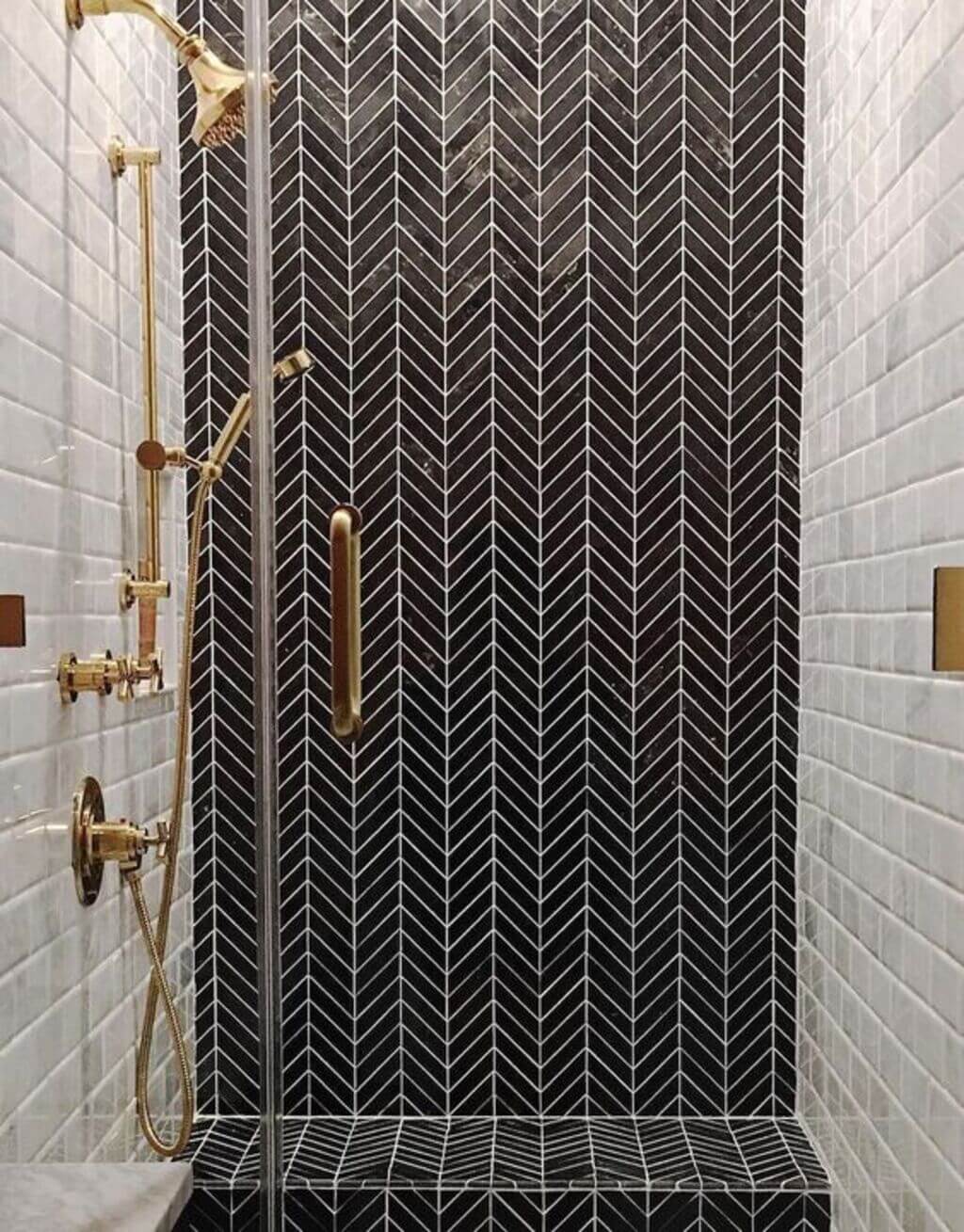 Source: pinimg.com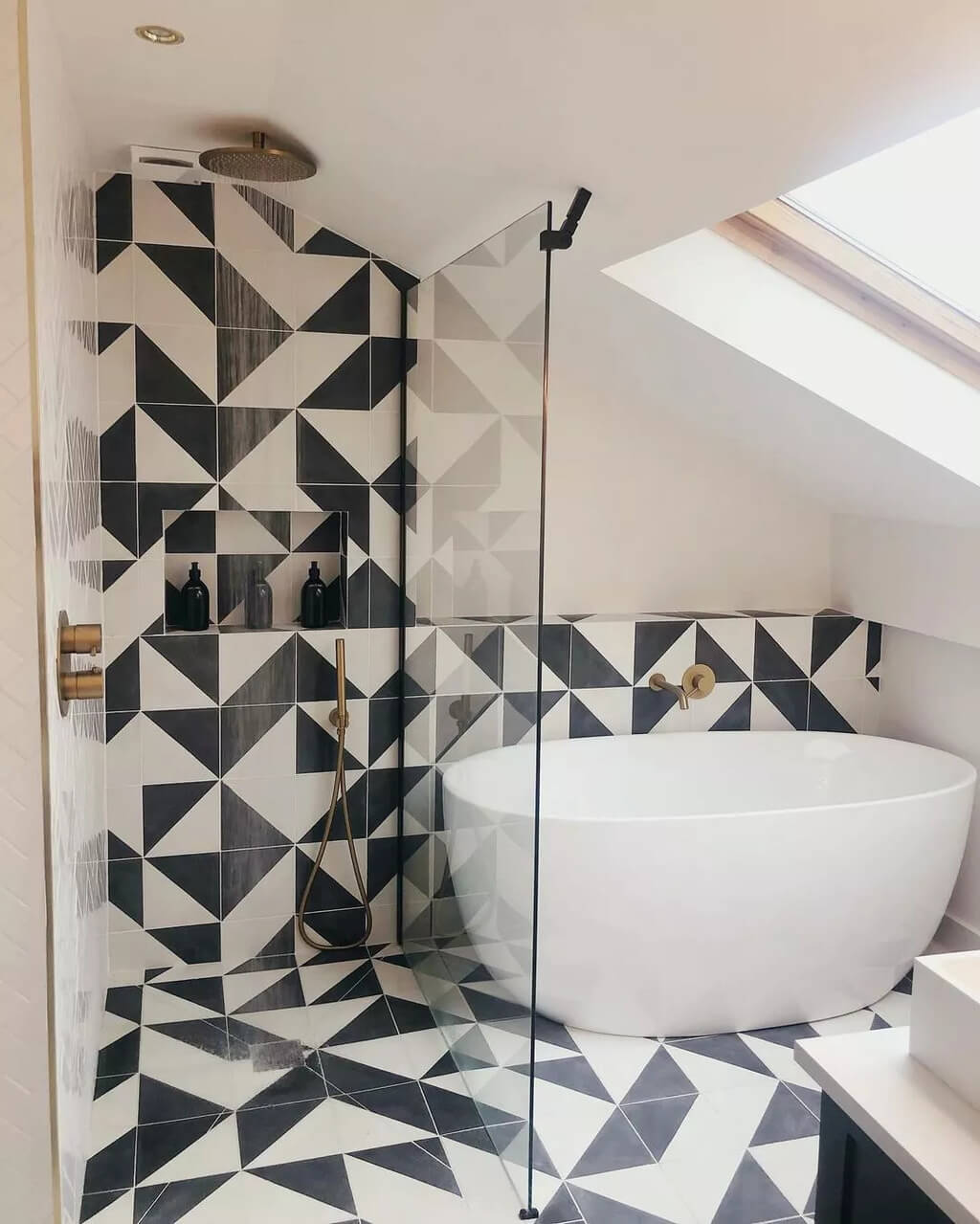 Source: amazonaws.com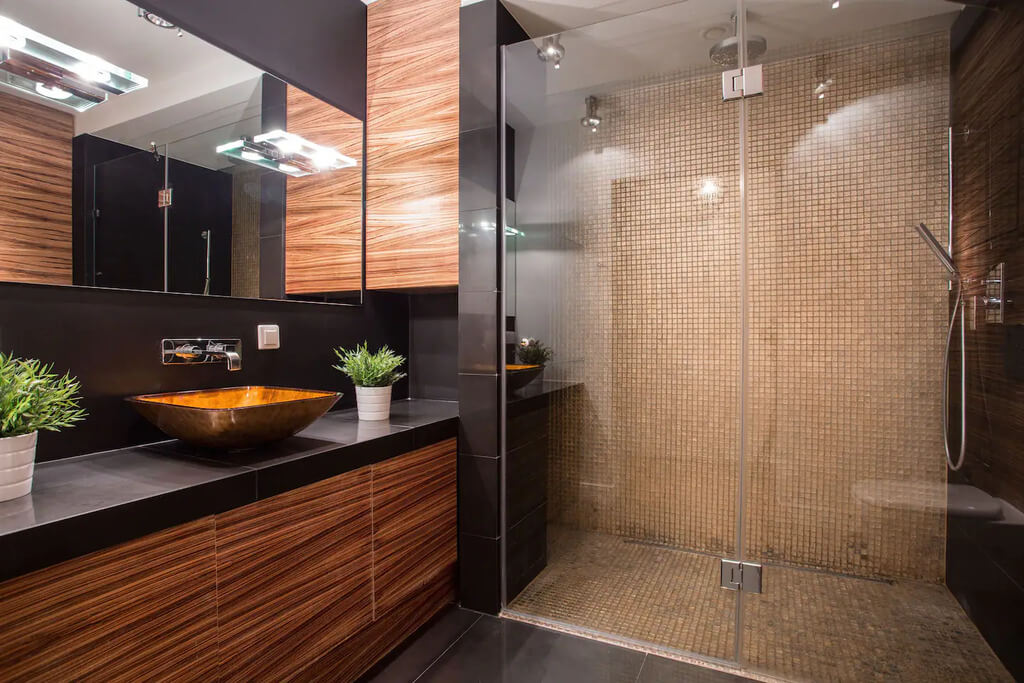 Source: angieslist.com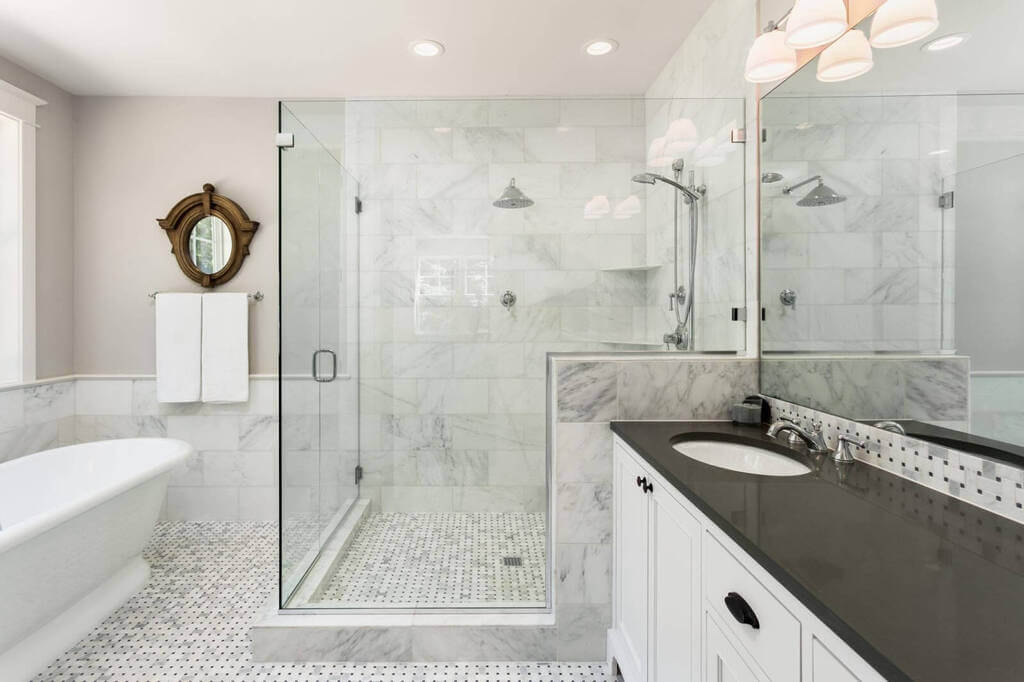 Source: netdna-ssl.com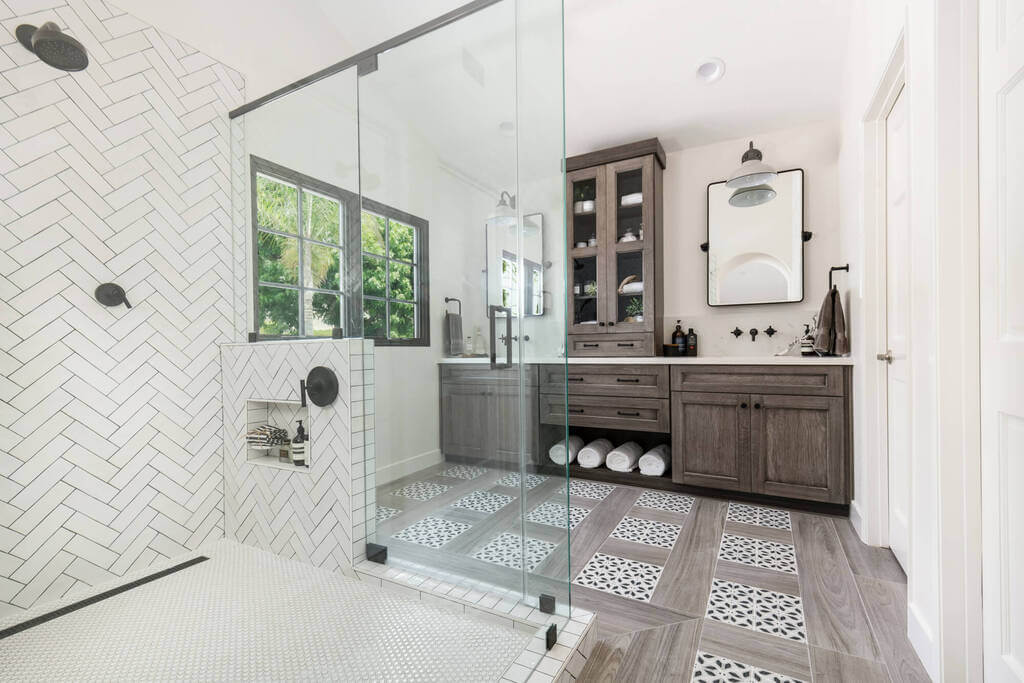 Source: seapointe.com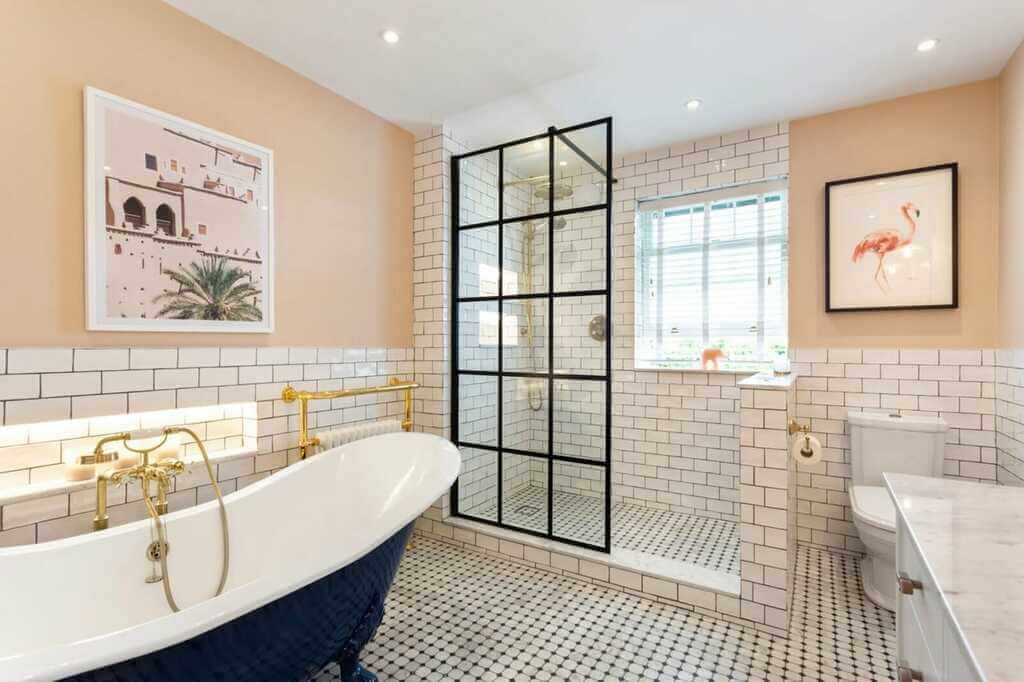 Source: decorilla.com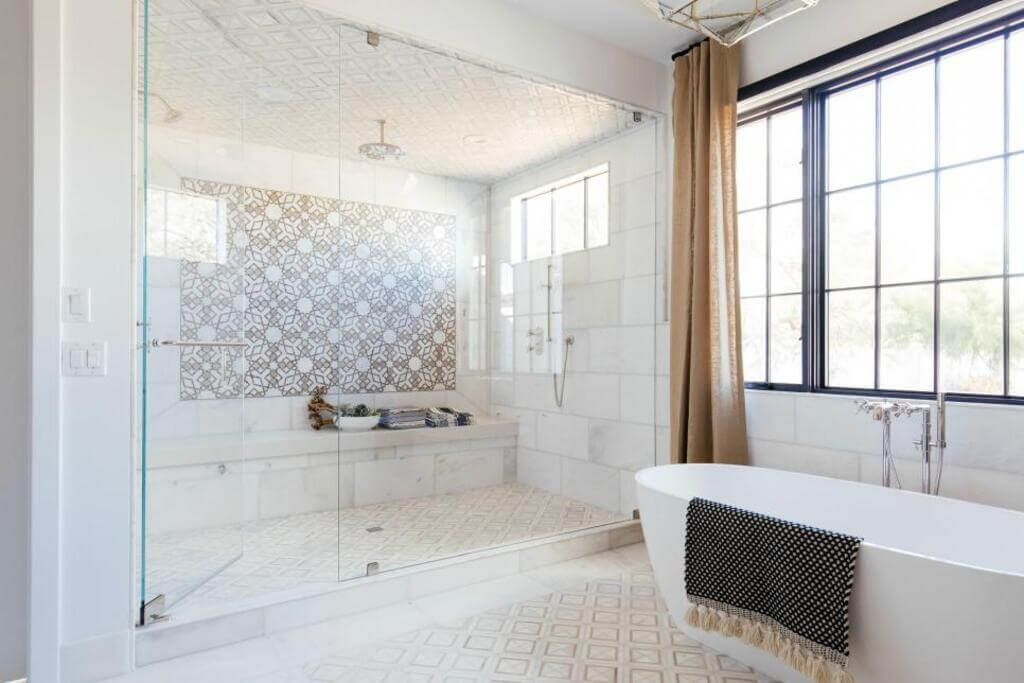 Source: sndimg.com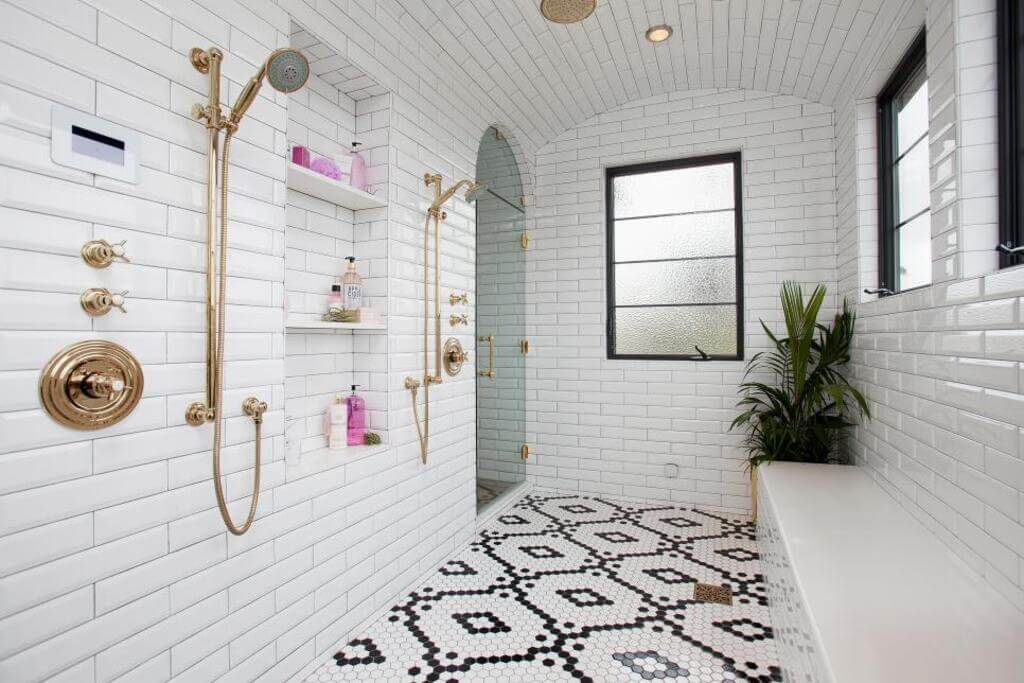 Source: sndimg.com
Source: thespruce.com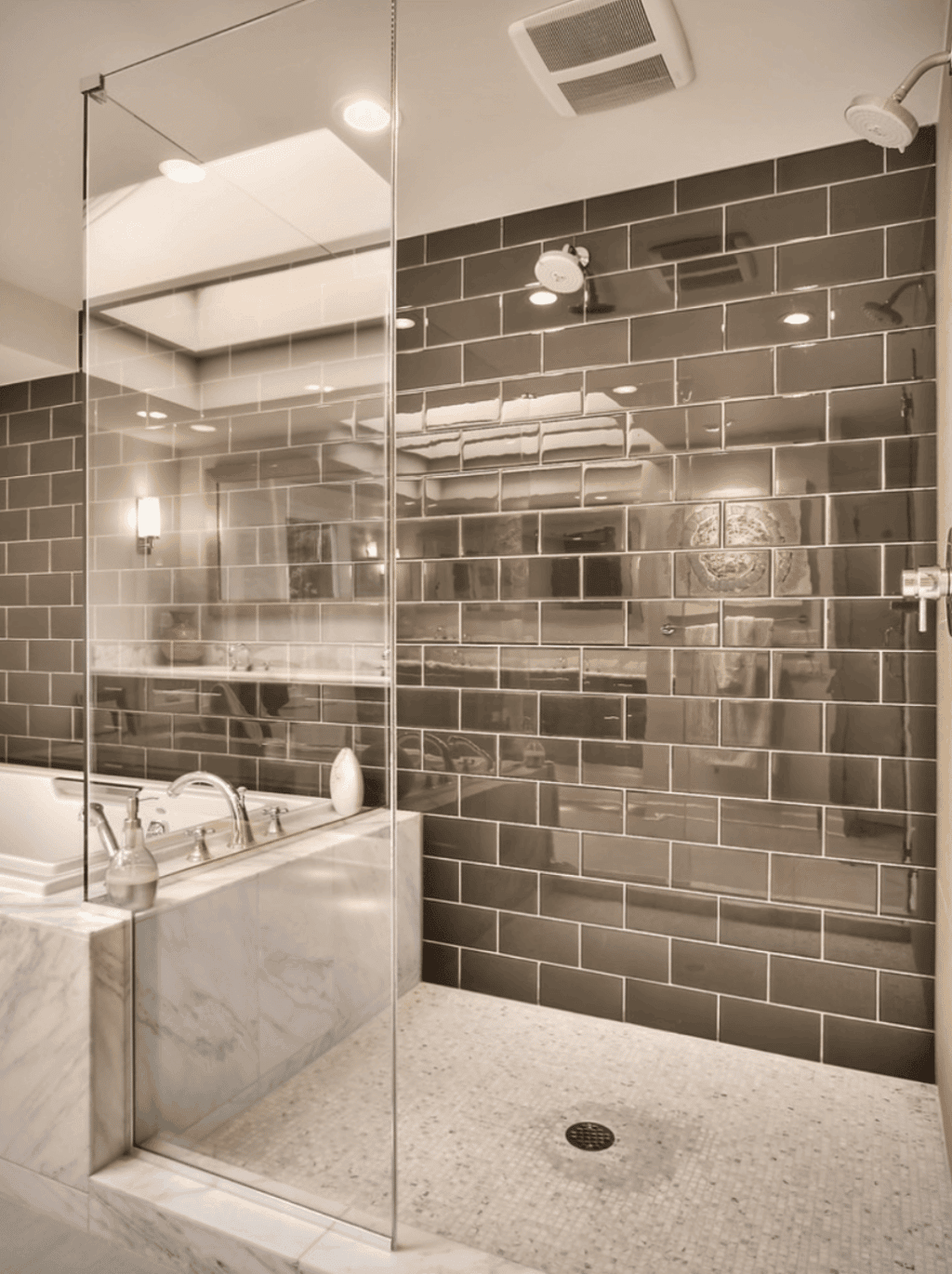 Source: trendir.com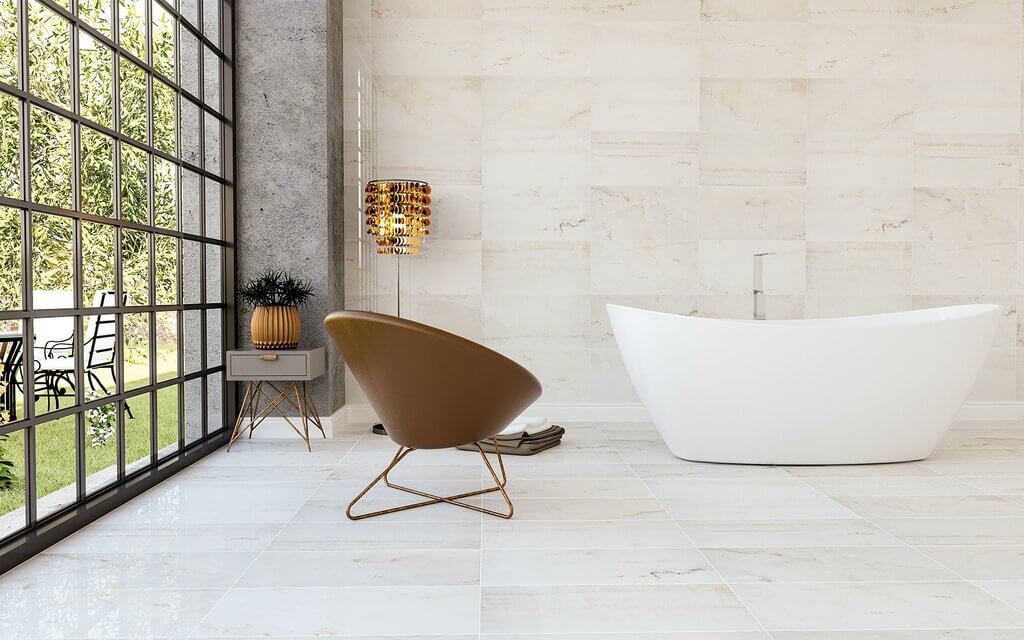 Source: countryfloors.com
Final Verdict
In the end, it all boils down to your style! Let your personality find expression in the design of your bathroom. Choose the ideal shower tile for your creating your at-home spa-oasis. 
FAQs:
1. What Color of Tiles Will Enhance the Size and Spaciousness of   My Small Bathroom?
For small bathrooms, lighter colors and neutral tones work well in making the appearance of the space bigger. Whites specifically add volume and depth to the space making it appear larger. 
2. What Is the Best Tile for Shower Walls?
Ceramic tiles and porcelain tiles are the best tiles for shower spaces. 
3. What Size Tile Is Best for Smaller Bathroom Spaces?
Ideally, smaller tiles are better for smaller bathroom spaces. They make the space look proportionate, larger tiles on the other hand make the space look smaller. 
4. What Bathroom Tiles Are on Trend?
Recently, matte tiles and earth shower tiles were becoming quite popular. However, that has changed, now terrazzo tiles and glazed pastel tiles are trending. 
5. Should a Bathroom Floor Be Darker Than the Walls?
It is recommended for the bathroom floor be darker than the walls so that the spaces stand out. However, the rule can be tweaked as per convenience and there can be exceptions. 
To know more about Home improvement ideas, Cleaning and decoration tips visit ArchitecturesIdeas.
For daily updates, follow us on our Instagram page @architectures_idea.