Roof Leaks – When Is It an HVAC Problem?
Several factors can cause a roof to leak. Unfortunately, most building owners tend to ignore these factors and focus on blaming the roofing contractor. This is why professional roofers like Roofs for life, Inc roofing in Bradenton, make sure to educate their clients on factors that can affect their roofs or cause roof leaks.  
For example, if you install an HVAC system on your roof, you should always be on the lookout for roof leaks. This is because the seams around your HVAC unit support platform can crack after a while. This happens to be the most common cause of roof leaks in most buildings with HVAC systems. 
The HVAC support platform is designed to sit about three feet above the roof. This means the platform is vertically wrapped up with roofing material. Over time the phenomenon of wear and tear expects to set in when the material begins to bend. This will lead to cracking of the roofing material and cause the roof to leak. 
Roof leaks in houses can lead to the following damages:
Chemical emissions from building materials.

Destruction of windows, doors, and other household timber items.

Rotting or rusting of roof trusses due to constant exposure to dampness.

Increase in mold and bacteria growth.

Dry rot create by damp wall plasters.

 
To avoid these problems, you need to find the source of your roof leak and have it fixed on time.  
Here are some HVAC problems that can lead to roof leaks. 
Uncovered Ductwork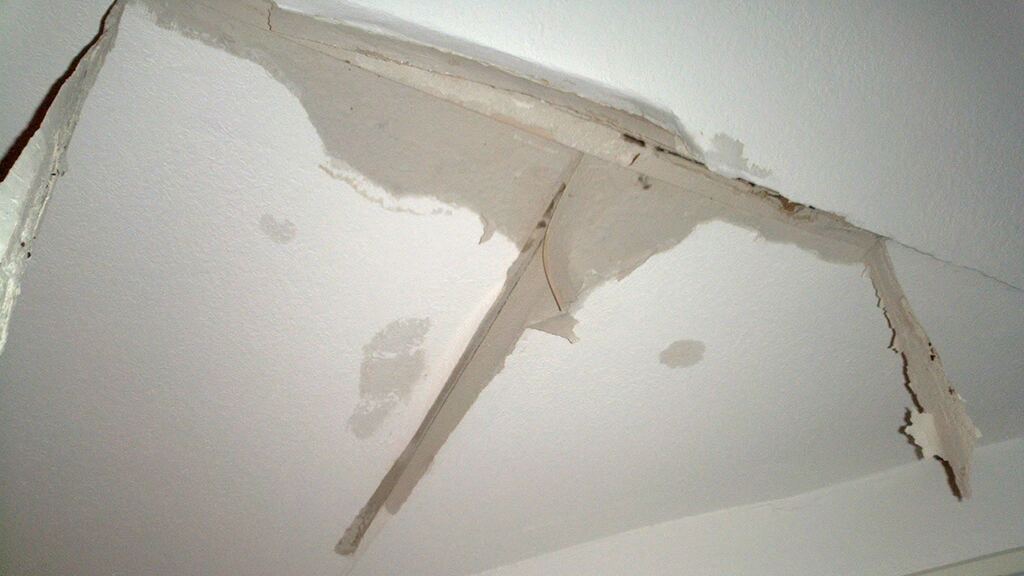 Source: mrright.in
It is inefficient for ductwork to install on the roof itself. The reason for this is that it is difficult for expose ductwork to remain watertight. Having exposed ductwork will cause water to slip through the seams quickly and find its way to the vents. This is bad for your ceiling and also dangerous for your health. Once the ceiling is wet, it gives room for mold or mildew growth, which will, in turn, affect your health.
Masonry
The long-standing relationship between HVAC and masonry professionals is the reason why it is important to pay attention to this. Bricks will use in the construction of HVAC system platforms. Over time, these bricks can become porous, especially in older buildings. When this happens, water passes through them, leading to leaking roofs. Misidentifying leaking brickwork as a possible roofing leak cause is very common. For accurate identification, you should talk to an expert. 
Leaks From Drain Pan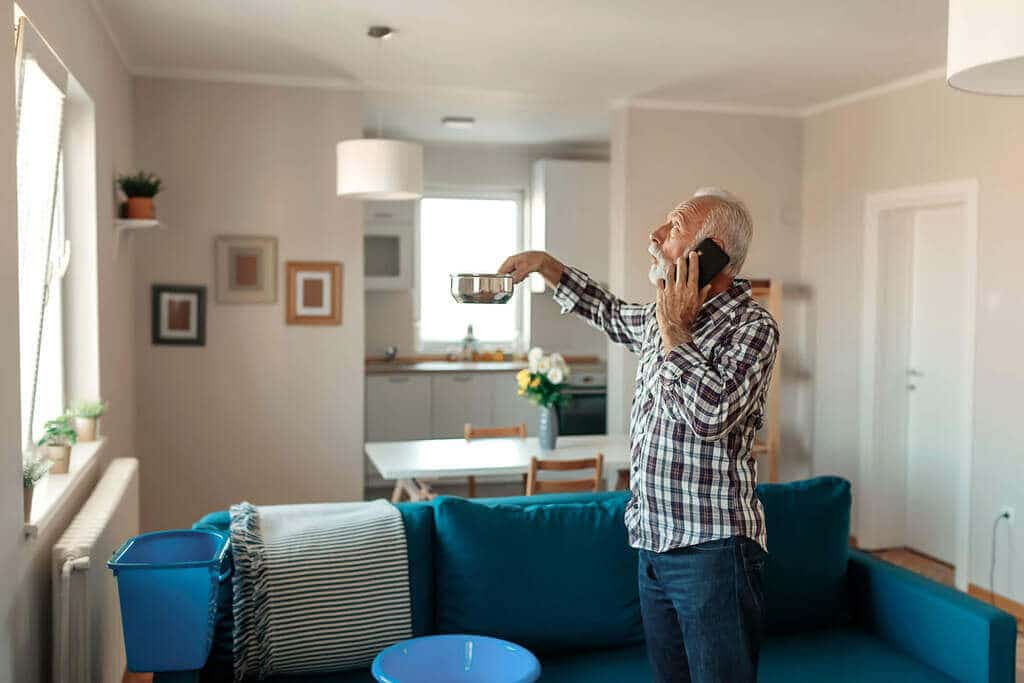 Source: jspplumbingandheating.com
Another common cause of roof leaks involving HVAC is damaging the drain pans. This is an issue that can easily resolve by a roofer if identifies quickly. 
Skylights
Skylights sit on a curb, which is similar to those designed for HVAC units. However, skylights' curbs are relatively small compared to the ones used for HVAC. Their mode of construction is similar. Meaning, the roof tiles, and bricks used in constructing them can crack. So if you have a skylight and are suffering from a roof leak, you should endeavor to have the skylight looked at. 
It is advisable to perform regular inspections on all items and structures positioned on your roof to detect any damage that might lead to leaking. You should employ the service of a professional to perform these inspections.
Also Read: Dealing with leaking roofs – Tips that every homeowner should know
Clogged Condensate Line
When removing moisture from an HVAC system, the air usually pushes over the air conditioner coil. This is where the condensation happens and transfers into a condensate pan for collection. In case the primary condensate pan fails, there is a backup option. If you notice wetness around the lower parts of the units, the line is likely clogged.
In order to avoid total damage to the line and prevent the condensed water from leaking into the roof, you must reach out to a professional. They will help locate the clog in the line. A clogged condensate line can lead to mold infestations and other kinds of water damage.
Condensation in the Air Ducts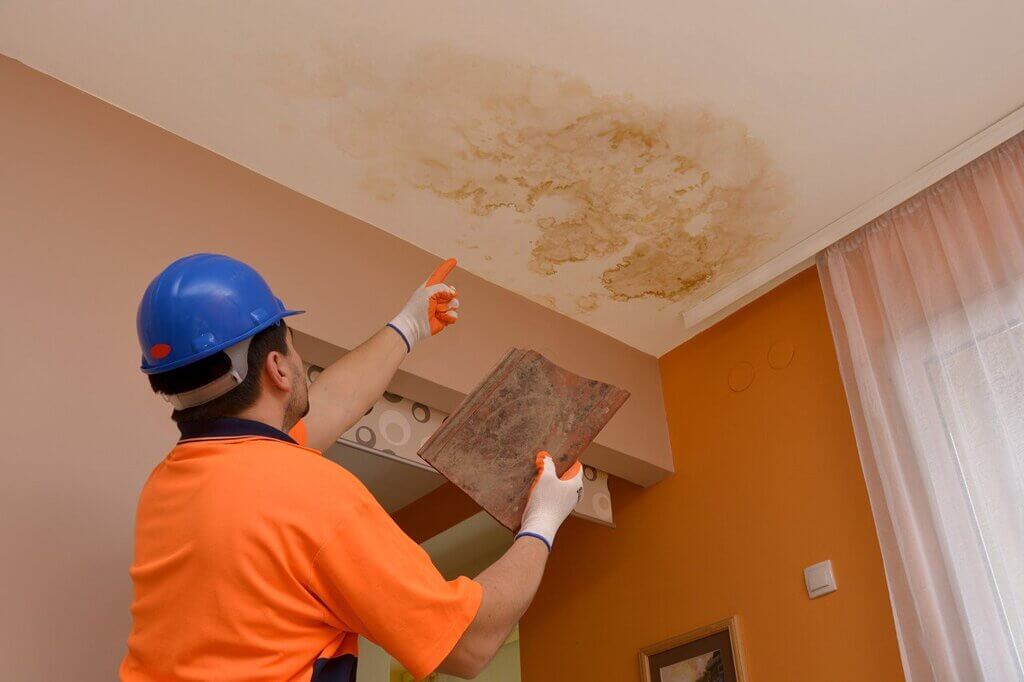 Source: multiscreensite.com
Condensation forming outside and inside a poorly insulate duct can lead to water leakage. To prevent this, you must ensure that your air ducts are adequately insulated. For an effective insulation job, it is best to hire an expert.  
Clogged Filter or Dirty Evaporator Coils
Having a dirty evaporator coil or clog filters can also lead to leaks. This is because these two problems lead to airflow restriction. As such, air and vapor find it hard to leave the system the right way, leading to a clog. 
When inspecting your roof for leaks, it is important to check any structure that penetrates the roof or is attach to the roof. Also, all inspections should consider by a professional and should do at least once annually.