Home renovation projects now cost nearly 50% more than they did two years ago. Although this is in part because of the economy having quite the wobble or five, part of the reason is that simply everyone wants to improve their home post-pandemic. Loft conversions are particularly popular with homeowners who have a house without a garden, or with homeowners who don't want to eat into their outdoor space with an extension.
For the price, homeowners also understand that the overall rise in house prices over time on balance means that even though construction costs more, it still enhances the house value and provides an incredible return both functionally and financially.
Whilst most people know loft extensions create more beautiful, functional space in a home, many are unaware that there are certain adjustments that can be made to a loft conversion to further enhance how it feels, looks, and functions. Skylights are a really good example of such an adjustment and are so beneficial, they absolutely have to be included in your design plans.
What Are Skylights?
Skylights are also known as roof windows or roof lights, and they are glazed openings placed on a pitched or flat roof. There are some differences between the different products available, ranging from smaller windows used on pitched roofs, to more ample bespoke options to flood an entire flat-roofed portion of a loft conversion with natural light.
As a general rule, skylights can be fixed shut, but usually, they do open to allow ventilation of the space. They can also have remote blind/ screen systems attached to allow for light-level control.
Three Reasons Skylights Are a Loft Conversion Must-Have
If you're not sure why skylights have to be included in your loft design, these three reasons should give you a good indication as to why beautiful, functional roof lights for a loft conversion just make good sense:
Ventilation
Ventilation is incredibly important for any space in the home, particularly for loft spaces, which can be otherwise structurally separate from the airflow and ventilation available in lower floor levels.
Ventilation primarily helps to boost the air quality of the loft space. Air pollution contributes to up to 36000 deaths in the UK annually, and whilst we know 25% of UK homes are surrounded by air pollution that exceeds safety limits, we spend on average 90% of our time indoors, and so poor air quality in our living environment can actually be much more dangerous.
With skylights that open, the loft environment is more able to be ventilated, aiding and allowing the escape of moisture, bad smells, indoor pollutants (such as paint fumes), and smoke (if your loft conversion includes a cooking space). Moisture escape is particularly important as it helps avoid problems like mold and dampness, which is a further risk to air quality, as well as having the potential to destroy soft furnishings and certain surfaces, aesthetically causing unattractive black, white and green spots to plague an otherwise beautiful area.
Key Benefits of Good Ventilation in a Loft Space:
Removal of condensation
Improvement of indoor air quality
Removal of bad smells
Control over allergen spread/ movement
Allow escape of harmful fumes like VOCs
Natural Light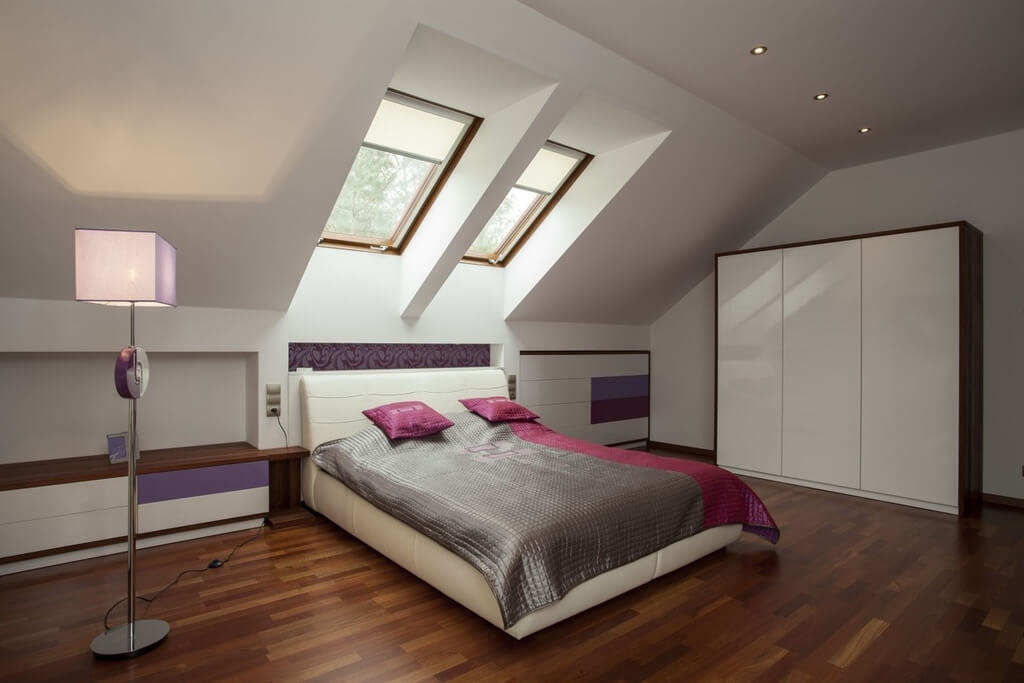 When you have a skylight loft conversion you allow natural light to flood in. Aesthetically, this is highly beneficial as it flows across furnishings and the cute and quirky look of the conversion, enhancing its overall visual appeal. It's especially useful in loft conversions where there might be corners that are oddly shaped, or slanted walls – the kind of areas that might make it challenging to light.
Recessed lighting, lamps, and other illumination options are possible, of course, but having natural lighting is always a helpful foundation for lighting a space.
The natural light that will flood in through your skylights has more benefits than looks alone, including a role in how you feel, physically. Although you cannot create Vitamin D when sunlight flows through a window, the light does still contribute to helping you feel good. It does this by helping you connect with your natural circadian rhythms relating to the sun.
These are the body's internal clock systems that regulate your sleep-wake cycle and that are regulated with natural light. With good blue light control on board, the natural light coming in during the morning helps your body know to start to wake up, and as it darkens outside and the light reduces, your body knows to start to wind down.
Temperature Control
Cost-wise, with skylights, natural light is able to warm the loft (to some degree) and allows electric lights to stay off for much of the daytime – both of which are of real benefit at a time when energy is incredibly costly and shows no sign of falling in the near future.
Add this to the natural heating of the space from rising heat from lower levels and the loft can be incredibly economical as a functional room.
In summer, the loft will get warm and skylights help to control that rising temperature by ventilating the space and allowing air to flow through. Instead of the room feeling a little stuffy and warm, the air allowed in through the skylights will cool things down and allow a fresher, more comfortable feeling throughout the space.
Why Not Speak to a Loft Construction Company Today to Find Out More About Skylights
To find out what the true design potential of your loft space is, including skylight fitting potential, you'll want to speak to a professional loft construction service.
They can let you know how many skylights you can have in your new home improvement, and if other window options could work for you, such as floor-to-ceiling windows – a popular choice with modern loft conversion designs.
Why not speak to Clapham Construction Service today to unlock the true potential of your loft space, for more functional square footage added to your home – and with the addition of skylights – more ventilation, natural light, and temperature control, too?