As you enter the shower, you are thinking about the day ahead- already late for the office, and already behind on work. Today is not going to be a good day! But as the water falls, you feel relaxed and carefree. You look down on the shower floor and embrace the experience.
Taking a shower is a magical experience. It makes you forget the stress and the worries of life, even if only for a moment. Obviously, you need the right shower for a good shower experience. And no shower is complete without a great shower floor- the shower pan and the shower base included.
But wait, are these two different things? The shower pan and the shower base?
Shower Pan and Shower Base: What's the Difference?
Both the Shower Pan and the Base are essentially part of the Shower floor and both aid in channeling the water toward the drain. But they aren't the same thing. The shower pan is the surface that you step on when you enter the shower, while the Shower base is what is hidden beneath it.
The Shower Base
Beneath the elegant acrylic/composite "floor" of the shower lies the Shower Base. Treated with cement or mortar, it helps drain the water and protect the surrounding. It is usually connected to the subfloor using a liner or sealant.
The Shower Pan
The shower pan is the floor you stare at while in the shower,  thinking about your day, or taking crucial life decisions. It is usually one piece made of acrylic or composite material. The aim is to look elegant while ensuring that the water flows down the drain. You can also make best bathroom shower.
What are Shower Pans Made Of?
Shower Pans usually come in these variants:
Acrylic- Large sheets of acrylic are heated and then stretched to form shower pans. They are often used in conjunction with reinforcements. They are a durable option but turn out to be costly in case they do need repairs.
Custom tile- This one is known for its looks but at a higher cost. It is also a task to maintain a custom-tiled shower pan, as the grout between the tiles is a little difficult to clean.
Fiberglass- A cheaper option in both installation and maintenance. Fiberglass shower pans are a mix of polyester resin and woven glass fibers. But they are also more susceptible to damage or stains.
Composite- These pans are made from a combination of materials and are very durable. The quality and looks are often customizable and varied at the least. They are usually the expensive ones but cut down on maintenance and repair costs.
Top 7 Bathroom Shower Pans
1. DreamLine Neo Angle Shower Pan
Made of fiberglass-reinforced acrylic, this shower pan is one of the most popular choices for corner showers. It's anti-slip and extremely durable. It accommodates drains that are up to 2-inches wide (but not included in the pan). It is also one of the most compact designs- perfect for small or mid-sized washrooms. 
2. ELEGANT Shower Base
This is a premium-look shower base by ELEGANT STORE, made of sheet molding compound. This shower base even has an integrated tile flange to merge with your current flooring. It comes with three different drain locations and is durable, heat, and water-resistant. There is only one catch- this base only comes in white.
3. Tile Redi Base Shower Pan
The perfect option for a walk-in shower, the Tile Redi Shower Pan comes without a frontal threshold. It is also easily accessible by a wheelchair. It goes well with natural stone or concrete floor, and the surface itself is tile friendly. Its base is so durable that it comes with a 3-year warranty!
4. PROFLO Shower Pan
This pocket-friendly shower pan is available molded into one piece in all the standard sizes. Made of a high-quality composite, it is non-porous and resistant to stains and shocks. Meaning? Suitable for all cold or hot showers you want! It doesn't let you slip and is perfect for walk-in showers.
5. Schluter Shower Pan
The Schluter shower systems are the go-to for tiled shower lovers. Even tiled shower floors need proper water-proofing systems. Otherwise, it is tough to manage moisture content and prevent the growth of mold. The Schulter Kerdi shower kit comes with the waterproofing components necessary for a good shower floor.
6. Westbrass Shower Pan
A solid acrylic base reinforced with fiberglass and resin, this shower pan comes in six standard sizes and four different finishes. The pan is easy has a central drain and is easy to clean and maintain. Even the drains are available in either plastic or brass.
7. WOODBRIDGE Tileable Shower Base
This shower base model by WOODBRIDGE comes in standard sizes and even includes an installation kit for a smooth process. It is a highly suitable option for many shower shapes. It features a center drain with a two-inch PVC drain in a stainless-steel drain plate with a nickel finish.
How to Install a Shower Pan, By Yourself
Once you have picked out the best shower pan to suit your needs, there is only so much that goes into installing it:
Step 1: Measure the space; to check if you have the required space to fit in a shower pan (i.e. around 3'). Second, to help you choose the one that fits.
Step 2: Prepare the subfloor to embrace the incoming shower base.
Step 3: Install and check the drain. Make sure things are locked into their place, especially if you don't want any leaks!
Step 4: There are different ways of securing the pan, including adhesive or mortar.
Step 5: Now that you have a floor, you need to put a drain screen over the drain pipe with a gasket in the midst.
Step 6: Check for leaks. If you find one, back to step one. If you find none, congratulations!
How to Build a Shower Pan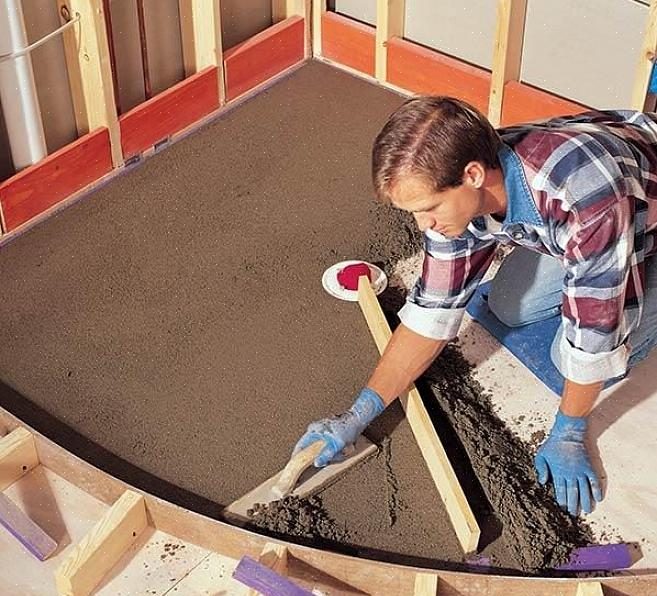 If you are good with DIY and have the tools necessary for the project, you can even build a shower pan in-house! Here's how:
Step 1: Measure the space, and the dimensions of the floor and then draw it on the floor.  
Step 2: Locate the studs on the shower walls, and pour in the first layer of mortar.  
Step 3: Place the shower pan liner and fold it along the walls and fix it in place. 
Step 4: Make a hole where the drain is located and fix the top cover in place.
Step 5: Attach the Backer board and add the Metal Lath.
Step 6: Form the curb and cover it in mortar.
Step 7: Adjust the drain dole to check for leaks.
And we are done!
Long Story Short
Shower pans are important, yet often ignored. The right shower pan is a perfect blend of elegance and efficiency. It should be durable, low-maintenance, and easy to repair. The standard-sized pans are often the most affordable.
If you think the process of installation of a shower pan is a labor-intensive one, it isn't. Once you have chosen the perfect pan for your bathroom, just follow the steps for installation, check for any leaks, and you are all set!
FAQs
What's the Difference Between a Shower Base and a Shower Pan?
The shower base comes first- it's the part of the shower floor that is hidden under the shower pan. The base is usually made of cement or mortar, while the pan is made of acrylic, fiberglass, or composite.
Is It Better to Use a Shower Pan or Tile?
Installing a tiled floor is a long process and requires a certain amount of skill and precision. Any mistake can lead to extensive water damage. Installing a shower pan, on the other hand, is much easier than installing a tiled floor.
How Much Does It Cost for a Shower Pan?
The cost for a new shower pan ranges from 200$ to 1200$, with additional cost for installation, which costs similar to the shower pan.
What Is Best to Put Under the Shower Pan?
Mortar is recommended as the best material to be used under shower pans. It contains latex and polymer additives that increase the bonding strength to surfaces. Using mortar decreases the risk of the pan slipping or cracking due to an uneven surface.
What Are the Standard Shower Pan Sizes?
Shower pans come in a variety of sizes to fit the space for a shower in your bathroom. They usually range from 32 x 32 inches to 60 x42 inches. The neo-angle ones range from 36 to 60 inches in diameter.
Can You Add a Custom Tile Over a Shower Pan Liner?
Custom tiling is a better option for the shower floor, especially when compared to a rubber shower pan. Custom tile is easy to clean and resistant to stains, unlike rubber. Just make sure you are using the right material when replacing the shower pan.
Do You Need Mortar Under a Fiberglass Shower Pan?
Although fiberglass shower pans are durable and long-lasting, they come in a high-gloss finish. Using mortar underneath hence becomes crucial, as it reduces the risk of pan slippage and cracks from uneven surfaces.