Best Shower Floor Tile Ideas for Your Bathroom Space
Whether you want to give your master bathroom a spa-like sensibility or bring some drama into a small powder room; there are undoubtedly many ways to do it. From a splash of color, fresh pattern, to unconventional shape; there are endless ways to transform a boring bath space into a fun one. So, if you are renovating your bathroom, take a look at our best picks of shower floor tile ideas.
After all, the most exciting part of designing a bathroom is the selection of the perfect materials and colors that make it a statement. There are a billion designs and ways by which you can achieve a luxurious bathroom. But sometimes it also makes you overwhelmed.
It is challenging to select one from so many options for your bathroom, which will look pretty and will also go with the rest of the house's theme. So, if you're also planning for bathroom renovation, then check these latest shower floor tile ideas. From moody gray to the classic black and white; we've got plenty of designer inspiration on this list of bathroom tile ideas for you.
15 Stylish Shower Floor Tile Designs in 2022!
1. Try Zellige Tiles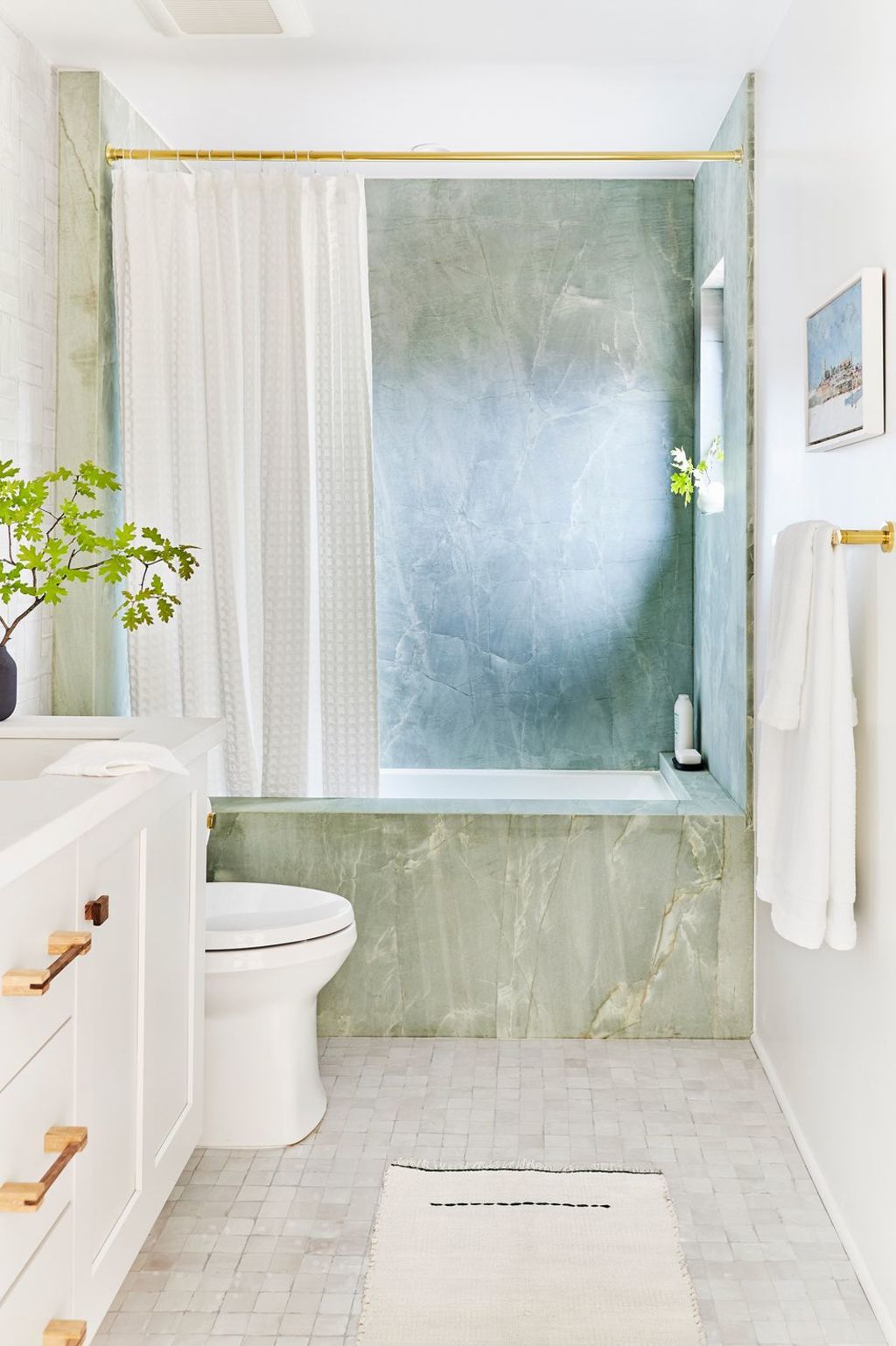 Source: hearstapps.com
This bathroom is designed by Emily Henderson. Here there is a green marble shower and tub with the zellige tiles on the ground. The beautiful natural stones speak the classic language and make this bath area luxurious. You can also use the classic subway tiles or a patterned mosaic on the floor. 
2. Contrasting Tiles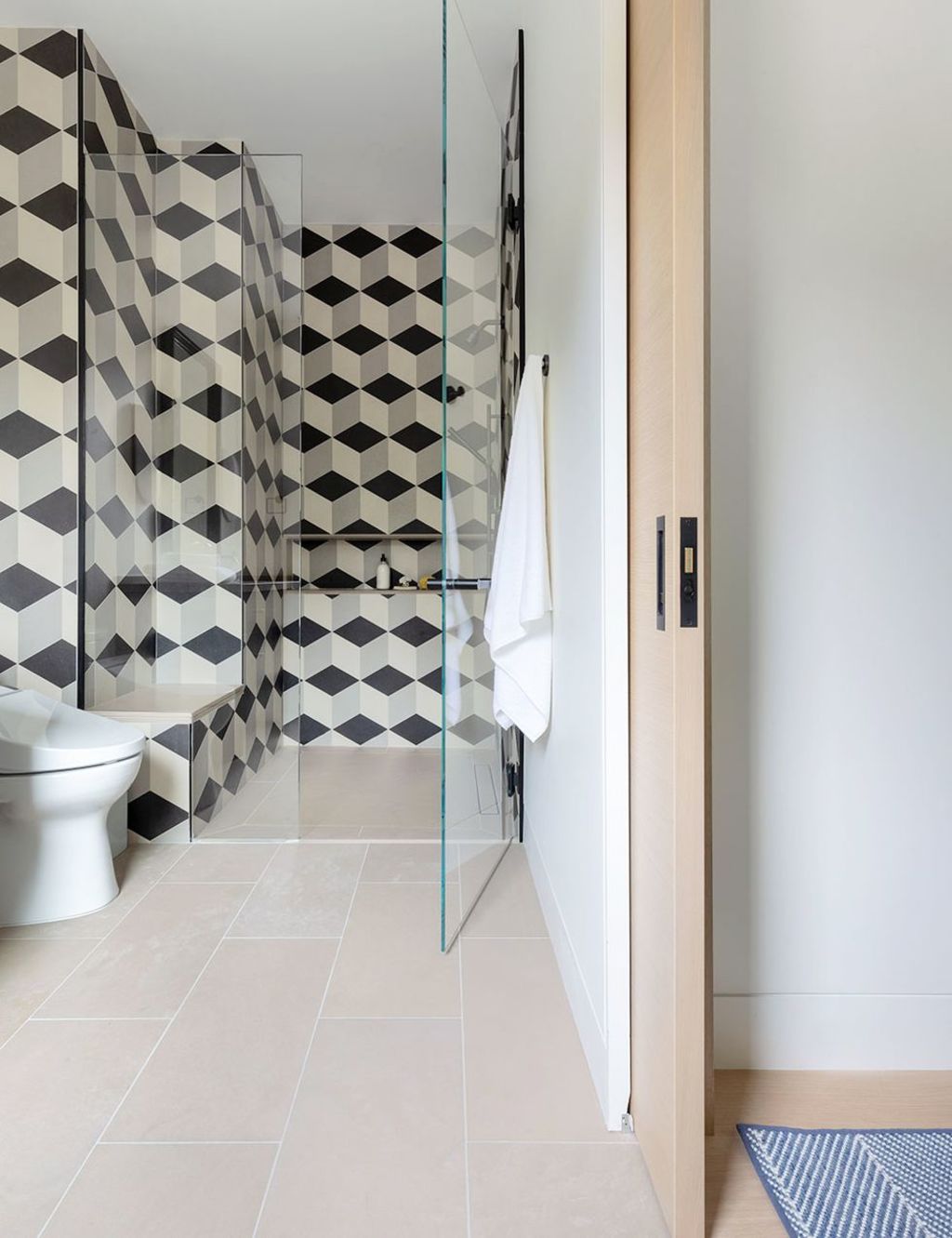 Source: hearstapps.com
Use a contrasting effect in the bathroom. For example, if you selected plain and simple floor tiles, go bold in the shower or vice versa. Here this bathroom has geometric tiles on the walls of the shower. 
3. Minimalist Grayscale Tiles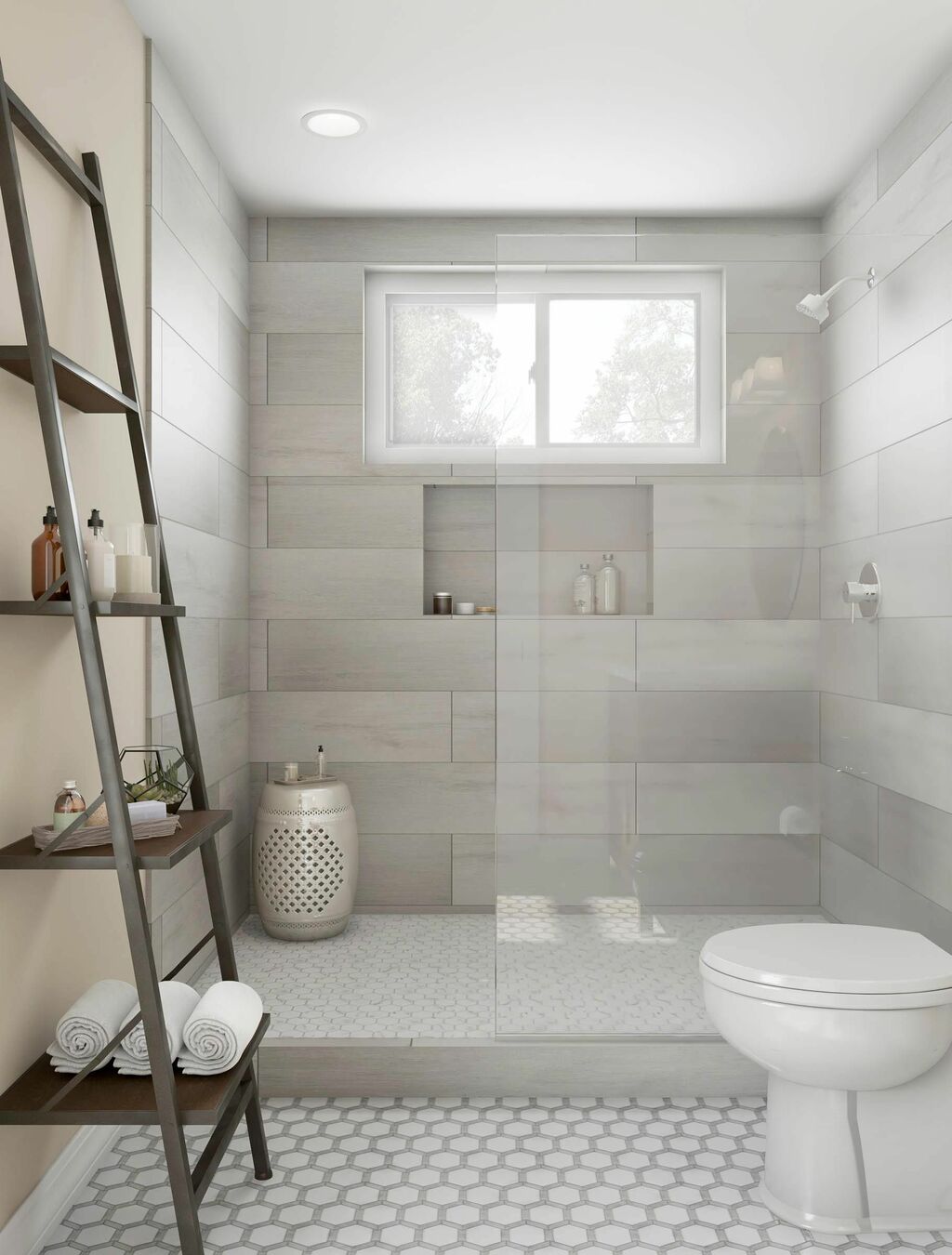 Source: pinimg.com
Another subtle and minimalist shower floor tile design is this greyscale tiles. This modern bathroom is designed by Arent & Pyke. The floor tiles are giving a graphic pattern without feeling visually chaotic. 
4. Make a Statement Wall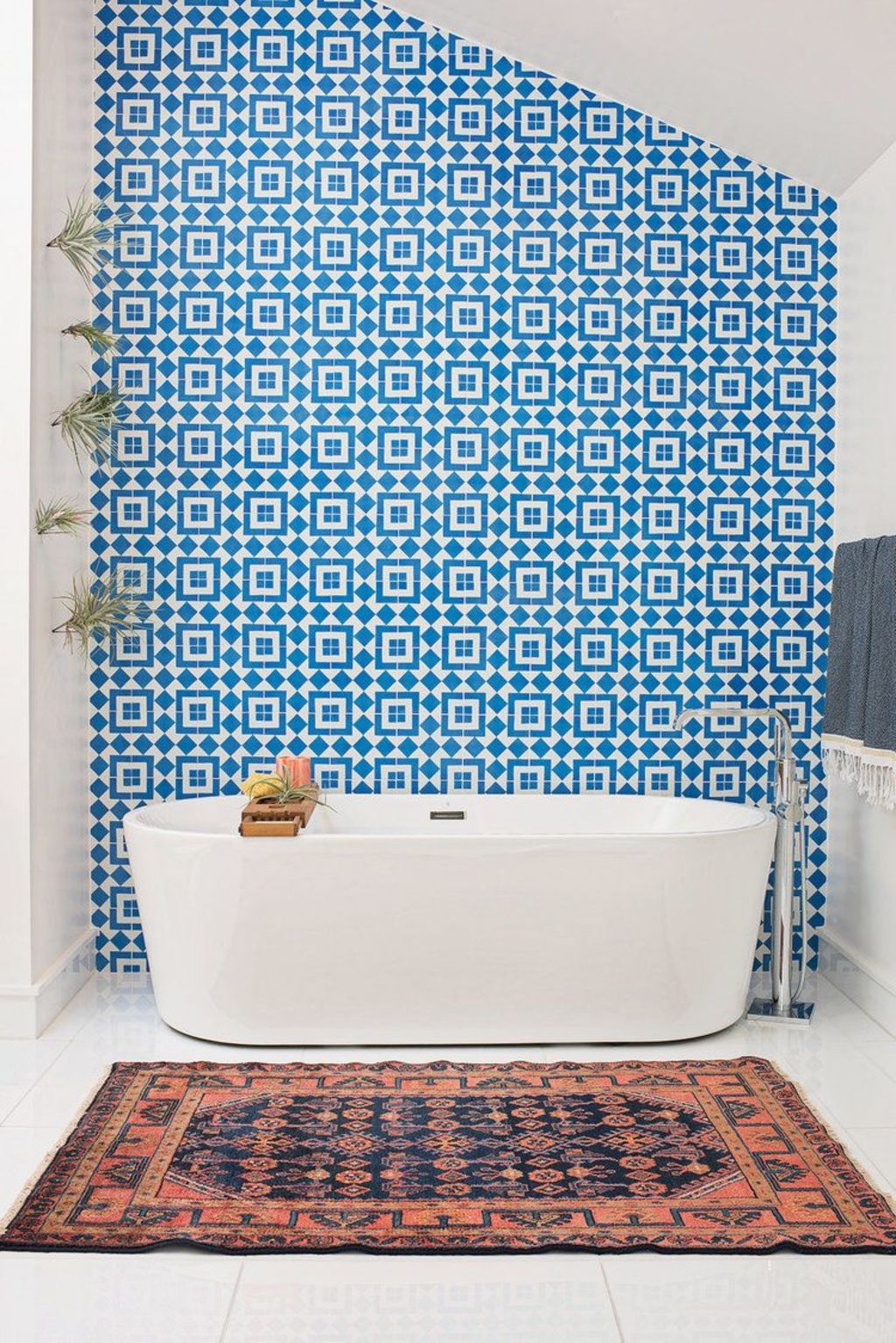 Source: hearstapps.com
Regan Baker Designs this amazing master bathroom. The main focus of the whole design is the entrancing statement wall. As it looks rich in both color and pattern, it also gives more depth to space. You can also create something like that with colorful tiles either in your shower on the floors. 
5. Petite Penny Tiles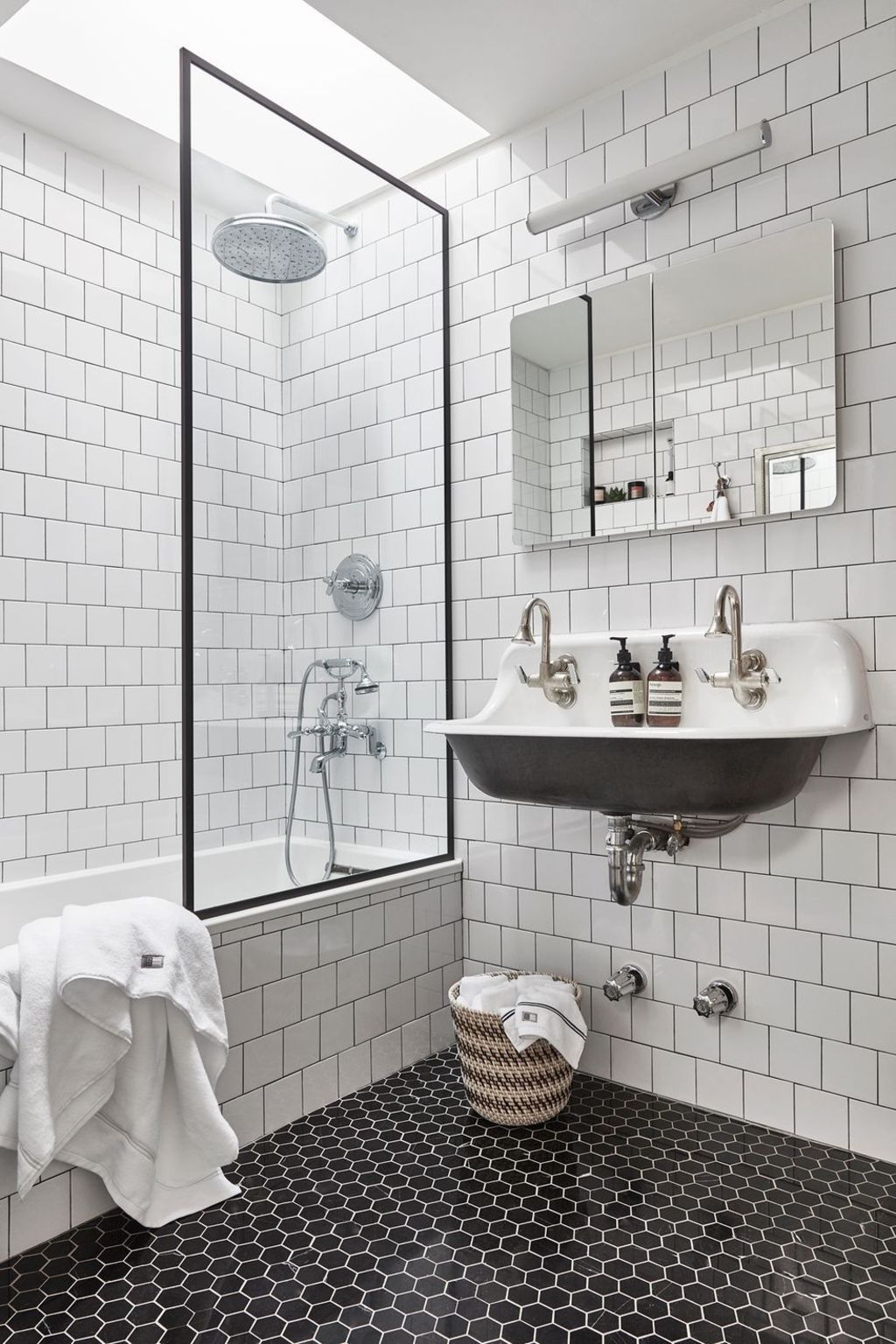 Source: hearstapps.com
Another way to create some drama in your bathroom by choosing these penny tiles. This black and white bathroom has a textural touch. The shower walls are covered with a string of white square tiles that look absolutely amazing with the black hexagon floor tiles. 
6. Chevron Pattern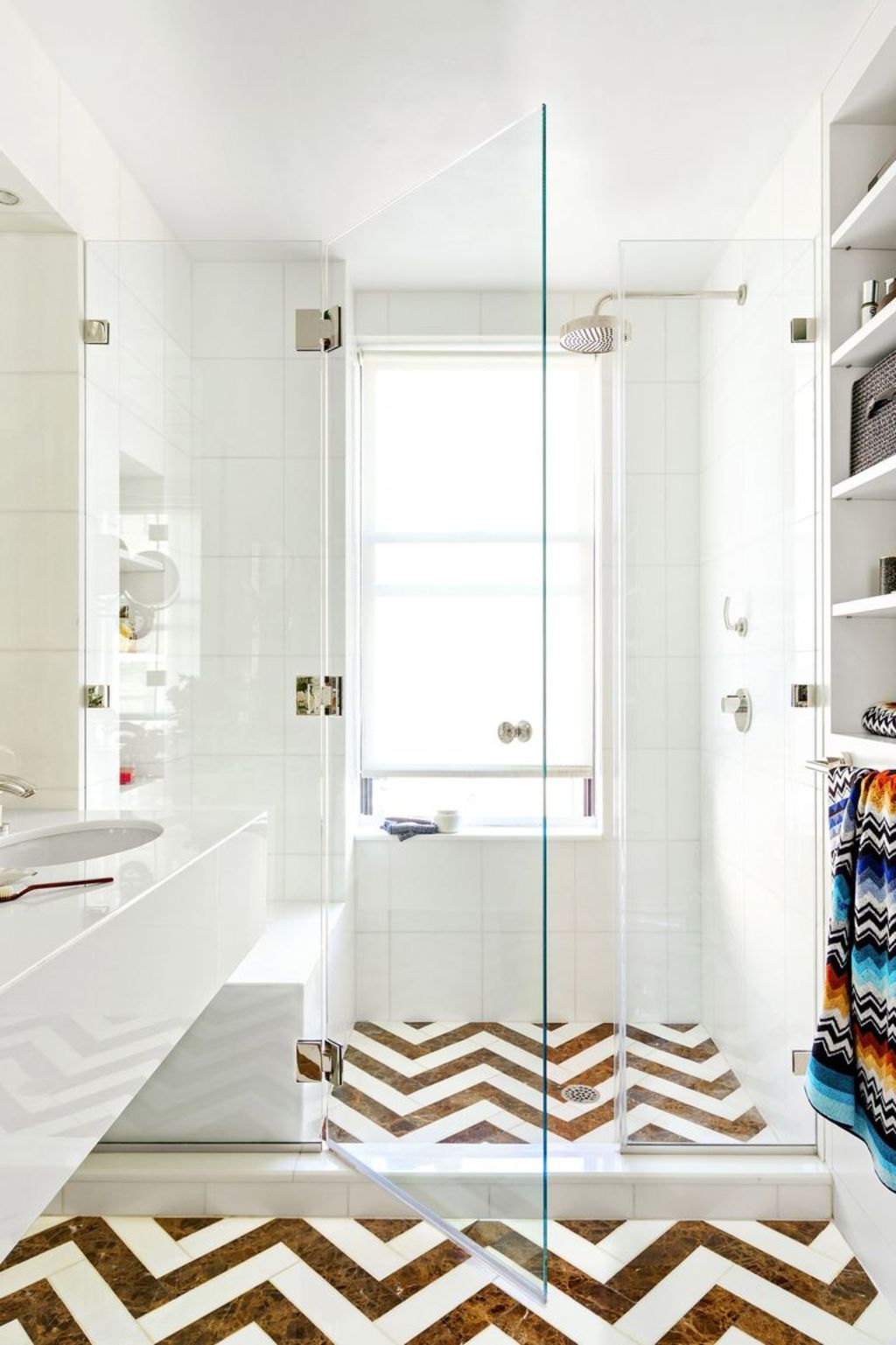 Source: hearstapps.com
You'll never go wrong with a Chevron Pattern. Try it on your bathroom floors; it will surely look great. 
7. Ocean Ombre Accent Wall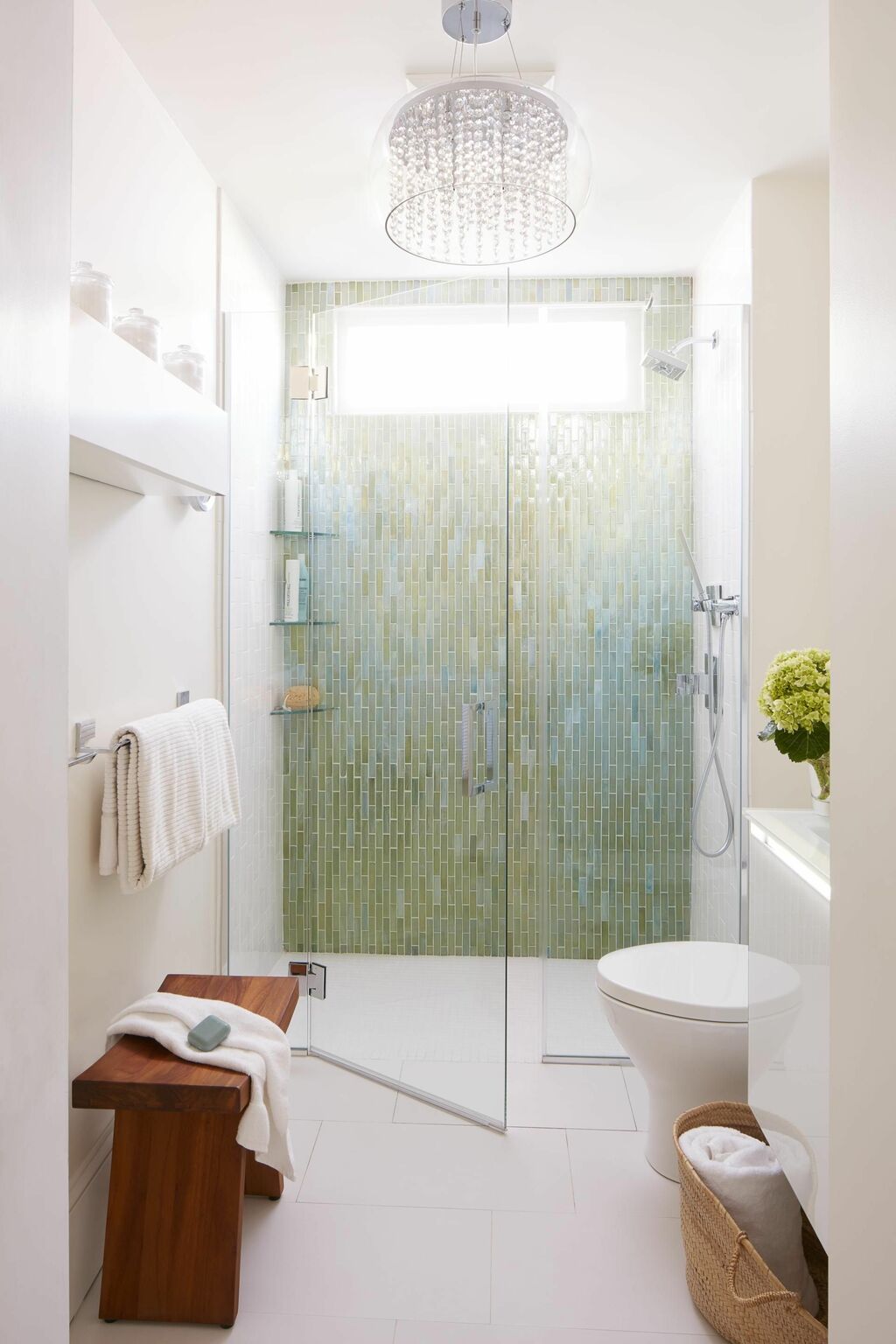 Source: pinimg.com
Design by Elza B Design, Inc, this blue-green shower shimmer tiles is a perfect option for those who are looking for some glamour in their bath. 
8. Bring in Boho Vibes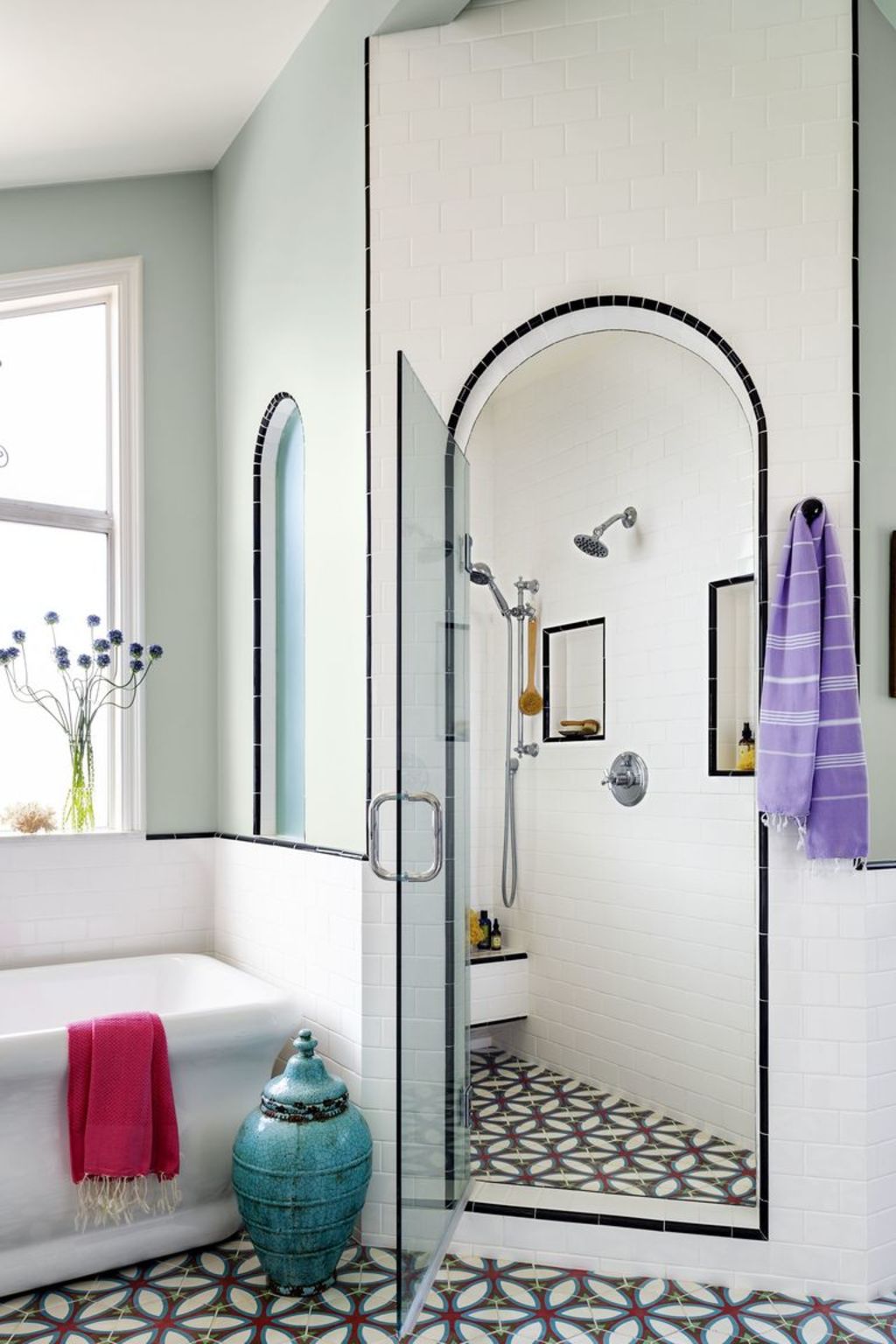 Source: baomoitonghop.net
This 1970s beach house bathroom is inspired by the block prints from India. Look how beautifully it is creating the perfect boho feel in a modern way.
9. Ultra White Bathroom Design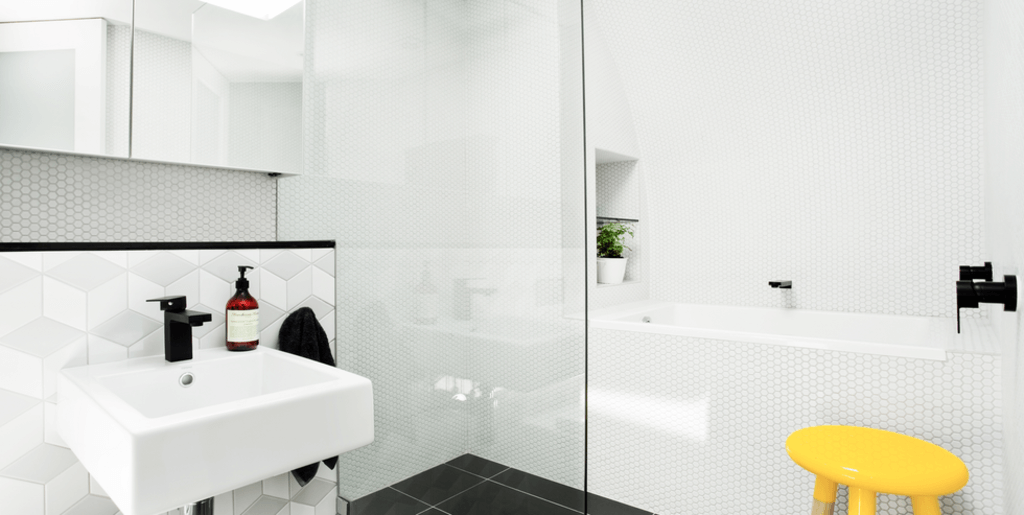 Source: pinimg.com
This bathroom look is ideal for those who like minimal designs. It is covered in small, crisp white tiles, creating a sleek modern space. 
10. Have Fun with Shower Tiles
Source: wangi.best
This design is only for those who want to experiment with the tiles. Designed by Studio Life/Style, isn't this bathroom looks incredible? The contrasting shapes and colors have a special effect in the bath area. 
11. Herringbone Tiles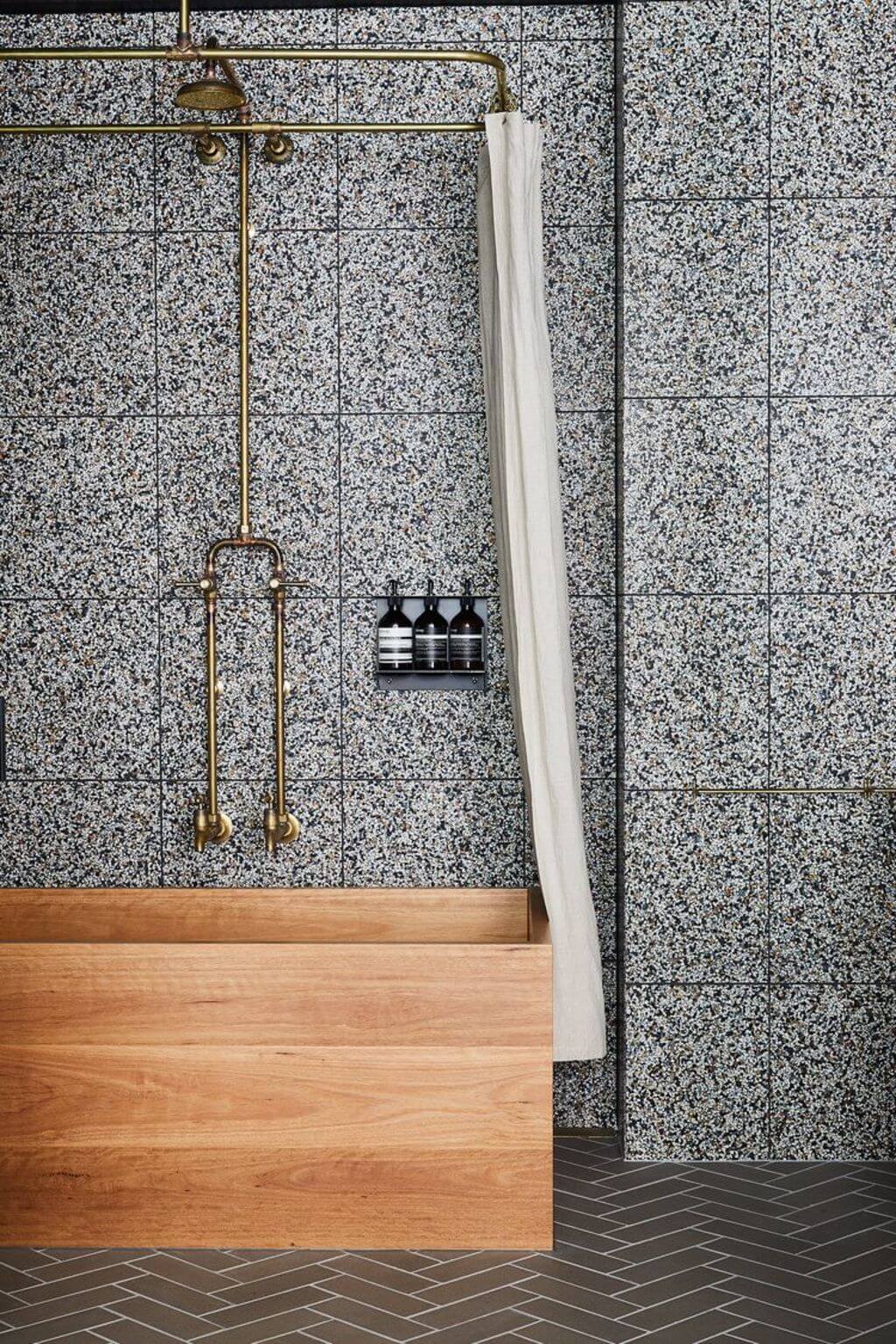 Source: amazonaws.com
This bath has a neutral color scheme, but also it has many surprises and innovative designs such as the wooden tub, speckled wall tiles, and herringbone floor tiles. All are looking sophisticated beautifully together.
Also Read: Give Your Bathroom a Makeover with Porcelain Bathroom Tiles
12. Double Duty Design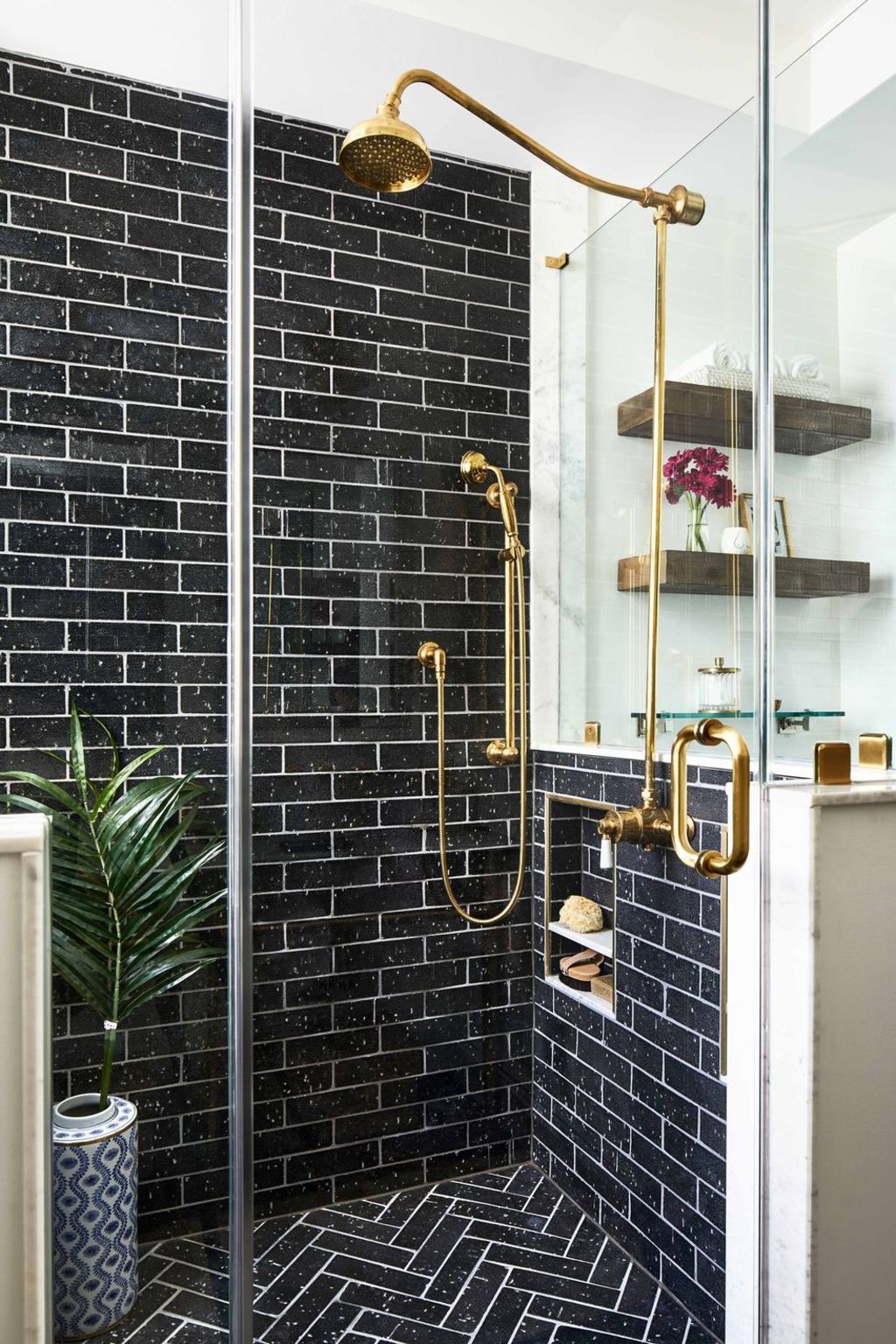 Source: pinimg.com
If you don't want to use many colored tiles in your bath, go for the same color but different in pattern. Look at this modern D.C. bathroom; it has the same Waterworks tile into two patterns: A straight-edge subway and eye-catching chevron. 
13. Bubblegum Pink Subway Tiles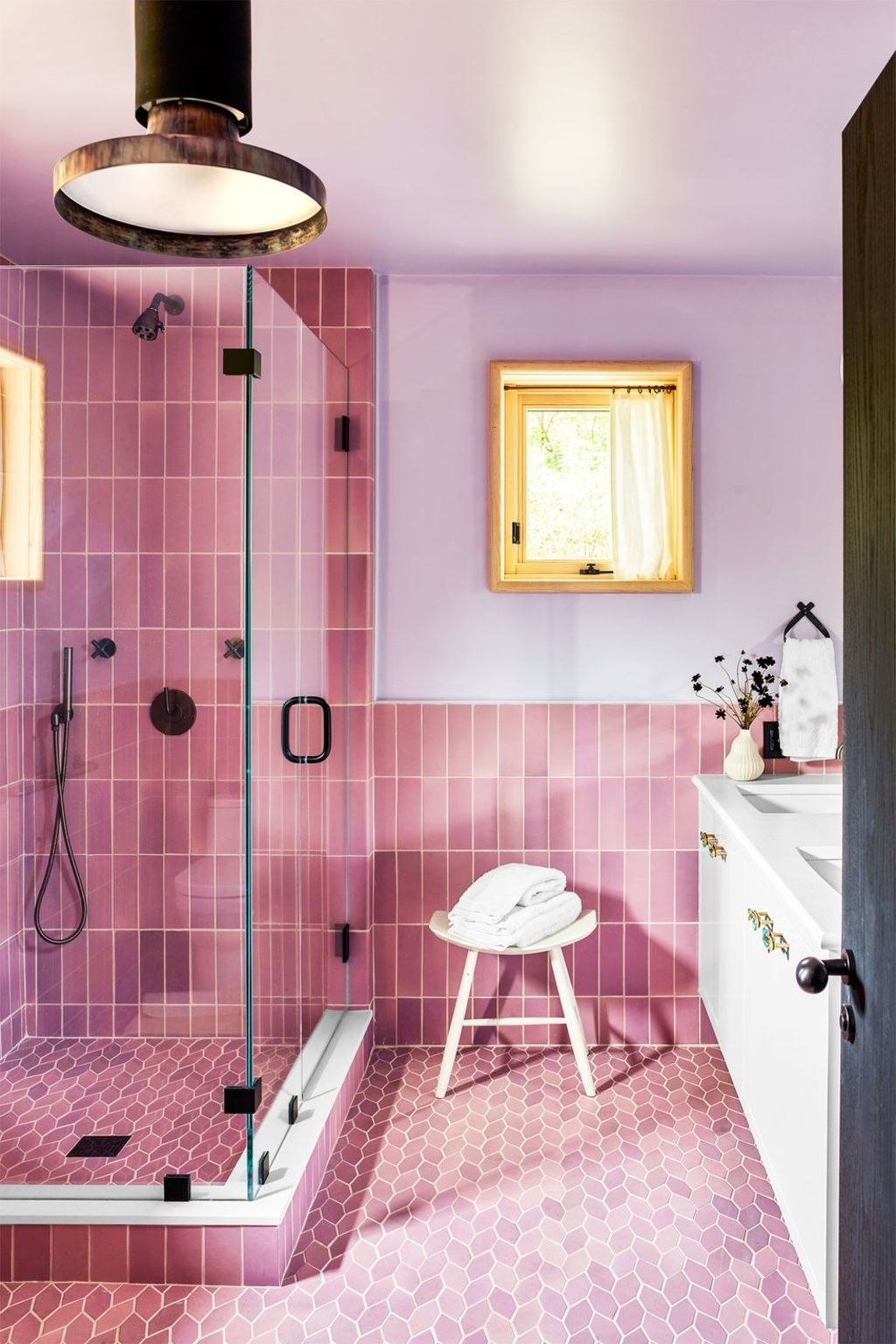 Source: hearstapps.com
This is another way of using single color tiles but in various shapes. This bubblegum pink bathroom has subway tiles on the wall and floors in diamond and almost leaf-like motif. These tiles are looking extremely beautiful with the brass industrial-style fixtures and lighting. 
14. Graphic Hexagon Tiles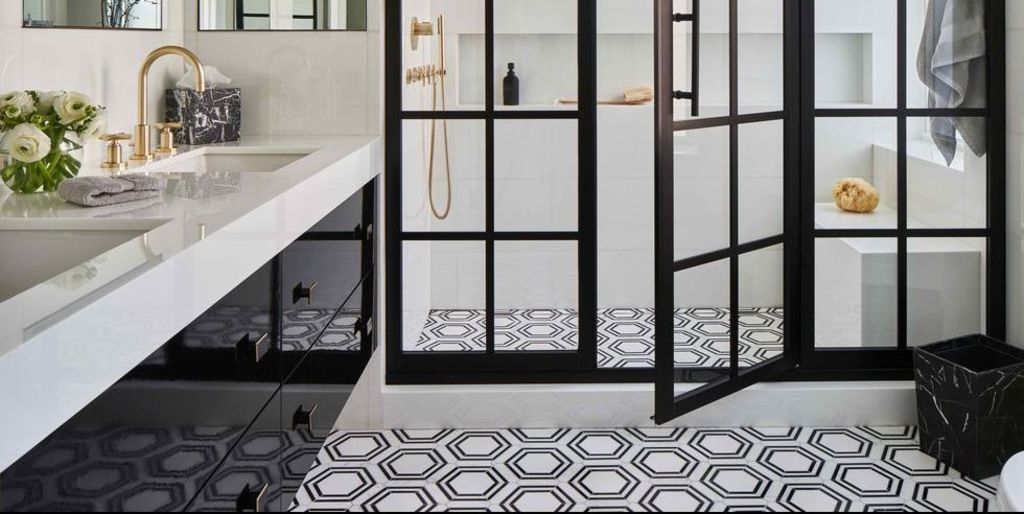 Source: homedecoraz.com
Design by Michelle Gerson, these Hexagon marble tiles are adding visual interest to a black and white master bathroom. 
15. Old-Fashioned Allure Tile Design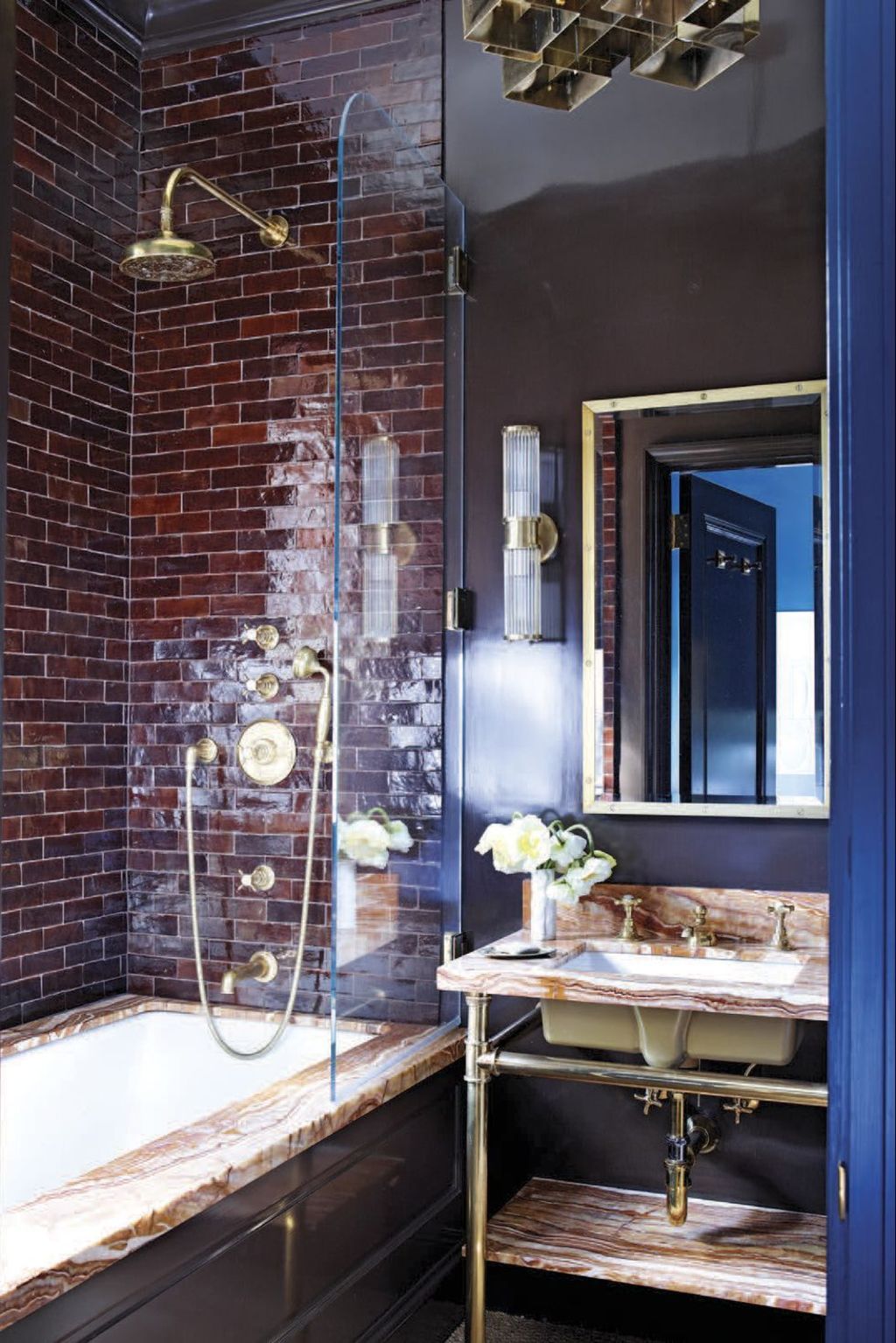 Source: pstatic.net
Design by Patricia Green Isen, this bathroom is for those who like vintage and traditional designs. The rustic tiles and fittings in the bath area are creating an old-world charm. 
The Bottom Line
So which one did you like the most? I know it is quite hard to select one among all of these wonderful shower floor tile designs. Keep the bathroom measurements in your mind while choosing any of the themes. 
If you want to know more about bathroom floorings, read our previous blog on Best Flooring for Bathroom. To use your space efficiently, read blogs on bathrooms like the Benefits of having an Ensuite Bathroom and Over The Toilet Storage.
For more architectural guidance and home improvement tips, Keep coming to Architecturesideas. 
For daily updates, follow us on our Instagram page @architectures_idea.