Uplift Your Home Interiors by These Insanely Beautiful Spanish Tiles!
Looking for some tile inspirations for your home? Flooring is one of the main factors that magically uplift any home interiors. After all, this is the first thing that we notice whenever we enter any house. So, it should be classy and attractive. Today we are going to tell you about the vintage tiles and particularly about the gorgeous Spanish Tiles. So whether you're just changing your flooring or renovating the entire house, these Spanish tiles will add such a beauty factor that will mesmerize your guests. 
From grand mansions to the tiny apartments, you'll see Spanish tile designs everywhere. Now you might probably be thinking why vintage tiles are so popular at the moment? The reason is their luxuriousness, authenticity, and the new breath of life they provide in any space, that's why people are crazy about them. Many companies from all across the globe such as Maitland & Poate are the known manufacturers of Spanish tiles. 
Spanish tiles are generally decorated with intricate floral and geometric designs. The best thing about them is that they look good not only on floors but also on backsplashes, wall decor, and even on staircases! Comes in a variety of colors and minimalistic designs that will suit any style such as modern, contemporary, or rustic. They will sophisticatedly transform your space and make it more elegant & polished looking.  
6 Astonishing Types of Spanish Tiles
From bold to simple designs, these tiles come in various types. Take a look at these six different Spanish tile types and select the one that goes with your aesthetics: 
1. Enthralling Medallion Spanish Tile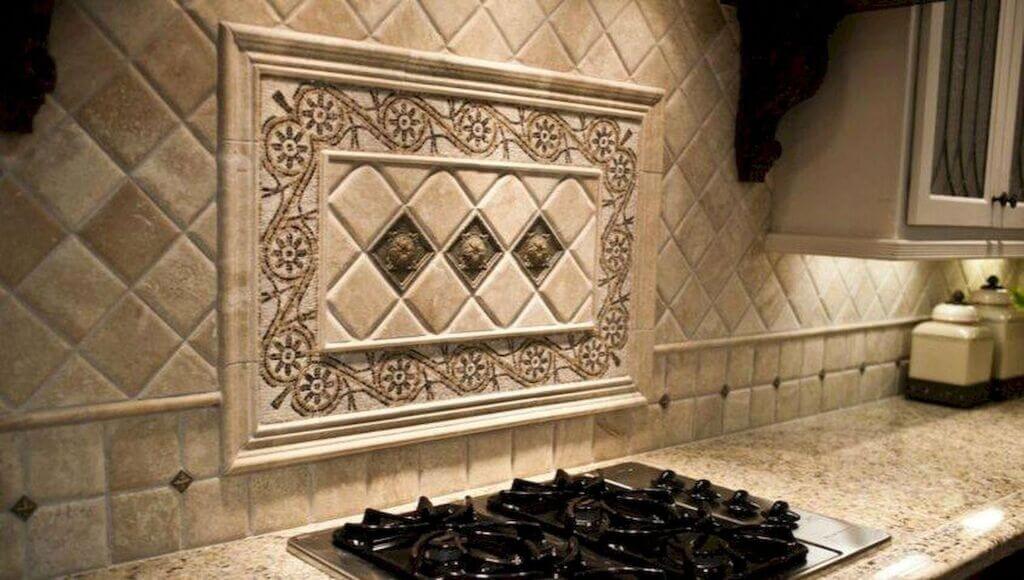 Source: pinimg.com
Look at these shining gorgeous Spanish tiles. The eye-catching pattern on them is known as "Medallion." These tiles are one of the most popular ones right now. The reason is that this pattern gives an illusion of a more textured and spacious space that becomes the focal point to any place. You might have seen these Medallion Spanish tiles in luxurious hotels, resorts, and mansions. 
The tiles in the above image have used tiny floral motifs to create pretty intricate geometric patterns and they're looking totally mesmerizing. These tiles are the best choice if you want some eye-pleasing and luxurious factor for your home. 
2. Elegant White Spanish Tile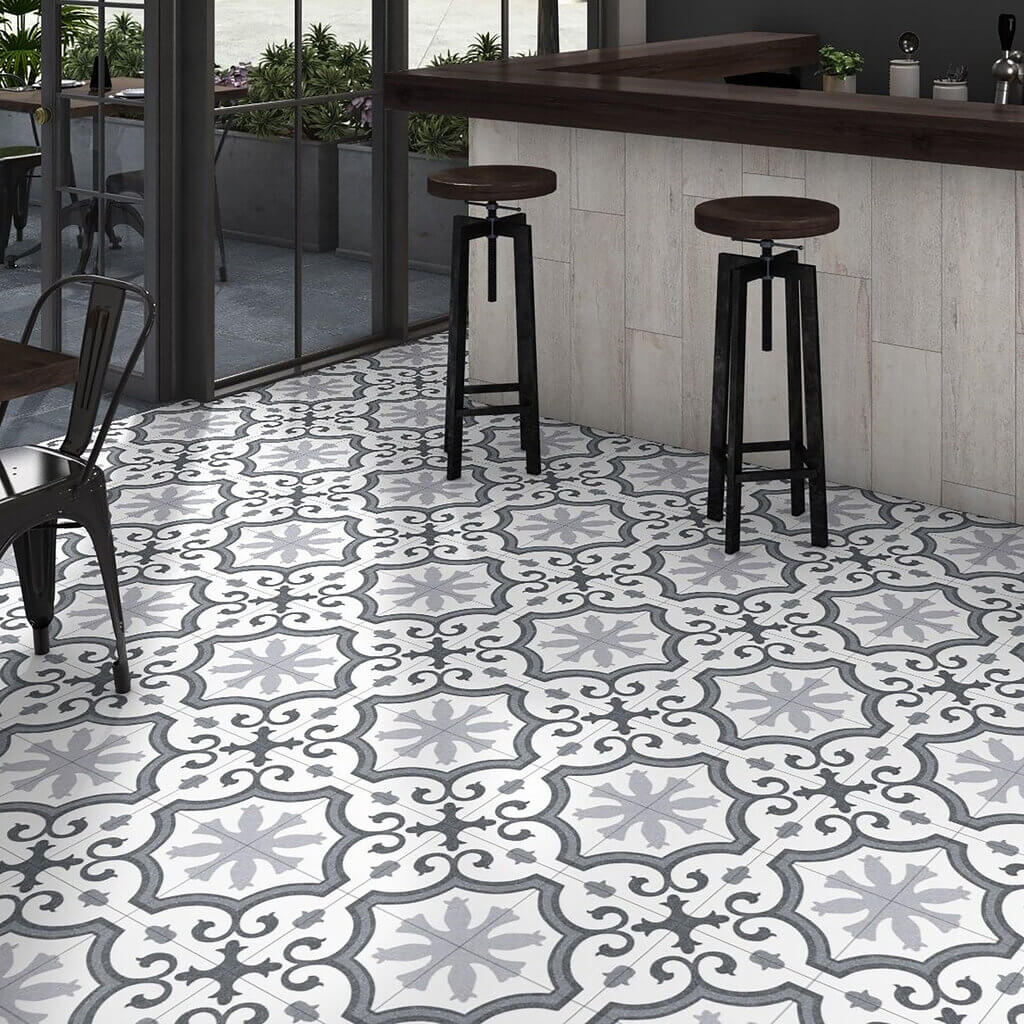 Source: wfcdn.com
Want some soothing and neutral looking tiles? Check out these wonderful Spanish tiles in neutral tones. Mostly you have seen tiles in bright and bold colors, but if you want something in minimalist design, then definitely these tiles will be the best option for you. One of the best things about these tiles is that they can effortlessly blend with any style whether it be modern or minimalist. 
Try various shapes and textures to create an aesthetic look in interiors. We are pretty sure that these tiles will look exquisite and bring a great sense of sophistication to your house. 
3. Star Patterned Spanish Tile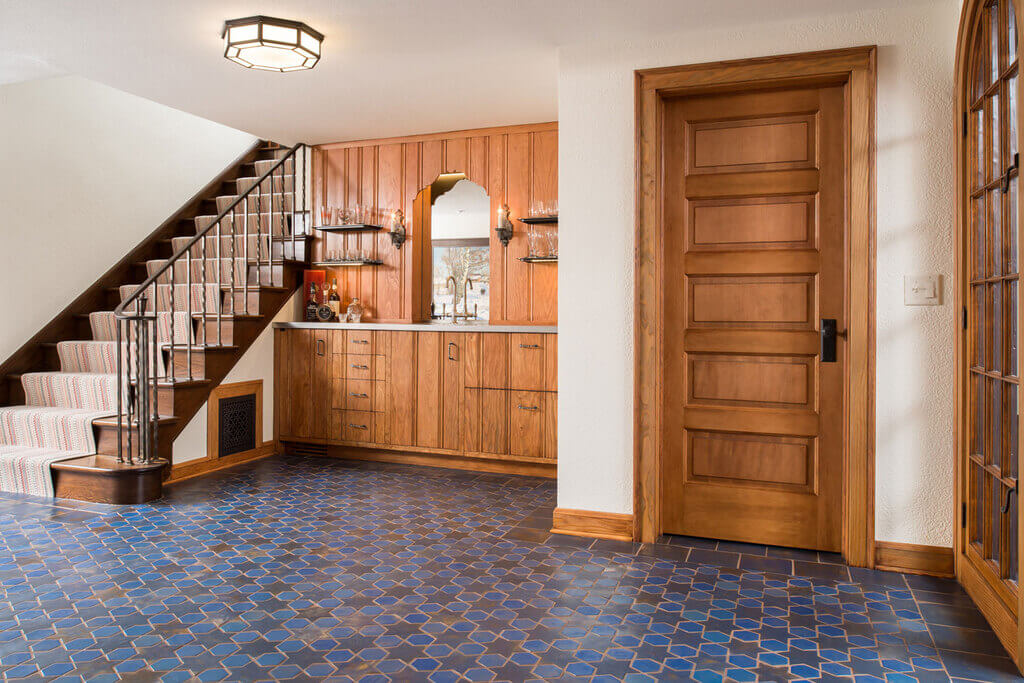 Source: claysquared.com
Another great shaped Spanish tiles are these amazing Star pattern ones. They'll instantly make any space more luminous and radiant with their incredible cut lines. Here the hex and star pattern is mixed to create a unique design. No wonder these star patterned tiles will move your flooring style from floor to the stars!
4. Cement Spanish Tile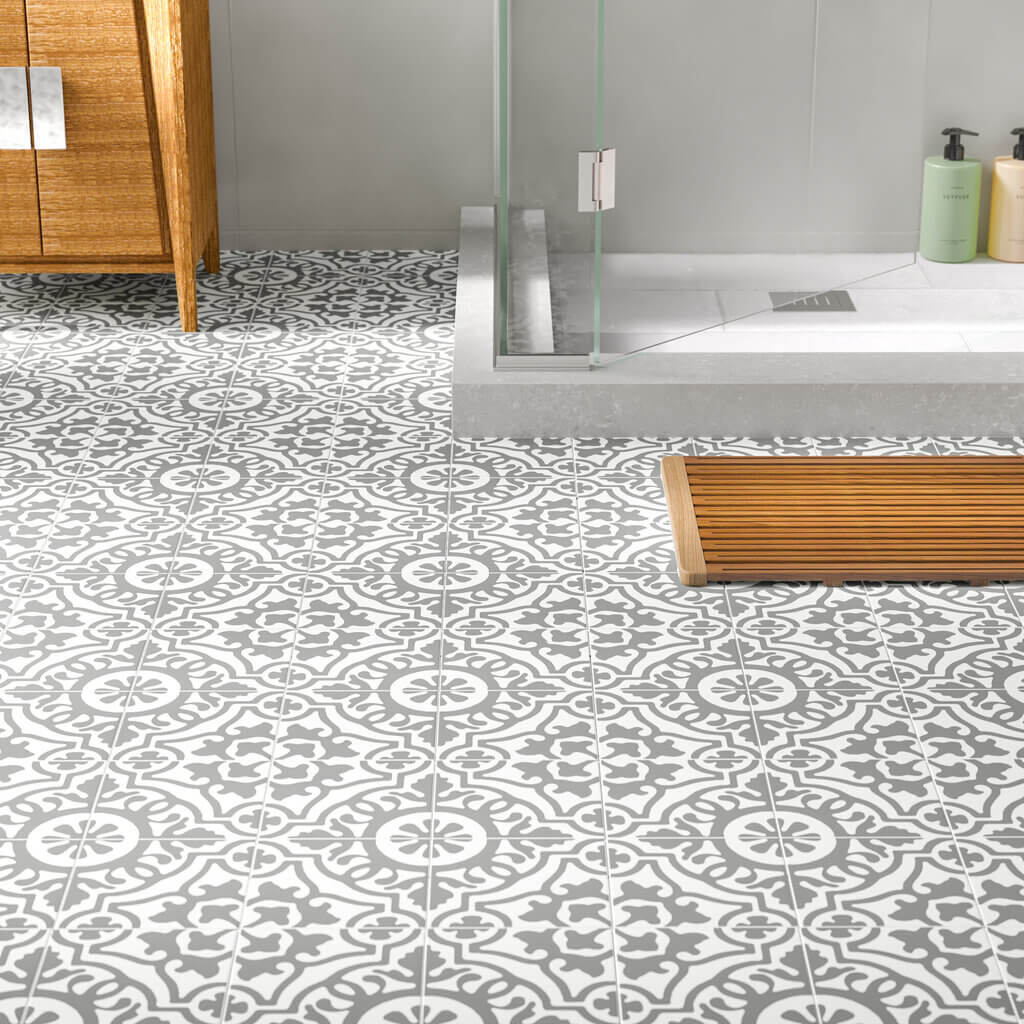 Source: wfcdn.com
Cement Spanish Tiles are the most commonly used types of tiles because they can be beautifully blended with any style. So whether you want a modern, contemporary, or industrial style, these tiles are the one to go!
They have a really smooth texture, that's why you can also use them on the walls to create an accent wall in your living space. Bold colors and patterns make them easy to incorporate in the kitchen, bathroom, kitchen backsplash, or any bare wall that needs a bit of love. 
5. Hexagon Spanish Tile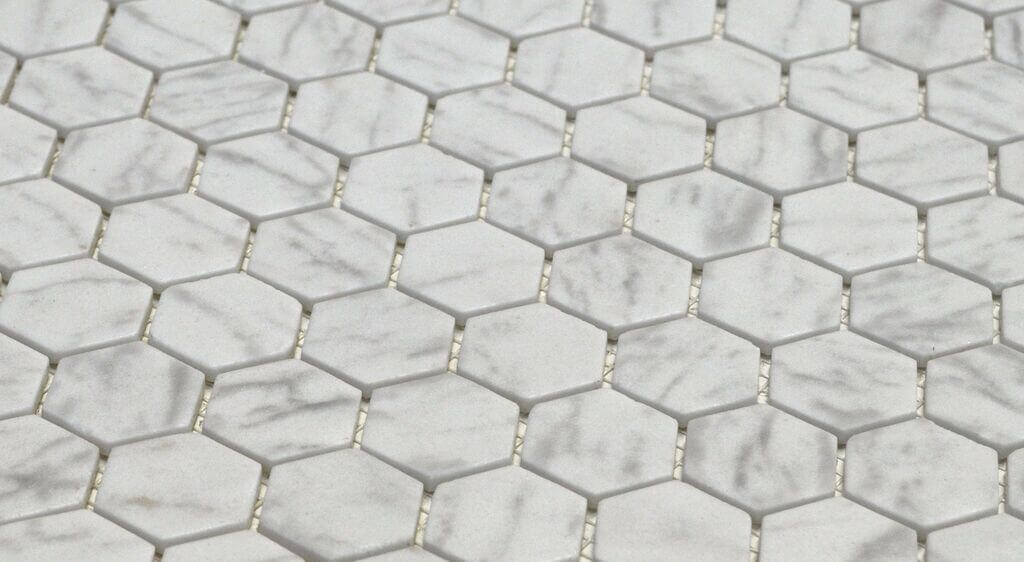 Source: pinimg.com
These shaped tiles have been used for ages, and still, people love it! Hexagon shape put a bit of fun on the classic looking Spanish tiles. The unique hexagon shape will add a hint of Mediterranean style and make your accent walls or floors a little more eccentric! Take a look at these house images for more inspiration. 
Also Read: 8 Different Stone Tiles & Their Features
6. Custom Spanish Tile
Source: pinimg.com
Have a specific pattern in your mind? Worry not! Because you can always customize these tiles and make them into your desired shape or design. Many companies like Maitland & Poate offer this service where you can tell them about your specific design or ask them to mix two or three patterns to match your home's theme. 
All in One!
So, elevate your space instantly with these stunning Spanish tiles. You can include these tiles anywhere in your home, including your outdoor space! You can find them in every possible design and shape, and you can also customize them at stores like Maitland & Poate. There you will find thousands of designs and patterns of tiles, and currently, there is also a 15% discount on Reclaimed Spanish tiles. So place your order right away!
For more architectural guidance and home improvement ideas, keep coming to Architecturesideas.