Halloween is almost here like a few days away. Among all the preparations like outfit selection, makeup ideas, whether to go for attending a party or arrange it for everyone, don't forget you will need to decorate your entrance too. It is also as tough as getting ready for Halloween. After all, it is also the kind of selecting Halloween outfit for your door! Jokes apart! Halloween Door Decorations reflect that you are also up for trick-or-treat. And you are ready to give out candies to little children.
If we see its historical side, it is said that the churches started trick-or-treat in order to replace the ancient practice of leaving food for roaming spirits. It is also said that poor citizens go door to door begging for food, the families will provide them with 'soul pastries' in exchange for the prayers for dead relatives! There are many more beliefs regarding Halloween celebrations. Halloween has evolved from being a superstitious festival to an enjoyment-driven festival. Americans spend approx — $ 6 billion annually on Halloween.
But for this Halloween door decoration, you won't have to spend too much. We won't say even a single penny, as you might need to spend some money on it. But we can promise that not too much! After all, you would have already spent much on candies and costumes.
Here we have listed some of the DIY Halloween Door Decorations Ideas that you can totally implement. These ideas will help you in creating your own creativity. You can either go with these ideas as it is or mix-match the elements of options provided and create your own Halloween Door Ideas.
Let's get your door Halloween ready with the following bone-chilling Halloween Door decor ideas:-
Witch Waiting at The Door
Make your door look like a witch's place. Elements you will need to add are two-three huge pots, bats, a statue of a black cat, thick books with mysterious covers, dried stems, green and red fairy lights, skeletons (of animals, not human beings), and if you could arrange a witch (a statue, not real one). If you don't want to get a figure, then you can also dress up as a witch and stand at the door for trick-or-treaters. And yes! Don't forget witch hats as hangings.
Gleaming Pumpkins
Pumpkins are the essence of Halloween. Whenever you see gleaming pumpkin decor, it is a sign that Halloween is here. Get carved-out pumpkins with a lantern in them or DIY them at home. And place them at the entrance in an adequately arranged way. To make it more frightening, stick a human skeleton at the door and if possible place speakers at the door and play horrific tunes. This will surely scare the trick-or-treaters.
Prohibited Zone
Have you ever observed 'prohibited zone' sign, spooky one? Copy them onto your door. All you will need is card stock papers and markers. Wrap the white net fabric around the door lamp in such a way that it looks like a spider web. Add a terrifying look by sticking the bat cut-outs on the door. 'Keep Out!,' 'Do Not Enter,' 'Prohibited Zone,' etc. are a few phrases that you can put up.
Black Cat
Black Cat is also considered as a sign of the presence of evil spirits. Paint your door black or stick black wallpaper on to it. And draw a cat. Stick cat ears and tail out of the door frame — the easiest Halloween door DIY.
Multi-eyed Monster
Monsters aren't less scary, and the one with multi-eye is terrifying. Stick green wallpaper on the door. Make the cut-outs of eyes, nearly four to five, then stick them on the door. Now make the cut-outs of mouth, horns, and hands and stick it accordingly.
Crafty Halloween Door
Get your children at work. Tell them this year's Halloween door decoration is on their hand. You will definitely need to help them as they are still at the learning stage. You can use this image as a reference and tell them what they will need to crave pumpkins, full moon (Yellow color), ghost emoji, etc.
Skelentrance
What is this? Skelentrance, it sounds different, obviously not a common name. Let us solve this for you, Skeleton + Entrance = Skelentrance. You would have heard about skull studded jewelry, but here we are talking about the head studded entrance. Get skulls and stick them on to your door, making it feel like skulls are working as a satan's eye for everyone who is entering the zone.
Monstrous Welcome
Make your door look like the mouth of a monster. Stick the sharp teeth of a monster on the top of the door frame. To get this look, you will need craft papers and colors. Yeah, just two!!…
Mummy – The Door
You would have seen people getting ready as a mummy, but this year let your door be the one. Wrap your door in white tissues and to add an intimidating effect place green LED lights as its eye. Trick the trick-or-treaters with the help of your mummy door.
Minionampire
What? Vampire turned minion into one of them. And now this Minionampire (Minion + Vampire) is at your door waiting for trick-or-treaters. Create this cute yet monstrous vampire at your door using craft papers. You may need to show your coloring skills as well.
One-eyed Gigantic
If a multi-eyed monster is scary, then what about single-eyed gigantic. A single eye that too vertical. It has powers with which it can capture you in his soul forever. Stay alert trick-or-treaters!
Bloody Door
It seems like your house has many dead people trying to get out of the house or maybe vice-versa. Dead people are trying to invade. Make your door bloody and scare off the people. To make it more realistic, download some tracks having the screams of people asking for help and hide a speaker somewhere at the door.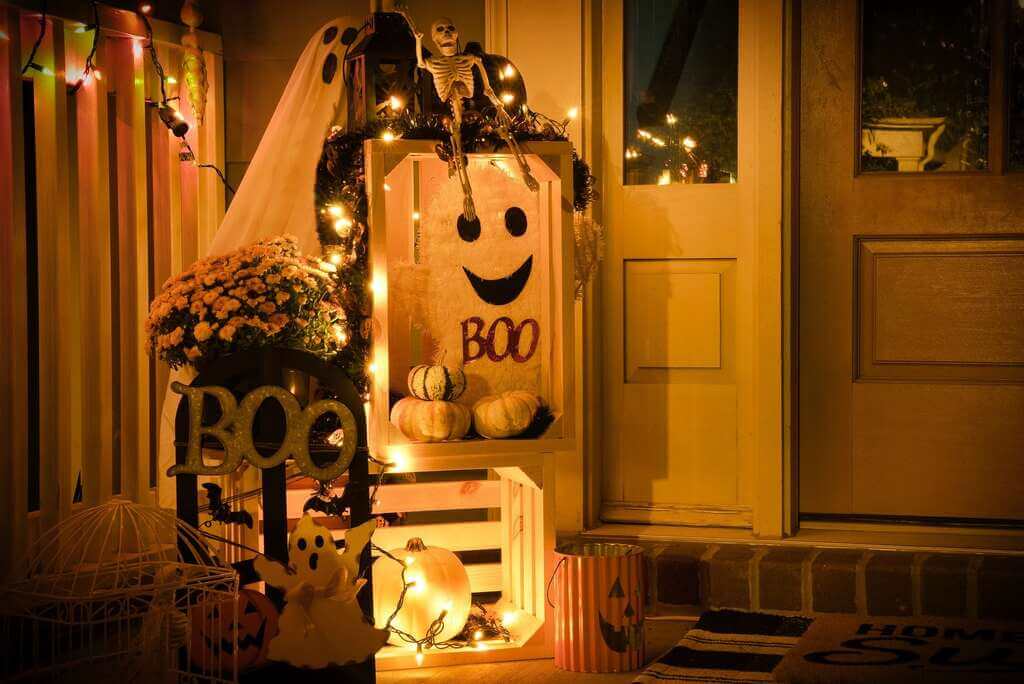 Here are some of the best DIY Halloween Wreath ideas for you to try out this year.
Above are the Halloween door decor ideas that you can try out this Halloween to welcome trick-or-treaters.