With the spooky season around the corner, aren't we all looking for the most imaginative pumpkin carving ideas? Pumpkin face ideas could be the most fun activity for the entire family that involves everybody from youngsters to elders making pumpkin designs.
Pumpkin faces can bring the ultimate festive vibes with all their quirkiness. From cool pumpkin carvings to intense designs, there's no limit to these pumpkin carving ideas. Let's look into the best ideas that will make your decor stand out and prove to be the most fun task for a great family time.
80 Pumpkin Carving Ideas 2023
1. Cool Pumpkin Carvings with Chicken Mesh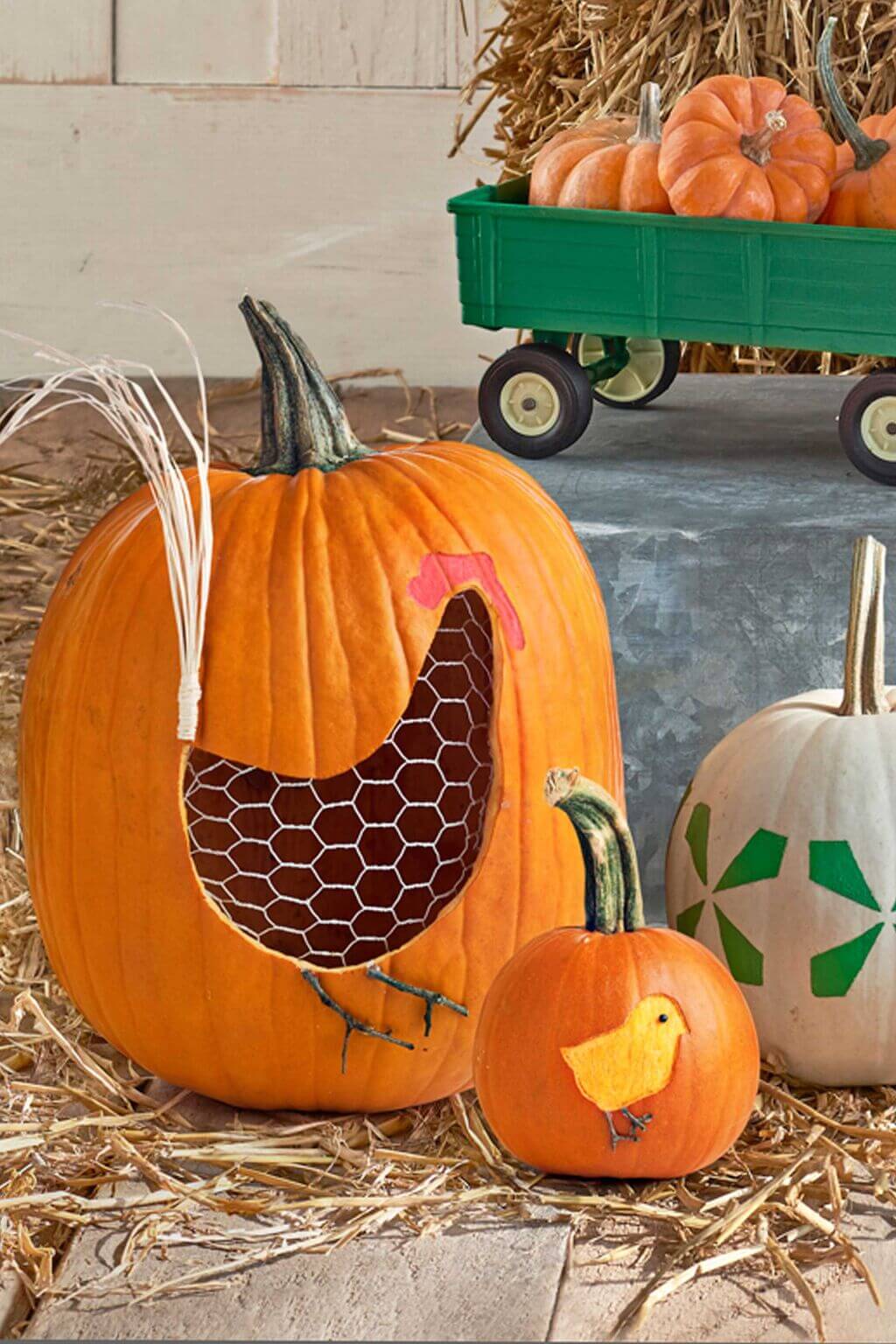 Play around with your pumpkin carving ideas and blend them with chicken wire. You can carve out the pumpkin in the shape of a chicken and place a mini pumpkin net on it with a chicken drawn upon it.
2. The Toothed Pumpkin Face Ideas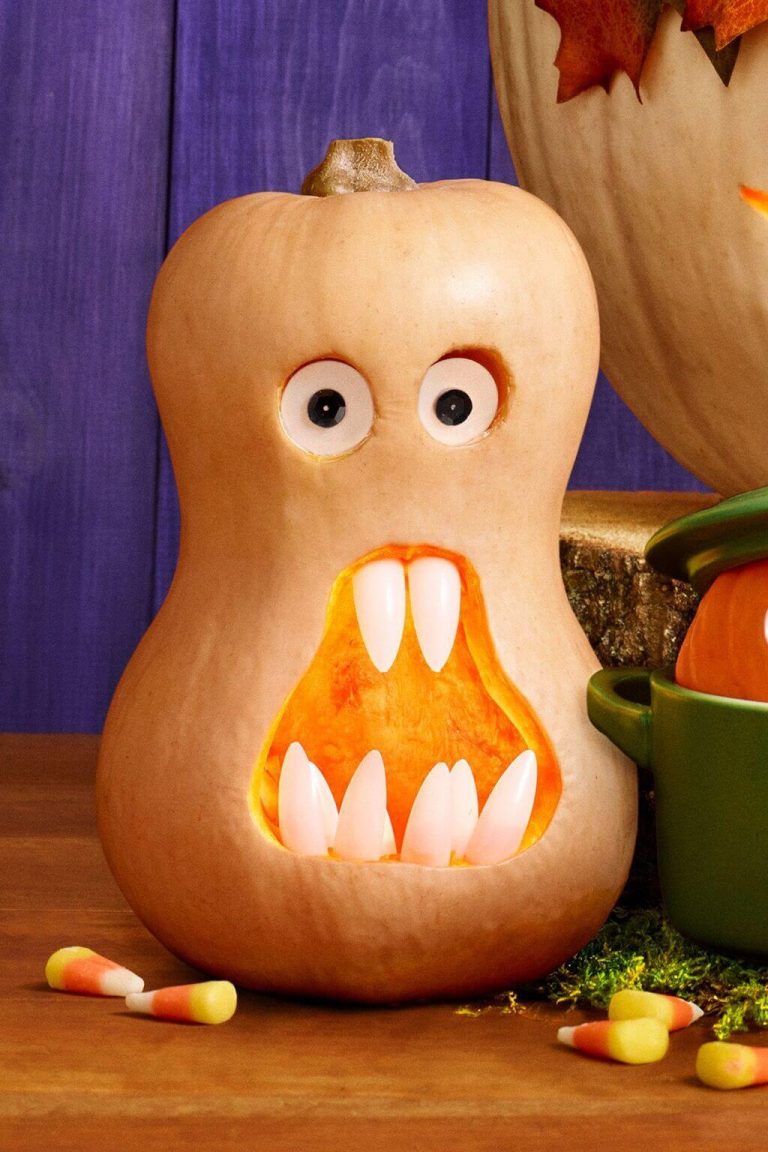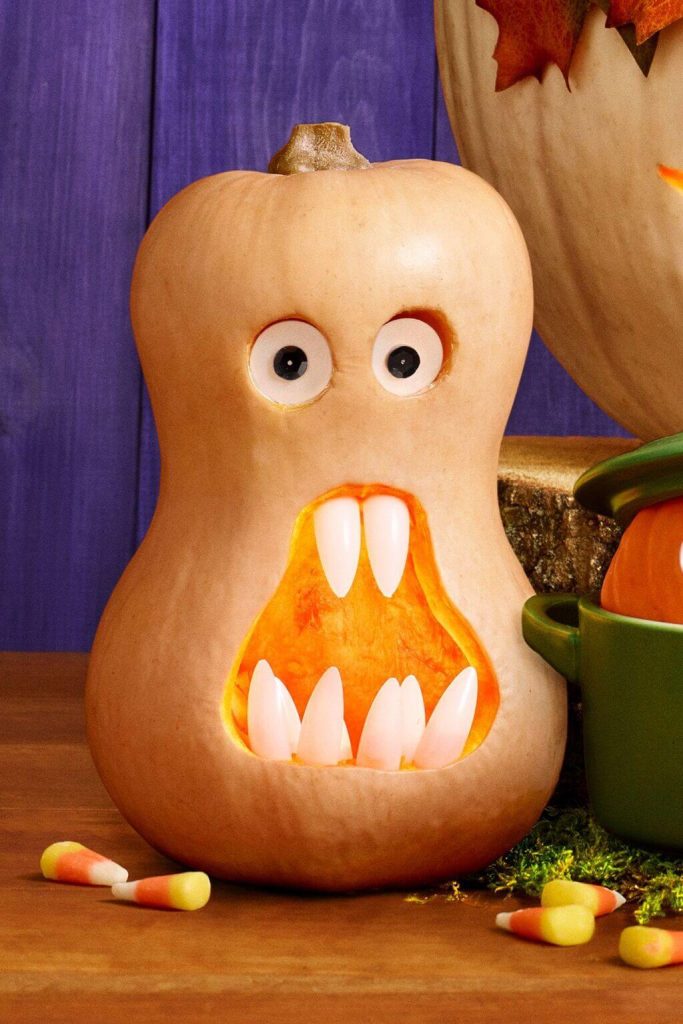 Go for a long pumpkin and carve out funny pumpkin designs. You can add big eyes and a large mouth for the face. Don't forget to add teeth for a spooky look. These teeth can be made from sharp artificial nails.
3. The Little Pumpkin Terrarium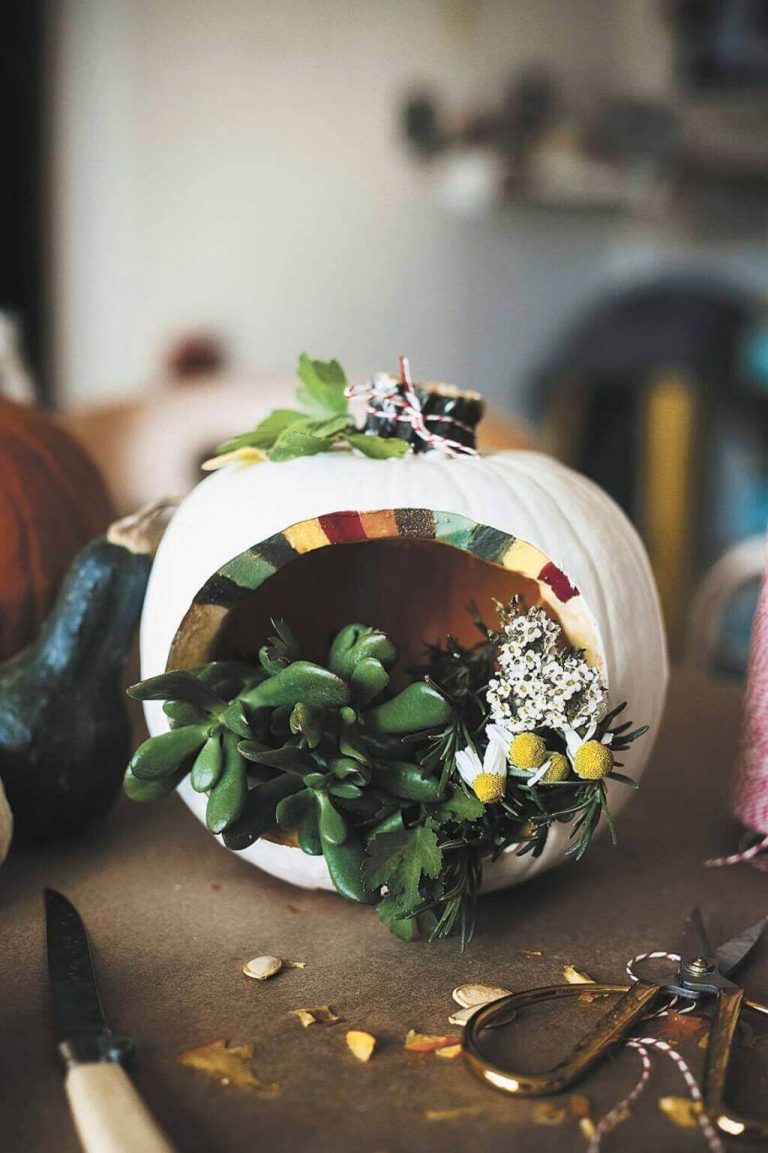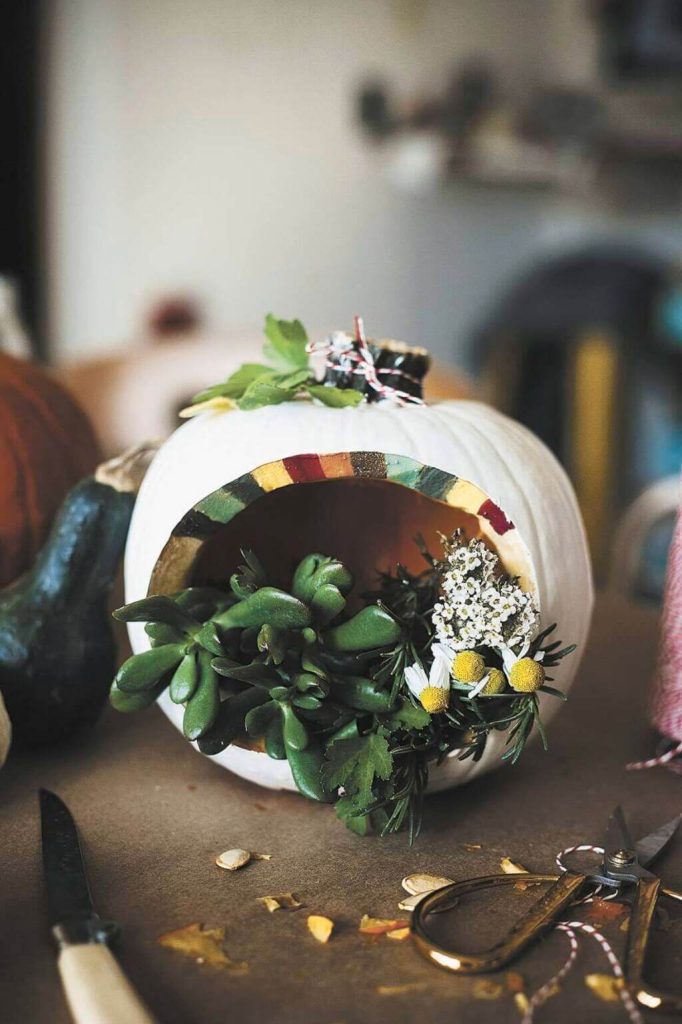 Pumpkin carving ideas can turn out to be the coolest decor items in your home. Transform the pumpkin into a tiny terrarium by painting the edges and filling it up with greenery.
4. Florally Cool Pumpkin Carving Ideas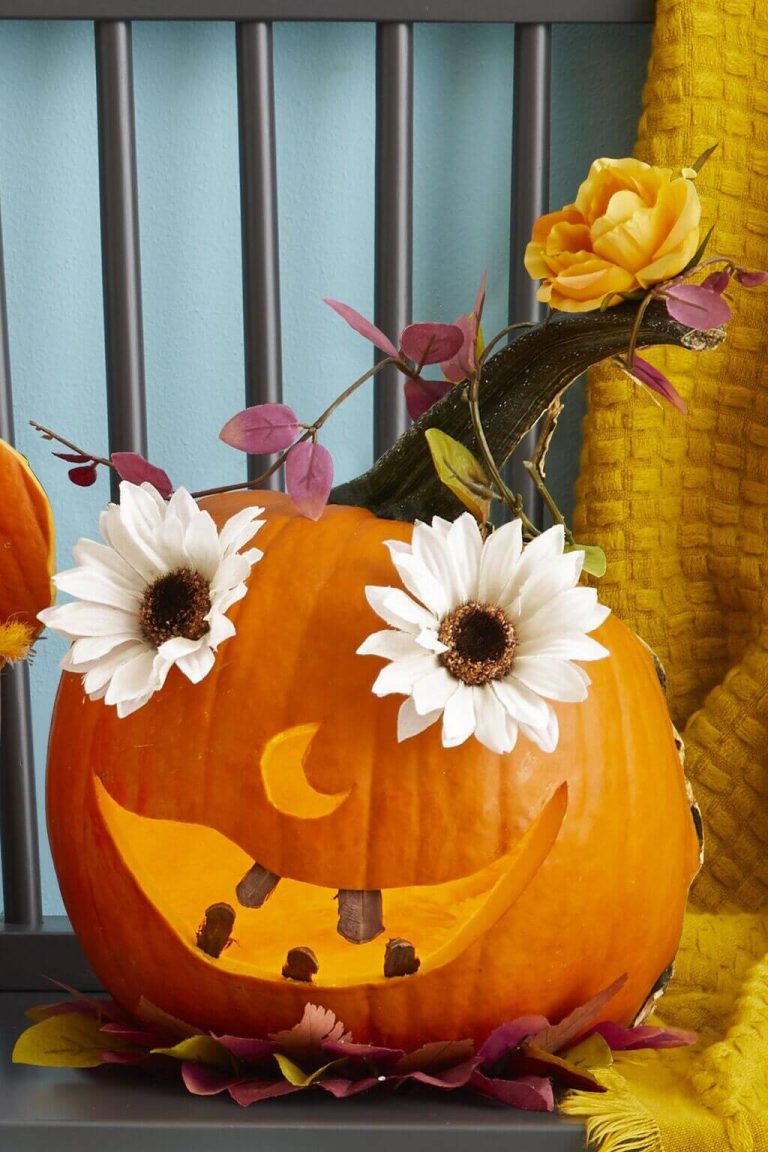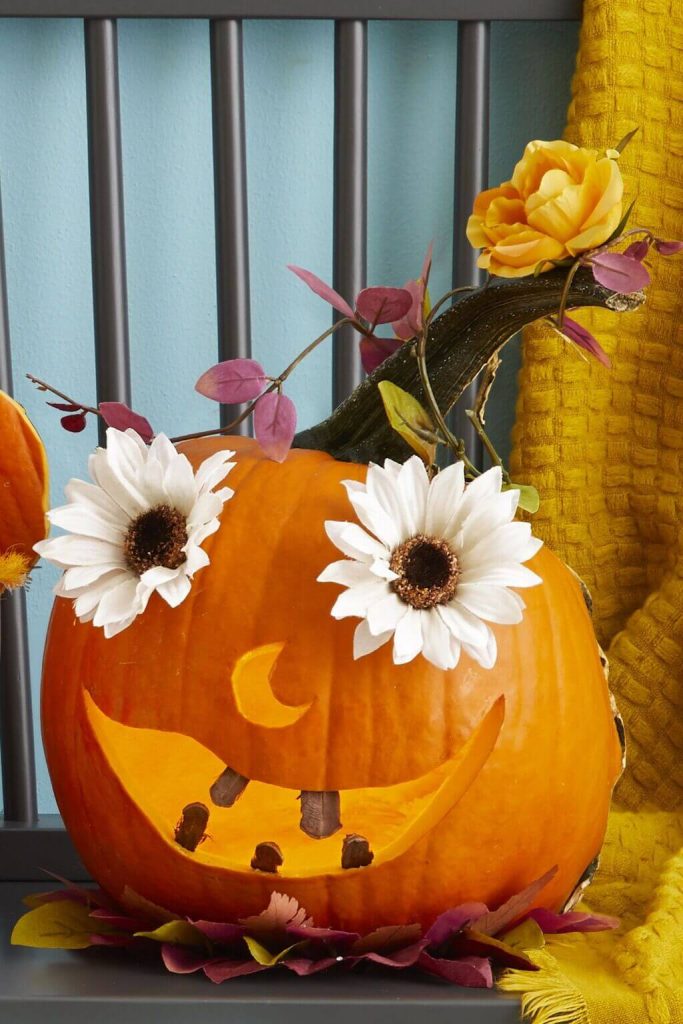 Why keep it simple when the pumpkin faces ideas can be adorned with seeds and flowers? Enhance your pumpkin carving ideas by making eyes with large artificial flowers and utilizing sunflower seeds and dried leaves to make its head and teeth. This easy pumpkin carving can be achieved with home supplies itself, saving you additional costs.
5. The Black Spider Web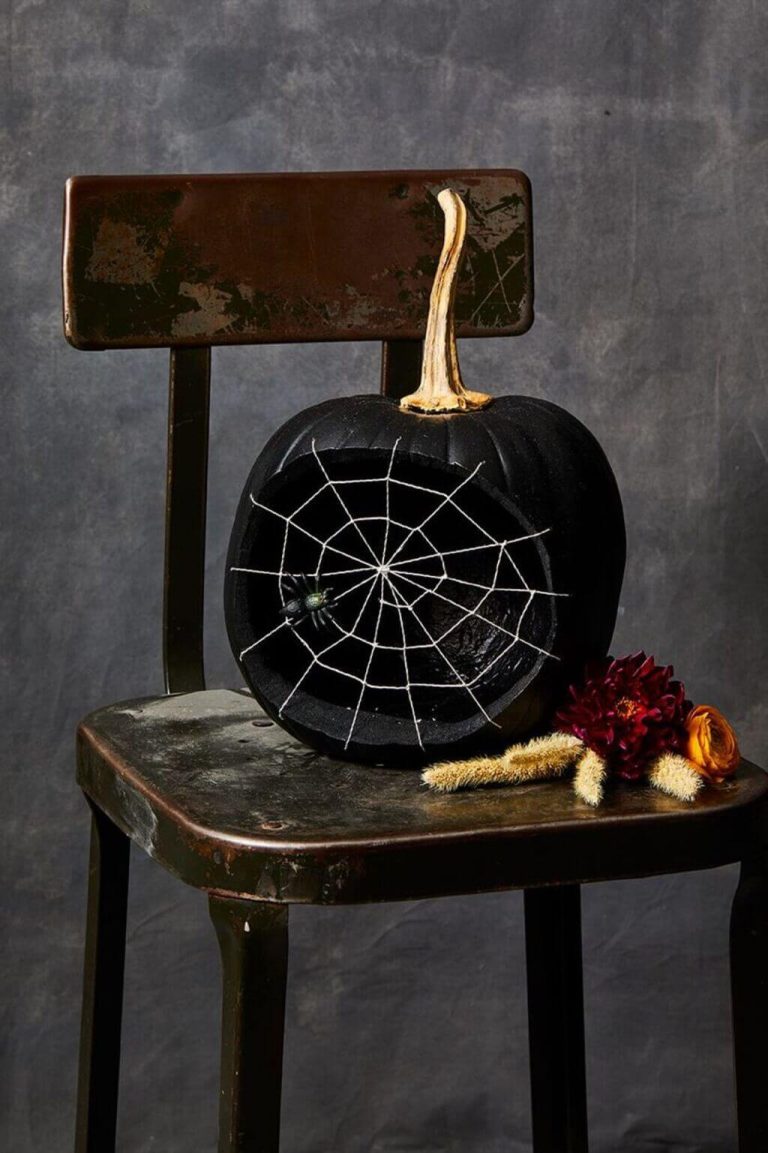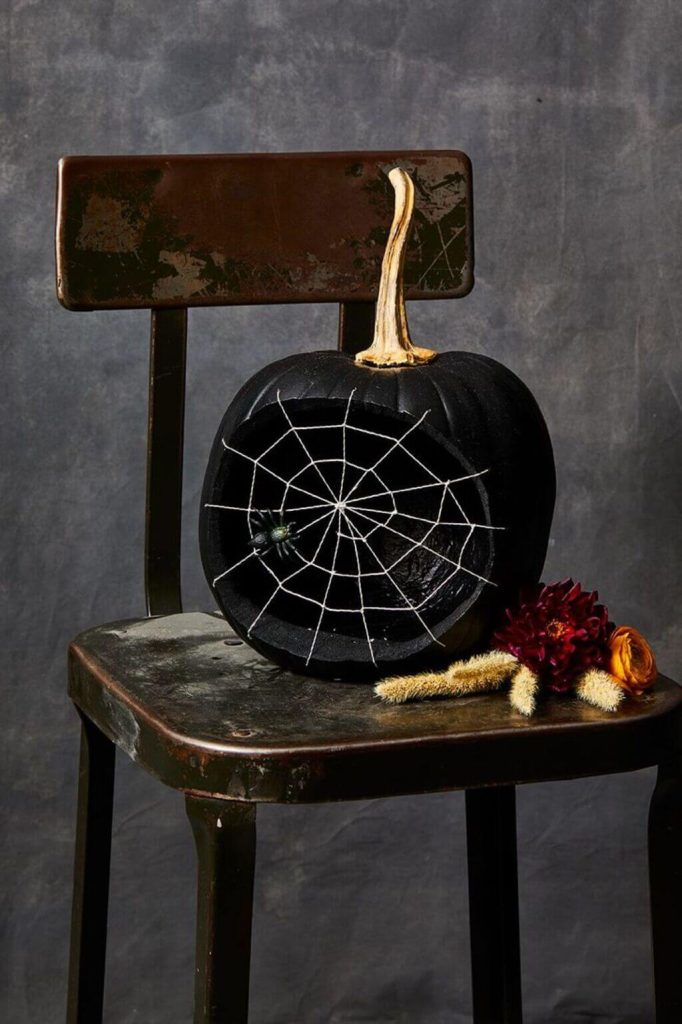 Gone is the trend of keeping orange pumpkins for decor. Jazz up the festive vibes with these creative pumpkin carving ideas that drift from conventional designs. Paint the pumpkin black and knit a spider web on top of it with needle and thread.
6. Hungry Pumpkin Face Ideas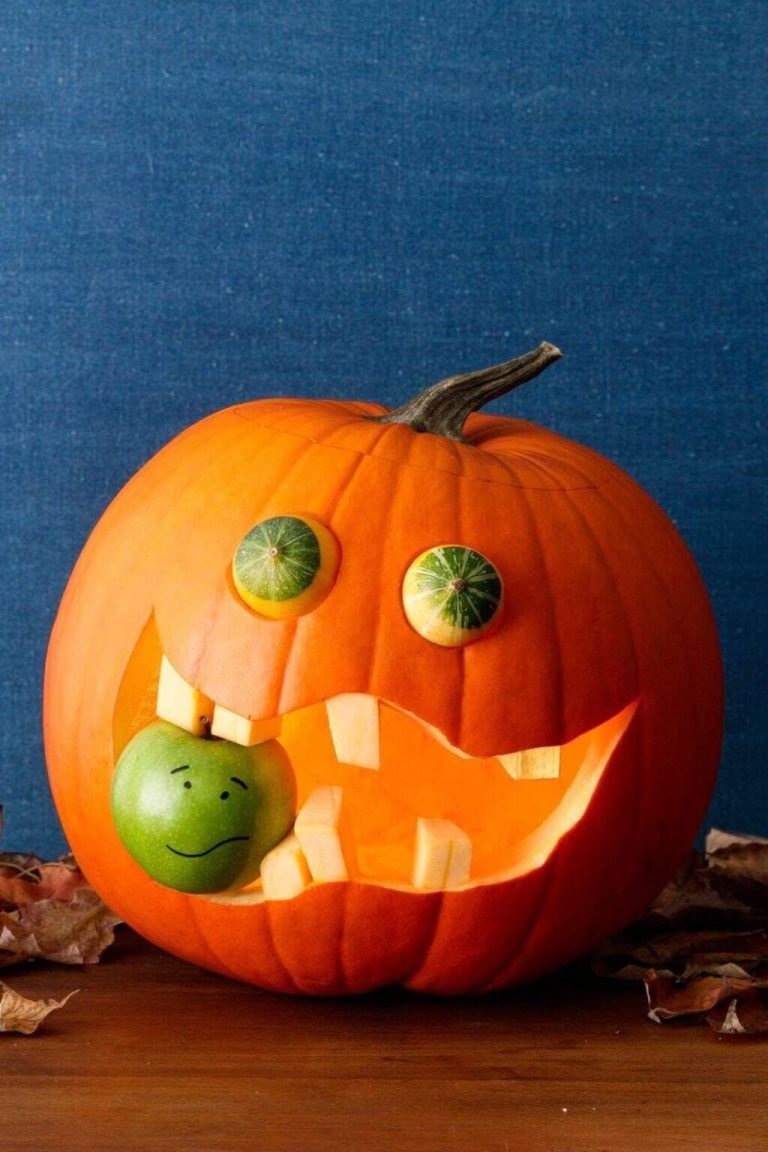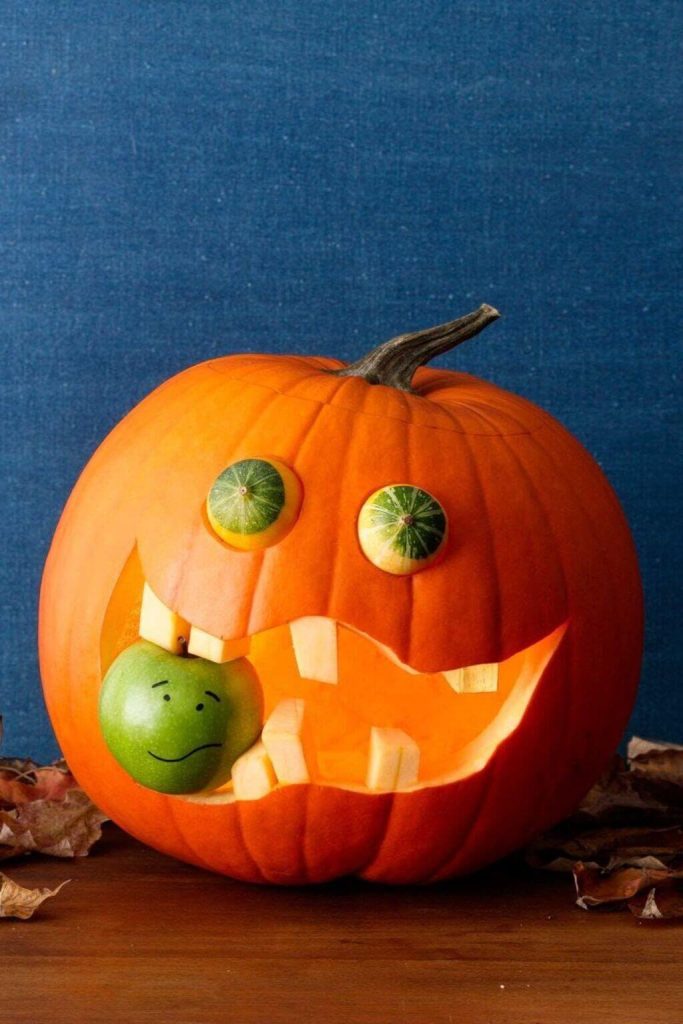 Go crazy with the pumpkin carving ideas. As you carve its eyes and mouth, add a small apple inside the mouth that seems to get bitten by the teeth pumpkin.
7. Pumpkin Faces Ideas Composing a Scene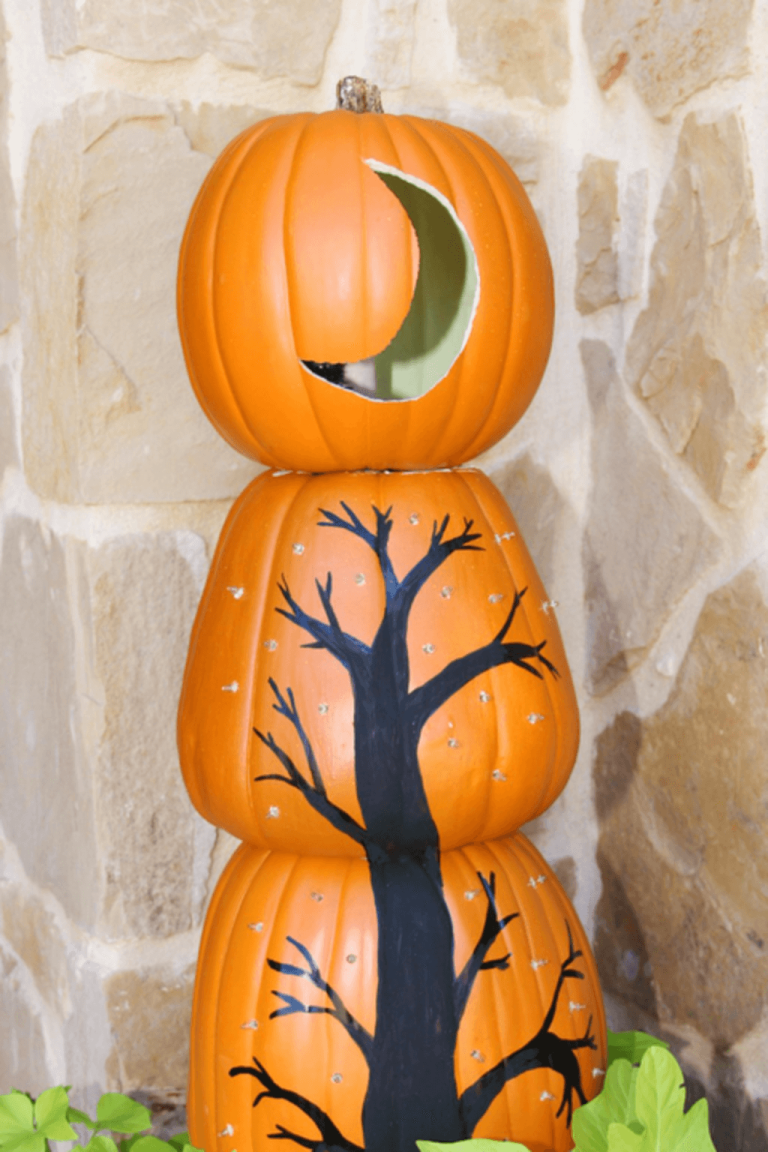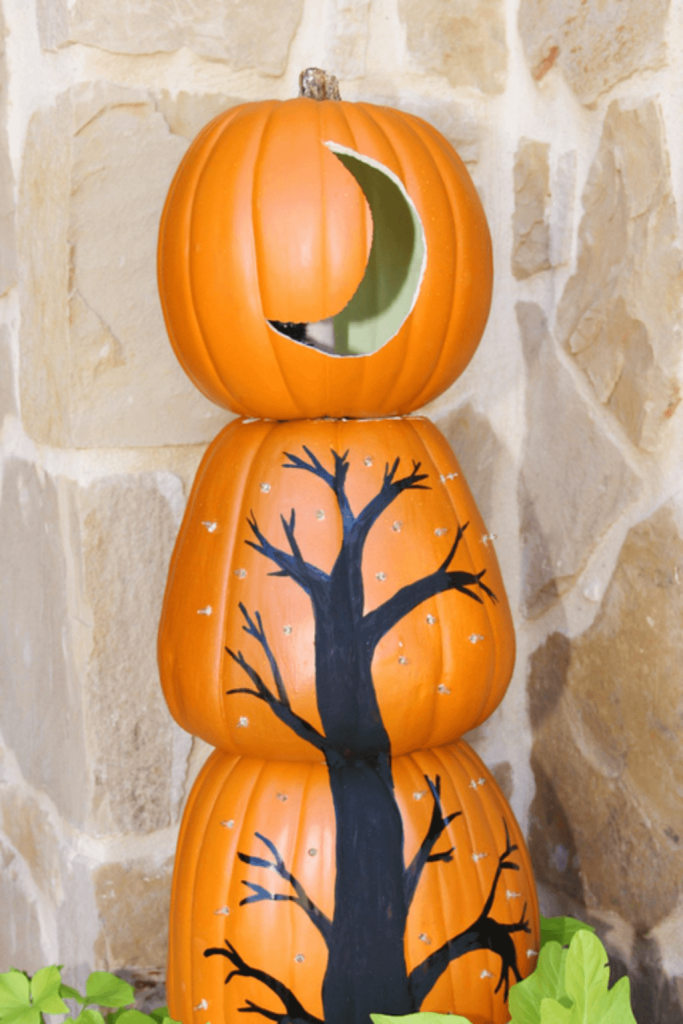 It's not always about making pumpkin faces for festive decor. You can even paint the scenery with stacked pumpkins for a unique look. Carve a crescent moon on the pumpkin and place it atop two other pumpkins with a picture painted on their surface.
8. Of Dots and Spots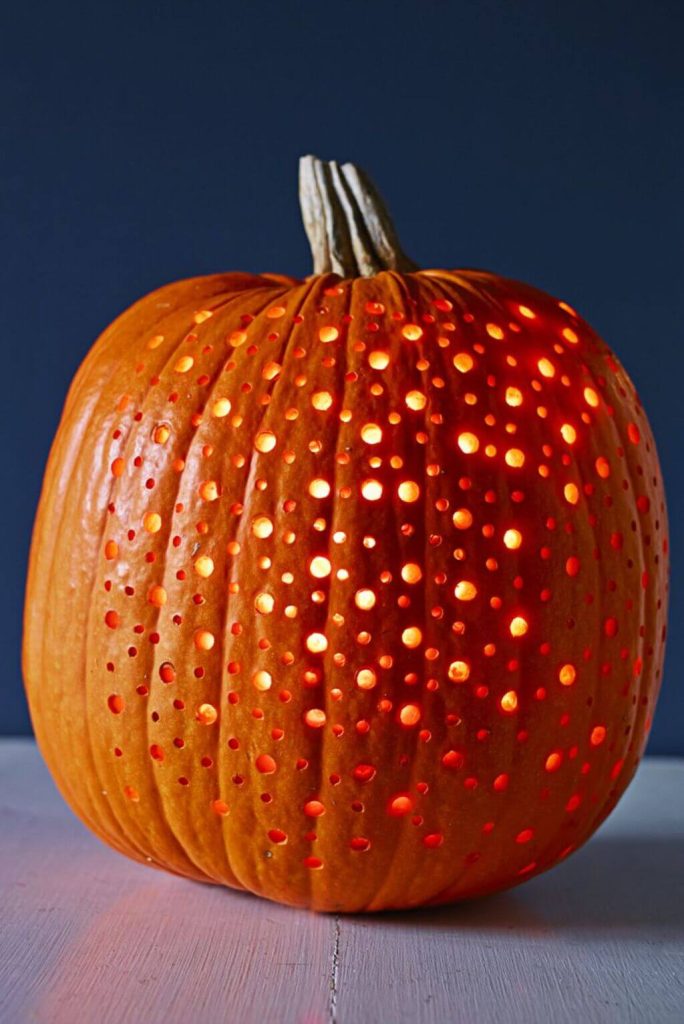 Rather than sticking extra polka dots on the surface, play with a pattern composed of carvings. Your pumpkin faces ideas could be as simple as scooping out dots of different sizes. Place light inside the pumpkin and lighten the pattern.
9. Starry Night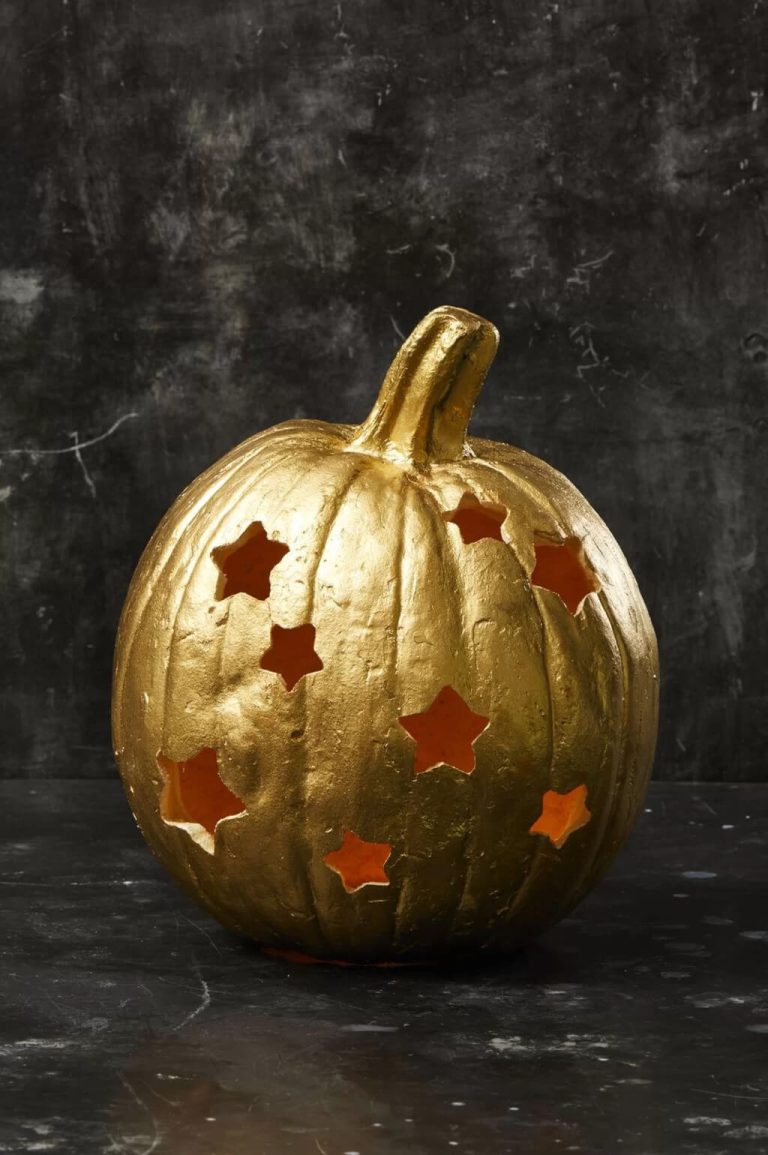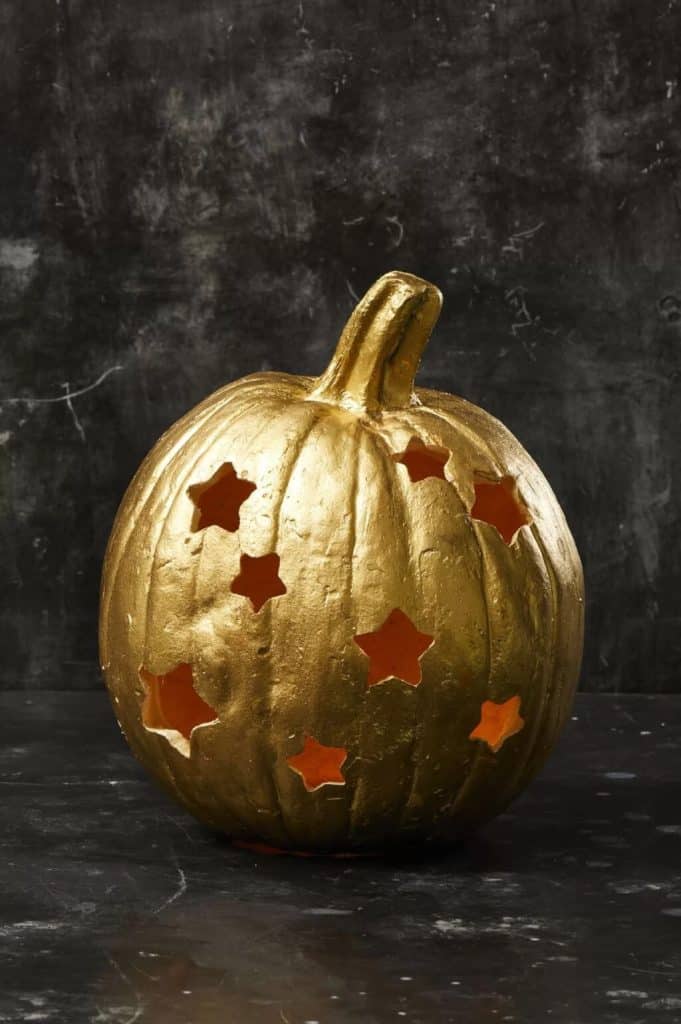 You can paint a night scene with these pumpkin carving ideas that make use of cookie cutters. Cut out stars on the pumpkin and paint it golden or silver for a shiny look.
10. Pumpkins and the Marbles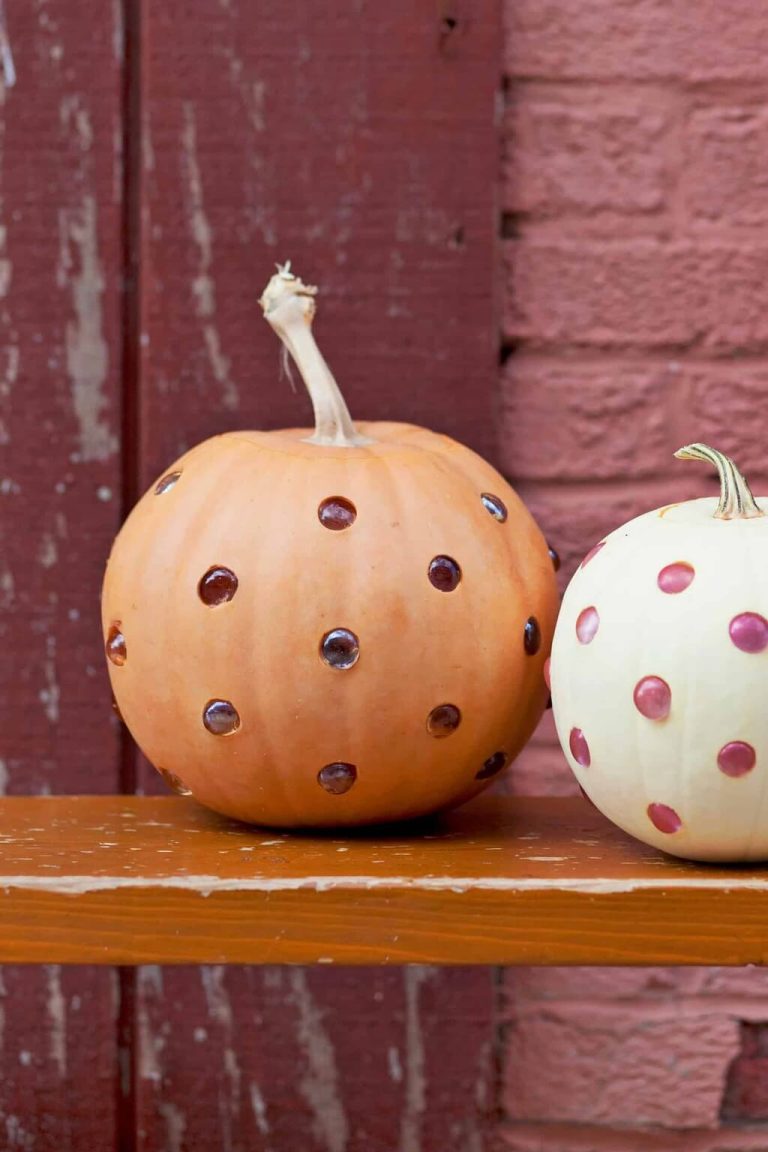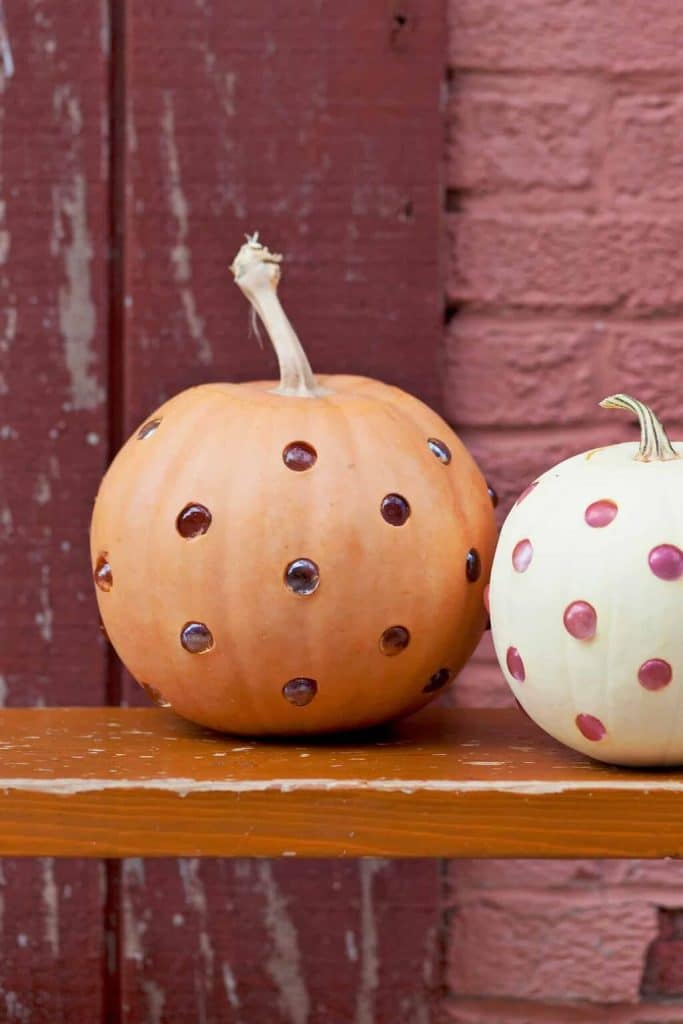 Give your cool pumpkin carving ideas an artistic edge by placing glass marbles inside. Let these pop out on the surface and add a glowing effect to the design.
11. The Pumpkin Mickey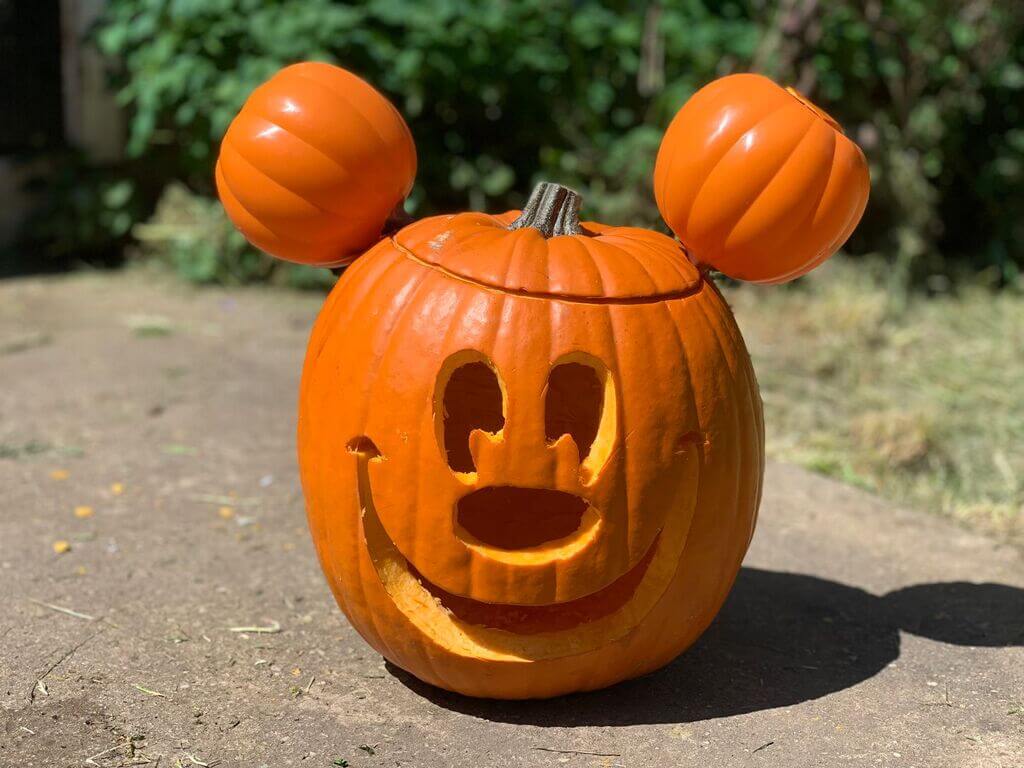 How about using these pumpkin carving ideas to carve out your kid's favorite cartoon character? Scoop out the mickey mouse face on the main pumpkin and place two mini ones that serve as its ears and complete the look.
12. The Fire Scene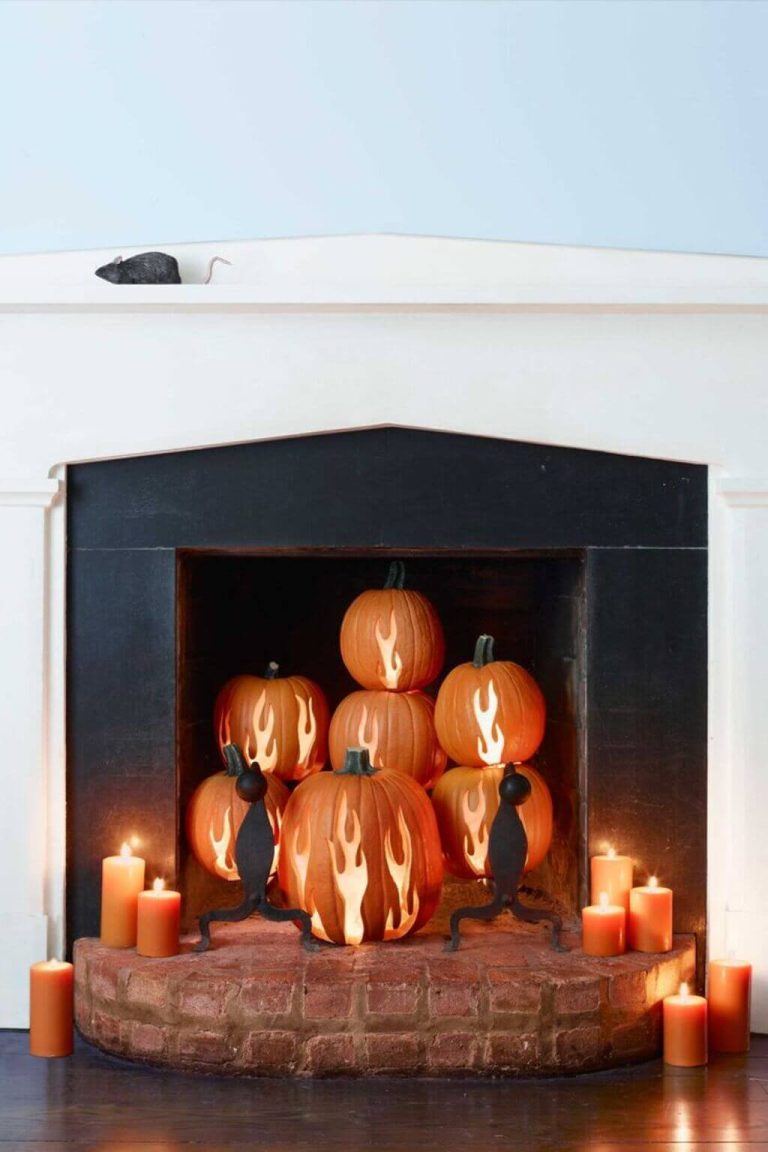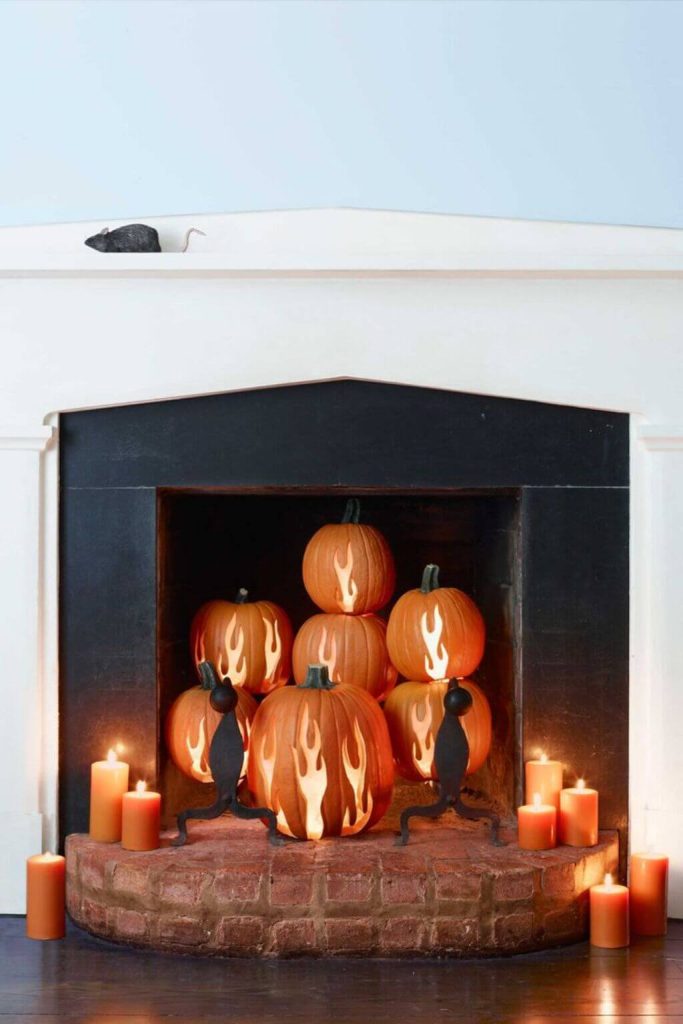 Set a whole burning scene in the fireplace by placing multiple pumpkins. You can carve out flames on these pumpkins to give them a real effect.
13. Cool Pumpkin Carving Ideas with Autumn Leaves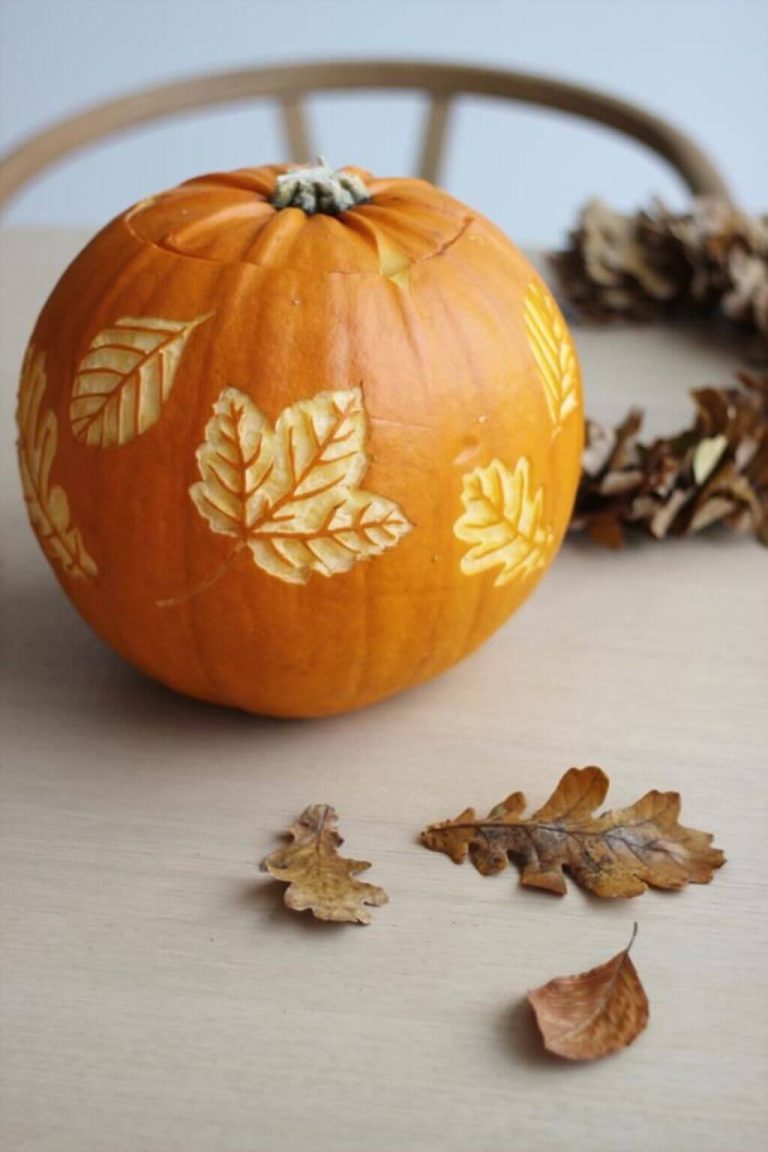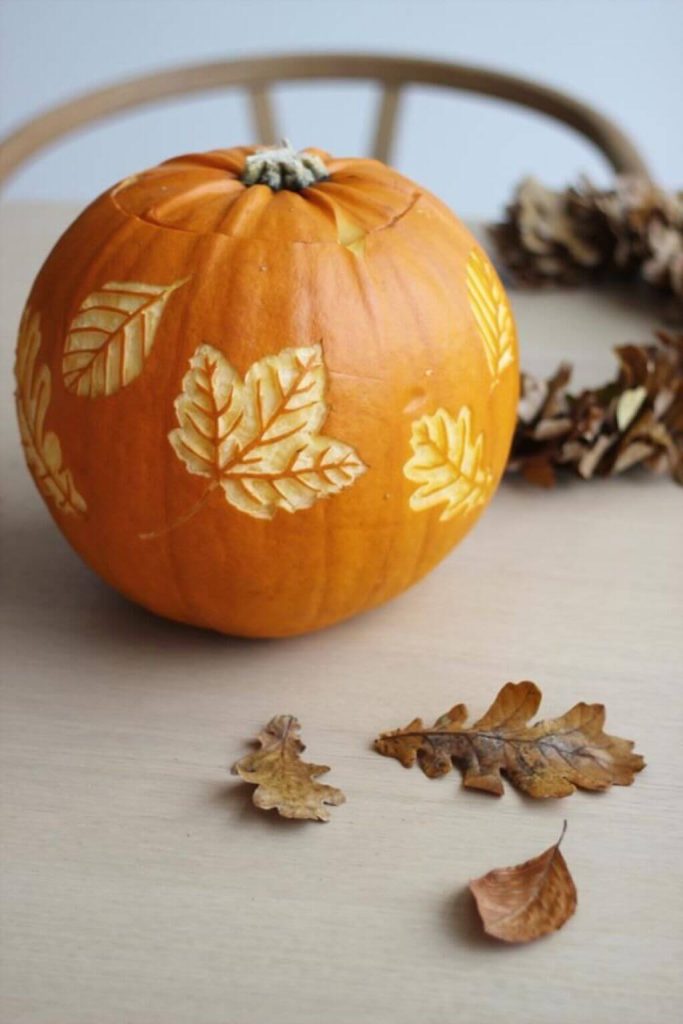 Level up the autumn decor with these pumpkin carvings. Carve out the shape of different leaves on the pumpkin and let intricacy define a pattern. 
14. Scary Pumpkin Faces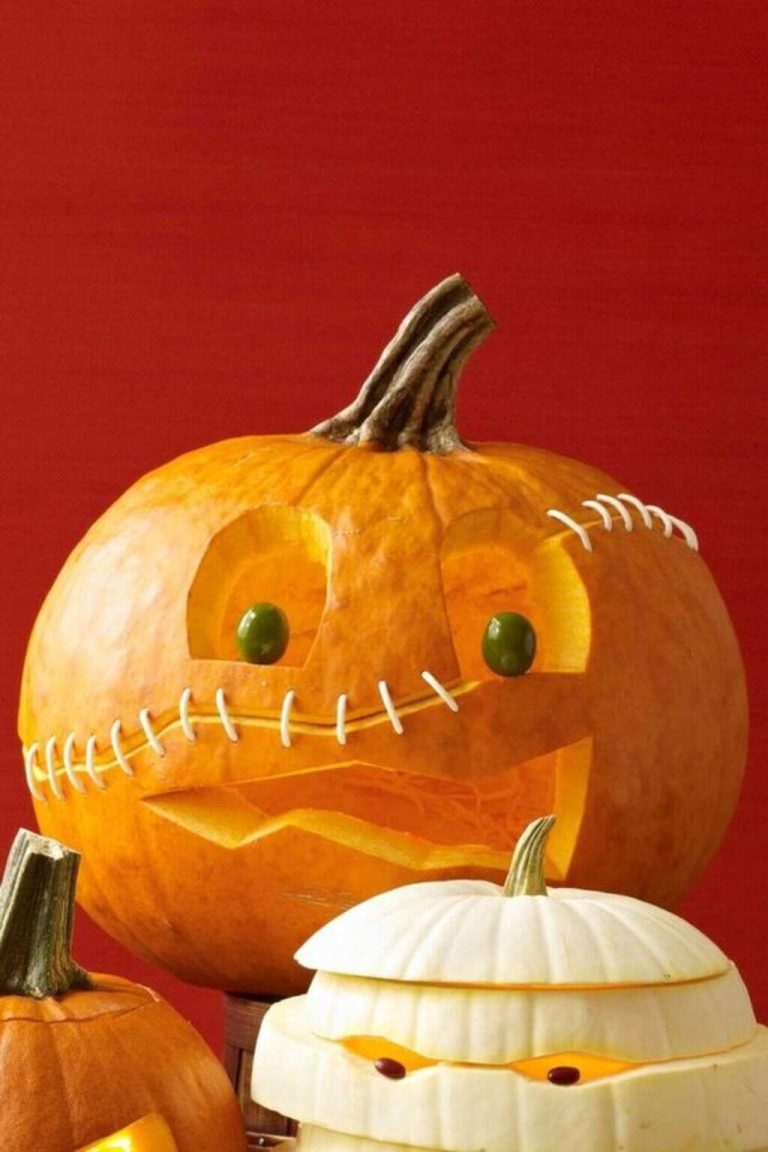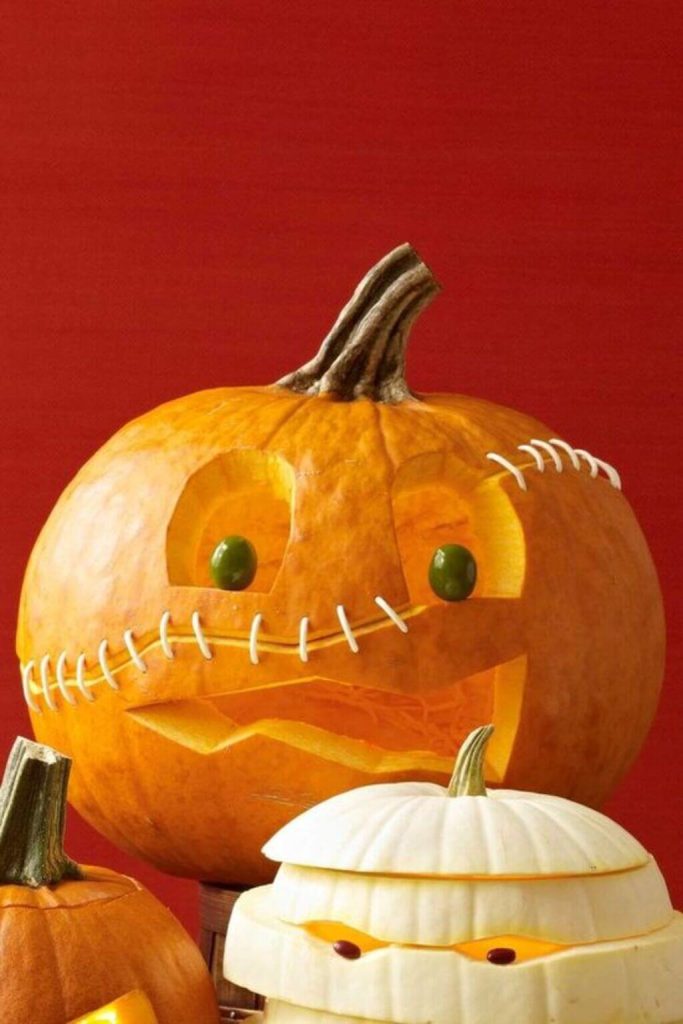 Don't shy away from going over the top with pumpkin carving ideas. Cut out a scary face and add a scar line on it. The cool pumpkin carvings can further be enhanced by stitching the scar. Let it go from front to back for a cool look.
15. Laughing Vampire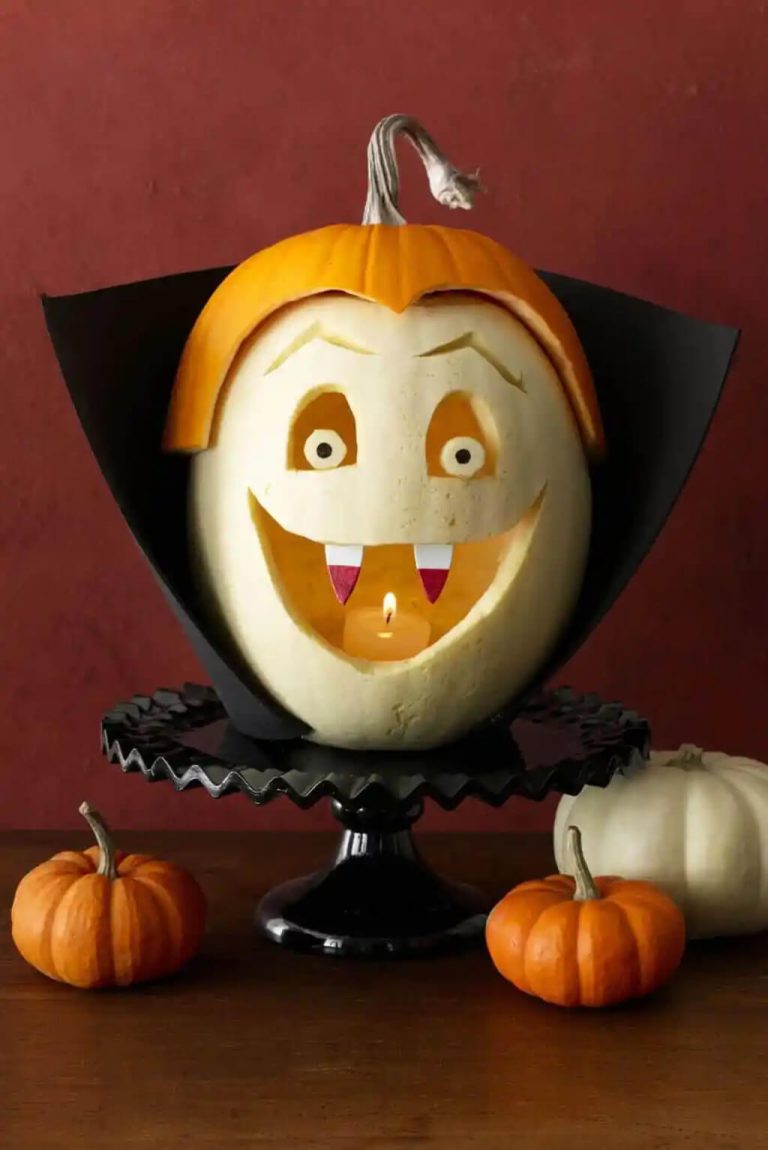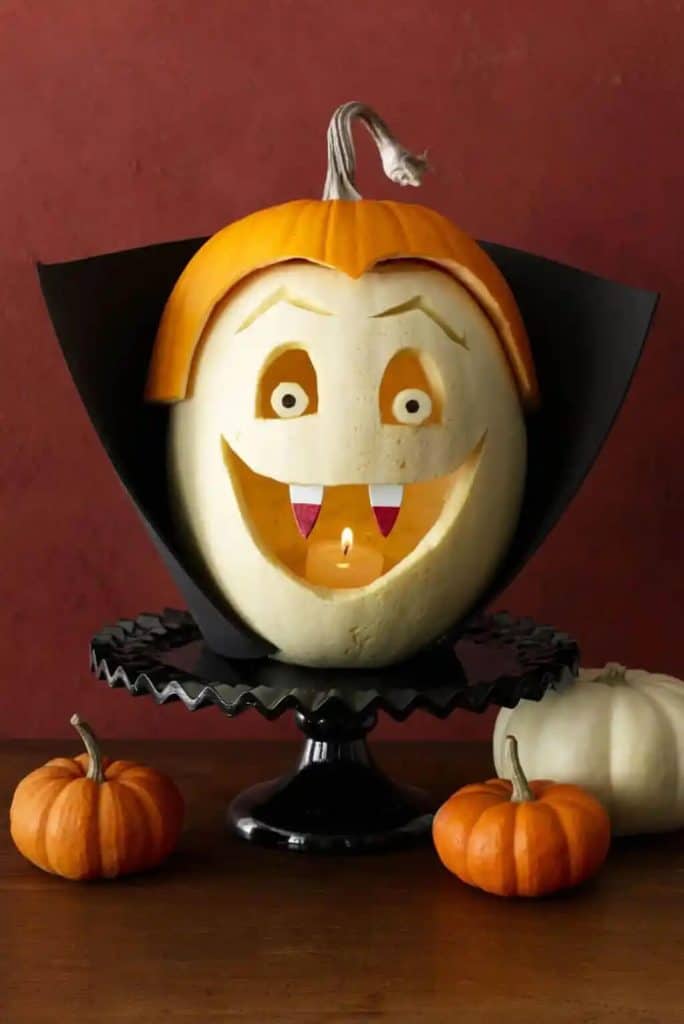 Instead of the scary-faced vampires, make your pumpkin carving ideas stand out with a sense of friendliness added to them. Carve out a laughing vampire face and add a candle inside the mouth for a better look.
16. Spooky Black Cat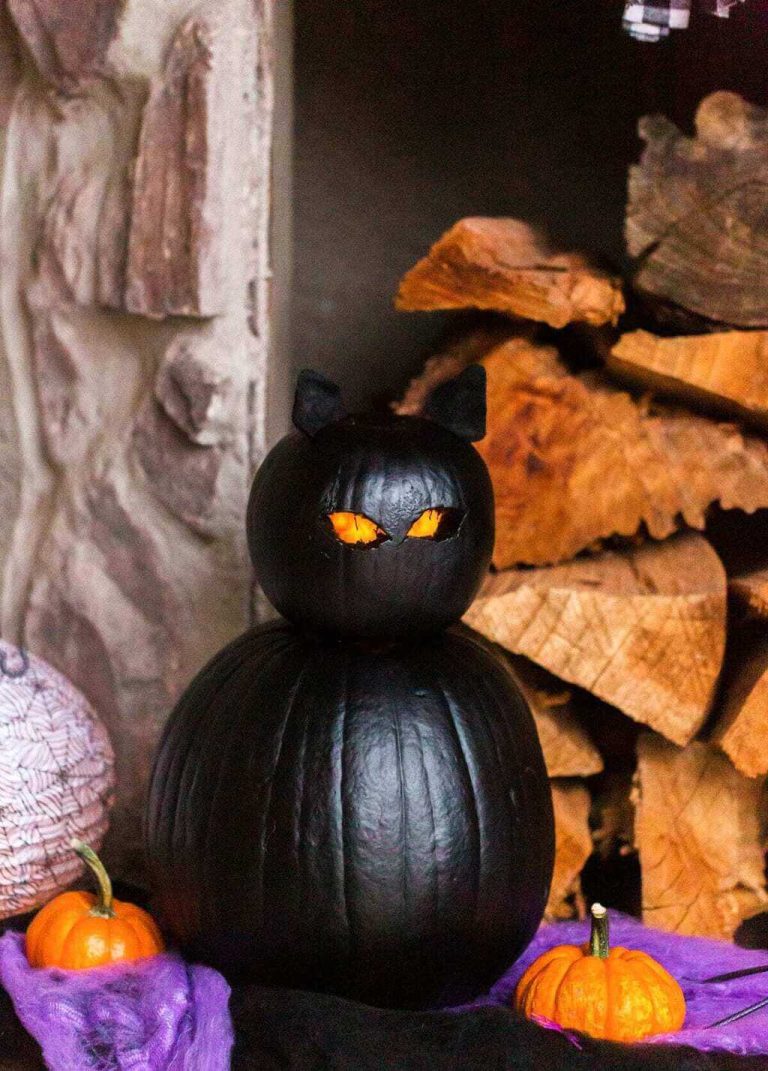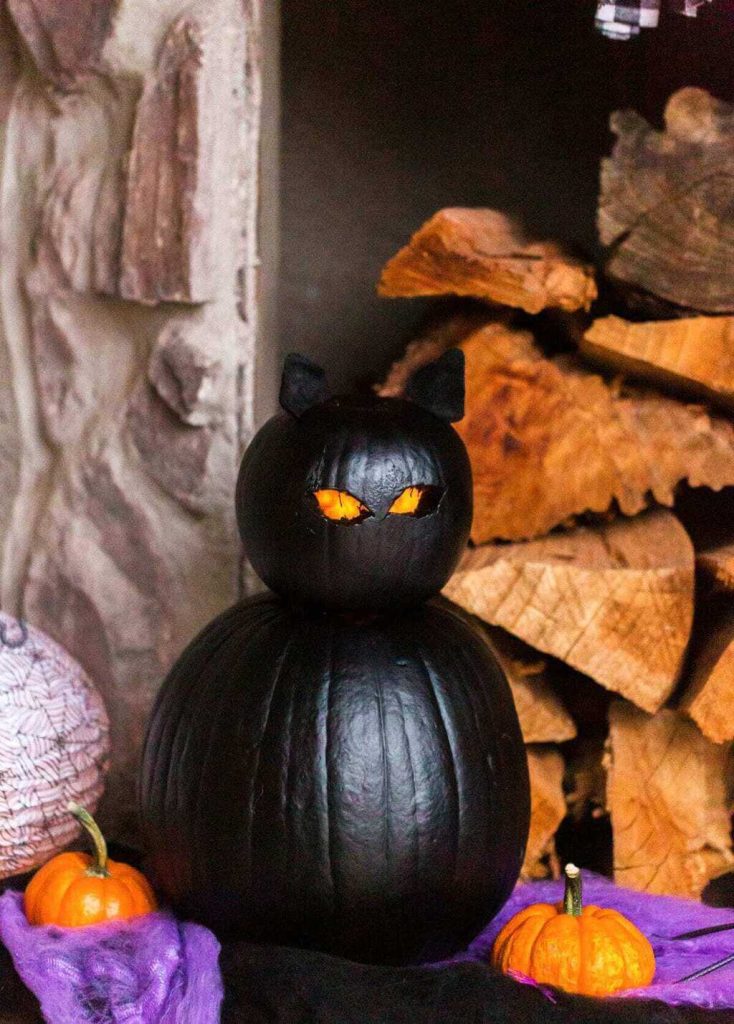 If you're aiming for a decor idea that doesn't require much work, make a spooky black cat and place it in a nook of the room. All you need to do is cut out eyes, add lights inside, and place a smaller pumpkin on top of the bigger one.
17. An Embroidered Pumpkin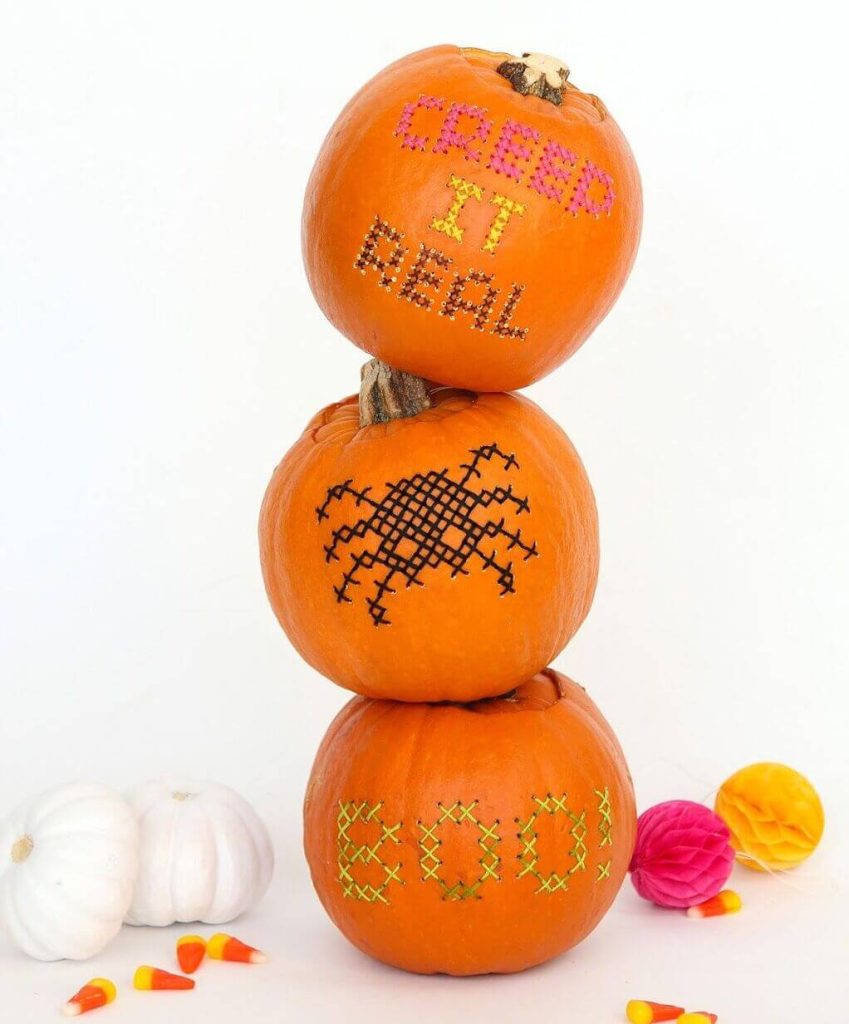 One of the most artistic ideas is to perform embroidery on the pumpkins. These cool pumpkin carving ideas can be used to generate cross-stitched decor elements that can either have a message or just characters on them.
18. Cute Little Playhouse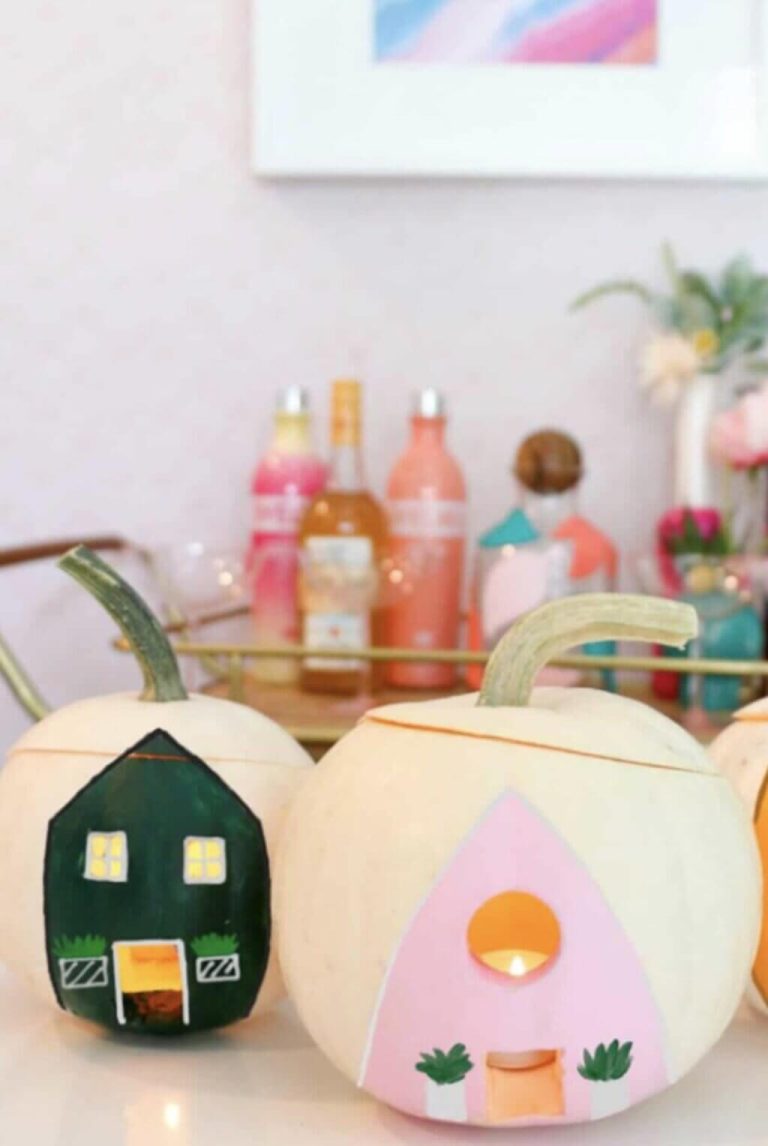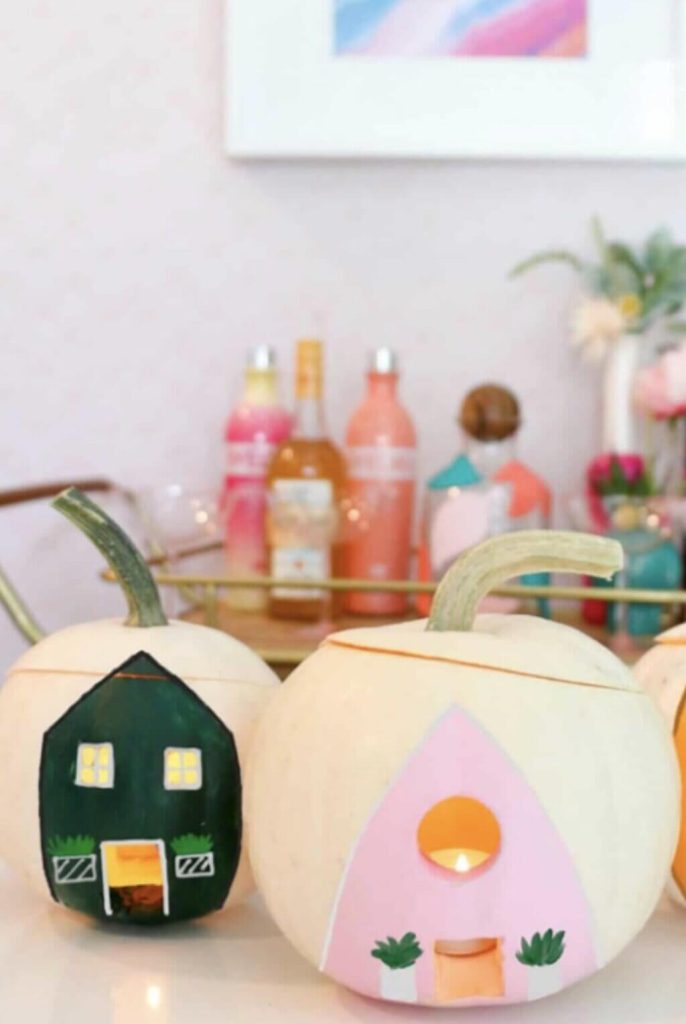 Pumpkin decorating ideas aren't supposed to be inclined towards a sense of horror always. You can make a cute little playhouse with carving ideas and let candles light it up from the inside. Opt for pastel shades to make it look prettier.
19. The Hairy Pumpkins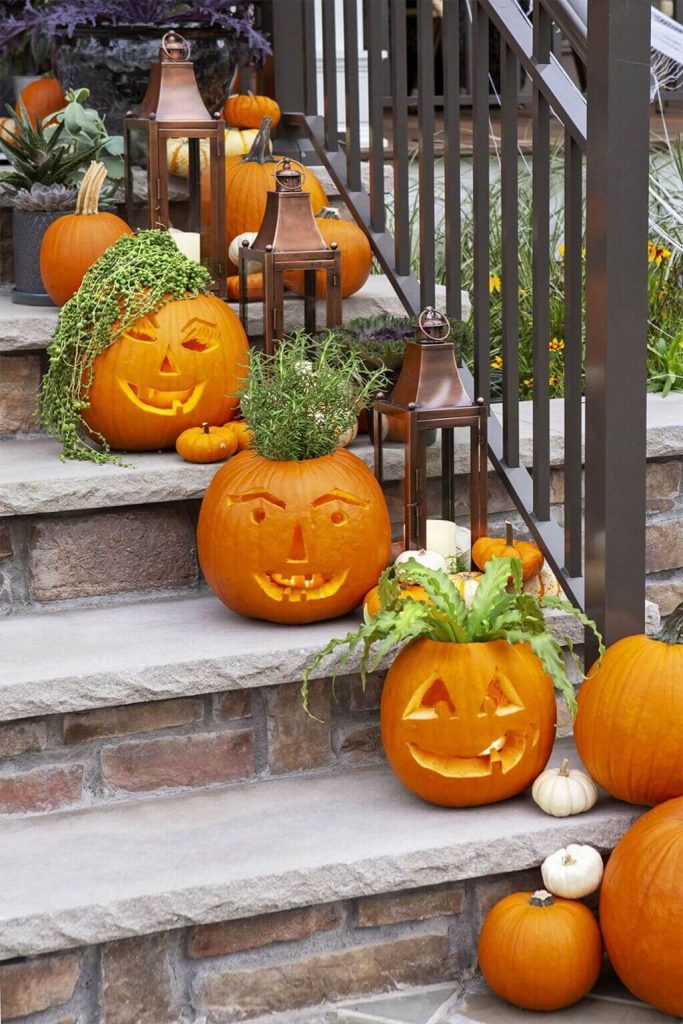 You can go as creative and funny as you want with the pumpkin face ideas. Carve out a face with the emotions and the ultimate play will be on the top. Add plants that seem like hair growing on the top of these pumpkins.
20. Unicorn Pumpkin Carving Ideas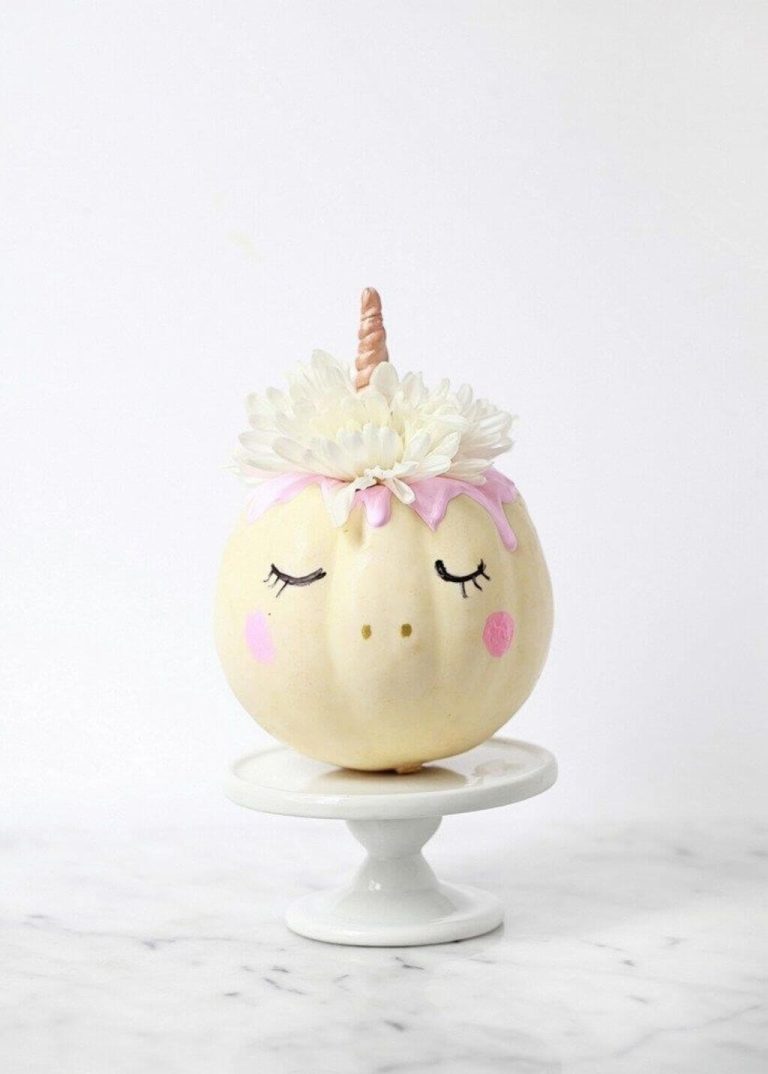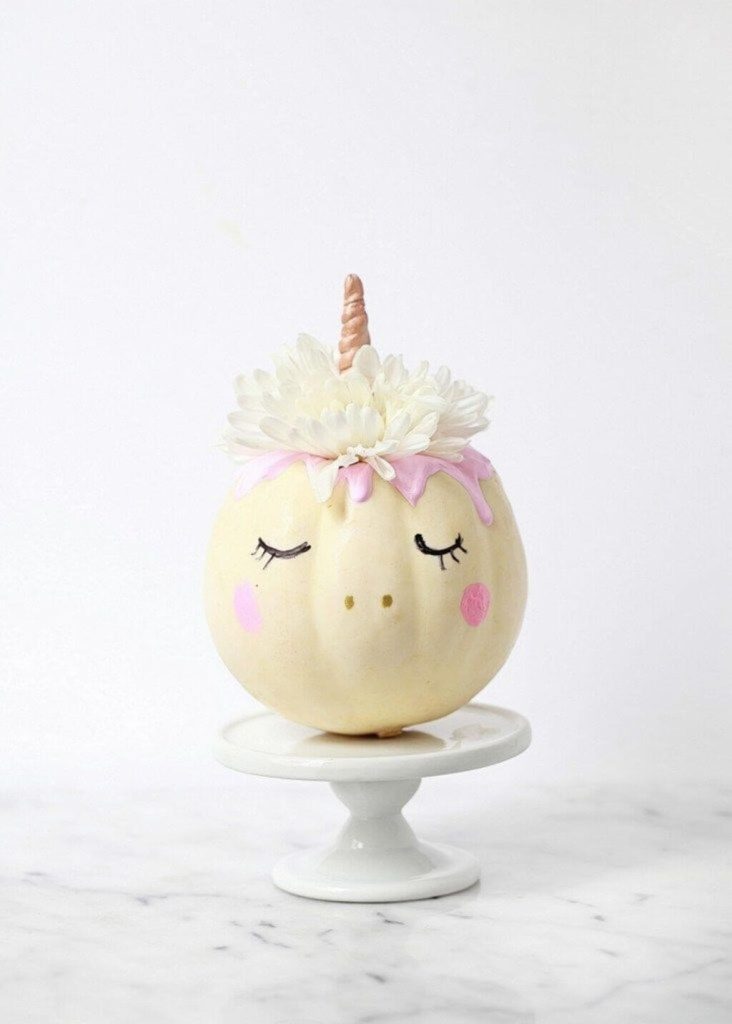 Transform the spooky pumpkin into a cute unicorn. Don't carve too much on the pumpkin. Rather, keep it simple and paint the pumpkin white. Add a glittery horn and decorate it further with artificial flowers.
21. Pumpkin Carving Ideas for Mantel Decor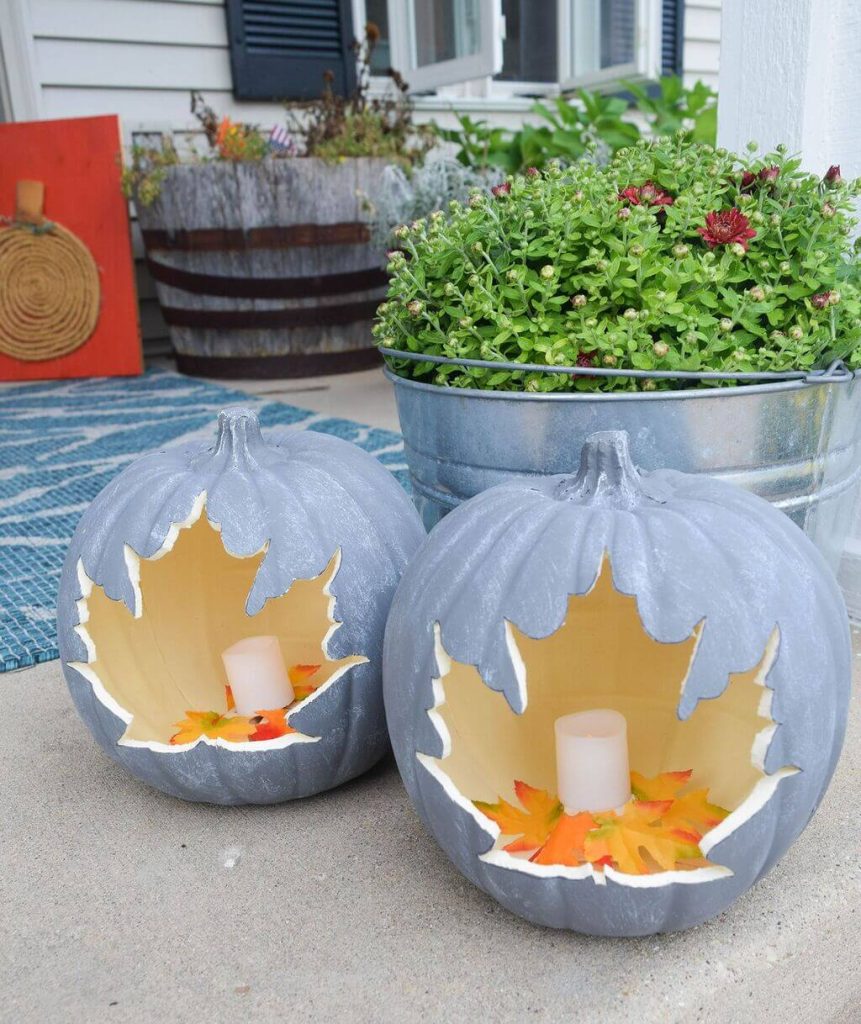 Compose a spooky picture of the carved pumpkin. You can either carve the entire scene out or just make a large void and fill it up with several props.
22. The Aesthetic Family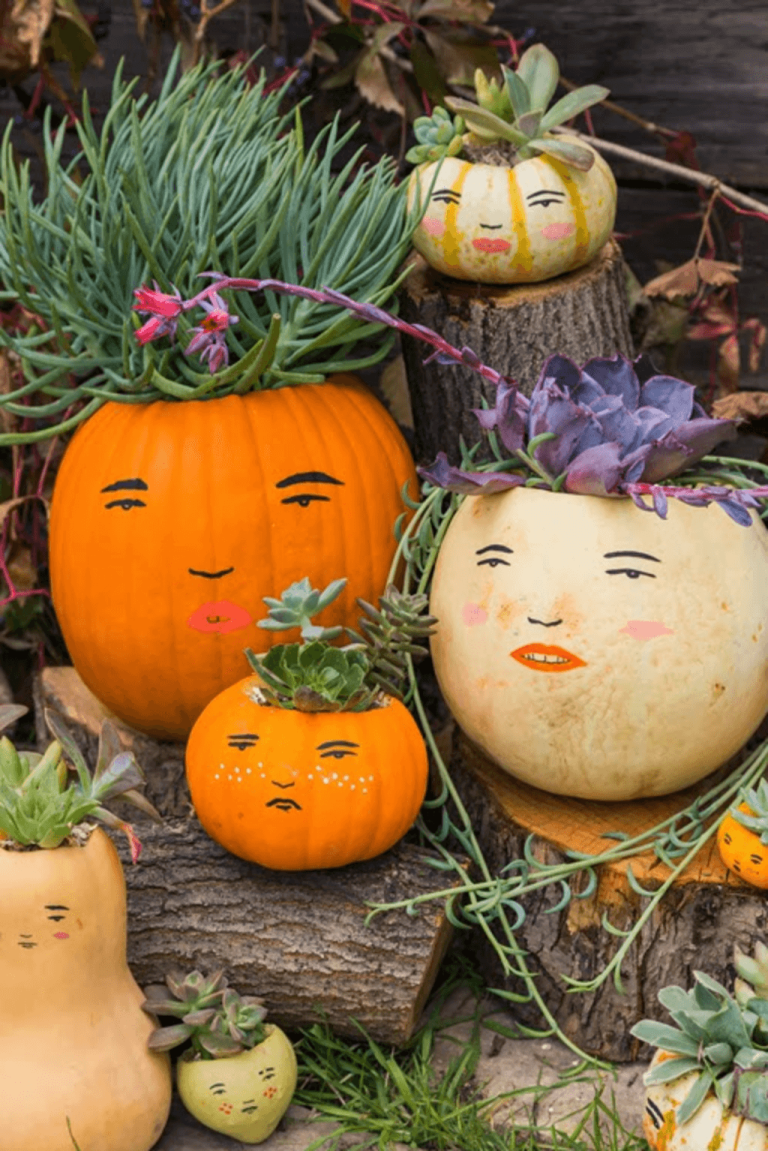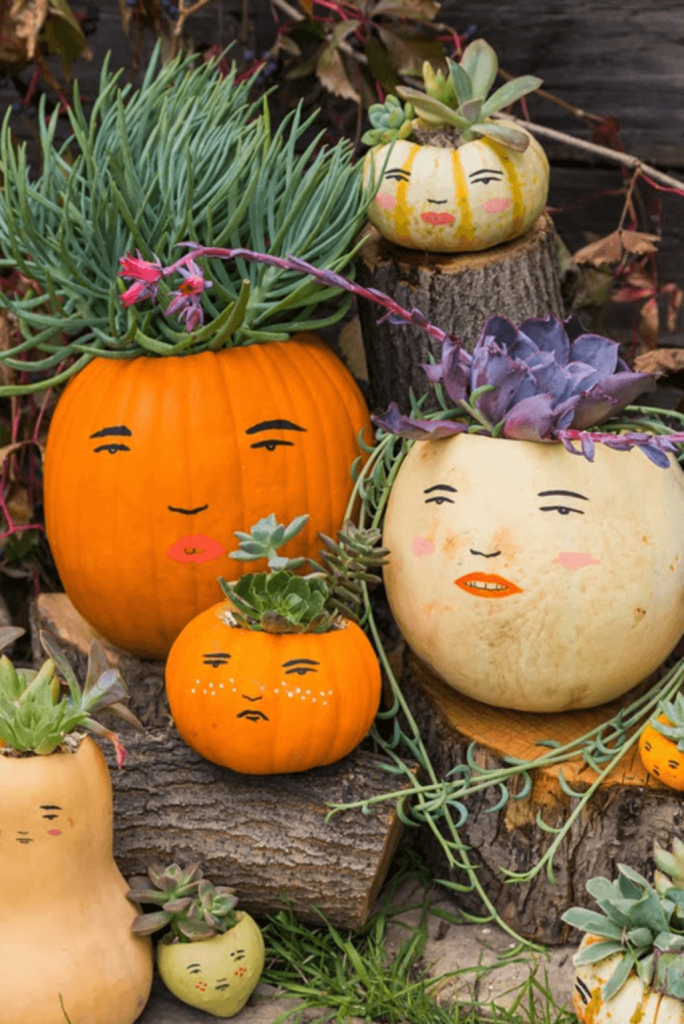 Rather than keeping a single pumpkin, add a whole set of pumpkins to make a small family. You can seek help from the pumpkin carving templates to get the adorable look. These pumpkin carving ideas can further be used as planter beds for succulents.
23. The Goofy Member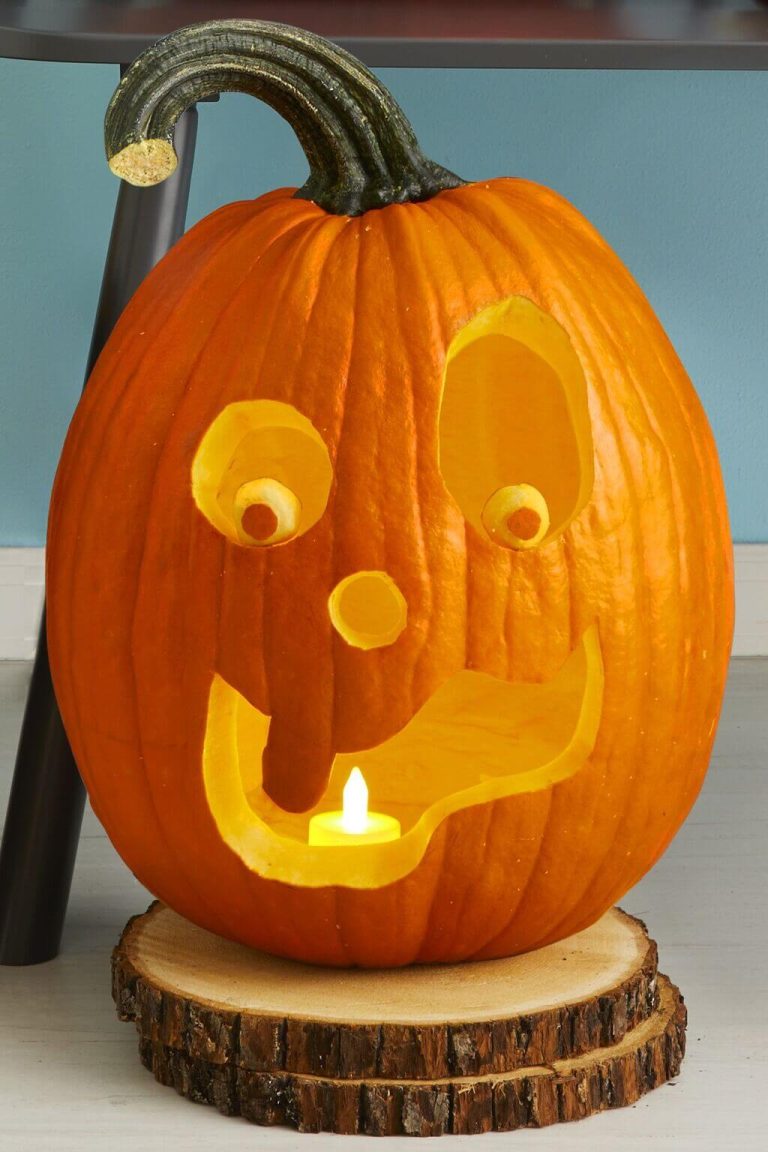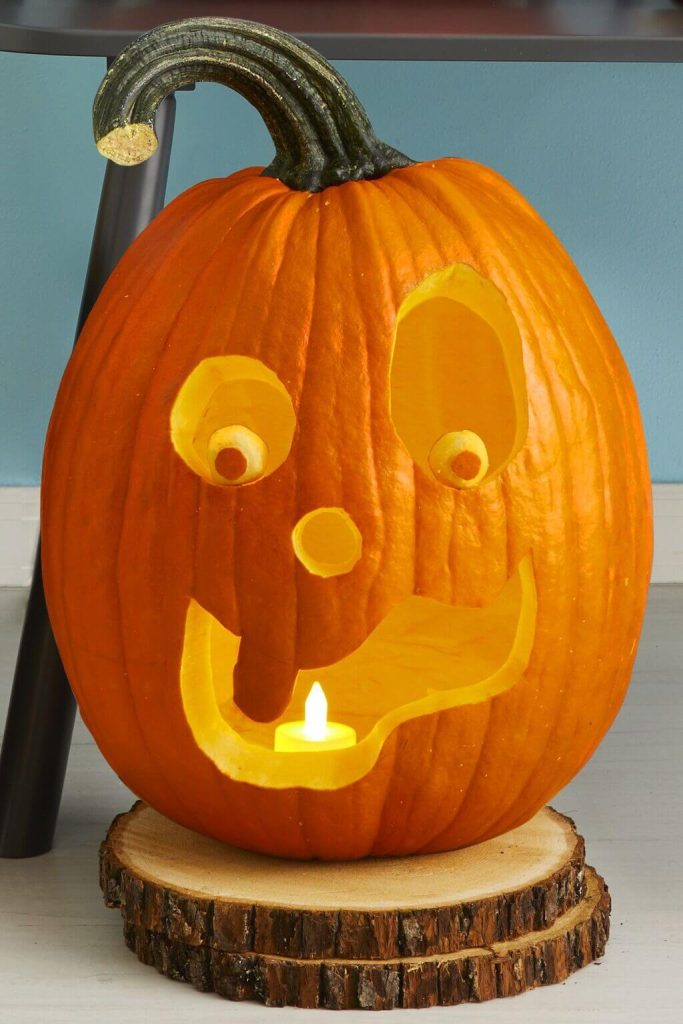 Try funny pumpkin carving ideas that play with expressions. You can make the face look extremely goofy by carving a wide smile, and big eyes, and placing a little candle inside its mouth.
24. From Galaxy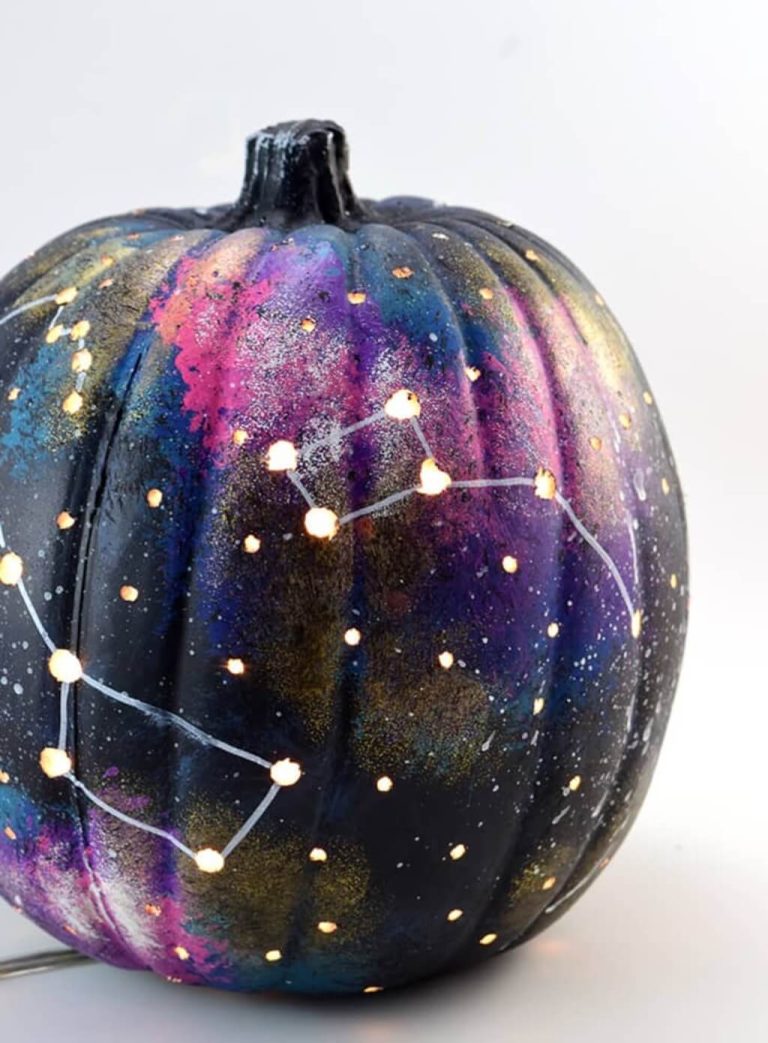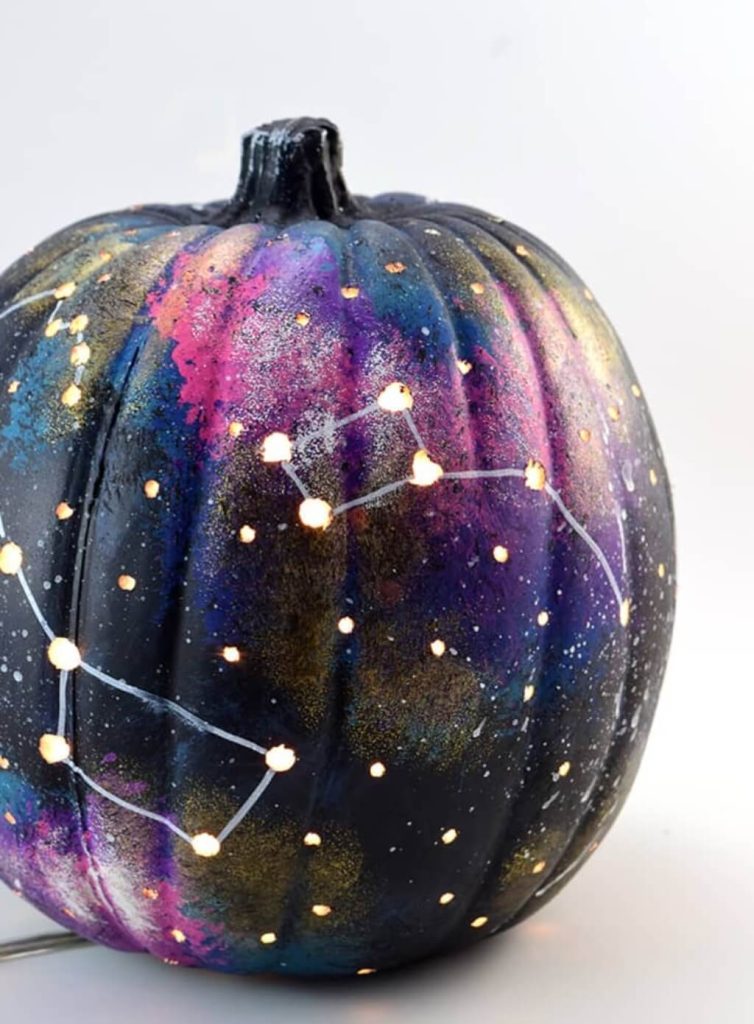 Take your pumpkin designs far beyond the earth. Paint the outer shell of the pumpkin with a galaxy effect and don't forget to sprinkle a few stars here and there. With these pumpkin carving ideas, you bring to your home a realistic night sky.
25. A Spooky Vampire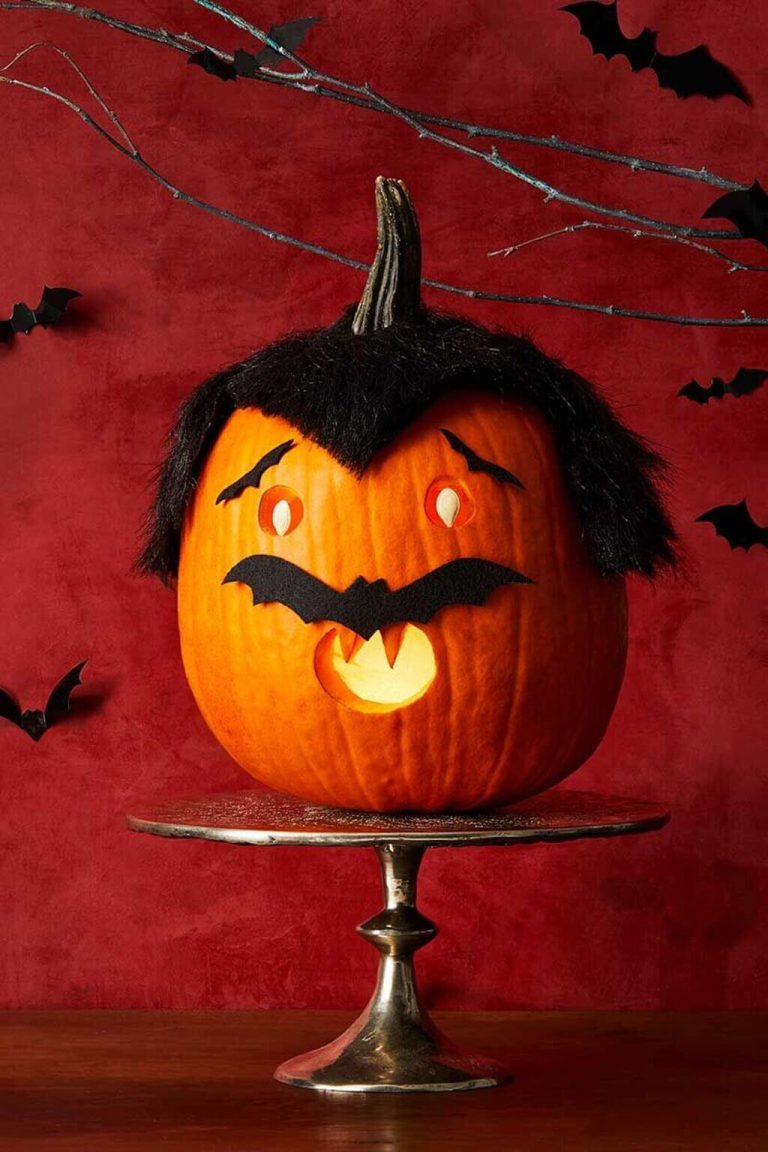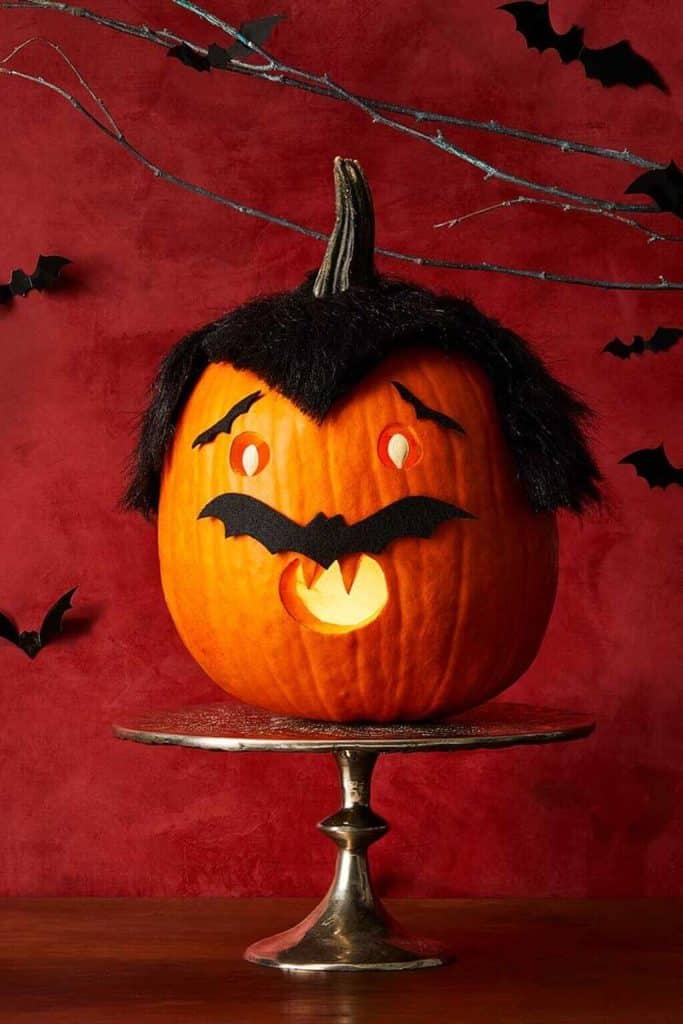 If you're aiming at the scary decor, place artificial hair and a mustache on your pumpkin face. The mustache can be in the form of a flying bat and the same decor can be added to its background.
26. Boo!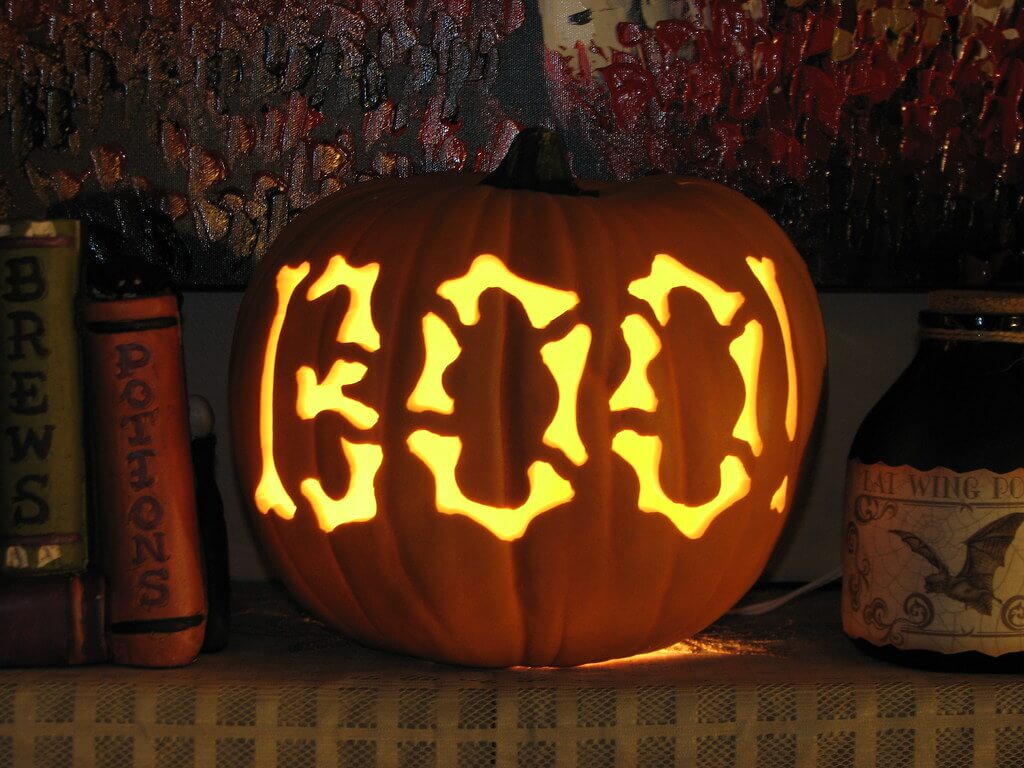 Go for the cool pumpkin carvings that are extremely simple yet meaningful. All you need to do is carve out Boo on the surface and light it up from the inside.
27. The Glittering Spidey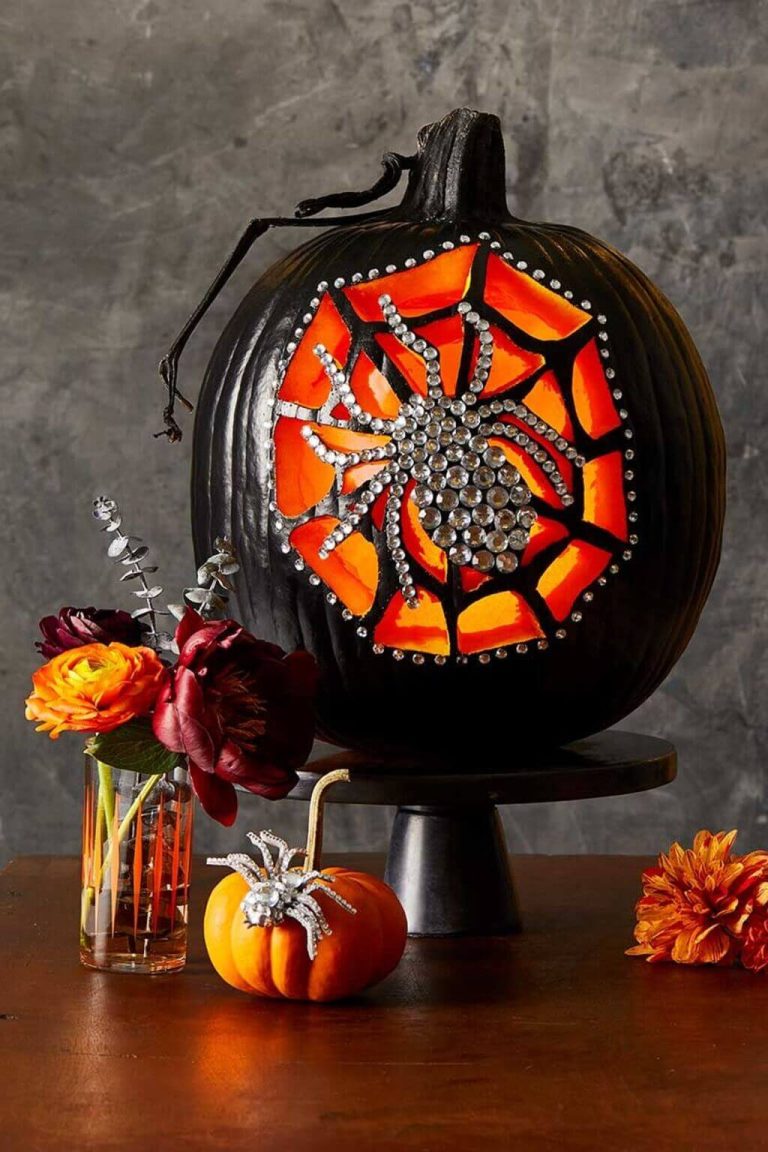 Go for cool pumpkin carvings by carving out different shapes. Consider adding the shape of a spider with its web on the pumpkin and paint it black. The spider can be enhanced by adding jewels on top of it to make it shiny and more appealing.
28. The Dotted Pumpkin Designs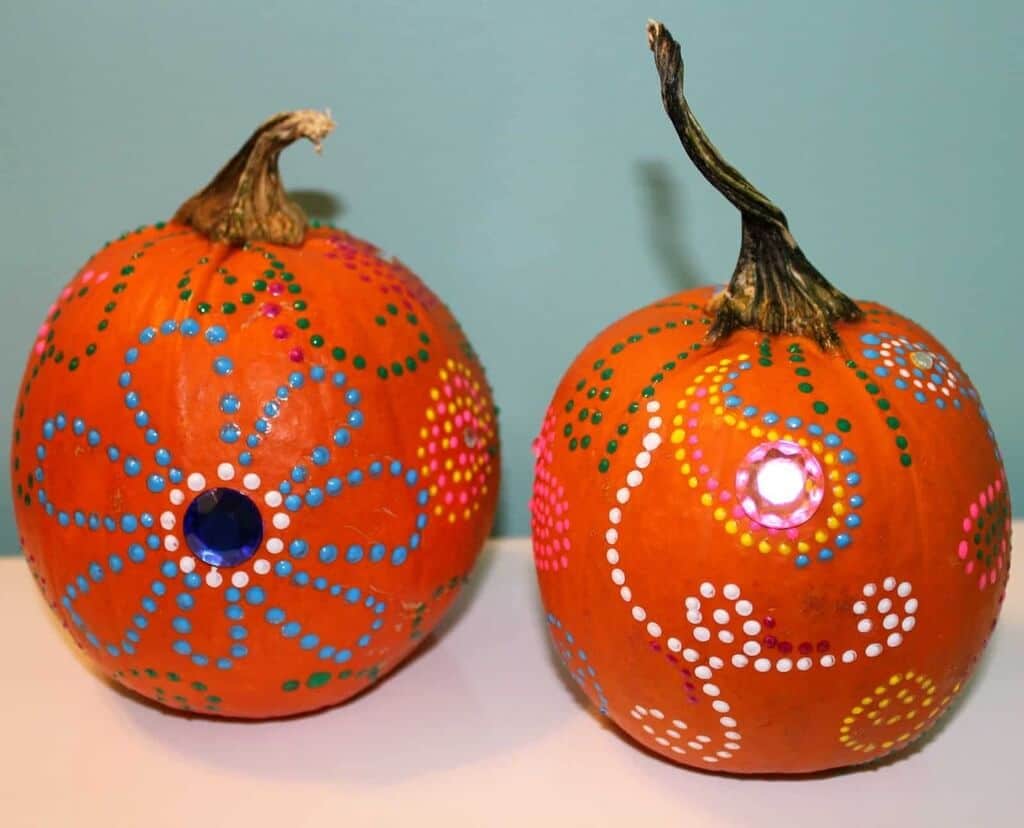 Instead of taking the design towards spookiness, you can make it look more vibrant and playful. Add colorful polka dot stickers on the pumpkin and add lights for a jazzed-up look.
29. Out of the World Pumpkin Carving Ideas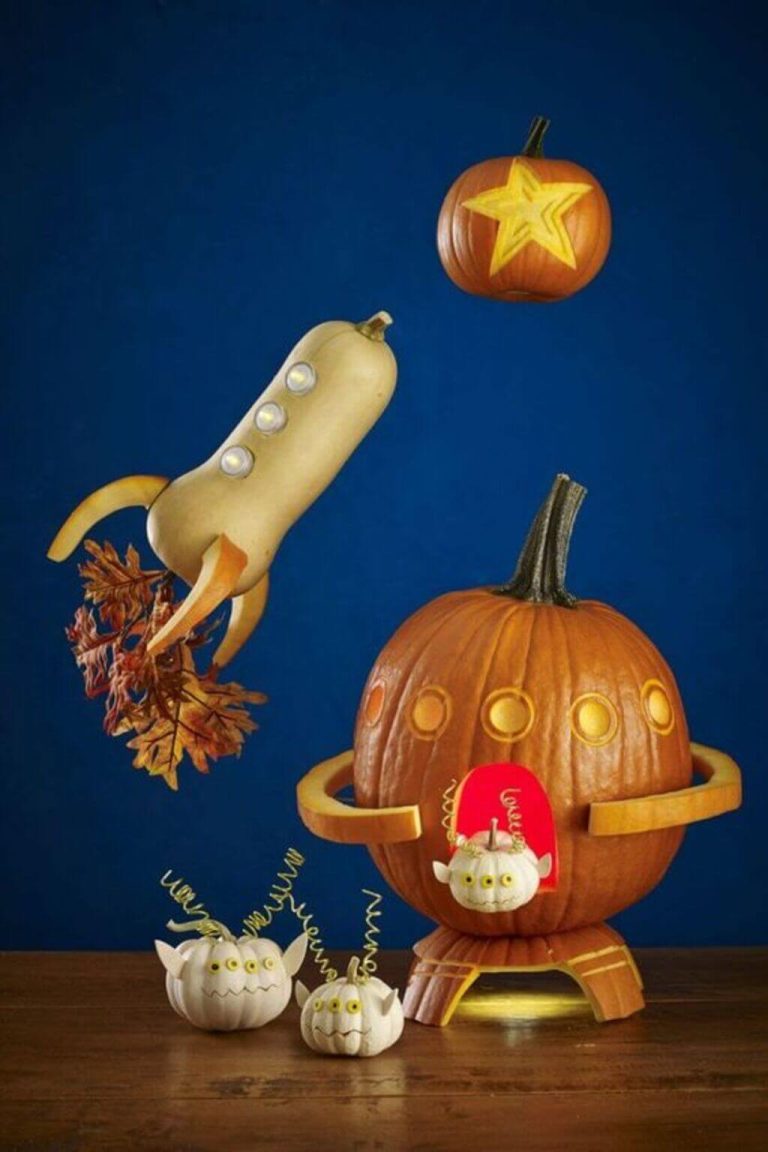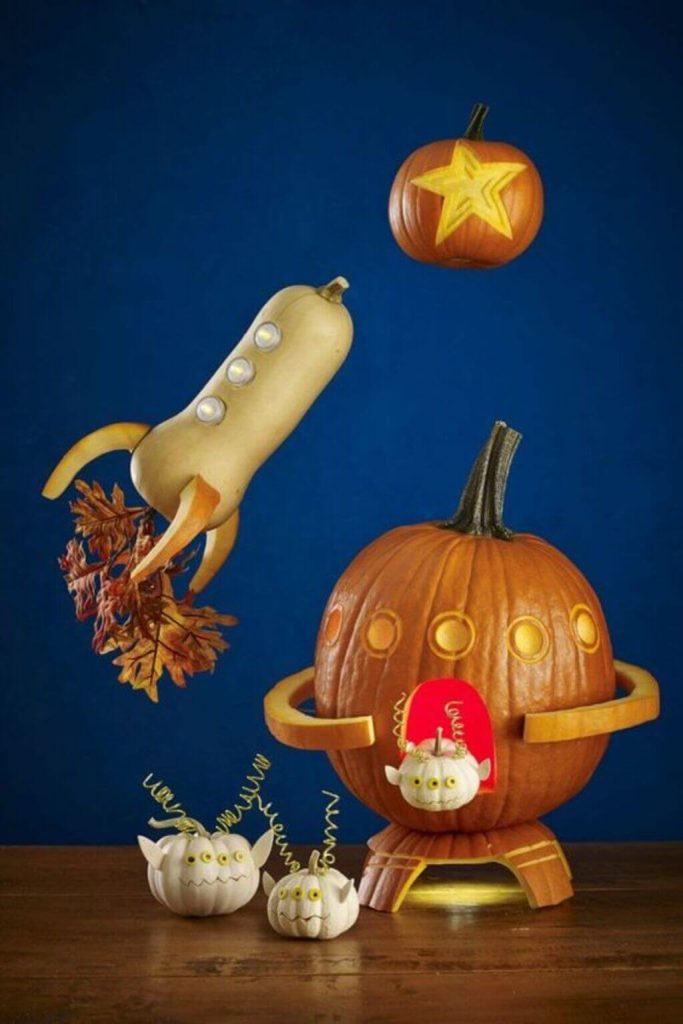 Take your pumpkin carving ideas out to the earth by adopting a theme inspired by space. This effect can be added by placing a rocket ship next to the pumpkin design and lighting the entire decor up with LED lights.
30. All Eyes on You!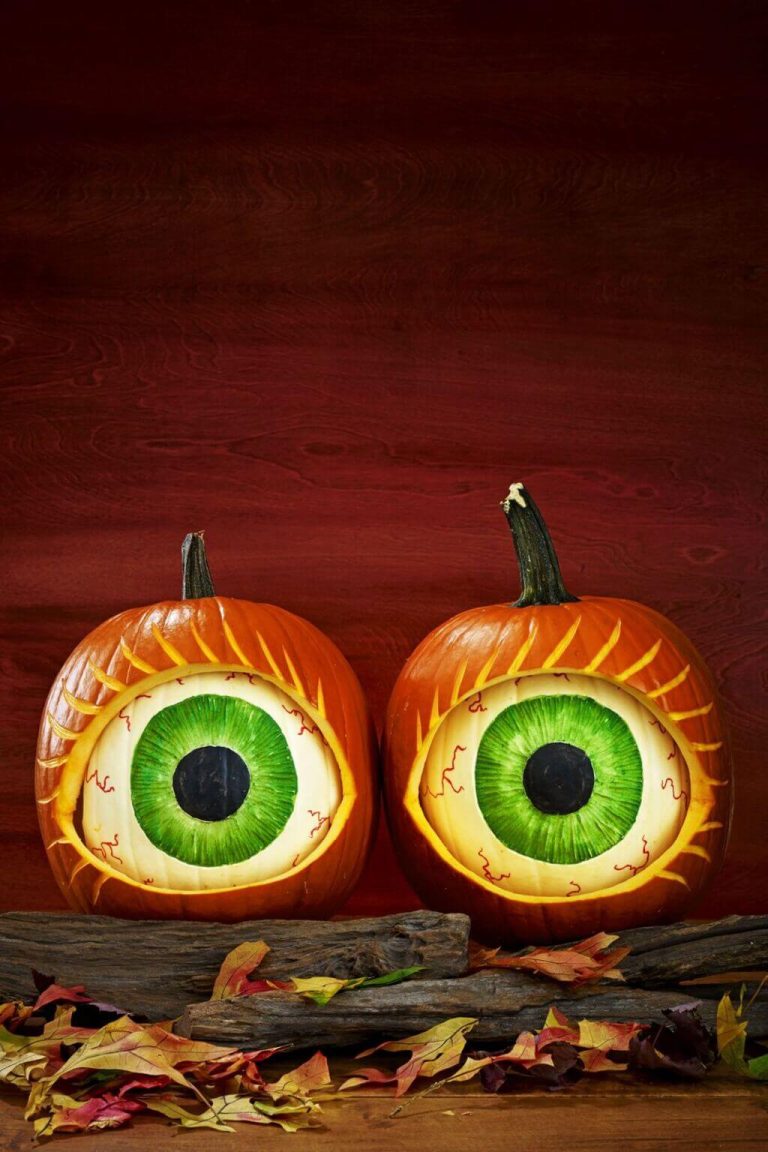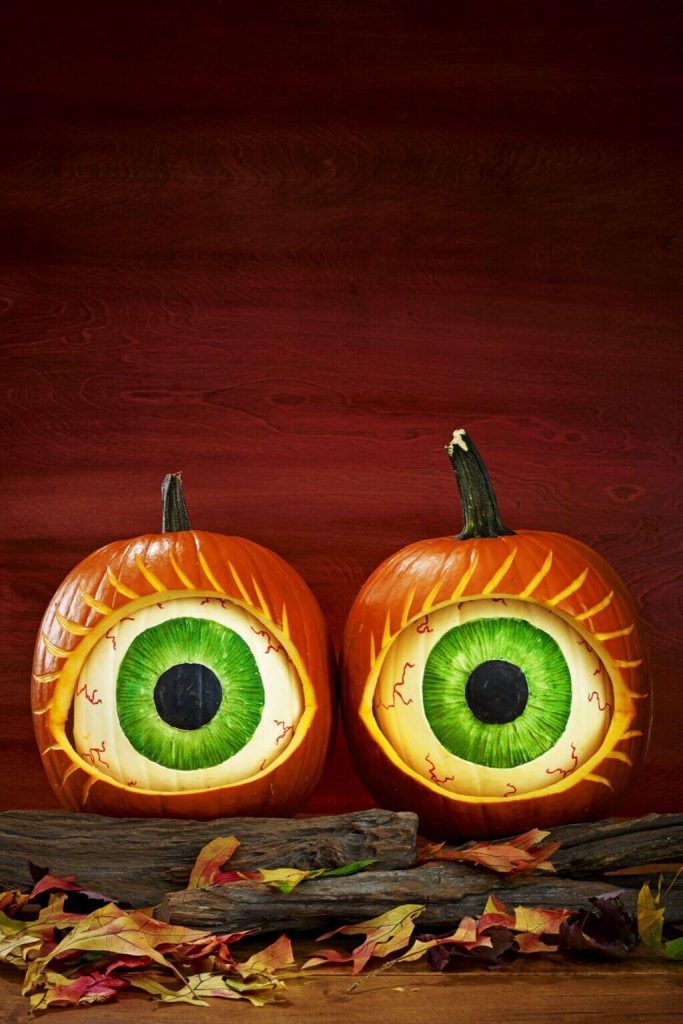 Rather than adding tiny eyes to the pumpkin faces, how about converting the entire pumpkin into an eye? Place two pumpkins next to each other and carve out creepy eyes inside. The hollow part of the pumpkin can be filled with another white pumpkin and scary eyes can be painted on the top.
31. Numbered with the Pumpkin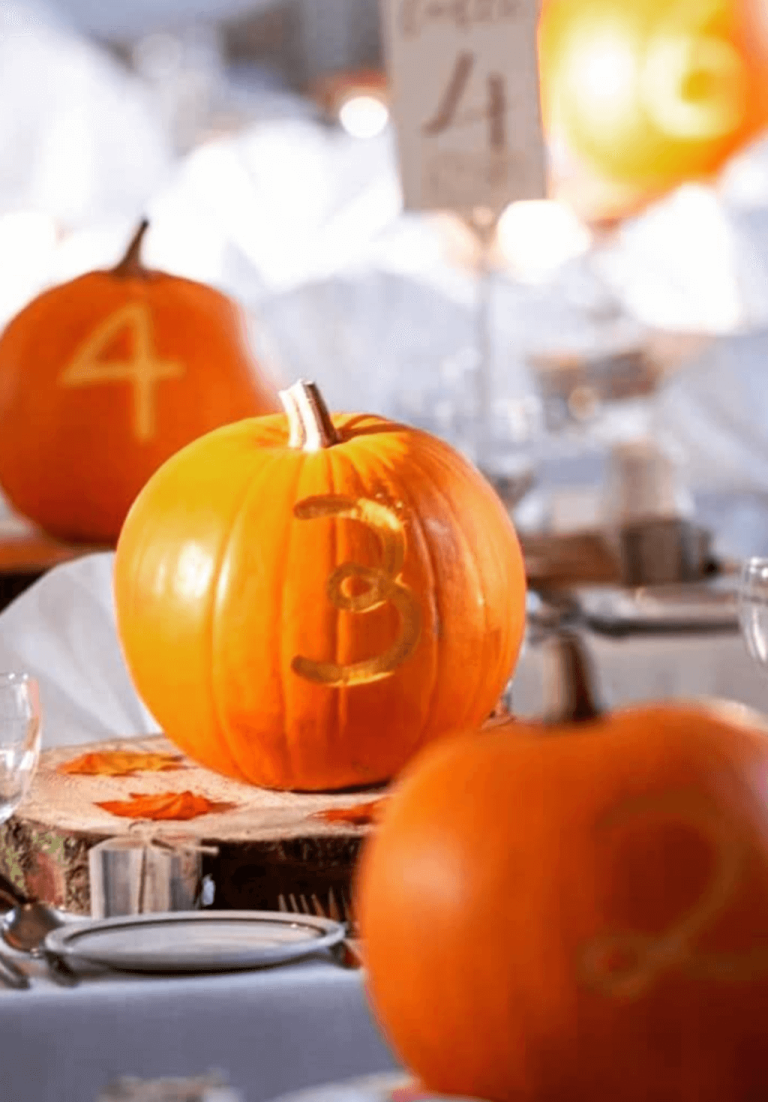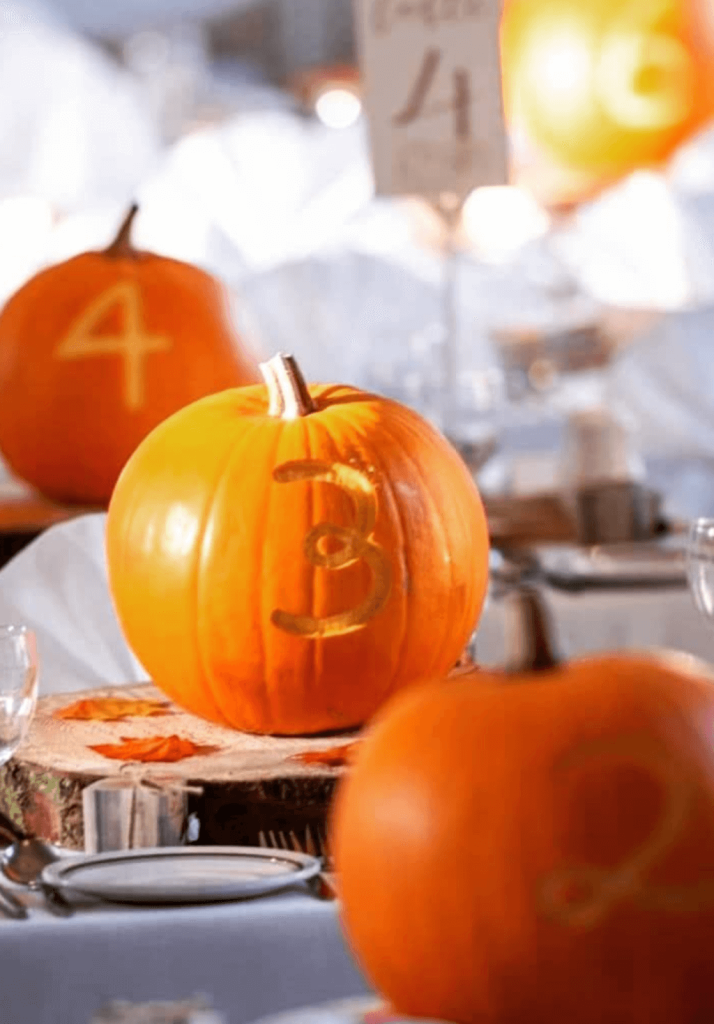 Make the best use of pumpkin carving ideas for celebrations. Keep everything organized and under control by placing numbered pumpkins on the tables. This won't only serve as a decorative element to the space but also keep it simple for the guests to find their tables.
32. The Terrazzo Pumpkin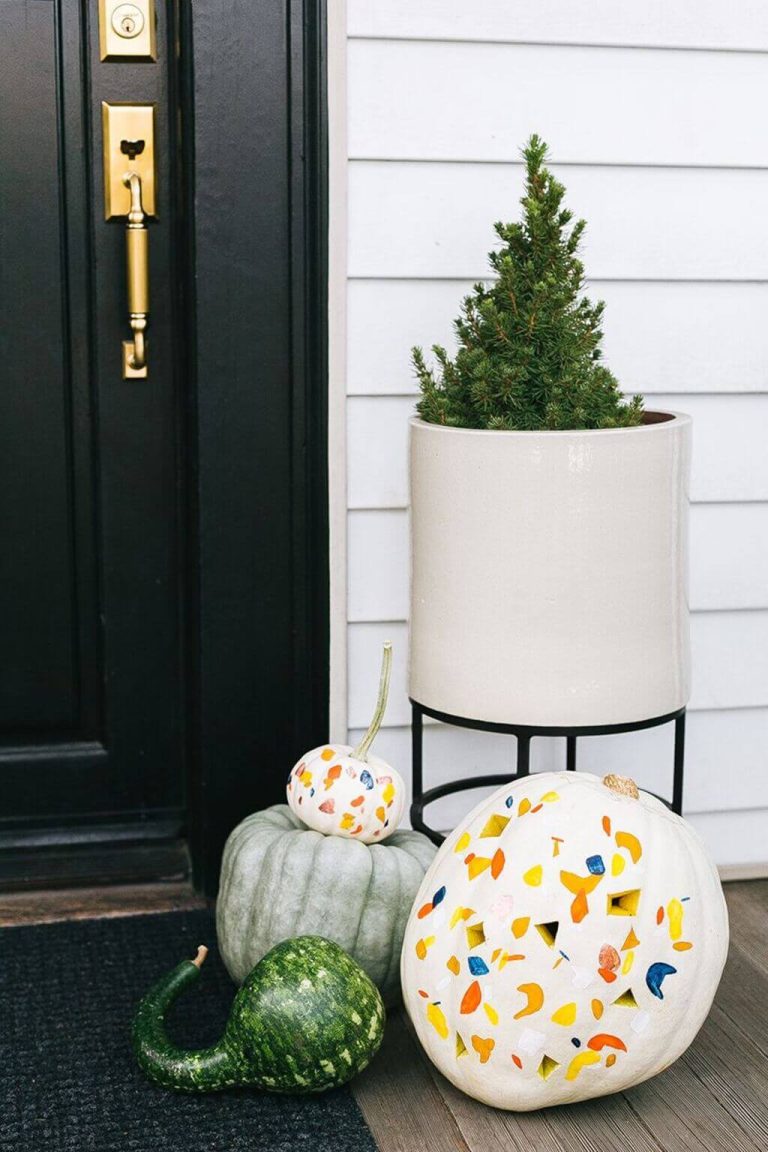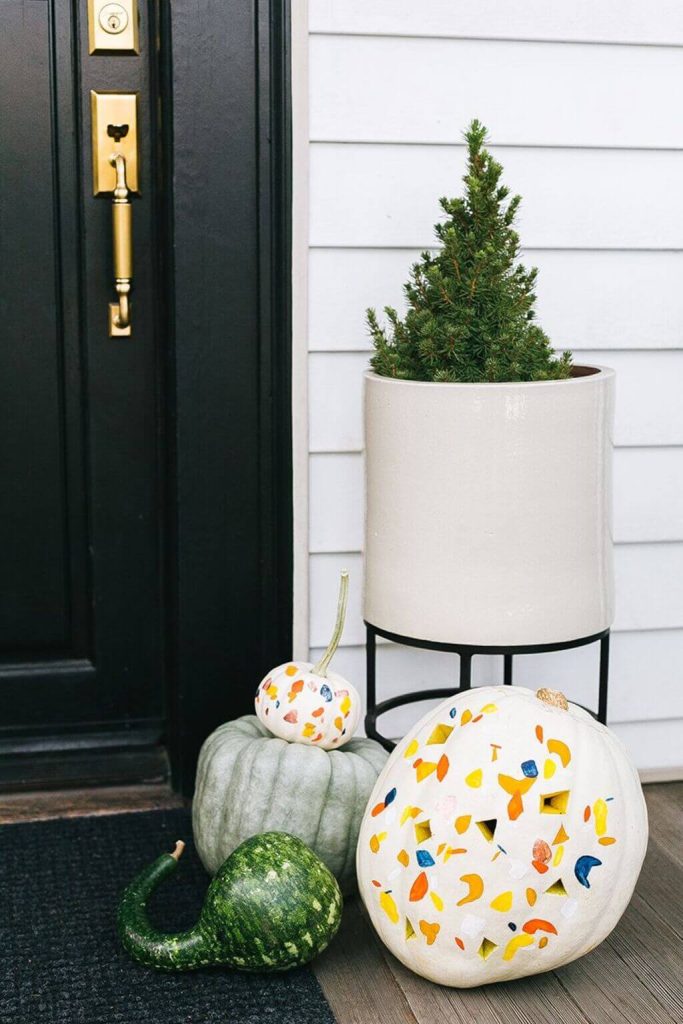 There's no restriction to the pumpkin carving ideas when it comes to finding the most creative match. Simply paint the pumpkin carving templates with a terrazzo look. Paint a simple white base and cut out angular shapes in different colors to get the terrazzo look.
33. The Cassette Guy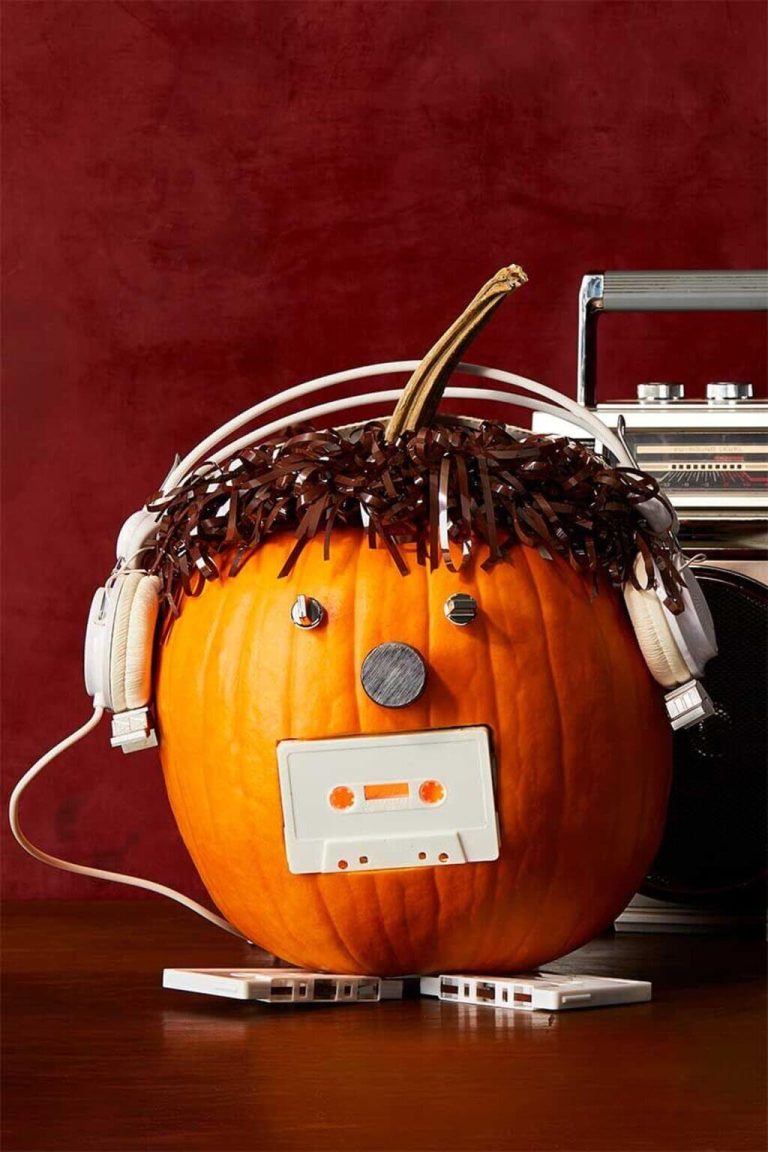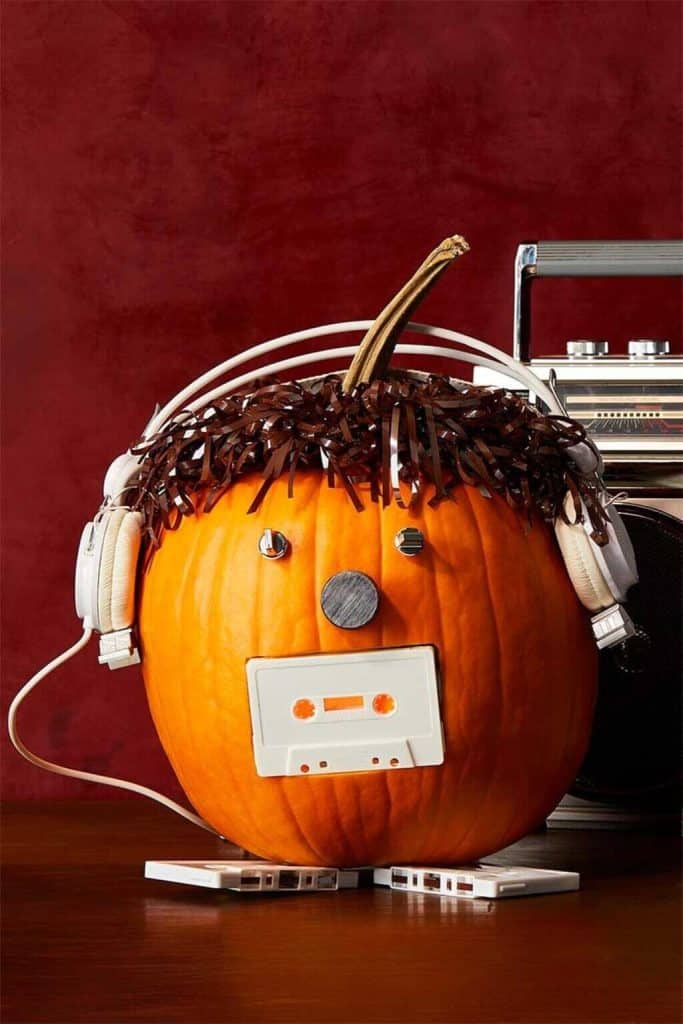 Adopt cute pumpkin face ideas by making the pumpkin look like a tiny cassette guy. Get craftsy by adding hair made from film and carving its mouth in the shape of a rectangle. This rectangle can be painted in a shape of a cassette.
34. A Wicked Witch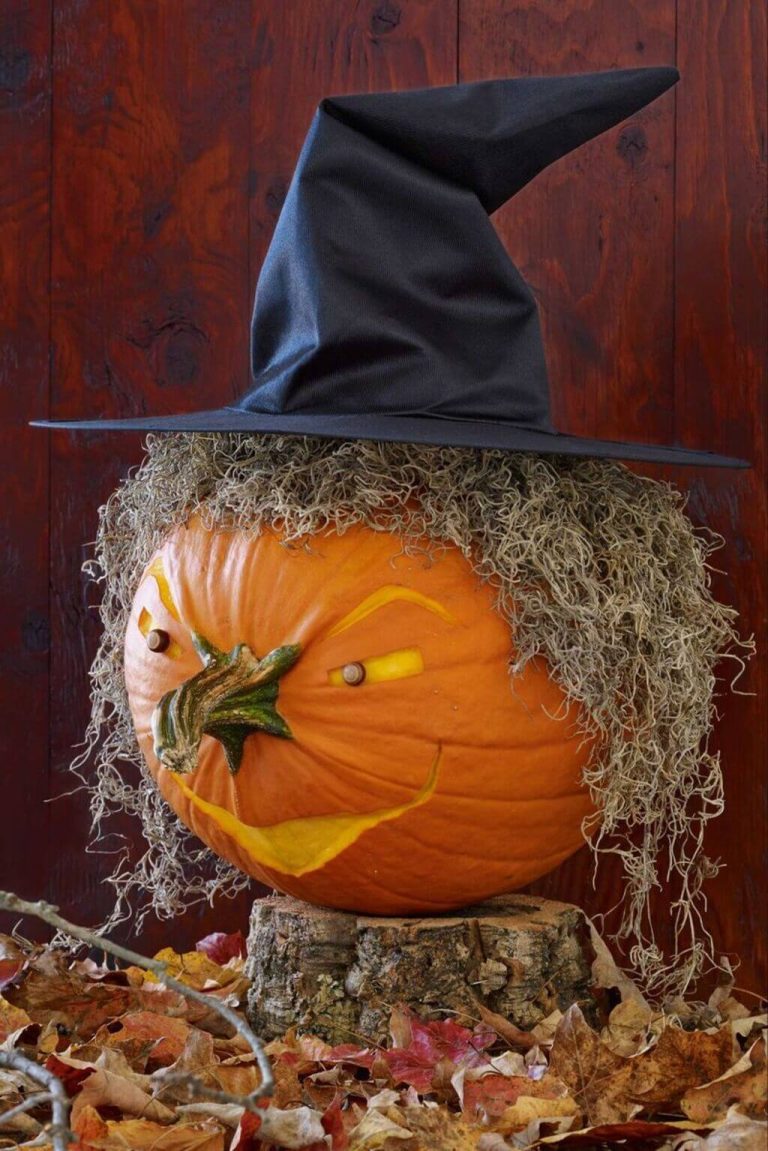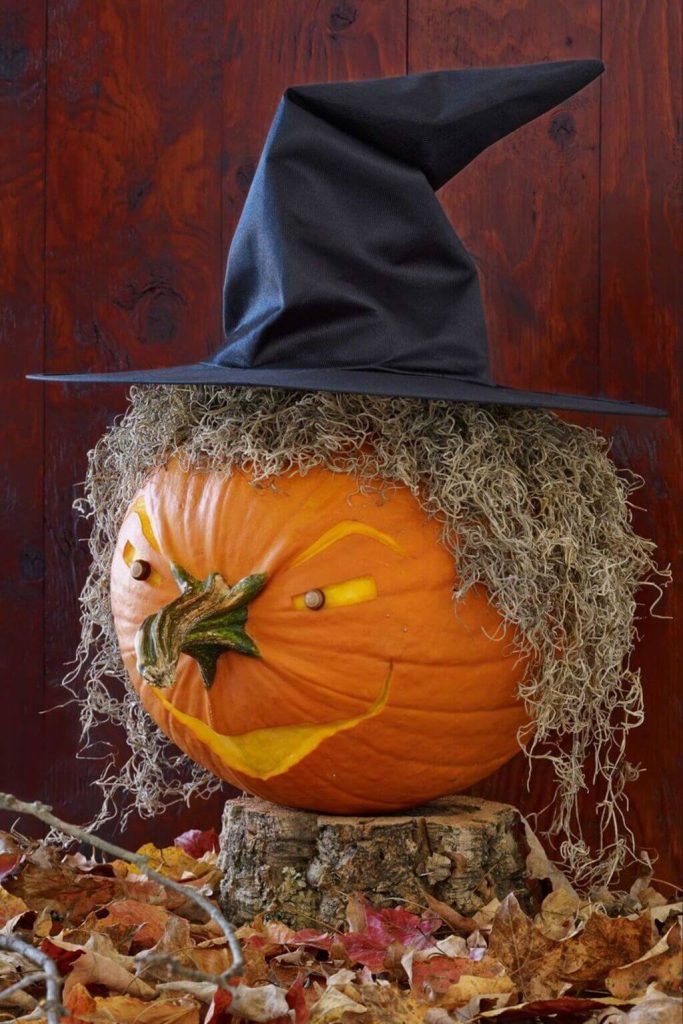 Bring the witchy decor this festive season and take it up to another level by placing the pumpkin face on top of a broken stem. Make rough messy hair for the witch and don't forget to add a black hat on top.
35. Shiny Pumpkin Flower Vase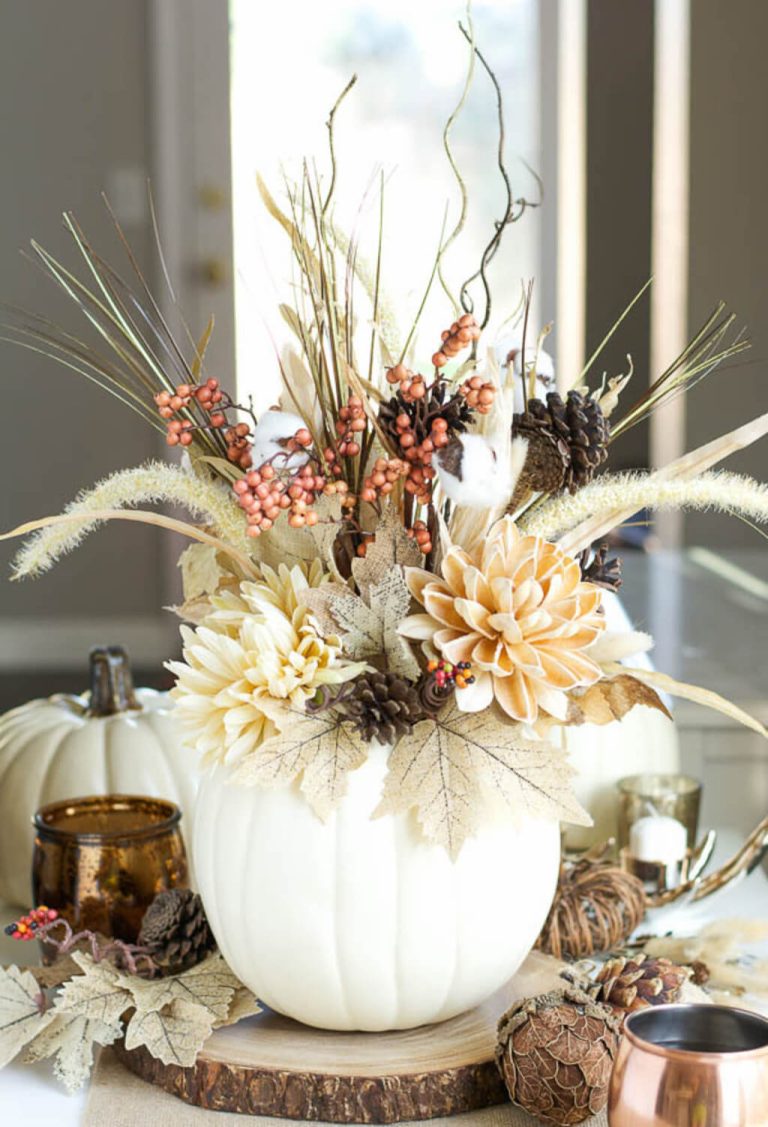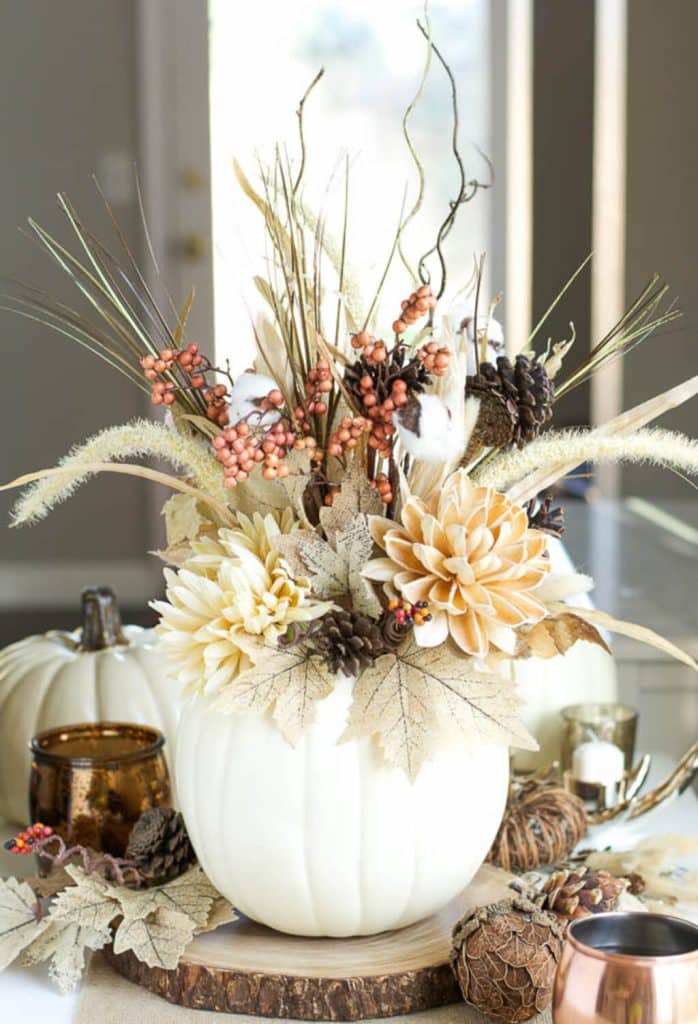 Put these cool pumpkin carvings to use by using them as a flower vase. The base can be painted in the desired shape and the central part will nestle fresh florals within.
36. The Expressive Pumpkin Faces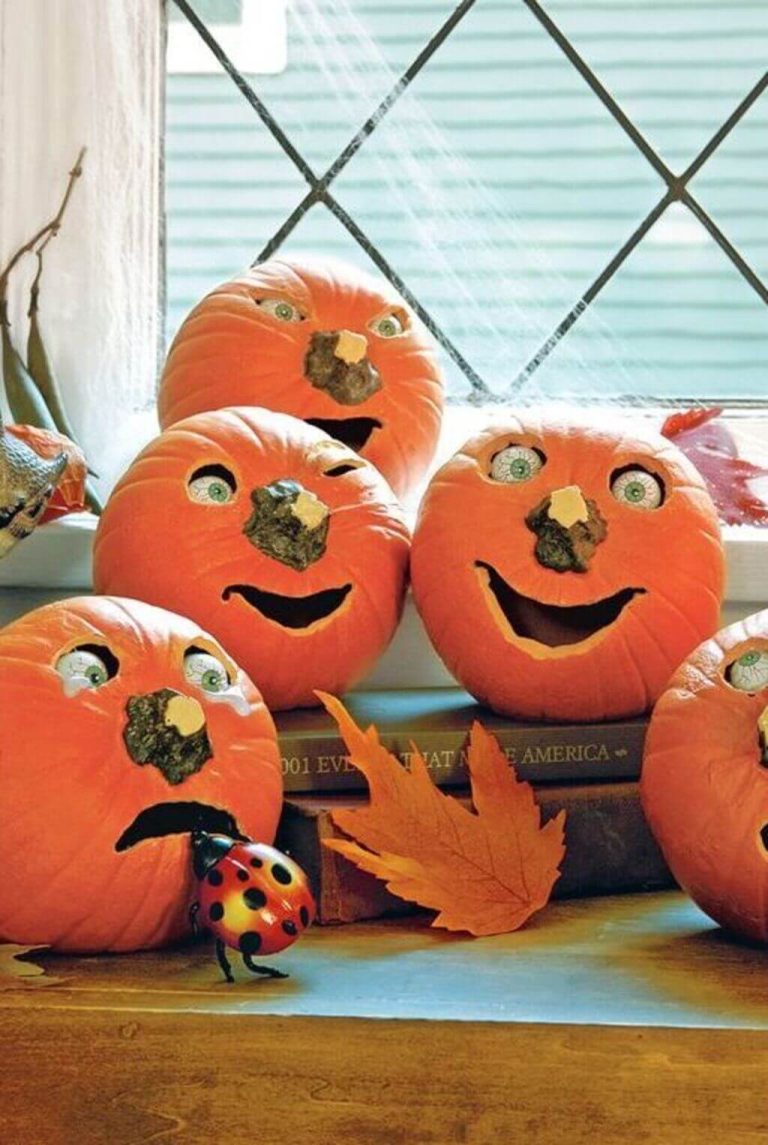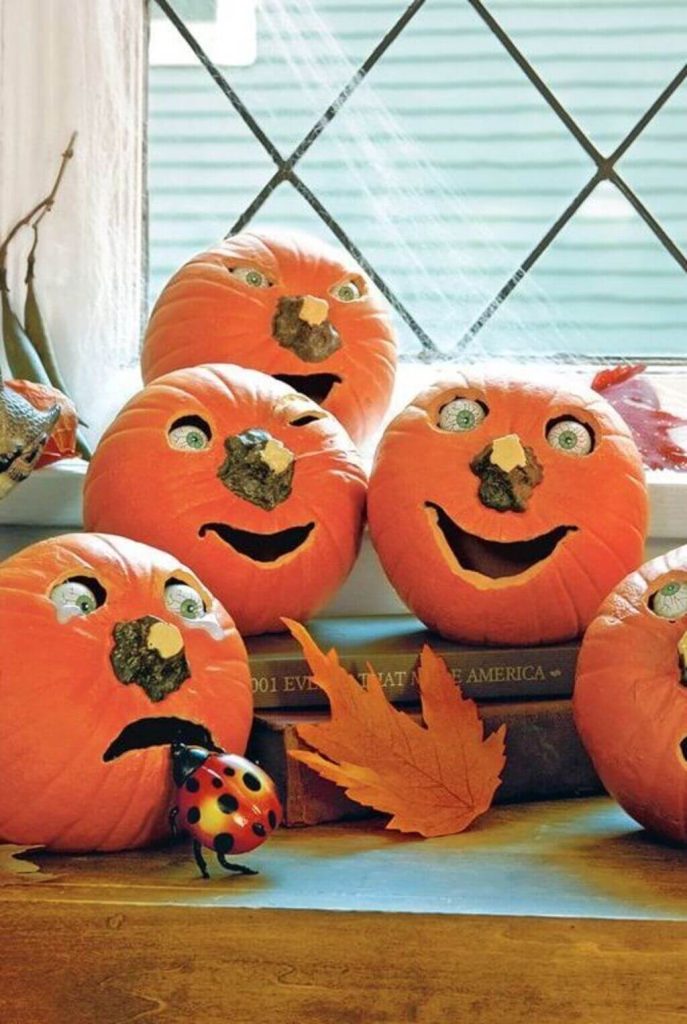 Take multiple pumpkins and carve out a face in each. Let each one express a different emotion by adding plastic eyeballs in the eyehole. You can either make happy, sad, or angry faces with these. Complete the essence of this pumpkin decorative idea by adding a spooky face to the group.
37. A Floral Moon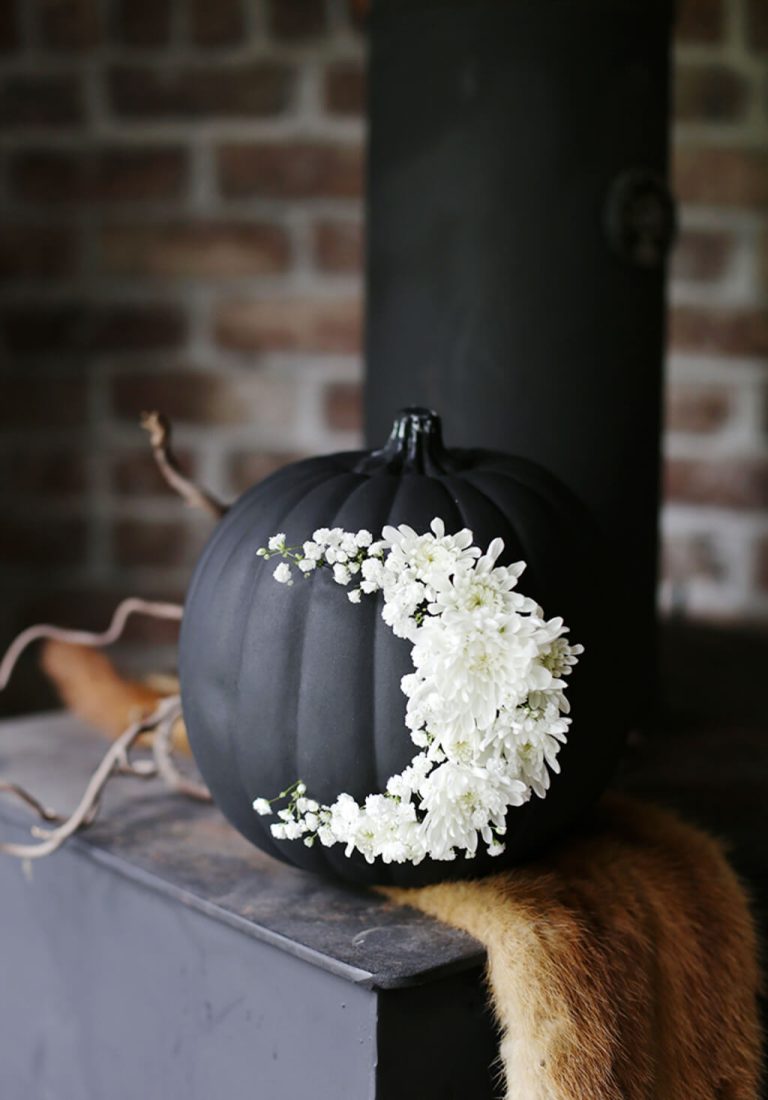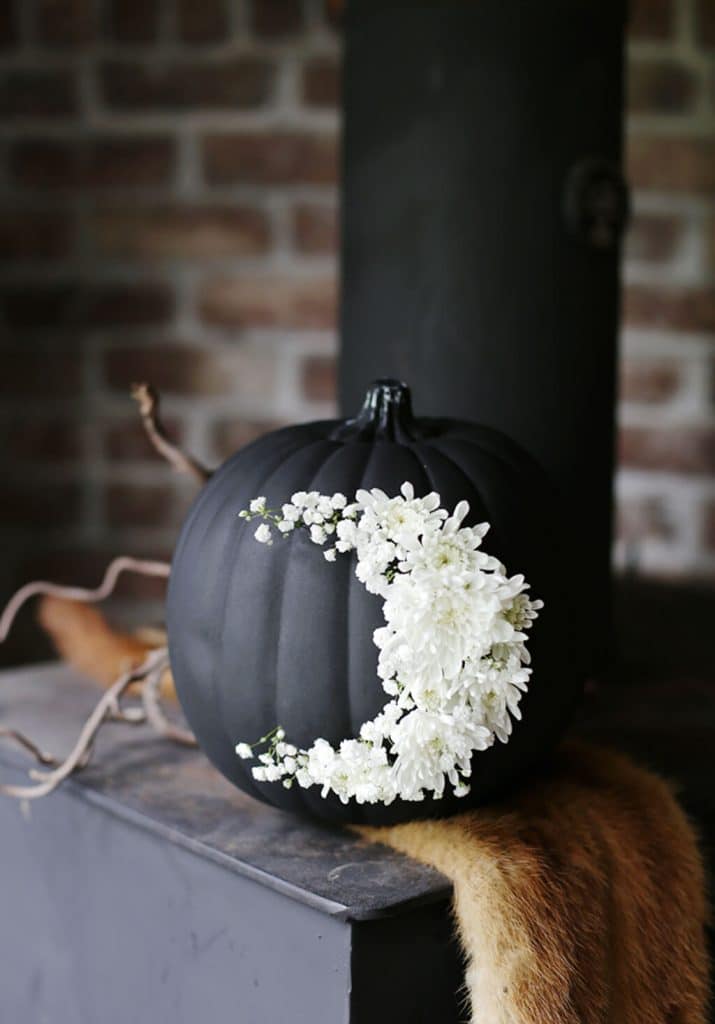 Paint the entire pumpkin in black color and add the moon on top of it. This can be done with the help of white artificial flowers to give the pumpkin a softer look.
38. A Pumpkin Bar Cart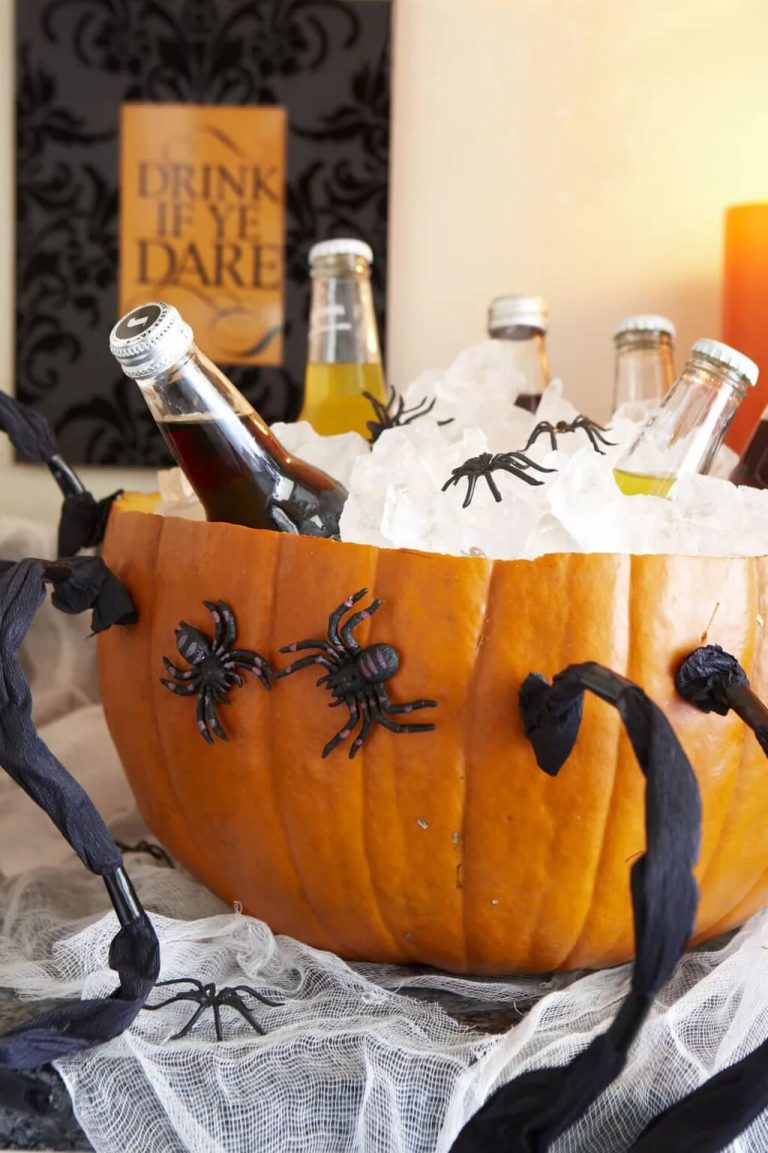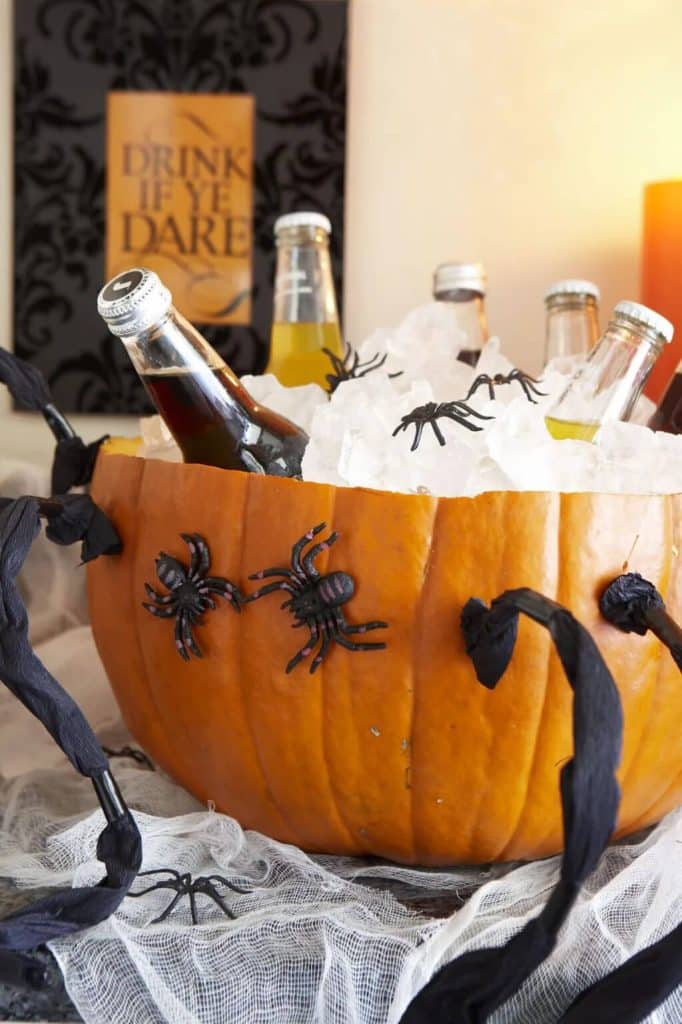 Pumpkin carving ideas can prove to be one of the most functional additions to a party. You can use them to store your favorite drinks along with ice to serve them chilled. This basket can be adorned with spooky elements to keep up with the vibe.
39. Trick or Treat?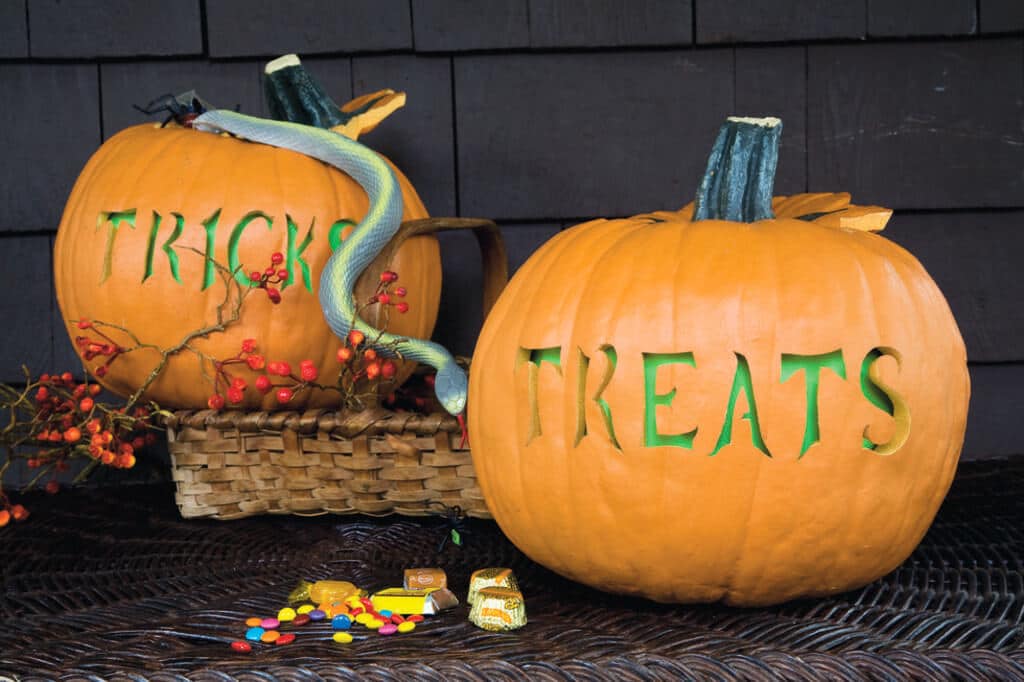 How about carrying spooky pumpkin carvings to ask for a trick or treat? Carve out the trick on one and treat on the other and add neon green paper within these scooped-out places.
40. The Good Yet Scary Trio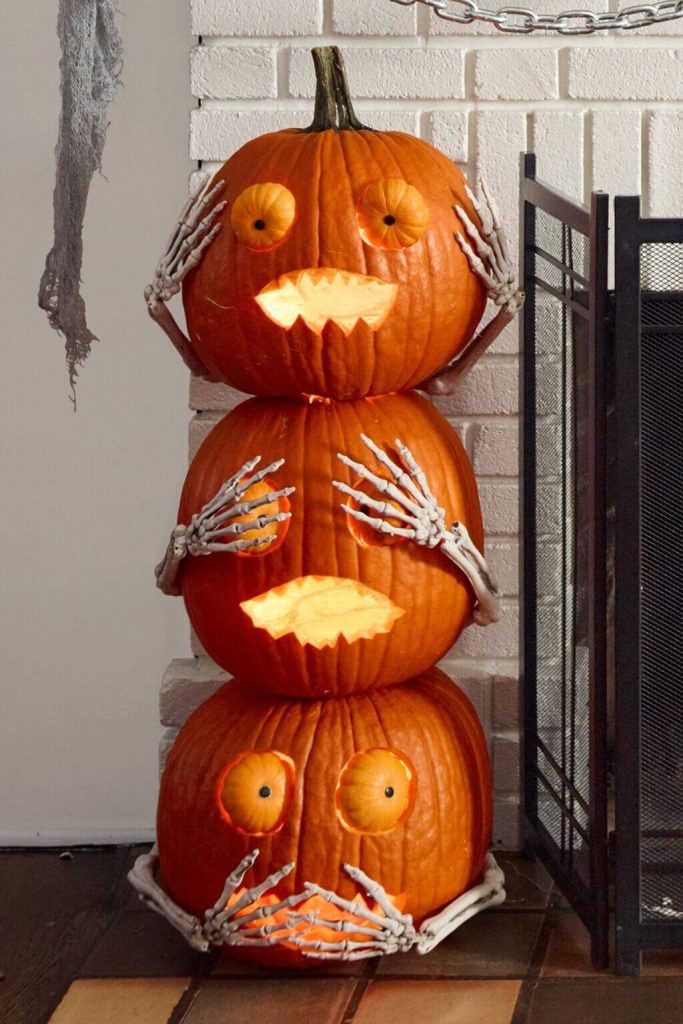 Place three pumpkins on top of each other and make it a stand-alone eye-catchy item of the house. These pumpkin carving ideas can convey a message of avoiding evil. Stack them up and make each one convey a different message.
41. The Creepy Flower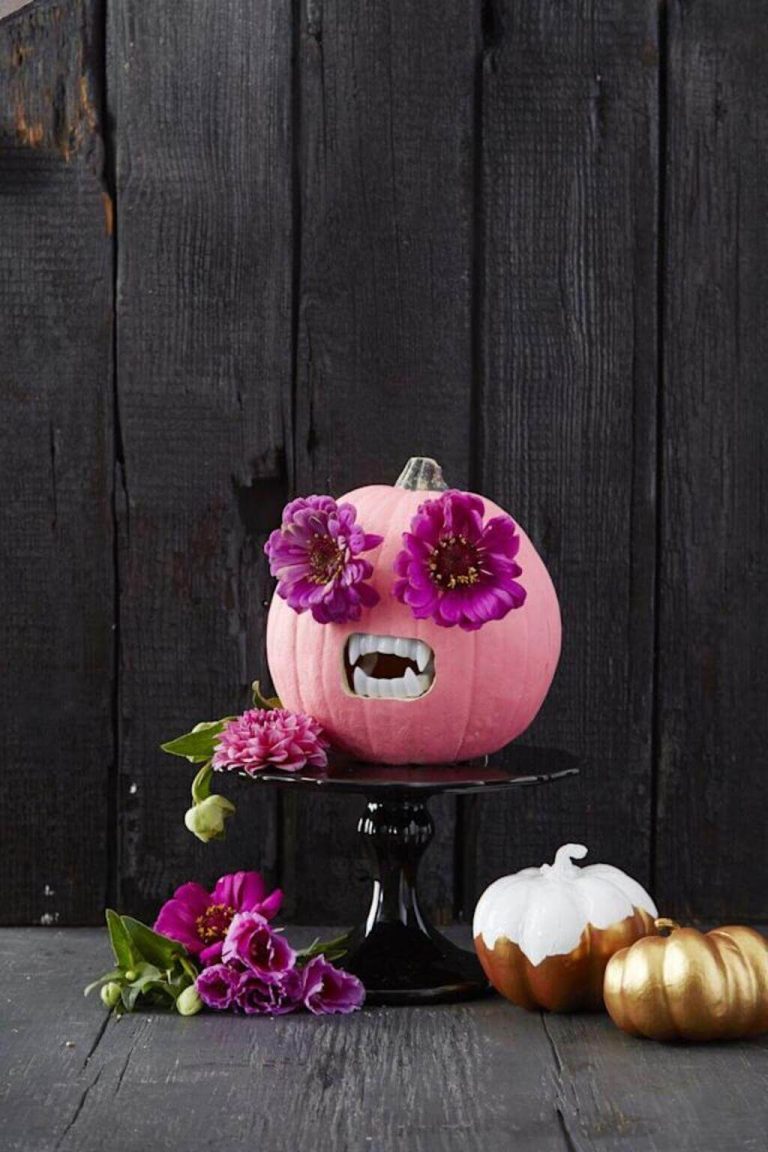 Floral pumpkin carving ideas sound extremely pleasant and sweet. How about bringing a little twist to this delicate look? Carve out a spooky face and add sharp teeth to the pumpkins. The flowers can serve as the eyes of the pumpkin face and the entire look can be painted pink.
42. Zip it Up!
Pumpkin face ideas are supposed to be a fun activity for your entire family. Get as crafty as you can this festive season and flaunt your creativity. Add a zipper mouth to the pumpkin faces and use buttons as the eyes.
43. The Disco-Enthusiasts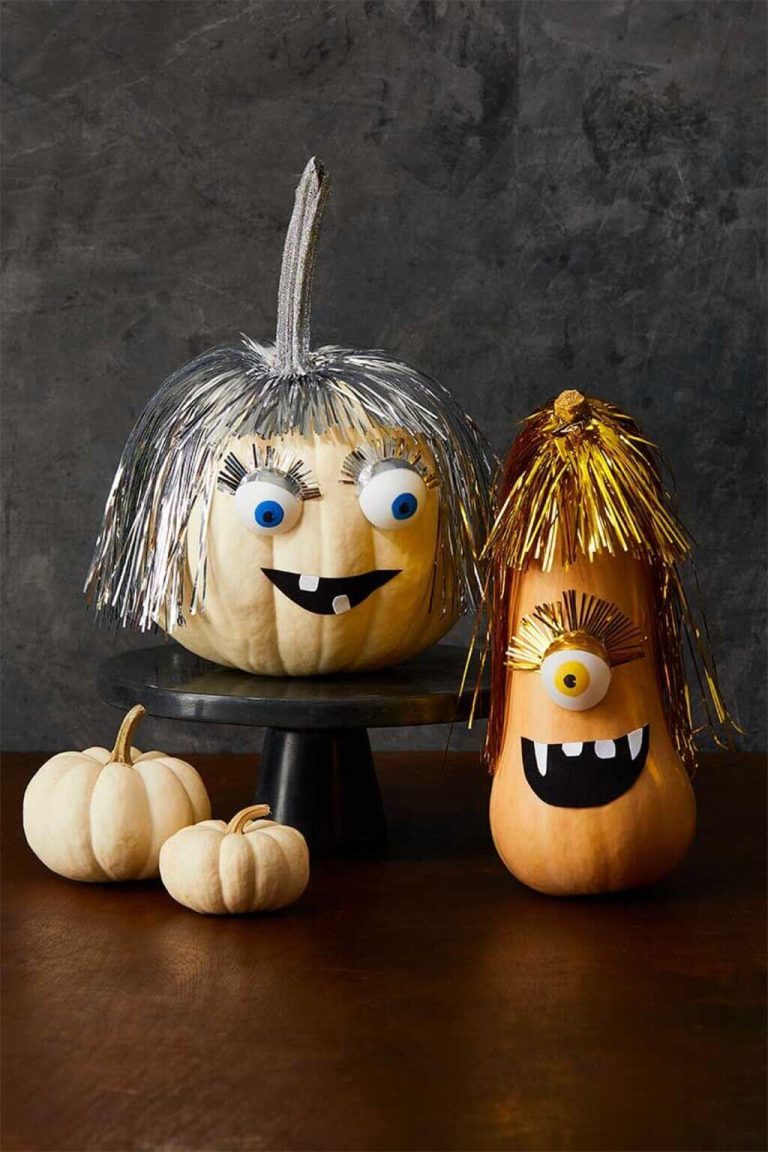 How about bringing a jazzy vibe to the decor? These pumpkin carving ideas compose a party theme in the interiors. All you need is shiny gold and solver foil on the top of the pumpkin head and eyes popping out of the face.
44. The Candy Box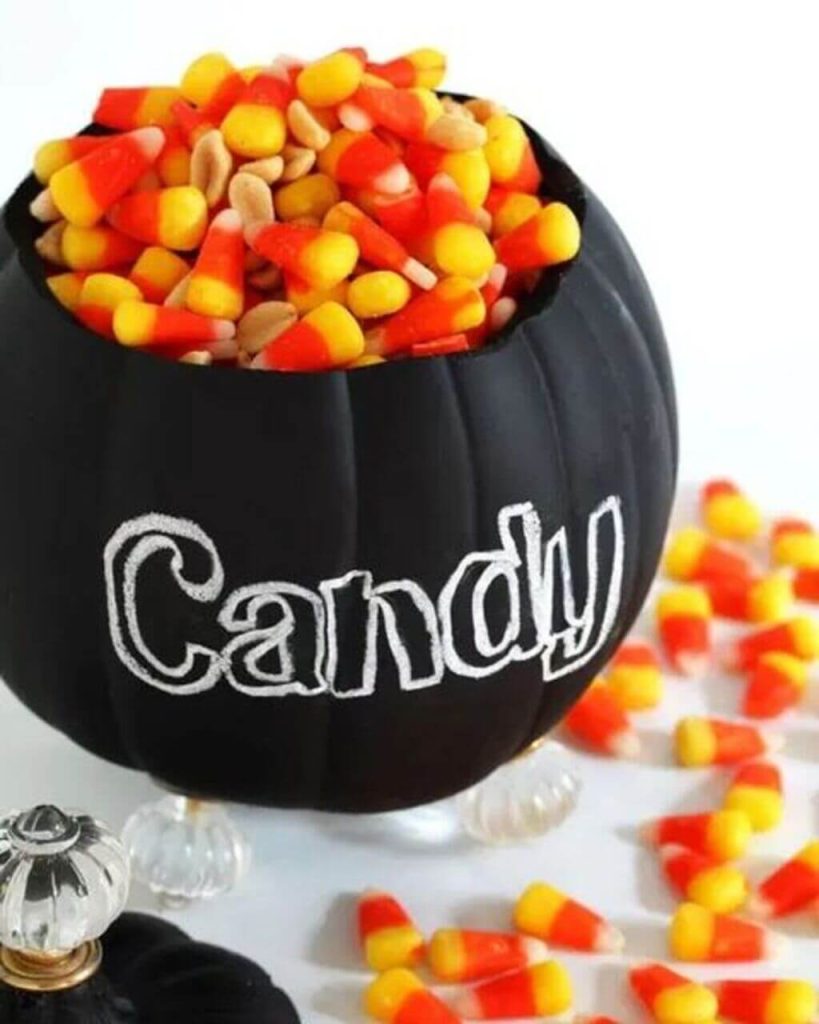 This festive season, replace the traditional candy boxes with creative pumpkin carving ideas. The only consideration, in this case, is to use a plastic pumpkin so that the juice doesn't spoil your hands or candies.
45. Sugary Yet Scary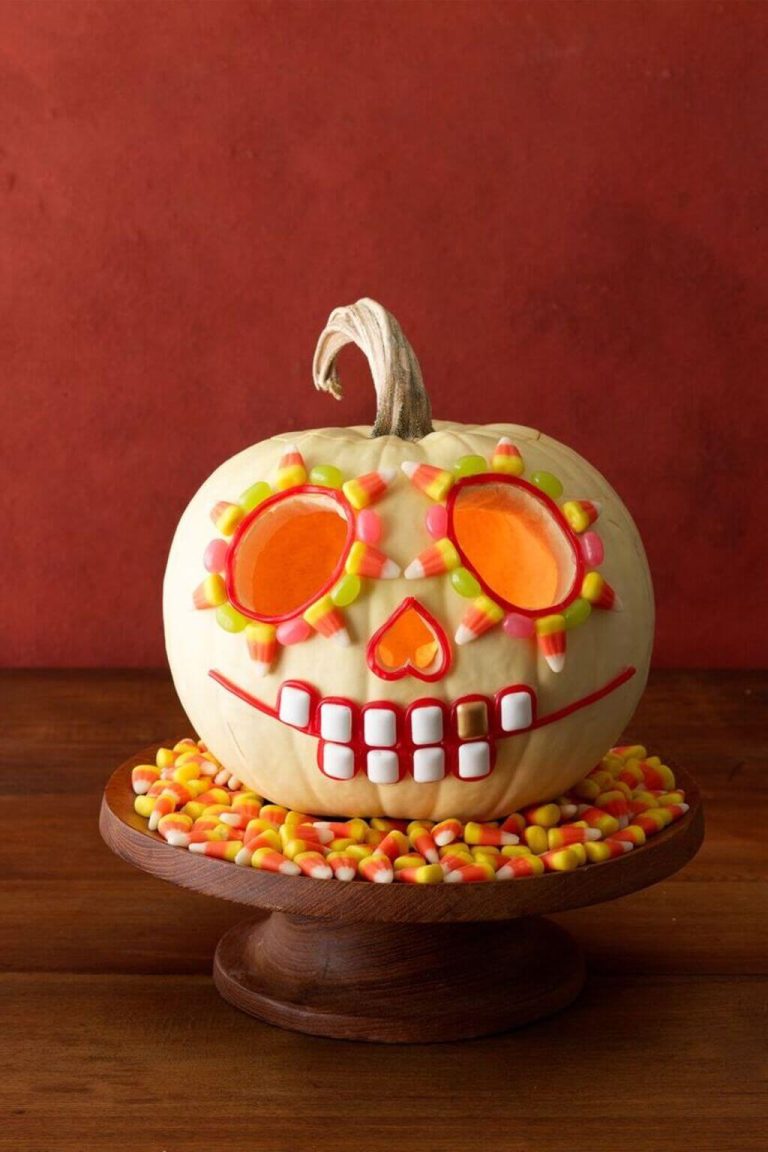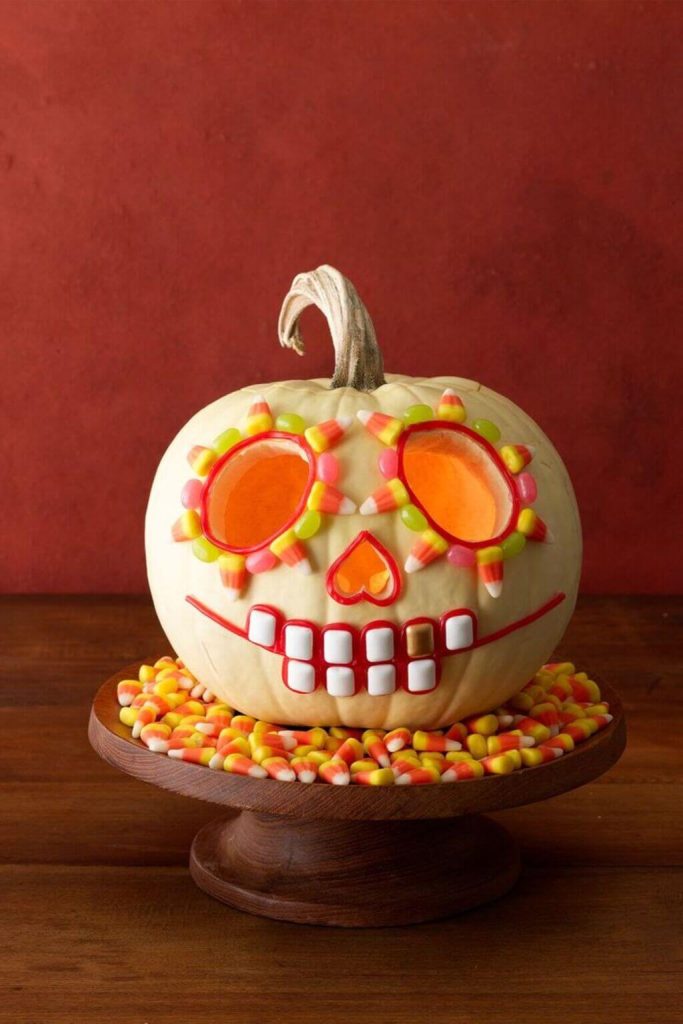 Don't like candies at home? How about using them as decor? Put these sugar candies into your pumpkin faces ideas and deck up the look of the pumpkin face.
46. A Drilled Lantern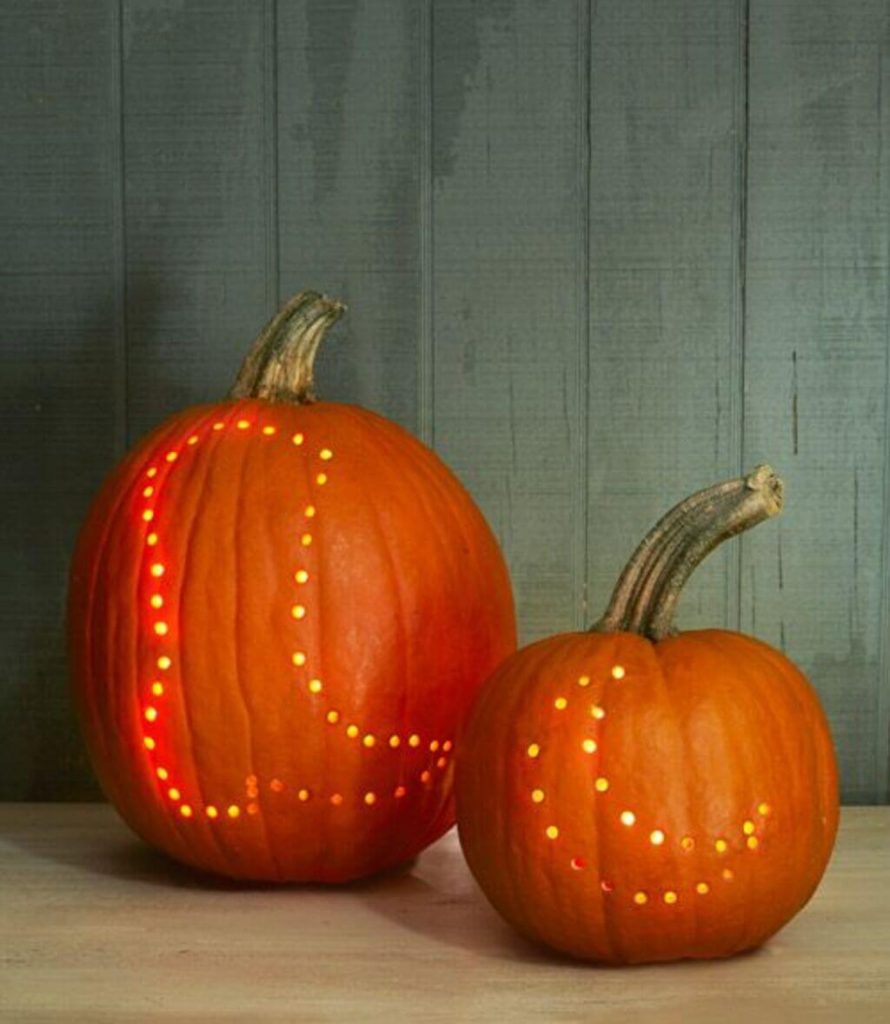 Instead of the typical pumpkin carving ideas, drill little holes in the surface. You can play around with the pattern of your choice and add light to the pumpkin. Transform it into the most festive lamp for your house.
47. Vines and Patterns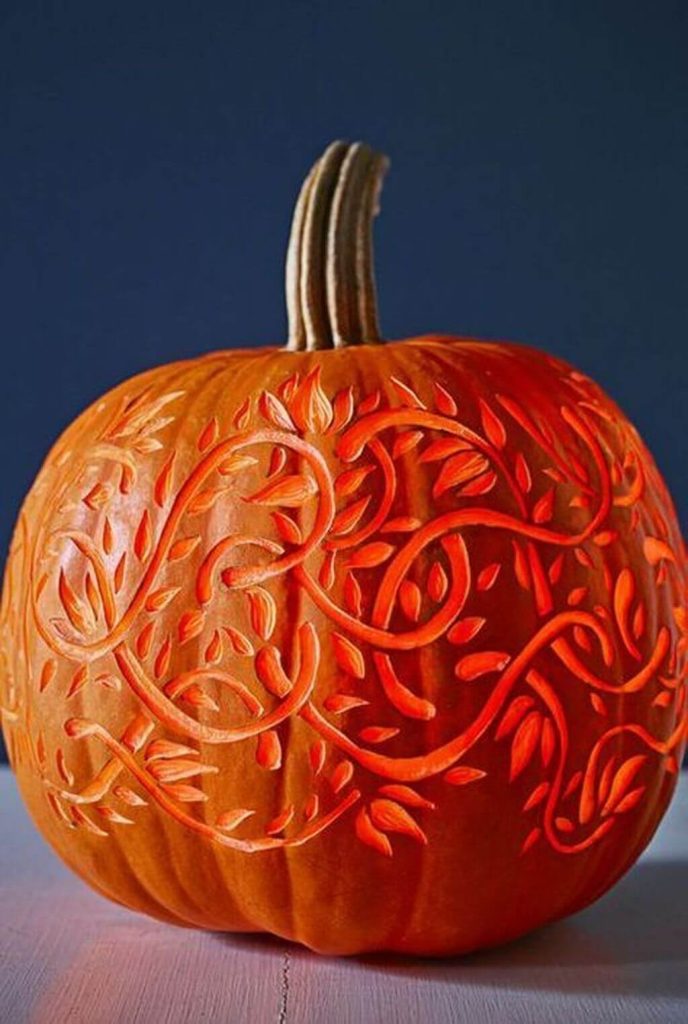 There's no limit to the patterns that can be added with these creative pumpkin carving ideas. You can either doodle a floral pattern or keep it funky with geometric shapes and figures.
48. The Cute Little Cupcake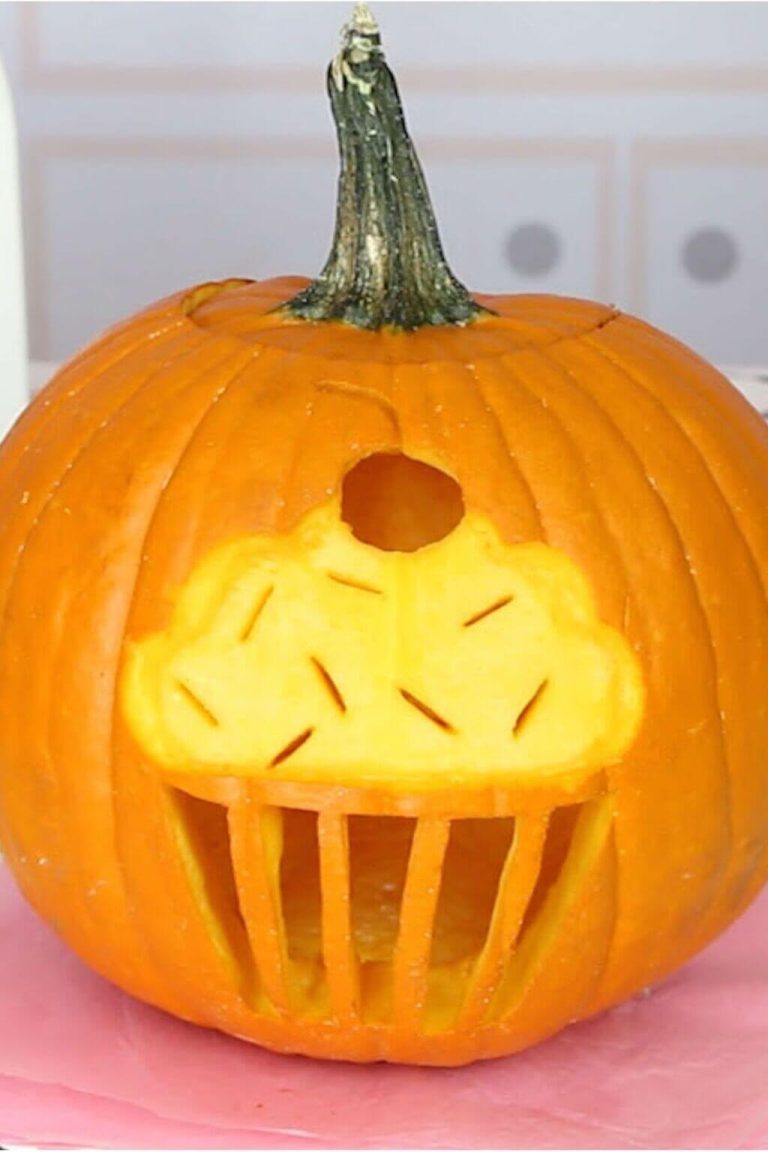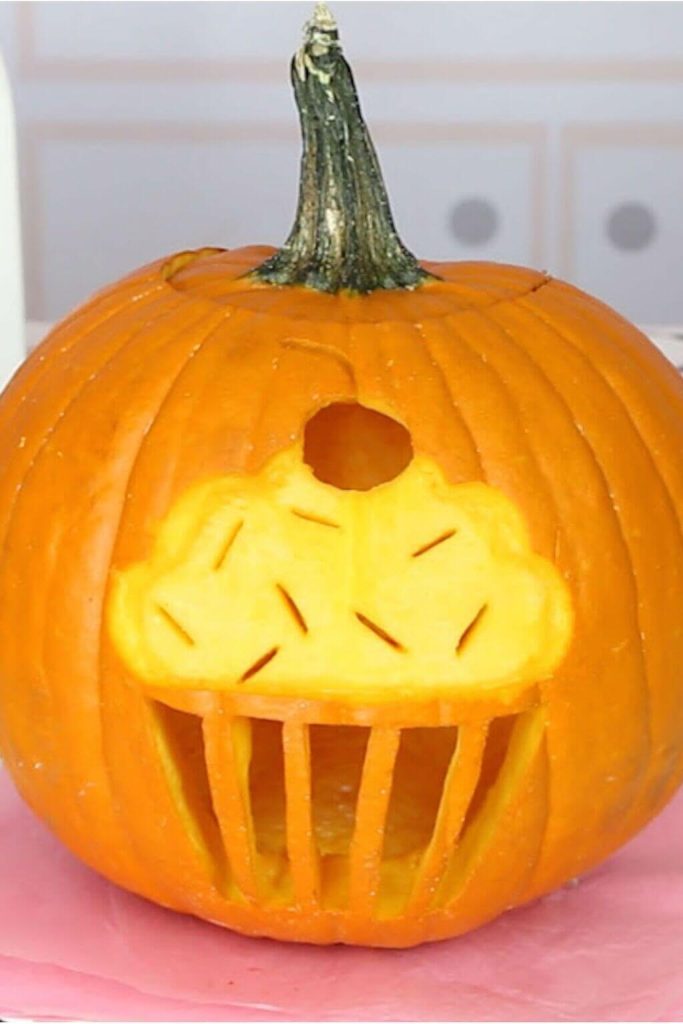 Let the dessert magic be brought to the pumpkin carving ideas. Scoop out the form of a cupcake on the pumpkin and let it serve as a sweet treat to the decor.
49. Zombie Inside House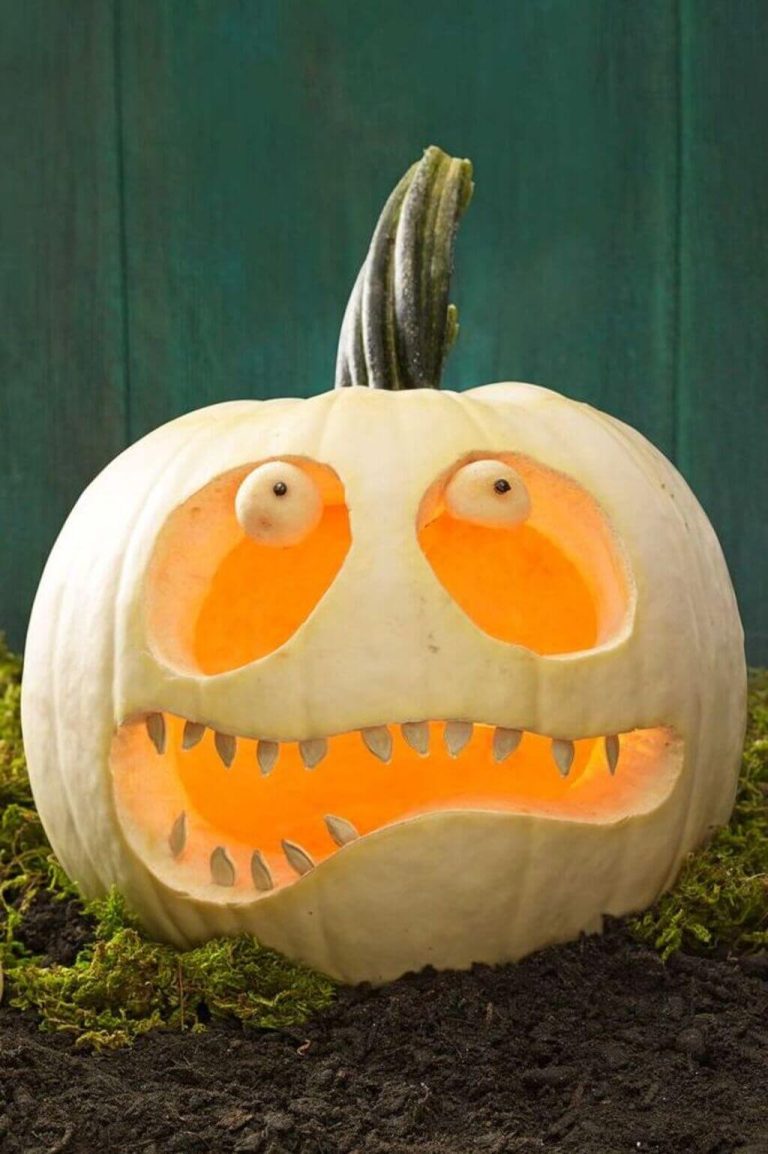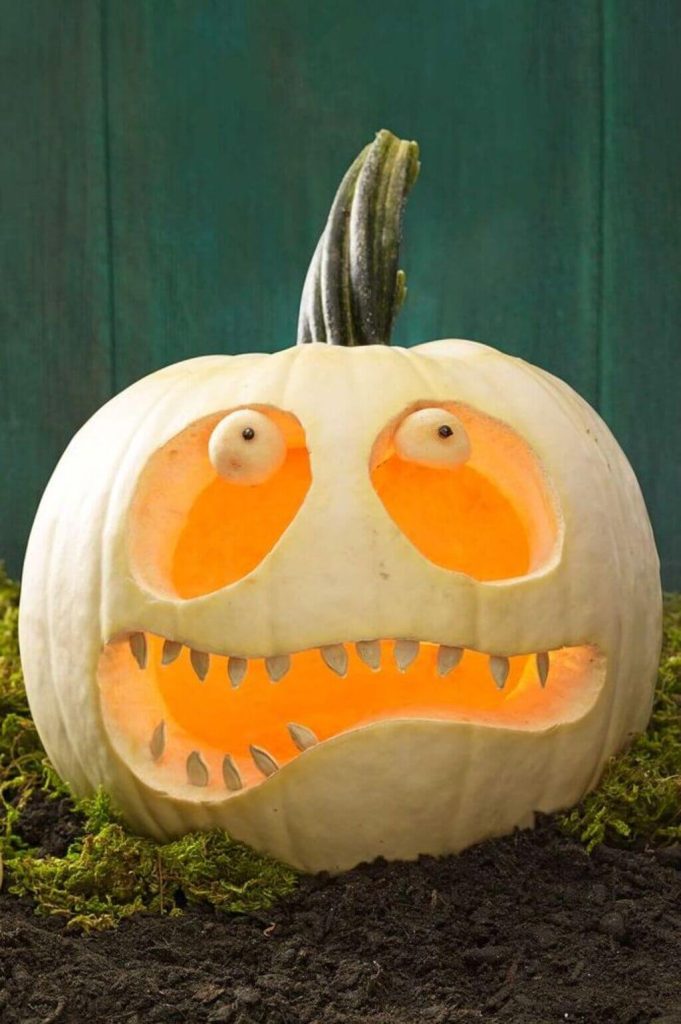 How about leveling up the spookiness factor by bringing a zombie inside your home? These scary pumpkin carving ideas are simple to execute as all it needs is a pumpkin with a face carved out. Paint it white and add popping eyes and teeth.
50. The Cat Effect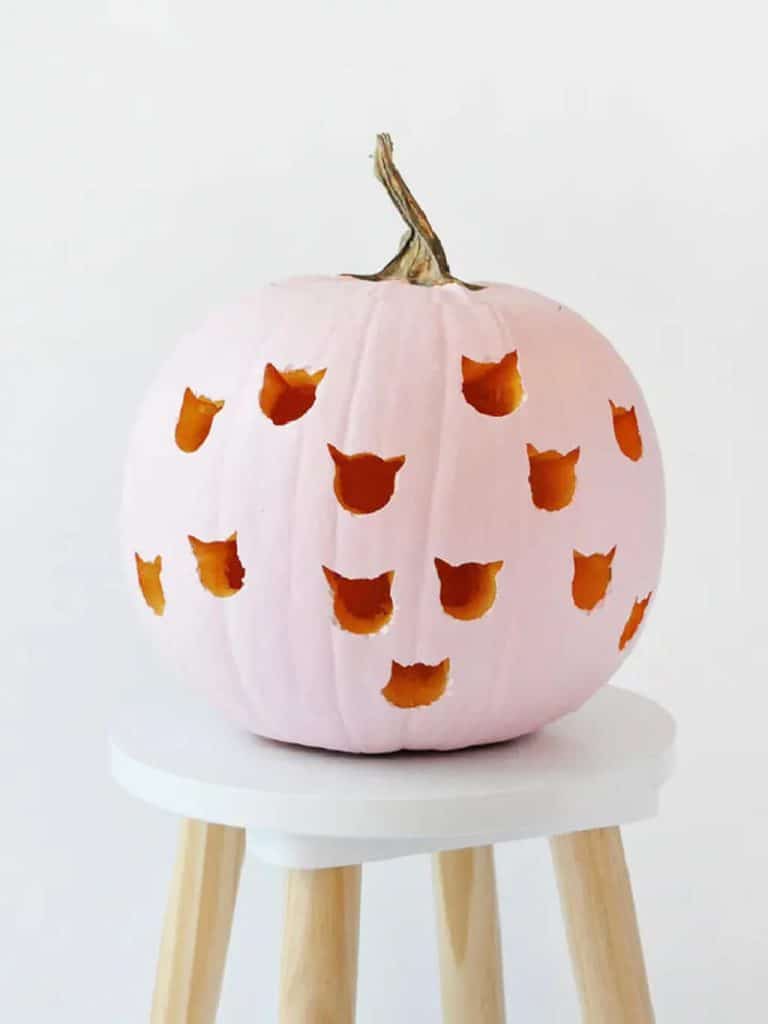 For all cat lovers, here is one of the best pumpkin carving ideas to reflect your love. Carve out cat shapes on the pumpkin here and there and either keep the pumpkin black or white.
51. The Smiling Ghosts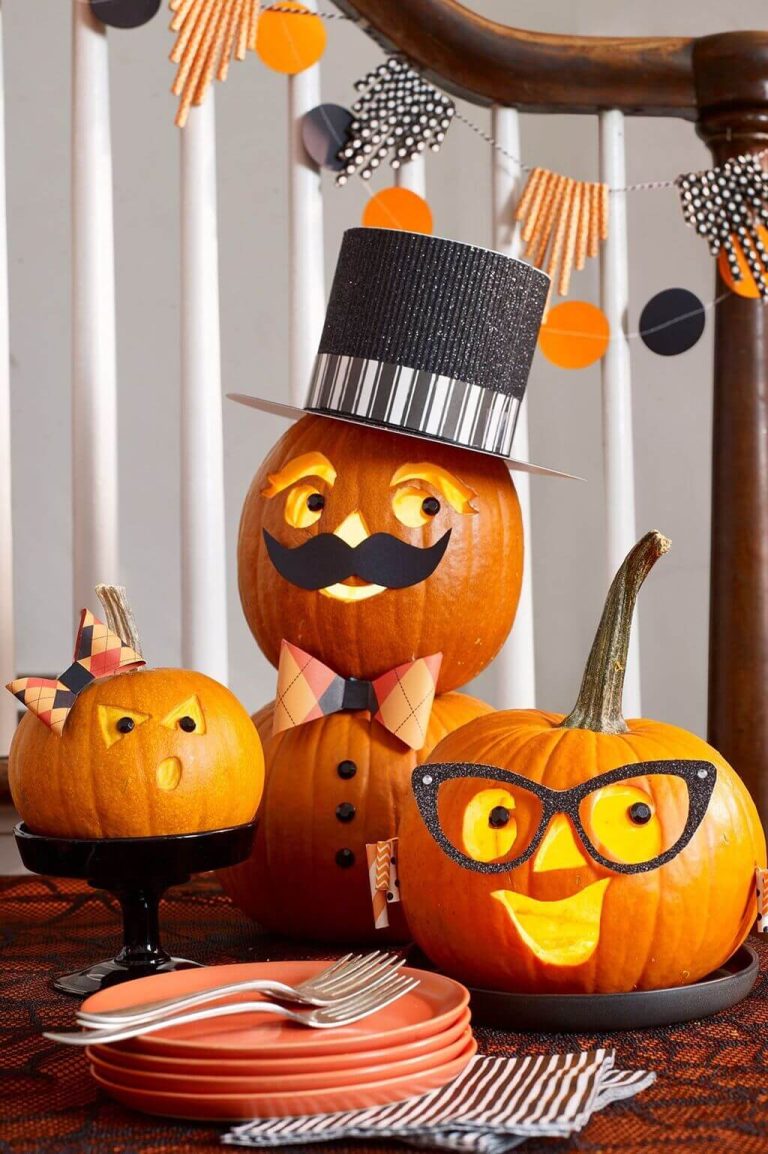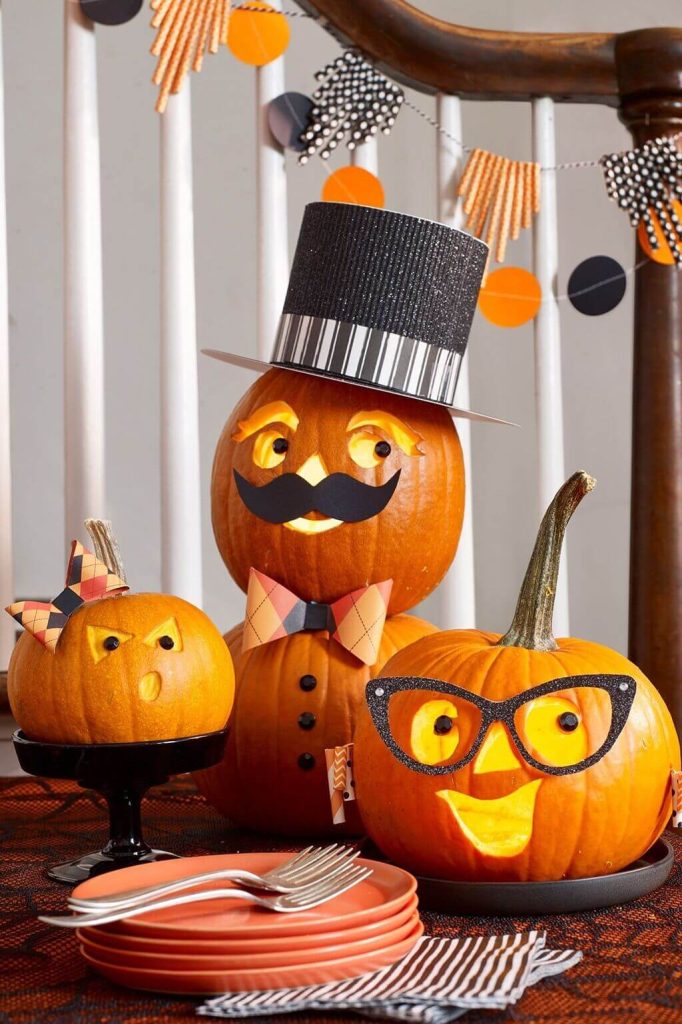 Don't target a horror look this season. Rather, add friendliness and warmth with the pumpkin carving ideas that bring a friendly bunch of smiling faces inside your home.
52. An Artistic Pumpkin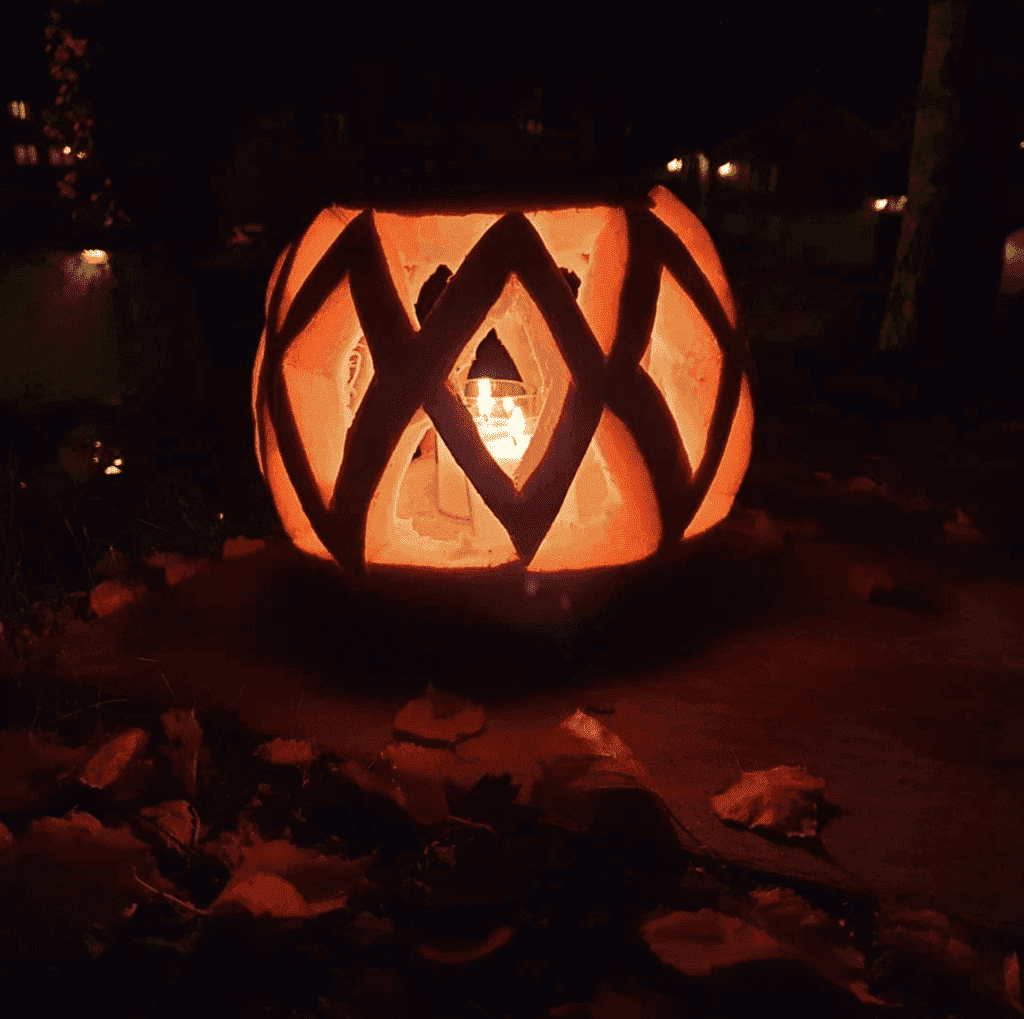 Your pumpkin carving ideas offer you a chance to flaunt your artistic skills. Carve out an intricate pattern on the pumpkin and add lights inside. Instead of taking it towards a scary theme, these creative pumpkin carving ideas can add a level of sophistication to the decor.
53. A Pumpkin Snail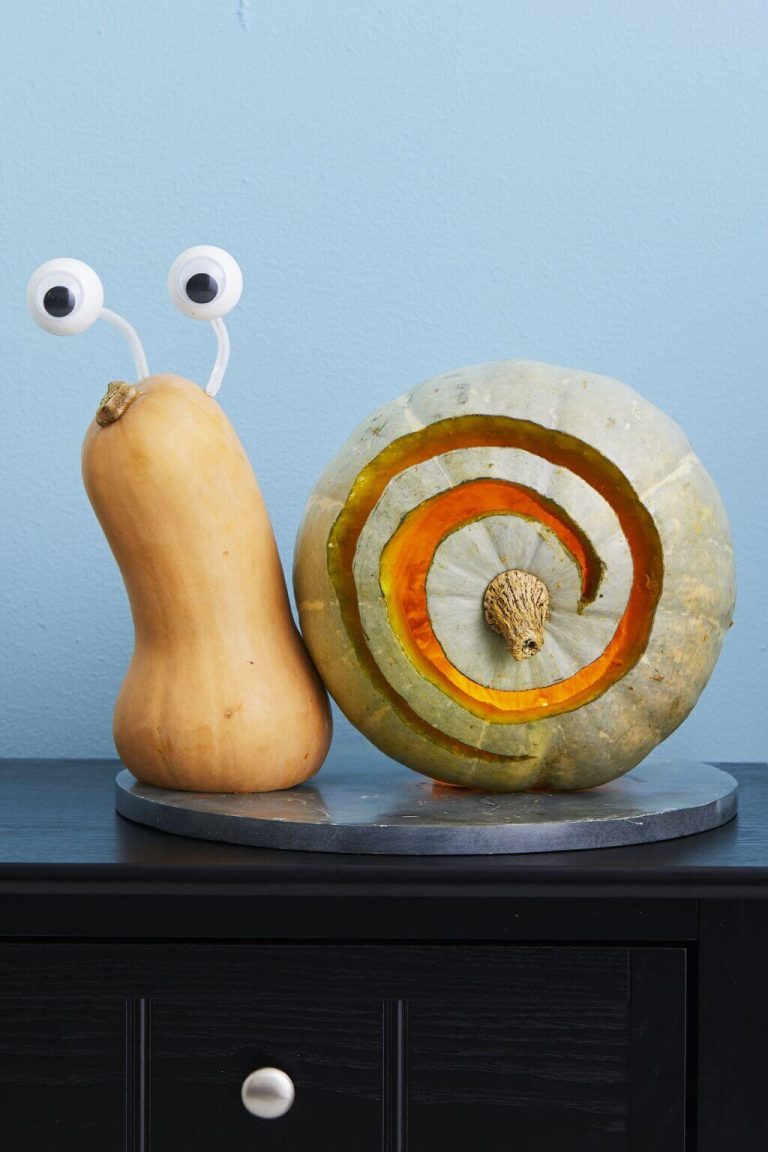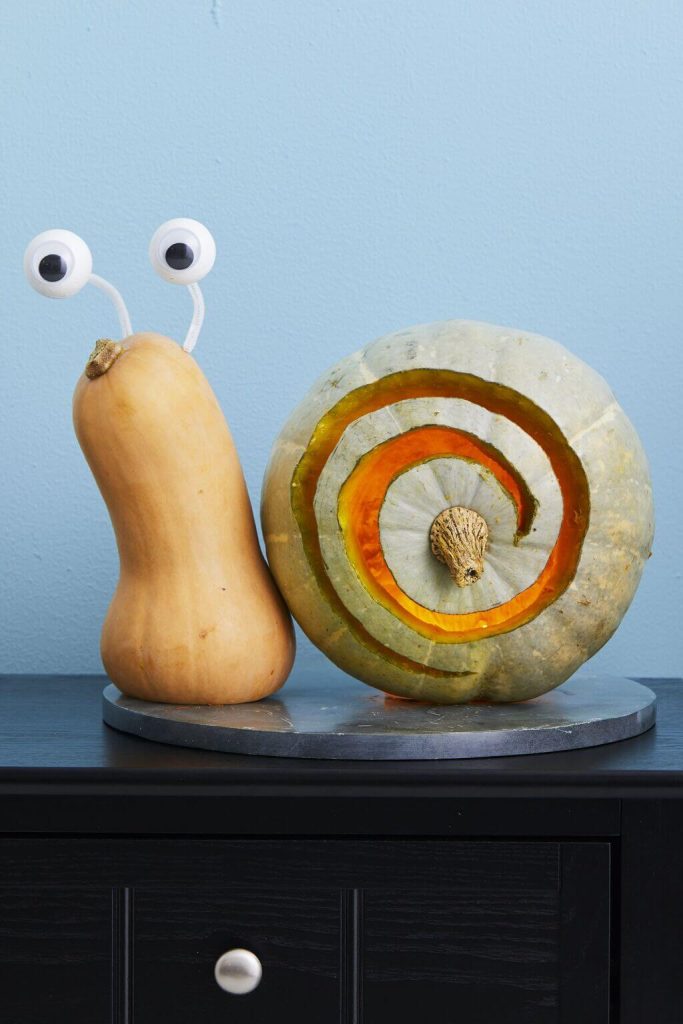 Get creative with these cool pumpkin carvings. Cut out the spiral of the snail and add its mouth and wobbling eyes on top. The snail shell can be illuminated by placing LED inside.
54. It's Raining Candies!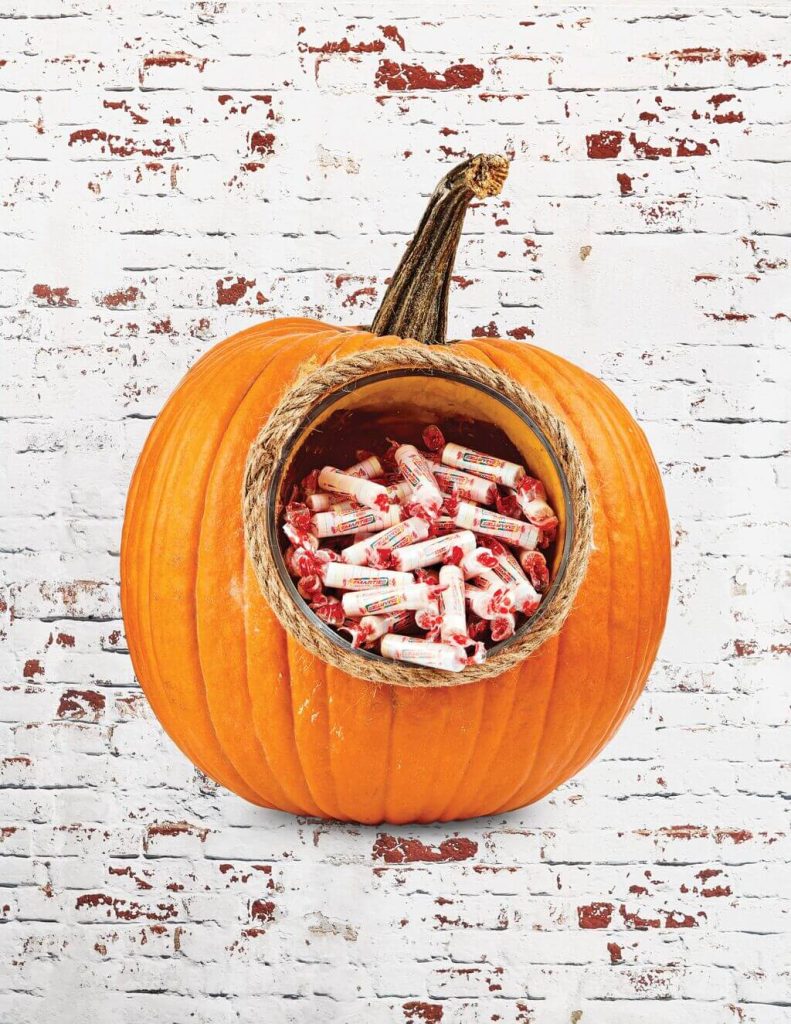 Put the pumpkin carving ideas to use and adopt the carved-out pumpkin as a candy dispenser for the kids. Place a bowl inside the pumpkin and fill it up with your favorite candies.
55. A Fluffy Lion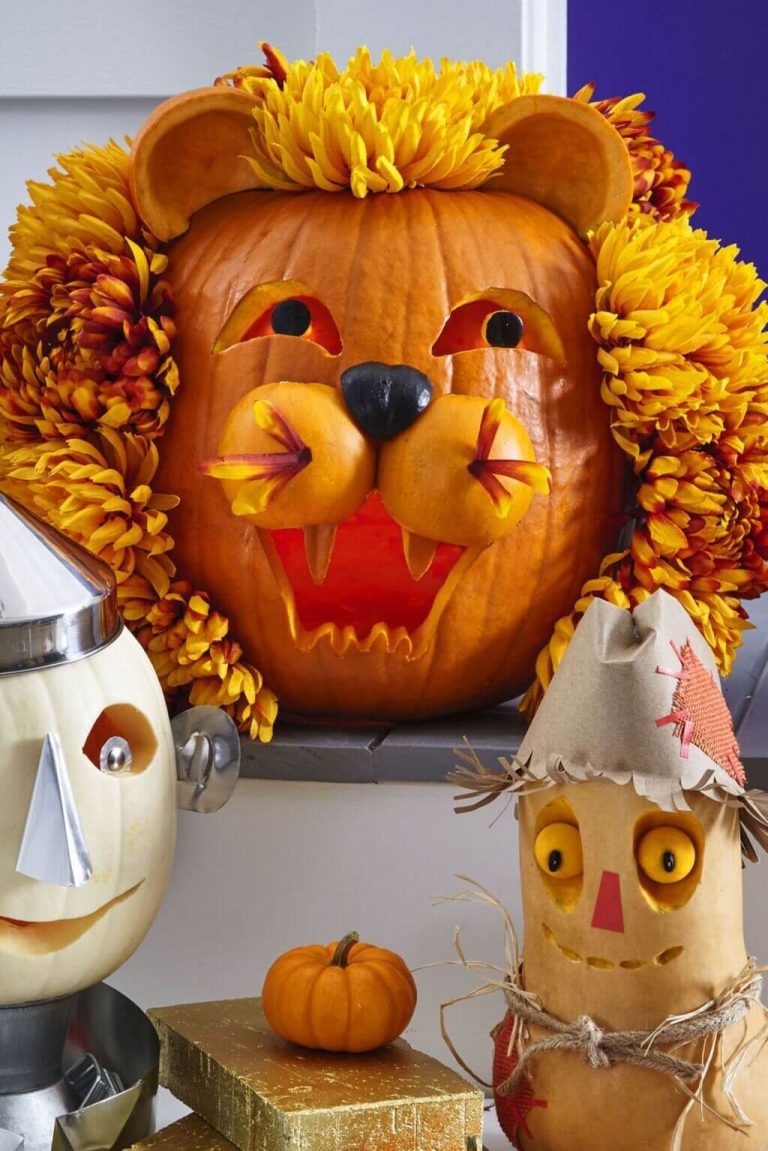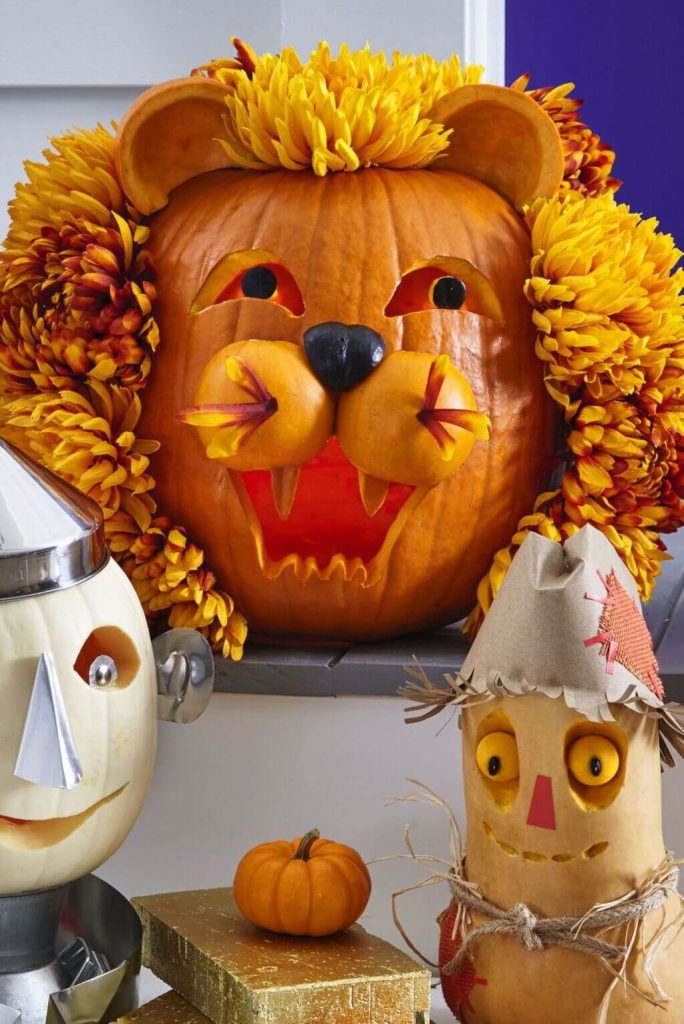 One of the coolest pumpkin carving ideas is to carve out a lion's face. You can play with different techniques and add a fluffy mane to make the face look cuter.
56. The Pumpkin Mummy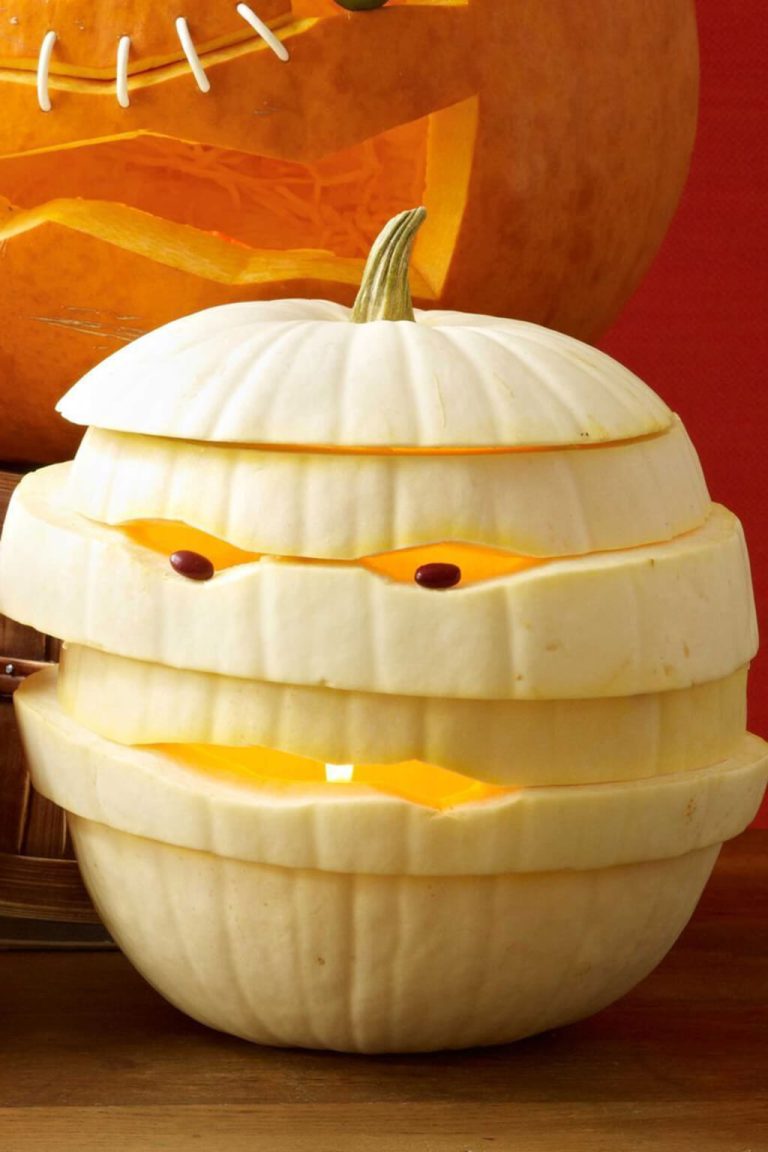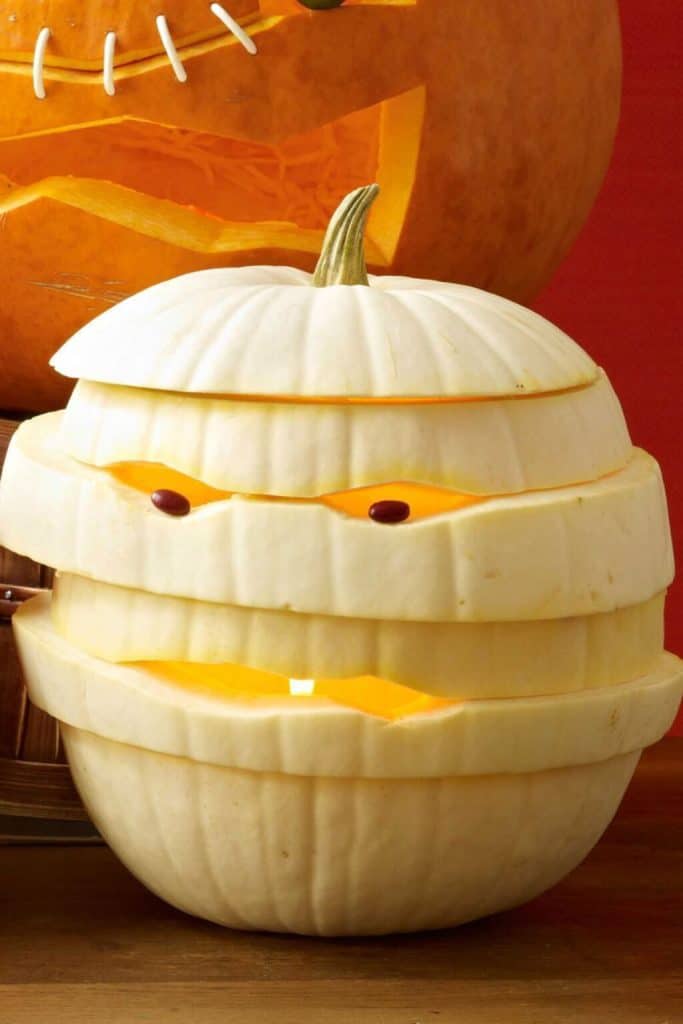 Let your creativity level up with these pumpkin carving ideas. Slice the pumpkin horizontally and place these slices in a staggered form. Paint the pumpkin white, add eyes, and you'll get your pumpkin mummy ready.
57. A Tall Witch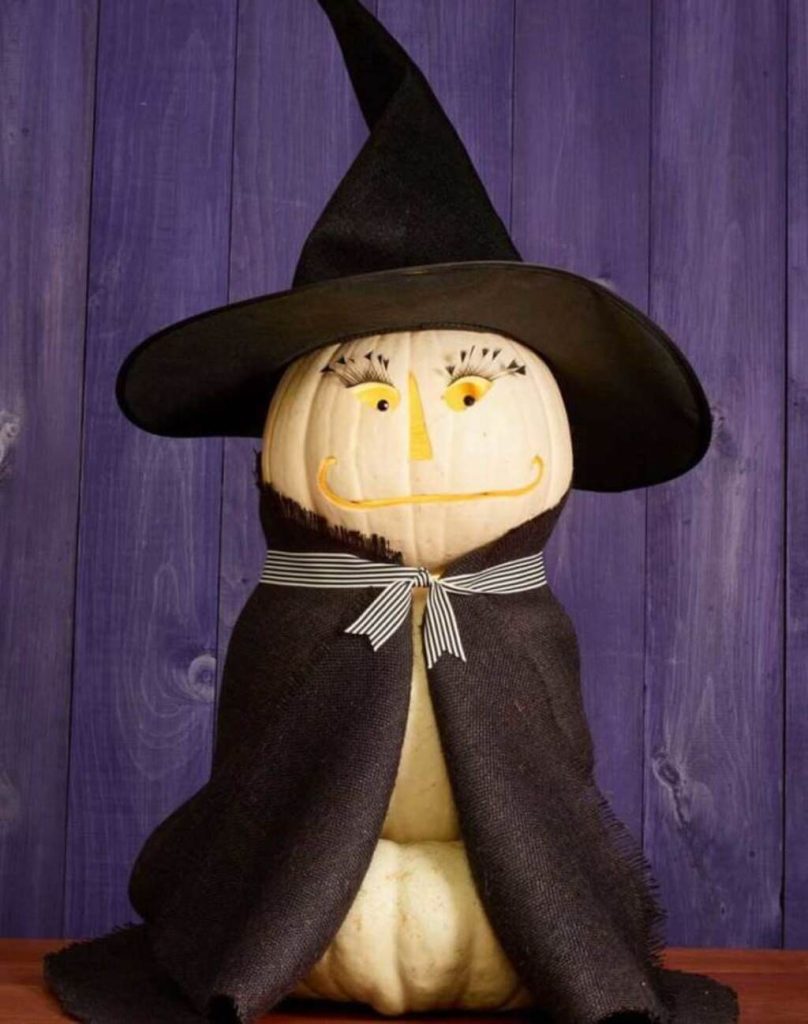 For the ones aiming to add a witch to their festive decor but not willing to put effort, simply stack two or three pumpkins and add a black hat and fabric around it to make it look like a tall witch standing inside your home.
58. The Cookie Monster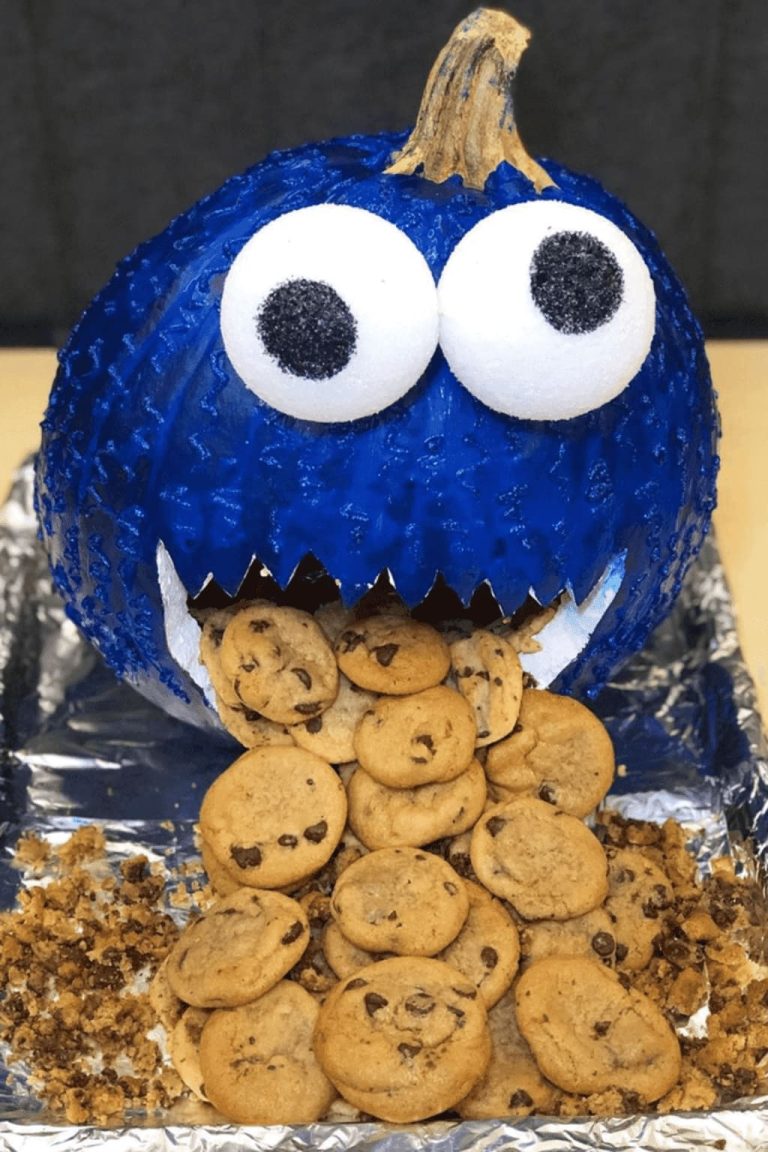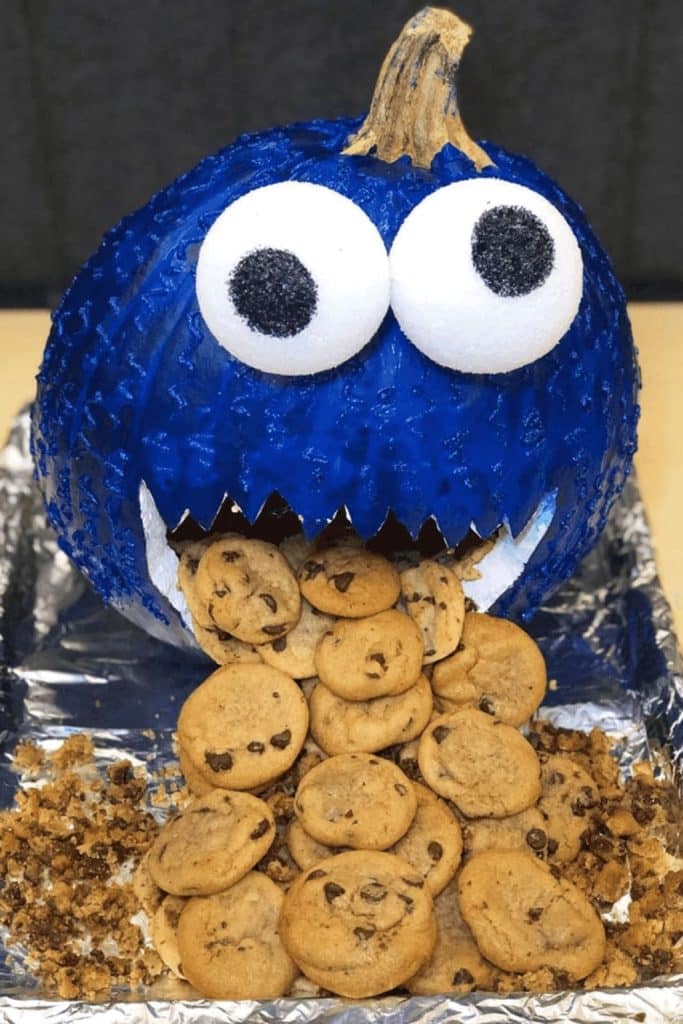 Bring a little monster to your dessert table. Use the cool pumpkin carvings as a cookie monster that holds the cookie plate.
59. Glittering Pumpkin Faces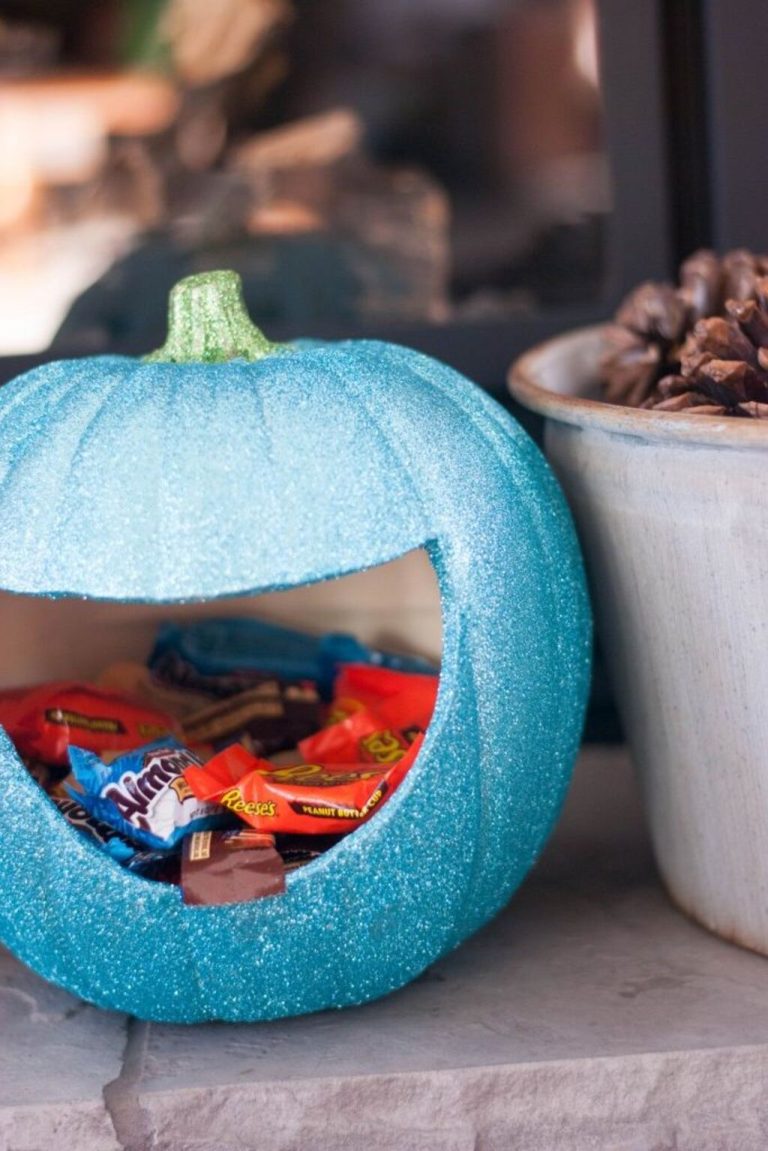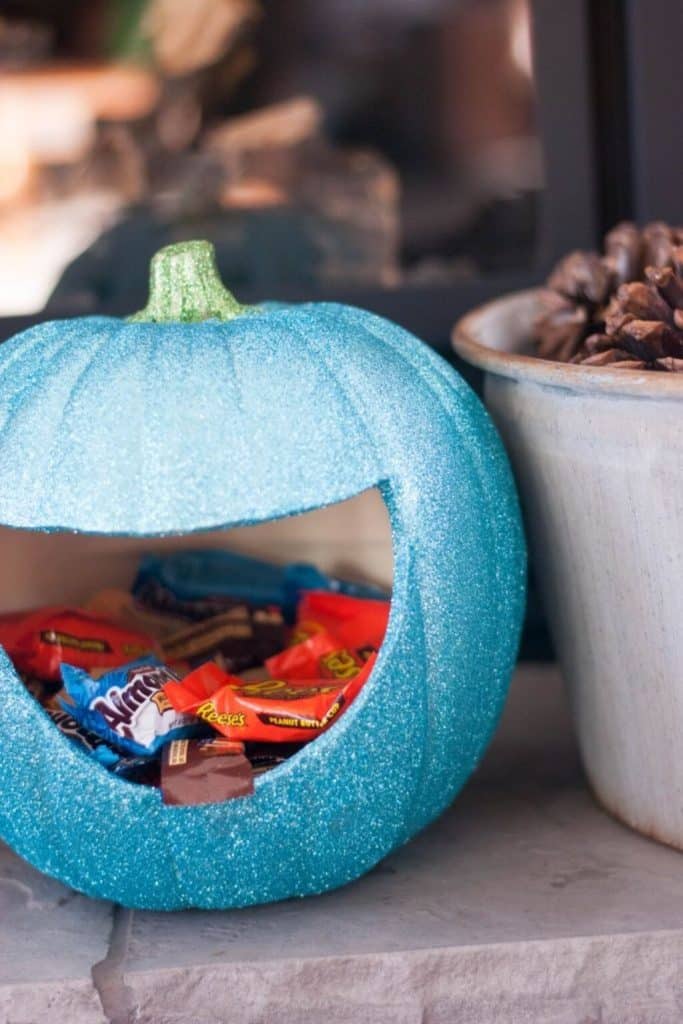 Your pumpkin carvings don't have to stay dull. Cover the entire pumpkin in glitters of your favorite color and let them shine.
60. A Punched-Out Face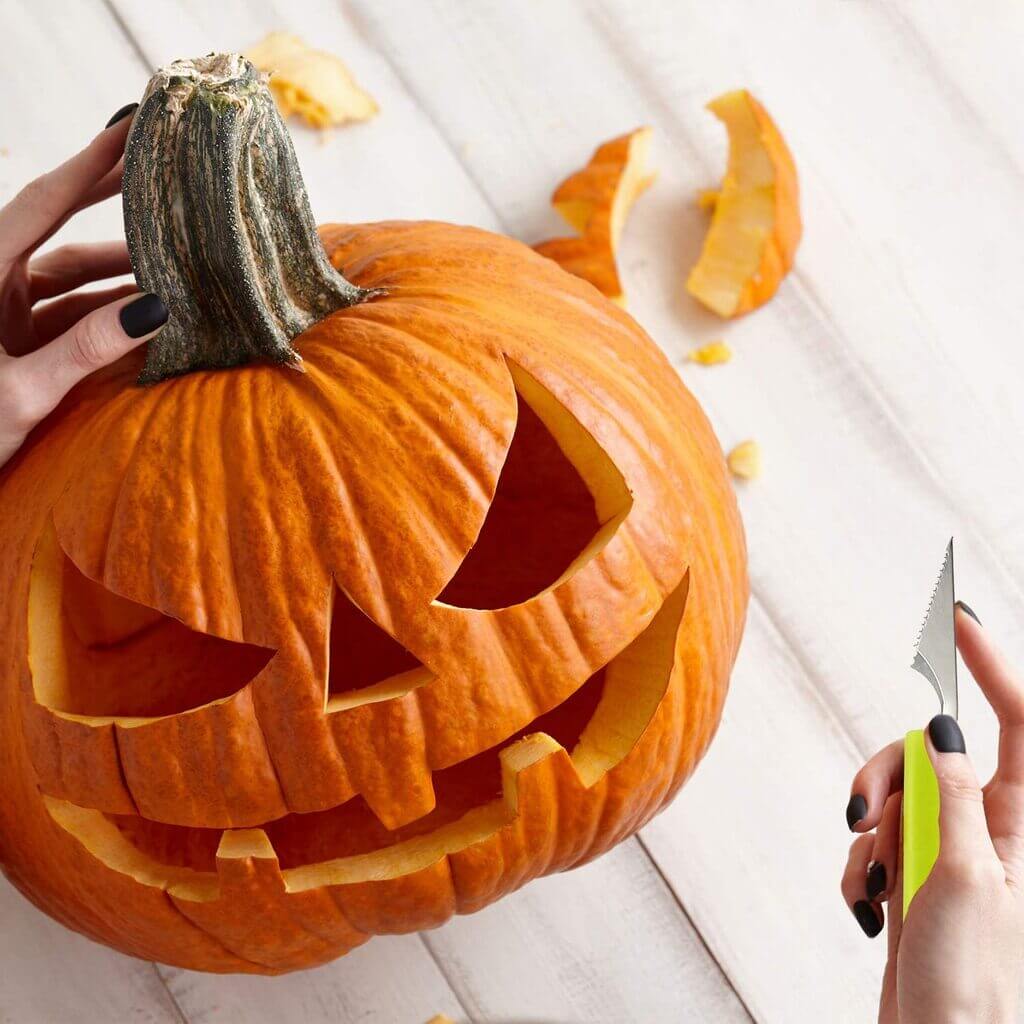 Avoid the need to carve out a face and rather place cookie cutters on the top of the pumpkin. Use different shapes to make a face that also offers a 3D look.
61. Candle Holders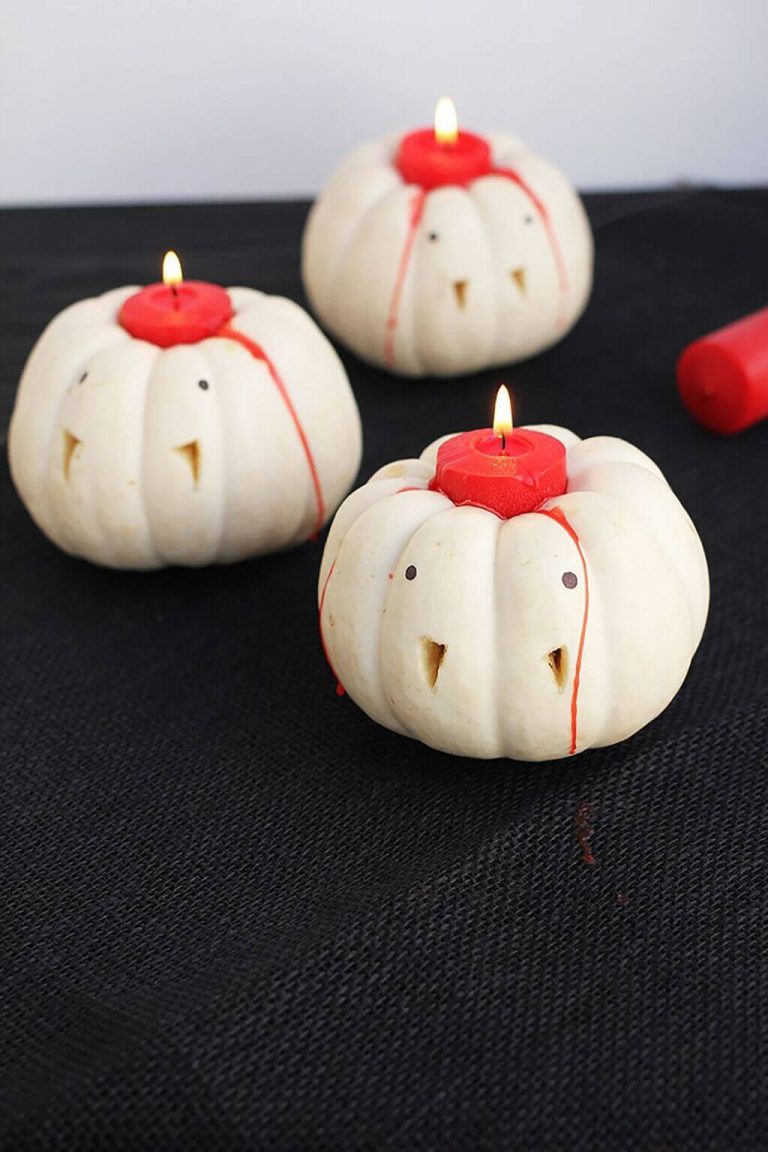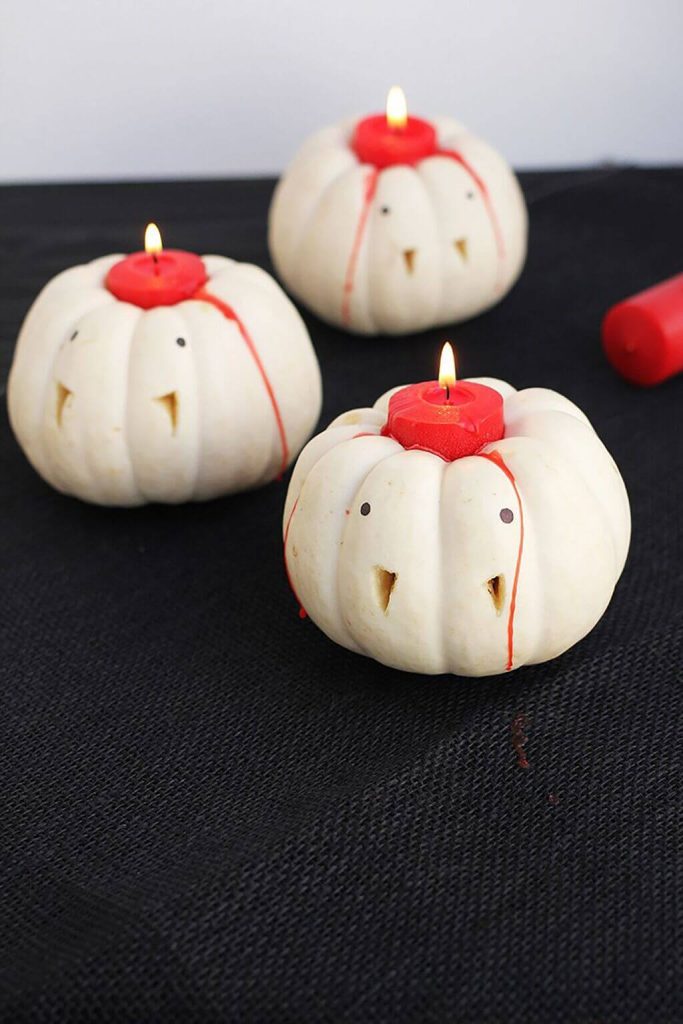 Curate the design of tiny candle holders with mini pumpkins. These can be dressed according to your desired theme.
62. Your Dog's Face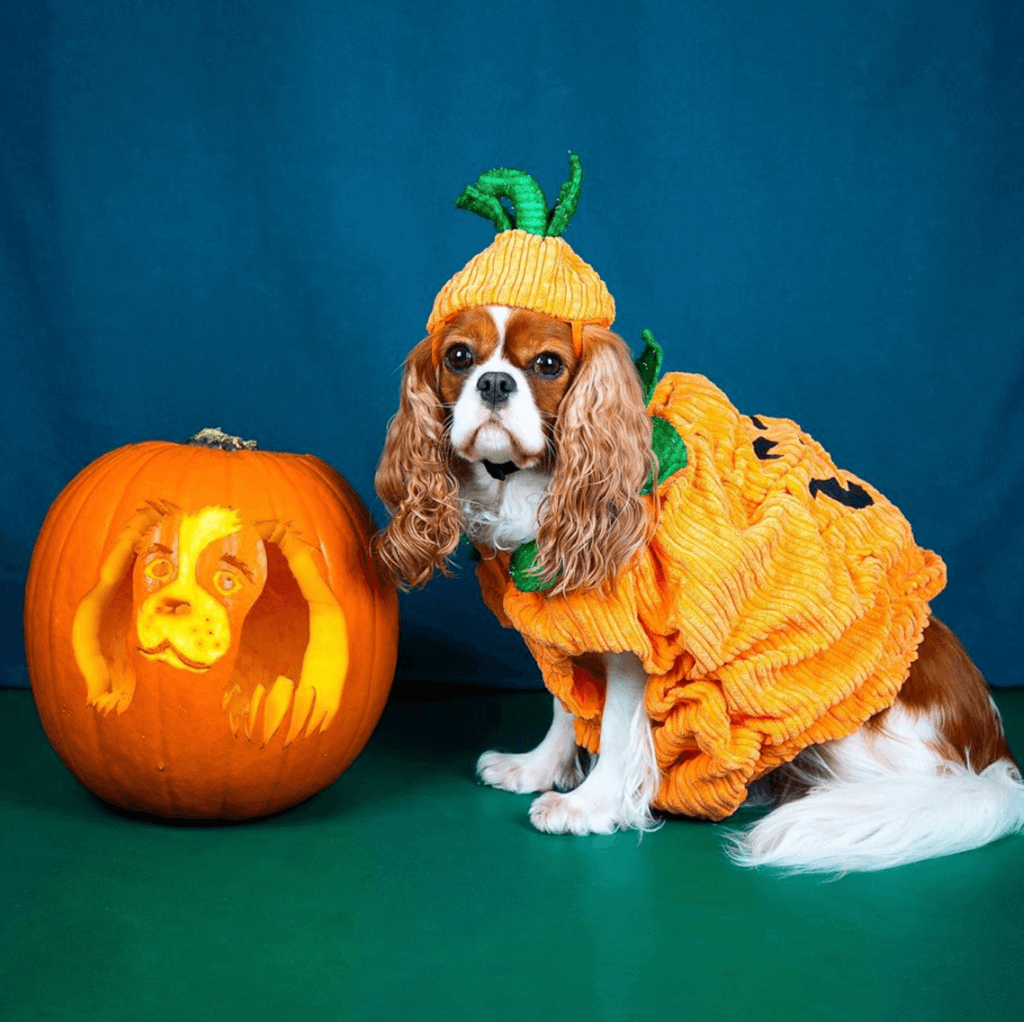 Pumpkin carving ideas can be used to creatively make your dog's portrait. Dog lovers must try this idea that serves them a pet portrait for the perfect picture.
63. Emojis Pumpkin Carvings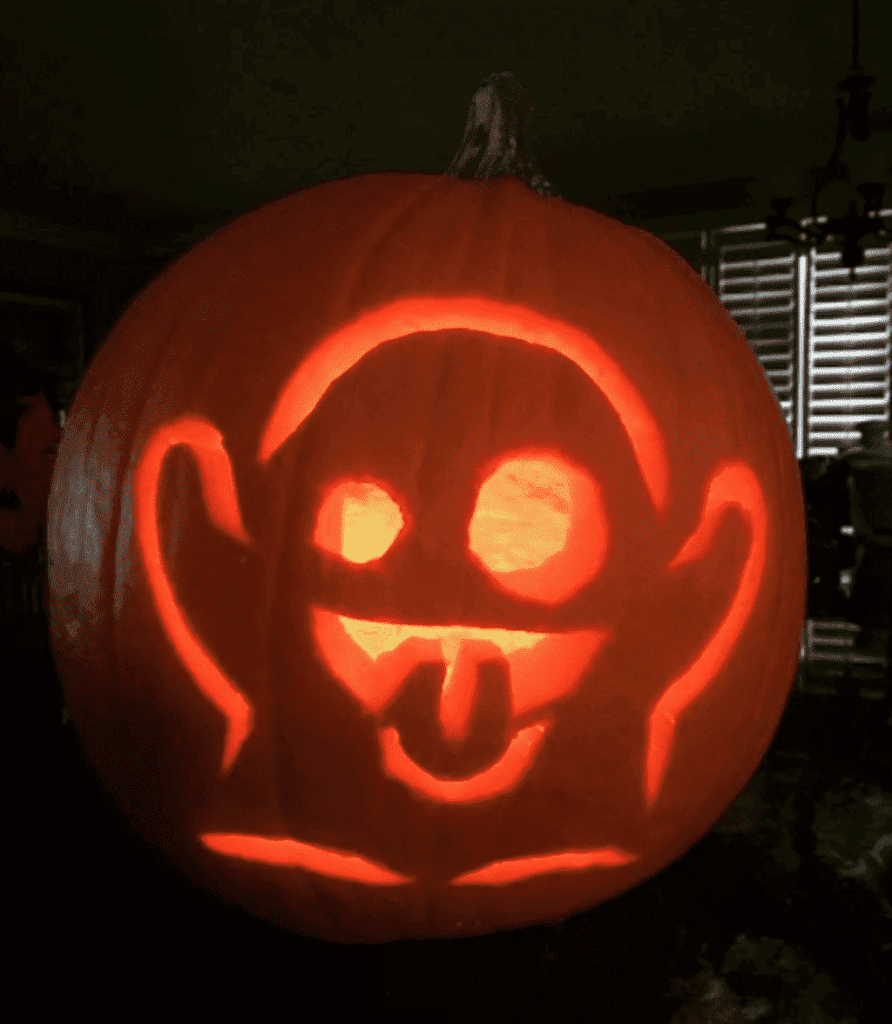 With the trending emojis, take your pumpkin carving ideas towards it. Carve out the ghost emoji that aligns with the festive vibes and looks enticing.
64. Let the Face Off!
Increase the scary factor with these pumpkin carving ideas that make the face come off. This design makes the pumpkin look like peeling off its face.
65. Pumpkin Mom and the Kid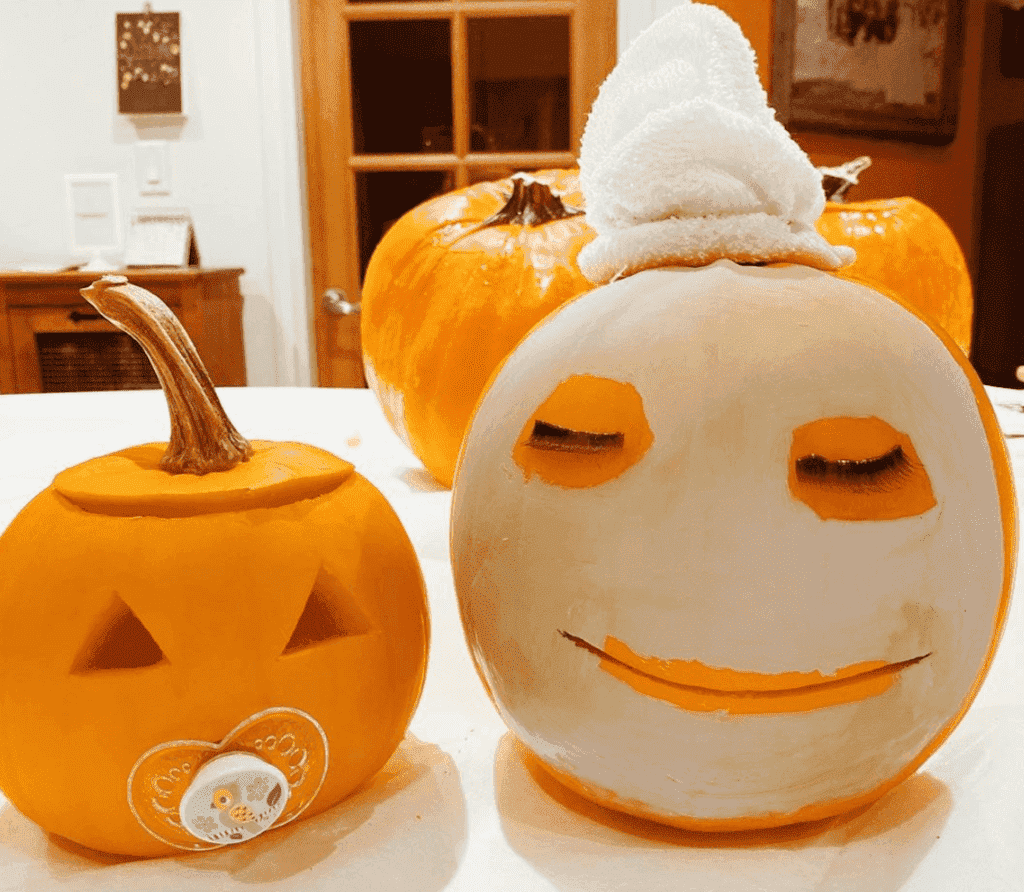 Play around with accessories in a clever way to make pumpkin faces. While the larger one can serve as the face of a mother, the mini pumpkin can be added as a baby.
66. Find the Home!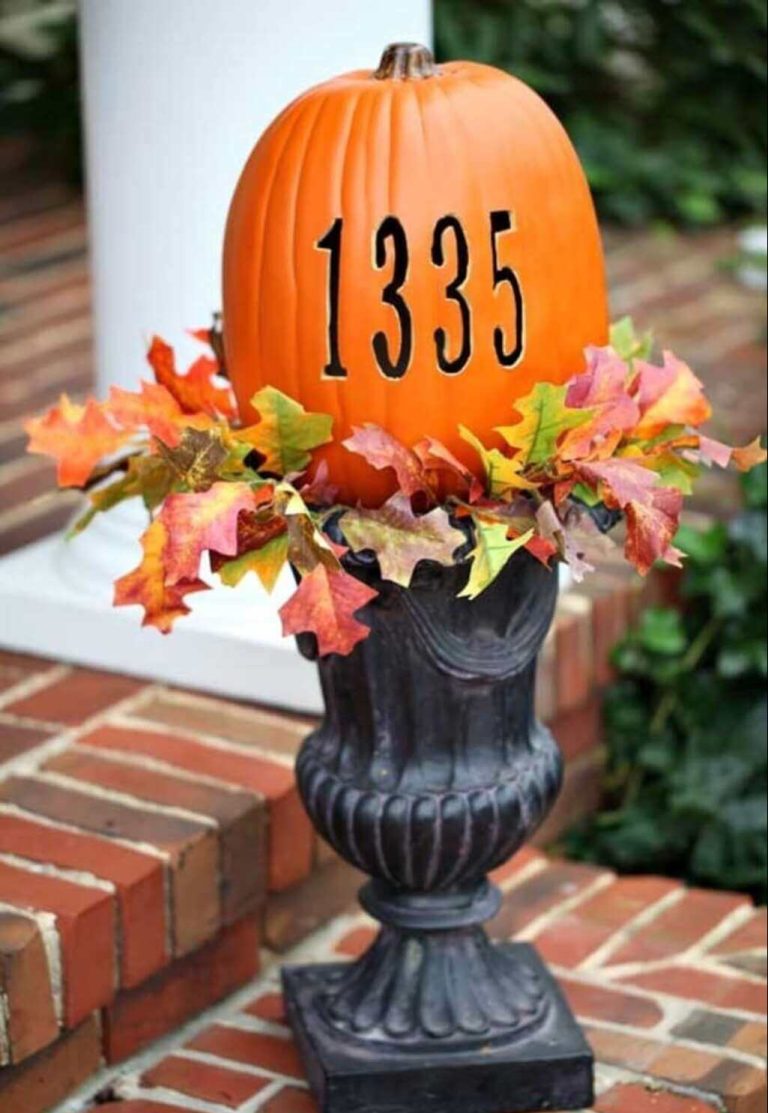 You can make the task of finding your home easier with these pumpkin carving ideas. Carve out your home number and place it in front of the house to make it more convenient for the guests to arrive at their destination.
67. The Lollipop Head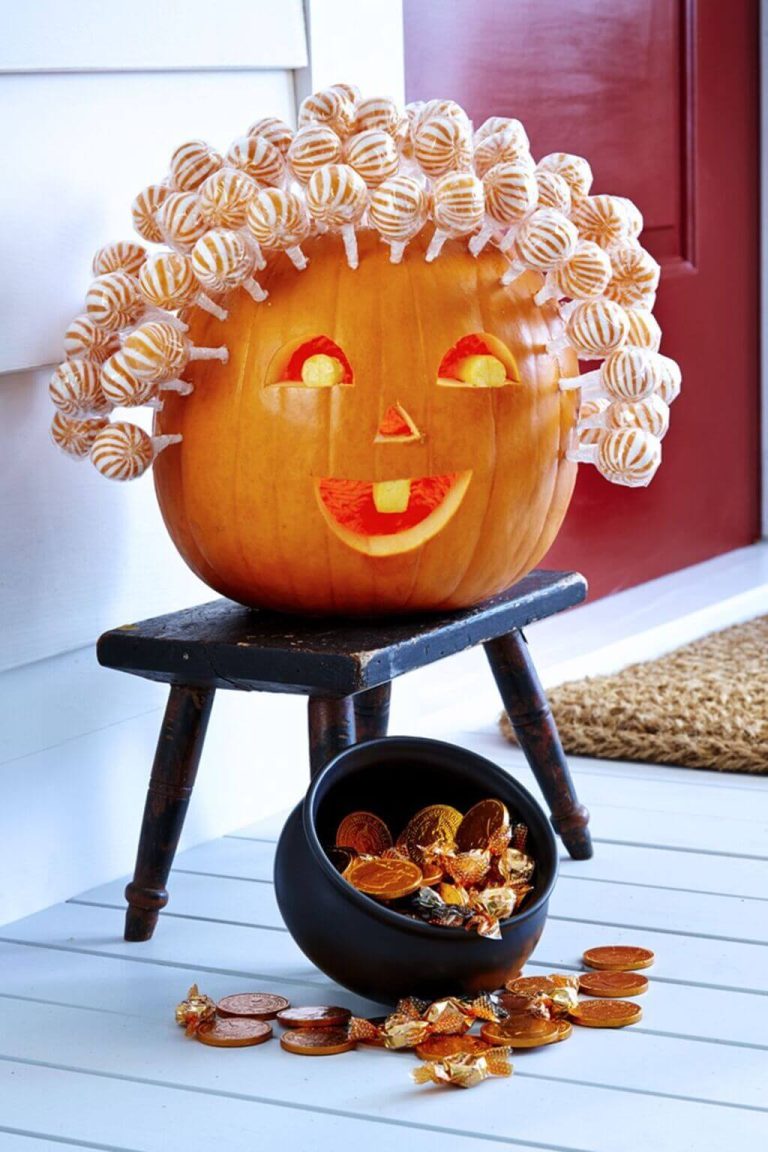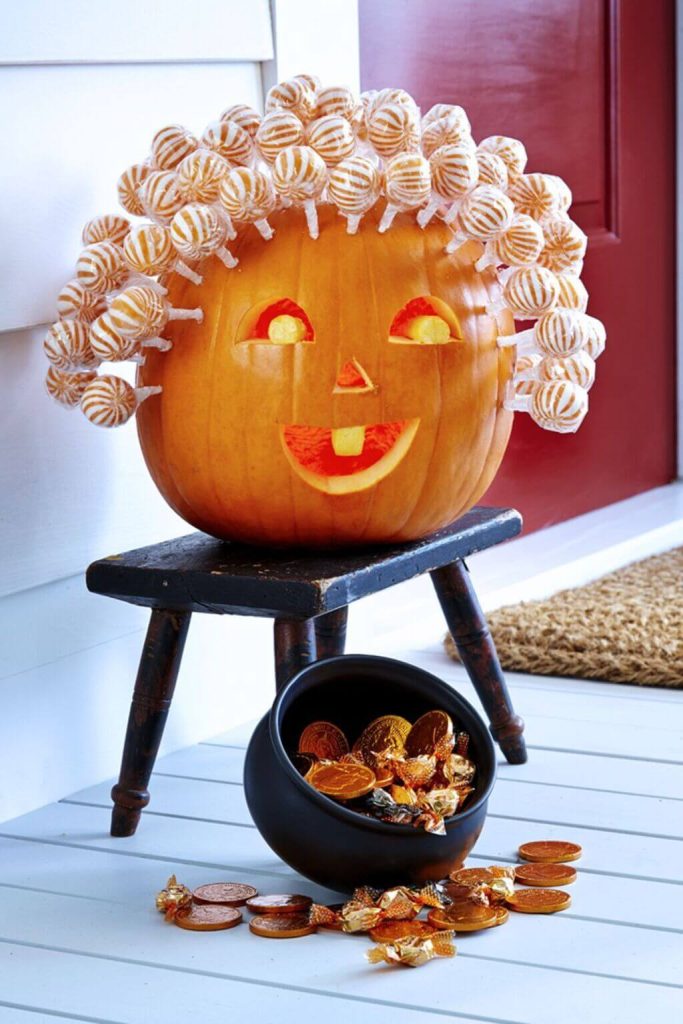 Spruce up your pumpkin carving ideas with this simple trick. All you need is a few lollipops to add hairstyle to your cool pumpkin.
68. A Scary Prison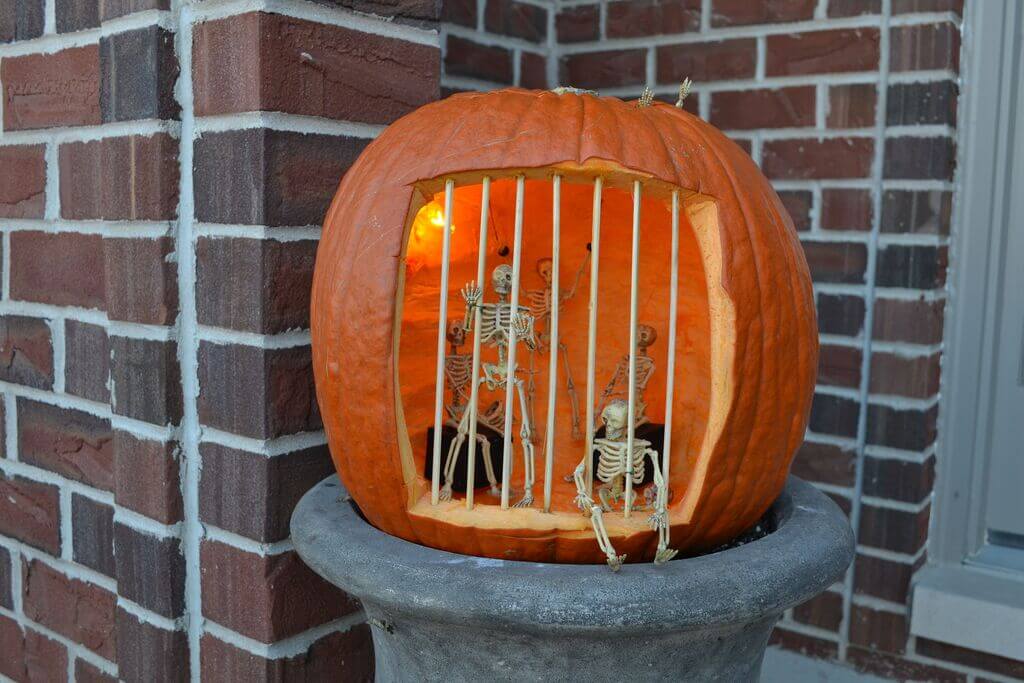 Use the pumpkin carving ideas to compose a scary scene. Set the look by making toothpicks to act as prison bars and placing skeletons within the carved-out room.
69. Glowing Teeth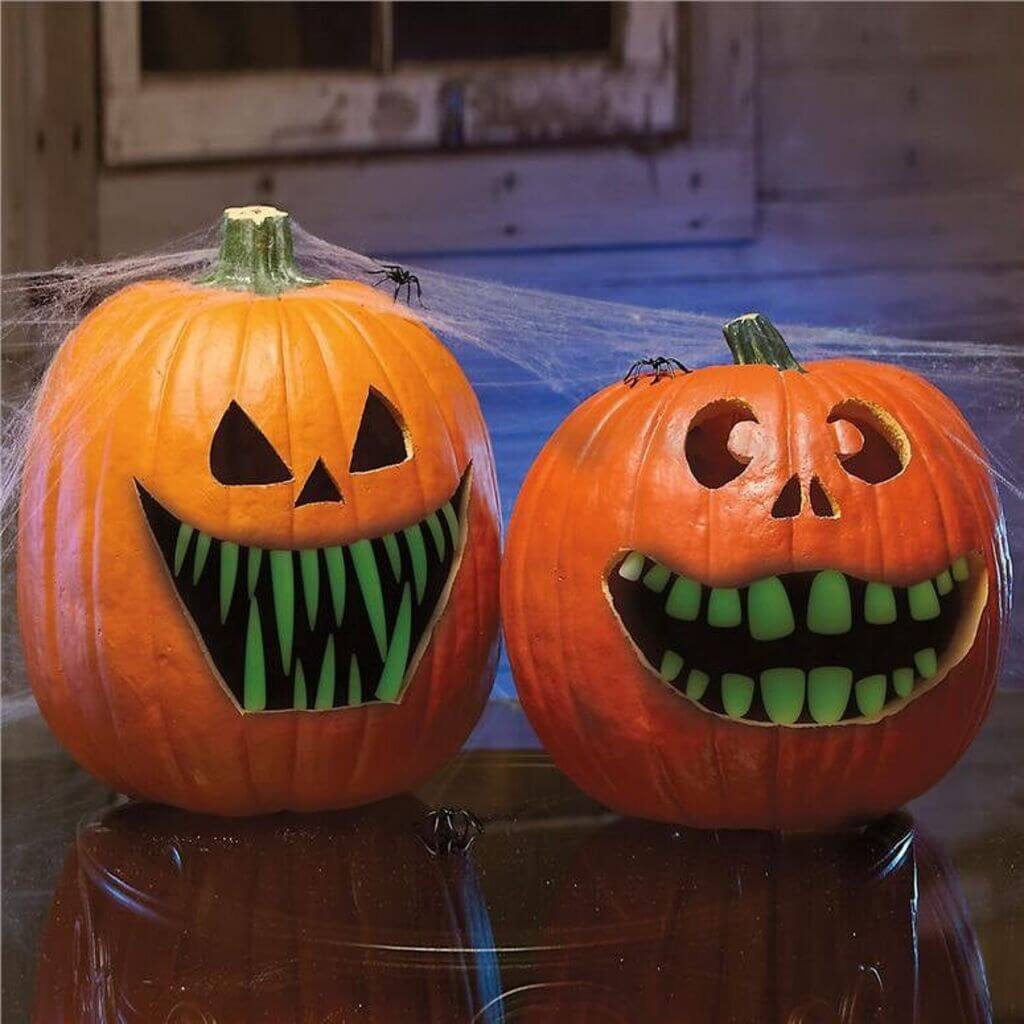 Maintain the spookiness level all through the day and night with these creative pumpkin carving ideas. As you make pumpkin faces, add glow-in-the-dark teeth to let them shine and scare in the dark.
70. The Crawling Pumpkins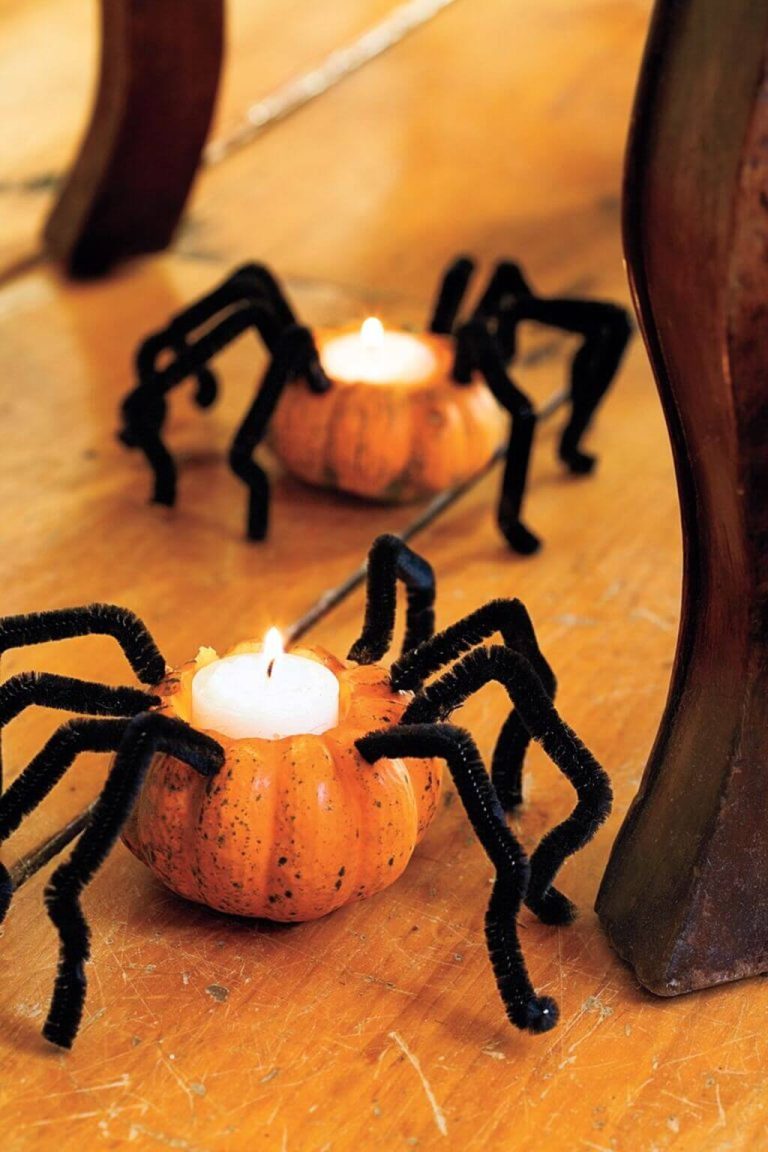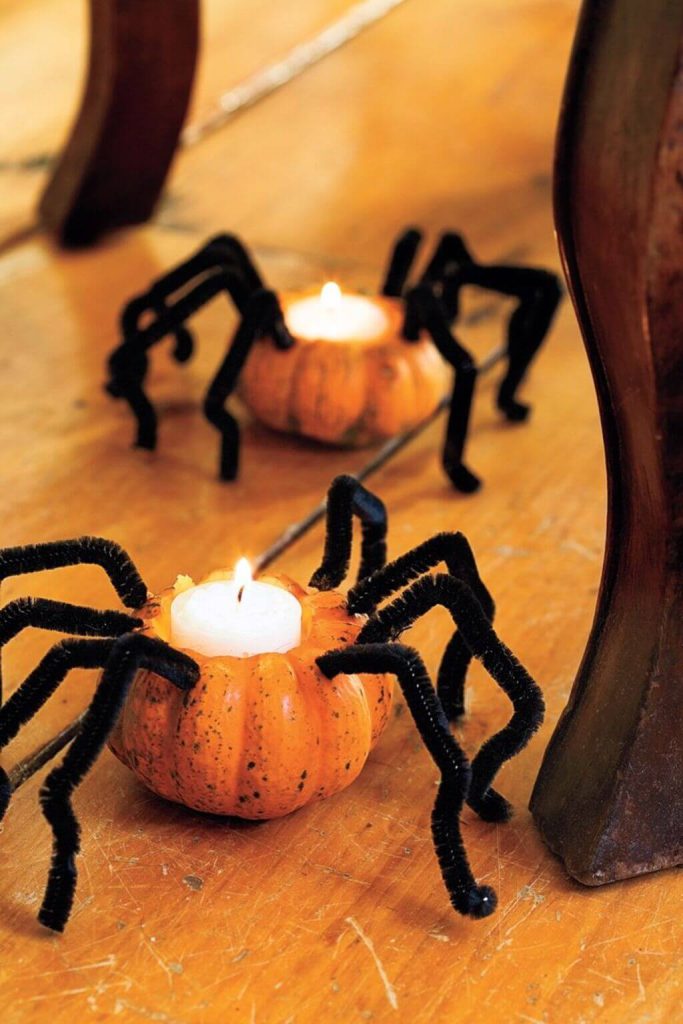 Consider going for these scary yet funny pumpkin carving ideas that use mini pumpkins as candle holders. Add tarantula legs to the design to add spookiness to the pumpkin designs.
71. Honeycomb Pumpkin Carving Ideas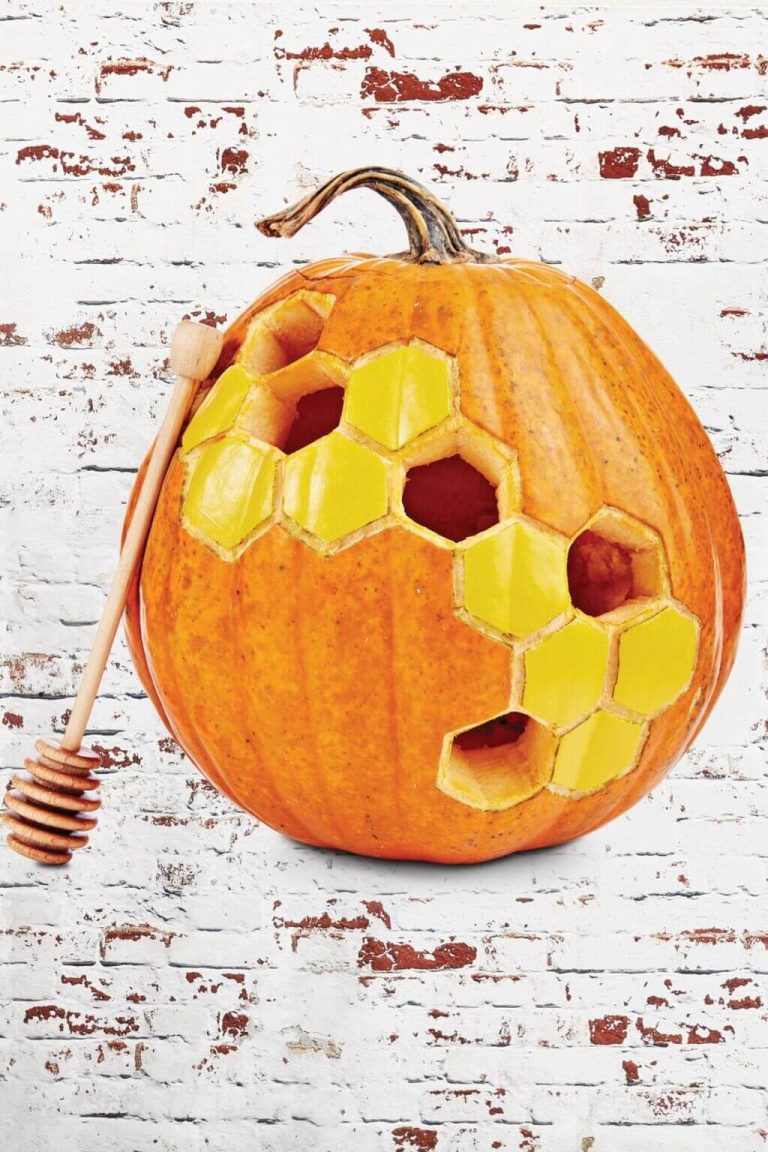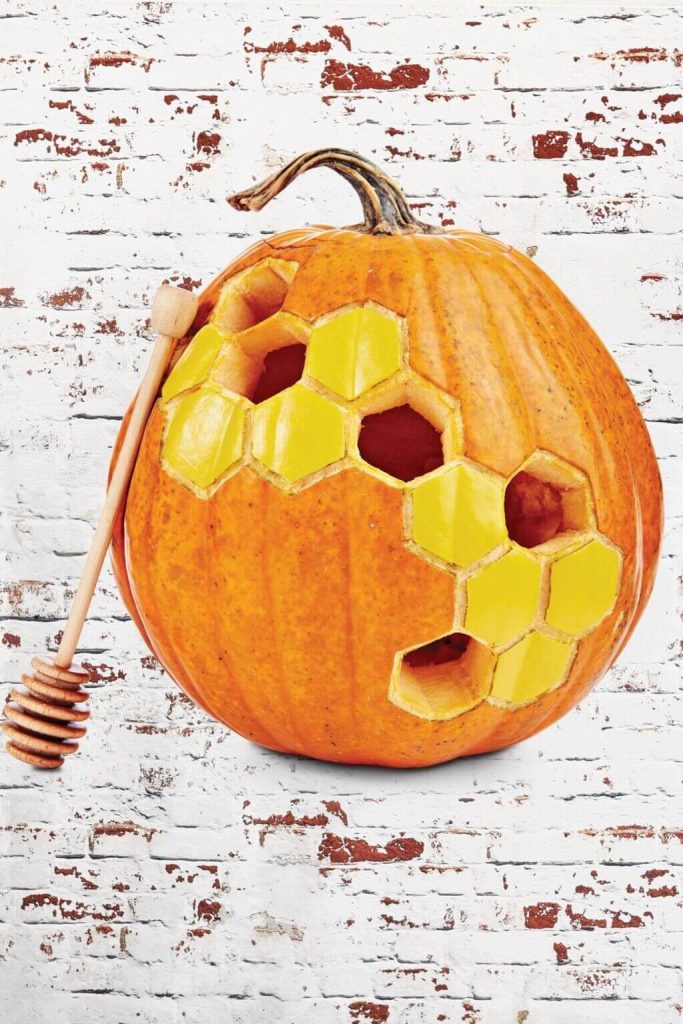 Go for a subtle and natural look by carving out the geometric honeycomb pattern. Let this pattern run across the pumpkin and paint it yellow for a realistic effect.
72. Sweetly Scary Scarecrow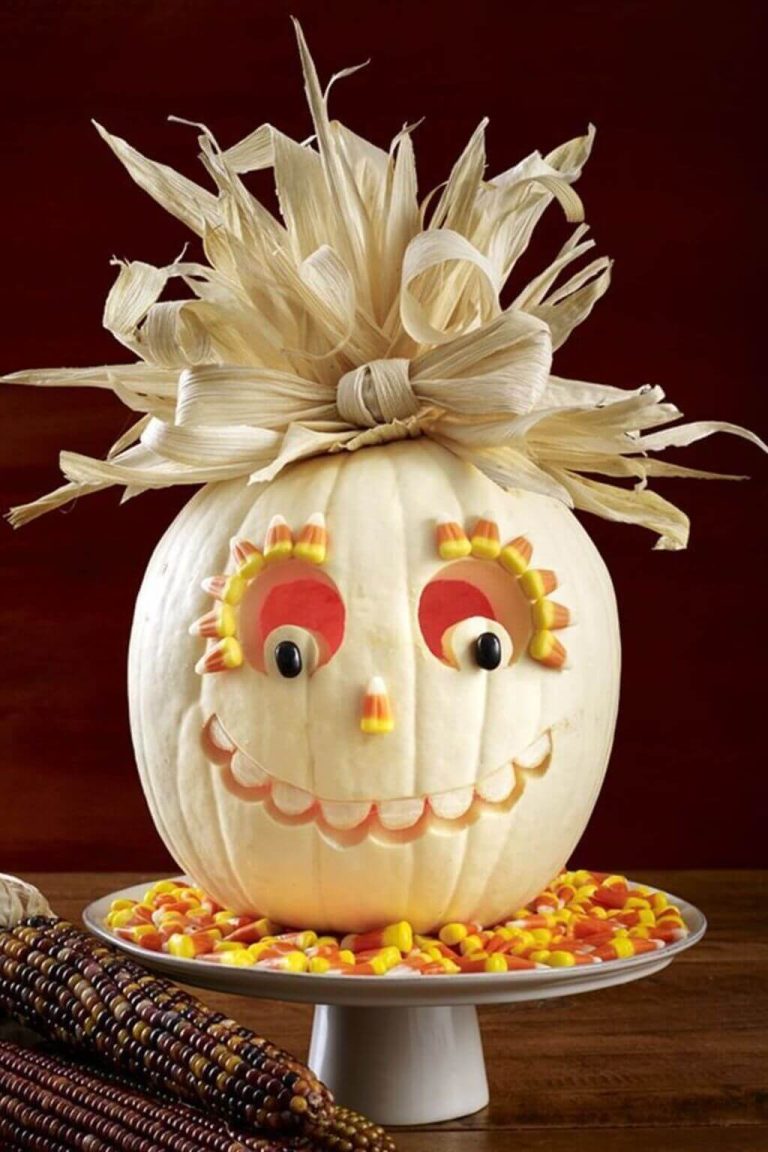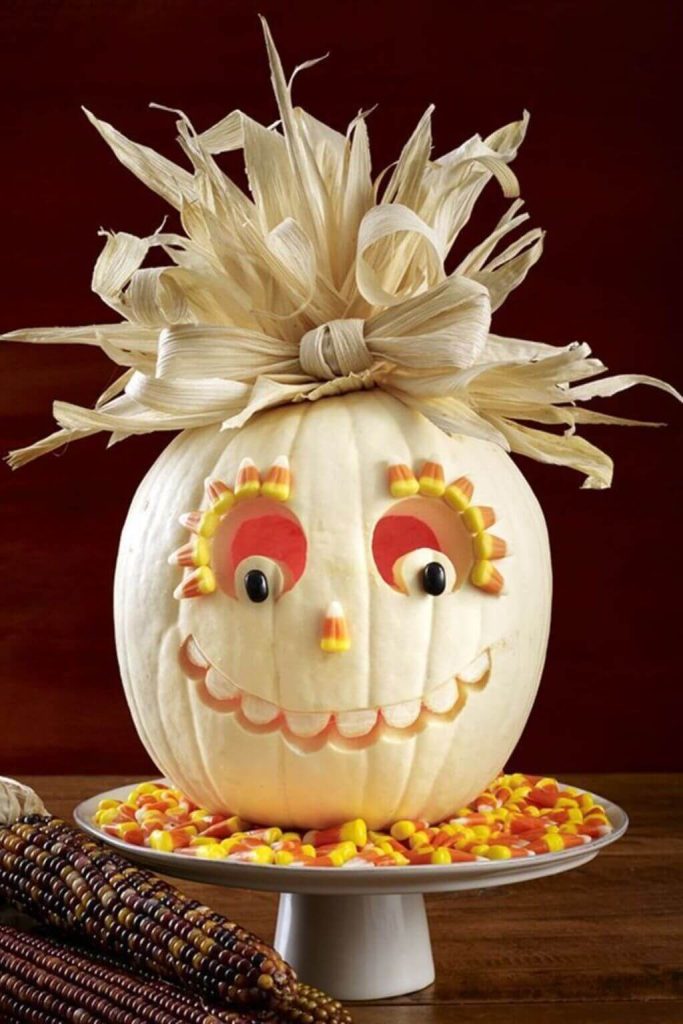 Go for funny pumpkin carving ideas and scoop out a scarecrow. You can make it a bit sweeter by adding candies as an ornamental element.
73. It's the Robot!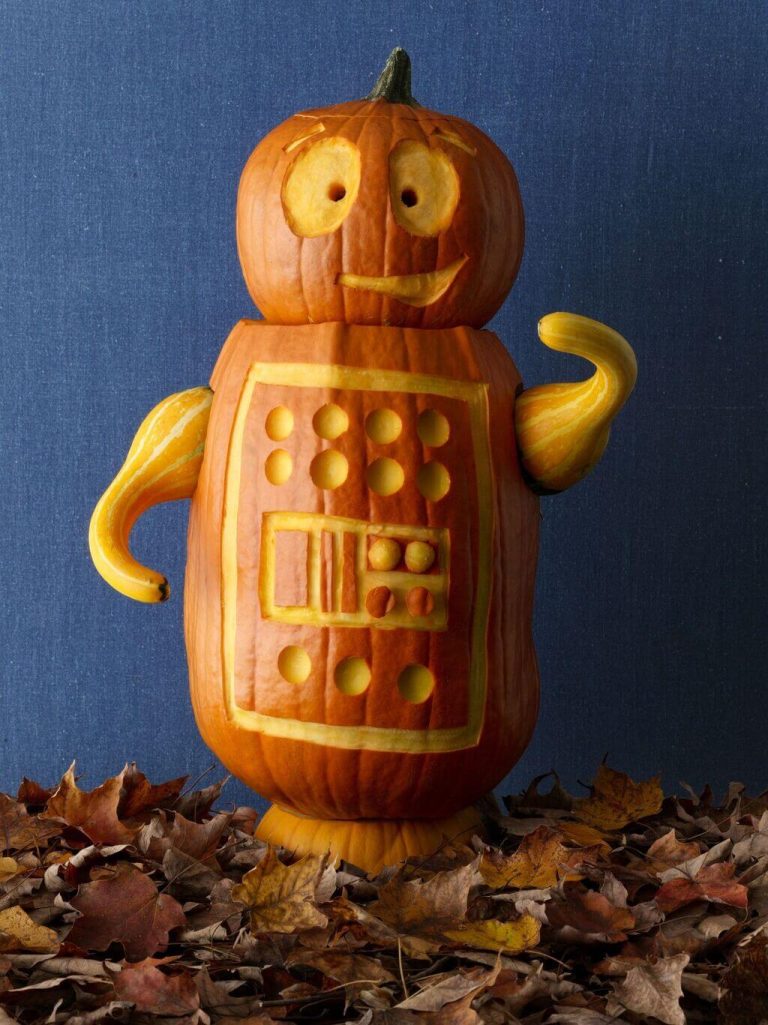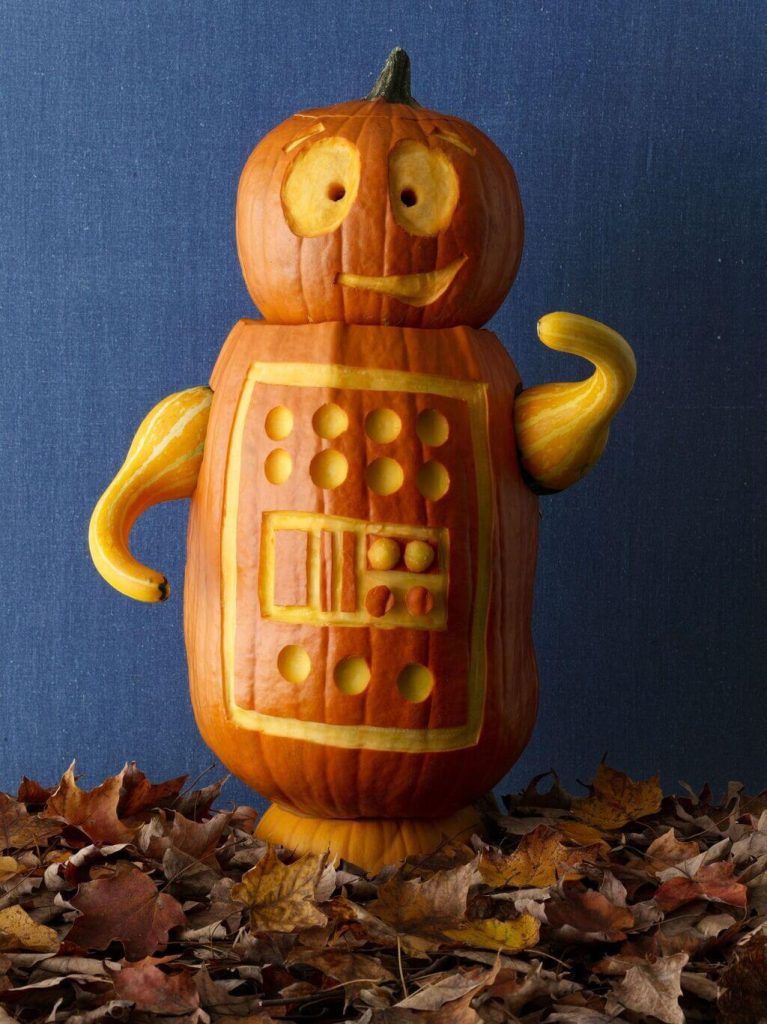 How about keeping the decor high-tech in this technology-driven era? Make a little robot with pumpkin carving ideas that require minimal carvings and effort.
74. The Sunflower Field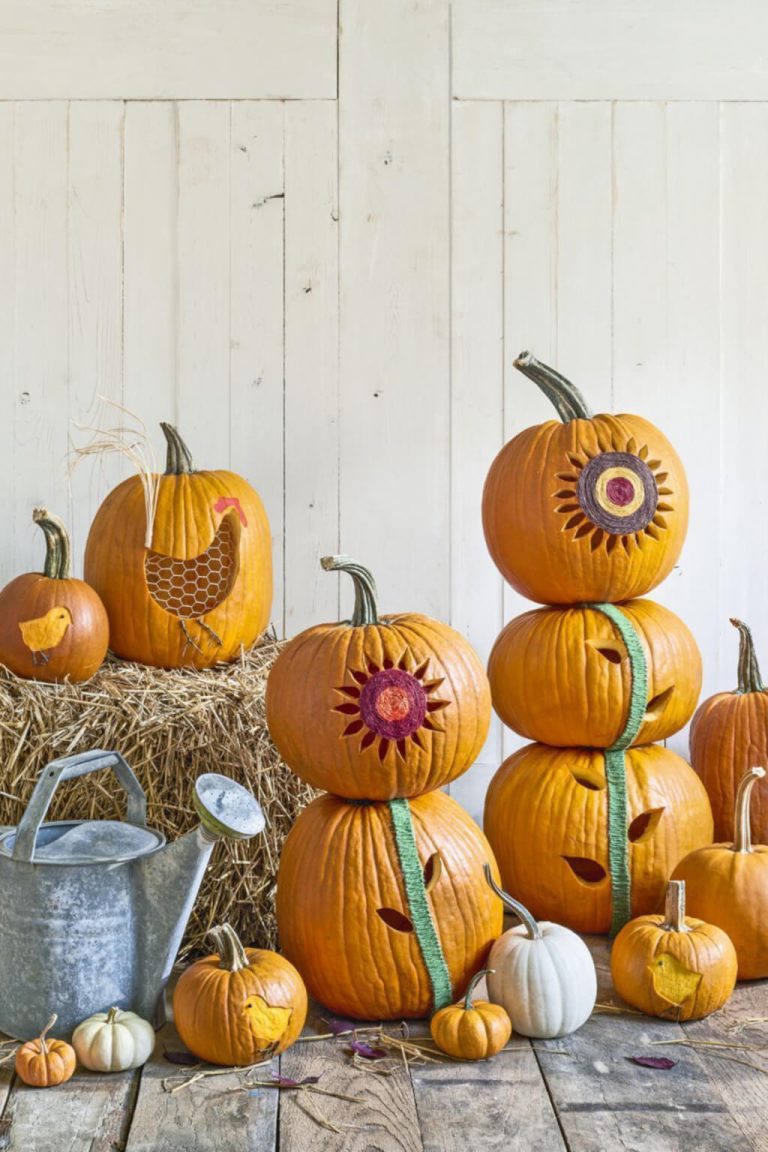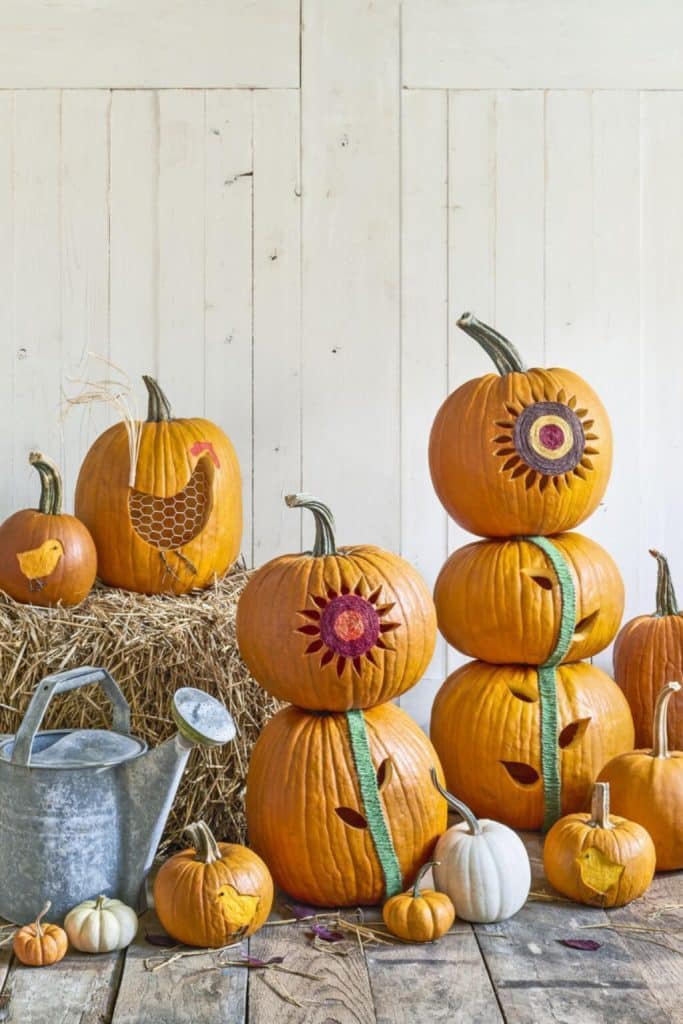 Want to have fresh sunflowers blooming inside your home? Opt for these pumpkin carving ideas that let you carve the shape of the sunflower petals and place many of these to make it look like a vibrant sunflower field.
75. Crochet Pumpkin Carving Ideas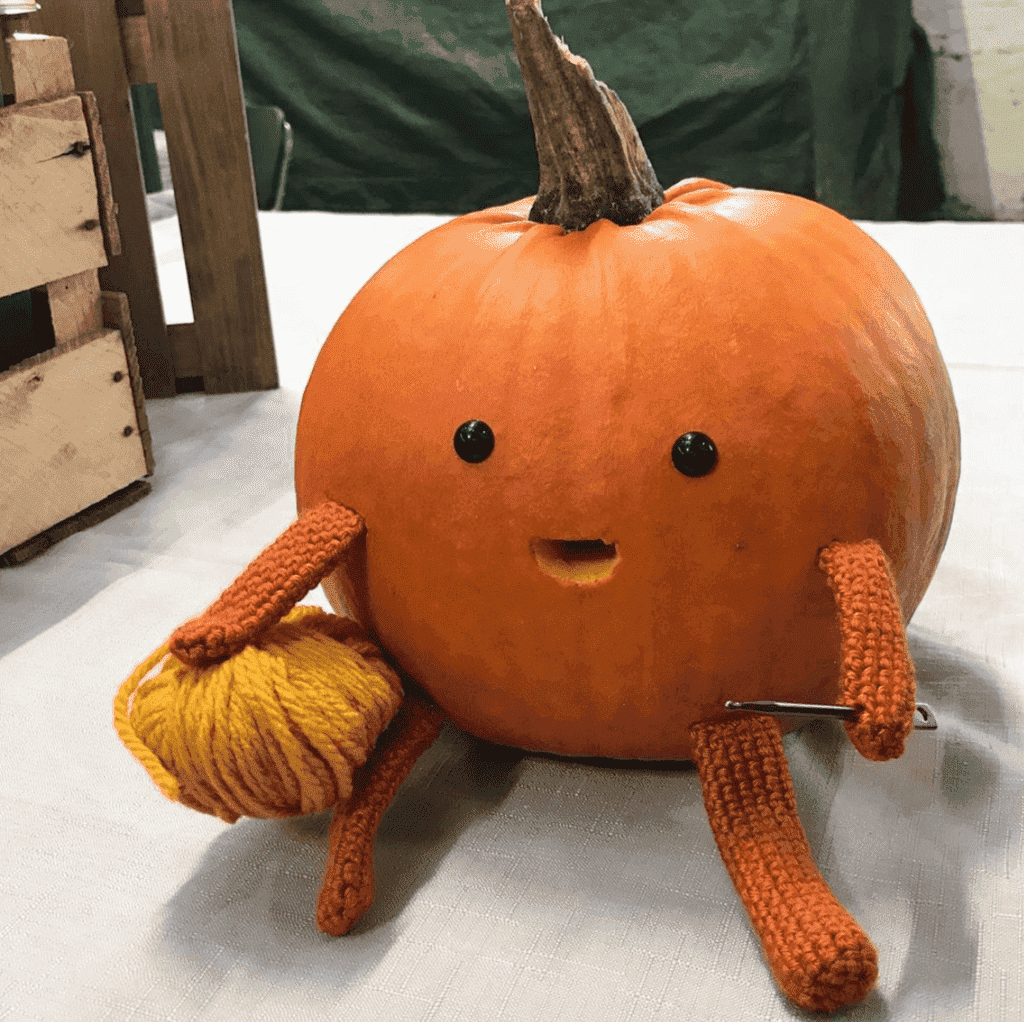 Put your knitting skills on a display. Transform the spooky pumpkins into cute baby ones by adding hands and feet with crochet.
76. Peek-a-Boo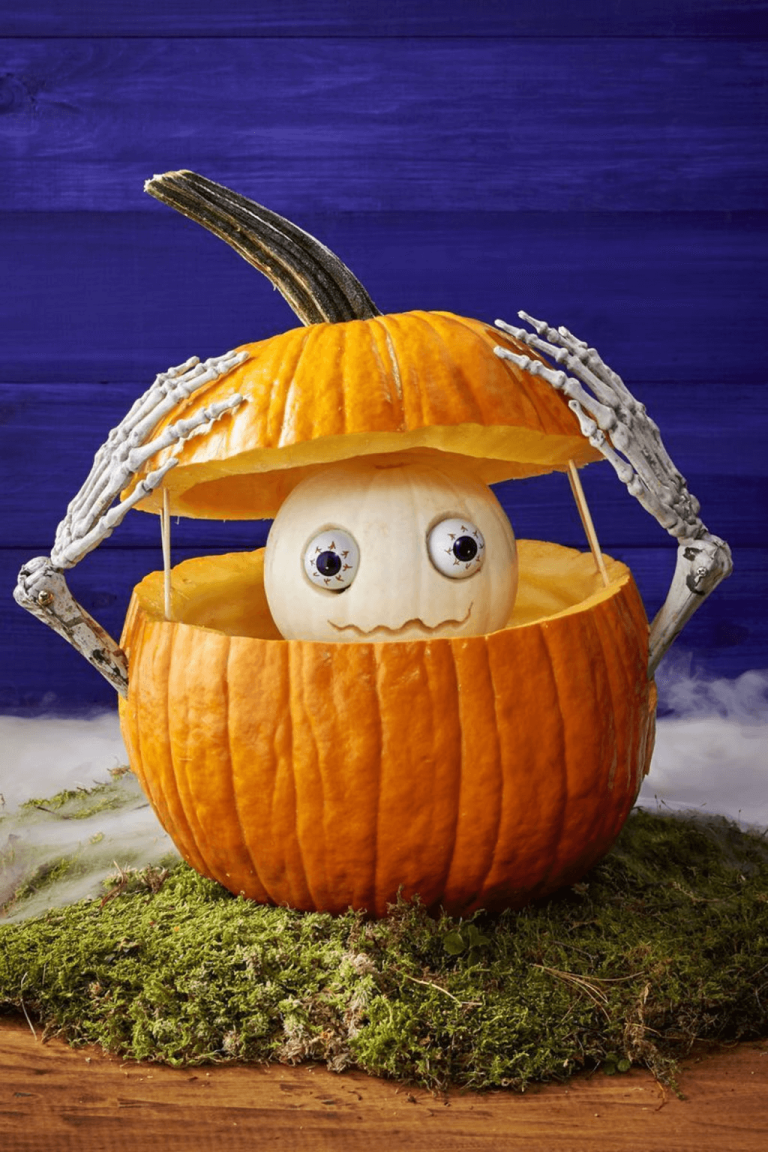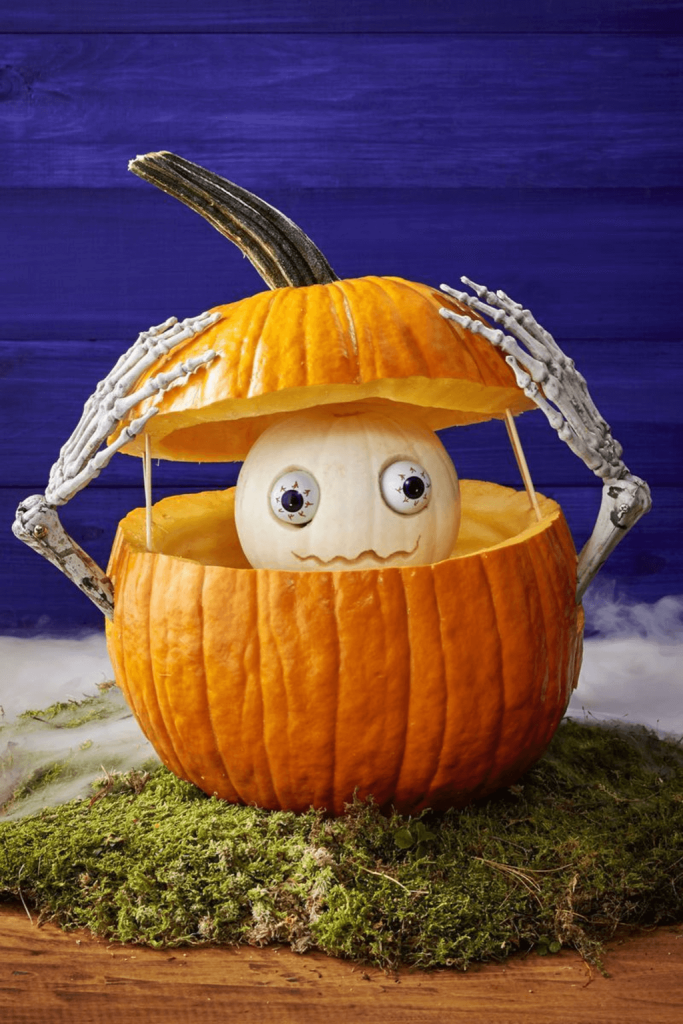 The more pumpkins, the better the decor. How about delivering a fun decor that makes a mini pumpkin look like coming out of a larger pumpkin as an element of surprise?
77. Wine Dispenser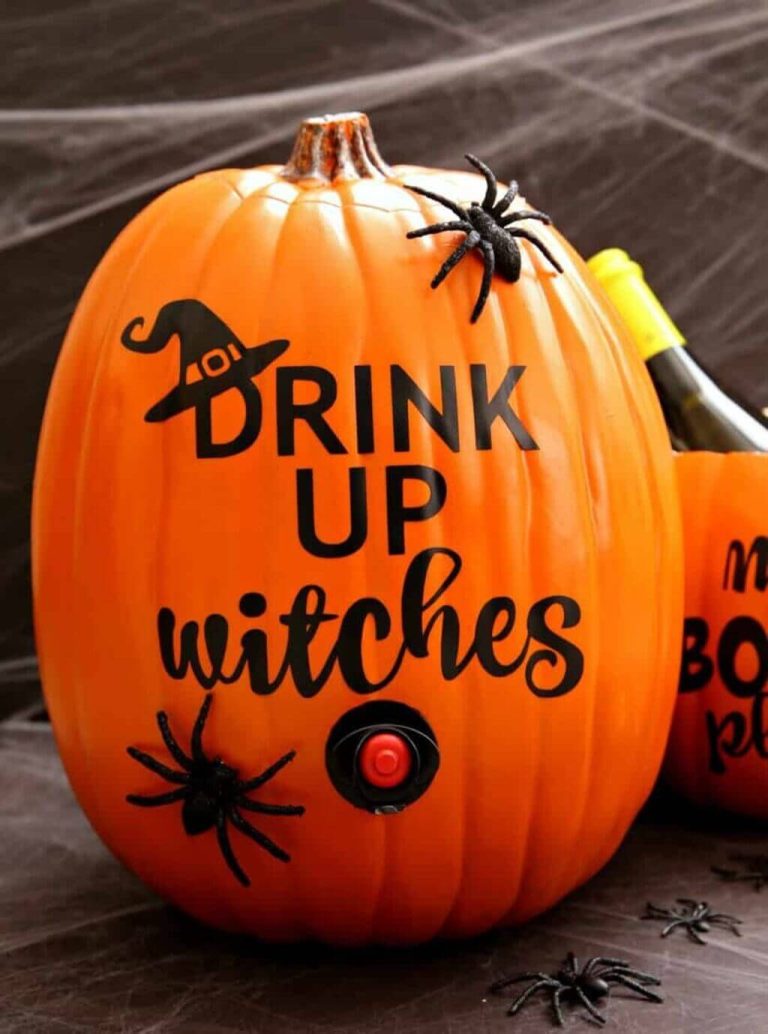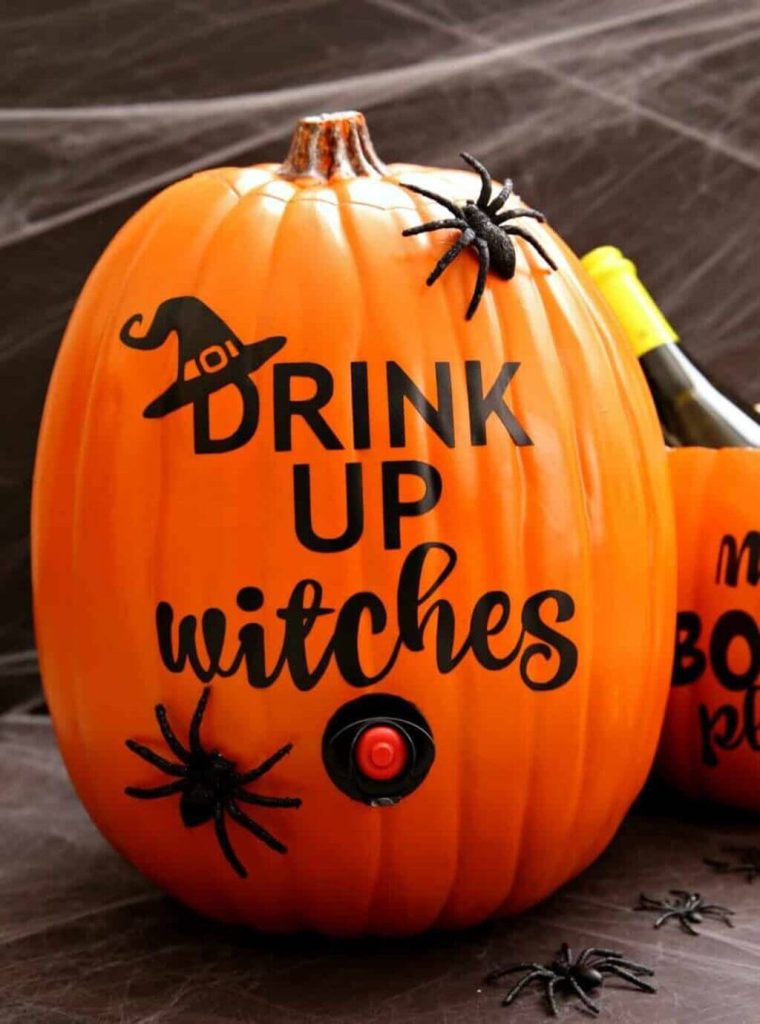 Let the pumpkin serve as your bartender. Make it a wine dispenser and paint the surface with cool calligraphy.
78. The Pumpkin Punk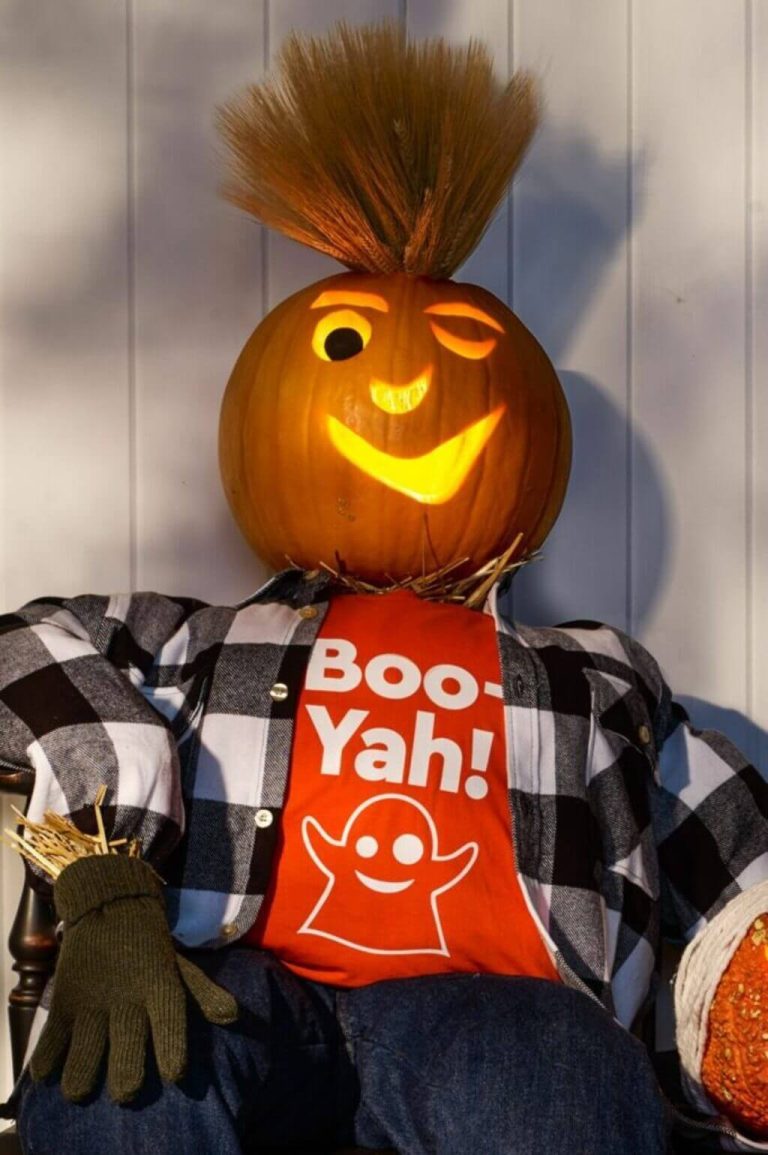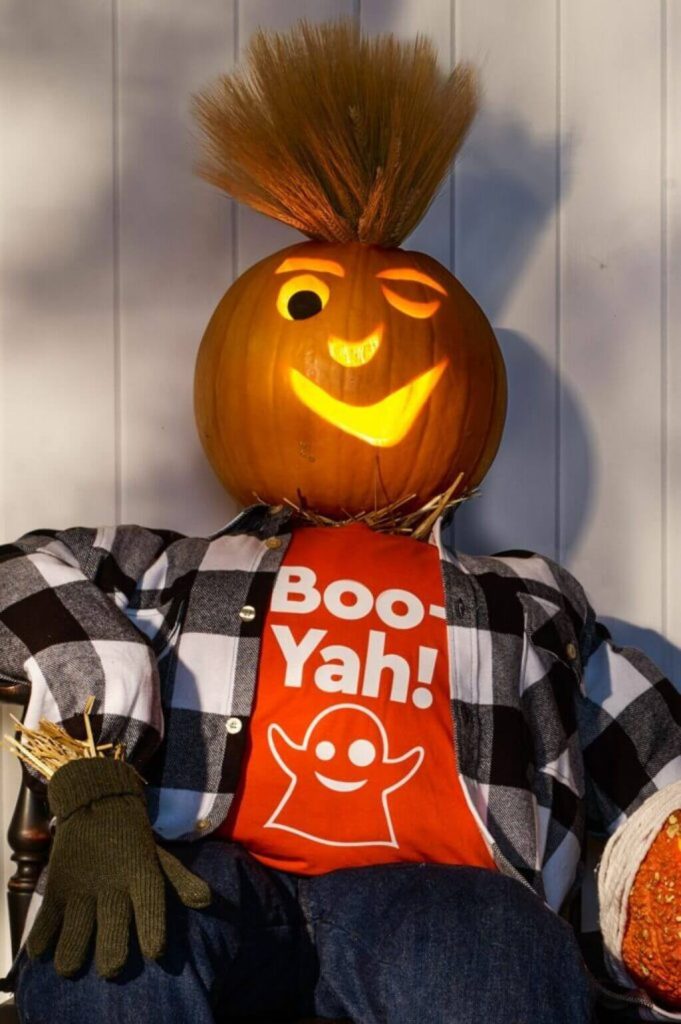 How about bringing a punk inside your home with pumpkin carving ideas? Carve out a single open eye and half wink on the pumpkin's face. The punk essence can be induced by placing a cool mohawk on its head.
79. Let the Ghosts Out!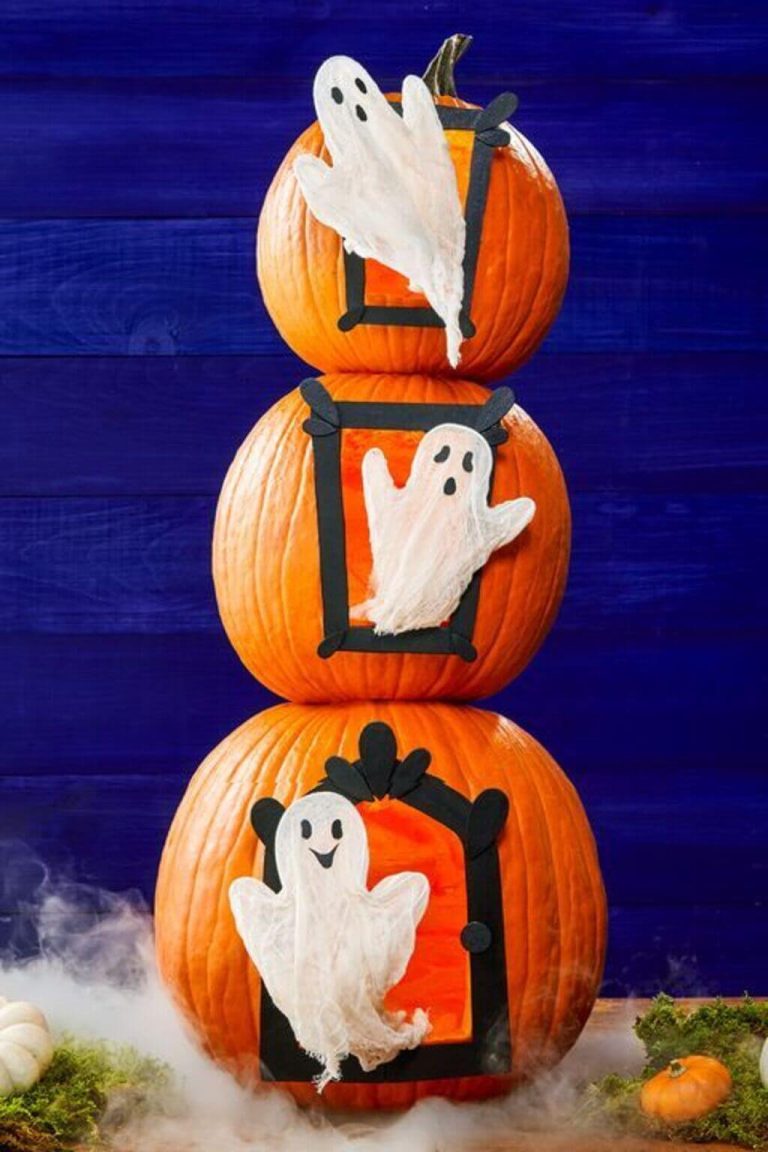 These pumpkin carving ideas need you to scoop out the shape of the window, add a frame to it with the paper and let the ghosts pop out.
80. The Planter Pumpkin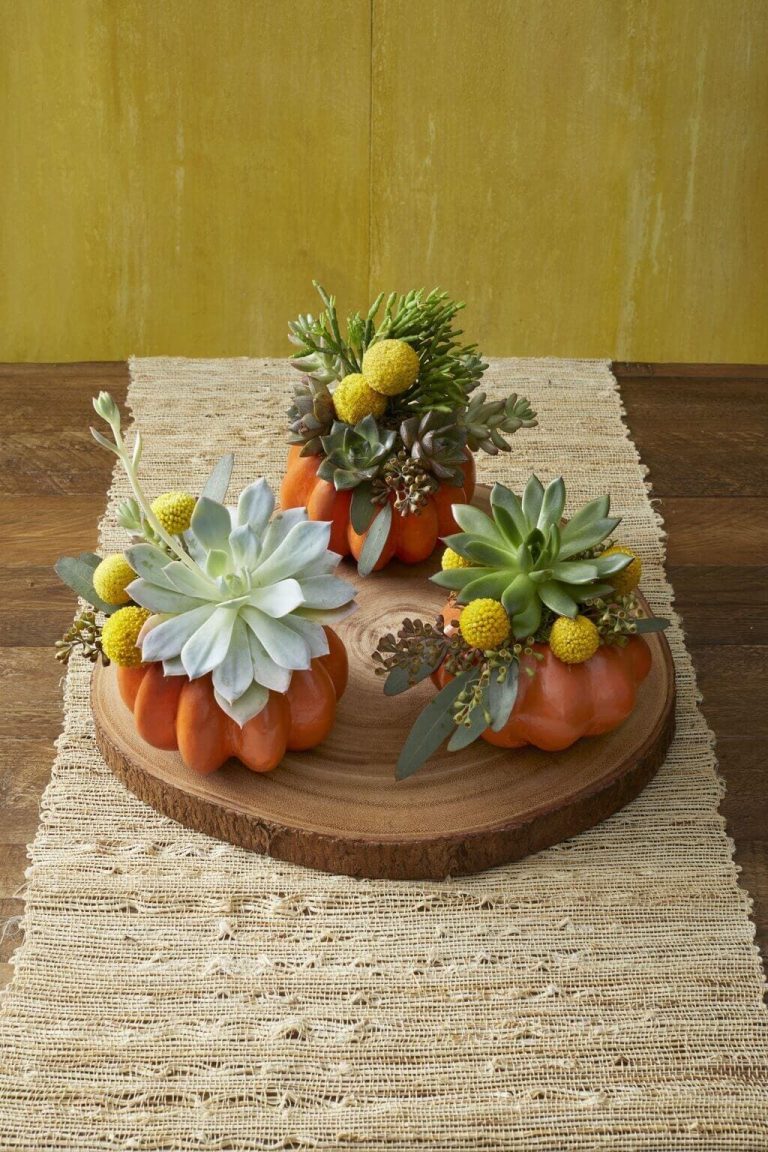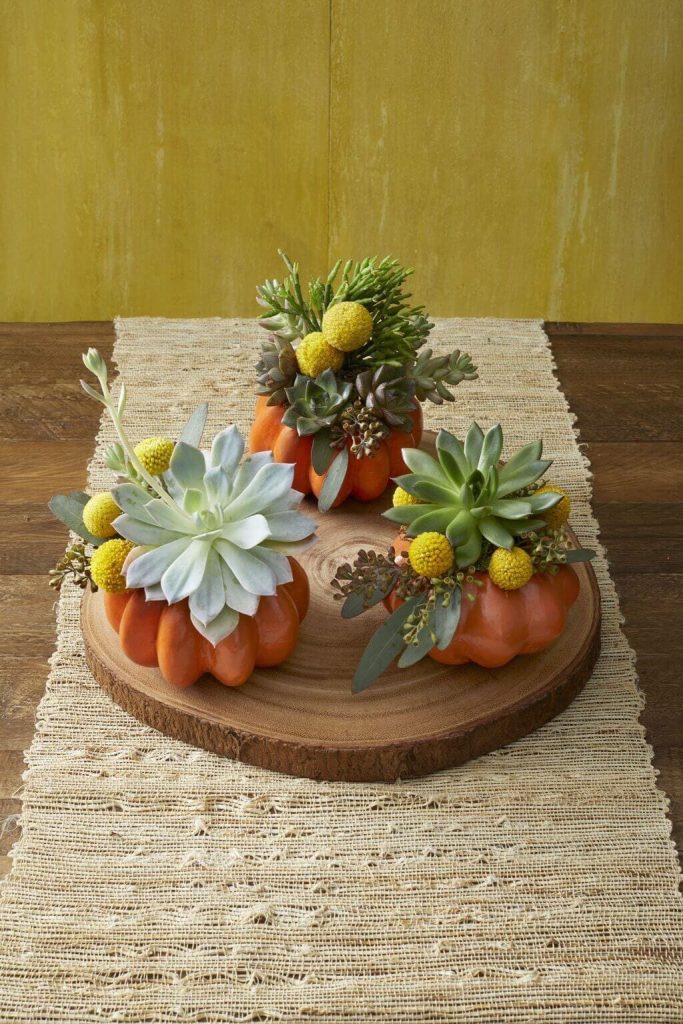 Pumpkin carving ideas aren't only restricted to the festive seasons. You can creatively adopt the ideas to make them a part of the home decor. Carve out the central portion of mini-pumpkins and plant succulents within them. This could serve as cute table decor.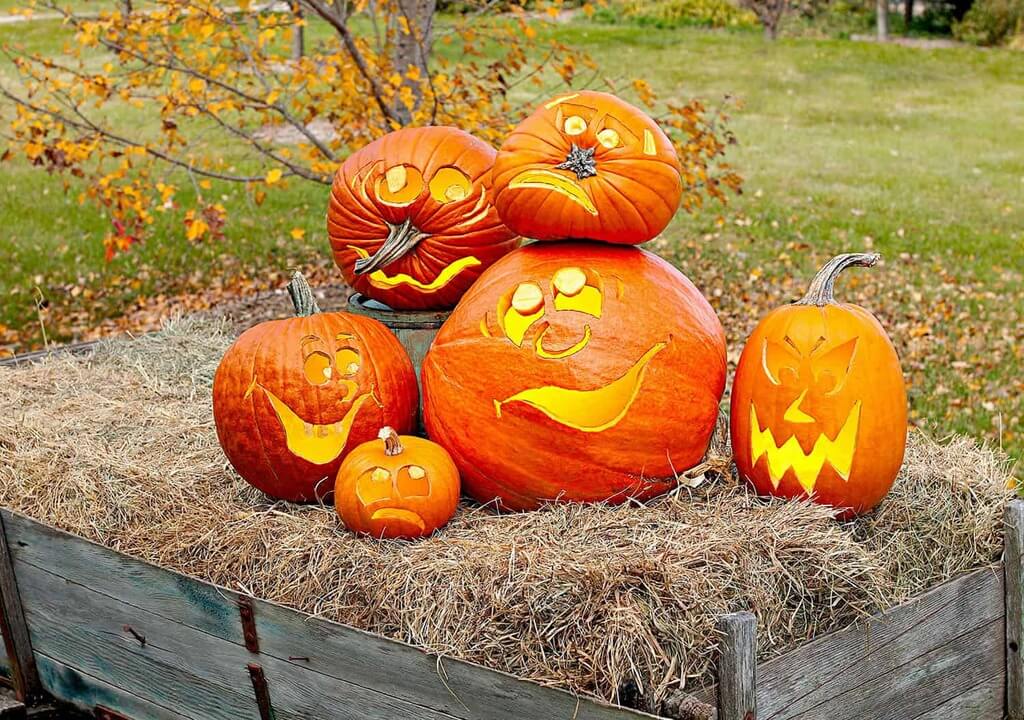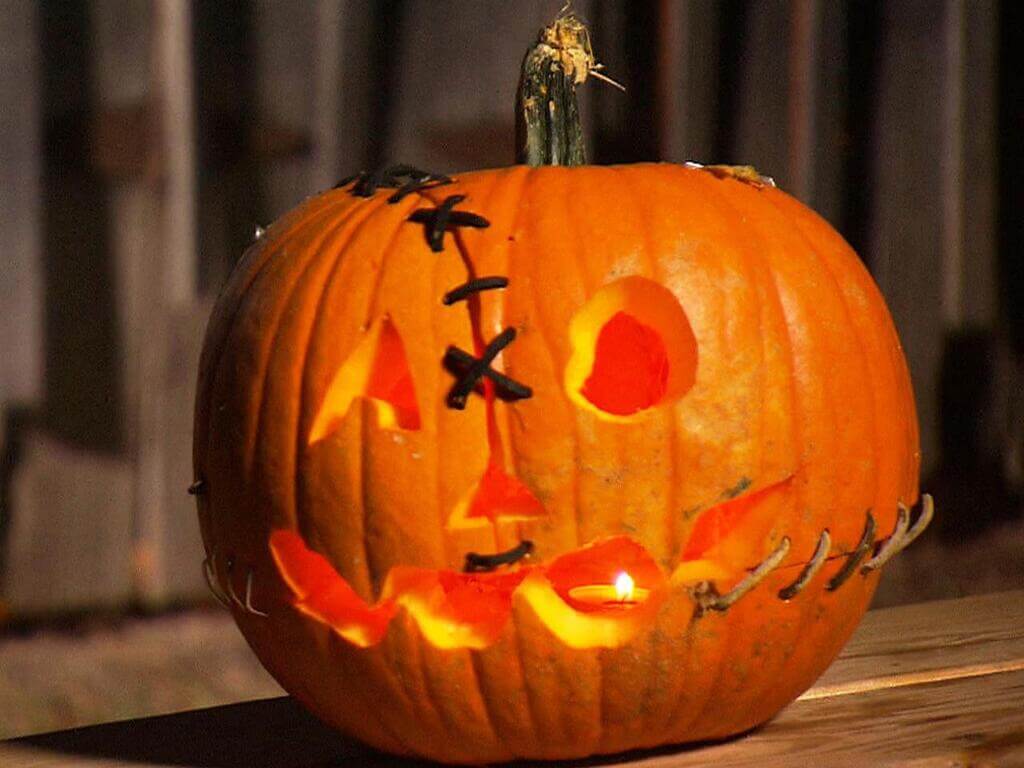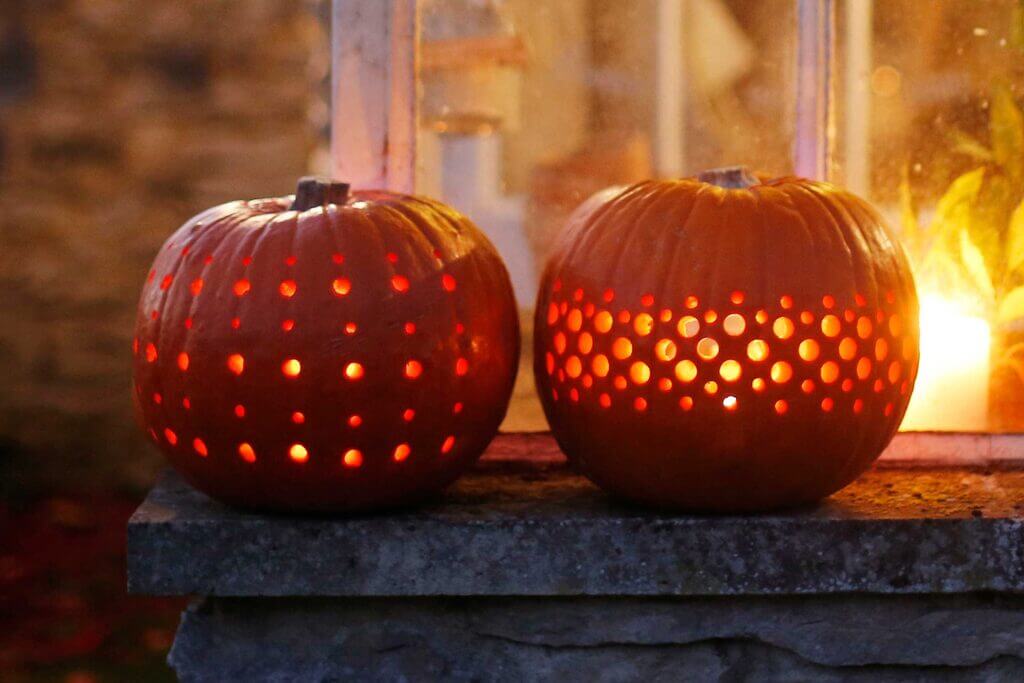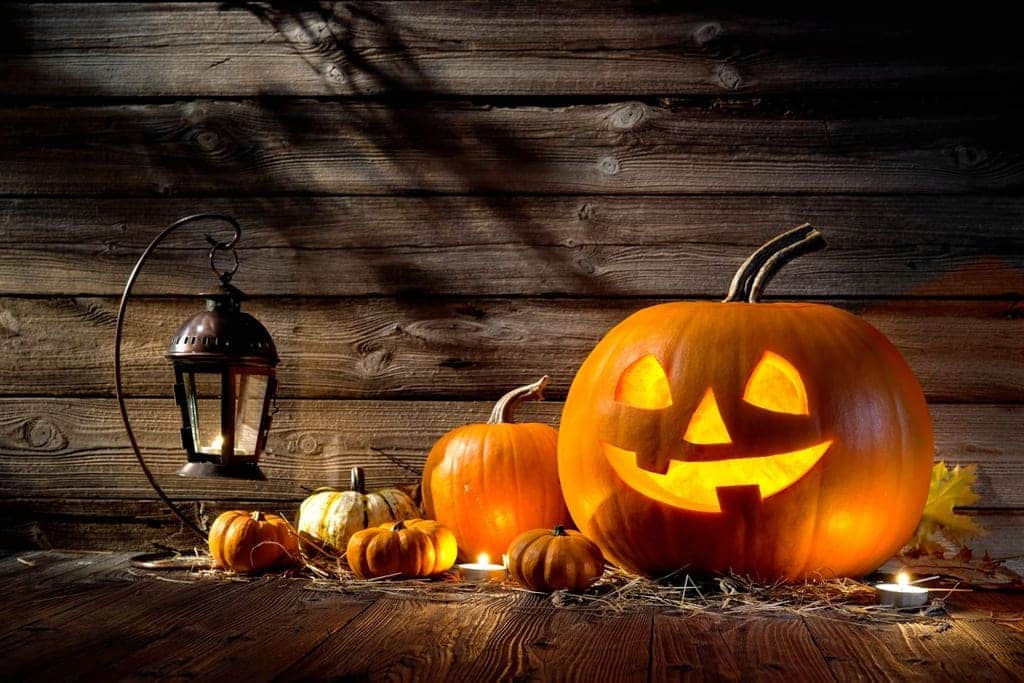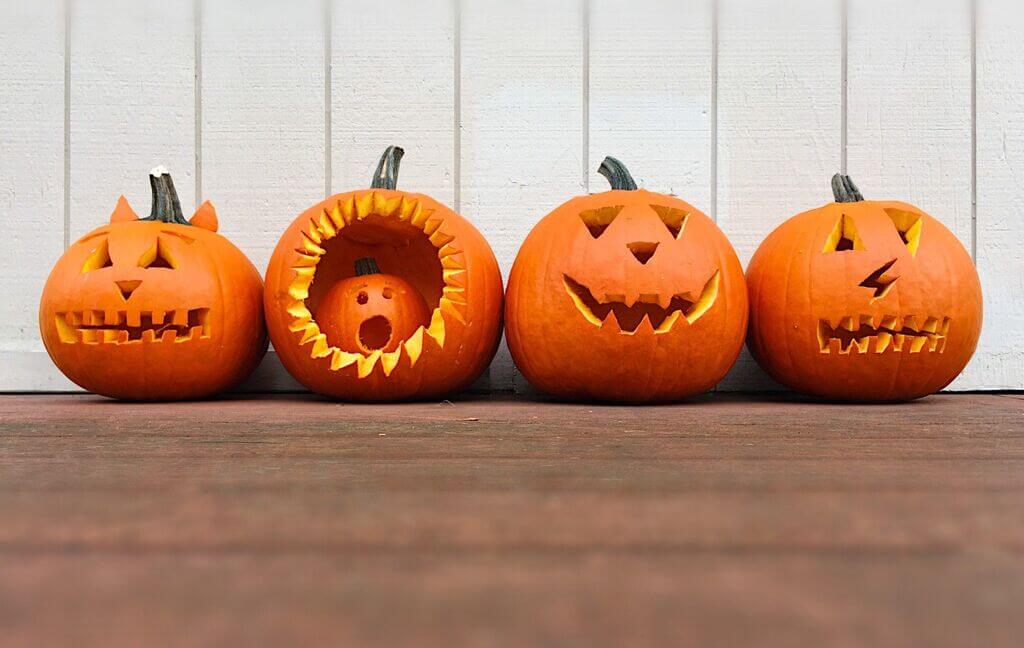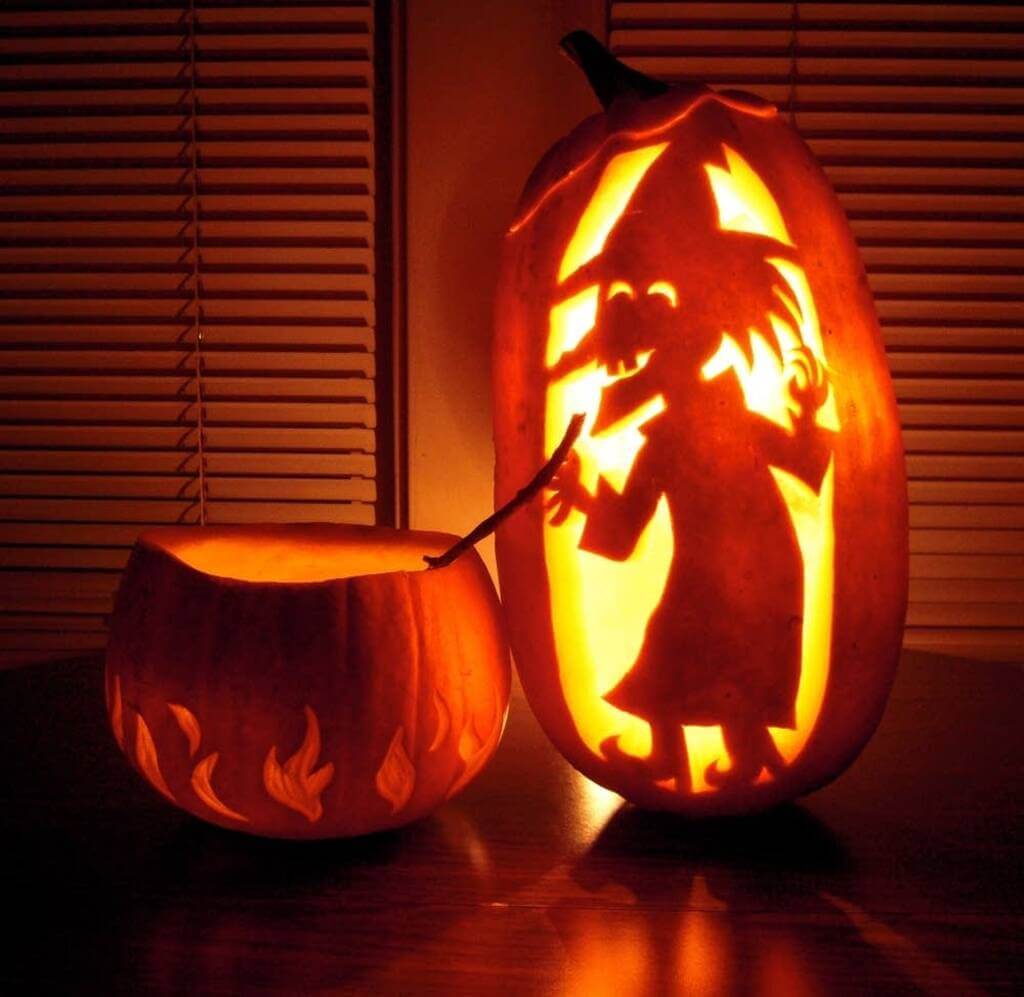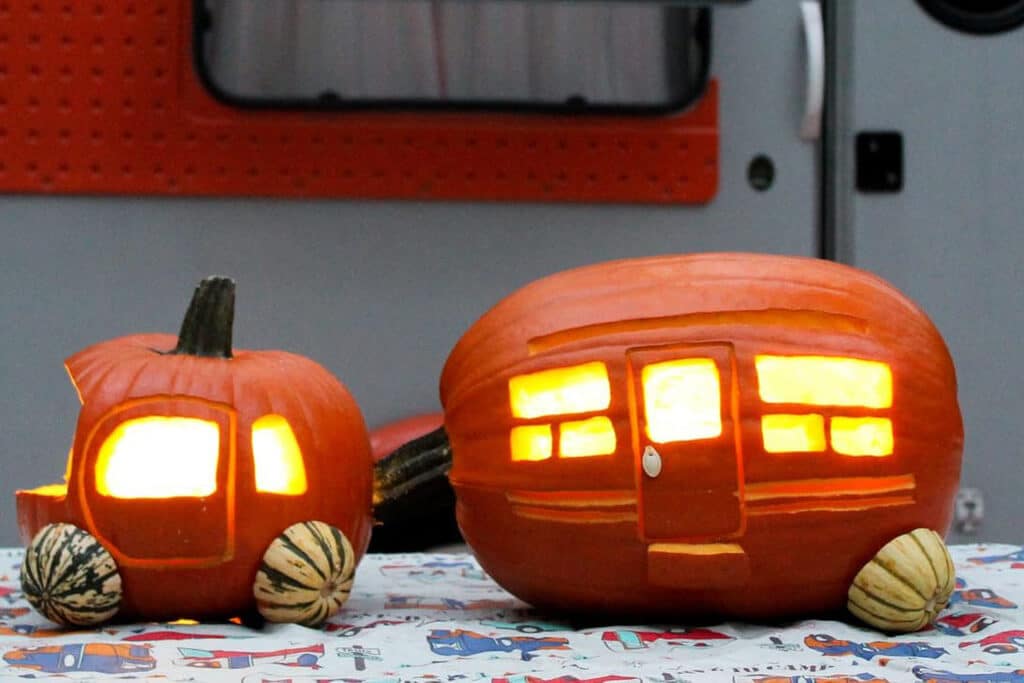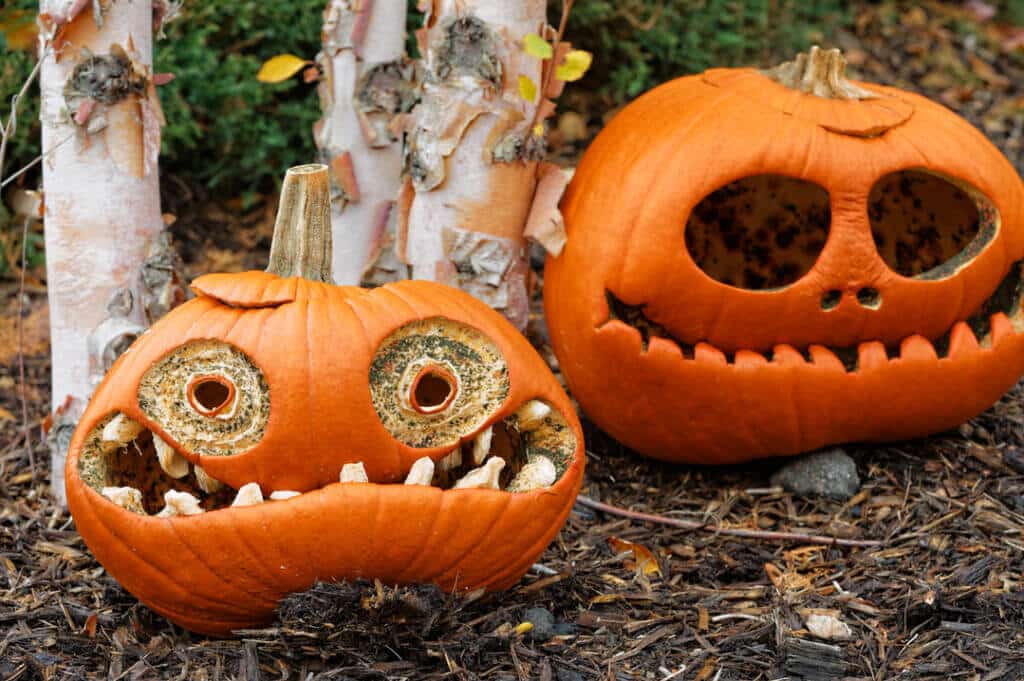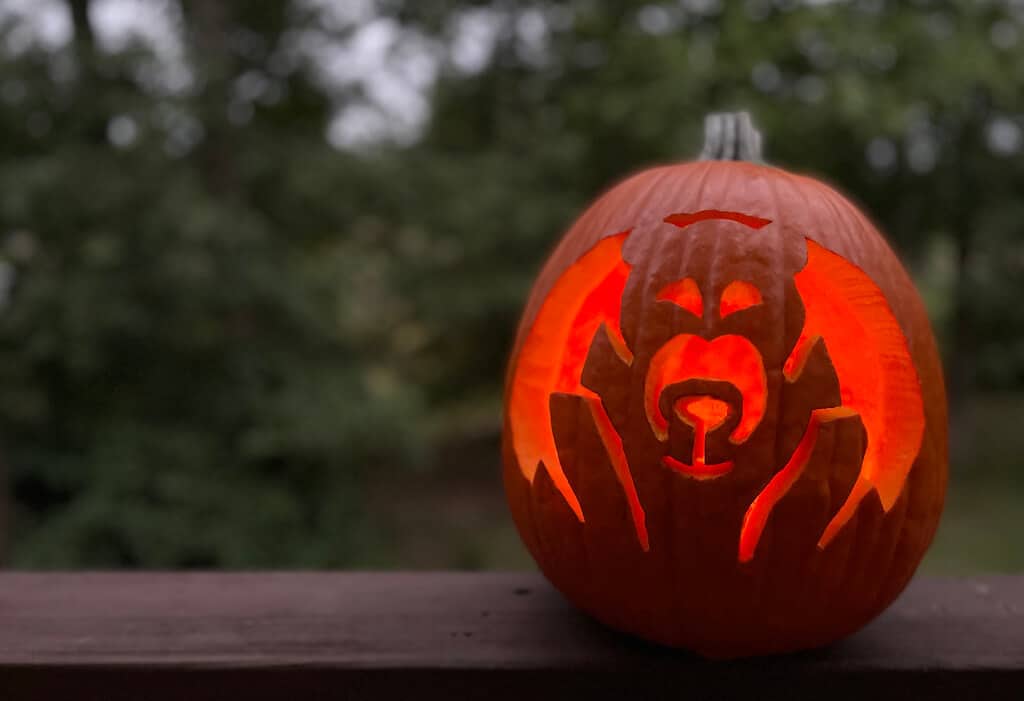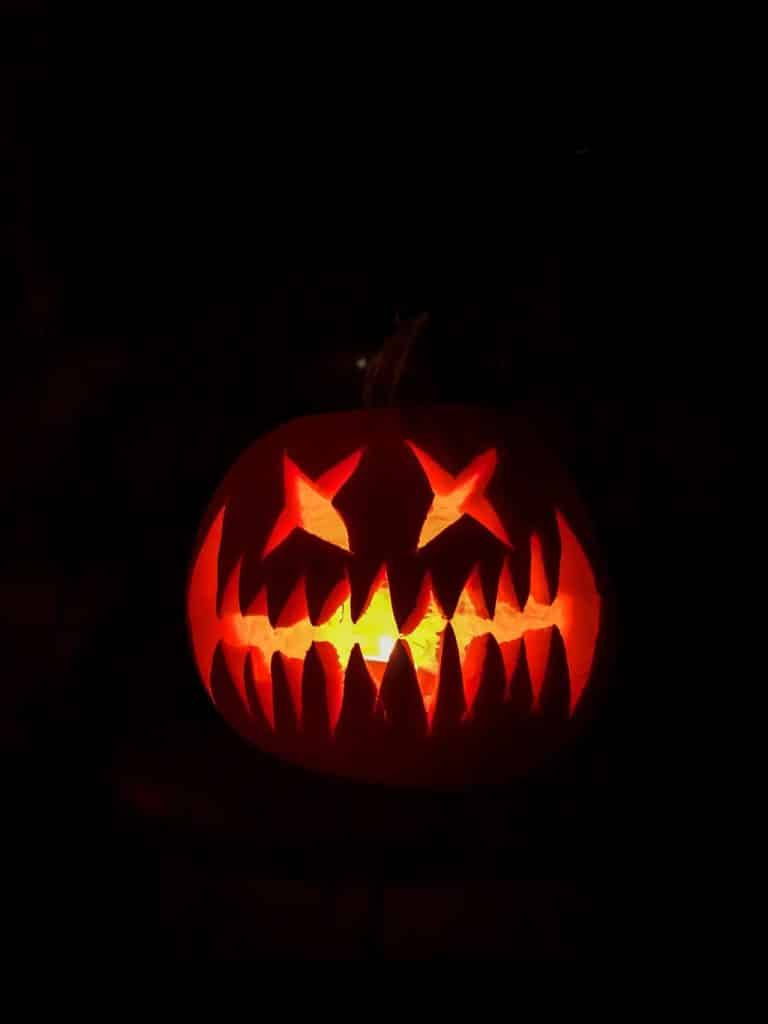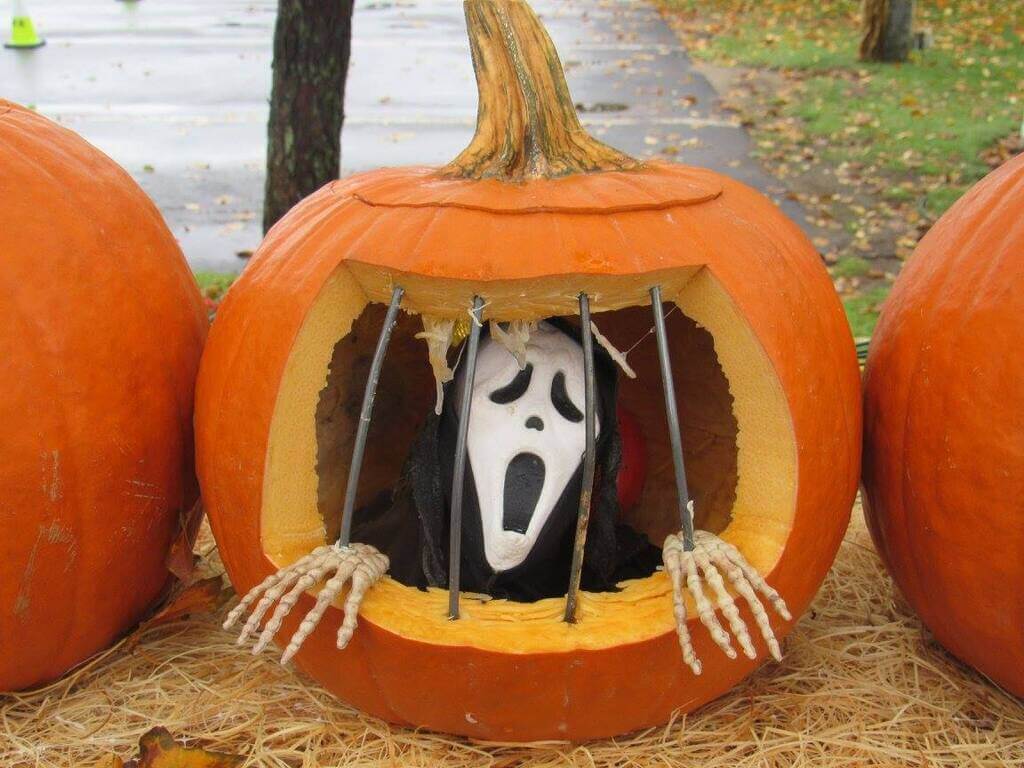 Exhibit your creative side and opt for the best pumpkin carving ideas. These can bring the ultimate festive vibe to your home. While some can be added for aesthetics, others can prove to be extremely functional.