Fall is just right around the corner, and the most enthusiastic fans of Halloween are preparing to decorate their homes with Christmas-inspired decorations. Halloween is always fun and outrageous, so why not this year do something different. By this, we mean to add a spooky, kooky tree to your Halloween decorations. In case you don't know, these Halloween Christmas tree are an ongoing trend for many years.
As soon as October starts, people start adorning their houses in Christmas-inspired Halloween decorations. Halloween trees are all about cobwebs, pumpkins, and witch hats.
If you're also planning to do so, keep reading. Today we have come up with the most spooky christmas tree ideas 2023 decoration ideas.
21+ Boo-tiful Halloween Tree Decorations
This year, a Christmas tree will be a great addition to your Halloween decor. From Ghosts, pumpkins to ghouls, and tons of other spooky ornaments, here are some Halloween tree ideas:
1. Mini Pumpkins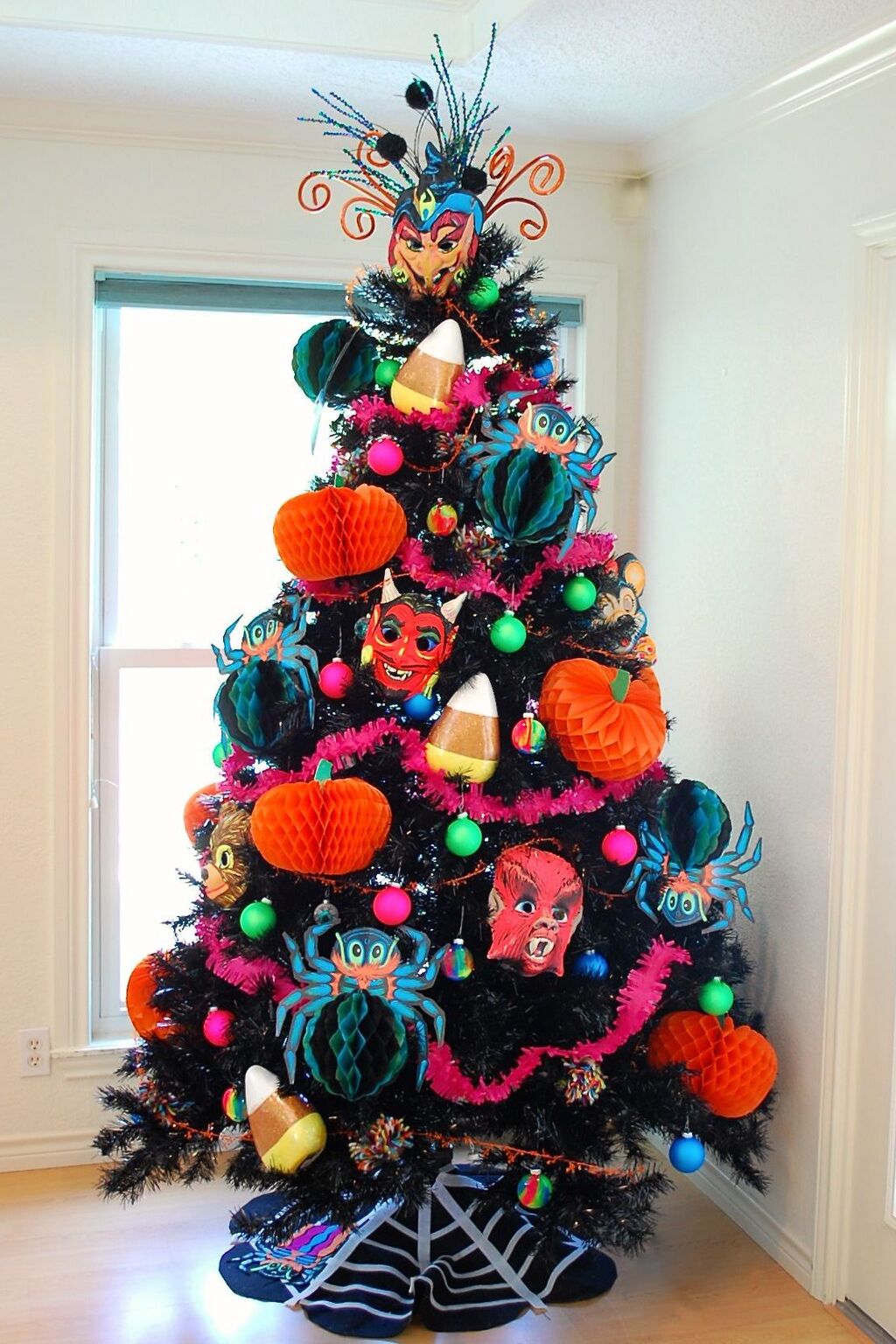 Source: hearstapps.com
A Halloween is never complete without pumpkins, right! So, use a couple of mini pumpkins as tree ornaments and decorate your Christmas tree.
2. Color Block Halloween Tree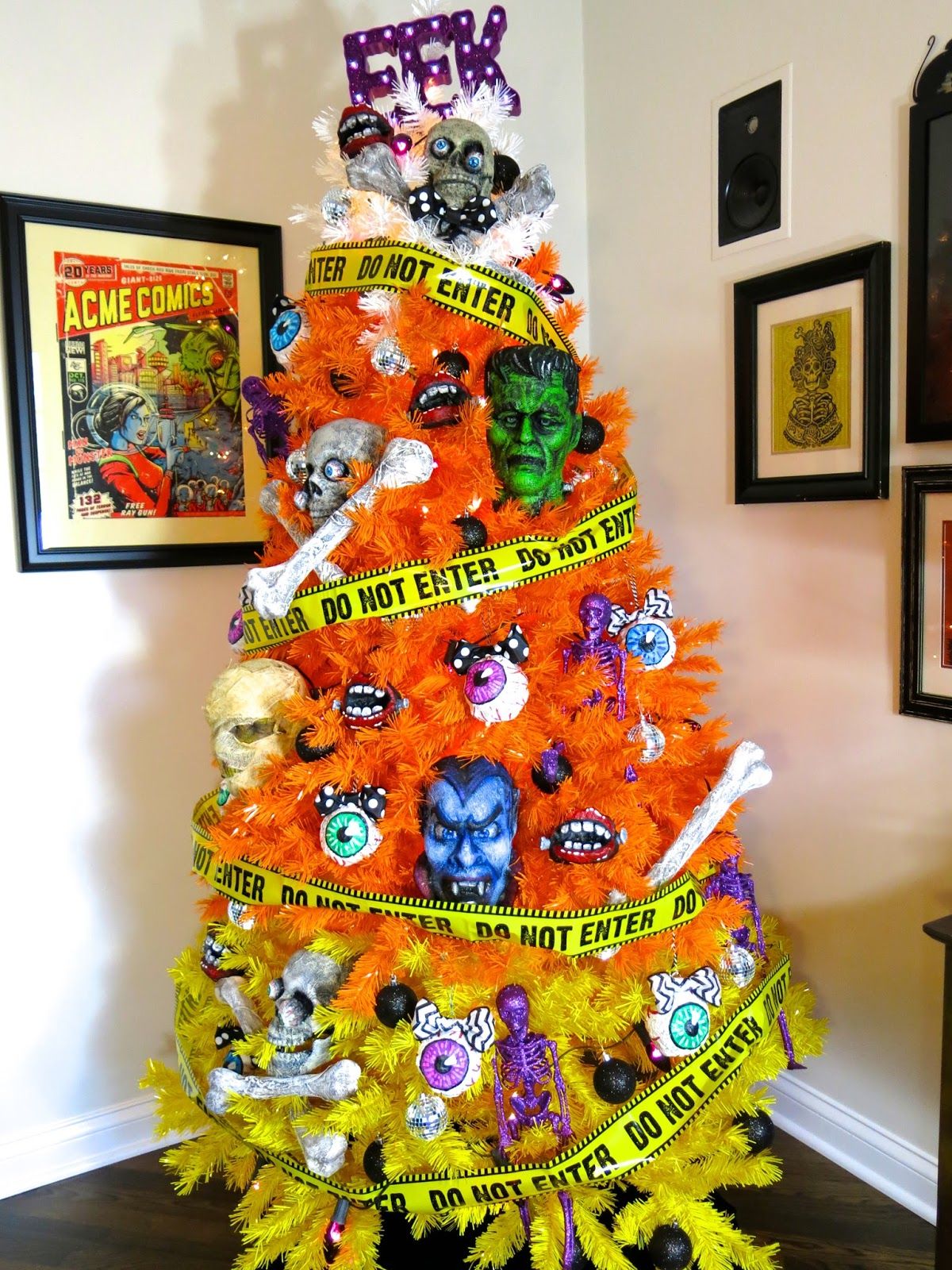 Source: shelterness.com
This Christmas tree is wrapped in orange and yellow beautiful but crazy decorations that include skeletons, eyeballs, bones, and masks.
3. Purple Halloween Christmas Tree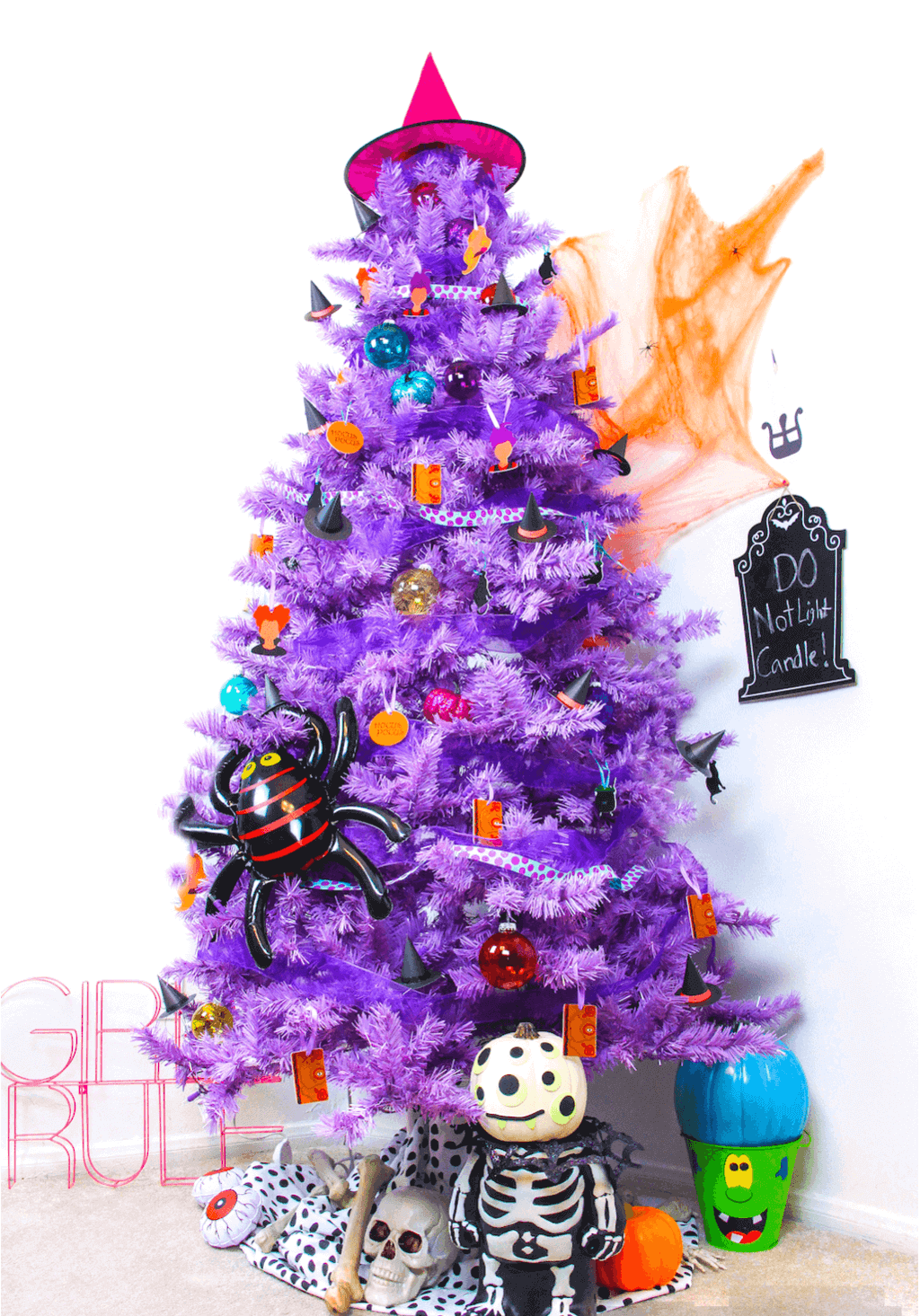 Source: pinimg.com
Who says that the Halloween tree should be in classic orange color? Look at this gorgeous bright purple Halloween tree with colorful ornaments and pumpkins. A witch hat and spiders are adding more fun to it.
4. Jack Skellington Halloween Tree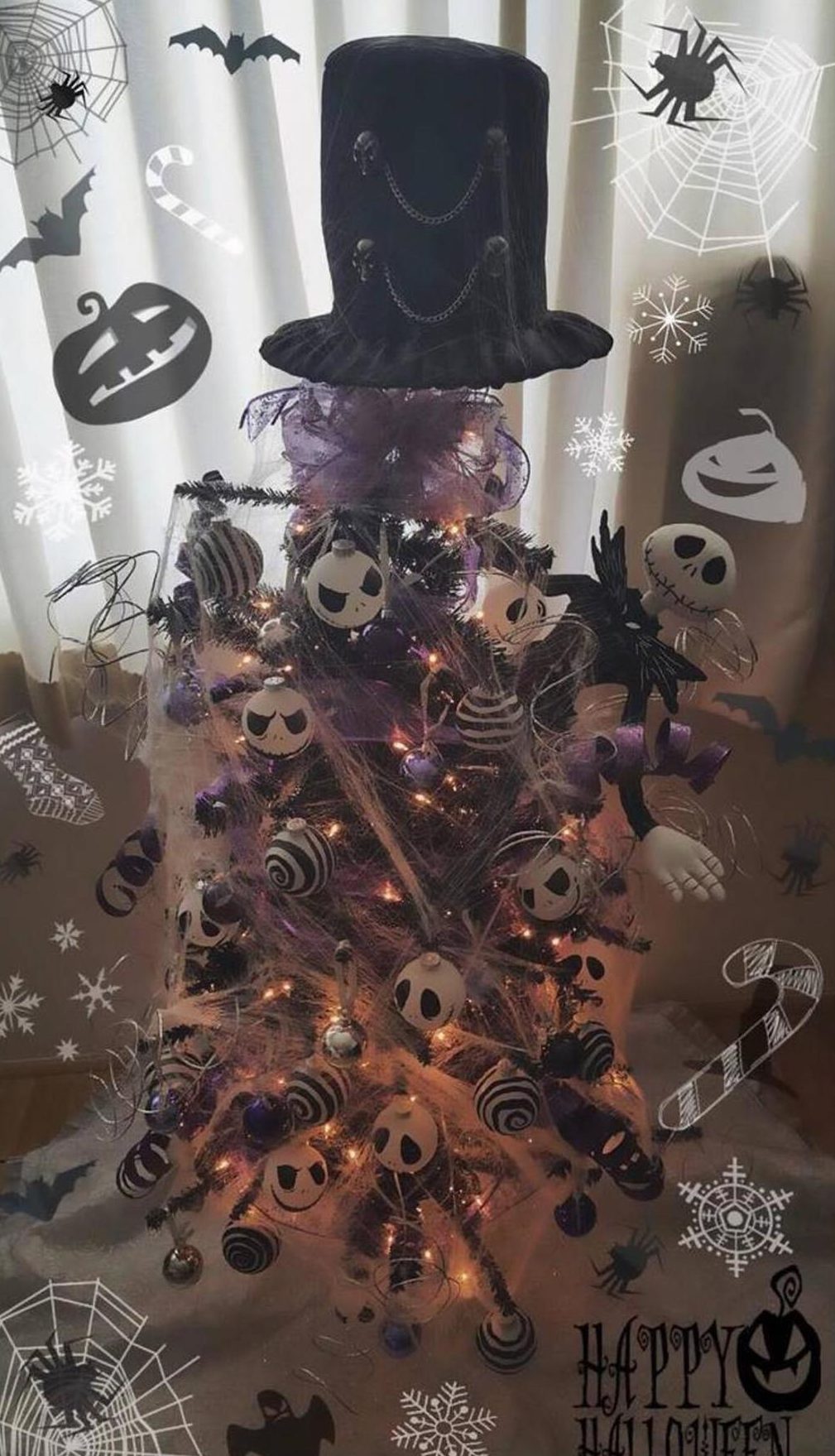 Source: awicdn.com
We all know the character of Jack Skellington, so this Halloween, why not you devote your Christmas tree to him. It will be a fun thing to do. Look at this, it is quite easy to create, and it is looking absolutely Halloween appropriate.
5. A Tree With Family Photos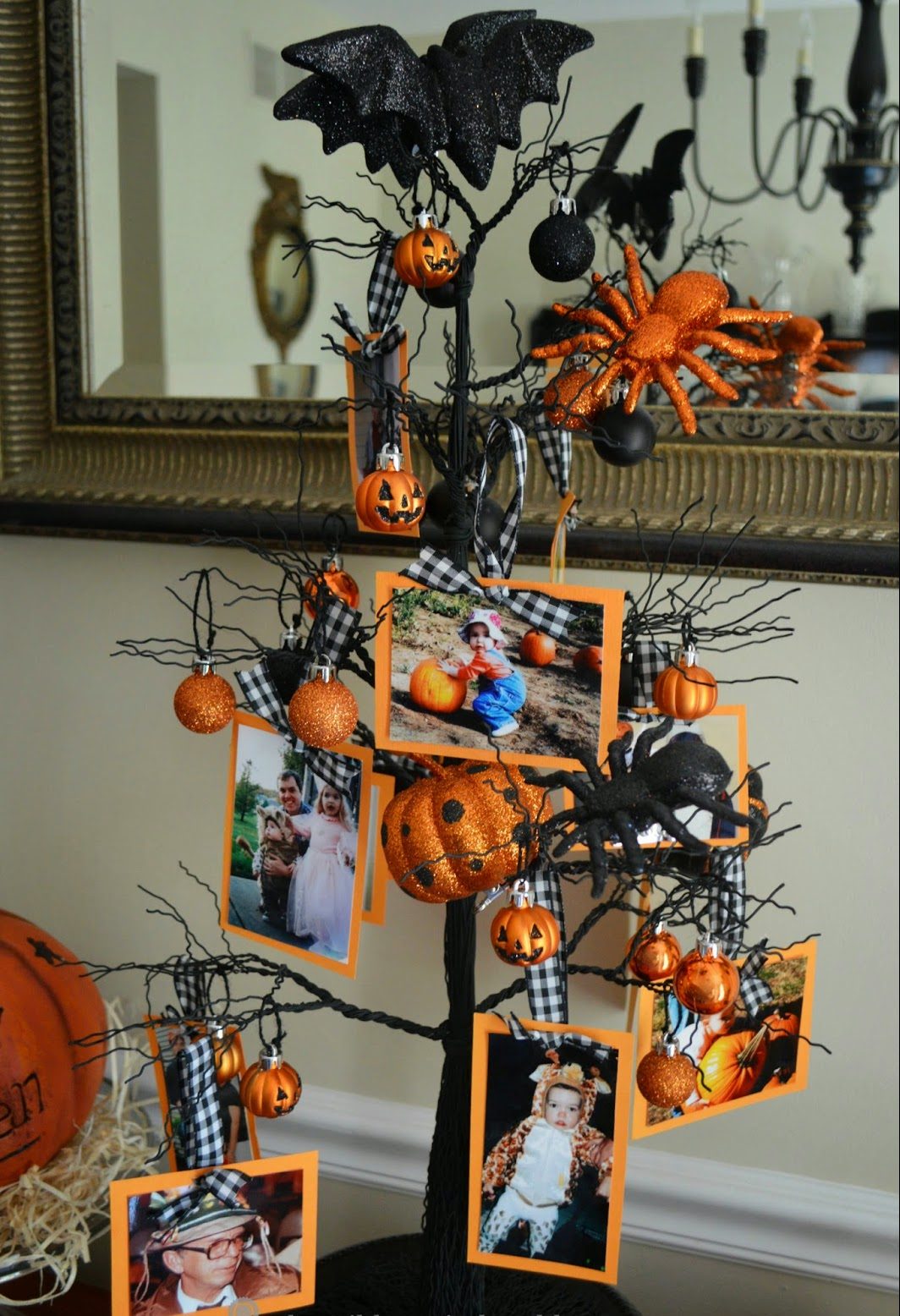 Source: pinimg.com
Displaying your family pictures on the Christmas tree is a brilliant idea and will also be a perfect DIY project for your kids. With some colorful paper and gingham ribbon, decorate it, and embrace your memories.
6. Black Mask Halloween Tree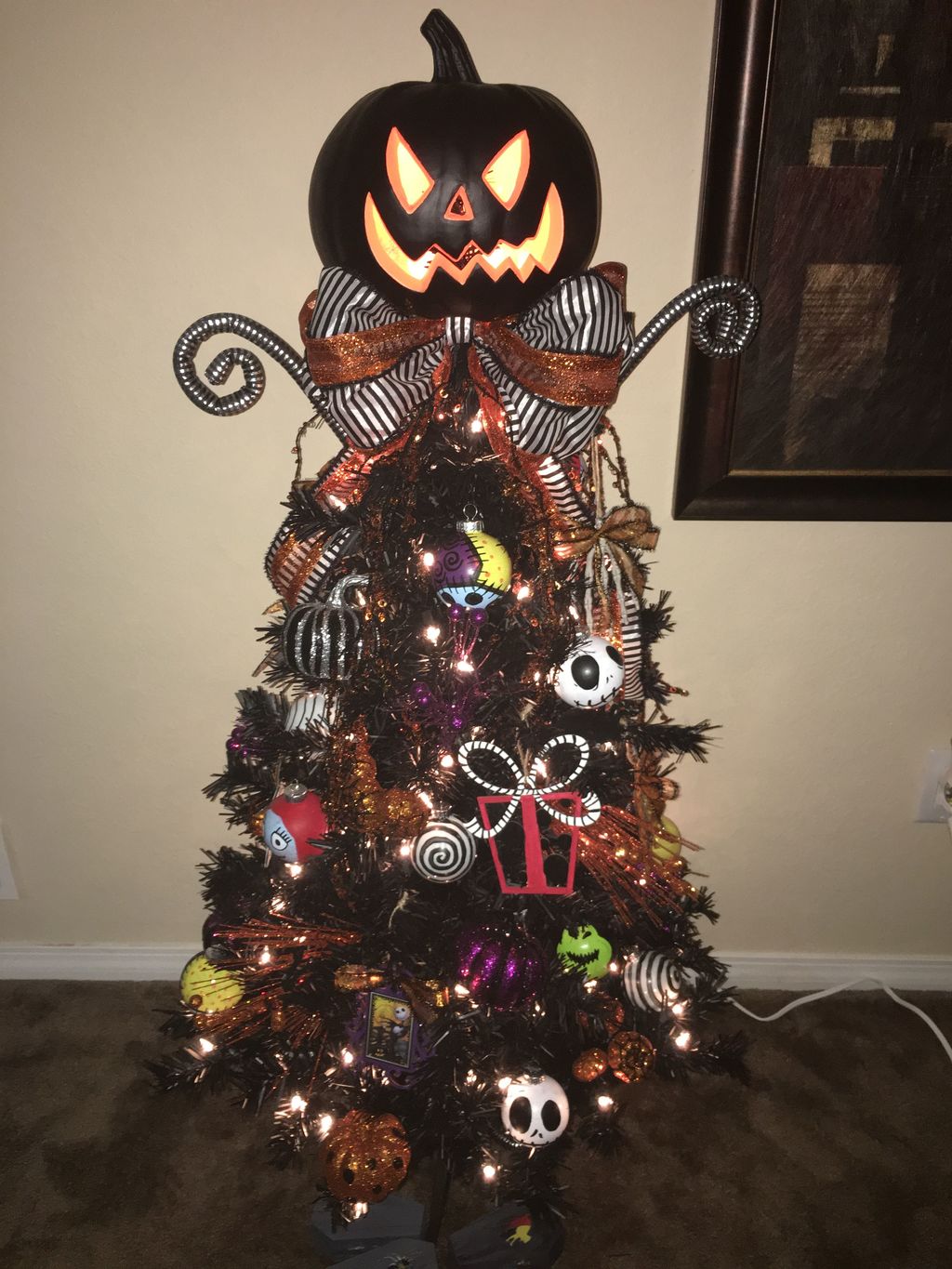 Source: pinimg.com
Just with a white lighted Christmas tree and some black masks, you can easily create your Halloween Christmas tree. You can also add some pumpkins, spiders, and rotten apples to make its appearance scary.
7. Candy Corn Halloween Tree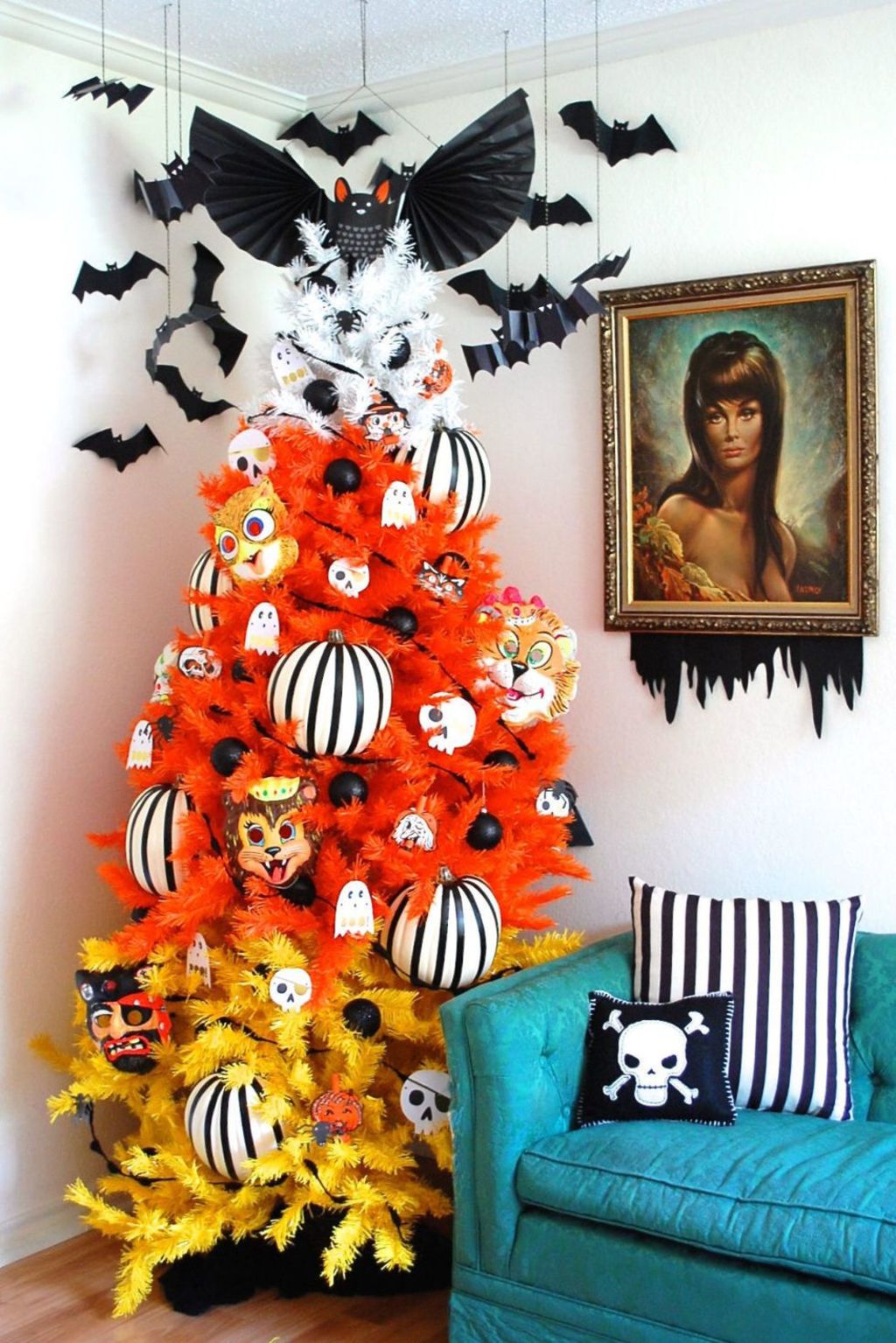 Source: hearstapps.com
Don't like the look of your old faux tree? Transform it by painting it in bright candy corn colors. Finish the look with some black and white pumpkins, bats, and some punchy accessories, and your tree is ready for Halloween as well as for Christmas!
8. Halloween Table and Tree Decor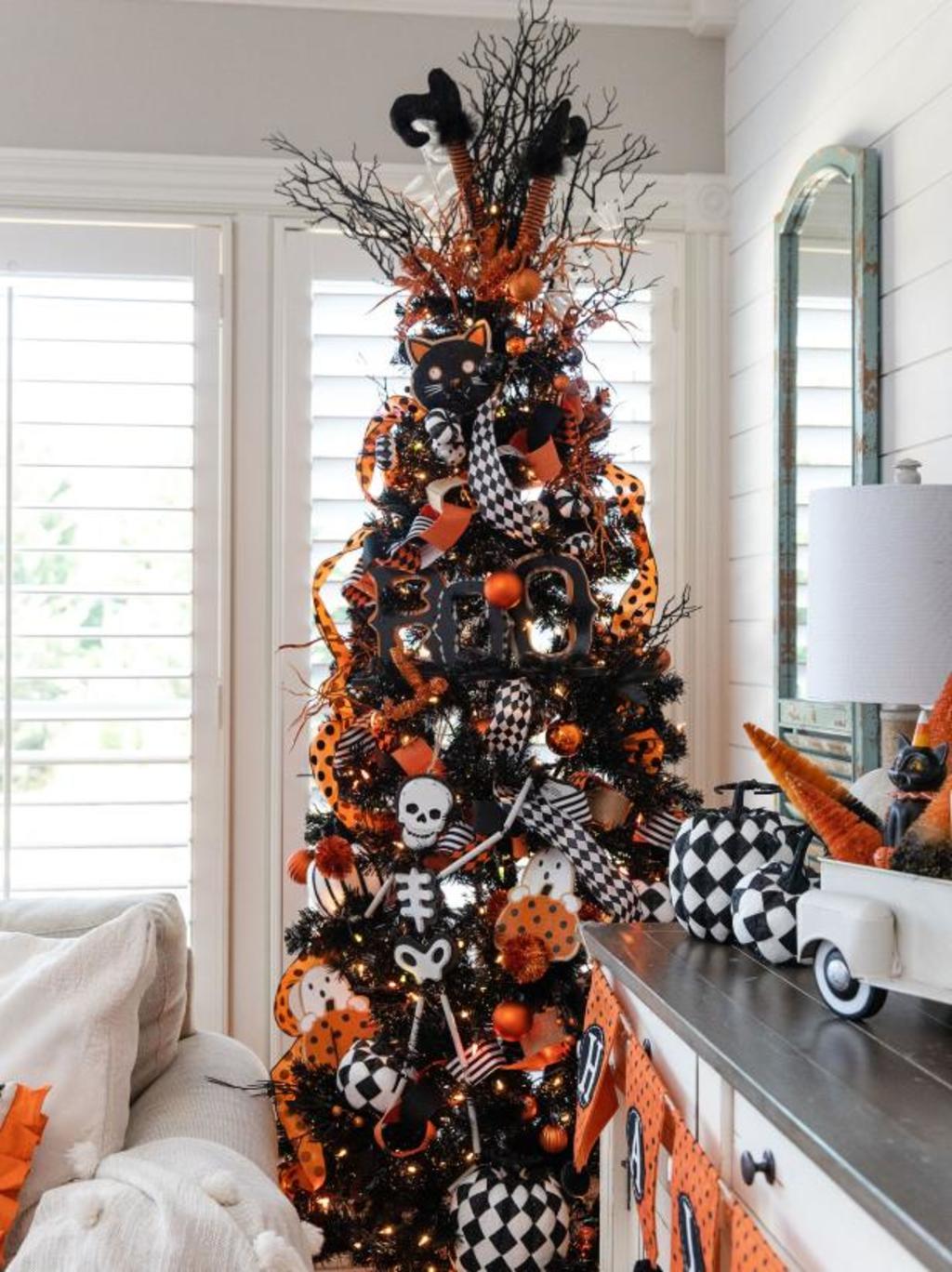 Source: sndimg.com
Match your tree with your table decorations by using the same decor pieces. Look at this tree, here the patterned, wired ribbon is hung vertically from the tree. The spooky twigs and the skulls are placed on it for a final cohesive touch.
9. Outdoor Halloween Christmas Tree Decorations 2023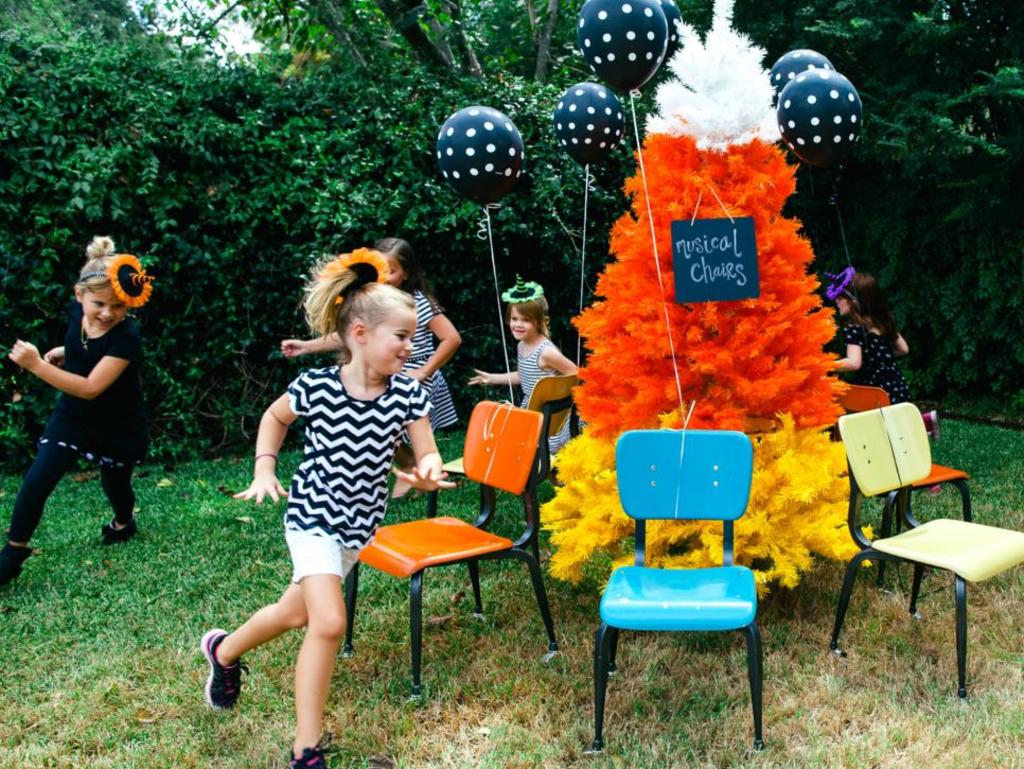 Source: sndimg.com
Looking for an outdoor christmas tree themes 2023? If yes, this will be an excellent option for you. Place this fun fall-themed Faux Christmas tree in your backyard. You can also use this as a prop to play games at your Halloween party.
For more outdoor decorations, read our previous blog on Spooky Halloween house decorations.
10. Mysterious Gothic Tree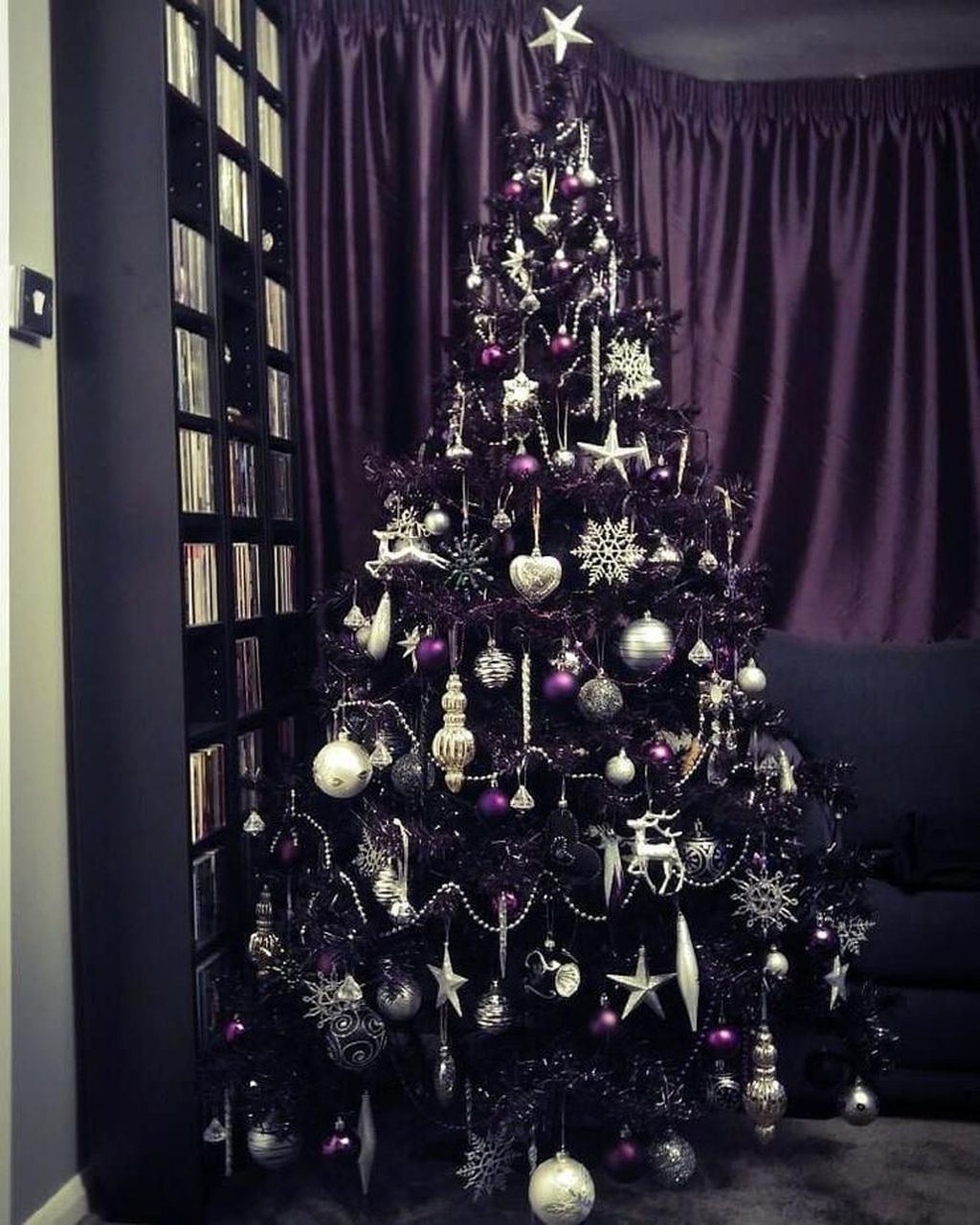 Source: wp.com
If this fall season, your theme is dark and mysterious, go for this blatant gothic style tree. This is a dark black tree with some rich purple and silver trimmings and ornaments.
11. Covered in Fake Web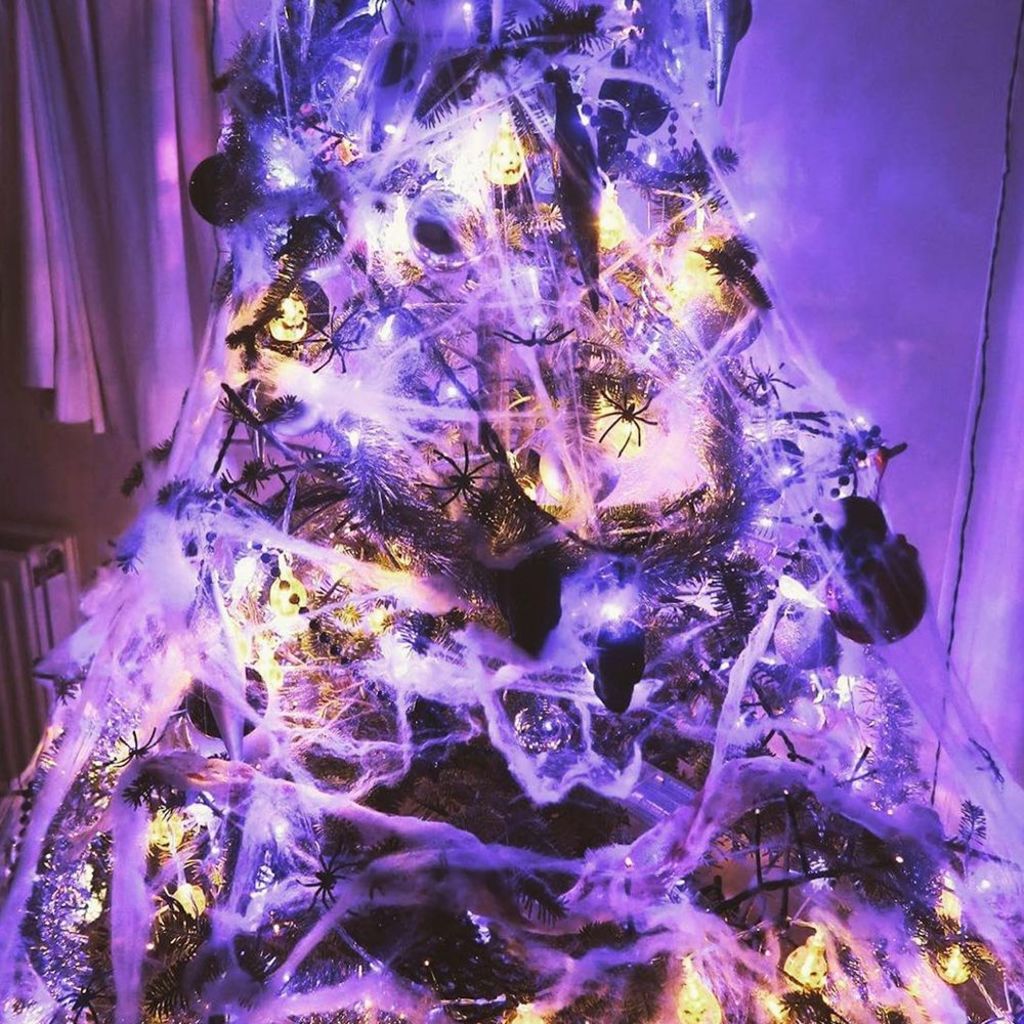 Source: hearstapps.com
To make your tree fully haunted and scary, cover it entirely in fake cobwebs. Hang some bright orange lights and bat ornaments, and this setup will look like a scary movie set.
12. DIY Halloween Tree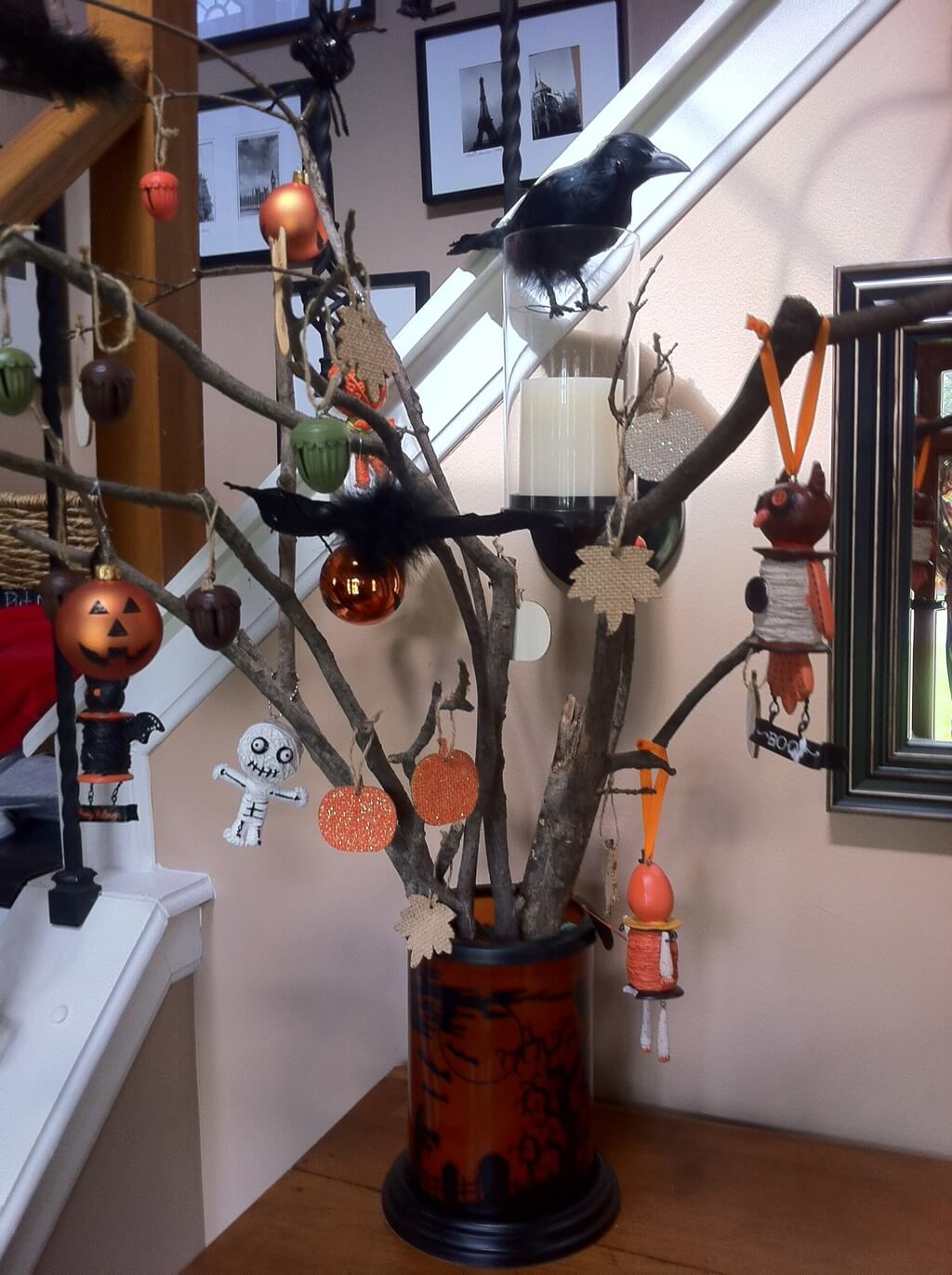 Source: wordpress.com
Do you want to decorate your space but don't want to spend a lot on a tree? DIY it!! Yes, it is a budget-friendly option, and also you'll have a lot of fun creating this with your kids. To make this, you'll need some tree branches, ornaments, and Christmas lights, and your tree will be ready in under 30 minutes.
13. Themed Halloween Tree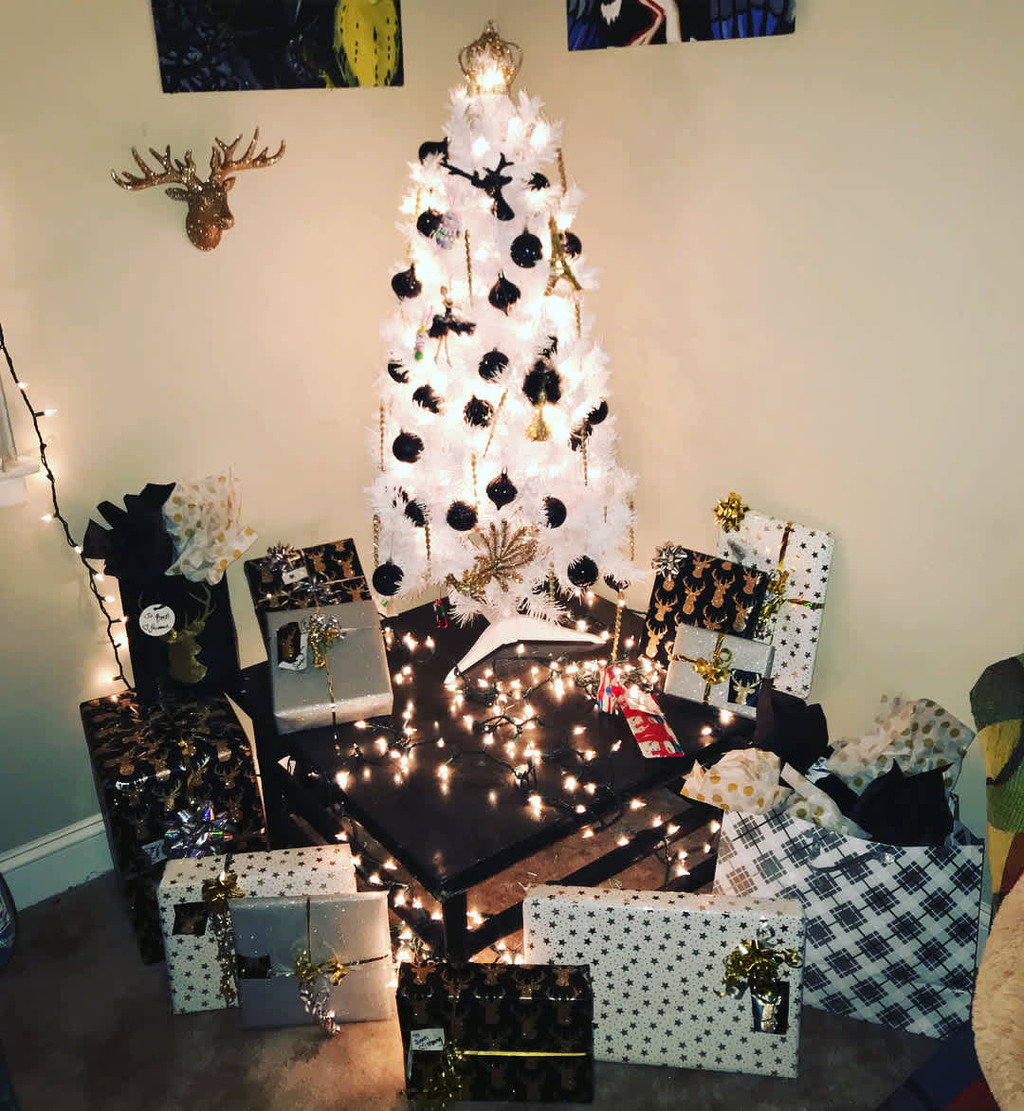 Source: ctfassets.net
You can also decorate your Halloween tree in black and white theme, just like this tree. It is a white faux tree with blacks ornaments and a lot of gifts.
14. Small Orange Halloween Tree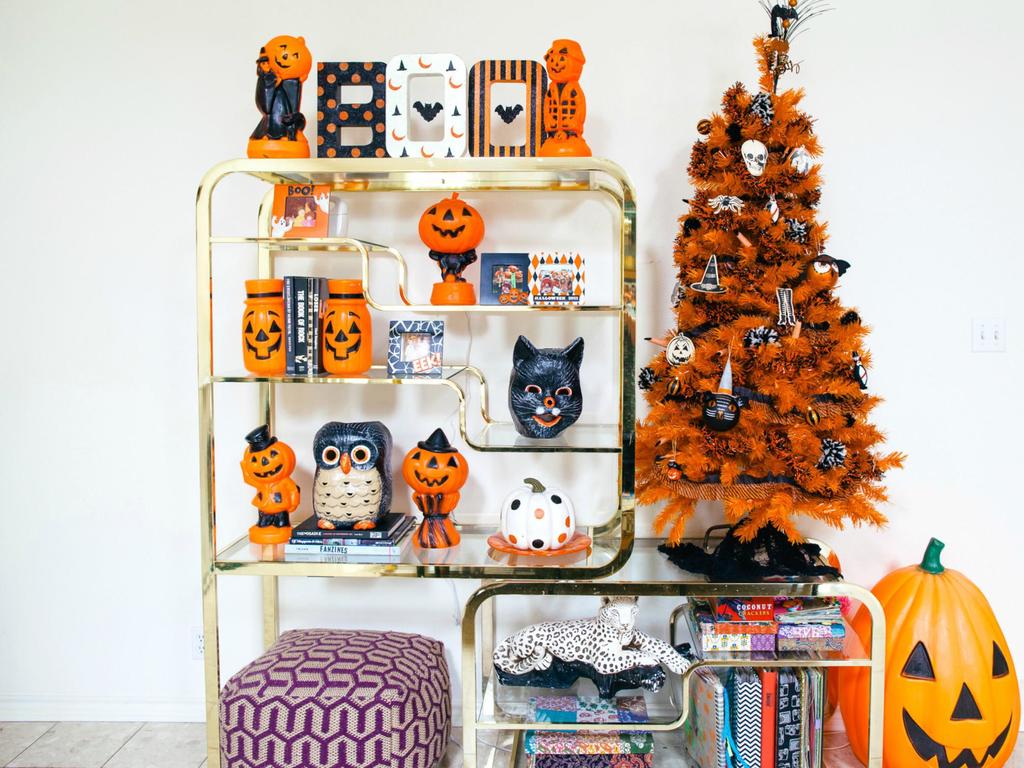 Source: wp.com
This small tree is a perfect option for those who live in compact spaces and don't want to bring a large tree. It is in the right Halloween color with beautiful decorations. These cute small trees can easily be placed on shelves or any corner of the house without taking much space.
15. Whimsical Front Porch Tree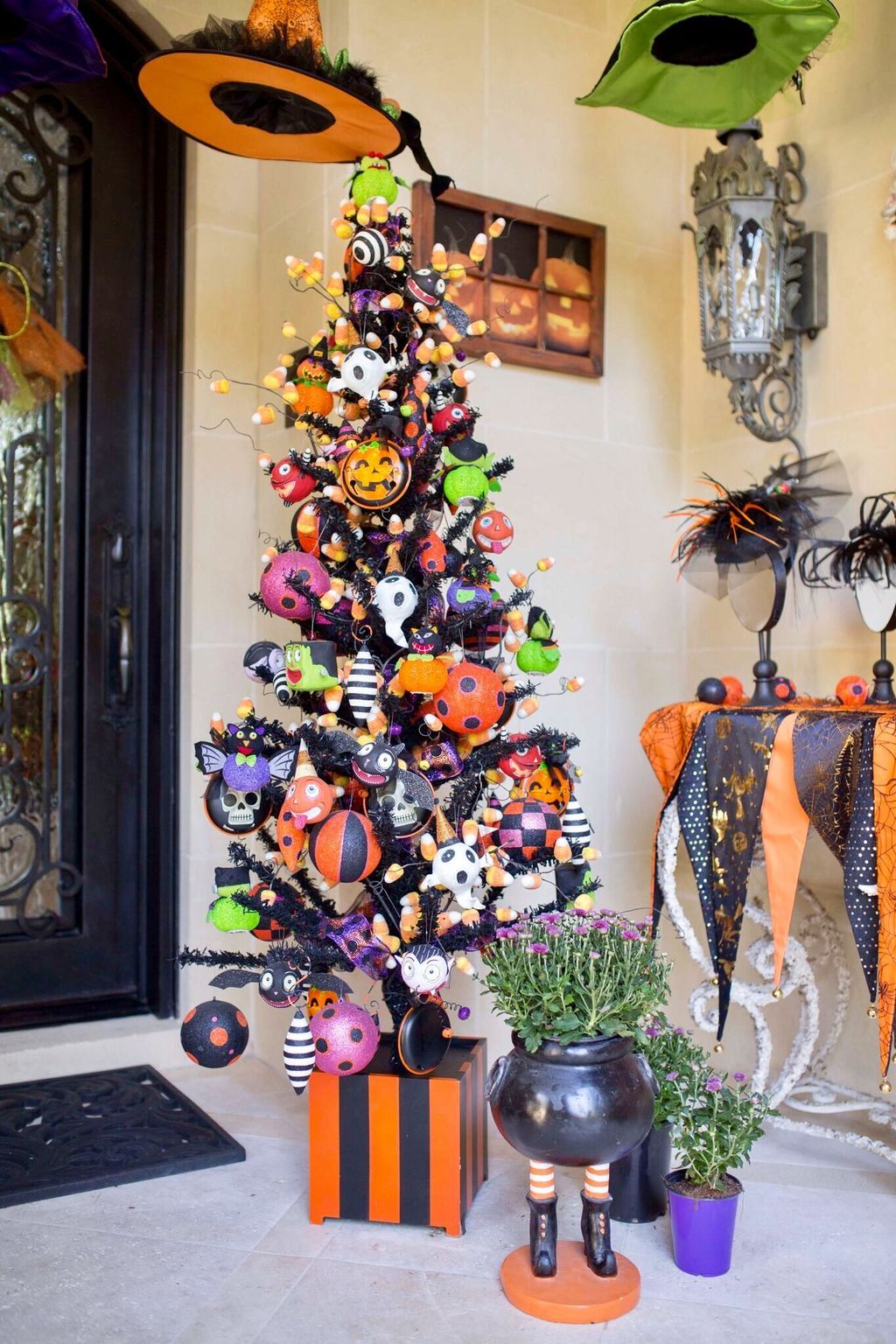 Source: pinimg.com
What's a better place than the front porch to show your Halloween themed decor! Place your giant Christmas tree there, and decorate your whole porch with some creative Halloween decors.
For more awesome Halloween front porch decoration ideas, click on the link to read our blog on this.
16. A Halloween Tree With Plaid Ribbons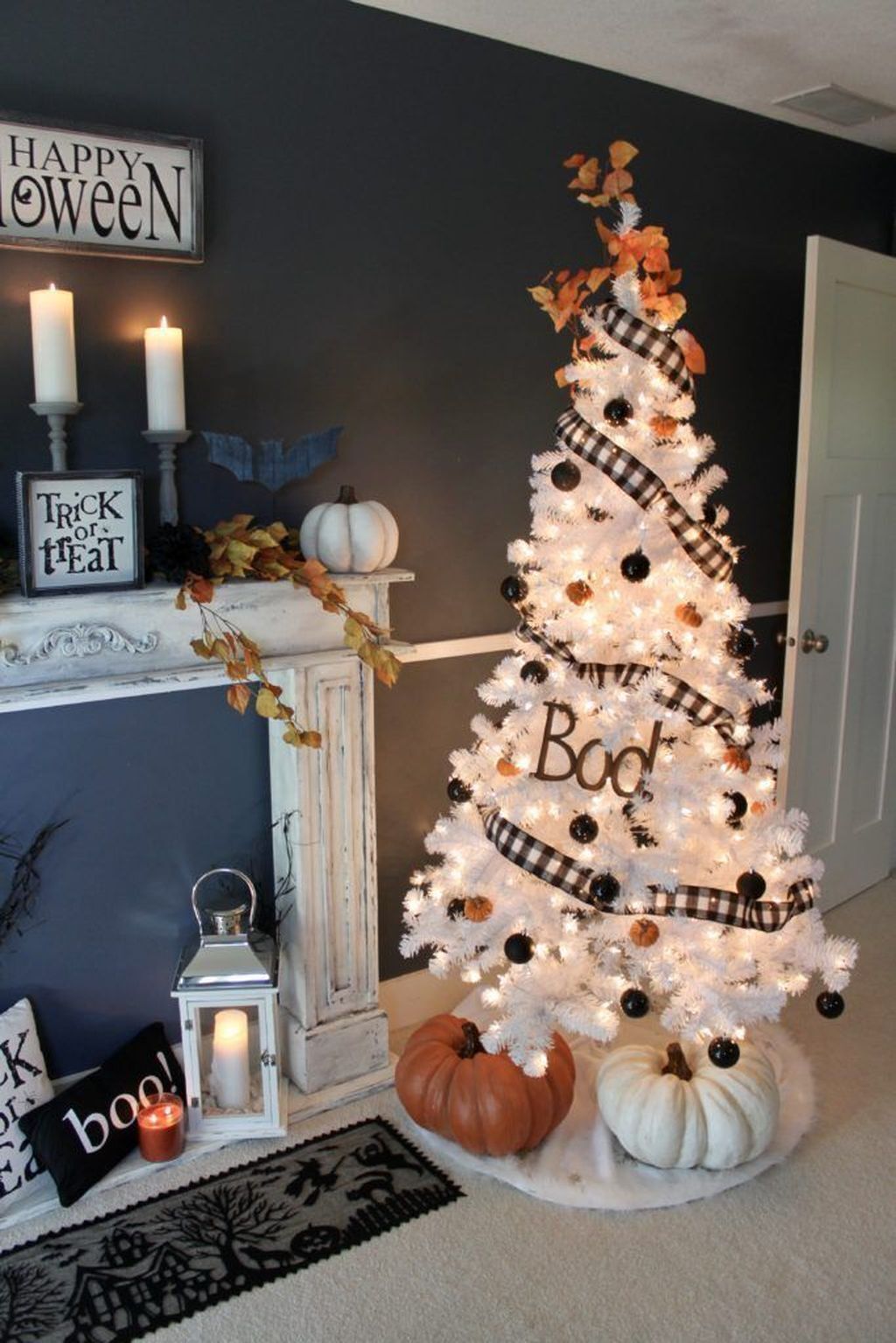 Source: pinimg.com
This a wonderful white Halloween tree with plaid ribbons, orange, and black ornaments. You can place it near your fireplace and decorate the whole area with candles, pumpkins, and plaid ribbons.
17. Unusual Purple And Green Halloween Tree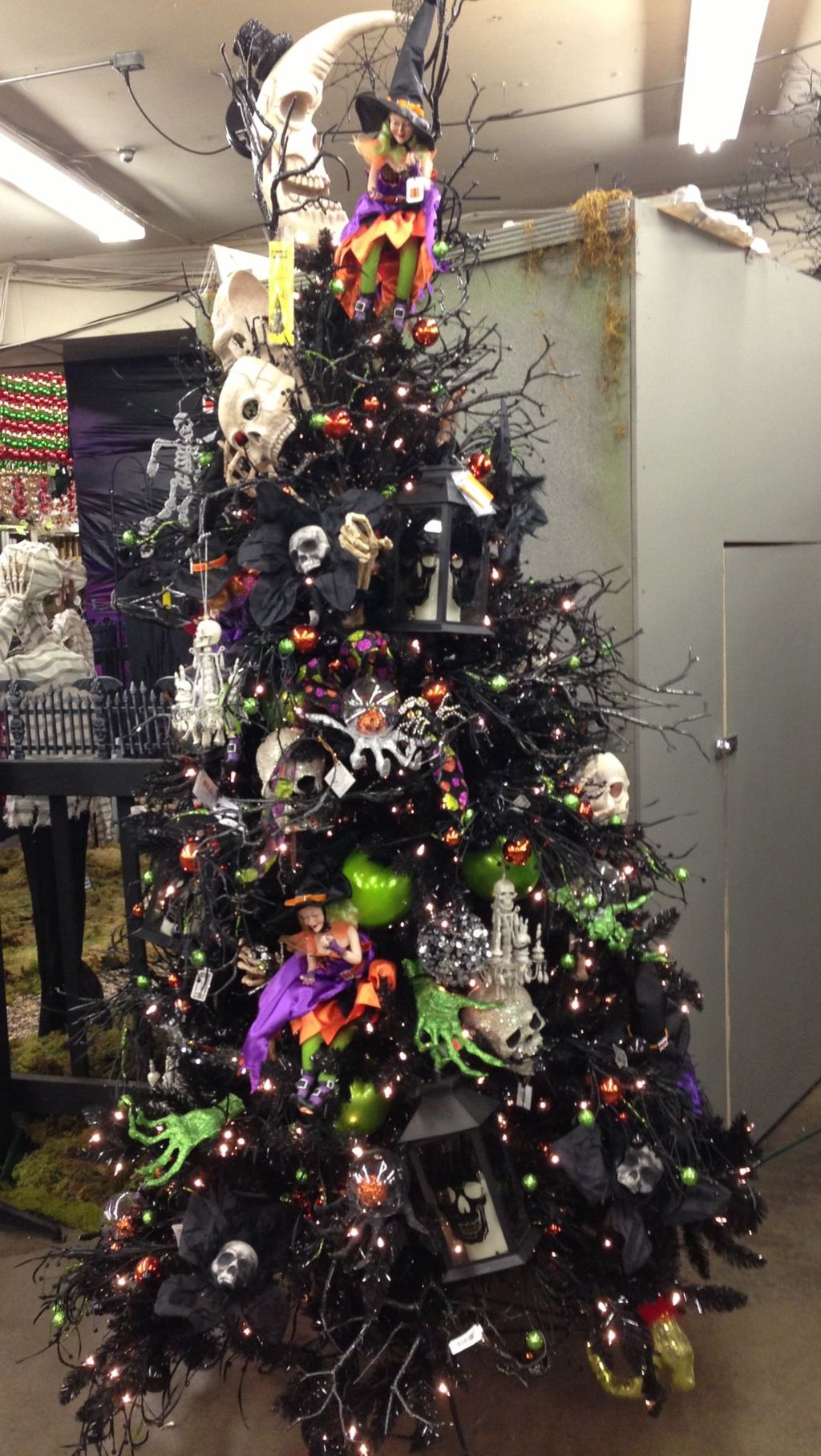 Source: pinimg.com
How adorable is this whole table and tree set up? With the little hints of orange, purple, and green shades, this tree is perfectly placed near the dining table.
18. Cute But Creepy Tree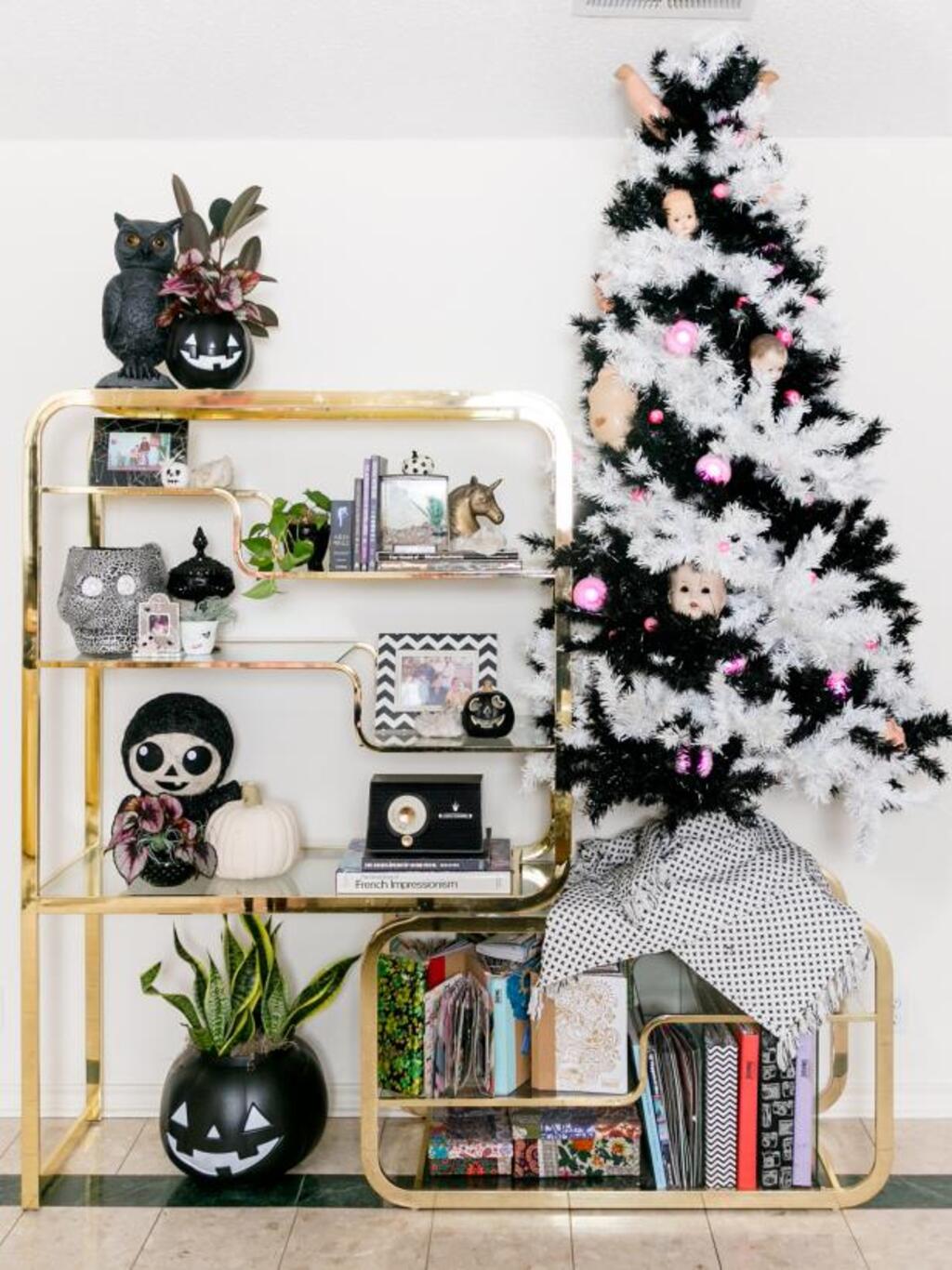 Source: sndimg.com
This black-and-white color scheme tree is cute because of its small size, but it is looking scary at the same time due to the head ornaments, spiders, and other creepy decorations.
Also Read: 11+ Easy DIY Halloween Decorations That Are Actually Cool
19. Skeleton Halloween Tree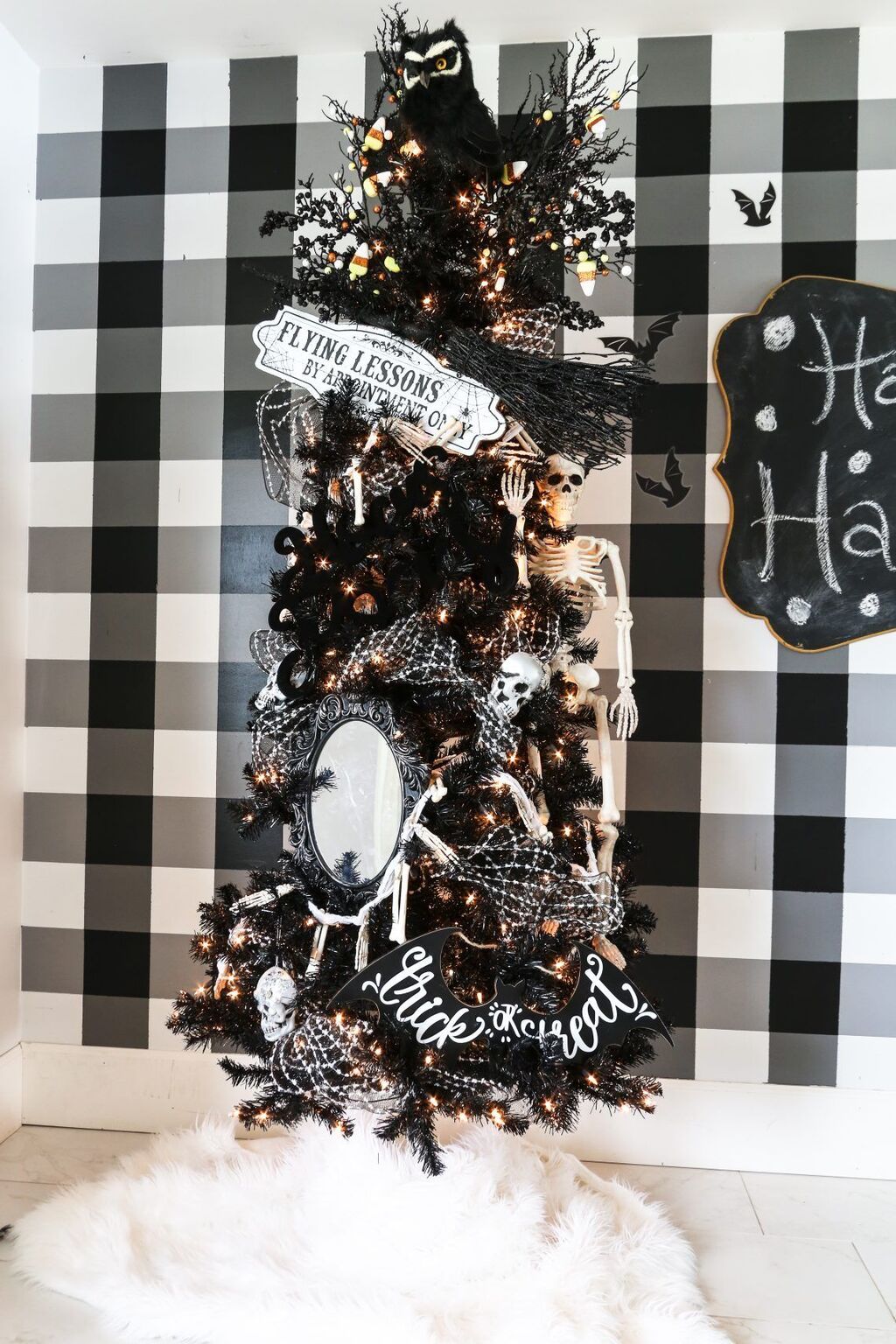 Source: pinimg.com
To make a Christmas tree ready for Halloween, you just have to decorate it with some terrific decors. For example, this tree is covered in skeletons, mirrors, and other Halloween stuff.
20. Dark themed Christmas Tree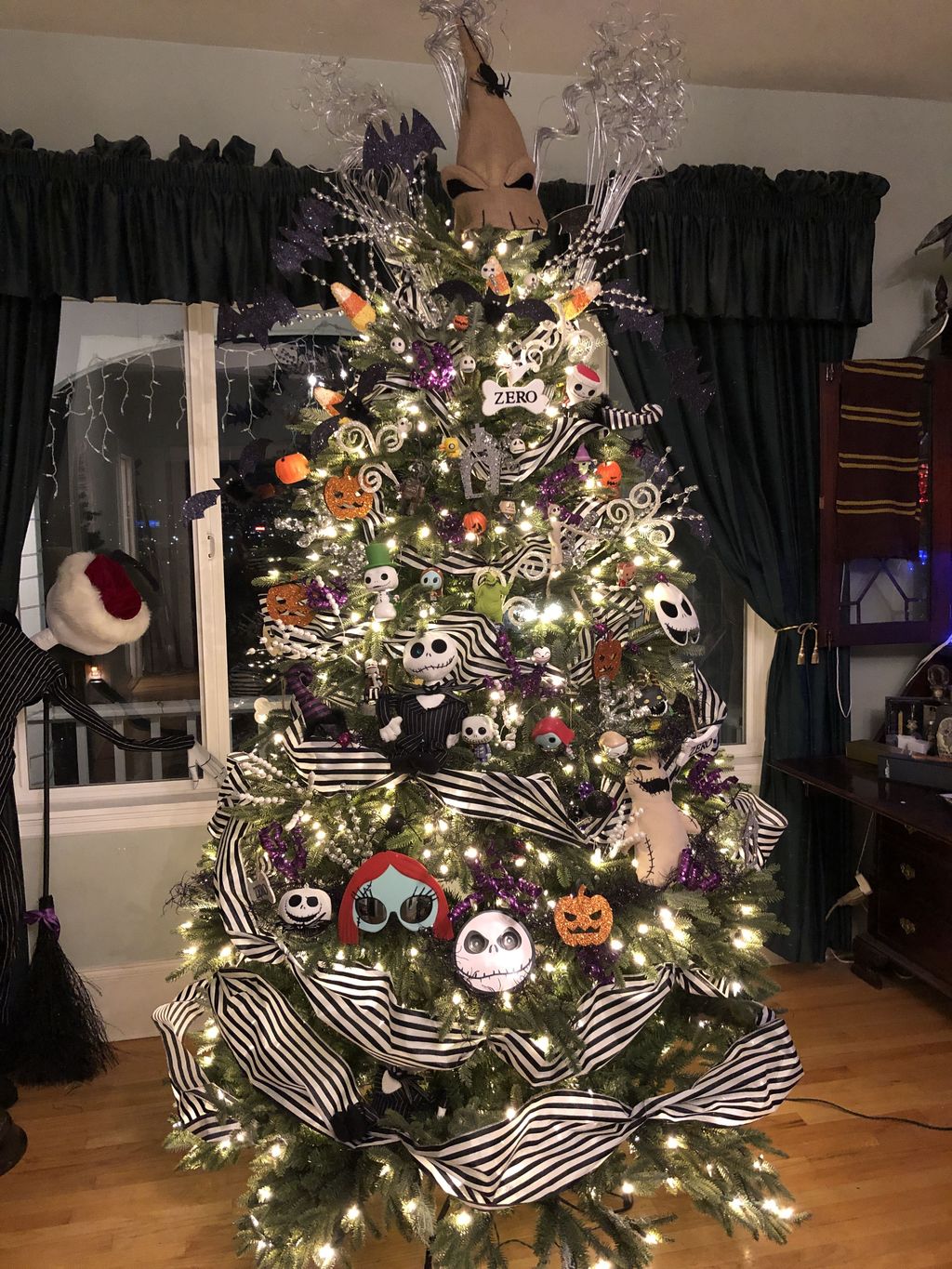 Source: simplemost.com
Black is the symbol of magic, Halloween, so why not to use this fantastic shade in your Halloween decorations. Look at the above tree; it is a black tree elegantly decorated with purple and orange ornaments, which are looking purple and orange ornaments.
21. Large Courtyard Christmas Tree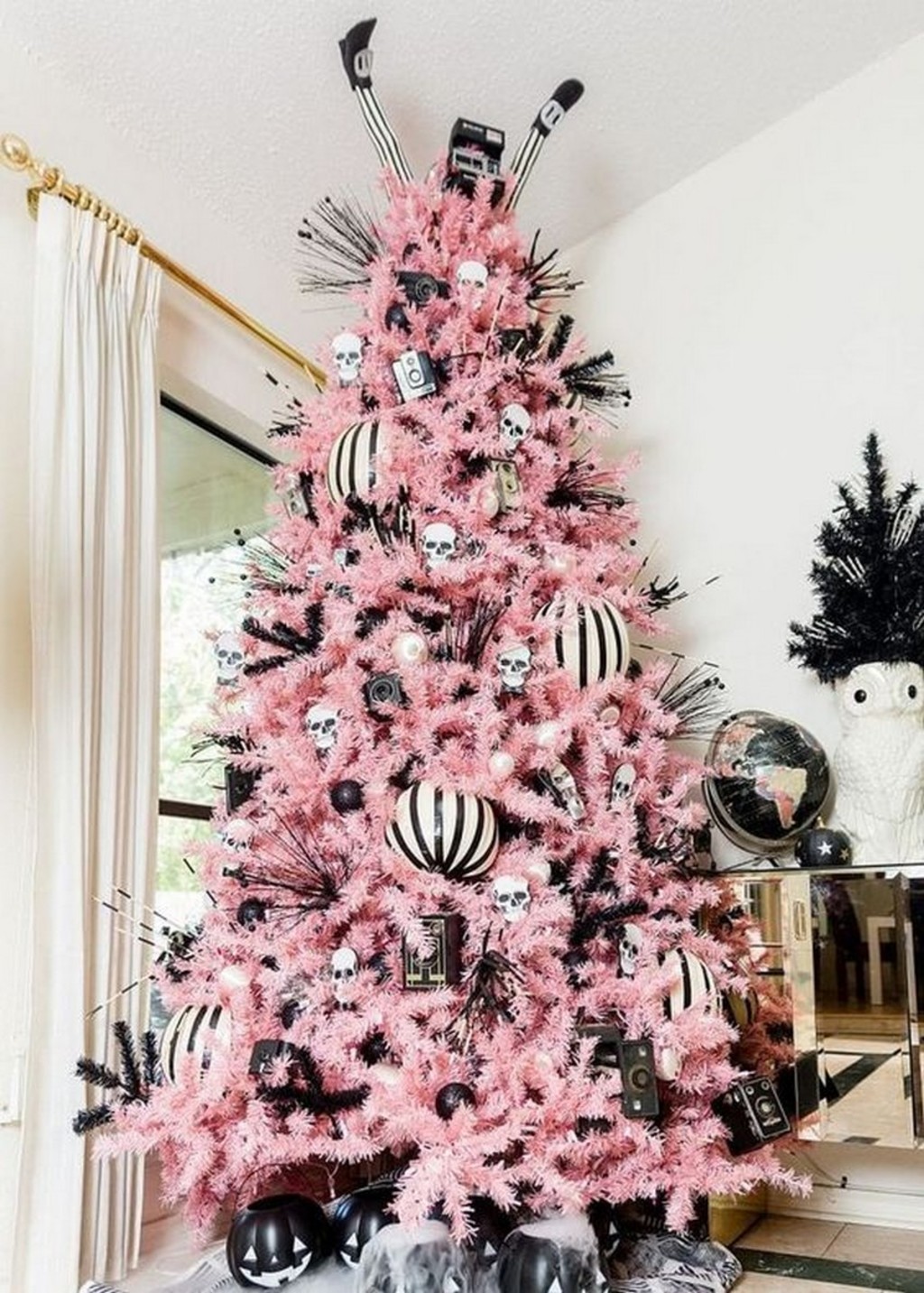 Source: reparasiandroid.com
If you're lucky enough to have a large courtyard as this homeowner has, then place a large tree there. Surely this will be able to catch your visitor's attention.
22. DIY Paper Halloween Christmas Tree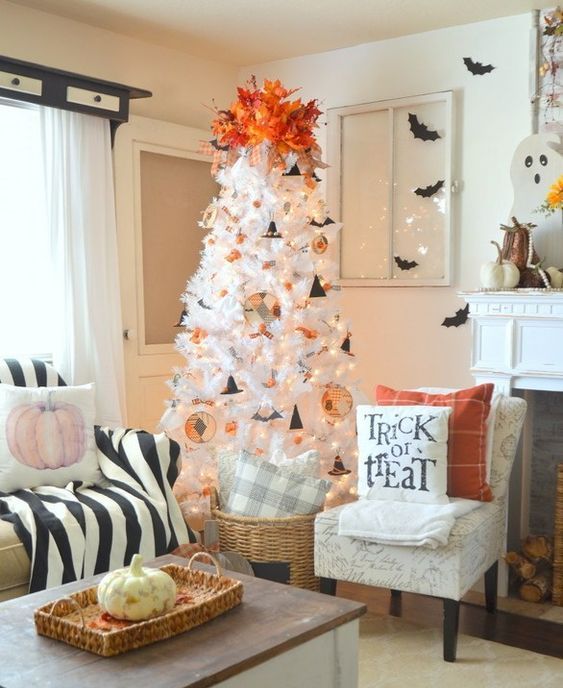 Source: shelterness.com
Another easy-breezy DIY tree is this gorgeous white tree. Decorated with paper ornaments, bats, witch hats, and bold fall leaves on top, this will be a showstopper in your Halloween decorations.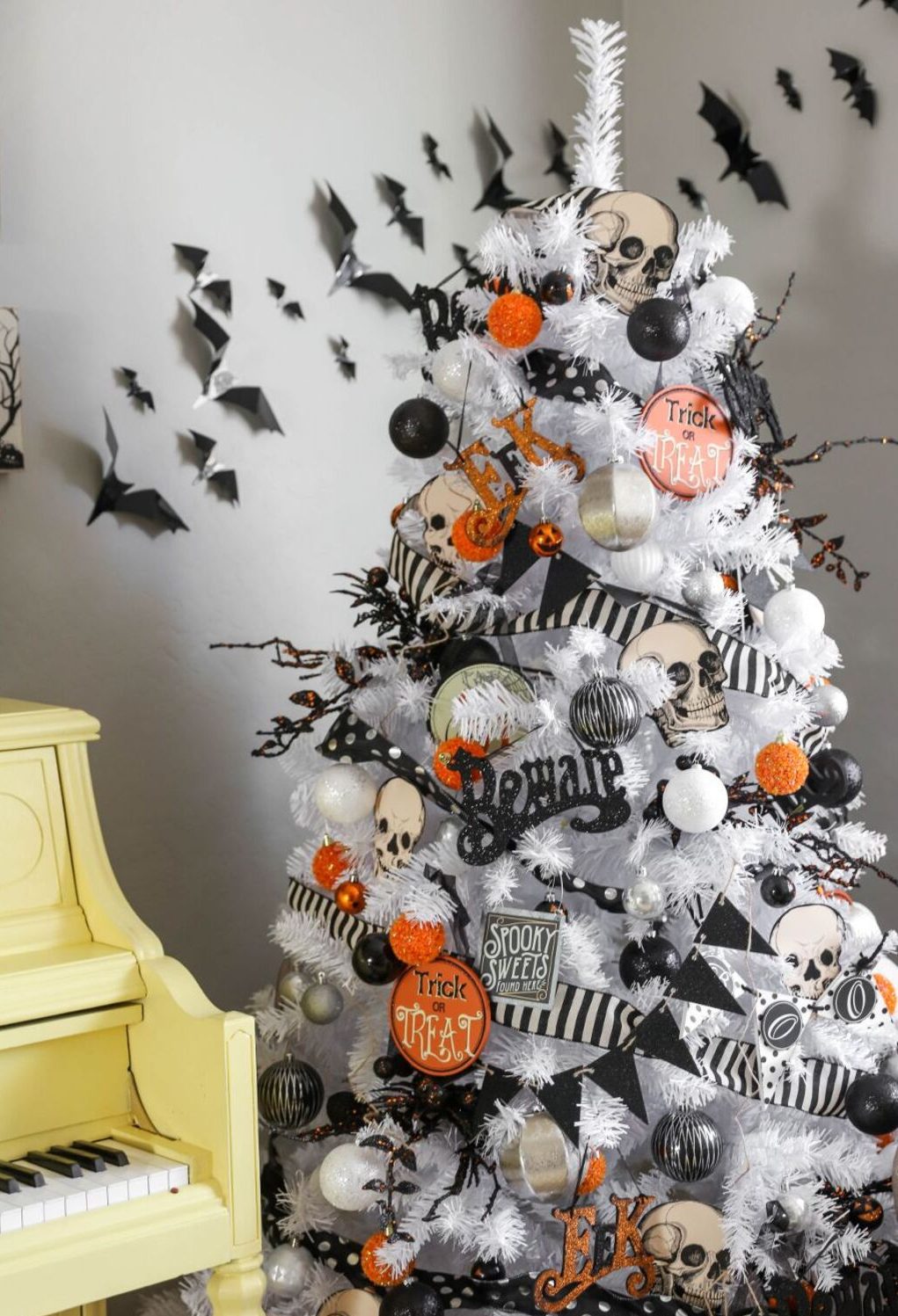 Source: hearstapps.com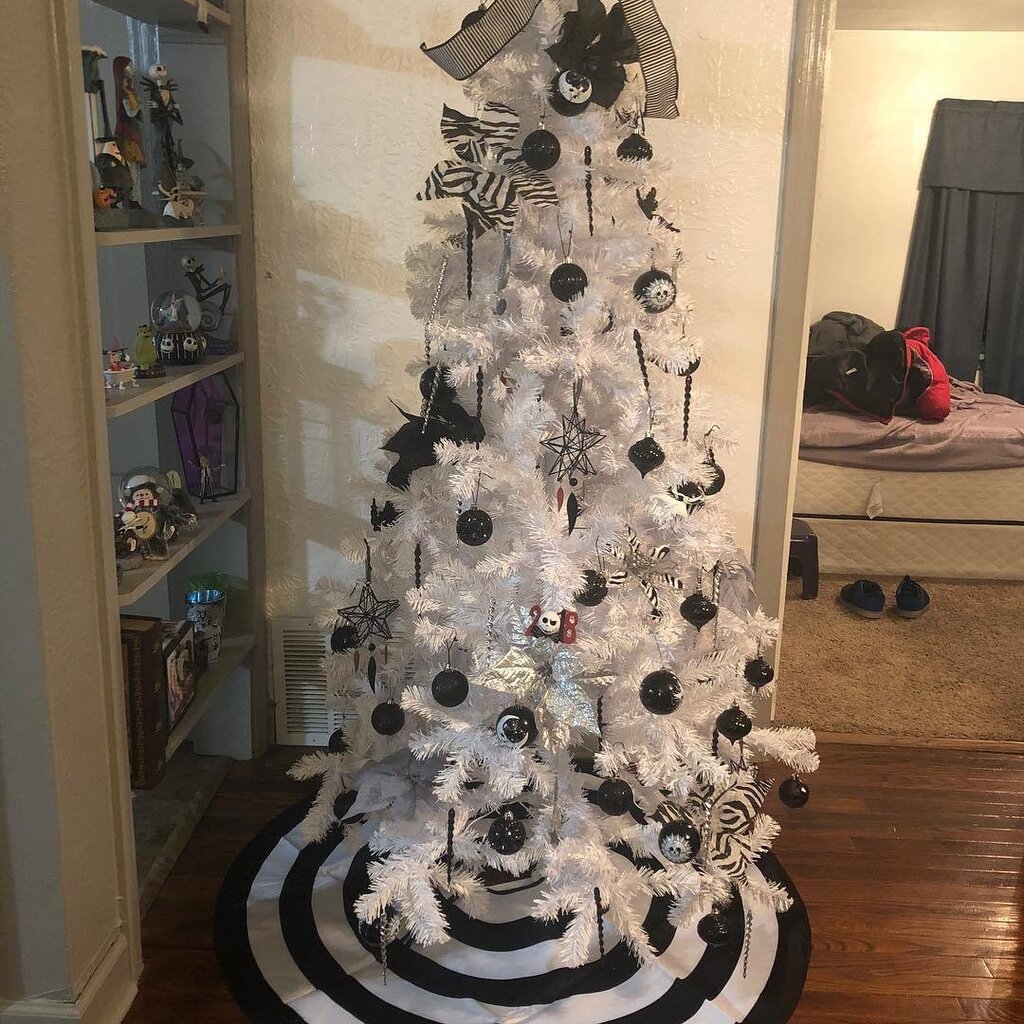 Image Source: cafemomstatic.com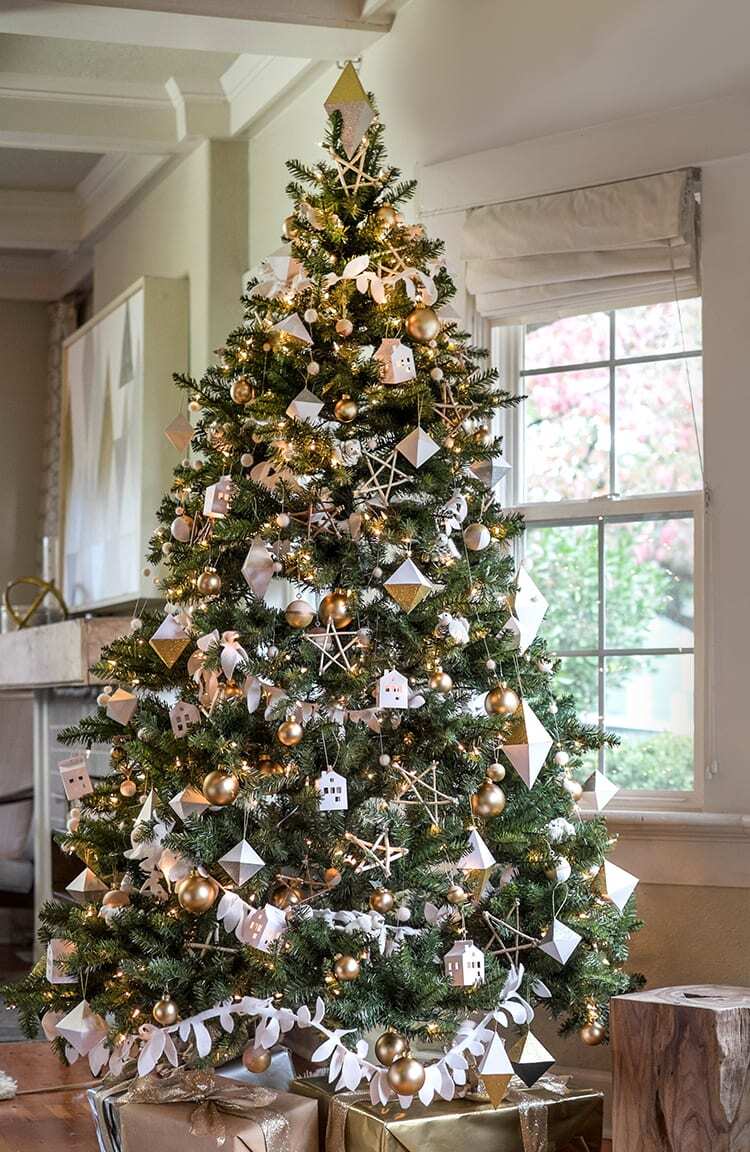 Source: pinimg.com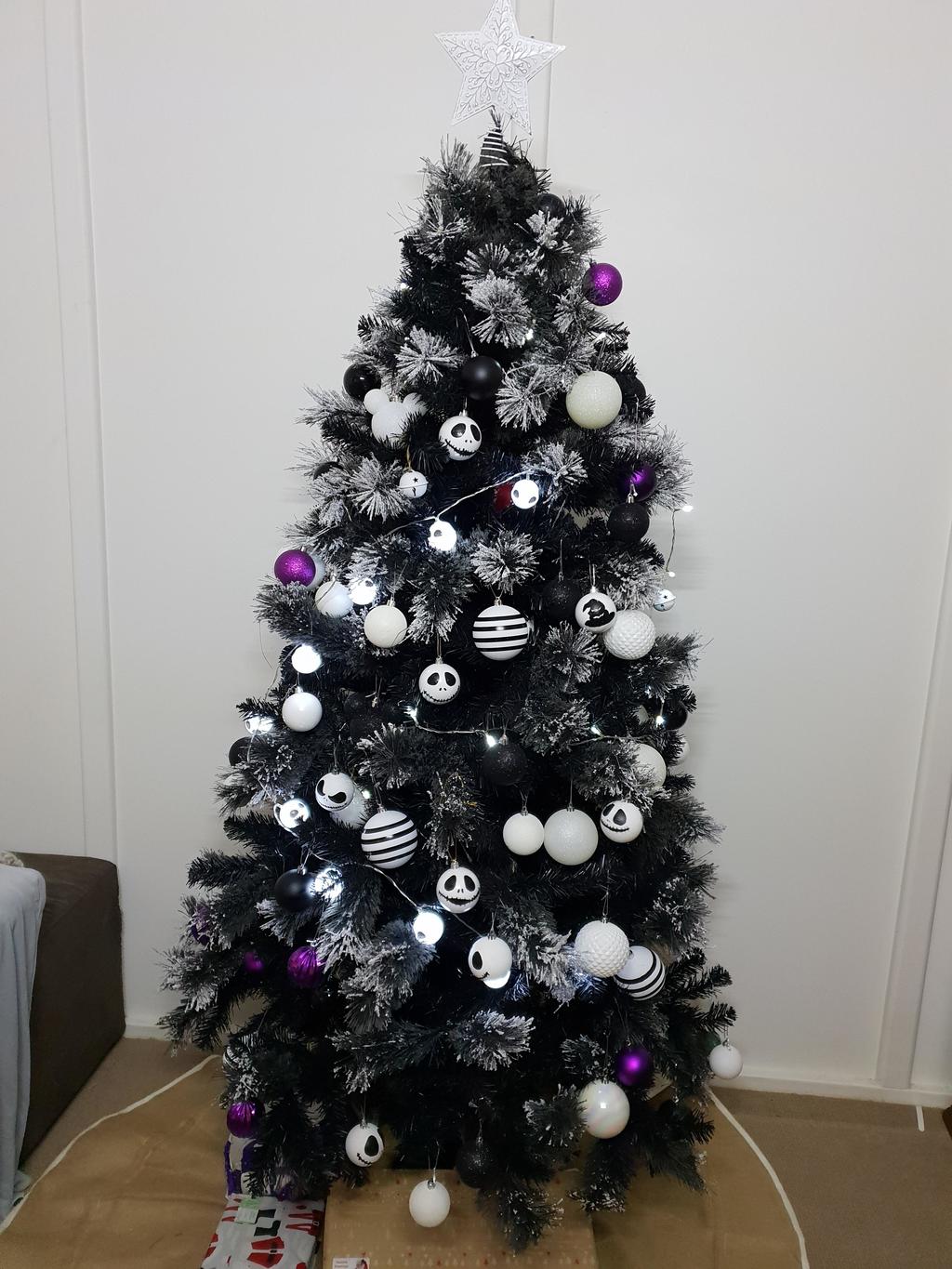 Image Source: redd.it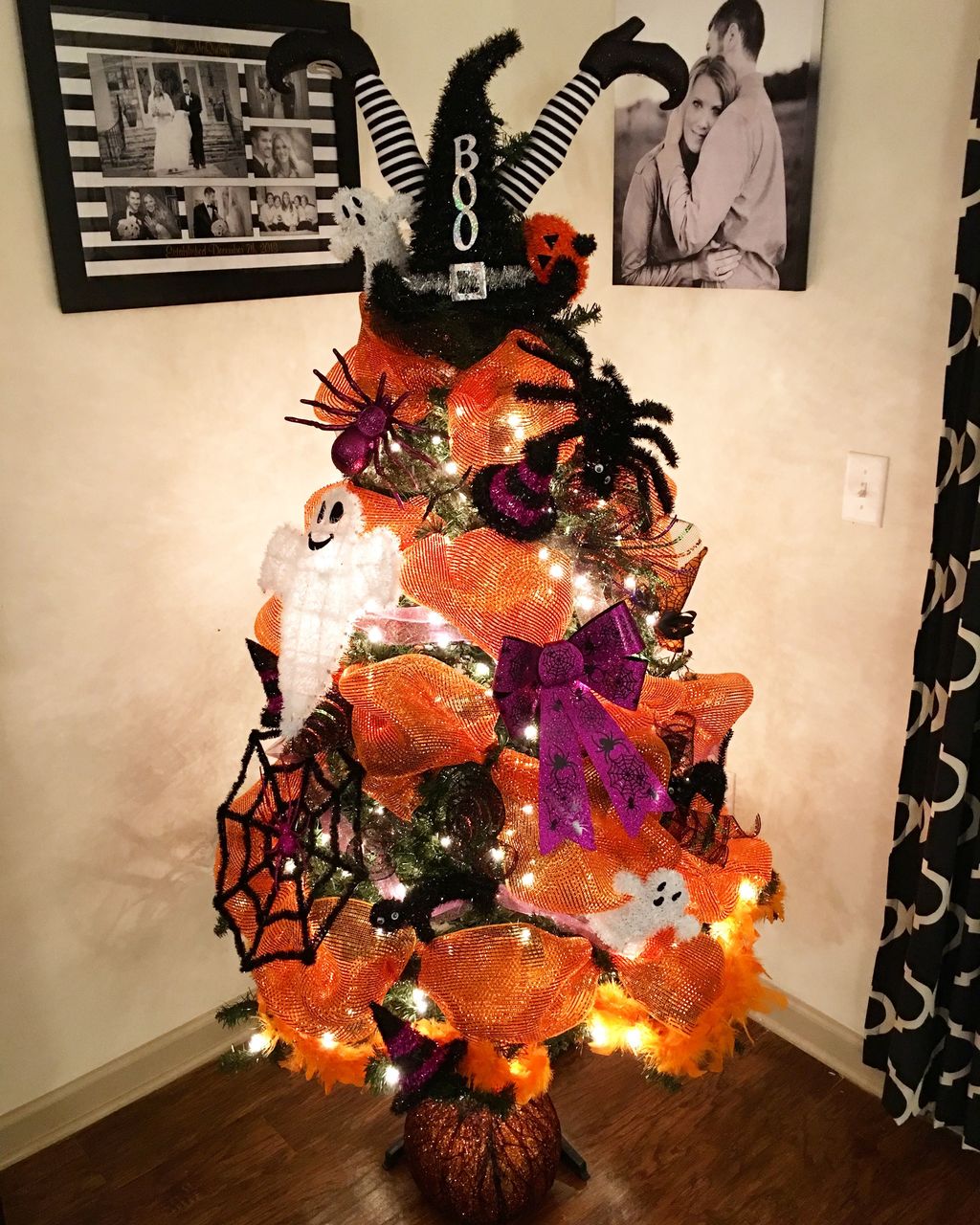 Source: pinimg.com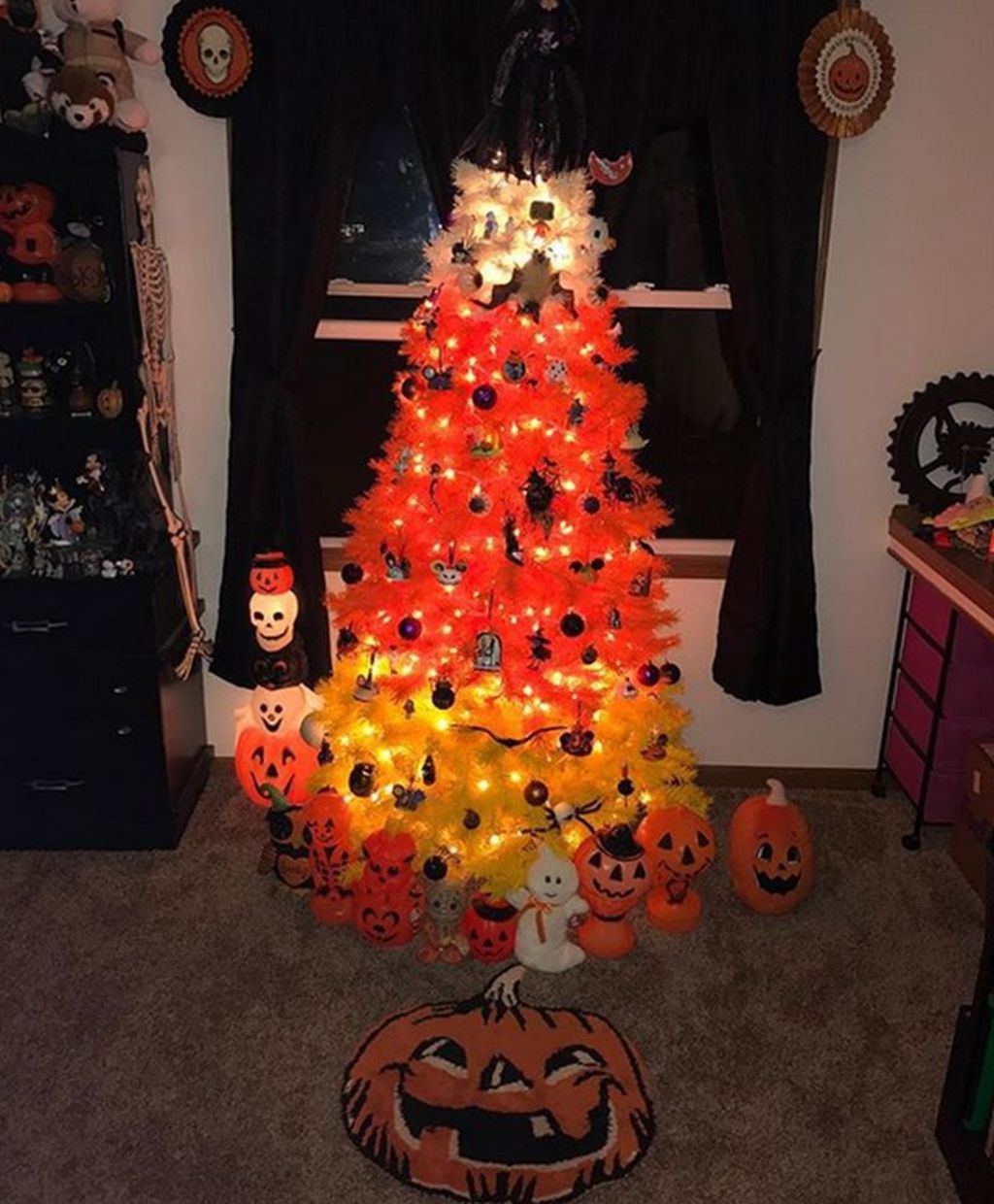 Image Source: homecrux.com
Christmas Tree Decorations Ideas 2023
Do you know what makes Halloween a wonderful and unique holiday? Your creativity and love make this occasion more special and memorable. The upcoming three months are a great opportunity for you to decorate your home in the most unusual way and have fun with your family and friends.
I hope this blog has inspired you to create and decorate your place in the most classy, creepy, or crazy way for Halloween. Don't forget to share it with your fellow Halloween lovers.
For more amazing home decoration ideas and tips, keep coming to Architecturesideas.
For daily updates, follow us on our Instagram page @architectures_idea.