That time of the year is again round the corner when the weirdest being in you can get into action! Yes, we are talking about the most spine-chilling, fun day of the year – Halloween. During this exciting celebration of honoring people who went to heaven, along with decorating the entrance of your house with spiders, bats, and crows, what matters the most is an attractive DIY Halloween wreath.
And rather than purchasing ready-made common wreaths from the market, exploring the idea of a DIY Halloween wreath is out-of-the-box. Have you tried DIY Halloween wreath ideas before? No? In this blog, we will discuss some of the best DIY Halloween wreaths that will stun you at the first glance itself.
With a perfect DIY Halloween wreath, you can take the feel of this Halloween day to the next level. All your Halloween decorations and fun-filled pumpkin squeezing episodes will be incomplete without a perfectly prepped-up front door that is all ready for the trick-or-treaters. And what can give it the best look is nothing but a DIY Halloween wreath. Making Halloween wreath DIY is an extremely easy thing to do! People often get perplexed thinking about how to make a Halloween wreath but it is true that making homemade Halloween wreaths just takes creative imaginations and some easy steps and that's it!
Now let's check out the best DIY Halloween wreaths that rightly match the dark and moody theme of the season. Here's to the most creative and uncanny part!
1. Crow DIY Halloween Wreath
The black crows symbolize Halloween perfectly. This Halloween you can make a Halloween wreath having crows in it very easily. How spooky are the crows looking in the above image while sitting on a dark grapevine? This DIY Halloween wreath is super easy to create. All you need to do is just paint an artificial grapevine with a wreath black and let it dry off. Now, you can fix some scarecrows made of wood in it with some hot glue, and lastly, don't forget to loop a long grosgrain ribbon through the wreath to hang it on your wall.
2. Plaid Fall DIY Halloween Wreath
Plaid shirts and autumn leaves go hand-in-hand! How about the idea of celebrating the energy of both of these iconic fall staples in one cheerful DIY Halloween wreath? Sound amazing! Isn't it?
You can make a Halloween wreath like this in just a few simple steps. Start with tracing leaf stencils onto double-stick fusible webbing followed by combining them with plaid fabric and finally cutting them into leaf-shaped structures.
After that, you need to attach the cutout leaves to the felt and give another cut. And at the end, the last step should be wrapping the DIY Halloween wreath (which is a foam-made one here) with a ribbon and getting the leaves fixed in it that you have created before with hot glue. Finally, you can hang the DIY Halloween wreath with a strip of plaid fabric and it will create a great difference in the Halloween look of your house.
3. Metallic Pumpkin DIY Halloween Wreath
If you want a simple and sophisticated look at your house during Halloween 2022, this wreath is the best one. You can keep this intact and maintain the look and feel all season long. Doesn't it look simply stunning? Creating this DIY Halloween wreath is extremely effortless. All that you need to do is arrange some exciting mini pumpkins in a round foil-shaped structure and hang it in your entrance. 
4. Snake DIY Halloween Wreath
Have fun spooking your friends and family with this frightening snake-laden DIY Halloween wreath. It's easy to create this wreath on your own. Just gather some plastic snakes from any supermarket and purchase a wreath form. Now, start arranging the biggest snakes that you have collected while weaving them between the twigs. You have to repeat the same structure with the rubber snakes and try to make the maximum twigs invisible. Don't forget to use hot glue to hold the snakes along with the wreath perfectly.
5. Witch Half Moon DIY Halloween Wreath
Halloween is never complete without the witch being a part of its décor. This orange and black Halloween wreath looks perfectly spooky for Halloween Day. The dark-colored accents and the half-moon structure can be made out of cardboard or by cutting hard papers in shape and then painting as well as coloring it accordingly. Create this exciting DIY Halloween wreath on your own and keep this Halloween super fun!
6. Gothic DIY Halloween Wreath
This is one of the scariest DIY Halloween wreaths ever. It is all about a human skull that is surrounded by red roses and faux green leaves. All that you need to do is just buy the constituting elements of this wreath from the market and create a Halloween wreath like this as shown in the picture. It is certainly a must-have during the upcoming Halloween 2022!
7. DIY Halloween Feather Wreath
Are you fed up with enough of Kitschy Halloween décor? This chic DIY Halloween wreath made of the feather is for you! It will be something unique. One of the best easy-to-create wreaths of all time, this DIY Halloween wreath is simply amazing! All that it needs is a bunch of black spooky feathers which you can attach in a circular wreath-shaped structure and there you go!
8. Skeleton DIY Halloween Wreath
You will get enough of the scariest things in those seasonal Halloween stores. And skeleton hands are one of the top ones among them. To create this creepy DIY Halloween wreath made of skeleton parts, you just need to buy them and make a wreath out of them.
9. Eyeball DIY Halloween Wreath
This is one of the best DIY Halloween wreaths that you must consider for this Halloween. How can you make it? Just download an eyeball clip art from the internet and get it printed on clear sticker paper. Now, you have to make use of the scissors to give shape to the pupils. At last, all you need to do is just place the stickers on a couple of ping pong balls; considering them as the eyeballs. And then attach them to a foam wreath with the help of glue and it's done, the eyeball DIY Halloween wreath is ready.
10. Yarn DIY Halloween Wreath
This yarn-wrapped Halloween wreath is certainly not as scary as the other ones on the list. But it looks exciting. Your neighbors will love this Halloween wreath. Also, this wreath is easy to create. Get a few flowers attached to the muslin-made Halloween wreath and you are ready for the spooky day.
11. DIY Halloween Wreath Craft Kit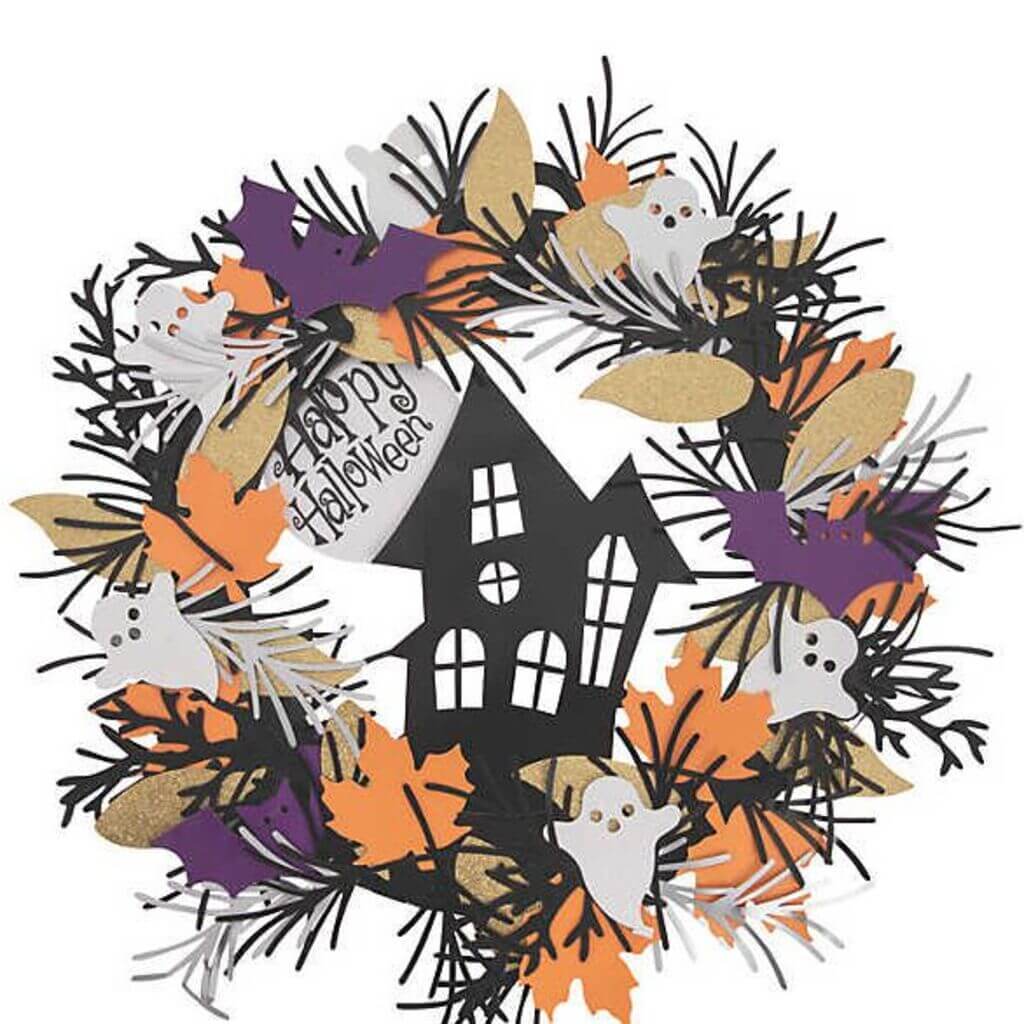 This DIY Halloween wreath is a perfect one to get your kids involved in a perfect Halloween DIY project. With this easy-to-go wreath, you can spark creativity in your kids remarkably. You can cut colorful papers in different shapes like grass, leaves, ghosts, etc., and arrange them in a wreath-like form to come up with this unique Halloween arrangement for your front door.
12. Chevron Fabric DIY Halloween Wreath
This DIY Halloween wreath is a spectacular one but surprisingly, one of the simplest ones to make. All you need is a baker's twine to create small, paper bats through the wreath so that you can give the right amount of Halloween touch to it.
13. Yarn Pumpkins DIY Halloween Wreath
This DIY Halloween wreath might not have a scary look but it is one of the best ones that suit the Halloween theme. Also, it's very easy to make it. All you need to do is just make some pumpkins with orange yarn and then arrange them in the form of a wreath to hang in front of your main door.
14. Mason Jar Lid DIY Halloween Wreath
Who doesn't love crafting with mason jars? But did you try creating unique crafts with the lids of those jars? This DIY Halloween wreath is all about that. In this craft, you need to decorate the leftover lids of your mason jars beautifully with a washi tape and then join all of them together to create a striking Halloween wreath.
15. DIY Halloween Rose Half Wreath
This outstanding Halloween wreath is all about sparkles, glitters, and everything that catches your eyes! You can create this easily by arranging glitter pieces of jewelry, spider web base, etc. perfectly in the form of a wreath.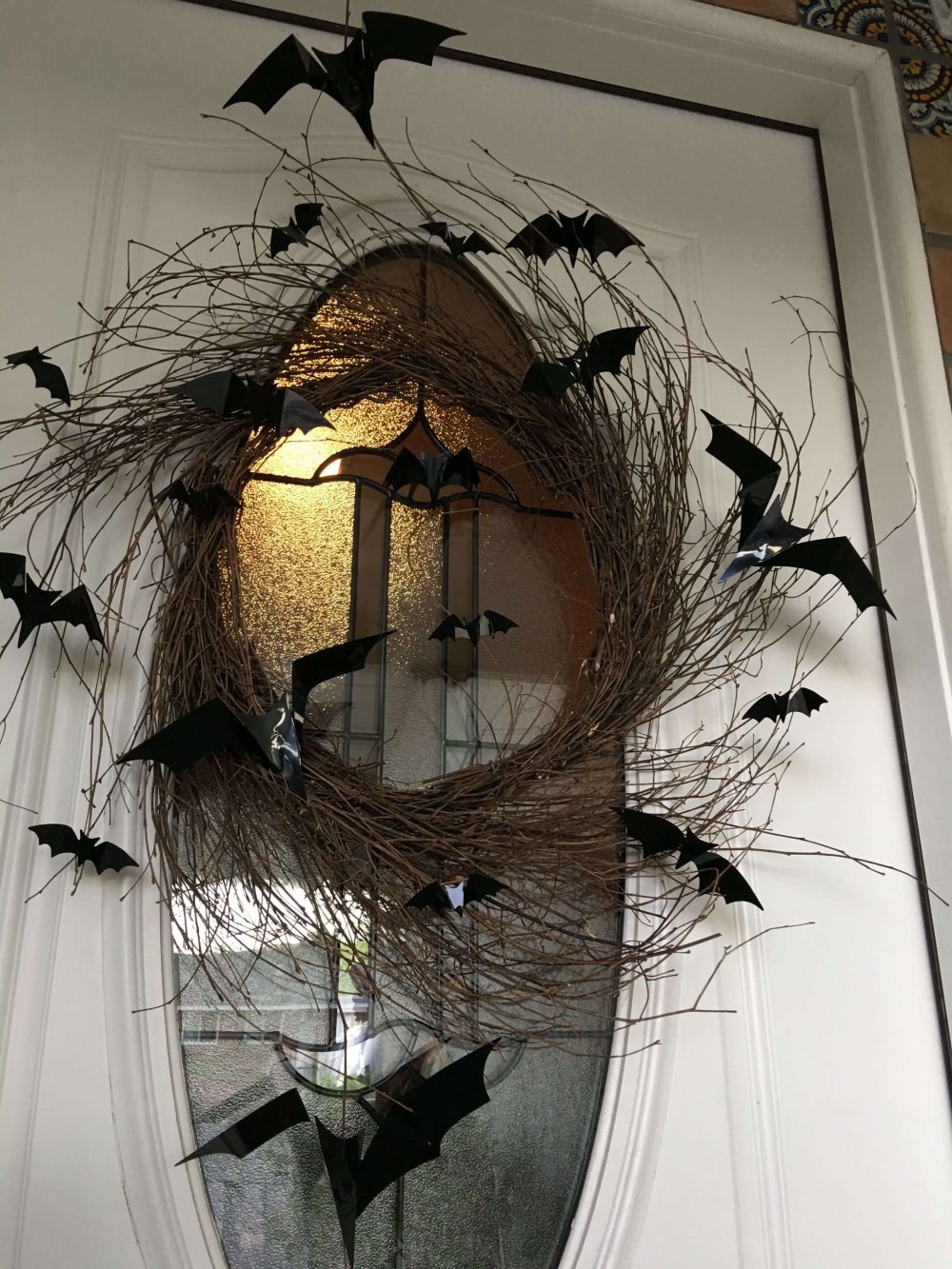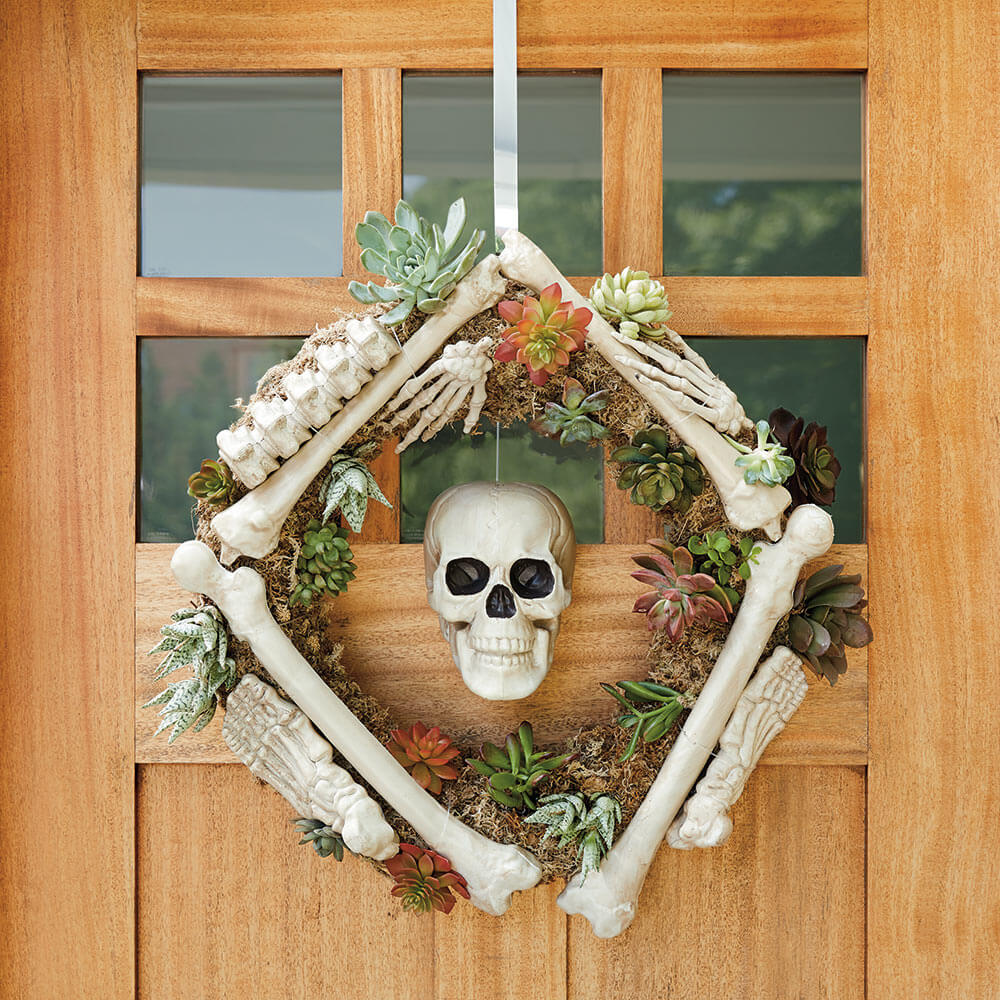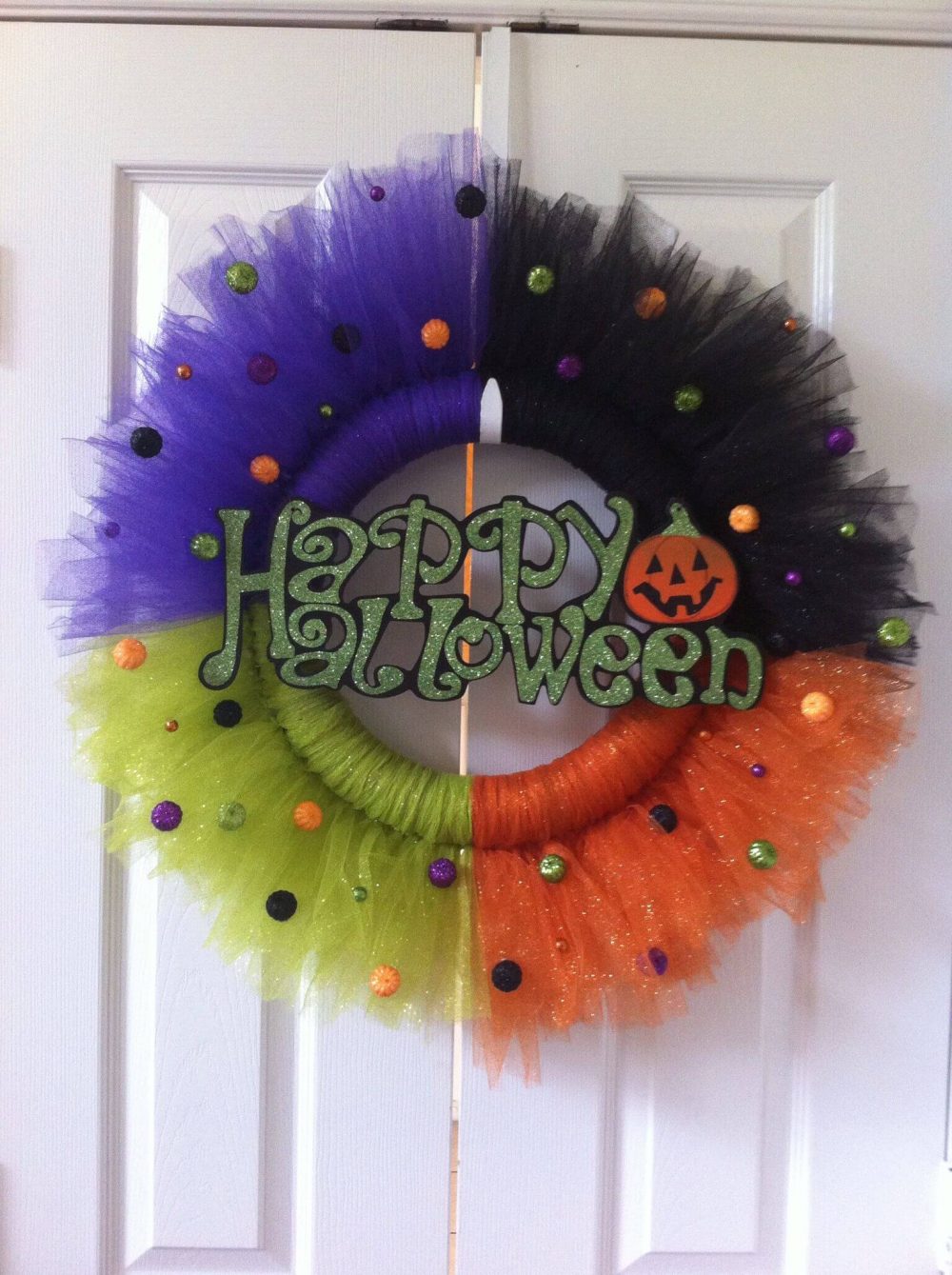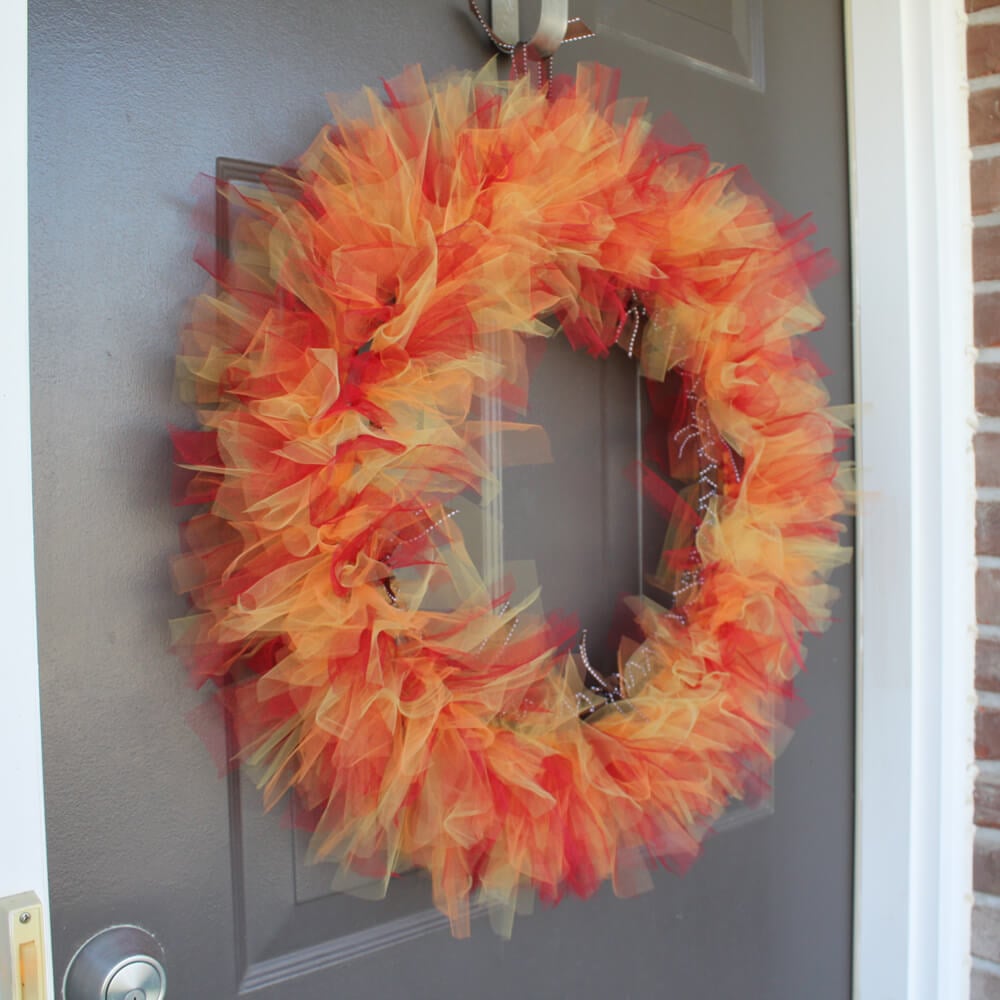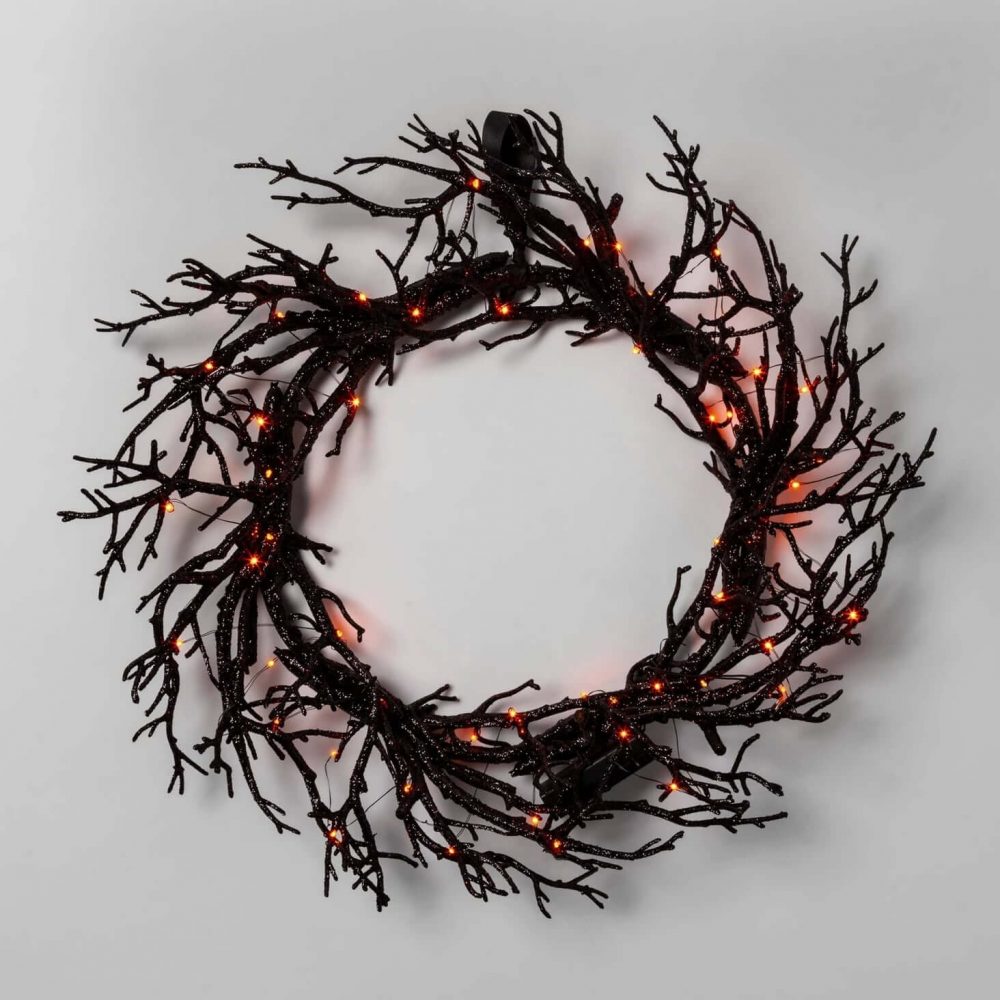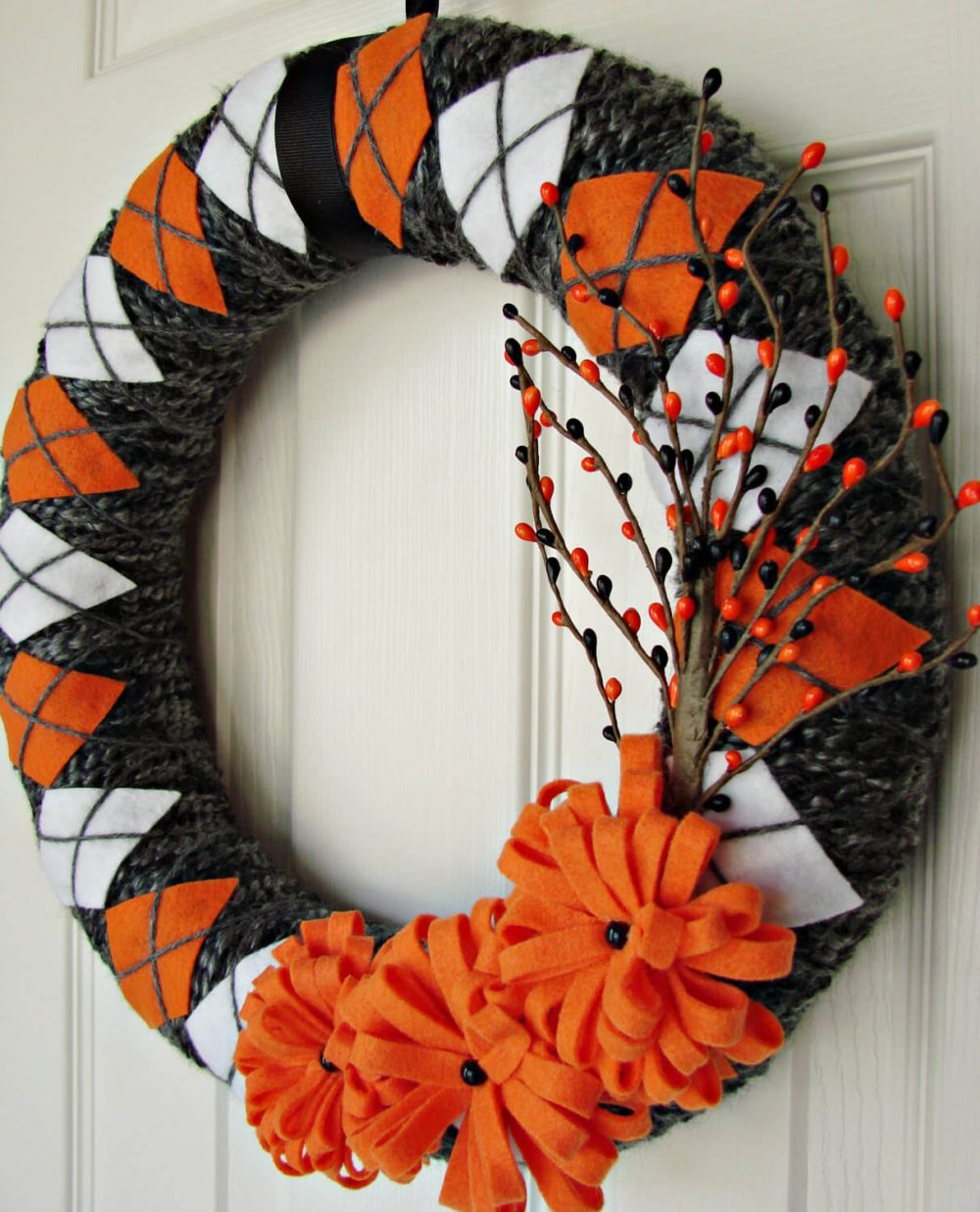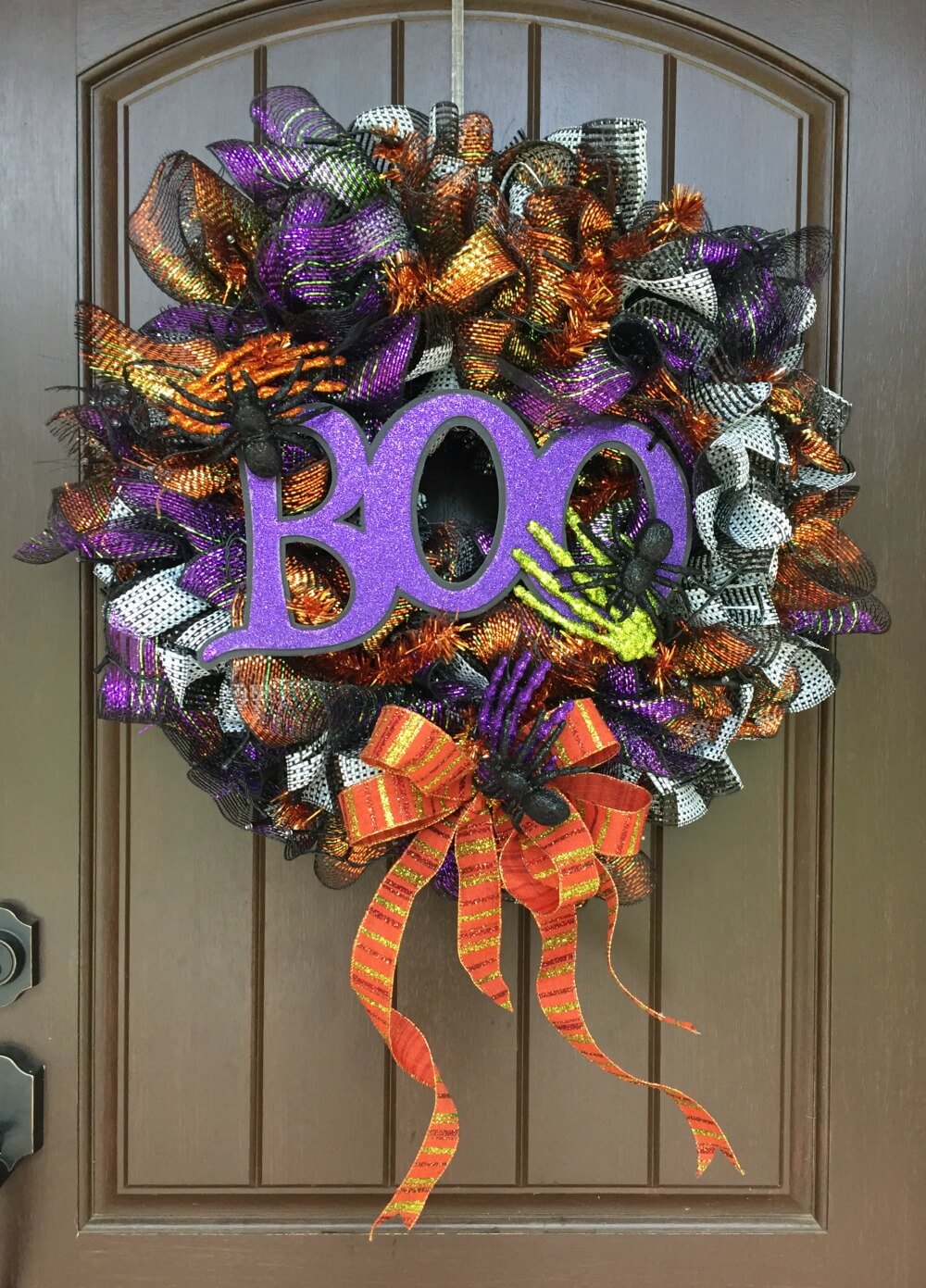 The Bottom Line
This Halloween, make sure your outdoor house décor turns out to be the spookiest one ever! And for that, let your choice of the DIY Halloween wreath out of the above ones take the front seat. Get inspired with these outstanding ideas and upgrade your front door for coming October 31st with these perfect DIY wreath designs. Whatever option you choose from, be assured to surprise your guests like never before.