Front porches conjure up images of the past and evoke a sense of nostalgia, but these aren't just for the past. Porches are a desirable feature for homeowners that act as an extended living area and connect the users to the neighborhood communities. The soft breeze with humming gardens featured in the porches offers decadent pleasure under the cool shadow. Various design elements of the porch contribute to making this setting comfortable, but one of the major influencing elements is – porch ceiling. Through this article, we explore porch ceiling ideas and their design language.
Porch Ceilings – A Vital Exposed Element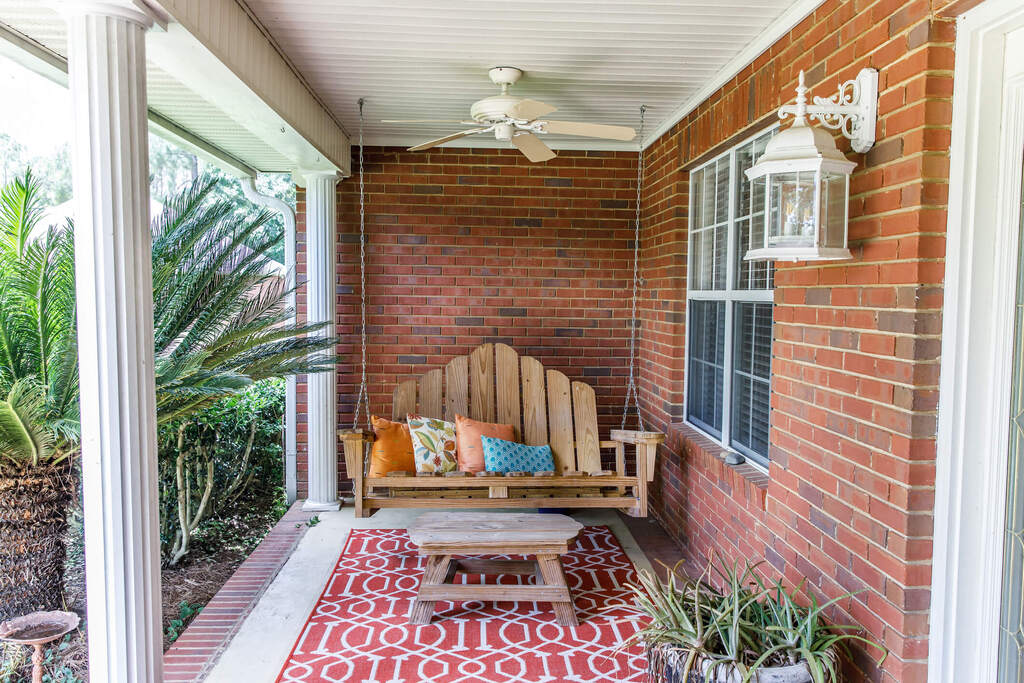 The ceiling is an often overlooked aspect of the porch. A thoughtfully designed porch ceiling adds drama to your exterior space's design, boosting the home's curb appeal. A beautifully built porch ceiling is identical to the ceilings of a home. The proper porch ceiling ideas lends elegance and subtlety to an otherwise mundane addition, serving as a sign of improvement as well as shelter. A porch ceiling, whether vaulted or paneled, stripped or painted in beautiful colors, is the ideal finishing touch to the terrace experience.
Naps on the chaise lounge and softly lit dinner parties will both exude a memorable aura of easy indulgence, and one can enjoy the finest of the outdoors while keeping the weather and bugs at bay. Since porch ceilings are exposed elements of the house, it is important to select an aesthetic and practical finish for the porch ceiling to withstand weather conditions like wind, rain, harsh sun, and snow.
Various porch ceiling ideas can be discovered by an ideal combination of materials, hues, and accents to create the ceiling appearance going well with the overall look of the house.
Mood Board – Outdoor Porch Ceiling Ideas
A ceiling is much more than just space to accommodate electrical fixtures. It is a design element that creates an impact on the overall imagery of space. There is a wide variety of options for materials to design a cheap porch ceiling with a loud, bold statement.
Plywood
Plywood, which is perhaps the most common ceiling covering, may be used as it is or painted. Because plywood is vulnerable to moisture and will separate over time if wet, using high-quality exterior grade plywood is recommended.
Bead Board
Beadboard panels are a popular choice for ceilings because they are simple to install over plywood. Beadboard may be painted or stained, and it will give your porch a welcoming feel. Beadboard panels can be installed directly over joists that are exposed.
Vinyl Bead Board
Vinyl beadboard is a maintenance-free material to be applied in porch ceilings. With low maintenance, it has visual aesthetics to offer.
PVC
This cellular vinyl (PVC) material with a solid core withstands the worst weather conditions and is ideal for a beach or seaside porch. To limit growth, it is extremely stable. PVC ceilings are available in several colors and often feature reversible edges, allowing you to choose between center bead or v-groove designs.
Tongue and Groove
Tongue and groove porch ceilings are among the most attractive of all ceiling materials since they come in a range of woods, can be custom-built to requirements, and look great.
Composite
Composite porch ceilings are low-maintenance ceilings ideal to resist moisture absorption. This quality is served in this type of ceilings and these can have a v-groove or bead design as per requirement.
Exploring Designs – 15 Porch Ceiling Ideas
A porch is a best-suited space to sit, talk and relax while feeling connected to exterior and interiors at the same time. This space, whether front porch or back porch, is a perfect spot for lounging activities. One cannot help but notice the ceiling while being in the space, so the aesthetics of the porch ceiling may make a statement about what to anticipate from the interior spaces.
Here are 15 porch ceiling ideas that may enhance the visual appeal of your porch.
1. Stained Wood Porch Ceiling Ideas
It is not always necessary to match the color of the porch ceiling to the rest of the trimmings and the house's exterior color. The ceilings of stained wood pallet porches stand out because they radiate elegance and provide a dark contrast to the other neutrals. A traditional, beautiful feel with the visible natural grains is imparted with this porch ceiling idea.
2. Exposed Beams Ceiling
An outdoor porch ceiling idea leaving a tropical or Latin American feel is exposed wooden beams painted in white or wood tones. This tropical mix can be paired with rattan chairs, huge brown ceiling fans, and giant tropical plants to enhance its aesthetics.
3. Pastel Inexpensive Porch Ceiling Ideas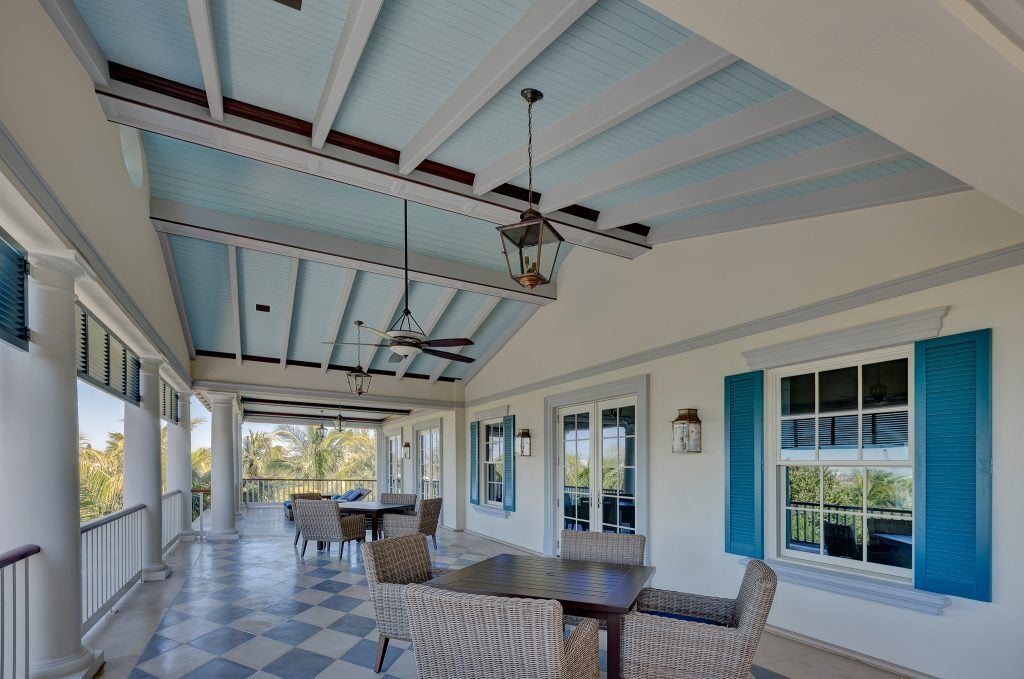 The beach house ambiance of a pastel-colored porch ceiling is a variation of the exposed beam style. It gives the house a modern, lively feel. To complete the beach house porch look, add white and blue accent pieces or other pastel-colored accent pieces. It can also be included in inexpensive porch ceiling ideas for you to explore.
4. Unfinished Wood- Rustic Porch Ceiling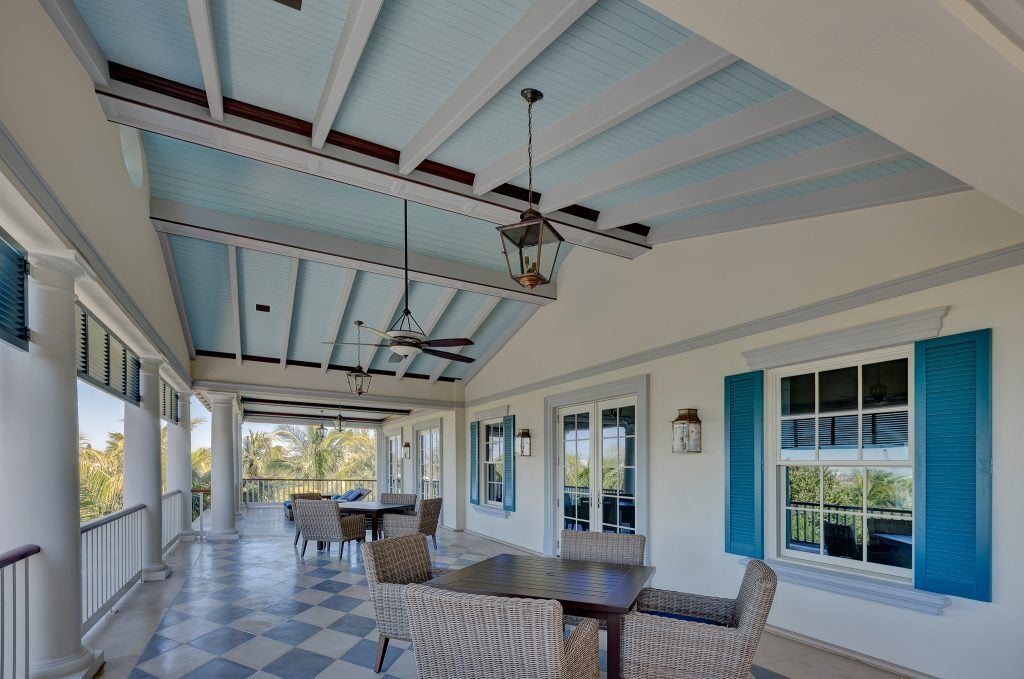 A rustic unfinished wood porch ceiling gives off an organic visual appeal if the porch has wooden floors, rustic items, and seating sets, as well as neutral beams, outside trims, and railings. The unfinished wood porch ceiling ties the whole design together harmoniously.
5. Vinyl Slab Porch Ceiling Ideas
The most popular PVC ceiling style is one that resembles wood panels, but a vinyl slab porch ceiling is the ideal match for a modern, polished design that reflects the lights or surrounding water features. For a consistent effect, these outdoor patio ceiling ideas can be painted the same color as the house's exterior. This is an inexpensive porch ceiling idea with maximum aesthetics as that of wood panels.
6. Open Peak Porch Ceiling Ideas
A free-flowing design with an open peak ceiling is the best option if a fully enclosed porch is not desired. The shape of this porch wood ceiling idea makes it the perfect spot for naps or relaxation with a promised view of the garden.
7. Circular Porch Ceiling
The dome or circular porch ceiling design gives you the sense of being at the beach or in a Mediterranean villa, no matter where you are. Wood, beadboard, or vinyl may all be used. It allows for plenty of ventilation and a clear view of the outside. To enjoy a spectacular view, wood or rattan seats and a coffee table can be added to the space.
8. Low-Hung Horizontal Open Porch Ceiling
For a pleasant and open porch, a low-hung horizontal porch ceiling made of vinyl or wood can be a suitable choice. It's a nice finishing touch for flat concrete floors. Water features and a plethora of tropical greenery can add to the overall appeal.
9. Glass and Metal Porch Ceiling
In Japanese-inspired porches, this combination is becoming increasingly popular. It's an excellent insulator and has a lovely energy-saving design for wide-open porches. It's also suitable for indoor-outdoor transitions. For the columns, place a row of metal beams and fiberglass.
10. Natural Porch Ceiling
These outdoor porch ceiling finishes use nipa leave, the porch may be transformed into a Cabo, Mexico outdoor experience. If there is a provision of a pool, the porch may stretch up to the edge of the pool, creating a unique visual show.
11. Open-Tray Porch Ceiling
A transition porch with an open tray porch ceiling is a modern style to watch out for. In contrast to stone columns, concrete exteriors, and tropical flora for the view, it is stunning. The open tray porch ceiling is styled with a contemporary electric fireplace as the focal point.
12. Repurposed Porch Ceiling
For smaller porches, recycled materials in good conditions form a cheap porch ceiling idea. Materials like good condition steel pipes, wooden beams can prove to be a wonderful option for a sophisticated aesthetic. Lounge chairs and lightwork can be additionally added for a well-lit, welcoming space.
13. Drywall Porch Ceiling
A drywall porch ceiling would be the most polished design for homes with leveled living areas and multi-leveled roofs. Because it complements the flat shape of the house's roofs, it creates a smooth transition from the interior to the outside.
14. Leafy Porch Ceiling Ideas
A leafy porch ceiling idea can be incorporated to utilize fine slatted panels for the ceiling or steel wires can be installed where climbers can grow. It is an ideal option to create a breathing, living porch in urban areas.
15. Bamboo Porch Ceiling Ideas
Bamboo porch ceilings are another option for a Balinese-inspired porch. This may be used as an extended pergola, but it's also appropriate for farmhouse-style porches. This one is ideal for tropical conditions like those found in Southern California, Hawaii, and Florida.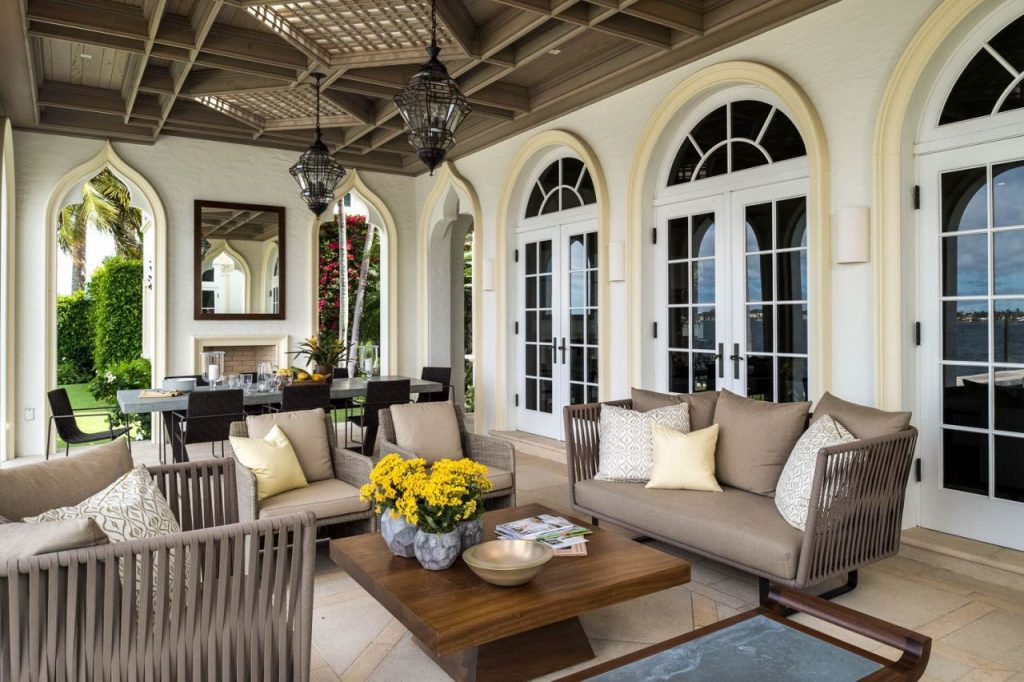 Boost the Appeal with These Porch Ceiling Ideas
Details of porch matter to create a holistic design. There are a lot of combinations to choose from for the best porch ceiling ideas, however, the selection of the right idea matters to boost the overall appeal of the house and to offer a living space that ensures relaxation and entertainment for the years to come.