The smell of fresh paint on the walls or the rooftop of your house is very intoxicating. Right? In our childhood, we all wanted to paint the walls, and some of you had done it! Here we are providing 20 ceiling texture types, so read each type that is classified by their textures.
So whether you recently shifted to your dream apartment or simply want to renovate your house, this ultimate guide will surely help you to decorate your place. It may sound pretty easy to decorate, but it is one of the toughest tasks in the whole world. And in addition to it, the hardest part is to find the perfect ceiling.
Yes, ceilings!! You decorate every part of your house, so why leave the uppermost important part of your home. We all paint and embellish our walls and always ignore the fifth wall of our house. The fifth wall means the vault!! Yes, don't forget them, they are as important as the other sections of your home. Read this blog to find out how you can wisely decorate it with super cool various types of ceiling textures.
What is the Ceiling Texture?
Ceiling texture refers to the decorative finish or treatment applied to the surface of a ceiling. It adds visual interest and can help conceal imperfections. Common types of ceiling texture include popcorn, knockdown, and stucco. Ceiling texture is applied using various techniques, such as spraying, rolling, or troweling. It is popular in both residential and commercial settings, offering a unique aesthetic appeal to ceilings.
Kinds of Textured Paint
There are a few kinds of paint textures from that you can select one for you.
Smooth Textured Paint
Premixed Textured Paint
Self-Mixing Paint
Alternative Finishes
Types of Ceiling Texture
There are numerous ceiling texture types available in the market, here we're giving every kind so that you can select the one that you find most suitable for your place. They are basically categorized according to the type and application process or texture.
Below is a list of all the types, you can possibly find in the market:
Spray Texture
1. Popcorn Ceiling
Sometimes Popcorn Ceiling is known as "Acoustic" ceiling texture or "Cottage cheese." This type of ceiling is always in demand. It is called a "Popcorn ceiling" because its surface looks like popcorn.
To create this famous ceiling, first, you have to clean your roof and then coat it with a stain-blocking primer. This helps the texture to stick smoothly on the ceiling. After that, just directly spray the popcorn ceiling spray on the ceiling.
This spray consists of a mixture of mud and Styrofoam. This is kind of liquidy but still lumpy, but by this, only you'll get a puffy effect. Sometimes it's challenging to do this kind of ceiling, so it is better to hire professionals as they know the best and fast methods to do this.
2. Spray Sand Ceiling Texture
Yes, this texture is quite similar to the orange peel Ceiling Texture. It is not artistic like tree bark or Sheetrock, but it was popular back in time & still, people are choosing this. This technique is less expensive, and in addition, you can do this in 2 simple steps:
Mix sand with cold water the night before you're going to apply it.
Just apply it with a brush or spray gun.
The result? Obviously awesome!!
3. Knockdown Ceiling Texture
To get this kind of ceiling effect, you need to reduce the consistency of the joint compound by adding some water. You'll also need a knockdown tool to apply this mixture, but if you don't have this, you can also use a trowel.
Drywall Texture Types
4. Mud and Tape Ceiling
This type of ceiling texturing is pretty common these days. In this, you have to use tape to cover joints and sides of the roof, and after that, mud is applied. This is slightly more costly than the other methods, but it is worth it.
So, what are your thoughts about this one? This will absolutely look amazing on your bedroom walls.
5. Skip Trowel Ceiling Texture Ideas
Just like other ceiling types such as Sheetrock Ceiling Texture, you can do this by hand by using a trowel. For this, simply dip your tool in the joint compound, then gently drag it all across your ceilings. Easy and fast, right? You'll see a pattern, as it doesn't cover all the surfaces of the roof, some remaining spaces create this unusual pattern.
6. Sheetrock Ceiling Texture
These ceiling textures have a history as they had started back in 1917. This is not one of the super clean and smooth surfaces, but it is rough but has an artistic feel to it! So unlike other ceiling types, it is entirely done by hand. That's why it is time-consuming, and the results are very pleasing and satisfying.
Another great thing about Sheetrock Ceiling Texture is that whether your room has a modern or farmhouse style, this will go with everything. Isn't this amazing?
If you love farmhouse vibes or rustic style, this one is for you!!
Pattern & Designs
7. Lace Ceiling Texture
If you want your ceilings to look delicate and beautiful, try this type of roof. Yes, the Lace ceiling texture is the most attractive ceiling texture in the whole world. But beauty comes with a lot of effort. Right? So, this ceiling will also demand super skills. You'll also need many tools such as a spatter gun, pin nailer gun, drywall knife, knife sharpener, and many others.
There are many types of lace patterns or types like Spanish lace and French lace textures. You'll also need to choose a base color that'll from the spaces in the lace designs. So, first, you've to color the ceiling then add the desired pattern on it. Though it seems impossible to do this, after all this hard work, the final result will blow your mind.
8. Swirl Ceiling Texture
You've already seen this type of ceiling around your neighborhood. This is super easy to do but requires patience. You can get the swirl pattern by using a roller, trowel, or sprayer. The swirls can be smooth or rough, depending upon the tool you're using.
The main thing about this ceiling texture is that you've to make the swirls before the mud dries. As it is impossible to change it later on. So, whenever you're doing your ceiling, it is good to take help from another person rather than to do it alone and end up creating a mess. Right?
9. Fish Scale Ceiling Texture
Fish Scale Ceiling Texture, sometimes known as half-circle or half-swirl Ceiling texture. We know it looks pretty tricky to create this type of texture on your vault, but you can always hire people to do the task. Right? Just tell them that you want this type of ceiling texture design, and they will install it.
This is one of those types of ceilings that immediately catch people's attention after they come to your house. The common types of swirls that people are going for are perlite and sand swirl.
Just paint the walls in simple plain colors, so that the Fish Scale Ceiling Texture will pop out beautifully.
Brushstrokes
10. Slap Brush Ceiling Texture
This ceiling texture is not easy to apply as compared to the other textures. You'll need a brush with soft bristles and thin mud. Follow these steps for the application:
Apply the thin mixture of mud all over the roof using a textured roller.
Make ceiling patterns by slapping the brush from one side to the other, until you're satisfied with the design.
And Voila… your Slap Brush Ceiling Texture is ready!!
11. Stipple Brush Ceiling Texture
To achieve this texture at your vault, you'll need a stipple brush that's it! This will be perfect if your rooftop has dents, holes, or uneven surfaces as it beautifully covers all the imperfections. The drywall ceiling mixture is quite thick, so you've to do it carefully to avoid any mistakes.
12. Rosebud Ceiling Texture
If you love flower print or texture, this ceiling texture is for you. It looks absolutely gorgeous and also easy to apply. Just make sure the layer is thin enough to create rosebud ceiling patterns and draw them with an airless paint sprayer or brush. You can also choose various colors according to the theme of your room.
13. Crows Foot Ceiling Texture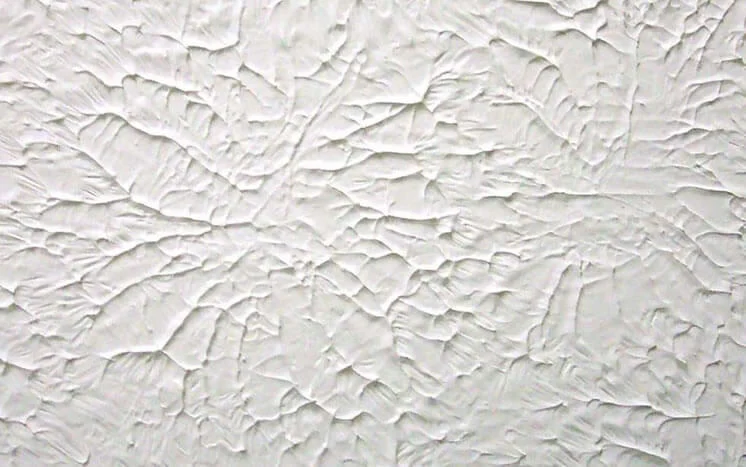 Do you want something creative? Install Crows Foot texture on your roof. This task requires two people as one is creating the pattern, and the other one applies the mud. Use a stipple brush to create this pattern, and it is good to cover your floor before you start the application as it is a messy procedure.
14. Stamped Texture Ceiling
This is one of those kinds of ceiling textures that can be achieved in many ways. You can use different types of objects like broom bristles, tiles, brick, or sponges to get the desired texture.
But do remember one thing whatever you stamped on the ceiling, it will come out as backward (especially consider it with words).
Clean Textures
15. Smooth Ceiling Texture
Textures and patterns look pretty attractive up there, but still, many people prefer Smooth Ceiling Texture as it is minimal looking but give a constant & finished look. But there are more reasons that this is people's first choice.
It doesn't require any special skills to do this, and it is cheaper as compared to other ceiling textures. Others are hard to remove and need professionals to do it. Whereas a smooth ceiling is super easy to apply, and it fits perfectly with any style or size of the room. So if these are your requirements, go for this white wall texture!
Doesn't this texture look super easy to install? So try this out!
16. Skim Coat Ceiling Texture
Source: netdna-ssl.com
If you face difficulty in applying any of the textured ceiling types, don't worry, go for this one. Yes, Skim Coat Ceiling Texture is easy and fast to install. Actually, the skim coating is a process of applying a thin covering by mud. Which is also sometimes used to hide minor imperfections of the wall or ceiling. You can apply as many coatings as you want to smooth out your rooftop.
So are you going to try out this idea?
Magic of Tools
17. Santa Fe Ceiling Texture
Santa Fe Ceiling Texture is really a variation of skip trowel. You are deemed to get confused at a single glance towards it. Even though the installation of both types is the same, the Santa Fe covers 60% more surface area than the skip trowel.
So what do you prefer skip trowel or Santa Fe Ceiling Texture?
18. Stomp Ceiling Texture
Stomp Ceiling Texture is applied by using textured paint rollers and stomp brush, just like the knockdown texture. Consistency is vital while applying this mixture. So it should be at the right paintable consistency with water to get the desired texture on the roof.
Mild Textures
19. Orange Peel Ceiling Texture
You already got an idea about this ceiling texture as the name it resembles the skin of an orange. This is mostly used in washrooms and cooking areas because it has good strength and also looks clean, that's why sometimes it is called an eggshell ceiling texture.
It started back in the 1970s and got so popular in the early 1990s. You can also see this orange peel texture on the walls. To make this special mixture, you need to apply a thin layer of mud texture with the help of a gun (set on high pressure).
20. Tree Bark Ceiling Texture
Its name describes it all, which means it looks like tree bark. This look can be achieved with the help of a heavy roller. There is no doubt that a ceiling with a tree bark stark catches more attention from other types of ceiling. It is also good if you're going for a farmhouse style. So what do you think about this Ceiling texture?
Advantages and Disadvantages of Ceiling Texture
Here are all the benefits and drawbacks of having a ceiling texture in your home:
PROS:
As time passes, you may notice that the drywalls get some cracks and spaces between the joints. So, the repair cost is more expensive than if you apply ceiling texture. You can easily cover up all the imperfections of the ceilings with this.
If you're living in a rental apartment, you face this kind of roof problem. To resolve this concern, you can go for a ceiling texture that will inevitably cost you less and also saves a lot of your time.
If your wall texture has bumps and holes, you can easily cover them with these ceiling textures, and after the applications, they look flawless.
After proper application, they will stay in the place for a very long time.
Unlike the old ceiling types, here you can find varieties in textures & patterns to choose from.
CONS:
Everything has some drawbacks, and it also has some!
Some of the ceiling patterns are time-consuming, and some are very hard to apply. So you have to hire a professional to do this, which may hurt your pocket.
The tools and equipment are also a problem as many of us don't have these kinds of specialized tools in our house.
Some ceiling textures like popcorn and lace are harsh to scraping off and then installing another one.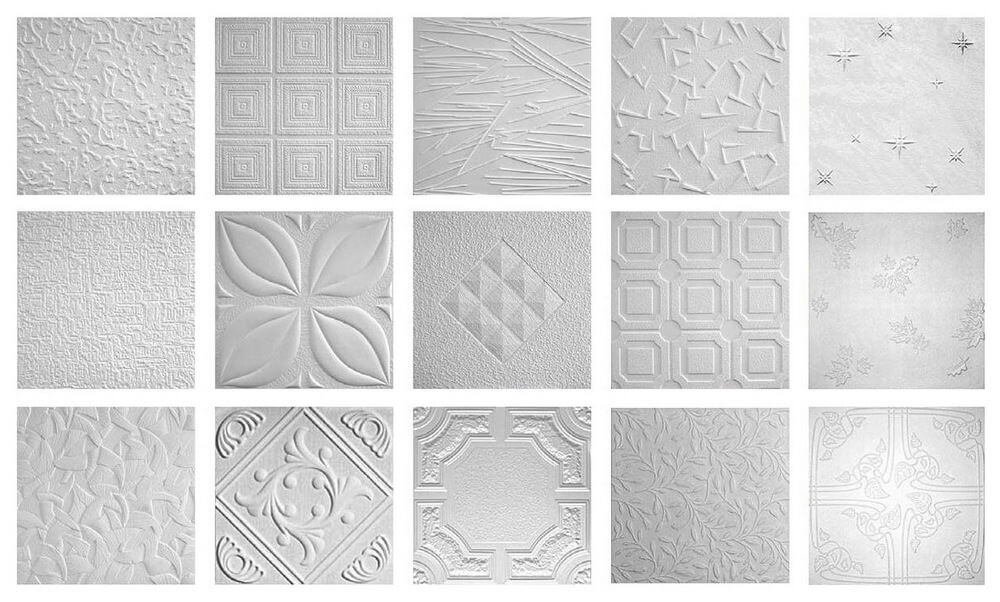 Tips and Precautions For Ceiling Texture
Always cover your floor with plastic before you start this process, as some of the joint compound or drywall mixture drops on the floor, and it is pretty hard to clean.
Use tape to mark the roof to get them clean and finished lines.
Cover your mouth with a mask and wear hand gloves to protect yourself from dust and dirt.
So did you select the one for your bedroom? We're pretty sure that your heart is stuck at more than one. After all, they all have beautiful ceiling textures, and it's pretty hard to select one. Right? But always pick the one which is really suitable for your house and also do check the prices before purchasing the materials.
Some of them really required hard work, but after this, the result will blow people's minds, and they will not get off their eyes from your extra-ordinary-looking ceilings. And you can always add a bit green to your lovely place.
So, this is all about the ceiling textures types.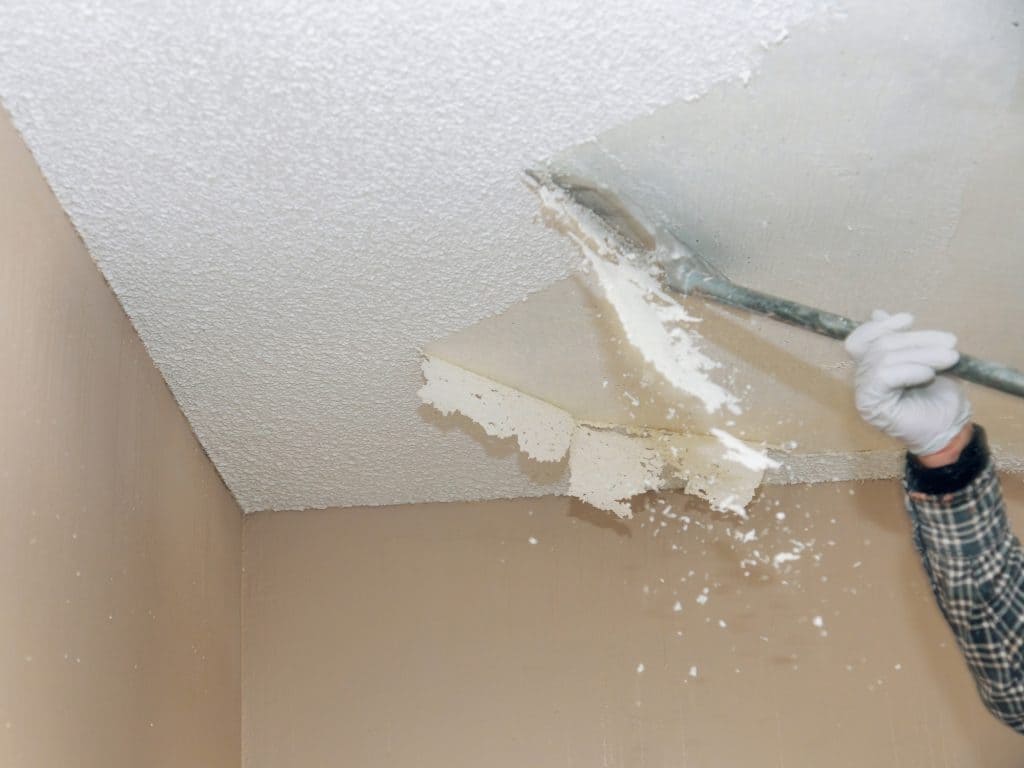 FAQs:
1. What Is the Primary Objective of Setting a Ceiling Texture?
It has been found that texturing can hide defects in the best possible way. It even aids in getting rid of echo in a room. Have you ever spoken in a room before and after carpeting? If yes, you will comprehend the difference in echoes made after carpeting.
2. Is There a Definite Way to Texture a Ceiling?
We advise using a sand compound and spreading it in a specific pattern to curate a lumpy, rocky finish.
3. How Long Does It Take to Perform Ceiling Texture?
It takes less than an hour to texture and costs less than $20 in materials.
4. What Results in Falling Off a Ceiling Texture?
When you apply latex on top of a popcorn ceiling, the water in the colorant can destroy the tacky bond between the texture and substrate. This results in falling off a ceiling texture. To avoid this problem, it is suggested to smear an alkyd primer before covering with a new coat of color with latex.
5. How Long Should You Keep Ceiling Texture Dry Up?
The ceiling texture dries to the touch in five to ten minutes and to handle in ten to fifteen minutes. Please enable the paint to dry for at least a day before painting. It might take even longer to dry if there is an even heavier texture.
6. What Value Do Textured Ceilings Make?
Popcorn ceilings have gone out of favor in recent years. Hence, we suggest you go for popcorn ceiling removal to enhance the value of your home.
To get more information: