Do you have a lathe machine setup at home, or you're planning to get one soon? If yes, you'll surely love to make different things and artworks. Lathe machines are super powerful as there are so many things that you can make with the help of them. So, what can you make with a metal lathe machine?
There are so many cool things to make on a metal lathe, from flower pots, glasses, metal bullets, and weapons.
Whether you're a newbie to wood crafting or looking for some new ideas for something unique to make, you've landed on the right page. Today in this blog, we've compiled a list of the best metal lathe projects for beginners. From puzzles, hammers to wooden bowls and chess boxes, you can literally make so many things with the help of a lathe machine.
So if you're interested to know and want to learn about mini lathe projects in detail, keep on reading! Let's start with what a lathe machine is and how it works.
What is a Lathe Machine?
A lathe machine is a versatile tool used for shaping both metal and wood. It offers a wide range of functions and operations, including cutting, sanding, knurling, drilling, turning, and more. The workpiece is securely held and rotated on a chuck, while a tool post allows for precise manipulation and control. With its ability to handle various materials and perform multiple tasks, a lathe machine is an essential tool for craftsmen and manufacturers.
A wooden or metal piece is fixed on a rotating tool at a right angle to the axis of rotation. After this, all the excess and unwanted parts of the material are removed, and finally, get a nicely shaped workpiece.
Many different kinds of lathe machines are available, and each has different parts. Based on this, they're used in woodturning, metalworking, metal spinning, thermal spraying, parts reclamation, and glass-working.
15+ Easy & Creative Beginner Metal Lathe Projects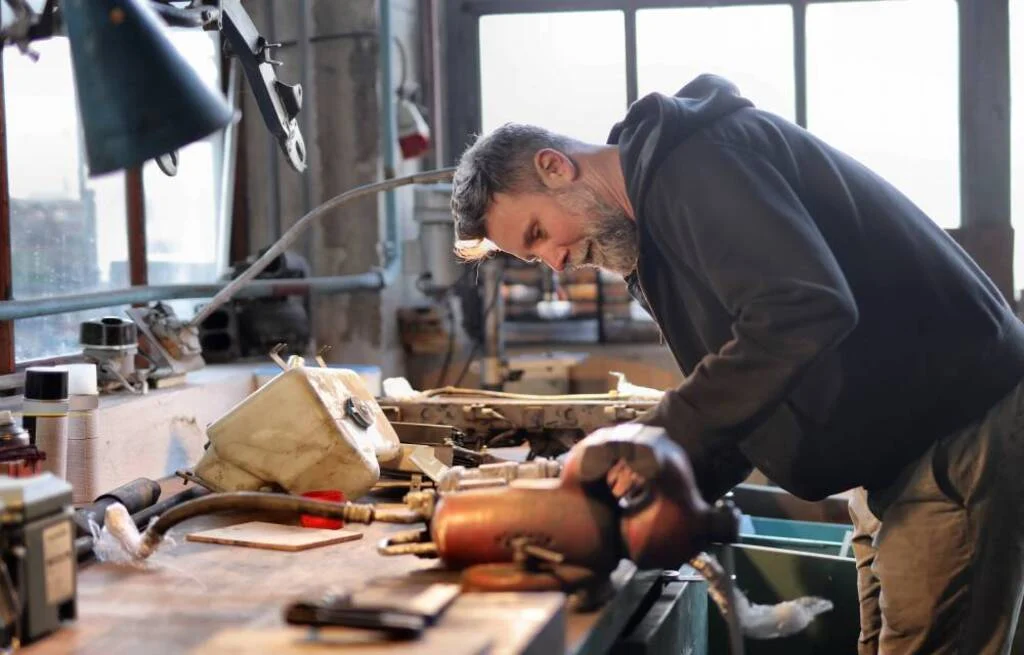 If you've doubts that lathe machine projects are challenging to create, take a look at the below list of mini lathe projects metal and wood. We've rounded up every type of project idea, including wood and metal. So whether this is your first time or you've been doing it for the hundredth time, you'll surely find an interesting project to make in the below list. Lets's see beginner lathe projects metal.
And while making a project, if you mess up or break your working piece, you can always fix them by welding the pieces together with a tig welder. Learn more about tig welders here.
Let's move on to the things to make on a metal lathe:
1. The Captive Nut
Known by many names such as children's puzzle, bolt in a screw and rod with a captive ring, and many more, this is one of the interesting and easy-to-make lathe projects. If you have children, this will be a fun puzzle game for them. So how does the ring get into the rod?
Here's the trick: the nut or ring is trapped on a threaded core, and the two ends of the rod are designed in such a way that they're bigger as compared to the ring. You have to try removing the nut while turning the nut in different directions. Here is a detailed tutorial on how to make a captive nut.
2. Steel Jewelry Box
Are you looking for a unique gift idea to give to your mother, or sister, or girlfriend? The jewelry box idea will be the best option to give to any woman. Instead of buying the set from the shop, this time make it yourself!
Though this metal/steel box will take some time, the finished product will be worth all your time! And most importantly, it's not nearly impossible to create. You can make it from steel or any other easily available material. Even as a beginner, you can try this project as it has some room for error.
3. Paulding Hammer
Paulding hammer, also known as a mallet, is another easy-to-make project for students and beginners. The process is pretty much straightforward and easy. With the help of a lathe machine, you can easily give any shape to the metal but make sure that its shape is symmetric.
You have to create two parts to make this hammer: a cylinder bottom part and a top horizontal part. The handle will allow you to show your excellent woodworking skills, and for that, you'll have to use a knurling tool. You can also add a spin design at the handle for a personal touch.
Don't forget to put your own spin on the design of the handle to make the project your own. You can also create a set of hammers of different sizes and styles.
4. Letter Seal
Make your letter more personalized with a cute seal. This is an old tradition that was popularly used by nobles, merchants, and guild masters. They use stamped wax to seal the letters and confidential documents.
So if you're making a metal lathe machine project for the first time, try this simple metal lathe projects. It's quite simple but looks really attractive. You can also give as gifts to your family and friends.
5. Writing Pen
Another great metal lathe machine project for beginners is a pen. Though it's a simple concept, it takes a lot to create this. You have to make all the pieces so that they fit correctly. For a different look, you can also combine metal with wood and also engraved names or details if you're planning to gift this to someone.
6. Threading Die Holder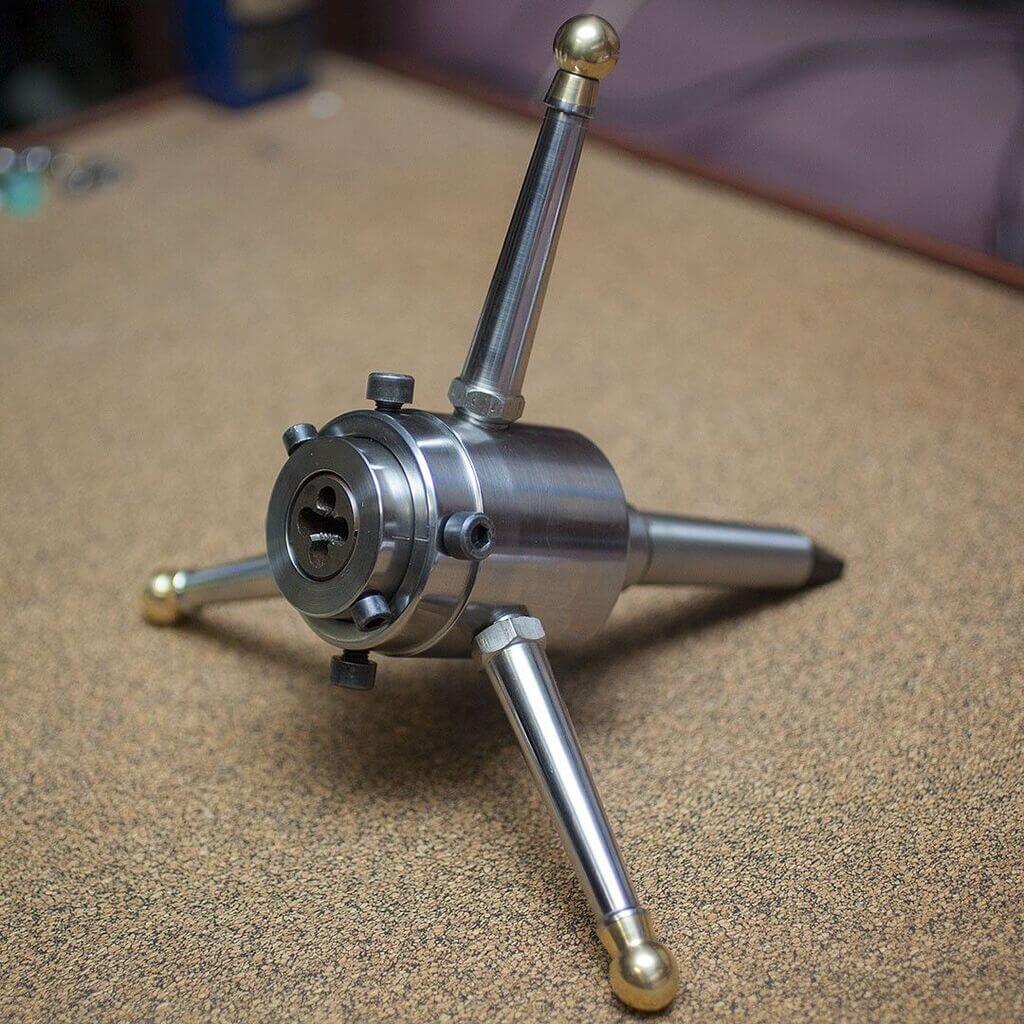 After looking at the picture of a threading die holder, you may have surely believed that it is one of the hardest metal projects to make. We won't lie to you, yes it's a bit complicated to understand its design at first, but once you know everything correctly, the entire process will be so easy. You can build this die holder from a round bar stock and later attach it to a mini lathe tailstock.
7. Metal Bullets
One of the most popular metal lathe project ideas is the bullets! Many people choose their first lathe project because of its ease of operation. Plus, you can make many similar bullets, and the entire process is almost similar for all of them.
See, the basic shape of the bullet is a cone, but if you want, you change its shape according to your liking. Start with the core or small metal block and work while spinning it.
Once you get familiar with the entire process, replicating the bullets will be difficult for you. You can try different shapes and sizes, from small bullets to large ones, to make the procedure more fun and interesting.
8. Machinist's Scribe/Pen
Here is another great metal lathe idea for you: make a machinist scribe. Here's a full tutorial to make a metal scribe and if you want to make a metal pen, here's the step by step guide.
9. Wedding Rings
Here you can see how easy and smooth it is to make rings. Whether you want to make a copper ring or wedding ring, you can easily create one with the help of a lathe machine.
10. Ice Cream Scoop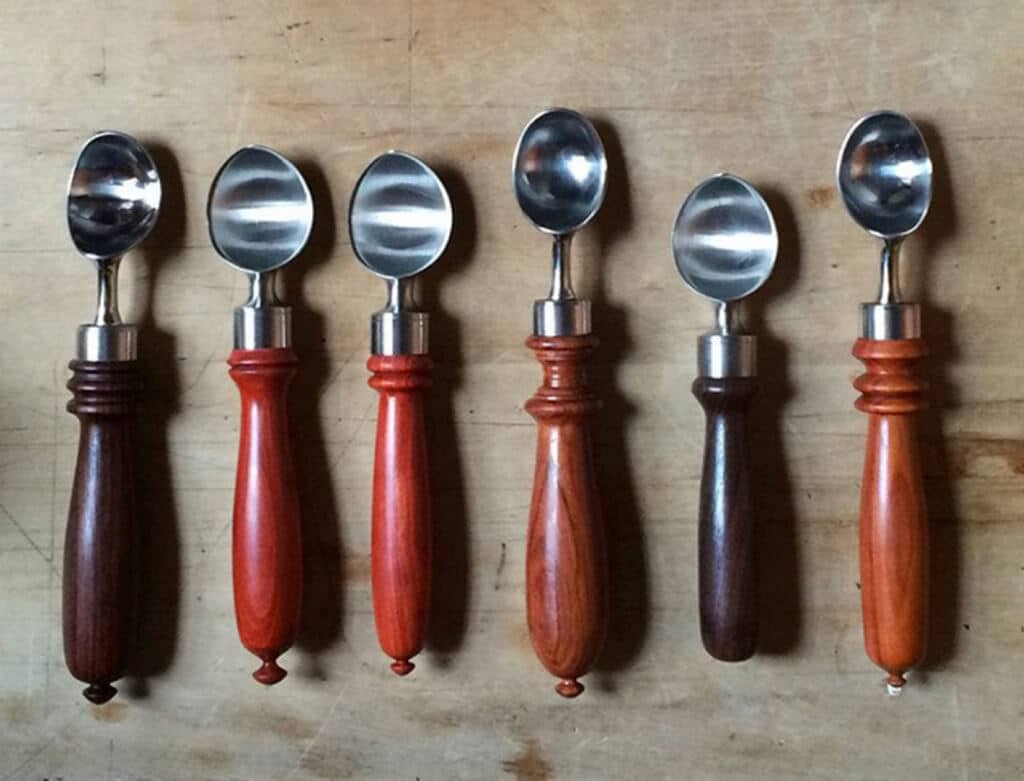 Want to make something small but meaningful? Try an ice cream scoop spoon. This is one of the popular small metal lathe projects.
Other than this, there are many more project ideas such as baby cup, metal bowls and other art pieces which you can try.
Wood Lathe Projects For Beginners
Now let's move to the wood lathe project ideas. Yes, you can create so many creative and wonderful pieces just from a piece of wood. Here are some of the cool wood lathe machine project ideas.
11. Wooden Bangles
Let's start with the wooden bangles! One of the most liked jewelry pieces of the women and girls, bangles will be the best gift. Though rubber and chain bracelets are most in trend these days, they still can't beat the elegance of a bangle, especially when someone crafts it.
Bangles are durable, and they'll last for many years. You can also try different shapes and designs to create more unique pieces. You can also include your kids in the project building process, as it will be a fun thing to watch for them. Make sure that they don't stand too close to the machine.
12. Wooden Spoons
Your grandma will tell you how important the wooden spoons are in her kitchen. From making pasta sauces and other delicious foods, wooden spoons have been used because wood doesn't cause any reaction, which can alter the taste. Metal utensils can also ruin foods like dough and foods that include yeasts or bacteria.
So if wooden spoons mean so much to her, you can make one for her with the help of a lathe machine. Even beginners can try this woodturning to create simple and ornate spoons. So try this method and make some beautiful wooden spoons.
13. Candle Stools/Doll Furniture
Do you love miniature things? If yes, you'll surely love this cute tiny piece. This is a functional piece that can be used for many things such as candle stools or doll furniture or to elevate plant pots. Simple and easy project, this stool will be a fun lathe machine project for you and your children. You can even use this stool to create a romantic evening or seating for dolls.
You can also change the size according to your liking. Don't worry if you think that this stool looks tiny; that's why it's hard to make, but that's not true! It's one of the quickest lathe projects with versatile designs that you can make.
14. Wooden Bowl
You may have seen videos of people creating fantastic bowls and vessels with the help of the lathe machine. If you are fascinated by them, why not try for yourself! Due to the ease of operation and design, even as a beginner, you can try this.
From fruits, fancy dinner sets to a storage container; you can literally use this bowl in many ways. With the help of a lathe machine and other tools, you can either opt for a standard, plain-looking bowl or add various patterns and designs.
15. Chess Box
Here is a fun lathe machine project for you: A chessboard! Made from excellent quality wood materials, this chessboard is something that is super exciting to build. You can build the small, medium or as per your liking.
To make its handling easy, you can also add handles and closure for opening and closing. You can easily do this with a wood lathe machine; watch the video here.
16. A Wooden Shot Glass
Yes, shot glasses are usually made from crystal, but there is no rule that it has to be made from glass only! Check out this extraordinary wooden glass that can be used for household purposes.
You can make one with wood and use it either for drinking or display. Achieve and create the set of these beautiful glasses by using a wood lathe machine. So include this unique and elegant wooden piece in your home decor.
17. Bottle Stoppers
Another great project for both students and beginners is bottle stoppers. Here's a full blog with a tutorial on how to make wooden bottle stoppers by lathe machine.
18. Bottle Coasters

19. Candy Box

Here are some more wood and metal lathe machine projects for you to get some inspiration: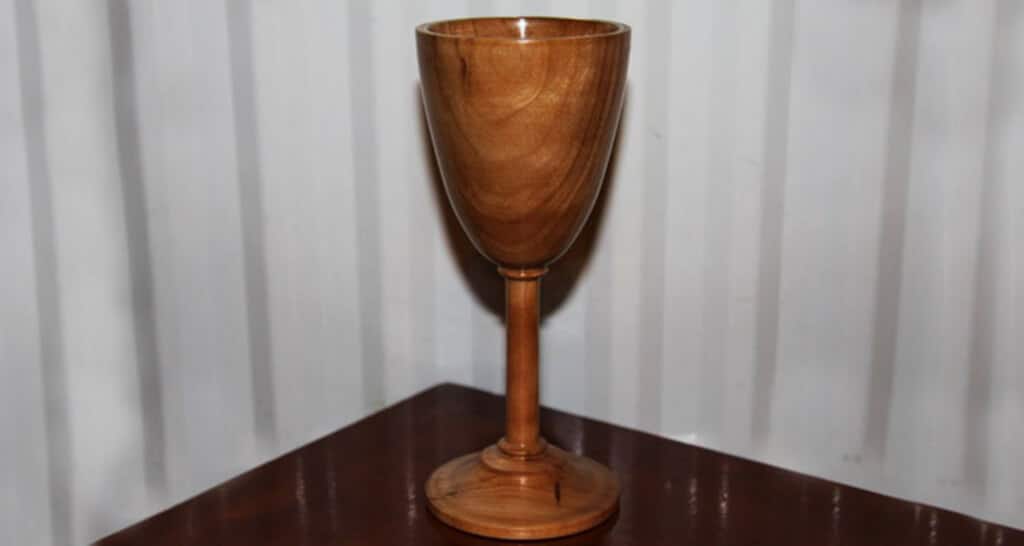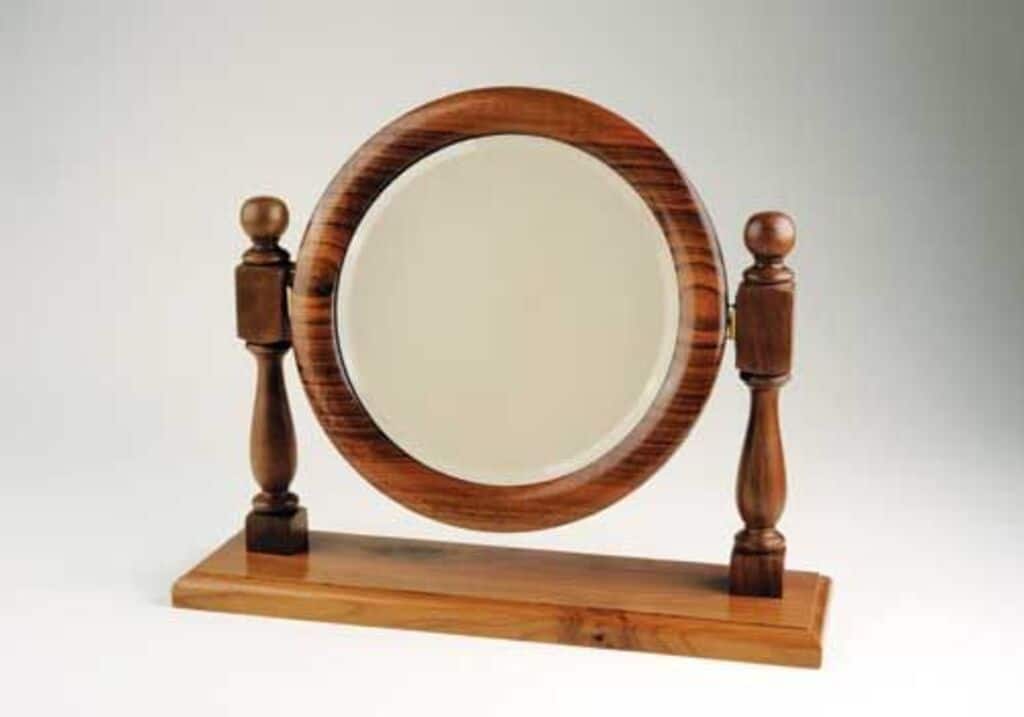 The Bottom Line
All the wood and metal lathe projects plans that we've mentioned in the above list are easy to make, and mostly you can build them in under a day or two. Start with the easy projects, and when you get mastered in handling the metal lathe machine, you can try more complicated ones.
Whether this is your first time using a lathe machine or you've already done so many projects, you can try these mini metal lathe projects. At first, there are chances to mess up but keep trying until you get the desired result. Another wonderful thing about them is that you can sell metal lathe projects to make money. Yes, there are many metal lathe projects that sell at a good price. So, this time doesn't be afraid to try and create some unique projects in metal and wood and enjoy the entire process with your kids.
So this is all about the wood and metal lathe machine projects. I hope this blog gives you some inspiration for your next weekend lathe project.
Discover more: