Chilling and Thrilling Halloween Porch Decor Ideas!
Halloween is coming day by day closer, and your creative Halloween porch decor will add more excitement to your celebrations. You will surely have a lot of fun in delighting and intimidating your neighbors and kids. There is no chance that you will leave your front porch plain and boring during this festive season. So, dress up your porch for Halloween in the most creative, spooky, and fun ways possible. 
Halloween gives us an opportunity to create some creative fall creepiness, right?. If you think that during your busy lifestyle, you will not have enough time to decorate your porch, then you're wrong. Today we have come up with fifteen super easy, budget-friendly Halloween front porch decoration ideas that you can do in no time. 
So this Halloween, go bold and dress up your porch for Halloween with these traffic-stopping Halloween porch decor ideas, which include scary ghosts, crawly spiders, sinister crows, dead skeletons, magical witches, and much more! 
15 Creative & Spooktacular Entryway Decoration Ideas
Take inspiration from the below eerie and cute Halloween porch decorations and impress your neighbors. 
1. Spooky Front Porch Decor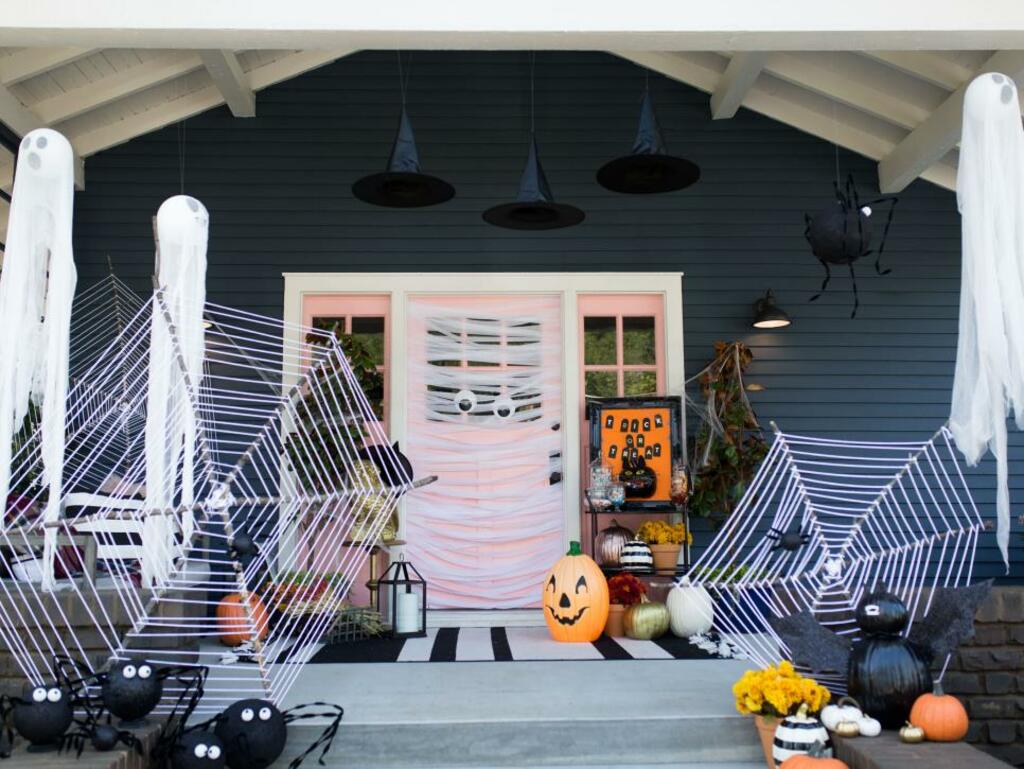 Source: sndimg.com
Create a mouth-dropping Halloween porch display like this. Decorate your porch with some vampire bats, floating hats, expansive webs, and giant spiders galore, and make your home entrance spooky and get ready for Halloween! 
2. A Witchy Welcoming Entrance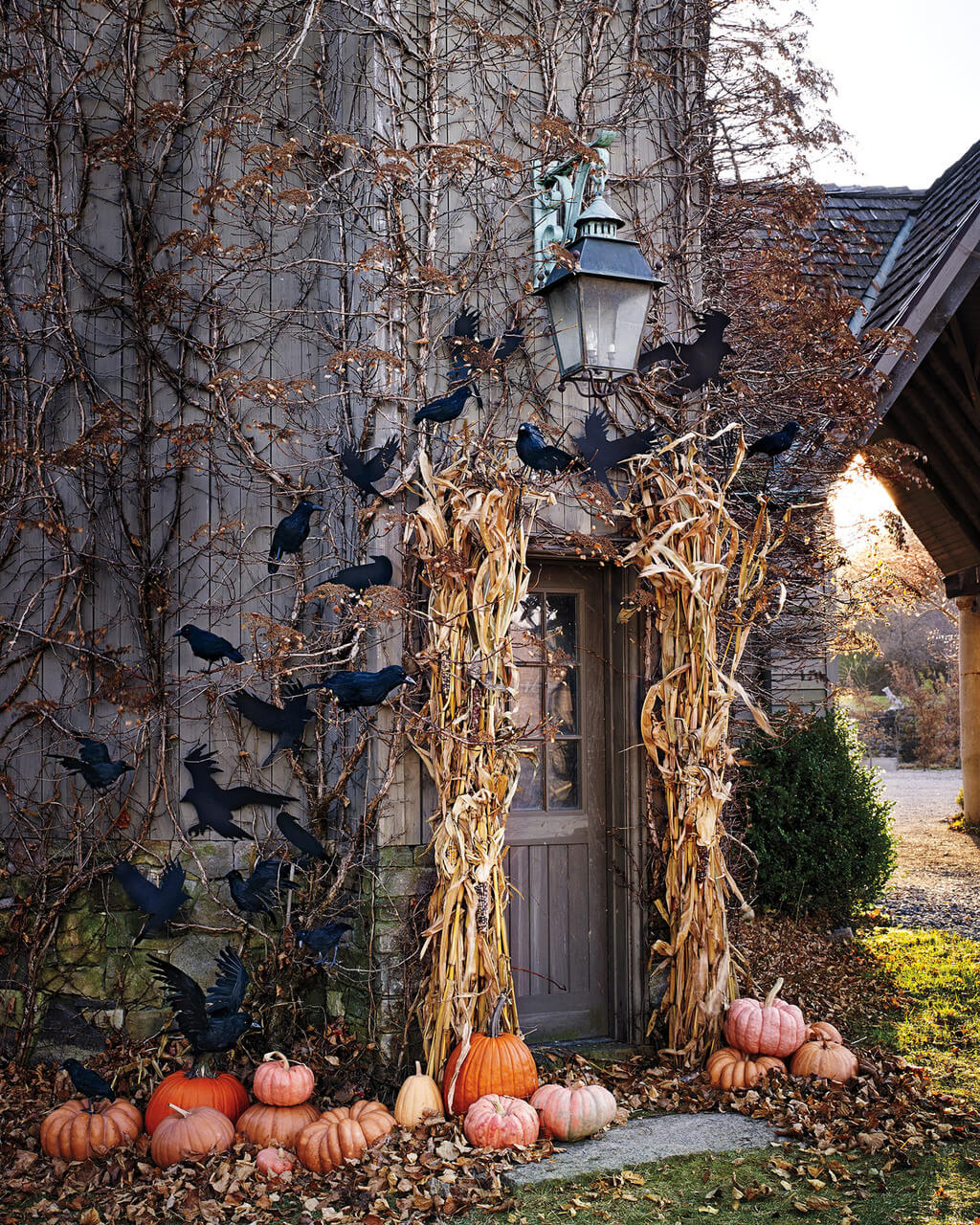 Image Source: onecms.io
This Halloween creates a witch entryway and shows your neighbors your creativity. Put a besom next to your front door or in your foyer. It will look like you recently returned from your midnight ride. Hang a chalkboard sign with "A witch's place" written on it on your front door; it will add more fun to the decorations. 
3. A Frightening "Beware" Sign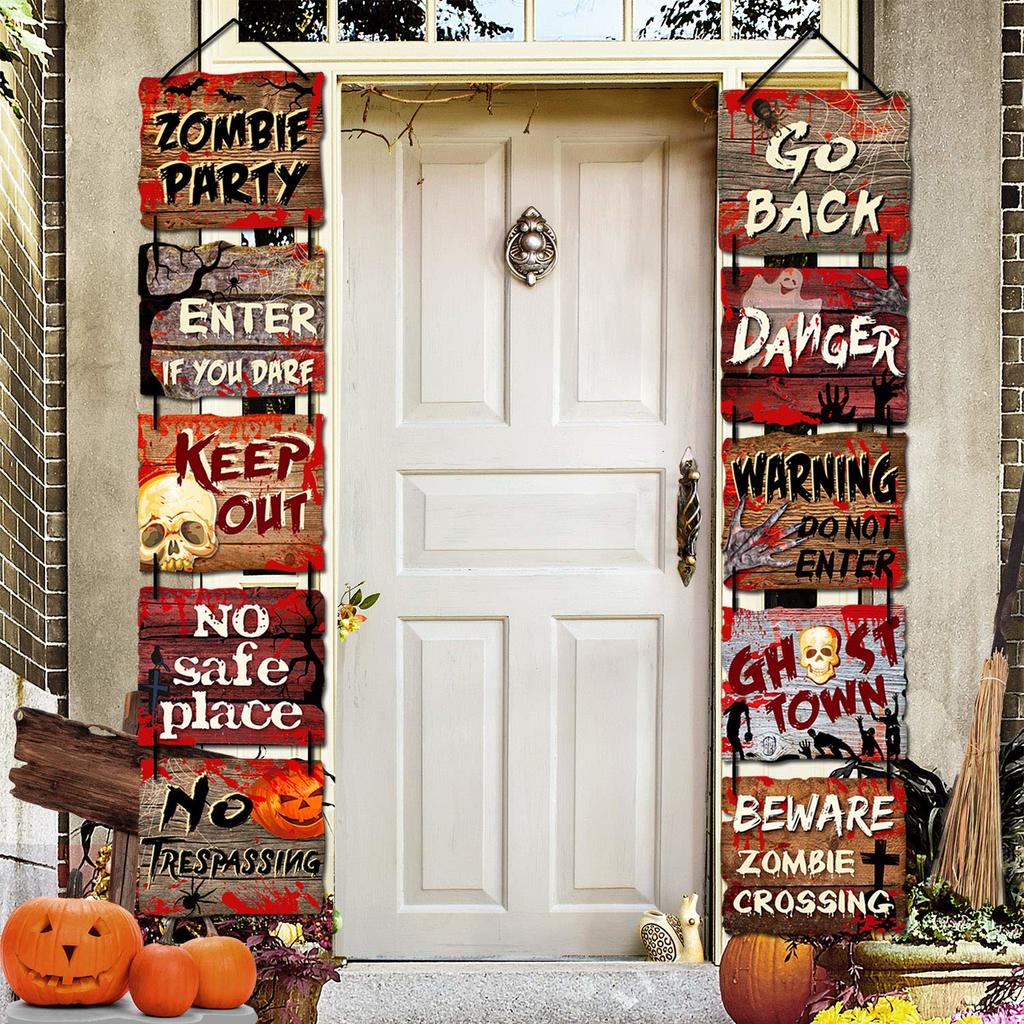 Source: ssl-images-amazon.com
Make a large BEWARE sign and place it right in front of your home. Don't forget to cover your yard and porch with these horrible skeletons, which will surely make your place more creepy. 
4. Colorful Fall Pumpkin Arch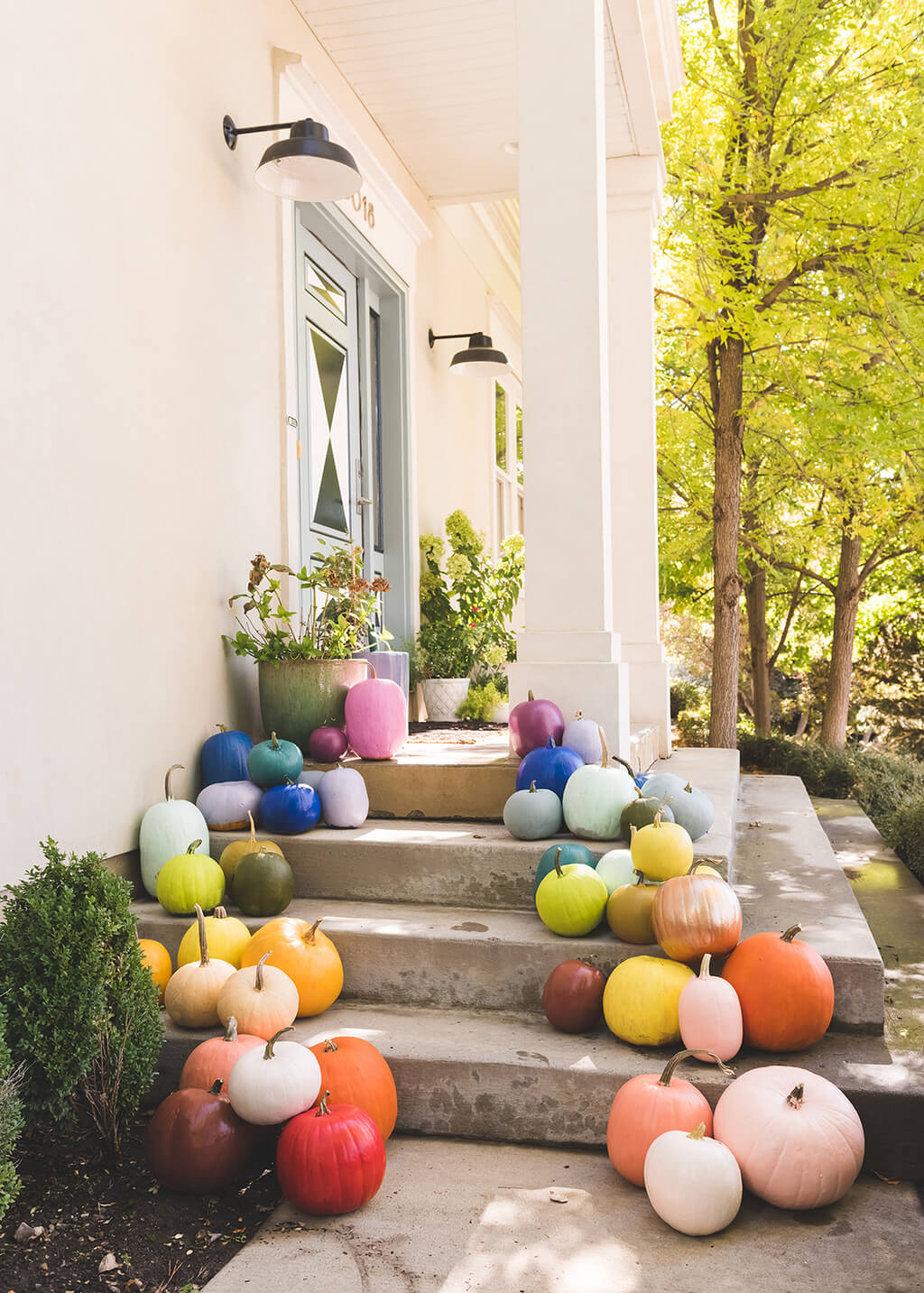 Image Source: thehousethatlarsbuilt.com
Make your Halloween porch decoration unique by putting this over-the-top pumpkin arch. You can easily make it with PVC pipe, faux pumpkin, and dried leaves.
5. Keep Out!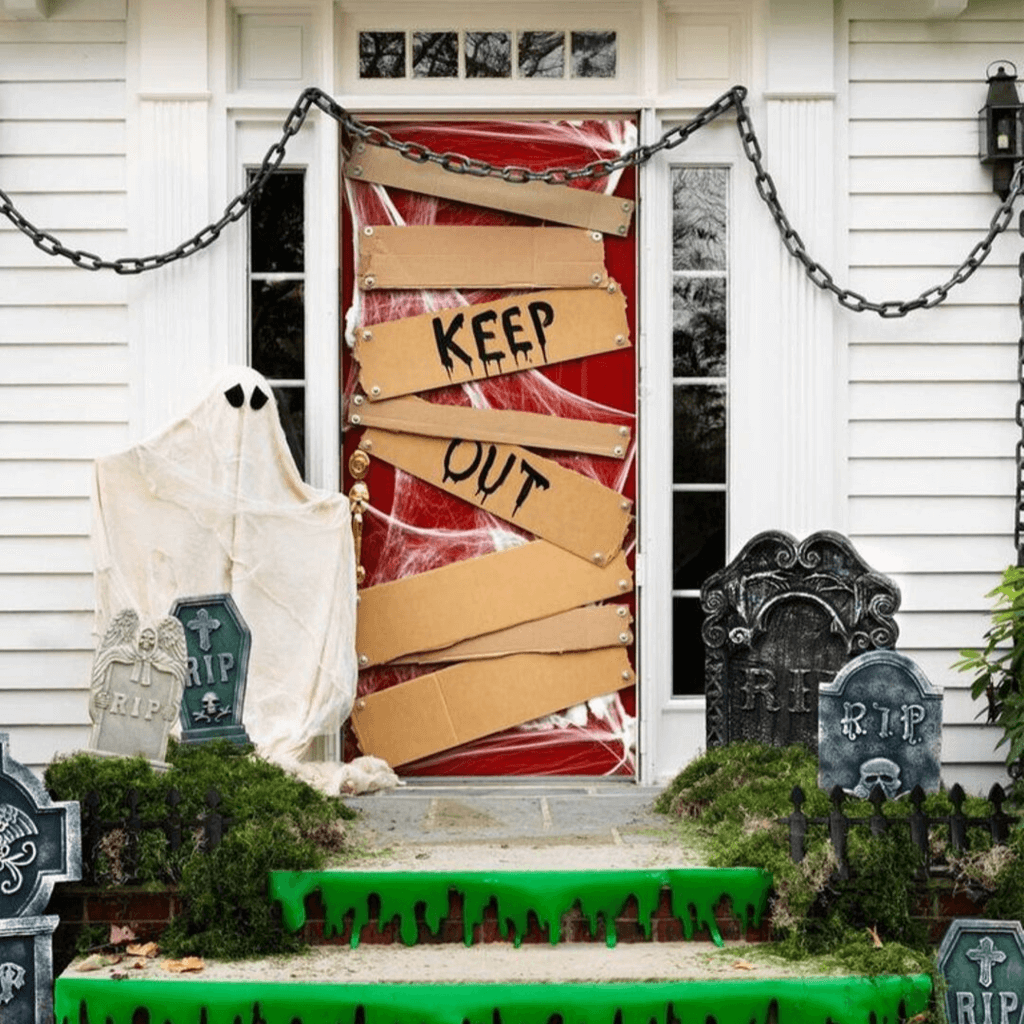 Source: diythought.com
This will be a fun (un)inviting entry that will warn your guests not to enter this house. To make this, just cover your front door in a bright green plastic tablecloth and put cardboard planks. After this, put some googly eyes on the door and write "KEEP OUT" or "DO NOT ENTER." you can also put some faux spider and webs for an extra -spooky touch. 
6. Front Porch Bat Decorations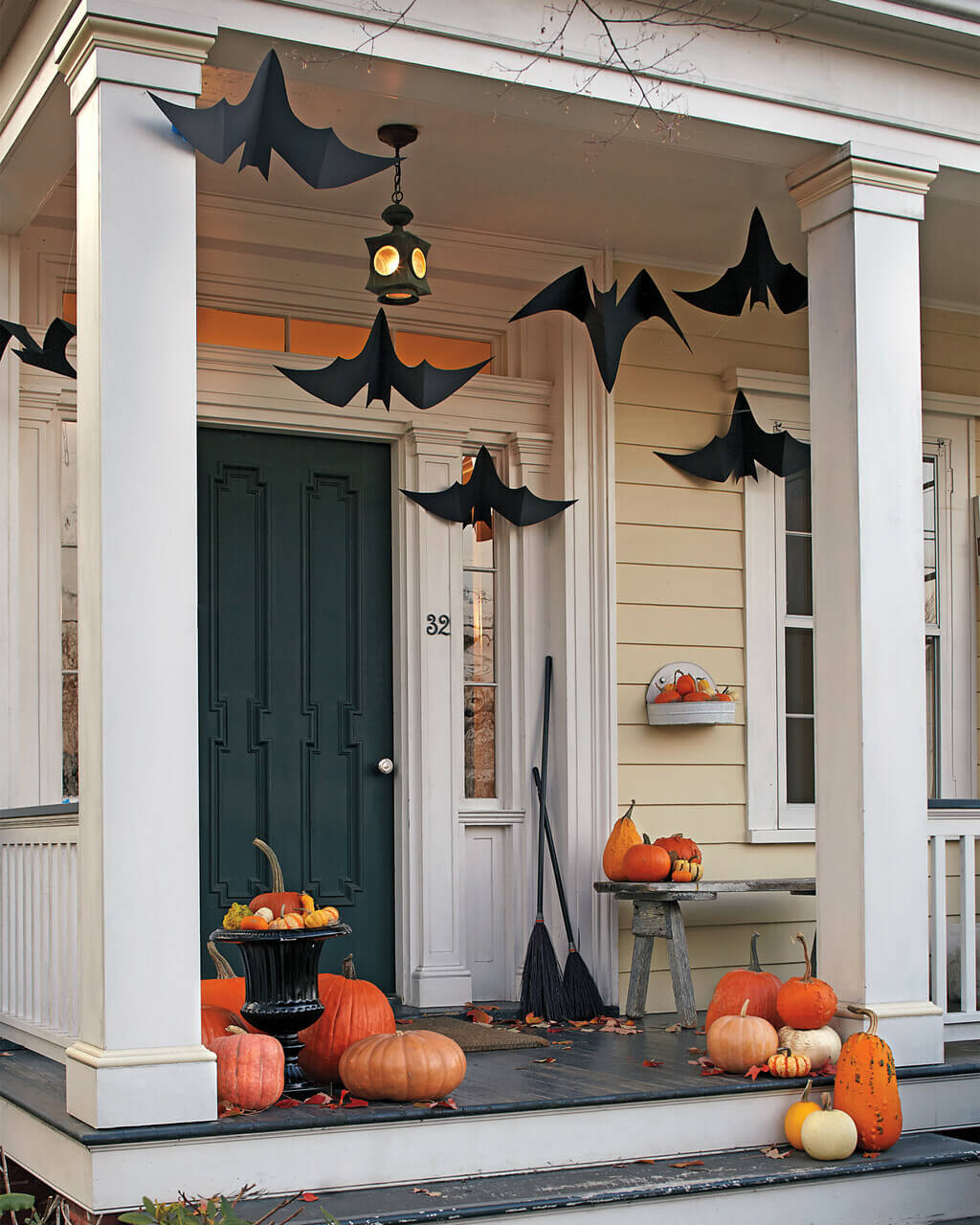 Image Source: meredithcorp.io
Cut out some realistic-looking bats from black paper and hang them all around your porch, tree branches, and wherever possible. To complete your Halloween decorations, place two brooms in the corner and an array of pumpkins on the porch stairs to get a realistic night-time scary appearance.
7. Scary Hanging Skeletons on the Roof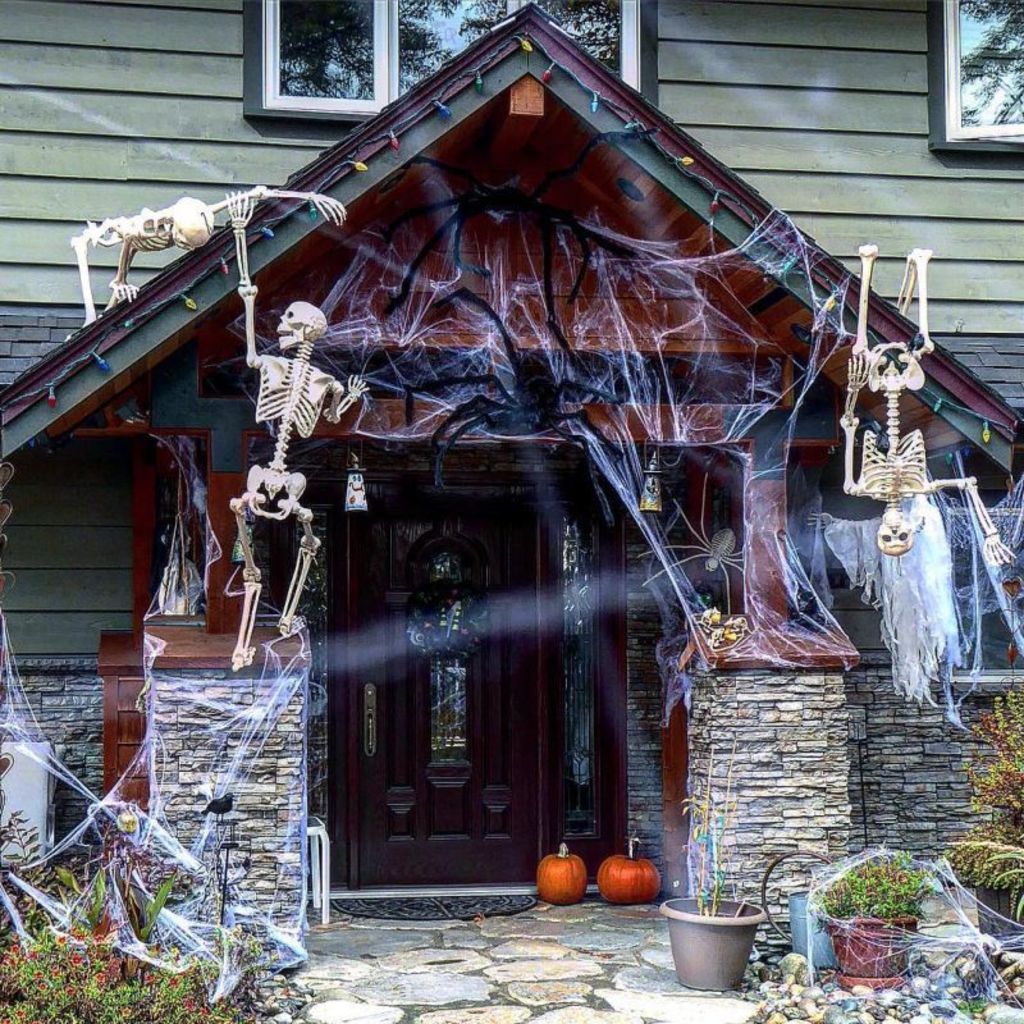 Source: pinimg.com
Terrify your visitors by these dead skeletons that are climbing from pumpkins to your roof. The fun side of this decoration is that you can change the skeletons' position every day and create a scary story to terrify the neighboring children. 
8. Happy Fall Welcoming Doorway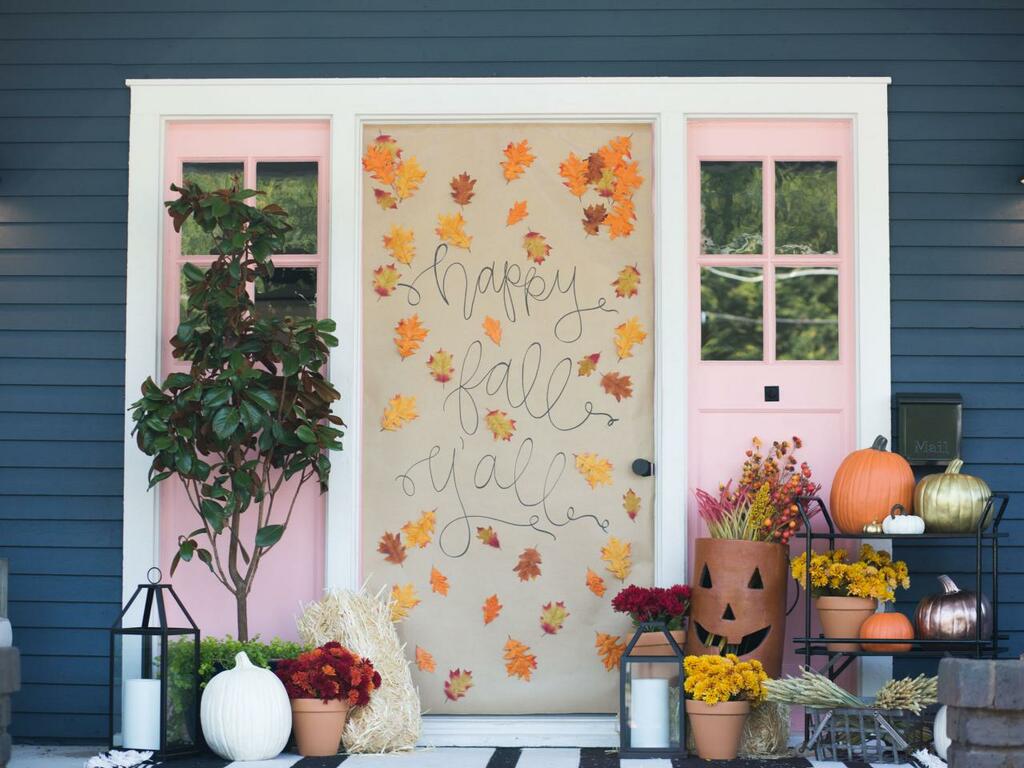 Image Source: sndimg.com
This decoration is not that scary than the other ones, but surely it is welcoming and gives the fall vibes. Place some Plump pumpkins, and potted mums cluster around your doorway. Also, put a pair of pillar candles in black lanterns that will give you a moon-like glow and a Halloween touch to your autumnal front porch decorations. 
9. Wicked Witchy Mudroom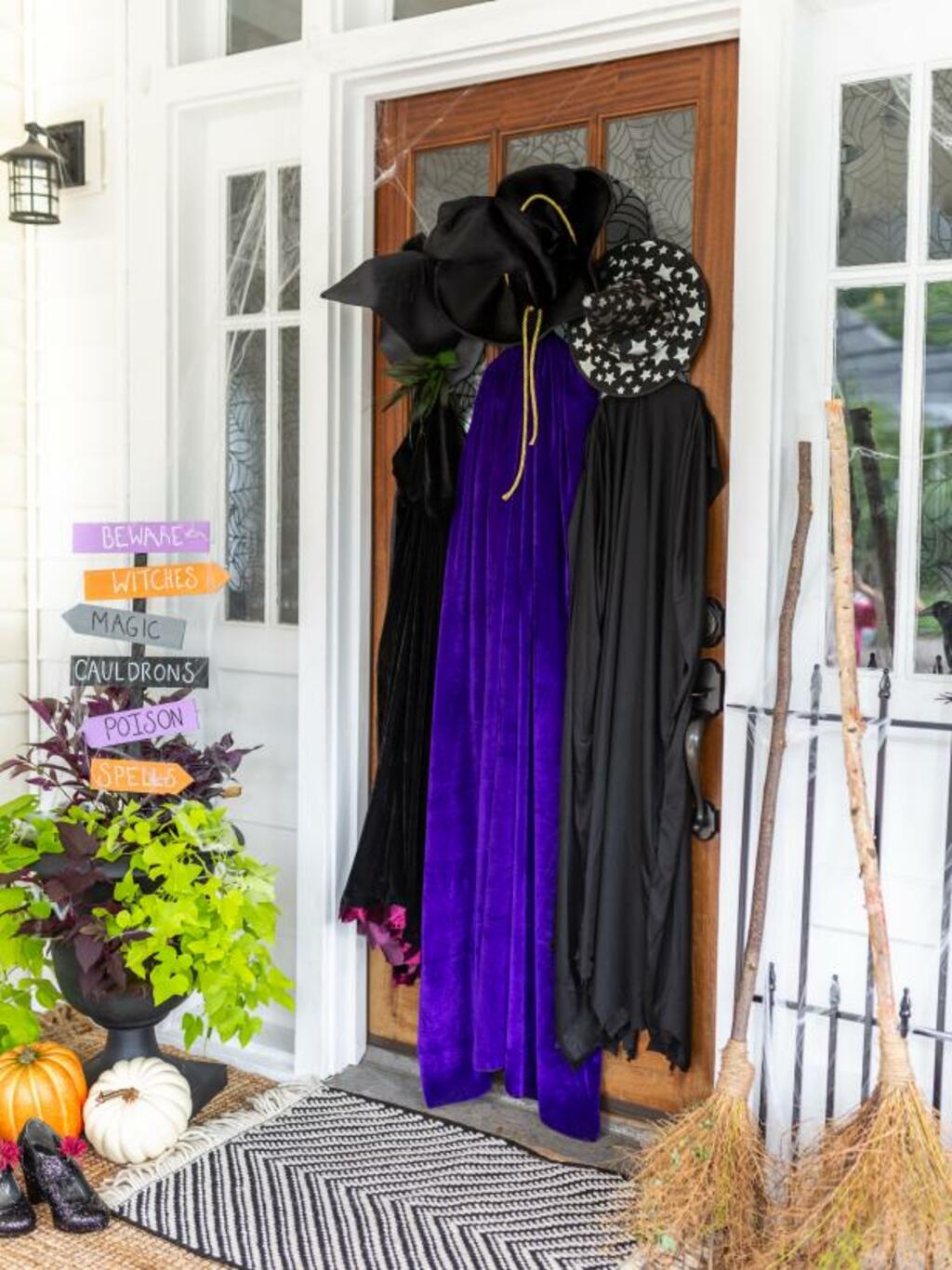 Source: sndimg.com
Turn your front porch into a witchcraft place by this witchy mudroom decorations. The sweeping cloaks and pointy hats hanging on the door will appear as if it is the abode of magical witches.
10. Eerie & Mysterious Entryway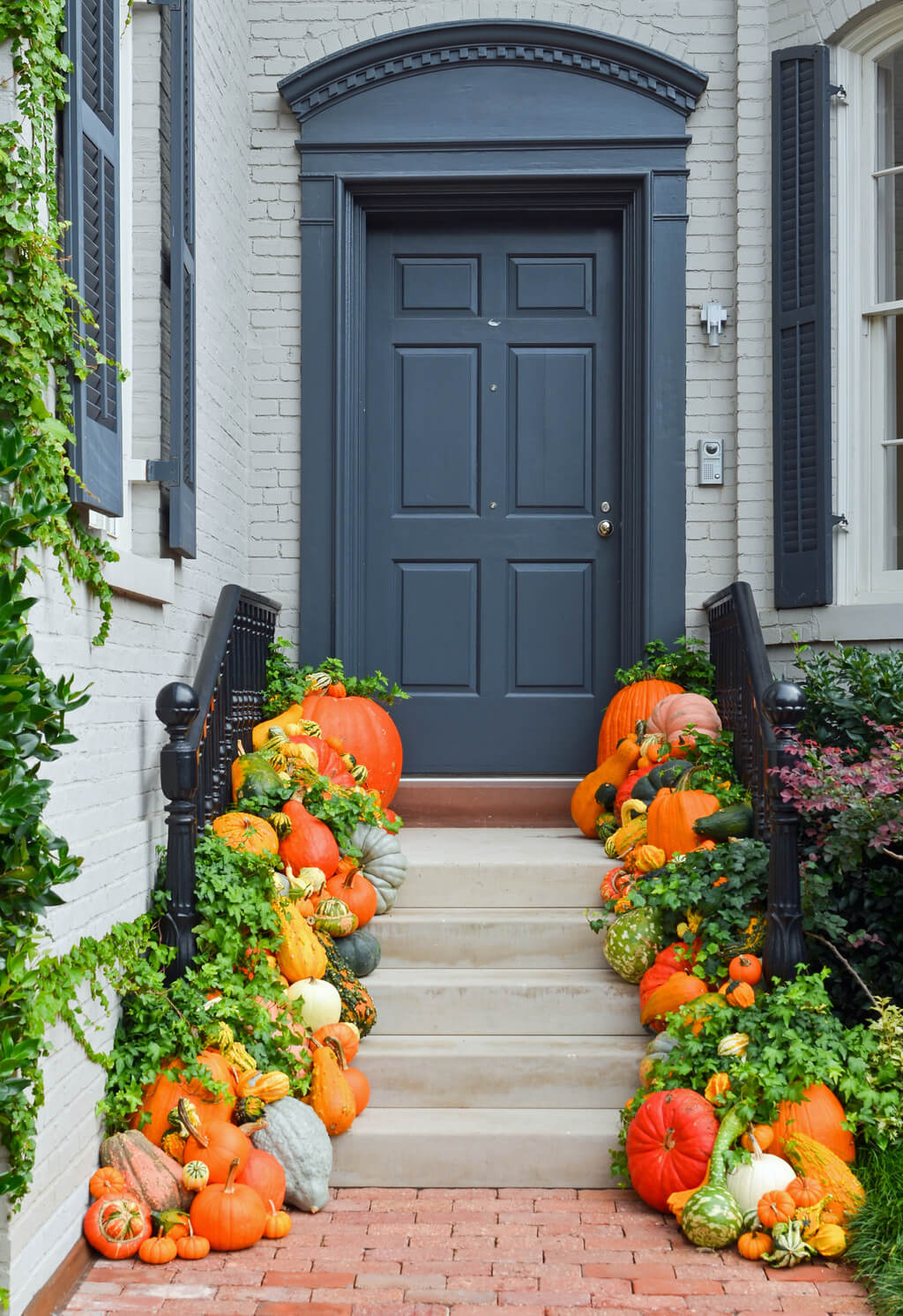 Image Source: sndimg.com
Sometimes you don't need to decorate your porch with expensive, scary things. An old fashioned contrasting decoration is also enough to create an eye-catching and eerie display. Just like this homeowner has done on his front porch. This bold, bountiful display of bright, fiery-orange pumpkins that goes to an inky, black entryway, which in itself is scary. 
11. Monster Candy Tent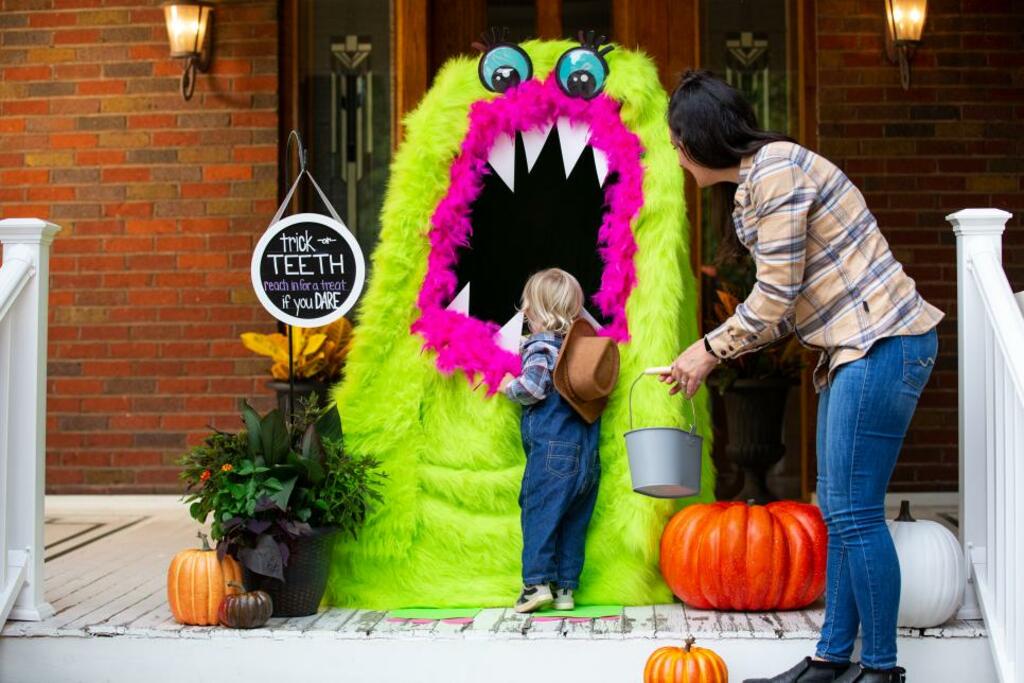 Source: sndimg.com
This year swipe the old traditional candy bowl with this huge monstrous candy Tent. It will be fun and daring for the kids to pick their Halloween candy from this kooky, fur-covered tent monster. 
Also Read: 40+ DIY Halloween Wreath to Make Your Door Look Spooky
12. Billowing Ghostly Outdoor Draperies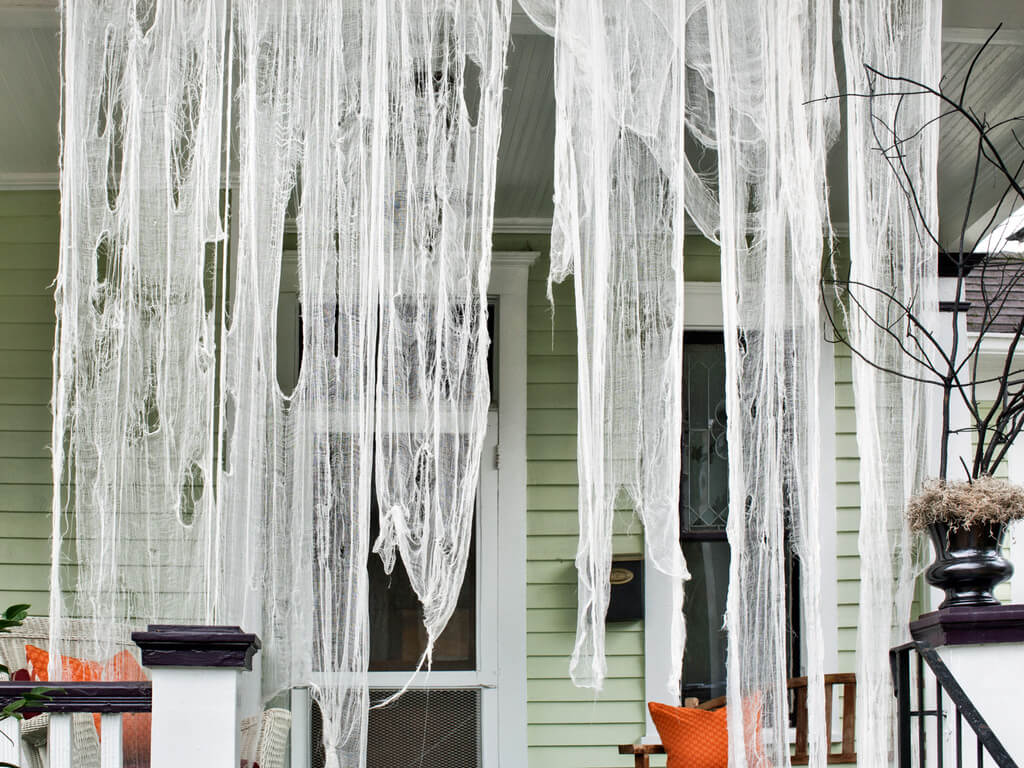 Image Source: sndimg.com
With simple materials and decoration items, you can also turn your porch into a ghoulish place. Take a look at this one, it is only made from cheesecloth fabric, but it looks ghastly just like the other expensive decorations. With the help of a staple gun, place 8-foot-long sections of fabric on your entryway. Cut random holes to get a tattered effect. 
13. Horrific Outdoor Candy Station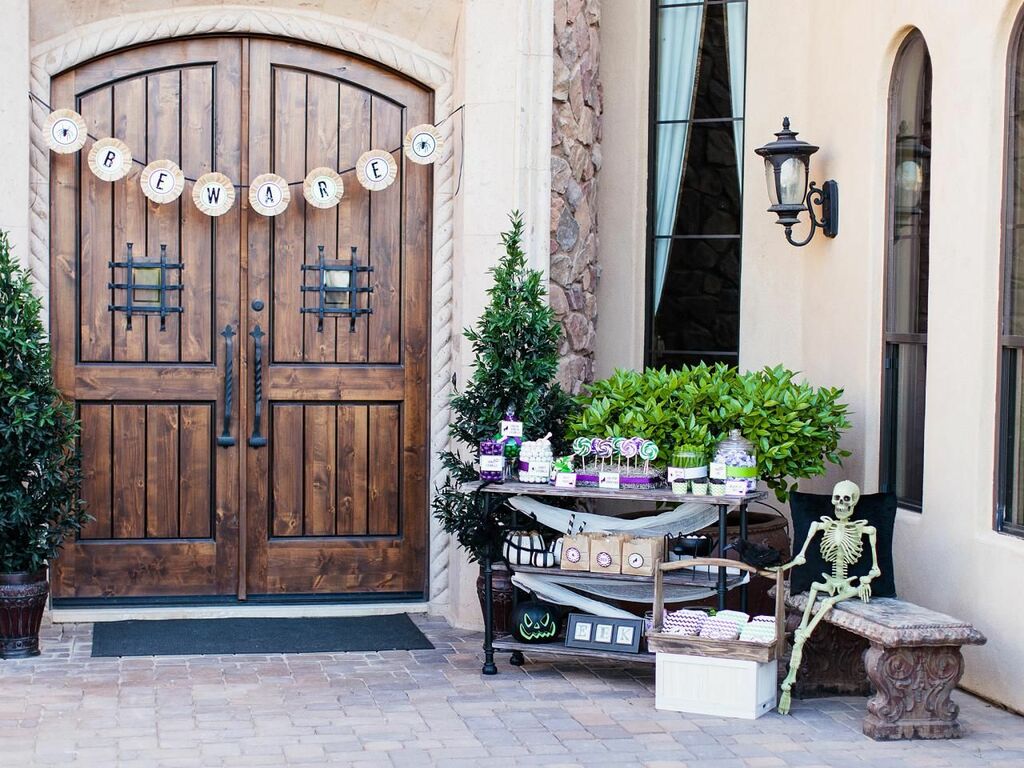 Source: pinimg.com
Welcome your visitors by this sinister outdoor candy station. Kids will also love the big display of sweet and salty treats. To make it more mysterious, add a "BEWARE" banner on your door. 
14. Haunted Banister Decorations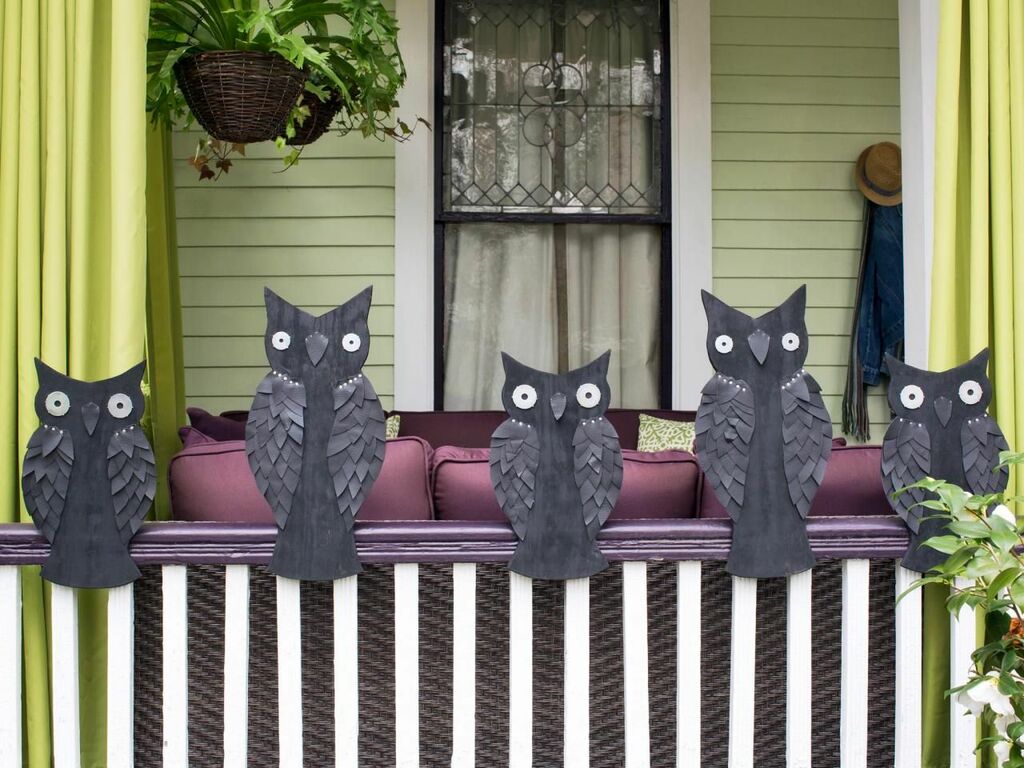 Image Source: pinimg.com
Another fun and easy Halloween porch decoration that you can do with your kids is these banister owls ones. You can use either cardboard, plywood, or just from paper to make these sinister owls. Place it all over your railings. It will look like they're watching everyone with their evil eyes. 
15. Fall & Halloween Together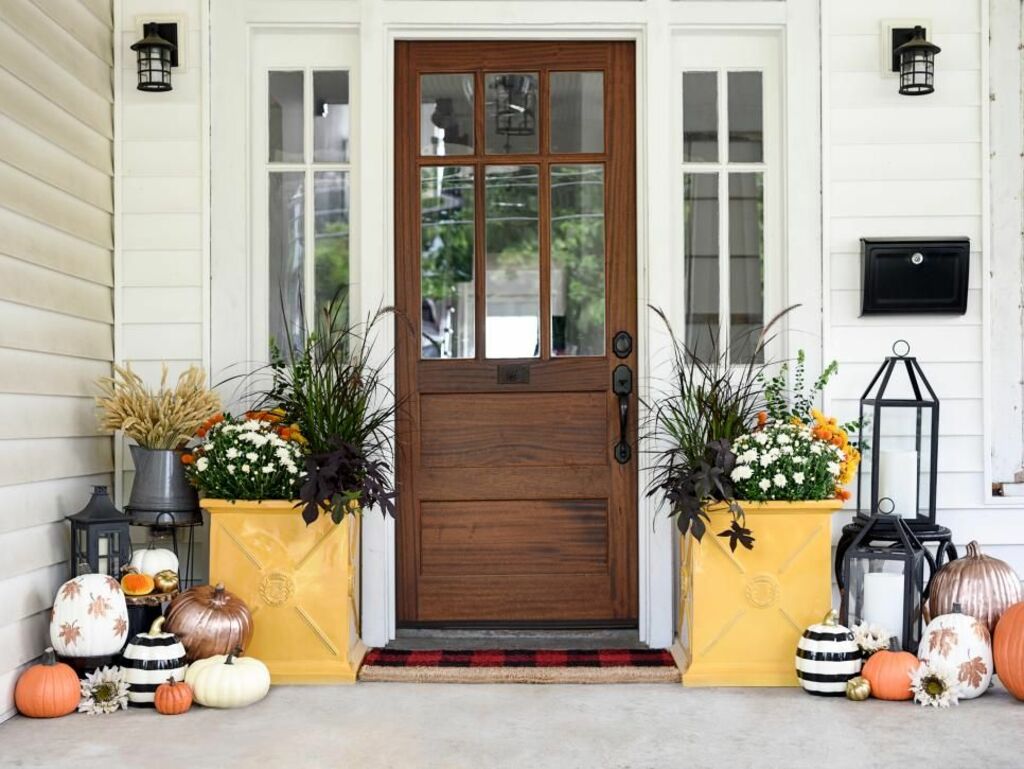 Source: pinimg.com
With Halloween, the fall season is also coming, so why not you mix both the decorations and celebrate them together. These traditional autumn touches are giving a subtle but also a witchy edge on this front porch.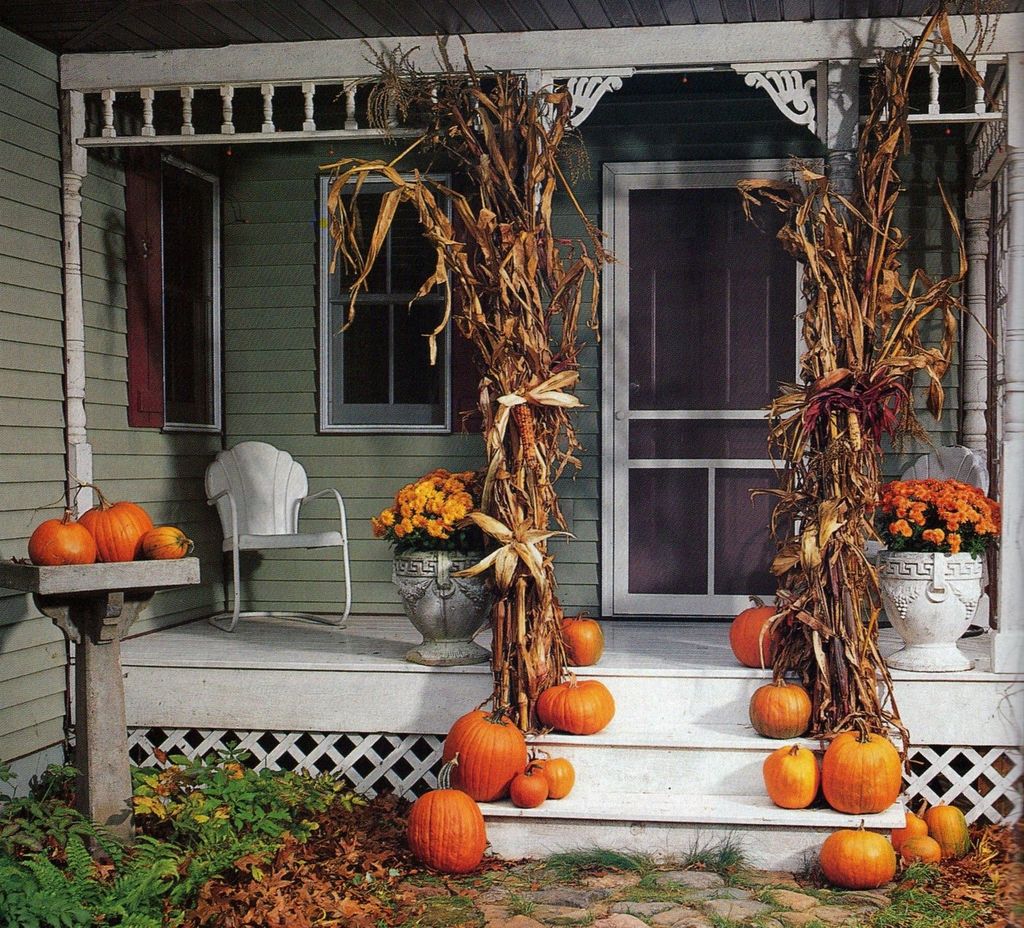 Image Source: pinimg.com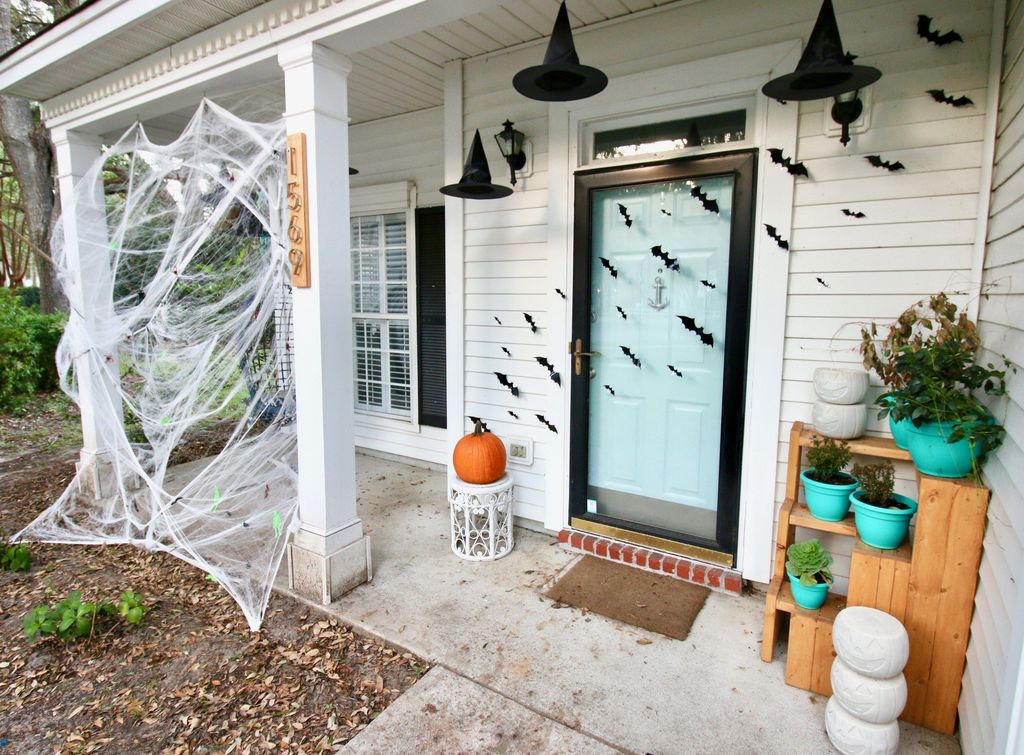 Source: pinimg.com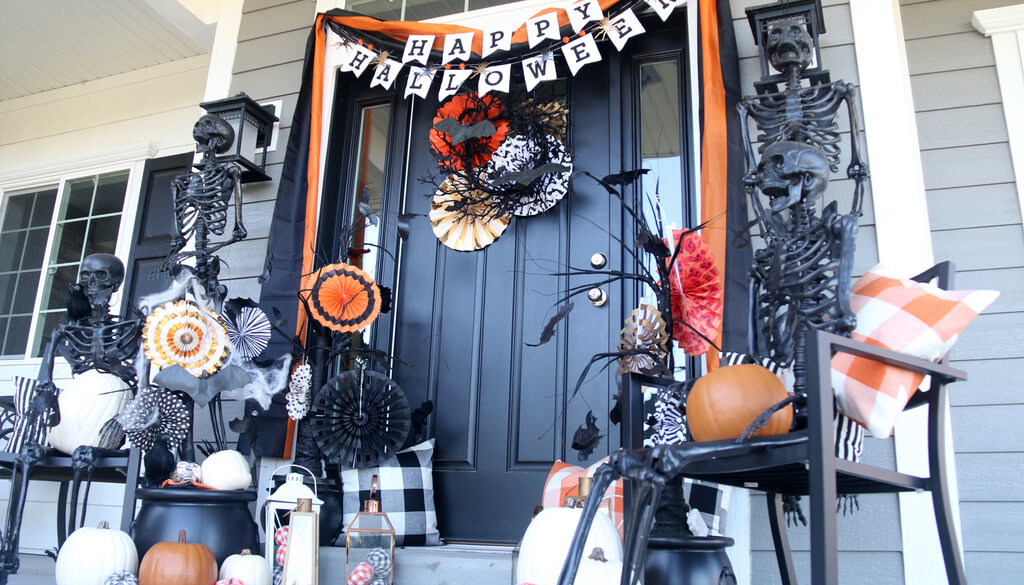 Image Source: orientaltrading.com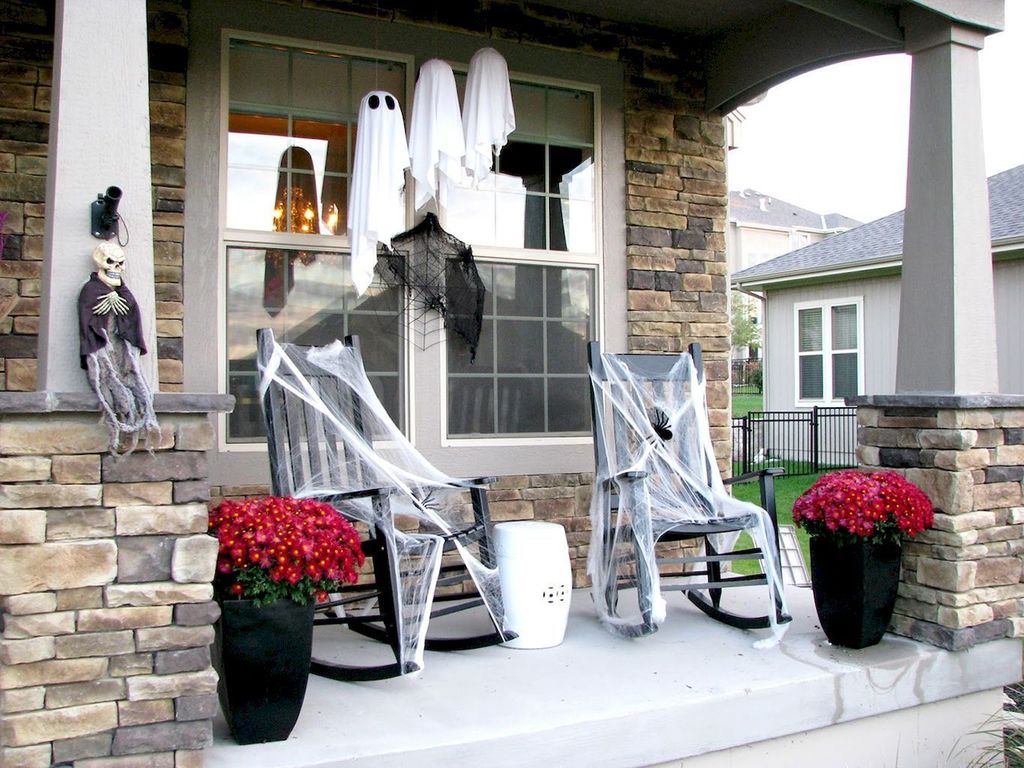 Source: homechatters.com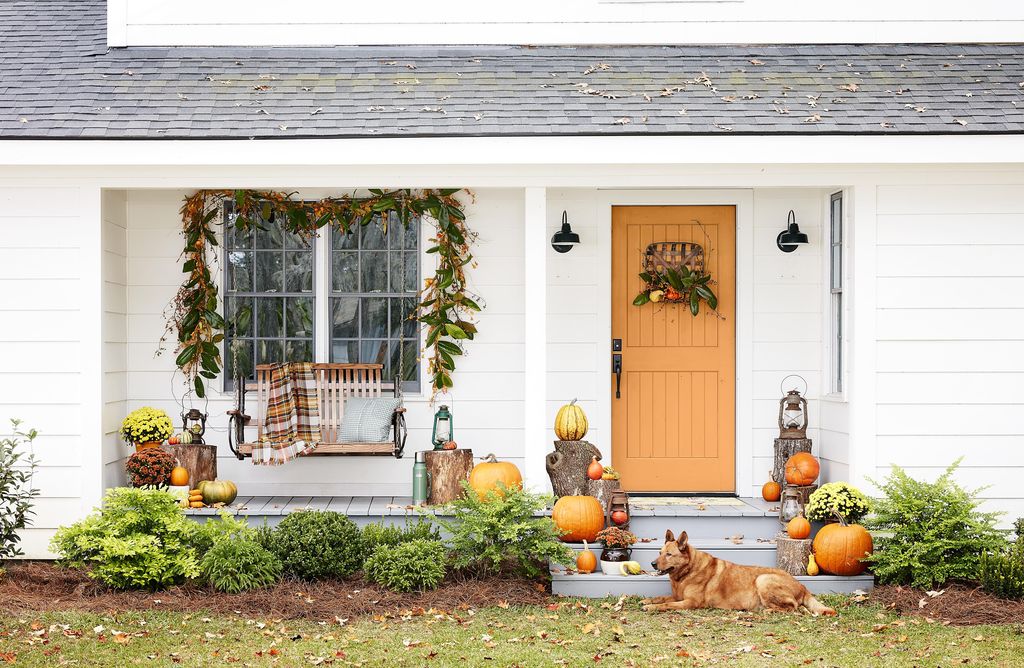 Image Source: hearstapps.com
Source: pinimg.com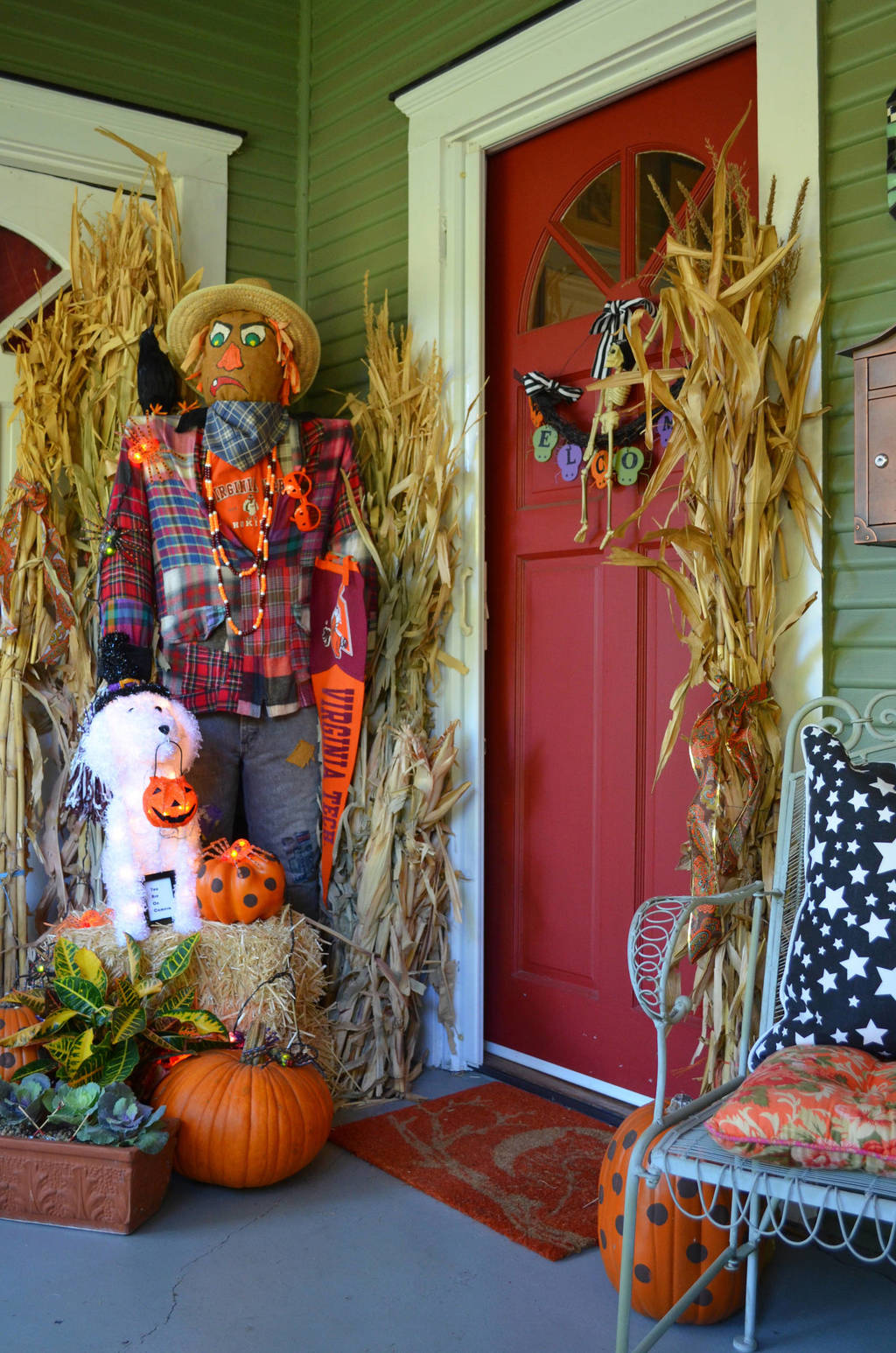 Image Source: hzcdn.com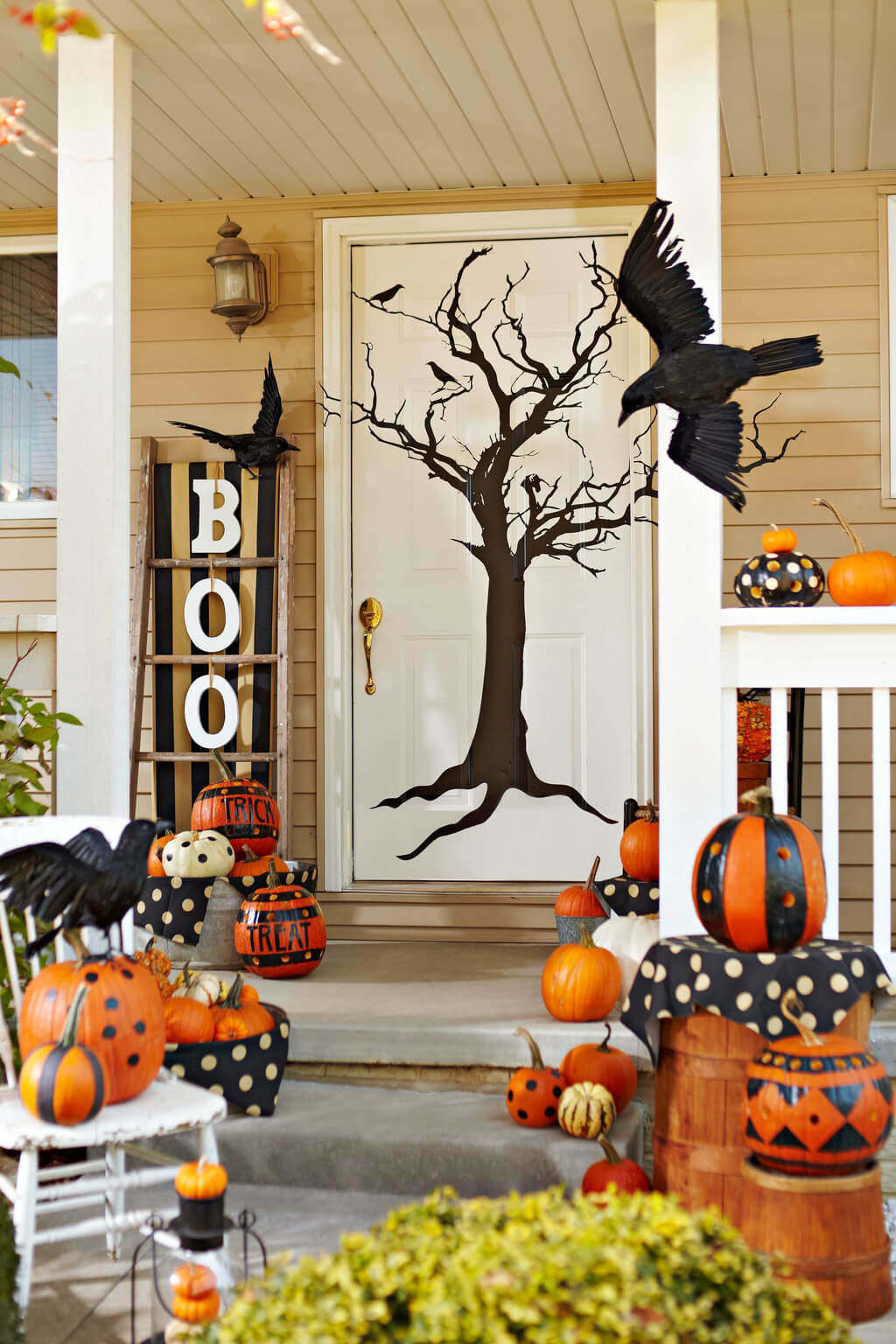 Source: meredithcorp.io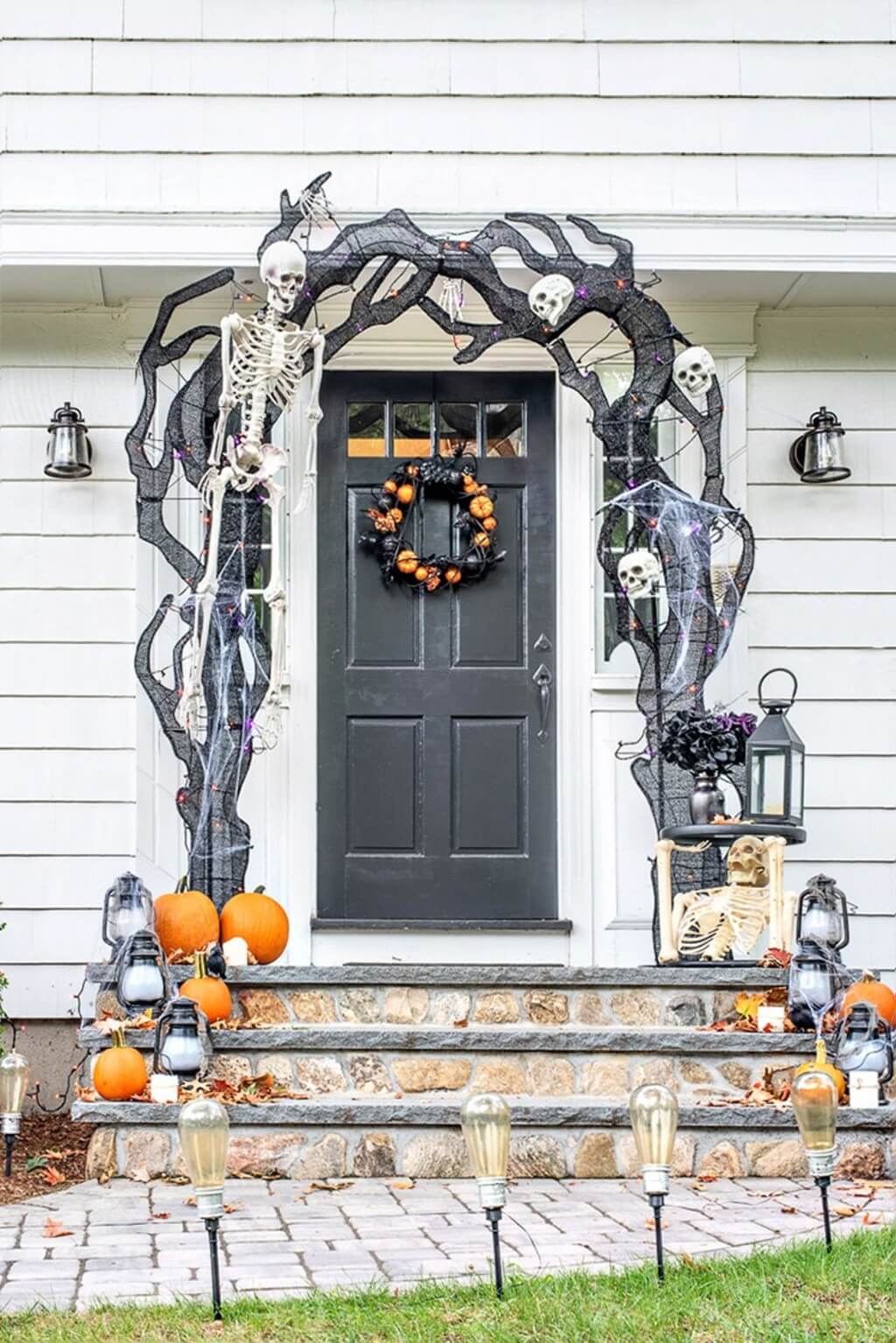 Image Source: homeimprovementblogs.com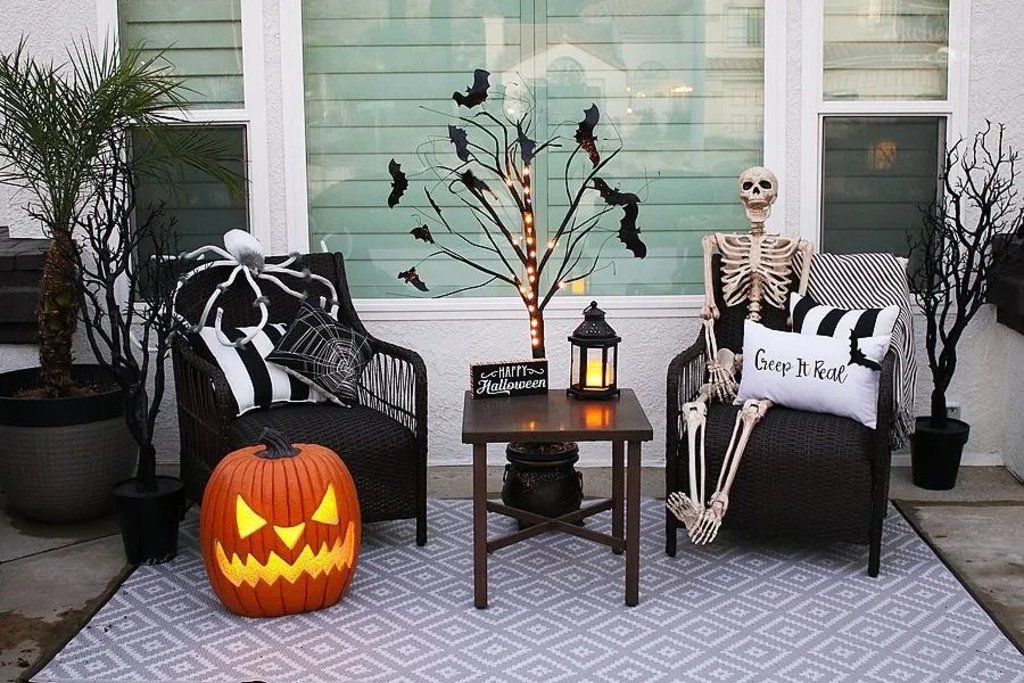 Source: imageboss.me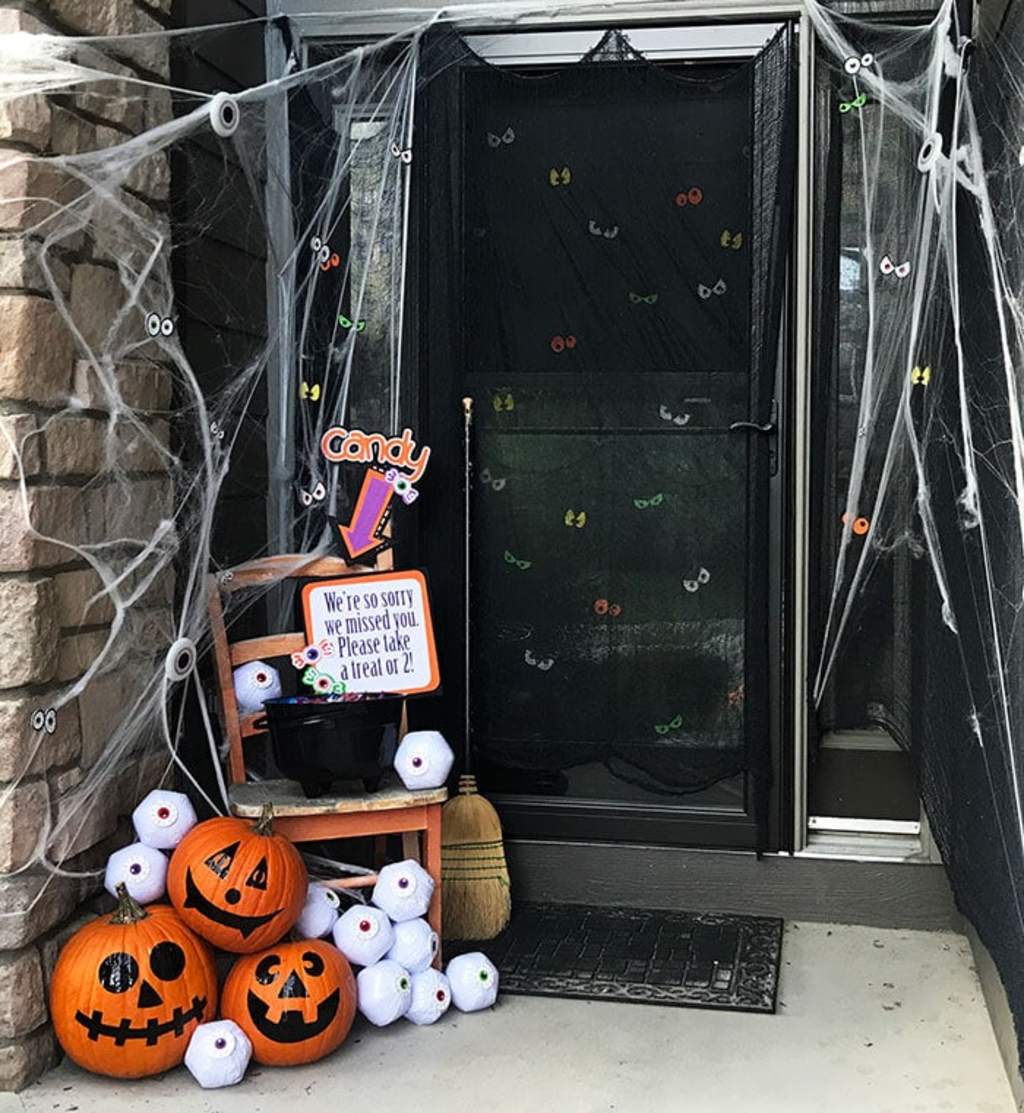 Image Source: 100directions.com
Source: curatedinterior.com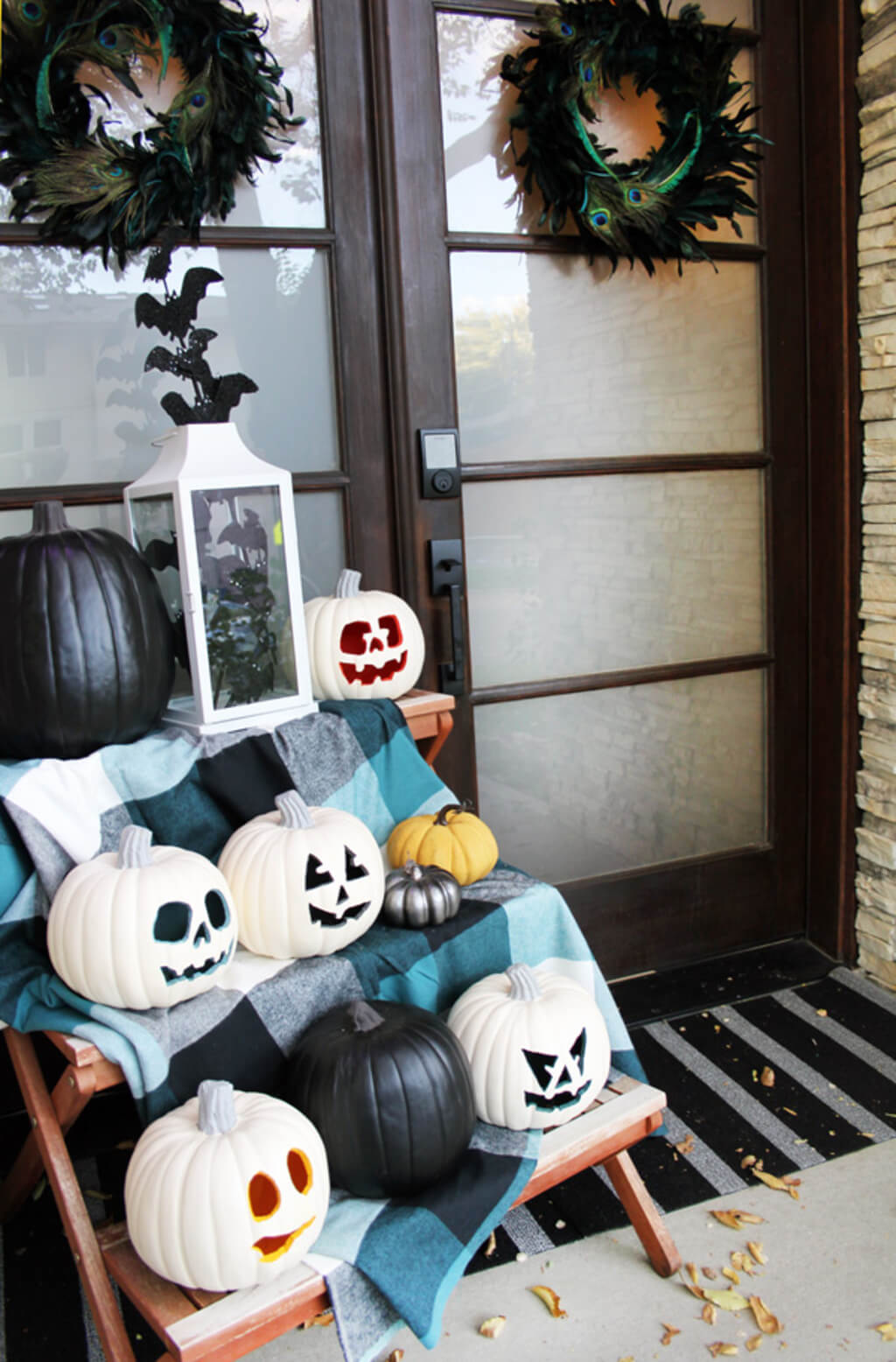 Image Source: blueistyleblog.com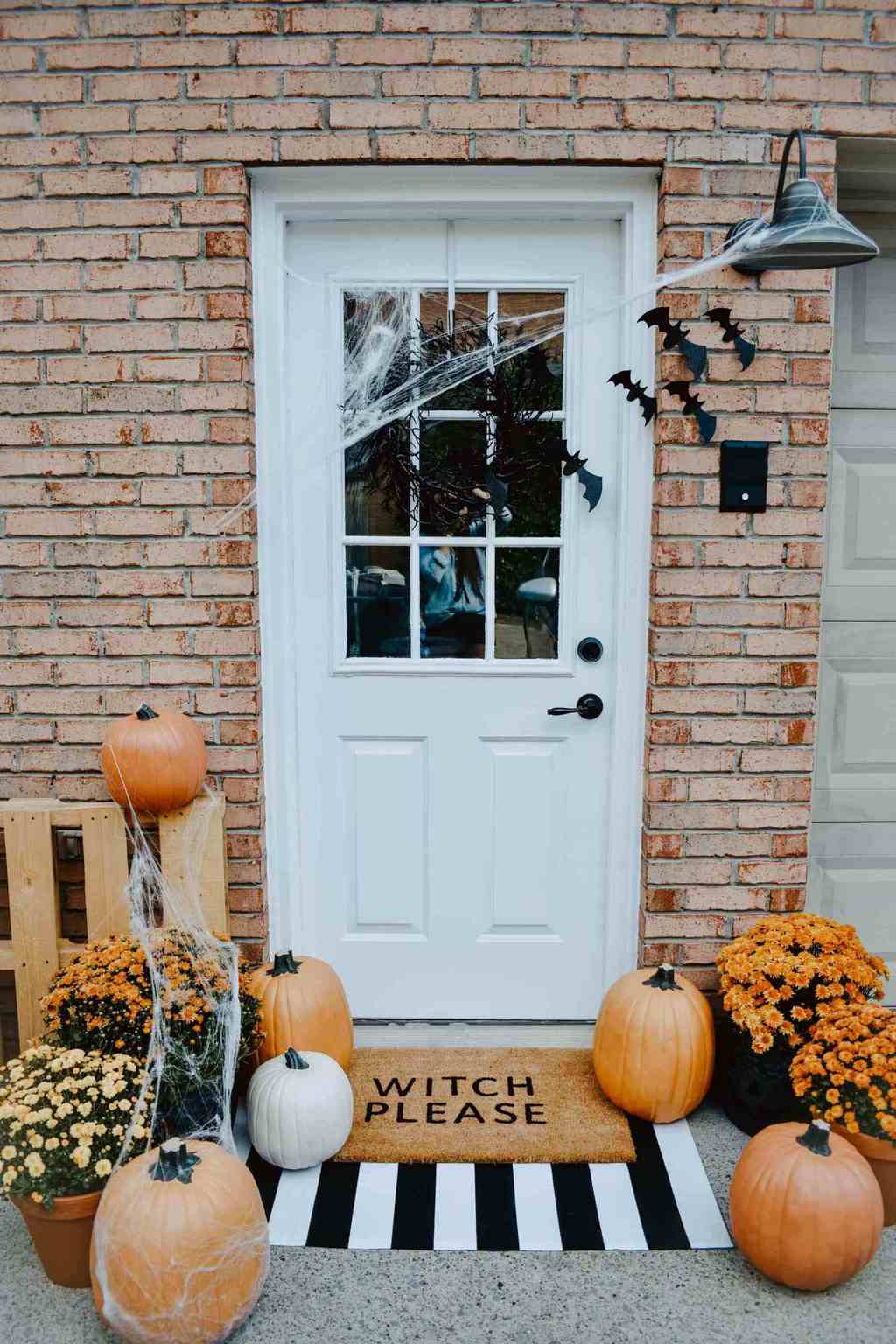 Source: ethinify.com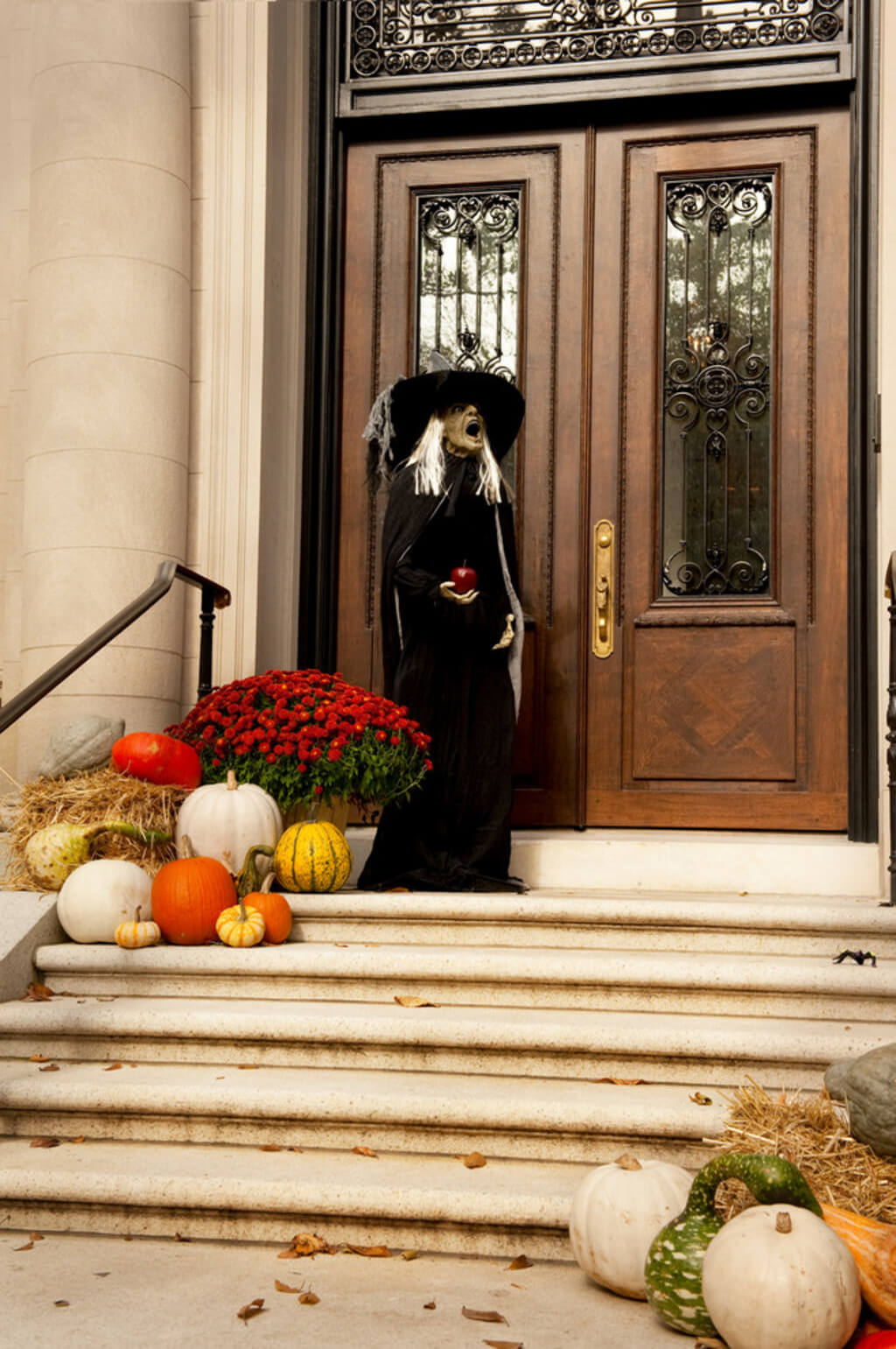 Image Source: shelterness.com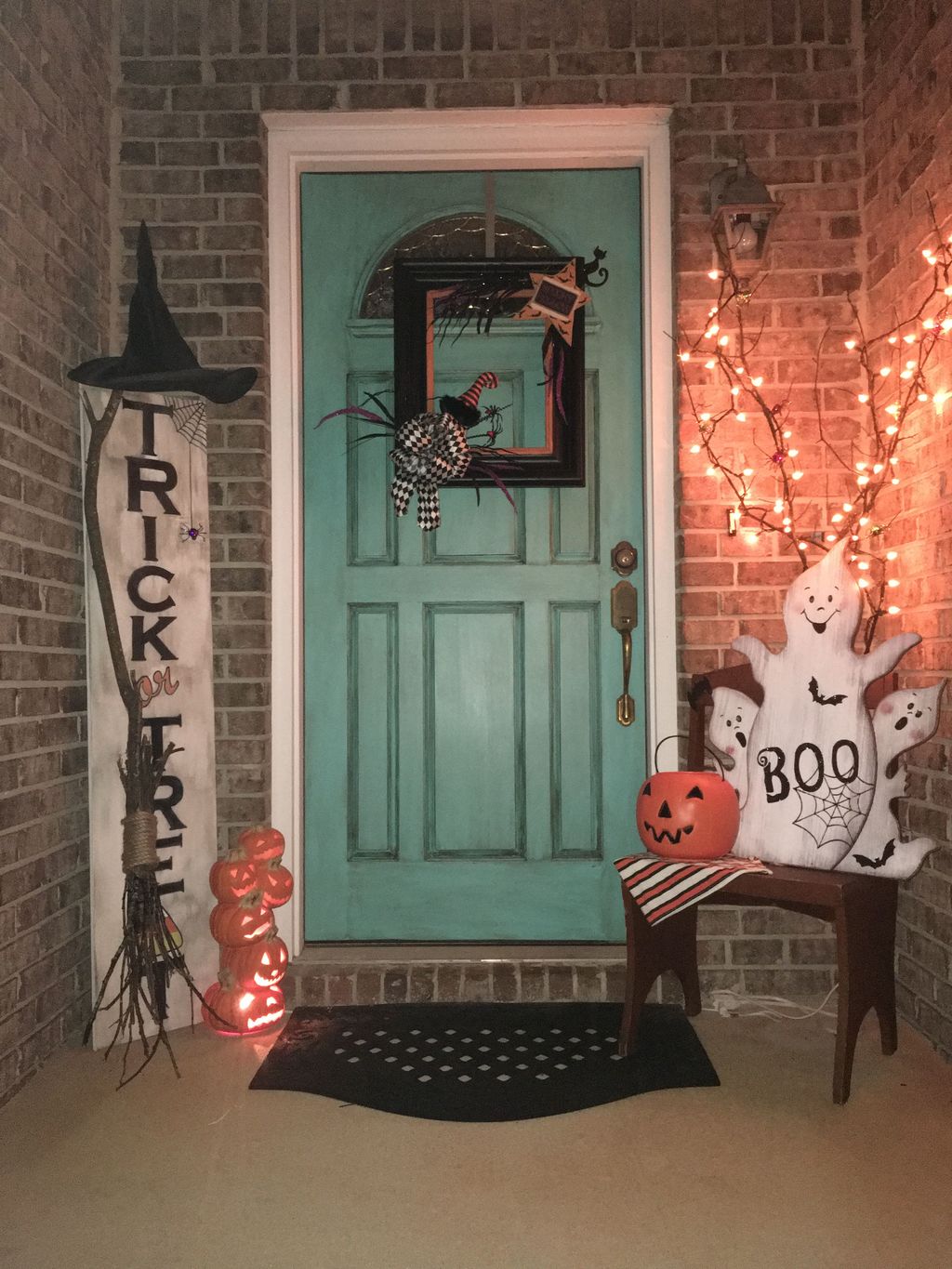 Source: pinimg.com
Happy Halloween!
So which Halloween porch decoration is your favorite? Don't be afraid to use these porch decorations. Go bold this year, and deck out your front porch in these amazing mouth-dropping Halloween porch displays. To decorate your outdoor space, read our previous blog on spooky Halloween House Decorations.
For more architectural guidance and impressive home decoration ideas, keep coming to Architecturesideas.