20 Best Reading Nook Ideas and Designs for 2023
Reading nooks are the comfy-cozy spots in our homes that are loved by everyone. We sometimes use them to devour a novel, browse through a magazine or simply relax and enjoy a cup of coffee while gazing through the window. We cannot help ourselves from curling into these nooks, whenever we get a chance. 
Whether you like reading rooms or corners, alcoves with built-in couches or you're a fan of oversized lounge chairs, we've got it all covered in this article. Here, we present a list of a few creative cozy reading nooks ideas.  
20 Creative Reading Nook Ideas
1. Utilize Small Corners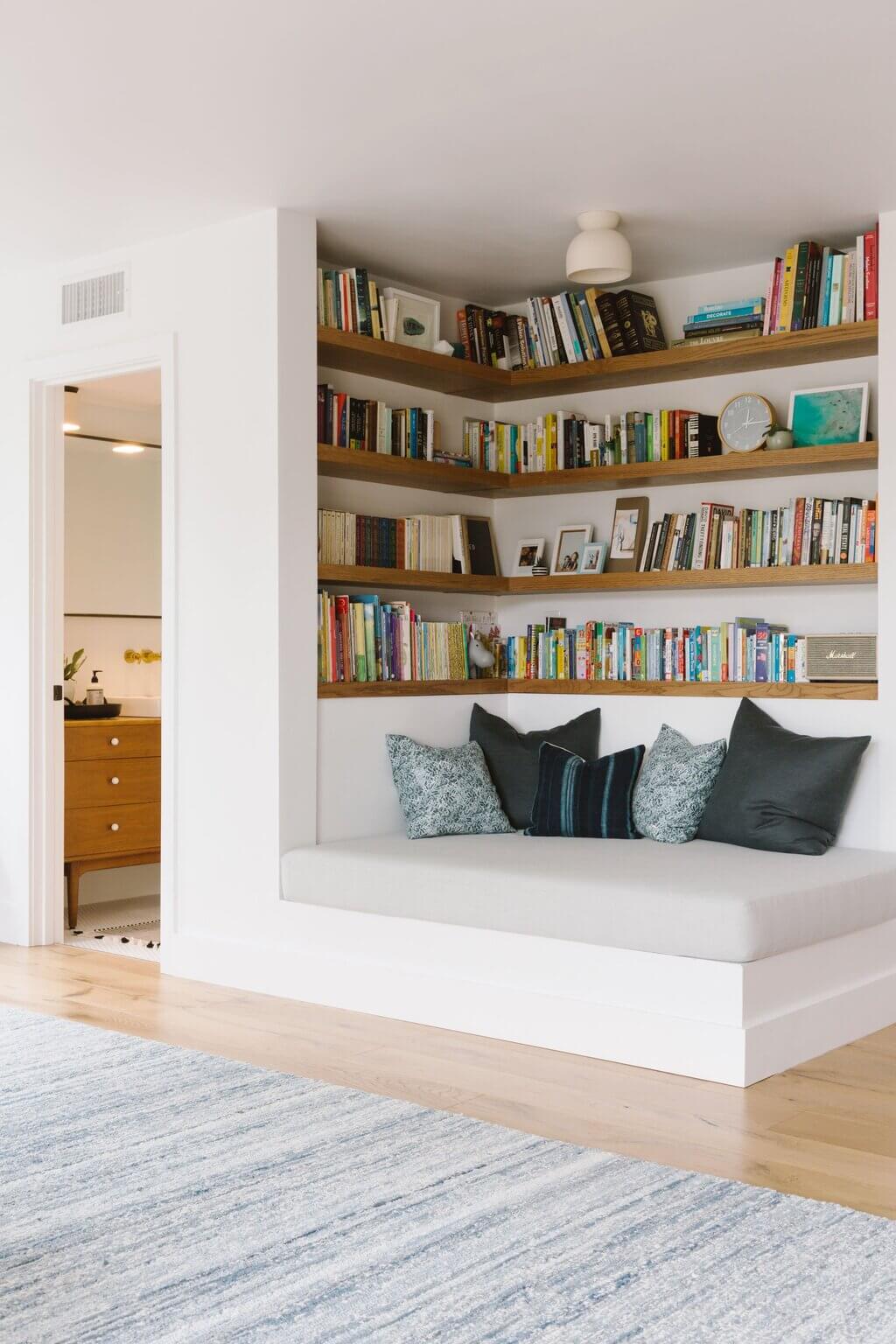 Source: twimg.com
A great way of utilizing a small dead corner of your living room to create a cozy reading nook. This reading nook design is flanked by open shelves and has a sleek minimal aesthetic.  The layer of throw pillows adds much-needed depth to the space.  Neatly organized books and decor accents on the shelves make it pleasing to look at. 
2. Read with a View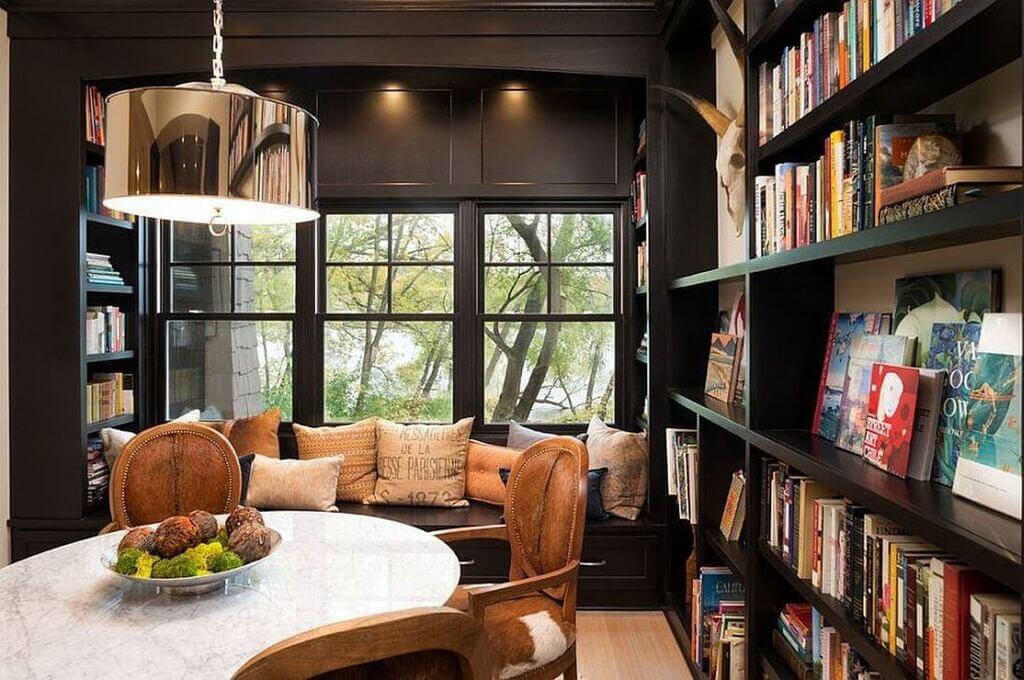 Source: thearchitecturedesigns.com
A large window with a view allows executing the many reading nook ideas. The seamless built-in library and reading nook perfectly balance the aesthetic of the space. The stunning view of the exterior allows the use of space for reading or endless gazing. 
3. Color-Coordinated Library Wall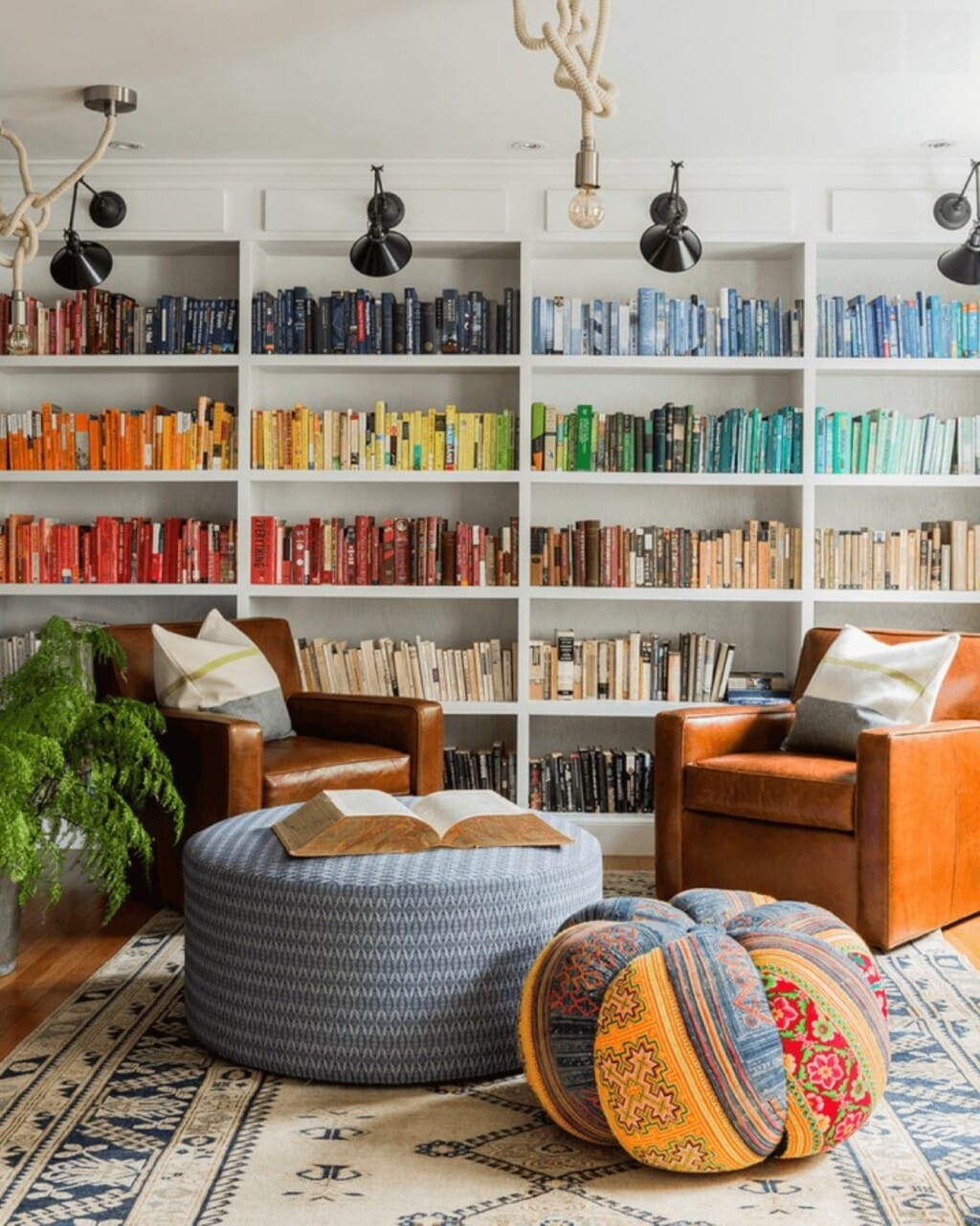 Source: pinimg.com
Your books can serve as decor elements, color coordinate your library wall to make an appealing backdrop for a reading nook. The rich leather upholstered armchairs, accentuated by the vivacious ottomans make an alluring reading nook. 
4. Repurpose the Attic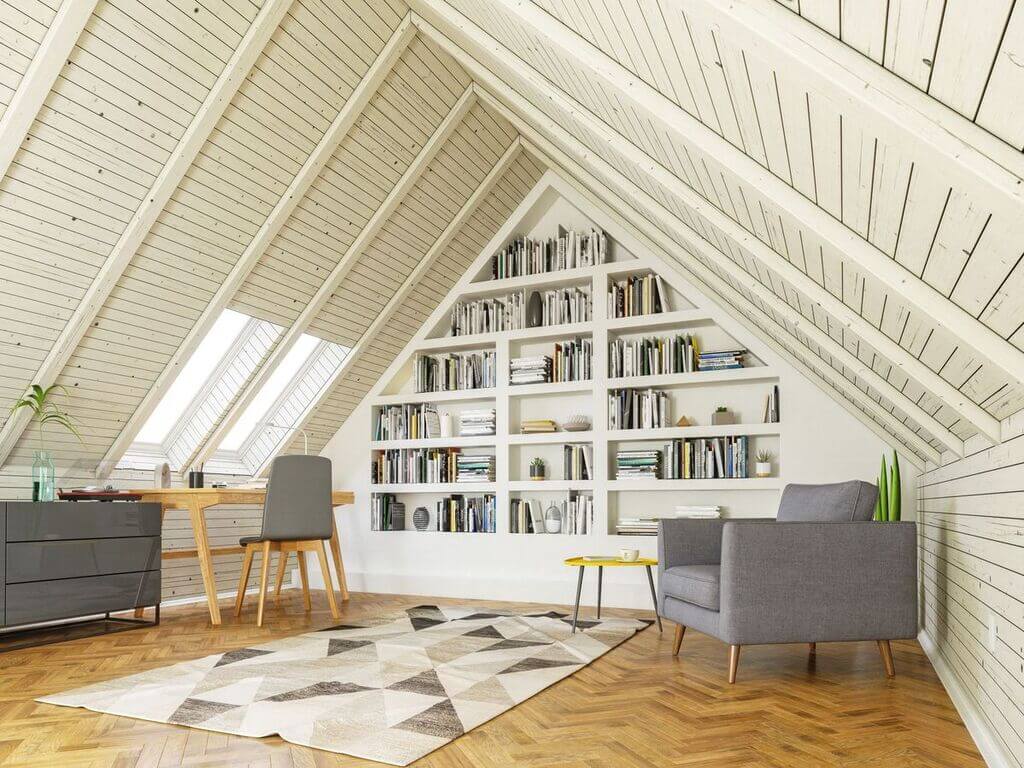 Source: pinimg.com
Attics can become ideal reading nooks. The sloping ceiling creates a cozy space, perfect for reading. Don't let your attic rot in dust, be savvy, and repurpose it to make a quaint cozy reading room.  
5. Cozy Corner by the Window
Source: onekindesign.com
A splendid reading nook idea for cabin-style homes is this built-in couch for two. The warmth of the wood alongside the neutral furnishings with traditional accessories makes a very cozy reading corner. The sunkissed space also forms a great spot for enjoying coffee while gazing outside. 
6. Transform the Hallway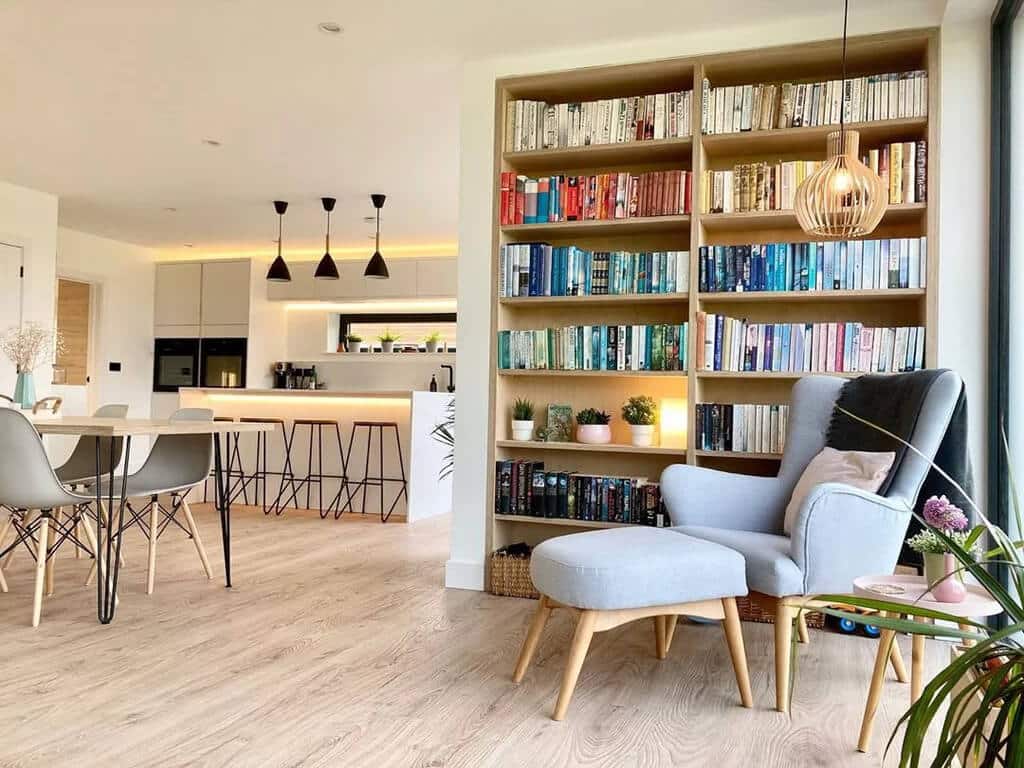 Source: extraspace.com
One of the most unique reading nook ideas is to transform a long dead hallway into a comfortable reading room. The built-in library, an oversized lounge chair along the window, accessorized by a floor lamp and artworks make a sophisticated space.   
7. All in One Built-in Unit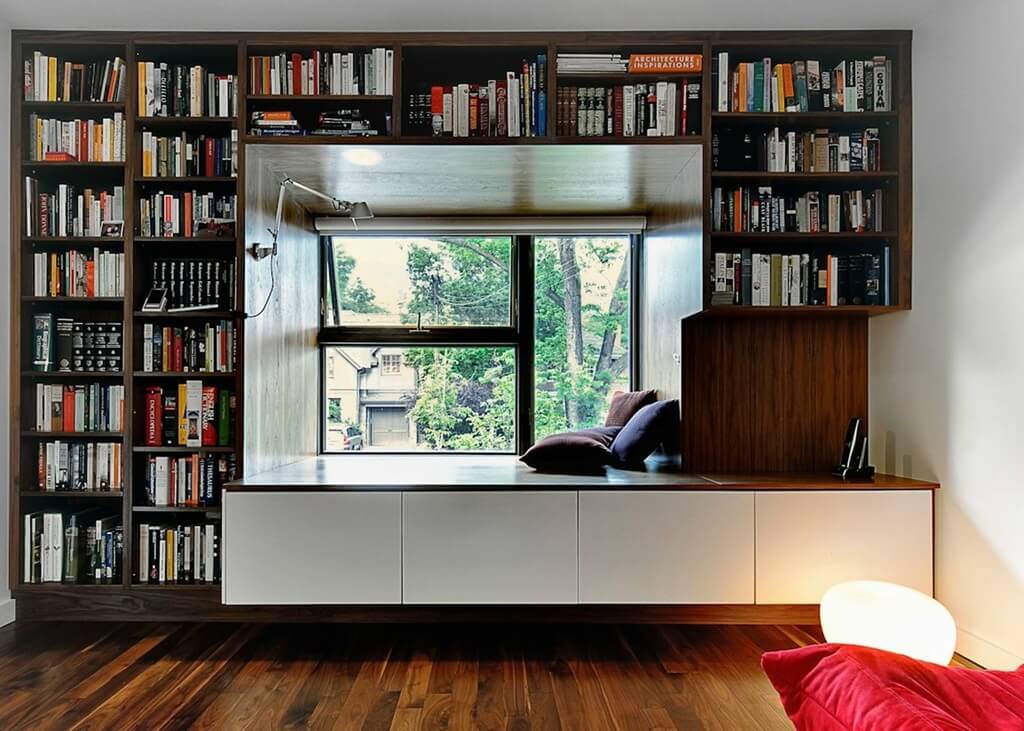 Source: kor.ill.in.ua
Reading nook furniture assemble consisting of a library, study desk, storage, and seating space tucked with a window make the space multi-functional. This reading nook idea is perfect for compact spaces with extra storage and functional requirements. 
8. A Cozy Nook by the Fireplace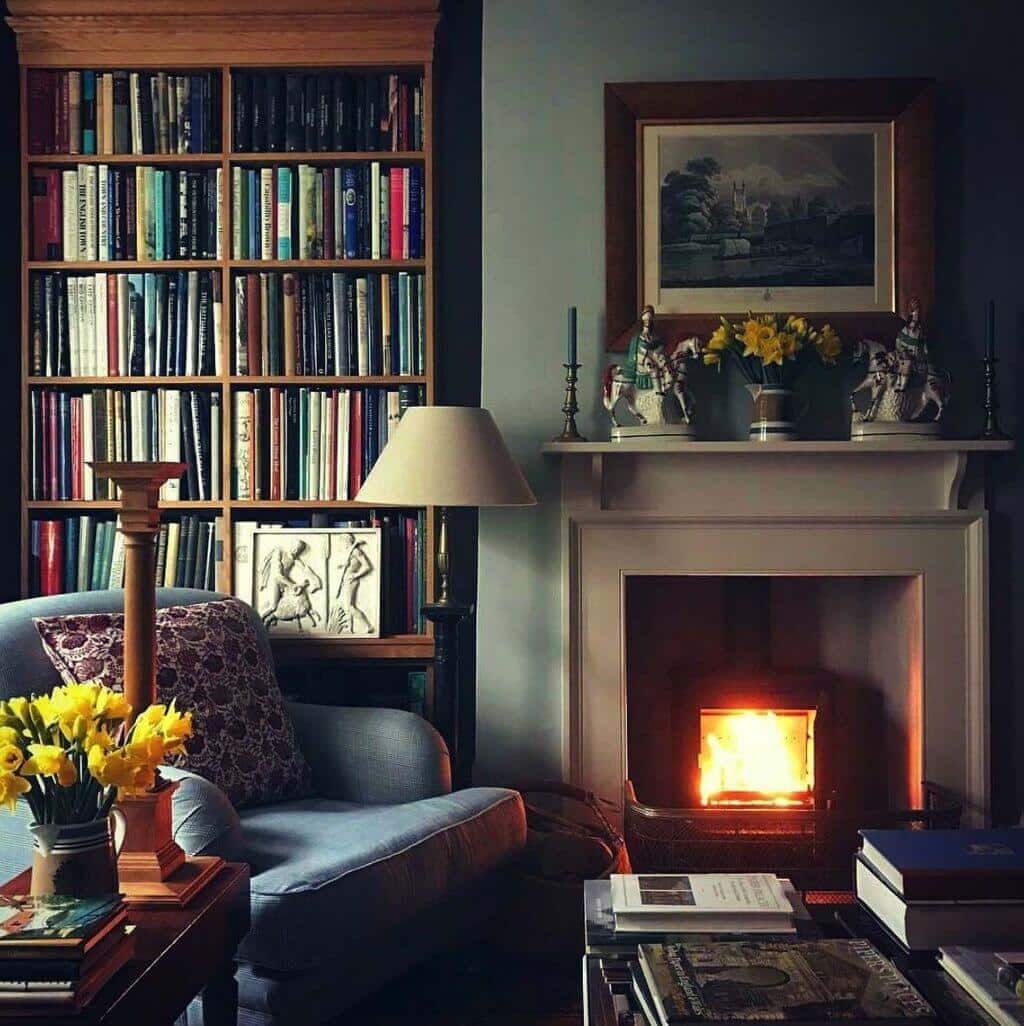 Source: pinimg.com
An eclectic mix of the traditional fireplace with modern architecture and furnishings make this ethereal reading room. The transitional style living room has both the qualities of a cool as well as a cozy reading nook. 
9. A Lavish Office Nook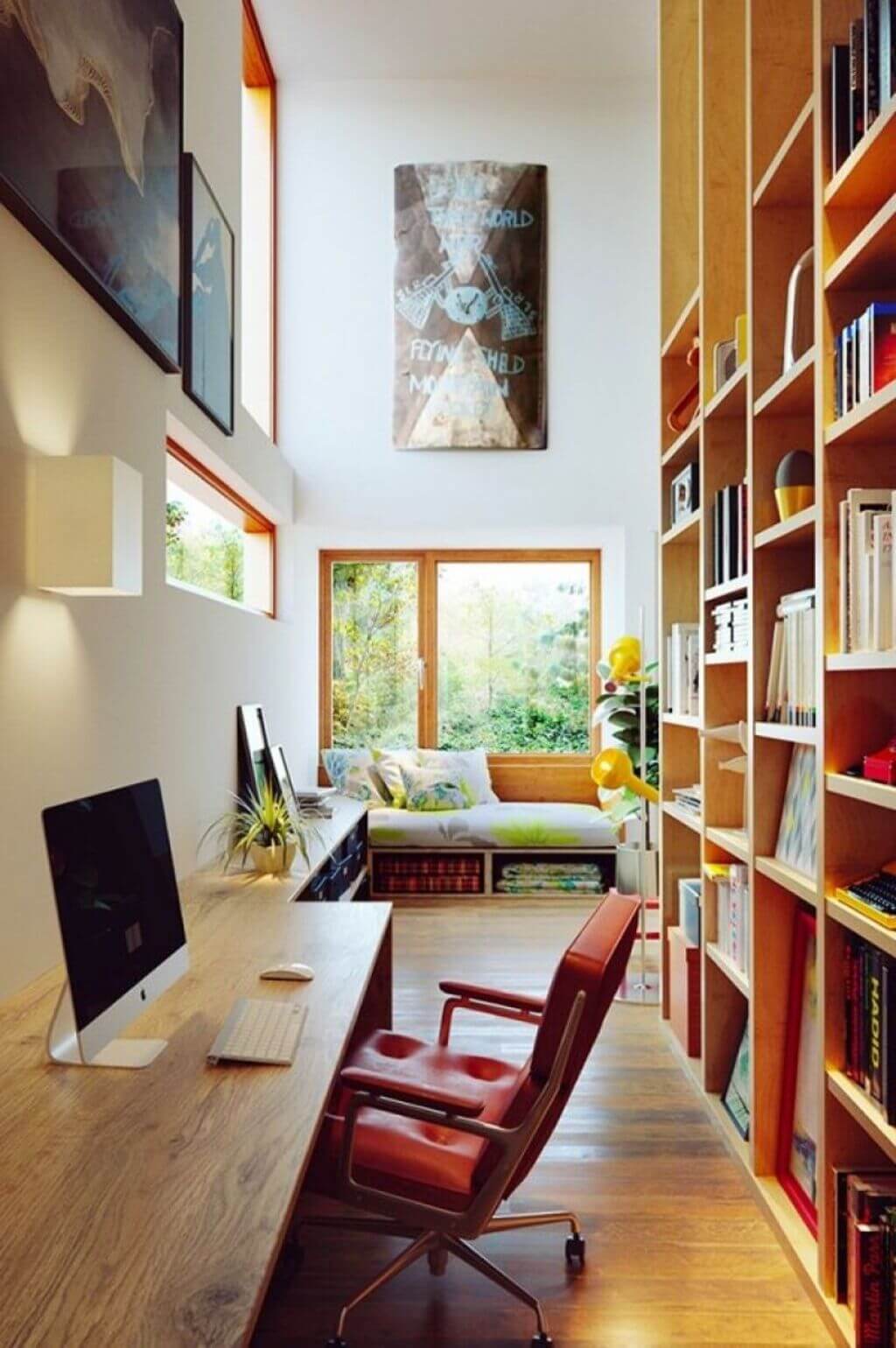 Source: asset-a.grid.id
This warm-toned modern office reading room is highly sophisticated. The richness of wood flooring and wall shelves complemented by the curtain wall, sleek spiral staircase, and concrete wall creates a harmonious interior space. The Eames chair acts as a cherry on the cake.  
10. Repurpose Staircase Landing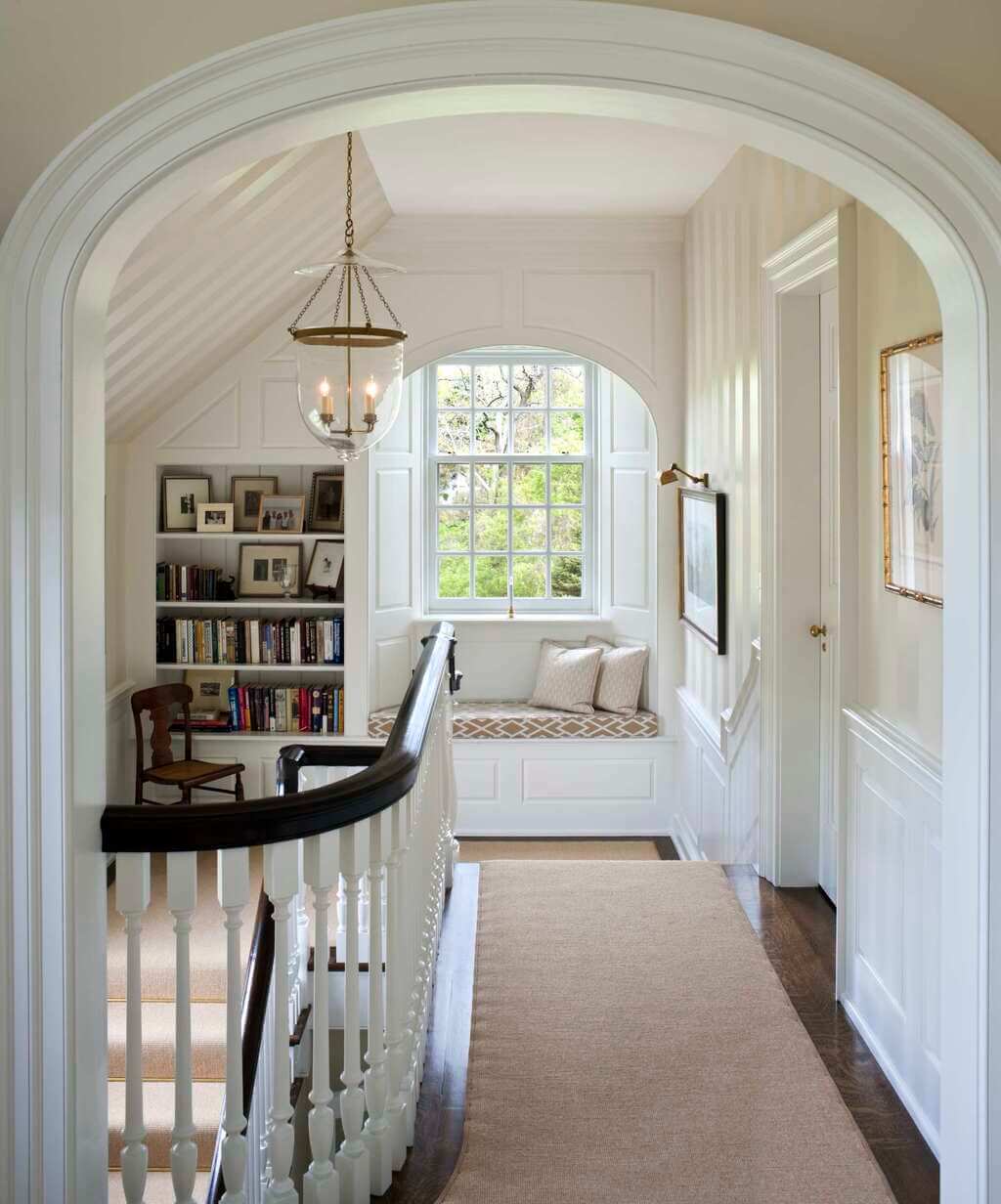 Source: hzcdn.com
Yet another unique reading nook idea is to transform the staircase landing space. The alcove on the split floor makes a perfect spot for a cozy reading nook. The minimal wall paneling incorporates an in-built library and a bench giving a simple elegant aesthetic to the space. 
11. A Minimalist Alcove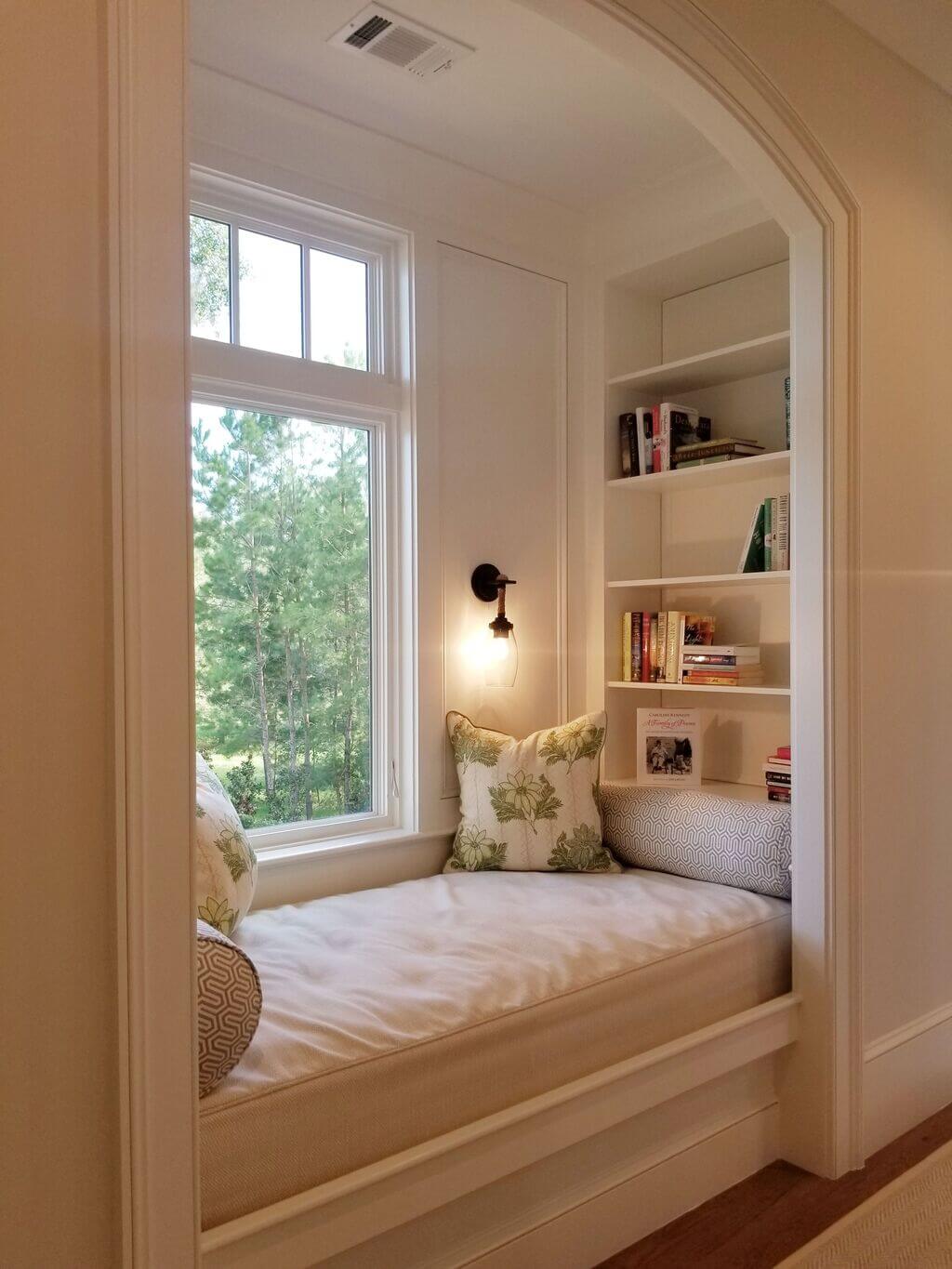 Source: pinimg.com
A niche carved inside a wall along with a bay window makes an impeccable reading nook. The cozy reading corner ideas also double up as a sleeping space. A neutral palette with simple decor gives the space a calming and charming vibe.
12. Restyle the Balcony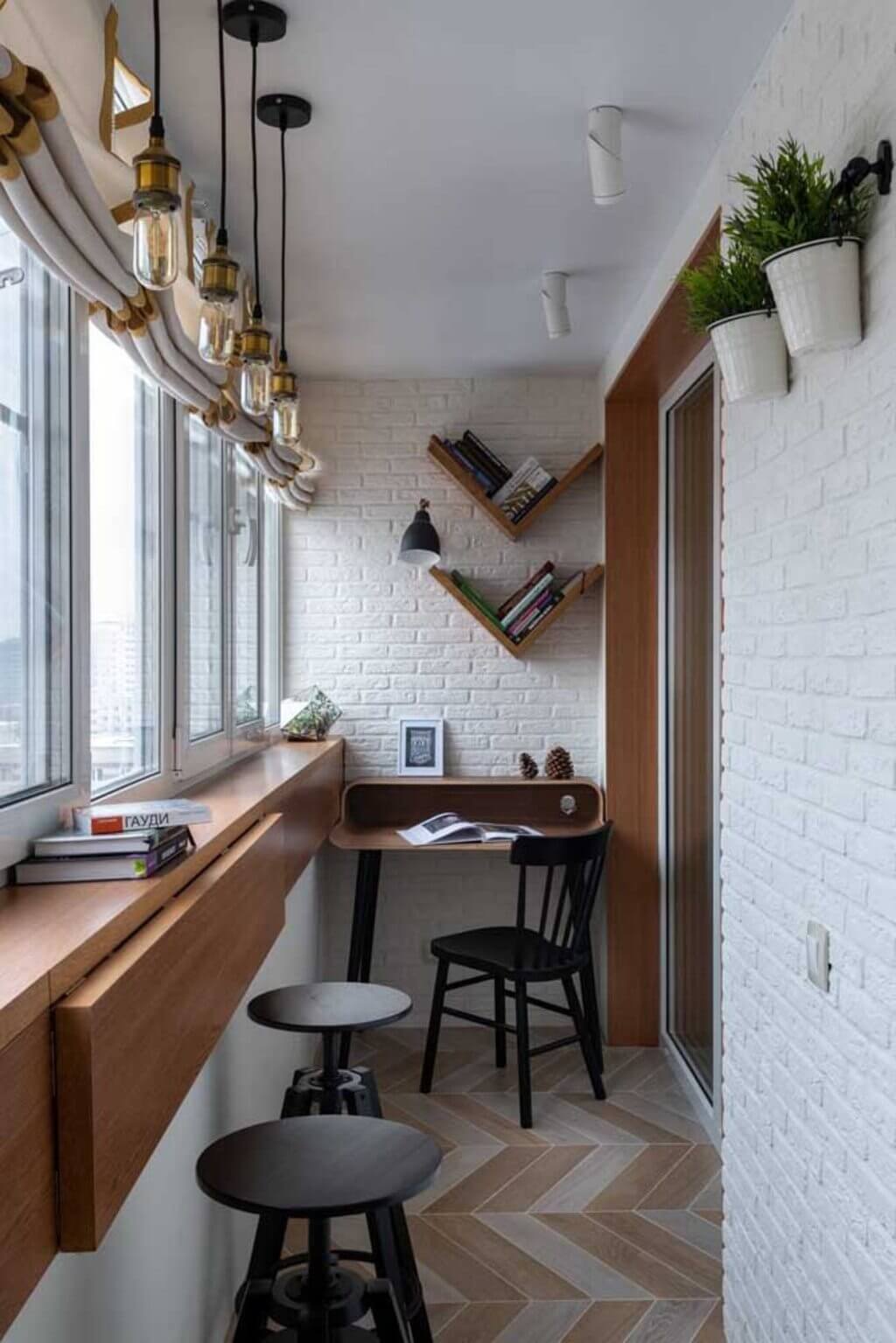 Source: decorfacil.com
If you cannot find a corner in your house to make a cozy reading nook, try redecorating your balcony. A built-in bench like this one or a lounge chair on the balcony can make a great reading nook. Accessories the space using open shelves, accent lights, and plants to make the space comforting. 
13. Nook Carved in a Library Wall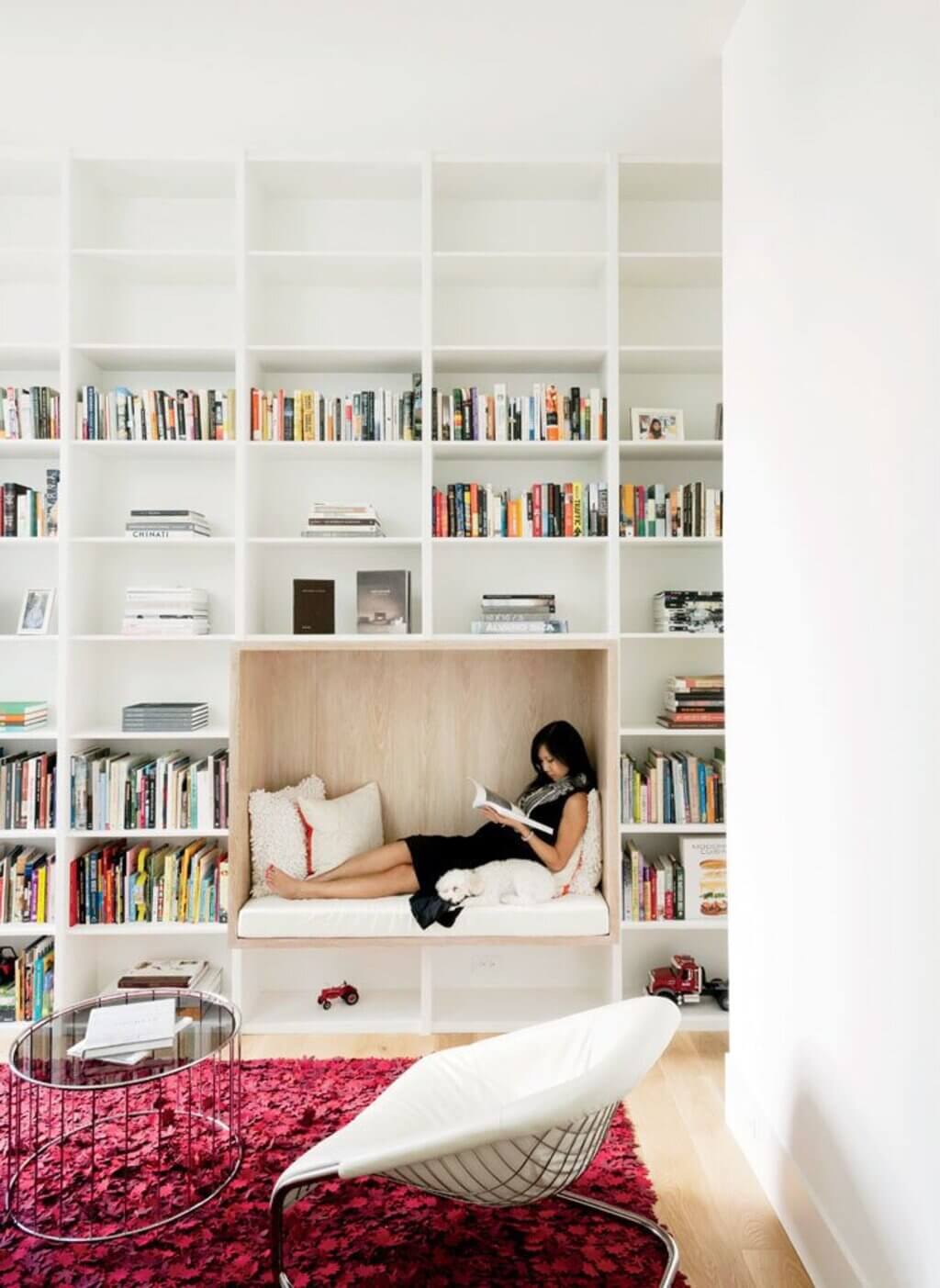 Source: lifeedited.com
A reading nook carved in a bookshelf is yet another eccentric reading nook idea. The all-white wall with uniform shelves and light beige wood-clad nook give the space a Scandinavian – minimal aesthetic. The full-length shelves create ample storage and display area. 
14. Extravagant Yet Cozy Fireplace Nook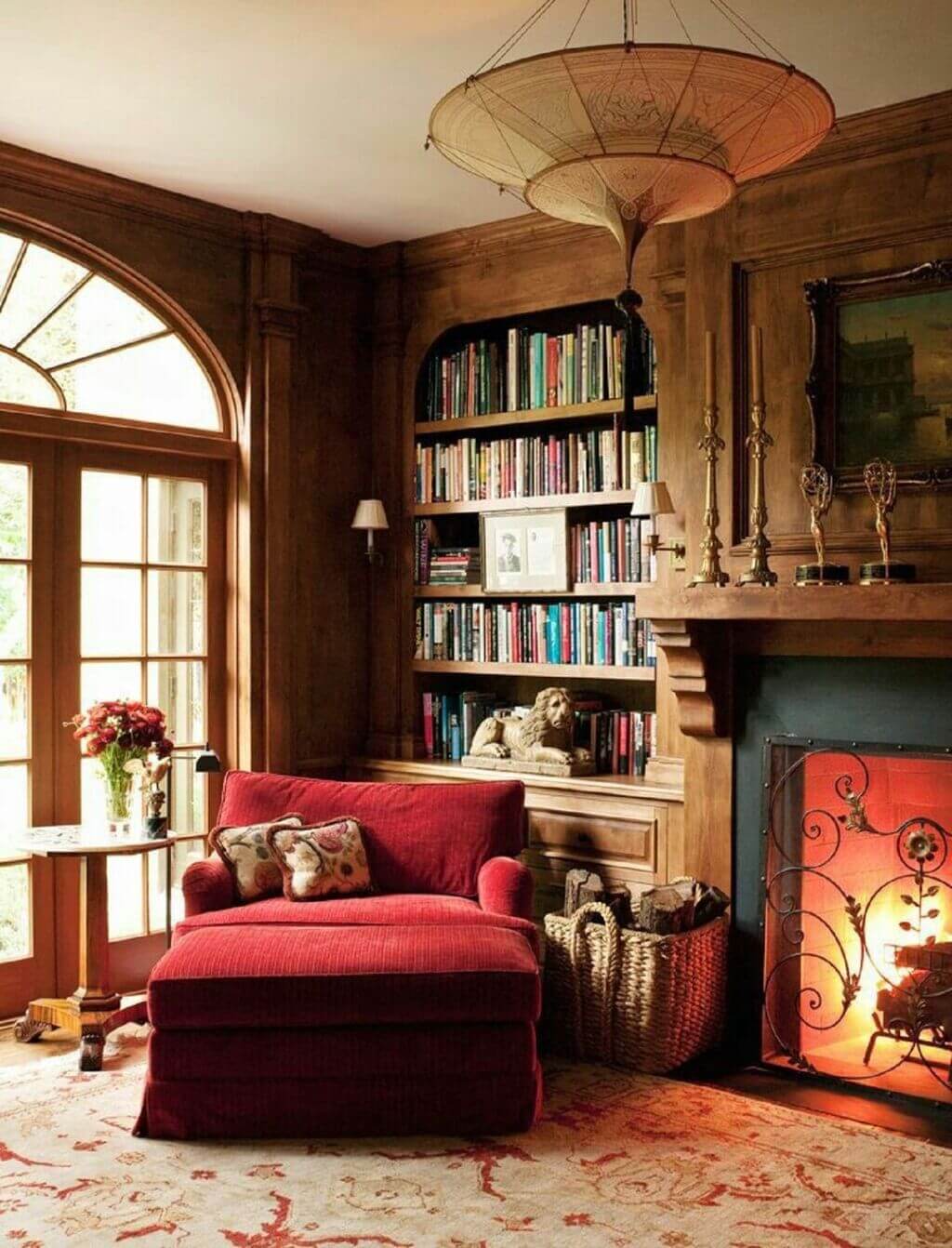 Source: pinimg.com
An extravagant space embracing the Victorian aesthetic makes a maximalist reading room. The cozy reading corner by the fireplace has a rustic charm. The classic mantle adorned with highly ornamental wooden details and wall paneling makes a bold statement. The arched french window adds a sense of depth and character to the space. Additional elements like a traditional rug and oversized lounge chair complete further dramatize the space. 
15. Bohemian Swivel Chair Nook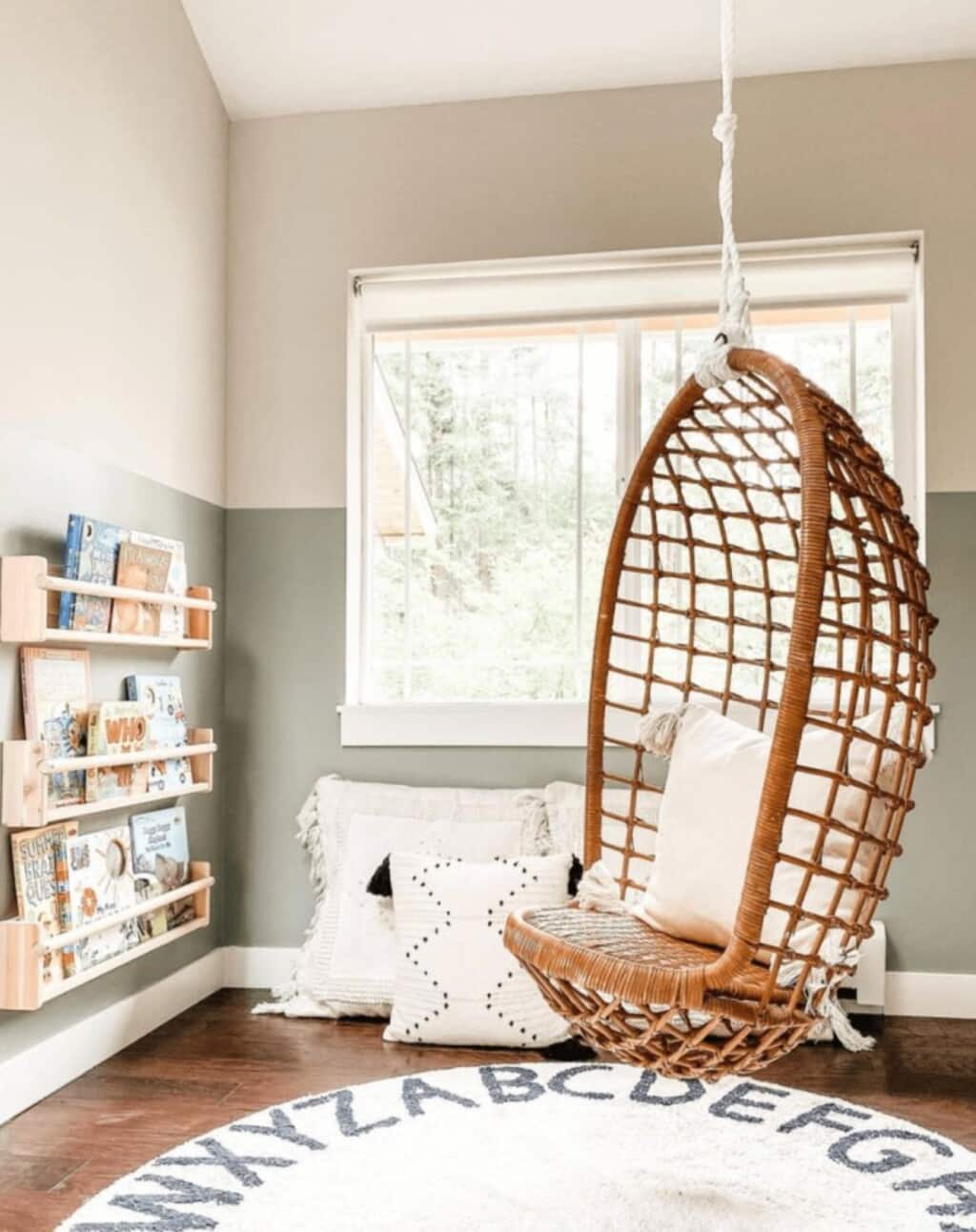 Source: hearstapps.com
A hanging swivel chair is the perfect reading nook furniture option. You can incorporate it in your living or bedroom space or your balcony space. It brings a sense of playfulness to the space adding to its charm of the space.  
16. Sophisticated Chaise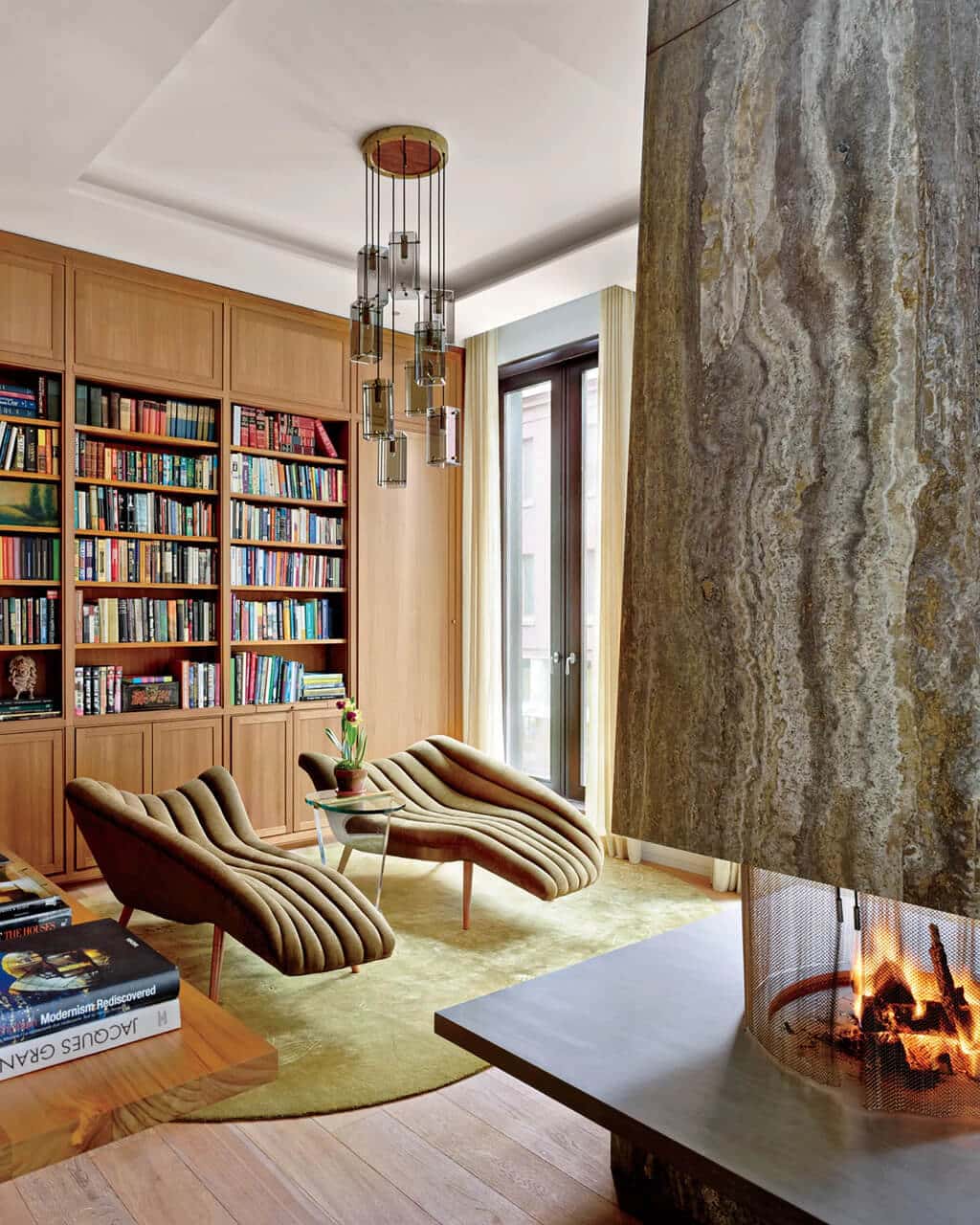 Source: architecturaldigest.com
A cozy reading room ideas featuring a library for a wardrobe, a modern iteration of a fireplace, and a statement lounge chaise create a one-of-a-kind space. The warm-toned, well-lit space with high-end accents and antiques makes a remarkable reading room. 
17. Revamp the Loft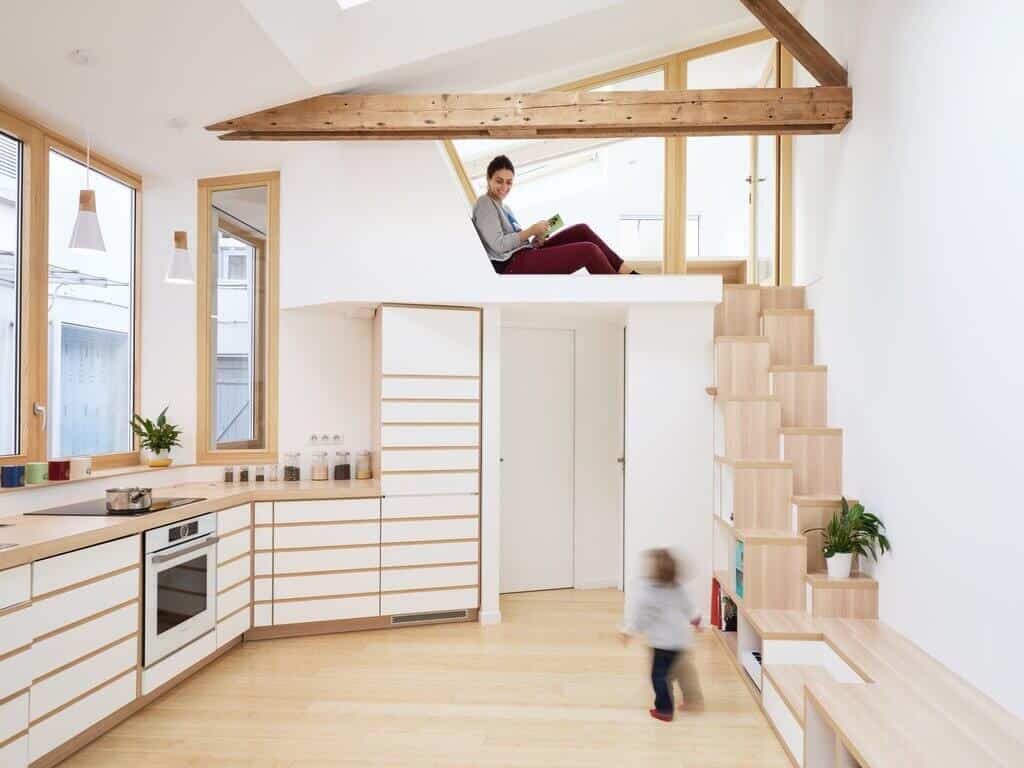 Source: dwell.com
Living in a tight space and looking for a clever reading nook idea? You may want to look at repurposing your loft space to double up into a bedroom slash reading nook. A bookshelf along the wall provides ample storage and the floor bed manages the low height of the space. The ladder to the loft makes the space accessible.  
18. Carve a Nook Under the Staircase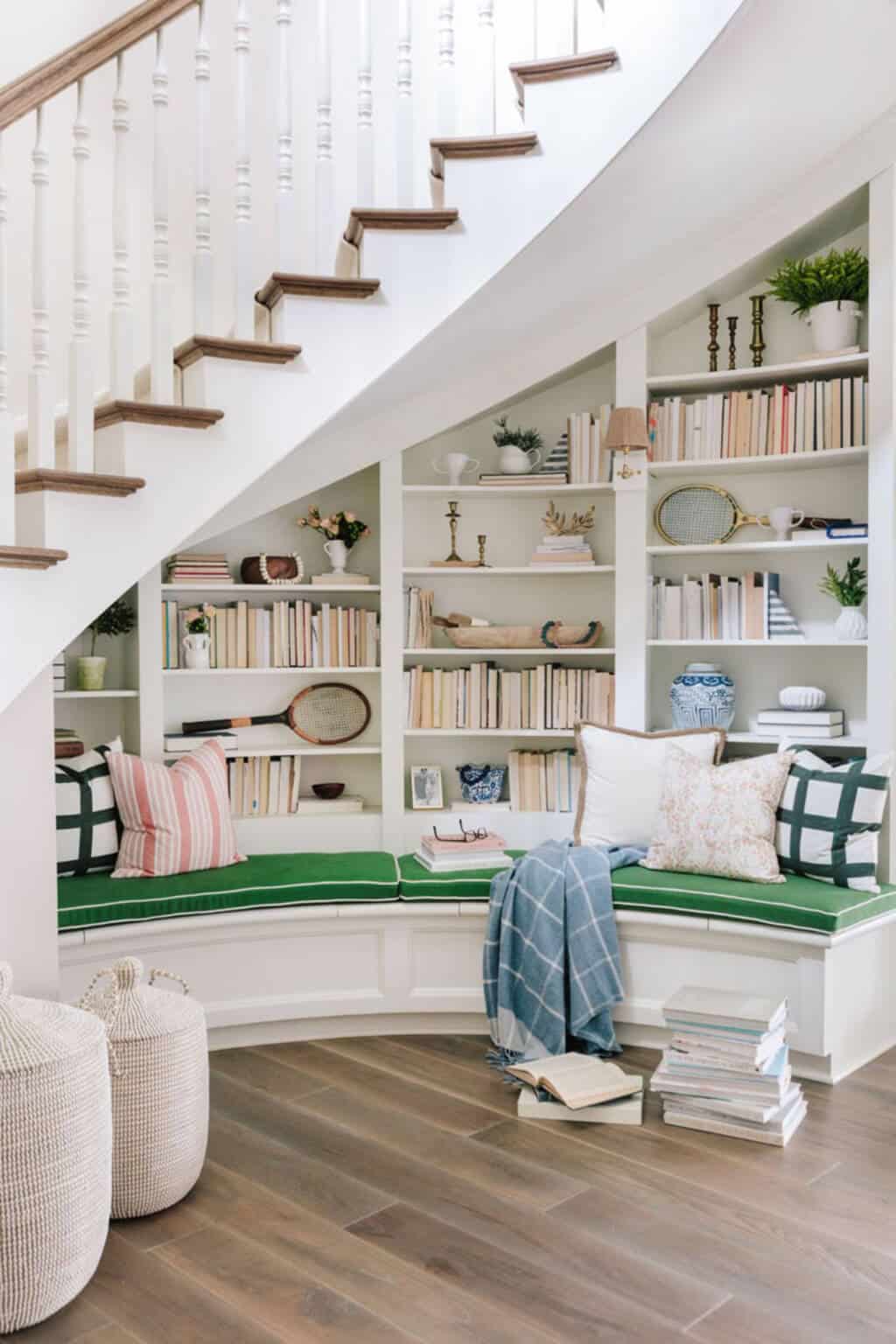 Source: idesignarch.com
The snug space under the staircase shapes into a cushy reading nook. The bookshelf consisting of the pile of books utilizes every inch of the space, optimizing storage. A reader can comfortably crawl into the couch accentuated by throw pillows to indulge in a calming reading session.
19. Indoor-Outdoor Reading Nook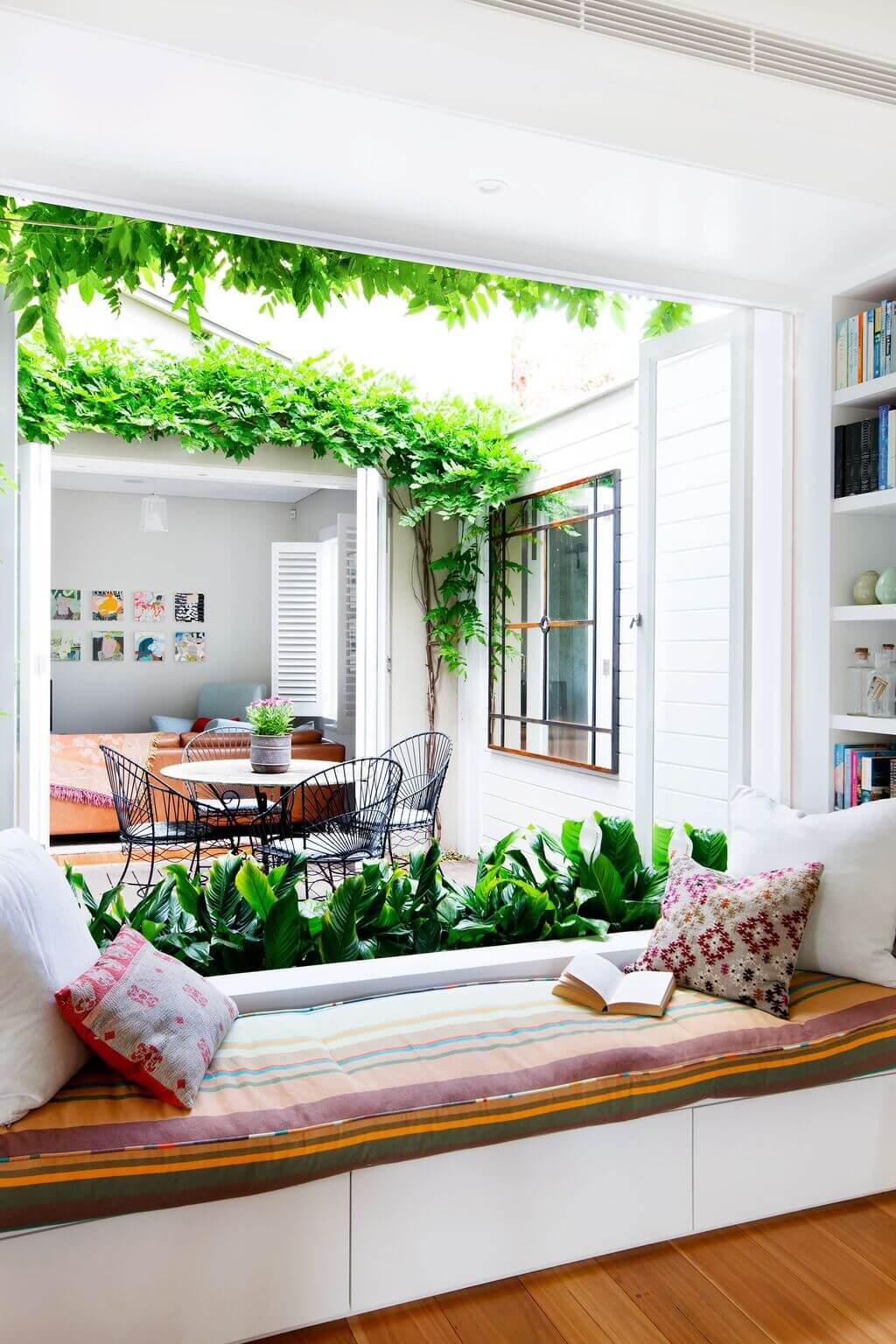 Source: pinimg.com
Laying at the intersection of a blurred boundary of the indoor and the outdoor,  this reading nook is a delightful space to experience. The nook extending over the patio, light flooding through the windows, the greens along the sill, and the farmhouse exterior design will make an enticing space.
20. Make Room for More, Add a Banquette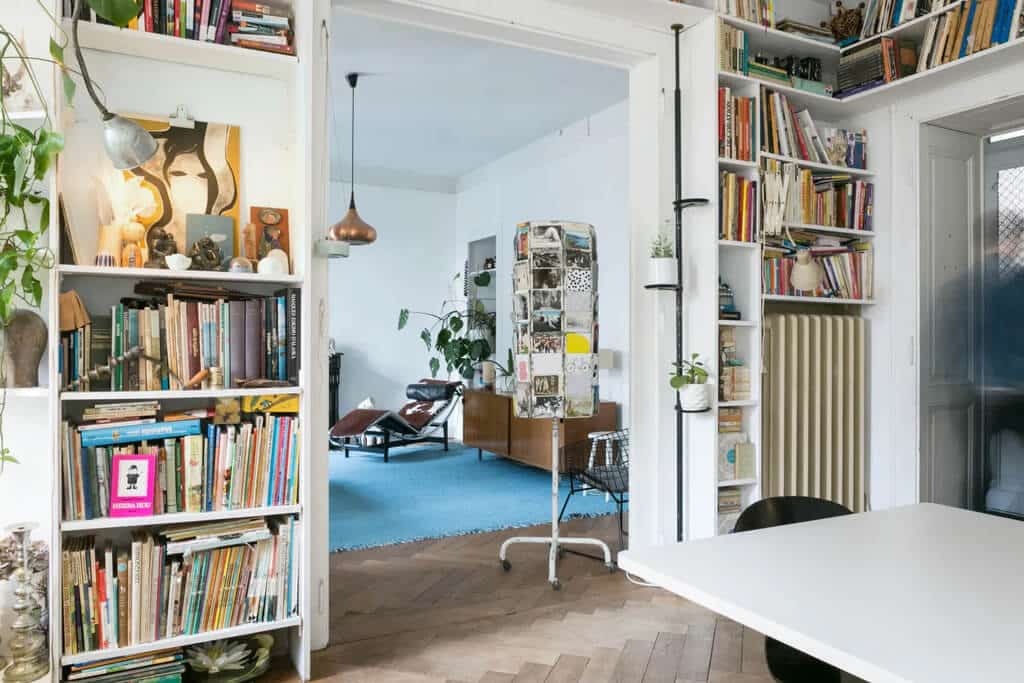 Source: apartmenttherapy.info
If you desire a large reading nook that can comfortably accommodate a few people but is also cozy and comfortable, you should use this reading nook design idea. Add a U-shaped banquette like this one to make it a party of 5 instead of one. The built-in bookcase framing the niche adds character to the space. The contrast of wood against the vibrant hues of the furnishings adds to the visual interest. 
Also Read: Home Library Designs : A Way To Define The Reading Space
Bottom Line
A reading nook feels cozy only when it matches your taste and sense of comfort. Choose and adapt what resonates with you. Mix-match and play around with ideas to create a perfect reading nook in your home.  
FAQs 
1. How do I Design a Reading Nook?
Combine storage and reading area.

Opt for a spot with a window

Carve out niches or alcoves

Revamp transitionary spaces like staircase landing or hallway. 

Bay windows are great spaces for reading nooks.
2. What Makes a Good Reading Corner?
A comfortable seating arrangement is a must.

Sufficient storage for your books near your nook is also essential.

A good source of light is a requirement of a good reading corner.
3. How to Create a Reading Nook in a Small Space?
Use clever storage – built-in or mobile like a cart or movable boxes.

Keep the tone simple and minimal. 

Don't clutter the space with too many elements.
4. What Should I Put in a Reading Nook?
You can add pillows, blankets, lamps or wall scones, plants, a tray with candles, show pieces, decor accents, book organizers, a side table, a storage basket, etc. 
5. How to Make a Cozy Reading Corner?
To make a cozy reading corner, you should choose the right kind of seating and furnishings. Choose whichever seating you find comfortable – a chaise, swivel chair, couch, etc. The way you layer the seating will also decide the look – add plenty of throw pillows and a textured blanket and rug. 
To know more about Home improvement ideas, Cleaning and decoration tips visit ArchitecturesIdeas.
For daily updates, follow us on our Instagram page @architectures_idea.