Best Tips for Working Remotely Without a Home Office
It's a luxury to have a home office. How can you adapt to working remotely if you don't have a home office? Optimize an area of your home and tune out the distractions of daily chores and household needs. We've compiled remote working tips on how to create a productive workspace.
Convert Your Extra Closet into an Office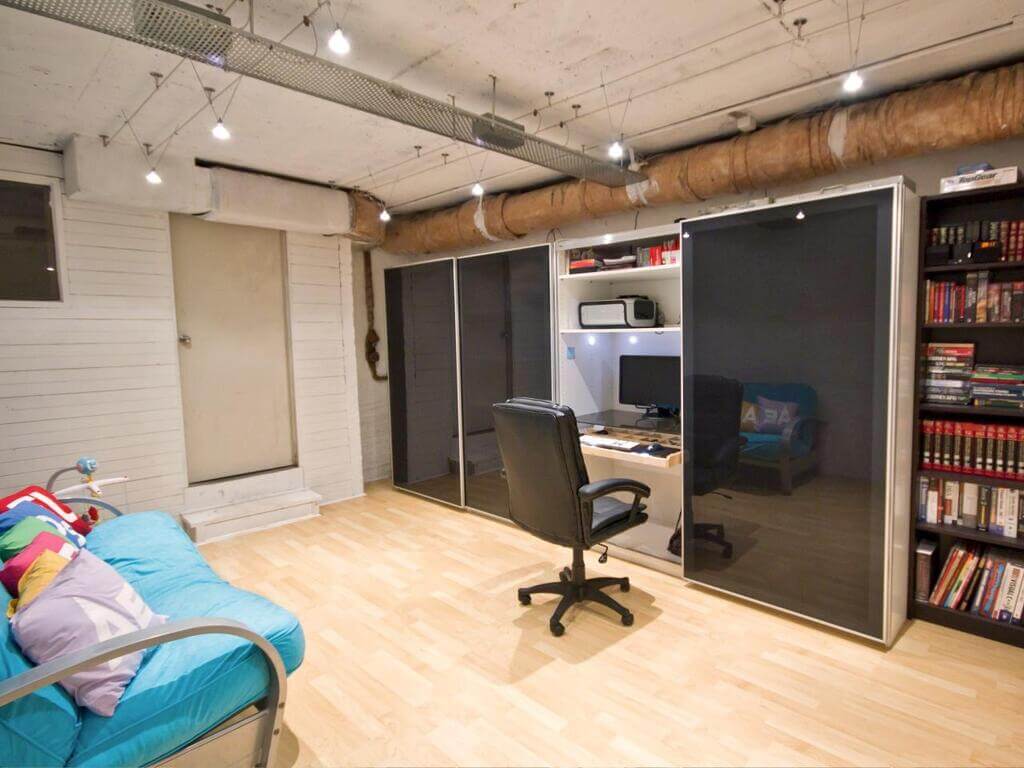 Source: decoist.com
You can fit a desk inside if you have a ton of extra closet space. Working from your Bedminster seems comfortable, but it's not such a good idea. The closet door can be shut to separate the office from the living room. This work-from-home setup is particularly useful for smaller homes and apartments with scarce square footage. The office can even be a virtual learning space for the kids. If you want to make the office stand out, dress it up with wallpaper. It's a pop of personality that is both discrete and powerful. 
Use this checklist as a guide for your workspace:
A chair and desktop. Add an ergonomic office chair to improve your posture, reduce back pain, and improve productivity. The desk should be equipped with a keyboard platform and legs that can be adjusted. 
A light source

.

LED lights

ensure an optimal effect throughout the day. Plus, they're infinitely customizable.  

Storage

. Invest in movable cabinets if you want to make the most of your

office space

. They'll keep the clutter of files and papers off the table, so you can work more effectively. 

Shelving units

. Add shelves to have easier access to supplies. Convert an entire wall into a series of shelves. They can be filled with varying contents.
Unless you really need Privacy, remove the closet door. This way, it won't feel like a closet but a nook that can pass as your office. 
Incorporate An Office Nook Into The Kitchen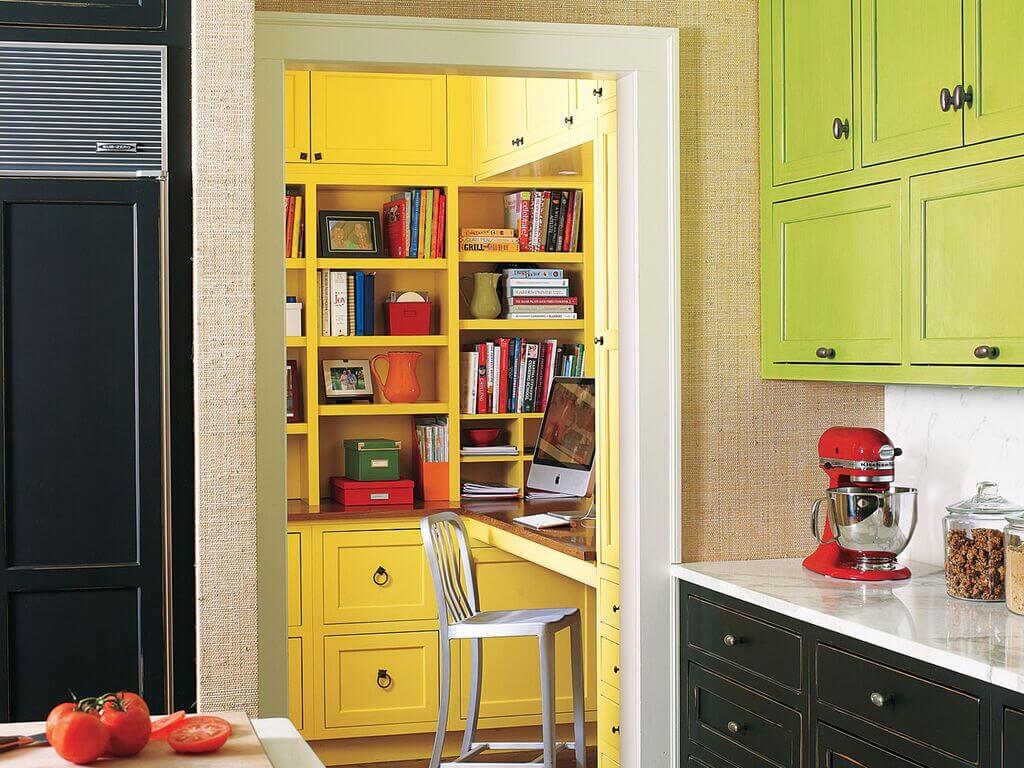 Source: cdn.com
Working in the kitchen can be an exciting experience. To work efficiently and effectively, good lighting is of the essence. You can add ambient lighting in addition to natural lighting. Take advantage of the kitchen cupboard space. It can accommodate a printer or a second-hand monitor. You can add versatility by using a movable kitchen island. It provides extra counter space and storage solutions. You can create a storage area under the desk using old boxes, magazine racks, and so on. Hide them using a curtain. 
If your kitchen comes with a beautiful contemporary design, adding a laptop shelf under the breakfast bar is a good way to create a workstation. When you need to cook, the laptop can be stashed underneath. It's a good idea to wrap the laptop in plastic wrap. Sure, it's not pretty, but it beats the irksome cleaning. Your laptop may build up grease as the kitchen air passes inside it. Consider monitoring temperatures and fan speeds. If there's a problem, clean the air conditioner. Focus on the filters and coils. Make sure they're not clogged with dirt and dust. 
Create A Room To Work With Partition Walls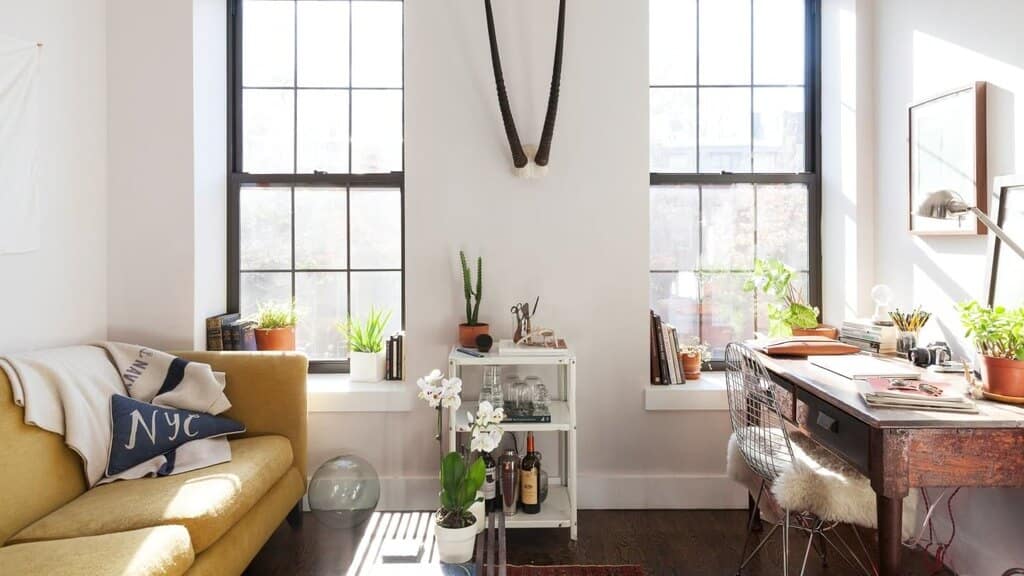 Source: apartmenttherapy.info
At times, working successfully from home means carving out an entirely separate office. Dividing a room doesn't mean you have to build a wall. A partition wall with a door can efficiently split the space without impacting the light flow. Panels are available in various sizes and designs, meaning that they can be set up at different angles and radii. You have a calm environment when working from home. The partition wall reduces the ambient noise, so you can block out distractions that pull you away from your work, affecting your productivity. 
It's important to start with a plan. Decide where you want the office partition wall. The installation of the partition wall varies in terms of hardware and chronology. Having a professional company help you in the process is invaluable. The experts will ascertain the surface doesn't have any defects. Glass partition walls are easy to dismount and shift to recreate spaces. Glass is a low maintenance material, greatly reducing the amount of cleaning required. It's just that dirt will show up quicker on glass. If you want a chic look, get glass partitions without a frame. 
Set Up a Hallway Desk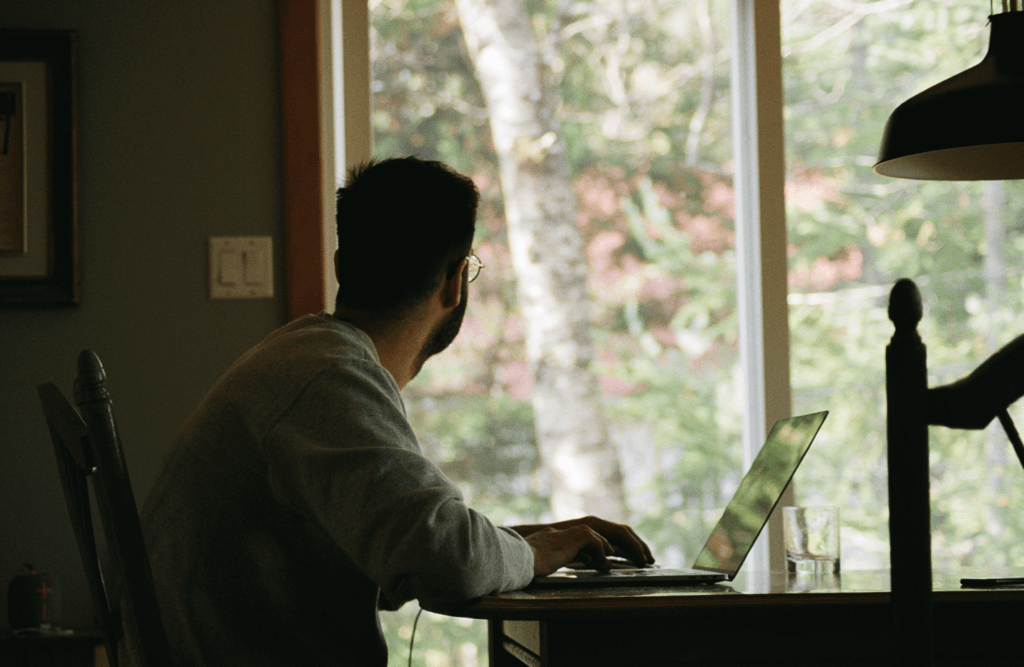 Source: greenprophet.com
Surprising as it may seem, you can squeeze an office into the hallway. Take a narrow hallway or a nook and transform it into a workspace. A mounted floating desk is all you need to ensure you can work on the fly. You're still part of the family action even though you're working. Small rituals, such as lighting a candle, can mark the beginning of work time. A nook in the hallway is perfect if you just need a space to check emails or spend an hour or so flipping through work. Your office will come to life with a few pieces of art, décor, and accessories. 
Also Read: Top-Notch Office Design Trends for Spring/Summer 2022
Turn Your Guest Bedroom into an Office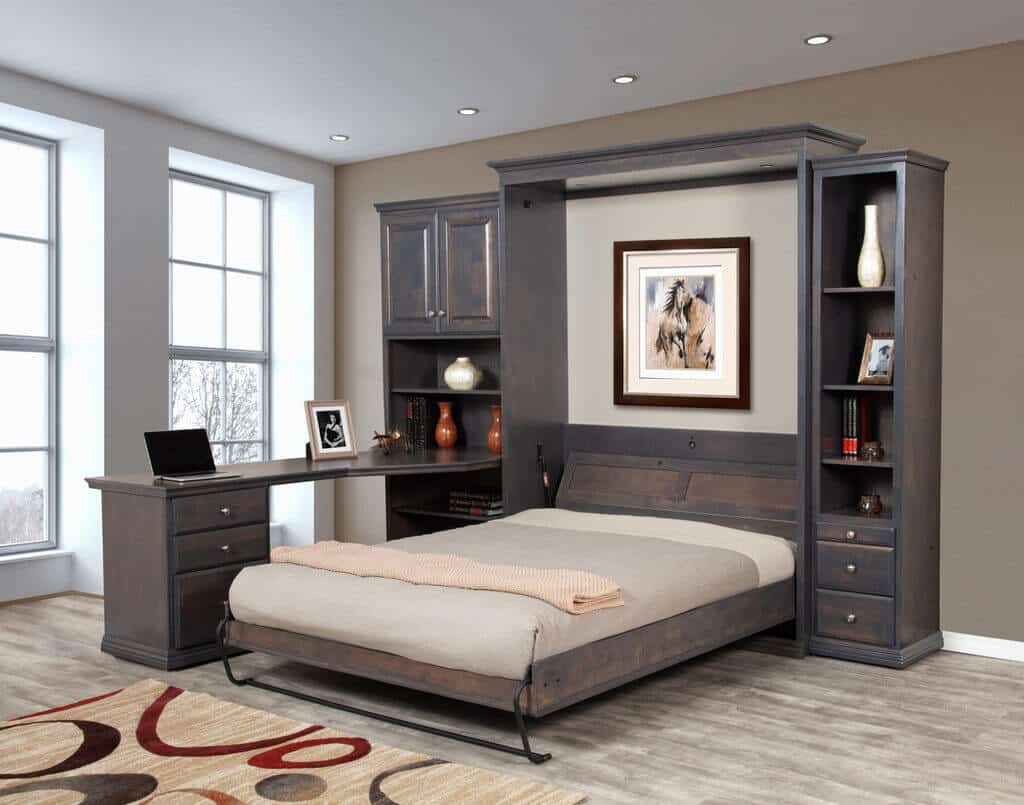 Source: sfmurphybeds.com
Chances are that your home has a spare room used for storage or a guest bedroom. Instead of leaving it like that, start a repurposing project. Utilizing the space creatively will help you make the most of your office. Add wire shelving to hold the office supplies, buy a desk with an ergonomic design, and invest in task lighting that provides great illumination. Decide on the one you like so you'll feel comfortable and inspired. Try to keep everything as neat as possible without clutter. Think about other potential equipment you may need. 
If appropriate, factor in sleeping functionality. Sleeping at work isn't just for shift workers. It can improve your attention, memory, and perseverance. Rest and relax for short periods during the day while completely switching off from work. Bring in a bed and a mattress. It's important to separate the two areas. Avoid checking emails when you're supposed to unwind. Consider choosing curtains to separate the work and sleep zones. Another effective way of dividing the area is to use a wood-slatted partition. It's furniture you can use in any room corner efficiently.