When was the last time you really stopped to think about your hallway? Maybe you never have. For most people, it's simply the space they walk into when they come into their home and they pass through it quickly to get to other spaces, perhaps taking off outdoor clothing while they're briefly there. However, even if you don't think about it much, it's actually one of the most important spaces to get right when it comes to your home décor.
The reason for this is that it sets the tone for the rest of the property. Whatever the mood you present in your hallway is that visitors (and anyone who lives in the house) will carry with them into the other rooms.
This is why it's crucial to make a statement and create a showstopping hallway; in this way, anyone who enters your home will enjoy being there. Read on for some hallway design ideas to help you get the showstopping entrance you want.
Update the Front Door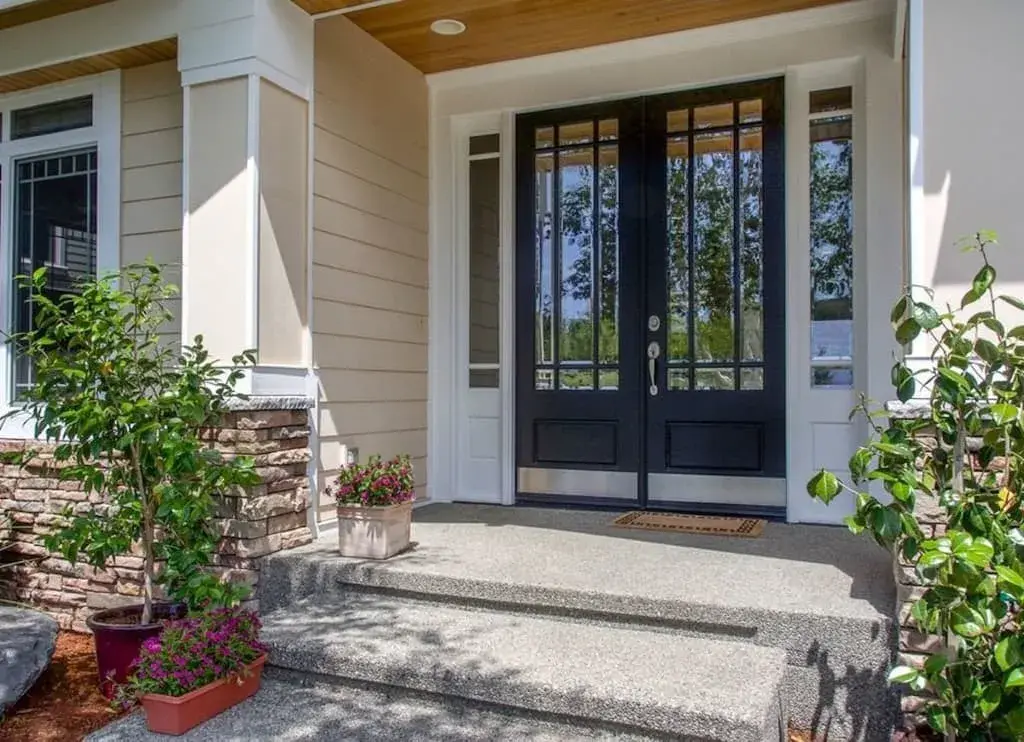 Source: bobvila.com
In order to get into your hallway, whatever style it might be, people will need to go through your front door, so it makes sense to update this portal and ensure that it looks as good as it can do. This will give the impression of a well-maintained home, and you can make the style of the door match the hallways beyond it, whether that's modern or more vintage.
Unless there are any restrictions in the area you live – it's always a good idea to check this out – you can really go to town when it comes to choosing the colour of your door and even the style. However, if you want to give a luxurious look, it's usually best to opt for gloss black with gold or silver effect hardware. This is timeless and elegant.
Stone Flooring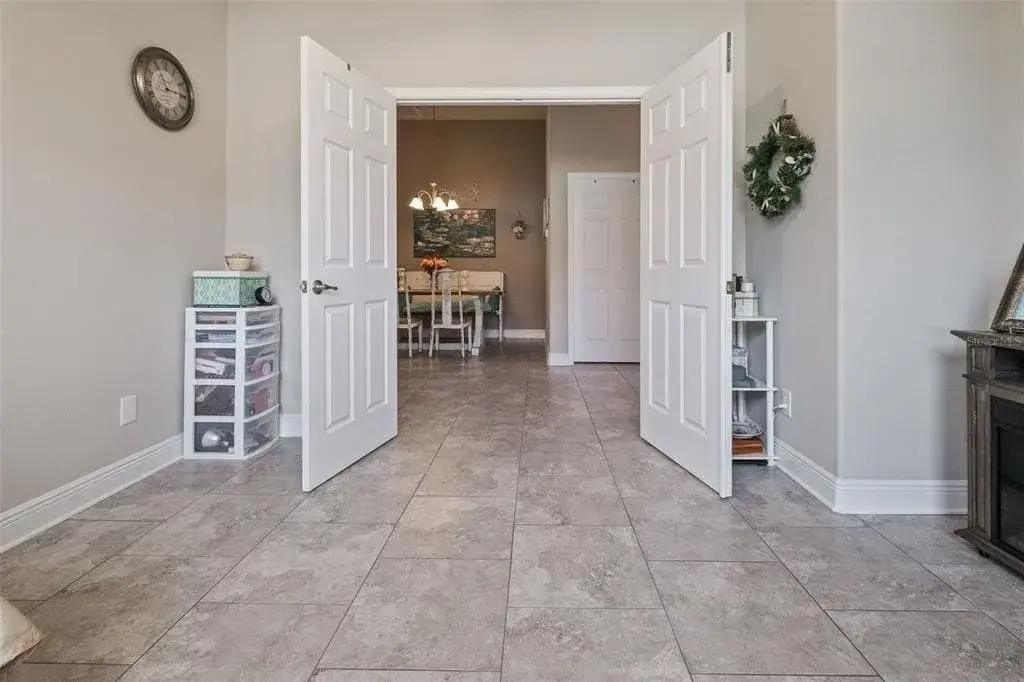 Source: rdcpix.com
Stone flooring always offers up an air of luxury and elegance no matter where it is installed, but if you carefully choose the right stone flooring from mystonefloor.com, you'll be able to add a sense of grandeur to your hallway, no matter whether it's a large, imposing space or a small entryway. In fact, stone flooring works incredibly well if you do only have a small area to play with because it will open everything up, especially if you choose a lighter colour for this natural look.
What makes stone the ideal choice for hallways on top of everything else is that it is so easy to clean. When people are coming into your hallway from the outside with potentially dirty shoes, this can be a real time-saver and ensure your hallways stay looking good for many years to come.
Also Read: Why Homes Need Runner Rugs and How to Select the Best One for Hallways
Store the Clutter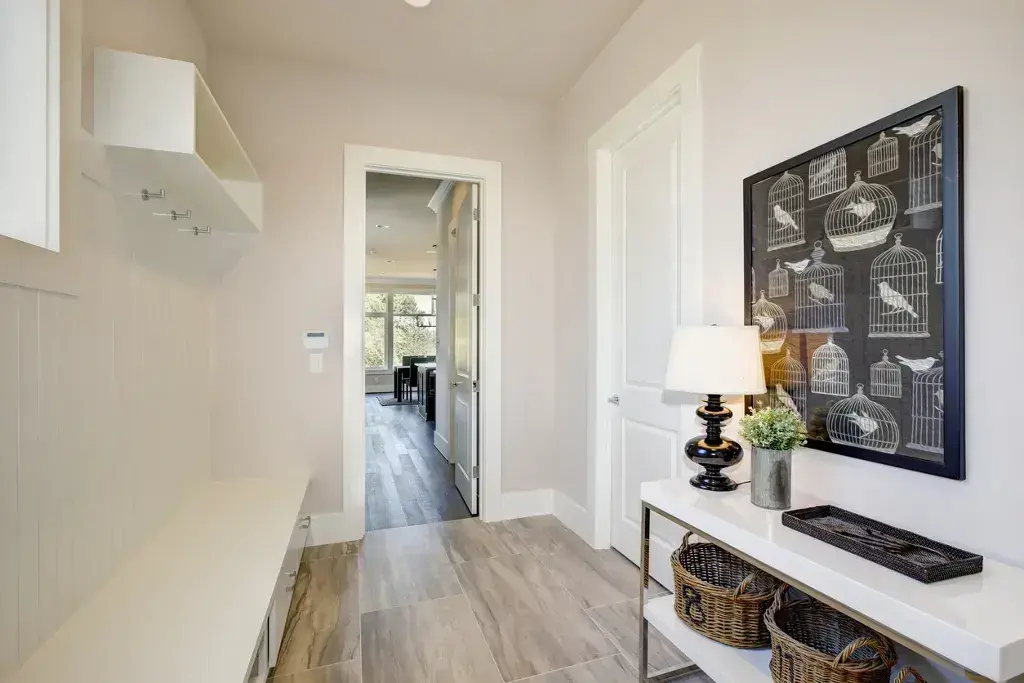 Source: shopify.com
One of the main reasons why so many hallways don't look great and are simply a space to walk through as quickly as possible is that they are full of clutter. They become an easy dumping ground for all the coats, shoes, bags, and other accessories that people have with them when they enter the house. This obviously means the hallway becomes a mess and stays a mess, so no matter how elegant and luxurious the décor is, it tends to be hidden away.
If you invest in some beautiful storage solutions, this will no longer be a problem. You can choose from retro coatracks, benches with storage inside, and even built-in cupboards if you have the space.
Make sure that whatever you choose fits with the theme of the room itself, otherwise, instead of hiding the clutter, you'll draw attention to where you've put it, ruining the overall look.
New Stairs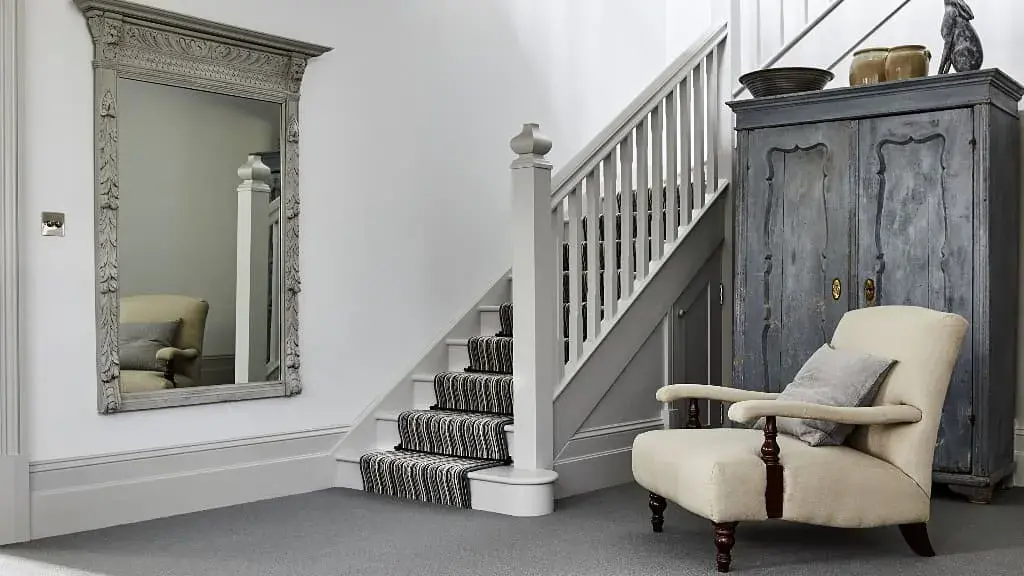 Source: futurecdn.net
If your staircase comes down into the hallway as some do, why not make them a real feature of your home? Although it will be an expensive and disruptive option, you can choose to replace your current staircase with a much grander, more interesting one. Perhaps, rather than stairs that go straight up and down, you can choose a style that curves, giving people more to look at.
Even if you can't change the shape or placement of the staircase itself, you can change how it looks. Try removing the carpet and using bare wood instead, or have a stair runner in the middle and varnished or painted wood on either side. Paint the bannisters a different colour for the steps. Add storage underneath that can become a feature in its own right.
The stairs, like the hallway itself, are not usually thought about too much, but if you consider the design more carefully, you can make a grand statement at the entrance of your home that will make you happy every time you come back to it.