17 Craftsman House Plans Ideas and Designs With FAQs
What Are Craftsman House Plans? 
Craftsman style homes are similar to bungalow-inspired layouts, with appealing features, making them a classic. Craftsman houses are typically one to two floors tall (with some having split-level layouts) and date from the early 1900s when the Arts and Crafts Movement impacted architectural design. This movement has influenced a wide range of artistic endeavors, including architecture, and interior design, all of which contributed to the timeless Craftsman homes we know today.
Craftsman house plans act as a symbol of simplicity. They feature functional floor plans and elements that make their rooms adaptable for a wide range of architectural designs, and decor styles making them "something for everyone". We've listed up some of our favorites here.
1. Natural Materials in the Exterior: Craftsman Style House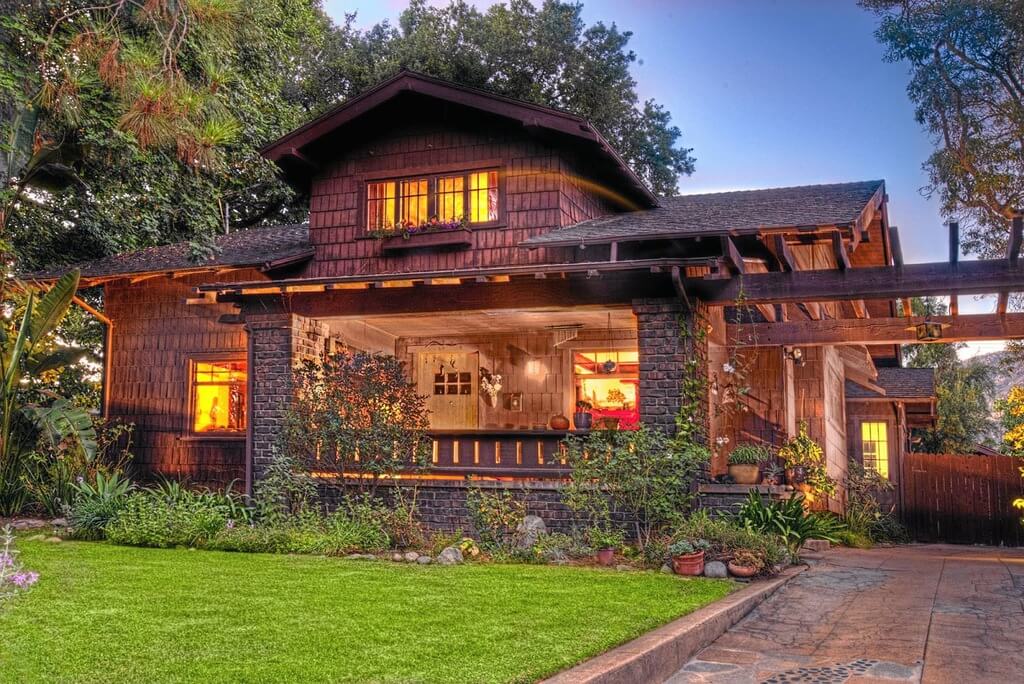 Source: amitykett.com
Craftsman styles are known for their natural and genuine building materials like wood, bricks, stone. This natural material palette makes them environmentally friendly since their exteriors flaunt natural beauty. They help them reduce their carbon and environmental footprint, need fewer resources to construct, and are simple to build. So, if you fancy an environmentally friendly house, opt for a craftsman-style home.
2. A Craftsman House Plan That Offers a Veranda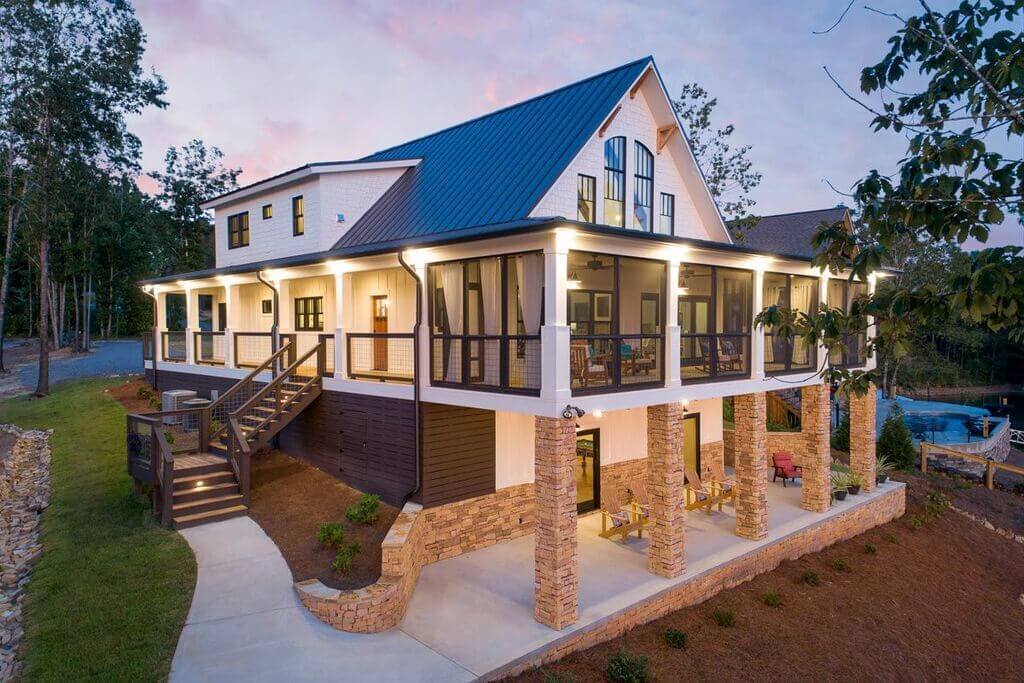 Source: pinimg.com
A Craftsman house plan can invite the play of indoor/outdoor flow for enjoying warm-weather and entertaining guests. The bedroom, living and the open kitchen can all open towards the veranda for easy and airy circulation. For more solitude, the master bedroom can be tucked away inside the layout.
3. Modern Design for Craftsman Style House Plans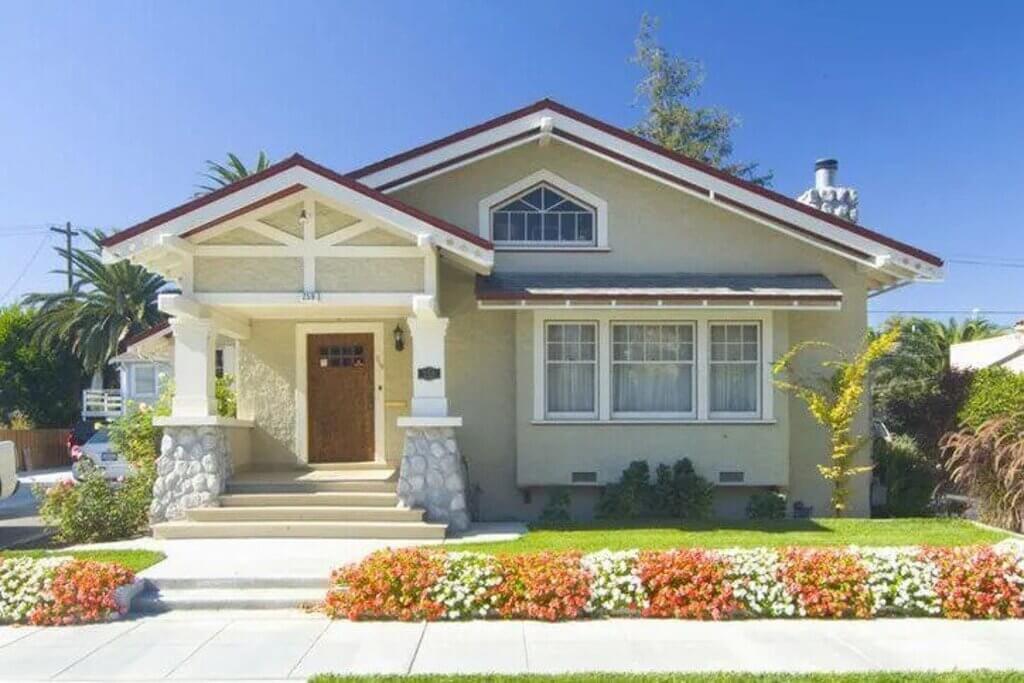 Source: dekarzgniezno.com
Modern architecture can be easily designed in a craftsman's house. To make the house more modern one can eliminate some common components of a conventional craftsman home and replace them with newer architectural elements. For instance, design with steel columns instead of rustic wooden pillars. Additionally, modmapern entrances and glass windows can be featured.
4. Craftsman Home Porch with Pillars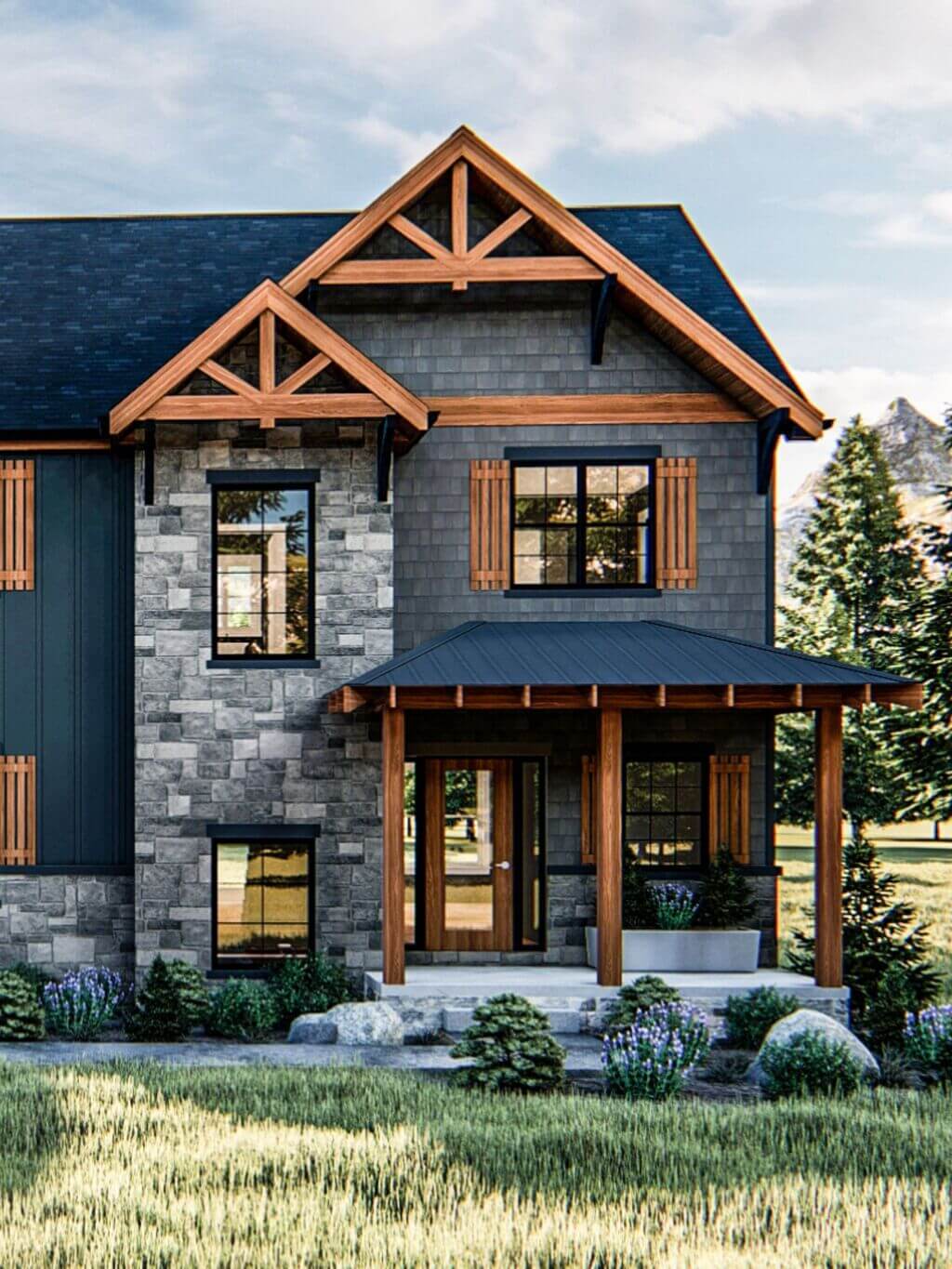 Source: pinimg.com
What are craftsman house plans without porches? Its trademark design feature is a porch with appealing pillars. Covering the front porch with columns and pillars can lend shading and provide roof support. A covered porch is also a great area for the family to unwind and socialize with their neighbors. Their columns are typically square, differentiating from a typical bungalow due to the shape of the columns.
Also Read: The House V Bungalow : An Architectural Gift To Holiday Travelers
5. The Garage Door of Craftsman Style House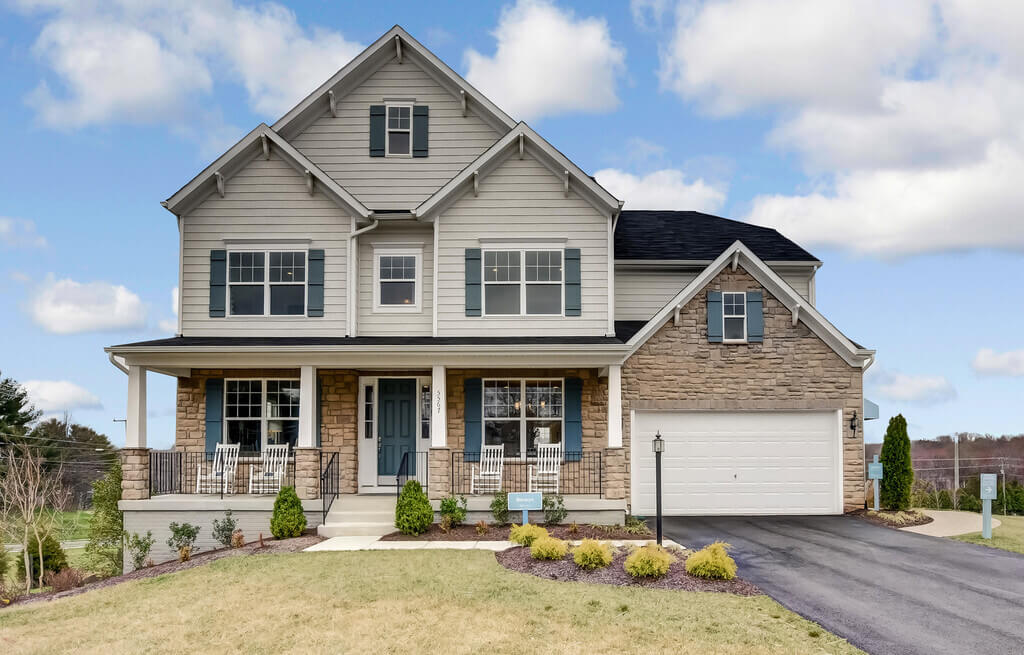 Source: khov.com
An attractive themed garage door can also accentuate the classic Craftsman home architecture. You can design recessed panels in the garage doors similar to the main entrance door, drawing attention to the home's entry and creating a friendly curb appeal.
6. 4-Bedroom Craftsman Home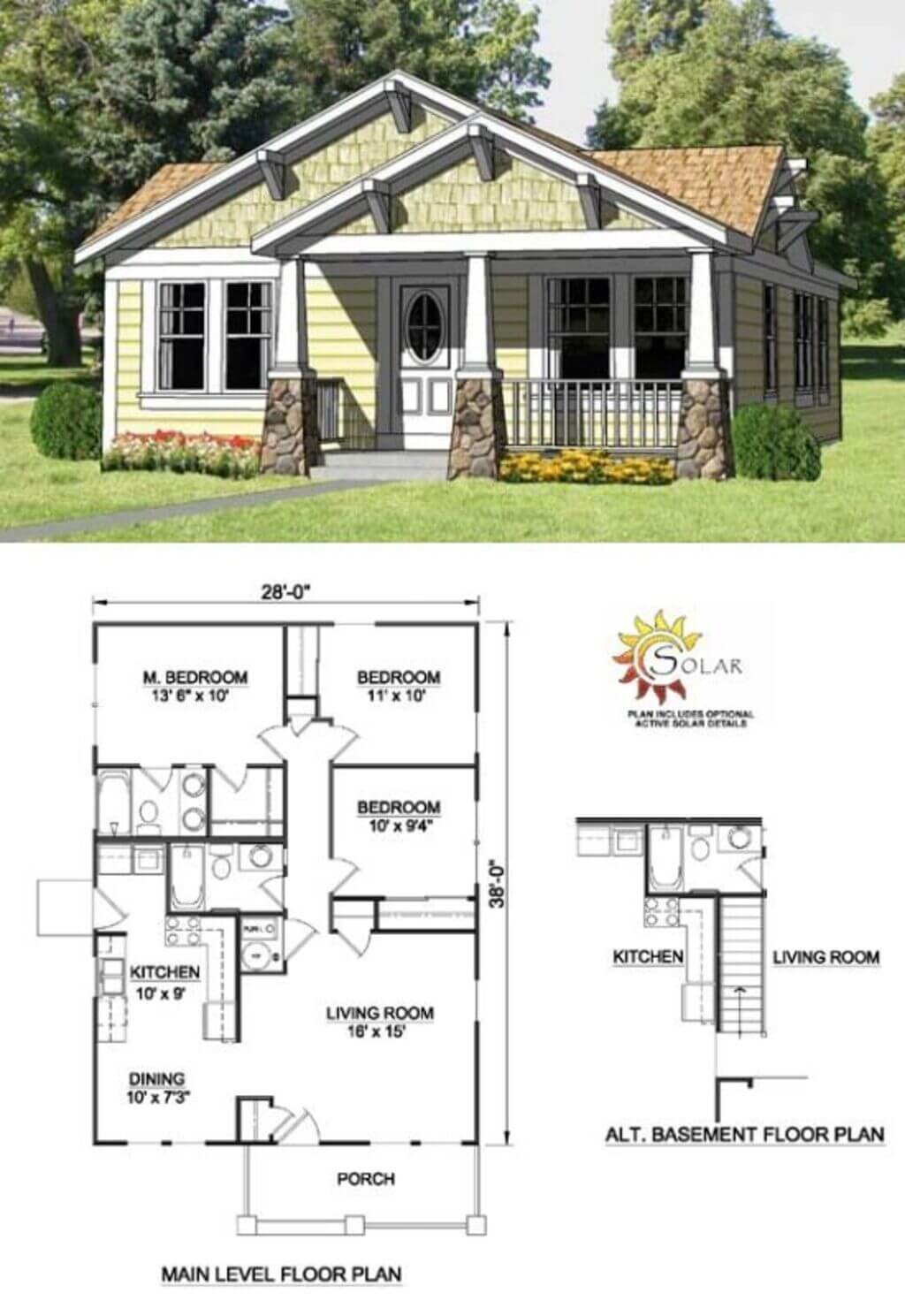 Source: pinimg.com
A four-bedroom house does not require a vast plot of land. This is achievable by designing two levels in your craftsman home, expanding the amount of space available for the additional rooms. You can place one of the bedrooms on the ground level along with your living room and dining room. When hosting guests, this is a practical design as the ground-level bathroom may be used as a guest bath or powder room.
7. Double Hanging Windows of Craftsman Style House Plans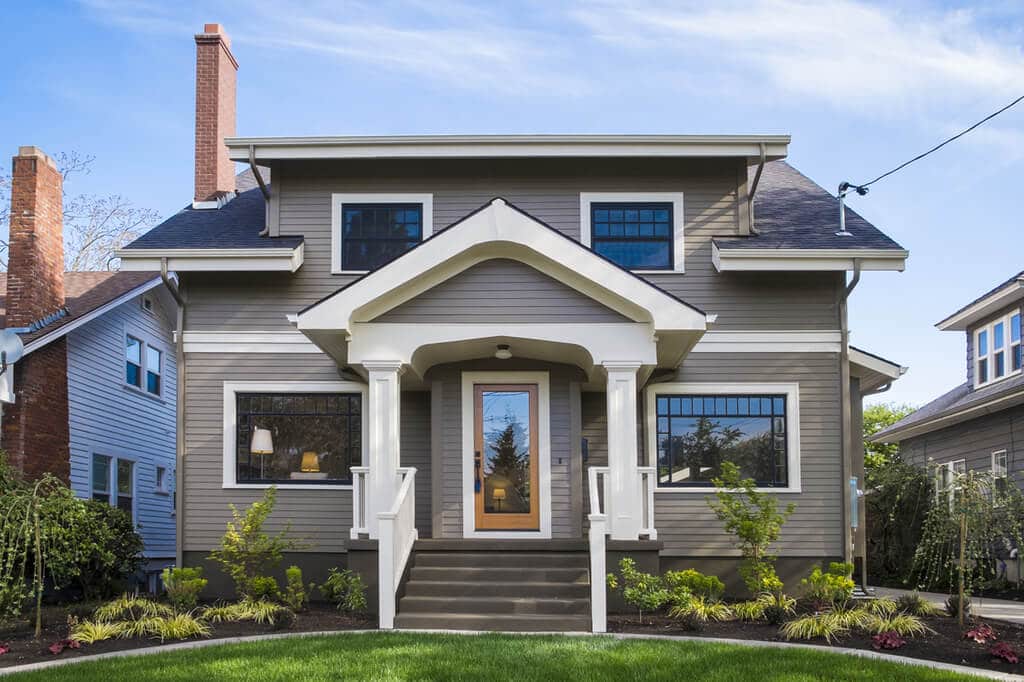 Source: bhgre.com
One can always find double-hanging windows designed in craftsman-style homes. These windows are not only limited to aesthetic purposes but also functional. You can have perfect ventilation whenever you need it. Unlike other types of windows, double-hanging windows do not crank outwardly or project outwards. The risk of accidents will lessen in the front yards that are just below these windows.
8. Exposed Beams in Craftsman Home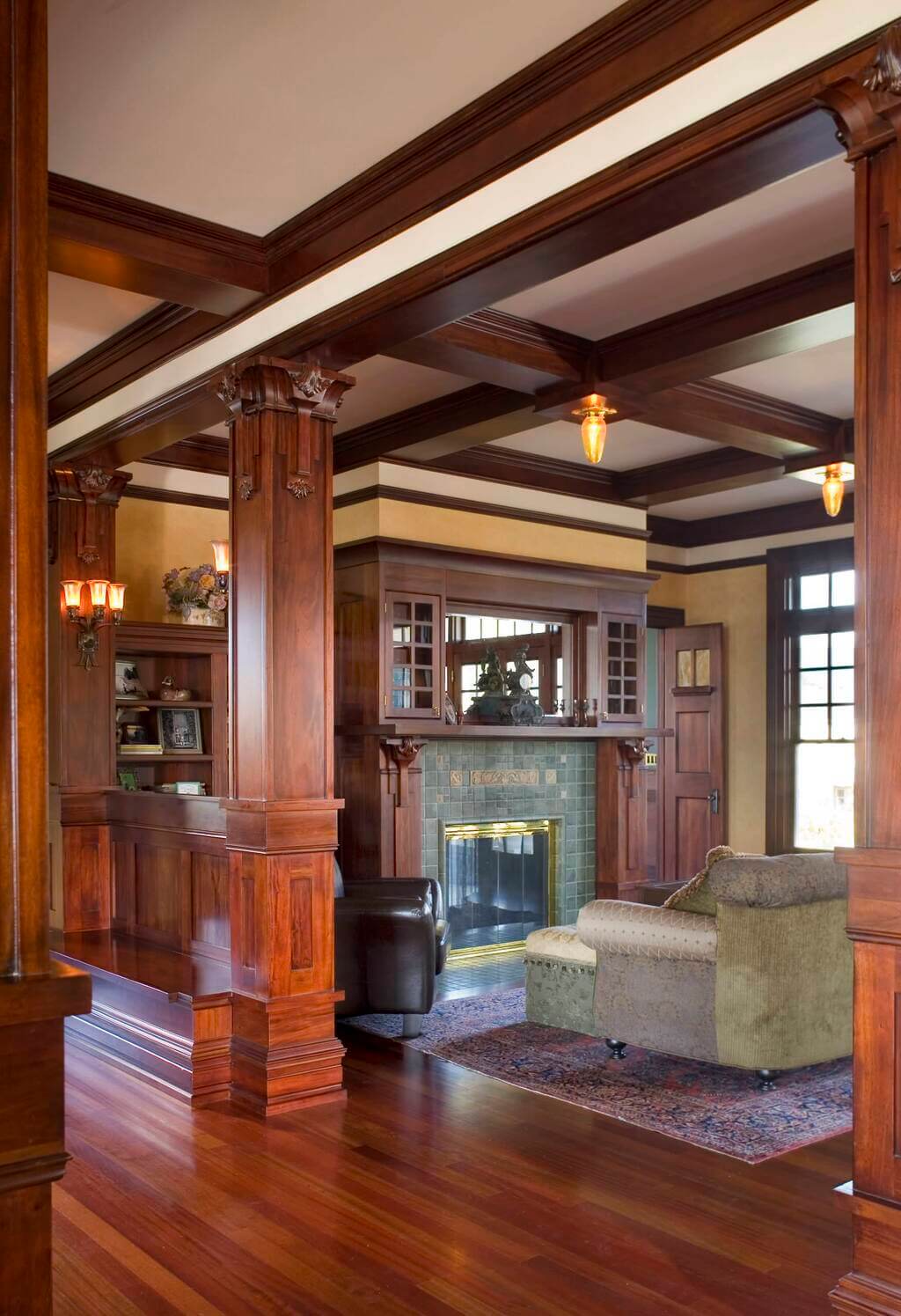 Source: hzcdn.com
On both the interiors of the craftsman home and the exteriors of the house, exposed beams or rafters are the main architectural feature in Craftsman style homes. Exposed wooden beams make a room feel vintage and cozier while also adding an old-world charm. An exposed wooden beam is an easy way to add a rustic touch to the house.
9. Small Sized Craftsman Home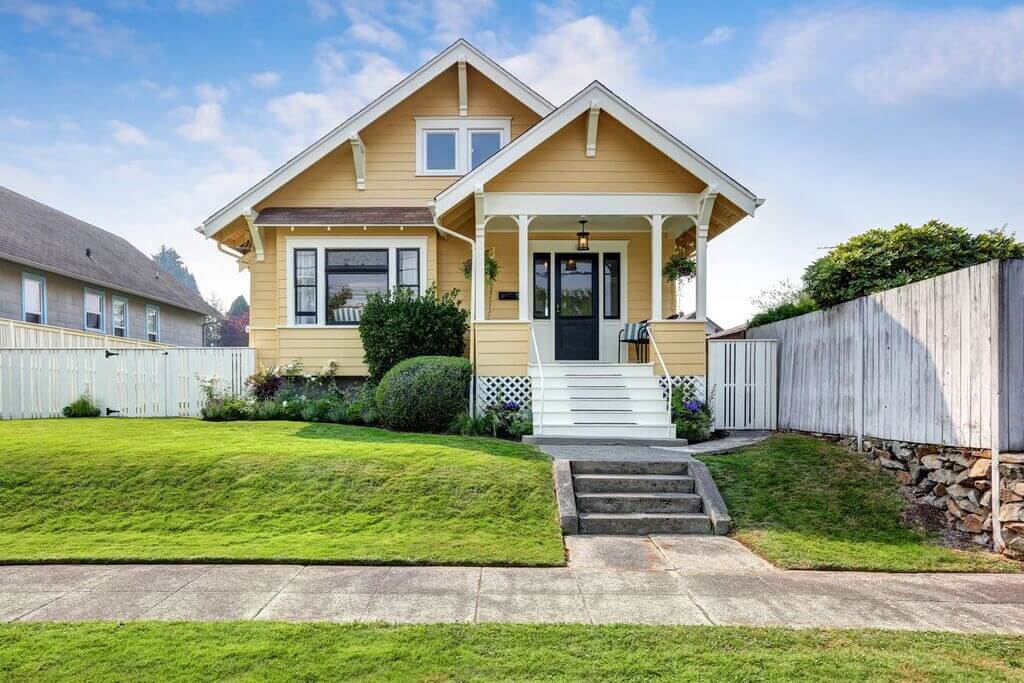 Source: twimg.com
This smaller house plan can house all the beauty of a Craftsman style home, whether you're trying to downsize or leave a smaller carbon imprint. A master bedroom with a walk-in closet and adjoining bathroom can be included in this layout. While an extra room can be multifunctional–playroom, music, room, kids play, whatever you like!
10. Subtle Craftsman Style House Colors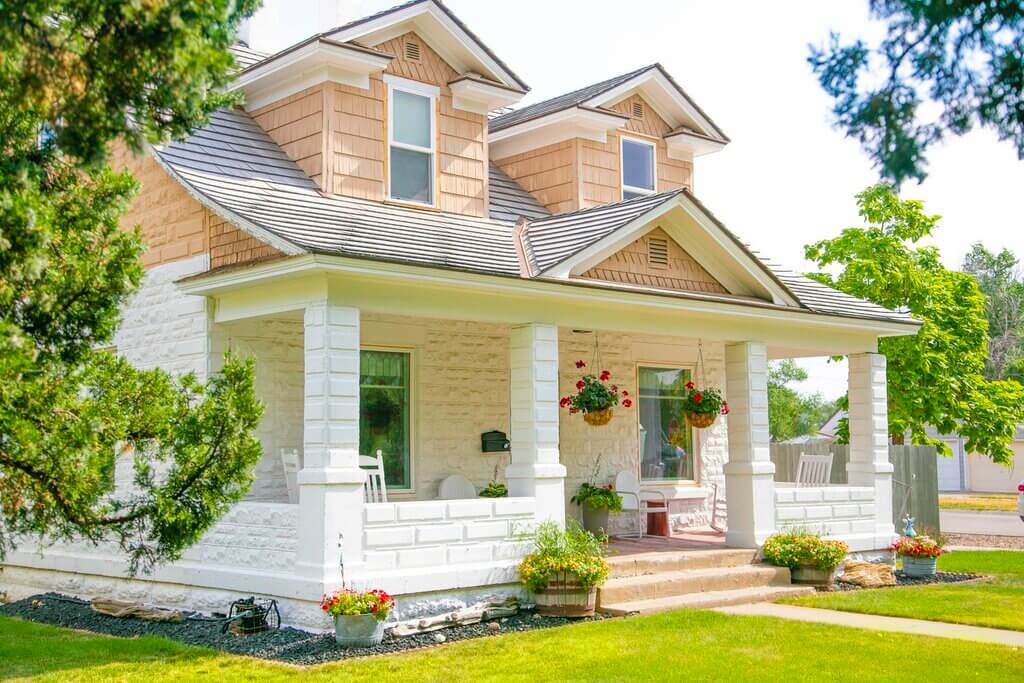 Source: squarespace-cdn.com
Subtle Nature-inspired colors are majorly used in craftsman style homes. The colors wood brown and fresh green are particularly popular in Craftsman homes. But you can opt for more bright exterior colors. For example, beige features peachy orange garage doors with a dark green metal roof and white trim.
11. Craftsman Home with an Open Layout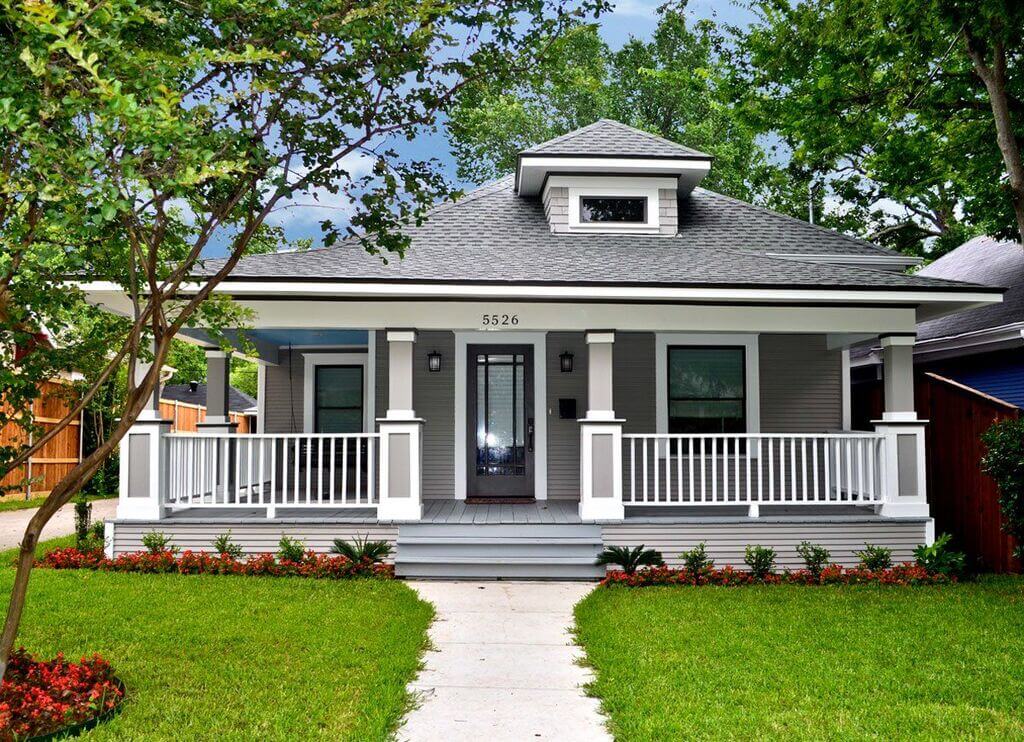 Source: pinimg.com
Here the first level of the open floor plan can give plenty of space for family gatherings, whether in the main room or the kitchen/dining area without any barriers. While the bedrooms and bathrooms can be shifted at upper levels to avoid unnecessary traffic.
Also Read: Magical Vistas of Western Ghats: The Cove House by Red Brick Studio
12. Using Brick for Craftsman House Plans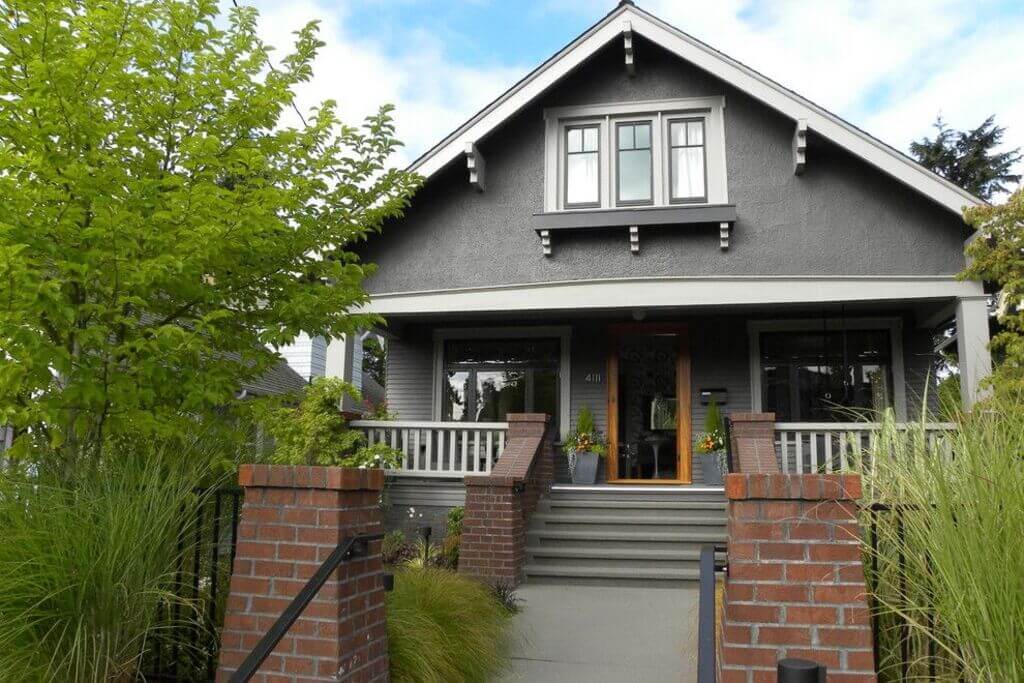 Source: pinimg.com
When selecting materials for your craftsman style house, opt for the building material that will draw attention to the architecture. A fresh layer of white paint with bricks can be accented well for the facades. The contrasting trim can highlight the craftsman house horizontal lines while also helping it stand out from the neighborhood. 
13. Craftsman House with Overhanging Eaves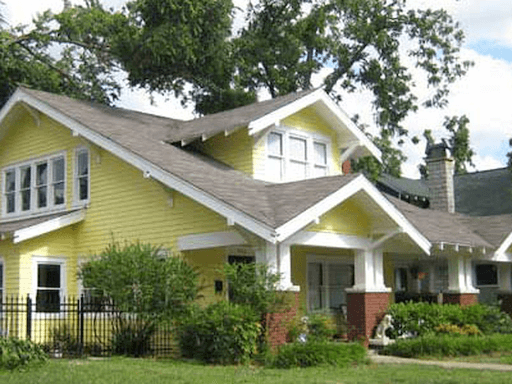 Source: googleusercontent.com
Another very common feature is the overhanging eaves of a craftsman-style home. A house's overhanging eaves can be built in a variety of ways. The eaves should seamlessly blend with the face material of the house. Wide overhanging eaves are a crucial structural element, especially for houses that reside in heavy rainy areas of the country: the eaves assist keep water off the walls.
14. Furniture in Craftsman House Plans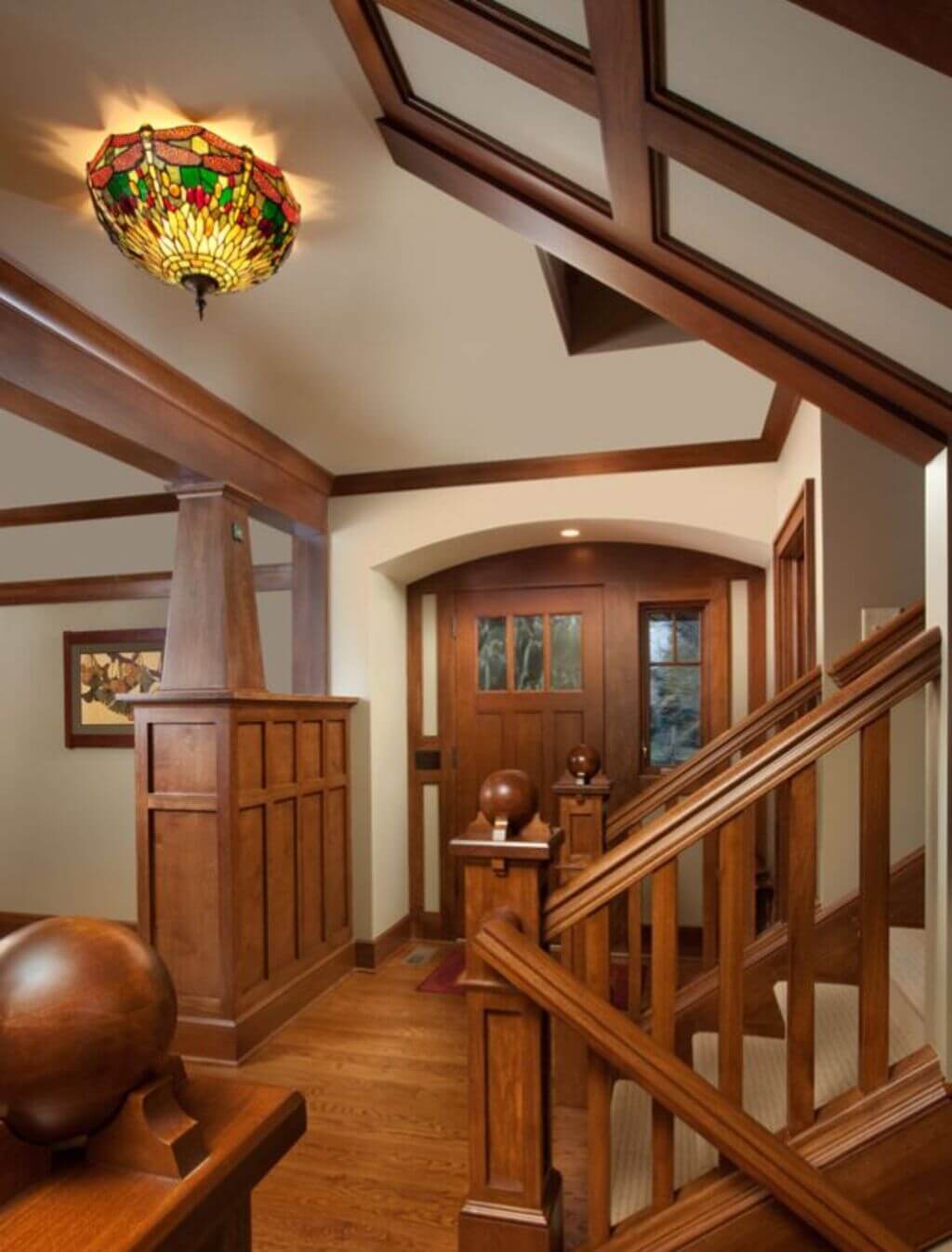 Source: pinimg.com
Upholstered pieces with mixed use of leather and huge tacks can give a more rustic appeal to your craftsman's house. These accent furniture can easily give a vintage vibe, which can also have more subtle designs than other styles.
15. Low-Pitched Roof of Craftsman Style House Plans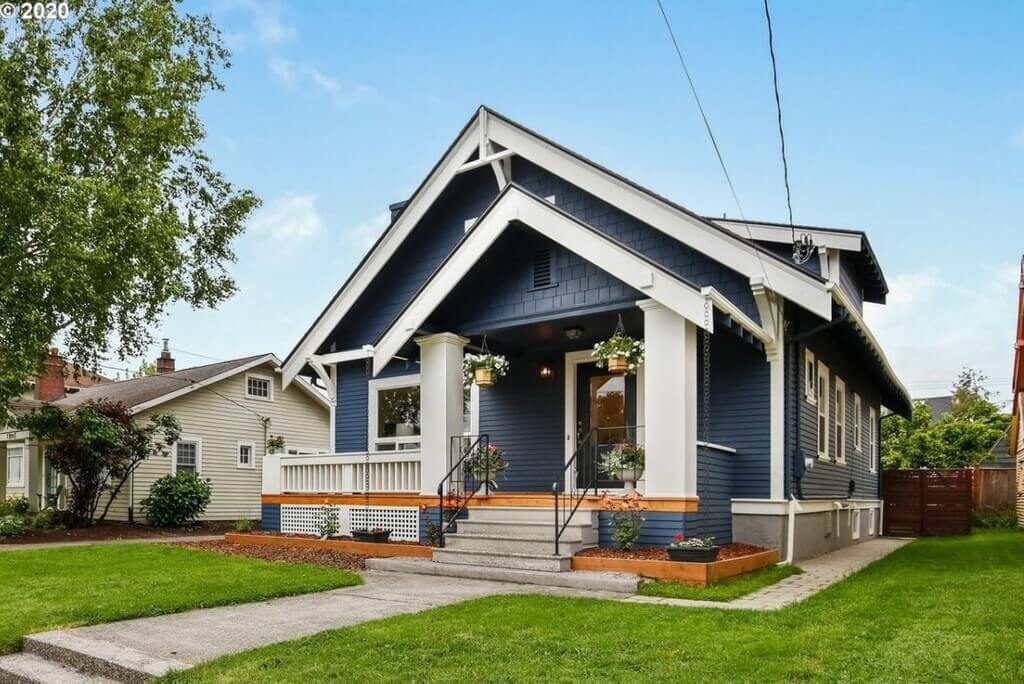 Source: netdna-ssl.com
One of the most defining and evident design features of a craftsman style home plan is the low-pitched roof, which is usually built in a hip or gable shape. Usually, they are accompanied by wide-open eaves that overhang the front facade.
16. Fireplace for Craftsman House Plans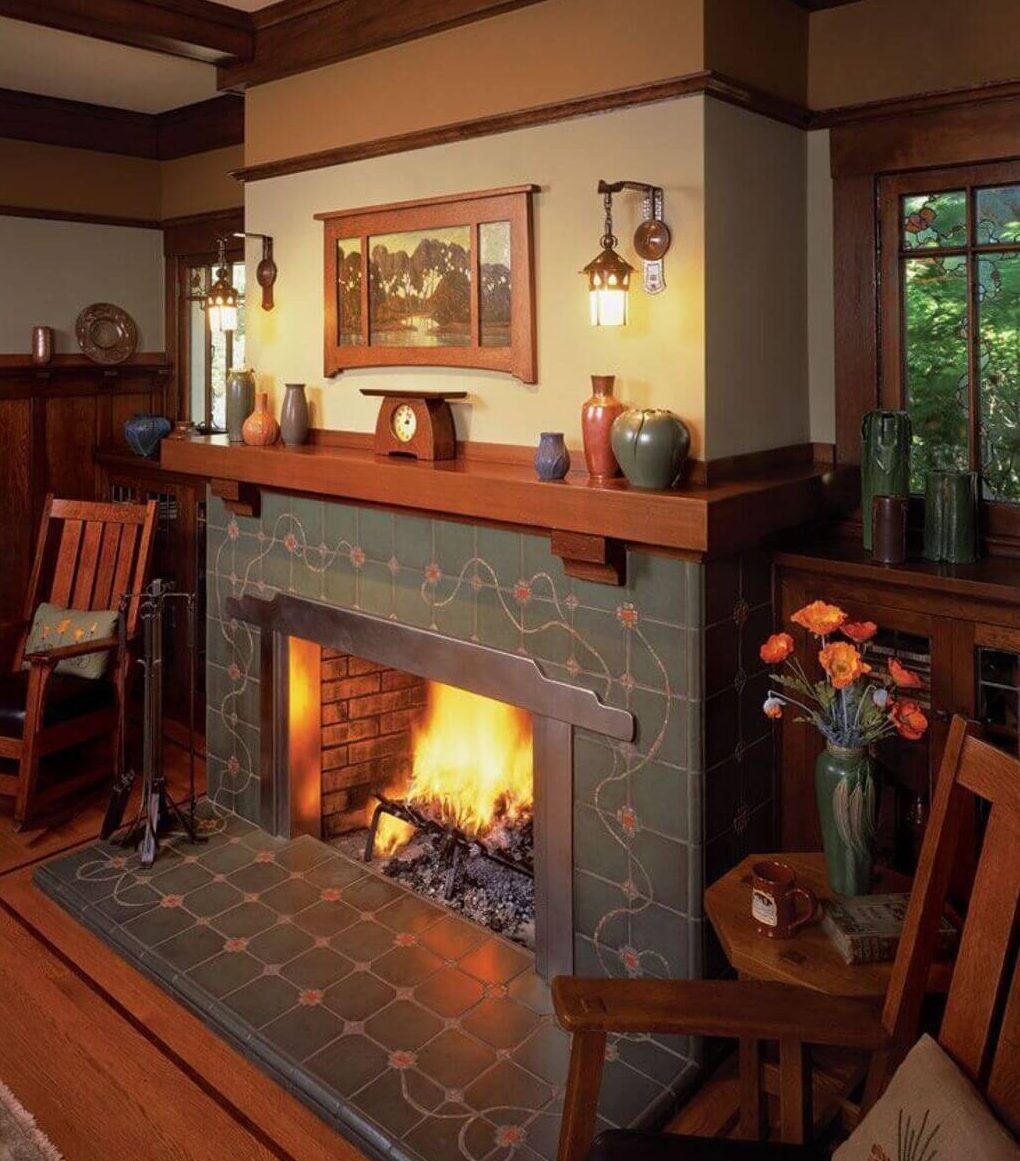 Source: pinimg.com
The fireplace in the interiors of craftsman-style homes can instantly become the focal element. You can design built-in cabinets or bookshelves that are usually positioned on either side of the fireplace. Most luxurious craftsman style homes feature a large fireplace where winters are super cold and harsh. 
17. The Entrance Foyer of the Craftsman Style House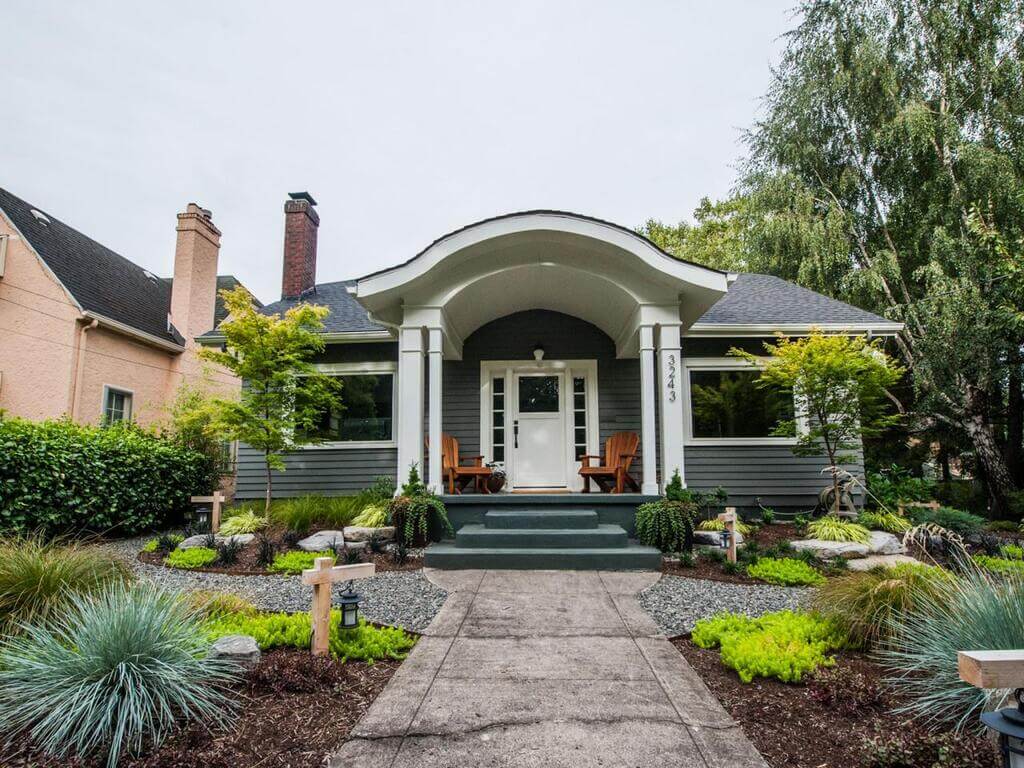 Source: sndimg.com
Design the entrance foyer with a white cove ceiling for your craftsman style home, adorning with an attractive iron pendant light to create a cozy and rustic ambiance. The main entrance door with matching sidelights and a transom window that matches the cove ceiling's layout can spruce up the game. 
Also Read: 13 Sage Green House Exterior Design Ideas to Improve Home
FAQs
1. Are Our Bungalows and Craftsman Homes the Same Thing?
No, bungalows are a type of dwelling that originated in India's Bengal area. Though these terms are interchangeable and closely associated with the Craftsman style it's not the same. A bungalow is a modest, comparatively small house with a sloping roof and a broad front porch (usually only one or one-and-a-half stories). While the Craftsman bungalow is a frequent match, the two are not always synonymous.
Also Read: The Benefits of Bungalow Rear Extension
2. What are The 4 Types of Craftsman-Style Homes? 
Prairie Style
Prairie-style homes are a distinctively American variation of the Craftsman house form. Prairie homes get their name from their adaptability for construction on flat land. Commonly they have low-pitched, hipped, or gable roofs that overhang around the house. A huge open concept floor plan, windows, and front entrance with porches are also included in the craftsman style homes
Mission Style
Mission-style homes differ from some of the more classic characteristics of Craftsman style home design due to its Spanish design influence. The most prevalent traits that distinguish mission-style homes from classic Craftsman-style homes are rustic materials, smooth stucco finishes, red tile roofs, and open-plan courtyards.
Four-Square Style
Four-square type styles were popular from the mid-1890s through the late 1930s and are another frequent style of Craftsman style home. After the popularity of grandiose, Victorian-style homes began to wane, four-square-style homes rose to prominence. This was the transitional phase in architectural design history. During this time, minimalist and honest interior design styles came into the limelight. 
The unique square shape of the outside structure and interior rooms distinguishes a four-square type house from the rest. Two-and-a-half story home, pyramidal hip roofs, and a large front porch that surrounds the entire width of the house are all common elements of this type
The last one is the bungalow type 
3. What Are the Common Features of a Craftsman Style Home?
A Craftsman style home has the following features:
A veranda or porch with a protruding roof.

Porch columns with a tapered and wide base.

Huge Eaves of the roof are overhanging.

At least two single dormers with full-length windows.

Natural building materials and colors, particularly stone and wood, are used extensively in these designs

A fireplace and mantel that is intricately carved for the interiors. 

The interiors are usually designed in a single-story open concept layout.
4. Do Craftsman-Style Homes Have Basements?
Not always, but they can. If that is your design requirement.
5. What Is a Craftsman Style Kitchen?
Simple straight lines, solid construction, and minimum adornment are common characteristics of craftsman style home kitchens. The style arose from the Arts and Crafts movement in England around the end of the nineteenth century.
Craftsman style house plans are a great way to make your house appear larger by maximizing and utilizing space. You may easily incorporate any or all of the craftsman style décor elements we mentioned above into your house to create a welcoming atmosphere.
We hope that this article gives you better and more comprehensive insights into craftsman house plans.
To know more about Home improvement ideas, Cleaning and decoration tips visit ArchitecturesIdeas
For daily updates, follow us on our Instagram page @architectures_idea.