17+ Lush Green Velvet Sofa Ideas That You'll Love in 2023
We all want to come home to a relaxing cushy couch. Why not do it in style? Bring home a lush green velvet sofa that oozes elegance and style. Green velvet sofas bring a sense of opulence to your home without actually burning a hole in your pocket.  The vivacious color brings drama and the fabric brings a luxurious feel. In the crux of it, a green velvet sofa personifies style, luxury, drama, and elegance.
We've curated a hand-picked list of the different types of green velvet sofas available out there and a few green couch living room decorating ideas.
17+ Lush Green Velvet Sofas That are Comfortable Yet Stylish
1. Simple Essential Sofa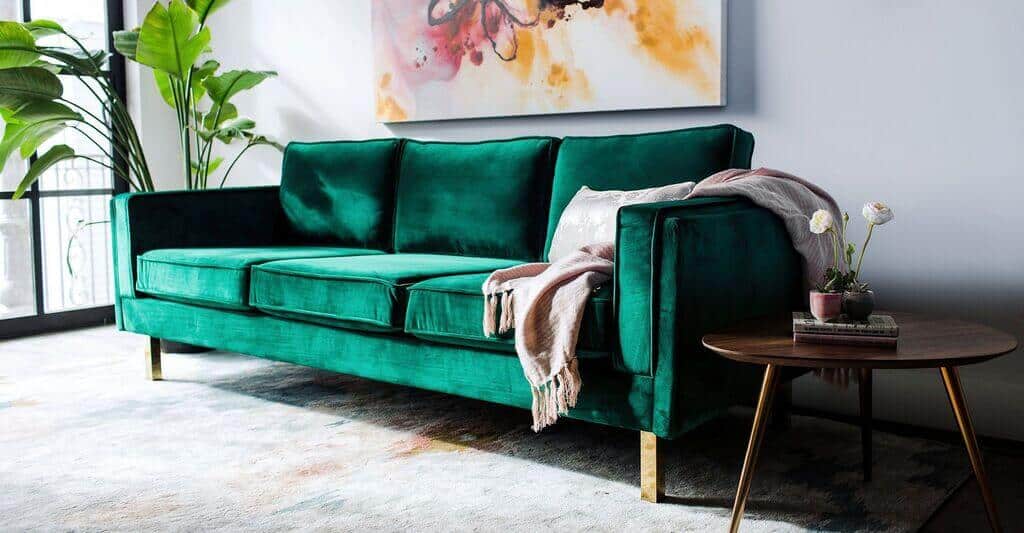 Source: pinimg.com
A simple elegant mid-century style green velvet sofa is all that your living room needs. These emerald green sofa living room ideas define understated luxury. The hand-crafted piece has chic brass legs, a cushy seat and back cushions, and a sleek design. These features make it an irresistible essential couch for all-day snuggling.
2. Plush Sectional Sofa with Chaise Loungers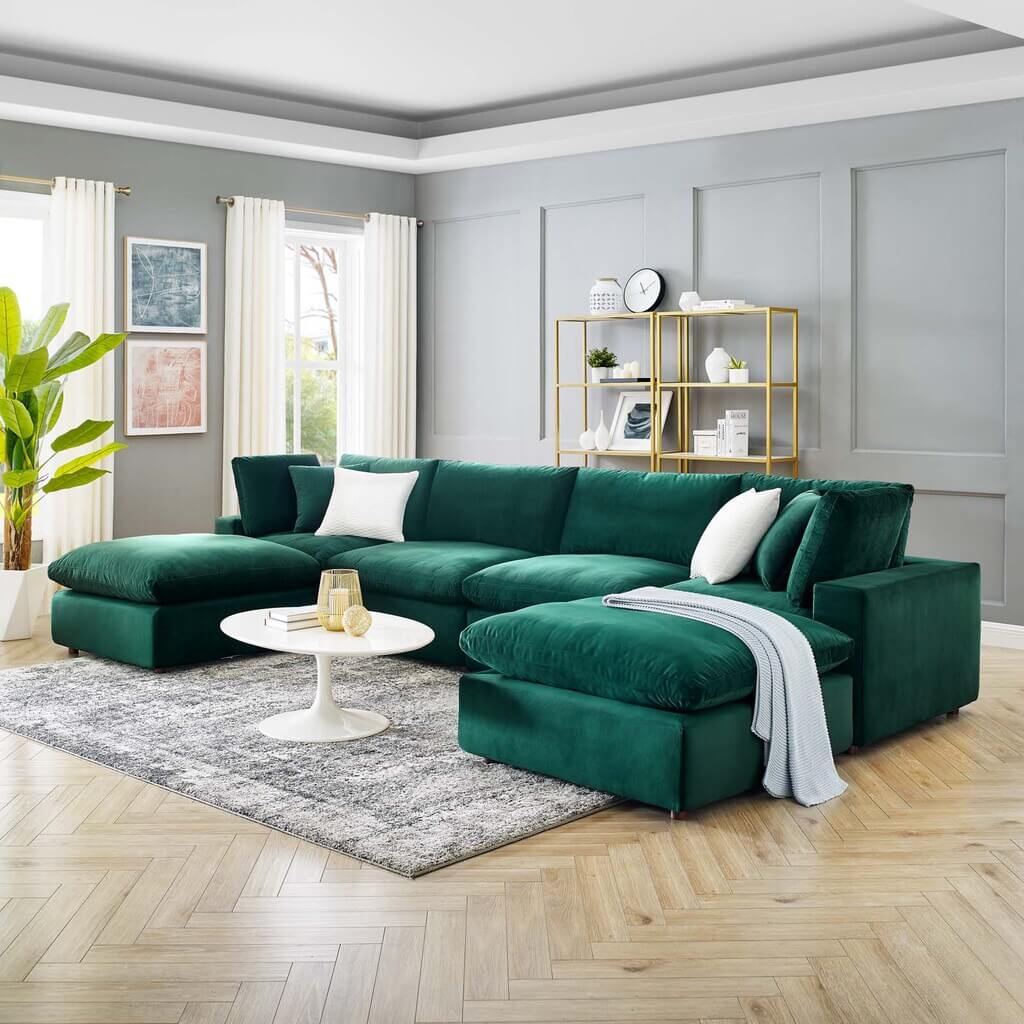 Source: walmartimages.com
A plush sectional sofa such as this is a cozy haven for relaxation. A sleek comfortable green velvet sofa is a perfect addition to large family rooms. It combines a comfortable and sink-in appeal feel with a clean modern aesthetic. The color makes a bold contrasting statement.  
3. Classic Round Arm Sofa 
Source: amazon.com
A classic round arm green velvet sofa adds timeless charm to a space. This green velvet couch can be a great stand-out addition to any living room. With its Victorian antique-like appearance that contrasts the contemporary interior, this piece is a head-turner. The decorative form is adorned with rounded edges and back rolling diamond tufted back cushions. The turnip-style wooden legs and the nail trim details complete this graceful piece.   
4. Transitional Square Arm Tuxedo Sofa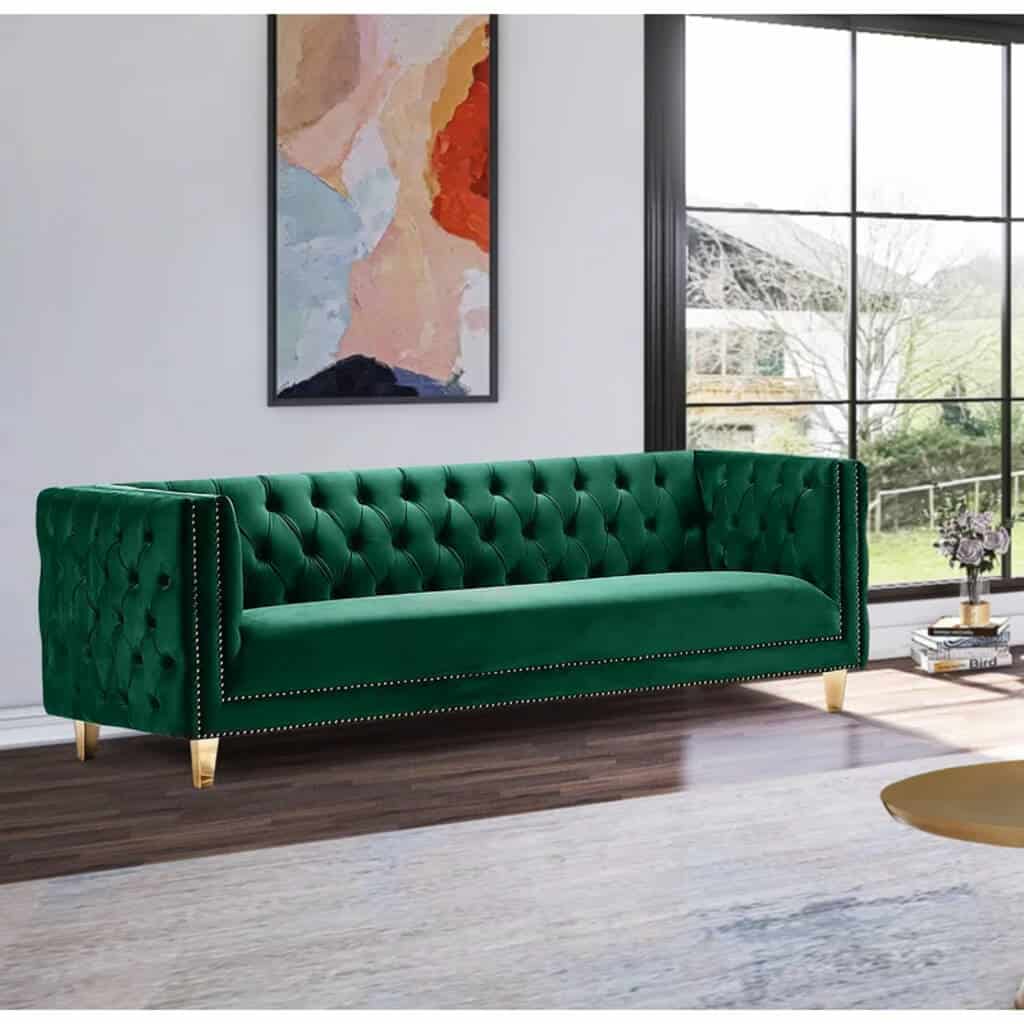 Source: wfcdn.com
The boxy transitional style green velvet couch makes a simple yet glamorous statement. The minimal clean-lined seat and backrest make the piece look modern however it is contrasted by the traditional style tuxedo armrests. The diamond-tufted armrests are finished with nail-trim detail, adding a stylish touch to the couch. This green velvet couch is a great fit for any living room as it will stand out as a focal element.    
5. Convertible Futon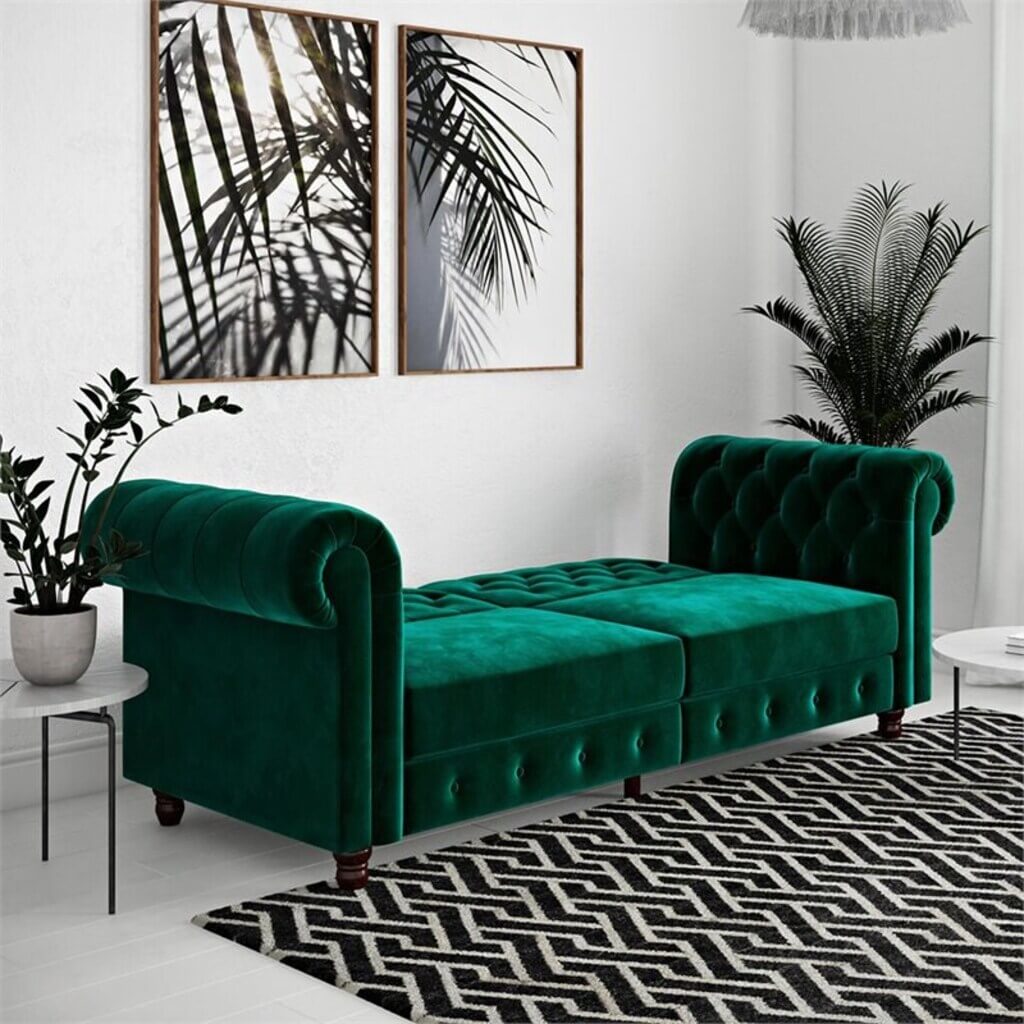 Source: cymax.com
This elaborate green velvet sofa is a perfect balance of form and function. It is a comfortable sleeper futon with a split back option that expands to make a bed or lounger. The Victorian-style design accentuated by tufted velvet upholstery brings a sense of timeless elegance to the space.  
6. Round Arm Sofa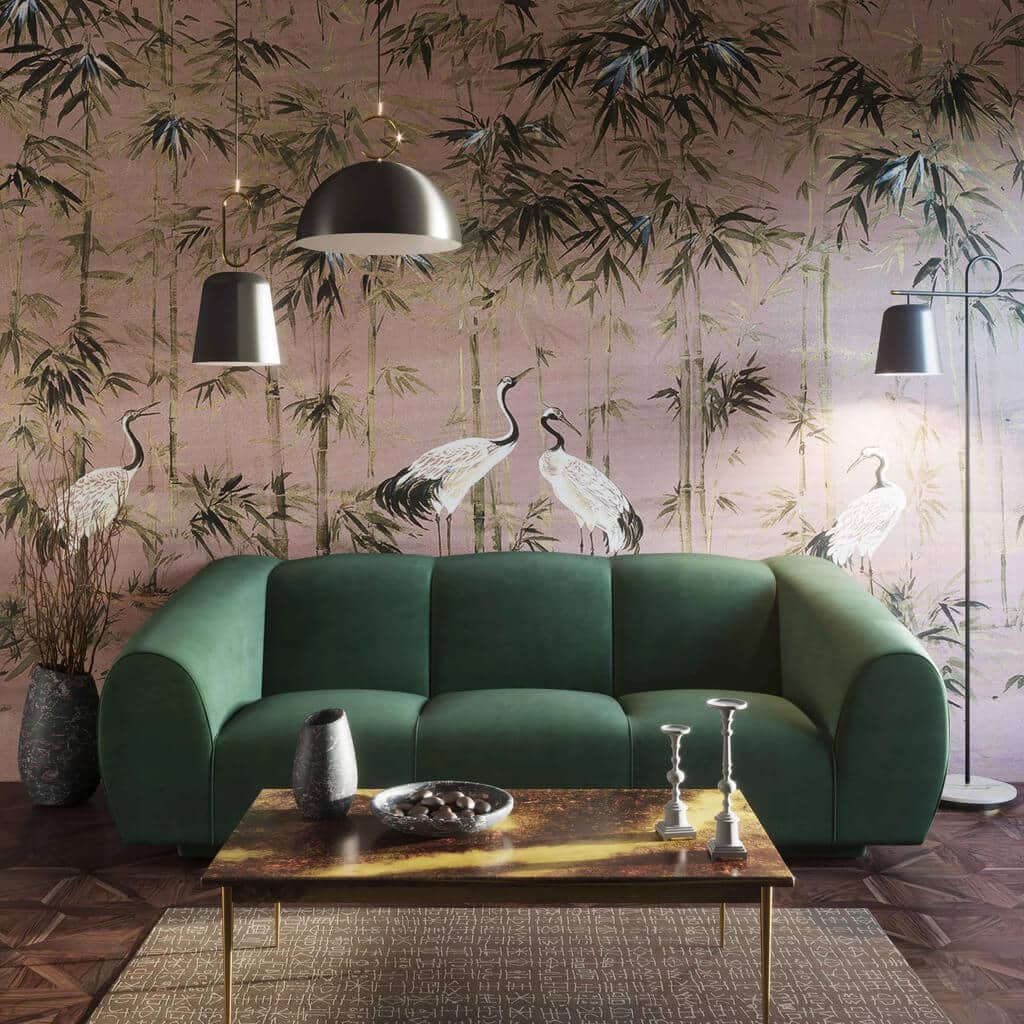 Source: ostkcdn.com
A soft, sumptuous green velvet sofa can be a statement addition to every living room. The simple curving form brings a whimsical charm to the space. This green velvet couch when placed in a living room needs no accents, it is a complete piece on its own. 
7. Flared Arm Sofa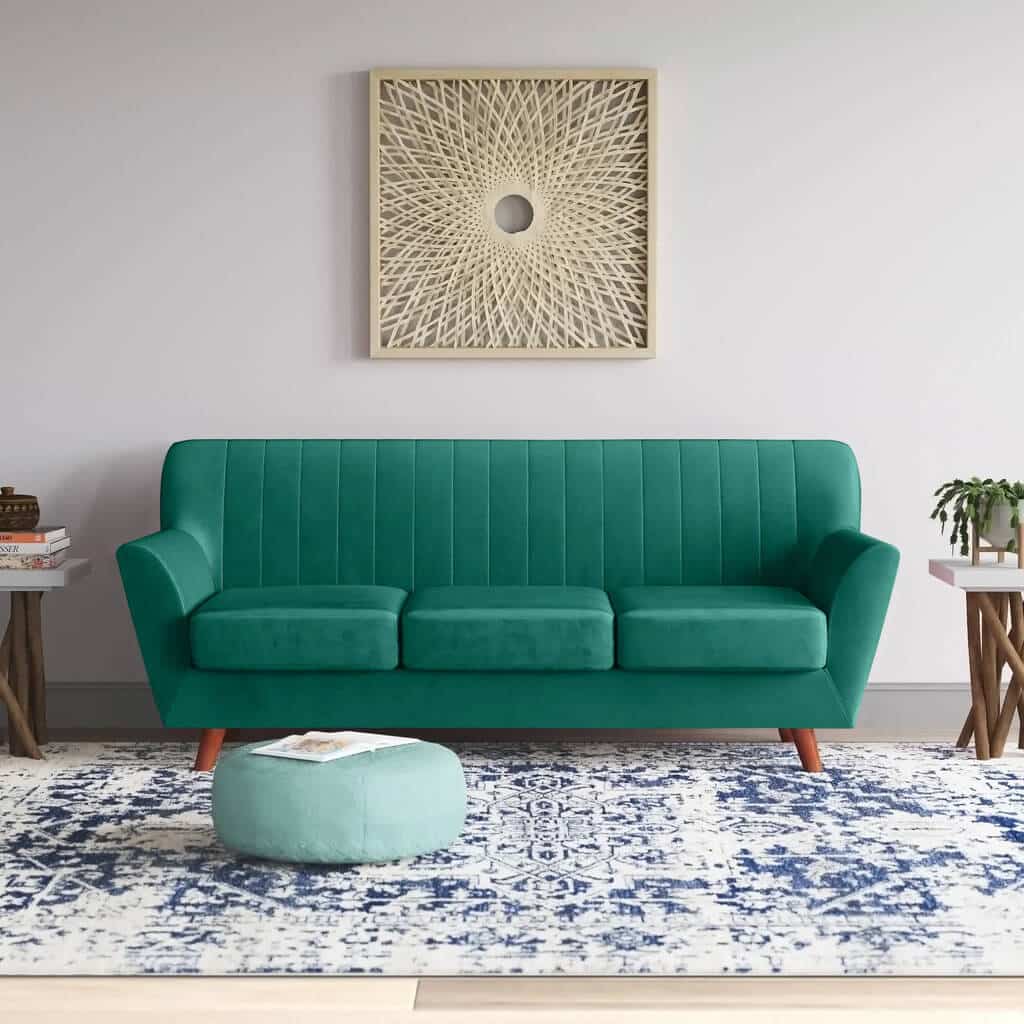 Source: wfcdn.com
A sculptural mid-century style green velvet couch can uplift the look of any living room. The flared arm combined with a simple channel-tufted back creates a luxurious modern aesthetic. This spacious 3-seater green couch in the living room delivers an alluring space appeal.
8. Camelback Sofa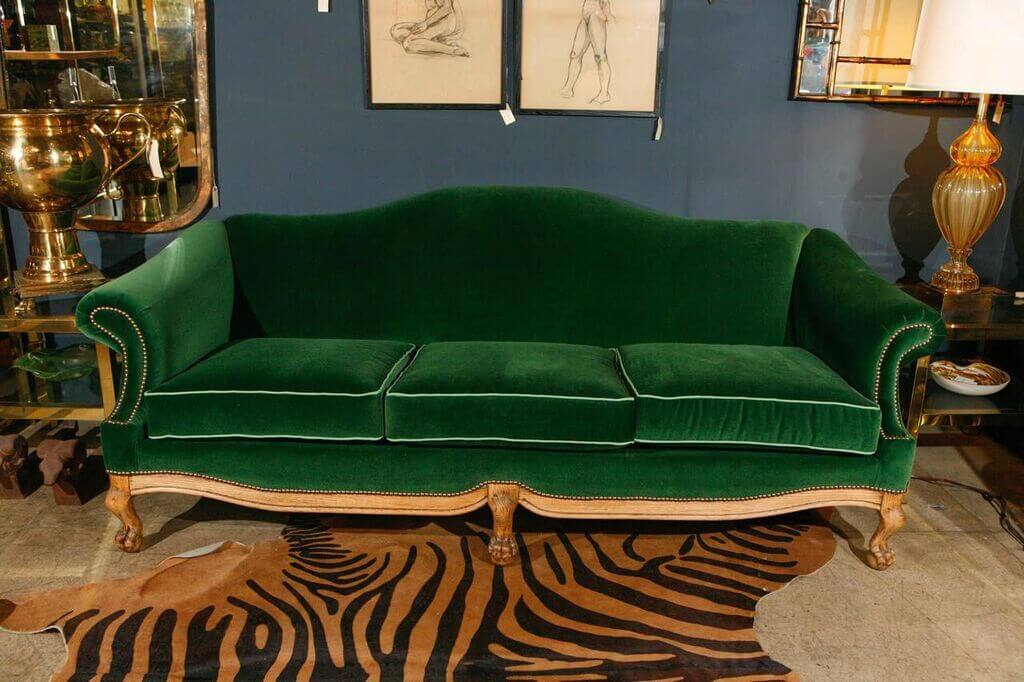 Source: pinimg.com
Green velvet sofas can be used in surprising ways. For instance, this chic camelback sofa with delicate ornamental details brings sophistication as well as whimsy to the space. The green velvet couch complements the wild-vintage vibe of the space. It also adds depth and completes the space without being the center of attention.  
9. Bold Printed Sofa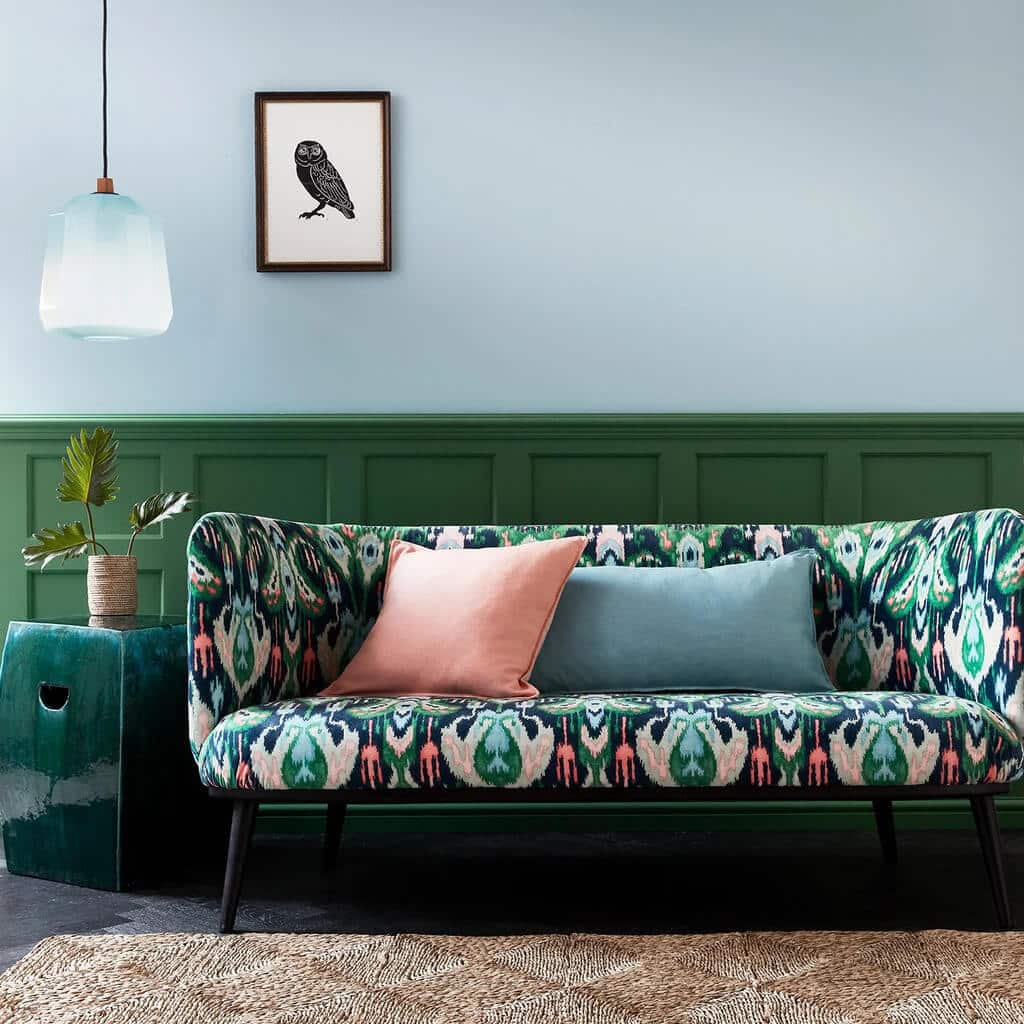 Source: shopify.com
If a solid green velvet sofa isn't enough to make a statement in your living room, go bolder with a printed green velvet couch. The bold print compliments the simple form of this bench-like sofa. Balance is the key here, some useful living room decorating ideas with this green couch include adding accents like complementary cushions that blend with the pattern. 
10. Sculptural 3-Seater Shell Sofa
Source: pinimg.com
Comfort, elegance, and luxury are power packed in this shell green velvet couch. The smooth form of the sculptural couch with channel tufts and sleek brass legs takes center stage in any living room. 
11. Extravagant Chesterfield Sofa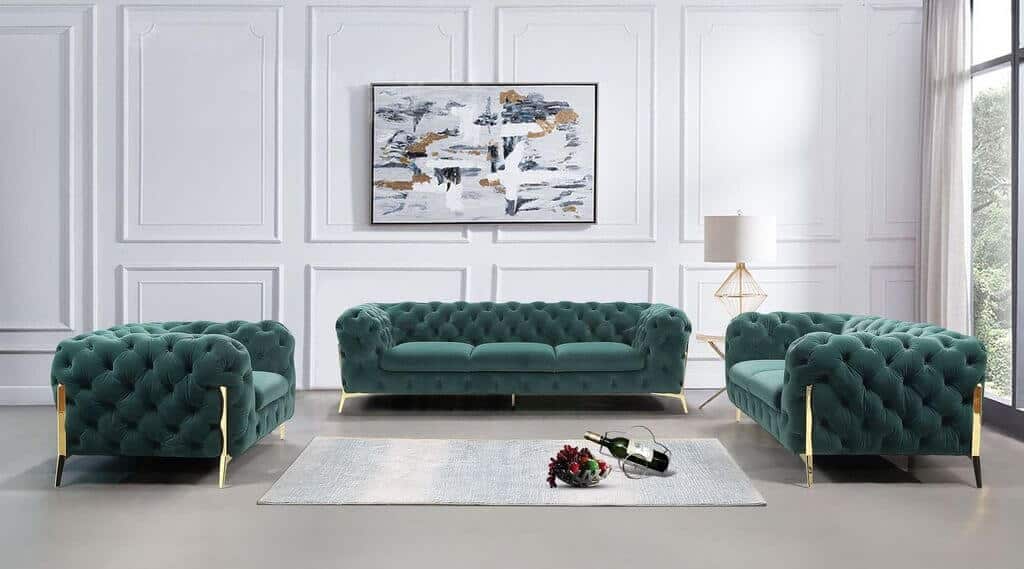 Source: lafurniturestore.com
This chesterfield sofa is one of the best green velvet sofa options for a timeless living room. Go extravagant with your living room with this classical piece. The lush emerald green velvet sofa adorned with brass detailing makes it hard to eyes off. The voluminous piece is intricately detailed with knife-edge tailoring of diamond tufting and nailhead trim adding to the sophisticated and luxurious look.
12. Chic Loveseat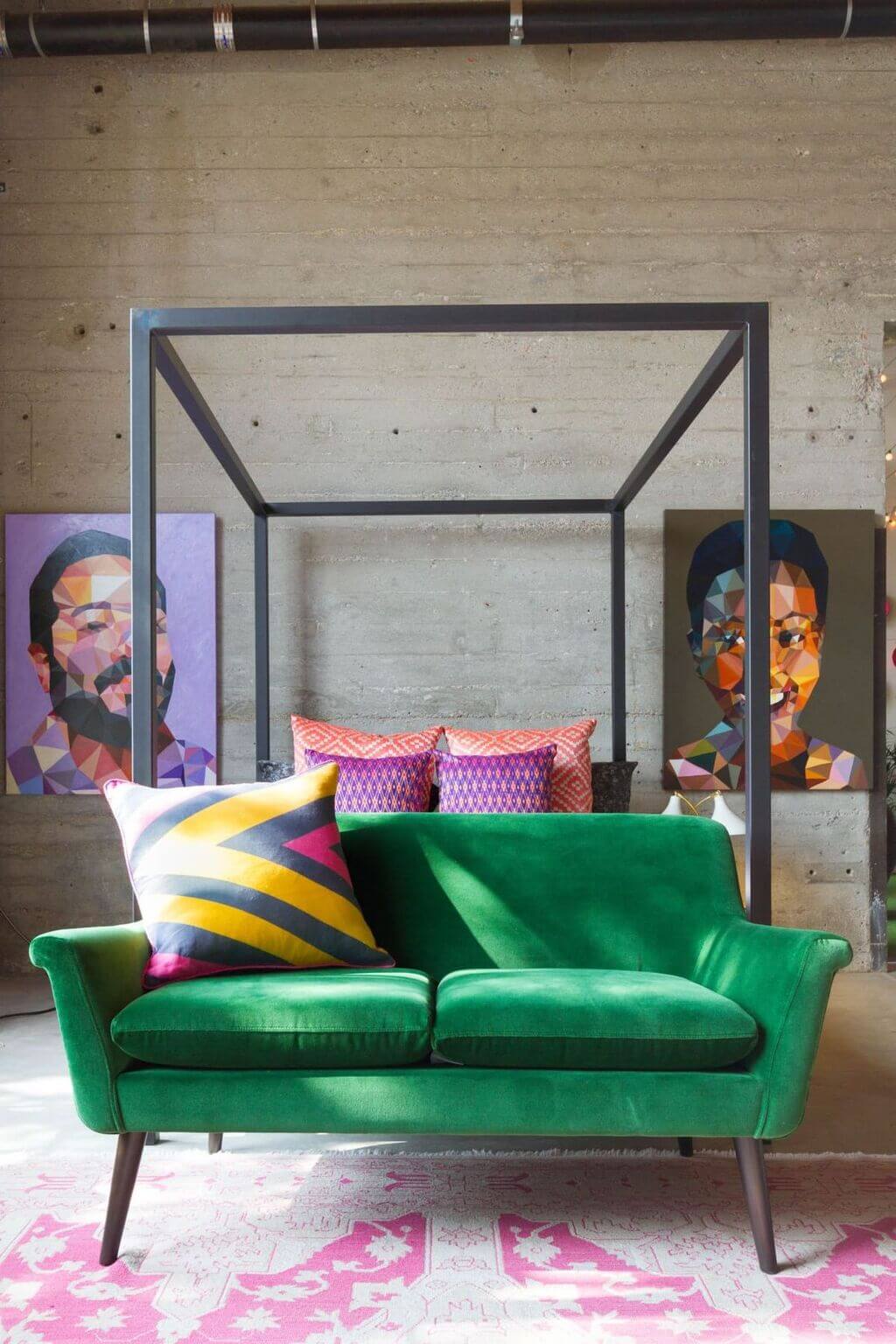 Source: pinimg.com
A chic emerald green velvet sofa like this loveseat is a staple for a maximalist living room. It brings a quirky charm to a space, with its soft playful form. The green velvet couch in the living room can be accessorized with contrasting vibrant cushions. 
13. Armless Loveseat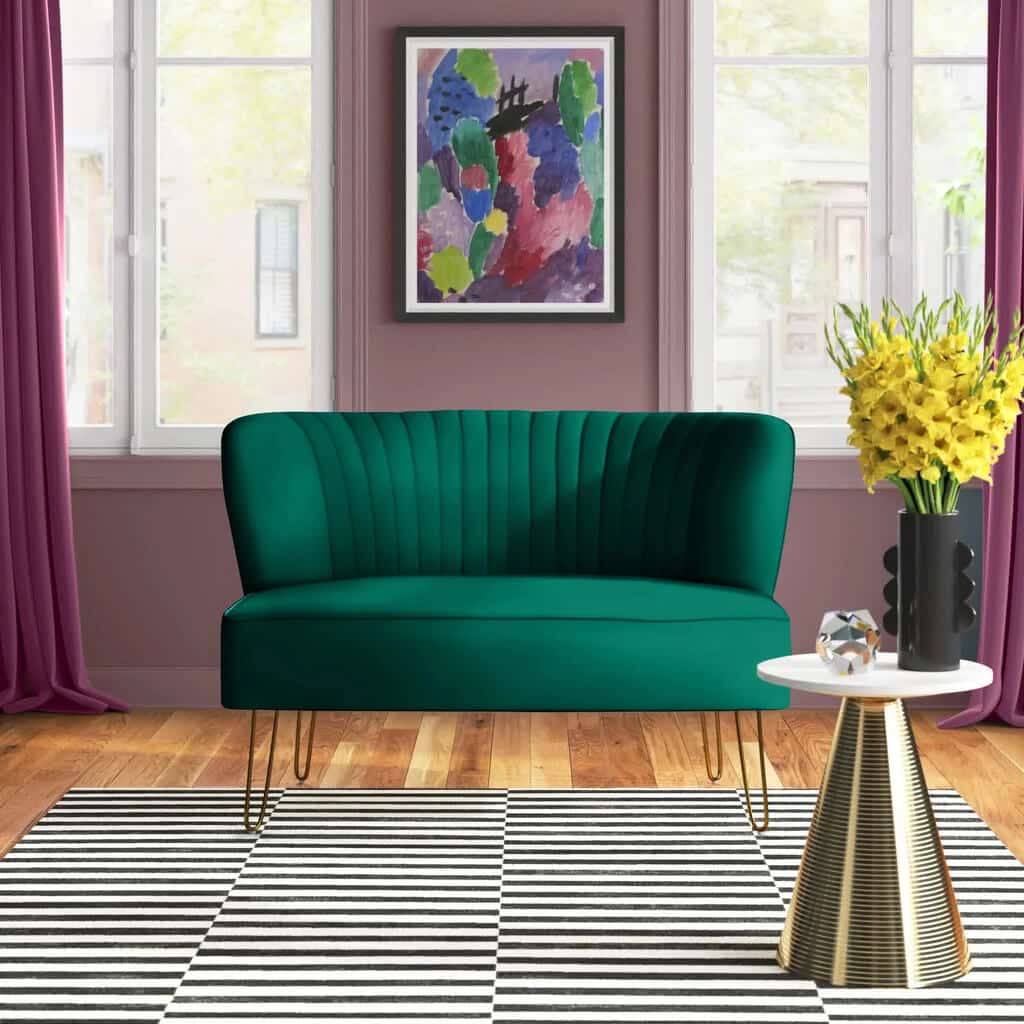 Source: stylecaster.com
This elegant armless loveseat personifies drama. The smooth form and the simple channel tufting make this elegant piece a must-have. It is a great addition to contemporary, modern, glam-style living rooms alike.  
14. Modular Sectional Velvet Sofa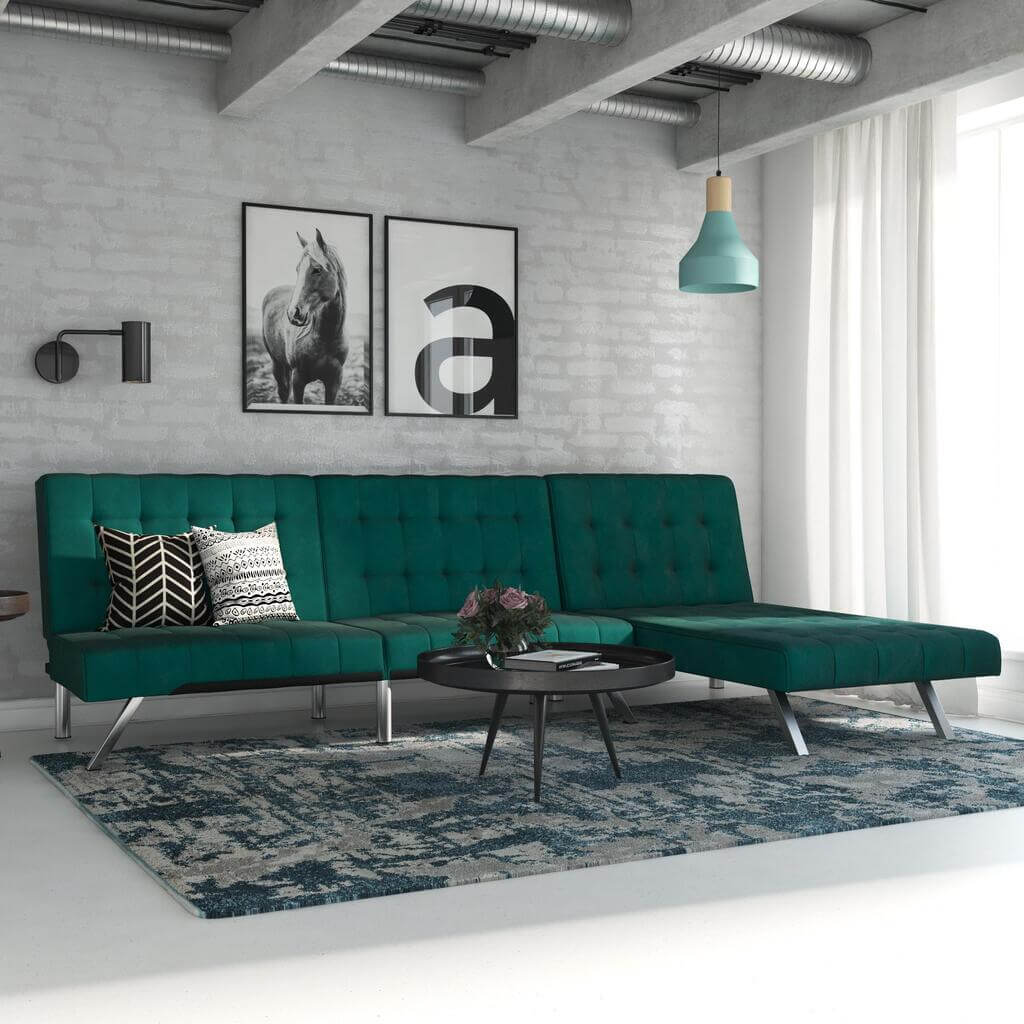 Source: walmartimages.com
This green velvet sofa is simply striking, having a clean modern aesthetic with a hint of traditional style. It has a low profile, yet is spacious and customizable with an adjustable futon. The richness of velvet is balanced by the shiny chrome legs creating a sophisticated look. 
15. Modular Bench Sofa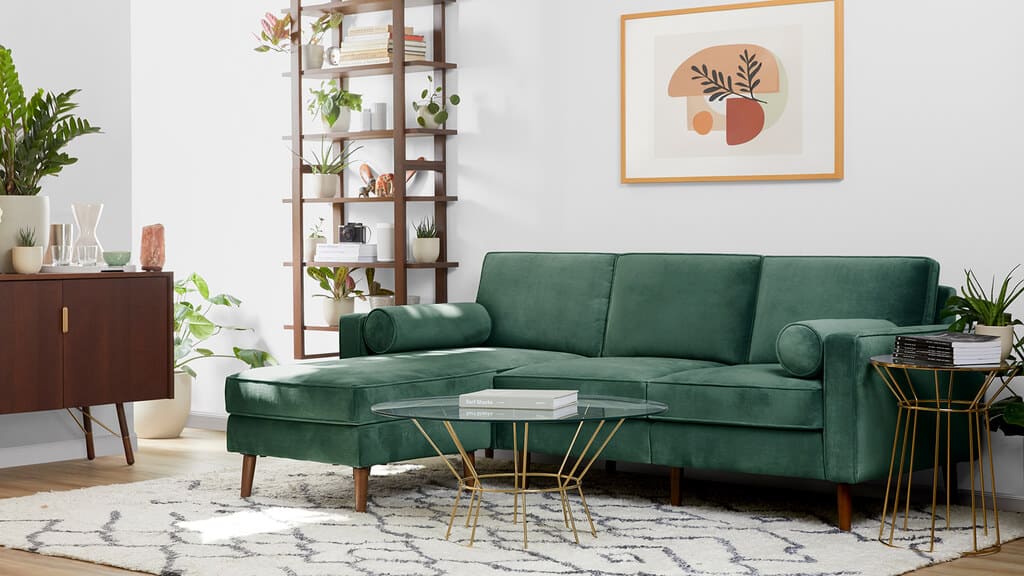 Source: cnn.com
If you have a compact space, adding a modular sofa such as this will be a good fit for your home. This modern sofa is a case of less is more. This green velvet couch is made to fit in any space. Its simple sleek aesthetic pairs well with contemporary, modern, mid-century, or Scandinavian living rooms.
16. Modern Square Armed Sofa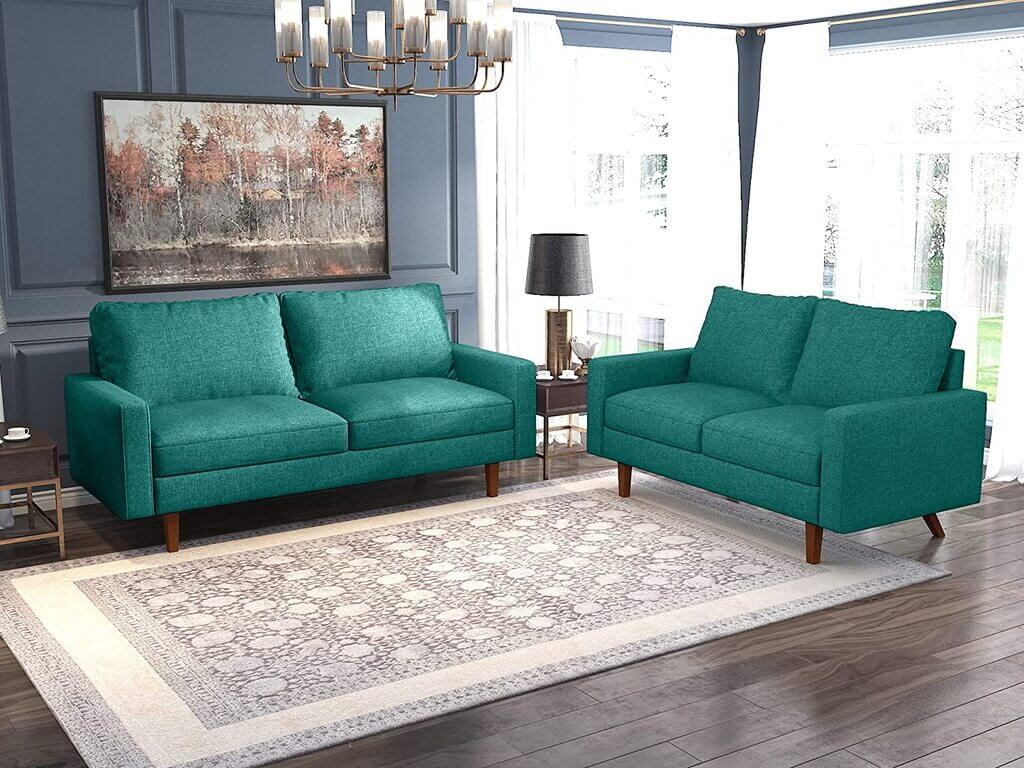 Source: ubuy.com
This simple modern green velvet sofa complements the interior of the space without standing out. The refreshing hue and minimal design of this mid-century green velvet couch align with the modern aesthetic of the living room.  The tapered wooden legs, square armrests, and button tufted backrest make this comfortable piece great for lounging.
17. Square Pattern Tufted Sofa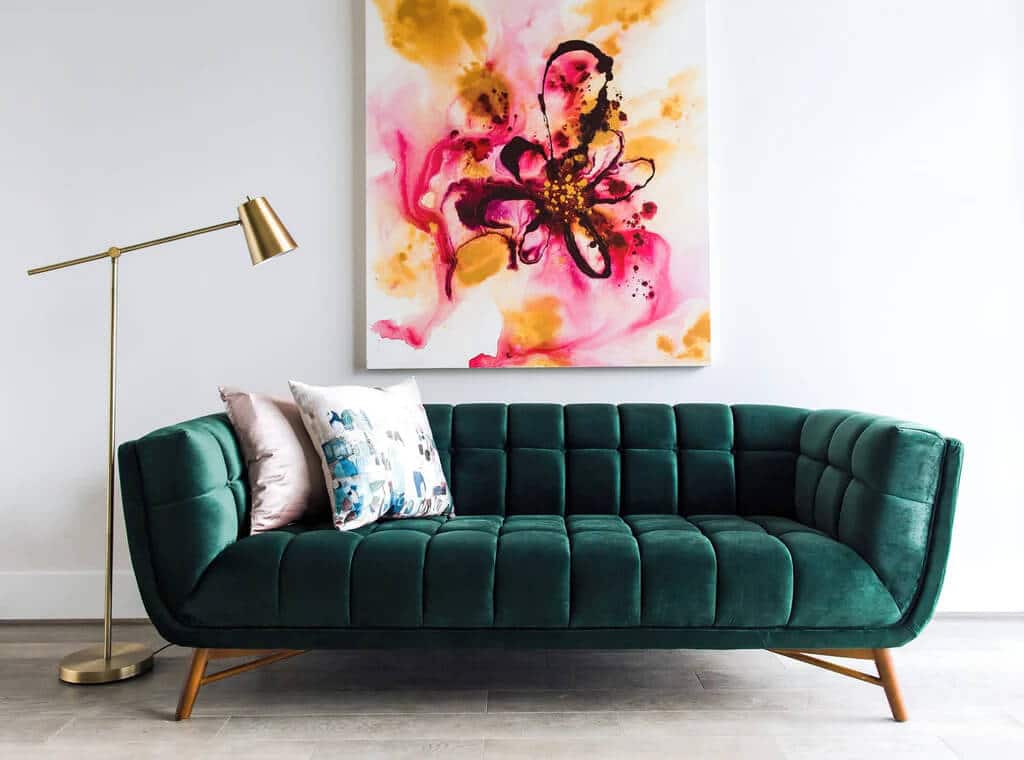 Source: shopify.com
This elegant square tufted sofa can be a swoon-worthy addition to your living space. The bold square pattern complements the soft inviting shape of this green velvet sofa. It is surely a head turner, spacious, and exemplifies the luxurious style.  
18. Smooth Curved Sofa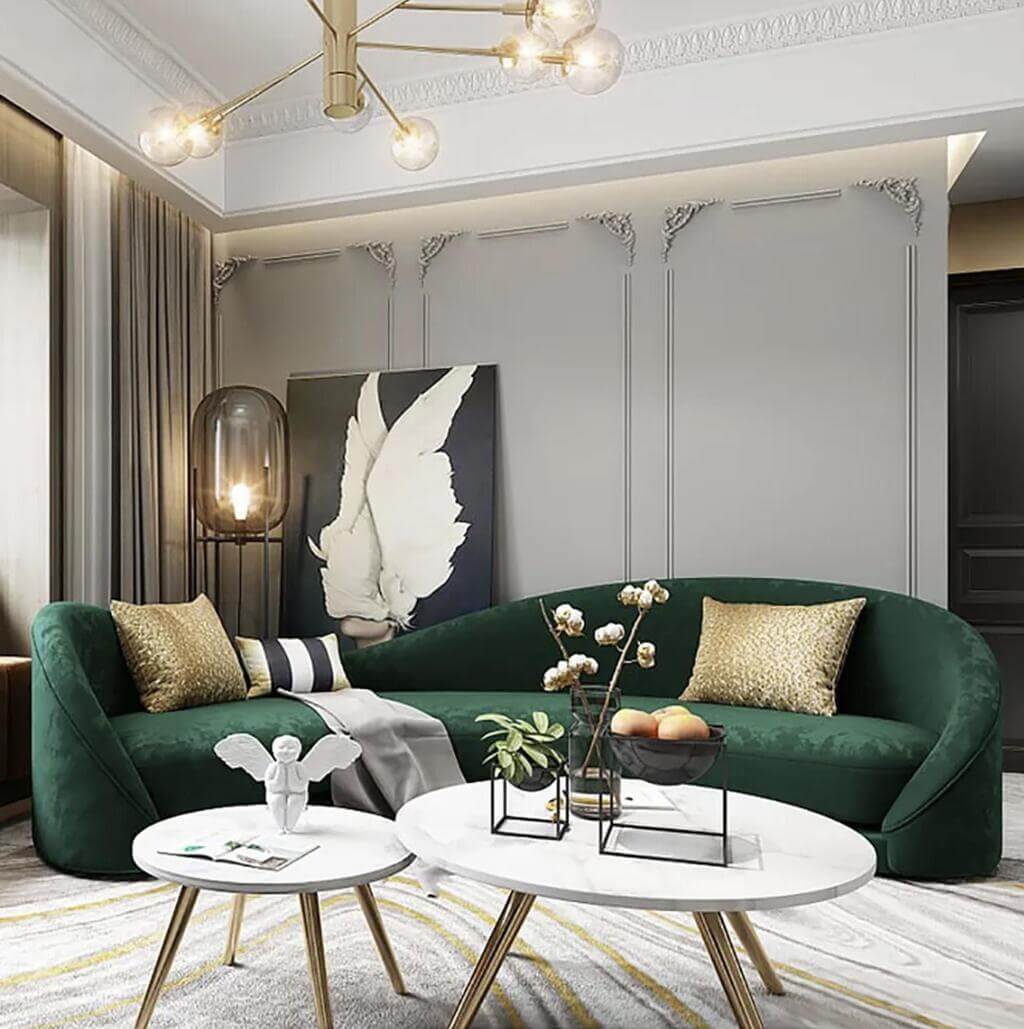 Source: twimg.com
A state of art living room needs a serpentine velvet green couch like this. The soft organic form of the sofa is bound to make an elegant style statement. The curving seat accentuated by a flowing back-arm rest makes this piece a work of art. 
19. Elegant Low Back Chesterfield Sofa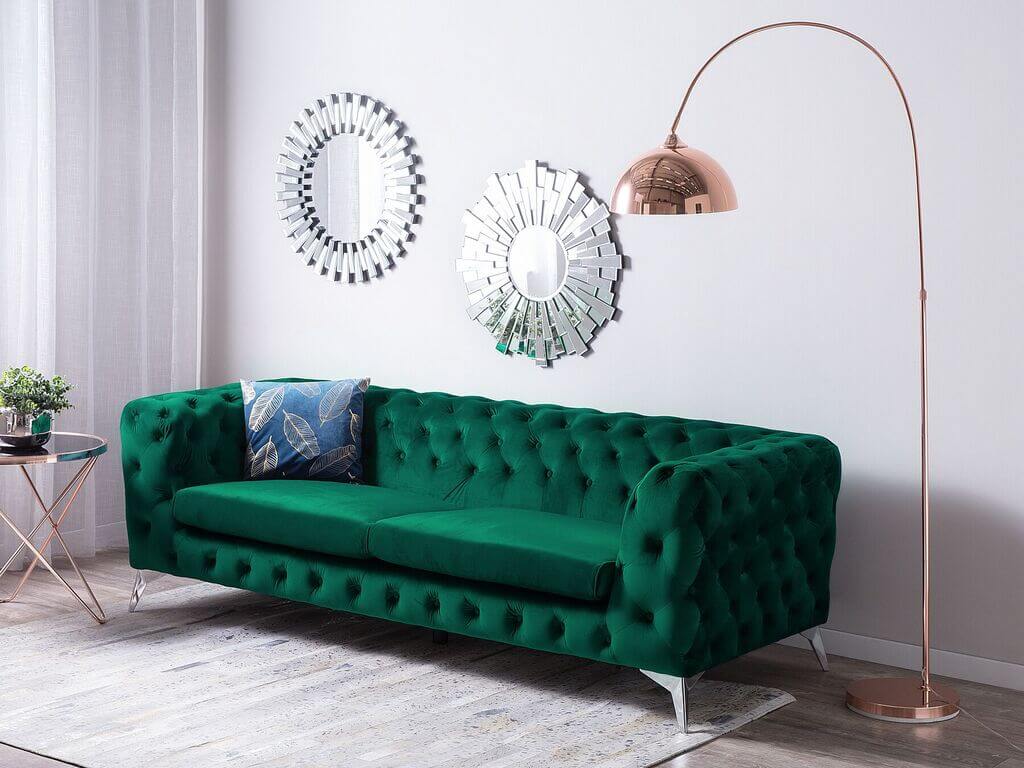 Source: pictureserver.net
This plush vintage-style lush emerald green velvet sofa has a laidback yet luxurious feel. The flared arm, low back, diamond tufted couch finished with great finesse is a statement must-have. The experience of this sofa is refined as its aesthetic appeal. 
Also Read: Royal Sofa Set Designs That Redefine Meaning of Royalty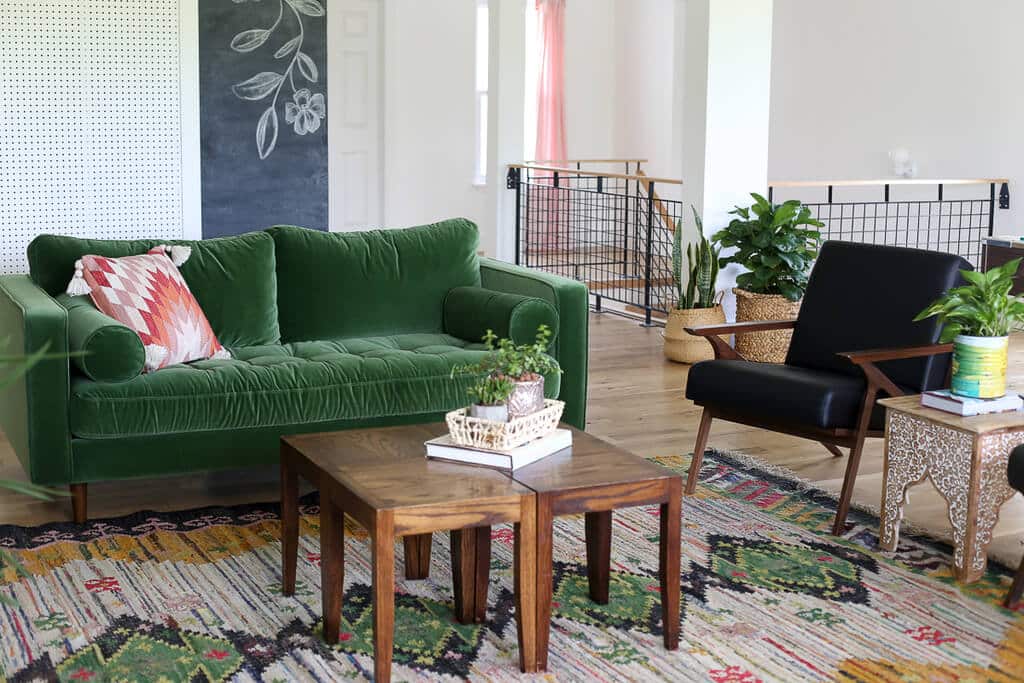 Source: ashleyannphotography.com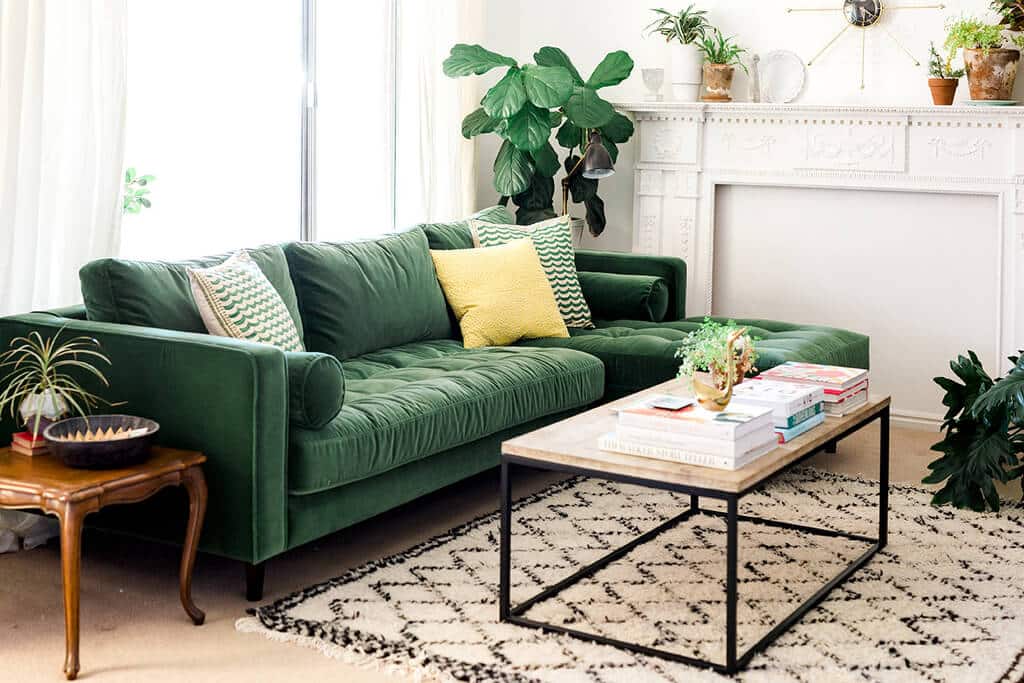 Source: thehousethatlarsbuilt.com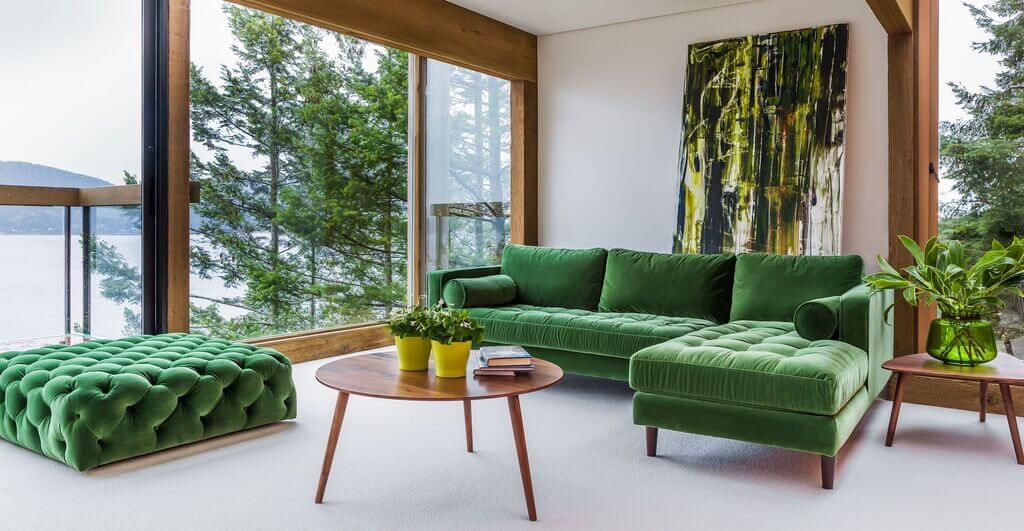 Source: mydomaine.com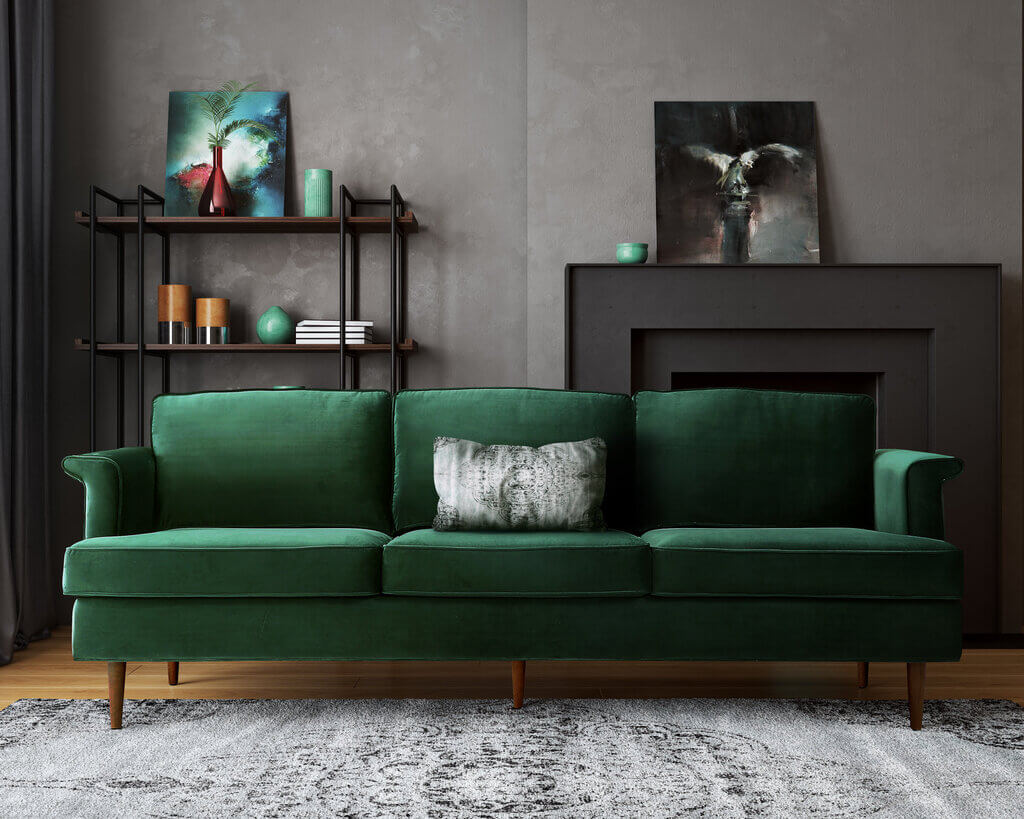 Source: amazonaws.com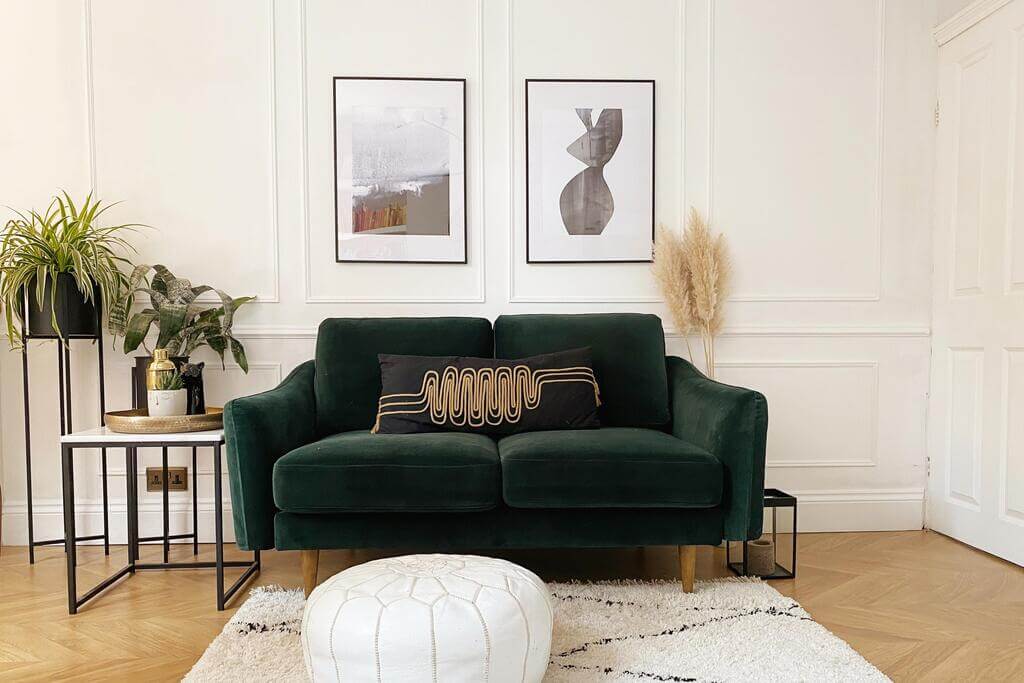 Source: thetimes.co.uk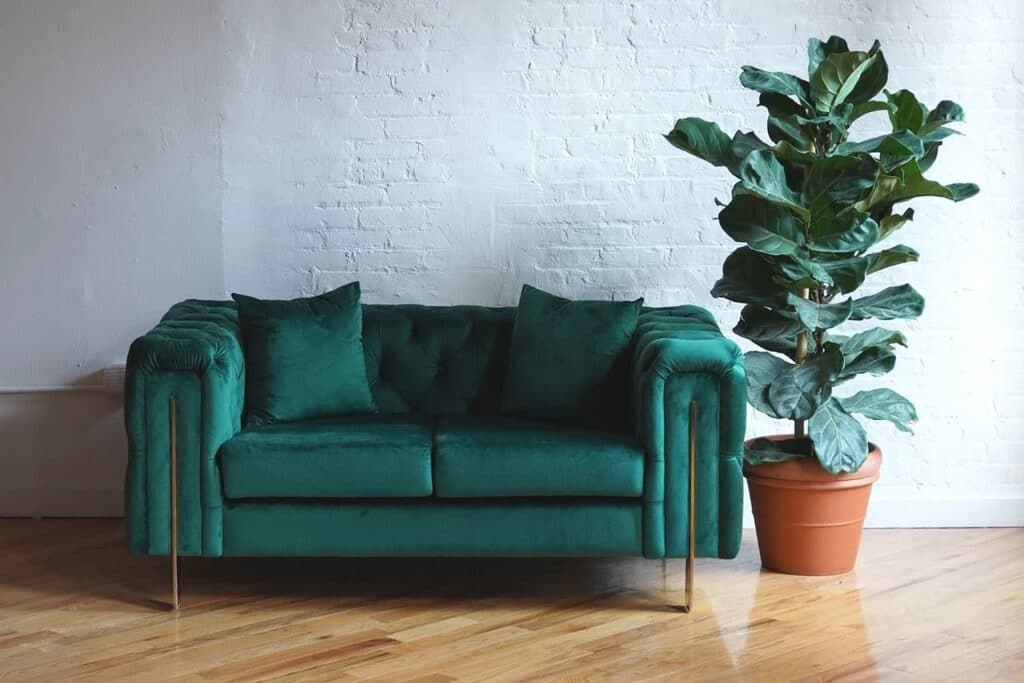 Source: shopify.com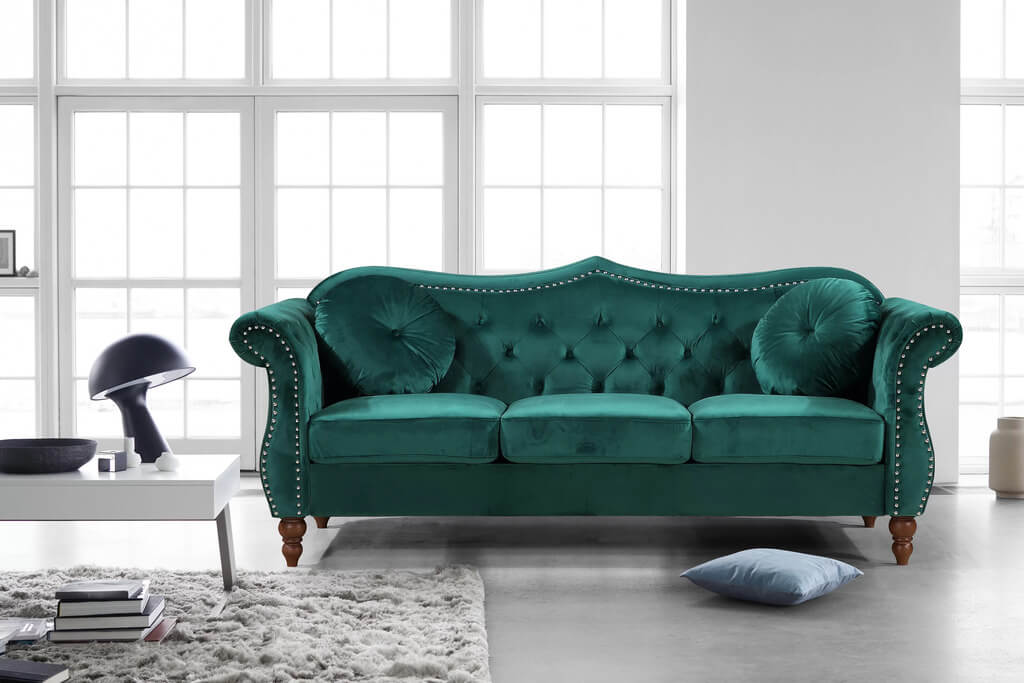 Source: wfcdn.com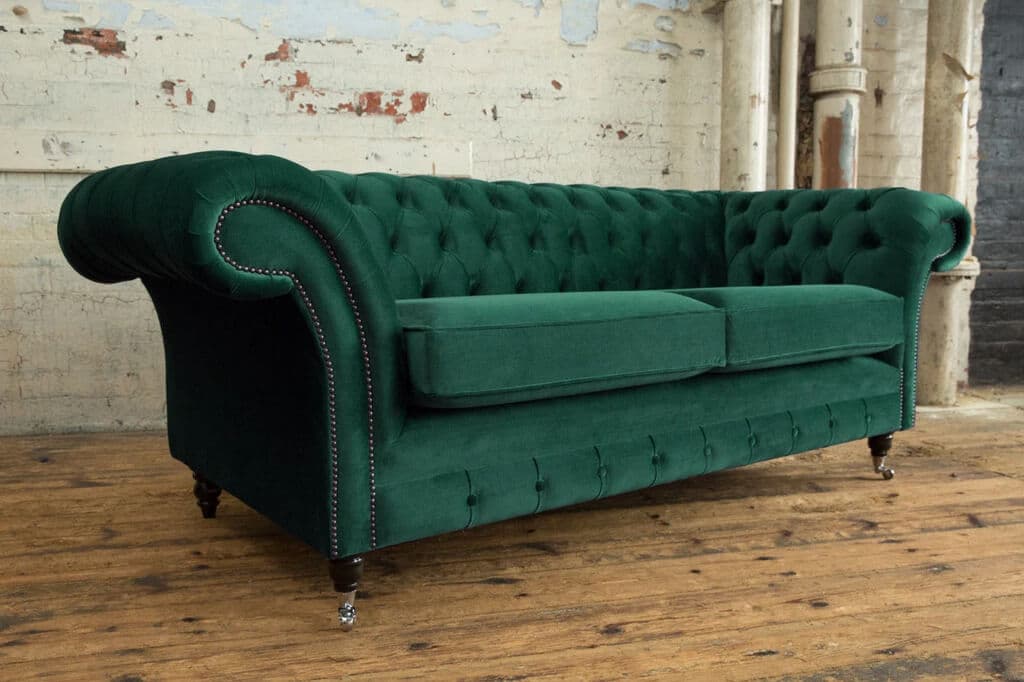 Source: etsystatic.com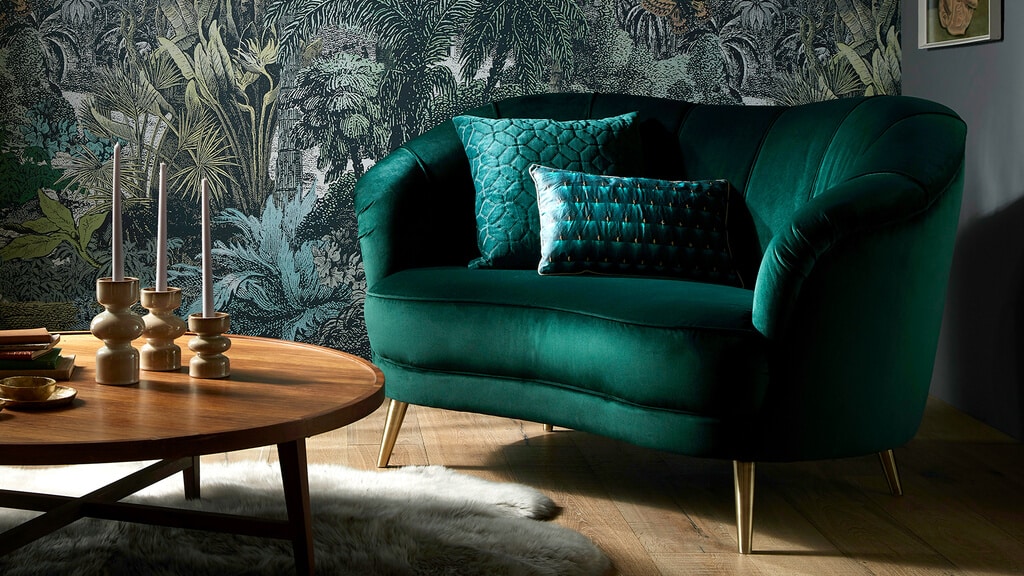 Source: sofology.co.uk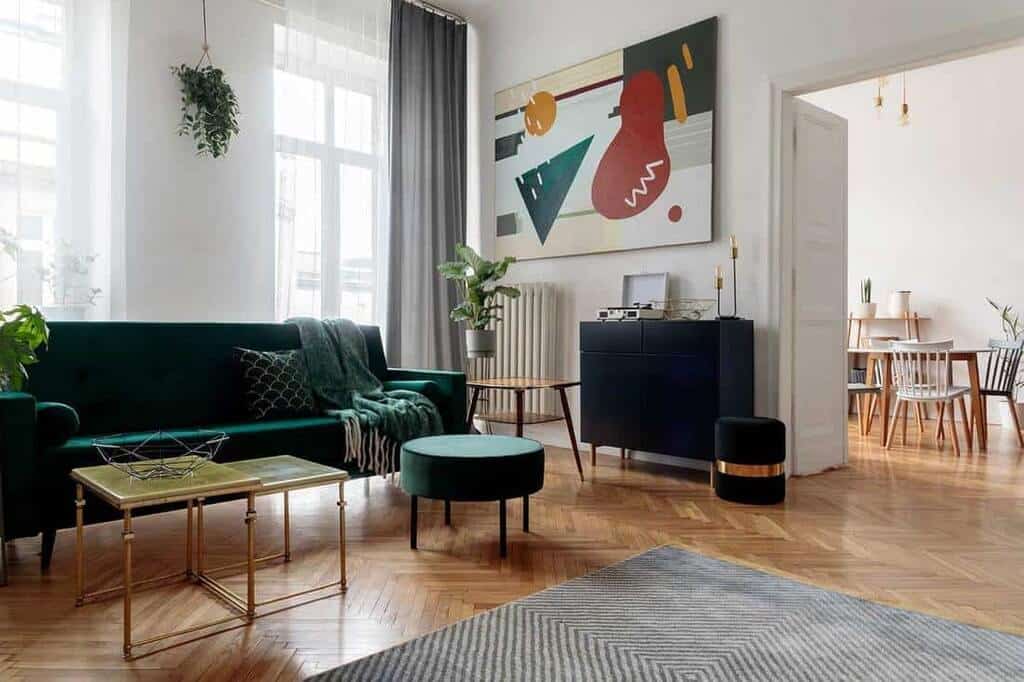 Source: homedecorbliss.com
Final Verdict
Green velvet sofas are a versatile addition to your space. They are available in numerous sizes, styles, and designs to fit in every space. From classic Chesterfield sofa to modern sectional with loungers or a minimal chic loveseat, the options are endless. Irrespective of the design, they all have an element of panache and uplift the look of any living room. 
FAQs
1. Are Green Velvet Sofas in Style?
Green velvet sofas are in style, as people are now wanting to make bold statements with their homes. Green velvet sofas bring a sense of comfort and luxury into your space. They have a flamboyant and alluring appeal that catches the eye.
2. Is Velvet a Good Choice for a Sofa?
Velvet is a soft, tactile fabric that oozes luxurious style. It is also surprisingly durable and easy to care for, even when you have pets and children around. This is because it has a flat weave with no loose threads. This makes it a scratch-proof and stain-resistant material ideal for every home. 
3. What Goes Well with a Green Velvet Sofa?
Depending on the style and design of the sofa, you can accessories it with different soft furnishings. Adding contrasting cushions in vibrant colors and patterns adds to the drama of the piece. Using neutral furnishings complements and balances the look of the space. 
4. Why Pick a Lush Green Velvet Sofa?
They make a sophisticated luxurious statement in the space.

They are cozy and comfortable.

The fabric is durable and resistant to wear and tear, making it ideal for every home. 
5. What Color Looks Best with Emerald Green?
Accent colors that look good with green are shades of yellow, orange, red, and grey. Golden accents also look great with emerald green. 
To know more about Home improvement ideas, Cleaning and decoration tips visit ArchitecturesIdeas.
For daily updates, follow us on our Instagram page @architectures_idea.