Whether you're scrolling down your favorite interior design Instagram page or watching your favorite show on TV, there are high chances that you'll likely see various types of mid century furniture pieces. From the living room, bedroom to dining space, mid century modern furniture is used by many top interior designers to decorate different types of spaces. Let's see mid century modern sofa.
When it comes to the living room, the most important piece of furniture is Sofa! Whether you are watching your favorite shows on Netflix or just hanging out with your friends, the couch plays an important role.
As we already told you, mid-century style is pretty commonly seen these days. This simply means that Mid-Century Modern sofas are incredibly popular nowadays.
So whether you want to revamp your living room or just want to buy a new sofa, a mid-century modern couch will be a perfect option for you. Today in this blog, we're going to tell you everything about mid-century sofas. From its history to its types, we've covered everything in detail.
We've also compiled some of the trendy and stylish midcentury style sofas so that you can take some inspiration to decorate your place. So, let's begin with the history and what mid-century style is.
What is Mid-Century Modern Style? ‍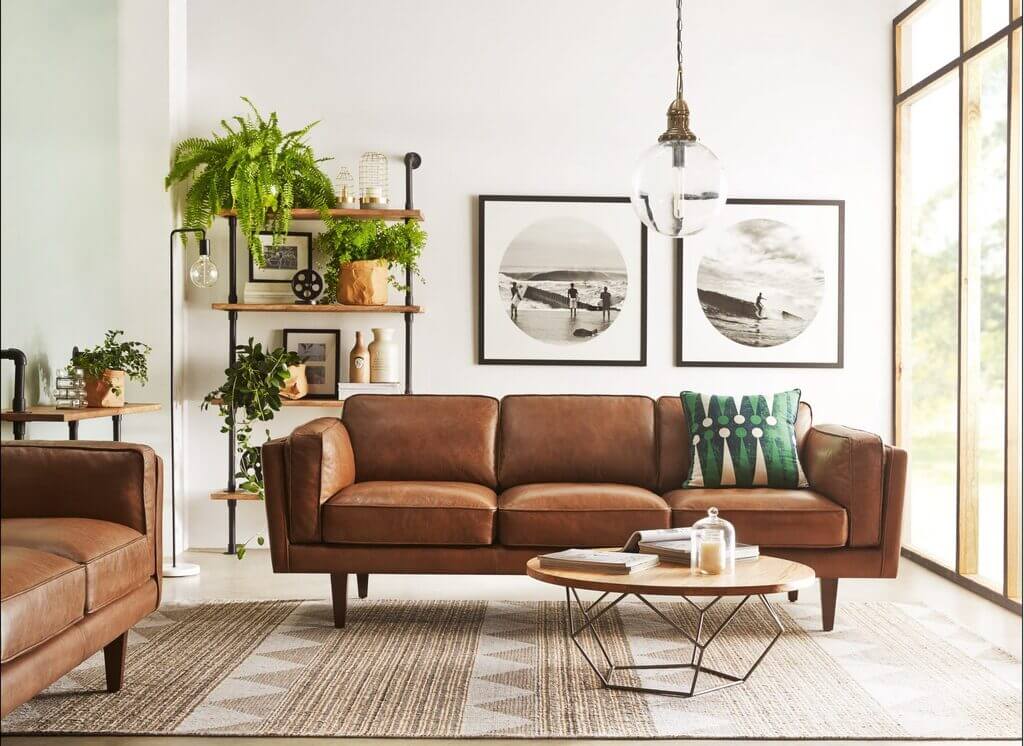 The term 'mid-century' in interior designing can be described as the design movement which represents architecture, furniture, and graphic design.
This urban development was popular from the middle of the 20th century (roughly 1945 to 1969) and during the post-World War II period of the United States.
This interior designing movement was first started in America, and it is often defined by several factors such as clean, gentle curved lines and tapered legs. According to famous designers and architects, particularly this style is timeless and can seamlessly blend with other more contemporary furniture styles.
Key Elements of Mid Century Modern Style
Like any other architectural style or interior design, mid-century modern also has its own characteristics, making it unique from the rest. Now you're wondering what makes a sofa mid-century modern? What are the mid-century modern elements?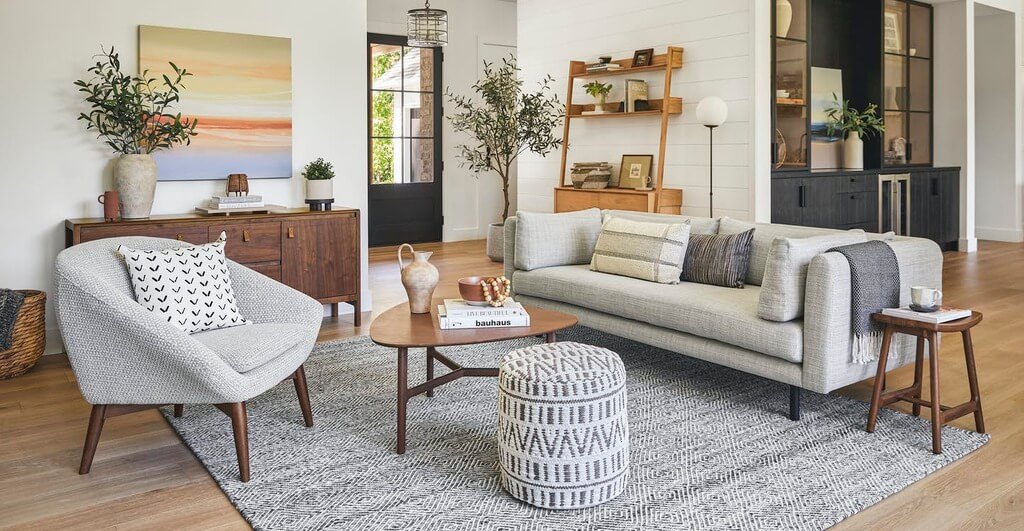 Below are some of the main characteristics of mid-century design:
Minimalist Style
Mid-century style is simple, and it only focuses on clean lines and purposeful elements. Mid-century Modern sofas are made with simplistic designs without any excess or superfluous details. It will keep overall ornamentation to a minimum.
You'll get uncluttered, neatly composited furniture that has tapered legs, wood frames, square armrests, and rectangular seat cushions.
Functional Design
Another key element of this design is Functionality. Every piece of furniture is made with purpose. Every curve, line, and angle in the sofa have been designed for a reason.
Simplistic Shape
Mid-Century Modern style is well known for its squat, rectilinear volumes, clean shapes, and subtle curves. Furniture in this style offers a beautiful, clean look that creates eye-pleasing aesthetics. Another great thing about mid-century style is that it can easily work with almost all types of interior design styles.
Neutral and Bold Colors
Another vital characteristic of mid-century modern design is the use of neutral shades and tones. You may have seen Mid-Century sofas in natural gray tones or neutral color palettes. Some furniture pieces also have been built with contrasting elements, which work well with other materials.
Types of Mid Century Modern Sofas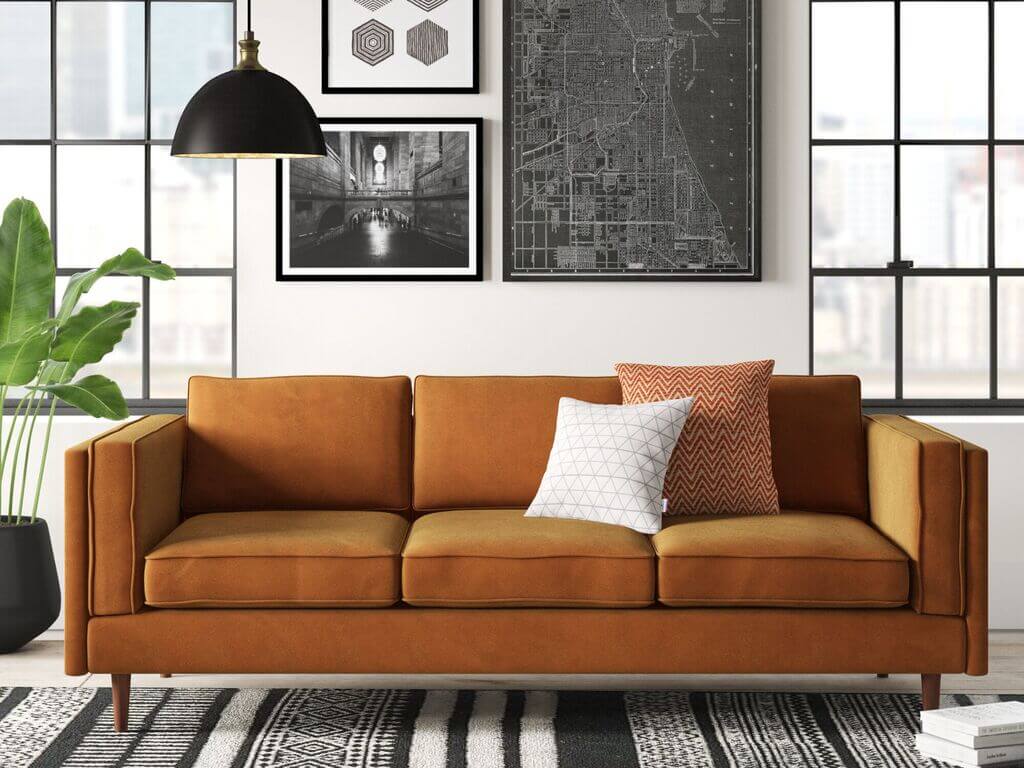 As years passed, the mid-century style also has grown so much in terms of design, materials, and elements. Gone are the days when you only find a sofa in a single style. Today from sectional sofas to chaise lounge ones, there are numerous types of mid-century sofas available in the market.
Here are some of the popular types of Mid-century Modern sofas that can commonly be seen in most homes today.
1. Sectional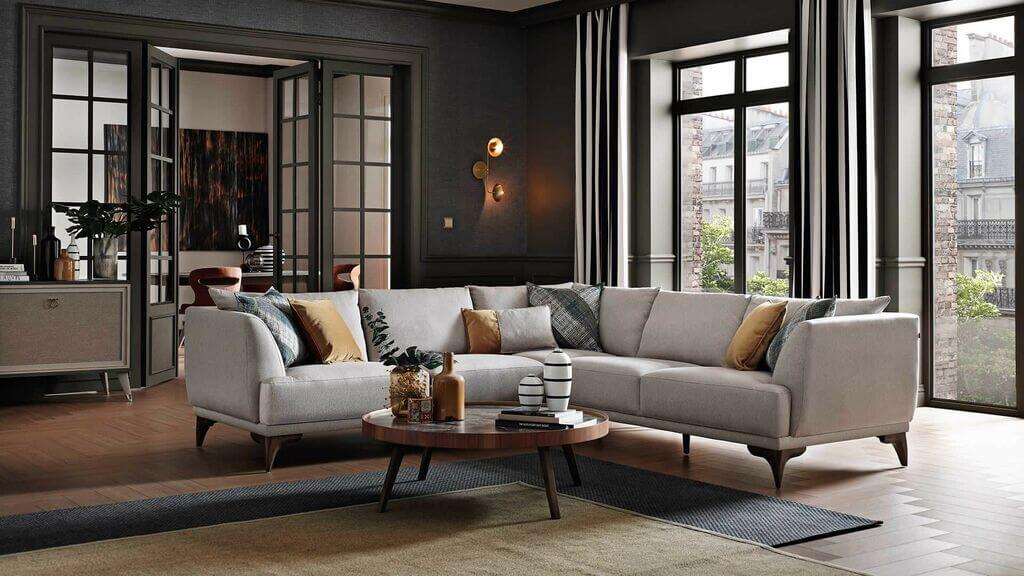 Mid century modern sectional sofas are usually larger than the average three-seater sofa. So, if you're looking for a huge sofa, this sofa is a great option for you. The best thing about this furniture is that you can detach its pieces and use them as individual parts.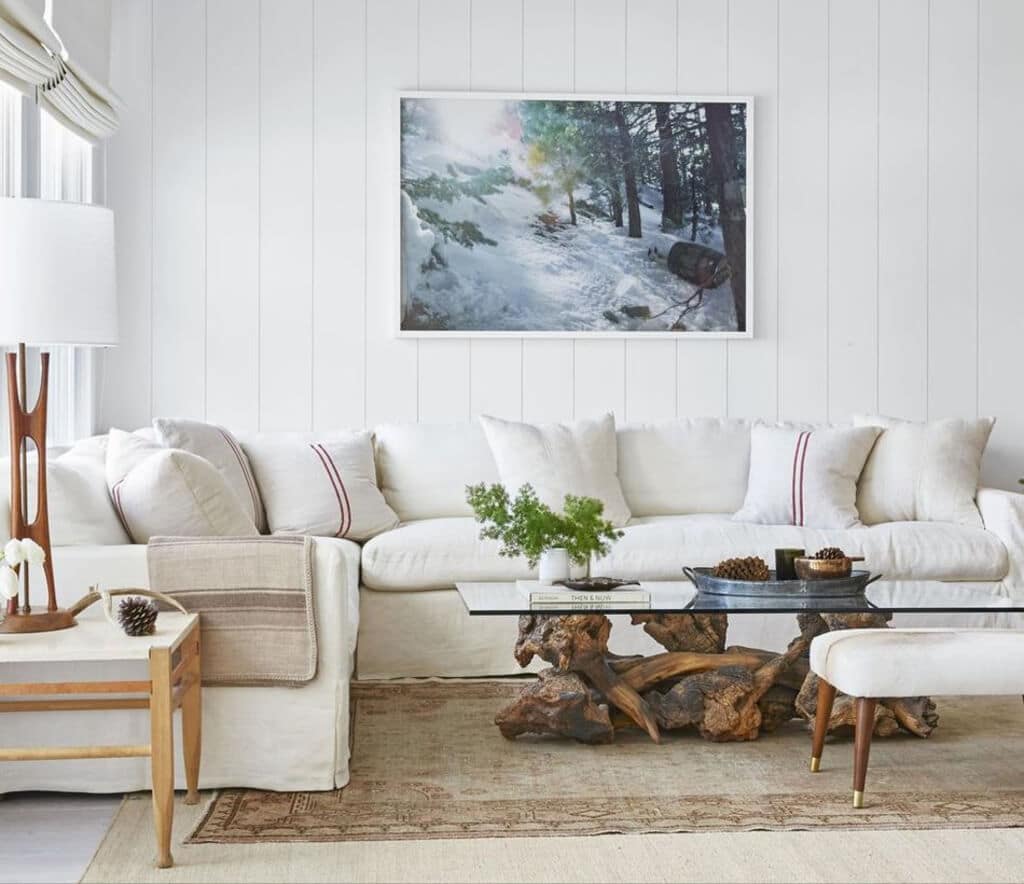 This mid century modern sofa set usually comes with 3 to 5 pieces, but in some cases, it can have as many as 19. The mid century sectional couches are also available in many configurations, but the L-shape sectional sofas and the U-shape sectional sofas are commonly used these days.
2. Chesterfield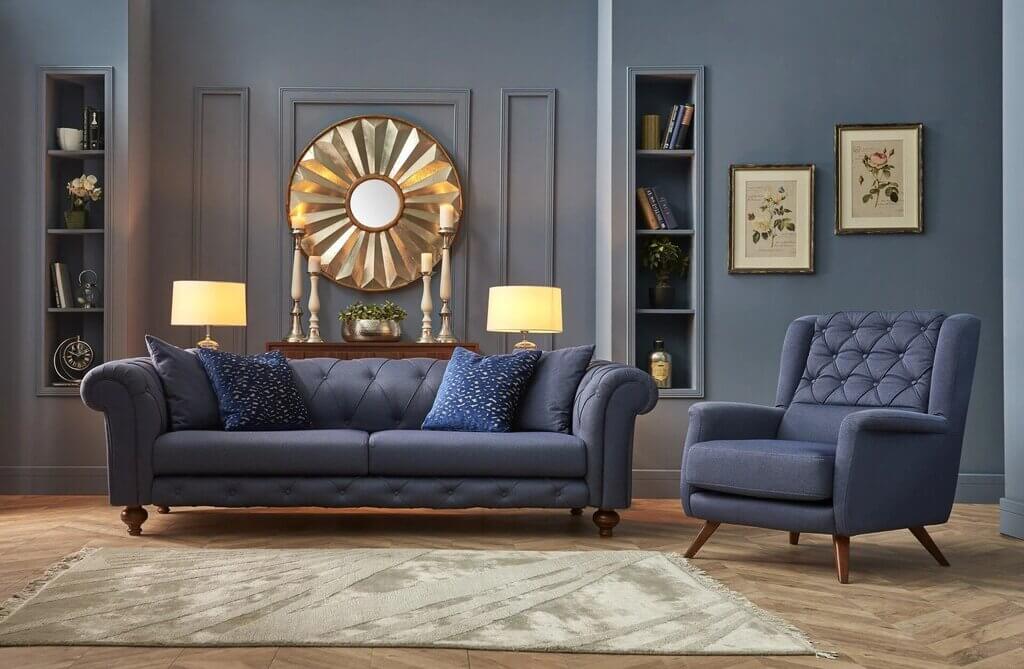 Chesterfield or tufted couches can be easily recognized by their tufted backrests. Other than this, they also have tufted seats, backrests, and rolled arms that are the same height as the back.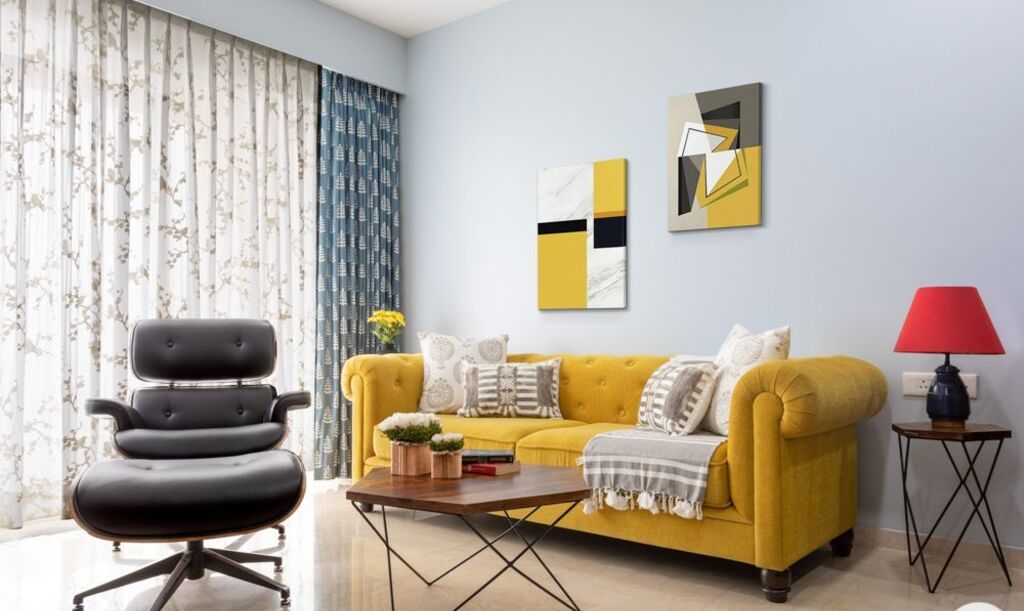 The tufts can also be used in the seating or bench portions for some variations of the sofa. They instantly give a classic luxe look to any space. That's the reason these sofas are extremely popular among many designers and homeowners.
3. Lawson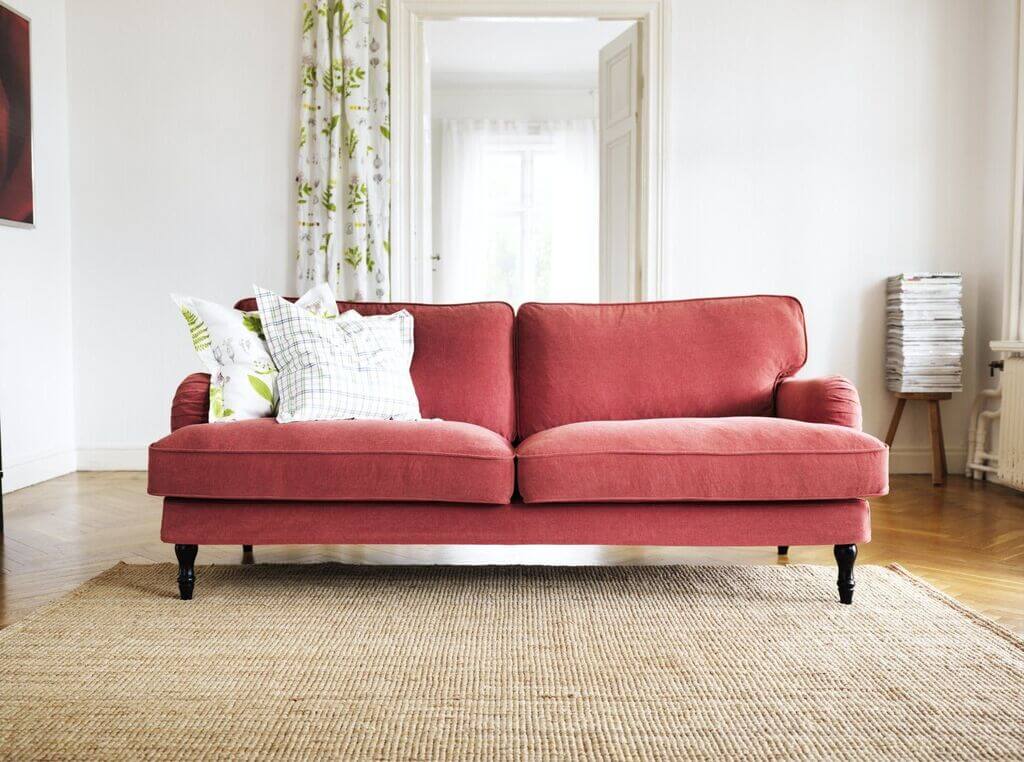 These types of sofas are specifically designed to provide comfort. You can watch your favorite TV series or chill out with your friends on your lawson mid century modern sofas. The backrest of this comfortable mid century modern sofa is made of detachable cushions. This means you can easily separate them from the sofa frame.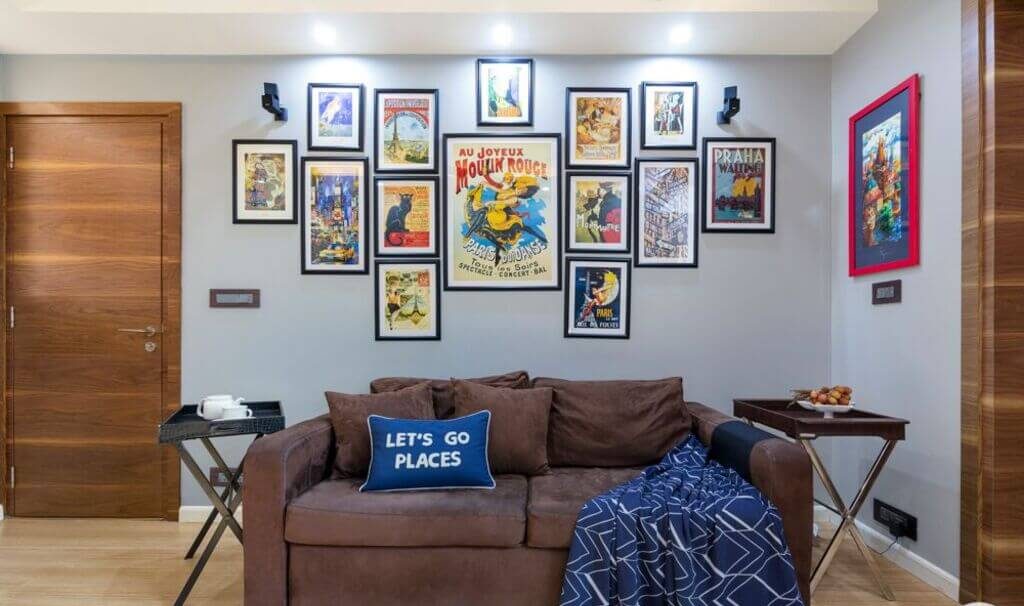 With the large pillows and backrest, you will immediately feel relaxed and comfortable on this mid century couch. People widely love mid century modern lawson sofa because of its soft, cushioned, and comfortable seat.
4. Tuxedo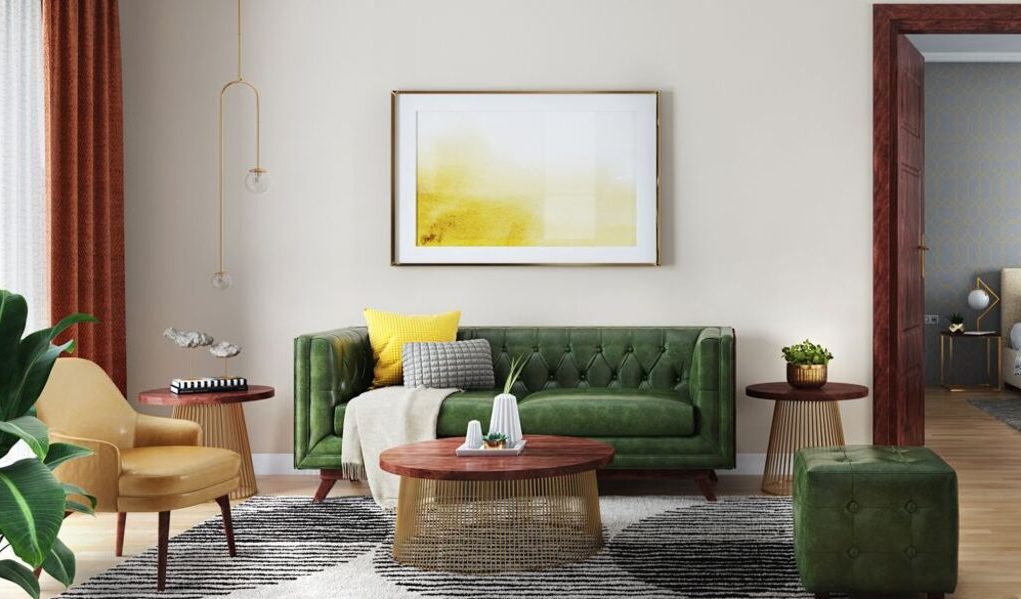 The tuxedo sofa is pretty similar to the Chesterfield because it also has high arms that sit level with the back of the sofa. You can instantly recognize them due to their unique boxy design.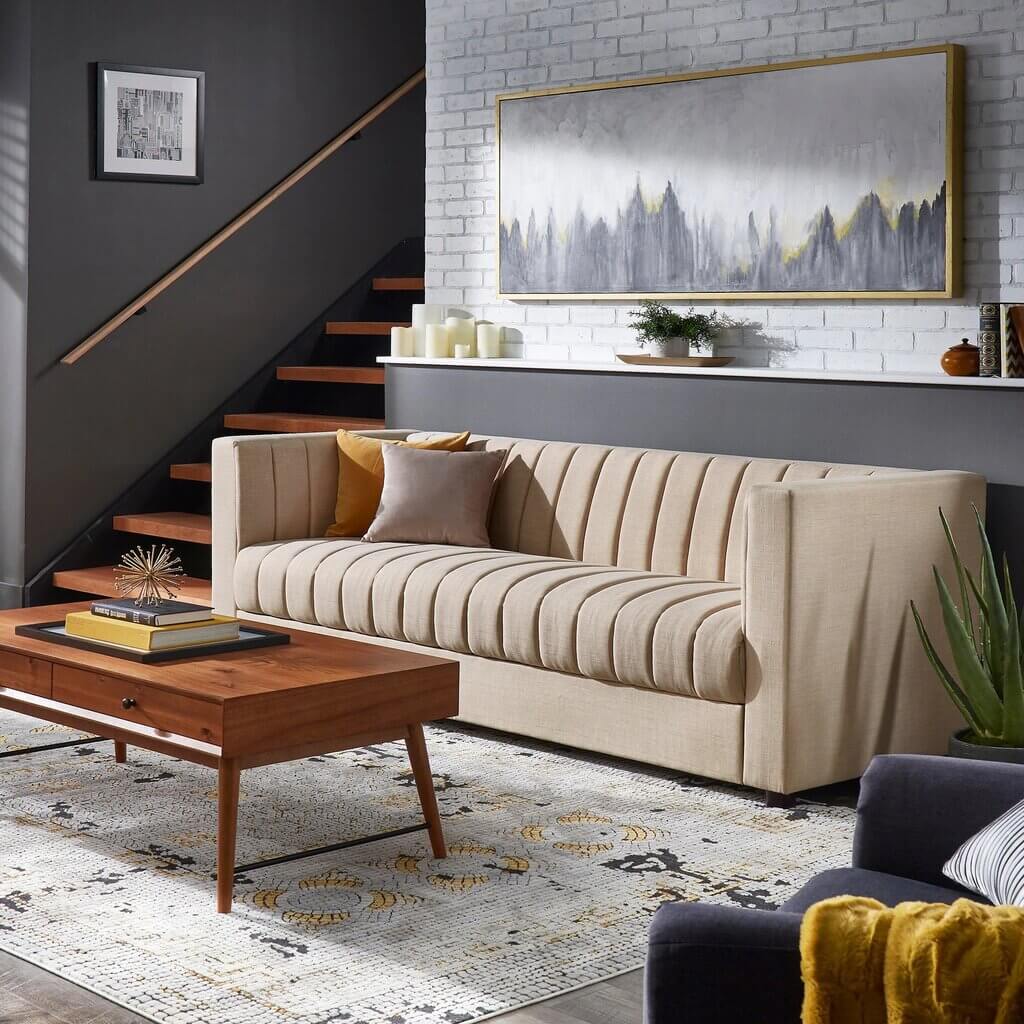 These types of sofas are commonly used in offices and formal settings because of their formal look. If you want to add some dramatic flair to space and formality, a tuxedo sofa is the best option for you.
5. Chaise Lounge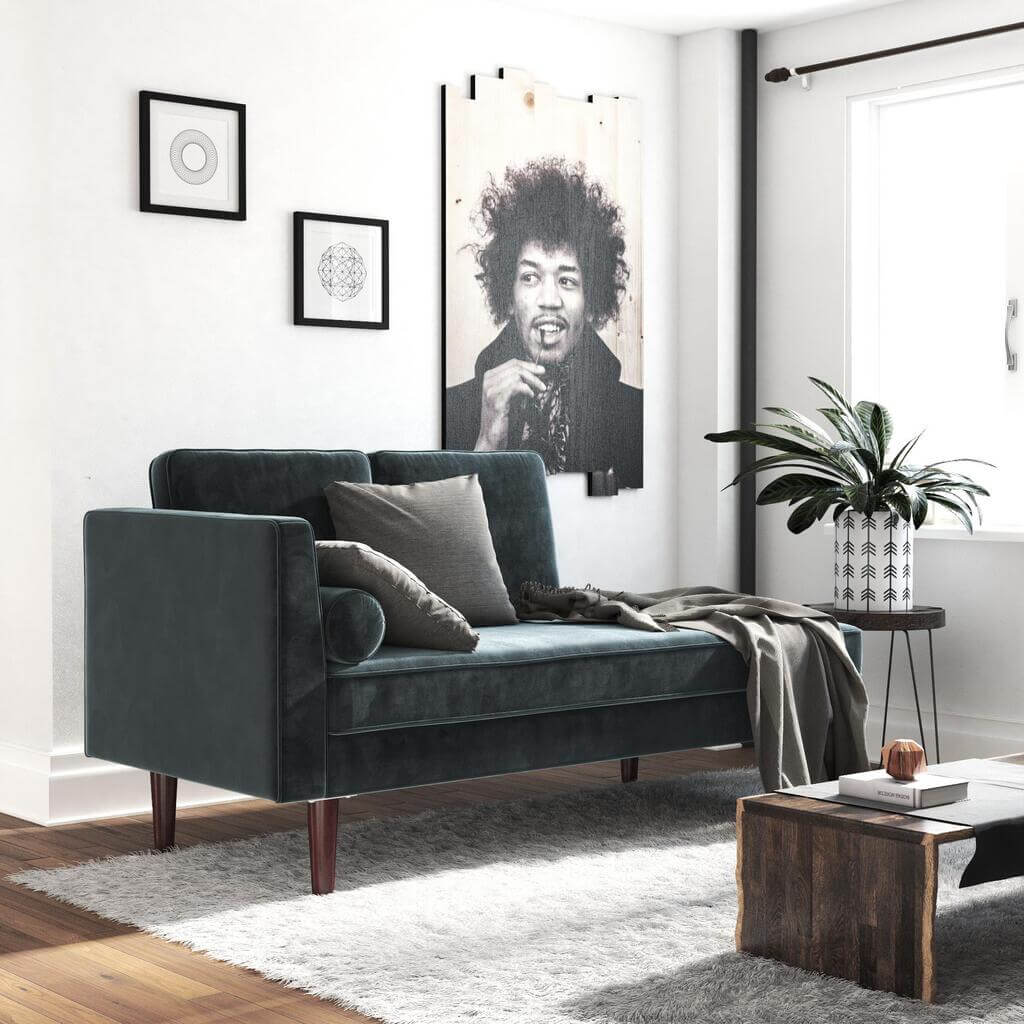 These types of sofas are pretty unique in terms of look but are really comfy to sit. Mid-century Modern chaise lounges have only a portion of a backrest or none at all. In French, Chaise Lounge literally means 'a long chair.'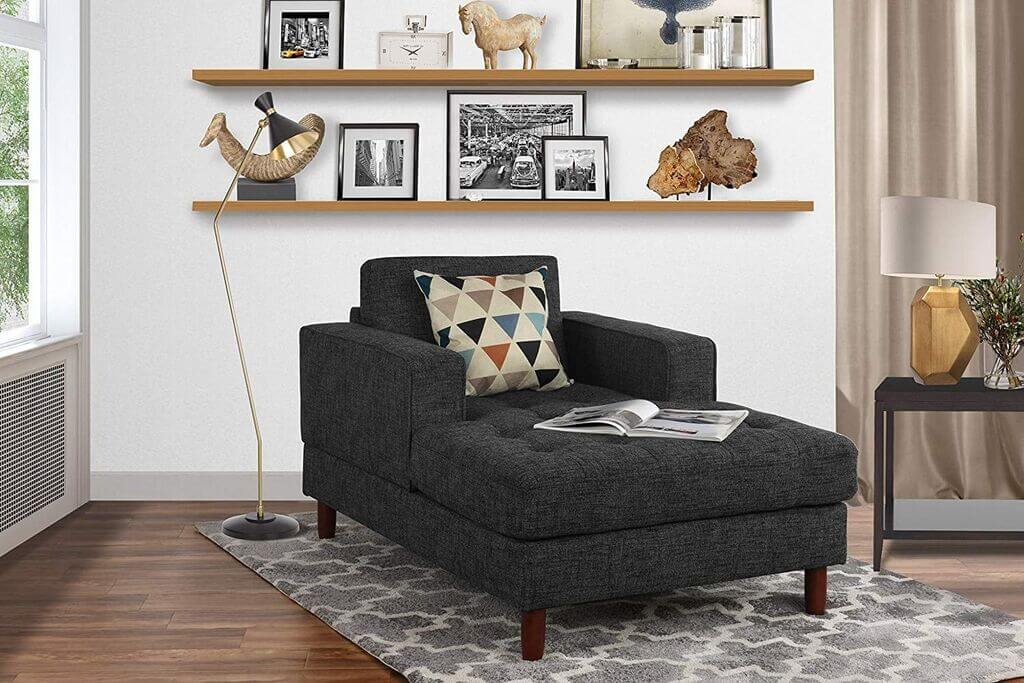 These sofas are for you if you take naps after a meal or just want to read a book. They basically combine the functions of a daybed and a chair. You can put these sofas in your master bedroom or on open decks or patios.
6. Cabriole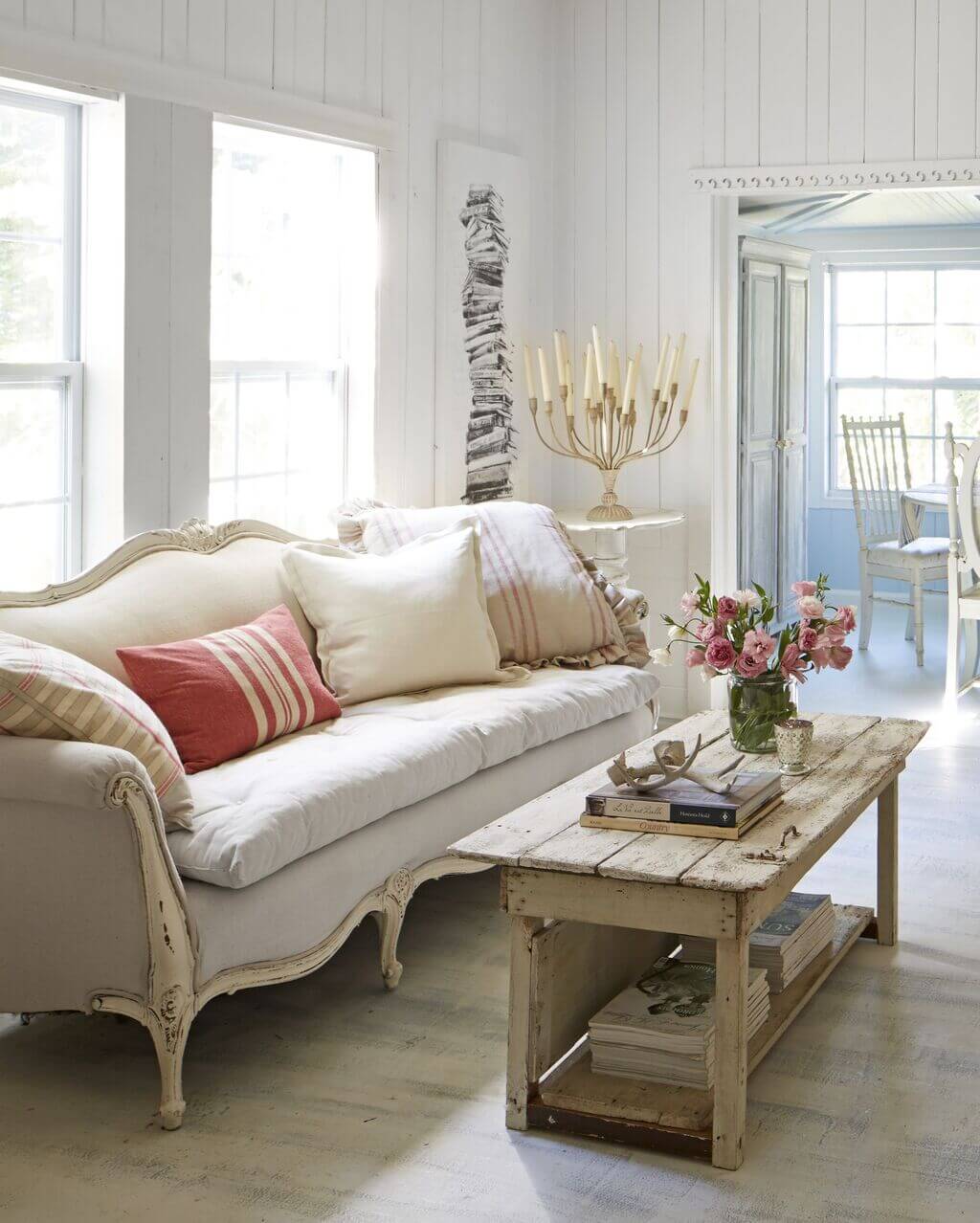 Mid-century modern cabriole sofas have continuous or near-continuous backs and arms. They're also at the same height, which provides an elevated and balanced look to the space.
7. Loveseat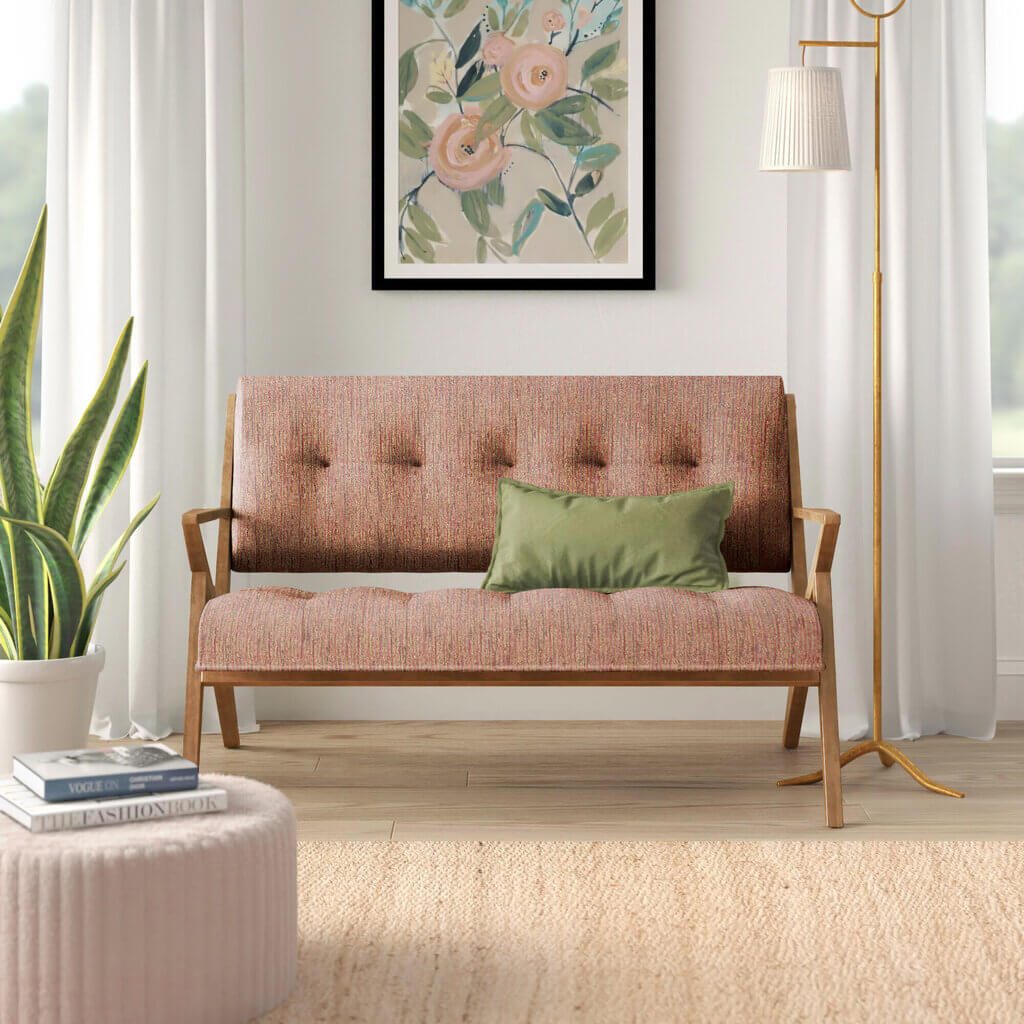 These types of couches are pretty popular among people who live in apartments or compact houses. A Mid-Century inspired Loveseat is a versatile type of sofa that can fit into smaller spaces and fulfill your needs. It is typically designed as two-seater sofas, and they generally measure between 48″ – 72″ in width.
Here are some more mid century sofa design ideas for you to get some inspiration: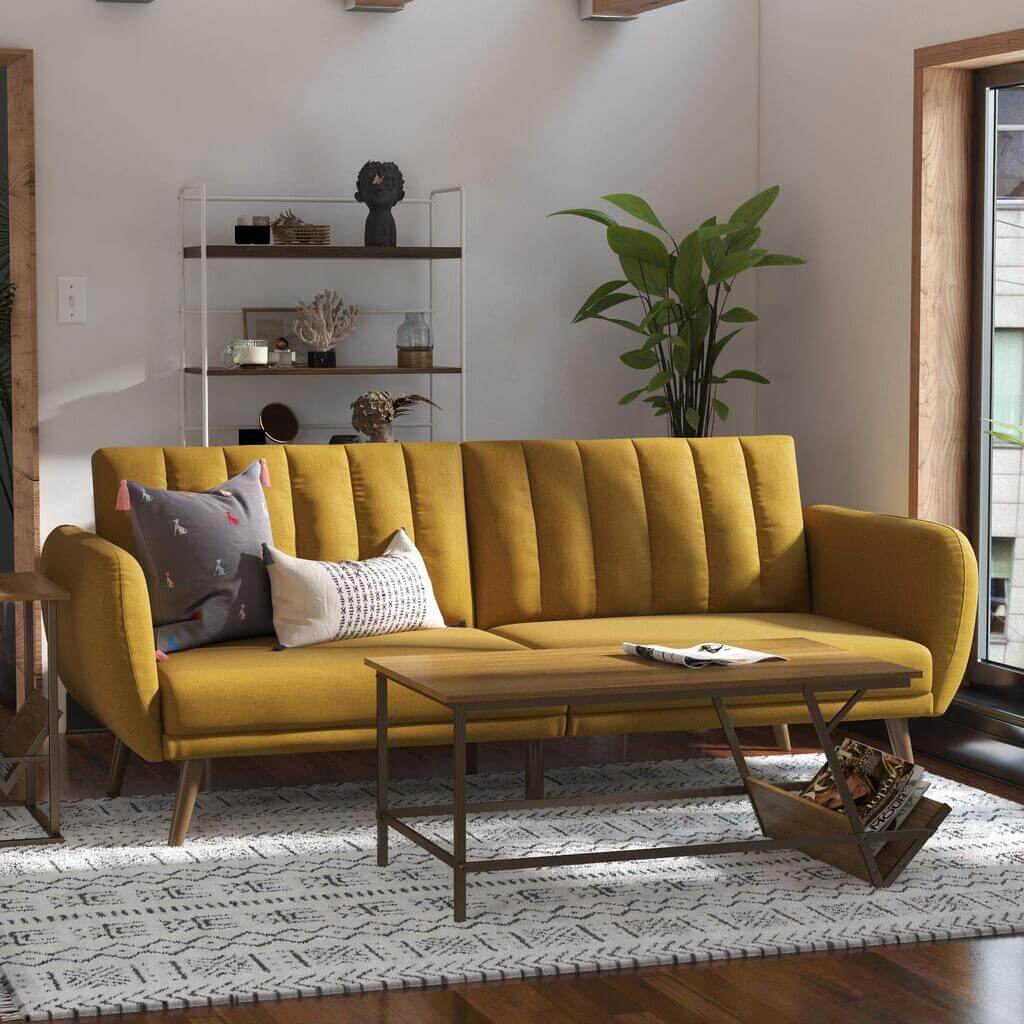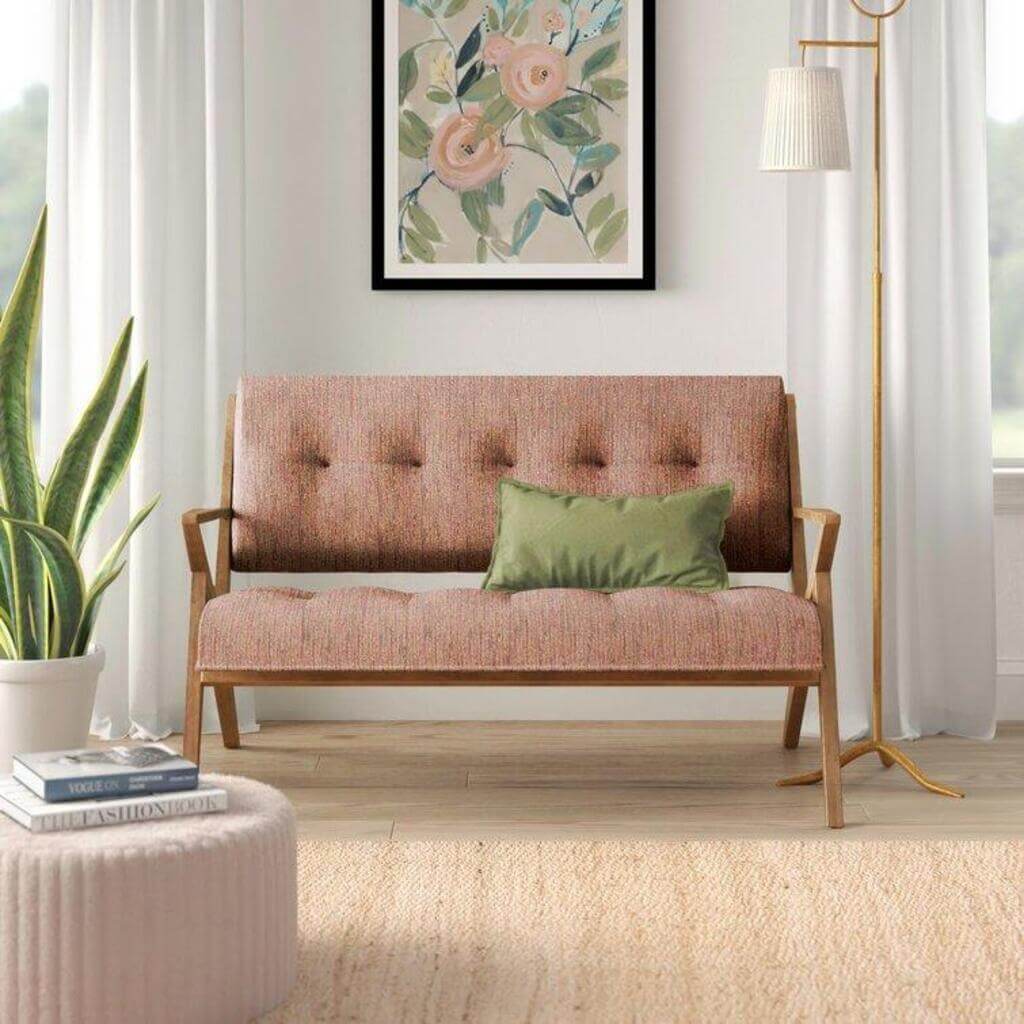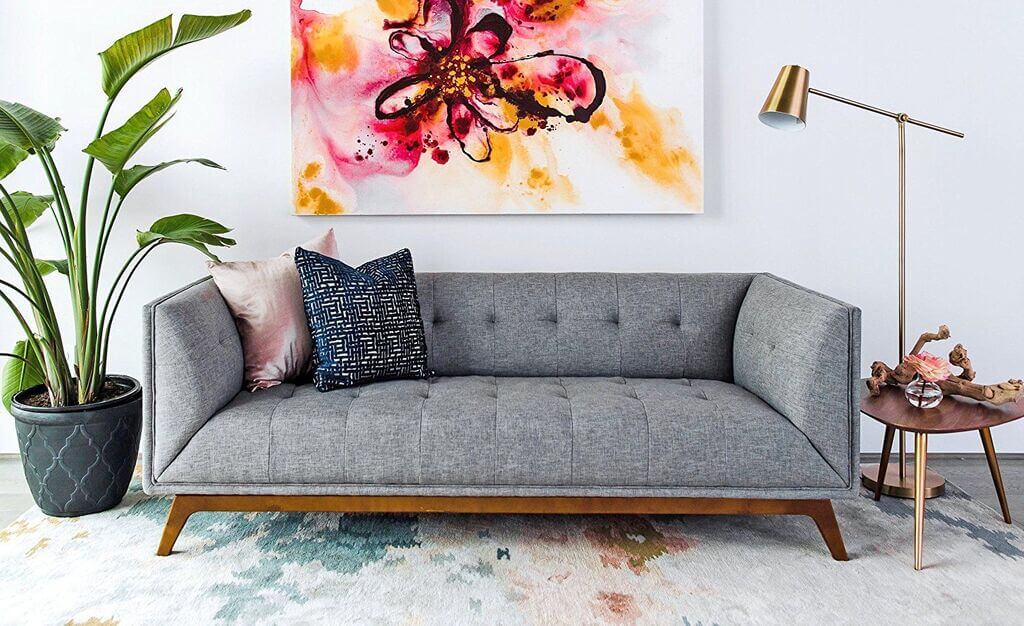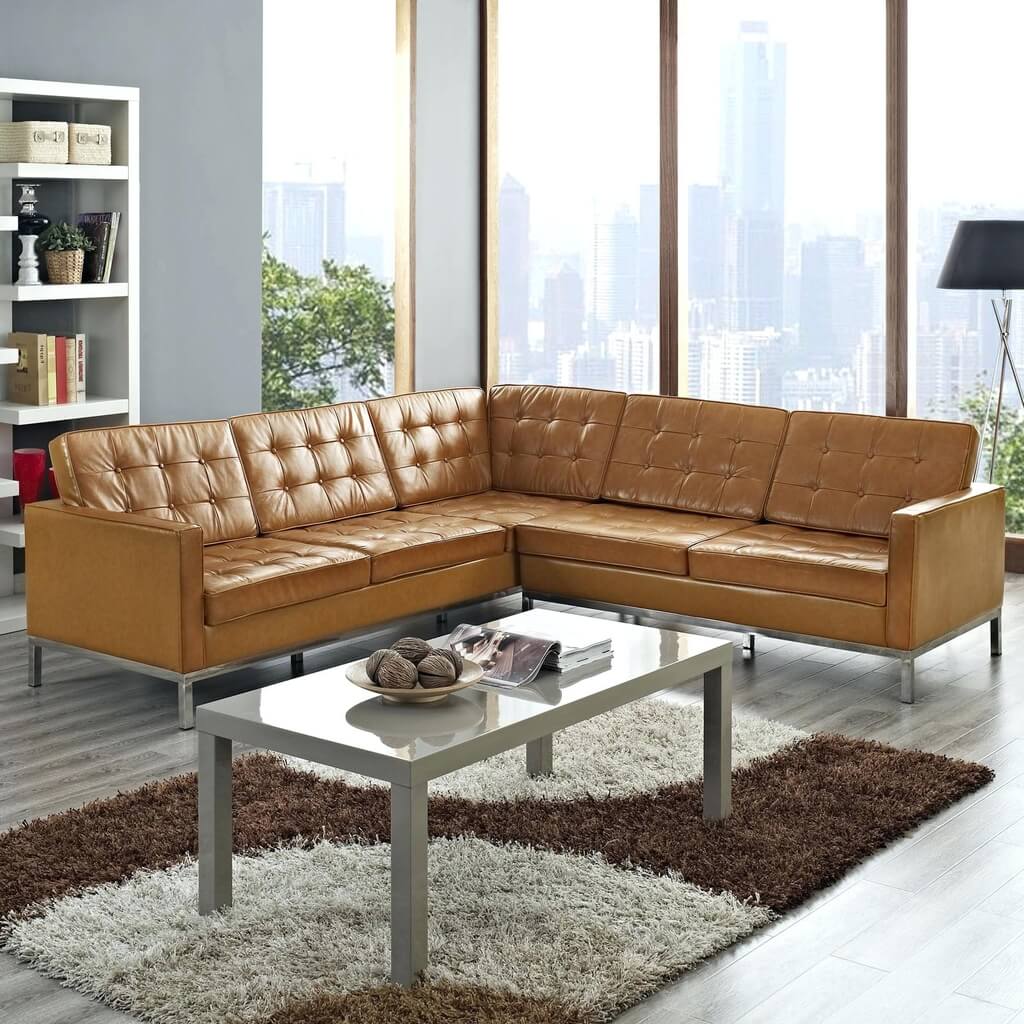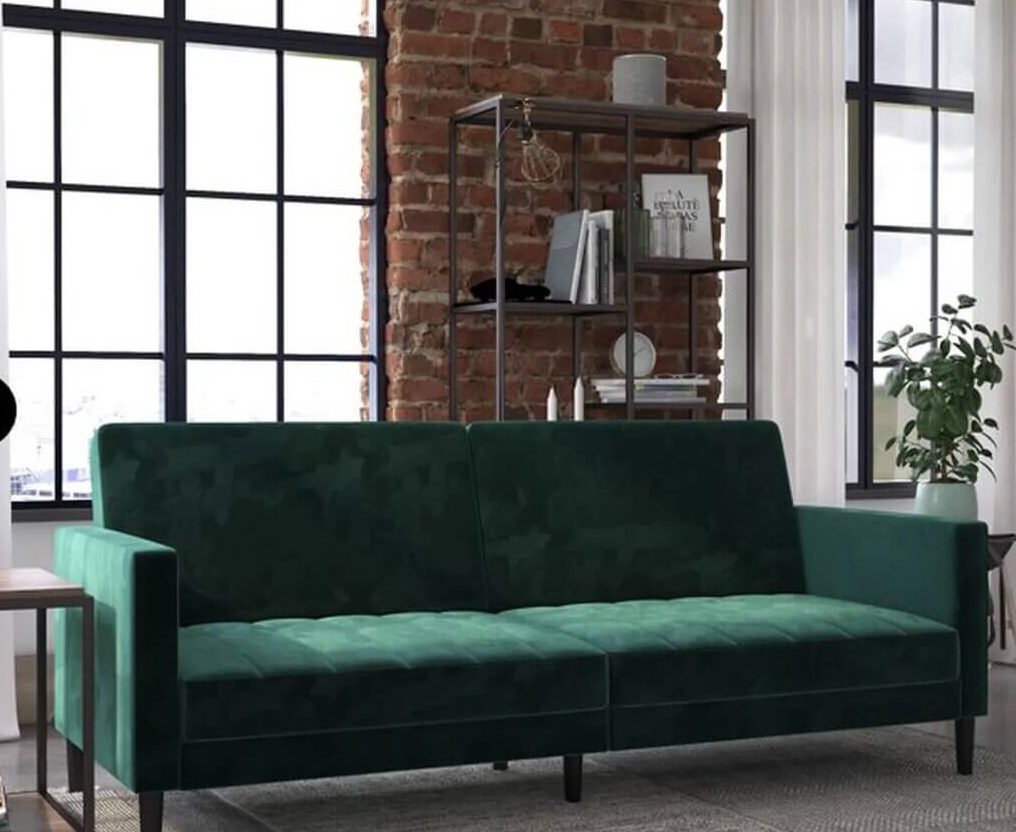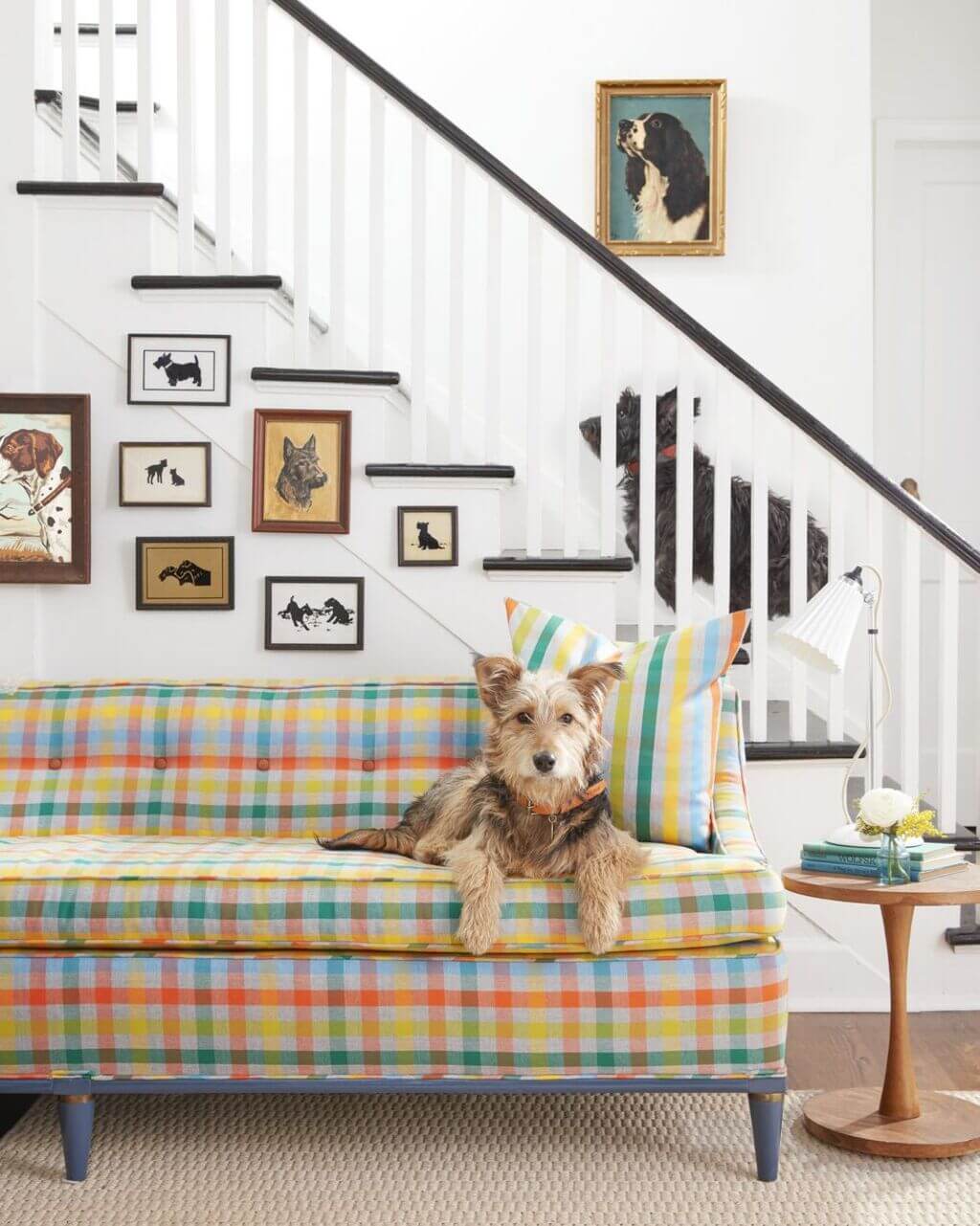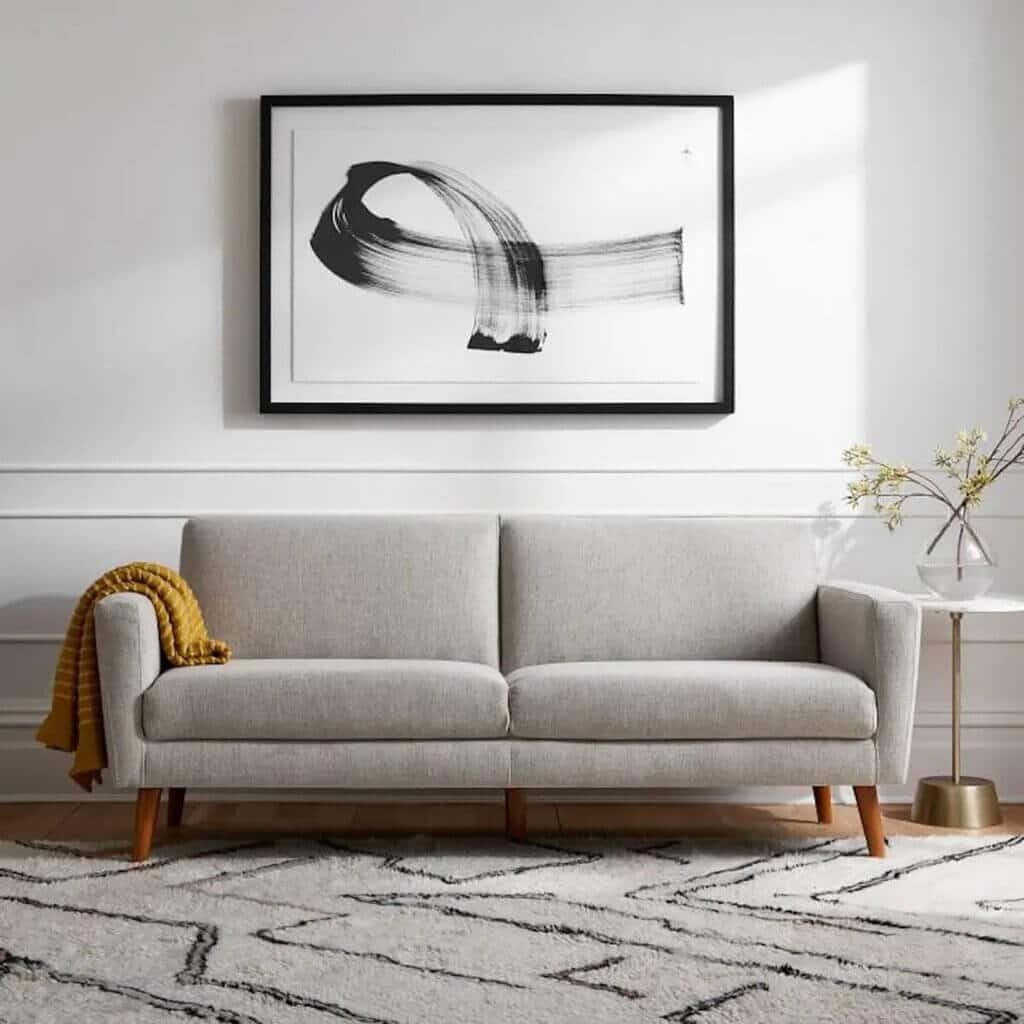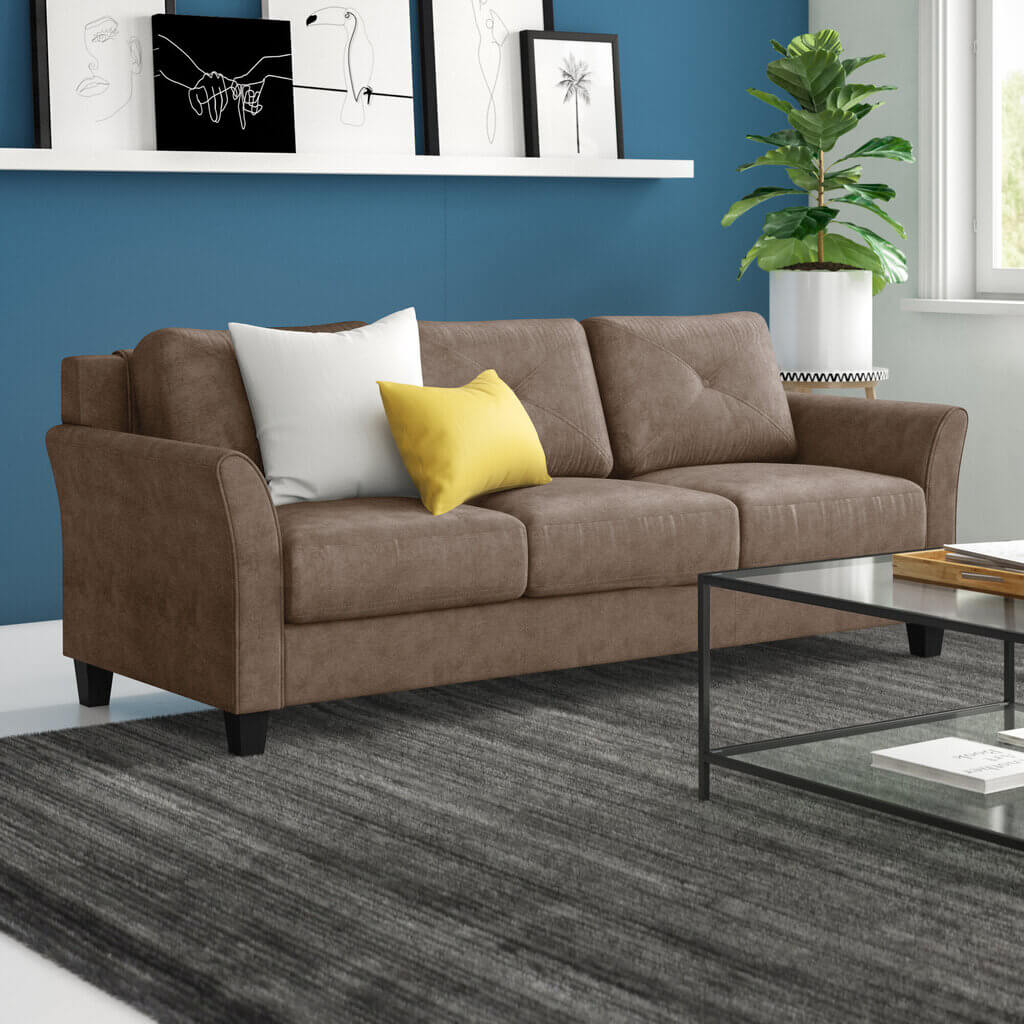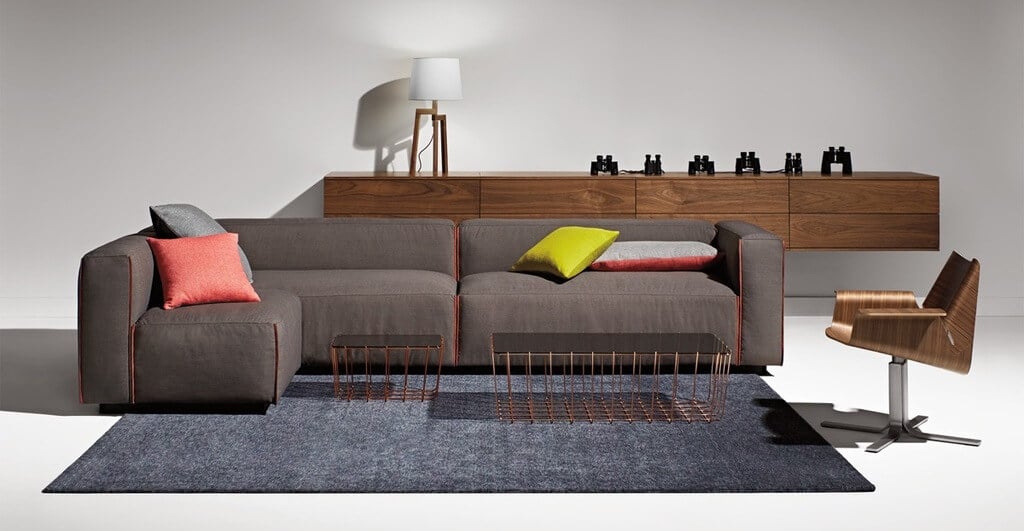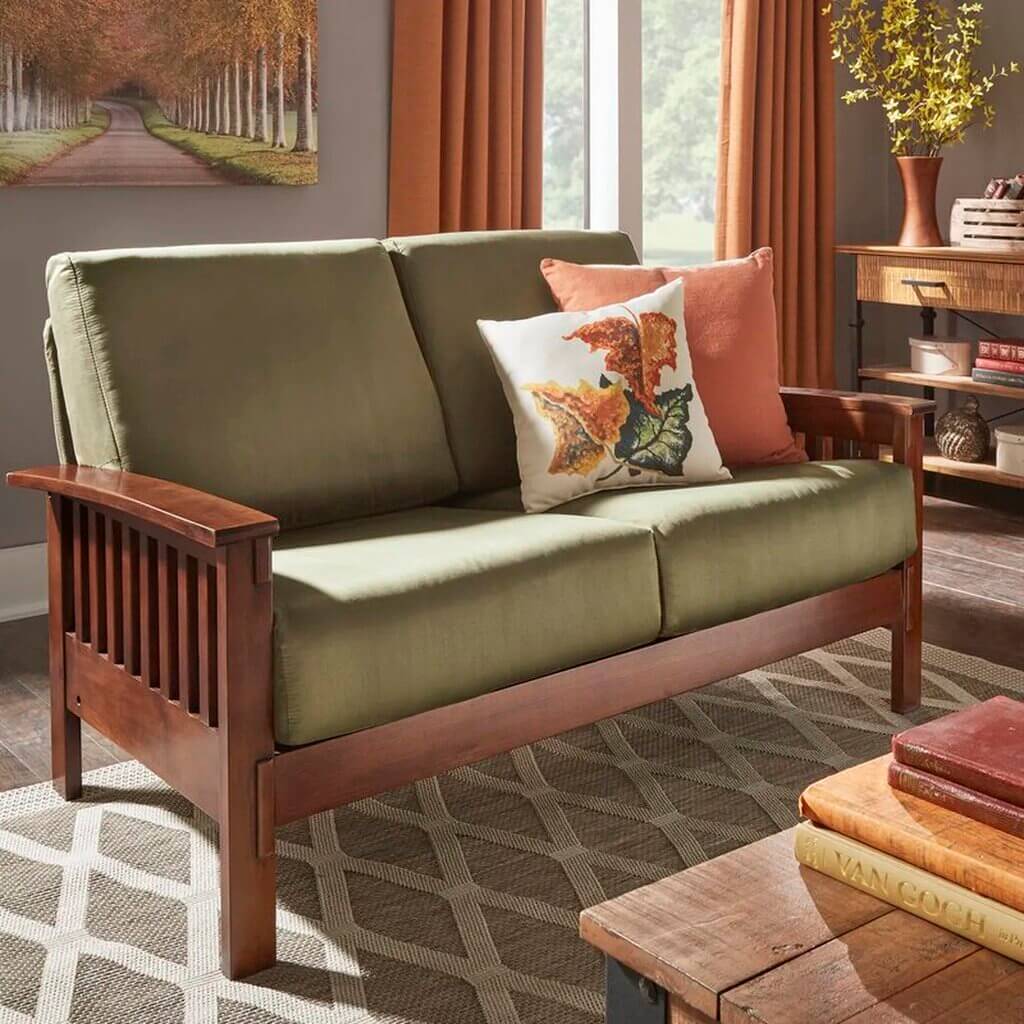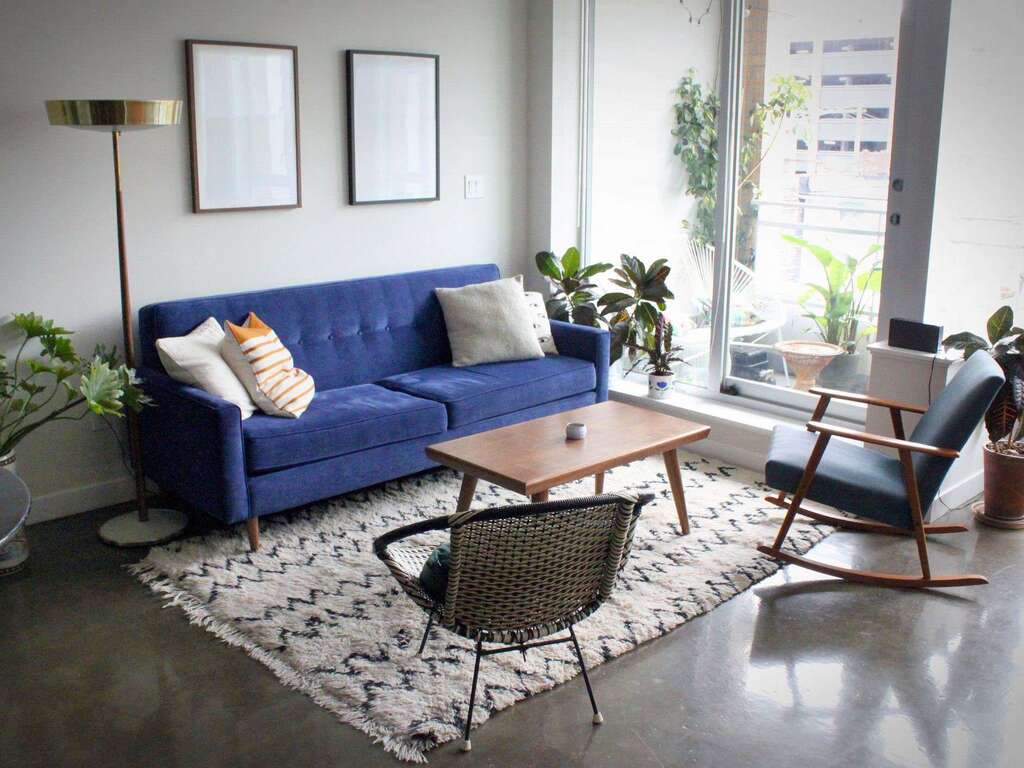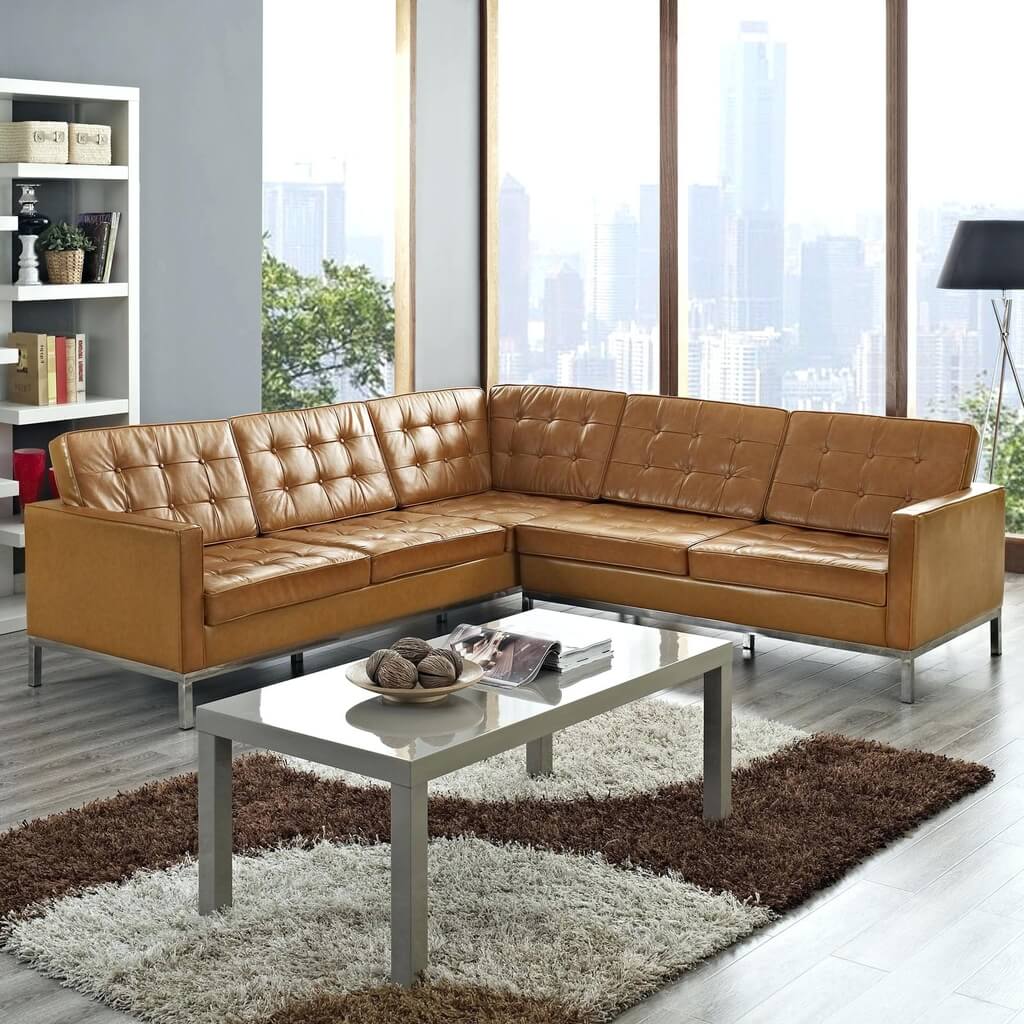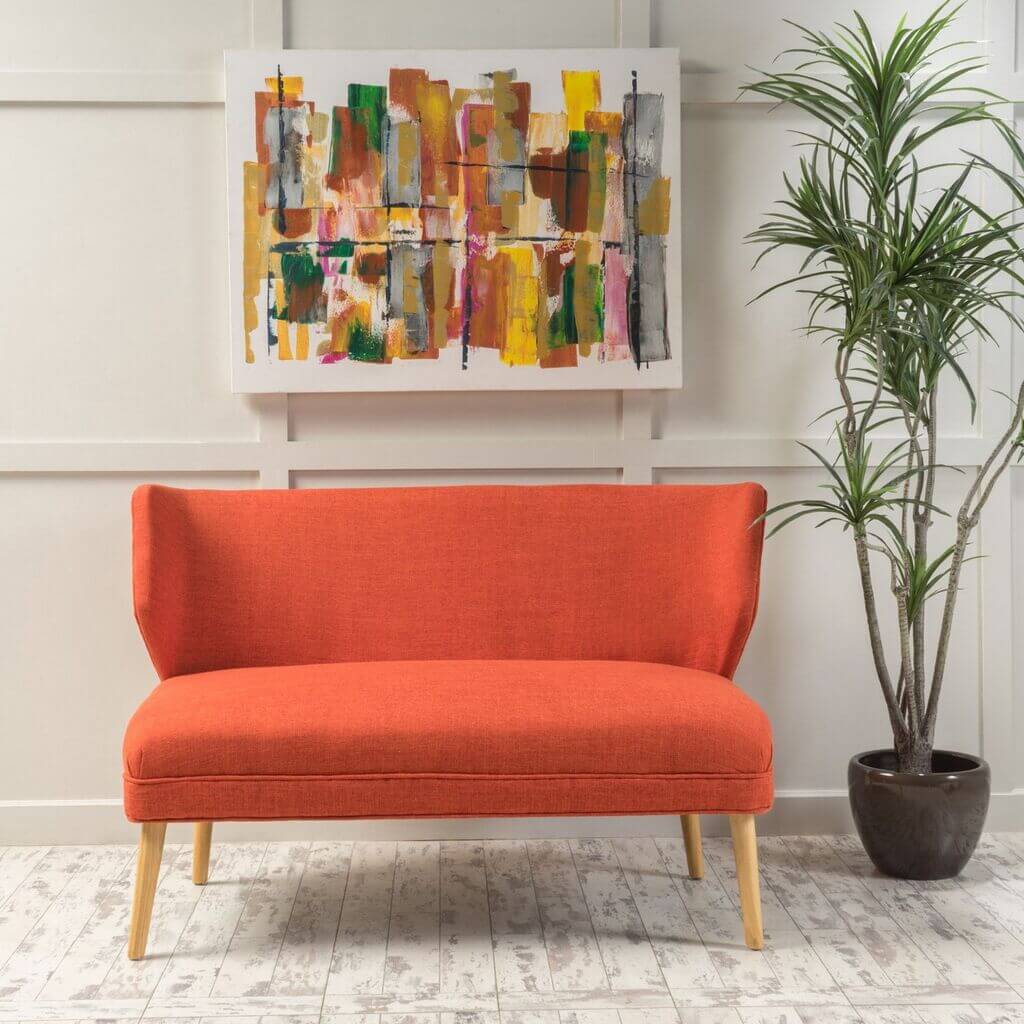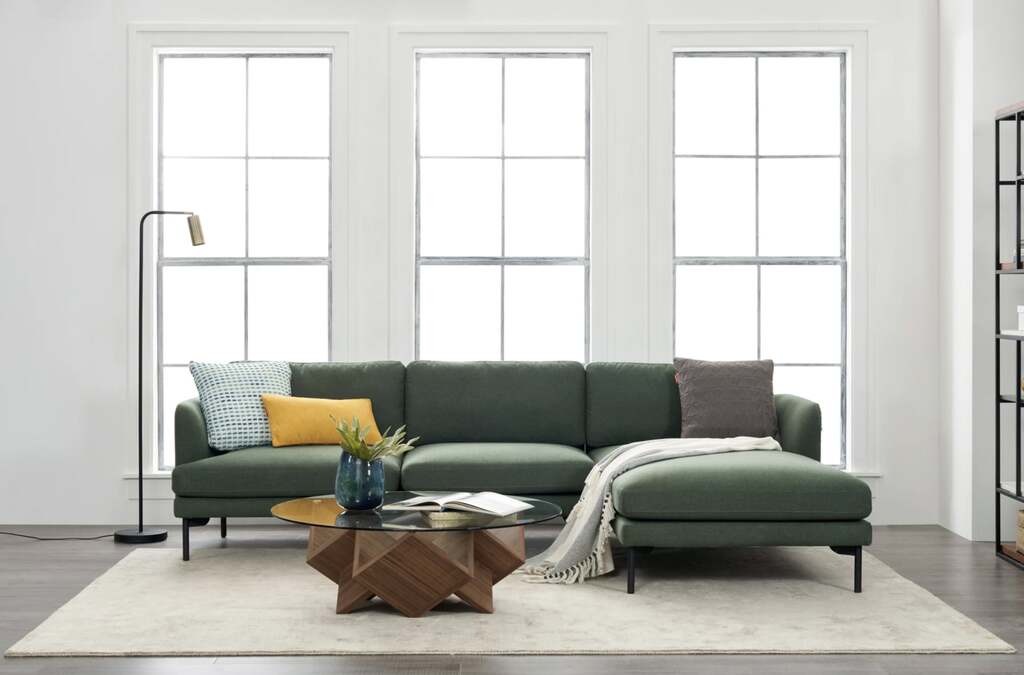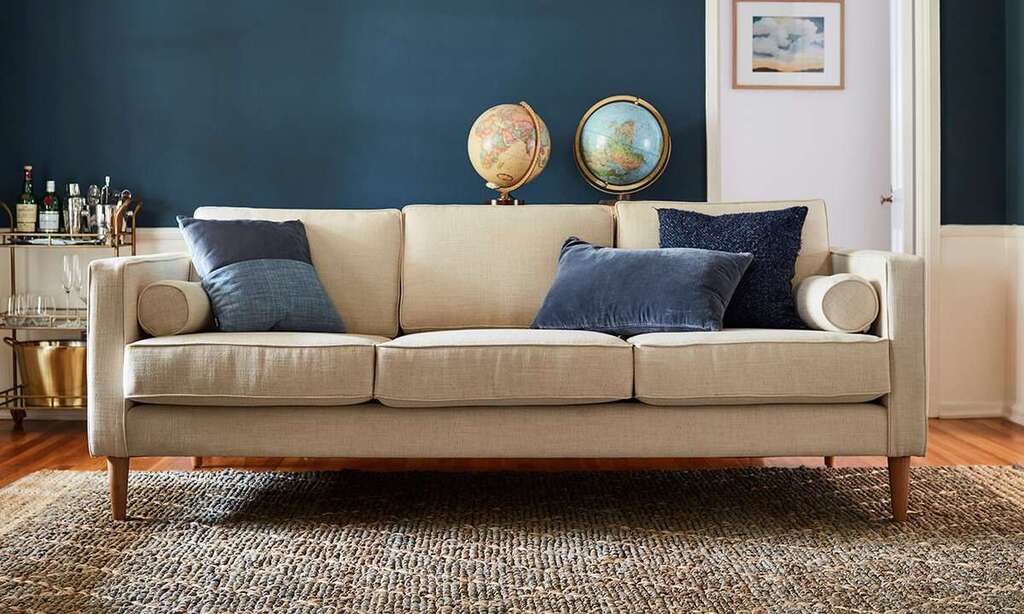 The Bottom Line
So which type of mid century modern sofa did you like the most? You can decorate your space in many ways with the help of these versatile sofas. If you still have any doubts or confusion, always try to figure out how the furniture piece will communicate with the rest of the space.
For example, if you want to create a cozy and welcoming atmosphere, buy a sofa in subdued, neutral tones because it looks really inviting. And, if you want your space to look more of a design statement, go with the sleek and stylish sofas.
I hope you liked this blog about Mid century modern sofas. Also, don't forget to share this blog with your family and friends and help them to create an amazing and entertaining space.
If you want to know more about mid century style or other latest interior design trends, read our previous blogs on Mid-century Modern Bedroom Designs, Dining Room Trends, Flooring Trends, and many more.
Keep reading: