Thanks to social media and the storm that online advertising has stirred in recent years, people are acquainted with trending and contemporary pieces of homeware, cooking, and glassware equipment.
Double wall glasses are a classic example of trending kitchen accessories, which are all the rage nowadays. Whether it is a beautiful double-glass coffee mug or a handleless double-glass beer mug, these accessories are known for their charm, air penetration, and improved durability.
Each double-wall glass is curated by experts and can vary in height, thickness, and weight. Double-walled glass cups look clear and are much thicker than simple glass cups. This resolves the hassle of holding too hot or too cold beverages in regular glass or ceramic mugs where heat transfers quickly from the inside to the grip area.
Double-wall glasses give you the comfort of holding your cuppa coffee or chilled beer with ease without having to worry about getting your hands too cold or too warm.
What Is a Double-Walled Glass?
Double-walled glass is practically glass within a glass. The air between the two glasses is drawn in during production, creating a vacuum. It is designed to keep drinks at the right temperature by not letting heat escape or set in.
Generally made of borosilicate glass, these glasses come with an extra glass wall to keep your drink insulated for longer. Simply put, your hot drinks won't get cold quickly, and chilled drinks won't lose their cool.
Besides this functionality, these chic items look glamorous and sophisticated when serving hot and cold drinks. You can also use these glasses to serve ice cream or frozen smoothies that won't melt easily and won't leave any condensation on the glass!
Why Should You Get a Double-Walled Glass?
Double-walled insulated glass is not only elegant and beautiful but also very functional.
Let us look at the various benefits and advantages of adding a double-walled glass to your kitchenware:
Resistance to Breakage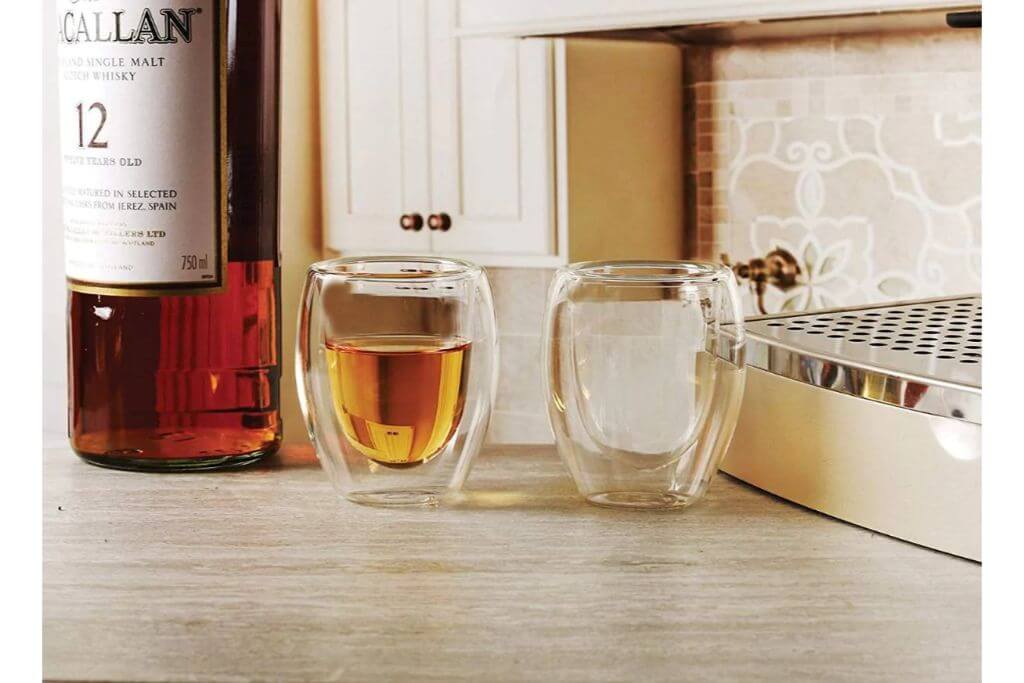 In addition to keeping drinks or food at the right temperature for longer, double-walled glasses are resistant to breakage and scratches.
During the production of double-layer glasses, they are specially made to resist friction and are much easier to clean.
Excellent Thermal Insulation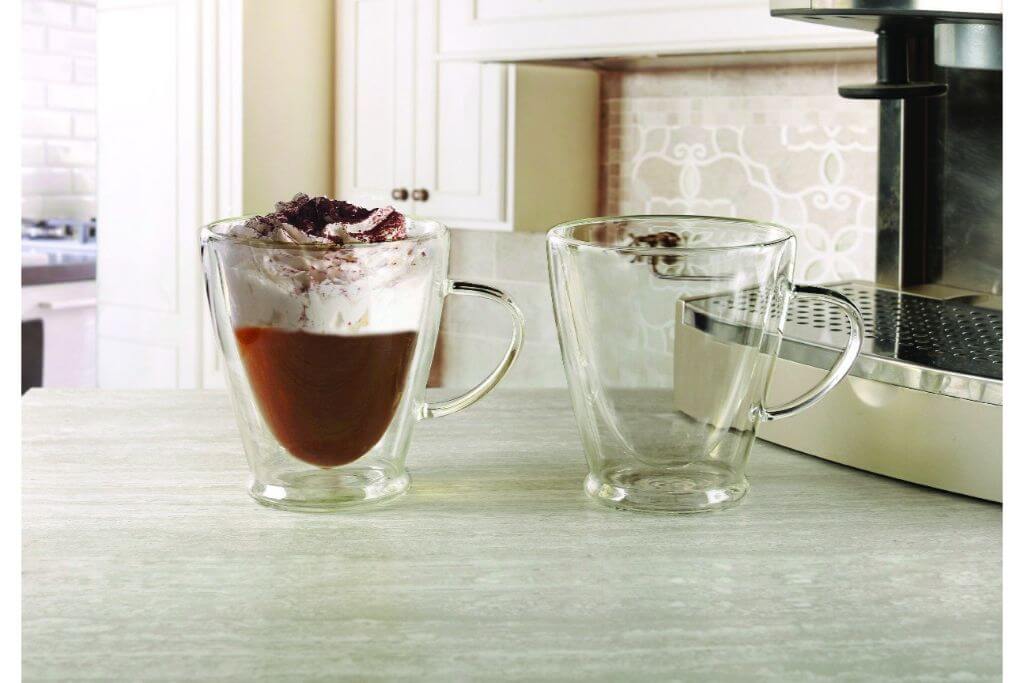 Double-walled glass easily resists temperature changes that can crack or break normal glass. It is also dishwasher and microwave safe.
By holding a double-walled cup of coffee in your hand, you get excellent thermal insulation since they are created using borosilicate content glass, suitable for temperatures from 20° C to 150° C.
The double-wall glass design mitigates the thermal conductivity of the cup body and can work as thermal insulation and anti-limescale when used, making it comfortable to hold.
When these glasses are created, the middle layer is not under vacuum, and the outer layer has a vent hole to vent the gas from the cup so that your double-walled glass doesn't explode or deform.
After the completion of production, this ventilated hole is sealed, and the air in the middle of the two layers keeps it safe and well-insulated
Light-Weight and Durable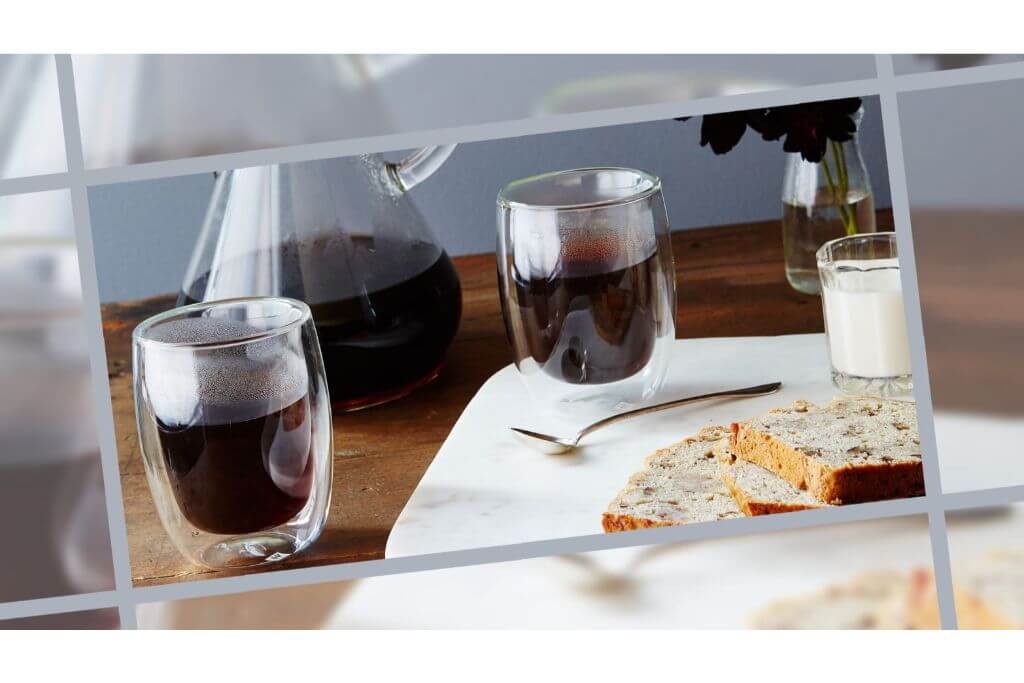 Double-walled glasses are often lighter than their counterparts.
Compared to a normal ceramic cup that could weigh somewhere between 300-350 gm, a double-walled glass only weighs 200 gm, which makes it easier for you to hold your cup of tea or coffee with ease and for a longer time so that you can enjoy every sip of your morning drink.
Double Wall Glasses Look Chic, Elegant, and Beautiful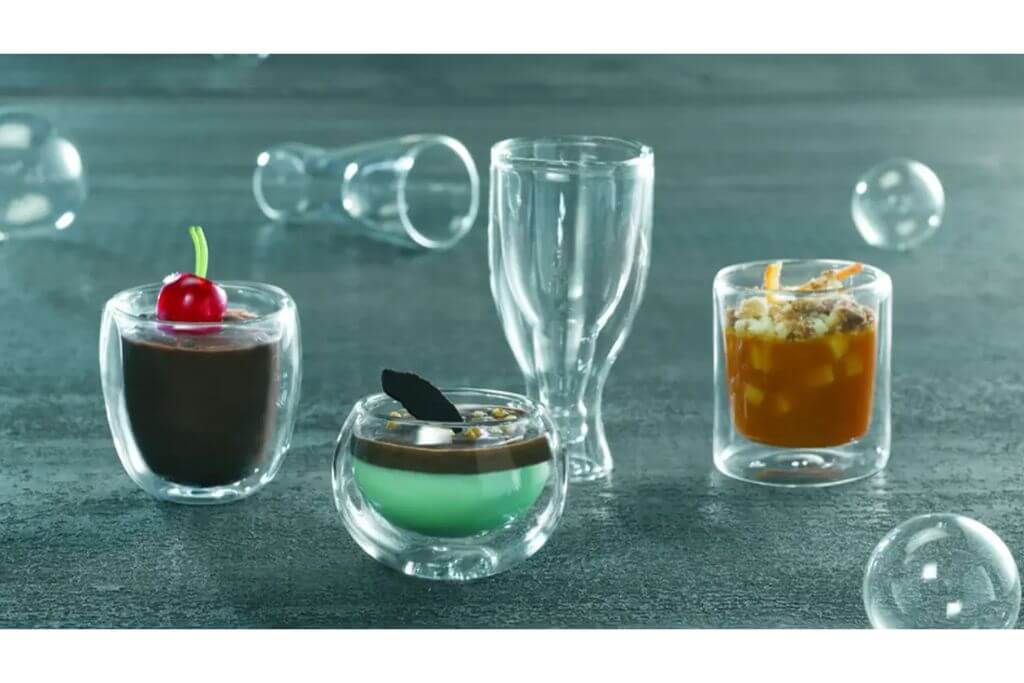 Double-walled glass cups are crystal clear, so you know what's in there and how much is left. These look better than single-walled glass or ceramic vessels with a sophisticated and unique appearance.
A set of double-walled glasses in your living room display corner speaks of luxury and royalty. Since there is one layer of glass inside and one layer outside, they look better in appearance and aesthetics.
Comfortably Handle-Less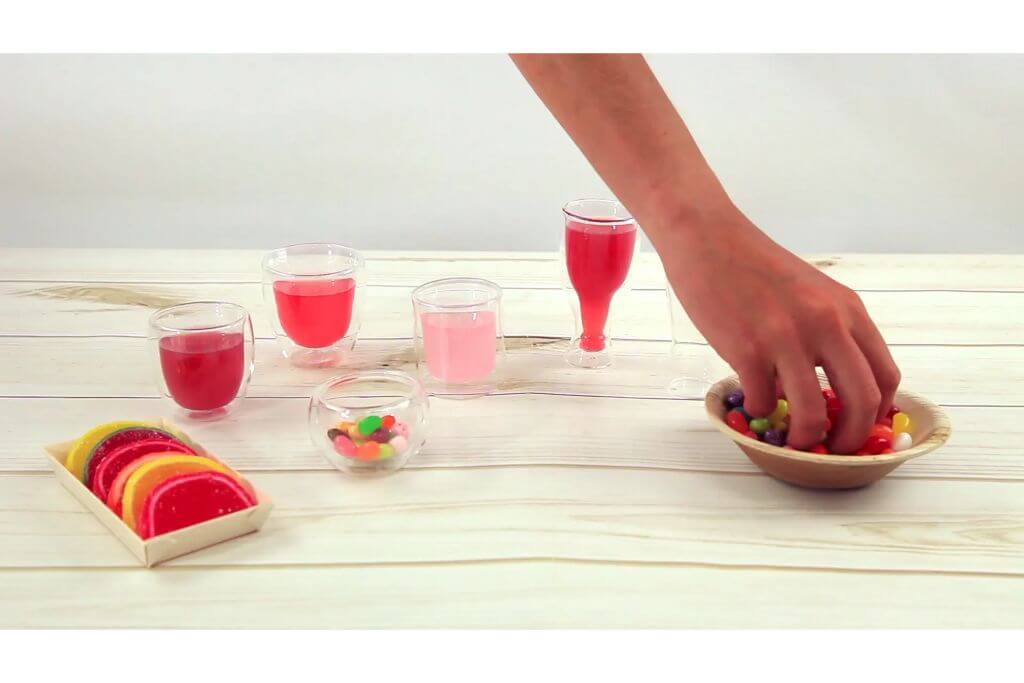 Since these glasses are already well-equipped with an outer covering, you don't need handles to carry them. Thanks to their thermal qualities, you won't feel uncomfortable with the heat or chill coming from within the glass because of the double-layer covering.
Durable Material Using High Borosilicate Content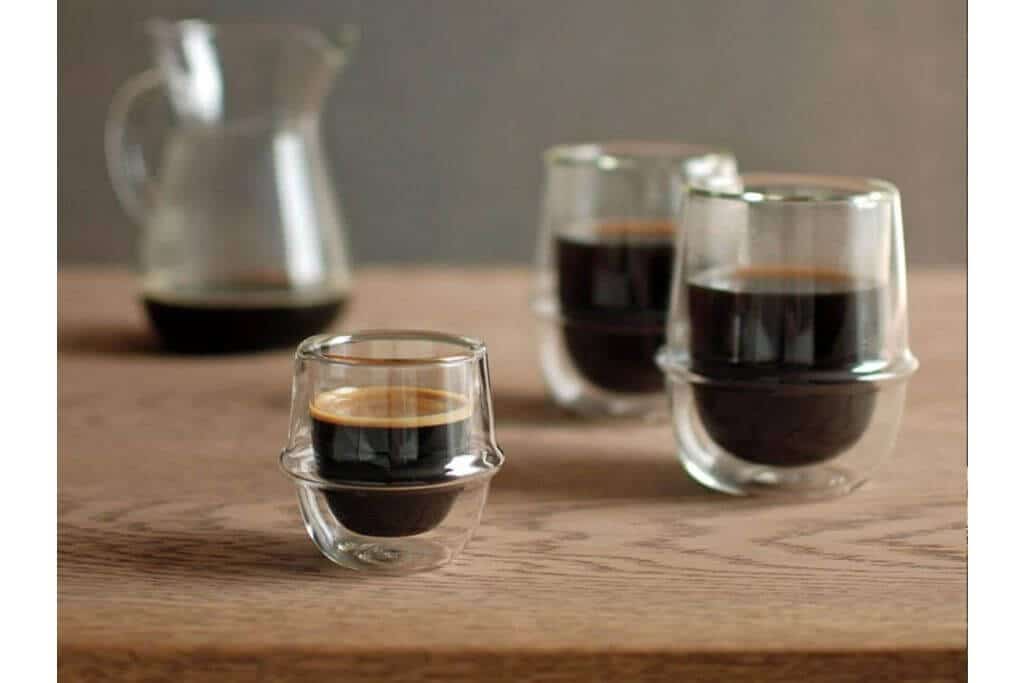 Double-layer glass mugs are firmer than ordinary glass mugs. The materials used in the double-layer glass mugs are more solid and easy to maintain and clean.
Food Safe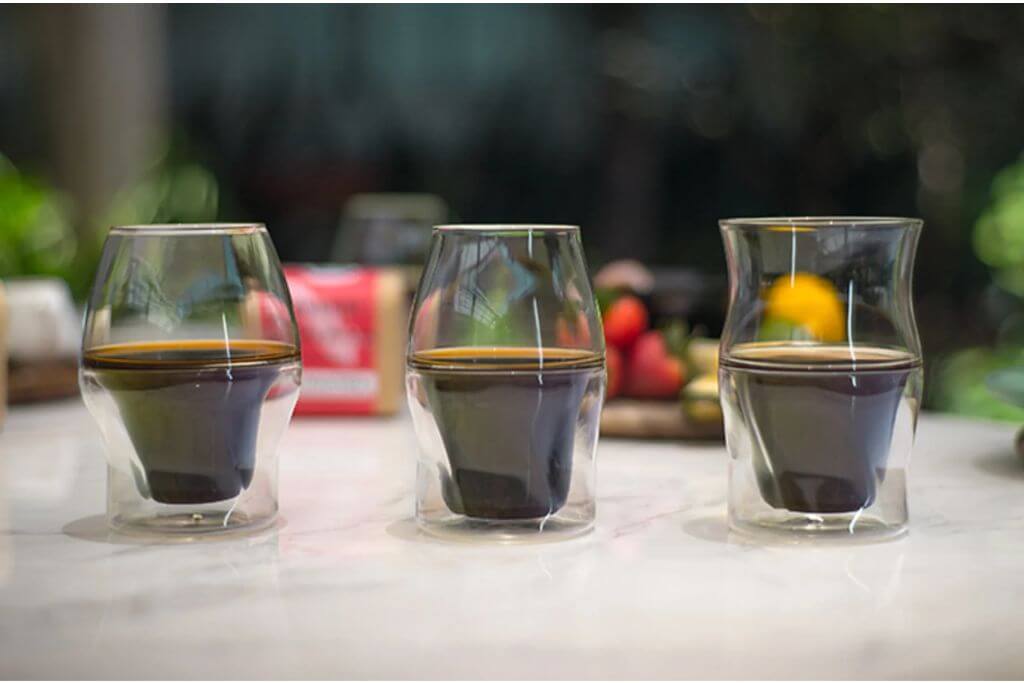 Double wall glass is food-grade standard with anti-acid corrosion properties. These factors greatly improve the quality of life and make a strong impression on your guests when you plan to entertain them at get-togethers, parties, or weekend getaways.
Conclusion
Double-wall glasses have recently become a trend in modern kitchens, greatly improving the comfort of holding a hot cup of coffee/tea or a chilled glass of beer. Plus, these glasses come with an enhanced heat preservation function and an enthralling design offering a rich aesthetic value.
Get your set of affordable double wall glasses and cups from Wheel&Barrow and enjoy their comfort, luxury, and appealing charm.