Things People Need to Consider When Buying Tub Pillows
When it comes to cleanliness, adults prefer showering over bathing. However, bathing still plays an important role in the lives of some modern adults. A bath is a haven from the rest of the world and an opportunity to truly unwind in a few minutes. People's ability to relieve stress can have a positive effect on their mental health.
As Dr. Karla Manley, a clinical psychologist practicing in California states, people's bodies often shoot adrenaline, especially on busy days. As such, soothing actions, such as taking a bath, activate the body's parasympathetic nervous system. When people relax, they became calm and free from stress. In addition to its mental health benefits, bathing can also improve physical health – this includes relaxation of muscles and joints, relieving stress after a day's work, improving digestion, and more.
However, depending on the size, shape, and body of the bath, it can be difficult to find a truly comfortable position. This is where a bath or tub pillow comes in handy. Because of this, compiled below are some important tips for buying tub pillows that people should know. 
Coverage of Quality
The bath pillow is made of durable material and will give people complete satisfaction. To do this, carefully inspect the product before making a purchase decision. Start by looking for recommendations from people who have used them before. With a protective coating, germs, mold, odors, and mold do not reach the bath pillow. Choose bath cushions made of high-quality materials with a waterproof finish.
Covering Materials and Suction Cups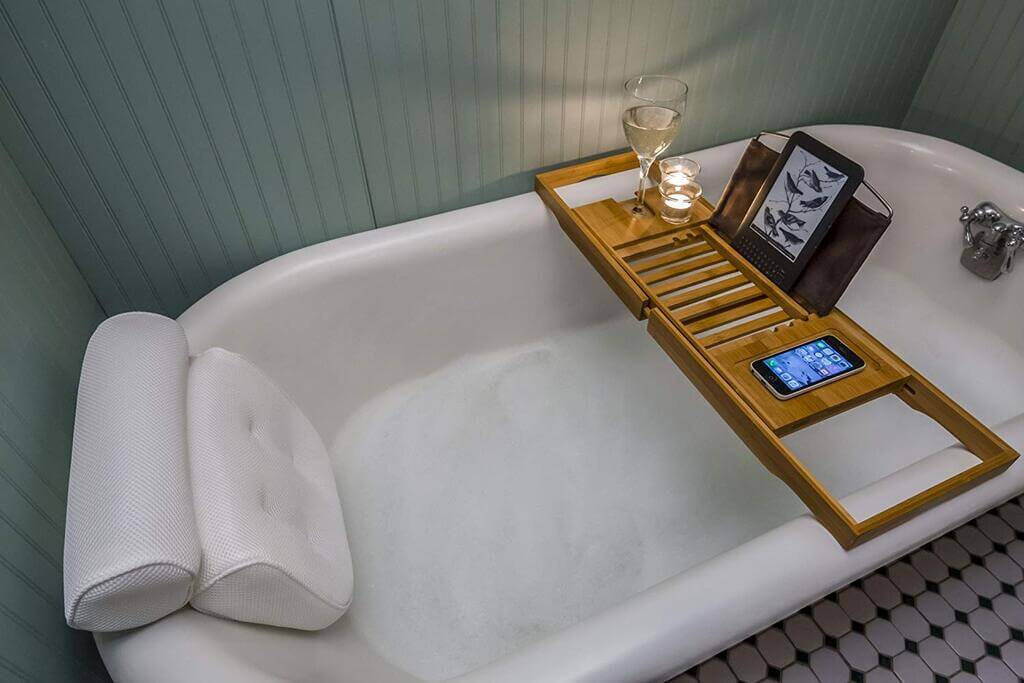 Source: witszen.com
Bath pillows are available in a variety of cover fabrics. People can freely choose what they like. If using fabric, make sure it is washable. Also, most bath pillows include suction cups, but not all pillows are large or strong enough to hold a bathtub. Choose a bath pillow with lots of durable suction cups.
Fragrance, Design, and Size
Some people are attracted to certain scents, while others are allergic to or despise them. People should choose their favorite scent. For those who don't like perfume, consider buying an unscented bath pillow. Individuals should know that they are of different heights and lengths.
So, it is recommended that they choose a bath pillow that is appropriate for their height and weight. Bath pillows also come in a variety of shapes and sizes. And for those who value style and elegance, elegant designs are worth considering.
Also Read: Incredible Benefits of Knee Pillow Between Your Legs When Sleeping
Life Span and Cost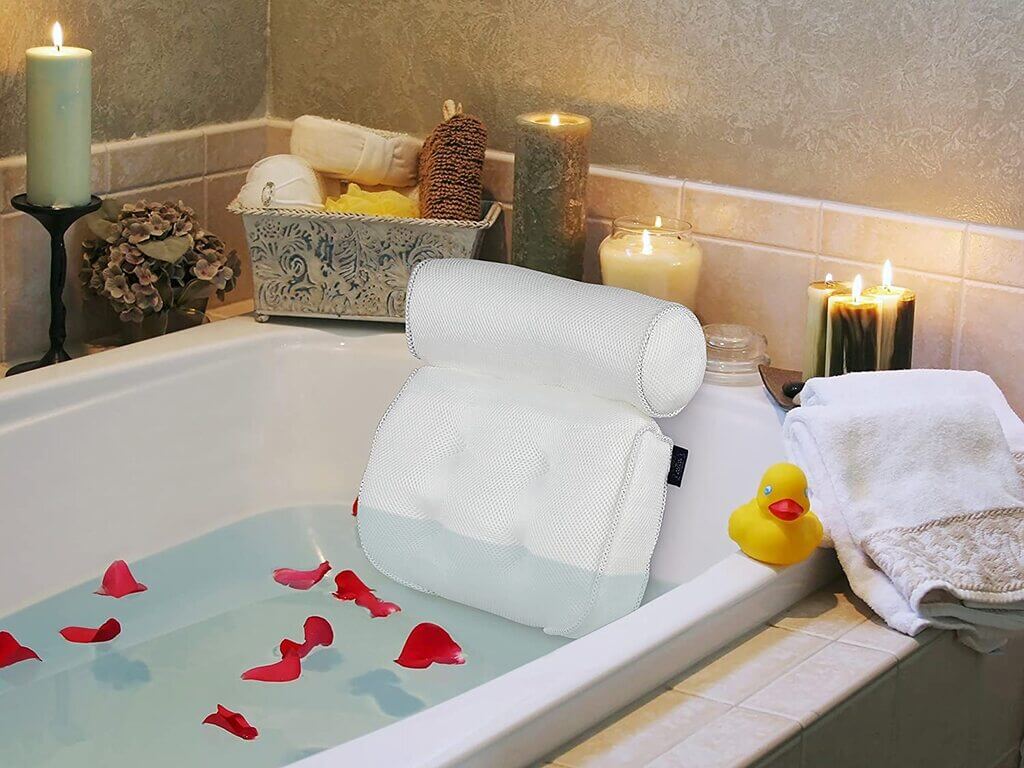 Source: stylecaster.com
Before buying a bath pillow, consider the budget; this is because these items have different price ranges. Bath pillows can vary in price due to many factors. Several factors that affect the price of bath pillows include the material of the pillow, where it was purchased, and the manufacturer.
Some pillows can be used in the bathroom and are sold as a set with other bath products. Towels, hand towels, and bathrobes can also be included in the set with bath pillows. Often, everyone can save money by buying pillows as part of this type of shared set, especially if they need other items like bath towels.
Spending money on a bath pillow shouldn't sacrifice other needs. Choose a bath pillow that is economical and fits the budget. It is not everyone's desire to spend money on a bath pillow that will only be used for a few months. Consider how long the bath pillow will be used.
Pillow Stuffing
It determines how comfortable and supportive the bath pillow is. Isn't that why people are doing all this in the first place? Start by looking at some of the options available.
Micro Granules 
This pillow is filled with highly flexible spherical certified micro granules. They provide elasticity and also conform to the shape of the body.
Jelly Filled Pillow 
They are unique and it tries to revive you further. How? To keep these pillows cool, store them in the freezer. As a result, it works similarly to a cold compress.
Foam Filled Pillow 
They are very soft and provide more comfort than support. Ideal for a relaxing swim. Again, memory foam is a good choice to beat the heat.
Also Read: How To Choose a Pillow for your Bedroom – A Step by Step Guide

The Set-Up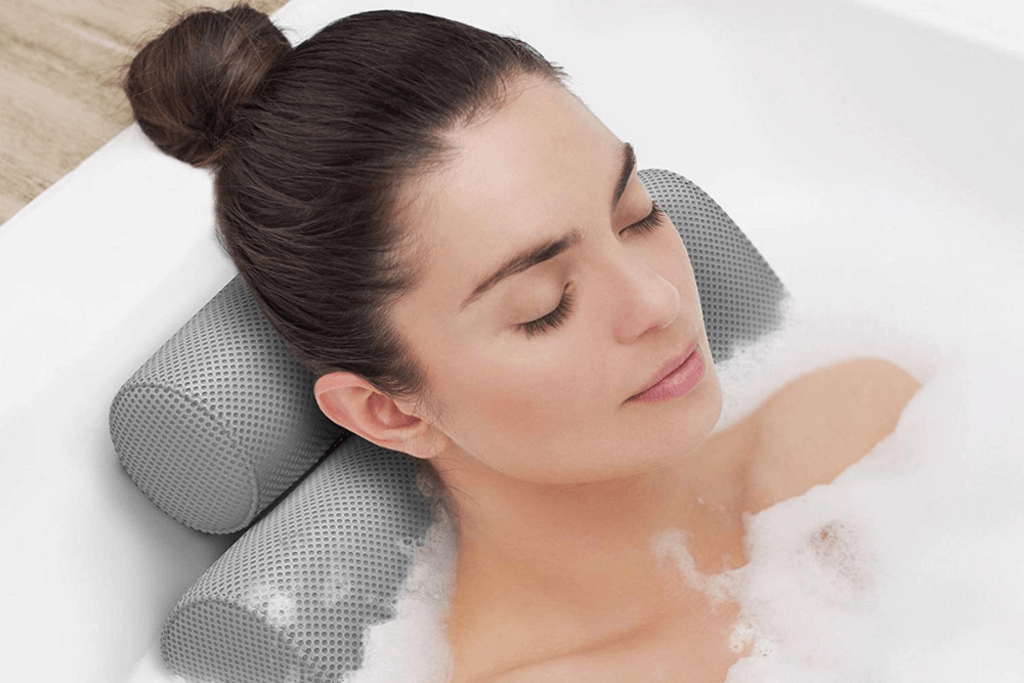 Source: bobvila.com
What is the best way to use pillows in the bathroom? The first step is to push it with the body to keep it in place. Real bath pillows, on the other hand, have suction cups. People need to make sure the suction cups are of good quality. The more suction cups it has, the heavier the pillow. It is important to fix the pillow firmly. When buying bath pillows, there are many things to consider, from design, size, pillow stuffing to pillow fit.
Care and Color Choice
Tub pillows come in a variety of colors. For people who like vivid colors, choose a bath pillow in their favorite color. For those who don't like the color, and irreplaceable bath cushion will suffice. Consider buying from a branded store, a pillow for bathtub that can clean by hand or machine. Cleaning products should also price reasonably and be available anytime.