What Are Spanish Style Homes? An Ultimate Home Style Guides
Are you fascinated by Spanish style homes? Residences in this style are quite popular in North America, that's why you can see them all over the various regions of the continent. This architecture has multiple variants, such as Spanish Revival, but the Spanish Colonial is the most iconic and famous style. 
The first Spanish colonial home was built in Spain roughly 400 years ago; however, their unique style and vibrant design influence still can be seen to this day.
Striking white stucco walls, red tile roofs, and gorgeous landscaping are some of the key characteristics by which you can easily identify a Spanish Style home! Spanish architecture was first seen in America in the areas/regions settled by Spaniards. Later from the 1600s to the 1800s, it spread throughout the Southwest, California, and Florida.
Today in this blog, we're going to tell you everything about Spanish architecture. From its history to the main elements of the architecture, we've included everything. We've also made a list of some of the best Spanish style homes so that you can get to know Spanish Exteriors.
After reading about these houses, you'll come to know why Spanish style homes are so widespread and popular in various parts of the world. Let's start with the Characteristics first. 
What is a Spanish Style House
Spanish Style homes, influenced by the colonial architecture during the era of Spanish rule, showcase a distinctive and timeless appeal. Characterized by key design elements such as stucco exteriors and charming terracotta roof tiles, these homes have found prominence in regions with Spanish historical influence, including Florida, California, and the Southwest of the United States.
Key Characteristics of Spanish-Inspired Homes
Whether it be Spanish colonial or Spanish revival architecture, there are some common things in all of them. Here are some of the main elements of the Exteriors:
Single Level Building 
Well, this is not the case with every building. Some Spanish-style homes are single or split-level. But initially, many traditional structures had only one level.  
Turrets 
Similar to the first point, it's not compulsory that all Spanish-style homes have a prominent turret shape; some also have opulent structures. Turrets can either be present on the corner or at the main entrance of the building. They were mainly use as visual centerpieces. 
Stucco Walls 
The most prominent feature of Spanish architecture is the Stucco walls. These walls are thick and usually paint in white color. The reason behind this is that Spanish architecture is generally found in hot, arid climates. So the stucco walls absorb heat during the day and release it at night. The part looks both aesthetic to the eyes and practical in general. 
Red-Tiled Roofs  
Roofs are usually sloped or low-pitched, and barrel tiles are overlaid on top of each other to form the roof. In most cases, these tiles are red or brown. Also, there are some overhangs or wooden vigas protruding pieces on the outside part of the roof. 
Adobe Bricks 
Traditional Spanish buildings don't use mud bricks like adobe; however, houses in the American Southwest and Mexico have it. As these regions are hot and adobe is highly practical for these types of desert environments. 
Small Windows  
All Spanish-style homes have small openings and windows. When air flows through a smaller opening, it becomes cooler; that's why most homes have small windows. Because they're appropriate and practical for hot environments. 
Courtyards 
Every Spanish-style home has courtyards and backyards to relax and enjoy some sunshine. 
Simple Embellishments 
When it comes to decoration, whether it is interior or exterior, people love to embellish their homes with minimal decors.   
Other than the above characteristics, spanish design house include heavy carved wood front doors, carved stonework, or cast iron ornaments, and spiral columns and pilasters. Also, sometimes walls and floors were often covered with patterned tiles. 
Here are some of the common building materials that have been use for many years.  
Stucco

Wrought-Iron 

Clay Tiles 

Adobe Tiles 

Wooden Beams 

Steel 

Stone 
9 Remarkable Spanish Style Homes Around The World! 
1. Stunning Princeton Residence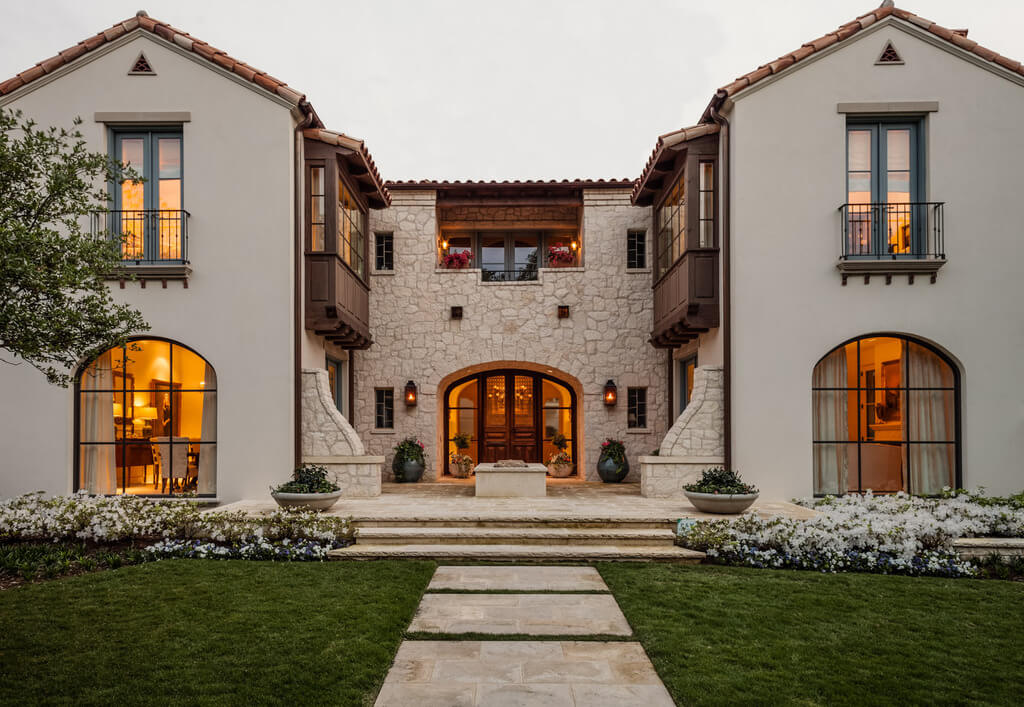 Source: maroilles.eu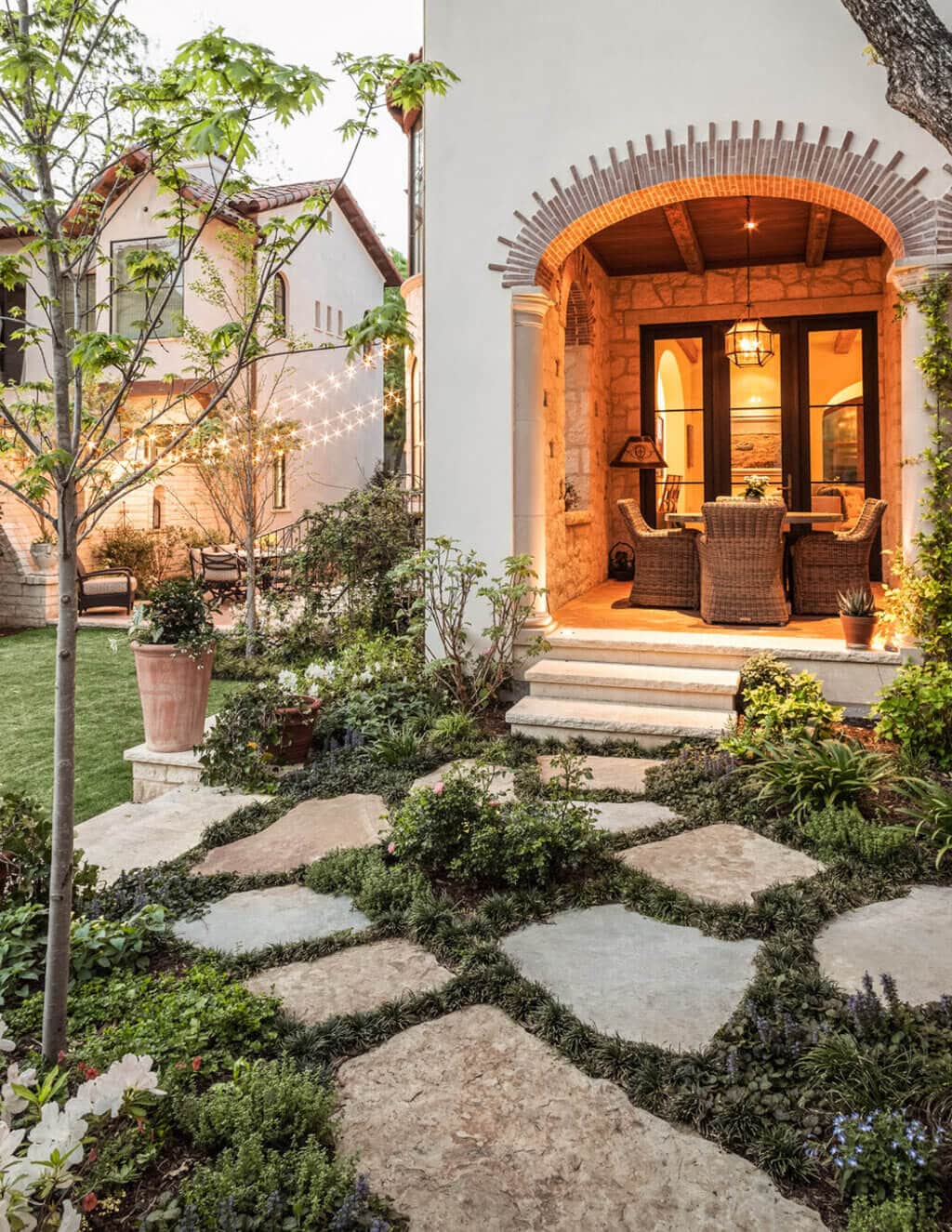 Source: squarespace-cdn.com
This is a traditional Spanish home which is design by Stocker Hoesterey Montenegro Architects. It features dark wooden oriel windows and lovely castle-like stonewall fronts. 
There are also structures like the main door, entryways, and massive windows with an arched top. Lots of plants and greenery make a perfect balance between earthy tones and straight lines.  
This is a multi-section Spanish complex, so to divide them, a lawn has been provid. This spanish style house has authentic Spanish characteristics such as massive glass windows and arched entryways paired with clay-tiled roofing and soaring chimneys on the top of traditional Gable roofs.
2. Traditional Spanish Colonial Home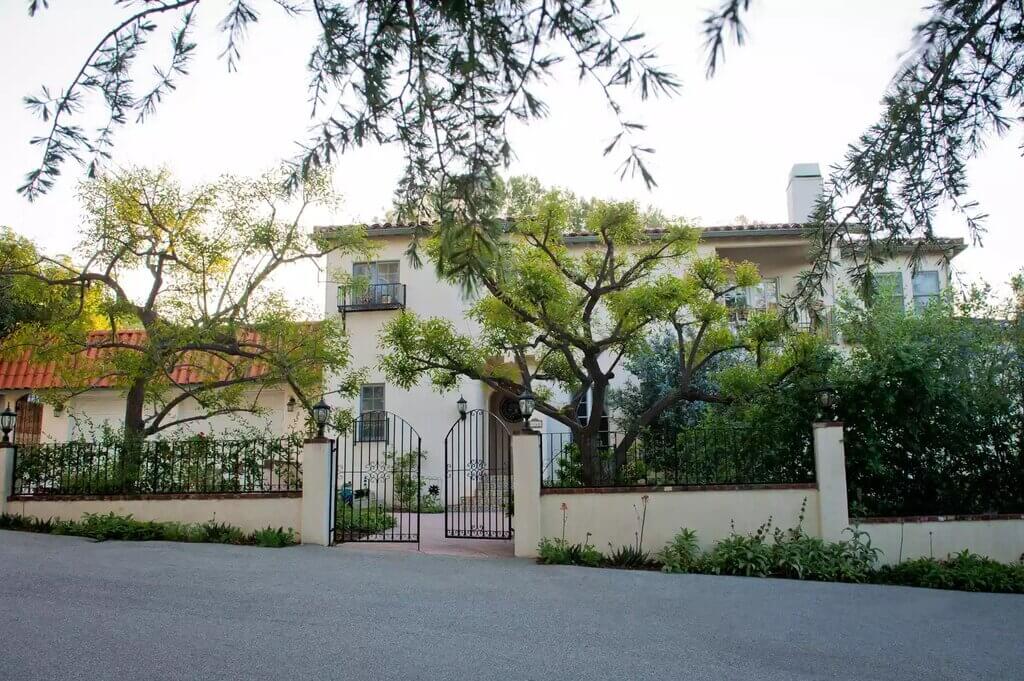 Source: thespruce.com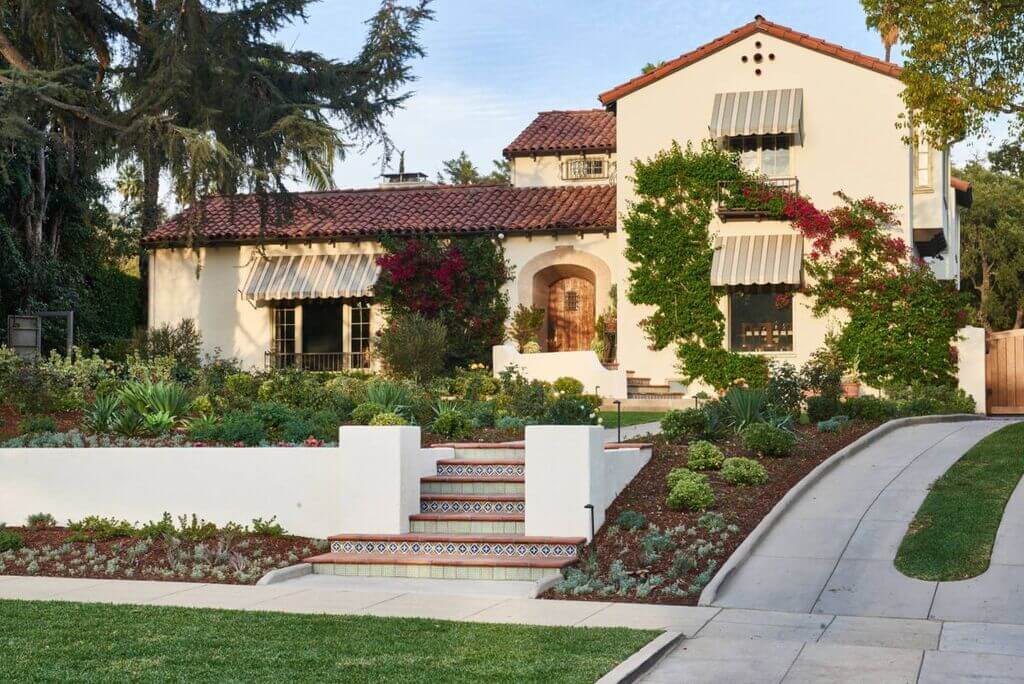 Source: homedit.com
As we already told you that courtyards and gardens are staples of the Spanish Colonial house. Here in this property, you can see a lush, leafy native garden and a private courtyard that complement this revival home's distinctive architecture beautifully. 
Red roof tiles and white stucco walls are making a good contrasting pair. Tall trees and other greenery, including coffeeberry shrubs and California lilacs, have been use to give privacy right behind the wrought-iron fence. 
3. Newly Built Spanish Colonial Home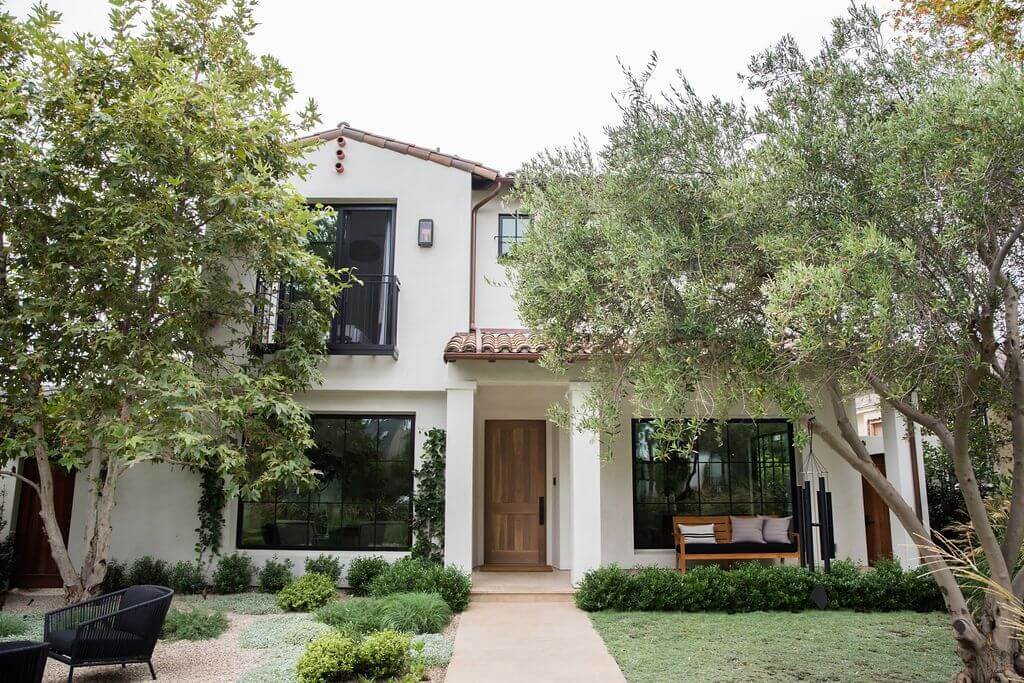 Source: barnettfilm.com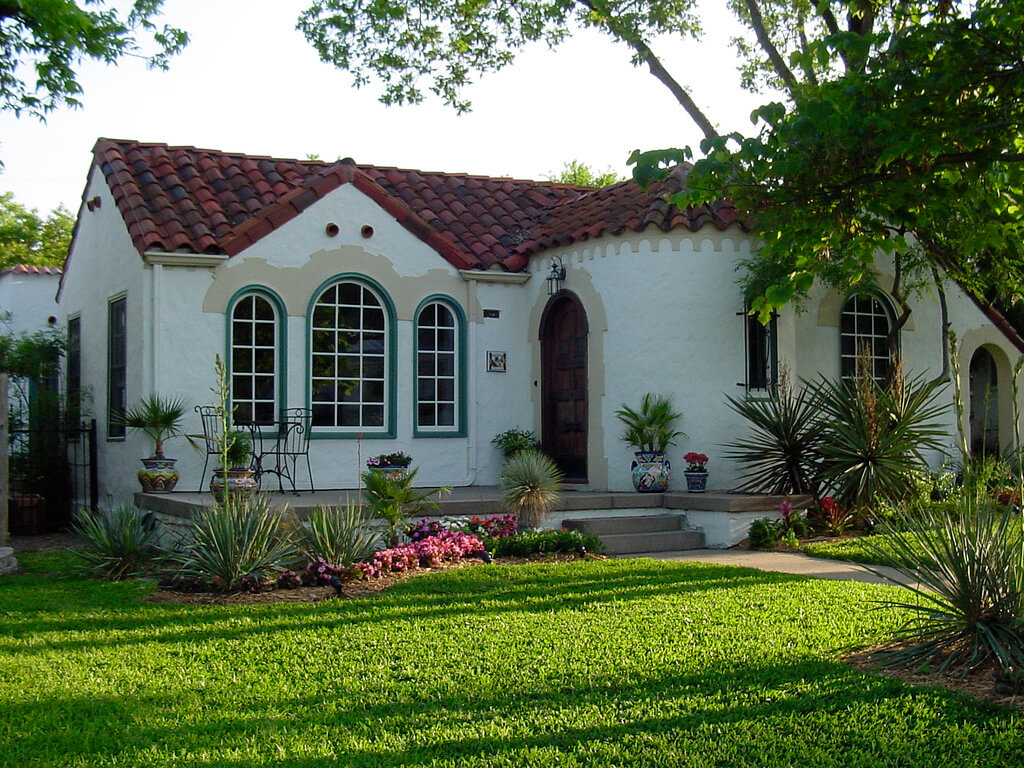 Source: home-designing.com
Spanish Colonial architecture can be seen all over California. You might be thinking about why it is so prevalent in this region. Maybe people love to have a home with more relax vibes.   
You can see here, this property is owned by interior designer Erika Frank and is newly built. None other than her own father, who is an architect, has designed this whole building. This home features classic thick walls and arches throughout the exteriors and interiors.     
A Stucco covering in the shade call Santa Barbara is use to cover exteriors. Red barrel tiles have been use to cover the roof. Here also, lots of drought-resistant plants and trees are plant to keep the house temperature cool and breezy. 
4. 1929 Spanish Style Residence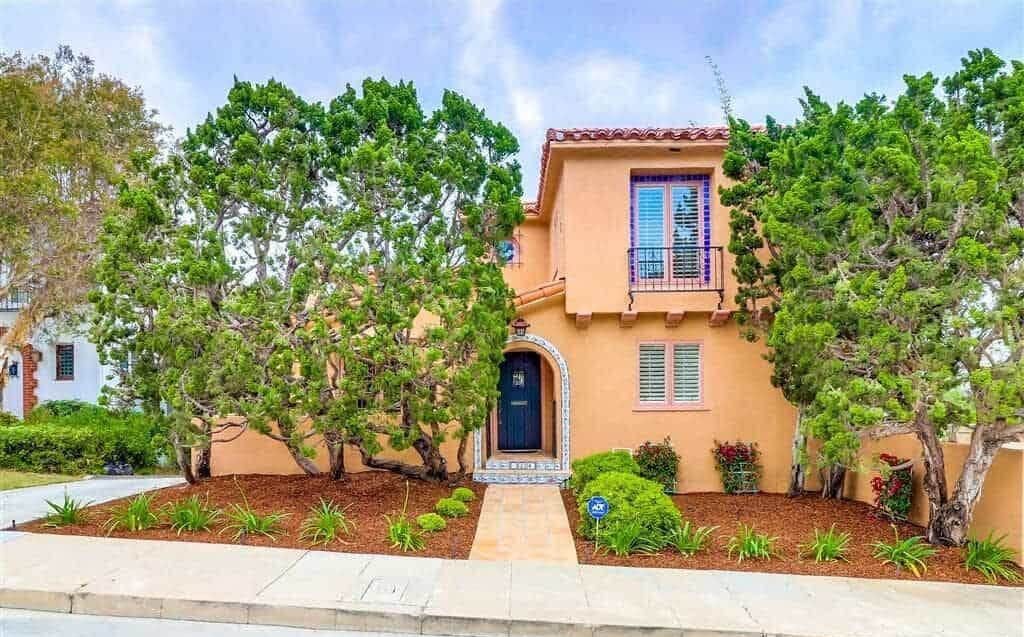 Source: optimole.com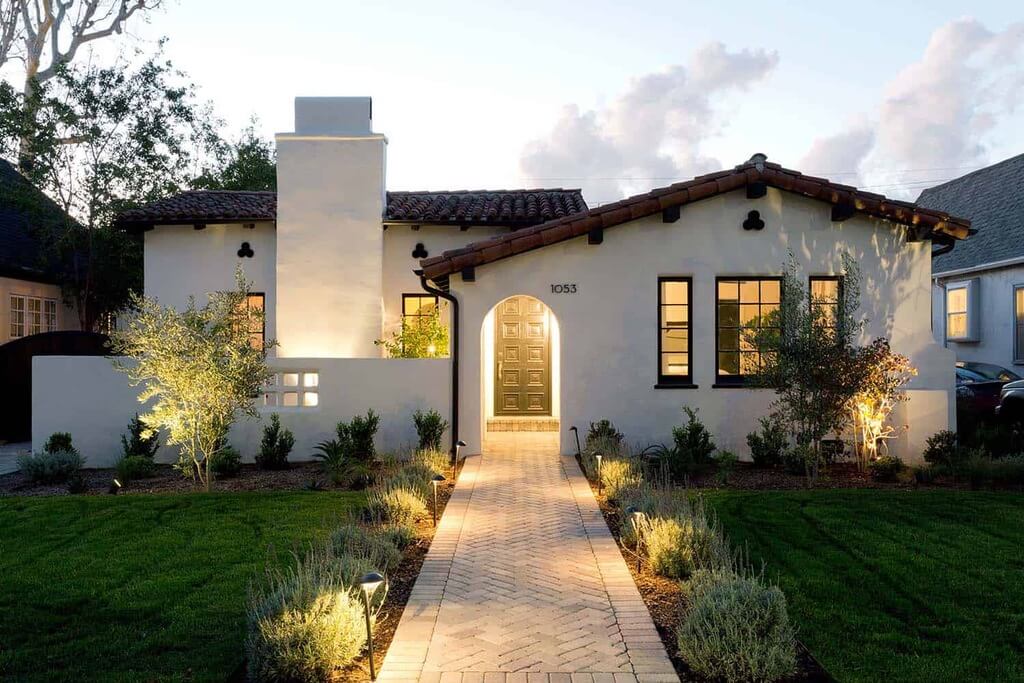 Source: onekindesign.com
This is a gorgeous Spanish residence with a soaring beam ceiling. It also features balconies and large glass windows. This place also has a backyard with an oval pool, which you already know they're the most common elements of Spanish architecture. 
The most unique thing about this house is the wall color. Yes, it's not in the traditional stucco white shade. The owners paint the exteriors in an earthy tone which is also complementing the stone floors.  
The front part of the house is abundant with greenery, and the stone walkway from here leads to the fabulous arched entryway. Here colorful patterned tiles have been use that also look contrasting with the solid beige walls.
5. White Brick Spanish Colonial Home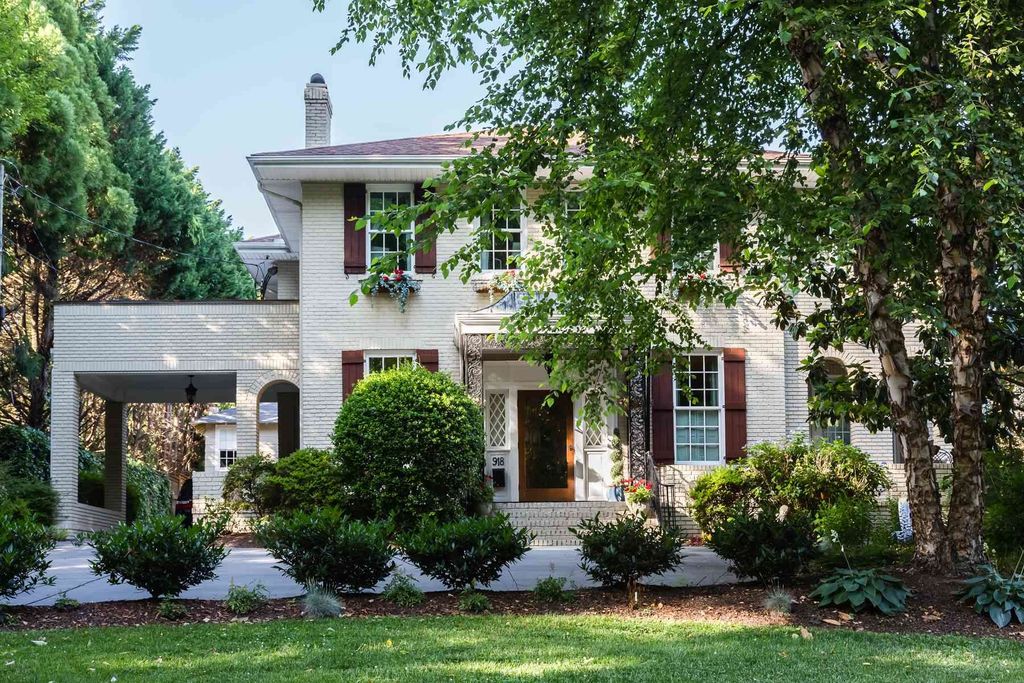 Source: pinimg.com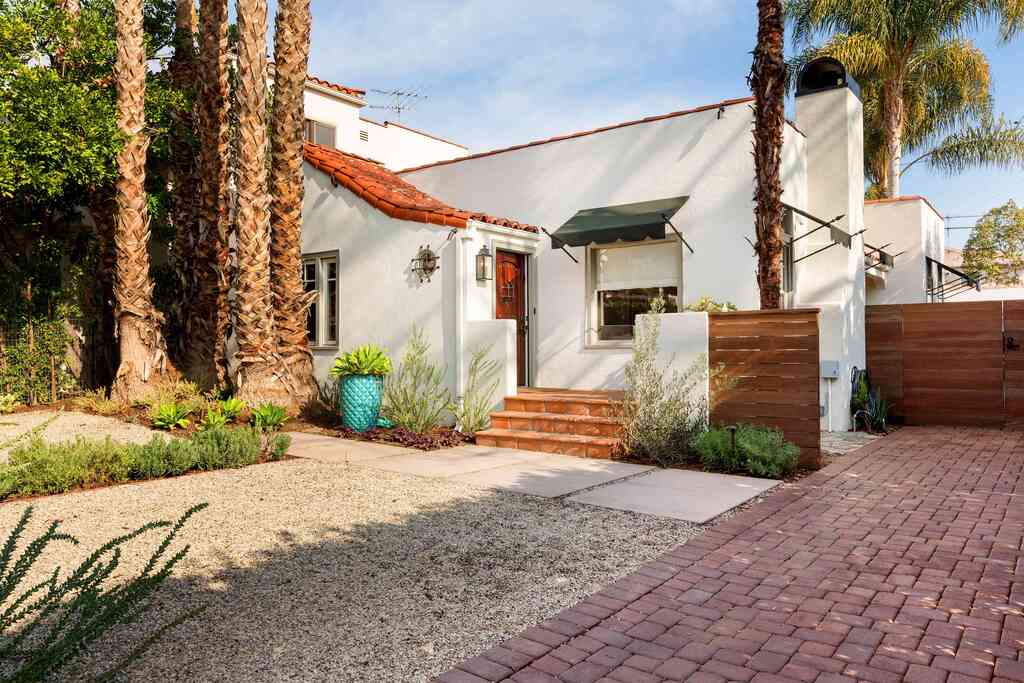 Source: thespruce.com
There are two types of Spanish Colonial architecture: the original style & the revival style. The first type originate in Spain in the 1500s, whereas the revival style architecture start in North America during the early 20th century.
This house is highly inspire by Spanish Architecture but also has some modern twists. It is own by Carole Marcotte, an interior designer. For example, here, instead of traditional white stucco, white bricks are use. The most surprising thing about this property is that Marcotte has spent around 17 years renovating its interiors and exteriors. 
6. Spanish-Inspired Juliet Balconies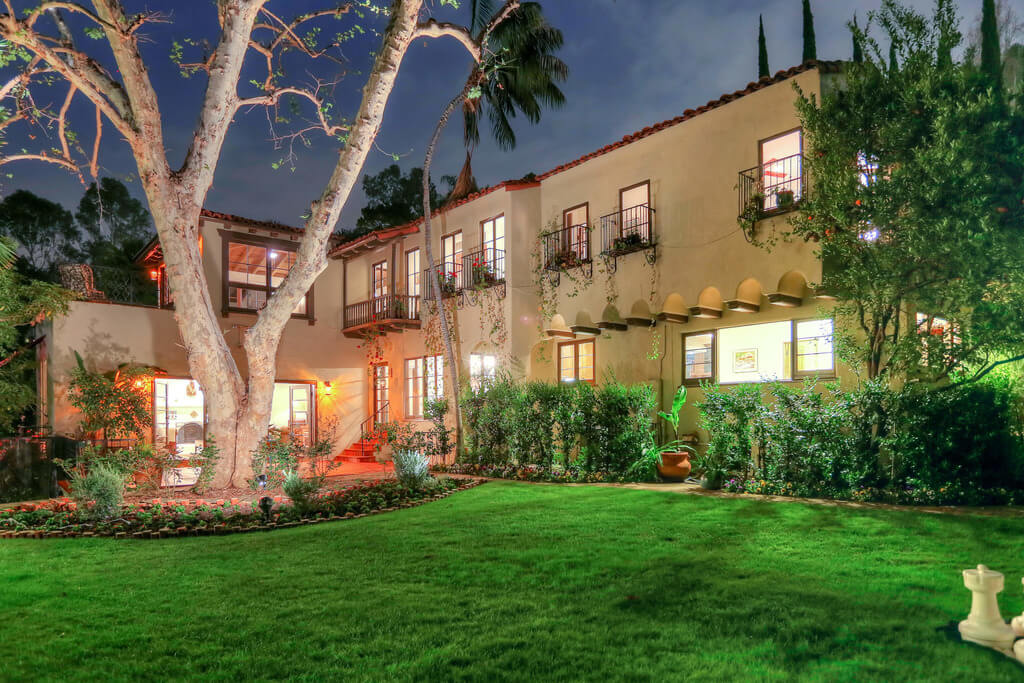 Source: cloudinary.com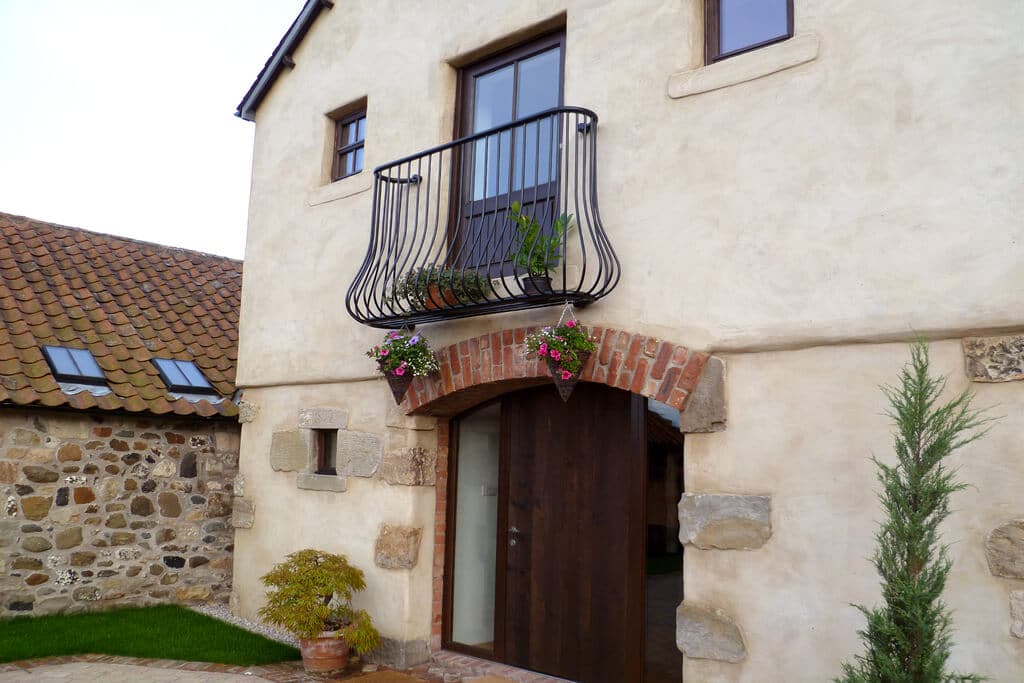 Source: wordpress.com
Although this is new construction, you can still feel the Spanish architecture. It was renovat by Justin Krzyston. He is the founder of Stonehurst Construction, base out of Los Angeles. 
He specifically add the Juliette balconies to add drama and old-world flair to this Spanish Colonial mansion. The lawn and classic white wall paint is also bringing authentic Spanish Architecture vibes to the structure. 
7. Open-Concept Spanish Modern Duplex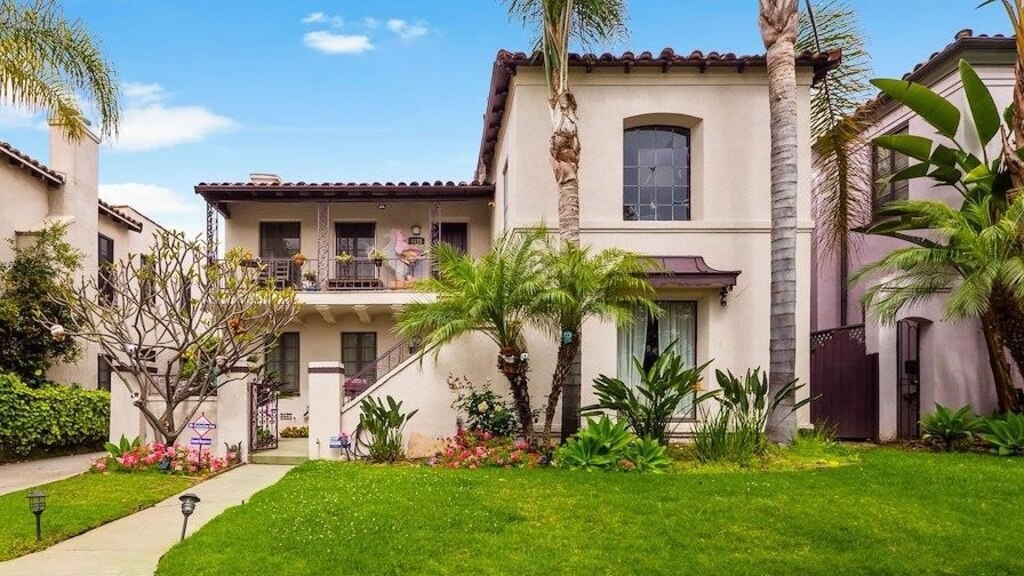 Source: loopnet.com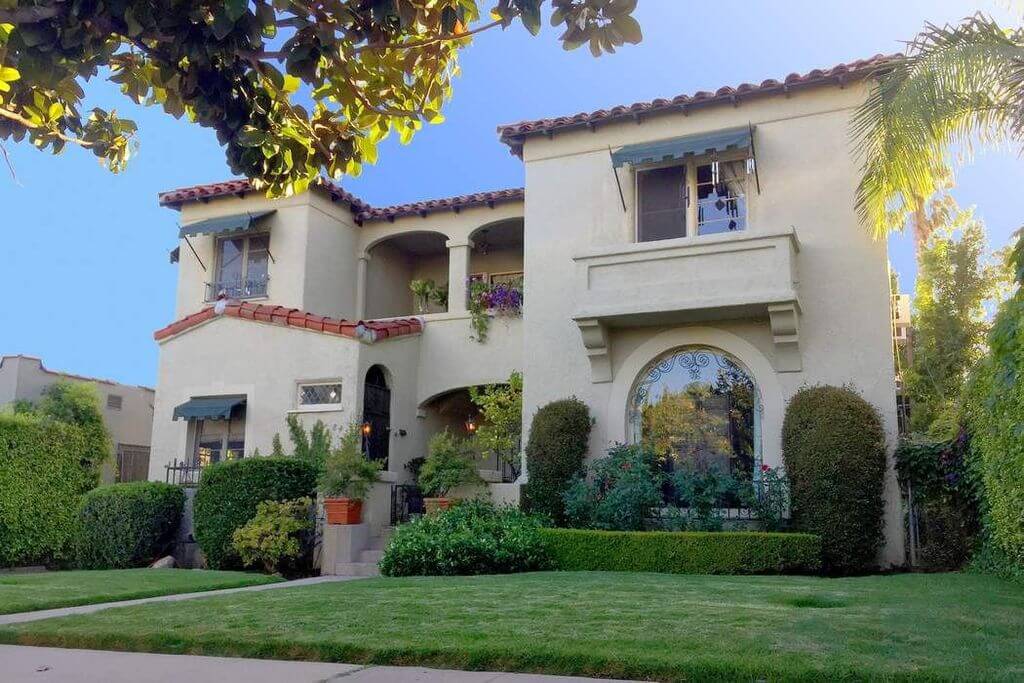 Source: sothebyshomes.com
As we earlier mention that not all Spanish style homes are of single level. Look at this duplex; it has textured white walls. These exteriors are very well stand out against the greenery framing the house. 
The main door is a bluish wooden door with an arch, and there is a stone walkway leading up to it from the garden. Three french windows are completing the exterior look gracefully. 
8. Classic Mid-Century Ranch House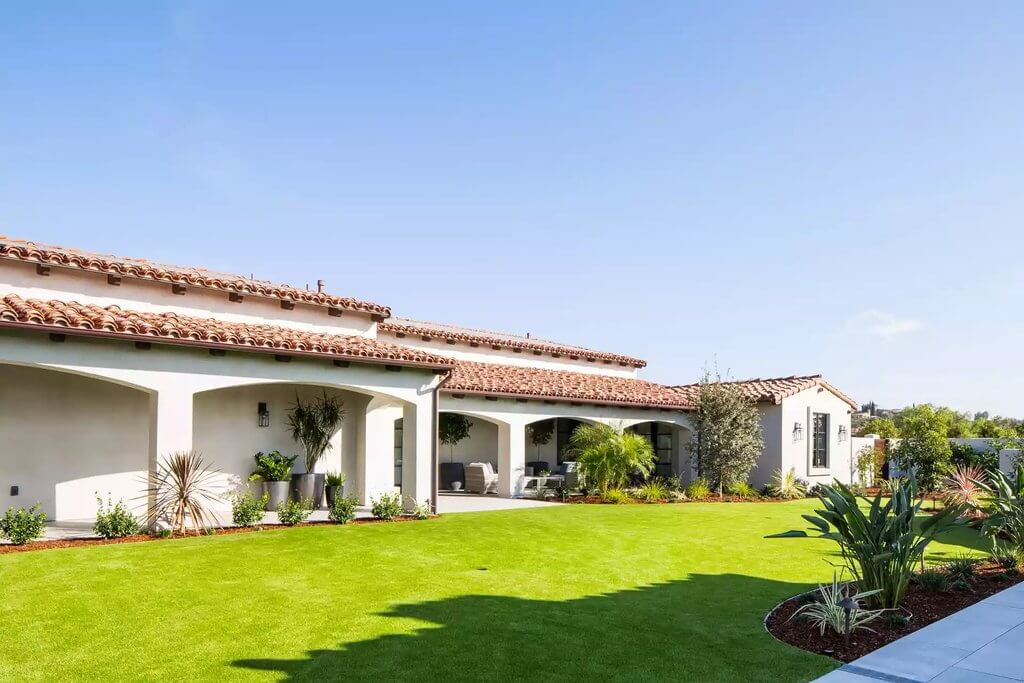 Source: thespruce.com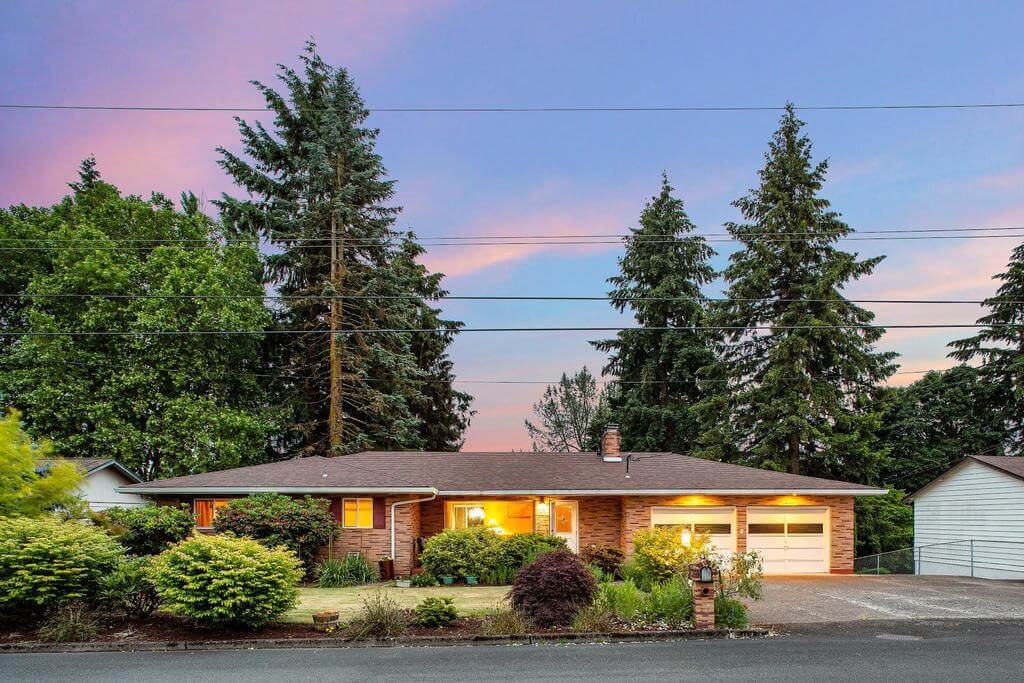 Source: livingroomre.com
Tracy Lynn Studio remodels this midcentury ranch home. On the owners' demand, the architects have add some contemporary elements that go well with the structure's original Spanish look. 
The front porch is the same length as the home, and it functions as an outdoor room for enjoyment. Another extremely noticeable thing is the wall color. Here instead of the traditional creamy white shade of stucco, the designer picked a warm pale gray shade. 
9. Glorious Spanish Estate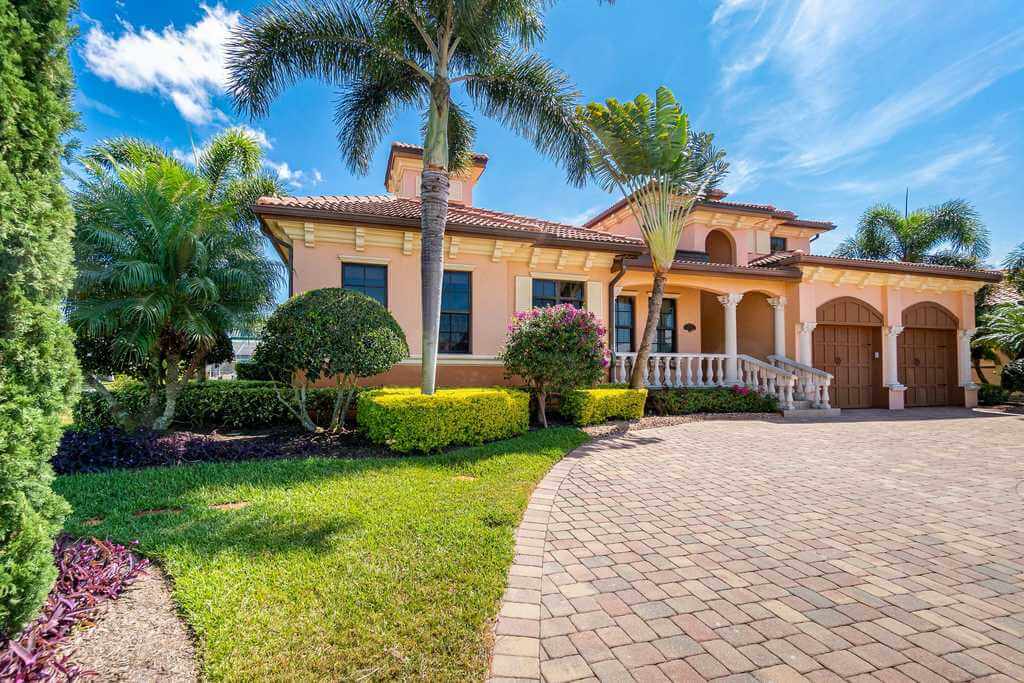 Source: gannett-cdn.com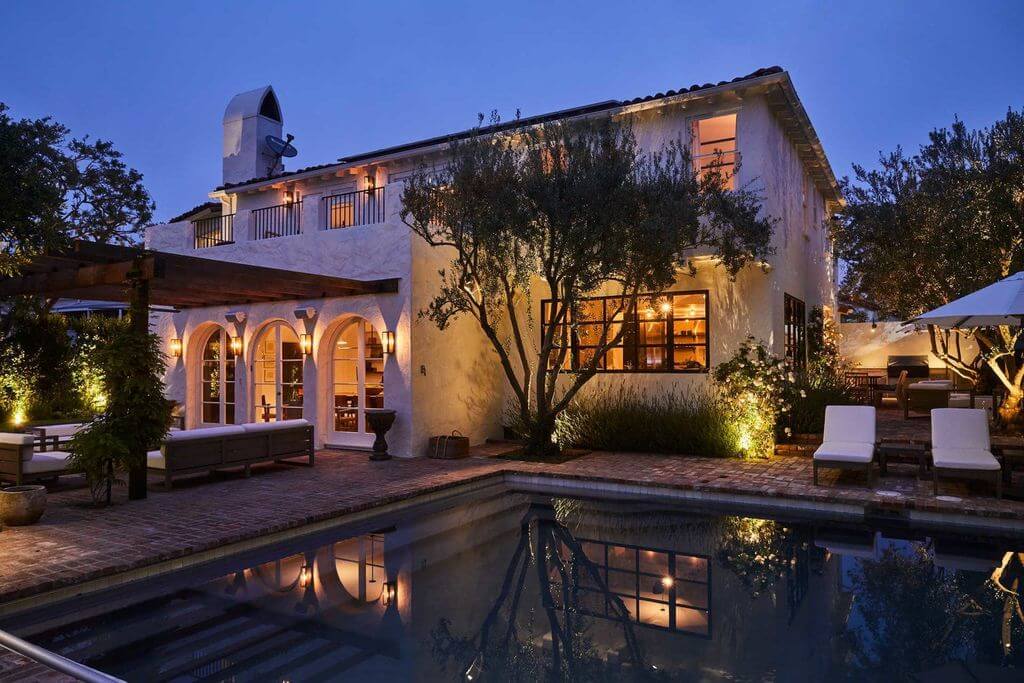 Source: pinimg.com
Last on the list is this really lovely home with a mix style of Florida and Spanish Architecture. Right tropical landscaping makes the walls look more dramatic and contrasting. 
This house is full of modern French windows. Here you can see how two different architectural styles have been mix up. You can also combine something like this and create something elegantly unique. 
The Bottom Line
If you love the old architectural style, you can go for the Spanish influence homes. They're classic, evergreen, and quite practical and functional. So either you can construct or remodel your existing home or just add a few key characteristics of Spanish architecture. 
So, this is all about modern Spanish style homes. I hope you like this blog; please share it with your family and friends who also want to know about Spanish architecture. 
For more information about the latest architecture worldwide and home improvement ideas, keep coming to Architecturesideas.
For daily updates about new architectures, don't forget to follow us on our Instagram page, @architectures_idea.