Mediterranean House Plans with Interior, Exterior & FAQs
There is no more excellent architectural style for you if you want a lavish life than the Mediterranean house plans. These residences evoke images of beach cottages and vacations. Have you ever wondered what makes a Mediterranean house so special? 
Imagine waking up to the sound of waves and going for a walk on the beach with the fresh ocean wind blowing by you. Isn't it amazing? The simple pleasures of life have been taken away by modern city living, which has made our houses smaller. If you're looking to upgrade from a cramped apartment to a luxurious home, the Mediterranean House plan is ideal.
History of Mediterranean Houses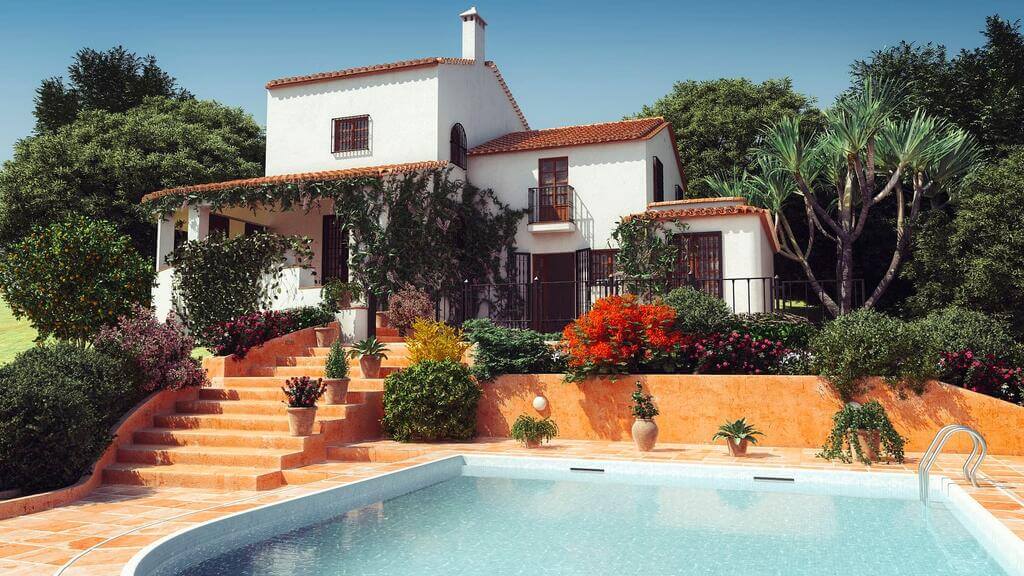 Source: optimole.com
Everyone wants to get away from their mundane lives, and the first adjustment they want to make is their living quarters and their houses! Architecture Style provides in-depth information about one of the most ancient building designs.
As we know them now, Mediterranean houses are based on the Mediterranean Revival architectural style. This design aspires to elicit the sensation of being in a lavish Mediterranean home. It gained popularity in the 1920s when a cultural fixation with luxury and leisure increased the number of beach resorts. Initially, the design was reserved for public buildings such as hotels. However, architects like Florida's Addison Mizner and California's Bertram Goodhue realized that the style's airy layout would be an excellent fit for their coastal climes. Today, it is still most prevalent in coastal locations.
What Makes a Mediterranean House Plan So Special?
Source: meredithcorp.io
For someone who enjoys modest yet exquisite rooms, a Mediterranean home is a dream come true. If you want a house that won't go out of style and won't need to be updated—one with warm woods, brilliant walls, and indoor-outdoor living—mediterranean house design is the best.
Mediterranean homes often have a red-tiled roof (usually terra cotta), as well as white-painted masonry or stucco. Other frequent elements include stone detailing, carved doors, and raw iron and metal work on windows, balconies, and front doors. But it also has some of the common challenges that you have to know before making any decision.
Some Common Challenges to Deal with
Living in a warm climate has unique design issues, particularly for a Mediterranean-style home. If you're on a large scale of property in a warmer region, like California, and you paint the house white, the staining of wood doors and windows doesn't wear very well due to the sun. 

There's also the issue of insufficient lighting and storage. You had to install windows and skylights a lot of the time becau

se Mediterranean homes h

ave smaller, more intimate interiors, lower ceilings, and fewer windows. As there are no above cupboards in this form of the house, you need extra storage.
3 Astonishing Mediterranean House Ideas
Mediterranean Revival houses are distinct in that they include elements from various civilizations found in the region. The most frequent languages are Italian and Spanish. 
The following is a list of the distinctions between the two:
1. The Renaissance in Italy (1890-1930)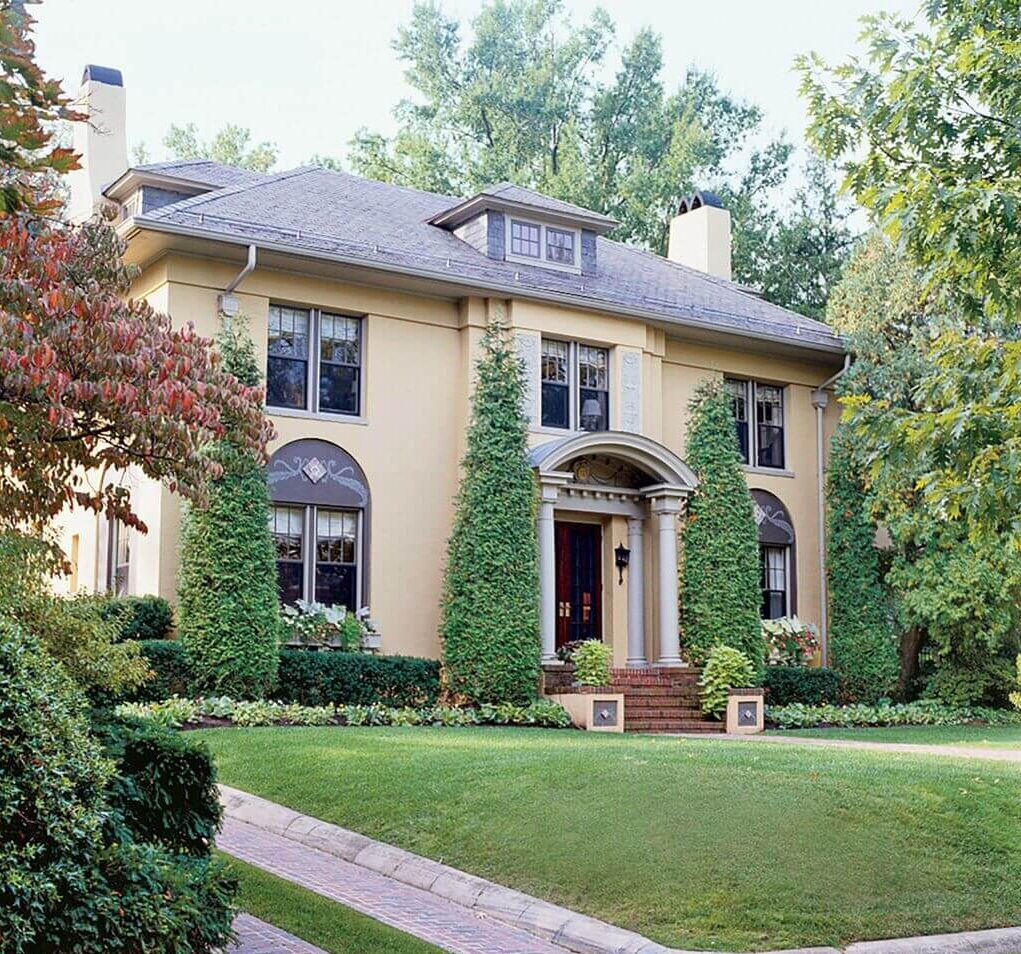 Source: pinimg.com
As the name implies, Italian Renaissance houses take some of their design cues from the Italian Renaissance's 16th-century structures. Their intimidating stature, as well as architectural elements like columns and rounded arches, demonstrate this. This style, however, draws inspiration from its epoch, which began after the Victorian era. Italian Renaissance houses are the most extravagant of the several Mediterranean house plans.
Also Read: Bellerine Cabin by Cloux Architecture in Switzerland!
2. Revival Spanish Mediterranean Home (1915-1930)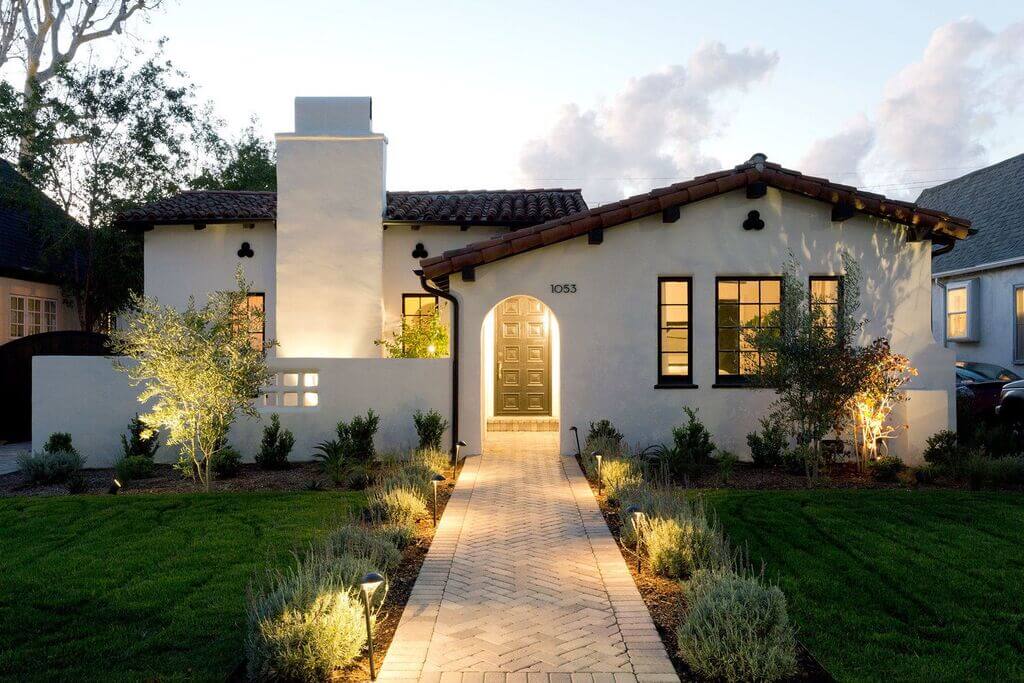 Source: pinimg.com
Spanish Revival residences are inspired by the architecture introduced to America by the Spanish colonists in the 16th century. This architectural approach was trendy in warmer, coastal places like California and Florida. Spanish Revival houses are more straightforward than other Mediterranean house designs. They have smoother lines and a lower-pitched roofline, making the house look bigger and heavier.
3. Mediterranean House in Modern Times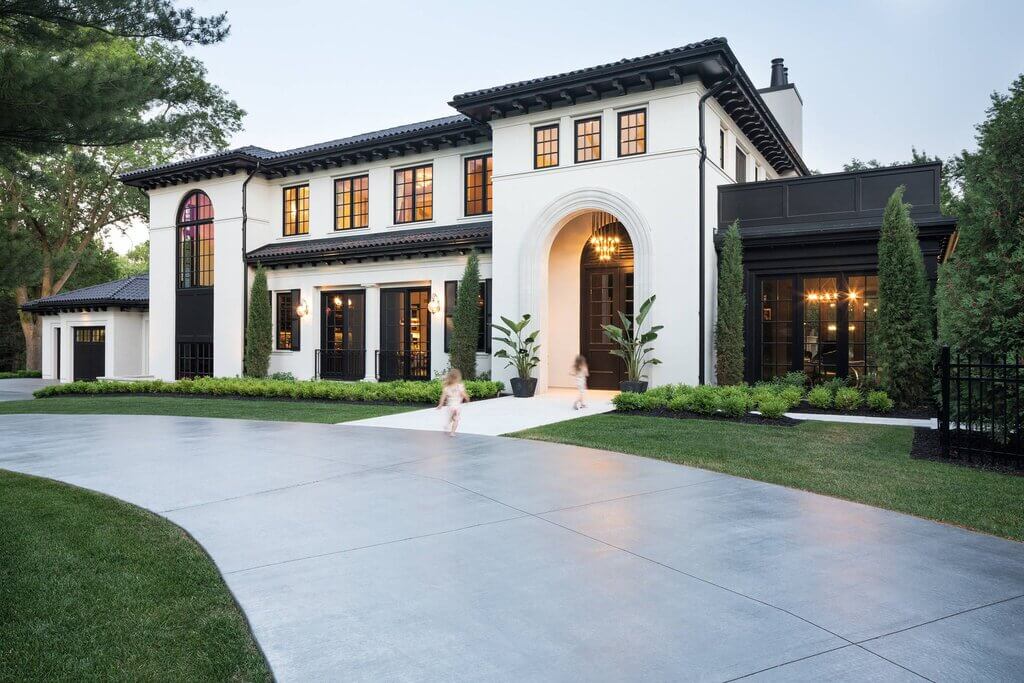 Source: twimg.com
Both Spanish and Italian styles can influence modern Mediterranean architecture. It reintroduces a focus on resort-style lifestyle. These residences combine classic Mediterranean aesthetic features with many of the conveniences of contemporary life. Open floor layouts, large, renovated kitchens, and an emphasis on indoor-outdoor living are typical features of these homes.
Mediterranean House Plans: 6 Must-Have Elements
Even though Mediterranean and Mediterranean Revival buildings have many cultural influences, many traditional architectures and decoration aspects have been preserved in today's Mediterranean house design. The following are some of the traits that are typical in Mediterranean house plans:
1. Facades That Are Large and Symmetrical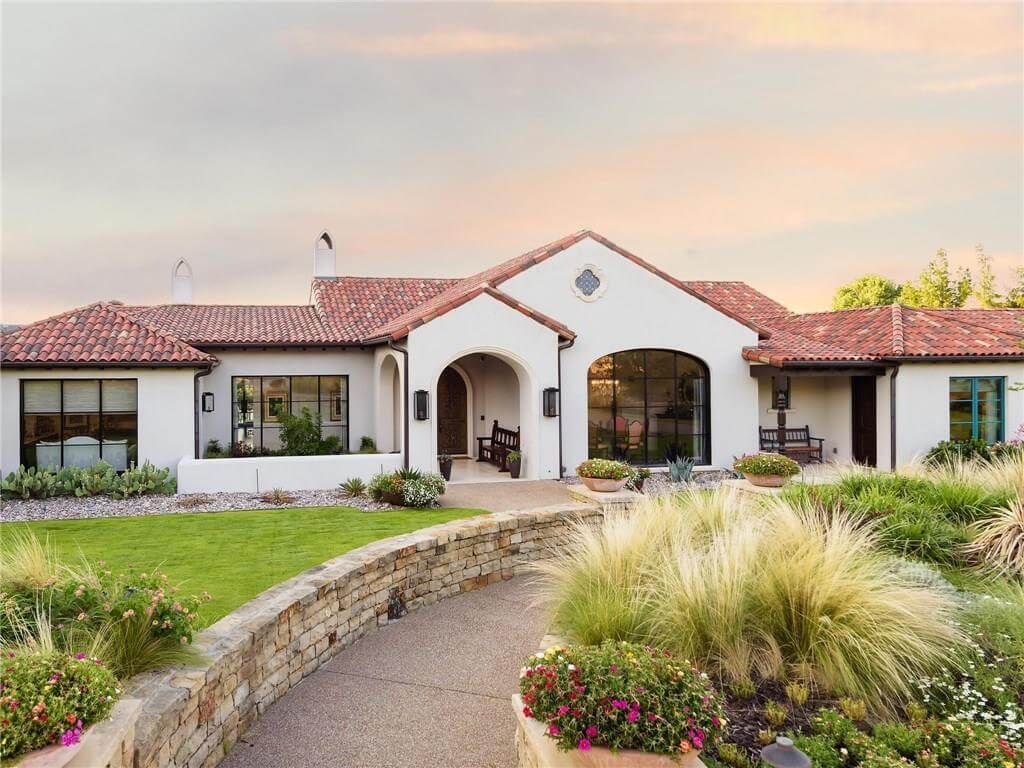 Source: har.com
Most Mediterranean homes are one to two floors tall with symmetrical exteriors. The entrance door is in the middle of the house. It is surrounded by huge wrought-iron gates. Because Mediterranean design emphasizes letting the outside in, multiple tall doors and windows lead to the home's outside living space.
2. Roof Tiles Made of Red Clay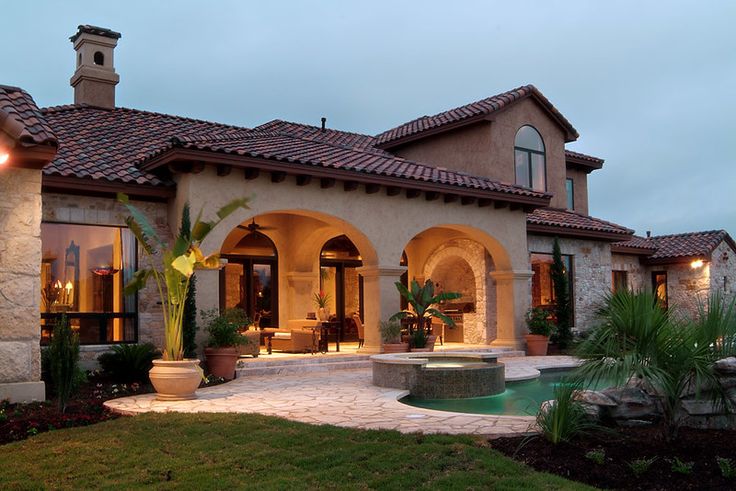 Source: pinimg.com
Mediterranean-style homes generally have red clay roof tiles formed like half of a tube, similar to Spanish and Mexican dwellings. This form allows water to drain quickly and traps cold air in its pocket, which helps keep the house cool on hot days.
3. Walls Made of Stucco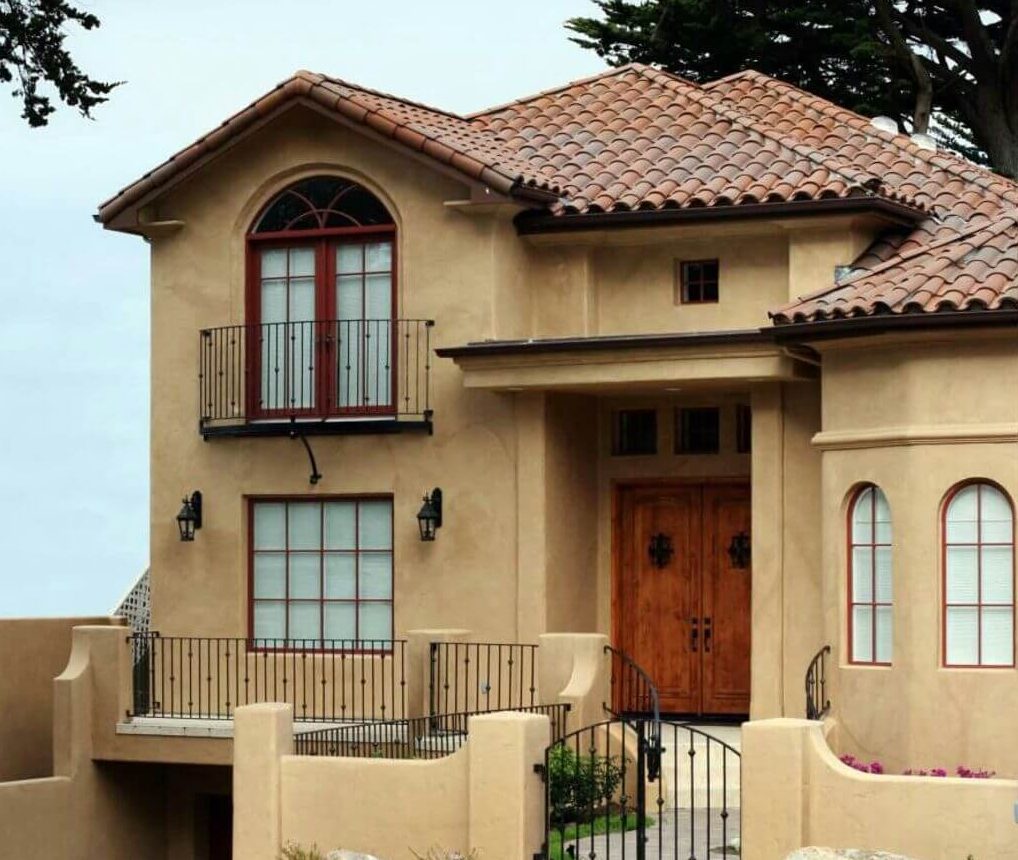 Source: pinimg.com
Exterior and interior walls of mediterranean houses are made of stucco. The material is typically warm in dry climates. This helps in keeping the internal climate cool. When temperatures drop at night, the warmth generated throughout the day is gradually released into the home.
4. Archways with Ornate Carvings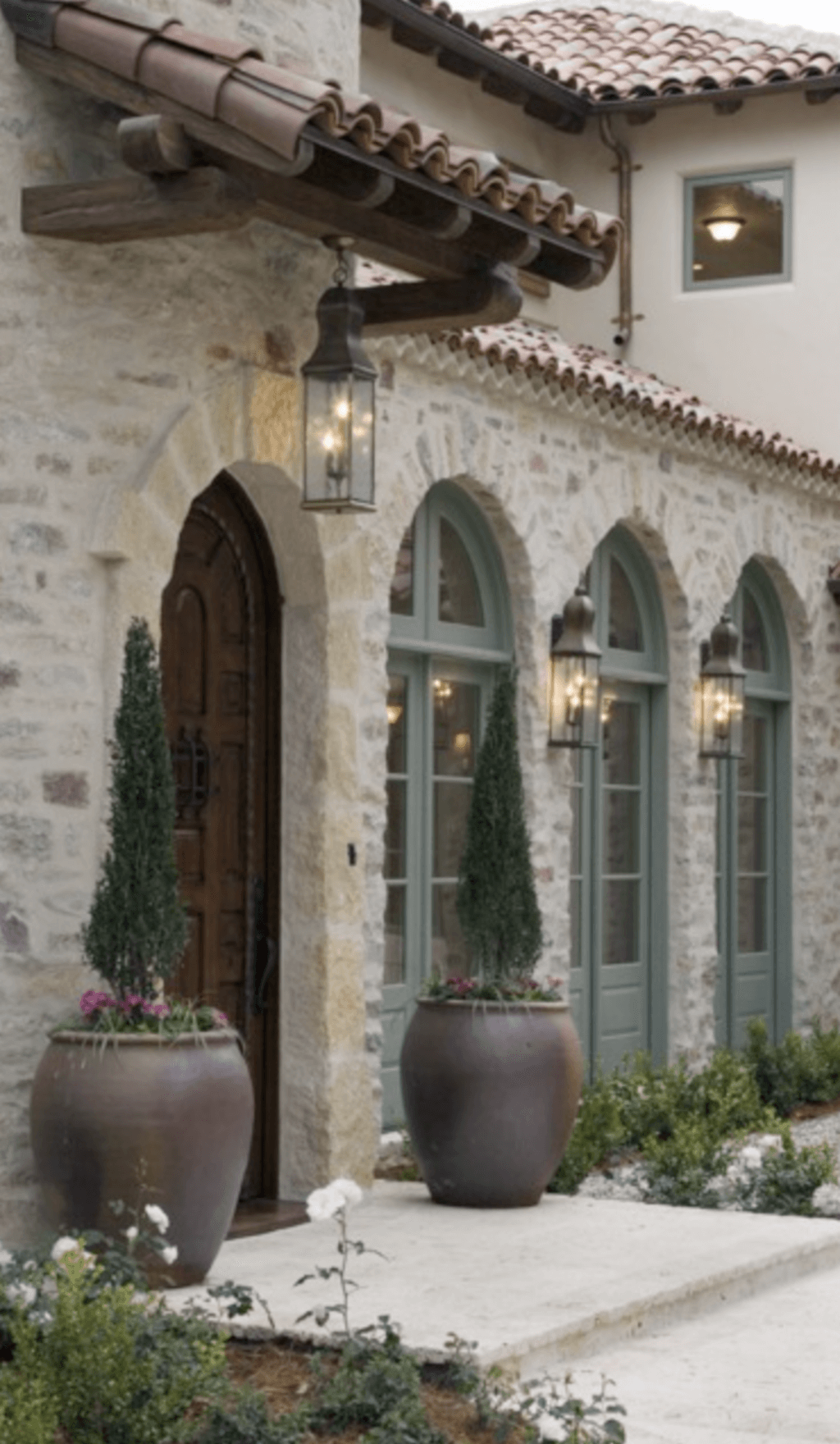 Source: pinimg.com
Ornate archways are frequently built around Mediterranean windows and doors, serving structural and ornamental reasons. Occasionally, you may use colorful hand-made tiles or mosaic glass to embellish these archways.
Also Read: 45 Delightful Mediterranean Wine Cellar Designs You'll Never Want To Forget
5. Balconies, Window Grilles, and Decorations Made of Wrought Iron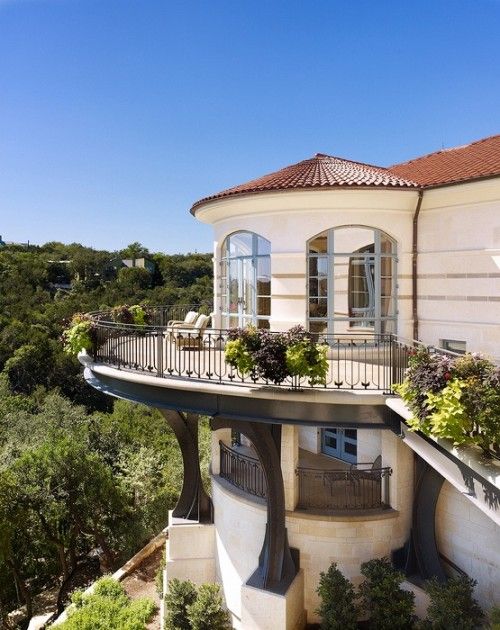 Source: pinimg.com
Wrought iron is frequently utilized as a decorative element in Mediterranean gardens, patios, terraces, and exteriors. Wrought iron adds warmth, intricacy, and beauty to any room.
6. An Area for Outdoor Living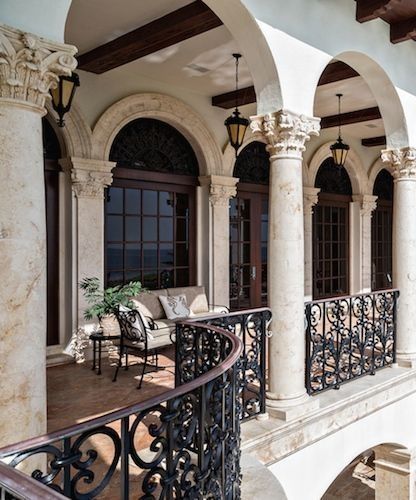 Source: pinimg.com
Mediterranean houses, as previously said, fit nicely with their natural surroundings. Most homes have an outdoor living space, such as a patio, terrace, balcony, or atrium, and many entries point to the outdoors.
Mediterranean House Design Exterior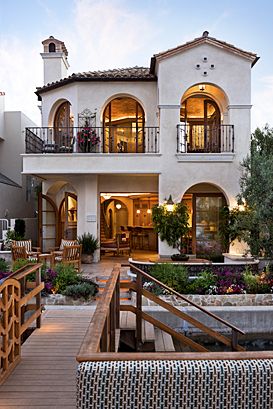 Source: pinimg.com
The walls of these residences are a distinguishing characteristic since they are typically composed of stucco, which is used because they are located in warm climates. The walls of a stucco house are usually totally white or brown, giving it a distinct appearance.

The red roof tiles are the residences' crowning splendor and the standout element that gives them their remarkable attractiveness.

In modern Mediterranean architecture, symmetry is a highly significant aspect handled very carefully. The home must appear equal on both sides when viewed from the outside. When designing the interiors, the element of keeping symmetry is also considered.

The doors and windows are arched to leave a lasting impact and enable enough ventilation. It adds beauty to the home and distinguishes it from other dwellings. 

The importance of nature is emphasized in

a Mediterranean house. A

s a result, several differentiating characteristics are employed to bring character into the house. Natural light is obtained into the residence through several big doors and windows. Also, the natural landscaping and vegetation are the center of these designs as most Mediterranean home designs have a courtyard rather than a

small front yard

. 

In

a Mediterranean home, a

fountain is also a frequent ornamental component. It's a great advantage for a posh lifestyle. These fountains are ideal for being the center of attention during outdoor events and will guarantee that your property is the talk of the town.
Mediterranean House Design Interior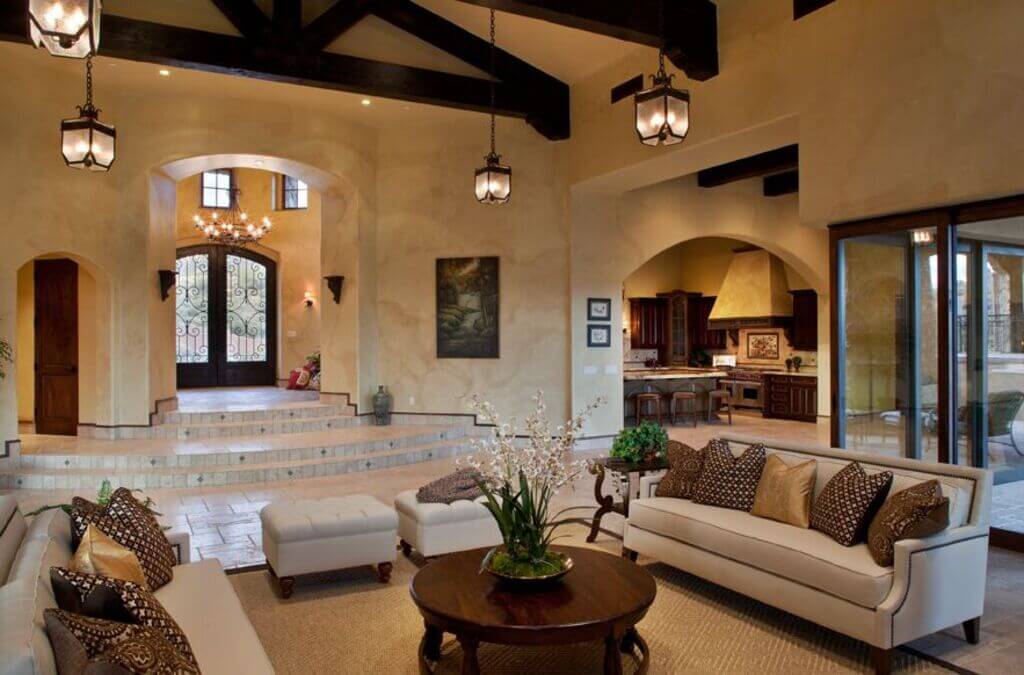 Source: pinimg.com
The typi

cal Mediterranean house has

one to two floors. The balcony on the first floor is relatively famous, and it's a great spot to spend a relaxing evening with your family while sipping your cup of tea. High ceilings provide for optimal ventilation and wind flow throughout the house. The distinctive interiors of a Mediterranean House make it easy to recognize. 

The floor is mainly made of wood or has beautiful pattern tiles. These hues are more vibrant large spaces, bringing a touch of charm to the area. The wood throughout the property gives it a warm feel, while the marble tiles are chilly.

The furniture should always be arranged in a symmetrical pattern. As a result, an even number of sofas and chairs is particularly typical in such households. Heavy and solid hardwood furniture is used to liven up

a Mediterranean home.
Also Read: 17 Craftsman House Plans Ideas and Designs With FAQs
FAQs: Mediterranean House Plans
1. How Much Will a Mediterranean House Cost?
You may find a range of Mediterranean house plans nearby coastal areas. Building your own home might cost anywhere from $350,000 to more than a million dollars, depending on the size you choose and the house layout that works best for you. 
2. What to Consider Before Purchasing a Mediterranean House?
While you may be reaching for your checkbook right now, there are a few things to consider.
Climate:

If you're buildin

g a Mediterranean home in

a cold, wet area, you'll need to protect your tile roof from moisture.

Walls: Mediterranean homes

are traditionally coated with lime, which allows the walls to breathe. The lime coating is usually refreshed once a year.

Flooring:

Just like any other

type of flooring

, correct cleaning solutions can help keep those terra cotta tiles in good shape.
3. Is It Possible to Renovate a Mediterranean House?
Yes, you can renovate any house. But if you want to meddle with a Mediterranean house's beauty and heritage, you have to think twice.
You'll almost certainly run into troubles with the tile roof and the home's lack of airtightness on the outside. It's ideal to mention that you shouldn't go with a conventional jewel like a Mediterranean home if you're remodeling a home.
4. What Makes a Mediterranean House Interior Unique?
The Mediterranean interior design style is defined by the romantic and straightforward aesthetics of Southern European countries: light and warm color schemes, as well as liberal use of natural materials like pottery, wood, wrought iron, and cotton. Boldness, simplicity, and convenience are all present in the design.
Summary
Source: pinimg.com
A Mediterranean home may provide some very luxurious living options. It's a home that reimagines what it means to live in a beautiful and comfortable home. It's the best house design that incorporates both ancient and new elements. The interiors are pleasant and comfortable, with warm and welcoming outside elements. 
The Mediterranean House Plan is what you should choose if you want to change your lifestyle.
To know more about Home improvement ideas, Cleaning and decoration tips visit ArchitecturesIdeas
For daily updates, follow us on our Instagram page @architectures_idea.